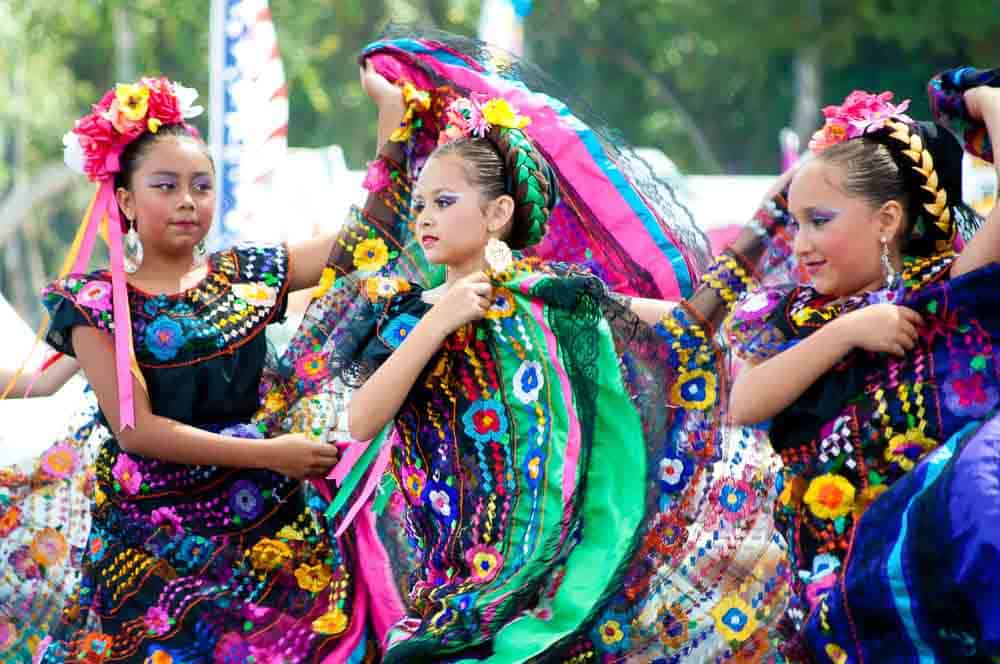 Filled with a rich history, colourful culture and amazing natural landscapes, travelling to Mexico with kids is a fantastic experience for the whole family.
While there are loads of activities in Mexico for kids, we've hand selected the top 10 covering a wide variety of interests. With an idyllic island paradise, adventure parks, interactive museums and live entertainment – there will be something suitable for everyone.
In addition, the activities are based all across Mexico, so depending on where you're travelling, you'll be sure to be close to a few of these attractions.
So what are you waiting for, let's get started and check out 10 of the best things to do in Mexico for children.
Talk to other families about their tips on visiting Mexico and join our Thrifty Family Travels Facebook group or be inspired by our Instagram.
This post may contain compensated links. Please refer to my disclaimer here for more information.
Best Things to do in Mexico for Kids Map
To help you plan what to do in Mexico with kids, I've provided this handy map below, which shows you the location of all the different Mexico attractions.
Zoom in and out for a better view.
Best Things to do in Mexico with Kids
In no particular order – below we cover our favourite things to do in Mexico that the whole family will love!
Isla Holbox – Quintana Roo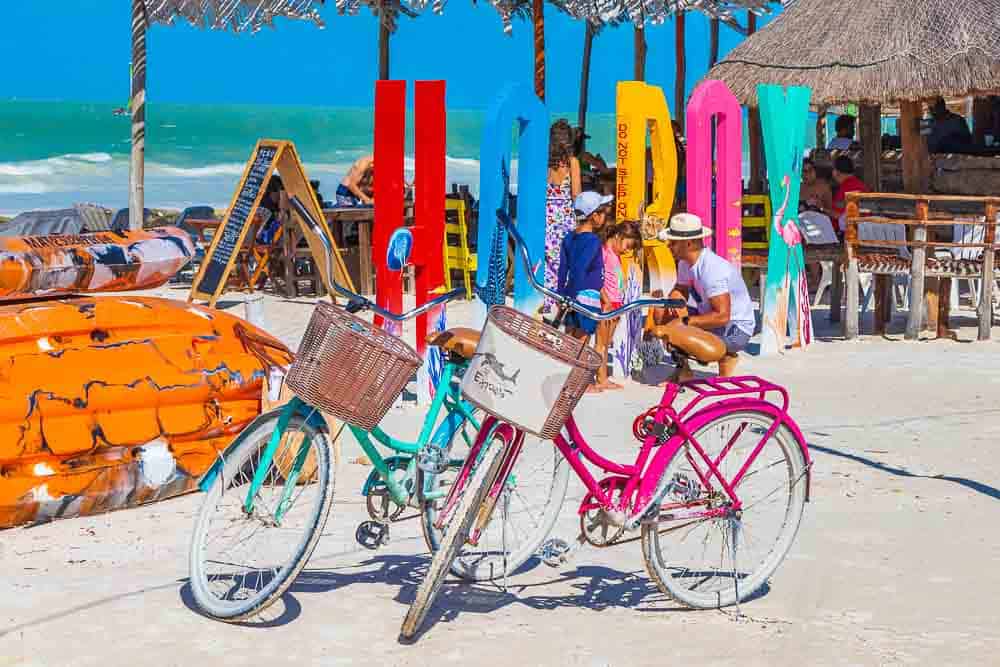 For those families after a tropical paradise with white sandy beaches, sparkling waters and immersed in nature – then one of the best places to visit in Mexico with kids is Isla Holbox in Quintana Roo.
This island is located around a 2-hour drive from Cancun to Chiquila. From here, you jump on a ferry from Chiquila to Holbox. Tickets for the ferry are very affordable, and it only takes around 20-minutes.
Once on Isla Holbox, you'll feel like you're in a different world. With no cars, paved roads or high rises, it's time to get back to nature and experience this spectacular Flora and Fauna Nature Reserve. And it doesn't disappoint, with whale sharks, pink flamingos and bioluminescence – microorganisms that radiate a bright turquoise light across the sea at night.
If you want to stay a little longer, there is a range of accommodation options on offer, from rustic cabins to luxury boutiques, and you'll find something to suit you.
And the same goes for the restaurants, from upscale eateries to toes-in-the-sand cafes featuring the local speciality, lobster pizza – there really is something for everyone at Isla Holbox.
If getting back to nature is what you're after, then Isla Holbox is one of the places to visit in Mexico with kids.
Museo Interactivo de Economía – Mexico City
The Museo Interactivo de Economia (MIDE) certainly does not sound like one of the fun things to do in Mexico City with kids – however, don't let the name fool you. MIDE is set up as play-based learning, with all the displays being interactive and perfect for kids.
The four permanent exhibition spaces cover; growth and well being, finance in society, fundamentals of the economy and sustainable development. In a nutshell, an overarching lesson in how the world works financially, but in a fun way.
The temporary exhibits cover related topics and are set up in 'play rooms', allowing kids to immerse themselves in learning without realising they're in a museum. The perfect place to go for something different or if you want to step out of the hot Mexican sun.
You can find a 7 day Mexico City itinerary here.
Six Flags – Mexico City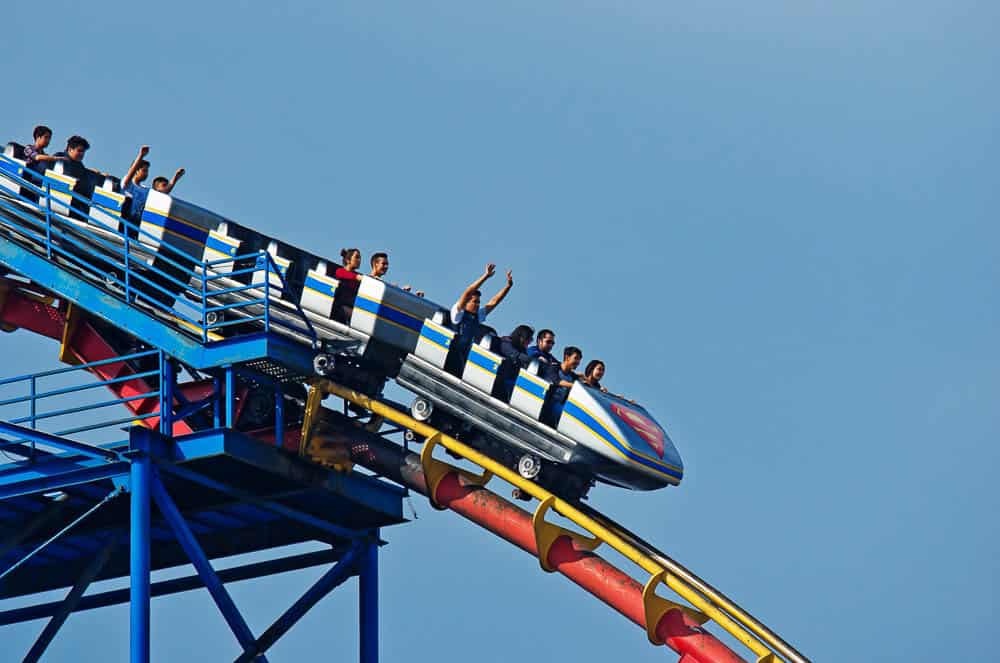 If you're wondering where to go in Mexico with kids, you can't go past Six Flags – the most visited theme park in Latin America. And it is with good reason it is so popular… there are thrilling coasters for the older kids, gentle rides for the younger kids – and entertainment for the whole family.
Located under an hour away on the southern edge of Mexico City, allow a full day to experience all Six Flags has to offer. From the exhilarating superhero coasters such as Batman, Supergirl, Wonder Woman, Superman and more, to the slower paced, smaller rides such as the Looney Tunes Adventure Camp, ACME Trucking Company and the Batman Batcopters.
And when you've worked up an appetite, you can enjoy a variety of dishes from the 20+ eateries onsite. From traditional Mexican cuisine to Italian to Fried Chicken and of course, all the theme park staples like burgers, hot dogs, onion rings, and ice cream – and for the adult's alcoholic beverages.
And when you're not riding or eating, be entertained with the live shows with loads of dancing and singing and photo opportunities with your favourite Looney Tunes characters – Bugs Bunny and his friends are waiting; they think this is the best place to go in Mexico with kids too!
Ziplining – Puerto Vallarta
For those families who love adrenaline activities, zip lining will surely get the heart pumping… but don't just do the one zipline; why not do a circuit of 11 zip lines – this is not for the faint hearted.
You'll fly from mountain to mountain above the Canopy River, taking in the jungle views. You'll walk the jungle paths between zip lines before hooking up and zooming off again. On the last line, you'll be able to dive into the river to cool down before hopping aboard your mule, which will take you back to the mountain.
On the way, you can decide if you would like to walk across the Longest Hanging Bridge in the world. At 470 metres long and 150 metres high, you'll have panoramic views of the jungle – but by this time, you might have seen enough from all the ziplines – the choice is up to you.
Xcaret – Playa del Carmen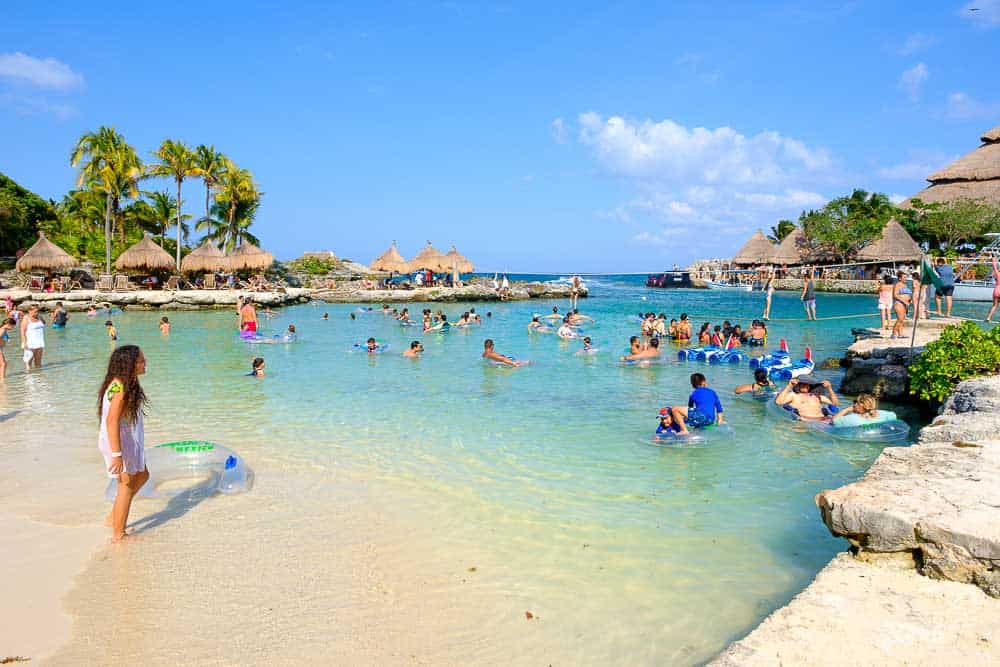 What do kids do for fun in Mexico? Visit Xcaret of course! Xcaret is a water park and so much more… with over 50 natural and cultural attractions in the Mayan Jungle with underground rivers and cenotes perched next to the Caribbean Sea – it mixes ancient with modern to create a fun-filled family day out.
There are loads of activities for water lovers, including snorkelling – with stingrays, or sharks, swimming with dolphins – or simply lounging by the lagoon and beach. And for the younger kids who love the water, there are shallow cenotes and wading pools specially designed for littlies.
For nature lovers, there is a Butterfly Garden, Aviary, Living Orchid and Bromeliad Museum. And for animal lovers, there are jaguars, manatees, flamingos and spider monkeys.
And to really immerse yourselves in the culture when visiting Mexico with kids, the Xcaret Mexico Espectacular is one not to miss, with over 300 performers taking you on a historical journey that will leave you with goosebumps. Additional cultural attractions are the Equestrian Show, Mexican Folk Art Museum and the Mexican Cemetery.
Museo La Esquina – San Miguel de Allende
If you're after something special for a kid's day in Mexico, what about taking them to a museum, but not any museum, one dedicated to toys! The Museo La Esquina has over 3,500 pieces split into five rooms to admire and discover.
The rooms consist of dolls with miniature furniture, animals made of clay and wood, traditional fairground rides and musical instruments, exhibitions of winning toys from the 'National Mexican Popular Toy Contest', and temporary exhibits showcasing toys from various regions.
It's not fair for the kids to be admiring such amazing toys without being able to play with them, which is why it's perfect there is an interactive room full of toys, books, monitors and games for little ones to have fun and become familiar with the cultural heritage of the toys.
Museo Frida Kahlo – Mexico City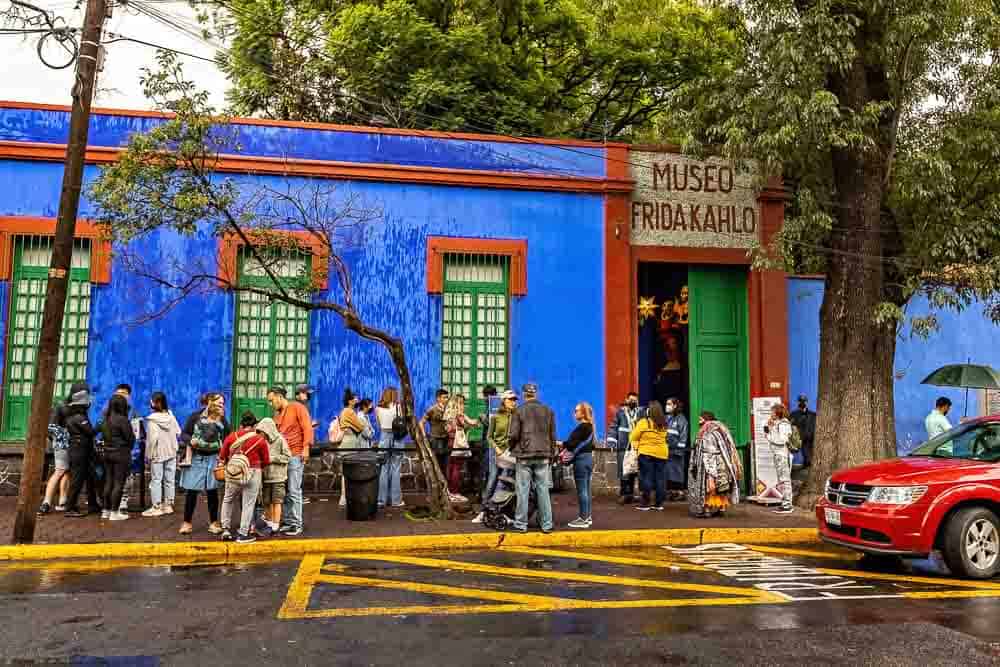 If you're looking for things to do in Mexico City with family and are on the creative side, a visit to Museo Frida Kahlo is a must. Also, if you're interested in Frida's art and story, this place holds a very special place in the heart of all Mexicans, as this was Frida's actual house.
The Museum comprises the 'Casa Azul' (Blue House), where Frida spent most of her life. The unassuming facade of the Casa Azul gives no hint of the spaciousness behind the walls, with numerous courtyards filled with gardens connecting the living spaces.
The living spaces have been turned into art galleries displaying Frida's works alongside her husbands' Diego Rivera, and other up and coming artists. The gardens display personal objects alongside sculptures, photos and furnishings.
If the artworks inspire you, one of the Mexico activities for kids at Museo Frida Kahlo is to paint your own papier mache figure or adopt a plant from the garden and personalise your flowerpot.was inspired to create.
Lucha Libre – Mexico City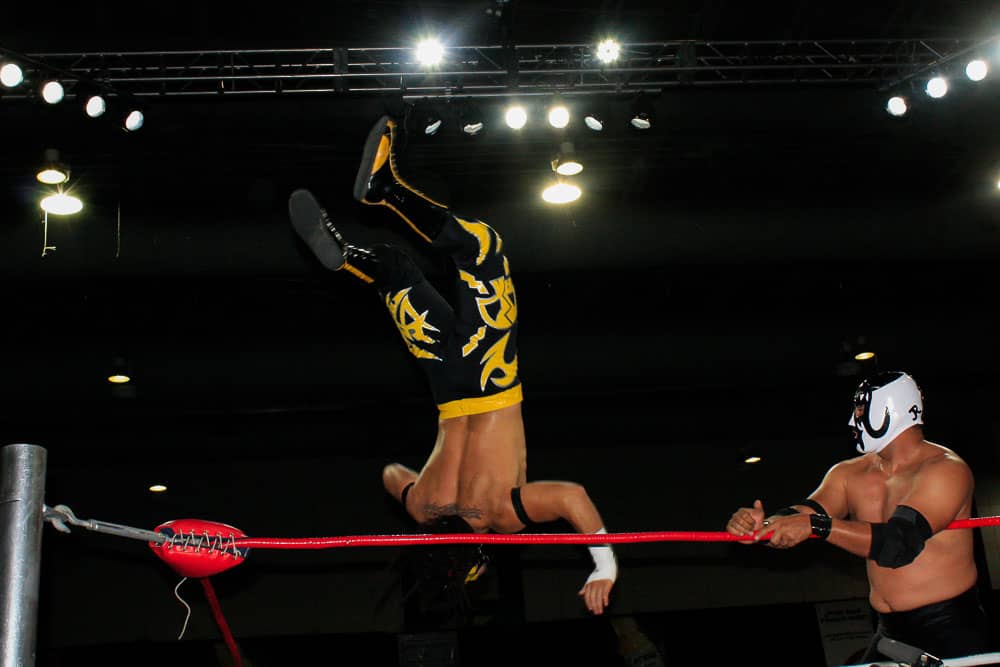 One of Mexico's favourite sporting events is Lucha Libre. These wrestling matches are a spectacle to behold! Masked wrestlers dress up as villains and superheroes and take to the ring to rumble and tumble.
The crowds cheer on their favourite Luchado and the atmosphere is energetic and spirited, with loads of emotions from the Mexicans invested in this sport.
Some matches can get quite rowdy, which is why kids in Mexico attend the 'family night' on Sundays. The wrestling is still lots of fun with all the action of a regular Lucha Libre match, however there are loads more kids in the audience, and the adults are a little more reserved – making this more of a family friendly experience.
And when you leave, don't forget to buy one of the masks out front from the many vendors, then, you can practice your wrestling moves at home in authentic style.
Pirate Show Jolly Roger – Cancun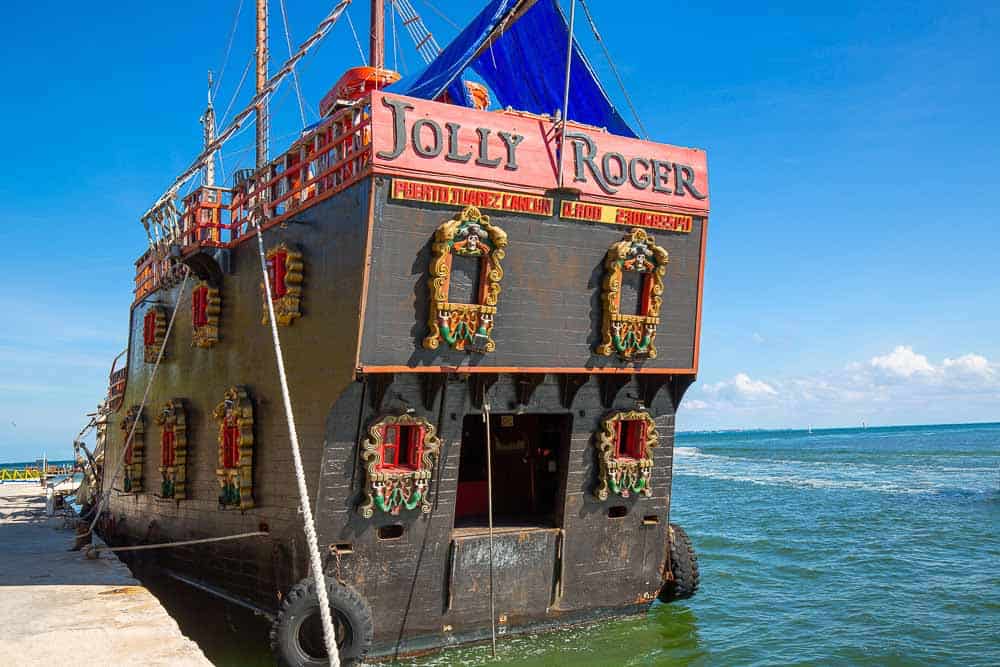 What's more authentic than watching a pirate show… watching it on the Jolly Roger Galleon as you sail the Caribbean Sea whilst feasting on a gourmet dinner – fit for a pirate.
The pirates will keep you entertained throughout the evening with a dramatic battle as they clash swords and take on acrobatic fights swinging from ropes above your head; there will be cannon fire to ward off the enemy and gunpowder explosions, creating a thrilling atmosphere.
The unique pirate feast will energise you with tomahawk cuts, BBQ ribs, shrimp tacos and grilled octopus dishes – with a special menu designed just for the kids. There is also an open bar to keep adults hydrated.
Add the Jolly Roger Pirate Show to your itinerary when travelling to Mexico with kids – they will love it more than the adults.
Acuario Inbursa – Mexico City
The Acuario Inbursa is so big that it covers four floors and spreads into two buildings. You'll find over 14,000 species across the 48 exhibits, including sharks, seahorses, turtles, crocodiles, piranhas, penguins and more.
The interactive zone at the aquarium allows you to touch some species, such as starfish, albino frogs, peacock turtles, doctor fish and more. You will also learn about these species and what you can do to protect them and their fragile environment.
And for those who want to get up close with Penguins, there is a Penguin Encounter which allows you to get within close proximity to the penguins who live at the aquarium. As these penguins are housed within an exhibit resembling Antarctica, you will need to borrow the coats on offer, so you don't freeze.
____________________________________________________________________________________
We hope this guide has helped you plan your trip to Mexico. Other guides you may be interested in include Memphis with Kids, Colorado with Kids or Los Angeles with Kids.