With so many awesome things to do with kids in LA you could easily spend a few weeks here and still not tick off all the family activities in LA. When it comes to what to do with kids in LA, sure there are plenty of activities centered around the glitz and glamour of Hollywood and movie stars, but there are also plenty of other LA attractions for families such as art galleries, museums as well great hiking trails and lovely beaches.
If you have a family trip to Los Angeles with kids coming up, you will love this LA with kids guide. This guide covers all the best things to do with kids in Los Angeles, including plenty of free things to do LA, as well as things to do near Los Angeles (including Disneyland!). Other tips include where to stay in Los Angeles with kids, how to get from the airport to Hollywood and how to get around to the various LA attractions.
No matter the age of your kids, whether you are looking for things to do in Los Angeles with toddlers or things to do in Los Angeles with a teenager, you will find plenty of things to do for kids in LA to ensure your family has a fantastic trip!
This post may contain compensated links. Please refer to my disclaimer here for more information.
Talk to other families about their tips on visiting LA and join our Thrifty Family Travel Facebook Group.
Or if you're more of a visual person, get inspired on our Thrifty Family Travel Instagram Feed.
The Best Things to do with kids in LA
Throughout this section, I have provided a comprehensive guide to all the best things to do with kids in LA. I tried to provide as much information as possible to make your planning easier, including locations, opening hours and ticket prices.
You will note that for many of the top things to do with kids in LA I often recommend you purchase your tickets in advance from Klook. Yes, I will receive a small commission if you do purchase from Klook – but as you will see in most cases you will save yourself a stack of cash if you book through them. I use them myself to book tickets – sometimes I have been known to sit outside the ticket booth of an attraction and book tickets on my phone from Klook as they are sooooo much cheaper. Sometimes it is cheaper to book tickets elsewhere and I will let you know under each attraction if that is the case. Find out more about Klook here.
I've also included a map below, so you can see where everything is located. This is will make planning your itinerary so much easier.
Hollywood Walk of Fame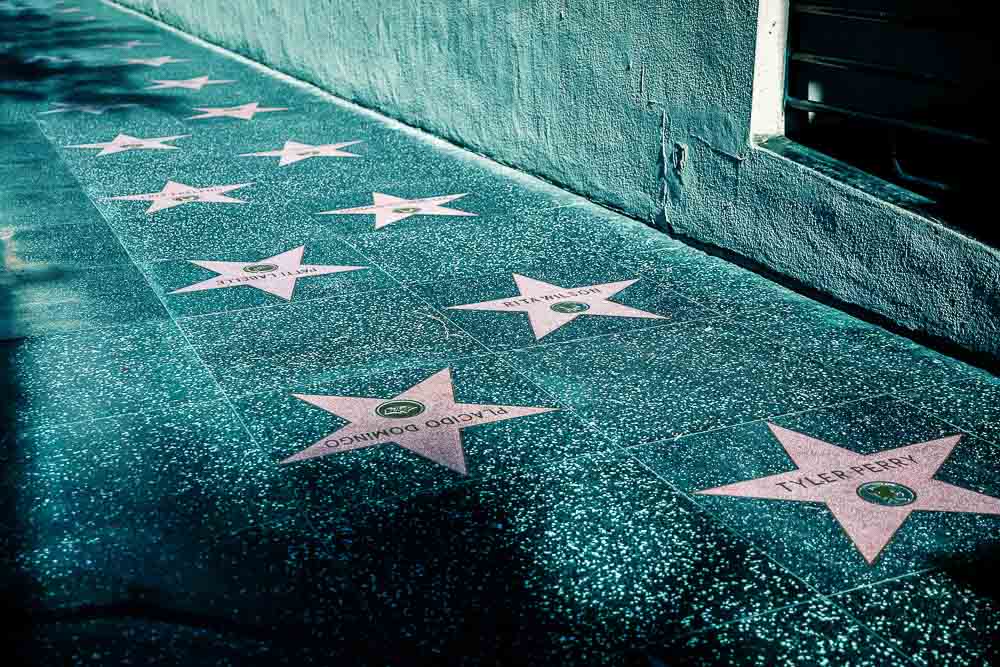 What to do in LA with kids which is free? Let them find their favourite movie star's plaque on the Hollywood Walk of Fame. Possibly one of the most popular Los Angeles tourist spots, this famous stretch of Hollywood Boulevard comprises more than 2,700 brass stars embedded in the sidewalks. These stars contain a mixture of famous people's names, marking their achievements to the entertainment industry.
What many people don't know is that this 'Walk of Fame' is quite a walk – over 15 blocks of Hollywood Boulevard and three blocks of Vine Street in Hollywood to be precise. However, I found most of the "bigger" stars around the area where all the main Hollywood Tourist Attractions are. To find out a particular celebrity's star check out the star search on the official website, this will save you heaps of time.
Kids will love finding some of their favourite characters, from Shrek to Mickey Mouse to Tinker Bell, whilst adults can spot plaques for their favourite actors or directors. Such a fun activity for everyone! We would recommend this as one of the top 10 things to do in Los Angeles for families.
If this is your first time in Hollywood – you have to take the kids to the Hollywood Walk of Fame – it's one of the best things to do in LA with kids or without.
Location: N Highland Ave &, Hollywood Blvd
Opening Hours: Anytime
Price: FREE
Dolby Theatre Guided Tour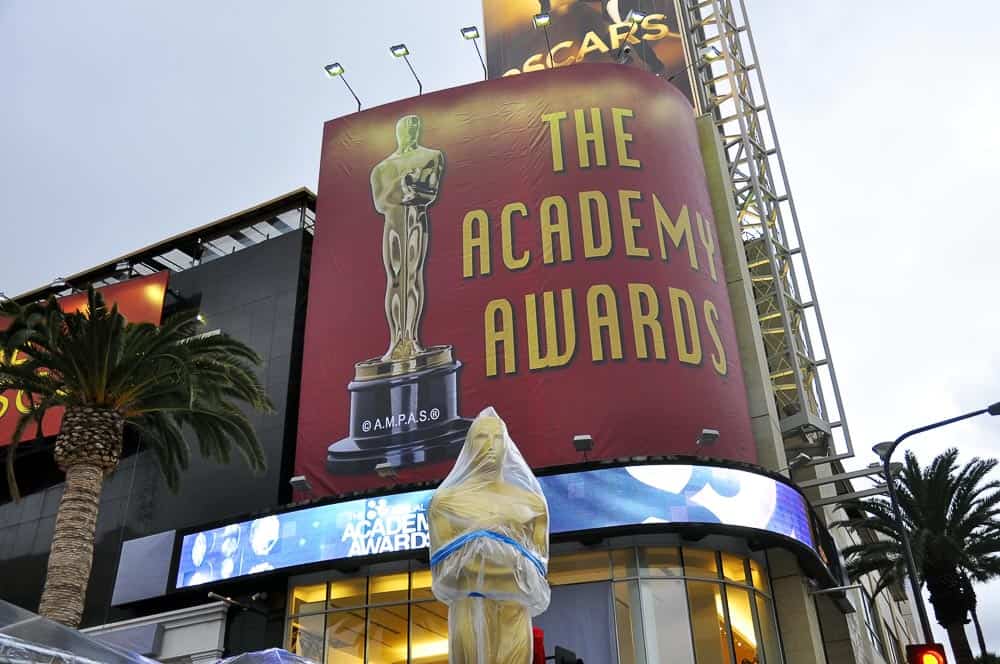 Visiting LA after the infamous Oscars 'slap' and want to see where it all happened? Head to the Dolby Theatre for a guided tour. Whilst it might not be one of the most interesting things to do in LA for kids, parents will no doubt enjoy walking through the Dolby Theatre. Take the 30 minute tour through one of the world's biggest entertainment venues. See this huge 3,400-seat theatre in all its glory as you walk through listening to interesting and entertaining facts and stories from your engaging tour guides.
As the theatre is used for productions, the guided tours are on days when no shows are scheduled.
Location: N Highland Ave &, Hollywood Blvd – adjacent to the world-famous TCL Chinese Theatre.
Opening Hours: Varies pending what productions are on, check website for schedule
Price: $28 Adults – Click here to buy tickets online.
TCL Chinese Theatre Tour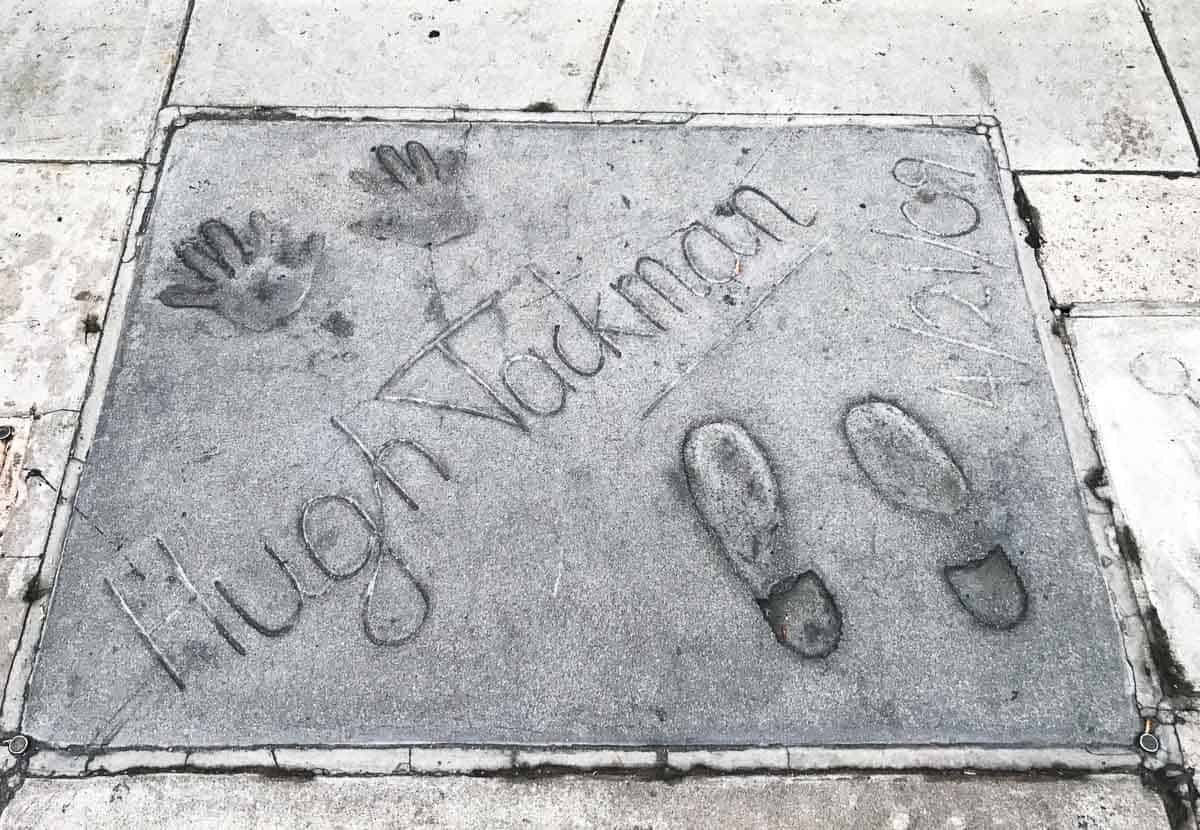 One of the top things to do with kids in Los Angeles is to visit the famed forecourt of the TCL Chinese Theatre where you can see the hand and foot prints of all the families favourite stars!
To learn more about the theatre you can join a guided tour. On this tour you will learn the history of this cinema palace from inside and out and discover stories and amazing facts past and present.
This is one of the great family friendly things to do in LA, kids will love placing their hands and feet in the celeb imprints and parents will get a kick from hearing stories about Hollywood's biggest stars.
Location: 6925 Hollywood Blvd – on the Hollywood Walk of Fame
Opening Hours: Daily excluding special events
Price: $19 Adults | $9 Kids – Click here to buy tickets online.
Hollywood Museum
This museum is housed in the historic Max Factor Building and home to a collection of memorabilia from the history of American motion pictures and television. The most extensive collection of authentic Hollywood memorabilia in the world is on display here, over four floors of magnificent exhibits. With more than 10,000 authentic treasures from favourite movies and TV shows, the whole family will be entertained.
This is one of the things to do in Los Angeles that the whole family will love! There are costumes from Marilyn Monroe, Elvis, Beyoncé, Leonardo DiCaprio – a level devoted to cult horror films plus loads of props, scripts and more!
Location: 1660 N Highland Ave. on Hollywood Boulevard
Opening Hours: Wednesday to Sunday 10am to 5pm.
Price: USD$15 Adult | USD$12 Kids
Hollywood Sign

When it comes to things to do in Los Angeles with kids, you can't leave town without at least a glimpse of the Hollywood sign. A trip to LA would not be complete without a photo with the famed Hollywood Sign. Though it is visible from all over the city from its high up position on Mt. Lee, it can be hard to get a good angled and un-obstructed shot. Below I have listed the best vantage points to take your perfect selfie with these iconic 45 feet tall letters… and the great thing is, you don't even need an LA tour guide, you can do it yourselves!
From the Hollywood and Highland Shopping Mall: From the corner of Hollywood Boulevard, walk north on to Highland Avenue and take the first left hand turn. This is the entrance to driveway of the shopping centre car park – labelled "Johnny Grant Way" Turn left into Johnny Grant and then an immediate left up the stairs to the patio level above.
From the Griffith Observatory: This is by far the easiest highest vantage points to take a photo of the Hollywood sign. There is plenty of other top LA attractions here too – see below for more details.
From Mulholland Drive: the 'Hollywood Bowl Overlook'- this place offers a wonderful view of the Hollywood Sign complete with a historical placard.
Whilst hiking: You can hike to the Hollywood sign too. In fact there are various hikes around and behind the sign on Mount Lee, and if you're visiting Los Angeles hoping to do some star spotting – this is just where you might find some of them!
Guinness World Records Museum
When it comes to what to do in Los Angeles with kids who love their facts and perhaps even a bit of a challenge themselves – a visit to the Guinness World Records Museum is highly recommended. The kids will love attempting records of their own and comparing themselves against the words tallest man or perhaps their weight against the worlds heaviest person.
So if you're after Los Angeles kids activities that are both interactive and educational, the Guinness World Records Museum could be just the place!
Location: 6764 Hollywood Blvd
Opening Hours: Daily 9am to 12am
Price: $29.99 Adult | $19.99 Kids | Kids under 3 FREE
Madame Tussauds
If you're looking for fun things to do in LA that the whole family will love, check out Madame Tussauds and get your picture taken with your favourite celebrity. The kids will love walking around and taking selfies and marvelling at the meticulous, realistic work on display, meeting over 125 incredibly life-like figures from the celebrity worlds of film, television and more!
Remember, you could get lucky and spot a celebrity when out and about, however if the kids want to get up close and personal without getting told off, Madam Tussauds in Los Angeles for kids is the best place!
Location: 6933 Hollywood Blvd – right next door to the TCL Chinese Theatre on the Hollywood Walk of Fame.
Opening Hours: Monday to Wednesday 11am to 6pm | Thursday to Sunday 11am to 8pm
Price: $36.45 Adults + Kids | Kids under 2 years FREE – Click here to buy tickets online.
Sunset Strip
This one is for the Mums and Dads who are interested in some of the film and music history of Hollywood. Stroll down the Sunset Strip and see where some of Hollywoods greats wined and dined, performed, stayed, lived and in some cases died.
The Sunset Strip is the section between Havenhurst Drive and Doheny Drive, it has been the place for many historic events, such as the counterculture protests in the 1960s and the Rock and Roll decadence in the '70s and '80s. More recently it has undergone a chic revival, with luxury hotel towers and fine restaurants.
If you are looking for free things to do in Los Angeles, take a DIY tour to photograph some of the iconic Hollywood landmarks along the famous Boulevard. Most venues aren't child friendly so grab a photograph from the outside and keep on walking. Check out:
Number 8221 – Chateau Marmont: A castle-like luxury establishment that has housed its share of Hollywood gossip. This is where comedian John Belushi died from an heroin overdose.
Number 8358 – Sunset Tower Hotel: This historic Art Deco hotel achieved landmark status from the moment it opened in 1929. This lavish hotel attracted famous residents such as Marilyn Monroe, John Wayne and Elizabeth Taylor to name but a few, with its advanced technology, décor and location. Sunset Tower Hotel has appeared in many famous films over the years giving the hotel its star status. A quick photo stop with this iconic landmark is a must for the holiday album.
Number 8433 – The Comedy Store: Many famous comedians have been featured at this venue at one time or another.
Number 8852 – The Viper Room: Once owned by Johnny Deep, you may recall this nightclub being most famous for the place where actor River Phoneix died in 1993 from a drug overdose. **In 2023 construction will begin on a 12-storey high-rise**
Number 8901 – Whisky A Go Go: A famous music venue where many bands got a start – bands such as The Doors, The Who, The Kinks, The Byrds, Led Zeppelin and Jimi Hendrix once played here.
Number 9015 – Rainbow Bar: Back in the day this is where Marilyn Monroe went on her first date with Joe DiMaggio and where Vince Minnelli proposed to Judy Garland.
So, whilst not the greatest thing to do in LA for kids, it will expel some of their energy as you explore on foot and give the whole family a chance to do some star spotting along this celeb frequented strip.
Warner Brothers Studio Tour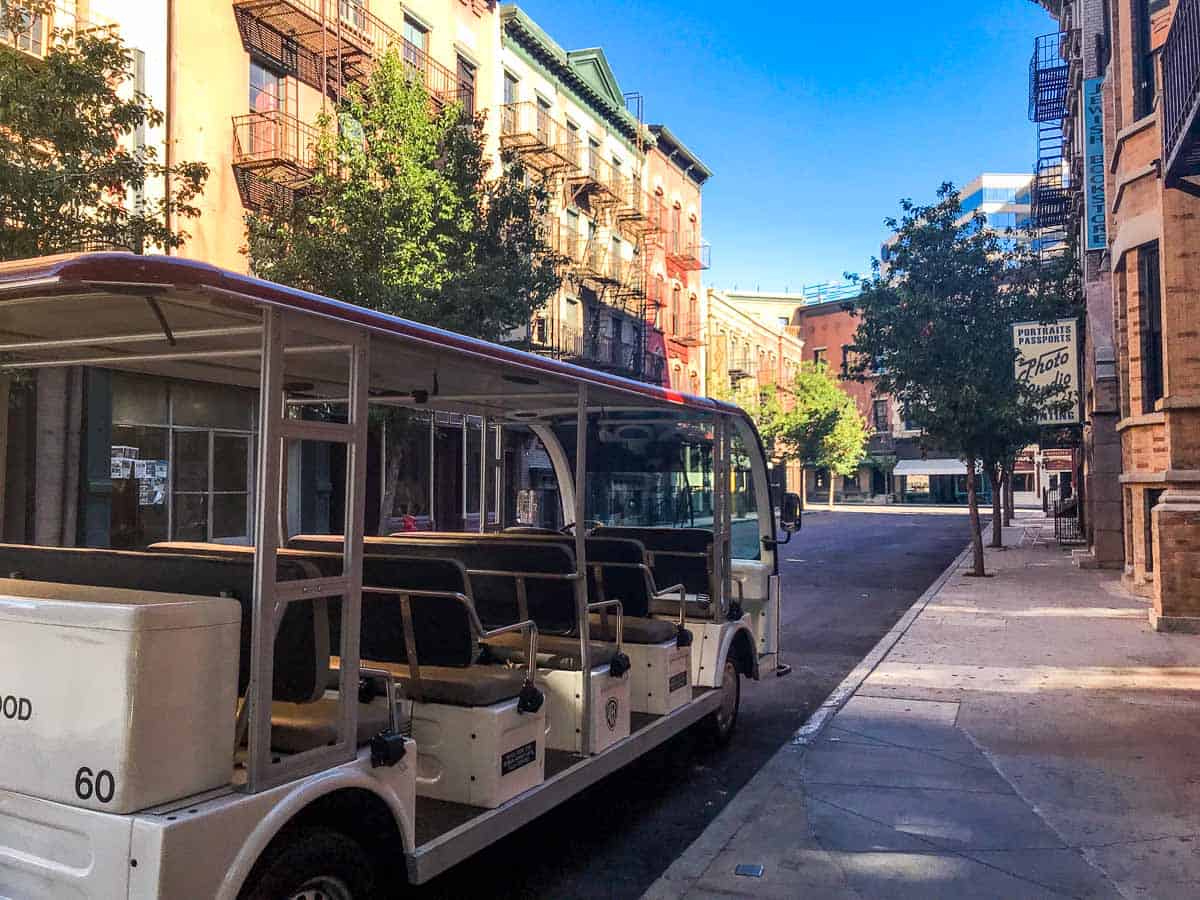 One of the highlights of my recent trip to LA was definitely the Warner Brothers Studio Tour. On this guided tour you not only get to see where some of your favourite movies and TV shows were made but also learn all about just how they are made.
I'm not a huge TV and film buff, but I was just enthralled learning about all the behind the scenes stuff. And I must admit it was super cool to see where some of my favourite shows and movies were made such as ER, Annie, Friends, The Greatest Showman, Minority Report, the Cable Guy, Ellen and loads more.
The tour involves a look at some of the backlots (see pic above), as well as a look at inside some real life working sets. There are also a few stops where you can see some costumes, various bat mobiles, the prop shop as well as an excellent museum at the end. I spent around 90 minutes at the Museum.
They say no tour is ever the same, I guess it depends on what is going on, on the day of your visit. So you can come back again and again and you will see something different each time. The only sad part is, kids under 5 are not allowed, which is unfortunate as I think many kids would absolutely love this tour. But if your kids are over 5, honestly this would be one of the best family things to do in Los Angeles.
The guided component of the tour went for around 90 minutes and then as I mentioned I spent another 90 minutes exploring the Museum. Tours start at the Warner Bros studio which is located on 3400 West Riverside Drive, Burbank. Its a little out of town so I recommend driving or take an Uber.
Location: 3400 Warner Blvd, Burbank
Opening Hours: Thursday to Monday 9am to 3.30pm
Price: $81.99 Adult | $65.19 Kids (5-10yrs) – Click here to buy tickets online.
See a Live Talk Show or Sitcom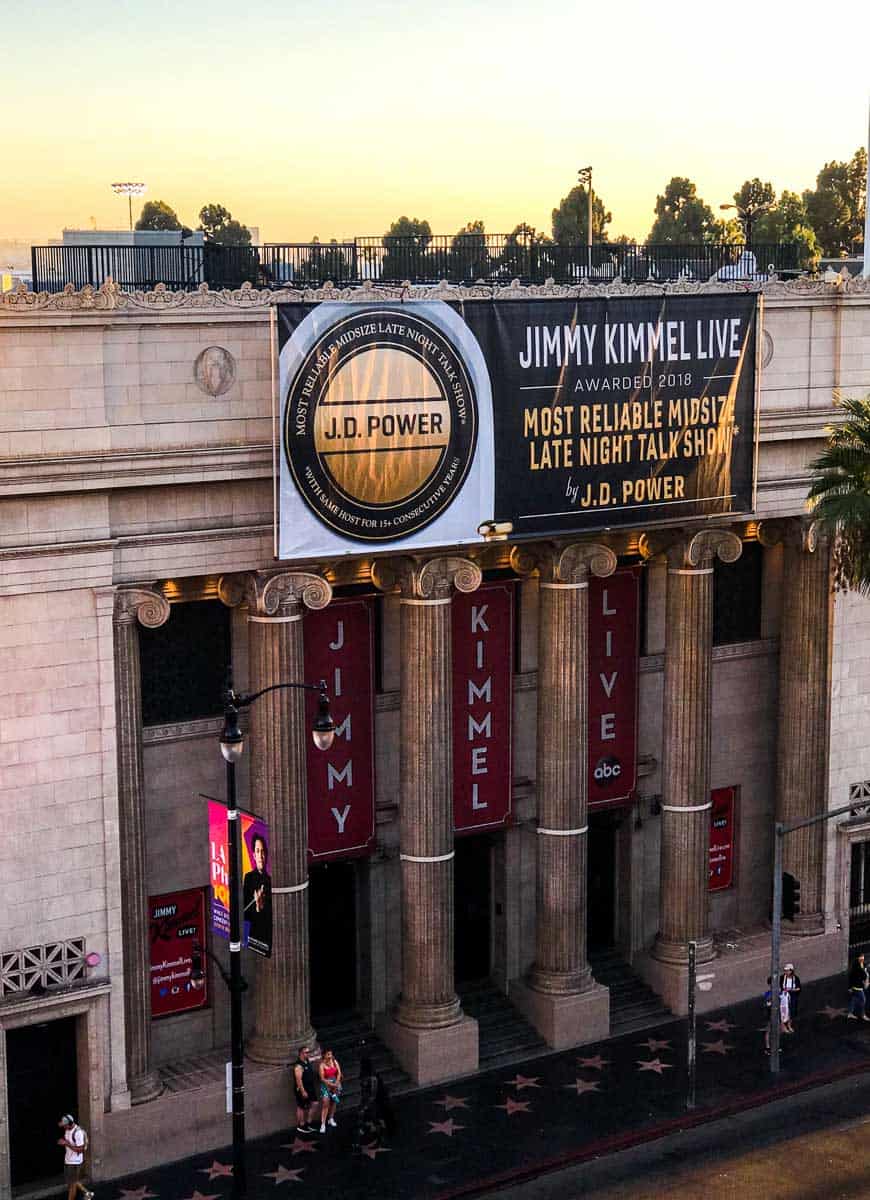 Attending a free TV show taping in LA, is a great opportunity to see your favourite television stars live and in person and is no doubt one of the best free things to do in LA. There are many online audience service companies that offer these free tickets.
As tickets are usually released 30 days in advance with popular sitcoms and talk shows booking out the day they are released, I recommend planning this in advance before you commence your family holiday. Just double check the minimum age requirement before booking to ensure the whole family can attend.
Family friendly tickets for shows and sitcoms can be obtained from:
1iota represents some great talk shows such as "The Kelly Clarkson Show", "The Late Show with James Corden", "Jimmy Kimmel Live!" and more… not only are the hosts well known in their own right, the guests they have on are some of America's greatest celebrities! If you've got older kids this is one of the best things to do in Los Angeles, that you can't do anywhere else!
On Camera Audiences specialises in providing audiences for talent shows like "Dancing with the Stars", "America's Got Talent", and "So You Think You Can Dance" as well as game shows like "The Price is Right", "Family Feud" and "Let's Make a Deal". These shows are great for all ages and one of the great things for families to do in Los Angeles together.
Griffith Park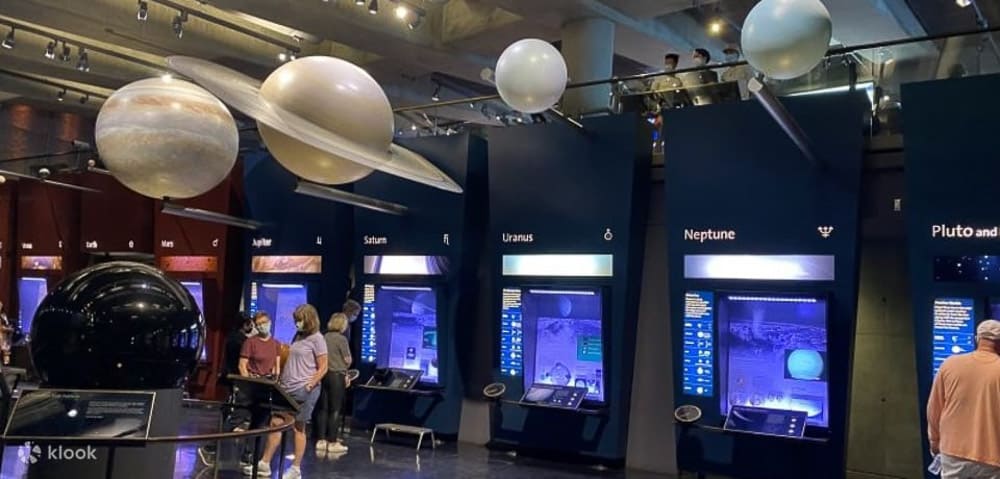 Easily one of the top 10 things to do in Los Angeles with kids, is a visit to Griffith Park. This park is over 4000 acres of natural landscape covered with California oak trees, among other diverse flora and fauna. Being the largest public park in the USA, it is not only a gorgeous setting for hiking and picnics, but it also has tons of LA attractions for kids. The park is open daily from 5am -10:30pm and the main entrance is at 4730 Crystal Springs Dr, Los Angeles.
One of the best things to with kids in Griffith Park is to visit the Griffith Observatory. Here you can see space related exhibits and star shows in the planetarium. The Observatory also has great views of downtown LA and the Hollywood sign. The best way to see and hear all about the Observatory is to book a guided tour, see below.
Location: 2800 East Observatory Rd
Opening Hours: Friday 12pm to 10pm | Saturday & Sunday 10am to 10pm | Monday to Thursday Closed
Price: Entry to the Observatory is free, but you must buy tickets to the planetarium show (only purchased at the observatory). If you would like a guided tour of the Observatory – Click here to buy tickets online.
Shane's Inspiration Playground
Sitting on 2 acres in Griffith Park, this playground features several fantastic play elements, and is designed to be accessible to kids of all abilities.
If you're visiting Griffith Park we highly recommend to stop in at Shane's Inspiration for a play with the kids. Los Angeles was honored to have this first Universally Accessible Playground in the Western USA, which has inspired the creation of more inclusive and accessible playgrounds throughout California and beyond. Be part of history!
Location: 4730 Crystal Springs road (mid park)
Opening Hours: Daily 5am to 10.30pm
Price: FREE
Los Angeles Zoo
This zoo stretches over 113 acres and is home to more than 1,100 birds, mammals, amphibians, and reptiles representing more than 250 different species including 29 endangered ones. This zoo is also well-known for its exciting special exhibits, events and evening programs that are ever changing throughout the seasons.
Whilst you can visit a zoo in your home country, there's always something different when exploring a zoo in another country, plus it is a relatively inexpensive attraction when in LA, kids will love.
Location: 5333 Zoo Drive (across from the Autry Museum of Western Heritage)
Opening Hours: Daily 10am to 5pm
Price: USD $22 Adult | USD$17 Kids | Kids under 2 FREE
Travel Town Museum
Travel Town Museum is a railway museum where kids can explore various travel-themed experiences, like the popular miniature train ride. They have regular events and workshops throughout the year like passenger car tours and engineer playdays. Check out their events calendar to find out more.
As one of the few free family activities in Los Angeles, if you're trying to stretch your budget whilst keeping the kids entertained, this could be well worth adding to the itinerary.
Location: 5200 Zoo Dr (North West corner of Griffith Park)
Opening Hours: Daily 10am to 5pm | Closed Wednesdays
Price: FREE entry. Train Rides are USD$3.50 Adult | USD$3.00 Kids
Melrose Avenue
If you're looking for trendy LA tourist spots, take a stroll down Melrose Avenue. Melrose Avenue is lined with fun boutiques and is one of the places to visit in Los Angeles if you love to shop. This shopping, dining and entertainment destination would be a hit with teenagers that love fashion.
Also if you're like me and love exploring a cities street art, here you will find quite a few:
Made in LA Wall: 8025 Melrose Avenue
The Pink Wall, which is the creative façade on the Paul smith store: 8221 Melrose Avenue
Paul McCartney Wall: Corner of Melrose and La Jolla
These are the perfect spots to get an insta selfie, so if you have a sulky teen, and are looking for things to do in Los Angeles with teenager… this could very well be it!
Paramount Studios
During a tour at Paramount studios you will get to explore and see the sets where many well-known movies and TV shows are made. You will get an insight into Hollywood history and insider knowledge by your tour guide. As one of the longest operating and only remaining major studio in Hollywood, Paramount Pictures is definitely one of the top 10 things to do in Hollywood, Los Angeles – where you can help celebrate 100 years of history!
Location: 5515 Melrose Ave, at the corner of Melrose Ave and Plymouth Blvd.
Opening Hours: 9.00am to 3.30pm

Price:
The standard cart 'Studio Tour' is 2 hours long with several slots to choose from on weekdays during the morning and afternoon. This tour will give you a behind the scenes look at a true working studio, getting to visit iconic locations whilst learning the history of Paramount's legacy. The cost of this tour per person is $63 USD.
The 'VIP Tour' is 4.5 hours long and available Monday, Wednesday and Friday. This tour includes everything in the standard tour plus VIP access to archived production facilities, food, 15% discount at the studio store, complimentary parking and a personalized photo to take away. This tour is $199 USD per person.
If you would like to book one of the tours, click here.
The Original Farmers Market & The Grove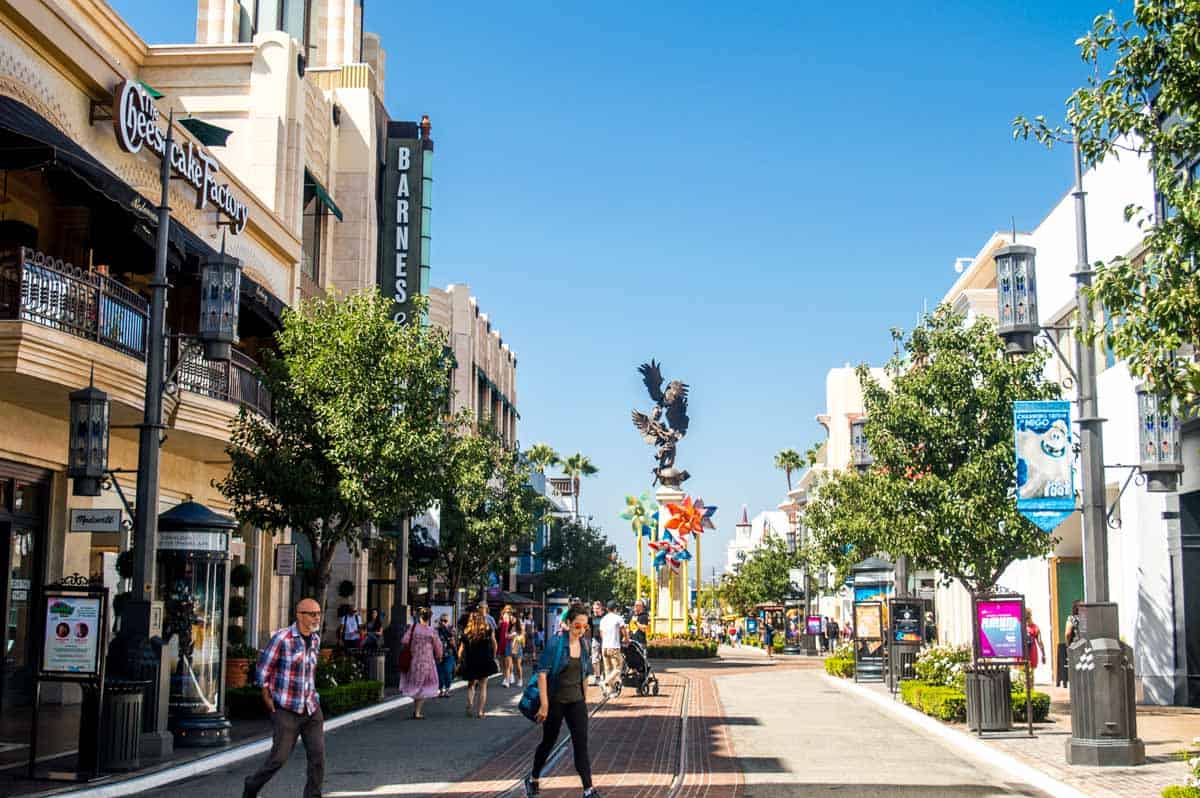 Blend tradition with modern shopping, the farmers market maintains a strong connection to its past with many Hollywood locals still buying meats and produce here, yet it's always full of tourists visiting the trendy restaurants and shops that face the central park area of The Grove. The Grove is a massive, outdoor shopping mall with all your favourite stores.
Whilst you might not think the farmers markets is one of the exciting places to visit in LA with kids – they will love the free food samples on offer, and you might just spot a celeb or two picking up fresh produce!
Location: 6333 W 3rd St, Los Angeles
Opening Hours: Sunday to Thursday 10am to 8pm | Friday & Saturday 10am to 9pm
Price: FREE
Rodeo Drive – Beverly Hills
For all my Pretty Woman fans out there – where to go in Los Angeles for clothes? Rodeo Drive Baby! Well that would be window shopping if you have the same bank balance as I do. Famous for its fancy upscale boutiques and the expensive cars such as Lamborghini's, Rolls Royce's, and Bentley's parked out the front – Rodeo Drive tends to be one of the must see LA tourist spots, particularly for Pretty Woman fans.
Don't forget to check out the Regent Beverly Wilshire Hotel where both Julia Roberts and Richard Gere's characters spend the week.
Location: Rodeo Drive, Beverley Hills
Opening Hours: Individual store/restaurant opening times may vary.
Price: Window Shopping = FREE.
Santa Monica Pier and Pacific Park
One of the best family things to do in LA would have to be a visit to Santa Monica Pier. This landmark is very popular with locals and tourists alike and home to Pacific Park amusement park. This iconic amusement park is not a big, extravagant theme park like LA's more renowned attractions; but it has a carousel, Ferris wheel, and a roller coaster, along with some tamer rides for the little ones.
With a beach, ice-cream and rides all in one place, you don't get more kid friendly places in LA than at Santa Monica Pier.
Location: 380 Santa Monica Pier, Santa Monica
Opening Hours: Check Park's scheduled operating hours here
Price: Whilst entry to Santa Monica Pier and Pacific fair is FREE, rides and attractions are priced individually and start at $5 USD. You can also purchase unlimited ride passes starting at $25 USD for kids 7 years and under or $45 for everyone else.
Venice Beach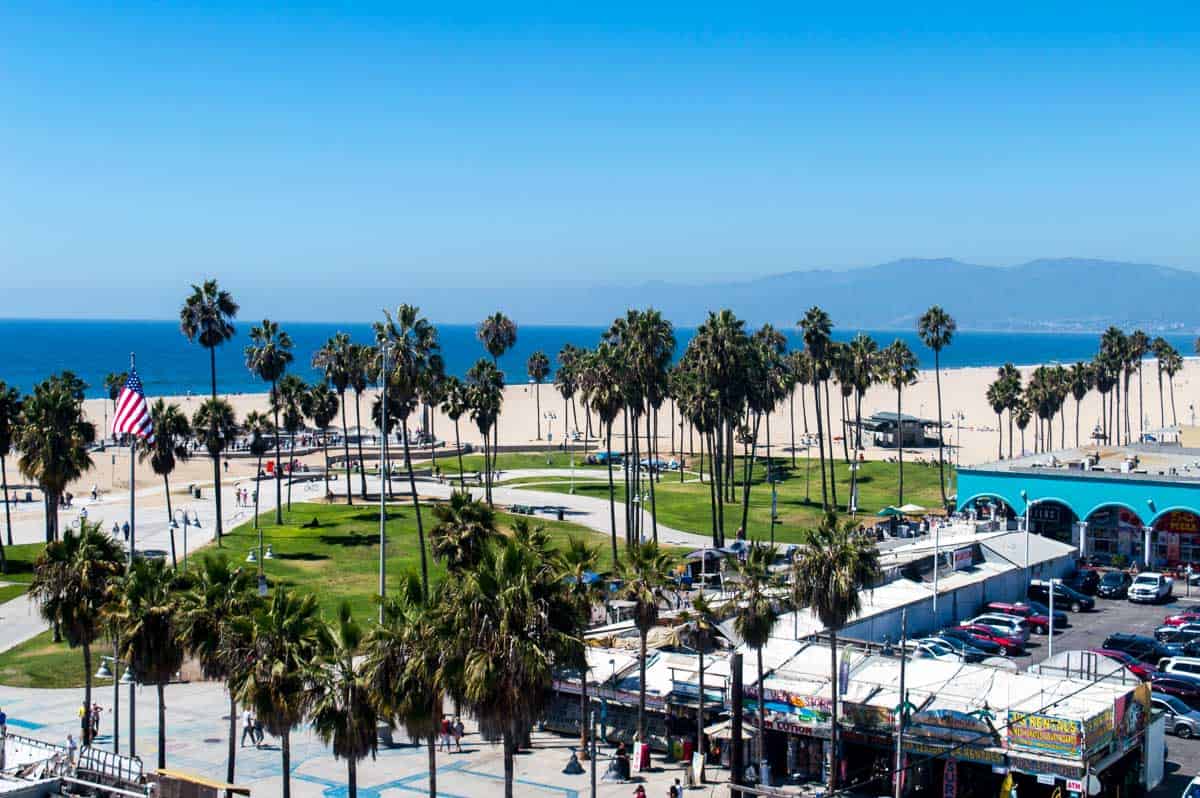 For more family fun in Los Angeles, head down to Venice Beach. This quirky funky beach, along with its iconic beachfront boardwalk, hosts street entertainers and vendors that the entire family will love. Remember if you take a snap of a street performer it is polite to tip them, make sure to have some change on you.
I recommend you start your visit at one of the roof top restaurants / bars for this fantastic view! Yes, they are a little more expensive then one of the street cafes, but you can just purchase a drink if you want to save. Then take a stroll from here along the board walk all the way up to Santa Monica beach, stopping at the various stalls or watching the buskers along the way. Without stopping (hardly possible with so much to gawk at), the walk will take around 30 minutes.
You also might like to take a detour inland to see the Venice canals and street art – this is one of the really cool things to do, Los Angeles is not super well known for, but it is becoming more popular, so jump on the bandwagon early!
Location: Venice Boulevard
Opening Hours: Always open. Individual vendors will have different opening and closing times.
Price: FREE
LA County Museum of Art
If your family are lovers of art, then places to go in Los Angeles include a visit to the LA County Museum of Art. Here you will find a huge volume and diversity of art with collections ranging from pre-history to contemporary art. With continuously changing exhibitions stretched across more than 20 acres of land, I would recommend checking out the museums event calendar before you go.
Even if you don't have time to go inside and explore the museum, check out the Urban Light display out the front. Kids will love running through the different size lamp posts and the display makes for some awesome photographs.
Location: 5905 Wilshire Boulevard
Opening Hours: I recommend you click here for opening hours as they tend to vary.
Price: Adults USD$25 | Kids USD$10 | Kids under 2 FREE
Grammy Museum
The Grammy Museum is one of the great kids museum Los Angeles has on offer for families. Here you can explore the history and cultural significance of American music and see some amazing artifacts from music history such as precious manuscripts, costumes, ornaments, and commemorative short films, at this iconic museum. There is plenty of interactive exhibits for the kids, including the opportunity to play a range of musical instruments and recording your own music. For Mum and Dad there is a huge range of music exhibits, from rock and hip-hop to country, classical, Latin, R&B, and jazz.
I really enjoyed the Grammy Museum and spent around 90 minutes here. However I was on my own, I think for a family you could spend 2 hours or more, particularly if you had a go at the various interactive exhibits.
Note with the exhibits, they do put on 'special exhibits' throughout the year, so check the Grammy Museum website before you go as there could be one on when you're in Los Angeles, kids will love!
Location: 800 W. Olympic Blvd, (on the corner on W. Olympic Blvd. and Figueroa St).
Opening Hours: Sunday to Friday 11am to 5pm | Saturday 10am to 6pm | Closed Tuesdays
Price: Adults USD$18 | Kids USD$12 | Kids under 4 FREE
Broad Museum
If your kids love bright big objects they will love the Broad Art Museum. Myself, I'm not a huge art lover, but I really enjoyed the various pieces on display here.
I think the kids will love these exhibits:
The Yayoi Kusama's Infinity Mirrored room: here you experience a beautiful, multi-coloured light display which seems to go on forever (you must reserve a free timed ticket, you can do so here).
Jeff Koons sculptures: Picture above, these large, delightful stainless steel sculptures will amuse the whole family.
Under the Table: Kids and adults alike will love feeling extra small among the gigantic furniture.
The Broad's free mobile app, enhances your experience by providing information about the Broad and its collection.
So if you're looking for what to do with kids in Los Angeles that is cultured, but also that they will enjoy, the Broad Museum could be the (free) ticket!
However you still must reserve a ticket online or queue up in the standby line outside the museum which operates on a first come first serve basis. Please note, only single strollers are permitted inside the museum, if you have a jogging or double stroller I recommend wearing a baby carrier if possible or holding your baby / infant.
Location: Grand Avenue in Downtown Los Angeles at 221 S Grand Ave
Opening Hours: Wednesday – Friday 11am to 5pm | Saturday & Sunday 10am to 5pm | Closed Mondays & Tuesdays
Price: General Admission is FREE however you must reserve your ticket online prior to your visit. Click here for access to the museum's online ticket reservation system.
Disney Concert Hall
Even if you don't go to see a show at the Walt Disney Concert Hall I highly recommend you stop by to check out this magnificent building! Its only a short walk from the Broad – and you won't miss it! The Hall's exterior is an architectural masterpiece and you will be in awe of the metallic curves of the building.
Self-guided audio tours and guided tours of Walt Disney Concert Hall are offered by the Music Centre most days. All tours are an hour long and begin in the Grand Avenue Lobby of Walt Disney Concert Hall.
Not one of the absolute best things to do in LA for kids, but it's free and they'll learn something in a fun way!
Location: 111 South Grand Avenue in downtown Los Angeles.
Opening Hours: Click here for The Music Centre Tour Schedule
Price: FREE
Natural History Museum of LA County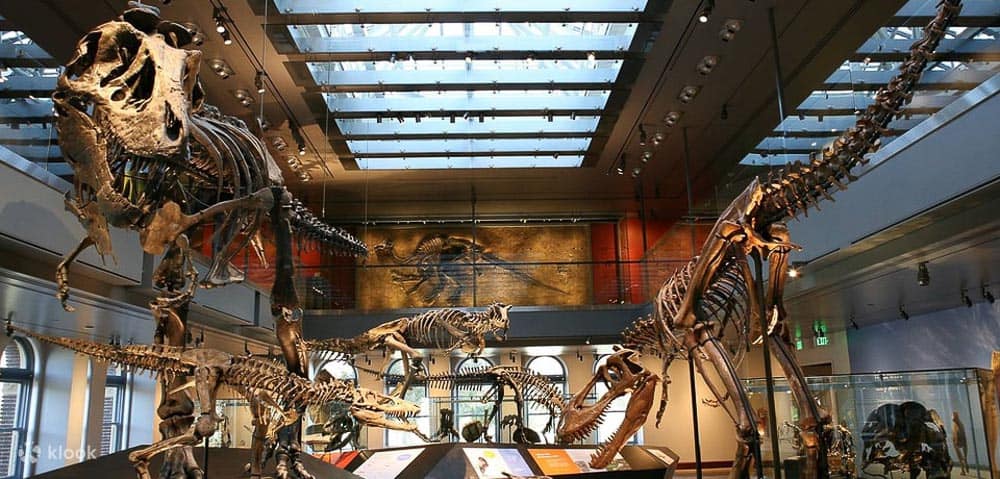 This museum is the largest natural and historical museum in the western United States, home to over 35 million specimens that go back billions of years. In the Dinosaur exhibit the kids will love seeing fascinating pre-historic creatures and checking out the T. Rex Growth Series inside the Dino lab where they can see paleontologist work behind the scenes.
This is one of the things to do with Kids LA has on offer that is reasonably price, they will love and if it's raining the bonus is – it's indoors!
Location: 900 Exposition Blvd. in Exposition Park, between Vermont Avenue and Figueroa Street
Opening Hours: Daily 9.30am to 5pm | Closed Tuesdays
Price: Adults $19.71 | Kids $8.45 | Kids under 3 FREE – Click here to buy tickets online.
Day Trips from LA
Of course there are some world famous theme parks in and around Los Angeles which is often the main reason for a family holiday here. Below I have listed some of the places to go for the best kids activities Los Angeles has for families. As well as where to get discounted tickets.
Disneyland and Disney California Adventure Park
Fun activities in Los Angeles don't get much better than this! There's not much I can say that you don't already know about the most famous theme park in the world… except to say it is pretty much one of the best things to do in Los Angeles with kids!
Full of the traditional Disney charm and attention to detail, your visit here will create memories to last a lifetime! Especially with the help of the obsessively perfect Disney cast and staff who make sure your visit runs smoothly. Disneyland is about experiencing the fairytale and watching the famous cartoon characters of Walt Disney come to life.
The child in you will enjoy this place as much as your children. Disneyland is more about family fun than motion sickness fast rides, however, a section of the park – Tomorrowland has a few rides for the thrill seekers.
Also in Disney California Adventure Park you will enjoy 7 exciting lands that bring Disney, Pixar and superhero stories to life.
You'll have the chance to meet all your favourite Disney characters at both parks, in addition to rides, experiences, and attractions from Marvel, Star Wars, Pixar Animation, and more!
Just a word warning – this place is HUGE!!! I went some years ago with a day 3 pass and was exhausted! There are plenty of posts on the internet about how to tackle a visit to Disneyland so I won't go into it here, only to say if you want to do more than touch the surface, I'd recommend at least 2 -3 days here. I mean some families even stay a week!
It is better to stay in Anaheim near the park for the few days you intend to explore Disneyland. Click here for family accommodation near Disneyland.
Location: Disneyland is located in Anaheim at 1313 Disneyland Drive, you can get here by car, bus or train, click here for more information and directions
Opening Hours: Disneyland is open every day of the year. With opening hours being seasonal, check their website for more accurate times when you visit.
Price: Tickets come in a variety of configurations. Which type of ticket is right for you will depend on the season, how much time you have; how much you want to spend and how much flexibility you need. For a 2 Day '1 Park Per Day Ticket', Adults $339 | Kids $319 | Kids under 3 FREE – Click here to buy tickets online.
Need more help planning your Disneyland vacation? Read our guides on where to stay in Anaheim here and whether the Genie+ is worth the extra money here.
Universal Studios Hollywood
Another one of the great things to do with family in Los Angeles is a day trip to Universal Studios. There are many movie rides here to give you an adrenaline rush, from Revenge of the Mummy, to Jurassic park and Transformers to name few. From cartoon characters to studio tours, there is also other things to see and do if the fast-paced thrill-seeking rides don't appeal to you.
Also, if you have teens and are looking for Los Angeles things to do that are age appropriate, they'll enjoy the 'cooler' feel of Universal Studios compared with Disneyland.
I've visited Universal Studios multiple times over the years and love it! Its a great day for the entire family and has a range of rides and shows suitable for the entire family. I personally think 1 day at the park is plenty.
Location: 100 Universal City Plaza, Universal City which is located just north of downtown Los Angeles in the San Fernando Valley.
Opening Hours: Open every day of the year. With seasonal opening hours, check their website for accurate times when you visit.
Price: Tickets come in a variety of configurations in low season and high season to regular 1 day or 2 day tickets in addition to Universal Express and VIP tickets. Universal Express tickets allow one-time express access to each ride, attraction and show (excluding retail locations and restaurants). Whereas VIP tickets allow unlimited front of line access to each attraction and priority seating at each show, also included in this ticket is a guide, lunch and access to exclusive lounge. Which type of ticket is right for you will depend on how much time you have; how much you want to spend and how much flexibility you need.
Non-Peak Season General Admission 'Buy A Day, Get a 2nd Day FREE', tickets: Adult $133.55 | Kids $126.55 | Kids under 3 FREE – Click here to buy tickets online.
Knotts Berry Farm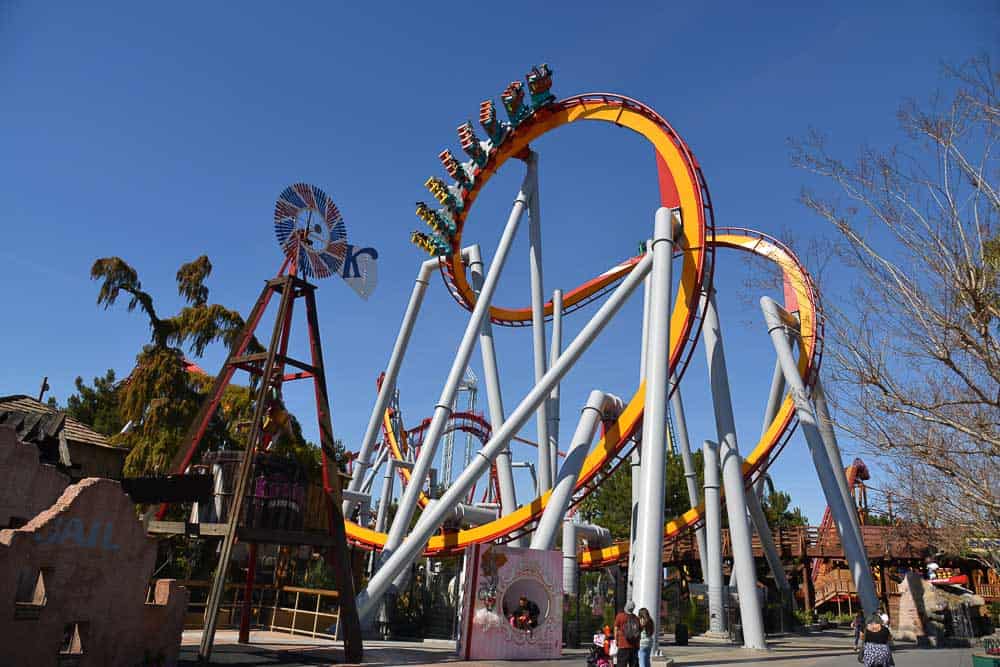 In addition to the well-known Disneyland and Universal Studios Hollywood, you have the family-friendly Knott's Berry Farm. This Snoopy inspired theme park has a nice mixture of rides for younger kids, and high thrill roller-coasters and other fast exhilarating rides to keep the big kids entertained. The original Ghost Town hosts various live interactions with colourful historic characters, which is expanded in summer.
Location: 8039 Beach Blvd, Buena Park, which is near Anaheim.
Opening Hours: Check out the website for seasonal operating hours.
Price: Prices vary depending on the day purchased – they will be approximately USD$75 online and USD$99 at the gate, click here to buy online and see different ticket types.
Knott's Soak City
This seasonal waterpark is LA's largest water park boasting a total of 22 speed, tube and body slides plus a giant wave pool, lazy river and interactive kid's area. You can hire cabanas for the day also to have some time out and there are also a few dining options on sight. You will love spending a family day out here- weather permitting of course.
Location: Knotts Soak City is next to Knott's Berry Farm.
Opening Hours: Park hours are seasonal check out their website for exact hours for when you plan to visit.
Price: Various ticket combinations, prices range from USD$50 for a general day admission ticket. Click here for more information and to get your tickets online.
Six Flags Magic Mountain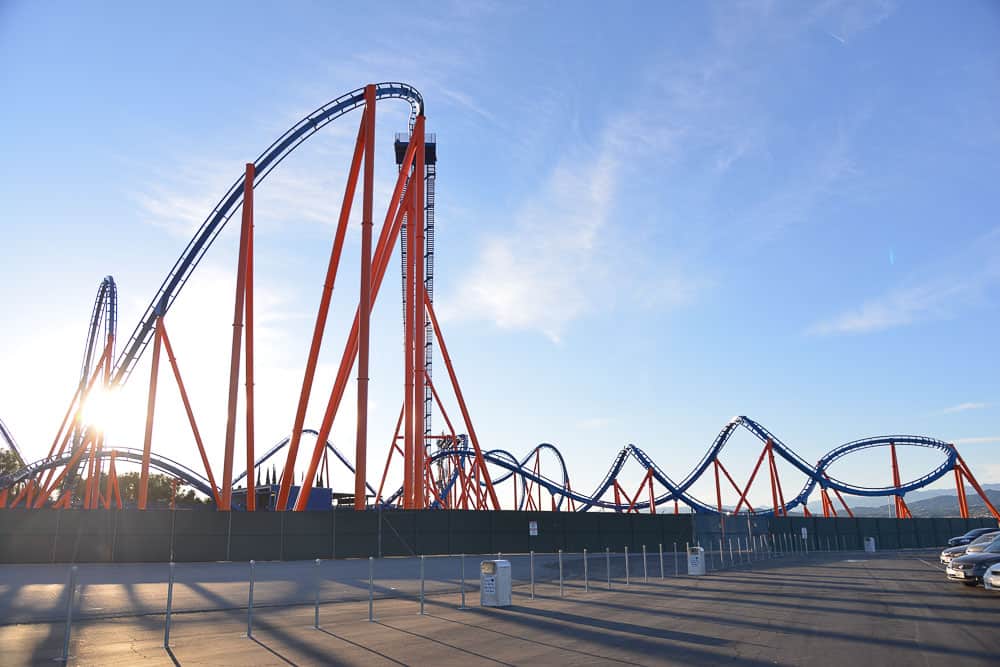 Six Flags Magic Mountain is a 262-acre amusement park in Valencia that is more suited for courageous teens who love extremely fast rides. Due to the amount of thrill rides here, it is LA's most extreme amusement park and its no wonder why fans of fast scary rides flock here.
Location: 26101 Magic Mountain Parkway, in Santa Clarita.
Opening Hours: Open daily, but times are seasonal check out the website for exact times.
Price: General Admission starts from around USD$65 per person. Click here for more information and to get your tickets online.
Sea World San Diego
Have a family day out visiting this famous wildlife park and its massive array of marine animals including seals, sea lions, polar bears, whales, penguins, bottlenose dolphins and more. Sea World is all about the animals and offers many live shows such as Turtle reef and the Shark encounter. And to change it up a bit or in between show times hop on the theme park rides and experience thrilling attractions such as the double-launch roller coaster Manta.
It is around a 2-hour drive and one of the best day trips from Los Angeles. Tickets to Sea World are either general admission, or include all-day food. Click on the link below for more info and pricing.
Location: Located in Mission Bay Park, 500 Sea World Dr, San Diego. Sea World San Diego is two hours south of Los Angeles via vehicle. It is also accessible by public transportation from LA, click here for more assistance.
Opening Hours: Park hours and show schedules are updated periodically. Check out their calendar on SeaWorld's official website for accurate information.
Price: All tickets are $94.39 – Kids under 3 FREE – Click here to buy tickets online.
Legoland
I haven't been myself, but I have heard from others that Legoland is fantastic if you're looking for fun things to do with kids in Los Angeles. Marvel at everything constructed from LEGO bricks. Highlights include feeling like giant's when walking through Miniland USA with miniature recreations of Washington D.C., New York, and San Francisco and more in addition to checking out the recreated scenes from the Star Wars movies. The park has more than 60 rides, shows, and attractions that both kids and adults will enjoy, from rollercoasters, live shows, and even meet-and-greets!
With Lego seeing a resurgence in popularity of late, with TV shows featuring Lego building, supermarkets giving away Lego and themed Lego bricks available to purchase – this is one of the Los Angeles things to do with family members of all ages!
Location: Legoland is located at One Legoland Drive, Carlsbad, which is in between Anaheim and San Diego.
Opening Hours: Daily 10am to 6pm but park hours are updated periodically, and some days in certain seasons are closed. Click here to view the calendar.
Price: Adult $134.35 | Kids $126.89 | Kids under 3 FREE – Click here to buy tickets online.
Aquarium of the Pacific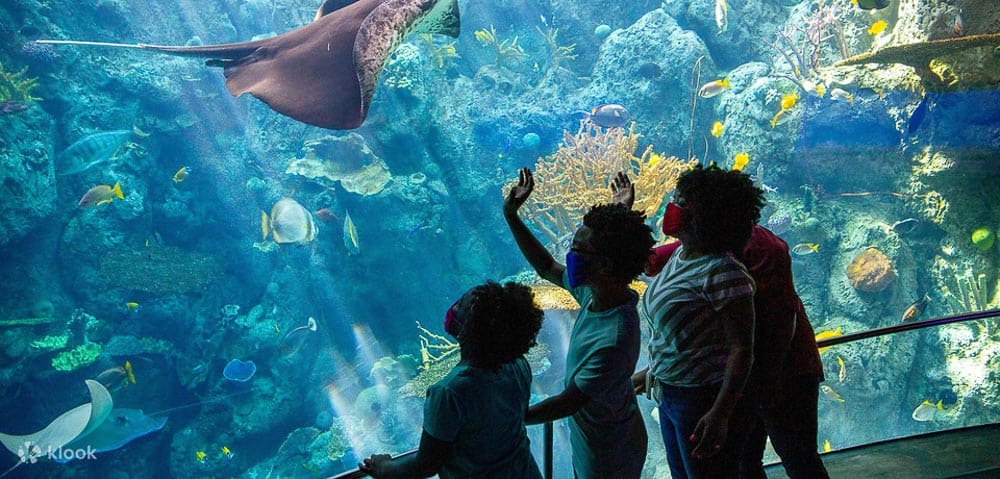 The aquarium has over 11,000 animal exhibits, and numerous opportunities for up-close encounters with marine life from all over the world including penguins, sharks and more! This is an interactive aquarium and kids will love dipping their hands in the tidal pools filled with marine life such as star fish, small sharks, sea cucumbers and more.
From watching penguins waddling on land and swimming underwater, peering through the floor to ceiling windows at the vast underwater ecosystem, going on Harbor Tours, watching a 4D film, and participating in a variety of children's educational programs – there's so much to see and do that will entertain the entire family, definitely one of the kid friendly things to do in LA!
Location: 100 Aquarium Way, Long Beach
Opening Hours: Daily 9am to 6pm
Price: Adult $39.59 | Kids $29.19 | Kids under 3 FREE – Click here to buy tickets online.
Battleship USS IOWA Museum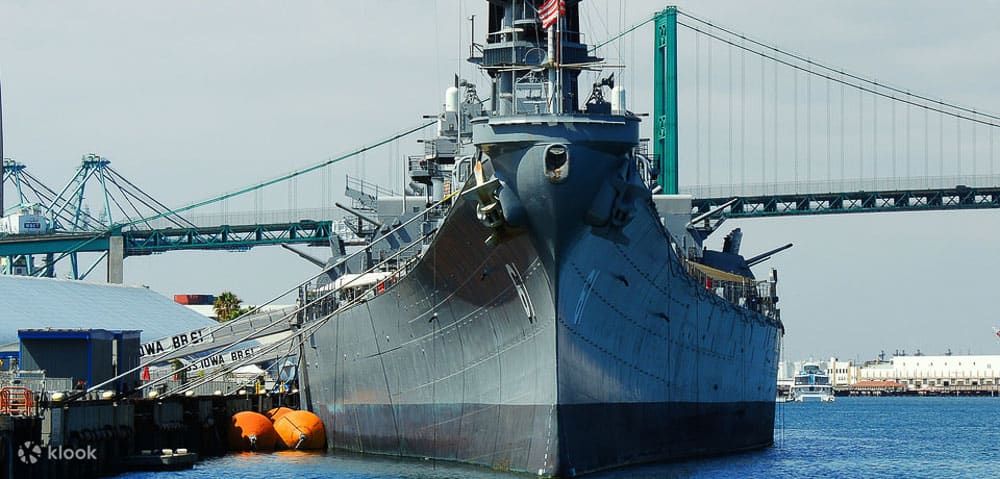 Experience an American adventure and walk the passageways and compartments where 3,000 sailors fought America's wars on this self-guided tour. I recommend you download the interactive tour app of the USS Iowa whilst on this journey; via the app you'll watch videos about the war, hear crew member stories, fun facts, ship service records, and view videos of the USS Iowa in action, whilst exploring this large vessel. Click here to download the app.
Location: Port of Los Angeles, 250 S. Harbor Blvd, San Pedro.
Opening Hours: Daily 10am to 4pm
Price: Adult $27.29 | Kids $17.39 | Kids under 3 FREE – Click here to book your tickets online.
Tours
If you prefer someone else to take care of transport, here are some of the more popular group tours your family can join.
LA City Full Day Tour
With so much to see and do in LA, you might want to opt for this organised 7.5 hour tour of the city with a professional tour guide who will fill you in on the amusing history and diverse culture of the 'City of Angels'. Discover the iconic landmarks, famous neighbourhoods, architectural wonders, and film locations within Hollywood, Griffith Park, the Sunset Strip, Santa Monica Pier, Venice Beach and more!
For lunch enjoy a delicious meal at the Farmers Market & The Grove or The Original Farmers Market. This tour is perfect for families who want to fit all the iconic and famous sights into a day whilst in LA! The tour price includes bottled water, driver/guide and a/c tour transportation with pickup and drop off from most hotels.
Location: This tour departs and returns from most hotels – click on ticket link below to see if your hotel is included.
Opening Hours: Pick up time and drop off times will be pending what hotel you are staying at – click on ticket link below to get an approx. time.
Price: Pricing can vary pending hotel location, approx, pricing is: Adult $156.47 | Kids $135.88 | Kids under 4 FREE – Click here to buy tickets online.
Hollywood Celebrity Homes Tour
On this tour you can see the homes of all your favourite Hollywood celebrities. This 2 hour bus tour takes you down the iconic Rodeo Drive, Bel Air, and Sunset Strip where celebrities frequently visit to shop and eat.
Drive by the mansions, and homes of celebs past and present whilst hearing facts, and insider gossip from your professional tour guide. Take selfies and family photos with the iconic Beverly Hills and Hollywood signs. Drive by the major Hollywood attractions and see some historic studios and film locations.
Location: The departure and return point for this tour is at the Starline Kiosk office, click here to see map and directions.
Opening Hours: Tours depart regularly throughout the day – click on the ticket link below for timings.
Price: Adult $75.49 | Kids $61.76 | Kids under 3 FREE – Click here to buy tickets online.
Instagram Experience Private Half Day Tour
Whilst not only for social media enthusiasts, this private (yes, just you and the family) 4 hour tour provides a whistle stop adventure to some of the greatest places for photography! So get your family to say 'cheese' as you capture photo memories at some of Los Angeles iconic sites. Including the Urban Light Exhibit, Hollywood Sign, Murals on Melrose Avenue, Beverly Hills sign and loads more!
This is one of the family activities Los Angeles has on offer that is suitable for all ages, plus you'll get loads of fantastic photos!
Location: Pick up and drop off is from most hotels in LA – click on the ticket link below to check your hotel.
Opening Hours: Tours commence 9am and 2pm.
Price: Pricing starts from $315.68 pending group size, max 6 people on tour, kids under 3 FREE – Click here to buy tickets online.
Los Angeles Big Bus Hop-On Hop-Off Tour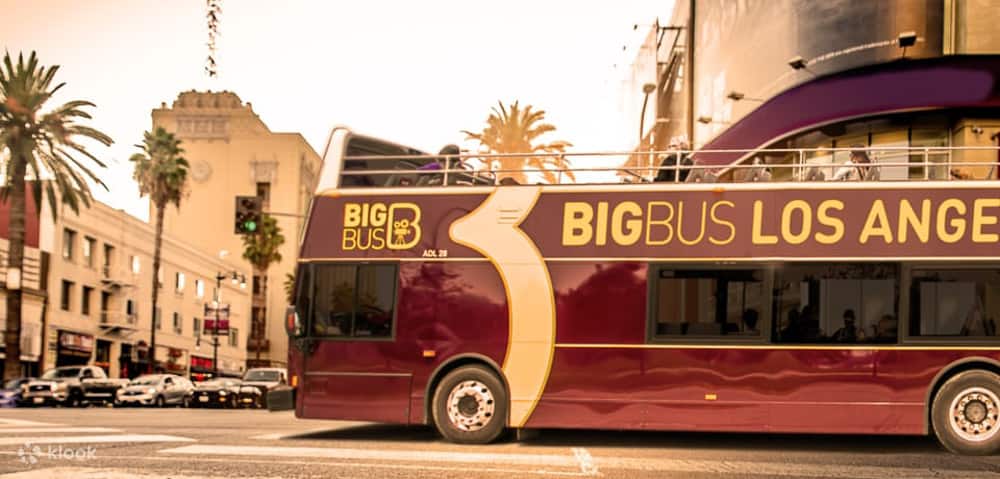 If you want a convenient way to get around all the iconic sights, landmarks and attractions in LA… look no further than the Hop-On and Off Big Bus Tours. It will take the guess work out of public transport and save you from navigating in your own car and managing parking / backseat drivers / screaming kids etc.
Simply select from one of the landmarks on offer, jump on at one of the many convenient stops and sit back and enjoy the ride as you tune in to pre-recorded audio commentary available in 9 languages. So if you're not sure what to do, Los Angeles will reveal itself and all on offer on this tour.
Location: Numerous – click here to see routes and stops
Opening Hours: Download the free app with real-time bus tracking
Price: Adult $55.79 | Kids $44.65 | Kids under 3 FREE – Click here to buy tickets online.
Attraction Cards / Passes
It's most likely that you will be visiting many of the best attractions in Los Angels during your trip and so the below cards might help you save money as these cards combine multiple attractions. Be sure to do your own maths though!
Go Los Angeles Card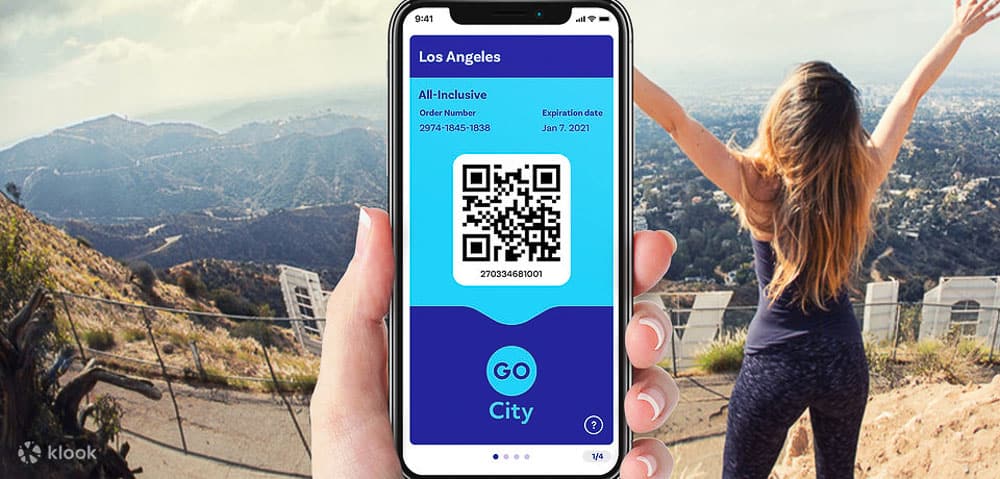 With the GO Los Angels Card you can choose from between 1 to 7 Day cards and pick from over 35 attractions to visit such as Universal Studios Hollywood, Six Flags, Knott's Berry Farm, and many more – you can find the full list here. This card also gives you discounts on other activities, shops, or dining experiences for 14 days starting from the card activation date.
Obviously, the saving would differ depending on what you wanted to go to over how many days, but I would recommend working out your options as I guarantee this card will save you money.
1 day cards are $99 USD for adults and $76 USD for kids (3-12), prices then increase per day. 3 day passes are $239 USD for adults and $219 USD for kids, and 7 day passes are $374 USD for adults and $332 USD for kids. Keep reading below to see how you can get these passes for even cheaper!!!
Prices appear expensive but the cards can help you save a stack as opposed to purchasing individual attraction tickets. For example, over 3 days if you go to: Six Flags Magic Mountain (Adult general admission $89.99), Legoland (Adult general admission $108.28) and Knots Soak city and Berry farm (Adult combined general admission $99) that's a total of $297.27 USD. Whereas the Go Los Angeles Card for a 3 day adult pass to visit all of the above attractions is $239 USD – SAVING you $58.27 – just under $60 bucks!
To save you even MORE money I recommend you buy the Go Los Angeles Card online from Klook! At the time of publishing, 3 day passes are $272.69 AUD for adults and $249.89 AUD for kids, and 7 day passes are $426.75 AUD for adults and $378.80 AUD for kids. Keep in mind this is in AUD, once converted to USD, the SAVINGS are over $50+ for each pass! Click here to buy discounted passes online.
Alternatively, if you have a few attractions you want to visit and really take your time at each place… Go City have passes offering between 3 – 7 choices to over 30 attractions and tours… again, offering BIG savings, with pricing for the 3 Choice Pass at $127.75 AUD per adult and $109.15 AUD for kids – Click here to buy tickets online.
Klook Los Angeles Pass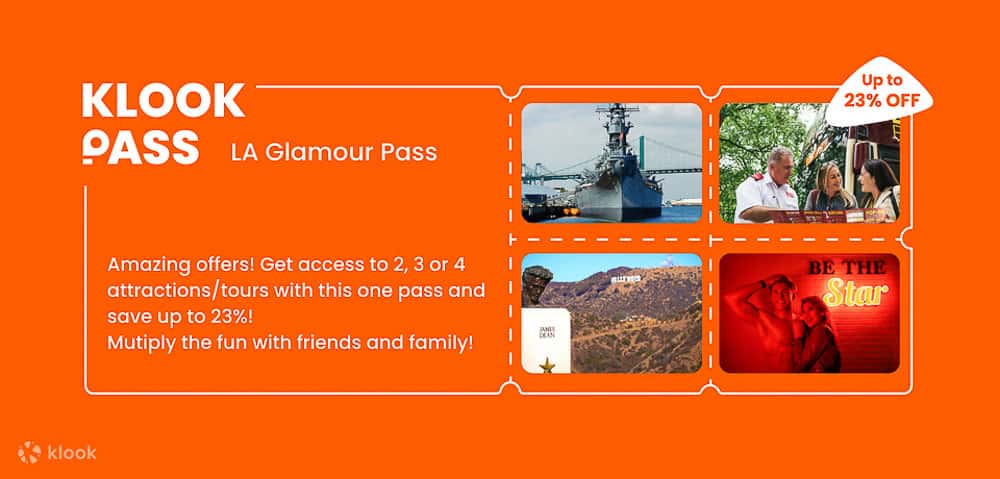 Another option for those after a pass to see attractions is the Klook Los Angeles Pass. This pass allows you to choose either 2, 3 or 4 attractions with your pass. There is also the option of a 2 attraction pass plus a Warner Brother Studio Pass. There aren't a huge amount of attractions to choose from, but some of the more popular attractions are included such as Madam Tussauds, the Big Bus Hop On Hop Off Tour, Hollywood Sign tour, Griffith Observatory tour and more.
One advantage of the Klook Pass compared to others is you have 60 days to use the pass from when it's first activated. So there's no need to see the attractions back to back. The pass can also be canceled and fully refunded at anytime prior to first using the pass.
Passes start at $65 USD for adults for the 2 attraction pass, right up to $119 USD for the 2 attraction pass plus the Warner Bros Studio tour. Unfortunately, there is no children's pricing. Obviously, the savings will vary depending on what attractions you plan to see. But a quick example is if you were to visit Madam Tussauds ($29.99) and take the Big Bus Hop On and Hop Off tour (normally $52 USD) you will have saved $16.99. The more attractions you visit the better the saving is.
Click here for more information about the passes and to buy online.
LA & Hollywood City Sightseeing Bus Pass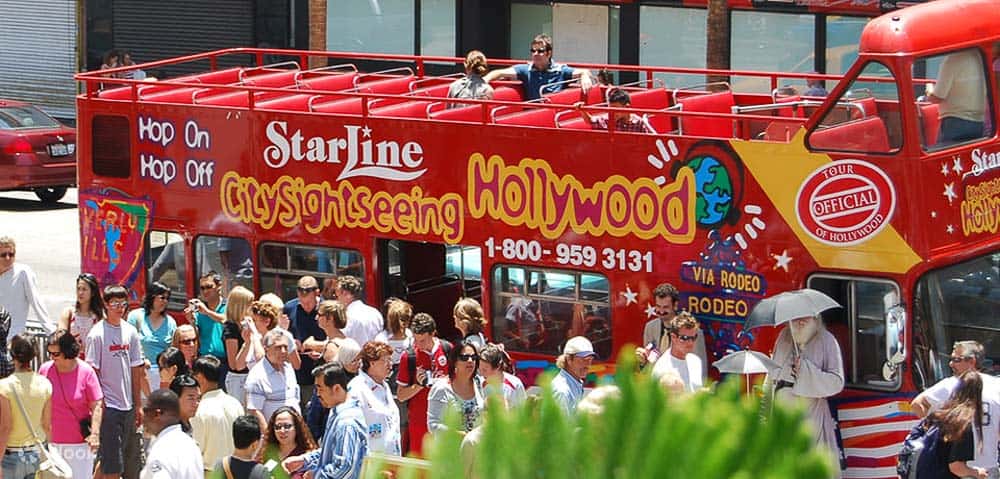 If you like the sound of going on an open-top tour bus listening to the interesting facts from a recorded tour guide whilst seeing the Hollywood sights – but don't want to navigate your way around the LA public transport system – then this LA & Hollywood City Sightseeing Bus Pass may be perfect for you. Hop on and hop off open top deck tour buses every 30 to 60 minutes depending on the 2 predetermined tour routes.
Routes are the Red Route (Hollywood & Beverly Hills), Yellow Route (West Hollywood & Santa Monica). Click here for complete routes and information.
You can choose 3 configurations of passes from 24 hour, 48 hour or 72 hour. For discounted tickets I recommend you buy online from Klook. At the time of publishing, pricing is as follows:
24 hour City Tour Bus Pass: Adults $60.79 | Kids $43.40 | Family (2A+3C) $183.55 – Kids under 3 FREE
48 hour City Tour Bus Pass: Adults $79.39 | Kids $55.80 | Family (2A+3C) $241.85 – Kids under 3 FREE
72 hour City Tour Bus Pass: Adults $97.99 | Kids $68.25 | Family (2A+3C) $296.40 – Kids under 3 FREE
Purchasing directly through Klook saves you up to $30 per pass!!!
Click here to buy discounted tickets online.
Where to Stay in Los Angeles with Kids
Los Angeles is really spread out and there is no one central location to stay. I'd recommend that if you are planning on visiting Disneyland for a few days as well as see some of the attractions around the centre of LA that you in fact split your time in two different locations. Stay a few days close to Disneyland and a few days in LA. I'd consider you look at areas like Santa Monica or for more budget options, Hollywood. I've recommended a family friendly hotel for each area below, however if you want check out all the options click the relevant link: Anaheim, Santa Monica or Hollywood.
Click here for a full detailed guide on where to stay in Los Angeles with kids.
If you're heading to Disneyland, you want to stay close by, and the Del Sol Inn is across the road from the world's happiest place… you can't get more convenient than that!
Rooms cater to families, with configurations including 2 double beds sleeping up to 4, or for the larger families there are the 2 double beds plus bunks sleeping up to 6 guests – with a rollaway available. All rooms come with fridges and microwaves meaning simple meal prep is possible after a long day at the Parks.
Onsite there is an outdoor swimming pool for a refreshing dip, and also a 24-hour Denny's serving up breakfast favourites, burgers and salads – all reasonably priced.
For the convenience of being located right across the road from Disneyland we would recommend staying at Del Sol Inn. You'll get maximum Park time and can always duck back to the hotel throughout the day for kids rest times (or if the adults need a break too)!
Click here for more information.
For clean, basic accommodation, the Rest Haven Motel will tick the box. Located a 5-minute drive to the eclectic Venice Beach and 20-minute walk to the Santa Monica Pier – you are close enough to the main attractions without being smack bang in the tourist district.
Family rooms can accommodate up to 4 guests in 2 double beds and are simply furnished. The room has a fridge and onsite is a tranquil garden area to sit back and chill.
Located nearby are local restaurants for meals, and the nearest bus stop is 200 metres away, however if you have a car, free parking is offered onsite.
So, for simple accommodation that won't break the bank, check out Rest Haven Motel.
Click here for more information.
If you've come to experience Hollywood and want to be in the thick of it, then check out Motel 6 Hollywood! Located in the heart of Hollywood city centre, a 5-minute walk from loads of famous Hollywood tourist attractions and the Hollywood/Highland underground station.
Rooms will accommodate up to 4 guests in 2 double beds and are comfortably furnished and include free WiFi.
If you get caught up in the buzz of Hollywood and arrive home late, not to worry, there is a 24-hour reception available. And to get you going the next morning there is free coffee in the lobby for ultimate caffeination for for another day of sightseeing.
Don't expect luxury, but for modern, comfortable accommodation, centrally located – you can't go past Motel 6 Hollywood!
Click here for more information.
Getting to / from LAX Airport to Hollywood or Disneyland
There are a couple of options to get from LAX to your accommodation – rental car, taxi/uber, shuttle or public transport. If you are hiring a car whilst you're in Los Angeles, I'd recommend you pick it up here and make your way to your accommodation. If not read on.
Uber / Lyft
For families of 4 or more people, your best option is going to be taking an Uber or Lyft. It will cost around $35-45 to Hollywood and $40 to $70 to Disneyland.
Shuttles
For families of less than 4 people headed into Hollywood, the FlyAway Shuttle is a great option. This service operates daily and stops at every LAX terminal. Getting to Hollywood is easy with the shuttle stopping at the west side of Vine Street in Hollywood, half a block South of Hollywood Blvd. A one-way journey is $9.75 USD, and two children 5 and under with each paying adult being free. Click here for a timetable and more information on fares.
For Disneyland there are a few different shuttle options including: Supershuttle.com, Primetimeshuttle.com or Shuttle2LAX.com. Pricing depends on what type of vehicle you choose, and they will pick you up or drop you off right at your Disneyland hotel.
Take the Metro
The cheapest option is to take the Metro. To take the metro from LAX, follow the below instructions:
Exit the airport and look for LAX Shuttle – Airline Connections sign
Wait for free G bus
Get off at Metro – this is the last stop so everyone will be getting off
Purchase ticket from machine
Catch train heading to Norwalk and change at Blue line Imperial / Wilimington. If you're headed to Disneyland, at Norwalk Station take the Metro Bus 460 to Disneyland.
Take train to 7th street / Metro
Change to red line and get off at Hollywood / Vine
To catch the metro you will need to purchase a tap card from the machine for $2. Add value to your card. Each ride is $1.75 USD (which includes 2 hours worth of transfers) or for $7 you can make unlimited trips all day.
Getting Around LA
LA is not the easiest area to get around without a car as the public transport system is not that great. When I was in LA recently I found the easiest way to get around was via Uber or Lyft.
Whilst not the best public transport system, you can get around large parts of Los Angeles by using the metro. Use Metro's Nextrip service (app available to download on this link too) which makes planning your trips using public transport in LA much easier. See tips above about purchasing a tap card to use on the Metro.
____________________________________________________________________________
I hope you enjoyed this guide on all the best things to do in LA with kids. We also have guides on where to stay in LA with kids, how to plan your LA itinerary and a more general guide on things to do in California with kids. Plus if you decide to head North and explore San Francisco, check out 12 of the Best Things to do in San Francisco with Kids. Alternatively, if you decide to head South, here is 10 Fun Things to do in San Diego with Kids.
Heading to California?

Below are some more helpful guides for planning your trip: