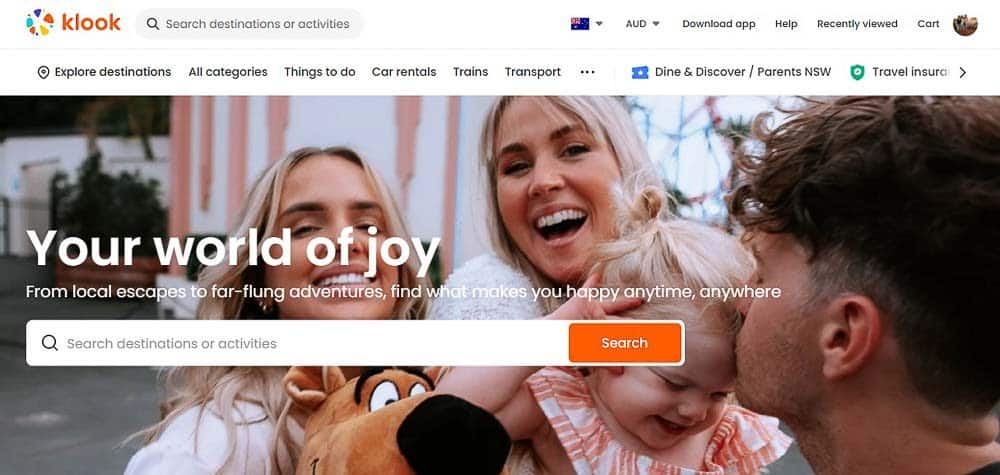 If you've used the Thrifty Family Travels website to plan your holidays, you'll know I often recommend the Klook website for booking tours and attractions tickets. However, a concern we often hear from our readers is "what is Klook?" and "is Klook legit?" So I thought it was about time that I write up a Klook review – detailing exactly just what Klook is and why not only is Klook safe and trustworthy – but why it could save you a stack of cash on your next family holiday.
Talk to other families about their tips on visiting California and join our Thrifty Family Travel Facebook Group.
Or if you're more of a visual person, get inspired on our Thrifty Family Travel Instagram Feed.
This post may contain compensated links. Please refer to my disclaimer here for more information.
What is Klook
?
You may have heard of Viator or Experience Oz – you know, websites that sell a range of tickets to various attractions as well as tours and airport transfers. Well, Klook is exactly this – the only thing is it's even better!
Now I'm sure with a name like "Thrifty Family Travels" you'll have guessed that I love a bargain. I mean, why pay full price if you can get something cheaper? Which is how I first stumbled across Klook.
I first came across Klook when researching discount tickets for attractions for our Japan trip in 2019. Japan can be very expensive for families, given it has so many awesome attractions for families and so I wanted to do everything I could to save as much money as possible.
Then I found the Klook website, which had discounted tickets to a range of family friendly attractions, as well as Japan rail passes, airport transfers and even portable wifi devices. So I pretty much booked my entire Japan trip using the Klook website and saved a stack of cash in doing so.
So, in a nutshell, Klook is an online booking system that allows travellers to book with local operators from destinations worldwide. So, whether you're after tickets to theme parks or museums, a guided city tour, a local cultural experience, private airport transfers or a local SIM card to stay connected while you're away – Klook is your one stop shop that can help you with all that an even more.
How to Use the
Klook Website
?
One of the things I love about Klook is that whether I know exactly what I'm after – say theme park tickets – or I have no idea what there is to do in a city – Klook can help.
You see, the best way to use Klook is to jump on their home page and search by "Explore destinations". Then choose the location you're heading to. For example, at the moment, I'm getting ready to go to Los Angeles, so I'll select "North America" and then "Los Angeles".

Now as you can see in the screenshot below, on the Los Angeles page, at the top you can see the headers: Attractions & tickets – Car rentals – Tours & must-sees – Hotels – Wifi & SIM cards. So if you know what you're looking for, click on one of these links.
However, what I like to do when just starting out researching a destination is to scroll down to where it says, "Explore all things to do in Los Angeles 2022". This will allow me to see absolutely everything Klook offers for Los Angeles.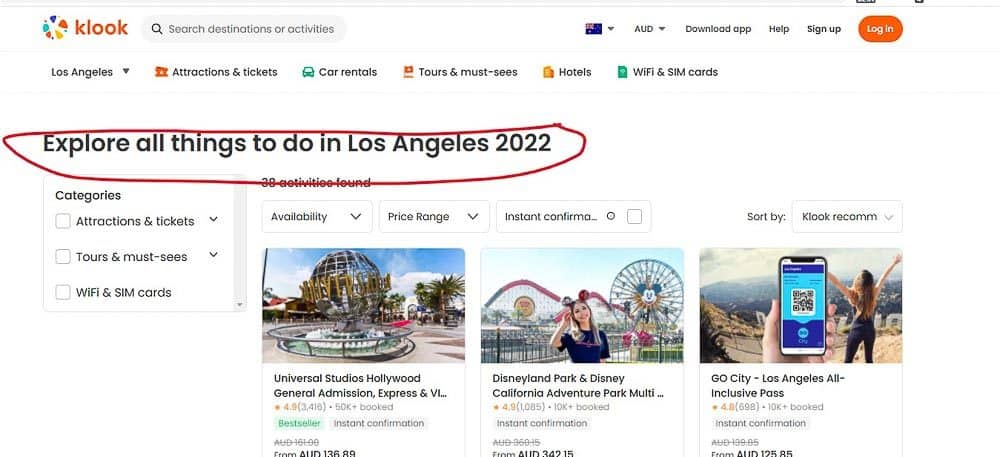 As you can already see just from the screenshot above, Klook has tickets for the most popular attractions in Los Angeles, such as Universal Studios and Disneyland. But if you keep looking, you'll also find some more unique experiences and things you may not even have known were on offer.
To book Klook tickets, simply click on the attraction – choose the relevant type of ticket you'd like and the number of adults and children you need tickets for. For some attractions – such as Universal Studios, you will also need to choose the date and/or time you'd like to go.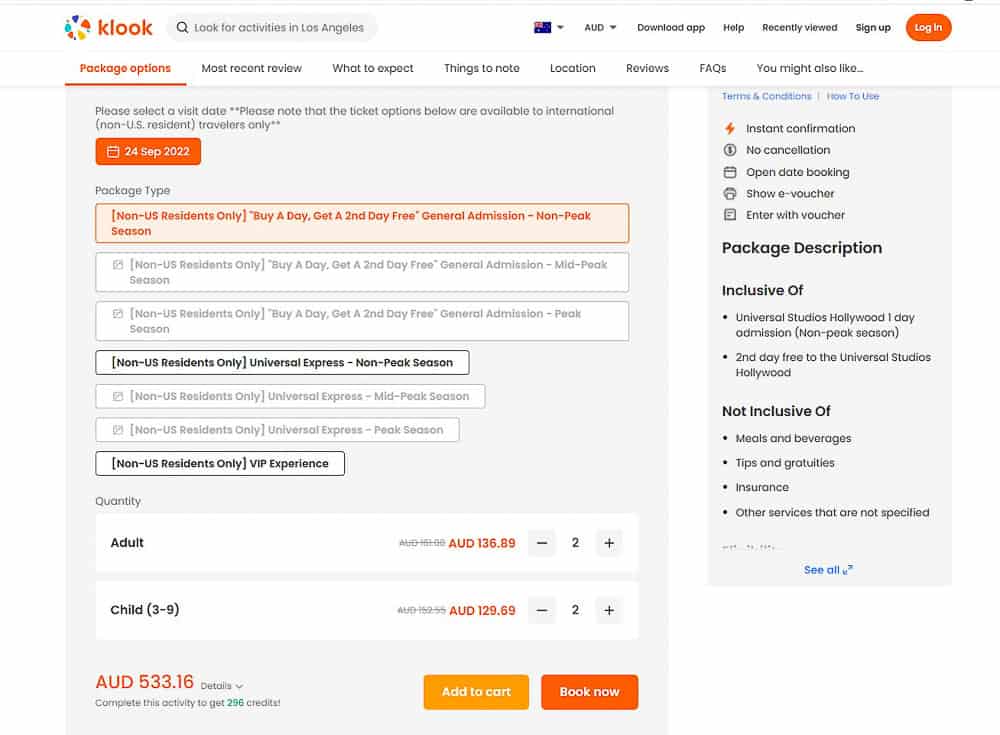 Here are a couple of things I'd like to point out here in the above screenshot:
Currency
Make sure the amount is in the correct currency, as Klook sells tickets in a range of different currencies. If it's not in the currency you want to pay, then select the correct currency from the top of the screen.
Credits
Underneath where the total price is, it mentions credits – more about this below, but I just wanted to bring your attention to this now.
Selected package details
On the right hand side, it talks about the package details – I highly recommend you read this before making a booking. Then, click on the "see all" link at the bottom to see exactly what your ticket includes and doesn't include.
What to expect
If you scroll down, you'll come to a section providing further detail about what you're booking. I find this particularly helpful for tours or attractions I'm not familiar with as it provides additional information about what you'll do and see.
A tip here for tours. Sometimes in the information at the top, it will list a bunch of places and so you might assume the tour takes you to all these places. However, sometimes in the fine print, you'll see the tour just drives past or has a photo opportunity at a place rather than allowing you time to explore.
Things to note
Scroll down even further again, and you'll find even more information.
I highly recommend you don't make a Klook booking before checking the above and are happy with all the information provided.
How to Make a
Klook Booking?
Once you've read all the information and you're happy to book, press "Book now" and if you haven't already logged in, you'll be asked to do.
I know some people don't like logging into things and think somehow Klook is going to sell all your personal information to Russian spies or something or rather – but that's really not the case. This is so YOU can keep track of your bookings, vouchers and the credits I briefly touched on above (more on that below). So just log in ok!
Then on the booking page, you should have your information already pre filled and there's the opportunity to add in a promo code if you have one. Klook has some fantastic promo codes from time to time – so logging in also means you'll be on their email list and hear about any great promotions they have. Like 50% off on rail passes – hello bargain!
How to Use Klook Credits
?
So above, I briefly talked about Klook credits. Basically, you'll earn credits for everything you book via Klook. You'll see just how many credits you'll earn during the booking process.
The value of credits does change depending on the currency you're using and the exchange rate on the day – so there's no real exact science to it – well there is – but it's complicated!
So I know your next question is – how to use Klook credits – right? Well, once you've earned at least 10 credits, when you go to pay for your next booking, there will be an option at the bottom to use your credits. This will result in a cheaper price.
You don't have to use your Klook credits if you don't want to. You can always save them up and use them later if you like.
How to Use Klook Voucher
and Tickets?
Once you've made a booking with Klook, you'll be sent your Klook voucher or tickets to your email. It's really important to check the voucher they send to you, as while in some cases the voucher works as your tickets, other times, you will need to exchange this voucher for your tickets at the venue.
While you can print out your voucher on paper, I prefer to save the trees and use the voucher electronically. To keep your voucher electronically, you can either keep the email somewhere handy so you can show the voucher or what I like to do is make use of the Klook app.
As you can see in the screenshot below, all you need to do to access your vouchers via the Klook mobile app is to press on the "Bookings" tab and a list of all your current and past vouchers will be there. Then you click on the "See voucher" button and up comes your voucher – it's that easy.
You can also log into your account on the Klook website via your PC and see the vouchers there.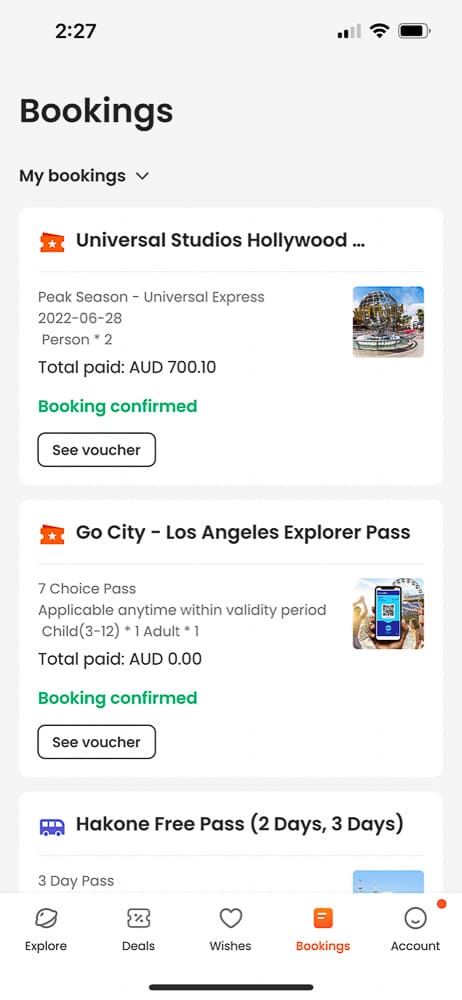 How Much Money Will I Save with Klook?
As you can see from the screenshot below, the amount of money you can save with Klook really does vary. Your Klook discount can be anywhere from a couple of dollars a ticket to $20 or $30 dollars. But of course, if you're a family – even those couple of dollars savings really do add up.
If you're a family like ours – we're always travelling and always purchasing tickets to attractions – so every dollar we can save really adds up quickly for us. Plus, I just love earning credits on my purchases and getting even bigger Klook discounts.
Even if you haven't booked your tickets with Klook in advance, if you're standing outside an attraction, I'd recommend looking it up on the Klook app to see if you can get entry at a cheaper price. If it is, book via Klook, and you'll get your voucher instantly. I've been known to do this many times!
Even if the price is the same, as you earn credits through Klook, your next Klook purchase will be even cheaper. Plus, sometimes the lineup to buy tickets is just huge at some attractions, so with Klook, you can skip the lines and save money – winning!

So
is Klook trustworthy
?
Hopefully, by now, you know the answer to this. Yes, Klook is 100% trustworthy. I've been using Klook for a few years now to book all my tickets and tours – I personally just love them.
I've also been a Klook affiliate for a few years now, which means I earn a small commission from any tickets you might book through my website. And to be even more transparent – Klook did gift me an Go City LA Explorer Pass in exchange for writing this article – but I would have bought it from them anyway. This way I save some money and you get to hear how fabulous they are.
But I can assure you I don't promote Klook just because I get a commission from them (or they gave me a Pass). I also earn a commission from places such as Viator and Experience Oz. So while there is absolutely nothing wrong with Viator or Experience Oz, I promote Klook because they really will save you money!
I use them myself and I've provided proof of that; as you can see from the mobile screenshot above, I purchased Universal Studio tickets recently for our upcoming trip to LA.
So is Klook trustworthy? Absolutely they are. And if you haven't used them yourself yet – I recommend you head on over to their website and if you do find something you like, use the Klook promotion code THRIFTYFAM10 and get 10% off whatever you book. Please note that this promo is only for brand new Klook customers to try out and only for readers from Australia or New Zealand.
And that's my Klook website review – I hope I've now convinced you to at least consider Klook when you're next travelling. Even if you're not travelling somewhere – they most likely offer tickets to many attractions in your local area – so check them out!
____________________________________________________________
And if you need some inspiration on where to go – Klook offers some great discounted tickets for places such as Japan, the USA, and Europe. Click on the links for our content and start planning the next family holiday today!