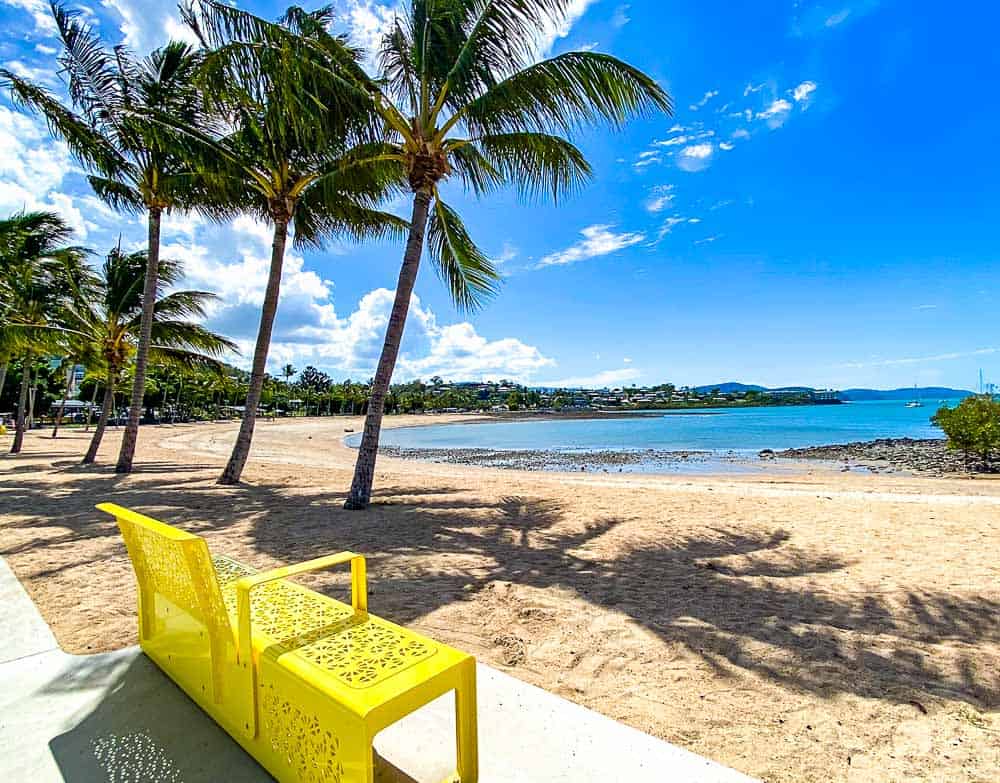 Airlie Beach is a small tropical town located in the coastal region of Queensland known as the Whitsundays. Airlie Beach is a great place for families who want to explore the many Whitsunday Islands as well as the Great Barrier Reef. However, even on the mainland, there are plenty of great activities and things to do in Airlie Beach for families and of course loads of Airlie Beach day trips to keep the family well occupied.
This guide covers some of the very best things to do in Airlie Beach with kids, both within Airlie Beach as well as day trips from Airlie Beach. This guide also covers some of those practical things families need to take into consideration for an Airlie Beach family holiday such as the best time to visit Airlie Beach, how best to get to Airlie Beach and the best family accommodation Airlie Beach has.
Talk to other families about their tips on visiting Airlie Beach and join our Queensland Travel Facebook or be inspired by our Instagram.
This post may contain compensated links. Please refer to my disclaimer here for more information.
Best Things to do Airlie Beach Family Map
To help you plan what to do in Airlie Beach with kids, I've provided this handy map below, which shows you the location of all the different Airlie Beach attractions. As you can see, there are many fun things to do in Airlie Beach.
Zoom in and out for a better view.
Best Things to do in Airlie Beach with Kids
Throughout the things to do in Airlie Beach guide, I have tried to provide as much information as possible to make it super easy when you visit Airlie Beach. Where relevant I have provided locations, opening hours and ticket prices.
You'll see that I often recommend you purchase your tickets in advance from Experience Oz or Klook. Yes, I will receive a small commission if you do purchase from either of these places but, as you will see, in most cases you will save yourself a stack of cash if you book through them.
I use them myself to book tickets – sometimes I have been known to sit outside the ticket booth of an attraction and book tickets on my phone, as they can often be sooooo much cheaper. Taking the kids to loads of Airlie Beach activities can be expensive, so any savings you can make are well worth it. So if you're after all the best Airlie Beach things to do with kids, read on for my comprehensive guide!
Of course all the prices and information in this post are correct at the time of publishing and are in AUD.
Airlie Beach Lagoon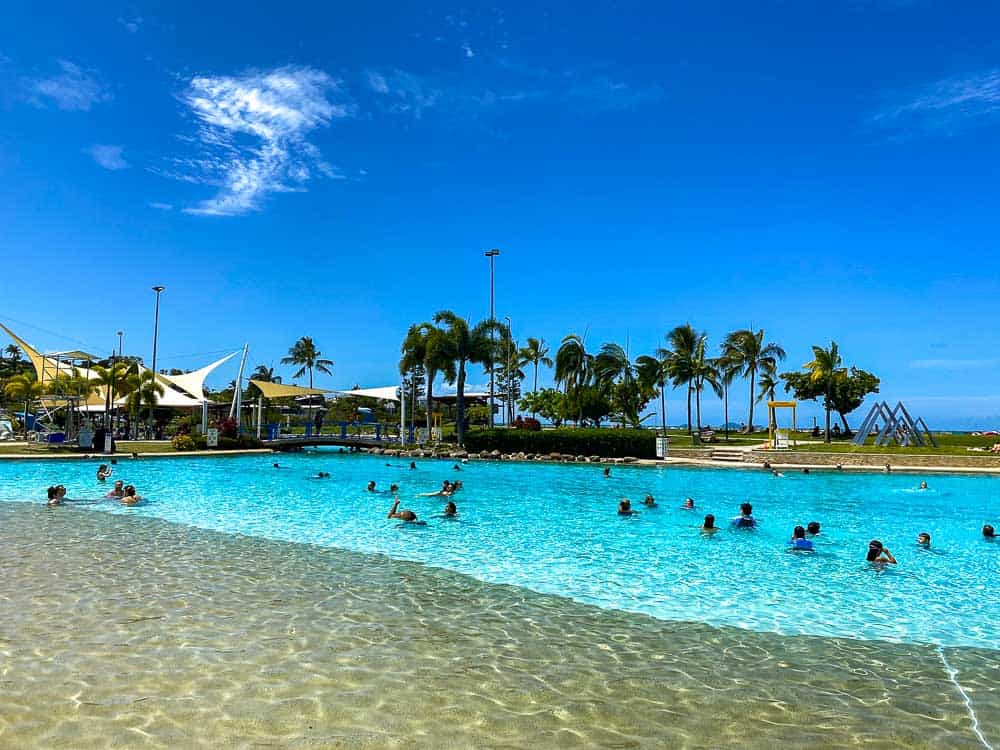 If you're looking for things to do at Airlie Beach with kids who love to have a swim or even just want free things to do in Airlie Beach, the lagoon should be your first stop.
One of the most well-known attractions in Airlie beach, the lagoon is about 200 metres long and 50 metres wide, so there is tons of space for kids to splash around. The lagoon not only gives families the chance to have a cool off but also the option to swim year round, even during FNQs stinger season.
The surrounding area is landscaped with a bridge and beautiful grassy shaded areas to lay and relax or enjoy a picnic with the family. Little ones in particular will love the man-made beach and shallow water, so it's a real treat for the whole family and one of the free Airlie Beach activities for families of all ages.
As far as Airlie Beach attractions go, this is a great way just to unwind and relax while still having something to keep the kids entertained. Proof that things to do in Airlie beach for free don't have to be boring.
You could easily spend a few hours to a good part of the day here – bring some snacks or Woolworths supermarket is within walking distance for a cheap lunch.
Location: 275 Shute Harbour Rd, Airlie Beach
Opening Hours: Lifeguards patrol 5.30 am – 7 pm during winter, and 5.30 am – 9 pm during summer.
Price: Free!
Airlie Beach Markets
If you're in town on a Saturday head on down to the Airlie Beach markets. Here you will find a range of great local arts and crafts as well as fresh produce. It's a great place to purchase some souvenirs as well as stock up on some food for your trip or just enjoy the outdoor vibe – one of the family activities Airlie Beach that's free.
There are also some markets around on the days the cruise boats are in too.
If the markets aren't on while you're in town – there are also a few nice shops along the esplanade for some Airlie Beach shopping.
Location: Southern end of the Airlie Beach Esplanade – right by the playground.
Opening Hours: 7 am to 1 pm
Price: Free!
Airlie Beach Foreshore Playground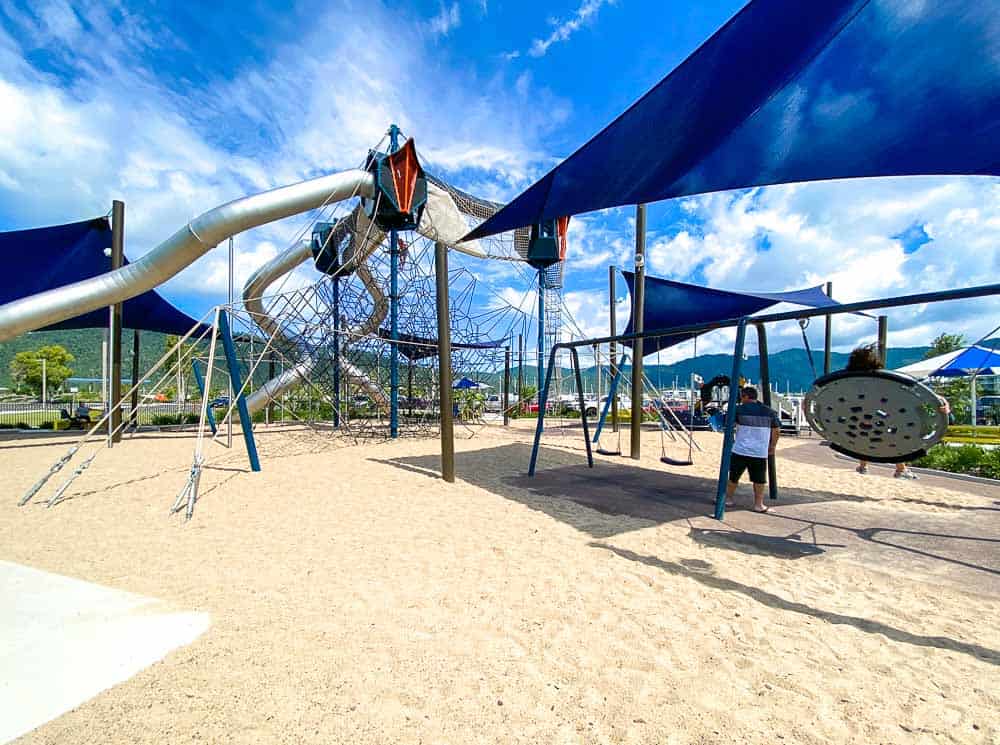 Kids activities Airlie Beach don't get much better than at the southern end of Airlie Beach Foreshore… there is an awesome state of the art 6.3 million dollar playground which kids of all ages will just love. This is a fairly new Airlie Beach playground which only opened mid-2019, and a visit here is one of the top things to do in Airlie Beach with kids.
There are multiple sky-high slides which are around 10m high and to get to the top the kids are going to have to navigate their way via various climbing structures. Between the various slides, are netted bridges the kids need to pass through which provide fantastic views across the foreshore. There is also a massive spider-like climbing frame, various swings and a pirate ship themed structure lower to the ground for the little ones.
One of the best things about this playground is that the metal slides are all heat protected. Myla can vouch for this too as we visited in the middle of Summer in the middle of the day and she said the slides were not hot at all. This is a brilliant addition to the playground and makes it one of the fun things to do with kids in Airlie Beach.
The playground is also located just by the beach so the kids can have a dip before or after. This is one of the things to do Airlie Beach kids of all ages will love!
Location: Southern end of the Airlie Beach Esplanade
Opening Hours: Always
Price: Free
Local Beaches Near Airlie Beach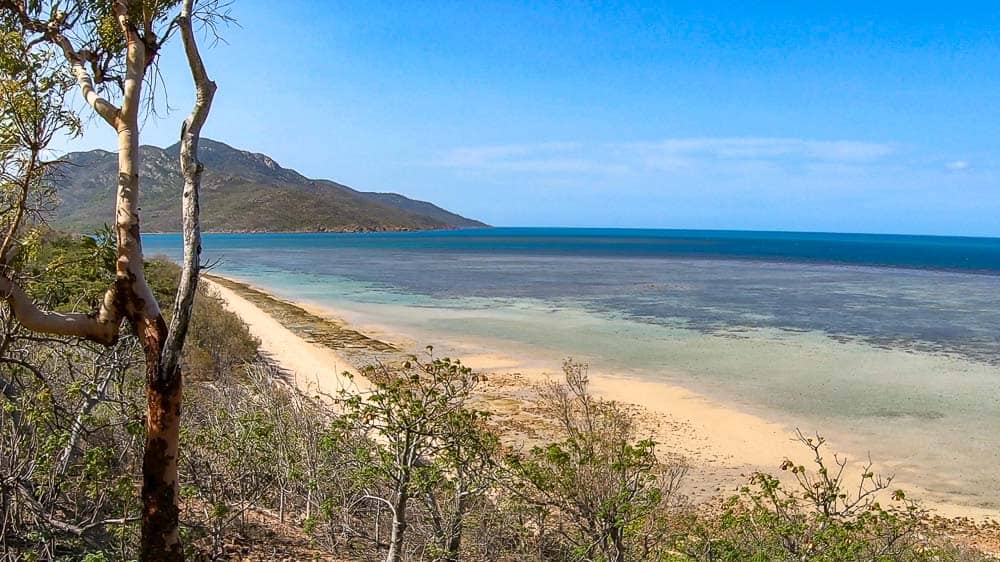 Can you swim at Airlie Beach? Well you can, but despite what its name suggests, it isn't as easy as running straight off into one of the beaches in Airlie Beach. As with everywhere in North Queensland, when it comes to Airlie Beach swimming, you'll need to be mindful that the stinger season runs from around October to May and you definitely shouldn't swim outside of a stinger net during this time of year. Otherwise hire a stinger suit as we did – we got ours from the Abel Marina for $12 each per day.
Also note that the tides impact the beaches around the area. So before visiting I recommend you check when high tide is and visit around 2 hours before or after for a great swimming experience.
Some of the best free things to do in Airlie Beach are to visit some of the local beaches. Here's some of the best beaches near Airlie Beach to check out:
Boathaven Beach
Probably one of the best beaches in Airlie Beach – in the centre of town is Boathaven Beach. Boathaven Beach offers clean white sand and clear waters with stinger nets for safe swimming. Unfortunately, there aren't a lot of facilities nearby, so it's best to bring your own food and drink. A nice spot to watch the boats coming and going to Airlie Port.
Cannonvale Beach
Cannonvale Beach is a small beach just 3km out of the centre of Airlie Beach. This is a quiet beach with BBQ facilities, stinger net and the wreck of the Whitsunday magic. You can either walk along the Bicentennial Walkway to get here, or it's a short drive from town. Make sure to stop by Fat Frog Beach Café for some lunch or snacks.
Hydeaway Bay
One of the more secluded beaches around Airlie Beach, Hydeaway Bay is quiet and an absolutely stunning beach – in fact one of the best I've ever seen in the entire the world!!! The beach is around 1.5kms in length with various access points and provides great views of the surrounding islands and the ocean.
The water here is crystal clear, and some say it's great for snorkelling. When we visited we didn't see anything apart from some tiny fish – but we totally recommend it as an awesome swimming beach when in Airlie Beach for kids.
As mentioned, there are various access points to the beach; however I'd highly recommend you access the beach either from Cape Gloucester Beach Resort or Monte's Resort. Both resorts are fantastic places for lunch or even just a drink – either will provide you access to their beachfront with both having various places for you to sit. The Cape Gloucester Beach Resort also has a pool which you can access as a day guest.
In fact if you have the time – spend a few days at Cape Gloucester Beach Resort or Monte's Beach Resort – I certainly will be next time I visit – these places are seriously heaven on earth, and fabulous Airlie Beach resorts for families.
Hydeaway Bay is about an hours drive north of Airlie Beach so you will need a car to reach this beach. Don't miss it on your trip to Airlie Beach this is without a doubt one of the best Whitsunday beaches.
Dingo Beach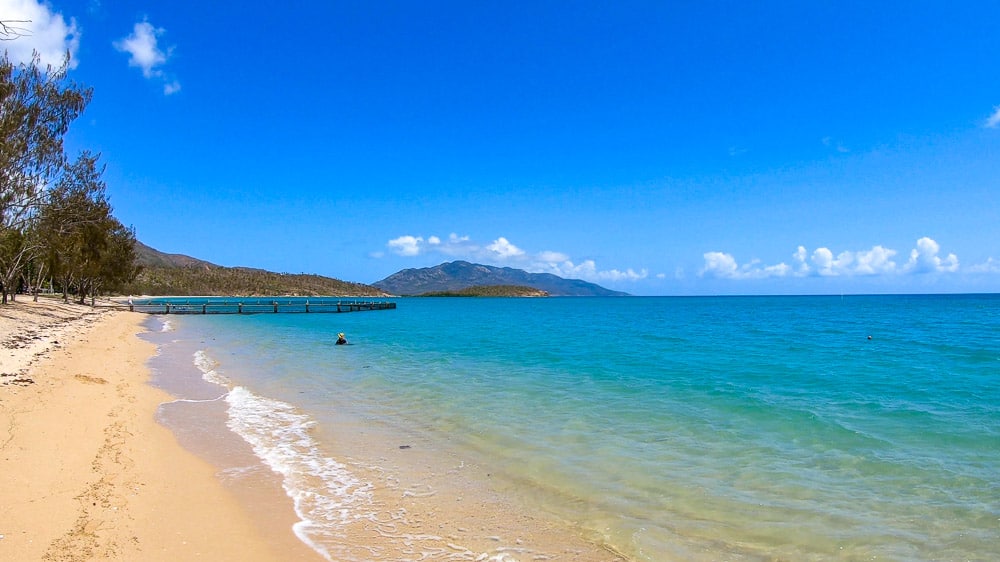 Right by Hydeaway Bay is the gorgeous Dingo Beach. Dingo Beach is a great place to snorkel and enjoy the water. We had been at the beach no more than a few minutes when we spotted a massive Green Turtle right off the shore!
Like Hydeaway Bay – Dingo Beach is just stunning! And again one of the best beaches I've seen in the entire world. It's a super quiet beach in a quaint coastal town. The beach however has some great facilities including a playground, BBQ, toilets, pub, café, shop, and plenty of picnic benches in the shade.
If you're coming from Airlie Beach for a day trip – I'd recommend you combine a visit to Dingo Beach and Hydeaway Bay. We spent around an hour at Dingo Beach – then headed to Hydeaway Bay for lunch and an afternoon swim.
Airlie Beach Bicentennial Walkway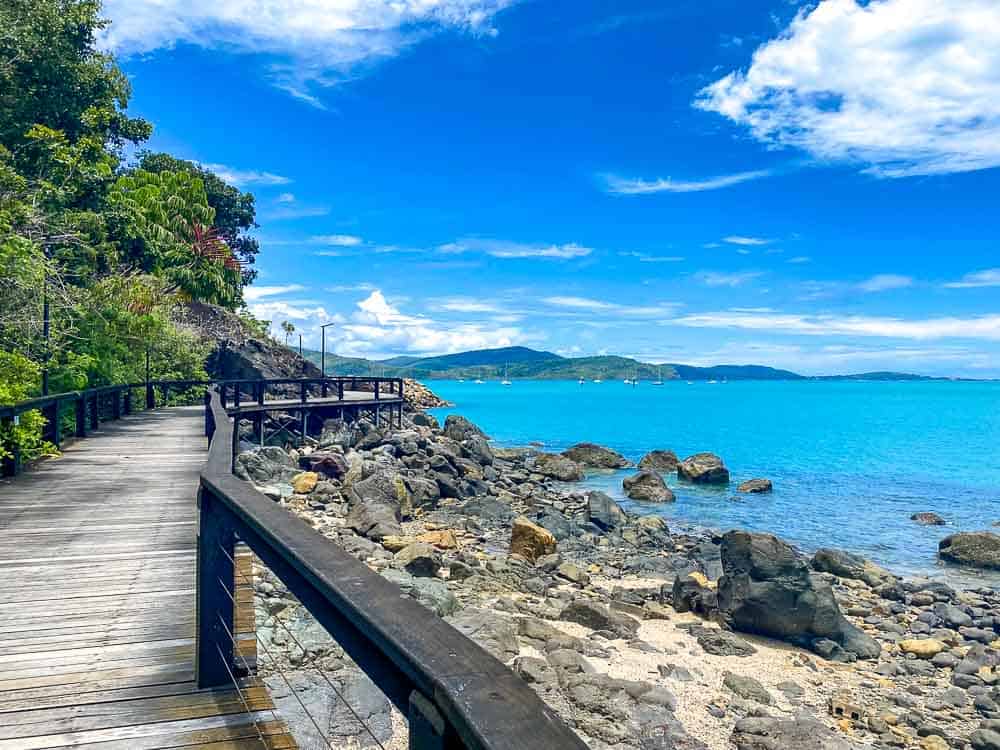 Named the Bicentennial Walkway given it was built as part of the 1988 Australian Bicentennial Celebrations, this approximately 3.7 km long waterfront walk provides stunning coastal views of the Whitsunday region.
Starting at the Lagoon, this Airlie Beach boardwalk meanders through to Cannonvale Beach and takes around 45 minutes to complete. At the halfway point you'll have great views across the Abell Point Marina and along the way you will pass various of cafes, restaurants and bars which is great if you need to stop for a bite to eat.
We did the walk in the middle of the day and the middle of Summer – bad idea as it was super hot. Mind you, the views were beautiful and sure did make it worth it. Many people recommend doing the walk as the sun is going down for some spectacular views – perhaps then ending with dinner.
At the end of the walk, in Cannonvale, you will find Fat Frog Beach Café which is a great place for a drink to quench the thirst or for a meal if you have worked up an appetite.
This is one of the Airlie Beach family activities to do with kids who can manage the walk as there are a few stairs along the way making this walk not too pram friendly, and perhaps not one of the things to do in Airlie Beach with toddlers.
Location: The track starts at the Airlie Beach Lagoon and ends at Cannonvale Beach
Opening Hours: Always but best done during daylight
Price: Free!
Aquaduck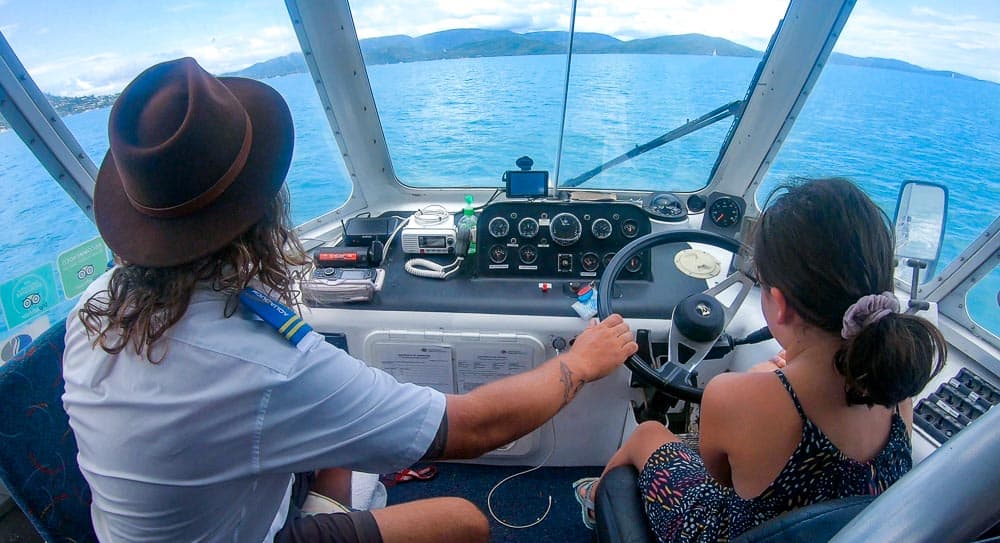 Looking for unique activities in Airlie Beach? Why not explore by land and water with a one hour guided tour aboard the Aquaduck amphibious bus. This certainly is a fun way to explore Airlie Beach and is perfect if you're short on time and after one of the short Airlie Beach tours.
The Aquaduck tours from Airlie Beach start in the lagoon car park, followed by a short trip through town where you will see some of the main sites. Then the Aquaduck enters the water at the Port of Airlie for a cruise around the Coral Sea.
While onboard the captain and tour guide provide some commentary about the area, plus the kids even get a go at driving the Aquaduck – undoubtedly the highlight for Myla!
Click here to see our YouTube visit from our Aquaduck tour.
Location: Tours start and finish from the Lagoon car park
Opening Hours: Tours are 10.30 am, 12.30 pm, 3.30 pm and during the Summer months, tours also run at 5 pm. – Please note Aquaduck is temporarily closed.
Price: Normal price is $40 per adult, $30 per child and under 1s are free or grab a family pass (2A +2C) for $132.
Airlie Creek Track
There are some great walks around Airlie Beach and for a lovely view across the Coral Sea and the Whitsunday Islands, take the 1.7km return Airlie Creek Track. The track winds up the hill behind Airlie Beach where you will see a range of local flora and fauna such as the Whitsunday Bottle Tree, fig-trees, sub-tropical plants, native birds as well as the endangered Proserpine Rock Wallaby.
We ran out of time for this track, so didn't get to complete it – but I understand you need to allow around one hour to complete the track.
Location: The track starts just near the roundabout on Waterson Way
Opening Hours: Always but best done during daylight
Price: Free!
Honeyeater Lookout
What to do in Airlie Beach for families who are seriously active and wanting the very best views of the Whitsundays? You can't beat a hike to Honeyeater Lookout. This hike is 8km return, so be sure you are prepared with plenty of water before you set out on this one.
Once you reach the lookout at the top you all your hard work pays off with brilliant views across the coastal town and Airlie Beach walking trails don't come much better than this.
Location: The track starts at the top of Kara Crescent in Airlie Beach
Opening Hours: Always but best done during daylight
Price: Free!
Conway Circuit Great Walk
The Conway circuit great walk used to be referred to as the Whitsunday great walk and is an epic 28km walking track through the Conway National Park. The whole track includes lush rainforest and beautiful hidden beaches but don't worry it is possible to do shorter sections of the walk (such as up to Honeyeater lookout).
Serious hiking families can expect to need 9 hours to brave the entire circuit, but there are two campsites along the way so it could be spaced out over a few days.
Cedar Creek Falls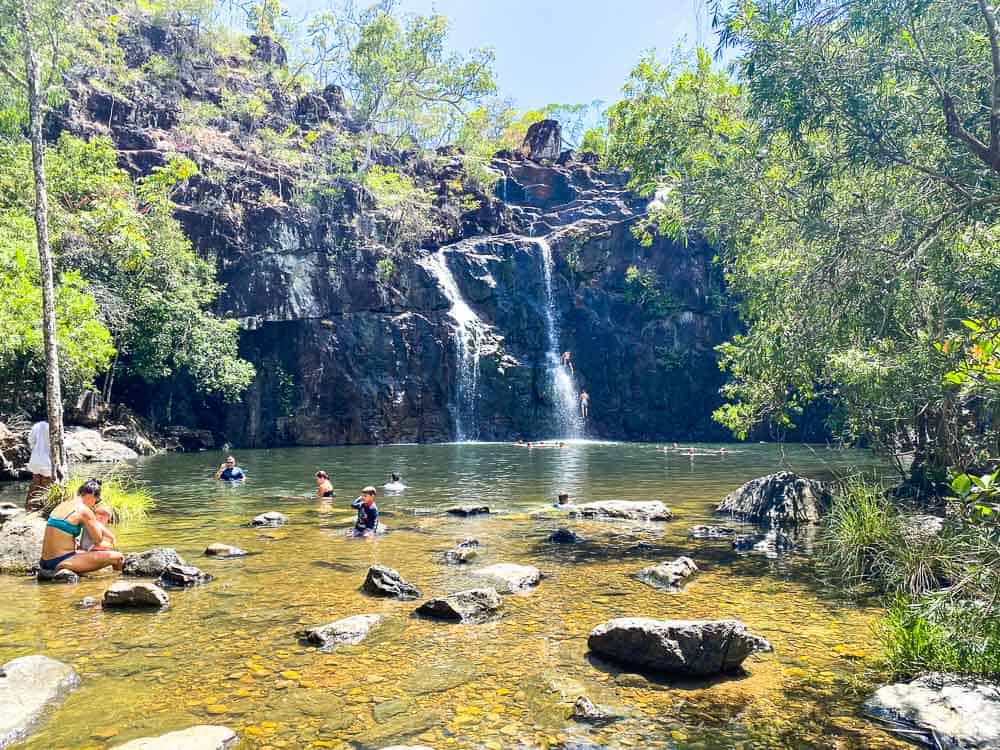 If you're after places to visit near Airlie beach to cool off, they don't come much more scenic than Cedar Creek Falls. Airlie Beach is just a 30-minute drive from these beautiful falls, through picturesque countryside, which will bring you to this natural freshwater swimming hole and waterfall.
It's no more than 50 metres from the car park until you reach the falls and rock pool – so it's one of the family things to do in Airlie Beach that is accessible to everyone.
Make sure you bring some floaties, insect repellent, water shoes and a picnic and you're all set for a few hours.
The Cedar Creek Falls is a great hidden gem if you have a car and are looking for free things to do near Airlie Beach.
Location: Cedar Creek Falls Road, Palm Grove
Opening Hours: 24 hours but only recommended during daylight
Price: Free!
Whitehaven Beach and Hill Inlet Lookout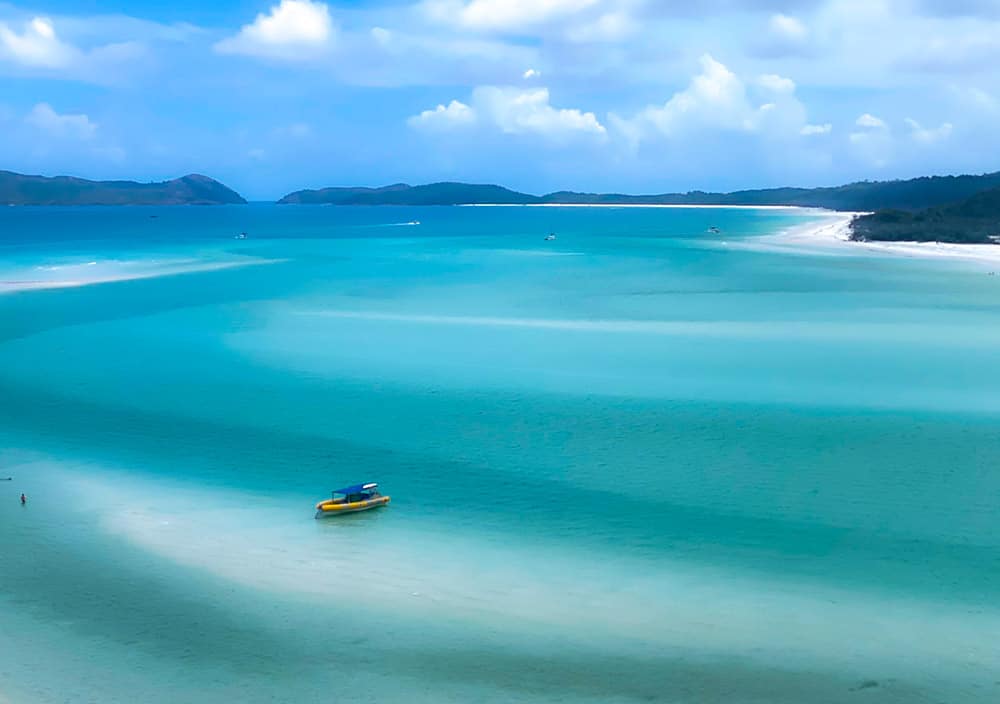 One of the best things to do in Whitsundays with kids is a visit to the pristine Whitehaven Beach, on Whitsunday Island. This stunning beach has some of the purest white sand in the world and stretches for over 7km. People visit from all over the world to experience the crystal clear water and tropical island vibe.
At the northern end of Whitehaven Beach is Hill inlet where the tides shift the sand and water to create a stunning whirlpool of colour that needs to be seen to be believed. The best spot to view the inlet is from Tongue Lookout during low tide. Whitsundays activities don't come much more idyllic than this! Its an easy 10-15 minute walk to the top of the lookout and the views are just stunning.
There are a few different options to experience Whitehaven Beach, with tour operators offering a variety of different packages. We spent the day with Ocean Rafting which we highly recommend – see our review below.
Ocean Rafting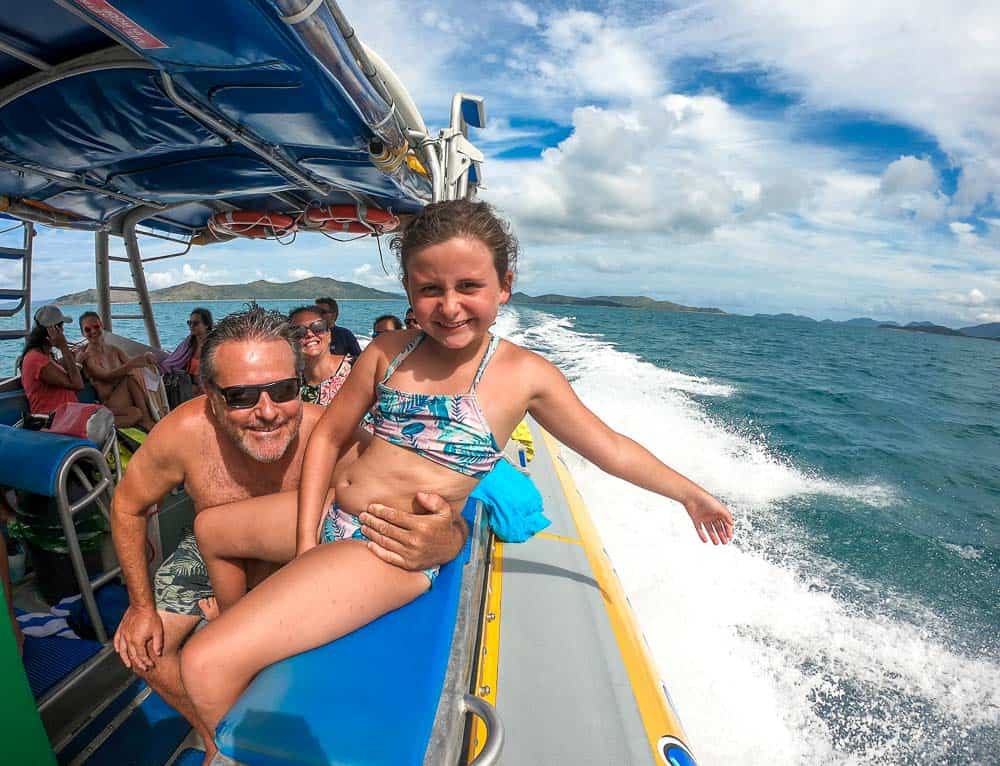 If you want the maximum amount of time at the beach and love an adrenaline filled adventure; these high-speed ocean rafts will get you from Airlie Beach to Whitehaven Beach in no time. A day tour with Ocean Rafting not only includes a super fun ride, but also a stop at Whitehaven Beach, a guided tour to iconic Hills Inlet and either one or two snorkelling spots depending upon which tour you choose.
These guys offer two different tours, either the Northern Exposure or Southern Lights tour. The main difference between the two tours is that the Northern tour has two snorkelling stops, while the Southern tour has just one and more time at the gorgeous Whitehaven Beach.
We recently went on the Northern Exposure Tour and had an absolute blast! The tour starts with a pick up from our hotel and then check-in at the Ocean Rafting office. Then the fun begins as the boat speeds past the gorgeous Whitsunday Islands at speeds up to 35 knots – seriously the ride there is half the fun.
The first snorkelling spot was a great spot for viewing the coral reef – we even hit the jackpot by seeing a turtle here. Even despite 30 odd excited tourists swimming over to see it, it happily sat there, allowing us all to get a great view and photo.
Next up we went to my favourite stop of the day – Mantaray Bay off Hook Island, where we saw like a bazillion fish – including fish so big that they occasionally banged into me! This was such an awesome spot – Myla just loved it! I reckon she was the last one to get into the boat. Honestly, as soon as you get into the water, you're surrounded by a bazillion super colourful fish – absolutely amazing!
I'll also add here – because the boats are much smaller than others – there are not loads of people in the water at once. I've been on tours before where there are more people than fish! Plus it often takes forever getting all those people in and out of the water – so that's another bonus with going with Ocean Rafting.
We then went to the iconic Hills Inlet, where we walked about 10 minutes to the lookout for amazing views of the famous shifting white silica sands and the crystal clear waters of Whitehaven Beach. It was another 15 minutes or so to walk down the other side to Whitehaven Beach. From here we got back on board the boat for a delicious buffet lunch of cold meats, salads and breads. Lunch is optional at the cost of $17 each. There are also drinks (including soft drinks, juices, cider, beer and wine) as well as chocolate bars available at an additional charge.
After lunch, we had free time to hang out on the world-famous Whitehaven Beach – which was the perfect time for us to swim and relax.
We all just loved our day trip with the guys from Ocean Rafting – honestly I couldn't fault it. The guys were super friendly, informative and just fun! But like the guys said when we boarded – this trip isn't for everyone – Ocean Rafting is one of the things to do in Whitsundays for families who are happy to rough it a little and don't mind speeding through the Whitsundays at a fast speed should join this tour.
Day trips include hotel transfers, snorkel equipment and afternoon tea. If you're doing the tour during stinger season, or during the colder months I suggest you hire a stinger suit or wet suit at the cost of $8 each. You can also hire prescription snorkels if needed at the cost of $15 each.
The tour costs $191 per adult | $125 per child (2-14) | $580 per family (2A+2C) | Under 2s are free – Click here to book your tickets online
If Ocean Rafting a fully booked during your stay, or it doesn't sound like your thing – below are some other tour operators to consider. Some cruises take you to both Hamilton Island and Whitehaven Beach – see below for more information.
See our Ocean Rafting YouTube Video here or check out more of our photos from the day here.
Cruise Whitsundays
For a great Whitsundays experience, these cruise day tours from Airlie Beach are a relaxed way to visit Whitehaven Beach. This Whitsundays day tour is aboard a large comfortable cruise ship and includes guided walks to Hill Inlet, free time on the world-famous Whitehaven Beach and snorkelling at the inner Great Barrier Reef.
Tours include snorkelling equipment, lunch, morning and afternoon tea, stinger suits during the stinger season, drinks,
Full-day tours cost $250 per adult | $130 per child (4-14) | $715 per family (2A+2C) – Click here to book your tickets online
If you're pushed for time, there are half-day tours available but a full day is definitely recommended if you want time to visit the lookouts and make the most of the beach. Commencing from Airlie Beach, half-day tours just visit Whitehaven Beach providing 2 hours of free time.
Half-day tours cost $140 per adult | $55 per child (4-14) | $365 per family (2A+2C) | Under 4s are free – Click here to book half-day tours online.
Thundercat Adventures
If you're looking for adrenaline filled things to do in the Whitsundays, riding around on a speedboat should have you covered. This full-day tour includes two of the best snorkelling Whitsundays spots, a guided walk to the Hills Inlet lookout and a stop at the world-famous Whitehaven Beach.
The tour price also includes stinger suits in the stinger season, morning and afternoon tea, lunch and hotel transfers.
Tickets cost $210 per adult | $170 per child (4-14) | $680 per family (2A +2C) – Click here to book tickets online.
Camira Sailing
This full-day catamaran sailing tour to Whitehaven Beach is one of the more relaxing Whitsundays coast things to do as you sail around the stunning islands. On this tour, you will hike to the lookout over Hill Inlet, relax on Whitehaven Beach and snorkel.
This all-inclusive tour includes morning and afternoon tea, a BBQ lunch, drinks (including alcoholic beverages), wetsuit and snorkelling equipment, guided walks and beach activities.
Tickets cost $229 per adult | $197 per child | $745 per family (2A+2C) – Click here to book discounted tickets online.
Great Barrier Reef Tours from Airlie Beach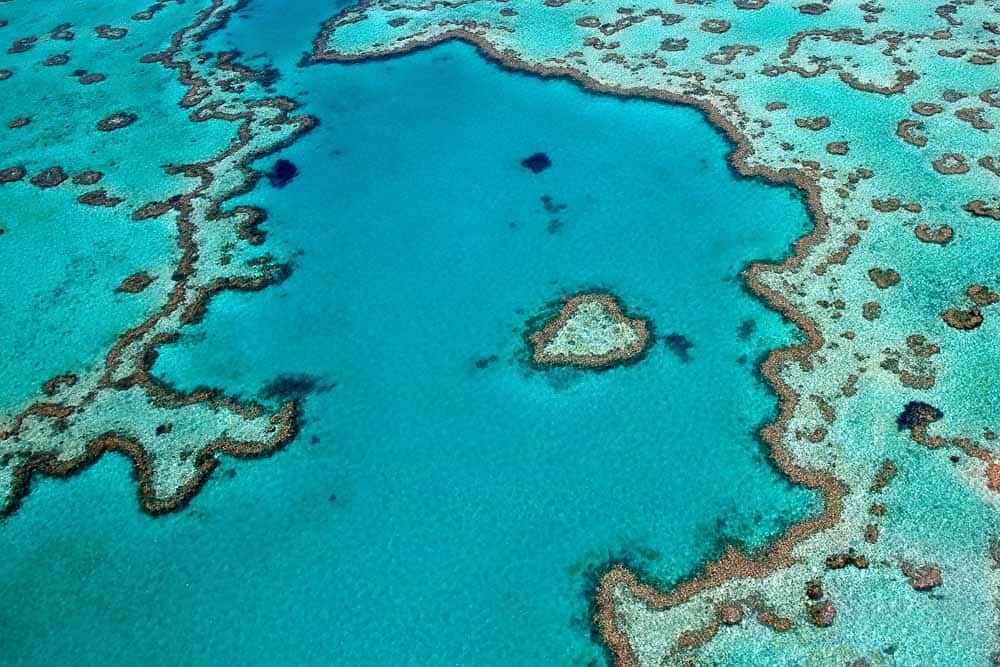 One of the best things to do in Whitsundays with kids, and certainly one of the most popular, is to take one of the many Great Barrier Reef tours from Airlie Beach.
One of the biggest drawcards to the area, cruising the Great Barrier Reef, will give you the chance to see vibrant coral and marine life like never before. The best Airlie Beach reef tours are a full day out on the water, cruising the islands and exploring the reef off the coast of Airlie Beach. Snorkelling the Great Barrier Reef is a bucket list activity your kids will never forget.
Cruise Whitsundays offer a jam-packed full day outer Barrier Reef experience and amazing Airlie Beach cruise. Cruise to the Reefworld Pontoon at Hardy Reef aboard a modern, wave-piercing boat with spacious lounges, air conditioning and great viewing decks. Take a semi-submarine guided tour, snorkel in the underwater chamber and watch a marine biologist presentation before cruising home in comfort.
The full-day tour includes a delicious buffet lunch as well as morning and afternoon tea and a guided snorkelling tour. Exploring the Great Barrier Reef is one of the things to do in Whitsunday Islands the whole family will enjoy!
Price: $368 per adult | $215 per child (4-14) | $968 per family (2A+2C) – Under 4s are free – Click here to book your tickets online.
Hamilton Island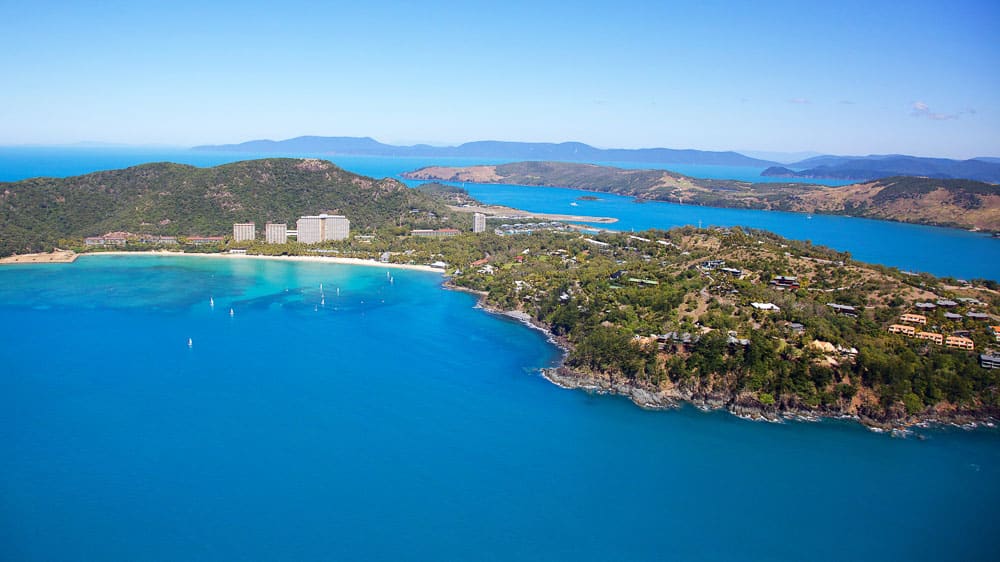 Hamilton Island is one of the most well-known islands when it comes to a Whitsunday Island getaway. Here you will find stunning white sandy beaches, a kaleidoscope of marine life and lush national parks offering a range of activities perfect for a day trip or better still a few days.
Things to do on Hamilton Island with kids include swimming, bushwalking, go-karting, seeing koalas, water sports, quad bikes, bowling, mini-golf, kids club, snorkelling and more – as you can see, this is why Hamilton is one of the best Whitsunday Island for families.
Click here for more information about staying on Hamilton Island.
Getting to Hamilton Island from Airlie Beach
Getting to Hamilton Island is easy as it has its own airport with flights direct from Brisbane, Melbourne, Sydney and Cairns. Alternatively, you can take the ferry across or join a day tour.
Cruise Whitsundays depart from Port of Airlie multiple times a day and take 1 hour – see the timetable here. Island transfers cost $65.00 per adult and $54.50 per child – one way.
The other option is to book a day tour which will include your island transfers. There is a range of tours available, such as the following:
Hamilton Island and Whitehaven Beach
This tour takes you to Whitehaven Beach in the morning for 2 hours and then Hamilton Island in the afternoon. On Hamilton Island, you'll have access to the shuttle bus to see all the islands attractions as well as access to the resort's pools.
The tour includes morning tea and lunch overlooking the Hamilton Island Marina.
Price: $191 per adult | $89 per child (4-14) | $513 per family (2A+2C) – Under 4s are free – Click here for more information or to book your tour.
Full-Day Hamilton Island Family Adventure
If you want a full day to explore all the Hamilton Island attractions, then this tour is for you. Make use of the resorts swimming pool and shuttle bus to get around to all the other attractions. The tour also includes Fish'n'chips lunch, Wild Life entry and Island Bowling – plus free time to explore all the things to do in Hamilton Island.
Price: $172 per adult | $115 per child (4-14) | $567 per family (2A+2C) – Under 4s are free – Click here for more information or to book your tour.
Full-Day Hamilton Island with Wildlife Park
Another full-day tour option for your Whitsundays family holidays. This option includes breakfast with the koalas at the Wild Life Koala Café, followed by entry into the Wild Life Park. The tour also includes either a packed picnic lunch or lunch at the Marina Tavern.
Price (picnic lunch option): $152 per adult | $92 per child (4-14) | $479 per family (2A+2C) – Under 4s are free – Click here to get your tickets online.
Price (Marina Tavern lunch option): $160 per adult | $100 per child (4-14) | $509 per family (2A+2C) – Under 4s are free – Click here to get your tickets online.
Entry for Wildlife on Hamilton Island
If you plan on visiting Hamilton Island yourself or booking a tour that doesn't include entry into the Wildlife Park – you can also add on tickets. The cost is $32 per adult and $22 per child.
Daydream Island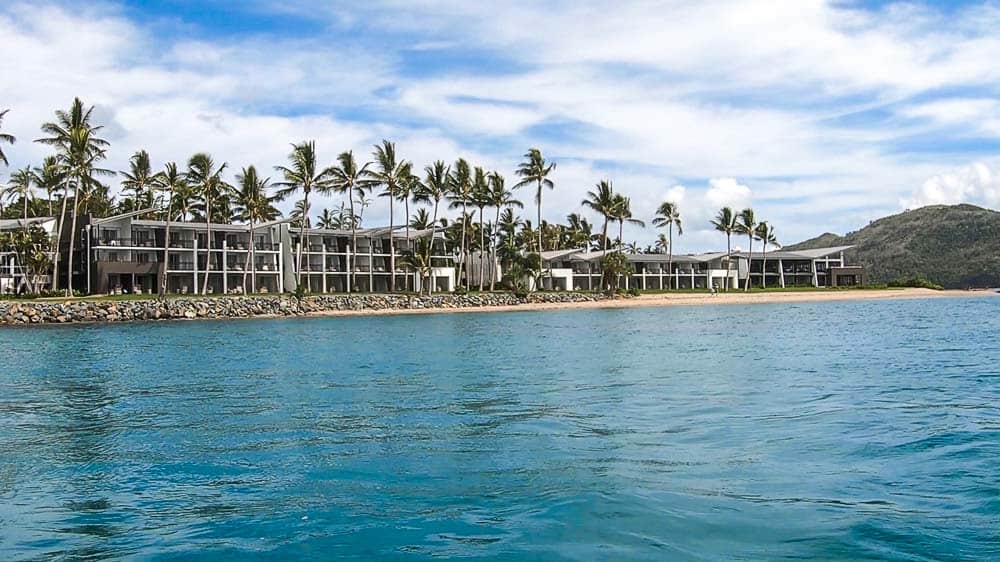 If you like the idea of spending a day on one of the many Airlie Beach islands, Daydream is one of the great family resorts in Whitsunday Islands as well as being one of the easiest to get to. Cruise Whitsundays run a ferry from the Port of Airlie Marina multiple times a day (see the timetable here) and the journey only takes around 30 minutes so you can have a full day on the island.
As with most islands around Airlie Beach, Daydream Island is a tropical paradise with white sand and clear turquoise waters. Plus its undergone extensive renovations, with lots of new Daydream Island activities. You can swim in the large lagoon-style swimming pool, eat at one of three different restaurants, grab a drink from the swim-up bar, hire a kayak or join in on the various weekly activities.
One of the best things to check out on the island is the brand new Living Reef – the largest of its kind in the southern hemisphere. The Living Reef is a free form coral lagoon wrapping around the central building. The kids will love being able to have lunch while watching the stingrays and tropical fish swim by. Plus you can come along to the daily fish feed and stingray talks. There is also the option to snorkel in the reef.
The ferry transfers cost $41 per adult and $30.50 per child – one way. Upon arrival at the island; you'll also need to pay a Daydream Island Resort fee – please check before departing if Daydream is currently opening for day guests.
It is of course better to stay a few days if you can – click here to find out more about staying on the island.
Wildlife Glass Bottom Cruise
This wildlife glass bottom cruise is perfect for those with very young kids, who might not be able to handle a full-day tour or anyone on a tight budget who still wants to experience cruising the Whitsundays – and don't want to get wet. It's also great for anyone not too keen on snorkelling or just short on time.
On the hour-long eco-cruise takes you around the coral reefs that surround Shute Harbour. On tour, you may see marine life such as turtles, fish, rays as well as a range of hard and soft corals. Plus you'll also have a knowledgeable guide who will provide commentary on the amazing marine life you are sure to see.
Tours depart regularly and include transfers from Base Backpackers.
The full-day cruising tours can get pricey, but this option only costs $79 per adult, $69 per child with children under 3 free – Click here to book your tickets online.
Whitsunday Crocodile Safari
Just 30 minutes south of Airlie Beach this guided nature tour lets you explore the Whitsunday's estuaries and wetlands in search of crocodiles and other wildlife.
If you're looking for things to do in Proserpine, this tour starts with a cruise along the Proserpine River in search of crocodiles, migratory birds, mammals and marine animals. This is home to around 150 crocodiles, so you'll no doubt see a few of these giant creatures on the cruise.
You'll then take a tour on a tractor-drawn wagon train where you will explore the Goorganga Plains. On this part of the trip, you will discover vegetation and wildlife unique to the freshwater environment such as birds, marsupials and reptiles.
The tour includes hotels transfers, BBQ lunch, traditional billy tea and damper.
Location: Glen Isla Rd, Glen Isla
Opening Hours: Daily from 8.30 am – tours last for around 6 hours.
Price: $150 per adult | $90 per child (5-17) | $50 for little ones (1-4) – Click here to book your safari online.
Bredl's Wild Farm
Just a 60-minute drive south of Airlie Beach is Bredl's wild farm, a wildlife experience much more unique than a zoo or wildlife habitat! This is a unique guided tour around the family's 175 acres of private property where you can get up close and personal with many of the animals, including snakes, baby crocodiles, koalas and more. The tour also includes a safari tour across the property to see the big crocodiles.
As far as things to do around Airlie Beach go, this one is pretty special, and you can even catch a live croc show while you are there.
Location: 523 Lindeman Dr, Bloomsbury
Opening Hours: Monday, Tuesday, Thursday, Friday, Saturday 10 am to 2 pm (bookings required)
Price: $90 per adult | $60 per child | Under 2s are free
Bowen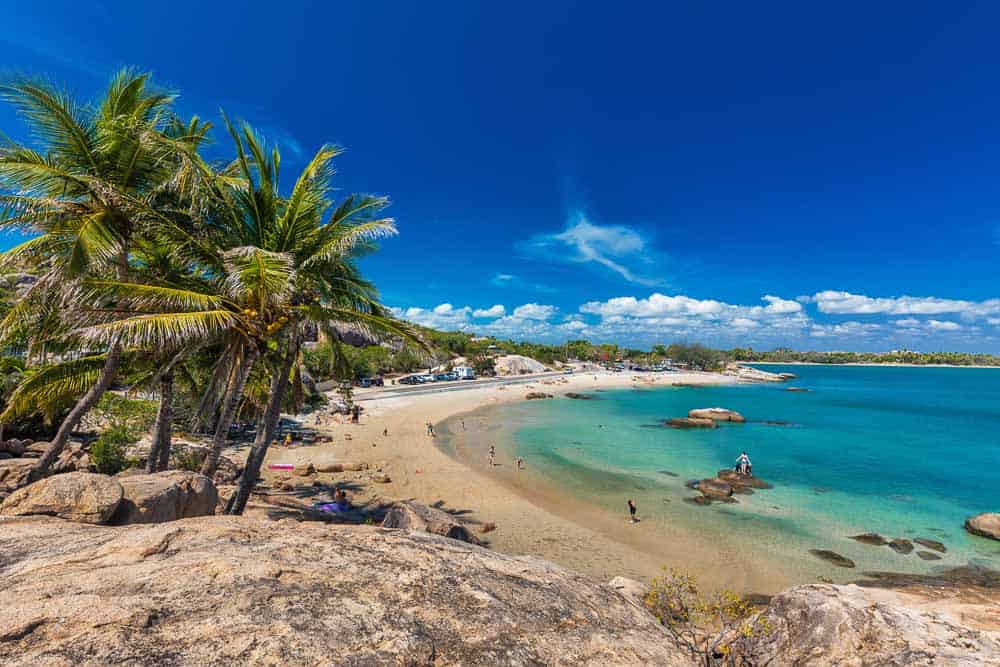 About 40 minutes drive north of Airlie Beach is the town of Bowen, and there are plenty of attractions here to keep you busy for the day. With eight beautiful beaches to explore and the inner reef just meters from some of the bays, you can be snorkelling in no time at all. Don't miss the iconic Horseshoe Bay that's a favourite with tourists and locals alike, be sure to drop by Rose Bay for some gorgeous scenery or Grays Bay if water sports are more your thing.
There's more than just picturesque beaches to be enjoyed in Bowen though. The kids will love hanging out at the waterpark and playgrounds at Foreshore, a walk to Rotary lookout is a must, as well as taking a look at some street art in the town centre. And of course, don't forget to check out the Big Mango and snap some photographs.
Airlie Beach Family Accommodation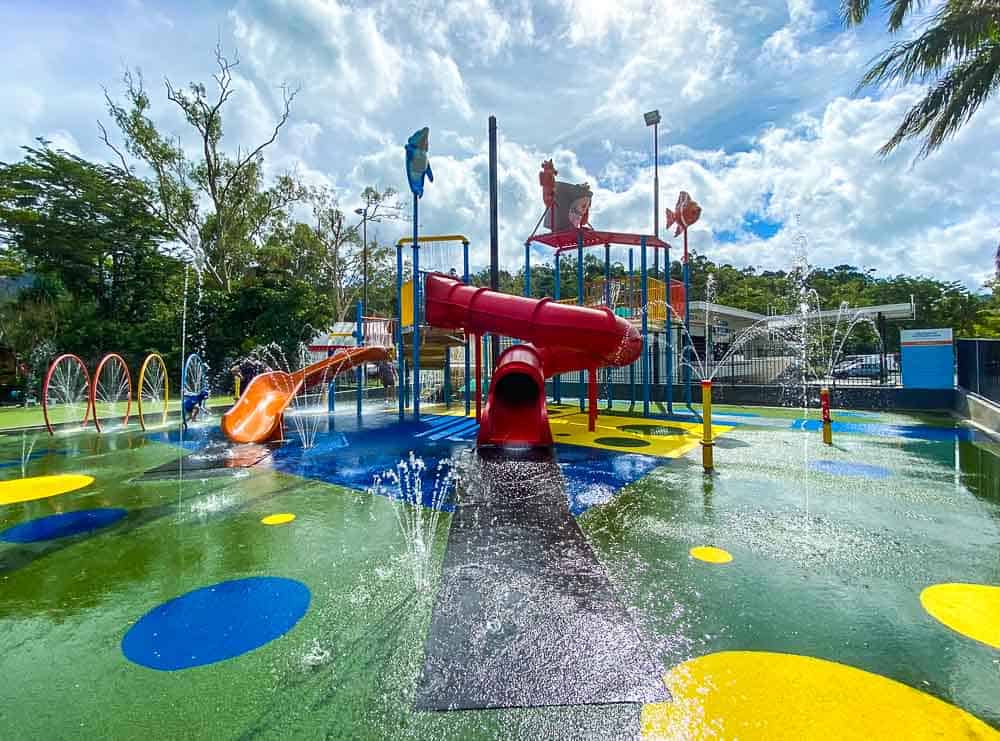 There is a stack of excellent Airlie Beach family accommodation. During our recent trip to Airlie Beach, we stayed at the wonderful family-friendly Discovery Parks Airlie Beach holiday park. Click here to read our full Discovery Parks Airlie Beach review.
This Airlie Beach caravan park has a stack of different accommodation options, from basic tent sites, to basic cabins as well as massive spacious and modern fully self contained cabins. We stayed in a brilliant two bedroom cabin which has a huge kitchen, so we were able to prepare all of our own meals. Plus it came with a washing machine and dryer – so we could wash our clothes as we went. This is perfect for us, as we like to travel super light.
Perhaps the best thing about this Airlie Beach accommodation is all the great facilities for kids. There is an awesome swimming pool with waterslide, as well as a great waterpark with another four waterslides and a range of interactive water sprayers and foundations. The park also has a great little playground and jumping pillow. Other facilities for the kids include go-karts and a game arcade. The facilities are so great in fact that most days it was a struggle to get Myla to want to leave for our sightseeing trips.
You can see our YouTube video from our stay here.
We would have to say this is some of the best family accommodation Airlie Beach has on offer. Keep in mind the park is a few kilometres out of town – however if you don't have your own car, you'll love how there is a bus stop right outside. Read below about getting around Airlie Beach by public transport.
Click here for our complete and comprehensive guide on where to stay in Airlie Beach with kids.
Where to Eat in Airlie Beach
There are some great places to eat in Airlie Beach from fish and chips to family-friendly pubs to fancy restaurants. Some of the bigger places even provide courtesy shuttle buses which is great if you don't have your own transport, or both Mum and Dad want to have a few drinks.
Here's our guide on the best value for money places to take the family during your stay in Airlie Beach.
Fat Frog Beach Café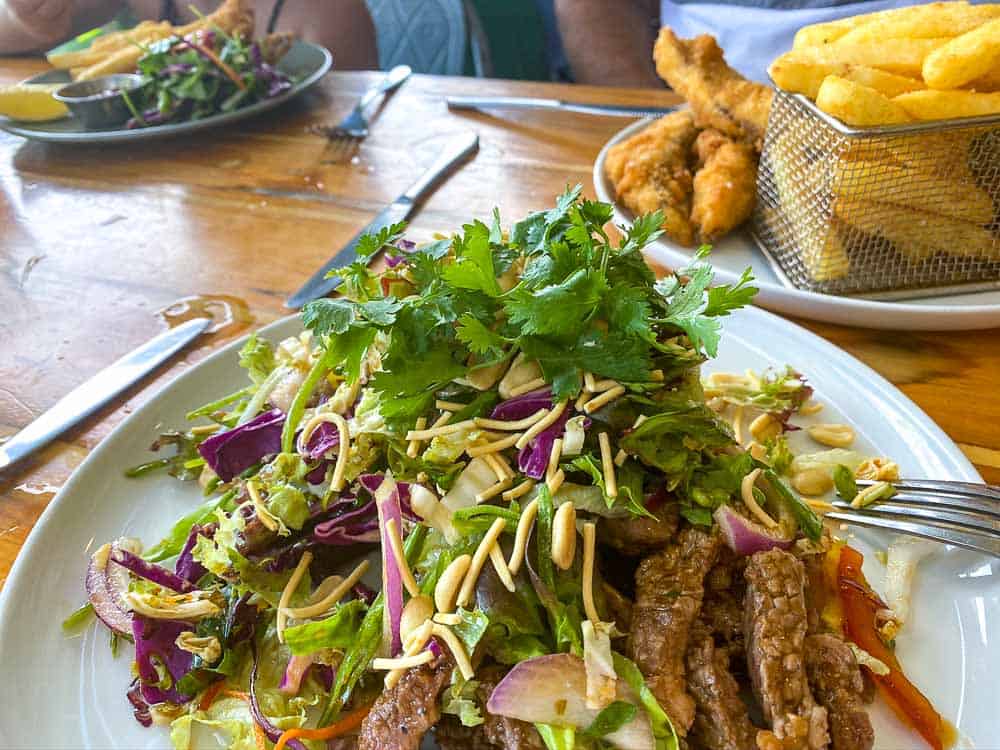 If you happen to be down at Cannonvale or doing the Bicentennial Walk from Airlie Beach on your family holiday Airlie Beach – make sure you stop in at Fat Frog Café. A gorgeous little family-friendly café with gorgeous views across Cannonvale Beach and right out to the Whitsunday Islands.
Fat Frog Café is a funky and somewhat quirky café with a great interior and gorgeous outlook (tip – sit by the window if you can for the best views!). The staff are friendly, and the service is quick – which is excellent for those visiting Airlie Beach with small kids.
The café has a small kids area with a few toys to keep the little ones entertained, as well as a basic kids menu. If you come on the weekends, expect to find a few more Airlie Beach kids activities around the place. Plus you're encouraged to bring your pets too. There are even some meals on the menu for the four-legged furry kind!
We ordered a delicious serve of fish and chips and a Thai beef salad which were both divine. As you can see from above, the serves a more than generous – so you could even consider sharing if you're not overly hungry. They also have a range of vegan options too. Next time I'm coming, I'm having the breakfast rosti – it looked amazing!
Whether you need a coffee, a cold drink or a hearty meal to satisfy a big appetite – the Fat Frog Beach Cafe at Cannonvale is well worth a visit. Oh and don't leave without adding what you're grateful for and sticking to the "I am grateful for" wall!
Click here to see our YouTube video from our visit.
Location: 44 Coral Esplanade, Cannonvale
Opening Hours: Weekdays 7 am to 2 pm | Weekends 7.30 am to 2.30 pm
Main Meal Prices: $14 to $26 | Kid's meals from $6
The Pub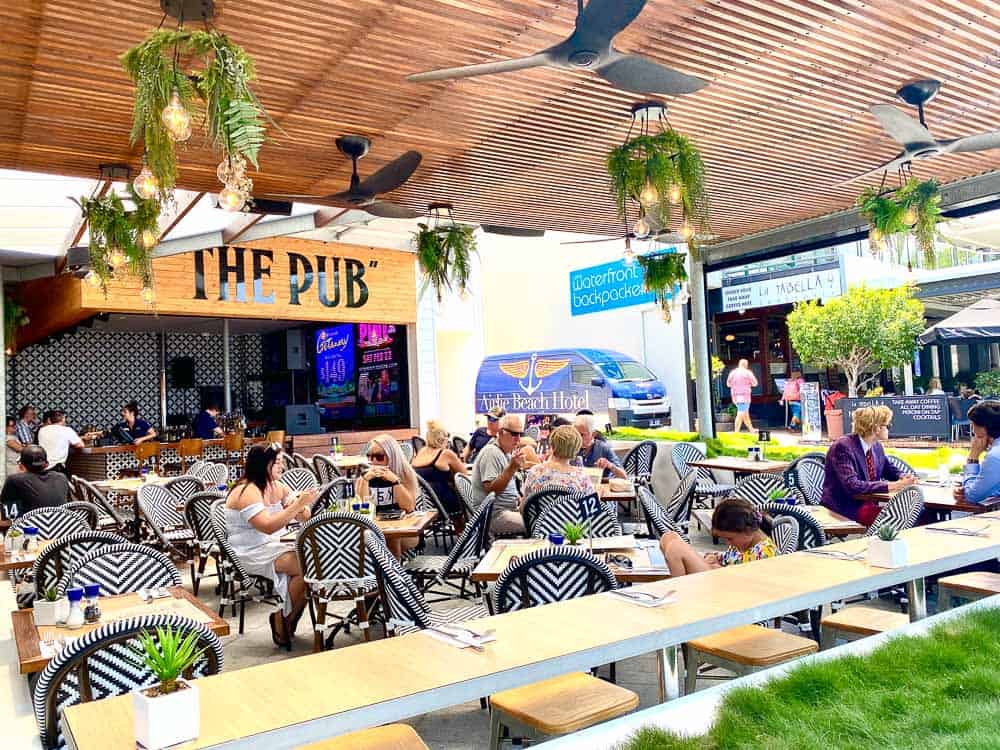 The Pub is located on the Airlie Beach Esplanade – with great views across the parklands and beach and is the perfect place for a pub lunch. It's a super trendy place with great décor and funky tunes blaring from the speakers, and in the evenings there is usually a live band.
The menu is extensive – there is just about everything on it! From steak to seafood, chicken, burgers, salads, pastas and everything else you can think of. Plus some meals come with access to their salad and dessert buffet. They also have an excellent kids menu with all kids meals being $15 and including the buffet, which has salads and dessert. Serving sizes are huge – I'd recommend sharing – or be prepared to leave ridiculously full!
If Mum and Dad both feel like a drink or two – leave the car at home and contact the Pub to arrange pick up in their free courtesy bus. The bus operates daily.
Location:16 Airlie Esplanade, Airlie Beach
Opening Hours: Lunch is daily from 12 pm to 2 pm and dinner is Sunday to Thursday from 5.30 pm to 8.30 pm and Fridays and Saturdays from 5 pm to 9 pm.
Main Meal Prices: $26 to $55 | Kids meals $15 and include unlimited dessert
The Oak Bar & Restaurant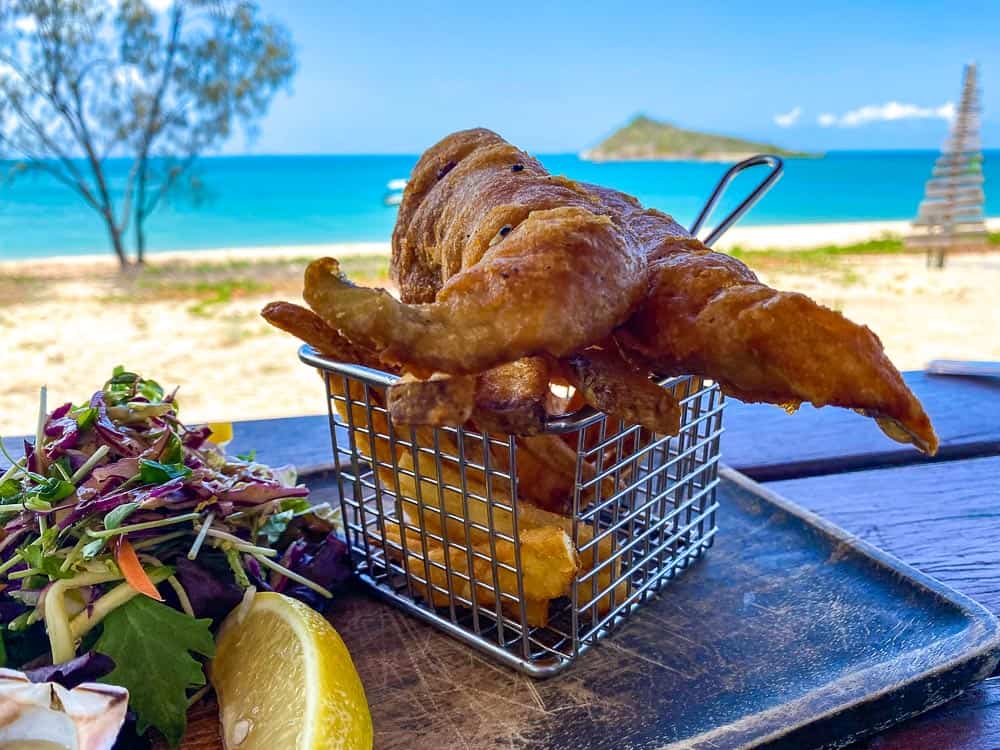 Don't leave Airlie Beach without coming for lunch at the Oak Bar & Restaurant at the Cape Gloucester Resort. This place is not only just stunning, but the food here is amazing too!
The Cape Gloucester Resort is heaven on earth – with views of the coral sea as far as the eye can see. The sand here is powdery white, and the water is turquoise clear – making it not just a great place for lunch, but the ideal place to spend the day. Plus there is a pool on-site too which day guests are welcome to use.
There is a great menu with lots of options. Seafood is heavily featured, but there is also steak, pork, chicken and more. They have a great kids menu with all meals being $15 and include a drink. Kids meals include fish and chips, chicken nuggets, pasta and more.
If you're like me and don't want to leave the place – you can actually stay on-site. There is a range of accommodation from basic motel-style rooms to fully self-contained cabins, so if you are seeking family hotels in Airlie Beach, click here for more information.
Location: 128 Gloucester Ave, Hydeaway Bay
Opening Hours: Daily for lunch and dinner.
Main Meal Prices: $26 to $36 | Kids meals $13 and include an ice block
Montes Beach Bar and Restaurant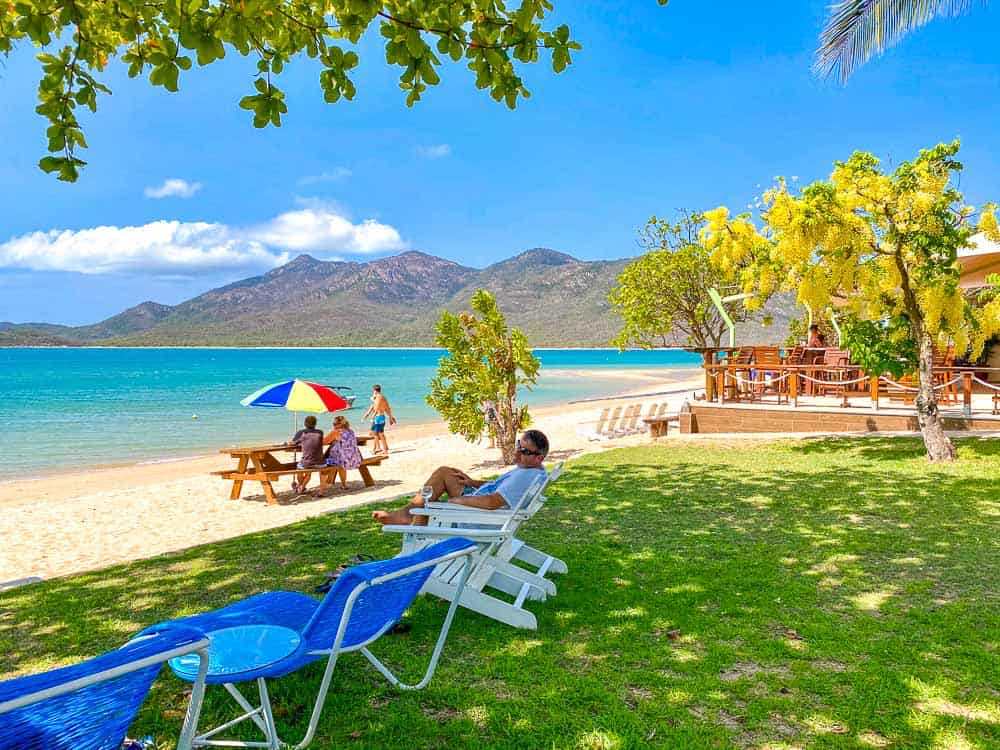 If you love seafood and stunning views, then lunch at Montes Beach Restaurant is an absolute must! The view alone makes this place worth stopping in.
The restaurant has the most fantastic deck which looks out over the Gloucester Passage. There are also a few different chairs dotted around the beachfront and garden if you just want to come and enjoy a drink.
The menu here is mostly seafood, but the non-seafood eaters are catered for as well with a burger and steak sandwich on the menu too.
If you love this place as much as me – then why not stay a few days. You can also stay at the Montes Reef Resort, as they have eight two-bedroom bungalows on site. – Click here for more information.
Location: Gloucester Ave, Hydeaway Bay
Opening Hours: Daily from 11.30 am to 8.30 pm – bookings are recommended
Main Meal Prices: $22 to $38 | Kids meals from $12
How to Get to Airlie Beach
The best way to get to Airlie Beach is either by driving or by plane. If arriving by plane, the nearest airports are either Proserpine Airport (also known as Whitsunday Coast Airport) or the Hamilton Island Airport. Check Skyscanner for cheap flights.
See below for information on how to reach Airlie Beach from either Proserpine or Hamilton Island Airports.
For those road tripping around the Queensland east coast, here are some rough ideas on how long it will take to drive from various cities:
Getting to Airlie Beach from Proserpine Airport
Proserpine Airport is the closest airport near Airlie Beach. In my view, the best way to get to Airlie Beach from Proserpine Airport is via car. This will give you the ultimate freedom in getting around to do all the above activities and visit attractions Airlie Beach has to offer. Check Skyscanner for deals on car rentals (yes they also compare car rentals as well as flights).
However having said that, it's not essential to have your own car in Airlie Beach. There is a reasonably good bus system around town, and many tours will pick you up from your accommodation as well. See below the getting around Airlie Beach section.
If you decide not to hire a car, then the best option is to take a shuttle bus. The Whitsunday Transit provides transport to and from Airlie Beach direct to your accommodation and takes around 40 minutes. The rate is $25 per adult or $13 per child one way. It's cheaper to book a return ticket which is $42 per adult and $21 per child.
Click here to book your transfers to and from Prosperine Airport to your Airlie Beach accommodation.
Getting to Airlie Beach from Hamilton Island Airport
In terms of getting to Airlie Beach from Hamilton Island, you'll need to book an island transfer with Cruise Whitsundays. Passenger ferries take 1 hour to travel to Airlie Beach and depart multiple times a day from Port of Airlie Marina and cost $65 per adult and $54.50 per child – one way. See the timetable here.
Click here to book your Hamilton Island transfers here with Klook.
Getting around Airlie Beach
If you want to explore further afield, you must have a rental car while in Airlie Beach. I recommend you also check Skyscanner for car rentals – yep they provide information on cars as well as flights.
However if you are staying in the centre of town, or just plan on doing lots of tours – it's not necessary to have a car in Airlie Beach. Most of the tour operators will provide transfers to and from your accommodation, as will some of the larger pubs in town such as The Pub and Northerlies. The local public transport system is pretty good too. I recommend you just use Google Maps to plan your journey – this will tell you exactly where the nearest bus stops are for your trip.
Best Time to Visit Airlie Beach
The best time to visit Airlie Beach is anytime! With its subtropical climate, the great thing about Airlie Beach is that the weather is perfect year-round to visit. Even in the middle of winter you can swim in the ocean and bask in the sun. In Airlie Beach, you can expect average year-round temperatures of 27 degrees Celcius.
The Summer months of December to February can be super hot and humid and a challenge for anyone not use to the heat. The Winter months of June to August are still full of warm days and perfect for escaping the cold weather of Australia's southern states.
The wet season is between January to March and is known for being hot and humid with regular downpours. However don't let this put you off, as the rain tends to come in short bursts either first thing in the morning or late afternoon. The bonus of this time of year is that the waterfalls are full and accommodation often tends to be cheaper. We spent a week in Airlie Beach during wet season and it never rained once while we were out and about – just early in the morning or during the night. There can of course be days of rain and even cyclones – so just be mindful of this.
Unfortunately during October to May – this is stinger season, and so if you want to go into the water, you will need to wear a stinger suit to be protected. This is easy though with all tours offering stinger suits, as well as stinger suits being available to hire for your own beach day trips. We hired stinger suits from the Abel Marina.
Keep in mind that during Australian school holidays, the area will tend to be busier. So if you have the choice – be sure to come outside of these periods.
Airlie Beach- Our Verdict
One word – Awesome! We just loved Airlie Beach – there is so much to do – especially if you're the sort of family that loves the beach. We just can't get enough of being in the water, and snorkelling is one of our favourite things to do.
Airlie Beach has such a chilled vibe to it too. I love the casual atmosphere around town, whether you're on the beach, at the lagoon or at one of the pubs and cafes in town.
The other thing about Airlie Beach is that its not overly expensive either – apart from the island day trips that is – but most other activities are free, and accommodation is pretty reasonable too.
So there you have it – in our view, Airlie Beach is well and truly an excellent family destination, and I have no doubt you and your family will have a blast.
____________________________________________________________________________________
Hopefully you found this guide on Airlie Beach for families helpful, if you're looking to travel to other Queensland beach destinations, check out our Sunshine Coast Guide or our Surfers Paradise Guide – both will give you loads of family friendly beach activities!