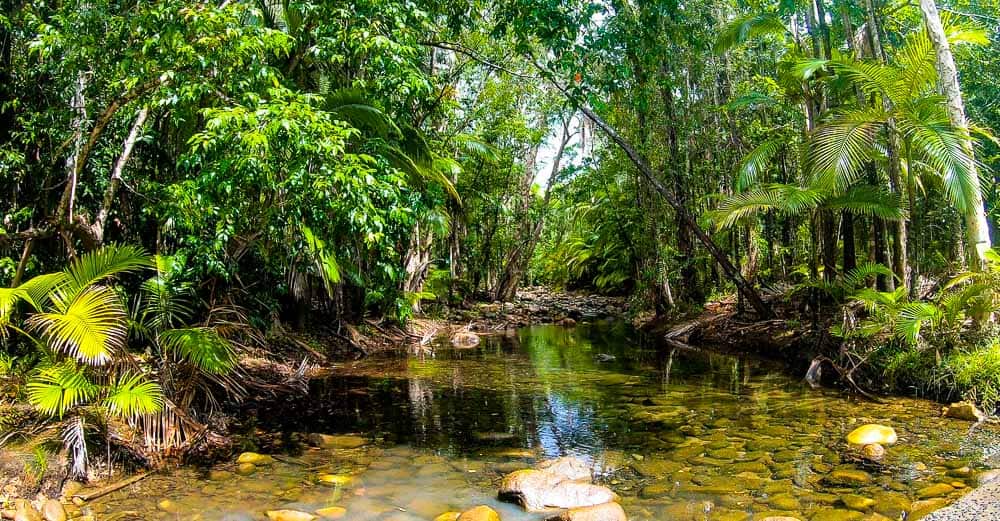 Mackay is a small Central Queensland coastal town located on Australia's east coast. While there isn't a stack of Mackay tourist attractions, like there are in other Queensland cities, it is a great place to visit for families that like to get outdoors. What's even better, there are heaps of free things to do in Mackay!
This guide covers some of the very best and fun things to do in Mackay with kids. Some Mackay activities that the kids will love include getting a glimpse of the platypus in the Eungella National Park, seeing the Kangaroos before sunrise on Cape Hillsborough and learning all about the production of sugar at the Sarina Sugar Shed. This guide includes everything you need to know about visiting these Mackay attractions and more.
As well as the very best things to see in Mackay, this guide also covers some of those practical things families need to take into consideration when they visit Mackay, such as a basic itinerary, how best to get to Mackay, where to stay and what you need to bring.
This post may contain compensated links. Please refer to my disclaimer here for more information.
Talk to other families about their tips on visiting Mackay and join our Queensland Travel Facebook.
Fun Things to do in Mackay with Kids
Throughout this Mackay things to do and see guide, I have tried to provide as much information as possible to make it super easy when you're planning what to do in Mackay. Where relevant I have provided locations, opening hours and ticket prices.
All the information and prices for the attractions in Mackay listed in this post are correct at the time of publishing and are in AUD.
1. Mackay Water Park – Bluewater Lagoon
Many Qld beach towns have free lagoons, but few are as large or as fun filled as the Bluewater Lagoon water park in Mackay! This is one of the top kids activities Mackay has to offer, and the whole family could easily spend an entire day cooling off in the pools.
The lagoon is actually a three-tiered area with three swimming pools, a 19.5 meter waterslide and an interactive children's splash park with a huge tipping bucket. There are great shallow water areas for younger children as well as handrails and access for those with disabilities.
Not only is it one of the best Mackay kids activities to cool off on a hot day, but there are also great facilities surrounding the lagoon with free BBQs and picnic tables and a café. The Canelands Shopping Centre is across the road too, so you can easily get some cheap lunch supplies from the supermarket.
Come for a quick dip or spend the entire day.
Location: River St, Mackay
Opening Hours: Daily 9 am to 5:45 pm
Price: Free!
2. Explore the Local Beaches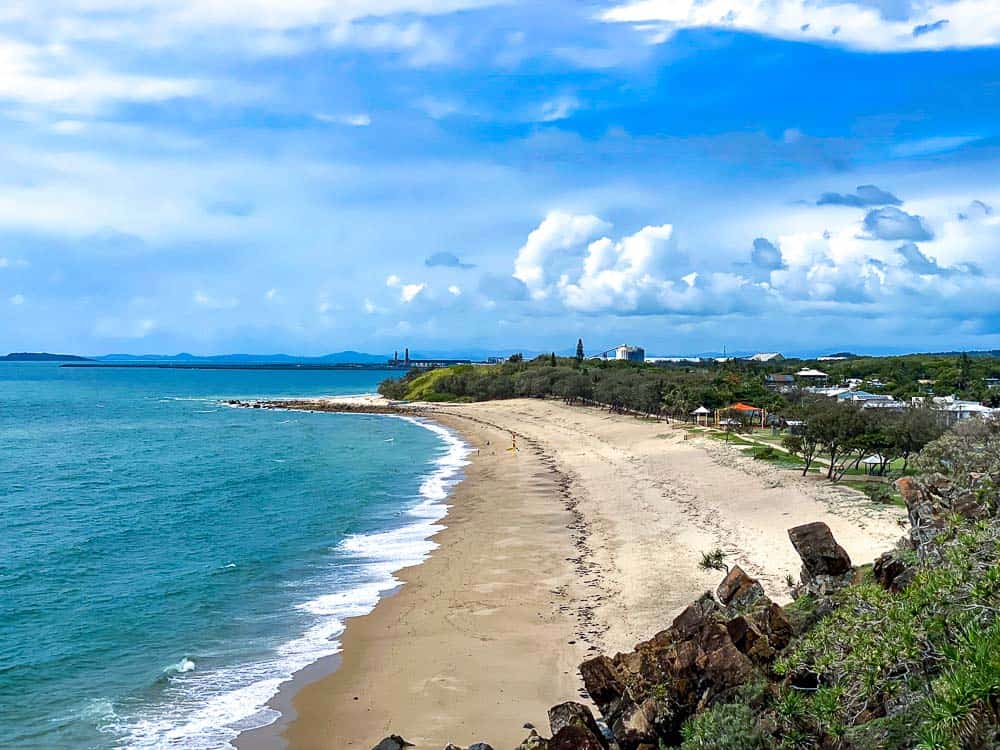 A trip to the Mackay region wouldn't be complete without visiting some of the many beautiful beaches in the area, and there are plenty that would make great day trips from Mackay.
Just don't forget that you will need a stinger suit between October to May – or swim where there are stinger nets in place.
Eimeo Beach
Just 20 km north of Mackay you'll find the white sands and clear waters of Eimeo Beach which is a popular sheltered bay for locals and tourists alike. The beach is patrolled during the summer months and safe for swimming between the flags. After exploring the beach, you could enjoy a picnic on the esplanade while the kids play at the park or head up to nearby Eimeo Pacific Hotel for dinner with a great view over the beach.
Bucasia
This pet friendly beach is popular for walking, swimming and fishing and is one of the longest beaches in the region at 4km in length. If you have any keen fishermen in the family, at high tide, it's possible to fish for flathead right off the beach. This is a great spot for a late afternoon stroll with views of Dolphin heads and the Cumberland Islands. As far as things to do around Mackay go, what could beat a sunset stroll along a tropical beach that even the dog can enjoy.
Shoal Point
This is the most northern community of Mackay's northern beaches and has a stunning beach with spectacular views north to Cape Hillsborough and the Hibiscus Coast. At low tide, the beach almost looks like a small desert and allows a closeup view of Green Reef Island. This beach is the perfect spot to catch the sunset, and there are great facilities and playgrounds along the esplanade.
Harbour Beach
Just a 5 minute drive from the CBD, this patrolled beach is a great spot for a swim. Located right near the multi million dollar Mackay Marina, there are great facilities in the area such as two playgrounds, BBQs and even a surf life saving club for some lunch.
Lamberts Beach (pictured above)
With its 180 degree views across the Coral Sea, this is a popular place to watch the migrating whales. Here you will find a state of the art purpose built whale watching platform which is perfect for watching the whales migrate between June and November.
3. Mackay Aqua Park
The aqua fun park, Mackay is one of the most fun things to do in Mackay for kids who are a little older and need to burn some energy and cool down in the Qld heat.
This inflatable obstacle course floating on the water is both challenging and sure to provide some hilarious memories. Kids can climb, jump and slide around the course during their 50 minute session. Trained lifeguards oversee the course, but kids under 7 must have parental assistance.
Location: Gowake Cable Park, 4 Michigan Way, Andergrove
Opening Hours: Saturday & Sunday sessions at 10 am and 11 am (Booking a must)
Price: $25 for one 50 minute session or $35 for two sessions (same person, same day)
4. Check Out the Marina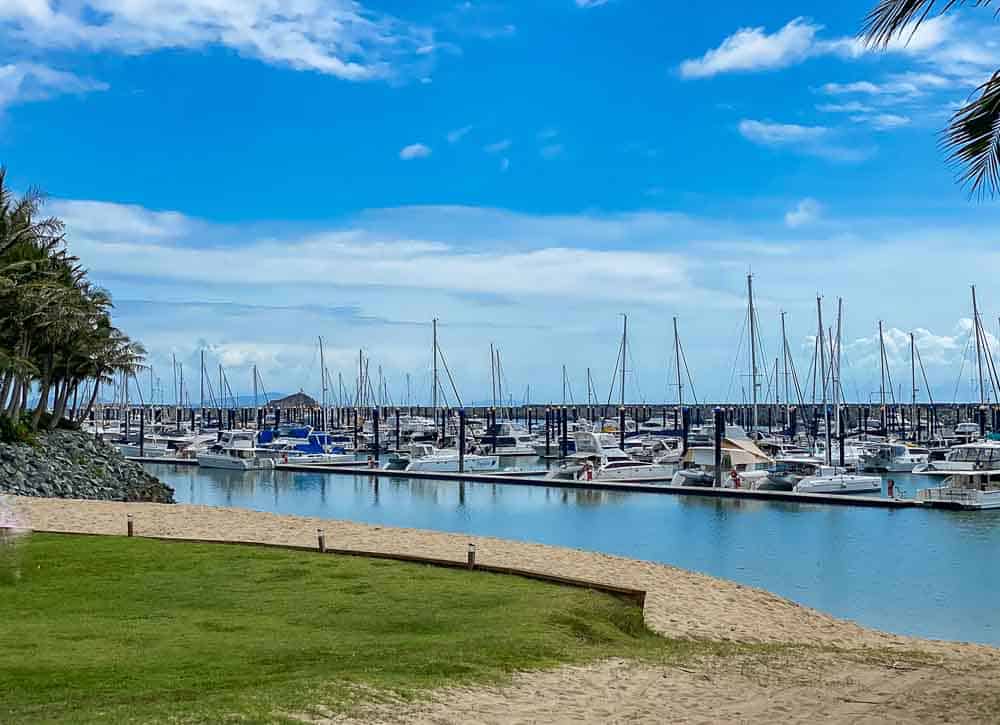 The Marina and the Pine Islet Lighthouse are Mackay tourist spots worth a visit if you have kids who love anything boat or fishing related. Relax in the shade of the lighthouse with a picnic while the kid's spot boats in the harbour.
The Marina village has a few shops, restaurants and hotels to explore and find somewhere to grab a bite to eat before taking a walk along the palm lined esplanade.
Location: Mackay Marina Village and Shipyard Mulherin Drive Mackay Harbour
Opening Hours: Shops open daily 8.30 am to 4.30 pm
5. Explore the Botanic Gardens
The Botanic Gardens are one of the best things to do in Mackay if you just want somewhere for the kids to explore and run around for the afternoon.
Spend a few hours exploring the diverse flora of the Central Queensland Coast with over 3km of walking and cycling trails, wetland boardwalks and lovely grassy areas to sit and relax while the kids play. Enjoy the countless opportunities to spot birds and other wildlife in their natural habitats. There is even a cafe and gallery perched above the wildlife filled lagoons for a unique dining experience.
So, if you're stuck wondering what to see in Mackay with kids who love to explore in the great outdoors, take a trip to the Botanic Gardens.
Location: 9 Lagoon St, West Mackay
Opening Hours: Daily 5 am to 3 pm
Price: Free!
6. Ride or Walk Along the Bluewater Trail
The Bluewater Trail consists of over 20km of walking and cycling paths winding along beside the Pioneer River. The trail links popular places to visit in Mackay such as the Botanic Gardens, Bluewater Lagoon and the city beaches. There are also six public art installations, each representing a different aspect of Mackay's history.
The Catherine Freeman section of the trail crosses beautiful wetlands with a fishing pier and the Sandfly Creek Environmental walk is a conservation area that is popular with bird watchers.
7. See the Kangaroos at Cape Hillsborough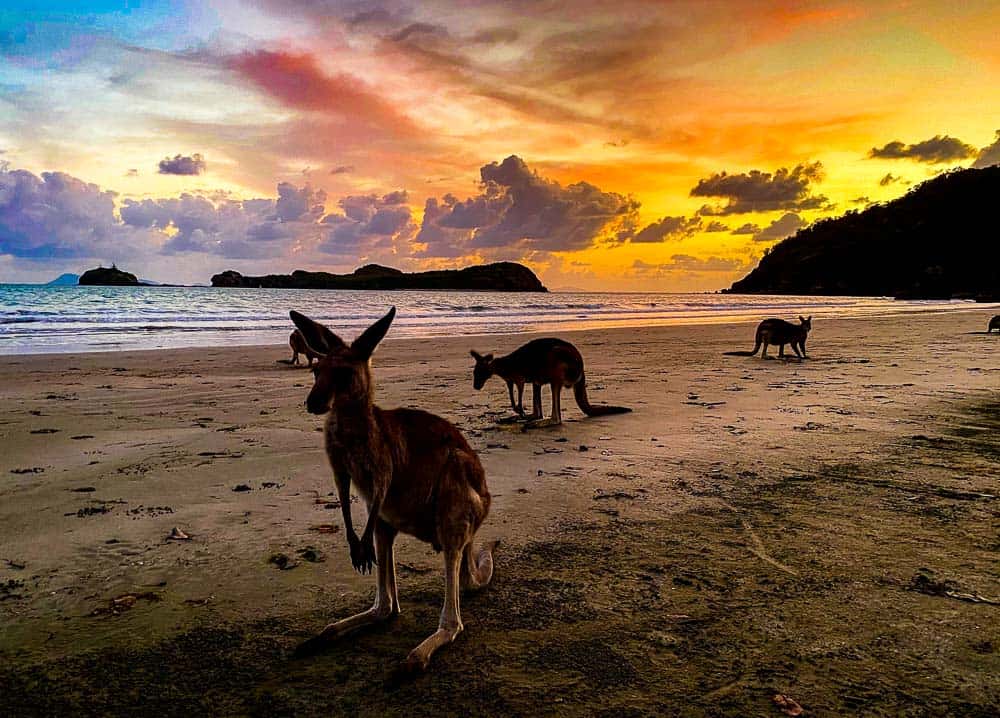 One of the really cool things to do near Mackay is a trip to Cape Hillsborough National Park to see the wild kangaroos and wallabies up close and personal on Cape Hillsborough beach (also known as Casuarina Beach).
Every day wild roos flock to the beach here to look for mangrove seed pods washed up by the morning tide. Make sure you're quick though as they are only around for about an hour each morning.
The best way to make sure you catch them is to stay overnight in the Cape Hillsborough tourist park, which is just a 2 minute walk away from the beach. It was fully booked during our visit, so we stayed in nearby Seaforth at the Seaforth Holiday Units.
While you're in the area, there are plenty of lovely walks to do – see below.
Location: On the beach in front of the Cape Hillsborough Tourist Park
Opening Hours: The best time to see the kangaroos is first light – not sunrise as we first thought – instead get there around 30 minutes before. If you come at sunrise most of the kangaroos will be gone.
Price: Free
8. Various Walking Tracks in Cape Hillsborough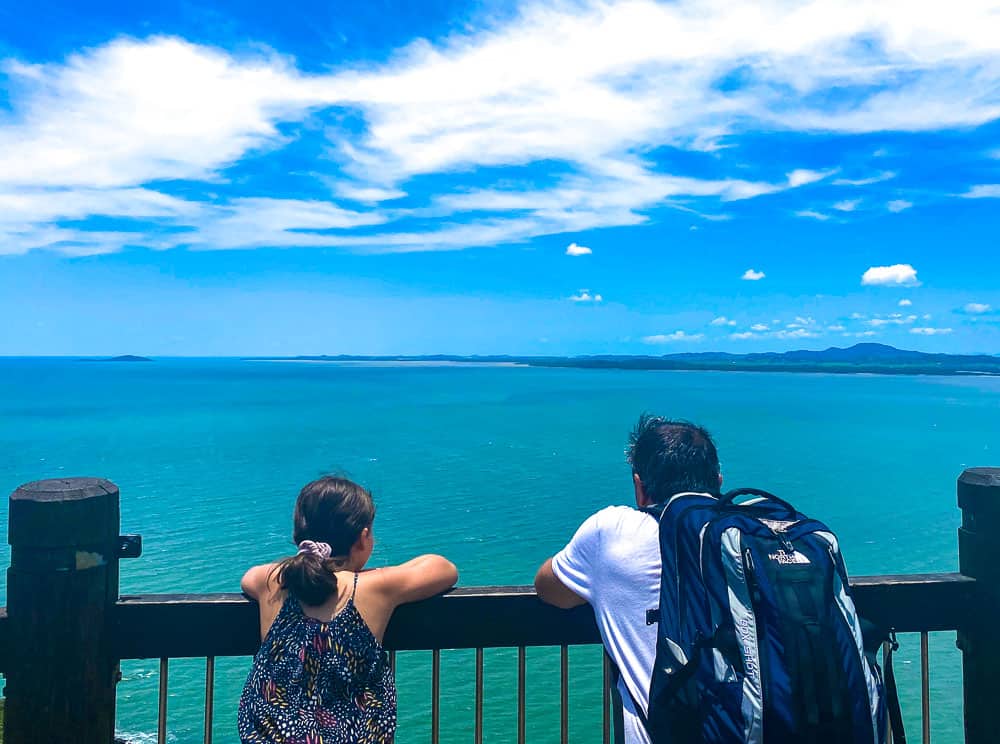 There are quite a few different walks you can do while in Cape Hillsborough – I've briefly outlined them below:
Diversity Boardwalk
A 1.2 km walk through Melaleuca woodland, mangroves, open eucalyptus forest and vine thicket. On route, you will find various displays that explain the diverse communities and the factors that shape them into what you see today.
We didn't do this walk, but I understand the walk is around 40 minutes. You will see a sign to this walk as you drive towards the Cape Hillsborough Nature Tourist Park – the sign says Mangrove Walk.
Beachcomber Cove
This is a 2.2 km return track which takes you through open eucalyptus forest and rainforest as well as past striking rock formations which provides evidence of the area's volcanic past.
We didn't do this walk, but I understand that during low tide you can return via the beach – otherwise you have to return along the same track. Either path takes around 1.5 hours.
This track commences at the northern end of the picnic area, outside the Cape Hillsborough Nature Tourist Park.
Yuibera Plant Trail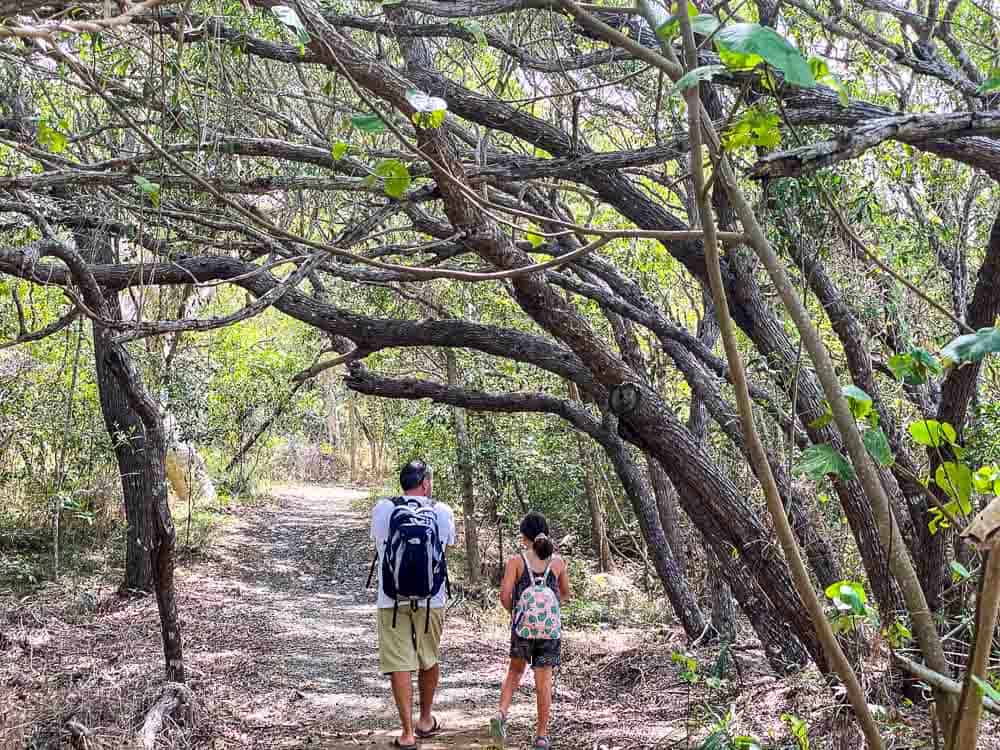 This is a reasonably easy 1.5 km trail which passes through the open forest and then lush rainforest which was first inhabited by the Yuibera people. Along the track, several signs point out the various native plants and how the Yuibera people used them for survival. It's a great one for families, to show the kids a little about traditional life on the land.
To reach the start of the walk, you must take a gravel road just behind the Cape Hillsborough tourist park. You can drive down to the beginning of the walk, however there is a sign that says not recommended for 2WD, so we turned back and walked down which is around 1km. In hindsight we think we could have easily driven the car down – so do consider this as if you walk down it will add quite a bit of time to the walk.
It probably took us around 1 hour to do the walk – including the walk to the start of the track.
Andrew's Point Track (Pictured Above)
A 5.2km circuit, or just 2.8km if you return via the beach, the track wanders through the open eucalyptus forest and remnant rainforest and at the point you'll be rewarded with views across to Wedge Island and Casuarina Beach.
The track has three lookouts along the way including:
Twin Beach Lookout – great view back across the stunning Casuarina Beach, Beachcombers Cove and Wedge Island;
Turtle Lookout -here you can see turtles – be patient and keep a lookout – we saw quite a few while there; and
Andrews Point Lookout – not a great lookout – couldn't see anything.
I recommend you go during low tide so you can take the shorter track across the beach – at least one way. We went up via the tourist park side track and returned along the beach. The entire walk took us around 1.5 to 2 hours.
The start of the walk does require a climb up some very steep stairs, but once you are on top of the headland, it's a reasonably flat and easy walk. Although of a lot the walk is not in the shade and so can get pretty hot – so take plenty of water with you.
If you still have some energy, go across to Wedge Island, once you go down the other side. Myla had run out of steam by this time, so we didn't get across to the island.
9. Explore Wedge Island
At low tide (for 2 hours either side) the causeway over to the island becomes accessible, and you can walk across. If you can't wait for low tide, it's an easy kayak across at any time.
Once on the island, you'll find a lovely small beach with some good snorkelling (just be aware that stinger suits will be required during stinger season) or take the track through a cave up to the top of the island to take in some breathtaking views of the coastline and surrounds.
We unfortunately didn't get across to Wedge Island during our visit – but I hear it's a great place for exploring the rock pools.
Location: Cape Hillsborough National Park
Opening Hours: Accessible 2 hours either side of low tide
Price: Free
10. Cameron's Pocket Swimming Hole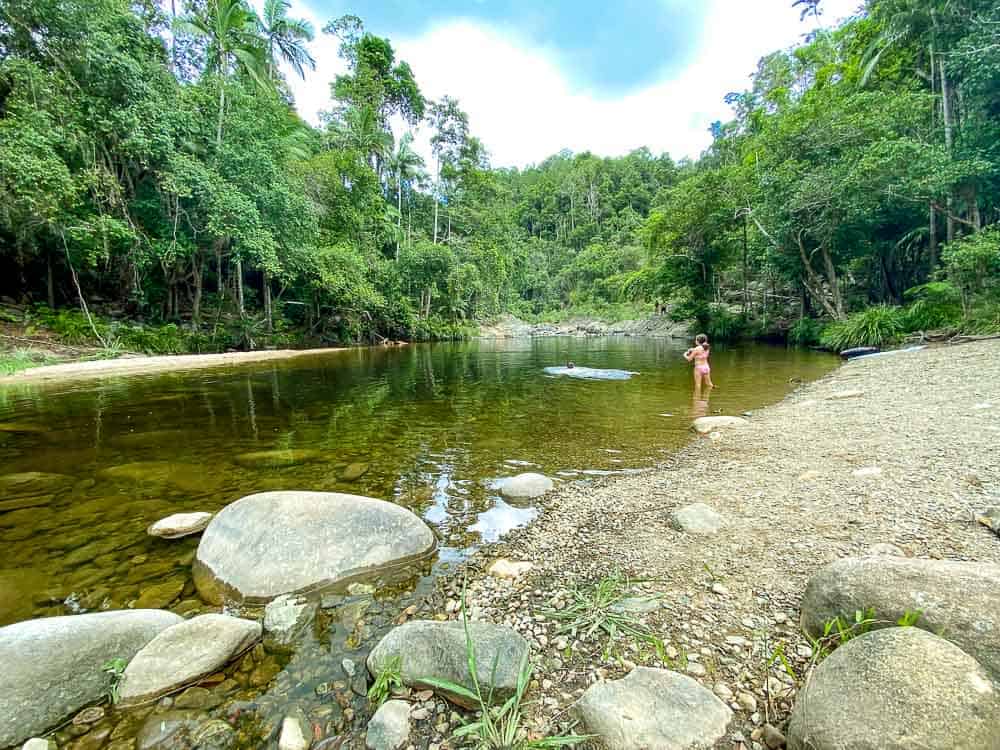 A bit of a hidden gem, loved by locals the Cameron's Pocket swimming hole is located in Eungella National Park surrounded by rainforest. This large secluded swimming hole has a small sandy beach and is a picturesque spot to take a dip on a hot Queensland day.
There is plenty of rocks pools to explore and the turtles to spot. Bring a picnic lunch and spend a good part of the day here. Cameron Pocket is one of the great Mackay day trips for families.
Just note there are no facilities here at all. So bring everything you need and take all your rubbish with you.
Location: Go all the way to the end of Brodie's Road. Take the dirt road onto private property (don't worry visitors are welcome) and drive until the very end. Then walk and take the track down to the waterhole.
Opening Hours: The gate to the road into the swimming hole closes at sunset each day.
Price: Free
11. Sky Window Circuit and Lookout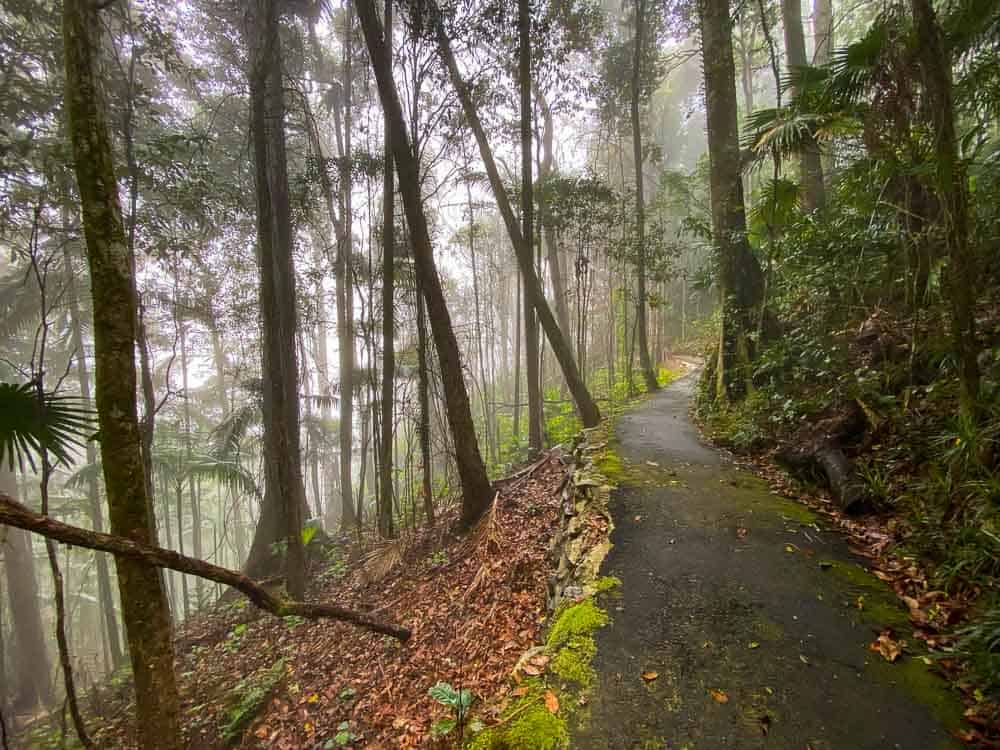 This short 250m circuit is an easy walk for young kids which starts and ends at the Sky Window picnic area and carpark.
The track is accessible for all and passes through fabulous lush rainforest. You can also learn about the Aboriginal culture, with the interesting signs along the trail. There are also two magnificent lookouts which look out over Eungella National Park, the Pioneer Valley and the surrounding farmland to the East.
We visited early one morning when the entire area was covered with cloud. The walk was still beautiful, but unfortunately, there was no view. But never mind because there is a great view across the Pioneer Valley as you come up the range anyway.
If you have more time on your hands, longer hikes can also be done from here as well. Other walks include the 2.8km Sky Window to Pine Grove track or the 8.2km Clarke Range Track.
Location: Eungella Dam Road, Eungella
Opening Hours: 24 hours, but best viewed during daylight hours
Price: Free
12. See the Platypus in Broken River
Ever seen a platypus in the wild? No – well then head over to Broken River where you are almost guaranteed a glimpse! This is definitely one of the must things to do with kids in Mackay.
Be warned though; you will need to be patient and be prepared to wait a while. Myla quickly became bored – but Andy and I were more than happy to wait. These little guys are quick – just surfacing for a few seconds before heading back underwater.
We stayed at the Broken River Mountain Resort, which is just a few hundred metres from the viewing area. The resort also has night tours on Tuesday and Thursdays where the guide will help you spot these little guys.
If you're staying in the area for a while, there is also a range of different walks you may wish to do.
Location: There is a range of viewing platforms at Broken River just in front of the Broken River Mountain Resort and campgrounds.
Opening Hours: The platypus are best viewed around dawn and dusk.
Price: Free
13. Finch Hatton Gorge: Araluen Cascades & Wheel of Fire Cascades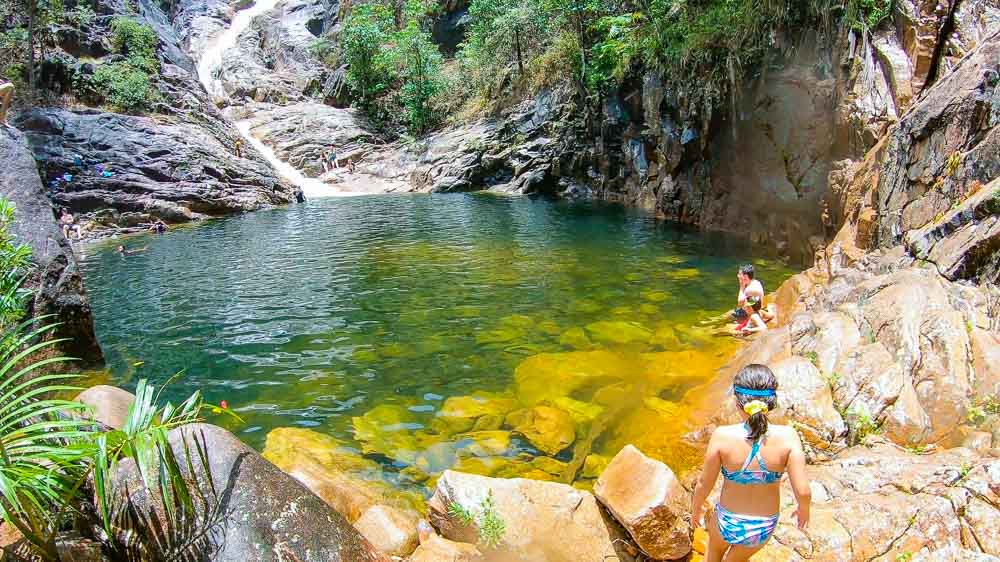 If you're after some gorgeous Mackay waterfalls – then a day or two in Finch Hatton Gorge is an absolute must! We spent quite a few hours at Finch Hatton Gorge in the Araluen Cascades and Wheel of Fire Cascades and could have easily spent the entire day if we had more time. We just loved it at these waterfalls near Mackay.
Even just driving into the parking area is just stunning! From the entrance, the Aruluen Cascades are around 1km one way or around 30 minutes walk. The walk is on a little bit of an incline but overall reasonably flat and easy. From Aruluen the Wheel of Fire Cascades is another 1km. This walk is much harder in that almost the entire walk is very steep (up a lot of stairs) and there is also the cross of Callistermon Crossing which requires climbing over rocks and walking through water. However if you can – it's really worth the effort – the Wheel of Fire Cascades are just beautiful.
There is plenty to explore at the Aruluen Cascades, although this area appeared to be more popular when we visited and got busy quickly. Given Wheel of Fire Cascades are much harder to reach – it seemed to be much quieter. However there is less space around the Wheel of Fire Cascades to sit and leave your belongings.
Both areas are just stunning – but if you can only do one or don't have the energy or ability to climb up the steep stairs – just visit Aruluen, it is just beautiful.
Make sure you bring with you water shoes with some grip for climbing over the boulders. Plus if you plan on spending a few hours, make sure you bring plenty of water and snacks. We even saw people bring in esky's – which much have been a nightmare to carry in!
Location: Finch Hatton Gorge
Price: Free
14. Sarina Sugar Shed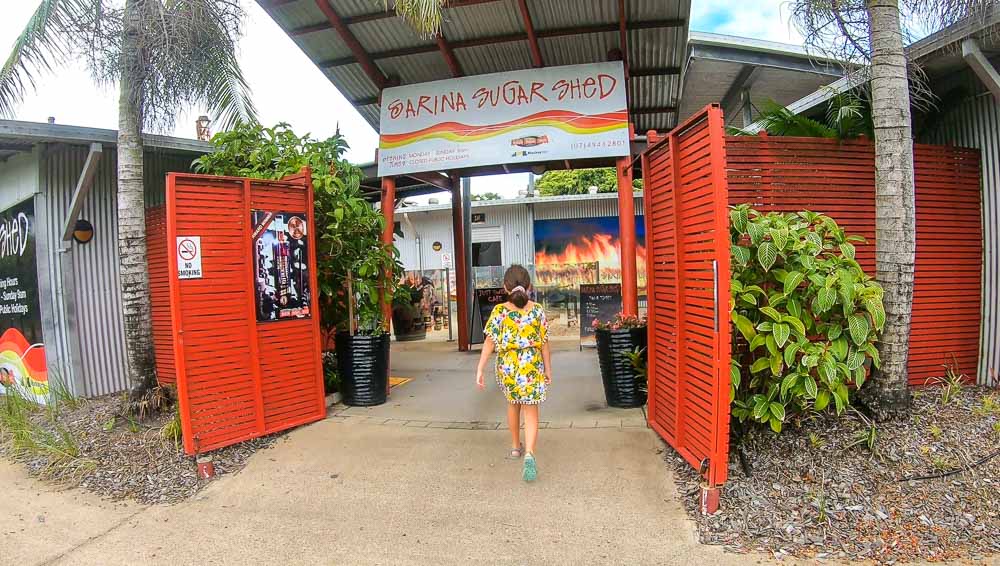 Mackay is famous for its sugar cane – so a visit to the Sarina Sugar Shed is a must! Here you can join both an educational and interactive tour where you will get a sneak peek behind the scenes of a working sugar mill and learn all about the sugar cane industry.
The tour starts outside where your guide teaches you all about how sugar cane grows. Next up, you get to see the various machines used to harvest the sugar cane, including the different machines that have been used over time. The next part of the tour is inside the onsite miniature sugar mill, where you are taken through each step of the process of extracting sugar from sugar cane. You'll even get to try some freshly squeezed sugar cane – spoiler alert – it's gross!!
At the end of the tour, you will also get the opportunity to taste a range of yummy products made onsite including fairy floss, sauces, ginger beer and even a few spirits and liqueurs.
The tour goes just over an hour and is a great way for the kids to learn all about the process of making sugar.
Check out our video from our visit here.
Location: Field of Dreams Parkland, Bruce Highway, Sarina
Opening Hours: Daily from 9 am to 4 pm – tours are run at 9.30 am, 11 am, 12.30 pm and 2 pm.
Price: Tours are $26 per adult, $13 per child with under 5s being free. A family pass (2A+2C) is $68.
3 Day Mackay Itinerary
Not sure how to plan out your visit to Mackay? Here is how we spent our 3.5 days in Mackay.
Day One
From Brisbane, we flew to Proserpine, picked up our rental car and drove towards Eungella National Park. But however you arrive in Mackay – you can follow along our day one itinerary. You will need to hire a car though to complete this itinerary. I recommend you check SkyScanner for car rentals – yes they also link you to car rentals too.
Our first stop was Cameron's Pocket water hole, which was about a one hour drive from Proserpine Airport.
From Cameron's Pocket, we drove through the Pioneer Valley and stopped at the Sky Window Lookout which was about another hours drive from Cameron's Pocket. If you are running out of time, you can always leave Sky Window until the morning.
Check into your accommodation – we stayed at Broken River Mountain Resort (see below for more information).
Depending on what time you arrive, you may need to head straight out to see the platypus. Platypus are best seen around dusk or dawn.
Another option is to spend the night in Finch Hatton. You could check into Finch Hatton Gorge Cabins, before heading up to Eungella to stop at the Sky Window Lookout and see the platypus before heading on back to your accommodation in Finch Hatton. The only problem with this option is if you miss the platypus in the evening, you don't have the option of seeing them in the morning.
I recommend stopping at the Eugella General Store before heading to your accommodation and purchasing some basic supplies for dinner and breakfast. Eating out is expensive in town.
Day Two
If you didn't get to see the platypus the night before, set your alarm nice and early and try and spot them before you leave your accommodation.
After breakfast, pack up your car and drive to Finch Hatton Gorge. Spend a few hours swimming at the Araluen Cascades and Wheel of Fire Cascades
Stop in Finch Hatton for lunch or head straight to Mackay for lunch.
Spend the afternoon exploring some of the Mackay city sites such as the Blue Lagoon if you have kids or some of the historical centre. Depending on whether its stinger season or not, you may prefer to check out some of the Mackay beaches.
Before leaving Mackay, go to the supermarket for some supplies for the next few days.
Then head on up to your accommodation in Cape Hillsborough. The Cape Hillsborough Nature Tourist Park is a good option otherwise if its full check into the Seaforth Holiday Units.
Day Three
Set your alarm super early because today you'll be down on the beach before dusk to see the kangaroos at Cape Hillsborough. Make sure you are there around 30 minutes before sunrise – most of them are gone by the time the sun fully rises.
After you see the kangaroos, head back to your accommodation for some breakfast.
Next, choose one or two of the Cape Hillsborough walking trails and if you have some energy, head on over to Wedge Island at low tide.
Go back to your accommodation for a well deserved rest. If you do have any energy left, you could go to the beach. If its stinger season head to Seaforth Beach where there is a stinger net – or you can swim in the pool at the Cape Hillsborough Nature Tourist Park. Even if you're not staying there, you can purchase a day pass for $5 per person.
Day Four
Check out of your accommodation and head on down to Sarina to visit the Sarina Sugar Shed. Afterwards, you might want to visit some of the beaches around Sarina.
From here you can leave Mackay for your next destination. We drove up to Airlie Beach – you can read our guide to Airlie Beach here.
Where to Stay in Mackay
If you plan on seeing most of the places above your best bet is to stay in a range of places in the Mackay area. Here's a quick overview of the places we stayed at as well as a few other suggestions:
Broken River Mountain Resort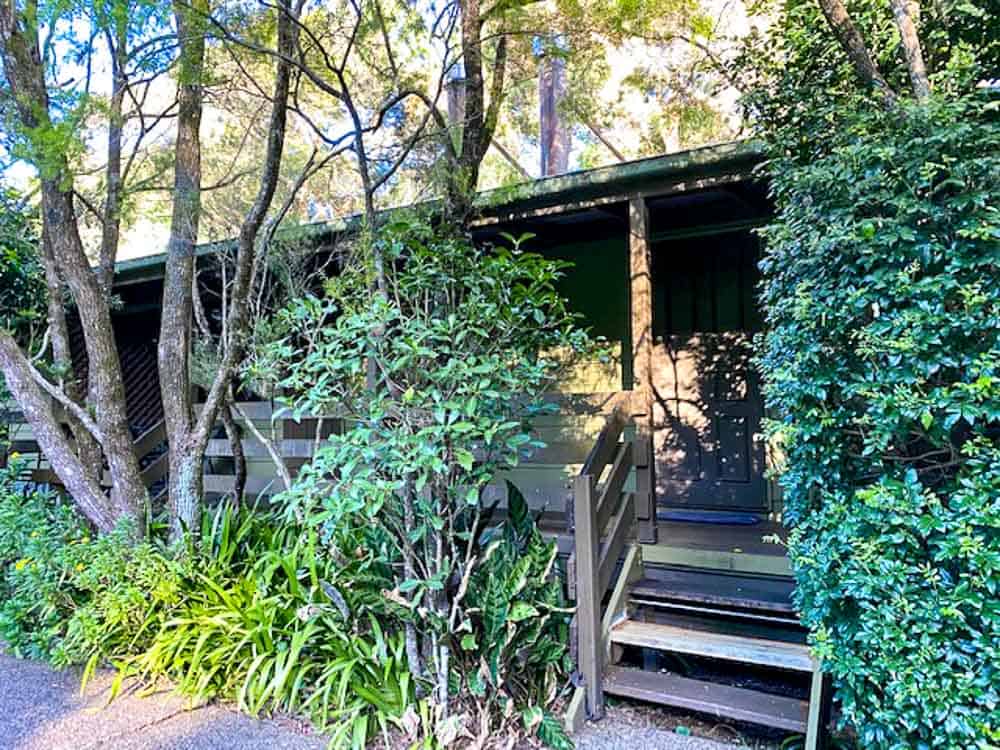 Broken River Mountain Resort is a great place to stay for those keen on seeing the platypus at Broken River, as the property is only a short walk away from the viewing platforms. Plus if you happen to stay on either a Tuesday or Thursday night, there is a guided night walk where your guide will help you spot a few platypus after dark.
There is great family accommodation available here which also includes cooking facilities. But make sure you bring some food supplies with you, as there is no supermarket in town. Alternatively, you can head to the general store in town which does have a few basics which you could buy to whip up a basic meal.
The resort does have a restaurant and bar onsite which does serve up delicious meals, but it's not cheap. Meals are around $25-$30 each with kids meals around $15.
We stayed here during our trip to Mackay and recommend it.
Click here to find out more about Broke River Mountain Resort
Seaforth Holiday Units
Many people choose to stay at Cape Hillsborough Nature Tourist Park during their time in Cape Hillsborough – but it's not that cheap. So we decided to stay at the nearby coastal town of Seaforth at the Seaforth Holiday Units.
The holiday units are nothing flash, but perfect for a place to stay while exploring the region. They offer great value family accommodation with basic cooking facilities as well as laundry facilities. It also just a short 15 minute drive to the kangaroos at Cape Hillsborough and the various walking tracks. The little town of Seaforth is lovely too and has the region's only beach with a stinger net – so great for stinger season.
We stayed here during our trip to Mackay and recommend it.
Click here to find out more about Seaforth Holiday Units
Getting to Mackay
Most people arrive in Mackay either by car as part of a Queensland coastal road trip or by plane. There is an airport in Mackay or the option as we did, is to fly into Proserpine airport and drive 90 minutes. I recommend you check Skyscanner for flights.
It is essential that you have a rental car while in Mackay – you won't get far without a car unfortunately. I recommend you also check Skyscanner for car rentals – yep they provide information on cars as well as flights.
For those road tripping around the Queensland east coast, here are some rough ideas on how long it will take to drive from various cities:
Mackay – Our Verdict
I've lived in Queensland my entire life and seriously can't believe it's taken me so long to visit Mackay! I just loved our few days in the region – so much so that I wish we had more time rather than just a few days.
If you're a family into nature and love beaches, rainforests and gorgeous walks – you will love Mackay. There is so much to explore. We were constantly saying "it's so pretty". Plus it's not overrun with tourists, so nowhere is particularly busy. We were there just after new years, during school holidays and it was reasonably quiet.
We all loved our time in Mackay and just can't wait to get back there.
_________________________________________________________________________________
Hopefully, you've found this guide to Mackay helpful. If you need inspiration on places to visit in Qld – why not check out our guide to the best Queensland outback towns to visit. Otherwise, you can find the rest of our Queensland content here.
Want to keep this handy for later? Click on one of the images below and save it to Pinterest.