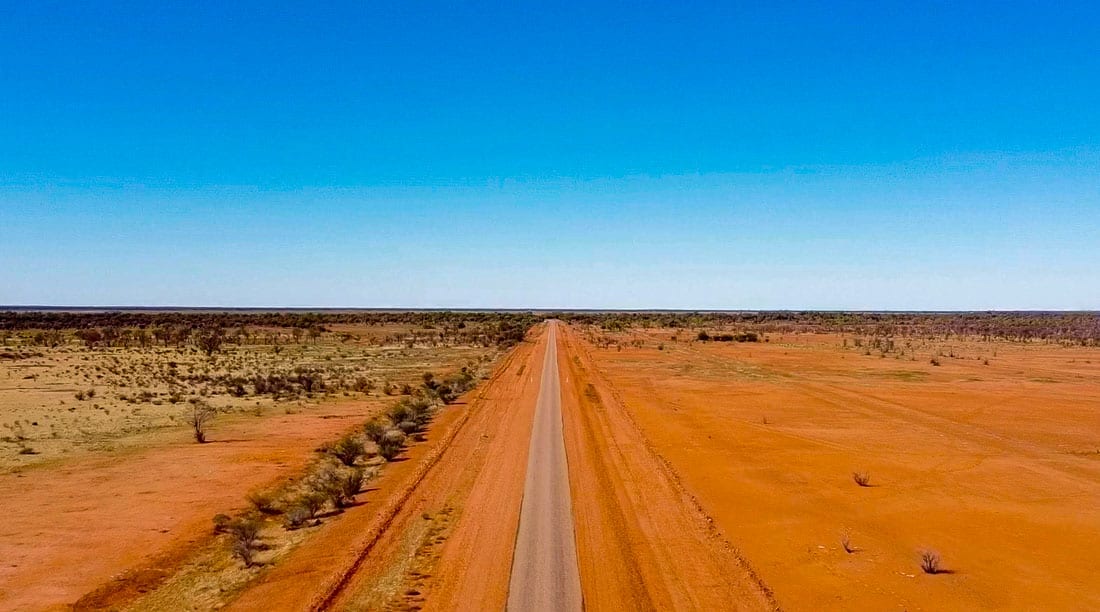 While Queensland is famous for its gorgeous coastline and stunning beaches, there are numerous Outback Queensland towns that everyone should have on their bucket list. Outback Queensland is not only all about wide open spaces and red dirt, but the Queensland Outback is also full of amazing natural attractions, fascinating museums, quirky events and a range of experiences which you will never forget.
The best way to explore these remote towns in Australia is by taking a road trip. But be warned, the Queensland Outback is a massive place and is not something that can be explored over a few weeks. Your best to pick a region such as North West, Far West, Central West, East West or South West and choose a few of the outback towns to visit.
If you're considering an Outback Queensland road trip, but have no idea where to begin, then reading this guide on the very best regional Queensland towns is a great place to start. With the help of a few travel bloggers, I've compiled a list of the best small towns in Queensland to visit with kids.
Of course there are many many wonderful towns in the outback to visit (there are 81 towns to be exact), but in this Outback Queensland travellers guide we've shortlisted it to just 15.
Planning a trip to Queensland? Have any questions? Join our Queensland Travel Planning Facebook group here now! It's the perfect place to ask any questions and to be inspired!
This post may contain compensated links. Please refer to my disclaimer here for more information.
15 of The Best Outback Queensland Towns to Visit
Below I've broken the towns to visit between the five regions – North West, Far West, Central West, East West or South West.
North West Region
Four hours west of Townsville you'll find the north west region of the outback. Here you can take an underground mine tour, see dinosaur fossils, and explore amazing National Parks.
Below we've listed some of the best outback towns to visit in the North West Region of Queensland.
Mt Isa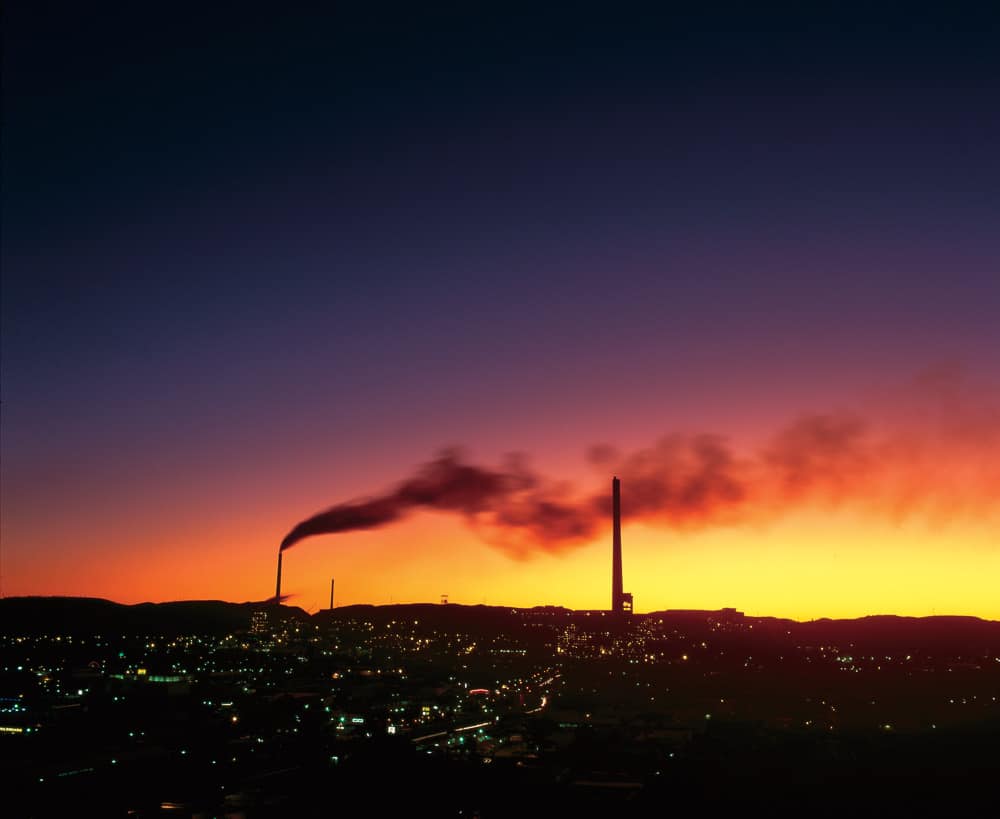 Credit Image – Tourism and Events Queensland
Andy from Queensland Camping
While Mt Isa is primarily known as a mining town, the area surrounding the town has some great rugged terrain for 4WDing, man made lakes perfect for fishing and jaw dropping gorgeous national parks. In fact Mt Isa is known as the "oasis of the outback".
Of course Mt Isa is one of the Australian outback towns well known for its mining, so one of the best things to do in Mt Isa is to take an underground tour of a mine shaft. The kids will love putting on their orange overalls, gumboots and hard hats as they go underground. During the tour, you'll get a close up view of all the mining equipment and hear first hand stories from your guide.
Also be sure to visit the world heritage Australian Fossil Mammal Sites at Riversleigh and Naracoorte. Here you will find some of the world's oldest fossils dating back to some 25 million years ago. The site is 277km from Mt Isa, so if you're short on time, you can get a glimpse of what's on offer at the Fossil Centre in town.
Other outback Queensland attractions to visit in Mt Isa include a trip out to the old Mary Kathleen Mine, the underground hospital and museum, the Isa Experience Gallery, the City Lookout for views across the city (best at night) and the Lake Lookout to watch the sunset over Lake Moondarra. Also if you happen to be in town while the rodeo is on, make sure you check it out – this is the southern hemisphere's largest rodeo.
Like most rural Queensland towns, the best time to visit Mt Isa is during the early Spring or late autumn, when the weather isn't too hot. Avoid January and February when the weather is at its hottest.
For families doing a Queensland camping road trip, there are a few caravan parks in town which is helpful particularly if you have a caravan. All the parks also have cabins too. Click here for full details of accommodation in town.
Julia Creek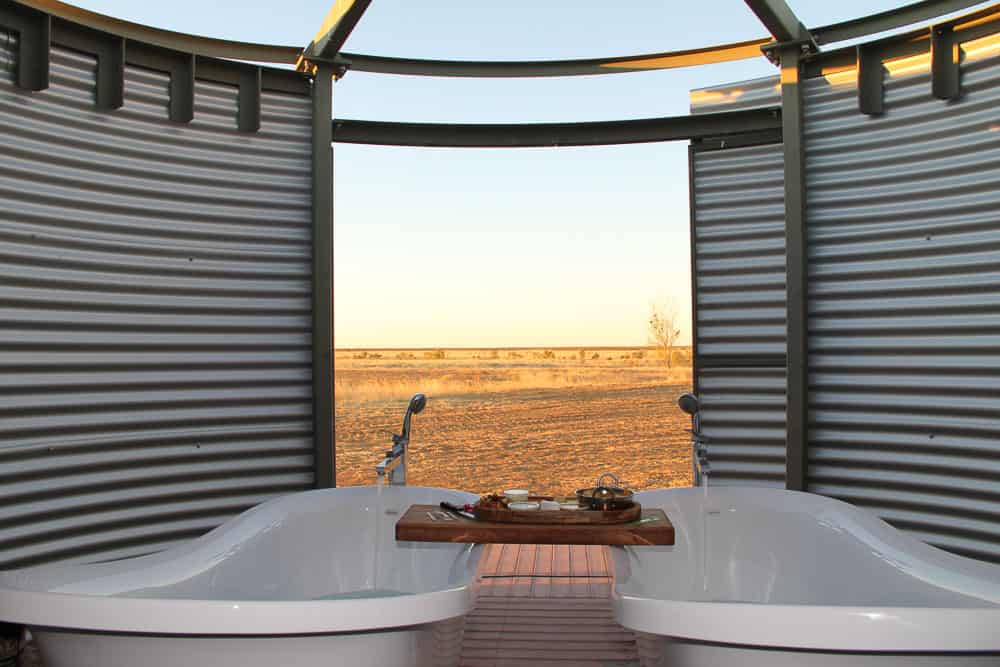 Emma from MY RIG Adventures
As you head west on your Outback Queensland adventures, be sure to stop in at Julia Creek. Even though it's only a tiny little town (with a population of 400), it is honestly one of the friendliest communities you'll visit as a traveller.
Without a doubt, Julia Creek's claim to fame is their unique Artesian Bath experience, located in the town's Caravan Park. Lined up, with the most perfect views of the Australian Outback are four private Bath Houses, with two free-standing tubs in each one. For your 45-minute time slot, the whole family can enjoy the steaming hot (or warm) mineral water, drawn straight from the Great Artesian Basin below. You can choose to go for the all-natural experience or wear your swimsuits, as each bath is disinfected between sessions.
Another family highlight worth adding to your itinerary while you're in town is the Dunnart Feeding at the Information Centre. The feeding shows run 7 days per week with a minimal cost of $5 per adult and $2 per child. All proceeds go directly towards 'Donald' and 'Duncan's' special dietary requirements, maintenance, enclosures and health checks. So, you'll be directly supporting the 'Save the Dunnart' cause!
The kids will also love the Water Park. Yep, this teeny town in the middle of Outback Queensland has its very own Water Park – which is pretty darn cool! There are two water slides, water cannons & fountains, plus a 25m lap pool and a splash pool for the little ones. If you stay at the local Caravan Park you can gain entry into the pool and water park for free, otherwise it's $2 per adult and $1 per child.
The best time of the year to head out to Julia Creek is between May and August where the average daytime temperatures range from 27℃ – 32℃. These are also the drier months, meaning you won't have to deal with seasonal rain or potential flooding. Be aware that the nights will still get cold, as the temperatures can drop to around 7℃ after the sun goes down.
Mt Surprise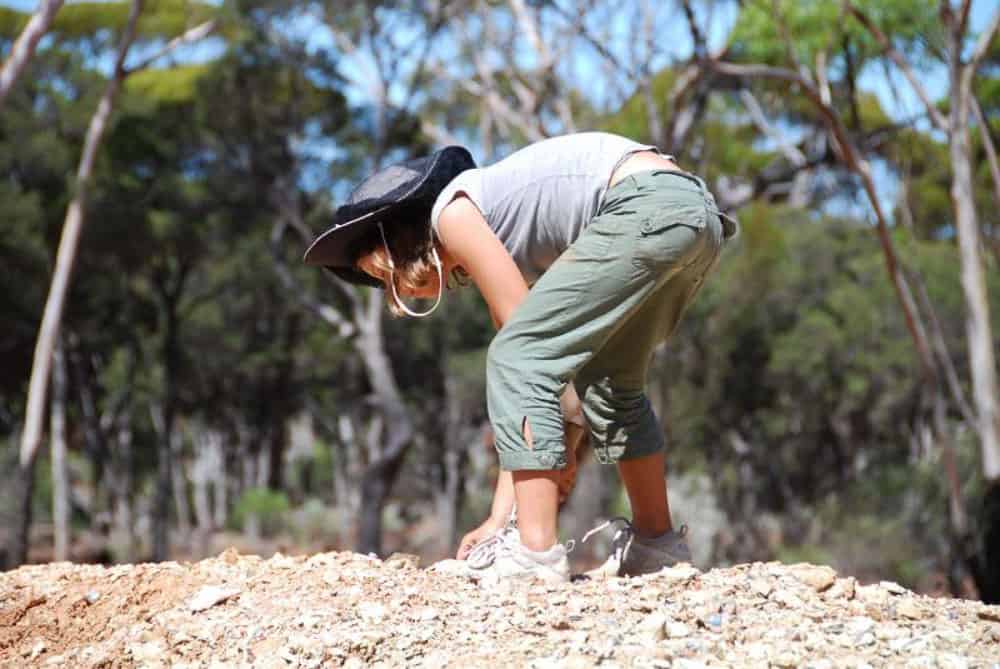 Natalie and Steve from Curious Campers
Mount Surprise is 600 km east of Normanton or 380 km south west of Cairns in Queensland Savanah Country. It is one of the small outback towns in Australia but is nevertheless a fantastic place to take the kids.
Most families head here, lured by the promise of finding a colourful gem and so fossicking at Mount Surprise is often the main attraction. The Gem Den will happily supply you with all the equipment and directions to the O'Brien's Creek gem fields where you can dig and sieve for hours. With any luck, you'll find a few small crystals, but even if you don't, you can enjoy the great display of gems and minerals at the BP Roadhouse.
The Undara Lava Tubes 30 minutes from Mount Surprise are the other feature in the area. The kids will love exploring the lava tubes on a tour and hearing about the volcanic history of the area.
For families on a road trip, the Bedrock Village Caravan Park is a great place to stay. There are some excellent facilities for the kids here, including a swimming pool and minigolf. The place has a relaxed vibe, it is super neat and tidy and you won't find friendlier, hands-on owners.
The best time to visit the region is between April and October. This might not be the place for young children, but if your kids are old enough to shovel dirt and like the idea of finding some hidden treasure then give Mount Surprise a try.
Hughenden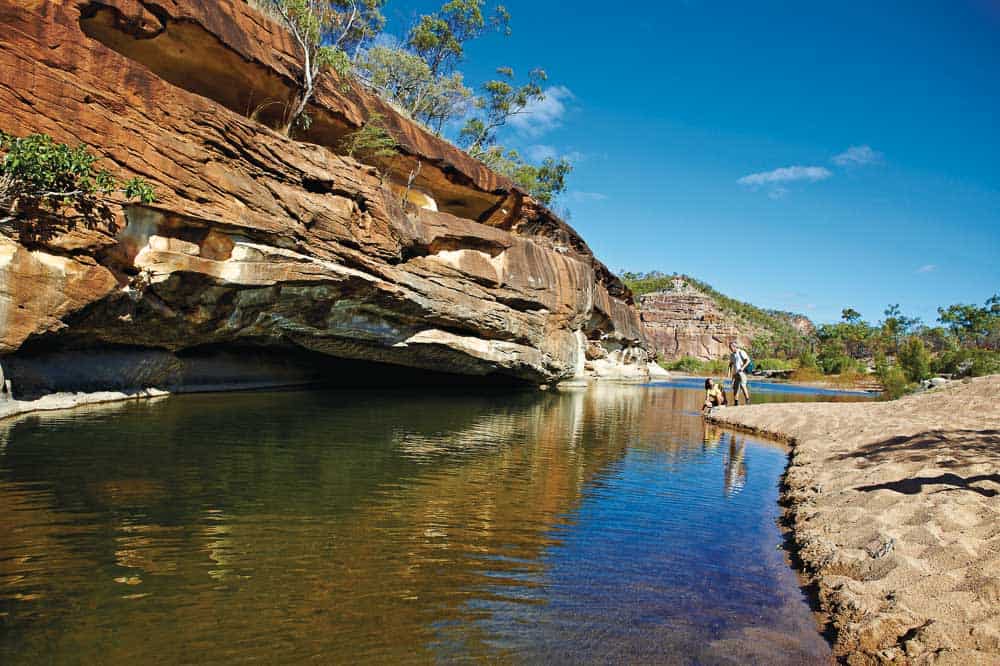 Credit Image – Tourism and Events Queensland
Hughenden is another one of the great small towns in Australia, which is a brilliant place to visit with kids. Here you will find with four different national parks to explore as well as rich fossils and dinosaur areas.
Hughenden is located in "dinosaur country", making it one of the best towns in Queensland to visit if you're interested in dinosaurs. The town is on the edge of a large prehistoric inland sea, which was once home to dinosaurs and marine reptiles. You can't miss the giant fibreglass replica of a Muttaburrasaurus Dinosaur which is in the middle of town and the kids will love searching for dinosaur fossils, stop at the Flinders Discovery Centre for a map.
One of the highlights of Hughenden is the Porcupine Gorge National Park, known as Australia's "Little Grand Canyon". This area is just stunning with towering sandstone cliffs, a clear flowing creek and dense vegetation. At the park, you can check out a range of lookouts and walking tracks to really appreciate the gorge. There are also a few waterholes where you can go swimming.
Other things to do Hughenden include exploring the regions other three national parks, a visit to the historical Coolabah Tree and the Surveyor's Peg.
Like most Queensland outback towns, Hughenden is best avoided in the peak of summer, but generally, any other time of the year is ideal.
For families on a road trip, there is a caravan park in town which also has cabin accommodation. There is also a free campground.
Far West Region
In the farthest corner of Queensland, on the border of the Northern Territory and South Australia, the Far West Region is well worth the journey. Here you will find stunning red sand dunes, swimming holes and a range of Queensland Outback tours and experiences you'll remember for a lifetime.
Below we've listed some of the best outback towns to visit in the Far West Region of Queensland.
Birdsville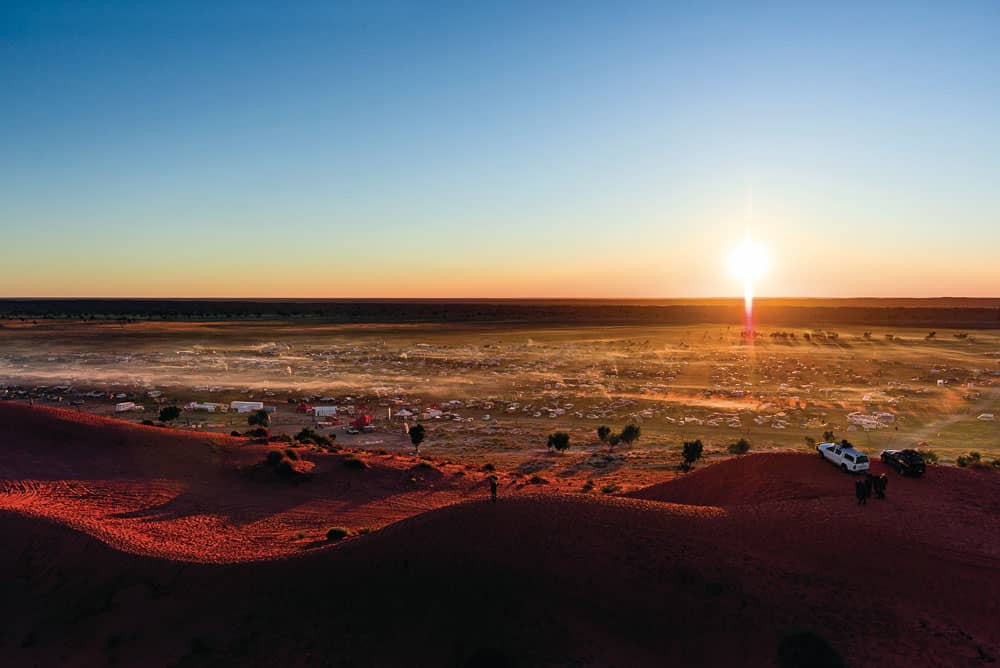 Credit Image – Tourism and Events Queensland
Birdsville is way out west, not too far from the South Australia border and has a tiny population of just 115. Despite its small population and remote location, Birdsville is home to one of the most popular Outback Queensland events – the Birdsville Races, which are said to be the Melbourne Cup of the Outback!
Apart from the famous Birdsville Races, the main attraction in town is it's proximity to the dunes of the Simpson Desert. The must do thing here is to watch a sunset from the top of Big Red, which at 40 metres high is the tallest sand dune in the Simpson Desert.
Other things to do in Birdsville include having a drink at the Birdsville Hotel, Deon's Lockout for spectacular views, the Birdsville Billabong for swimming, kayaking and wildlife spotting, a visit to the Burke and Wills Tree and a stroll around town admiring the heritage buildings.
As to when to visit Birdsville, just keep in mind that this is one of the hottest places in Australia during the Summer. With that in mind, the best time to visit is pretty much any time between May to September.
Families can stay at the Birdsville Caravan Park where you can pitch a tent, park your van or stay in a cabin. There are also a couple of hotels in town too.
Windorah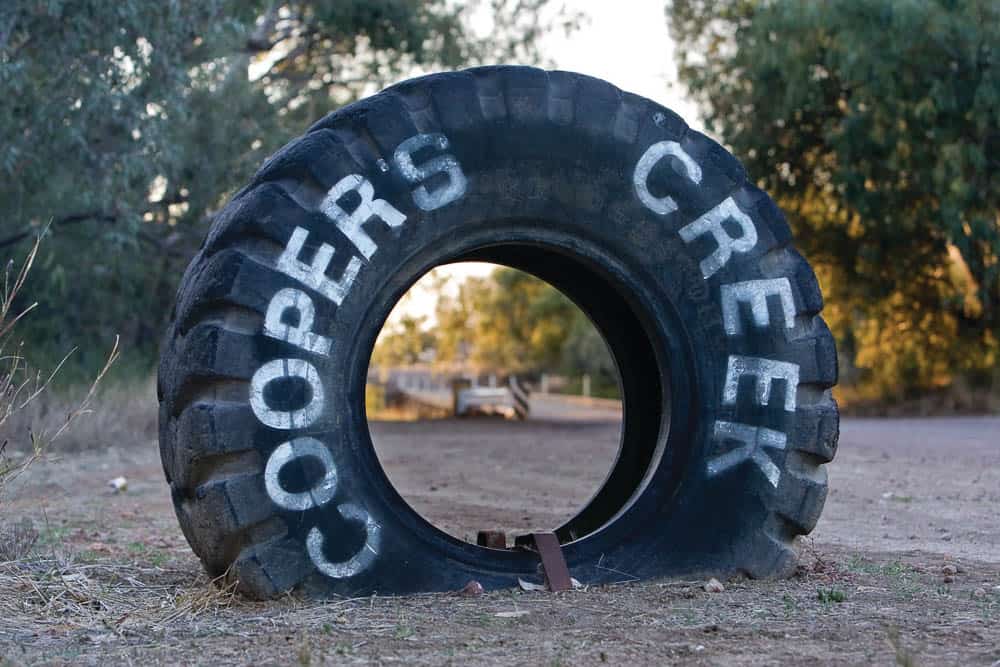 Credit Image – Cathy Finch via Tourism and Events Queensland
Gosh if you thought Birdsville's population of 115 was small, how about 80! Windorah is a tiny outback town located in the heart of Channel Country near Cooper's Creek.
The term Channel Country refers to the network of waterways that expand up to 80kms across the region during a flood. This in turn produces the perfect pastures for feeding cattle. Plus it creates some fantastic waterholes which are ideal for campers and those who enjoy fishing.
Perhaps the biggest highlight of Windorah is the stunning Windorah Sand Hills. Located near the Ourdel Station, here you will enjoy some amazing views of some of the reddest sands in Australia – just gorgeous! Watch the sunset and enjoy a glass of wine.
Other things to do in Windorah include a visit to the Whitula Gate Museum where you can see what life was like for families in the area back in the 1800s, see the Native Wells, visit the Windorah Solar Farm and take the self guided history tour around town – pick up a guide at the Visitor Information Centre.
Families can book in a stay at the Windorah Caravan Park, or there is the Cooper Cabins and Western Star Motel. There is also a free camp too.
Central West Region
The Central West Region is a must for anyone's Outback Queensland itinerary. There is a stack of attractions out here as well as being the birthplace to Qantas, Waltzing Matilda and the Australian Labor Party. It also a popular destination for families thanks to being home to the world's most extensive collection of Australian dinosaur fossils.
Below we've listed some of the best outback towns to visit in the Central West Region of Queensland.
Winton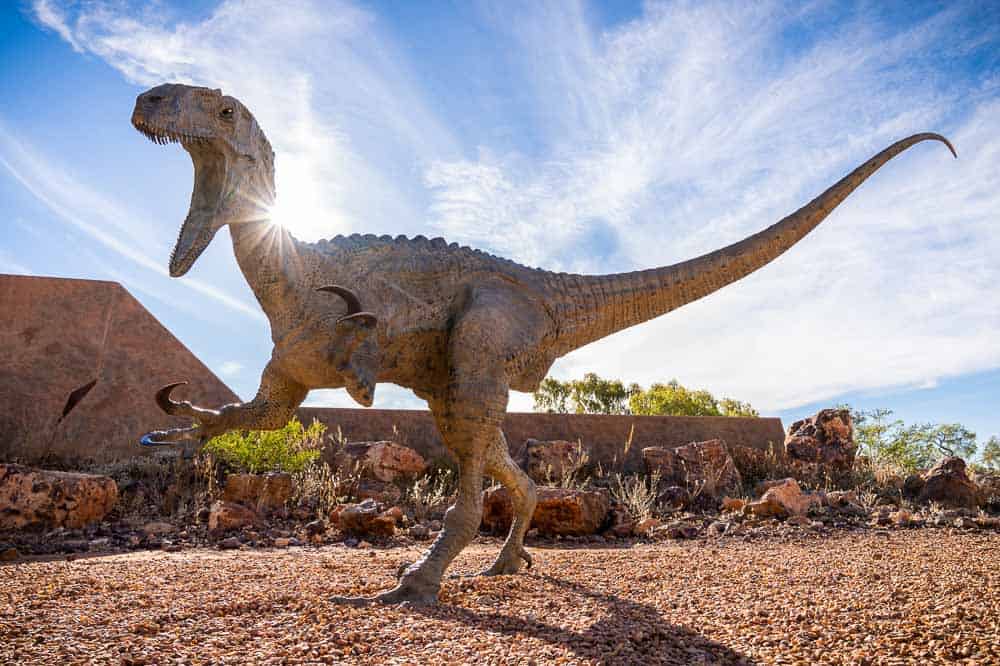 Credit Image – Tourism and Events Queensland
Located between Longreach and Mt Isa, most families visiting Winton are here for one thing – dinosaurs! Hunting for dinosaurs is one of the most popular things to do in Outback Queensland among families. However Winton is so much more than just being the dinosaur capital of Australia it is also where Banjo Patterson wrote Australia's unofficial anthem "Waltzing Matilda" and there are a few other attractions worth checking out too.
For the dinosaur seekers, head to Lark Quarry Conservation Park where you can view thousands of footprints from dinosaurs that roamed the land some 95 million years ago. Also don't miss the Australian Age of Dinosaurs Museum which is home to the worlds most extensive Australian dinosaur fossil collection.
Other things to do in Winton include a visit to the Musical Fence, watch a movie at the Royal Open Theatre, visit the Waltzing Matilda Centre, see Arno's Wall and stroll down the main street spotting the quirky signs and monuments.
For those visiting in a caravan, there is the Matilda Country Tourist Park, North Gregory Hotel as well as a free campsite too. There is also a range of cabins and a few motels in town too.
If you love dinosaurs – check out our guide to Eromanga where you can find Australia's largest dinosaur fossils!
Longreach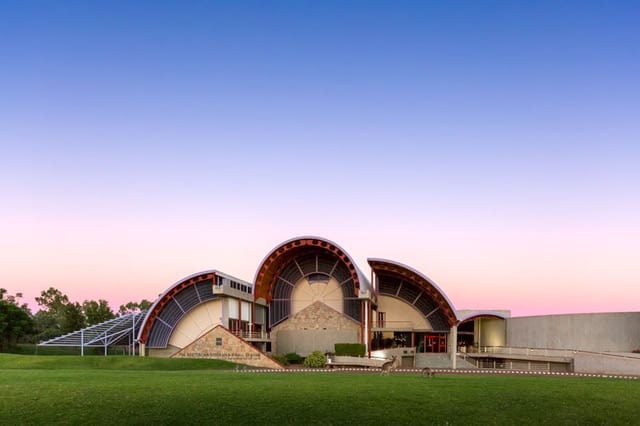 Matt from More Dirt Less Bitumen
No trip to Outback Queensland is complete without a visit to Longreach. Longreach is the 'Gateway to the Outback' and has so much to offer the travelling public, especially if you've got a couple of kids in tow!
There are so many things to do in Longreach, that the biggest problem you're going to have is working out what to do first, and how on earth are you going to fit it all in. As an absolute minimum, I would recommend a three day stay.
Kick it off with a visit to the Australian Stockman's Hall of Fame. You can easily spend the day wandering through each of the five galleries taking in the eclectic mix of artefacts, AV presentations and interactive exhibits. While you're at the Hall of Fame, don't miss out on the Outback Stockman's Show. This live show tells the story of the stockmen and women who work the land and features horses, sheep and working dogs.
Next up is the QANTAS Founders Museum where you can take a step back in time and learn about the founding of one of the world's great airlines – QANTAS. Take a tour and sit in the cockpit, or perhaps you'd like to go for a walk out the wing of a Boeing 747?
Also don't miss an outback sunset with a Thomson River Sunset Cruise. Enjoy cold drinks and nibblies as you glide down the river as the sun dips below the horizon.
Other highlights in the area include a visit to Camden Park Station, a trip on a Cobb & Co Coach or a drive out to Captain Starlight's Lookout.
Barcaldine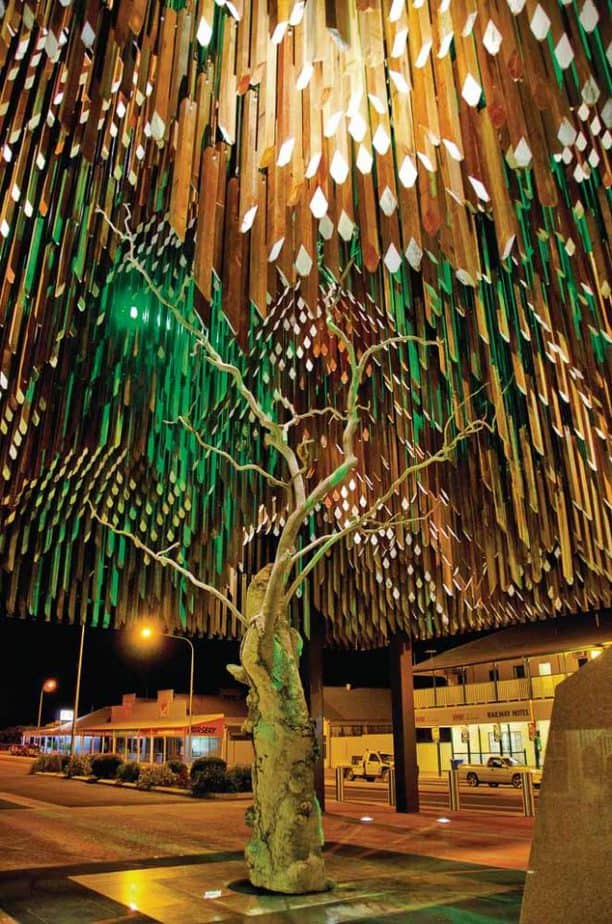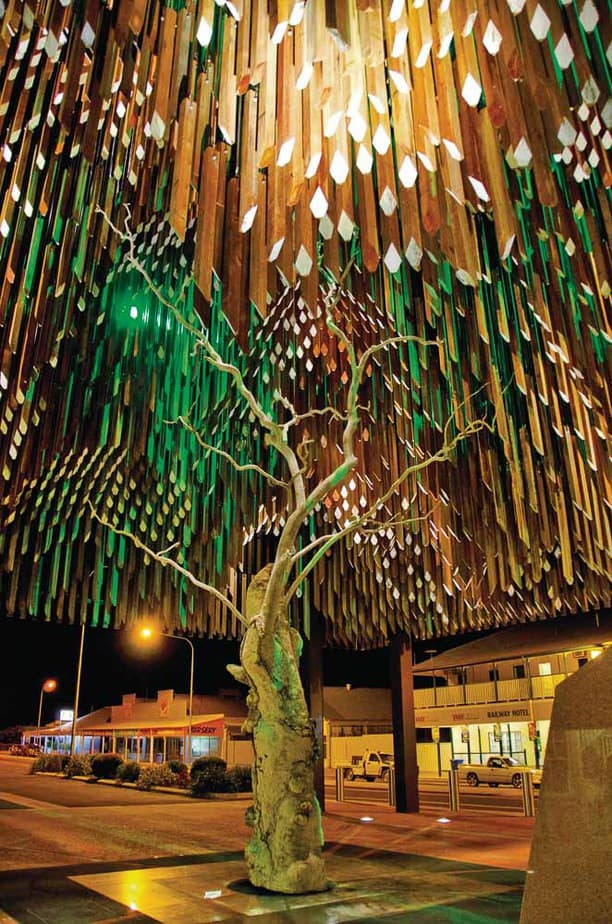 Credit Image – Tourism and Events Queensland
For those with an interest in the trade union movement, Barcaldine is an outback town you must visit. This small rural town played a significant role in the Australian Labor movement
The first stop should be to the Tree of Knowledge which was the central meeting place during the Great Shearers Strike in 1891. A result of this strike was the birth of the Australian Labor Party. Although the tree stood for more than 180 years, sadly in 2006, it was poisoned, but the tree has been preserved and is best viewed at night when it's lit up.
Also visit the Australian Workers Heritage Centre which is a museum dedicated to the lives of everyday working people. Here you will learn about the lives of railways workers, blacksmiths, farmers and more – all the working people that helped shaped our country into what it is today.
Other things to do in Barcaldine include the Aramac Tramway Museum, the Barcaldine and District Folk Museum, take a tour of the Dunraven Sheep Station and take in a sunset at the Lara Wetlands.
Barcaldine has a couple of tourist parks in town for those needing somewhere to park their van as well as a few motels.
Sapphire, Rubyvale and Emerald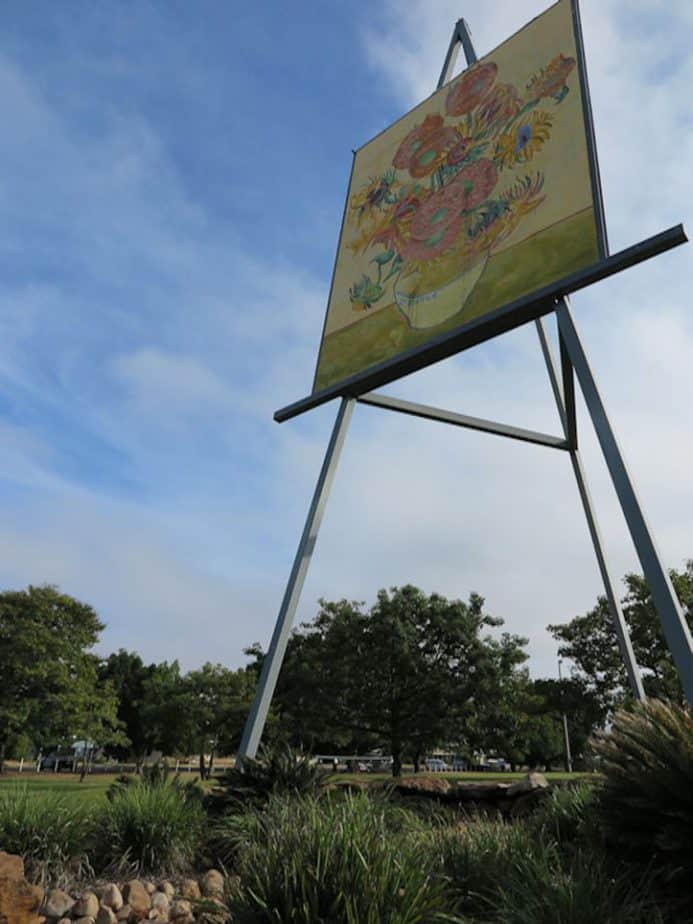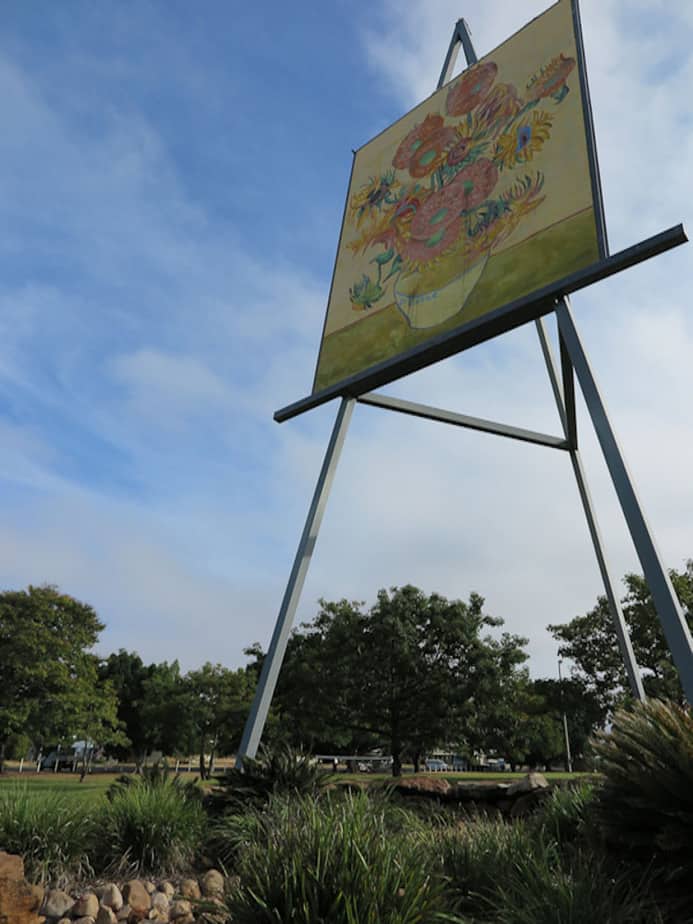 Sinead from Best in York Guide
The outback towns of Sapphire, Rubyvale and Emerald are a great place to visit with kids as there are diverse attractions that you will not find elsewhere in Australia. These small Australian towns and the surrounding rural area are best explored using your own vehicle in early Spring or late Autumn to avoid searing temperatures.
Take a trip to Emerald to see the world's largest copy of the painting 'Sunflowers' by Van Gogh, set 25 metres off the ground on an enormous easel. Try a new water sport on Lake Maraboon or visit the emerald's beautiful Botanic Gardens.
In Sapphire, which is one of the world's richest sapphire bearing regions, kids can join a fossicking trip into the bush with an experienced gem hunter. Kids will love digging and sorting through the arid earth to find hidden treasure. Hard, hot work can bring great rewards – our daughter found $300 worth of sapphires!
Follow the Gemfields Treasure Trail in the centre of Sapphire, a self-guided trail which portrays the history and stories of the gem industry in this area.
I would recommend staying at Sapphire Caravan Park, which offers fully equipped holiday cottages in addition to camping and motorhome pitches. It is a beautiful 4-acre park with large pitches and secluded plots that are visited at dawn and dusk by kangaroos, parrots and kookaburras.
East West Region
The East West Region is full of stunning natural attractions such as national parks with spectacular gorges, rivers and lakes. The region is popular among fisherman and watersport enthusiasts as well as having several historical villages and museums to explore.
Below we've listed some of the best outback towns to visit in the East West Region of Queensland.
Biloela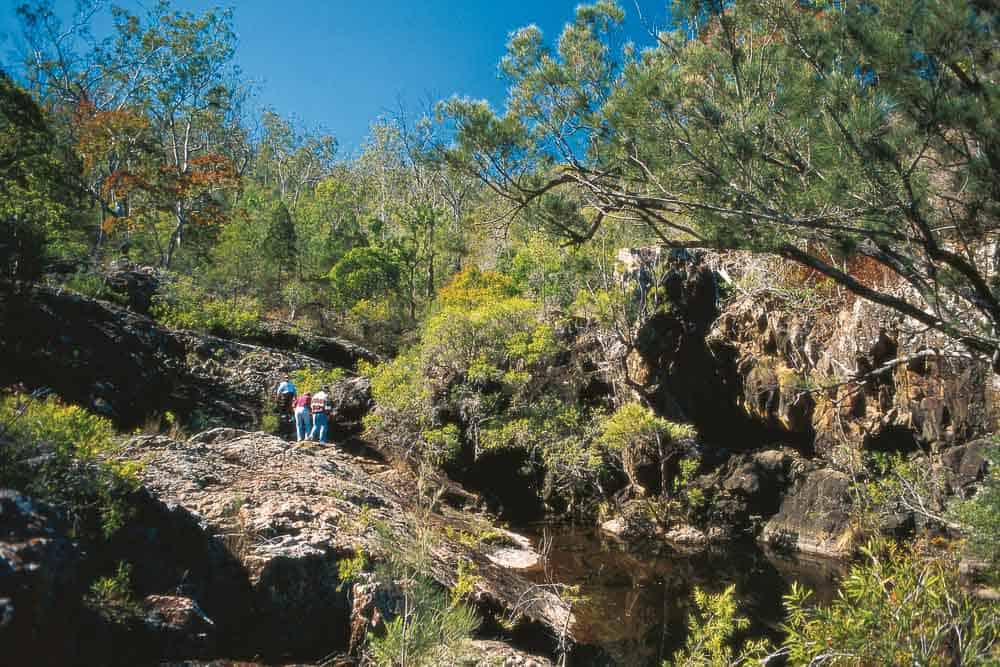 Credit Image – Tourism and Events Queensland
Located in the Sandstone Wonders region, just west of the Queensland Capricorn Coast, Biloela is a busy little commercial and tourist hub with a population of almost 6000 people. "Bilo" as it's referred to by locals, has a rich pioneering, mining and indigenous history.
Stop by the Queensland Heritage Park which has various displays of rural life. Here you will find heritage buildings, farming equipment and other old machinery artefacts. Another great place to visit is the Greycliffe Homestead which houses the Biloela Historical Society. This is a brilliant old homestead built in the 1870s from the materials found on the property.
If you want to get outdoors head to the Kroombit Tops National Park which features towering ridges, deep gorges and panoramic views or go to Callide Dam for some fishing. On the way to the dam, be sure to stop at the Mine Lookout for great views across the dam.
Other places to visit in Biloela include the large scale Spirit of the Land Mural which pays homage to the early pioneers and Indigenous people and is now an iconic landmark in the town.
Biloela has a wide range of accommodation options including caravan parks, cabins and motel rooms. Discovery Parks is a great place for families. Click here for a full list of accommodation options.
South West Region
The South West Region has some diverse landscapes, from red sands to wetlands and gorgeous national parks. Experiences here range from wildlife encounters, soaking in mud baths and hot springs, dinosaur attractions as well as the chance to view the amazing night sky.
Below we've listed some of the best outback towns to visit in the South West Region of Queensland.
Charleville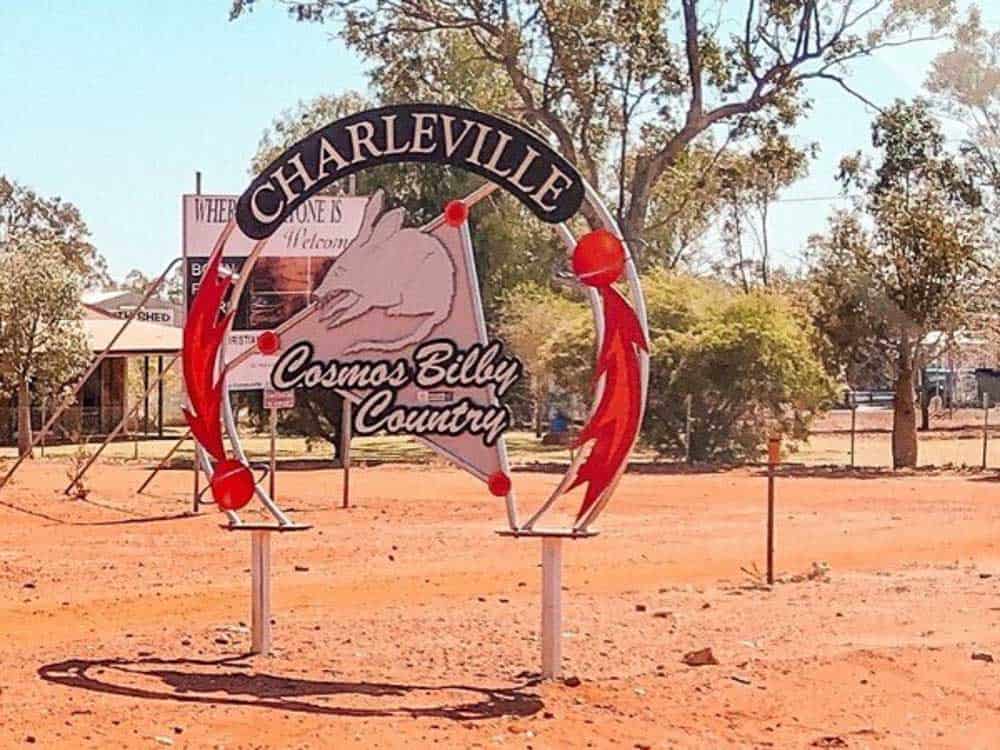 Tracy from Tracy's Travels in Time
Charleville is in the Shire of Murweh approximately 750 km by road from Brisbane. With a population of around 3,500 it is the largest town in Queensland's south west. There are several attractions which make Charleville a great place to stop off for families on a road trip around outback Queensland.
First off is the excellent Cosmos Centre and Observatory. The informative talks given at the observatory are an excellent way for both adults and kids to learn about the night sky. The highlight of the evening is the ability to look through one of the four telescopes at the centre and really appreciate the stars, planets and milky way. Due to the dark skies around Charleville, it is incredible what you can see with the naked eye even without a telescope! At certain times of the year, through the telescope, you can also see the rings of Saturn in amazing clarity. It is a really special experience that the kids will really love.
Another absolute must visit in Charleville is the Bilby Centre. Bilbys are an endangered species and in an attempt to protect them there is a captive breeding program based in Charleville. Learn all about Bilbys – where they live, what they eat and how we can help to prevent this native Australian animal from extinction at the centre. There is also an opportunity to see some of the centre's Bilbys after the talk. With their huge ears and long noses, there is something Harry Potterseque about these cute little animals.
A third place to add to your Charleville to-visit list is the Royal Flying Doctor Service which is based at in the town. Take a look inside the working RFDS hangar at the planes before popping into the visitor centre and learning all about the work of the Flying Doctor Service and the vital role it plays in outback Queensland.
If history is an interest, then don't miss a visit to the Historic House Museum which is filled with all sorts of treasures from the 19th century and 20th centuries. The museum building itself dates back to 1887 and was formerly the town's bank!
These are just three of the things to do in Charleville, making it a highlight on any outback road trip in Australia.
Click here for accommodation options in Charleville or find our full guide on things to do with kids in Charleville here.
Mitchell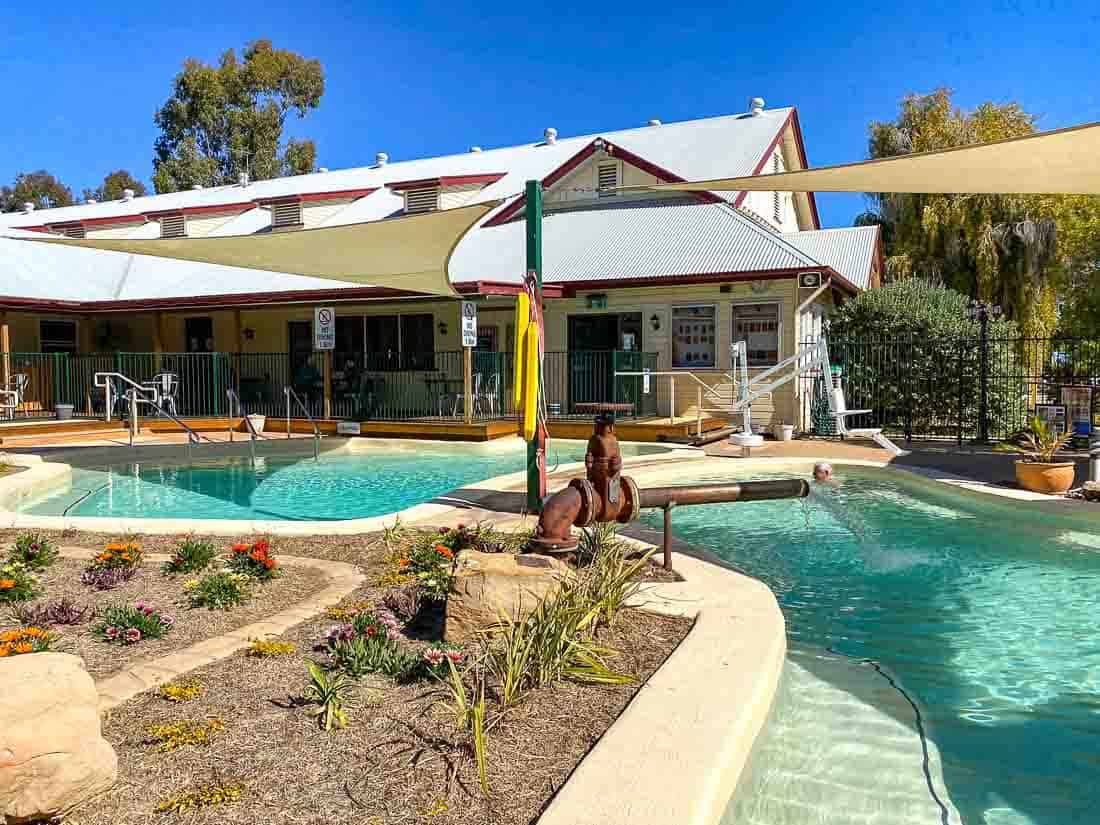 Daneen from Queensland Camping
Many people add a stop in Mitchel during their road trips to relax at the Great Artesian Spa. At the Great Artesian Spa, you'll find naturally heated mineralised waters.
But the spas aren't all there is to see in town. Take a step back in time and stop at the Booringa Heritage museum or explore the Yumbas indigenous "bush tukka trail" which starts at the Mitchell Caravan Park and has several totems on display of the "Gungarri" people.
The favourite attraction in town for our kids was the Old Kenniff Courthouse where they learnt about the notorious Bushrangers, Patrick and James Kenniff. They also quite enjoyed the yummy treats on offer at the Mitchell Bakery.
In Mitchell, I'd recommend staying at the Major Mitchell Park and Cabins which has great family accommodation. The caravan park is located on the banks of the Maranoa River and offers a variety of accommodation where you can stay in a cabin, set up your van or pitch a tent. It also just happens to be right across the road from the Great Artesian Spa.
The best but busiest time to visit Mitchel is in the dry season from April to October.
Roma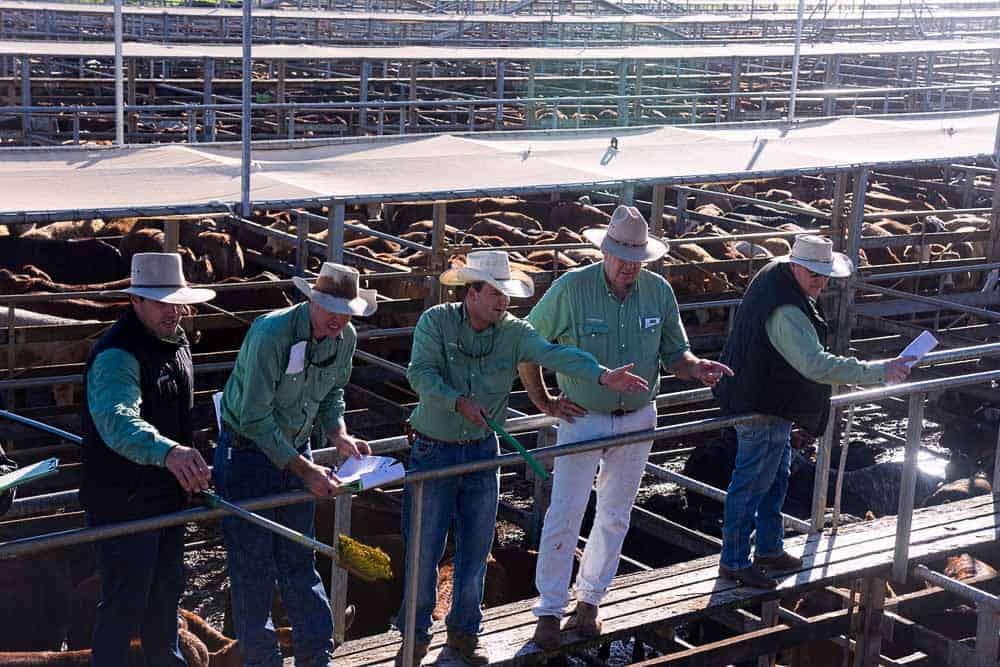 Matt from Exercises.com.au
Roma, Qld is a great place in outback Queensland to visit with kids as they'll love the feel of being in the countryside and discovering a taste of country living.
To keep them entertained, one of the best things to do in Roma for kids is checking out the Big Rig Show where they'll learn about the rigs and machinery that helped shape Roma's contribution to Australia's oil and gas industry. The museum offers both guided and self-guide tours.
Another unique activity is to take them to the Roma Saleyards, where the sale of cattle takes place on Tuesdays and Thursdays. It's the largest saleyard in the southern hemisphere. Visitor tours begin from 8:30 am.
Also don't leave town with checking out the Bottle Trees, with one in particular in Edwardes Street having a circumference of 9.5 metres!
The best time of year to visit Roma is anytime outside of the middle of summer or winter unless you don't mind very hot or very cold weather. And the easiest way to get there is by car (road trip!), mainly so that you can get around town while you're visiting.
There's several affordable motels and inns to choose from for accommodation, all centrally located with some featuring an outdoor pool. Click here for a full list of accommodation options. You can read our complete guide to Roma with kids here.
Eulo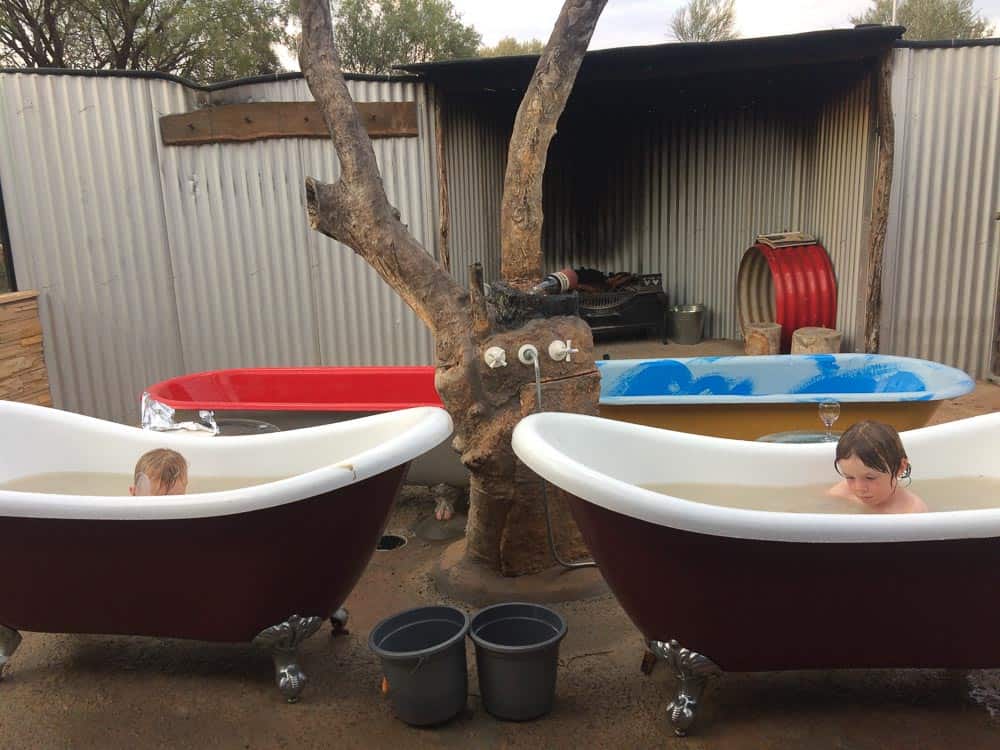 Bryony from Coasting Australia
Definitely one for the bucket list is a visit to the small town of Eulo, located in the Shire of Paroo in South West Queensland, just over 60kms west of Cunnamulla and almost 900kms west of Brisbane.
The highlight in Eulo is experiencing an outdoor Artesian Mud Bath. Here they add grey mud from local ancient springs to warm bathwater. You'll also be served a glass of wine and a snack platter, as you relax and rejuvenate looking up at the trees and sky. They have family friendly areas with more than one bathtub and even dogs are welcome to come and watch!
Also Eulo is an opal mining town, but if you're looking for family fossicking in Queensland, you'll need to head out to Yowah which is 90kms west. Here you can search for the famous 'Yowah Nut' opal and take a dip in the natural hot artesian pools – perfect after a day in the dust of the desert!
Other things to do in the town include the WW2 air raid shelter, checking out the incredible rock and gem collections at the local shops and exploring the history of the town.
A great place for families to stay is at the camping area at the "Eulo Queen' pub, named after Isabel Grey, the colourful opal-loving matriarch who lived in the town over a century ago. Just opposite the pub is a life-size Diprotodon statue (which looks like a giant wombat!), celebrating the recent Megafauna discoveries in the town.
____________________________________________________________________________________
Hopefully you found this guide on the best Queensland Outback towns to visit helpful. If you're looking for more Qld content – you can find all our Qld Outback content here, including our two week guide to the Natural Sciences Loop. Otherwise check out our guide to the best places to visit in Queensland here and some great suggestions for short weekend trips from Brisbane here.
Do you want to keep this handy for later?
Click on one of the images below to save it to Pinterest.