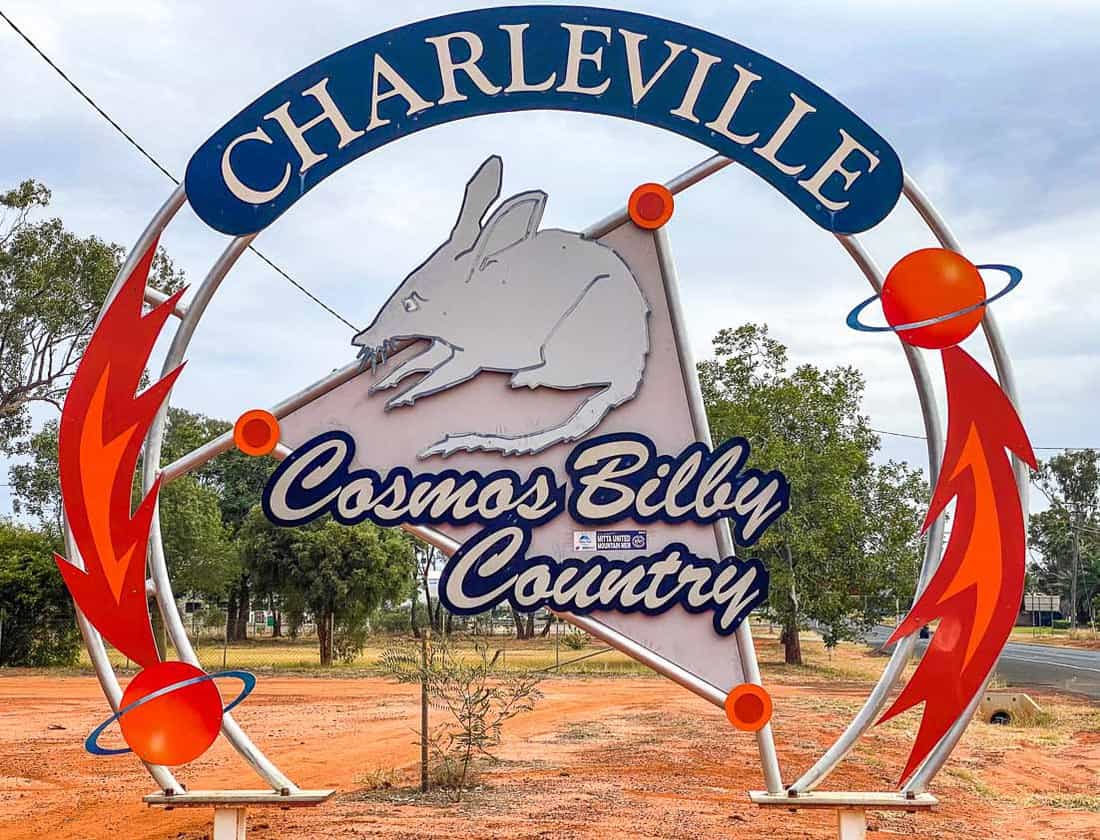 Located 750km west of Brisbane, Charleville is one of the largest towns in South West Queensland. Although with a population of 3000, this is still one of Queensland's small outback towns, yet there are some great Charleville attractions making it well worth it for a family trip. Some of the best things to do in Charleville include cuddling a cute little bilby, getting a close look at all the wonders of the galaxy, visiting some top secret WW2 sites and loads more!
If you're planning a trip to Charleville, then this guide is going to be super helpful. In this guide, I'll cover everything you need to know in terms of what to do in Charleville, including all the essential information such as location, opening hours, and entry prices. As well as providing tips for things to do around Charleville, this guide will cover some suggestions for family friendly Charleville accommodation.
Planning a trip to Queensland? Have any questions? Join our Queensland Travel Planning Facebook group here now! It's the perfect place to ask any questions and to be inspired!
This post may contain compensated links. Please refer to my disclaimer here for more information.
Best Things to do in Charleville, Queensland
In this section, I include all the wonderful things to do in Charleville – Queensland. As to which of these things you should do will depend on how long you have in town and what your families interests are. Whatever you decide to do, to help plan your trip, I've included the below map which shows where all the attractions are. Zoom in and out for a closer look.
Please note that the opening hours and prices quoted below were correct at the time of publishing.
If you want to see what our itinerary was while in Charleville – click here, where you'll see a detailed overview of how we spent our 2 weeks Queensland Outback trip.
You can also check out the short video we made of the Charleville highlights here or see our full FB album with all our photos from Charleville here.
Charleville Cosmos Centre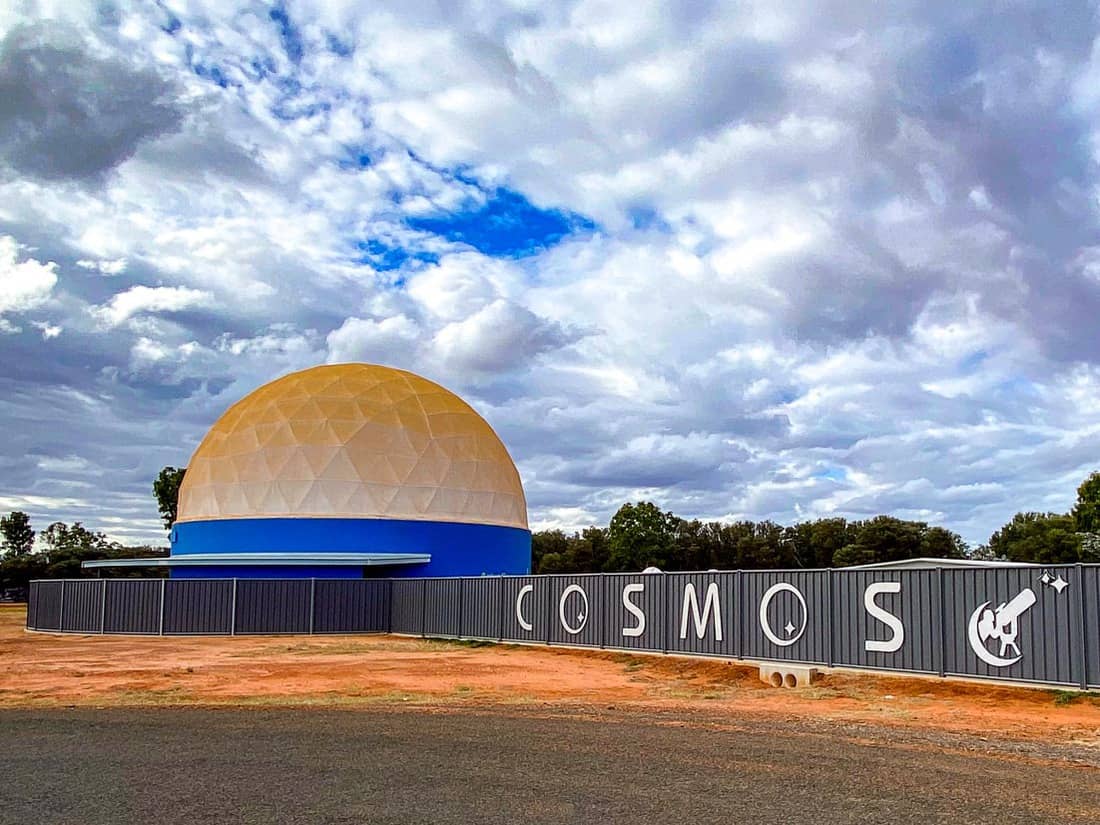 A highlight of any family trip to Charleville has to be a visit to the Cosmos Centre. This is a brilliant place for kids and adults alike, not only will you learn about the stars and planets of the galaxy but you'll also be able to view them all through powerful telescopes.
The centre offers a range of different programs and shows, so depending on what your family's interests are, or the age of your children you can choose something suitable.
I've provided an overview below of all the different programs and shows available at the Charleville Cosmos Centre.
Location: Milky Way, Charleville
Cost: Varies depending on the show, see below.
Cosmos Shuttle & Star Gazing Theatre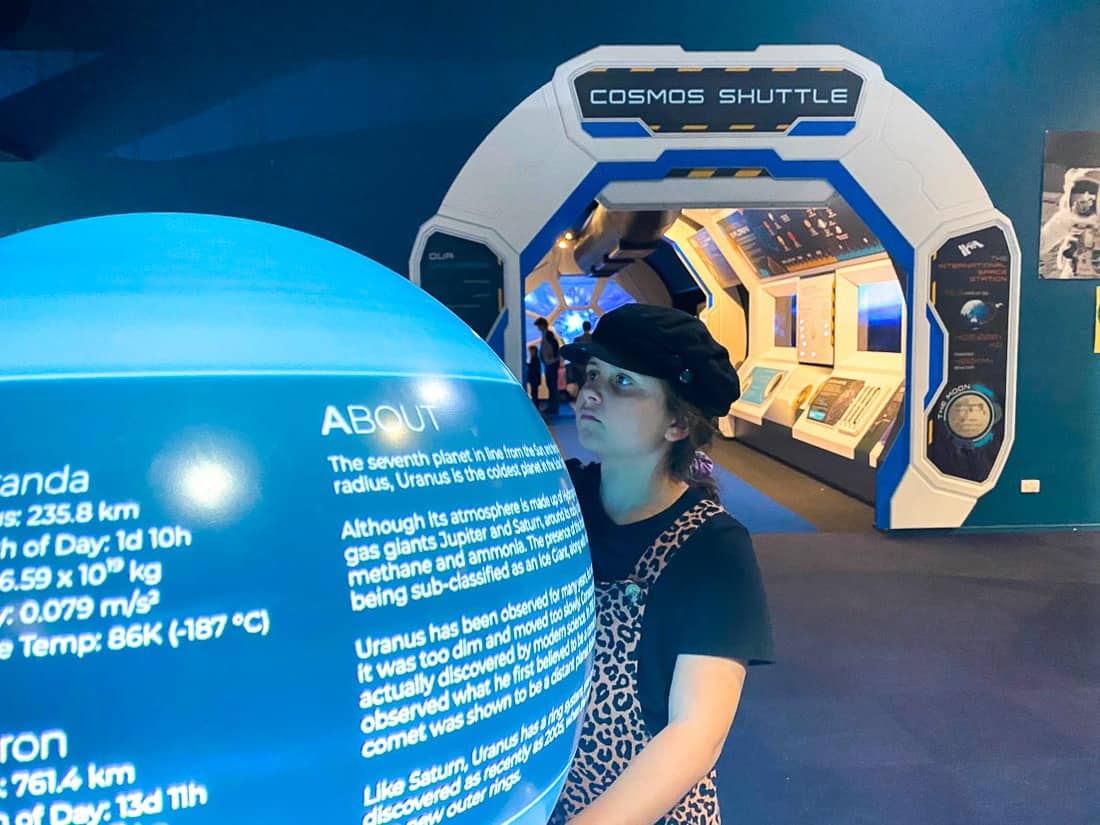 If you're just passing through Charleville and are short on time, at least pay a visit the Cosmos Centre as you can visit the Cosmos Shuttle and Star Gazing Theatre without signing up to a program or show and it's free!!!!
The Cosmos Shuttle is no doubt going to be your child's favourite thing at the Cosmos Centre. Here you'll find a stack of fun and interactive installations where the kids can learn all about the galaxy. Spin the sphere and learn about the various planets in the galaxy, hear all about how man first landed on the moon and loads more.
You can also take a seat in the Outback Stargazing Theatre and watch a documentary about our galaxy.
The centre is open daily from March to October from 12 pm to 7 pm and for the remainder of the year it is open weekdays from 9 am to 5 pm. Entry is free.
Big Sky Observatory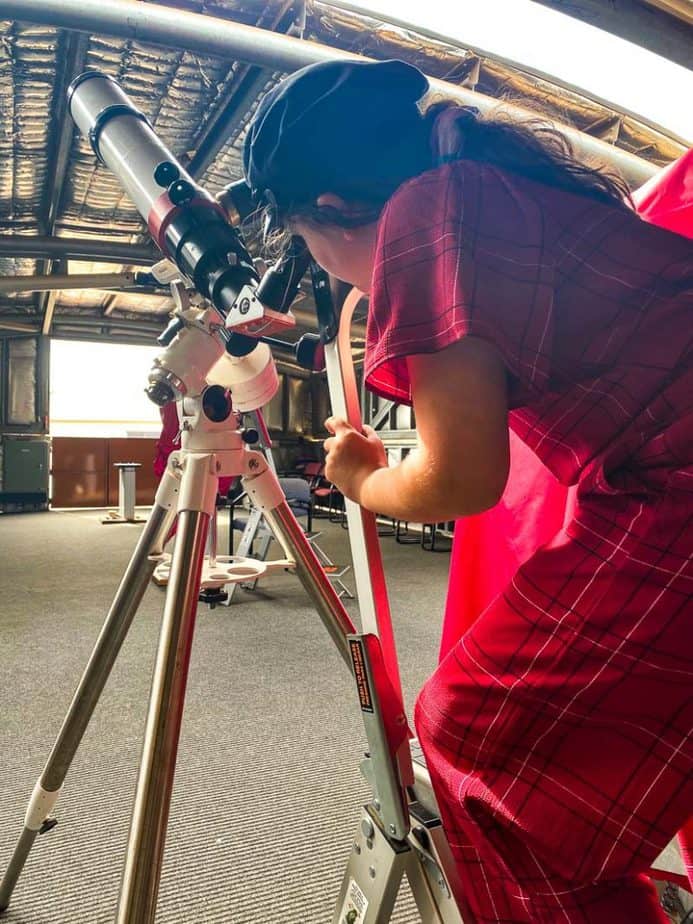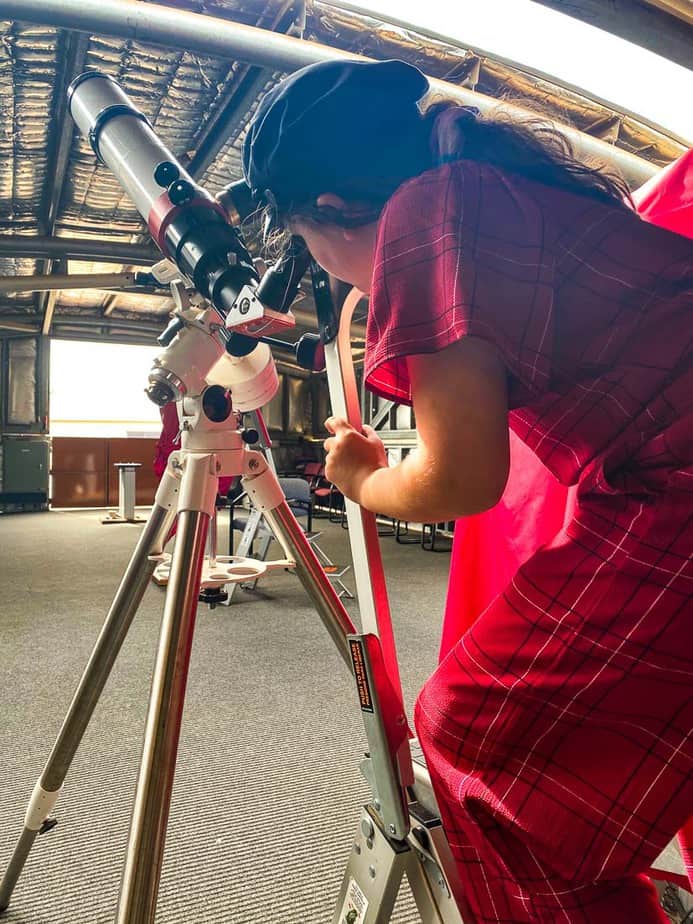 Of course, the main attraction at the Cosmos Centre is the sky itself! At the Observatory, the roof opens up so you can see all of the sky and with the use of powerful telescopes and a knowledgeable guide you get a great close up look at the stars, planets and even the sun!
The Big Sky Observatory offers both a day and night experience. The night experience, of course, allows you to get a close up look of the planets and stars and with the help of your knowledgeable guide, you'll learn all about the galaxy. If you can't make the night show though, you don't need to miss out as you can join the Sun Viewing program. Through the solar telescope, you'll get a close up view of the sun while your guide will answer all your questions about the sun.
We got to go to the Sun Viewing experience, and it was pretty cool seeing the sun up that close. Unfortunately, the weather was poor the night we were supposed to have the night experience, which was a shame – so we couldn't check out the night sky. However as an alternative, we were shown a documentary in the Astro Dome which was rather in depth and took us through everything there is to see in the night sky.
The one hour Big Sky Observatory runs nightly at 7.30 pm between March to October or 8.30 pm on Monday, Wednesday and Friday for the remainder of the year. Entry for adults is $30 and $22.50 for children.
The Sun Viewing program goes for 45 minutes and is on daily at 12.30 pm and 2.15 pm between April to September. Entry is $22.50 per adult and $16.50 per child.
Astro Dome Planetarium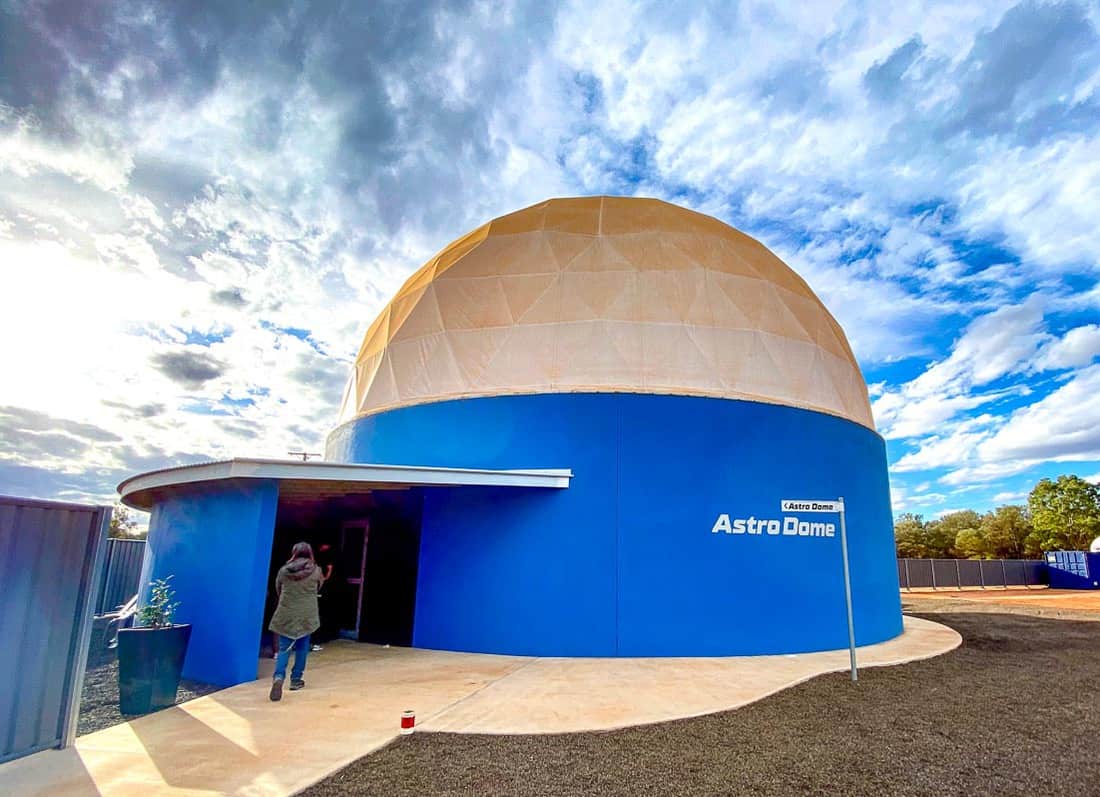 The Astro Dome Planetarium features a 15 metre dome theatre and shows a range of different documentaries. The theatre is brilliant and with its reclined seats and the screen above, you get an Imax / 3D like effect – so much so that at times I felt slightly ill!
Below is a brief overview of the three different shows that we watched at the Cosmos Centre.
Beyond the Sun:

For the young ones, this is a great way for them to learn about the stars and planets of our universe. The show follows the story of a young girl who explores the universe with the moon. Even though the show is aimed at little ones, the content is still quite in depth, and no doubt older children and parents will still find it interesting – in fact it's probably too much for really young children.

This show is on daily April to September at 4 pm.

Birth of Planet Earth:

For families with much older children, then the Birth of Planet Earth is a good one to watch. This documentary takes you through just how the earth came to be.

This show is on daily at 2.30 pm.

Top Secret WWII: While not a show about the galaxy, this is a great

documentary detailing the events of WWII. Surprinslgy out of all the shows we watched at the Astro Dome – this was Myla's favourite. I think it was a combination of the information being presented in a really easy way to understand as well as really getting a great 3D type effect with the fighter planes and big tanks. This show is on daily at 1 pm.
Each of the shows at the Astro Dome go for around 30 to 40 minutes and costs $15 per adult and $11.50 per child.
Universal Dreaming
One of my personal favourite experiences at the Cosmos Centre was the Universal Dreaming Experience. We all sat around a fire pit under the gorgeous night sky, and our guide pointed out various constellations, stars and planets as well as told us a range of stories about how different cultures around the world see the stars.
About halfway through, our guide provided us with marshmallows and roasting sticks so we could roast them over the fire.
The Universal Dreaming experience is 45 minutes and is on nightly at 6.30 pm between April to September. Entry for adults is $22.50 and $16.50 for children.
Top Secret WWII Tour
Now something I certainly didn't know before embarking on this trip, is that for 4 years during WWII, the Charleville airport was actually used by the USAAF as a top secret base. At its peak, across 25 square kilometres, there were 101 buildings which were used to house up to 3500 US Servicemen. However despite the size of the operation, it remained top secret for a very long time.
To learn more about this top secret base, visitors can join a daily 90 minute guided tour, in the comfort of their own car. The tour is basically a car convey where you follow your guide in your own car over a distance of around 4km.
Throughout the tour, you stop at a range of locations where you will see remnants of USAAF buildings and also hear stories about their use. Some of the stops include the building where the Norden Bomb Sight was kept, the dance hall, shower block, bitumen baths and more.
And look I'll be honest while I found the tour really interesting, Myla didn't enjoy it – but there was another teenage boy on the tour who was asking lots of questions and seemed to enjoy it thoroughly. The good thing about having your car with you though is that if the kids don't like it, they can remain in the car at the various stops.
I'll just also mention here that later in the year (November 2020) a new WWII attraction is coming called the Brisbane Line. This place sounds amazing and will be an interactive exhibit which will take you through a day in the life of a US serviceman.
Also if you have an interest in WWII don't miss the documentary at the Astro Dome – see above.
Cost: $15 per adult and $5 per child
Time: April to September – tours run daily at 10.30 am | October to March – tours are at 8 am on Mondays, Wednesdays and Fridays.
Location: 1 Milky Way, Charleville
Corones Hotel Stories and Scones Tour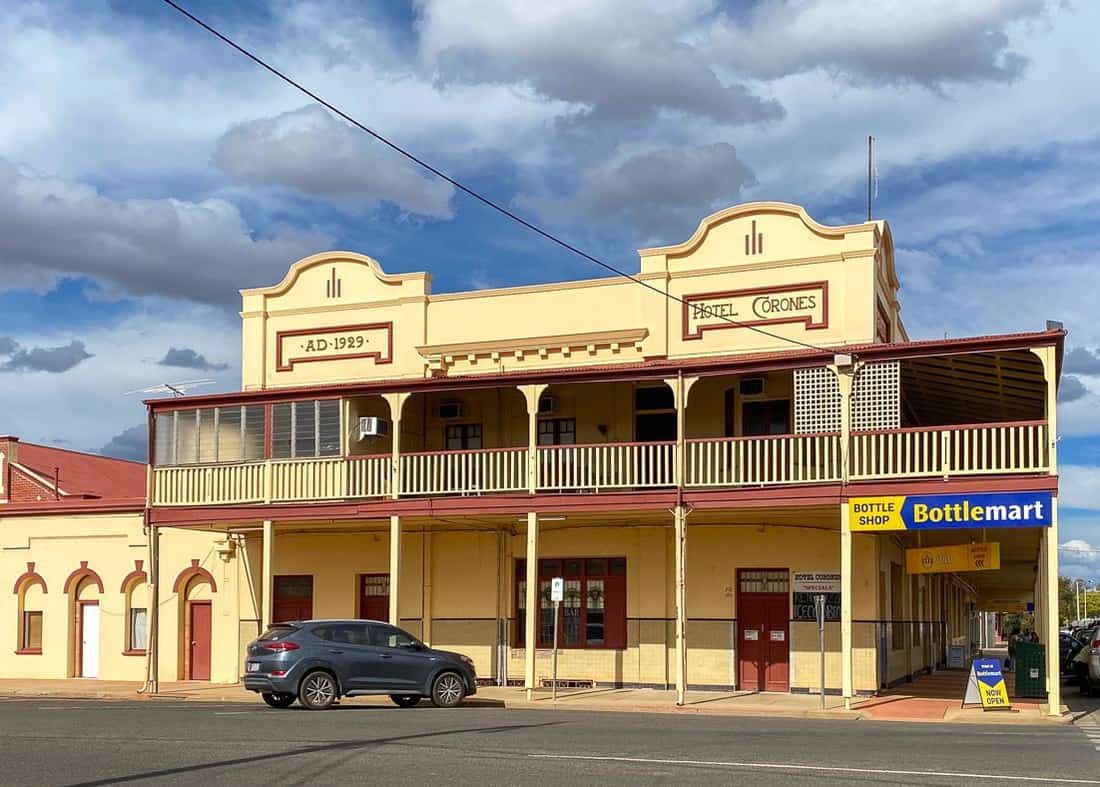 If your family loves hearing old stories, then take the Corones Hotel Stories and Scones Tour with Rachel. Rachel will guide you through the gorgeous old Corones Hotel and along the way, tell you fascinating stories about Harry Corone. Harry came to Australia from Greece penniless and eventually went on not only to build the hotel but also to make it a roaring success.
I won't tell you too much about these fascinating stories, because you really need to hear them for yourself. However I will say that you'll also get to hear about the famous people that have stayed in the hotel, including royalty!
The tour takes you through the various rooms of the hotels, many of which have multiple displays with some great memorabilia and items once owned by the Corones family. The old hotel is just gorgeous, and Rachel is a brilliant storyteller – she had my full attention from the moment the tour commenced!
I love hearing old stories, and so it's no surprise that this tour was my personal favourite thing we did in Charleville.
I'd also recommend you find the time to come back and have a meal or at the very least a drink at the bar.
Cost: $30 per person
Location: Hotel Corones
Time: 2 pm daily April to October and between November to March daily except Tuesday and Thursday – although call (0409 860 114) or email (hotelcoronesstoriesandscones@gmail.com) Rachel – she is very flexible!
Charleville Historic House and Museum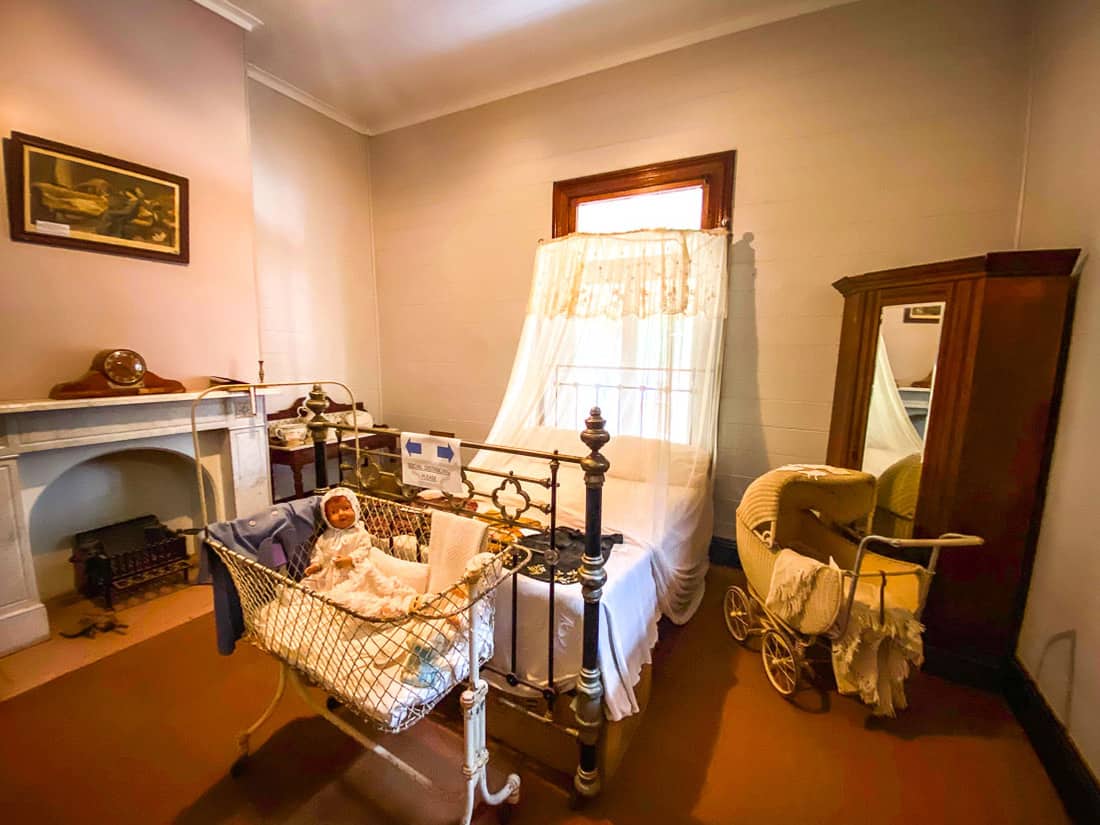 Built in 1877 as Charleville's first bank, this historical building was then used as a boarding house until the 1970s, when it was bought by the Charleville and District Historical Society. It is now a museum that displays a range of historical artifacts and photographs from the town dating back to 1800s.
The building still maintains some of the original features of the bank, including the marble fireplace and vault. The house features gorgeous ceramic door knobs, cedar doorways and classic high ceilings. The rooms are each filled to the brim with various old items from the local pioneering families. Items include clothing, kitchenware, toys, sporting goods, baby items, tools and more.
While in the grounds there is a large early day machinery display including a life size replica of a Cobb & Co Coach, a 1929 Rail Ambulance, Steam Engine and more.
Myla and I both thoroughly enjoyed our time at Historic House; I think that no matter what your children are interested in, there will no doubt be something of interest to them here. Allow at least an hour here to explore.
Location: 87 Alfred Street, Charleville
Cost: $7 per adult and $0.50 per child
Hours: Weekdays from 9 am to 3 pm, Saturdays from 8 am to 3 pm and Sundays from 10 am to 2 pm
Charleville Bilby Experience
Unfortunately, when we visited Charleville, the Bilby Experience was closed – so we didn't get to do this! But of course, I couldn't write a guide on things to do in Charleville without including this must do experience for families. Bilbys are one of Australia's most endangered species and so here at the centre, they are working on research and conservation.
Entry to the centre is free, however if you'd like to attend the Up, Close and Personal or The Bilby Experience, there is an entry fee. The Up, Close and Personal experience is at 9 am and allows you to get a photo taken while you pat a bilby as well as enjoy the nocturnal house tour and show. The Bilby Experience is at 3 pm daily is just for the nocturnal house tour and show.
Location: Historic Railway Centre, King Street, Charleville
Cost: $18 per adult, $15 concession and $10 per child
Hours: Daily (except Sunday) from 9 am to 4 pm between April and October. It is closed for the remainder of the year.
Royal Flying Doctor Service Visitor Centre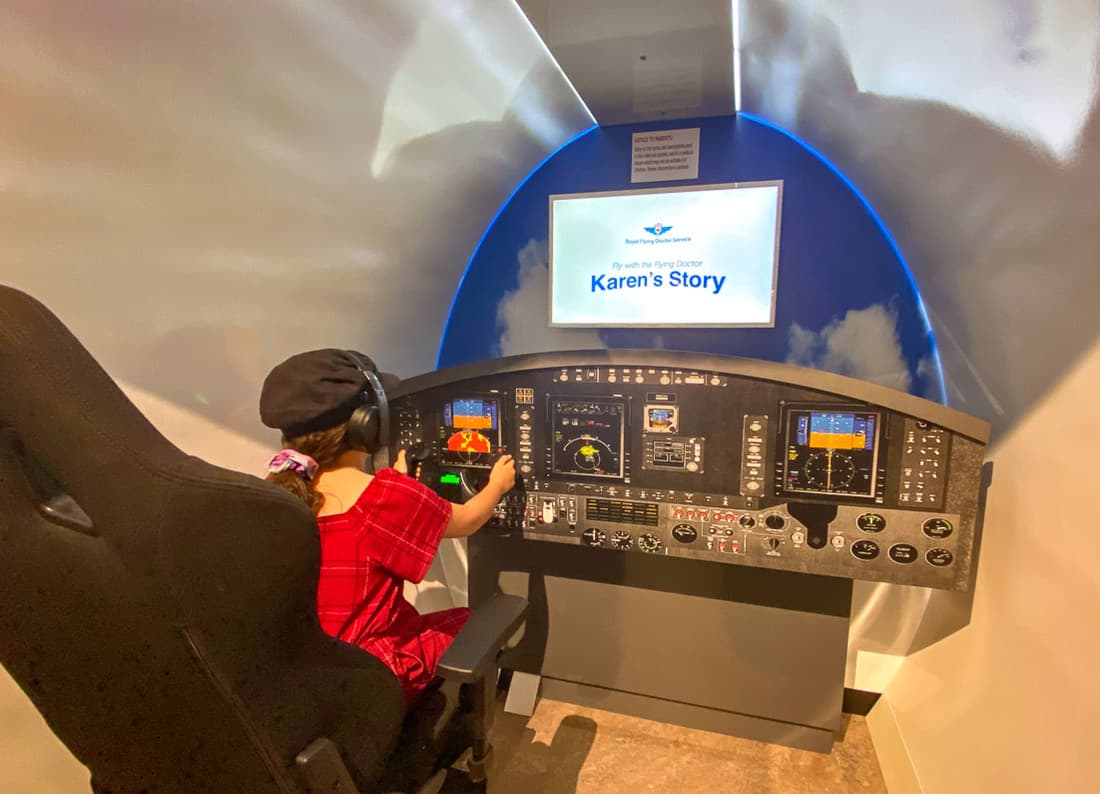 While you're in Charleville, don't miss the Royal Flying Doctor Service (RFDS) Visitor Centre where you'll get an insight into this incredible outback service which is still in operation today. The centre is only small but has some great interactive exhibits and items on display which will interest the whole family
Start with the introductory film which explains the history of how the RFDS has provided medical treatment to the various outback communities. Then check out the multiple displays which show both past and present equipment and medical kits.
Some of the things to see and do at the RFDS include listening to a patient – doctor telehealth conversation, seeing inside a medical chest and the kids can even a pilot a plane which has a patient on board.
Both Myla and I really enjoyed the RFDS Visitor Centre – I'd recommend allowing 45 minutes to an hour here.
Location: John Flynn Way, Charleville
Cost: Entry is free, however donations are welcomed
Hours: March to October – weekdays 8.30 am to 4.30 pm and weekends and public holidays 10 am to 4.30 pm. November to February – weekdays 8.30 am to 4.30 pm, closed weekends and public holidays.
School of Distance Education Tour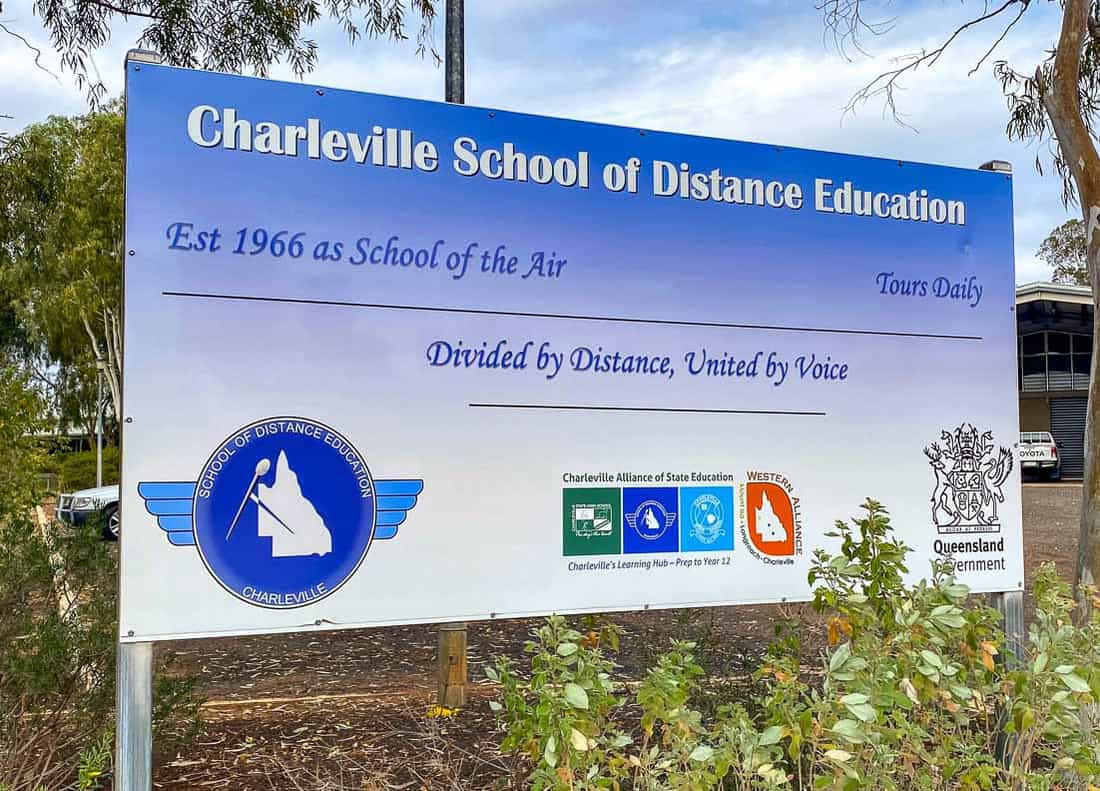 The School of Distance Education Tour was closed during our visit as we came in Qld School Holidays – however this is something I think is a must for families coming to the area. We have visited Remote Schools before and have found them absolutely fascinating – especially for kids attending your everyday school in the city.
On these tours, you'll get to see how the children of the outback learn via the School of Distance Education. Your guide will explain how the school operates and you'll also be able to sit in on a lesson with one of the teachers while they are on the air with the students.
Location: End of Parry Street, Charleville
Cost: $5
Hours: Tours are at 10 am weekdays during the Queensland State School terms
Graham Andrew Parklands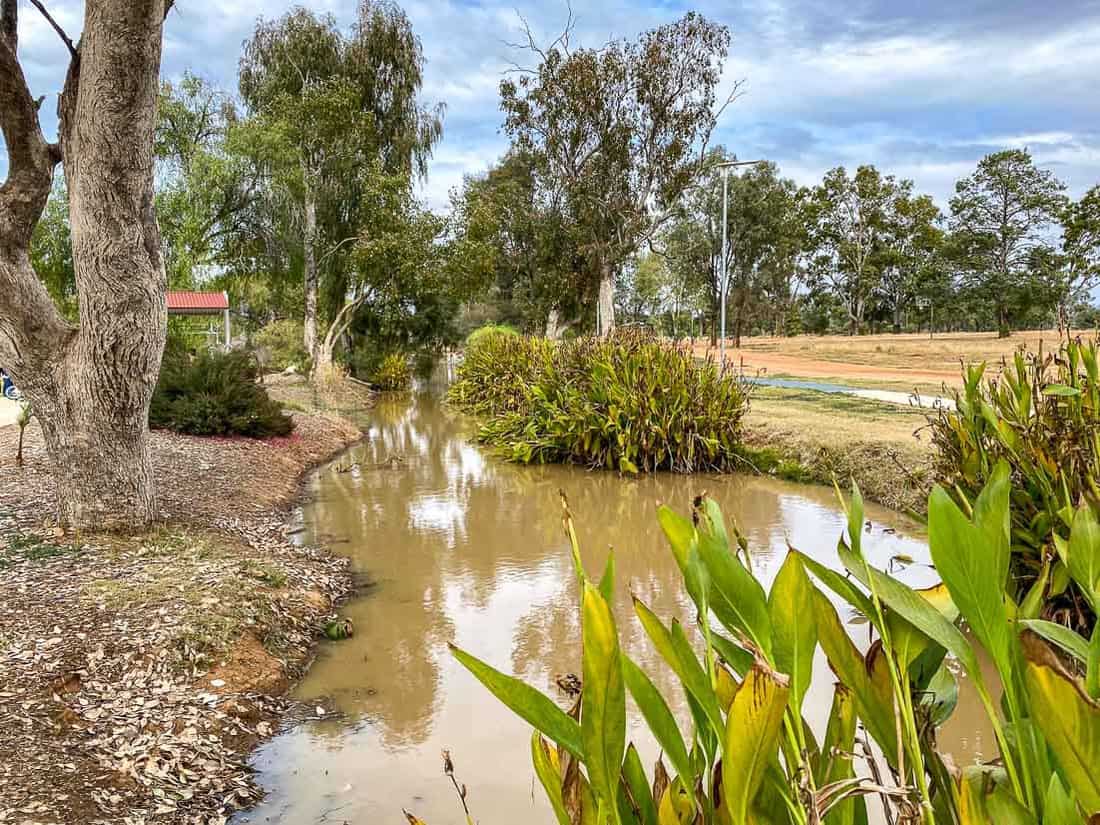 The Graham Andrew Parklands is a lovely area where locals and visitors alike can come to relax. There is a range of things to check out at the Graham Andrew Parklands, including the Outback Native walk, Vortex Gun Display, a working windmill and playground.
The Vortex Guns is well worth checking out. These guns were used in a unique experiment in the great drought of 1902. Interestingly enough, these guns were fired into the clouds in an attempt to create rain. There is a display board here where you can learn more about the unsuccessful experiment.
The Outback Native Walk is a short walk around the parklands where you'll see 18 species of native Australian trees – there are display boards with information helping you identify the various trees. The walk around the lake is also the perfect area to spot the local birds.
Also if you have time, you may like to play a round of Disc Golf in the parklands. You can pick up discs at the Visitor Centre and then come and play on the 9 tee course. You play just as you would with golf, but with a disc instead of golf clubs and balls.
The parklands also have a fully enclosed playground, BBQs and toilets.
Location: Sturt Street, Charleville
Cost: Free
Charleville Water Tower Mural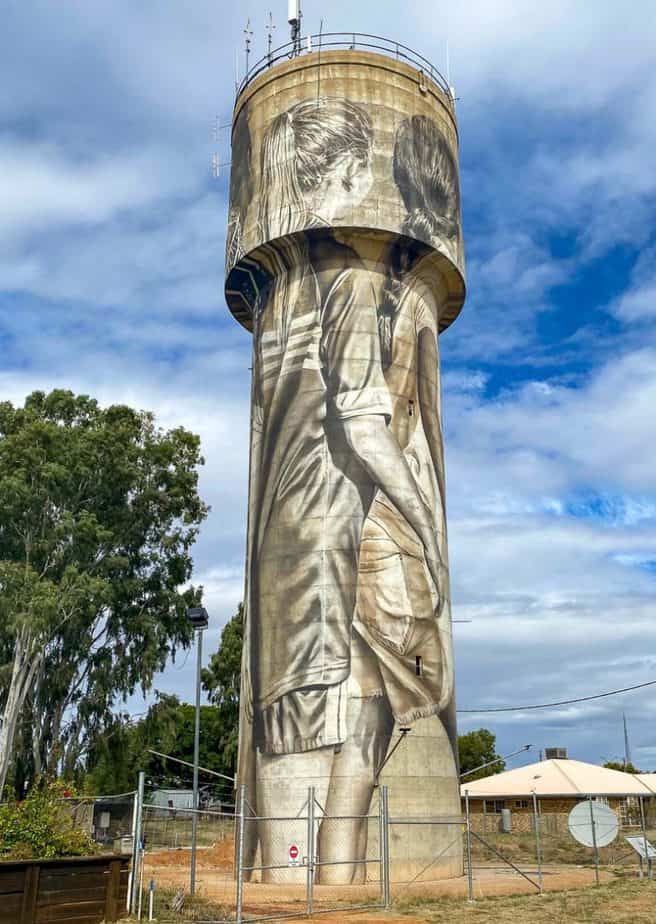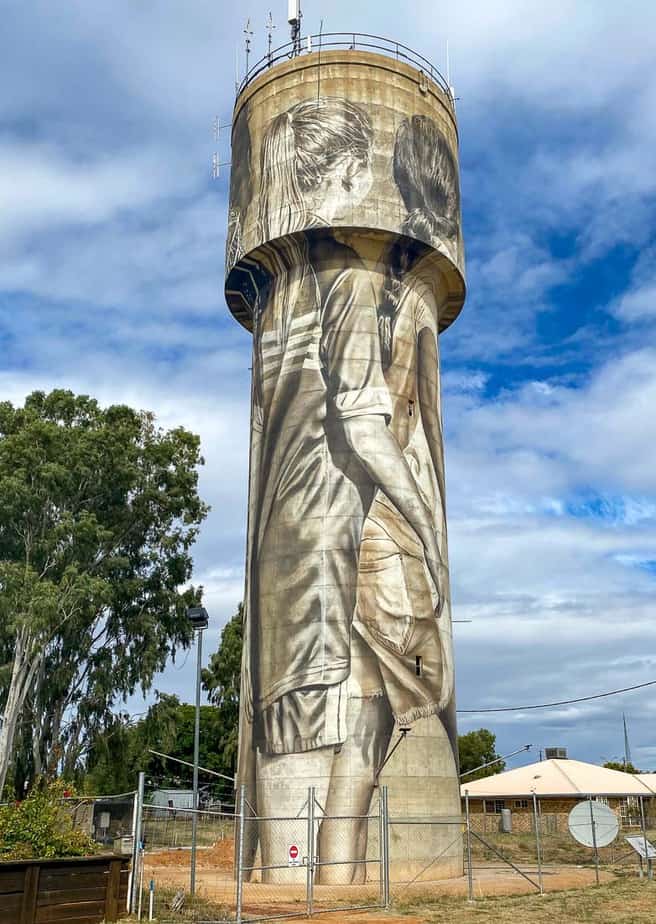 If like us, you enjoy finding the local street art when you travel, then don't miss the Charleville water tower mural. The mural was painted by Guido van Helten in 2019, on the 30 metre tall and narrow tower, and features four local children as they play sport.
Location: Parry Street, Charleville
Charleville Heritage Trail Walk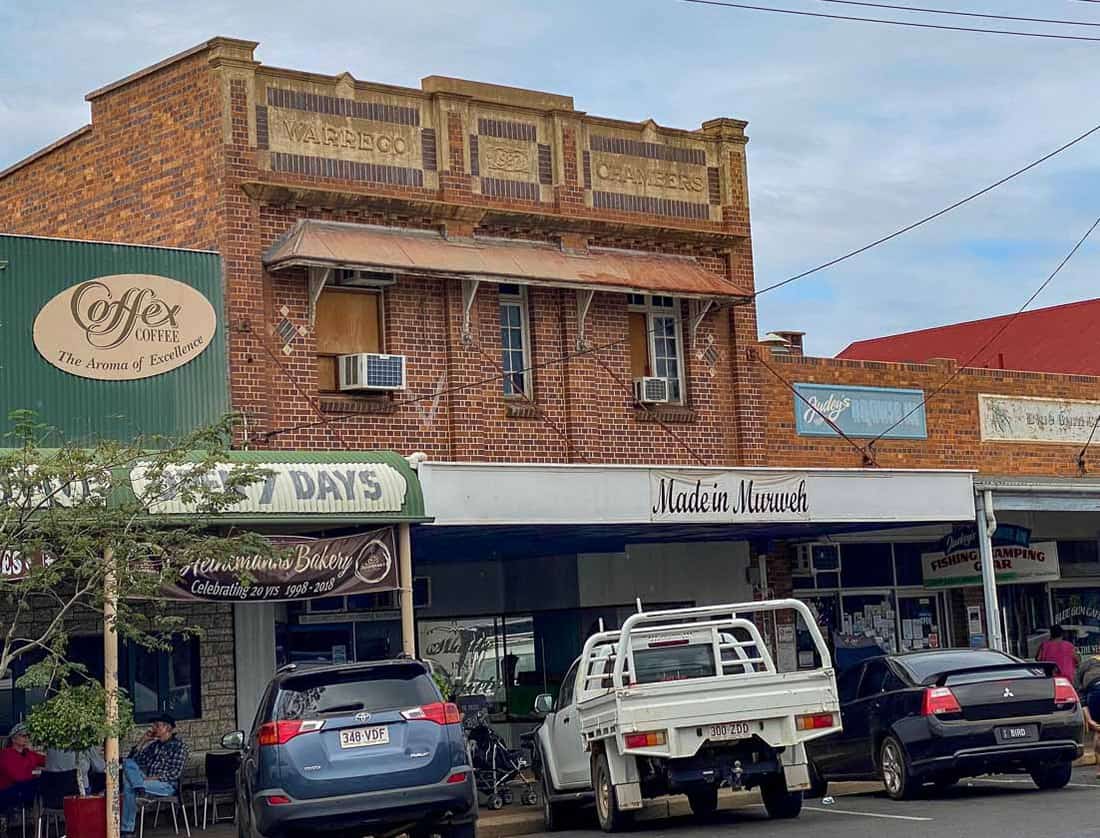 Get a map from the visitor centre and take yourself on a self guided tour around some of the historical sites of Charleville. You can also grab a CD for $5, which provides more information about the various sites. Unfortunately, we don't have a CD player in our car, so this wasn't of any value to us – we love listening to old stories, so hopefully in the future, they can provide this information in a more accessible way.
We did try and do the Heritage Trail Walk, but without any additional information, they were mostly just buildings to us. We did find one display board outside the Historic House Museum, which we found interesting. Across the road is the Warrego Chambers Building and you'll see a "V' has been painted on the exterior. The display board explained that at the end of WWII, businesses took to the streets and painted a "V" on their buildings to celebrate the end of the war.
Warrego River Walk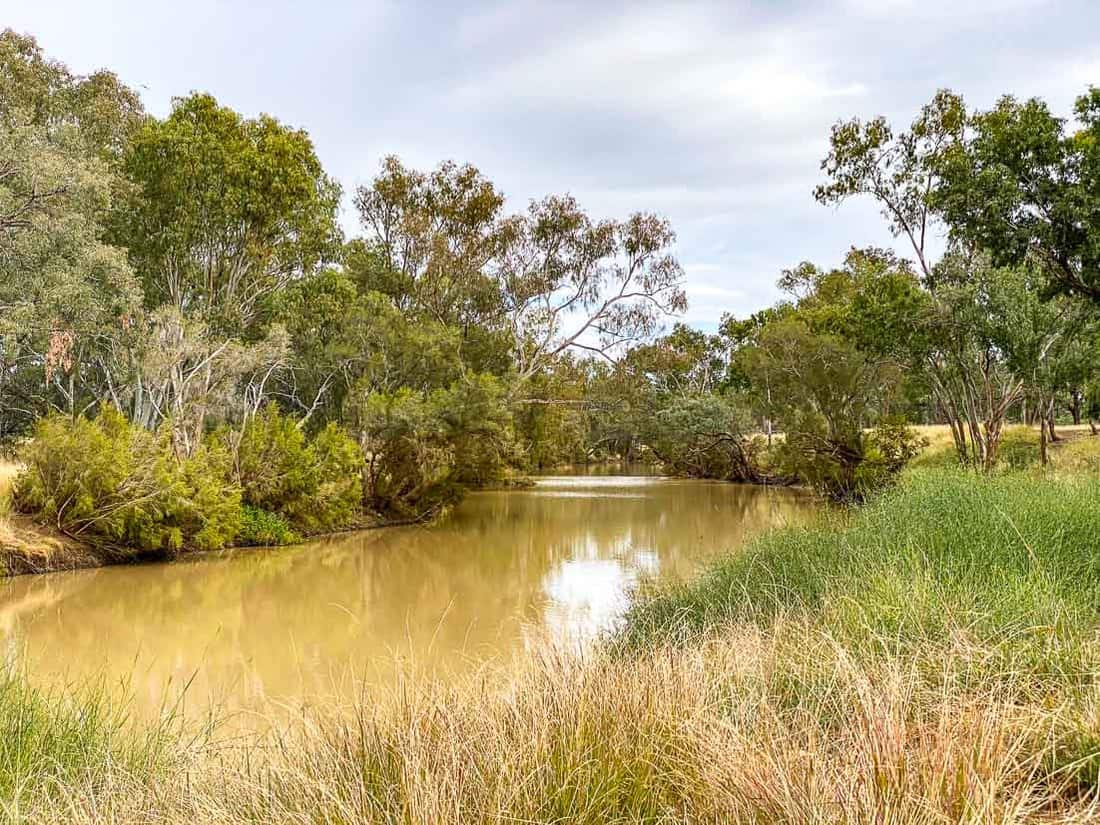 If you have some time, a nice walk to do is the short 1.4km (one way) walk along the Warrego River. Many recommend this walk around sunset as there is a viewing platform about halfway.
You could easily combine this walk with the above Heritage Trail Walk.
Location: Take the Mitchell Highway across the river towards Augathella and Longreach – park on the left-hand side of the road and take the path from here.
Cost: Free
Charleville Weather Station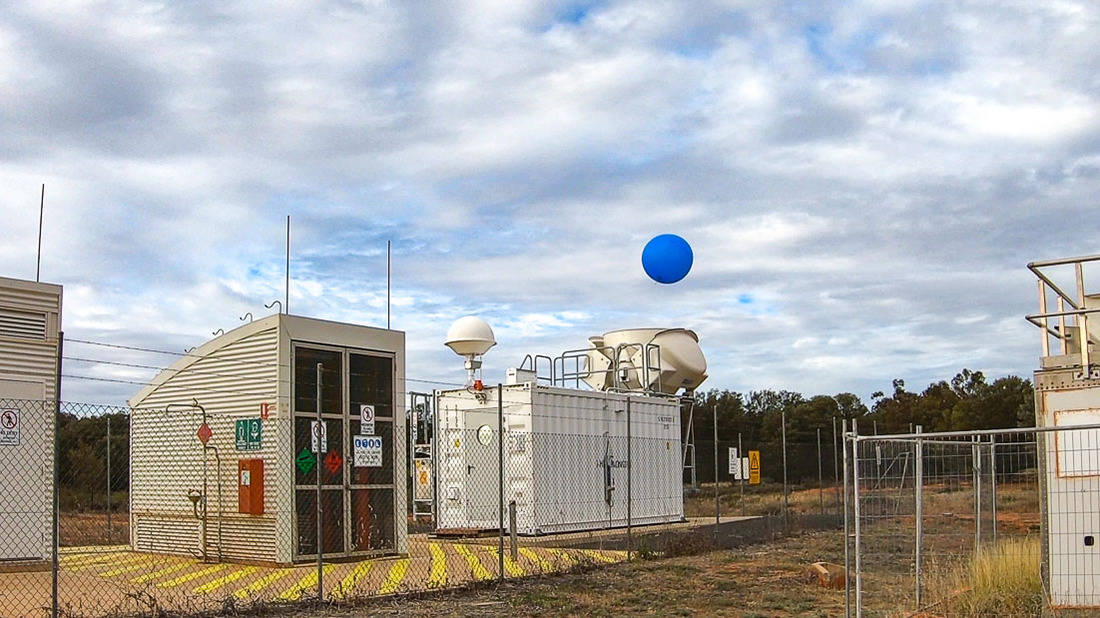 Each morning at 9.15 am, you can see the weather balloon being automatically released at the Charleville Weather Station. The balloon contains technology that collects meteorological data such as temperature, wind direction and speed, in the local area, which is used to forecast the weather.
There is no tour here or display board assisting you with what is happening – but nevertheless, it is still rather interesting to watch and certainly not something you see every day.
Location: Qantas Drive, Charleville
Cost: Free
Angellala Bridge Explosion Site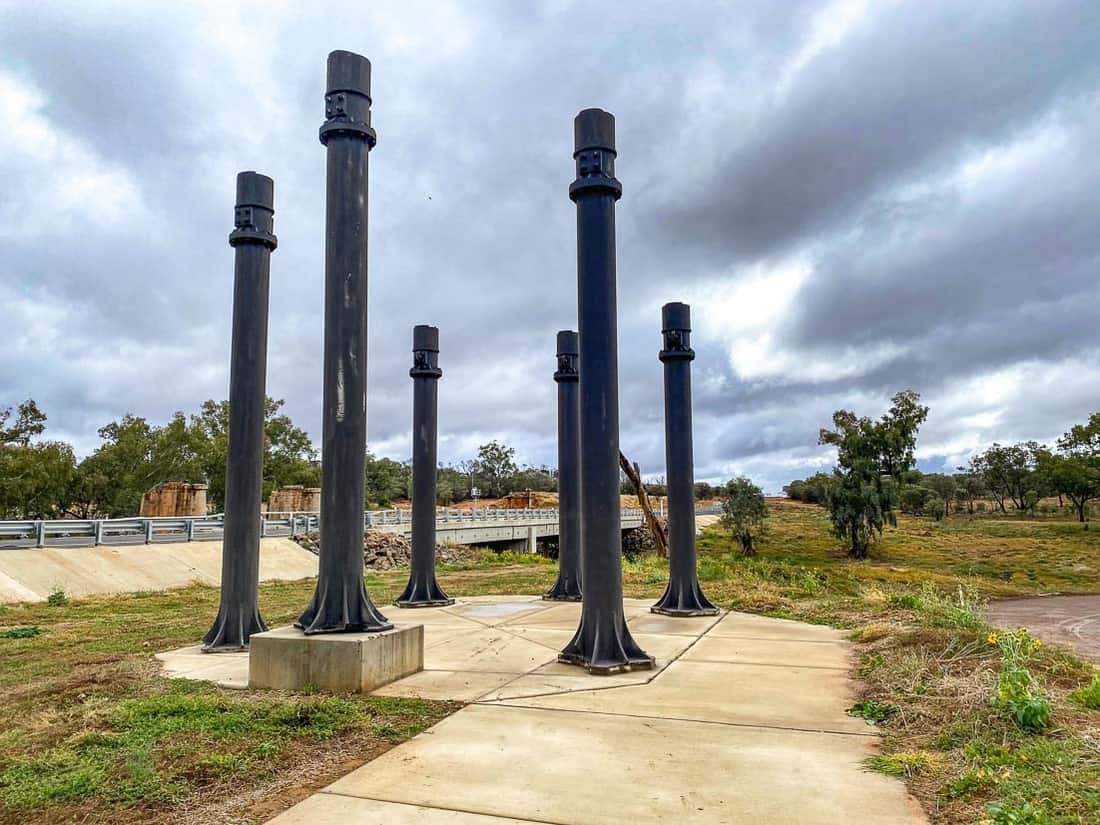 Just outside of Charleville you can visit the site of the Angellala Bridge Explosion, which was the biggest explosion in Australian transport history. At 9.50 pm on the 5th of September 2014, a truck carrying 53 tonnes of ammonium nitrate caught fire, crashed and exploded at Angellala Creek. The blast radius was huge and felt over 30km away and had Charleville locals thinking it was an earthquake.
Today, the road bridge has been rebuilt, but signs of the explosion remain, and the event is told through a range of display boards at the site.
Location: 26kms south of Charleville on the Mitchell Highway
Cost: Free
Our 2 Day Charleville Itinerary
To see how we spent our 3 nights and 2 days in Charleville – click here . This will take you to our detailed itinerary which shows you day by day how we spent 2 weeks touring outback Queensland which included the Natural Sciences Loop.
Don't underestimate how much there is to do in Charleville – you're going to need at least 2 days here – even 3 if you want to experience everything at a good pace.
Charleville Accommodation: Where to Stay
When it comes to the accommodation Charleville offers, all types are covered including motels, cabins and sites for camping. Below I've listed a range of options for accommodation in Charleville well suited to families and other types of travellers, including Charleville Caravan Park options and some motels in Charleville.
Caravan Parks – Charleville
When it comes to caravan parks, Charleville has some great options well suited to campers with tents and vans as well as accommodation for those who prefer to stay in cabins. Below I've listed three different options to consider.
Bailey Bar Caravan Park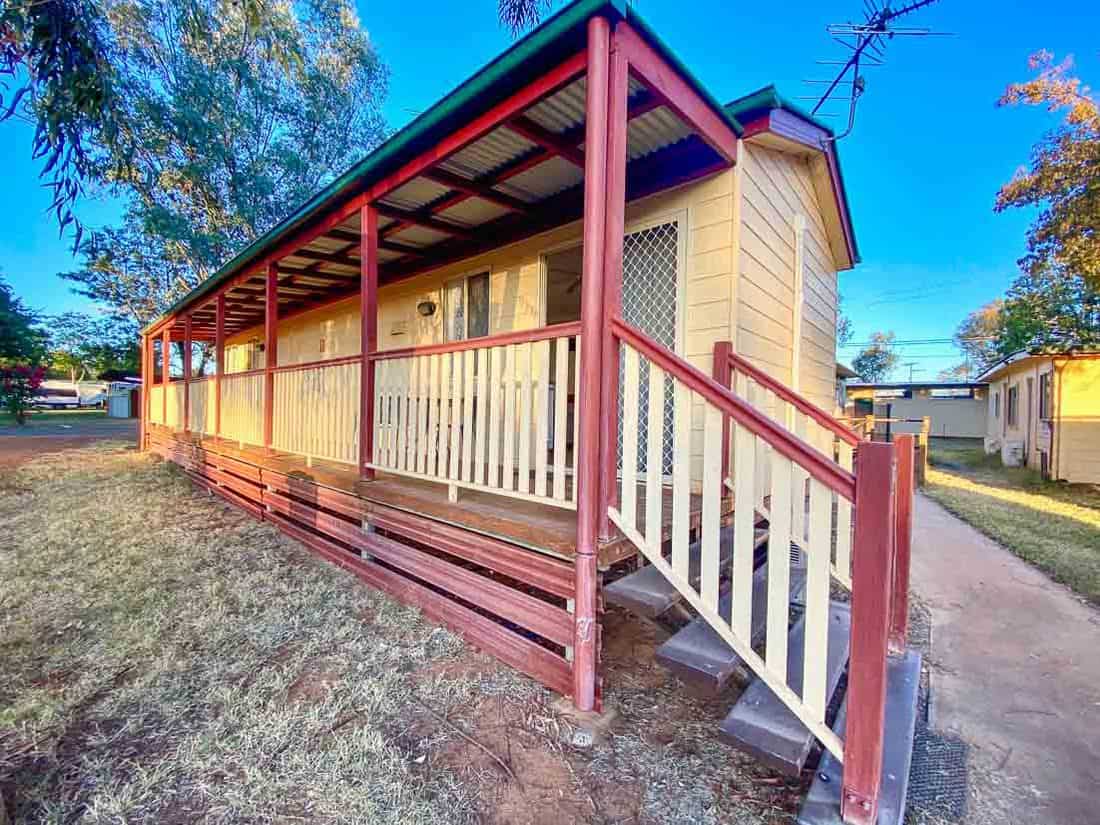 While we were in town, we stayed at the Bailey Bar Charleville Caravan Park, which we can highly recommend. You can read our full review here and see the short video we put together here.
Located not far from the centre of town Bailey Bar Caravan Park offers a range of great options for family's staying in town. Bailey's provides powered caravan and tent sites as well as several self contained cabins which are suitable for couples to families.
Facilities onsite include a camp kitchen, 2 bathroom blocks, a dump point, BBQ area, coin operated laundry facilities and pets are welcome (on sites as well as certain cabins). They also offer great camp over or spit roast dinners a few times a week.
Location: 196 King Street Charleville
Cobb & Co Caravan Park
Located close to the centre of town, Cobb & Co Caravan Park is set among bushland and is ideal for tents and caravans with both powered and unpowered sites, as well as drive thru sites.
Facilities on site include a coffee shop, BBQ area, a camp kitchen, coin operated laundry facilities, dump points, two bathroom blocks and pets are welcome on application.
For non campers, there are also 9 cabins onsite which include cooking facilities, AC and a TV.
Location: 1 Ridgeway Street, Charleville
Charleville Bush Caravan Park & Cottage
The Charleville Bush Caravan Park and Cottage is set on 40 acres and is located just 2km out of town and has a range of sites available. There are both powered and unpowered sites for caravans and tents as well as large drive thru sites.
There are great facilities on site including an undercover seating area, BBQ area, camp oven, central campfire area, coin operated laundry facilities, dump point and nice clean, modern bathroom facilities,
For non campers, there is also a small self contained cottage on site which can accommodate up to two people.
Location: Lot 1 Frawley Street, Charleville
Motels in Charleville
If you prefer motel style accommodation, below I've listed three different options that are well suited to families and other types of travellers.
Charleville Motel
Located just a short drive from the centre of town, the Charleville Motel has 28 rooms with most rooms coming with a queen bed and a single bed, although there is also a family room with a queen bed and a set of bunks. Rooms include AC, microwave, tea and coffee making facilities, small fridge, toaster and a TV.
On site facilities include a swimming pool, BBQ facilities, outdoor fire pit and a licenced bar.
Location: 148 King Street, Charleville
Click here to check current rates and availability.
Mulga Country Motor Inn
Located a short walk from the Cosmos Centre and a short drive from the town centre, the Mulga Country Motor Inn is on 2.5 acres. There is a range of rooms to choose from including family rooms which come with a queen and two single beds. All rooms include AC, TV with Foxtel, microwave, fridge, kettle and toaster.
On site facilities include a restaurant, bar, BBQ area, outside patio, swimming pool and guest laundry.
Location: 118 Sturt Street, Charleville
Click here to check current rates and availability.
The Rocks Motel – Charleville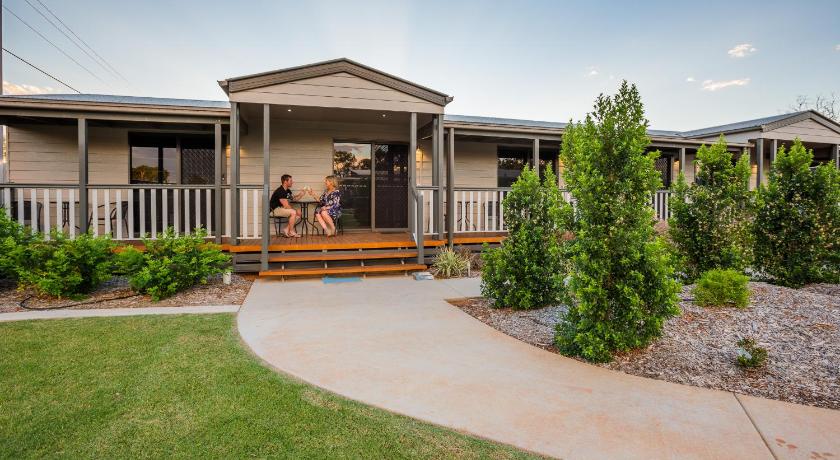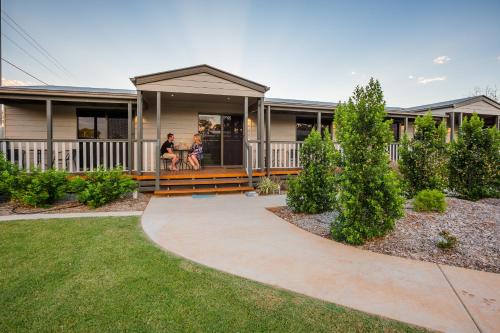 Located just a short walk from the centre of town, the Rocks Motel has 20 modern and stylish rooms. Basic rooms can accommodate up to 2 people and come with coffee machines and a minibar, while other rooms have basic cooking equipment such as a microwave, toaster and kettle. There is also the option of a self contained family room with separate bedrooms.
Facilities on site include the On the Rocks Restaurant and a swimming pool,
Location: 74 Wills Street, Charleville
Click here to check current rates and availability.
Charleville – Our Verdict
Wherever we went, we received such a warm welcome while in Charleville! This certainly made a good impression. However in addition to such friendly locals, there are just so many great things to do in Charleville. Honestly, I am surprised it has taken me this long to visit!
Charleville is a great family destination with a range of ticketed and free attractions and also a rich and interesting history. I'd definitely recommend Charleville for a short family getaway.
After Charleville, we went to Cunnamulla – read our guide here. Otherwise, you could go in the opposite direction and head to Quilpie next – read our guide here.
___________________________________________________________________
Hopefully you found this guide to Charleville helpful and it has inspired you to take your kids for a visit. Don't forget to check out our full South West Outback Queensland itinerary here and you can also find all our Outback Queensland content here.
Click on one of the images below and save it to Pinterest to keep it handy for later!