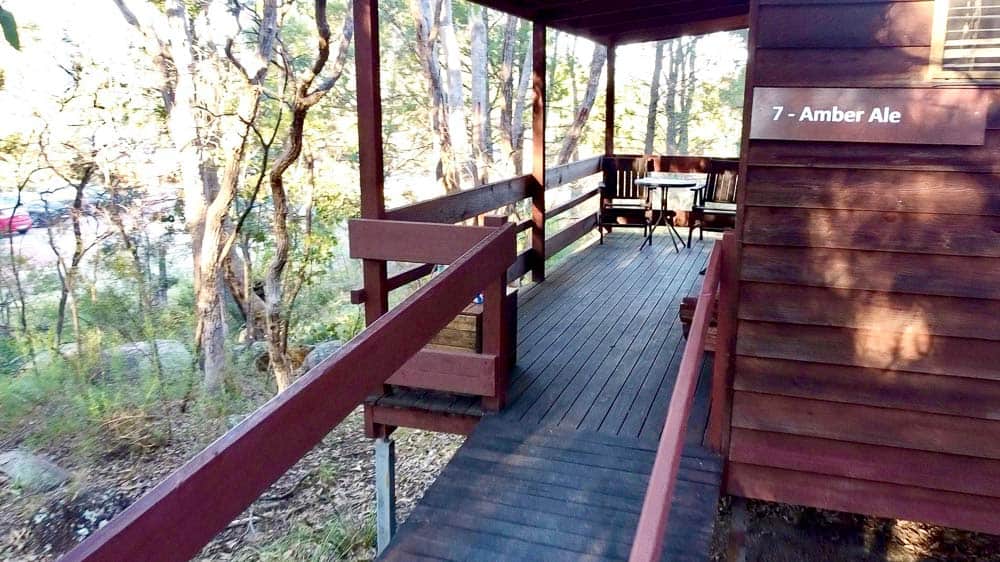 If you're looking for great family friendly accommodation in Stanthorpe, then the Granite Belt Brewery Retreat is a good place to consider. The Granite Belt Brewery Retreat is just a short drive from the centre of Stanthorpe on 30 acres of natural bushland. There are 20 different cozy little cedar cabins here which make the perfect base for families to explore all the wonderful attractions in Stanthorpe.
If you're looking for great family accommodation Stanthorpe has, I've written this detailed review of Granite Belt Brewery Retreat, so you can decide whether or not this is the perfect place for your next family getaway in Stanthorpe.
This post may contain compensated links. Please refer to my disclaimer here for more information.
Talk to other families about their tips on visiting Stanthorpe and join our Queensland Travel Facebook.
Who Should Stay at the Granite Belt Brewery Retreat?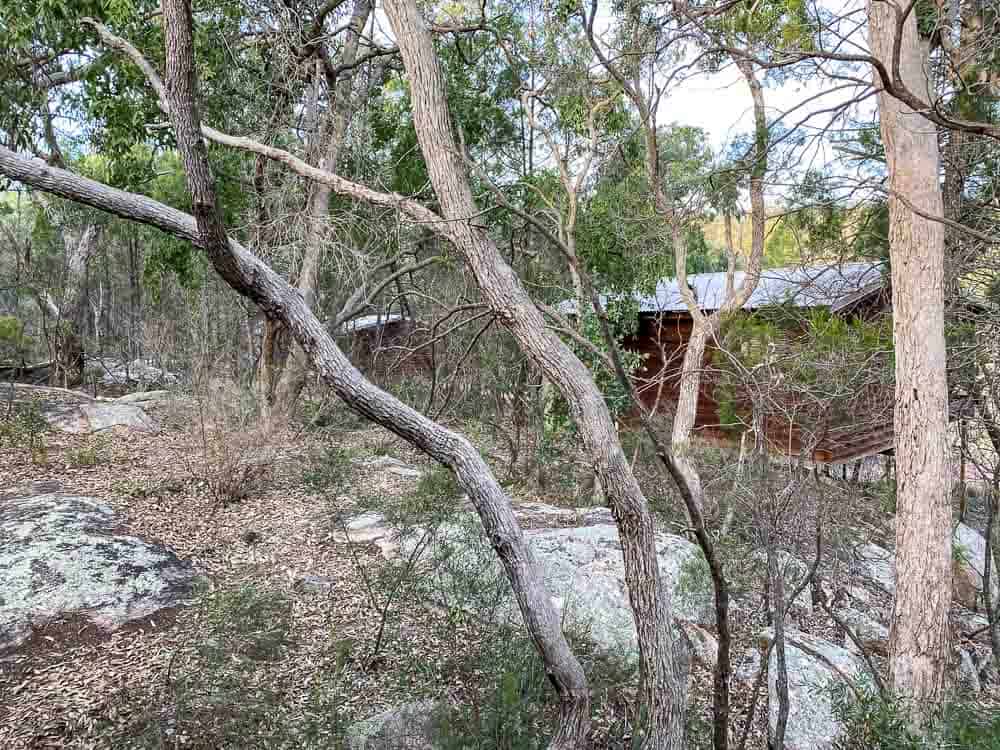 First up let's talk about who should consider staying at the Granite Belt Brewery Retreat? I personally recommend the Granite Belt Brewery Retreat for families who:
Want to stay in a gorgeous, cozy cabin in a beautiful bushland setting;

Want somewhere they can prepare basic meals rather than eating out all the time;
A convenient location for exploring all the attractions in the Granite Belt Region;
Want the option of having an on site restaurant, so they don't have to go anywhere for a meal; and
For families wanting the option to bring their dog
In our view, Granite Belt Brewery Retreat is the perfect place for families coming to Stanthorpe whether it's your first time or tenth time. It's in a reasonably convenient location to get around to all the different attractions in the region as well as being the perfect place for those families looking for somewhere to simply relax.
Accommodation Options at the Granite Belt Brewery Retreat
Below is a brief overview of the various accommodation options available.
Timber Cabins
The timber cabins are perfect for a small family or group and is the style of cabin we stayed in during our recent stay. These cabins come with a queen bed and a single bed and so can accommodate up to 3 people.
The timber cabins have a lovely little verandah overlooking the bushland and inside there is a small sitting area with two chairs and a small table around a fireplace. You are provided with a wood box on your verandah, a fire starter kit as well as being encouraged to gather kindling from around the property.
The cabin comes with basic cooking facilities such as a microwave, toaster, kettle and all the crockery you need (see image below). There is also a small fridge and tea and coffee provided.
On arrival, a breakfast hamper is provided, which is full of what you need for your stay. Our hamper included a few loaves of homemade bread, a bottle of juice, a small bag of cereal per person per day, butter, jam and 3 pieces of fruit. My only thoughts on the breakfast hamper is that it would be nice if fresh bread was provided each morning rather than all at once on arrival. By the second morning, the bread was hard – but still fine if you're just after toast.
The timber cabins also come with a TV and a private bathroom.
Family Cabins
The family cabins are like the timber cabins but come with bunk beds so are suitable for families or groups of up to 4 people. The sitting area is also larger coming with a couch as well as a desk.
Pet Friendly Cabins
For families that can't bear to leave their dog at home, you'll be pleased to know that the Granite Belt Brewery Retreat also has a fully fenced cabin so you can bring your dog. These cabins are family sized cabins and are the perfect place to keep your dog.
Spa Cabins
For couples, the ideal cabin is the spa cabins which are basically the same as the timber cabins, however instead of the single bed; there is a double spa bath in its place. The spa in front of the fireplace provides the perfect place to relax after a day of sightseeing as well as a place to enjoy a glass of local wine.
Please note that spa baths cannot be used during periods of drought so best to check this in advance.
Timber Suites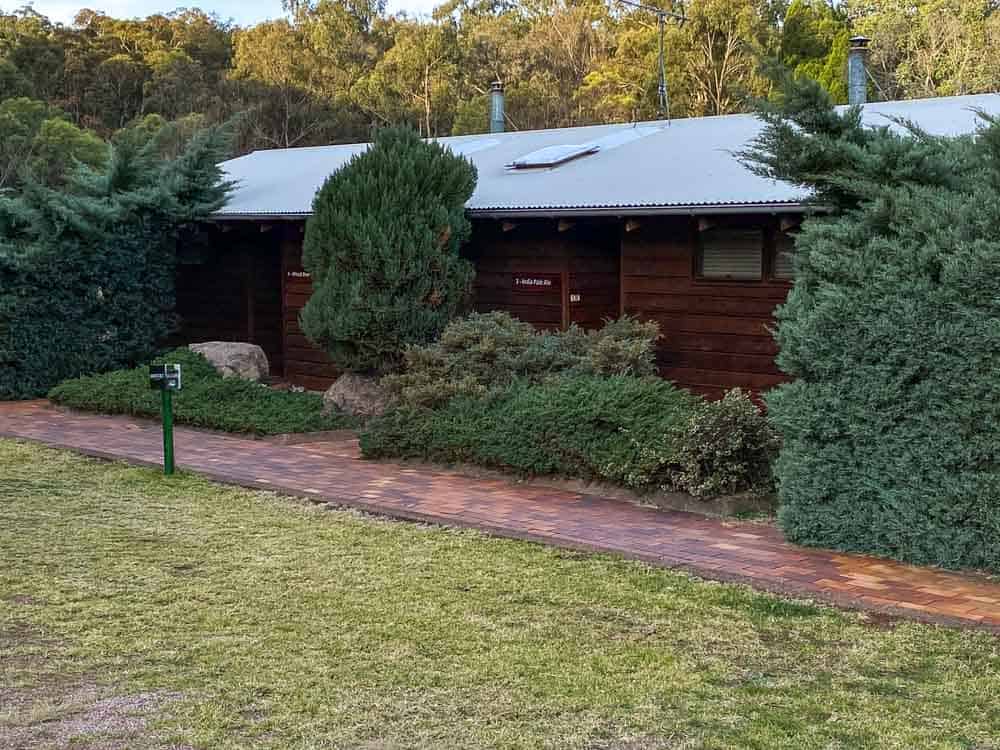 As well as the cabins, attached to the main reception and dining area is a range of suites which are great for people with mobility issues as there is no need to walk through the property to reach your cabin (mind you even with the cabins above you can park right in front of your cabin so you don't have far to walk).
Suites offer the same facilities and amenities as the timber cabins including a queen and single bed, small kitchenette, bathroom and woodfire.
Hidden House
For larger families or even larger groups, the best accommodation is the Hidden House. This house can accommodate up to 10 people and is also pet friendly.
The Hidden Hoise comes with 4 bedrooms, 3 bathrooms as well as a full kitchen, dining area and laundry – so it's basically your home away from home and has absolutely everything you need for a great weekend away in Stanthorpe.
Facilities at the Granite Belt Brewery Retreat
Here's a brief overview of the various facilities available at the Granite Belt Brewery Retreat.
Restaraunt and Bar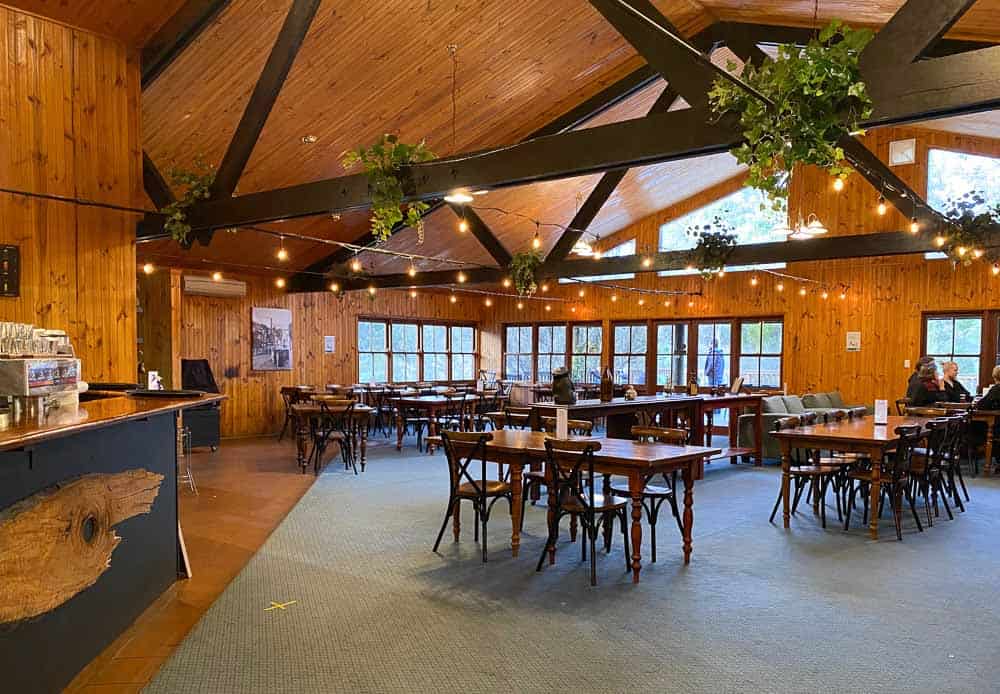 For families looking to have a meal out but don't want to venture into town, you'll be pleased to know that there is a restaurant on site just a short walk from your cabin. The restaurant tends to be opened Friday to Mondays, however opening hours vary depending on the time of the year, so do check in advance if this is important to you.
The restaurant has a set menu which includes two courses for lunch and three courses for dinner. There is also a kid's menu too. You can check out their menu here.
If you don't feel like cooking or going out – you can even get meals from the restaurant delivered to your cabin! These meals are available Monday to Sunday and must be pre ordered.
In addition to the restaurant, there is also a bar on site which is a great place to enjoy a drink after a full day of sightseeing.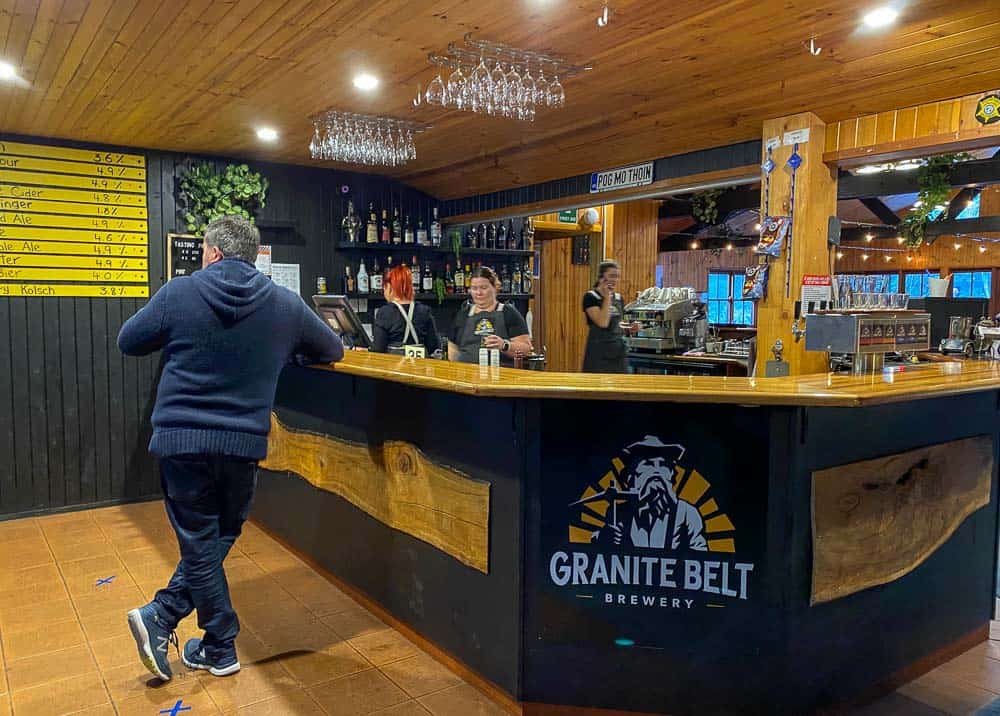 Microbrewery
For the parents who enjoy a beer or two, you'll be pleased to know that on site is a 1000 litre microbrewery. The microbrewery was established in 2012 and here they handcraft ales and lagers. Now neither of us are beer drinkers, so I'm not going to pretend to know anything about beer, so I'd recommend you check out their website here for more information.
BBQ and Fire Pits
The Granite Belt Brewery Retreat also has a BBQ available for use (just ask reception for BBQ utensils), as well as a few fire pits scattered around the property for families to use. We saw a few families around the fire pits enjoying their breakfast – a nice place to warm up on a cold winter's morning.
Granite Belt Brewery – Our Verdict
For families looking for a great base to explore the Stanthorpe region, the Granite Belt Brewery Retreat is an excellent choice. Whether you have a small family or a large family, there is the perfect accommodation option for you.
While families will no doubt spend most of their time in Stanthorpe sightseeing, the cabins at the Granite Belt Brewery provide the perfect place to return to at the end of a busy day. Families will love snuggling up in front of the fireplace or making use of the wide open spaces surrounding the property.
Click here for information and to check current pricing.
____________________________________________________________________
Hopefully you found this review on the Granite Belt Brewery Retreat helpful. You can also read our review for the Girraween Environmental Lodge here or for more family friendly accommodation in Stanthorpe click here. You can find our full guide on things to do in Stanthorpe with kids here.