The Girraween Environmental Lodge is perfect for families while exploring the Granite Belt Region sites or looking for Girraween accommodation close to the national park. The Girraween Lodge is located just a 5 minute drive from the Girraween National Park entrance and 35 minutes from the centre of Stanthorpe, making it a great spot for exploring the various attractions within the region.
There are just ten cozy chalets scattered across the four hundred acre property – making for a very private stay. The property is surrounded by the Girraween National Park and home to a range of wildlife, including an abundance of kangaroos.
If you're looking for great family accommodation in the Granite Belt Region, I've written this detailed review of Girraween Environmental Lodge, so you can decide whether or not this is the perfect place for your family getaway.
This post may contain compensated links. Please refer to my disclaimer here for more information.
Talk to other families about their tips on visiting Stanthorpe and join our Queensland Travel Facebook.
Where is the Girraween Environmental Lodge?
As mentioned above, the Lodge is just a short 5 minute drive from the entrance of the Girraween National Park – this makes it ideal if you're planning on spending time doing the various walking tracks. There is so much to see in the Girraween National Park that you will really need a few days to see it all – this makes the lodge the perfect choice for accommodation.
As well as the National Park, you've also got Heavenly Chocolate cafe down the road – just a few minute drive away and one of my favourite wineries – Balancing Heart Vineyard, is just a 10 minute drive away.
The centre of Stanthorpe is a 35 minute drive away and there are plenty of attractions and wineries to see between there and the Lodge making it an excellent spot for a few days of sightseeing.
Best of all – the property is huge – so when you return home from a day of bushwalking or sightseeing, you'll feel like you're a million miles away from anyone. The cabins are incredibly private and you may not even see anyone during your stay. It is a gorgeous spot for those seeking peace and quiet.
Accommodation at Girraween Environmental Lodge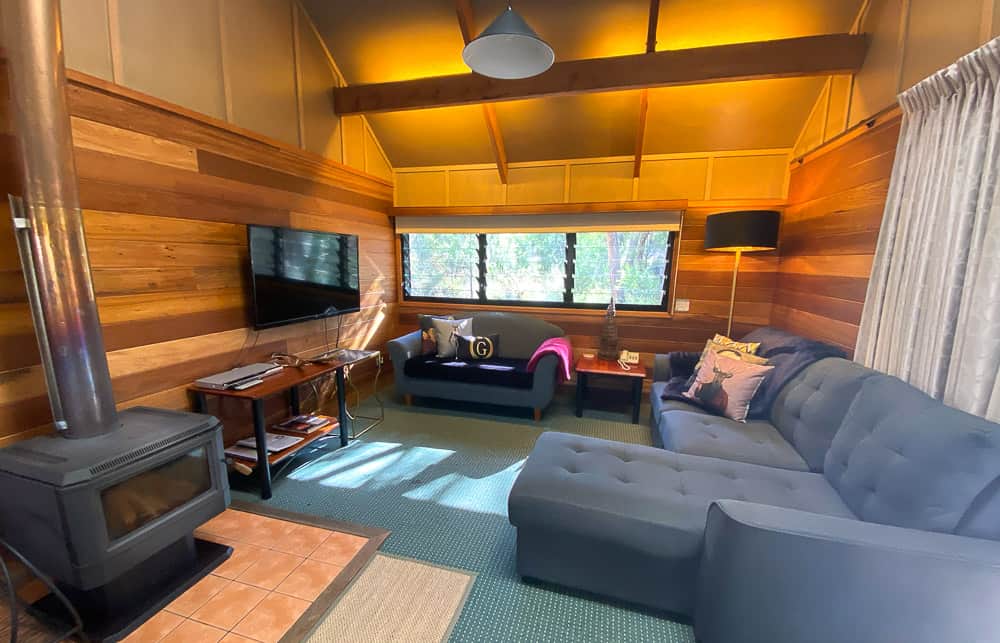 Accommodation at the Girraween Environmental Lodge is provided in ten fully self contained bush chalets, each made with recycled timber.
Each of the chalets has two bedrooms – the master bedroom features a huge king size bed, while the second bedroom features at least two single beds. The second bedroom in some chalets features a set of bunk beds and a single or even another king size bed. So there are various configurations to suit all sorts of families.
The chalets are fully self contained, featuring everything you need for a comfortable stay. There is an open plan lounge, dining and kitchenette area. The lounge has a wood fire heater (firewood is supplied), a TV and a DVD player.
The kitchenette comes with a large fridge, microwave, cooktop, coffee machine and everything you need to prepare and eat meals during your stay.
The bathrooms are huge! They feature a great sized shower as well as an enormous double spa bath.
Each chalet opens out on a spacious deck, which provides gorgeous views of the surrounding bushland – the perfect place for spotting wildlife such as birds and kangaroos. The decks have an outdoor table and chairs as well as a BBQ.
Other features include undercover car parking, electric blankets on all beds, ceiling fans and all linen is provided.
Facilities at Girraween Environmental Lodge
Here's a brief overview of the various facilities available at the Girraween Environmental Lodge.
Swimming Pool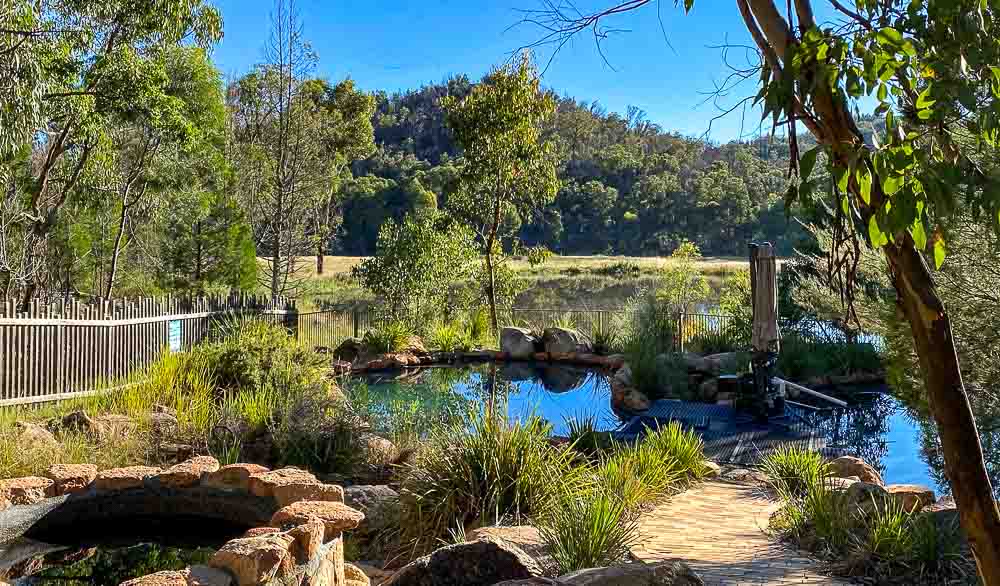 If you're visiting during the warmer months of the year, the perfect way to finish the day is by taking a dip in the swimming pools. Although you won't find any huge resort style swimming pools here, you will find a few smaller pools that resemble natural rock pools.
There are various small rock pools that the kids will love to splash about in, while the parents will undoubtedly enjoy a soak in the spa after a day of bushing or sightseeing around town. The spa has bubbles on each day between 4-8 pm. During the colder months, if you'd like for it to be heated, just ask the staff at reception. It takes around 2 hours to heat the spa, so allow plenty of time.
The pools are surrounded by a lake and open grasslands, where you'll regularly spot kangaroos and other wildlife.
The Lake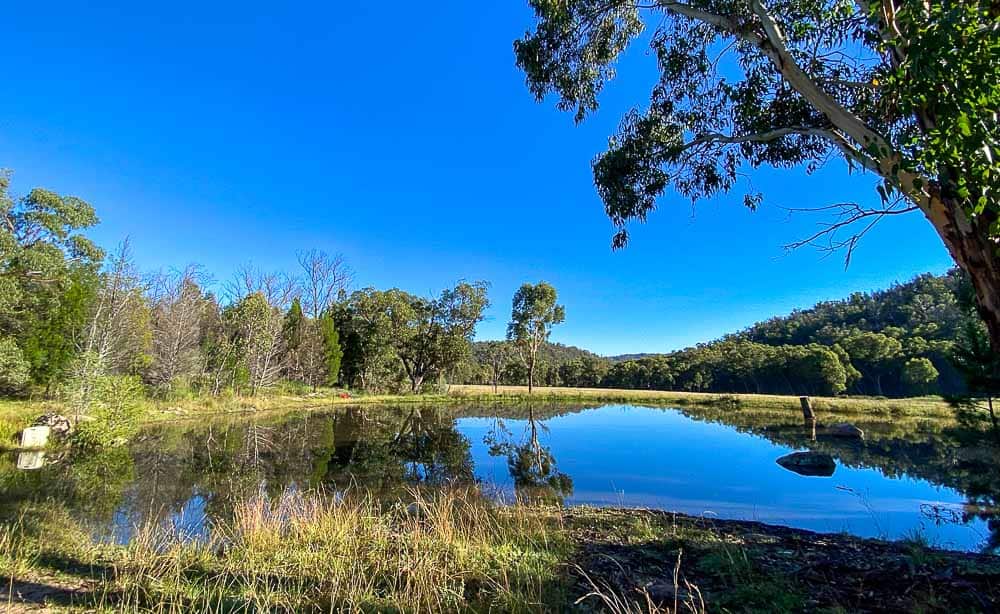 Right behind the swimming pools is a large lake, where guests can either sit and relax at one of the picnic tables (perfect for sunset drinks and nibbles) or even take one of the kayaks out for a paddle.
Games, DVDs and Books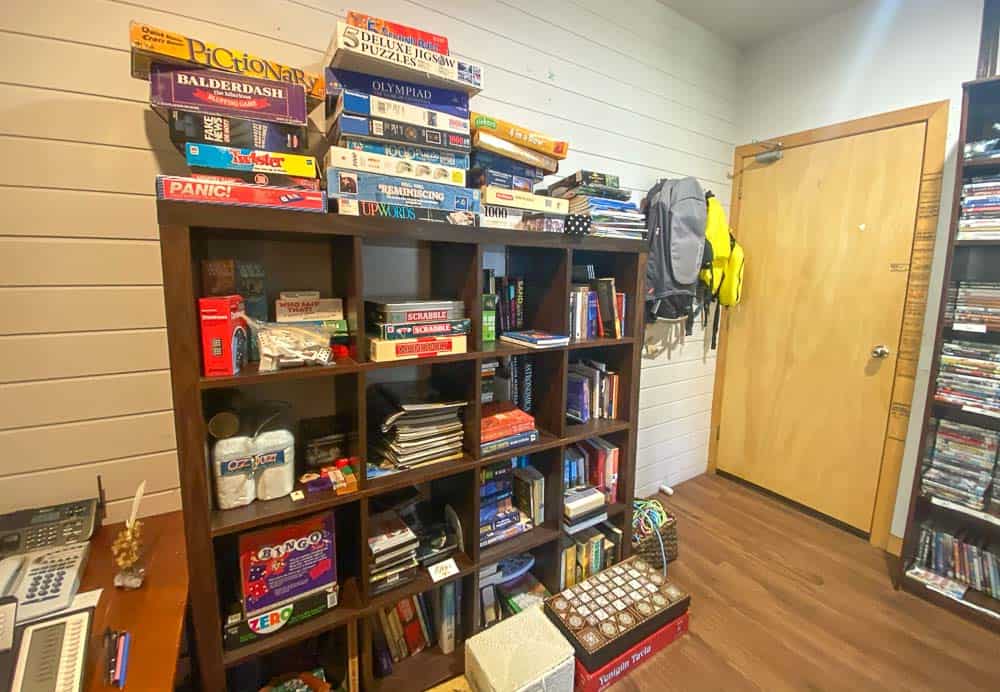 There is no internet at Girraween Environmental Lodge – however, with the huge supply of games, DVDs and books on offer, the kids will have absolutely no excuse for being bored here. Just pop into reception and ask to see their selection. There is so much to choose from here; no doubt your kids will find plenty to keep them occupied.
Bushwalks
While the Girraween National Park is just a few kilometres away, there is over 10 km of bush trails on the Lodge's property, so you take a walk straight from your cabin door. The various walks pass dramatic granite boulder formations, creeks and rock pools, have spectacular panoramic views and also provide you with the opportunity to see various wildlife.
Here's a brief overview of the various walks you can do around the Lodge:
Bird Walk

– 1 km – 25 minutes: a gentle walk down to the creek, onto a beautiful picnic spot – good walk for spotting birds. Can combine with Echidna Rock for a longer walk.

Whale Rock

– 1.4 km – 30 minutes: An easy, mostly flat walk through the forest and large granite outcrops and includes a creek crossing.

Echidna Rock Circuit

: 1 km – 20 minutes: See the balancing rock on the summit and the boulder that resembles an echidna.

Giant Marbles

– 2 km – 1 hour: Take an easy walk through the forest and then climb over the rocks onto the bare granite slab. During the Spring you'll see lots of wildflowers. You can combine this walk with Cathedral Arch or Marbles Arch.

Rock Pools

– 2.5 km – 1 hour: Walk creekside and see the creek as it falls over the steep rock edge

Marbles Arch

– 2.6 km – 1.5 hours: This walk is a combination of the Giant Marbles and Cathedral Arch walk. Part of the walk is particularly rough and passes several gullies and rocky ridges. From the walk, you'll have great views across the lodge property and the National Park.

Cathedral Arch –

1.4 km – 1 hour: A steep 100m walk over rocky terrain with amazing views and spectacular rock formations at the end.

Pillows tor Traverse

– 2.6 km – 1.5 hours: The walk starts by following the steep Cathedral Arch track and then gently descends through various rock formations such as the Pillows tor which is an accumulation of rounded granite boulders that look like a pile of pillows.
All walks are clearly signposted and colour coded with coloured tags or paint spots along the way. However, guests can borrow two way radios from the reception just in case you need assistance while on the trails.
Bird Feeding
If the kids are interested in feeding the local birds, head down to reception around 3 pm and they will provide you with some free food for the birds.
Girraween Environmental Lodge – Our Verdict
I had a very short stay at the Girraween Environmental Lodge and so unfortunately didn't get to make the most of the cabin or the various facilities on the property. However, I loved my stay here and would love to come back when I had more time.
The cabins are extremely spacious, making them ideal for families and there is plenty to do on the property without even leaving for a few days. Families can spend their days doing a range of walks, swimming in the pools and watching the various wildlife. The kids will just love seeing all the kangaroos.
Of course, if you do want to check out some of the attractions around town, it's a great location for that too – nothing is too far away.
While my stay here was short – my impressions were good and I look forward to the day I can bring my family back for a stay at the Girraween Environmental Lodge.
Click here for information and to check current pricing.
____________________________________________________________________
Hopefully you found this review on the Girraween Environmental Lodge helpful. You can read our review on the Granite Belt Retreat here or for more family friendly accommodation in Stanthorpe click here. You can find our full guide on things to do in Stanthorpe with kids here.