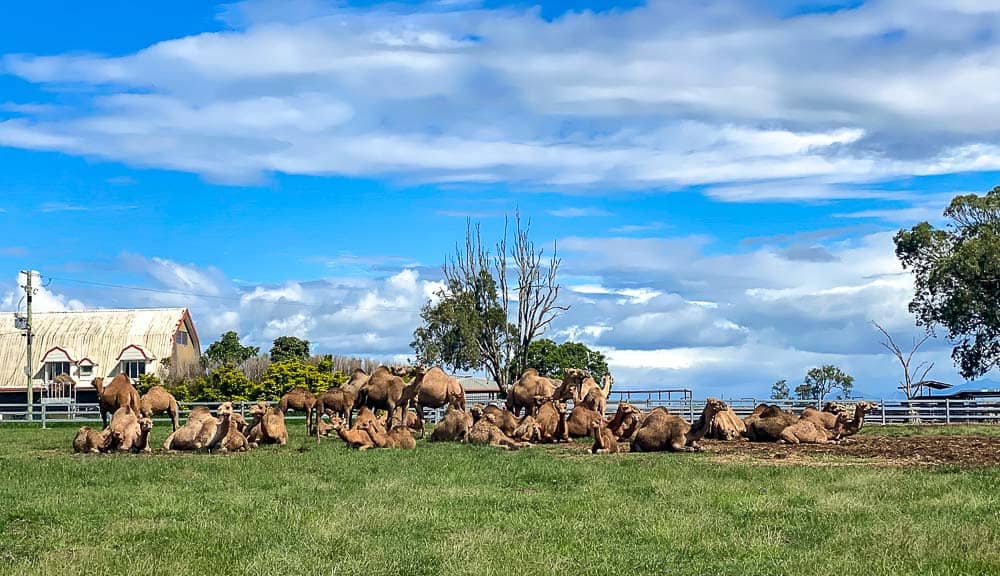 If you're looking for something a little different to do with the kids over the school holidays or on the weekend, then why not take them out to Summer Land Camels. Summer Land Camels is the largest camel dairy and training centre in Australia and is the perfect place to take the kids for an authentic farm experience.
There is a range of activities for kids at Summer Land Camels, including feeding the camels, taking a selfie with them, learning more about them and trying some products made with camel milk. They also have a great cafe on site.
This post may contain compensated links. Please refer to my disclaimer here for more information.
Talk to other families about their tips on visiting Stanthorpe and join our Queensland Travel Facebook.
Where is Summer Land Camels?
The Summer Land Camels is located in the stunning Scenic Rim at 8 Charles Chauvel Drive, Harrisville. It's an easy 45 minute drive from the Brisbane CBD or just 25 minutes from the Ipswich CBD.
It's a lovely drive out in the countryside. You'll feel like your a million miles away from the city here when the reality is it's not that far away at all.
Click here for more tips on things to do near Summer Land Camels.
Things to do at Summer Land Camels
The good things about visiting Summer Land Camels is there is something for everyone. Tight on cash or short on time? Just have a pat with a camel or take a selfie – it's free! Got all the time in the world? Then join a farm tour, ride a camel or stay for lunch.
Feed and Pat the Camels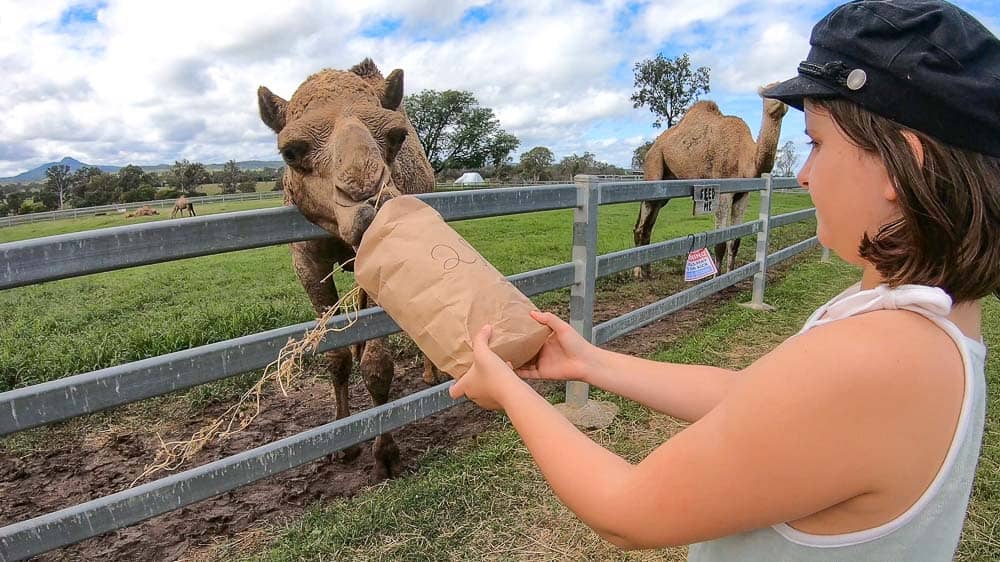 At the very least, when you come to Summer Land Camels, it is recommended that you grab a $2 bag of camel food and go down to the paddocks to feed the camels. The kids will love taking their brown paper bags of food down to the paddocks and wait as the greedy, yet reasonably gentle camels come over for a bite.
You'll need the right money for the camel food as you pay via an honesty system – just popping your money in the box by the camel food.
Camel Farm Tour & Taste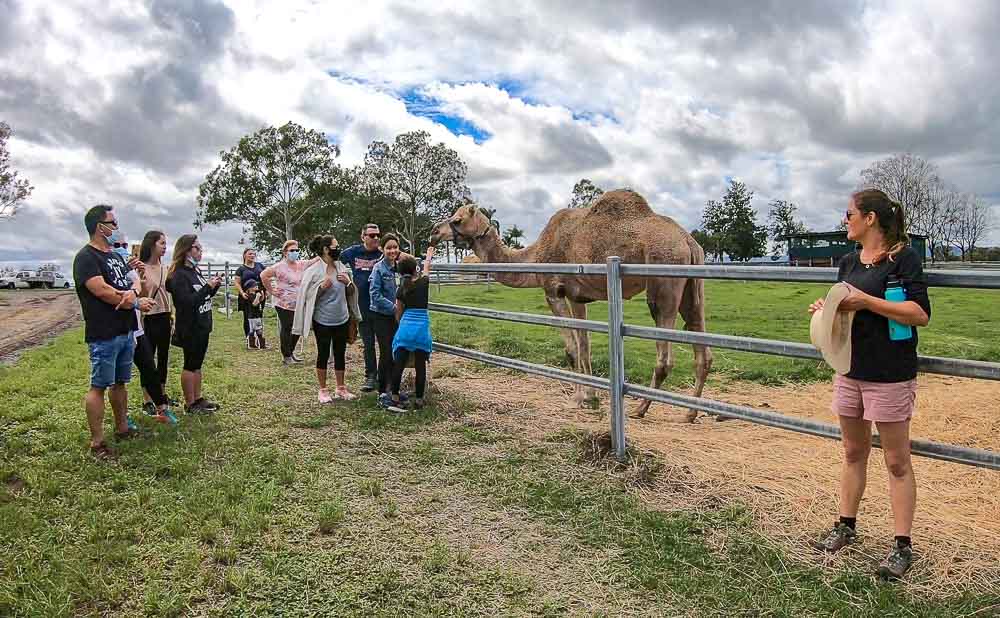 If you want to know everything you can about the camels, then I highly recommend joining their farm tour. These tours go for around an hour or so and are super interesting. The adults will no doubt be surprised about some of the facts about camels (the camel mating rituals, for example – whoa!), while the kids will just love the chance to walk through the paddocks for a closer look at the camels, including some adorable little bubba camels.
Our tour guide Emily was just brilliant! Her passion for the camels and the farm is clearly evident and she was just a wealth of information. She was able to answer everyone's questions about the camels.
During the tour, Emily took us around to the various camel paddocks explaining how the camels are moved around depending on their temperament, stage of life or job they had on the farm. For example, there are the camels in the feeding paddocks for the guests to feed, then there is the maternity paddock where the bubbas are with their mummas, or where the mummas to be stay.
Emily also took us up to the dairy and explained how the camels are milked each day and the area where the products are made.
The tour ended back at the gift shop, where we were provided with a few camel products to taste. We had the camel fetta, which was amazing, camel milk, and two different camel sausages. I didn't eat the camel sausages, but others said they were amazing!
At the shop, we also tried a few different skincare products. Apparently, camel milk has some amazing health benefits and is brilliant for people with skin problems. Myla has started to have a bit of rash on her arms, so I purchased a body cream to see if it helps. It is reasonably priced at $25 a bottle, smells amazing and won product of the year in 2020.
Farm Tours are $25 per adult and $15 per child. Tours are run at 10.30 am Wednesdays to Sundays, with an additional tour at 12 pm on weekends.
Farm Tour and Picnic Lunch
If you've got plenty of time, then the farm tour and picnic lunch are highly recommended. This way, you get the farm tour as outlined above, plus lunch!
For lunch, the parents will enjoy a scrumptious platter of small goods as well as the choice of a beer, wine or soft drink. The kids can choose between a burger and chips or hot dog chips and a soft drink or juice. Then everyone has the option to enjoy gelato for dessert for the discounted price of just $2.
The Farm Tour and Picnic Lunch is $40 per adult and $20 per child – this really is a bargain, for an additional $15 per adult and $5 per child, you get lunch and a drink as well as the tour!
Plus, if you go during these school holidays – kids are half price!!!! So that's just $10 for a tour and lunch. Just use the code Easter2021 when booking online.
Take a Camel Ride
If you want to get even closer to a camel, then perhaps you and the kids will like to ride a camel. Camel rides last for around 15 minutes and take you around the Summer Land property.
Camel rides are held throughout the day on Fridays, Saturdays and Sundays, with additional stays available during school holidays.
It is $30 per person to ride a camel, and bookings are essential.
Sunrise Camel Ride and Breakfast
You can also join the Sunrise Camel Ride and Breakfast, which is held most days. This tour includes a one hour camel ride across the 850 acre Summer Land farm, where you'll likely see kangaroos, birds, koalas and other native wildlife.
Before setting out on your camel ride, you will help to saddle the camels and get them ready for the ride. Breakfast is then provided at the Homestead Cafe.
The Sunrise Came Ride and Breakfast cost is $135 per person or $480 for a group of 4 people.
Sunset Cocktails with the Camels
Another lovely way to experience Summer Land Farms is with their Sunset Cocktails with the Camels events. Held periodically throughout the year or every Saturday during the Summer months, guests can enjoy charcuterie and cheese platters for $18.50 per person while watching the camels as the sunsets. You might also like to try camel milk and honey vodka drinks which are available for purchase.
Market Day
Perdiocually throughout the year, Summer Land Camels also holds a market day. This is a great way to come to the property, hang out with the camels, eat yummy food and support local Scenic Rim businesses.
This is the perfect day for the family; of course the kids will love seeing the camels again, but there is also a kids corner with a jumping castle and games and live music.
Buy Camel Milk Products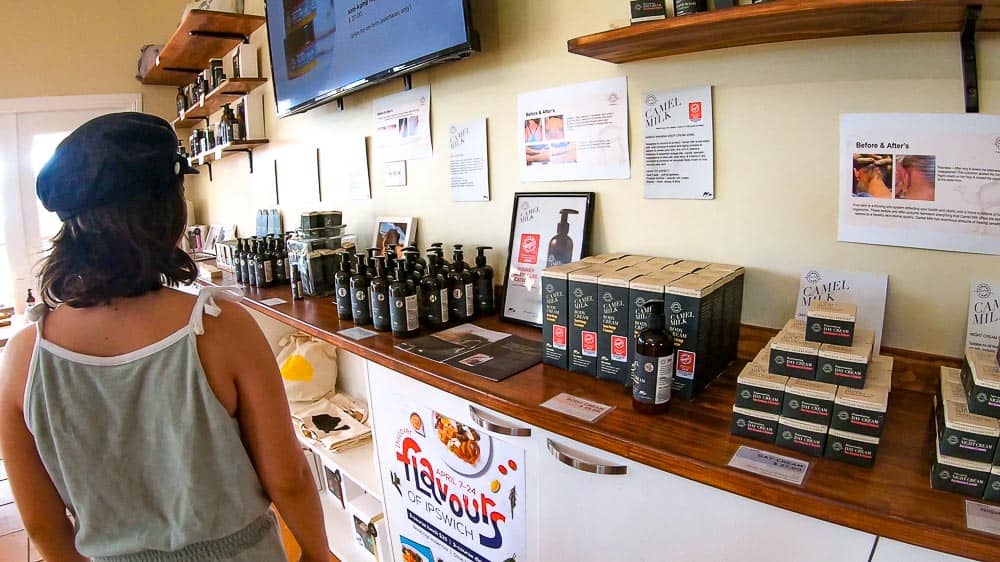 Before we left Summer Land Camels, we went back to the gift store to buy some of their camel milk products. As we learned on our tour, camel milk is rich in vitamins and minerals and has some great skin healing properties.
While browsing the store, I noticed a few signs saying camel milk products were particularly good for those who suffer from skin related conditions. As mentioned above, Myla has recently developed a rash sort of thing on her arms and nothing has worked, so I thought I might as try some camel products and see how it goes.
I'm also a sucker for beautiful soaps, so I purchased a few camel milk soaps too.
Other products available are hand soaps, body wash, shampoo, conditioner, lip balms and more. I found all the products well priced too.
The Homestead Cafe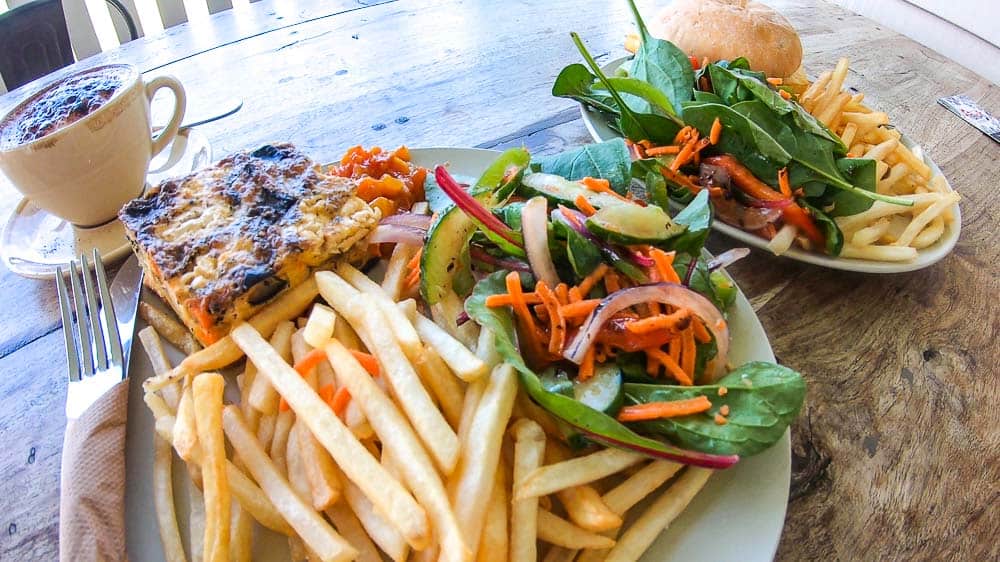 After all those camel activities, you'll no doubt have worked up an appetite by now, so you'll be pleased to know that there is a cafe on site. The cafe is located in a stunning Queensland homestead and has a huge verandah overlooking the camel paddocks and has views of Flinders Peak. It is ideal for lunch, morning tea or even just a cup of coffee.
You can try a range of camel products at the Homestead cafe, such as camel milk, camel cheese, camel sausage, and even camel milk vodka. And of course, you can't leave without trying their delicious gelato, which is made with camel milk.
The Cafe is open daily and serves breakfast from 9 am to 11 am daily and then brunch from 11 am to 2 pm.
Summer Land Camels – Our Verdict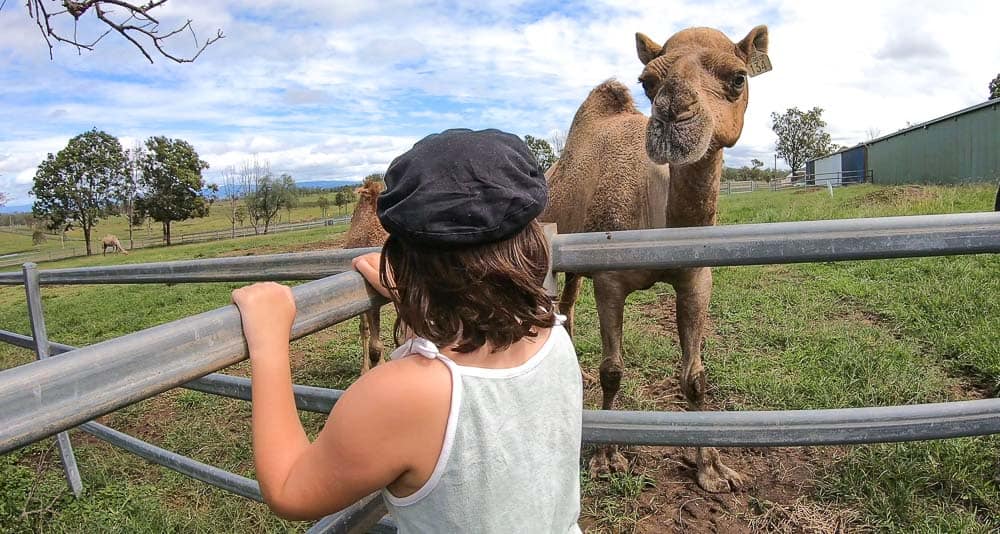 Friends had been telling me how wonderful Summer Land Camels was for years and it had been somewhere I wanted to go for ages! So I was pleased to finally get out there and experience it for myself.
It is such a lovely place to take the kids; in fact pretty much anyone who enjoys cute and cuddly animals will love it out at Summer Land Camels.
Like I said above, there really is something for everyone out there. Come for a quick and free pat or stay all day. Plus, with a range of different activities, it is the kind of place that you can come back over and over again.
We spent around 4 hours here, which included feeding and petting the camels, the guided farm tour, lunch and a walk around the gift shop.
Summer Land Camels is open daily from 9 am to 3 pm; however they are closed on Public Holidays.
Click here to see our YouTube video of our morning out at Summer Land Camels.