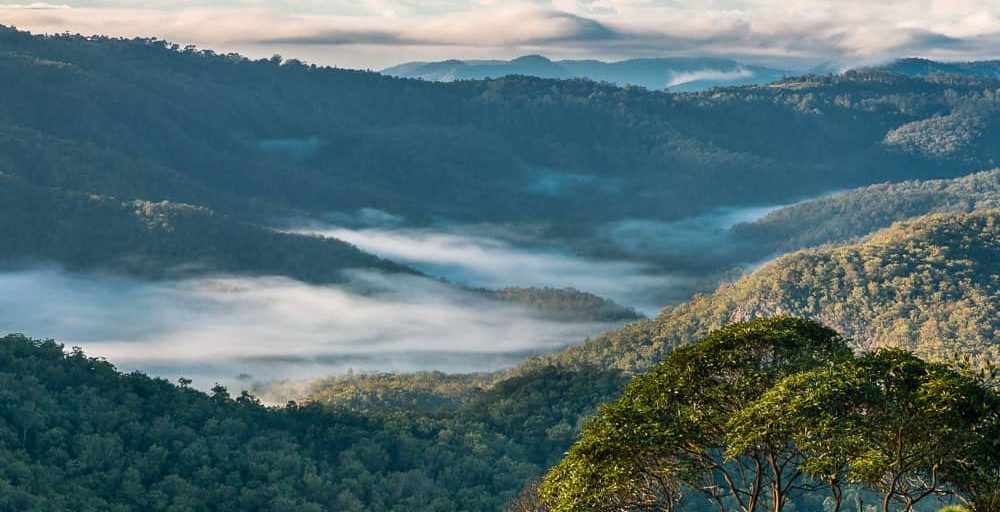 The Scenic Rim, Queensland Region is a spectacular area of South East Queensland, where you'll find mountain after mountain, wrapped around the region's stunning valleys. The landscape is beautiful and diverse, including ancient rainforests, charming country towns and an abundance of wildlife.
Given the Scenic Rim region is just a short drive from Brisbane, Ipswich and the Gold Coast, it is perfect for short getaways and even day trips. Destinations such as Tamborine Mountain, Lake Moogerah, O'Reillys and Mount Barney are just some of the perfect places for family getaways.
There is no shortage of things to do in the Scenic Rim. With 6 national parks, the region has an endless number of walks. There are short walks that can be completed in an hour or so and full day hikes and even the multiple day Scenic Rim Trail. In fact, these are Australia's most accessible World Heritage listed rainforests. These pristine rainforests are home to gorgeous waterfalls, natural rock pools, crystal clear running creeks, flora and fauna.
In addition to the beautiful rainforests, there is plenty of Scenic Rim things to do. There are charming villages to explore, which are the perfect places for lunch or wandering through local markets, numerous wineries and breweries to visit, an abundance of wildlife to spot and more!
While day trips are perfect, there is an endless amount of Scenic Rim accommodation to choose for those that have a few more days to spare. Families will love the self contained cottages, cabins and homesteads dotted across the region as well as the range of farm stays on offer. There are also some lovely Scenic Rim camping spots (including some amazing glamping experiences) and amazing spots for romantic weekends.
Are you planning a trip to Queensland? Have any questions? Join our Queensland Travel Planning Facebook group here now! It's the perfect place to ask any questions and to be inspired!
Visit
the Scenic Rim, Queensland
So where to start! Well, the Scenic Rim QLD region is made up of six areas each with their own unique characteristics. Below is a brief overview of all the wonderful Scenic Rim towns that make up the region.
Tambourine Mountain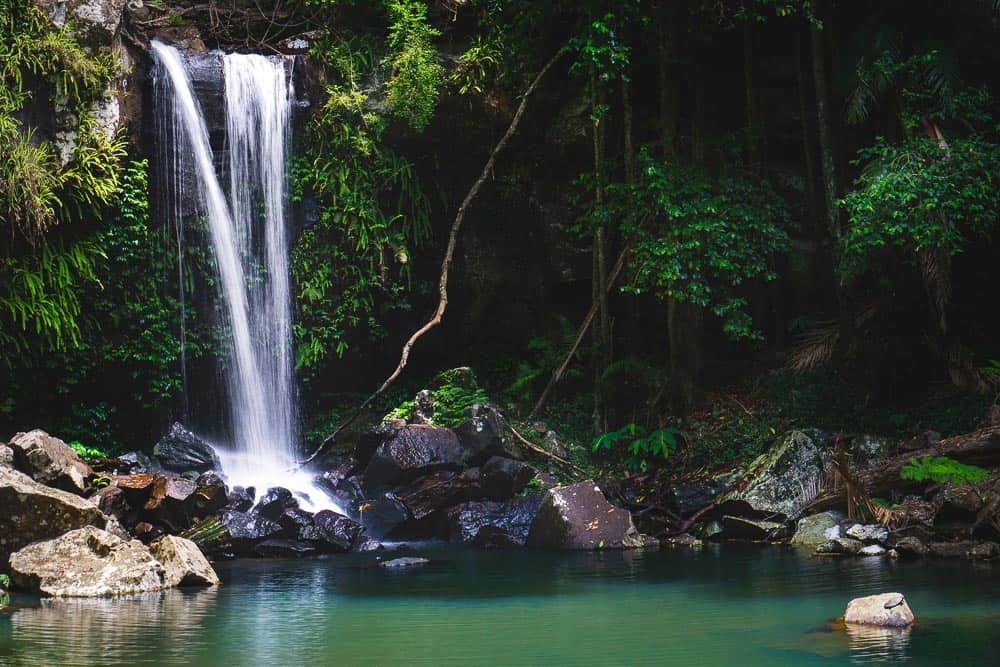 Just a short drive from Brisbane or the Gold Coast is the family favourite, Tambourine Mountain. Here you can go on numerous family friendly rainforest walks, stop at a range of wineries and breweries and stroll along the Gallery Walk, which is the region's popular shopping precinct.
Pubs: St Bernards Hotel and Bearded Dragon
Wineries & Breweries: Tamborine Mountain Distillery, Cedar Creek Estate, Fortitude Brewing, Witches Falls Winery and Heritage Estate Wines.
National Park: Taborine Mountain National Park
Other Attractions: Skywalk, Glow Worm Caves, Tambourine Mountain Botanic Gardens, Tambourine Mountain Coffee Plantation and the Gallery Walk.
Accommodation: Cedar Creek Lodge, Thunderbird Park and Songbirds Rainforest Retreat.
Click here for our full guide on things to do in Tamborine Mountain with kids and click here for our guide on where to stay with kids in the area.
Canungra and Beechmont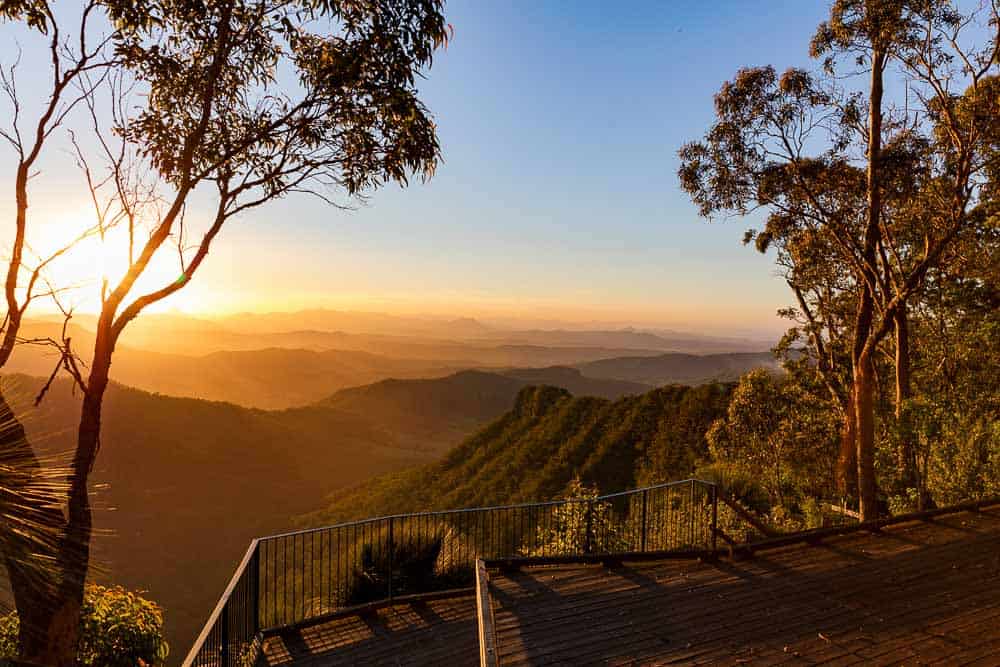 Canungra is a great place to stop on route to either the Lamington National Park or the popular O'Reillys Rainforest Retreat. Of course, the Lamington National Park is home to ancient rainforests with spectacular views and numerous walking tracks.
Pubs: Canungra Hotel
Wineries & Breweries: O'Reilly's Canungra Valley Vineyard & Mountainview Alpaca Farm and Sarabah Estate.
National Park: Lamington National Park
Other Attractions: Lahey Tramway Tunnel
Accommodation: Binna Burra Lodge and O'Reilly's Rainforest Retreat (read our full review here),
Click here for a full guide on things to do in Canungra.
Kooralbyn and Beaudesert
While Beaudesert is a vibrant business hub and a fast growing population, Kooralbyn is a lovely rural area which is home to the Kooralbyn Valley Resort – a popular spot for golfers.
Accommodation: Kooralyn Valley Resort
Other Attractions: Scenic Rim 4Real Milk & Robotic Dairy, Beaudesert Historical Museum and Darlington Park.
The Lost World and Christmas Creek
The area known as The Lost World is a secluded pocket of the Scenic Rim which offers diverse landscape including lush green pastures, gorgeous swimming holes, untamed forests and raging rivers. It is the perfect place to relax and reconnect. Christmas Creek is also home to Nightfall Camp where you can experience the ultimate glamping experience.
Rathdowney and Mt Barney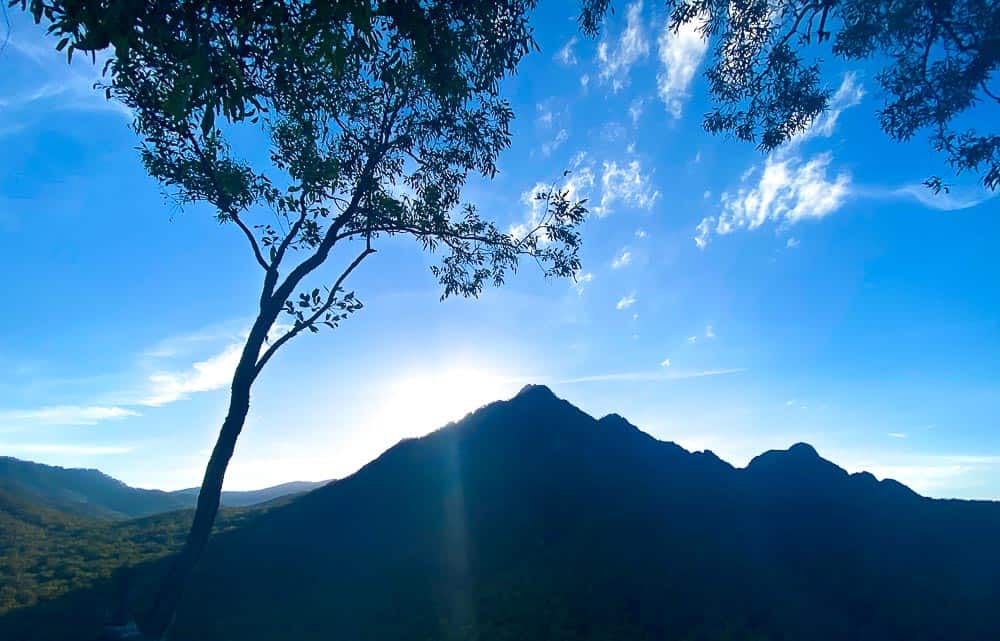 With Mt Barney (one of Queensland's highest peaks) towering in the background, this Scenic Rim area is ideal for the serious mountain climbers. As well as climbing Mt Barney, there are numerous tracks in the area, leading to stunning swimming holes.
Accommodation: Mt Barney Lodge (read our full review here), Bigriggen Park, Barney Creek Cottages or Tuckeroo Cottages and Gardens.
National Park: Mt Barney National Park
Other Attractions: Rathdowney Museum and Rathlogan Grove Olive Farm
Click here for a detailed guide on things to do in Rathdowney.
Boonah, Aratula, Lake Maroon and Lake Moogerah
Boonah is a fantastic country town and with Lake Moogerah and Lake Maroon on its doorstep, it's the perfect place for boating, camping and fishing.
Pubs: Dugandan Hotel
Wineries & Breweries: Kooroomba Vineyard & Lavender Farm, Scenic Rim Brewery
National Parks: Main Range National Park and Moogerah Peaks National Park
Click here for a full guide on things to do in Boonah.
Kalbar, Roadvale, Harrisville, Peak Crossing and Rosevale
Just outside of Ispwich this area of the Scenic Rim features some lovely rural towns. Here you'll find some great old country pubs, bakeries, cafes and various little gift shops. The area is also home to Summerland Camels which is Australia's largest camel dairy.
Pubs: Royal Hotel Harrisville, Royal Hotel Kalbar and Peak Pub
Other Attractions: Summer Land Camels – read our guide here.