Queenstown is well-known as the adventure capital of New Zealand and a perfect place for an NZ family holiday. It's a popular place for adventure junkies, nature lovers, honeymooners, and families. This fun-filled town is a great place to take children – there are countless things to do in Queenstown with kids, so they'll never complain of boredom!
Ride the luge down Bob's Peak, see the kiwis, spend time at the beach, watch the sunset – the possibilities are endless. Many of the most beautiful sights in the country are located in and around Queenstown, making many of these activities free or affordable!
Read on to find out the top 10 things to do in Queenstown for kids.
Thanks to Delilah from Our Travel Mix for this guest post on the best things to do in Queenstown with kids.
This post may contain compensated links. Please refer to my disclaimer here for more information.
Top 10 Things to do in Queenstown with Kids
Day Tour Milford Sound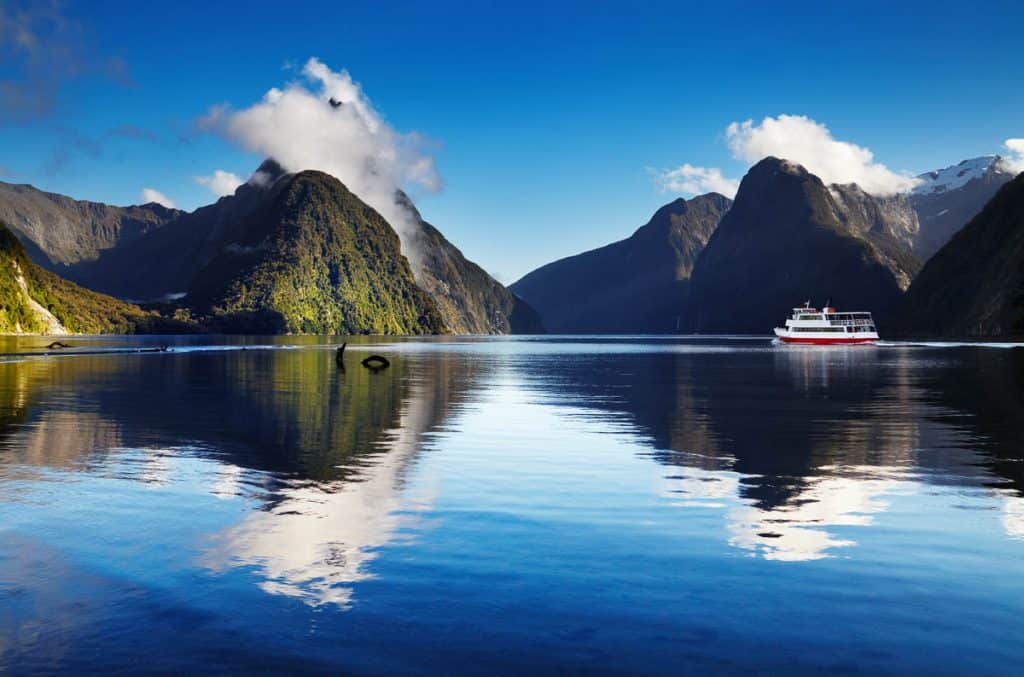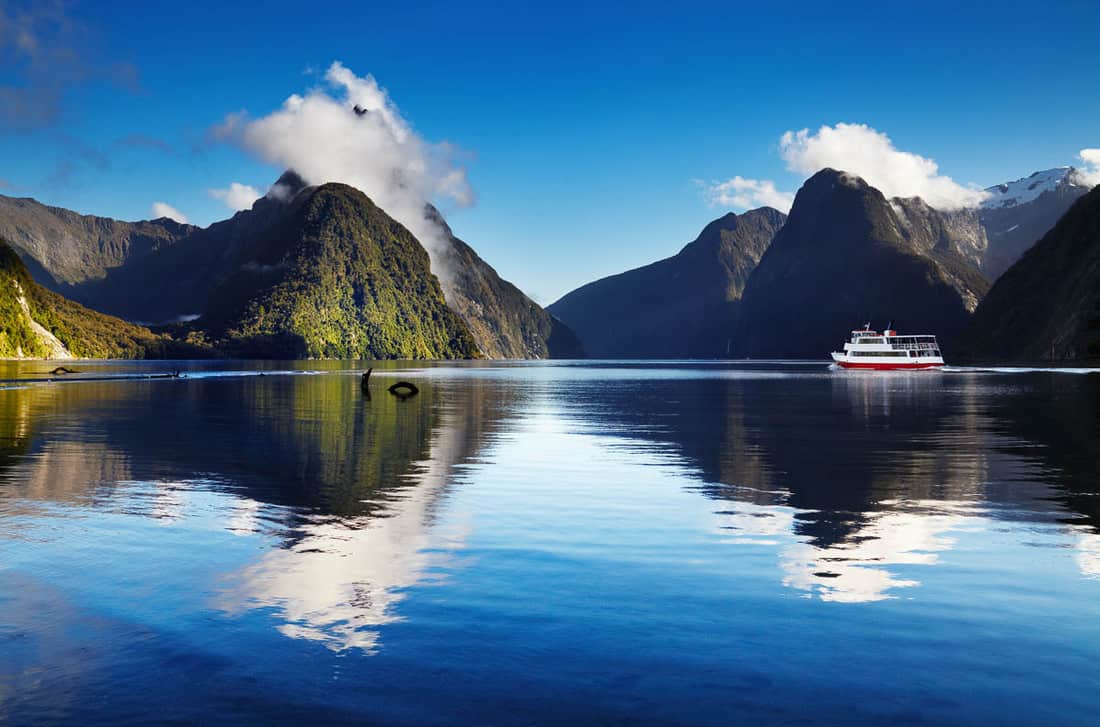 Milford Sound showcases New Zealand's beauty at its finest. It is not only one of the must-do things to do in New Zealand with kids, but also one of the best places to go while visiting Queenstown. This spectacular natural attraction features towering peaks, waterfalls, rainforests and wildlife. If you're lucky, you may be able to spot fur seals!
Seeing this untouched paradise does come at a price. It's a 4-hour drive from Queenstown to Milford Sound, which is why it's usually done as a day trip from Queenstown with a tour group. A coach tour with a boat cruise around Milford Sound will cost around $150 NZD per person. Most companies will charge a lower rate for children – a good price is around $90 NZD for a child up to 14 years. Click here for information on these types of tours.
Travelling as a family will add up, so the best way to visit Milford Sound would be to hire a car for a day for around $40 NZD, then taking the boat cruise once you get there. For the boat cruise only, this should cost around $55 NZD per person – click here for more information on the cruise. Despite the cost, the experience is definitely worth it.
Play Disc Golf at Queenstown Gardens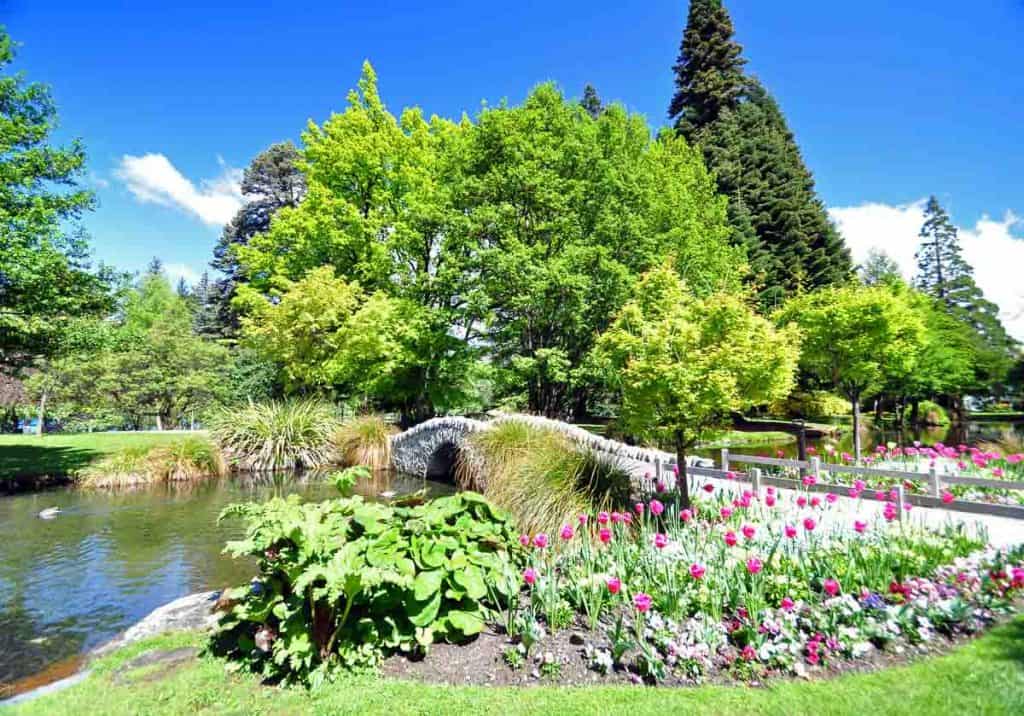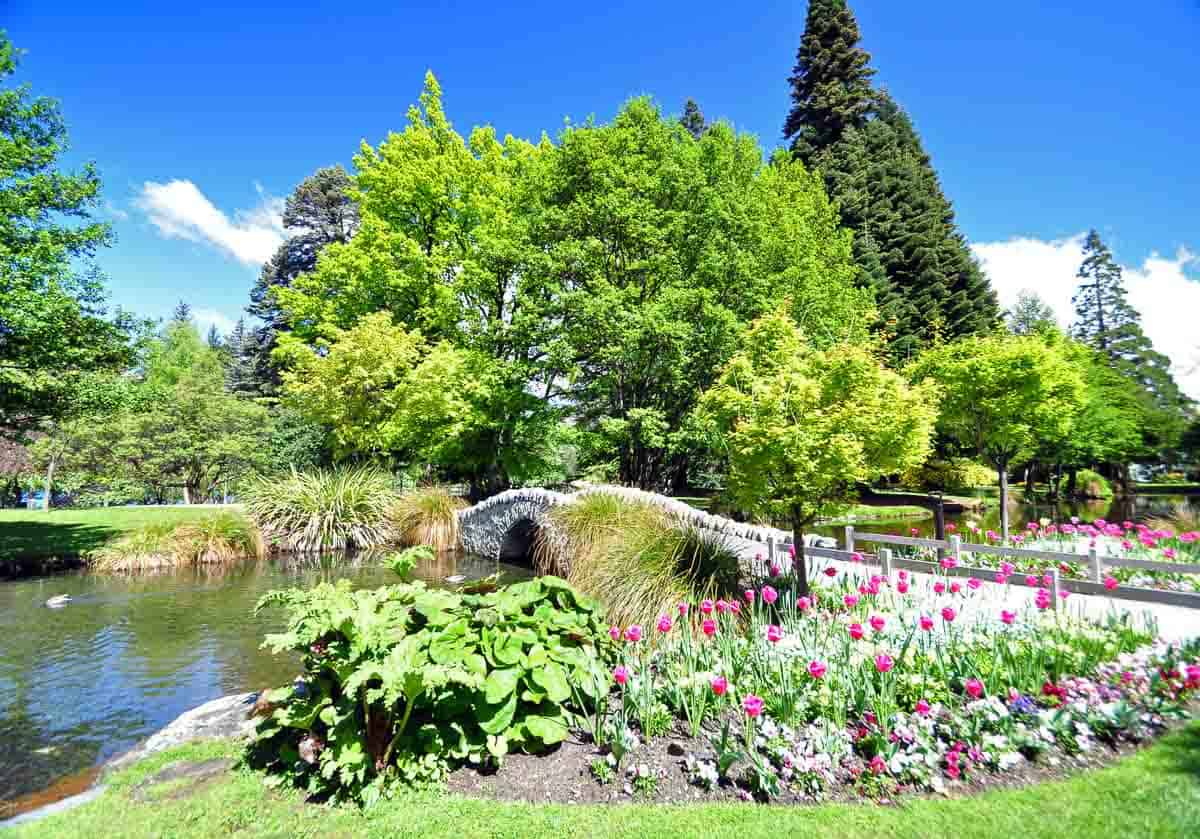 The Queenstown Gardens are beautiful. Located right in the middle of the city, you wouldn't expect to find such a tranquil escape here.
There are a few fun family things to do in Queenstown Gardens. The gardens are a great place for a walk. If you're lucky, you may even be able to find the tyre swings by the water. Kids will also love feeding the fish by the pond and climbing the rocks by the lake.
Queenstown Gardens also has a disc golf circuit within its grounds. If you've never played disc golf before, it's harder than it looks! The aim of the game is to throw the frisbee disc into the target. You'll see the targets scattered throughout the park made of a metal frame and chains.
A disc will cost you $5 NZD to hire.
Another one of the great Queenstown activities for families is to have a picnic at sunset. Head to the supermarket for some rolls and fillings. Bring along some fruit to snack on afterwards, and a bottle of wine for the parents if you've picked one up during some wine tastings.
Travel up Bob's Peak on the Skyline Gondola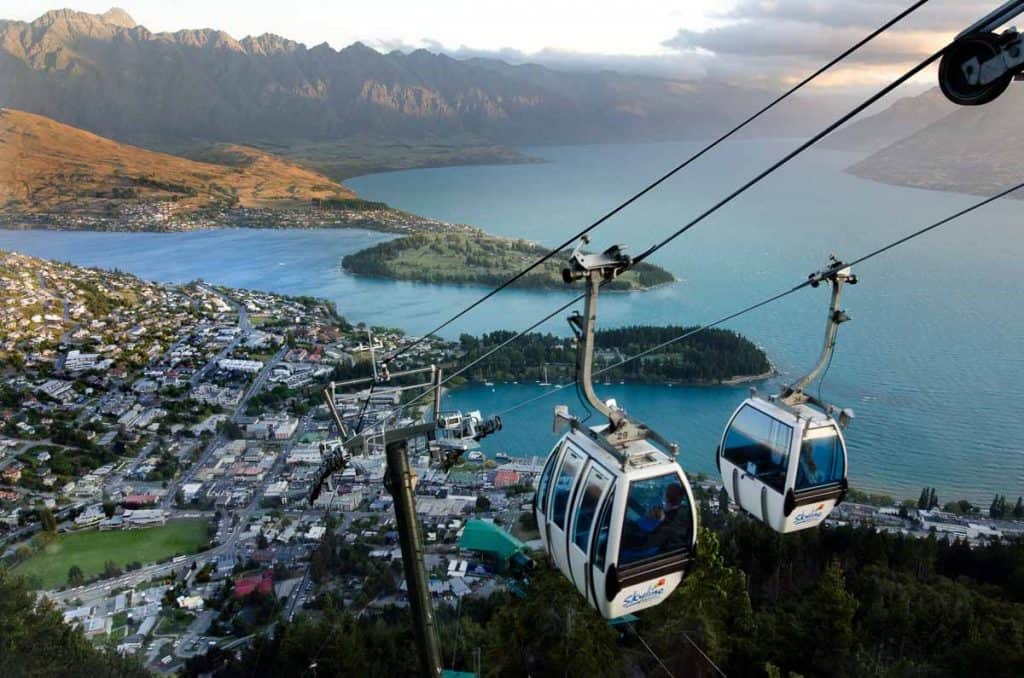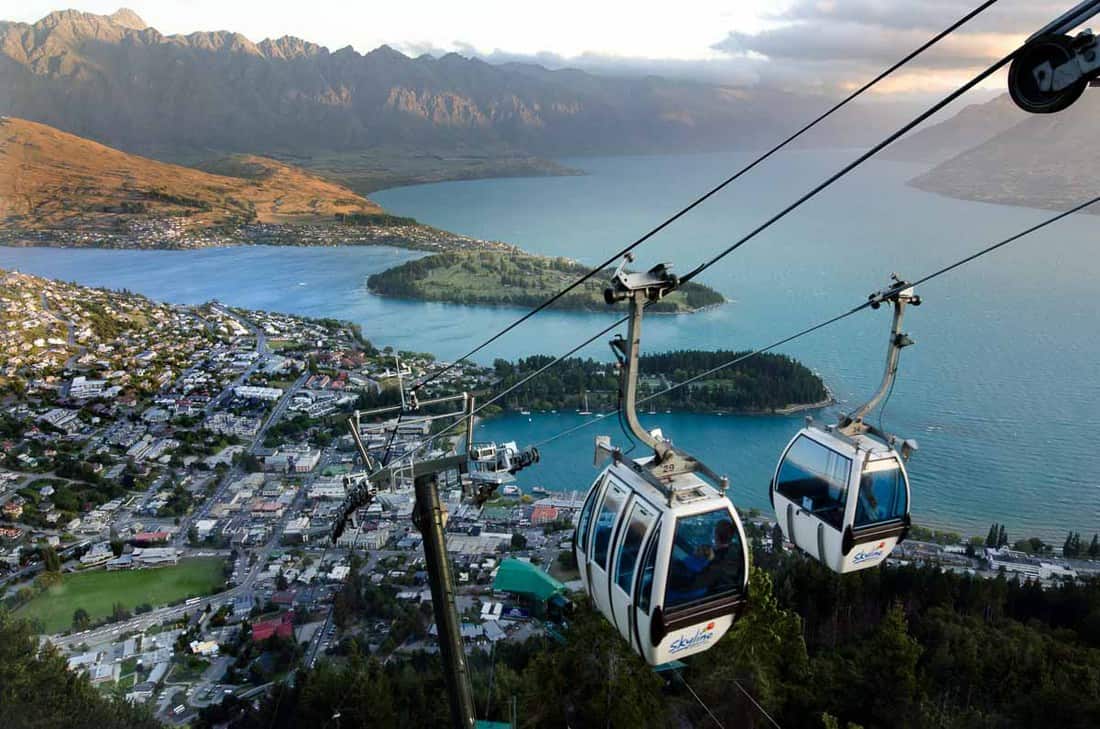 Another one of the great family activities Queenstown offers is the Skyline Gondola. Skyline Gondola in Queenstown is the steepest cable car lift in the Southern Hemisphere. Taking a gondola ride will give you the best views of both Queenstown city and the surrounding scenery. You'll get views of Lake Wakatipu, The Remarkables, and Coronet Peak – all of which are stunning!
They're open daily from 9 am – 9 pm. Once you get to the top of the mountain, there are many activities to take part in. This includes a cafe, restaurant, and stargazing tour at nighttime.
Prices are $44 for NZD adults and $26 NZD for children. Alternatively, the family pass is a great deal. The pass is $126 NZD for four people and $149 NZD for five people. They also have package deals with luge rides, so you can take the gondola up the mountain, then the luge down. This is definitely the most popular option for all ages.
The vast majority of people (especially those with families) will choose to take the gondola up Bob's Peak. For adventurous travellers or those on a budget, it is possible to walk. The tiki trail will take you around 45 minutes to one hour to reach the top.
Click here for more information.
Gold Panning at Arrowtown
Arrowtown is a gold mining town 20 minutes from Queenstown. It's a popular spot to stop off at for half a day while on a trip to Queenstown. Arrowtown flourished from the Gold Rush of the 19th Century.
Nowadays, although the Gold Rush is long gone, you can still try your luck and pan for gold. It's one of the great Queenstown kids activities and one of our favourite things to do in Arrowtown. There are two places to pan for gold in Arrowtown.
The first is at the Lakes District Museum. Entrance fees to the museum will cost you $10 NZD for adults, and $3 NZD for kids. Get the family pass for only $20 NZD. To a hire a gold pan it will cost an extra $3 NZD.
Another place you can visit for gold panning is at Dudley's Cottage. This is a great place to bring children because you'll get a lesson too for $15 NZD. If you're confident in your gold panning skills, pan hire itself will cost $6 NZD.
Once you've finished with gold panning, take a stroll through Arrowtown, and visit the Arrowtown Chinese Settlement and Arrow River.
Ride the Skyline Luge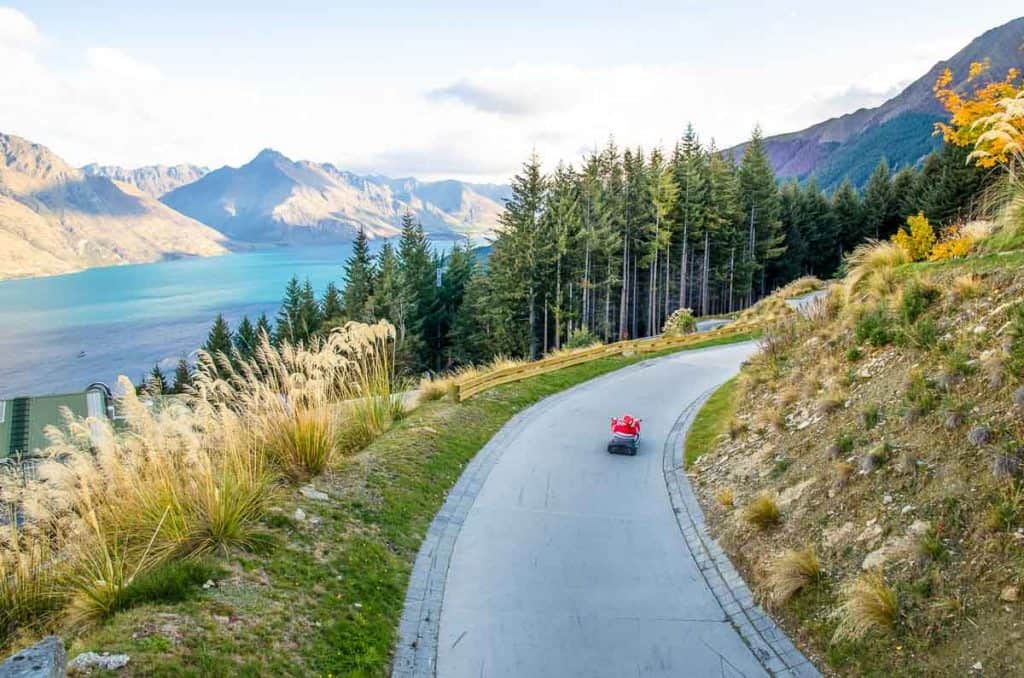 For some super fun family adventures, Queenstown has, ride the Skyline Luge. The luge is a popular attraction in New Zealand, whether it be in Queenstown or Rotorua. They've got two tracks available to try out and a chair lift at the bottom so you don't have to hike up Bob's Peak after every ride.
Children must be 110 cm tall and at least 6 years old to ride the Blue Track (junior level) alone, and at least 135 cm tall to ride the Red Track (advanced level).
If your child is shorter than 110 cm and younger than 6 years, no worries! Children can ride the luge in tandem with you for an extra $2 NZD.
Skyline Luge opens at 10 am daily. During the summer, the luge is open until 9 pm, whereas they are open until 8 pm during the rest of the year.
Luge passes are to be bought with a gondola pass. Individual prices start at $61 NZD for adults and $43 NZD for children. This includes a gondola ride and two luge rides.
Purchasing the family pass is more common. Prices start at $187 and $226 NZD for a gondola ride and two luge rides for four and five people respectively.
Click here for more information.
Jet Boat at the Shotover River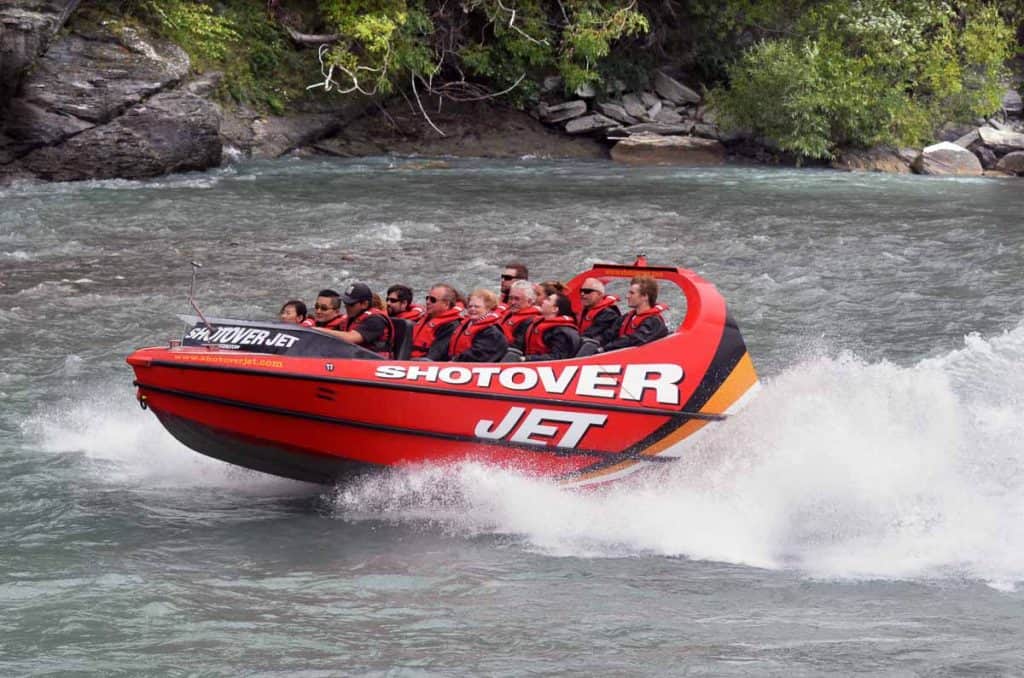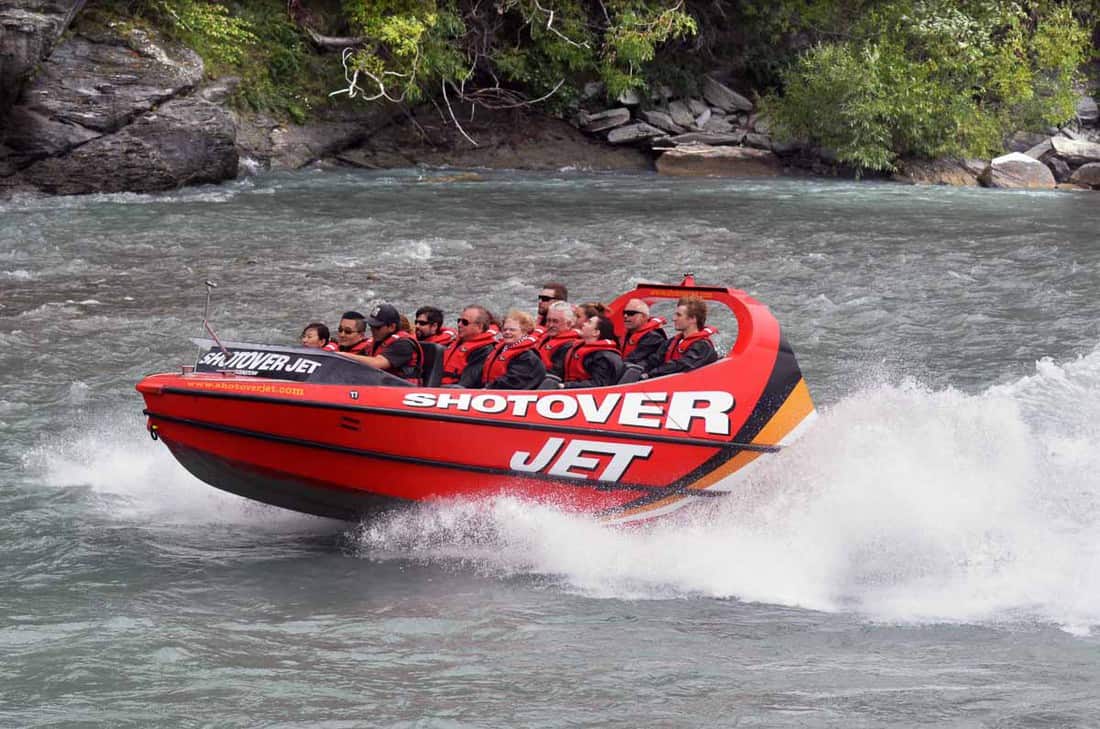 If you're still wondering what to do in Queenstown with kids, Jet boating is a popular adventure-filled activity for the thrill-seekers. Speed through the bright turquoise river at speeds of over 90 km per hour!
The price for an adult ticket is $130 NZD per person for 60 minutes. Please note there is a minimum age of three years old and one metre tall. Children who are 3 – 4 years old ride free of charge, whereas tickets for children from 5 – 15 years will cost $89 NZD. A family pass is available for four people at $399 NZD. If you don't have a car, you can pay a bit extra to get a pass which includes transfers from your accommodation.
Eat Cookie Time at Lake Wakatipu
Lake Wakatipu only a few minutes walk from Queenstown town and is a popular sunset spot. Head to Lake Wakatipu to catch the sunset, but before you do, grab a Cookie Time cookie! This treat is something that kids and adults alike, making it one of the great things to do in Queenstown for families.
One Mile Carpark is the best place to sit and watch the sunset. It's a 15-minute walk from Cookie Time, and the walk itself along the waterfront is pleasant.
It isn't just the bars that do happy hour in Queenstown. From 6 pm – 7 pm every day, Cookie Time offers $3 NZD for two hot cookies. The salted caramel flavour is a personal favourite!
If you're travelling in summer, getting a few cookies at happy hour prior to heading to watch the sunset at Lake Wakatipu is perfect timing. If you're travelling in winter, grab your treats after watching the sunset!
Visit Kiwi Birdlife Park
One of the cool Queenstown attractions for families is the Kiwi Birdlife Park. Here you'll get a chance to see New Zealand's native bird, the kiwi. This small, brown, flightless bird is extremely adorable and a hit with the kids.
Other than the Kiwi, there are 20+ other species of reptiles and birds including the Tuatara, Kea, and Blue Duck.
The park opens at 9 am and closes at 6 pm. There are eight Kiwi Encounters shows each day (mostly on the hour) and three time slots for the Conservation Show. There's also a fun, educational audiobook to enjoy.
Online tickets are $55 NZD for adults and $25 NZD for children. A family pass is a great option at $130 NZD for up to three children. Please note that online prices are $5 – $10 NZD cheaper than buying directly at the park.
Chill Out at Queenstown Bay Beach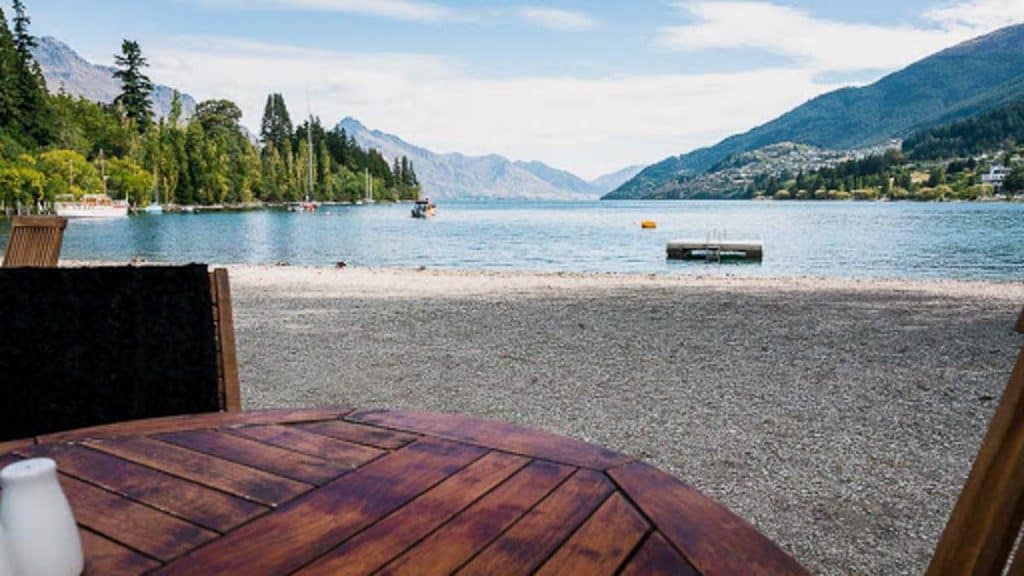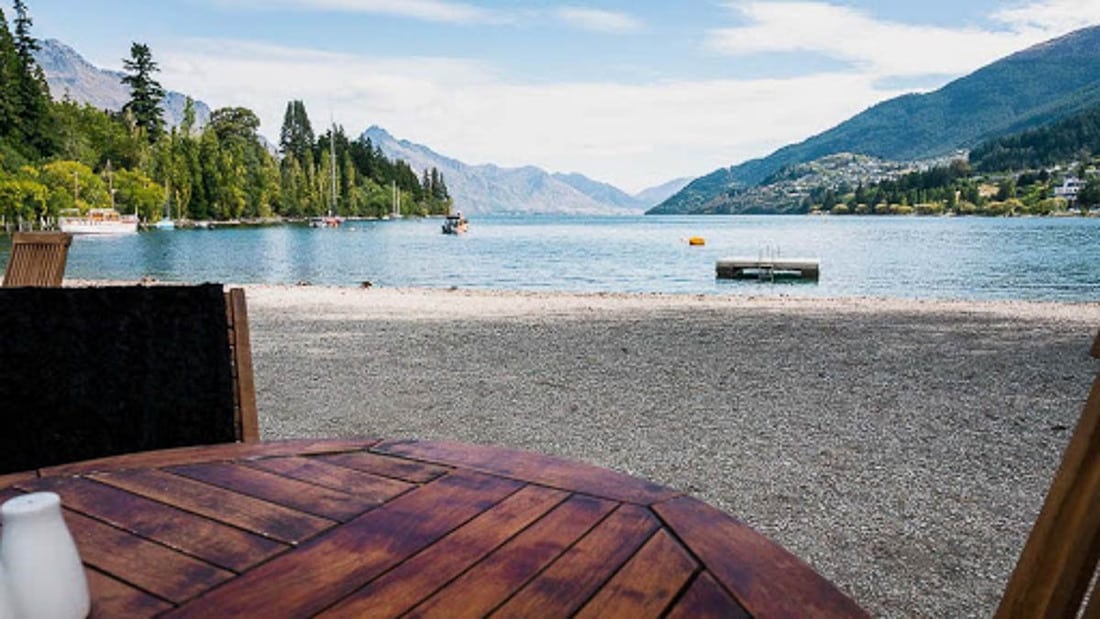 Queenstown Beach lies by the waterfront. Spending time at the beach is one of the best free things to do in New Zealand's South Island. It's the perfect spot to spend a few hours with your family. The beach itself looks out to Cecil and Walter Peaks.
During the summer months in particular you'll find some great Queenstown activities for kids here. There is a pontoon for water equipment for hire, such as kayaks and paddleboards.
There's even the Bathhouse Cafe with tables and chairs located right on the beach.
Grab a cool soda in the summer, or a hot chocolate to help you warm up in the winter.
Just be sure to slip, slop, slap and wrap. The sun in New Zealand is very harsh due to the hole in the ozone layer. Find a tree to sit in the shade when you aren't in the water.
Have Fun at Thrillzone Queenstown
If you're after even more fun things to do with kids in Queenstown, take them to Thrillzone. Thrillzone Queenstown is full of so much fun under one roof. This indoor adventure arena is a great place to bring the kids.
They offer motion theatre, VR, laser tag, go-karts, and paintless paintball. There's also Kidz Club, where the kids can enjoy unlimited access to many of the activities for hours on end. It's perfect to drop off the kids if you need some alone time unless of course, you'd rather join in on the activities too! Kidz Club is recommended for children four years and up.
Thrillzone is open from 10 am – 10 pm. Prices start at $29 NZD and vary depending on the activity.
Getting Around Queenstown
Queenstown's town itself is small, making it walkable, even with children. To get to the main attractions, however, will require transport.
The most popular way to get around Queenstown is by car. There are many places to hire a car at the airport. You should aim to pay around $40+ NZD per day.
Contrary to the rest of the country, Queenstown actually has great public transport! Grab a GoCard at the airport (either at the Paper Plus or from your bus driver) for only $5 NZD and then you'll have access to $2 fares. If you don't have the GoCard fares are $4 per child and $5 per adult.
Bus routes will bring you as south as Jack's Point, as far northwest to Arthur's Point, and as far northeast as Arrowtown.
Where to Stay in Queenstown with Kids
Staying in the heart of the city is your best bet when travelling with kids. As soon as you walk out the door, you'll be greeted with restaurants, cafes, and shops. Queenstown town has a huge variety of hotels that cater for breakfasts and other meals, which is very convenient when you're on holiday.
If you would like to opt for quieter areas to stay, Arrowtown and Lake Hayes Estate are great choices. In general, the further you stay from the city centre, the cheaper the accommodation will be. Arrowtown and Lake Hayes Estate are great options for Airbnb, which is perfect for families who want to cook their own meals and relax on the deck as the sun goes down – true Kiwi style.
My recommendations are to check both Booking.com and Airbnb for the best family accommodation in Queenstown.
Delilah is on her quest to travel the world. She's a writer and photographer for her travel blog, Our Travel Mix.
Want to save this information for later?
Click on one of the images below and save it to Pinterest.