Queenstown is without a doubt one of the most popular destinations for an NZ family holiday and when it comes to the very best things to do in Queenstown with kids, there is plenty to choose from!
With Queenstown being the adventure capital of New Zealand, it's a popular place for adventure junkies as well as nature lovers and families that love to ski. Ride the luge down Bob's Peak, go rafting, skiing in winter, take a cruise on the lake – there are so many great activities in Queenstown for families that the possibilities are endless. It is the perfect place to take children – and with countless Queenstown activities for families, the kids will never complain of boredom!
To help you decide exactly what to do in Queenstown with kids, I have put together this guide on all the best Queensland attractions for families, including places to visit, things to do as well as tips on the best family accommodation Queenstown has and how best to get around.
Talk to other families about their tips on visiting NZ and join our Thrifty Family Travels Facebook group here now!
This post may contain compensated links. Please refer to my disclaimer here for more information.
Thanks to Delilah from Our Travel Mix for contributing to this guide on what to do in Queenstown – New Zealand.
Map of the Best Activities in Queenstown for Families
To help with plan your trip and decide which family things to do in Queenstown, I've provided this handy map below, which shows you where all the different Queenstown tourist attractions and places to visit are. Zoom in and out for a better view.
The Best Things to do in Queenstown with Kids
This guide covers the very best things to do in Queenstown for kids. Please note that information, including pricing, location and opening hours was correct at publishing and are subject to change at any time – I've prepared them just as a guide for planning your trip.
Skyline Gondola and Luge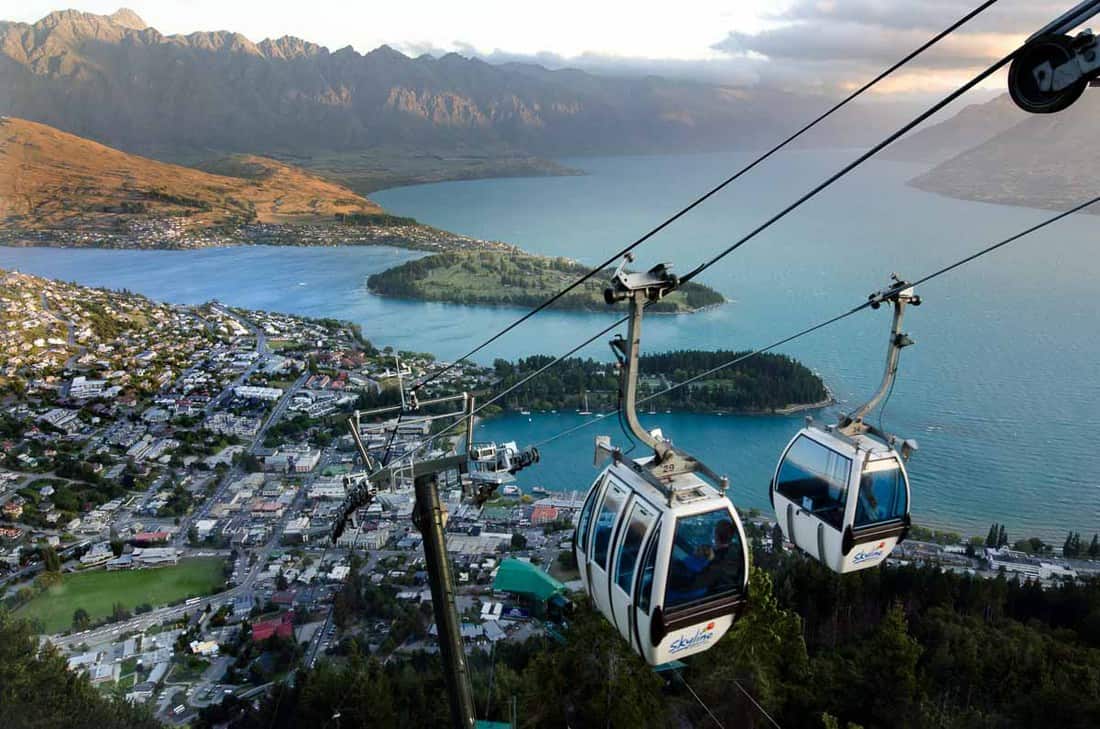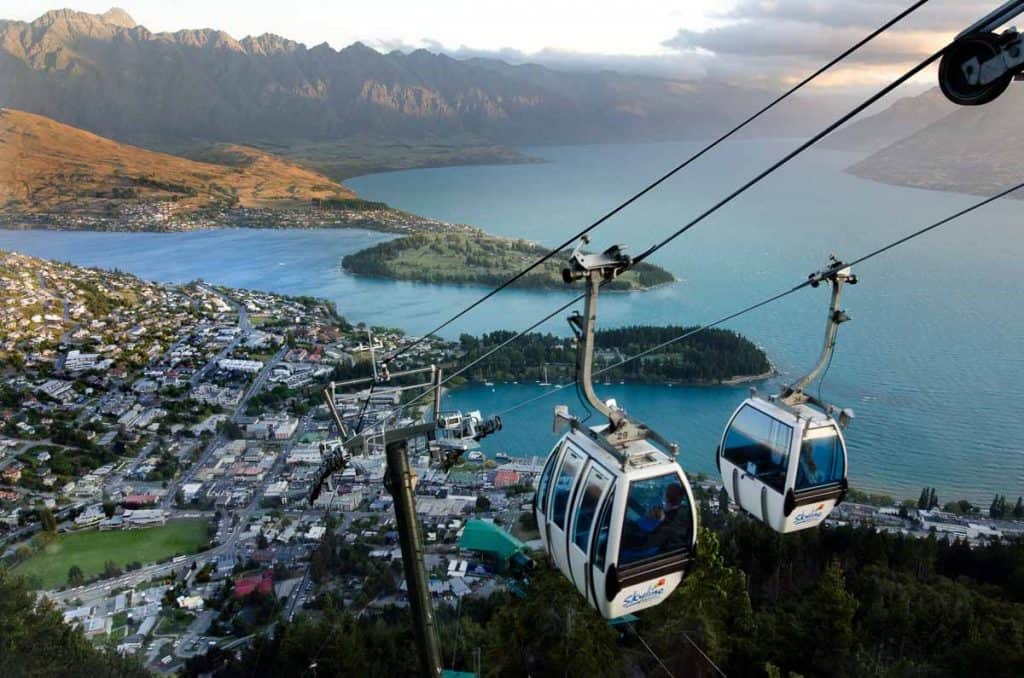 One of the great family activities Queenstown offers is the Skyline Gondola – the steepest cable car lift in the Southern Hemisphere. Taking a gondola ride will take you 450 metres above Queenstown and provide with you fantastic views of Lake Wakatipu, The Remarkables, and Coronet Peak – all of which are stunning!
Once you reach the top, one of the most popular activities is the Luge. These purpose built carts take over over the 1600 metre track, which has tunnels and dippers and a chairlift at the bottom; you can do it all over again.
Children must be 110 cm tall and at least 6 years old to ride the Blue Track (junior level) alone, and at least 135 cm tall to ride the Red Track (advanced level). If your child is shorter than 110 cm and younger than 6 years, no worries, they can ride the luge in tandem with you.
For those families on a tight budget, you can walk up to Bob's Peak – it takes around one hour to reach the top. There is a range of other walks and hikes that you can continue with from here also – perfect if you're looking for cheap or free thing.
Other activities at the top of the mounting include bungy jumping, paragliding and ziplining. There is also a restaurant and cafe.
The Skyline Gondola and Luge is considered to be among the top 10 Queenstown things to do, so be sure to add them to your list of things to do while in town.
Location: 53 Brecon Street, Queenstown
Opening Hours: Varies, but usually open from around 9.30 am
Price: Gondola Only – $44 NZD per adult | $26 NZD per child | Family Pass $126 NZD for four people or $149 NZD for five people | Gondola & Luge (5 rides) Passes – $67 NZD per adult | $51 NZD per child | Family Pass $195 NZD for four people or $275 NZD for five people – click here for discounted online tickets with Klook.
Ziplining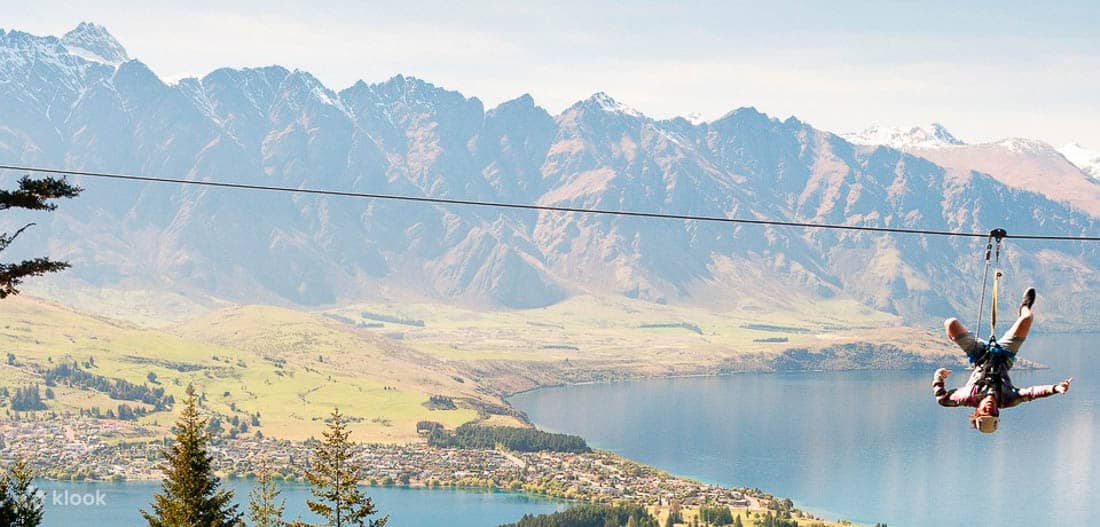 If you're up to the challenge another one of the super fun things to do in Queenstown, New Zealand is to go ziplining. There is a range of operators that offer ziplining in Queenstown, including Ziptrek Ecotours, which operate from the top of Bob's Peak. To reach Ziptrek, you'll need to either take the Skyline Gondola or you can walk to the top, which takes around one hour.
Ziptrek offers a range of different zipline courses, so no matter your level of experience or confidence, there is something for everyone.
A good zipline for families is the Moa Tour which includes 4 ziplines and takes around 2 hours to complete. During the course, you'll glide through lush forests, enjoy amazing views across Lake Wakatipu and the surrounding mountain ranges. The course starts low and slow and gradually builds to longer, higher, and faster courses so you can build your confidence as you go.
For those that are a little more confident, try the Kea tour, which combines 6 ziplines and is in fact, the world's steepest zipline! The Kea tour will have you gliding at speeds of up to 70 kph and takes you to a height of 30 storeys. Along the way, you'll also enjoy amazing views across Lake Wakatipu and the surrounding mountain ranges. The course takes around 3 hours to complete.
Kids need to be at least 6 years old to do either of the courses.
Location: Top of Bob's Peak
Opening Hours: Daily from 9 am to 5 pm or 7 pm during school holidays
Price: Kea Tour – $195 NZD per adult | $149 NZD per child (6-14) –click here to book online. Moa Tour – $145 NZD per adult | $99 NZD per child (6-14) – click here to book online.
Cruise the Lake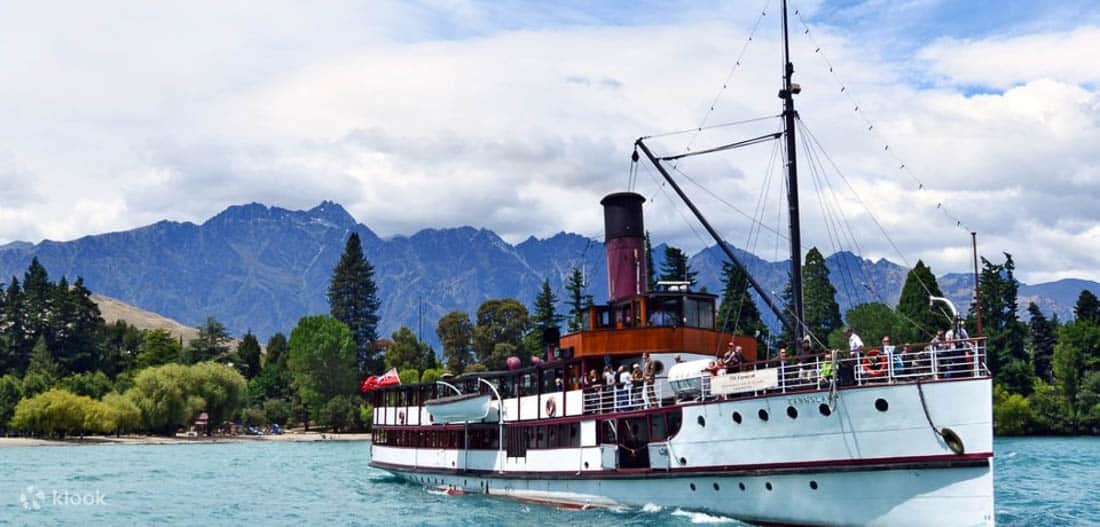 Whether you're in Queenstown with toddlers or teenagers, everyone will love cruising Lake Wakatipu on the TSS Earnshaw – it's among the top 10 things to do in Queenstown for kids. The TSS Earnshaw is over 100 years old and a cruise on this iconic steamboat is a relaxing way to enjoy Queenstown's spectacular alpine landscape.
TSS Earnshaw was launched in the same year as the Titanic and was once an essential form of transport for those farmers living around the lake. During its peak, the steamboat was used to carry passengers, sheep, cattle, mail and other supplies and has had various well known passengers, including Queen Elizabeth, Prince Phillip and even President Bill Clinton
Today, while onboard, families can take their time to explore the boat's decks and bridges, visit the museum and check out the engine room. Then sit back and relax to the music by the pianist while enjoying something to eat or drink from the cafe on board.
Boat cruises go for 90 minutes and you may also choose to cruise across to the Water Peak High Country Farm and spend a few hours there – see below.
Location: Cruises depart from the Real Journeys Visitor Centre, Steamer Wharf, 88 Beach Street, Queenstown
Opening Hours: Daily (except closed for maintenance during May and June)
Price: NZ $70 per adult | NZ $30 per child (5-14) | Kids 0-4 are free – click here to book tickets online.
Another cheaper way to cruise along the lake is with the Spirit of Queenstown. These 90 minute cruises are $39 NZD per adult and $10 NZD per child. Click here to book online.
Walter Peak High Country Farm
Of course, New Zealand is famous for its sheep, so a great way to learn more about these animals is at the Walter Pear High Country Farm. The farm is situated on the picturesque shores of Lake Wakatipu and is a great place to visit that the entire family will enjoy.
A visit to the farm is by a guided tour. The tour commences with a demonstration by the farm's dogs rounding up the sheep. You'll then take a walking tour around the property visiting the holding pens where the kids will get to feed the sheep, deer and even the gorgeous Scottish Highland Cattle.
Your tour of the farm also includes morning or afternoon tea.
The only way to reach Walter Peak High Country Farm is with the TSS Earnslaw Cruise (see above).
A few hours exploring Walter Peak High Country Farm is a must do in Queenstown – kids will love it!
Location: Tours depart from the Real Journeys Visitor Centre, Steamer Wharf, 88 Beach Street, Queenstown
Opening Hours: Daily (except closed for maintenance during May and June)
Price: Tickets includes TSS Earnslaw cruise – NZ $95 per adult | NZ $35 per child (5-14) | Kids 0-4 are free – click here to book discounted tickets online on Klook.
Family Rafting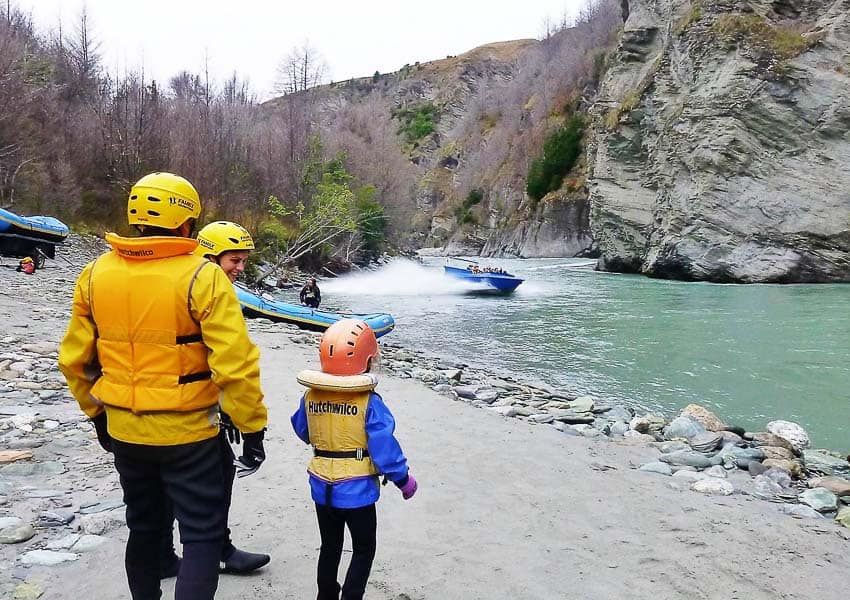 One of our favourite things to near Queenstown is to go rafting. The rafting tour by Family Adventures is suitable for the entire family – even kids from young as 3 can do it. We took our little one, who was only 5 at the time and even she had a blast.
This rafting tour is what they called a "soft adventure trip". There are no big scary rapids here and absolutely no chance of the raft being tipped over and falling into the water – although there are opportunities for everyone to get into the water if they choose.
The rafting trip starts with a 4WD trip through the spectacular Skippers Canyon. The views are fantastic and along the way, you'll get plenty of commentary about the history of the area, which was once thriving during the gold rush.
The rafting trip takes you on the Upper Shotover River and passes locations that feature in the "The Ford of Bruinen" Lord of the Rings movie.
The entire tour takes around 5 hours which includes transport to and from Queenstown. The rafting itself is around 90 minutes on grade 1 and 2 rapids.
If you're after some super fun Queenstown family activities – do not miss the Family Adventures rafting tours – the entire family will love it.
Location: Tours depart from 39 Shotover Street, Queenstown
Opening Hours: Tours depart daily from November to May – closed remainder of the year.
Price: $199 NZD per Adult | $120 NZD per Child | $70 NZD per passenger – those not wanting to raft – click here to book discounted tickets via Klook
Below Zero Ice Bar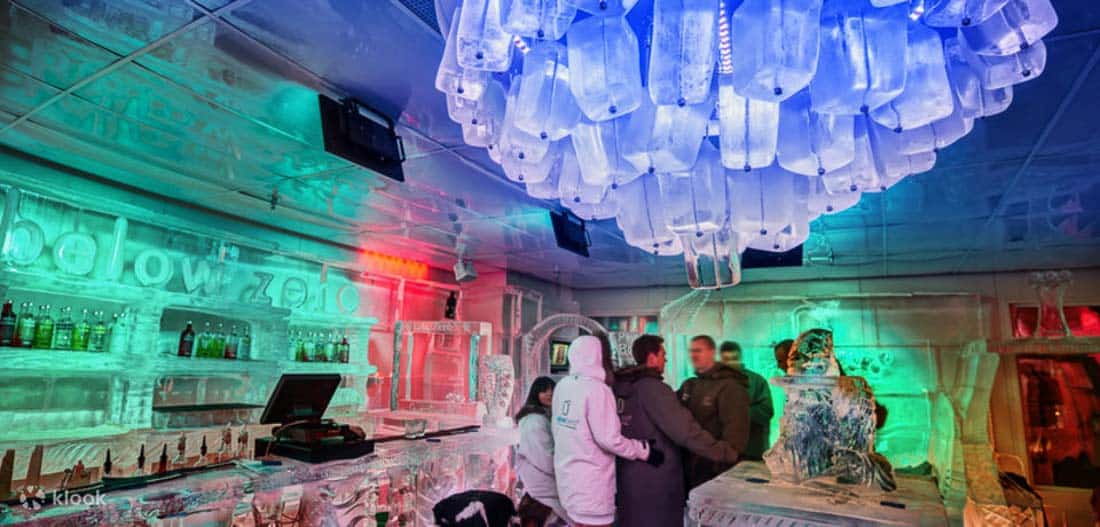 One of the fun places to visit in Queenstown with the kids is the Below Zero Ice Bar. Everything here is made from ice, including the walls, bar, furniture – even the glasses. It has all been hand sculpted by the world's best ice carvers.
The bar is always kept at below zero, so upon entry, you'll be fitted with super warm gear, including gloves and boots, so you'll be nice and warm while inside.
Location: Searle Lane, Queenstown
Opening Hours: Sunday to Thursday from 2 to 11 pm | Friday and Saturday from 2 pm to 12 am
Price: Includes a cocktail for adults and a mocktail for kids – $32 NZD per adult | $17 NZD per child | $85 NZD Family Pass (2Ad+2C) – click here for discounted tickets via Klook.
Queenstown Gardens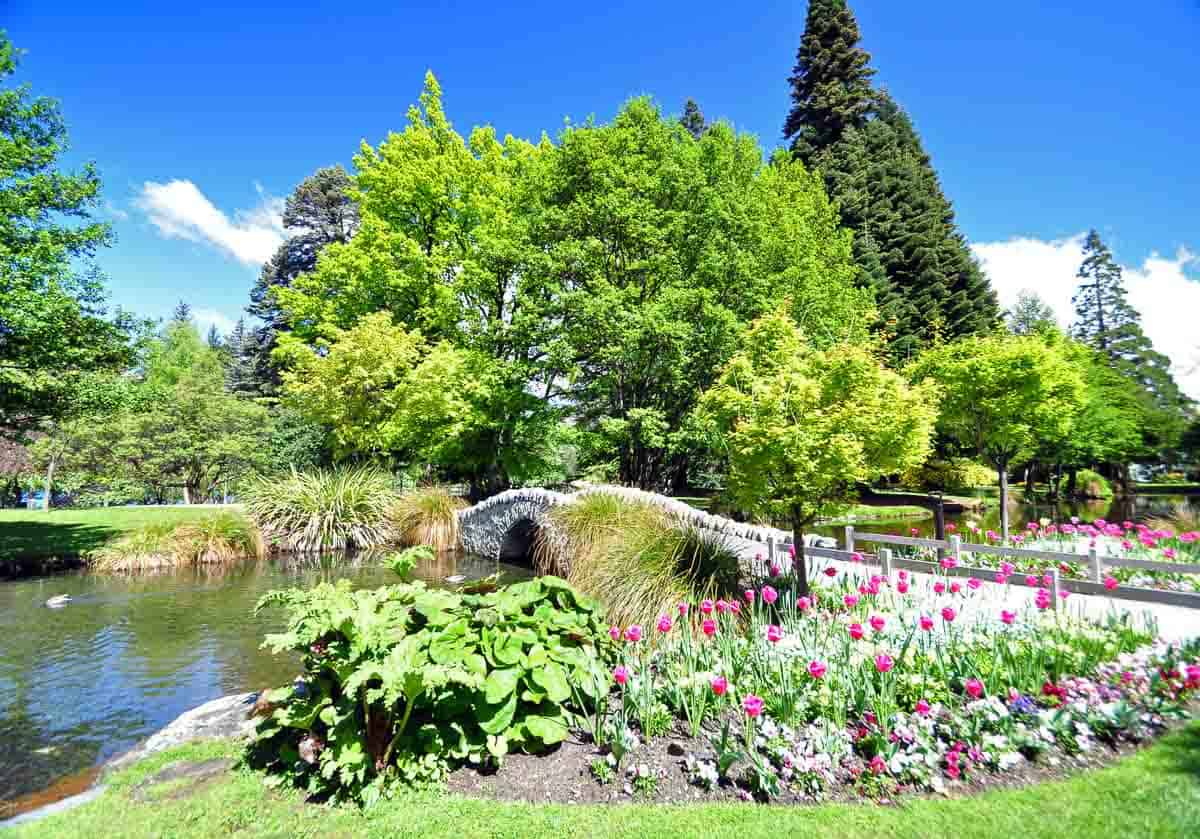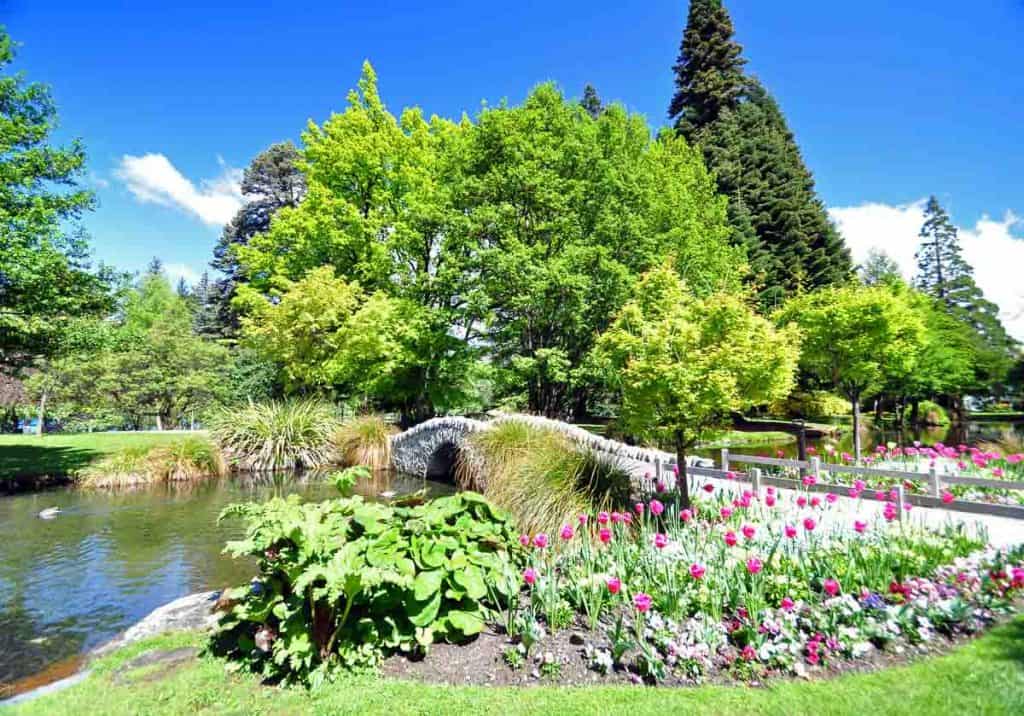 Located on the southern side of Wakatipu Lake, the Queenstown Gardens are beautiful. There are a few fun family activities to do in Queenstown Gardens. The gardens are a great place for a walk, plus there is a great playground here for the kids. The kids will also love feeding the ducks and fish by the pond and climbing the rocks by the lake.
Another interesting thing to do in the Queenstown Gardens is the disc golf circuit. If you've never played disc golf before, it's harder than it looks! The aim of the game is to throw the frisbee disc into the target. You'll see the targets scattered throughout the park made of a metal frame and chains. A disc will cost you $5 NZD to hire.
Another one of the great Queenstown activities for families is to have a picnic at sunset. Head to the supermarket for some rolls and fillings. Bring along some fruit to snack on afterwards and a bottle of wine for the parents if you've picked one up during some wine tastings.
Location: Surrounding Lake Wakatipu
Opening Hours: Always
Price: Free
Queenstown Ice Arena
The Queenstown Ice Arena is located in the Queenstown Gardens and is a lovely place for families to spend some time indoors. While the main attraction here is the ice skating rink, there are also some ice bumper cars that the kids will love. These are the only ice bumper cars in the southern hemisphere and kids as young as 6 can drive them, while younger children can ride on an adult's lap.
For those new to ice skating, join up for a 20 minute quick lesson with an experienced instructor. These lessons are suitable for kids aged 4+. There is also a range of skating aids on offer, such as ice sleds, penguins and ride on seals.
The arena also has a cafe for meals, snacks or coffee.
Location: Queenstown Gardens, 29 Park Street, Queenstown
Opening Hours: Wednesday and Thursday from 12 to 5 pm, Weekends from 10 am to 5 pm and closed Monday and Tuesdays.
Price: $27.50 NZD for one ice bumper car ride and ice skating or $99 NZD for a family pass.
Jet Boat at the Shotover River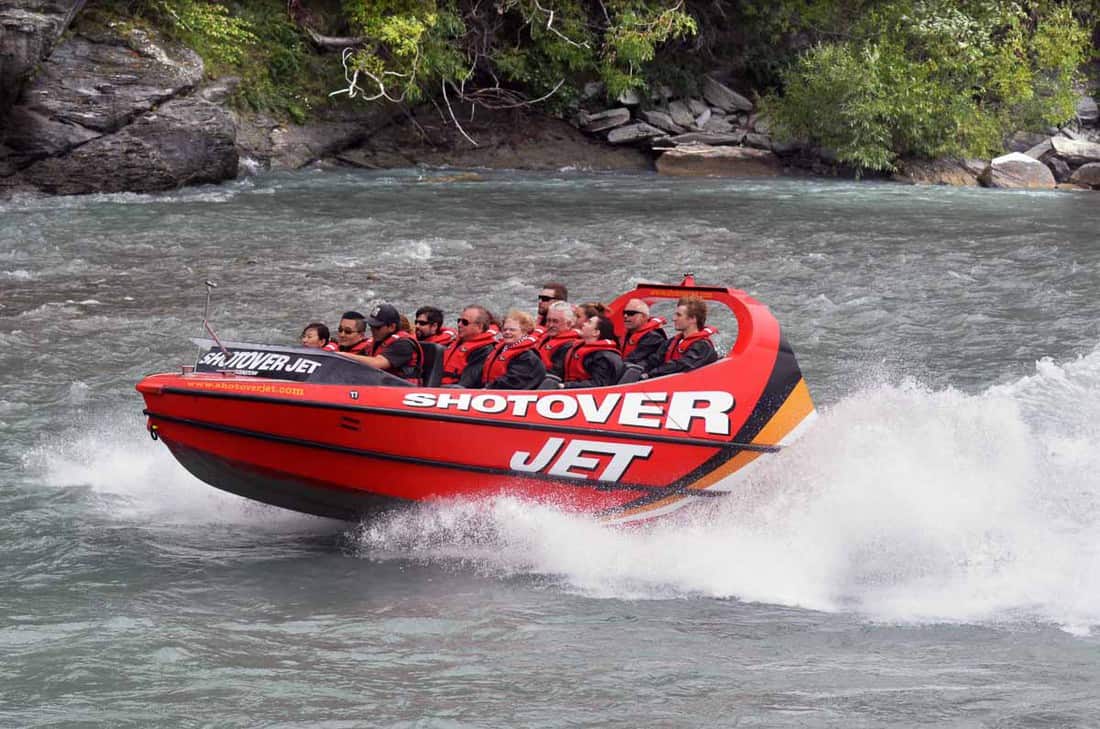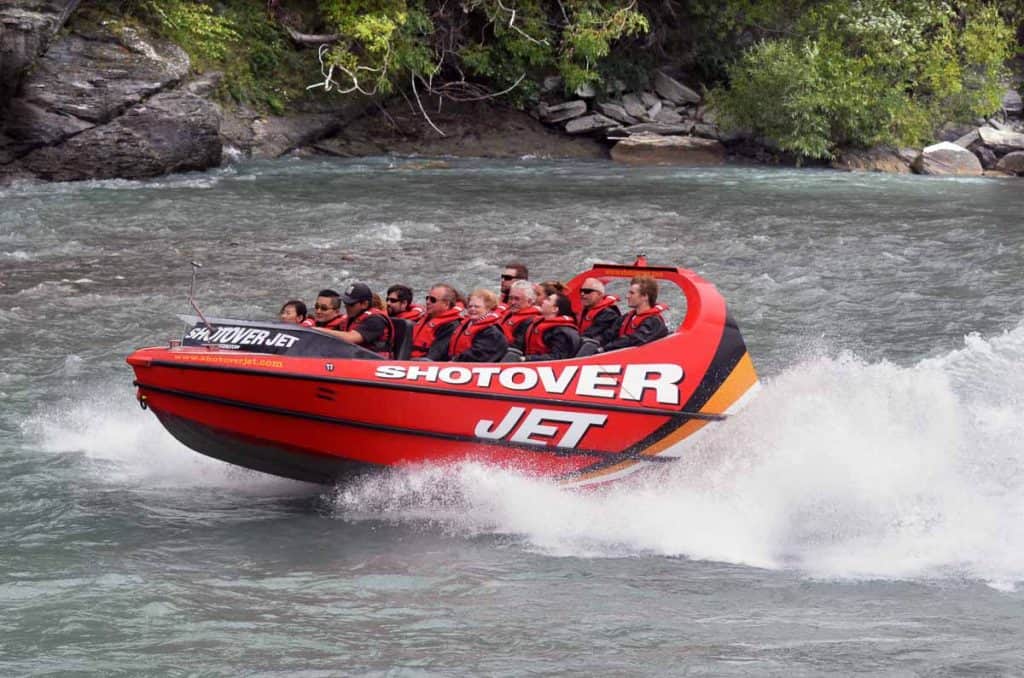 If you're still wondering what to do in Queenstown with kids, Jet boating is a popular adventure-filled activity for thrill-seekers. Speed through the bright turquoise river or along Lake Wakatipu at speeds of over 90 km per hour!
A range of operators offer jet boat rides in town, including KJet, Go Orange and the Shotover Jet. These boats either speed along the Kawarau River or across Lake Wakatipu. No matter which one you choose, they all provide a nailbiting ride as you complete 360º twists and turns. Along the way, you'll enjoy spectacular views of the Remarkables and surrounding landscape.
Options include a 25 minute or 1 hour ride. Generally, children will need to be at least 1 metre to ride but double check with the operator.
So if you're after some adrenaline pumping Queenstown adventure activities – put a jet boat ride at the top of your list!
Opening Hours: Varies between operators but generally daily from 10 am to 4 pm
Price: Varies between operators but tickets start at around NZD $129 per adult | NZD $67 per child (5-15 ) | NZD $299 Family Pass | Kids under 5 who meet the height requirement are free – Book tickets online here with KJet, here with Go Orange or here with Shotover Jet.
Kiwi Birdlife Park
One of the cool attractions in Queenstown for families is the Kiwi Birdlife Park. Here you'll get a chance to see New Zealand's native bird, the kiwi. This small, brown, flightless bird is extremely adorable and a hit with the kids.
Other than the Kiwi, across the 5 acres of native bush, you'll also see more than 20 other species of animals, including reptiles and birds (including the Tuatara, Kea, and Blue Duck). A great way to make your way around the park is with the self guided audio tour – this way you'll learn heaps and won't miss a thing!
To learn more about the Kiwis, go check out the Kiwi Encounter show – there are four shows throughout the day. Another highlight is the Conservation Show, where you'll get to meet other birds. There are two time slots for the Conservation Show.
A few hours exploring the Kiwi Birdlife Park is certainly one of the ideal things to do in Queenstown for families.
Location: Upper, Brecon Street, Queenstown
Opening Hours: Daily from 9 am to 4.30 pm
Price: NZ $60 Adult | NZ $30 Child | NZ $140 Family Pass (2A+3C) tickets
Bungy Jumping
Queenstown is the home of bungee! In fact, down at Kawarau Bridge is where you'll find the world's first commercial bungee, which is still in operation today.
There are actually a few different places and types of Bungy jumps in Queenstown – there is the Kawarau Bridge Bungy, the Ledge Bunge and the Nevis Bungy. With the Kawarau Bridge Bungy, you'll jump 43m and touch the water – you can even do it tandem! If 43m isn't high enough for you, there is the Nevis Bungy which has you jumping at a huge 134m! This is, in fact the highest Bungy jump in all of New Zealand and will have you freefalling for a whopping 8.5 seconds. Lastly, the Ledge Bungy is perched high above Queenstown for fantastic views and has a jump of 47m.
If the kids are game, and well done if they are, then as long as they are 10 years of age and weigh between 35-235kg, they are welcome to give it ago.
Whether you want to partake yourself or not, it's worth heading out to Kawarau Bridge to watch these crazy people jump off the bridge. The scenery itself is just spectacular.
Opening Hours: Daily 9.30 am to 4.30 pm
Price: Varies depending on the jump but starts from NZ $205 per adult | NZ $155 per child (10-14)
Shotover Canyon Swing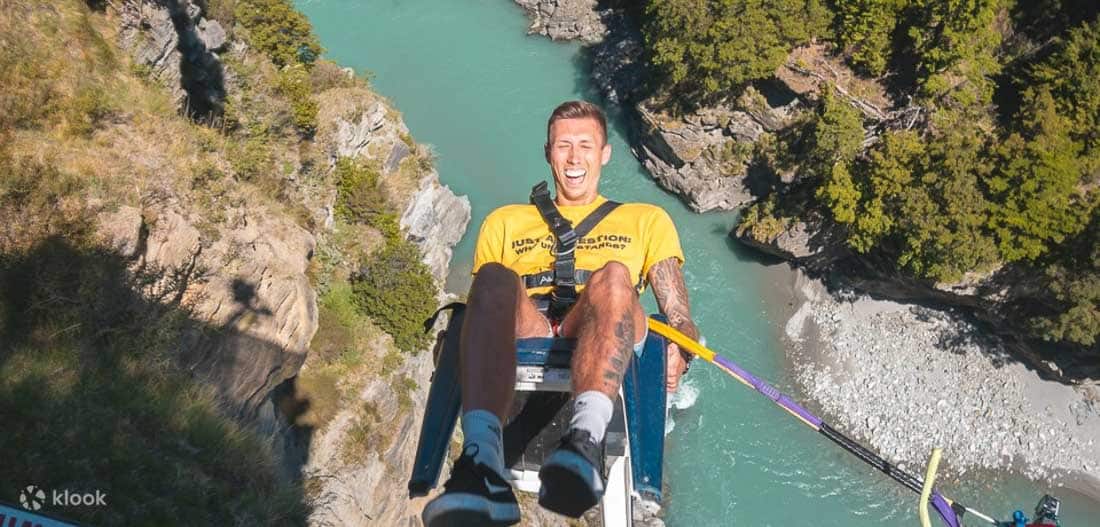 If you have a thrillseeker in the family, then another Queenstown must do is the Canyon Swing. The Canyon Swing has you jumping off a 109m cliff and includes a 60 metres freefall, making it the world's highest cliff jump. Basically, it's just a giant rope swing, set among the gorgeous scenery of the Shotover Canyon.
There are over 70 types of jumps to choose from, including jumping while sitting on a chair, riding a bike, doing a pin drop jump, jumping with a friend and more!
Once again, if your crazy kids are game, they can give it ago as long as they are 10. For tandem jumps, you both need a maximum combined weight of 180 kgs.
While you won't see the Canyon Swing on my Queenstown to do list – it's certainly a must for those adrenaline junkies.
Location: 34 Shotover Street Queenstown
Opening Hours: Daily from 9 am to 5 pm
Price: Solo NZ $249 | Tandem NZ $458 | Family Pass NZ $916 – Click here for discounted tickets via Klook.
Thrillzone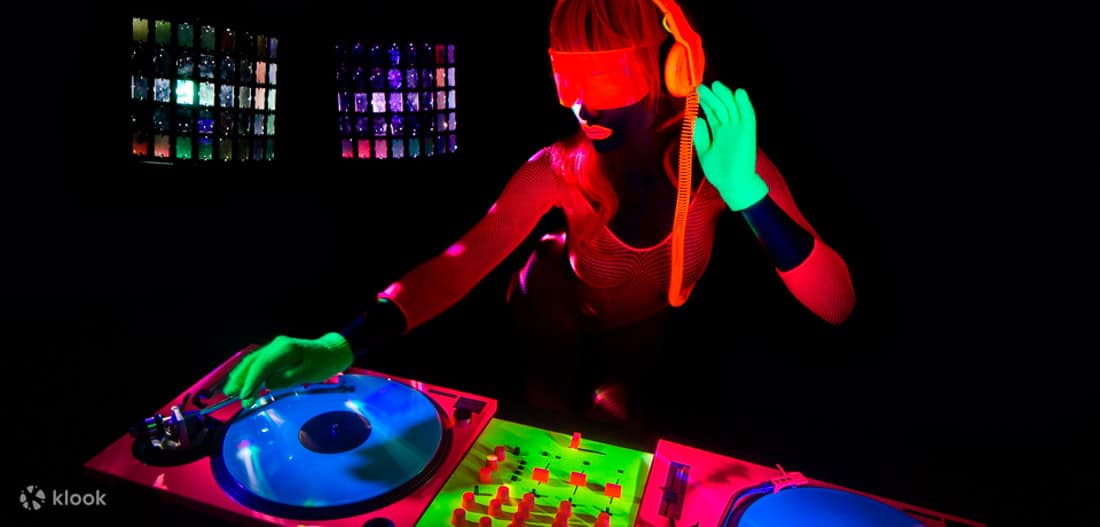 If you're after even more fun things to do with kids in Queenstown, take them to Thrillzone. Thrillzone Queenstown is full of so much fun under one roof. This indoor adventure arena is a great place to bring the kids. They offer VR, laser tag, go-karts, 12D motion theatre, race car simulator, mini golf, escape rooms and paintless paintball.
There's also Kidz Club, where the kids can enjoy unlimited access to many activities for hours on end. It's perfect for dropping off the kids if you need some alone time unless, of course, you'd rather join in on the activities too! Kidz Club is recommended for children 4-13.
With everyone indoors, a trip to Thrillzone is one of the ideal Queenstown places to visit in rainy or super cold weather.
Location: 53 Shotover Street, Queenstown
Opening Hours: Daily from 10 am to 9 pm
Price: Activities range from $19 NZD to $89 NZD – click here for discounted mini golf passes.
Odyssey Sensory Maze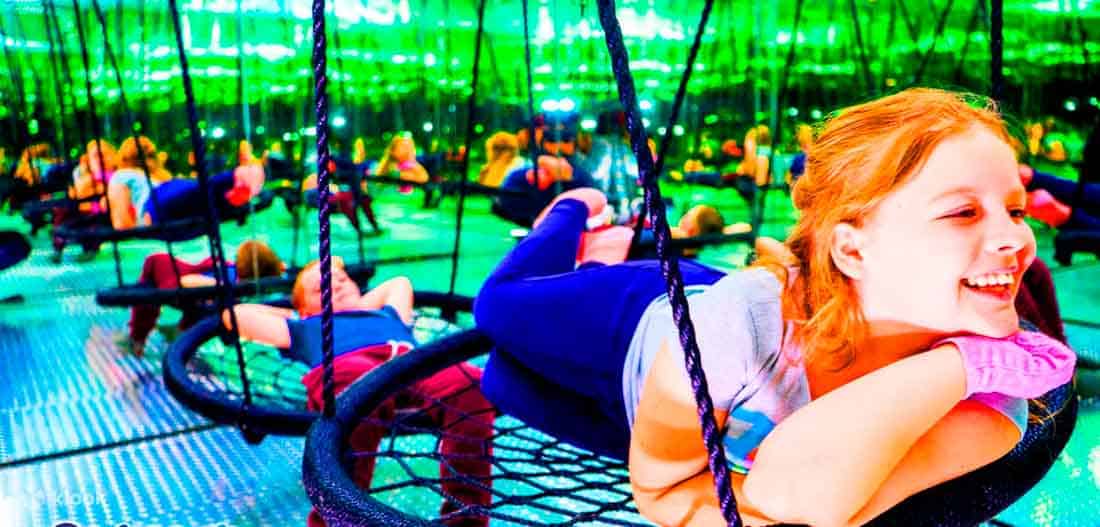 While you may have taken the kids to a few mazes in their time, Odyssey is a maze like no other! At Odyssey, you will pass through 13 different zones, each with a different sensory effect – including lighting, swings, mirrors, bridges and more.
There is also the option to wear crazy goggles which light diffracting lenses and make the whole experience that more crazy!
It can be quite dark in some of the maze areas, so it is not recommended for kids under 8 or any children with issues with sensory overload. However, it is left up to parents to decide if the maze is suitable for their children – the age recommendation is not set.
It takes around 30 minutes to walk through the maze once, but you can upgrade your ticket to walk through multiple times.
Location: 57 Shotover Street, Queenstown
Opening Hours: Sunday to Friday from 10 am to 9 pm and Saturdays from 10 am to 10 pm
Price: Single entry is $32 NZD per adult | $22 NZD per child (5-15) | $99 NZD per family (2A+2C) – you can also have unlimited entry for an additional fee. Click here to purchase tickets online.
The Shark Hydro Attack Ride
Another one of the super unique Queenstown experiences is the Shark Hydro Attack Ride. The Shark Ride is certainly not for the faint hearted – this crazy ride is a world first, which has you diving into the water, jumping vertically into the air and speeding across the water at speeds of up to 80kph.
The Shark Ride is said to be somewhere between a fighter jet and a torpedo and each ride is just you and the pilot, so the ride is completely unique to you. Go as hard or as soft as you like.
Each ride lasts for around 15 minutes and the minimum age to ride is just 6 years old.
Location: Rides depart from Lapsley Butson Wharf. Queenstown – near Earnslaw Park
Opening Hours: Daily from 9.30 am
Price: $155 NZD per person
Chill Out at Queenstown Bay Beach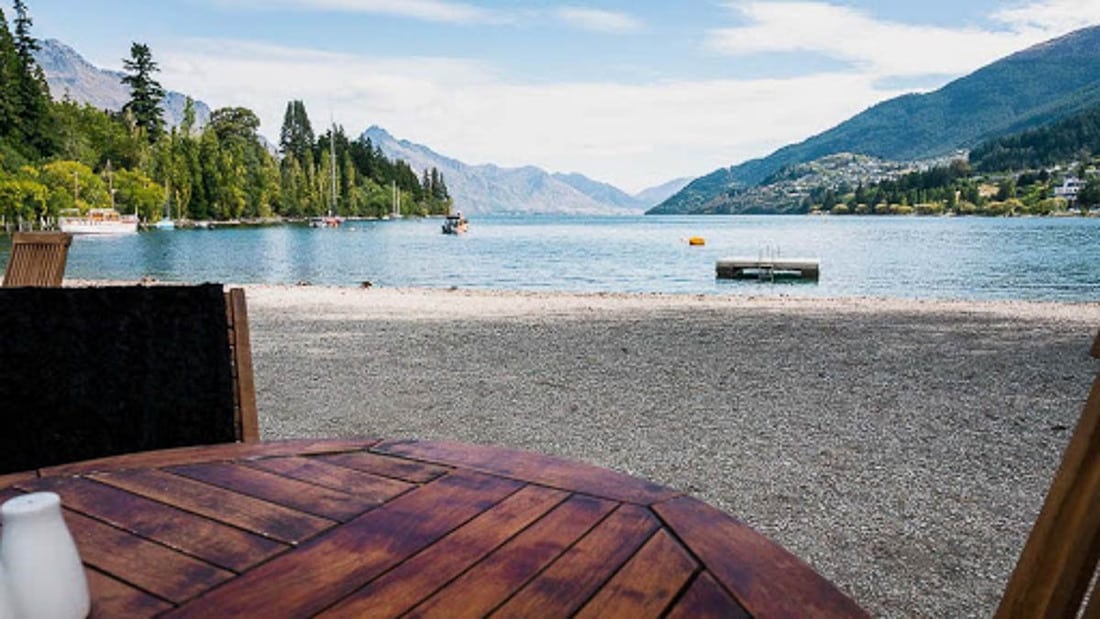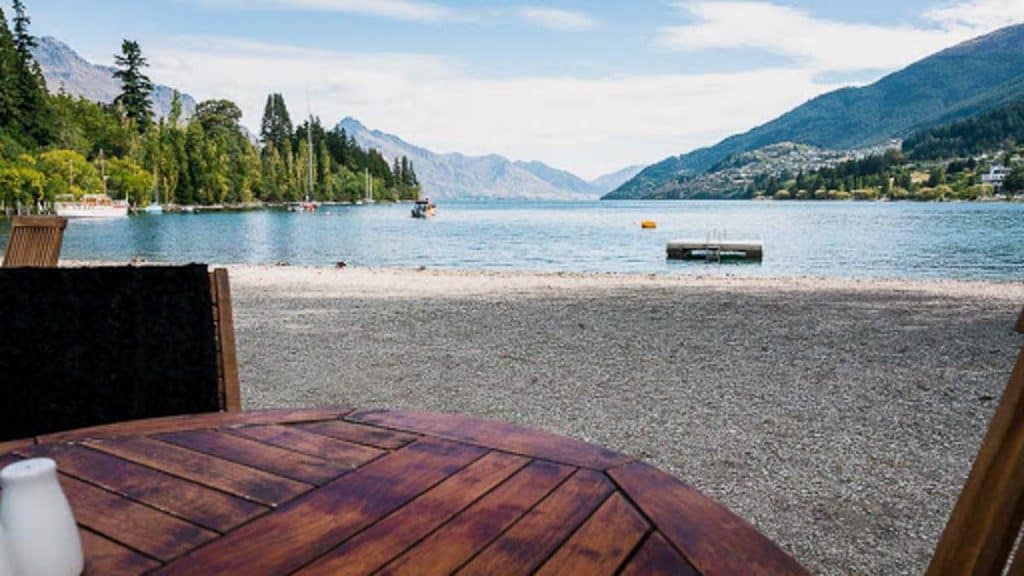 Queenstown Bay Beach lies by the waterfront and spending time here is one of the best free things to do in New Zealand's South Island. It's the perfect spot to spend a few hours with your family. The beach itself looks out to Cecil and Walter Peaks.
During the summer months, in particular, you'll find some great Queenstown activities for kids here. There is a pontoon for water equipment for hire, such as kayaks and paddleboards.
There's even the Bathhouse Cafe with tables and chairs located right on the beach.
Grab a cool drink in the summer or a hot chocolate to help you warm up in the winter.
Queenstown Skydiving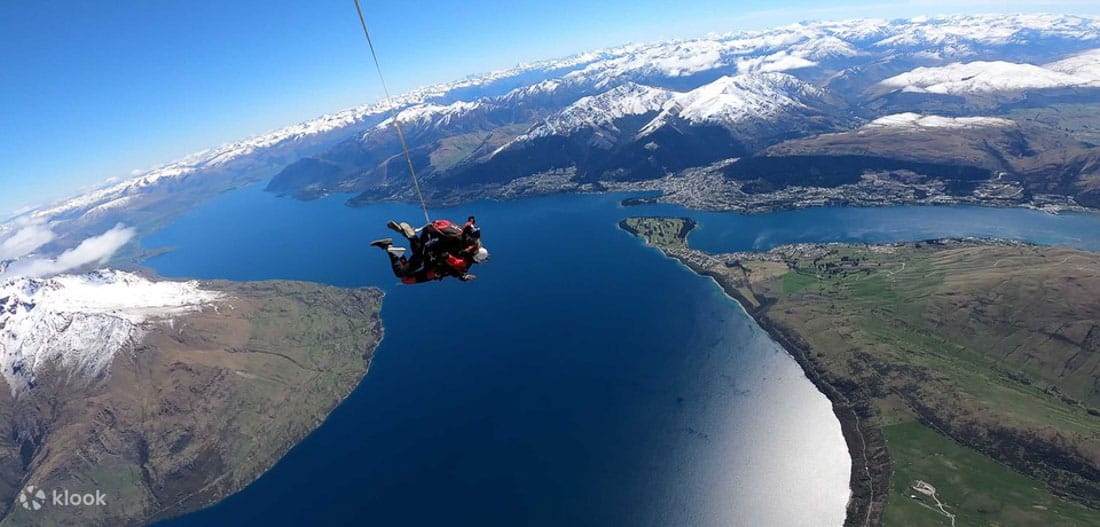 Of course, being New Zealand's adventure capital, skydiving is on offer in Queenstown. In fact, it is Queenstown that had the very first tandem skydive in New Zealand.
There is no better place in the world to jump out of a plane at either 9,000, 12,000 or 15,000 feet than above the Remarkables. As you free fall for up to 60 seconds at speeds of around 200km per hour, you'll have spectacular views of the Wakatipu basin and the surrounding mountains.
Can you believe that even kids from as young as 6 (must be 30kgs) can skydive! So the entire family can do this together if you're game!
Location: 35 Shotover Street Queenstown
Opening Hours: Daily from 9.30 am
Price: Start at $479 NZD – click here for discounted tickets via Klook.
Queenstown Skiing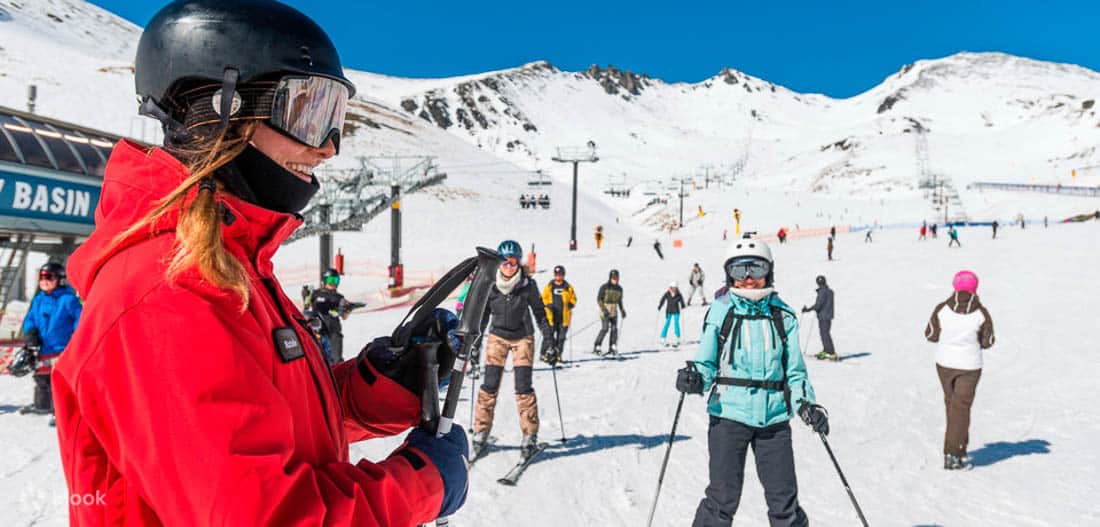 Skiing is high on everyone's list in terms of things to do in Queenstown in winter. With four different ski areas nearby during the winter months (late June to early October), Queenstown is a very popular spot for families. The best places to go skiing in Queenstown is Coronet Peak which is 20 minutes away or The Remarkables Skifield, which are 45 minutes away. Other options include Cardrona and Treble Cone.
There is a range of different ski passes available, including single days, multiple day passes, passes to various ski fields, passes to single ski fields – whatever it is you're looking for, there is likely a ski pass to suit your needs. You can also get passes which include transport from Queenstown to the various ski fields and all the gear you need.
Even if you're not the best skier, you can take some beginner ski lessons. Otherwise, the kids will just love playing around in the snow, building snowmen, making snowballs, or going tubing.
Check out the various skiing packaged Klook offer here.
Time Tripper – Underwater Cinematic Experience
One of the more unique kids activities Queenstown offers is the Time Tripper – an underwater cinematic experience. This theatre is actually located down two flights of stairs under Lake Wakatipu.
The film takes you back some 90 million years ago during the time of dinosaurs. You'll see how New Zealand was formed, see how the Southern Alps were created and how Lake Wakatipu was formed.
At the end of the film, you'll then get to learn more about the awesome experiences to be had in and around Queenstown.
The experience finishes with some underwater viewing. You might see the diving ducks, ells, and fish that live in Lake Wakatipu.
The entire experience goes for 30 minutes.
Location: Main Town Pier, Queenstown
Opening Hours: Daily from 10.15 am to 4.15 pm
Price: $10 NZD per adult | $5 NZD per child (3-14) | Under 3s are free
Visit Arrowtown
If you're looking for some great day trips from Queenstown, Arrowtown is well worth a visit. Arrowtown is a gold mining town 20 minutes from Queenstown. This little town flourished from the Gold Rush of the 19th Century.
Nowadays, although the Gold Rush is long gone, you can still try your luck and pan for gold. It's one of the great Queenstown kids activities and one of our favourite things to do in Arrowtown. There are two places to pan for gold in Arrowtown – the Lakes District Museum and Dudley's Cottage.
Entrances at the Lakes District Museum will cost you $10 NZD for adults and $3 NZD for kids (under 5s are free). Get the family pass for only $20 NZD. To hire a gold pan will cost an extra $3 NZD. While you're there, be sure to look around the museum and learn more about the former gold mining town as well as the early Maori life.
Dudley's Cottage is actually a cafe, but here you can go gold panning. A great place to bring children because you'll get a lesson too for $15 NZD. If you're confident in your gold panning skills, pan hire itself will cost $6 NZD.
Once you've finished with gold panning, take a stroll through Arrowtown, and visit the Arrowtown Chinese Settlement and Arrow River. The original Chinese miner's village is still here, tucked into the river bank and you can explore for free.
Visit Wanaka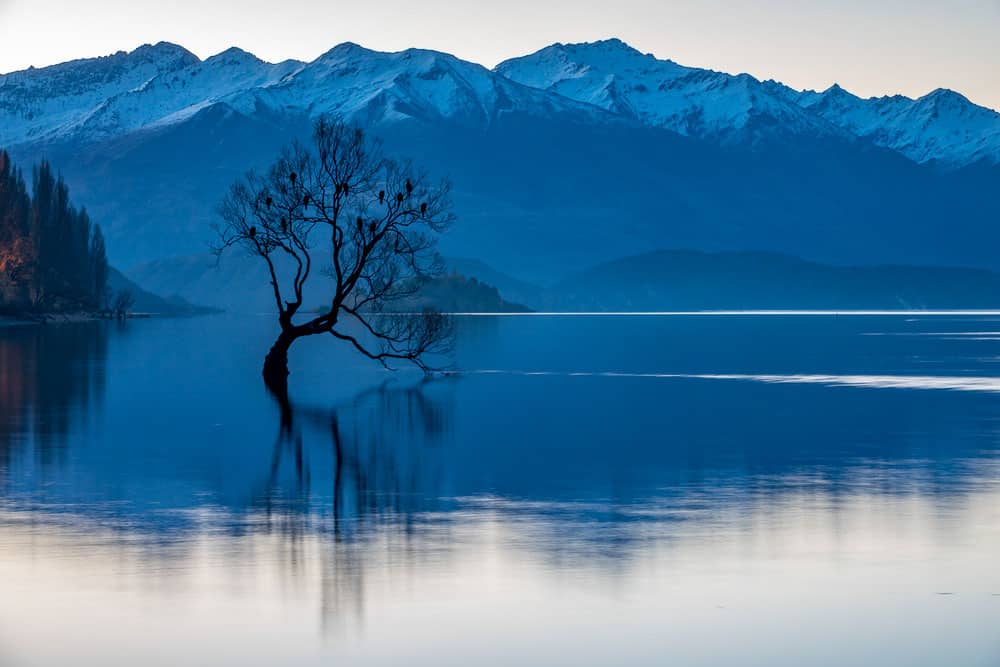 An hour's drive outside of Queenstown – Wanaka is another one of the perfect Queenstown day trips. Wanaka is a stunning little lakeside town with even more gorgeous alpine scenery. Take the kids for a picnic by the lake, explore the various walking or biking tracks, go kayaking on the lake or even climb a waterfall with Wildwire Wanaka.
Other things to do in Wanaka include visiting the farm animals at the Wanaka Lavender Farm, learn about the region's aviation history and see classic cars at Warbirds and Wheels, be mesmerised by amazing illusions and the famous great maze at Puzzling World, visit the National Transport and Toy Museum which houses over 60,000 toys and explore the Realm Virtual Reality Centre which is New Zealand's largest virtual reality experience.
If visiting during the winter months, Wanaka is also a great place to take the kids skiing.
Day Tour to Milford Sound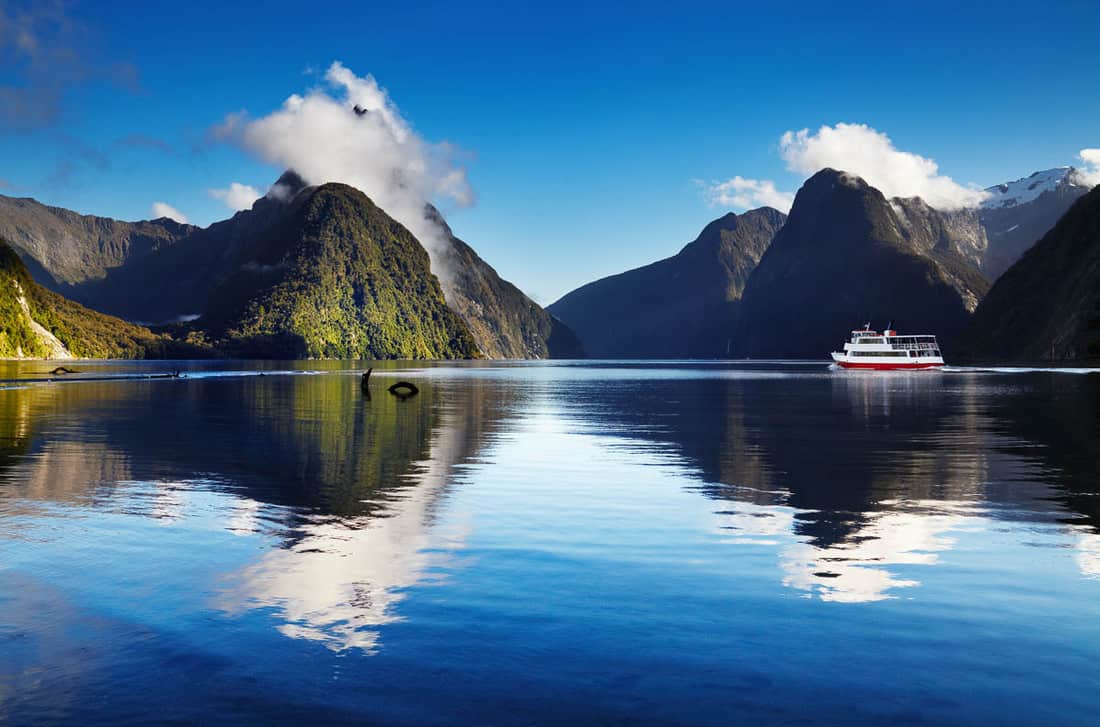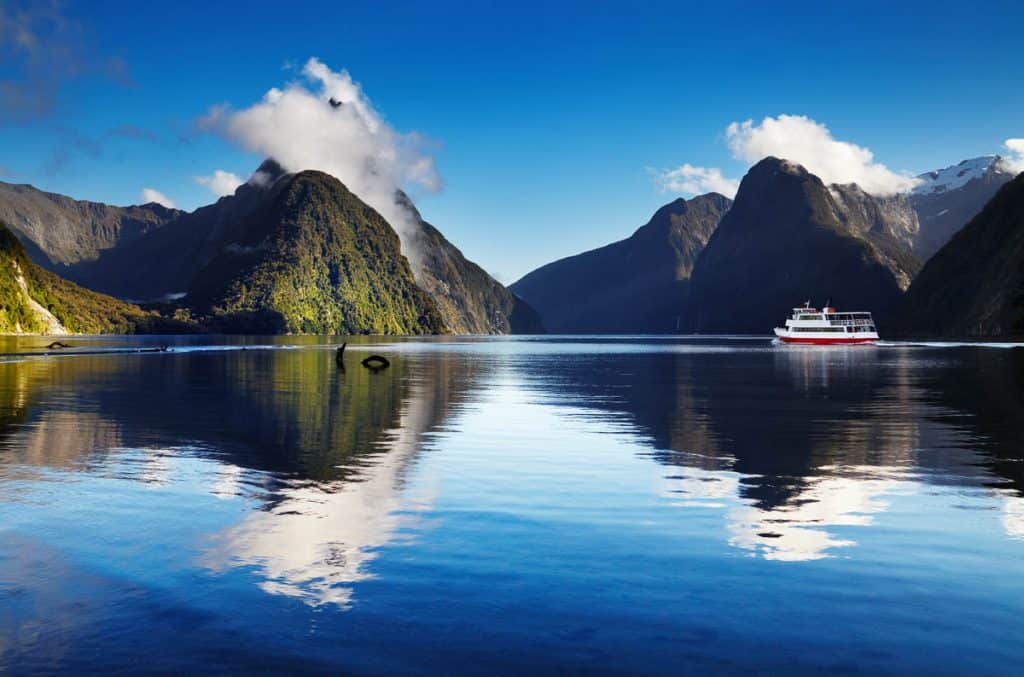 Milford Sound showcases New Zealand's beauty at its finest. It is not only one of the must-do things to do in New Zealand with kids but also one of the best places to go while visiting Queenstown. This spectacular natural attraction features towering peaks, waterfalls, rainforests and wildlife. If you're lucky, you may be able to spot fur seals!
Seeing this untouched paradise does come at a price. It's a 4-hour drive from Queenstown to Milford Sound, which is why it's usually done as a day trip from Queenstown with a tour group. A coach tour with a boat cruise around Milford Sound will cost around $179 to $250 NZD per person. Most companies will charge a lower rate for children – a good price is around $59 NZD for a child.
You can also join tours which include bus transfers one way and a scenic flight in the other direction. These of course, cost much more but are a great way to shorten the day trip and also add a splurge item.
Take a look at a few different Milford day trips on offer – click here to see what's on offer through Viator or click here to see what Klook is offering.
Travelling as a family will add up, so the cheapest way to visit Milford Sound would be to hire a car for a day for around $50 NZD, then take one of the boat cruises once you get there. There are various boat cruises at Milford Sound, starting from around $60 – to $80 NZD per adult, with kids being around half this price.
Despite the cost, a day trip to Milford Sound is definitely worth it and I highly recommend you factor it into your Queenstown budget. When we went, we decided to go the guided tour option so that neither of us had to drive and could both enjoy the scenery.
Best Family Accommodation Queenstown
There is a range of accommodation options in Queenstown for families, from budget to 5 stars. A lot of the family accommodation Queenstown has can be quite pricey; however, there are a few good budget options available.
Below I've shortlisted a few budget options, which are all within a short walk to the main area of Queenstown, including shops, restaurants, attractions and the lakefront. If you'd like even cheaper options, you will need to be prepared to stay further outside of Queenstown, which is still fine if you have a rental car with you.
The Queenstown Lakeview Holiday Park is located near the Skyline Gondola Base and just a short 400 metre walk into the centre of town. From here you can easily walk to all the different attractions around town. Although if you have your own car – the Holiday Park also offers guests free parking.
There is a wide range of excellent family accommodation options, including two bedroom motel style rooms, fully self contained cabins and apartments or hotel style studio rooms. The self contained rooms are great for families wanting to save on eating meals out as they can cater for themselves. Some rooms even come with stunning views of the lake or mountains.
This accommodation Queenstown has is perfect for families offering facilities such as a playground with swings and a slide, trampoline and a children's play corner in the onsite dining area.
For a great budget option, where families can prepare their own meals and be within an easy walk to all the Queenstown highlights, the Queenstown Lakeview Holiday Park is the perfect accommodation.
Click here to check current pricing and availability.
Located in the centre of town is the Lofts Apartment, just two blocks back from the lakefront. While more expensive than the Lakeview Holiday Park, the Lofts Apartment is one of the excellent Queenstown hotels which offers family exceptionally affordable accommodation in the heart of the CBD.
The Lofts Apartments provide families with spacious two or three bedroom apartments which come fully self contained. The master bedroom has a large bed, while the second and third bedrooms come with two single beds. The apartments also come with a washing machine and have private balconies, some with gorgeous views of the lake or mountains.
For large families, or for those wanting to be right in the centre of it all, the Lofts Apartments are a great option to consider.
Click here to check current pricing and availability.
Hurley's of Queenstown is located on the other side of the lake from where the Lofts Apartment and the Lakeview Holiday Park is, just a short walk from the Queenstown Gardens and Queenstown Bay Beach. From here it's just a 10 minute walk to the centre of town and all the Queenstown attractions.
Hurley's offer families spacious apartments which come with cook facilities. There is the option of 1 or 2 bedroom apartments, with the ability to accommodate a family of up to 6 people. Apartments are spread out across two levels with living and kitchen downstairs and bedrooms upstairs – this provides families with great privacy. Apartments come with spa baths and stunning lake and / or mountain views. There is also the option of booking adjoining studio rooms at a great discounted rate.
Facilities at Hurley's include a gym, sauna and storage for golf clubs and skiing gear. Free parking is also available on site.
Click here to check current pricing and availability.
Getting Around Queenstown
Queenstown's town itself is small, so if you're staying in town, it's easy to walk around to the various attractions. Most of the attractions that are located out of town offer transport, otherwise it is relatively easy to get a public bus.
If you decide you need your own car while in Queenstown, expect to pay from around $50+ NZD per day. If you're flying into the Queenstown Airport, you'll be able to hire one upon landing – although it is recommended you book well in advance.
If you don't hire a car from the airport, you can get into town via shuttles, taxis or bus.
In terms of public buses, grab a Bee Card from your bus driver for $5 NZD and then you'll have access to $2 fares for adults and $1.50 fares for children anywhere within Queenstown. If you don't have a Bee Card, fares are $4 per person – although to and from the airport, the fare is $10 per adult and $8 per child. Children under 4 don't require a Bee Card and travel free.
Bus routes will bring you as south as Jack's Point, as far northwest to Arthur's Point, and as far northeast as Arrowtown.
____________________________________________________________________________________
Hopefully you found this guide to all the best things to do in Queenstown with kids helpful – thanks again to Delilah from Our Travel Mix for her contribution. You can find more of our content on New Zealand here.
Want to save this information for later?
Click on one of the images below and save it to Pinterest.