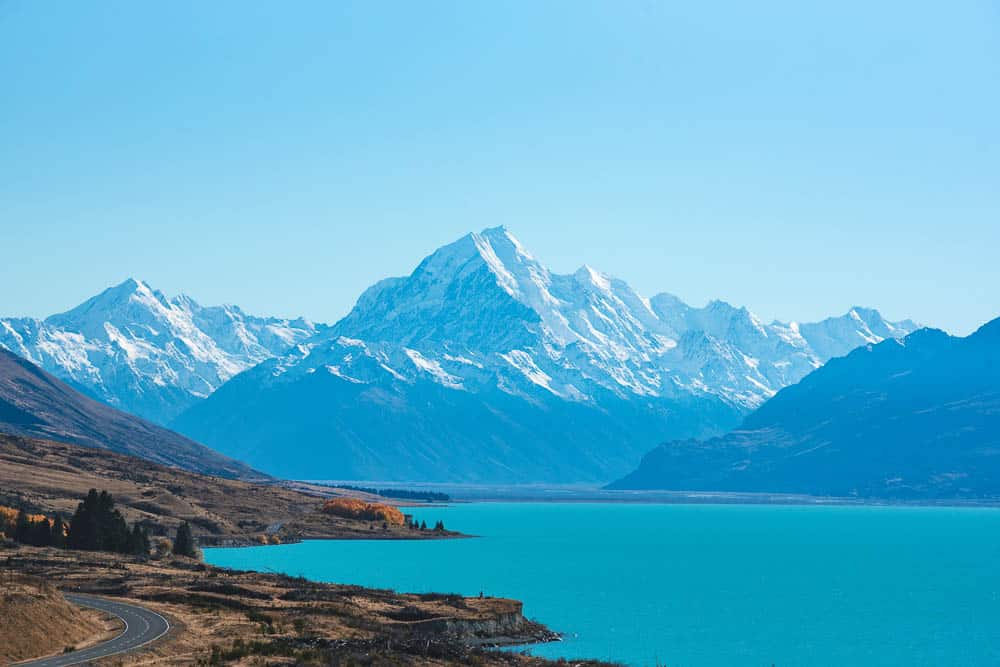 Are you looking for the best free family things to do in South Island, New Zealand? Then you are in for a real treat and there are plenty of awesome free places to visit in South Island, New Zealand. From the mountains to the sea – there is spectacular scenery at every turn – the country is breathtakingly beautiful and best of all you don't have to pay a cent to enjoy its beauty!!!
In this guide, I cover some of the best South Island, New Zealand things to do and best of all they are all free! This is the perfect guide for planning your family road trip. South Island, New Zealand trips don't have to cost a fortune and with this guide, you won't have to pay a single entry free!
Talk to other families about their tips on visiting NZ and join our Thrifty Family Travels Facebook group here now!
This post may contain compensated links. Please refer to my disclaimer here for more information.
Road Trip South Island – New Zealand – Map
To help you plan your South Island, New Zealand itinerary, check out the map below. This will help you plan your trip and work out which destinations you'd like to visit and in which order. Zoom in or out for a better view.
The Best Free Family Things to do in South Island, New Zealand
Below are our suggestions for the very best free things to do in New Zealand – South Island.
Christchurch's Botanical Gardens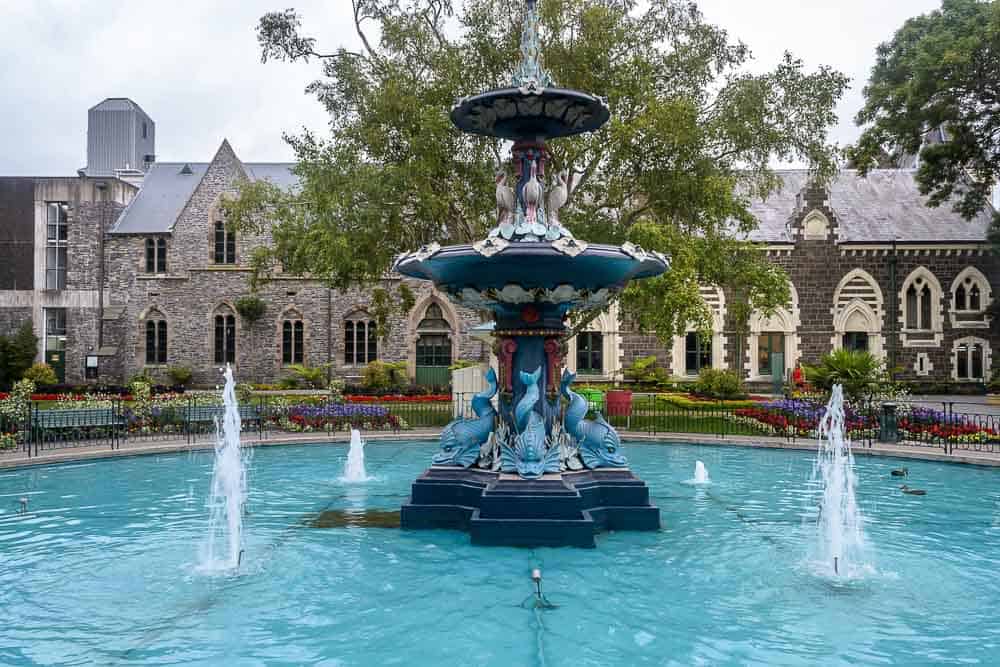 Located in the centre of the city, a walk around Christchurch's botanical gardens is a great way to start the day. Founded over 150 years ago, there are 21 hectares of parkland to explore including the lovely Avon River. The gardens also include a children's playground and paddle pool (open from mid November to March).
When you arrive at the gardens head to the visitor's centre and grab yourself a map of the self guided Discovery Trails. These are trails are aimed at c children aged between 4 – 10 and are a great way for families to explore the gardens.
The gardens are open every day from 7 am and entry is free.
Time Needed: depending upon whether you have a snack at one of the cafes, or simply take a quick stroll you might spend between 30-90 minute here. The recommended time is 45 minutes.
185 Empty Chairs Memorial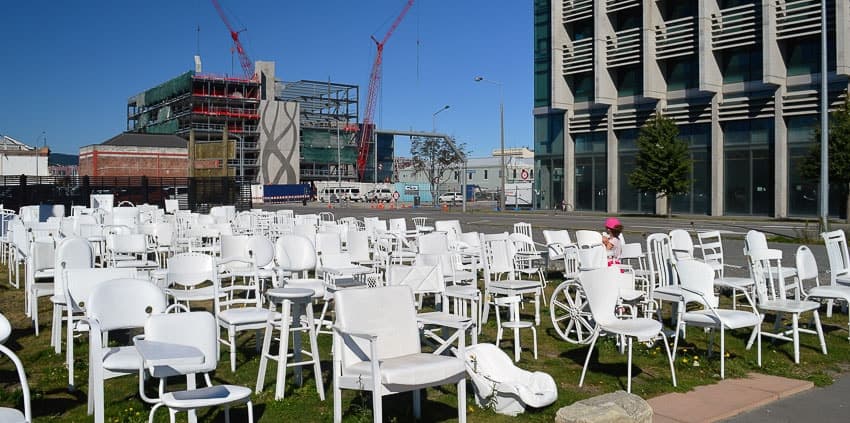 On 22 February 2011, a 6.3 magnitude earthquake hit Christchurch, devastating the city and killing 185 people. Soon after the earthquake, an empty white chair was placed in an open field with each chair symbolizing a life lost.
Today the memorial sits on the corner of Manchester and Kilmore Streets and is a great way to come and pay your respects to the people who lost their lives during the earthquake.
Time needed – Allow 5-10 minutes.
Akaroa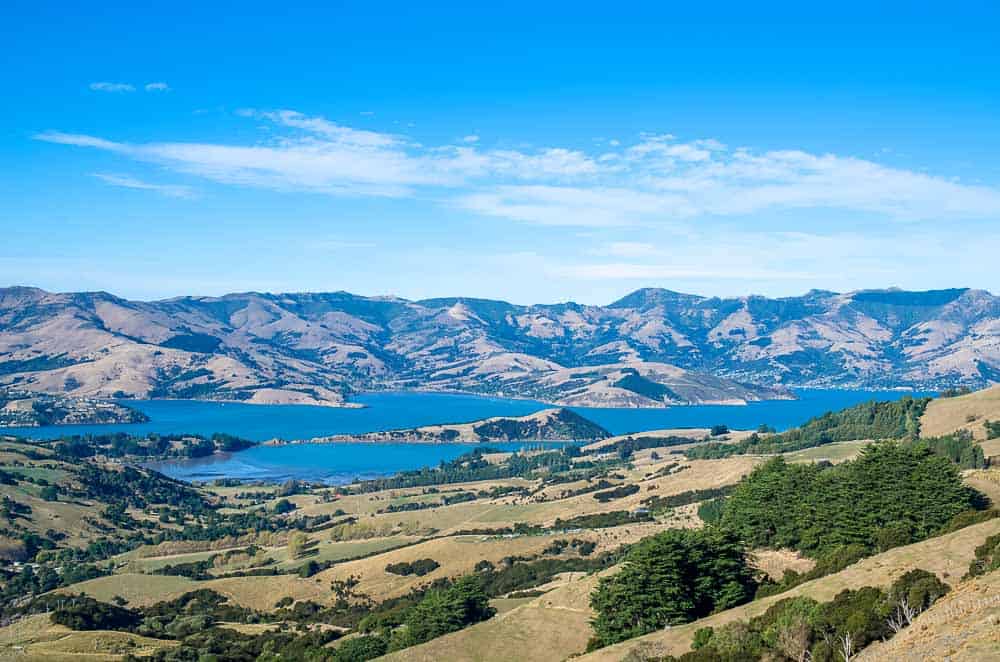 75 kilometres from Christchurch is the breathtaking beautiful Akaroa, a small seaside town, surrounded by gorgeous bays. The drive into Akaroa is just as beautiful as Akaroa itself. Around every bend, you will see beautiful views of the mountains and bays and there are plenty of opportunities to stop along the way to appreciate the gorgeous views.
Once in Akaroa grab yourself some fish and chips and sit on the beach and soak up the view. If it's warm enough the kids might enjoy a swim in the calm water or have a game of rock skimming.
Time needed: Including the return drive from Christchurch and lunch, 4 hours is recommended, although you could easily spend the day here if you have more time.
Castle Hill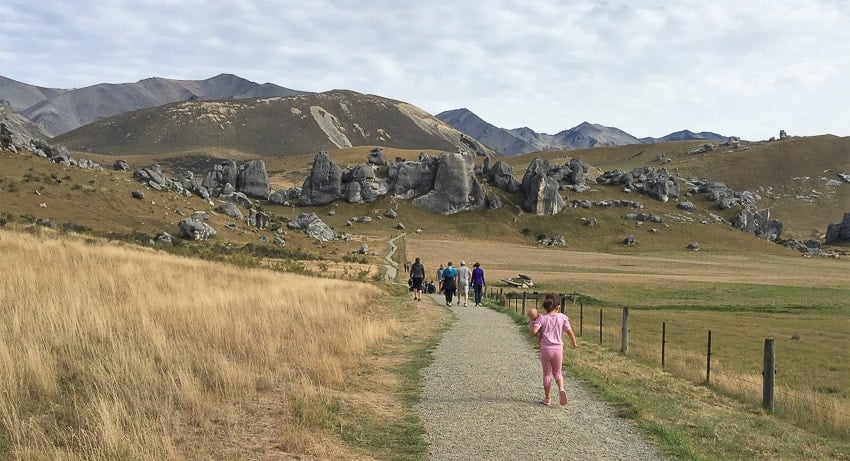 Located between Christchurch on the east coast and Hokitika on the West Coast is Castle Hill. Castle Hill is the name given to the private property which holds an array of spectacular limestone boulders. The view of these gigantic rocks is like something out of a movie – and in fact was used in the 2005 movie The Chronicles of Narnia: The Lion, The Witch and the Wardrobe.
Children will love exploring the mazes of rocks and climbing the natural staircase to the top of many of these magnificent boulders. Our 5-year-old climbed the boulders with ease so any fitness level is fine for this activity.
Time needed: 30 minutes if you just wish to view the boulders, but up to 90 minutes is recommended to fully explore and climb the boulders.
Arthur's Pass National Park

Just past Castle Hill towards Hokitika is Arthurs Pass National Park. This area offers several great stops for exploring and photo opportunities on the side of the road. We stopped multiple time on this route to have a game of rock skimming, explore gorgeous streams, and simply admire the spectacular views from the various lookouts. Basically, if you see a spot that looks interesting – get out and explore.
Time Need – anywhere between 5-15 minutes at any stop that looks interesting to you. It is recommended that you make 2-3 stops in this area.
Hokitika Beach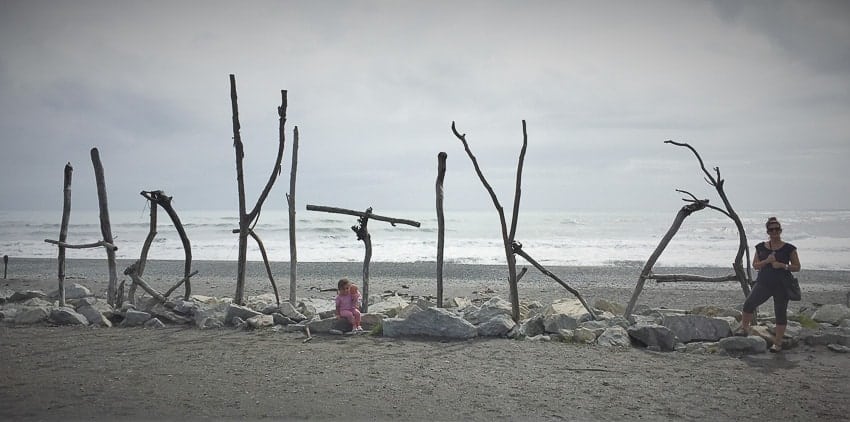 The town of Hokitika is a good location to stop after driving from Christchurch and exploring Castle Hill and Arthurs Pass National Park. Whilst in Hokitika be sure to check out Hokitika Beach – famous for the huge amount of driftwood that covers the beach. The locals have made great art pieces out of the driftwood, including the famous "Hokitika" Beach sign.
Time Needed: 5-10 minutes recommended to visit the beach.
Hokitika Gorge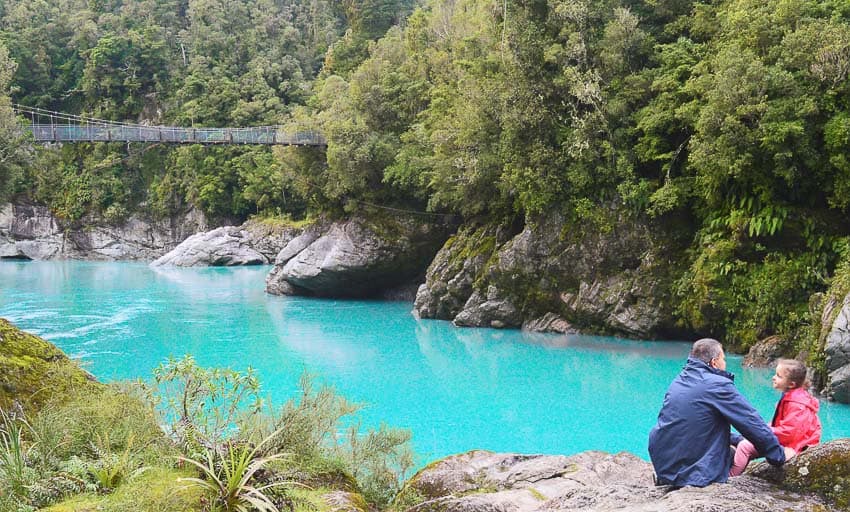 Before leaving Hokitika be sure to take a detour a check out Hokitika Gorge. The Gorge is located 33 kilometres from Hokitika or about a 30-minute drive.
From the car park, there is a short walk across the swing bridge where you can see the beautiful blue river and spectacular gorge. Provided there is no one there when you visit – the spot is gorgeous to just sit in the quiet and take in the stunning views.
Time Needed: 15-30 minutes recommended to enjoy the views at the gorge. You will need 60 minutes for the return journey to Hokitika.
Franz Josef Glacier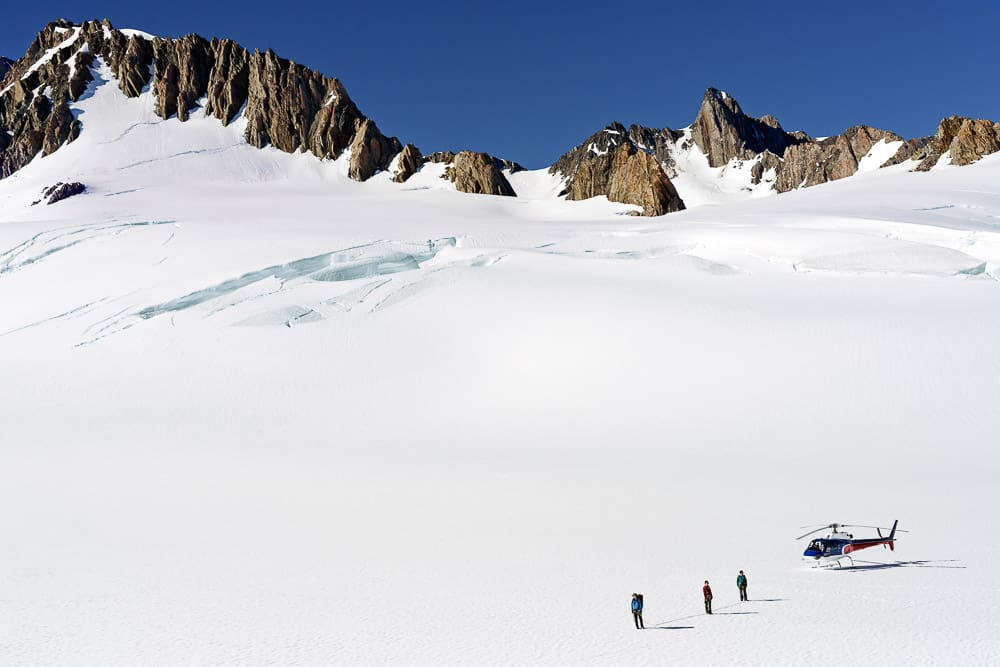 Photo Credit – Fraser Clements
Franz Josef Glacier is one of two glaciers accessible on the West Coast of the South Island. You have to see this to believe it – blue rivers of ice plunging down to the rain forest – it is a spectacular sight. Adults and kids alike will be mesmerized by the beauty of the glacier.
To get up close and personal with the Franz Josef Glacier for free you can take one of several walking trails. The Franz Josef Glacier Valley Walk is a 90-minute return walk that will take you right to the face of the glacier. The walk is suitable for all fitness levels, with our 5-year-old doing it with ease.
Time Needed: 90-minutes recommend to walk up to the glacier face as well as allowing time to stop at the several viewing spots along the way.
Lake Matheson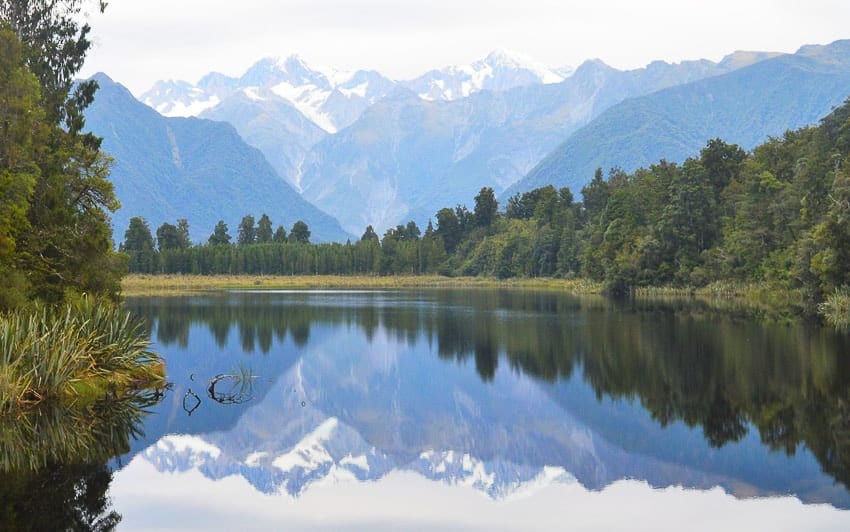 The journey to see Lake Matheson may be just as exciting for the children as the lake itself. The full circuit is around 90 minutes, with much of the walk being through thick rain forests fit for children to search for fairies and elves among the blue mushrooms. Once you reach Lake Matheson you will be rewarded with mirror reflections of the Southern Alps – one of the most iconic postcard scenes of the South Island.
This is an easy walk suitable for all fitness levels. Our 5 year old did it with ease.
Time Needed: Depending upon how fast your children walk 90 minutes to 2 hours is recommended.
On Route – Hasst to Queenstown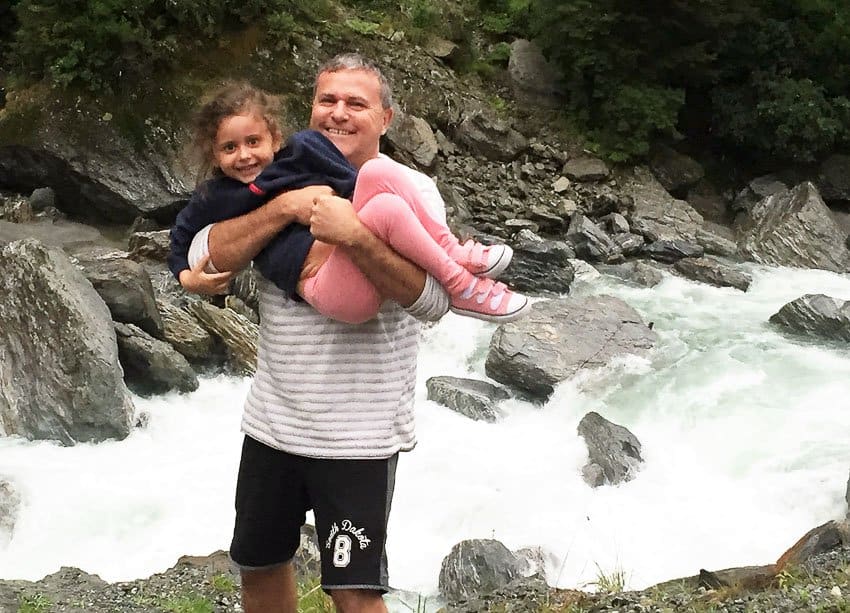 Driving in the South Island is never boring – but the drive from Haast to Queenstown offers endless gorgeous spots for the kids to explore. Pull up the car whenever you spot something interesting and lets the kids explore – I assure you there will be plenty of "oohhhh….ahhhh" moments on this route.
Blue Pools – an easy 15-minute walk to see the beautiful crystal clear pools which are being fed by nearby glaciers.
Fantail Falls – a few minutes' walk from the car park you will see this great waterfall. The water is shallow with plenty of stepping stones for the kids to wade through the water. The shallow waters also offer a great opportunity for the kids to practice their rock skimming skills.
Roaring Meg Falls – The colour of the water is absolutely beautiful and the view of the raging river below is amazing.
Lake Wanaka – A quaint little town surrounds yet another spectacular lake in the South Island.
Arrow Town – Another gorgeous quaint town to drive through, or a great opportunity to stretch the legs and grab a snack.
Time Needed: At least a day is recommended to do this drive comfortably – this allows between 5-30 minutes at each stop with perhaps one longer stop for lunch.
For more information about what to see on this drive check out this blog – thetrustedtraveller.com
Skippers Canyon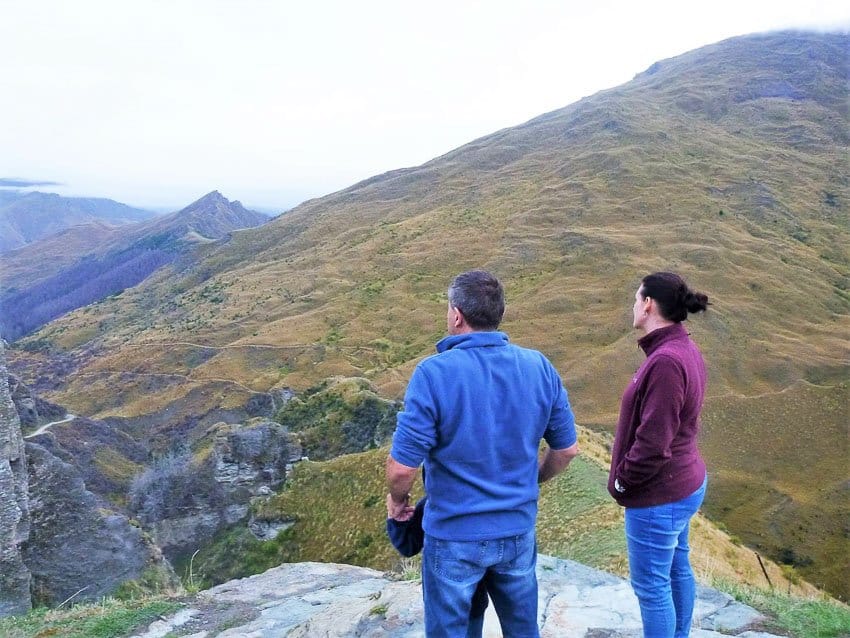 Another scenic drive from Queenstown is the drive to Skippers Canyon. Unfortunately due to most of the road into Skippers Canyon being gravel, many car rental companies do not allow you to drive your rental into the Canyon – so this journey can't be reached unless you have a private vehicle or go in on a tour bus.
If you can get yourself there – you must! The drive to skippers canyon is unbelievable. Driving through the mostly one way narrow and steep road with sheer drops of several hundred meters is not for the faint hearted – but the views of the scenic gorge are not to be missed.
The picturesque Shot Over River is also located within the canyon and if you have time you must join one of the tour groups to either jet boat or raft down the river.
On your way back to Queenstown you will see breathtaking views of the majestic Remarkables – these views are just as good as paying to go up on the gondola in Queenstown – so save your money!!
Time Needed: Allow a few hours to safely drive into the canyon and take in its beauty.
Queenstown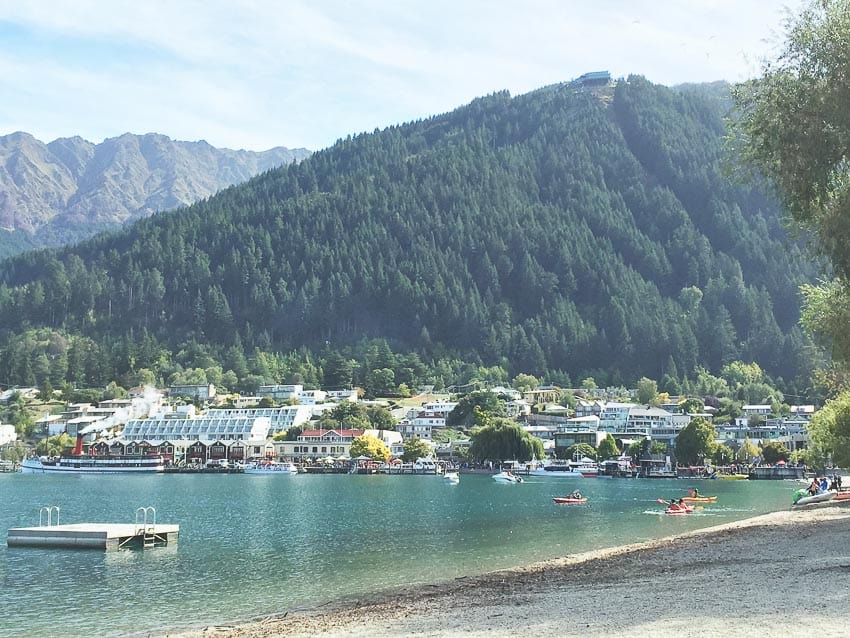 Queenstown itself is set on Lake Wakatipu with dramatic views of the Southern Alps everywhere you look. Queenstown is one of New Zealand's most picturesque towns.
You can spend hours walking around the lake taking in its beauty. There is a great playground right on the waters edge for the kids, with a café for mum and dad. You will all enjoy wandering around the shops and watching the many entertainers that scatter the streets. And once you are bored of all that – just sit back and continue admiring that amazing view!
Time Needed: Allow a full day to enjoy all that the town of Queenstown has to offer.
Read our guide on things to do with kids in Queenstown here. You can also find more great ideas here and here.
Drive to Milford Sound
Photo credit – Graeme Murray
Whilst it is recommended to take a guided tour to Milford Sound from Queenstown – if the budget is tight you can do this drive yourself. The drive to Milford would have to be the most epic day trip from Queenstown!
The drive between Te Anau and Milford Sound is incredibly scenic with several must see stops along the way. You can not miss the beautiful sights on this journey – they are there are at every turn. However some recommend stops include Mirror Lakes, Knobs Flat, Cascade Creek, The Divide, Homer Tunnel and Mount Tutoko.
Time Needed: – factoring in the return journey to Queenstown and a boat tour of Milford Sound (which is not a free activity but a must see) – you must allow at least 12-14 hours for this trip.
Mt Cook

Photo Credit – Miles Holden
Driving to Mount Cook is just as exciting as being at Mount Cook itself. As you creep towards Mount Cook you will see your first glimpse of the beautiful snow capped mountains with the glacier blue lakes of Lake Pukaki in the foreground. This might just be the most beautiful landscape in all of New Zealand.
There is a range of things to do in Mount Cook including various free walks to take to get a closer view of Mount Cook and its several Glacier Lakes. There is also a great tour of the lake and glacier which is not free but highly recommended.
Time Needed – Assuming you stay overnight in Mt Cook or close by, a whole day is recommended for this activity.
Moeraki Bounders – Koekohe Beach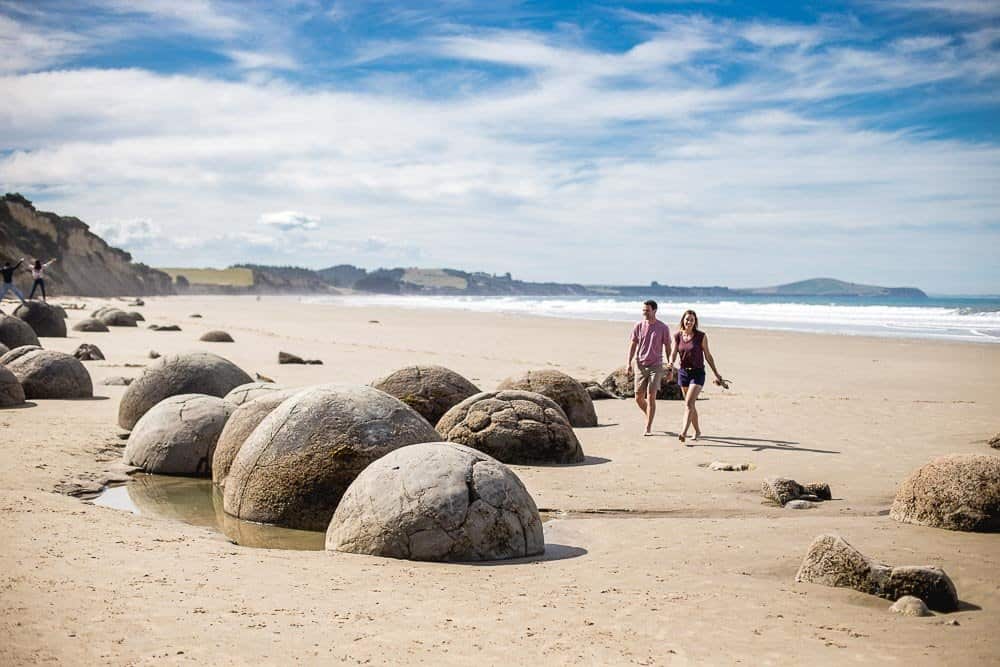 Photo credit – Miles Holden
Located on Koekohe Beach are the mysterious Moeraki Boulders. These are huge boulders weighing several tonnes and up to 2 metres high, scattered across the beach. The smaller boulders could easily be mistaken for large turtles.
Kids will love climbing over this mother nature playground as well as jumping through all the rock pools on the beach.
Time Needed: – 30 minutes is recommended to see the Moeraki Boulders – longer if the weather is warm and you want to have a swim.
____________________________________________________________________________________
Hopefully you found this list of free things to do in New Zealand's South Island helpful and now have some great ideas for your itinerary with kids. Find more of our content on New Zealand here.
Looking for more tips for visiting New Zealand's South Island? Here are a few articles to help with your planning:
Find more fun activities to do with your kids here.