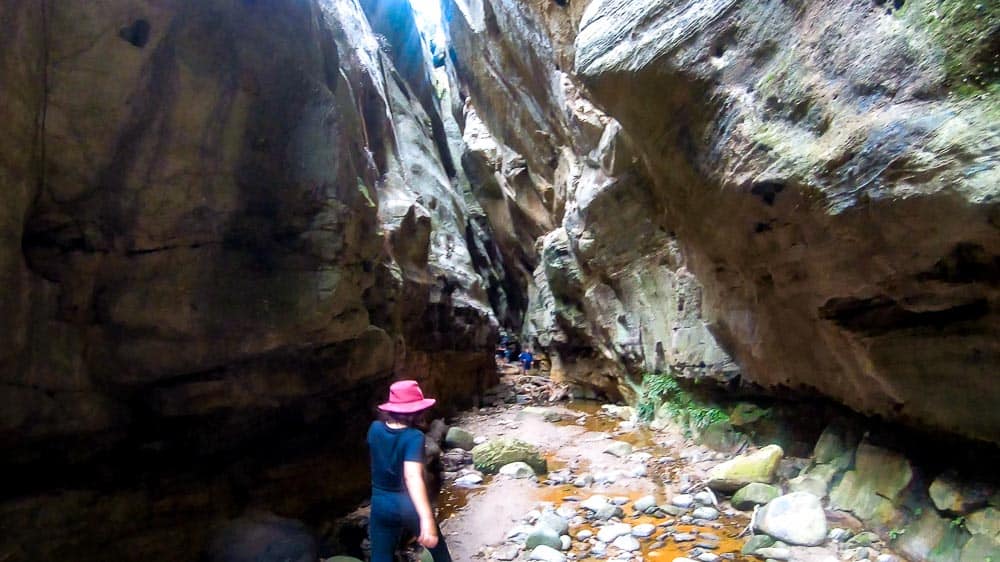 If you're planning on taking the kids to the spectacular Carnarvon Gorge National Park, then you're probably on the hunt for family friendly Carnarvon Gorge accommodation. Well, the bad news is there aren't too many options to choose from. However, the good news is the accommodation, Carnarvon Gorge offers is perfect for families and there really is something for everyone no matter your budget. You won't find any flash Carnarvon hotels out here, however you will find some lovely Carnarvon Gorge cabins (both budget and luxurious), glamping options and if you're a family that likes to camp, there are plenty of places to pitch a tent.
To help you decide where to stay at Carnarvon Gorge with the family, in this guide, we take a closer look at all the different accommodation options available. So let's get started and find you the best place to stay at Carnarvon Gorge with the kids.
Are you planning a trip to Queensland? Have any questions? Join our Queensland Travel Planning Facebook group here now! It's the perfect place to ask any questions and to be inspired!
This post may contain compensated links. Please refer to my disclaimer here for more information.
Carnarvon Gorge Accommodation Map
The map below shows you the location of all the different places to stay in Carnarvon. Zoom in and out for a better view!
Keep reading below for full details of each place.
Accommodation Carnarvon Gorge Reviews
In no particular order, below we review all the different places to stay at Carnarvon Gorge.
Big4 (Previously Takarakka Bush Resort & Caravan Park)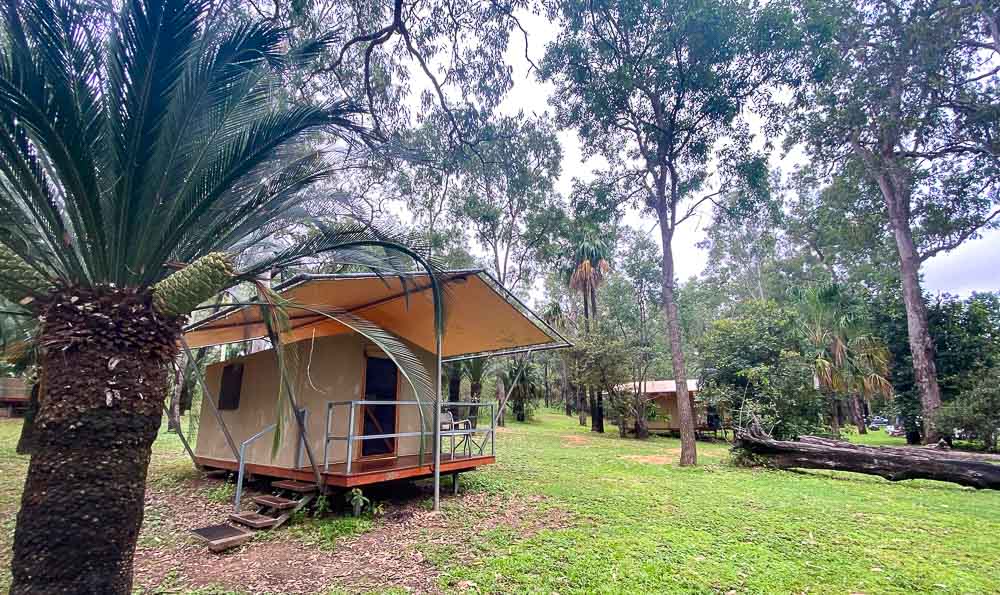 The Big4 Carnarvon Gorge is just 4 km from the Visitor Centre, where the main walking track is located. Sprawled across 100 acres of bushland and surrounded by the Carnarvon Creek, the Big4 is a picturesque property that offers a range of affordable accommodation options for families.
Small families of three can stay in the self contained Cottage. The Cottage comes with a queen and single bed, air conditioning, ensuite bathroom, fridge, microwave, oven, stove, crockery and cutlery. The Cottage starts at $245 per night.
For larger families, the Big4 also offers safari tents that can sleep up to 6 people. The safari tents come with linen, towels, a bar fridge, shelving, a pedestal fan and a private balcony with outdoor seating. You also have the option of choosing a safari tent that comes with its own ensuite.
All safari tents are centrally located, so you have easy access to the shared camp kitchen, toilets and showers. However, if you plan on using the camp kitchen, you'll need to bring your own cooking gear as well as plates and cutlery. Safari tents start at $155 per night with an ensuite or $110 per night for those without an ensuite.
The Big4 also has a range of powered and unpowered camping sites. The campsites are spread out across the property and are organised in smaller little areas. Most of the areas have their own large camp kitchen, amenities block and fire pit. Therefore, for the most part, regardless of where you camp, you won't need to walk far to the toilet. Powered sites start at $45 per night and unpowered sites start at $35 per night. These rates are for two adults, with additional adults $15 per night or additional children $5 per night.
After a day of hiking, the kids will love cooling off in the Big4 "beach" – a designated swimming area in Carnarvon Creek. Just a little upstream from the "beach", the kids will also love trying to spot the platypus that call this area of the creek home. Be sure to bring the kids down at either dusk or dawn, which is the best time to spot these shy creatures.
There are loads of amenities at the Big4, including numerous toilet and shower blocks, multiple camp kitchens, communal fire pits, a laundry, dump point and a general store. They also put on a roast dinner a few times a week and have a daily bush bar from 4 to 5 pm.
Read this full review about the Big Carnarvon Gorge on our Queensland Camping website.
What's to Love?
Great affordable accommodation for families. If you're on a tight budget, this is the best place to stay.
What's not to Love?
Unless your a small family of three, there is no self contained accommodation here. However, the camp kitchens are brilliant and it means you get that camping experience without actually having to sleep in a tent.
Summary
For families after affordable accommodation in Carnarvon, the Big4 is the perfect option. The property doesn't have any fancy amenities for the kids, but it's the perfect setting for families wanting to be in a natural environment.
Click here to check availability and current pricing.
Carnarvon Gorge Wilderness Lodge
For those that prefer a little more luxury on their holiday, the Wilderness Lodge may be more your style. This gorgeous property is set across 100 ha and is the closest accommodation to the various walks.
At the Carnarvon Gorge Wilderness Lodge, there are 28 safari cabins. Family cabins sleep up to 4 people with a queen bed and two single beds. Each cabin is fully air conditioned and has a private bathroom, balcony and tea and coffee making facilities. These cabins start at $300 per night.
One of the best things about this Carnarvon Gorge lodge is it has a swimming pool. The kids will love returning home after a full day of hiking for a swim. The Lodge also has a restaurant that serves breakfast, lunch and dinner – it's not cheap though and unfortunately, there are no other places in the area for meals.
The Wilderness Lodge also has a guest laundry.
What's to Love?
The swimming pool! A swim is the perfect way to unwind after a day of hiking.
What's not to Love?
No cooking facilities – you'll need to eat all your meals at the restaurant, which can soon add up. However, you could always head on down to the visitor centre and make use of their BBQ and picnic facilities.
Summary
The Wilderness Lodge is the perfect place for families that want a few little luxuries while staying in Carnarvon. The bonus of a swimming pool is great for the whole family, while having a restaurant on site is ideal for parents who aren't keen on cooking after a day of hiking.
Click here to check availability and current pricing.
Sandstone Park Carnarvon Gorge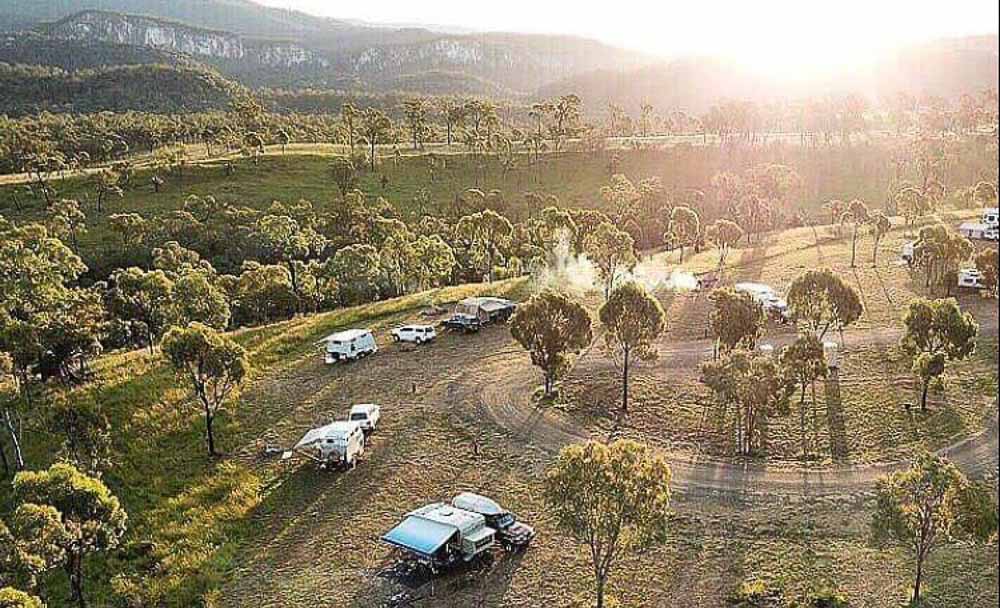 If you're a family who likes to travel with their pet, there is just one dog friendly place to stay in Carnarvon Gorge – the Sandstone Park. However, there are no cabins or rooms here – it is camping only, and amenities are fairly limited. However, this is a stunning campground, with every site offering 360° views of the surrounding ranges.
At this Carnarvon holiday park, all campsites are spacious, are drive through flat sites and unpowered. You are welcome to have a fire pit at your campsite, and there are toilets, drinking water and a dump point on site.
While the Sandstone Carnarvon Gorge is pet friendly, the other great thing about it is they have kennels for hire, so you have a safe place to leave your pet while the family are out hiking. Given that Carnarvon Gorge is a National Park, you cannot bring dogs on the hikes, so the kennels are perfect! Kennels are $10 for half a day and $20 for a full day – but it is recommended you book well in advance.
Campsites are $30 per night for two people with extra adults $12 per night and extra children $7 per night. Children under 5 are free.
What's to Love?
Being able to bring your dog! Having a kennel on site is even better, so you have a safe place to keep your dog while you're in the national park during the day.
What's not to Love?
There are limited facilities here, so no showers or camp kitchens. You will need to bring everything with you.
Summary
The Sandstone Park, Carnarvon Gorge, is just 5 km from the Visitor Centre, where the main walking track is and is the ideal spot for families that like to camp and travel with their dogs.
Click here to check availability and current pricing.
Carnarvon National Park Camping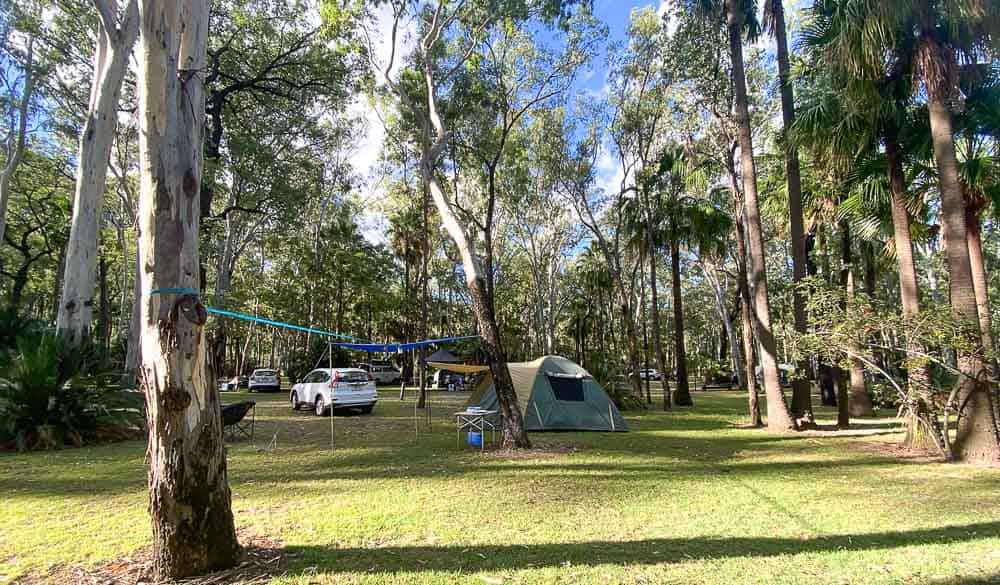 For camping families that want to be as close as possible to the Carnarvon National Park, you'll be pleased to know that there are two camping areas within the National Park. One is located at the Visitor Centre, just outside the start of the main gorge walking track, while the other is located at Big Bend, the end of the track.
The Visitor Centre's camping area is a lovely campground, beautiful and green with lots of grassy and shady campsites. However, the bad news is that it is only open during certain types of the year, being school holidays during Easter, June/July and September/ October. Campsites here are only suitable for tents or off road campervans and camper trailers; they are not suitable for caravans or large motorhomes.
For the super keen campers and hikers, you can camp at Big Bend, which is at the end of the main gorge walking track. However, you will need to hike all your gear in which is 9.7 km from the car park. But if you're keen to do this, it is a great way to explore the gorge – what an adventure for the kids!
Amenities at the Big Bend campsite include picnic tables and non flushing toilets. While amenities at the Visitor Centre's camping site include free electric BBQs, picnic tables, and non flushing toilets. There are no showers at either campsite.
Campsites are $6.75 per person per night or $27 for a family (includes 2 adults and up to 6 children)
What's to Love?
Being right at the Visitor Centre, you're right there at the main gorge walking track, so no need to drive around during the day. Or if you camp at Big Bend, you only need to walk one way in a day and can take your time exploring the tracks.
What's not to Love?
There are no showers at either campsite and of course, if you decide to camp at Big Bend, you'll need to carry all your camping gear with you.
Summary
While for your average family coming to Carnarvon Gorge, these National Park campsites may not be ideal, for families looking for an adventure, they are the perfect place.
Click here to check availability and current pricing.
———————————————————————————————————–
Hopefully you found this guide on where to stay in Carnarvon Goge with kids helpful. You can check our guide on visiting Carnavon Gorge with kids here. If you're travelling via Roma, read our guide on things to do in Roma here.