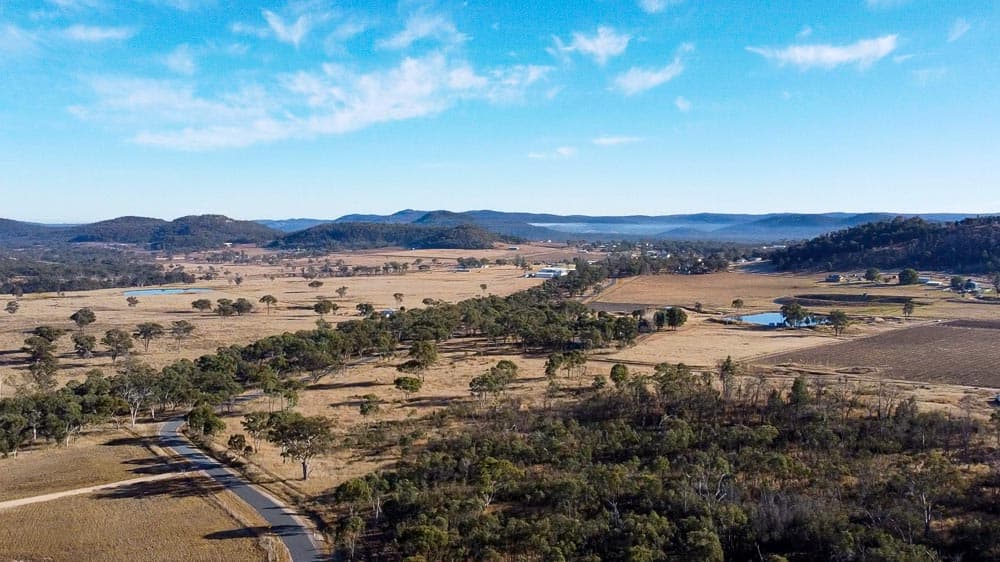 Located in the Southern Downs, Granite Belt Region, Stanthorpe is a rural town a few hours southwest of Brisbane. The area is well known for its exceptional wine and delicious local produce, but also has some great nearby National Parks and a range of excellent family friendly Stanthorpe attractions.
Due to its incredible wineries, Stanthorpe is often considered to be an adults destination, however you may well be surprised to hear of how many great things to do in Stanthorpe with kids there are. The whole family will enjoy tasting all the delicious local produce, petting farm animals, exploring the nearby National Parks and even many of the Stanthorpe wineries are actually family friendly.
If you're planning a visit and wondering what to do in Stanthorpe, then you definitely need to read this guide. In this Stanthorpe – things to do guide, I'll cover all the best things to do in Stanthorpe, as well as essential information such as location, opening hours, and entry prices.
As well as providing tips for things to do around Stanthorpe, this guide will cover practical information such as how to get to Stanthorpe and some suggestions for the best accommodation in Stanthorpe for families.
This post may contain compensated links. Please refer to my disclaimer here for more information.
Talk to other families about their tips on visiting Stanthorpe and join our Queensland Travel Facebook Group.
Where is Stanthorpe & how to get there?
Firstly, where is Stanthorpe? Stanthorpe is in the Granite Belt Region, about 2.75 hours drive southwest from the Brisbane CBD or about 3.25 hour's drive from the Gold Coast. Stanthorpe is only about a 30 minutes drive from the NSW border.
The best way to get to Stanthorpe is by car. There is however a Brisbane to Stanthorpe bus that departs twice daily from the Roma Street Transit Centre and takes around 3.5 hours.
However while you can get a bus from Brisbane to Stanthorpe, you're still going to really need a car once you're in town. All of the Stanthorpe tourist attractions are well spread out and a car is the best way to get around.
The other option is to join one of the Stanthorpe day tours however these tend to focus on the wineries.
The Best Time to Visit Stanthorpe
While most people consider Stanthorpe a winter destination, the truth is anytime is the best time to visit Stanthorpe!
The most popular time for a Stanthorpe holiday is during the colder months of Autumn and Winter from around April to August. During the colder months, families can snuggle up in front of the fireplace and on the very rare occasion, you may even be lucky enough to see snow! It does get cold though, so be prepared to rug up!
However, the Spring and Summer months are still a great time to visit. In the Summer months, families can escape the heat and humidity, which is common in other Queensland tourist destinations. While in Spring the region is alive with beautiful wildflowers and is the perfect time to explore the regions National Parks.
The Best Things to do in Stanthorpe with Kids
Below in this things to do Stanthorpe guide, I've provided a comprehensive list of the best things to do and what to see in Stanthorpe. Please note that all prices mentioned were correct at the time of writing and may fluctuate depending upon changes to currency conversion and rate increases. To check the rate in your local currency, click here.
To help with planning your Stanthorpe itinerary, I've also provided this hand map below which shows you where all the different attractions are. Zoom in and out for a better view.
See the Big Apple – Stanthorpe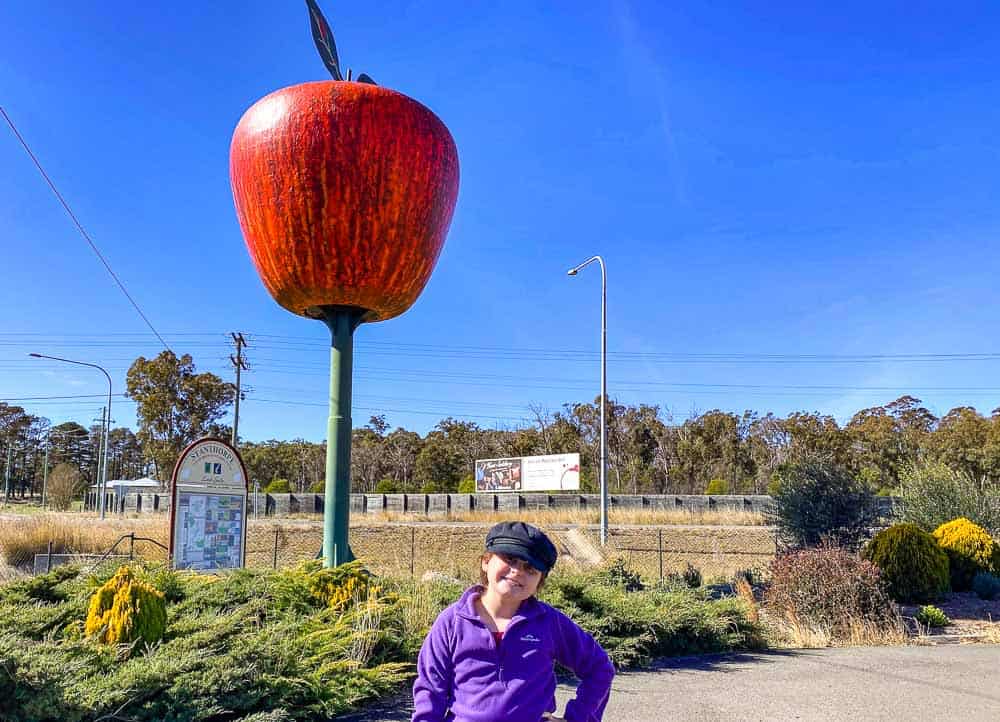 Did you know that Stanthorpe produces almost all of the Queensland apple crop? So it's no surprise that one of the first things you will see as you drive into Stanthorpe is the Big Apple.
The Big Apple – Stanthorpe is a cool spot to get creative with some fun photos – like the kids eating or holding the apple. We tried and failed miserably!
While you're at the Big Apple, walk on towards the old railway station you see behind you. This makes for a lovely photo opportunity and don't worry trains only past here once a month now.
Location: New England Hwy, Stanthorpe
Opening Hours: Always
Price: Free
Eat the Famous Apple Pie at Suttons Stanthorpe
Apart from all the wine tasting, one of my personal favourite things to do in Stanthorpe, QLD is eating apple pie at Suttons! Sutton apple pie is sooooo good, probably because it is all hand made in the kitchen on site.
Located on a real working apple orchard, these guys actually use apples straight from their trees. Sutton pies are so popular that they cook up to 800kgs of apples onsite every week! Even the pastry is made on site.
At Suttons Stanthorpe, you can sit down and try the various yummy apple products at the Suttons Juice Factory and Cidery Cafe, or purchase from their store and take your goods home to eat later. As well as apple pie, other products made here are apple juices, sparkling apple cider and a range of preserves.
No need to leave your dog at home either, because there is even an area where they are welcome too.
And before you leave be sure to pop your head in the window and see Dave Sutton using the machine peeling apples.
Location: 10 Halloran Drive, Thulimbah
Opening Hours: Daily from 9.30 am to 4.30 pm
Price: Apple pie served with ice cream, cream and apple syrup is $14.90
See the Big Thermometer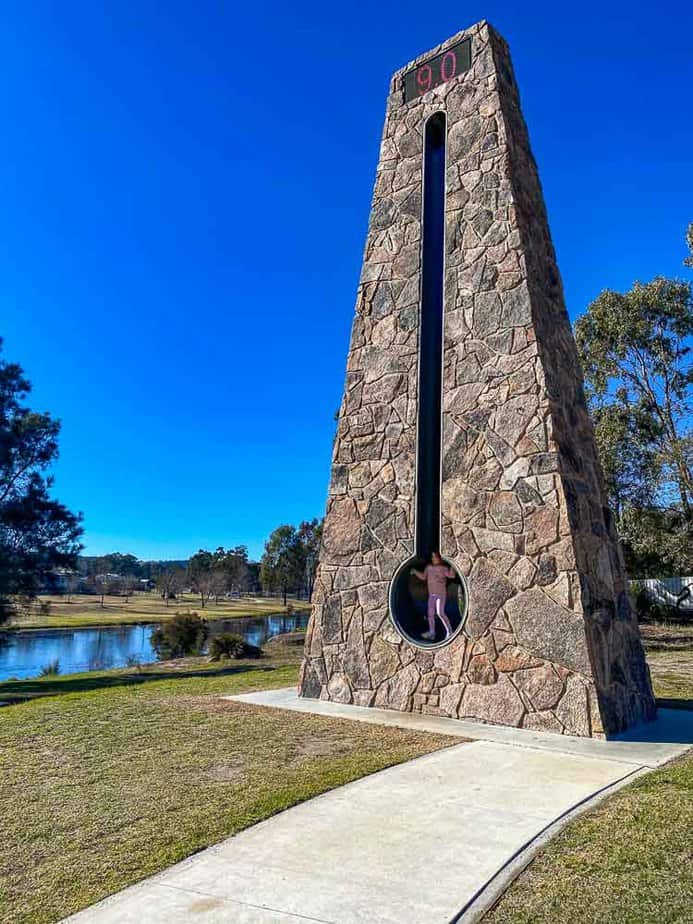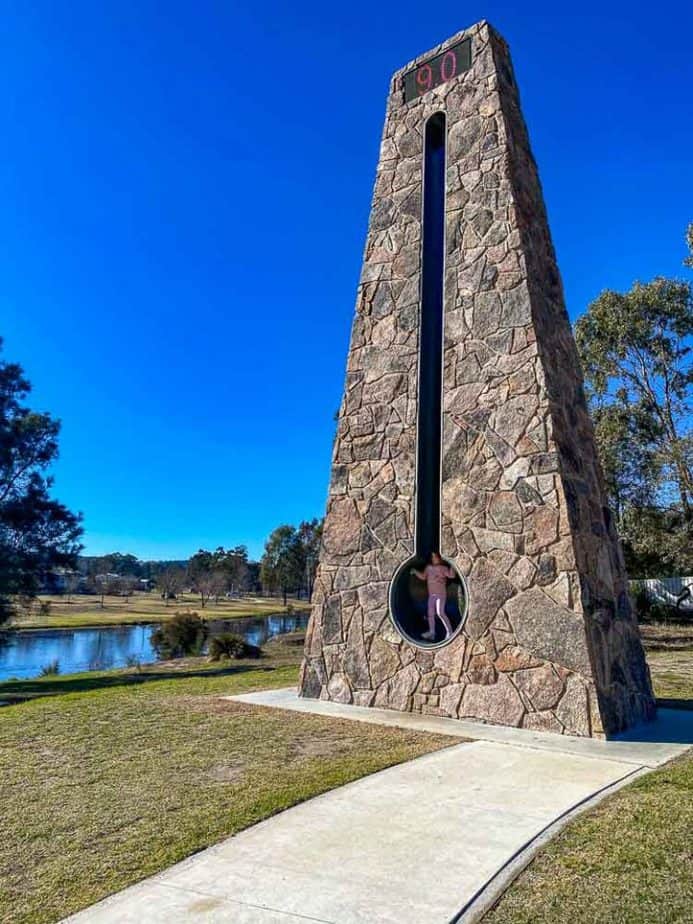 Stanthorpe is said to be Queensland's coldest town, and so in honour of that reputation, there is a newly built Big Thermometer. Grab a photo of this new iconic monument and then take a walk along the lovely Quart Pot creekside there. The visitor information centre is also here, so a good place to pick up some brochures.
Location: 28 Leslie Parade, Stanthorpe
Opening Hours: 24 hours / 7 days a week
Price: Free to look
Stroll Along the Quart Pot Creek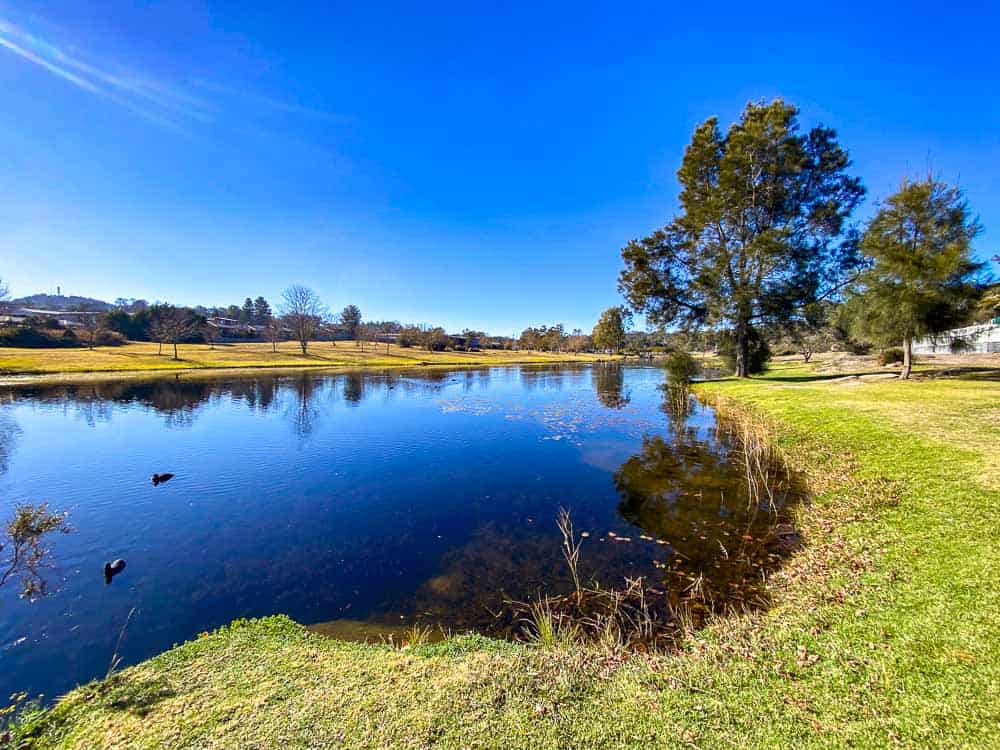 Quart Pot Creek is a gorgeous place for a walk in Stanthorpe or even a picnic if you have time and the weather is warm. The creek meanders through Stanthorpe and eventually out to Spring Creek where it then forms the Severn River.
Along the creek, there is 5 km of walking and bike tracks which take you past some gorgeous landscapes. Along the way you'll a range of playgrounds, picnic and BBQ areas as well as get to see some of the town's local birds. The pathway eventually meets up with the Red Bridge.
Location: 28 Leslie Parade, Stanthorpe
Opening Hours: 24 hours / 7 days a week
Price: Free
Admire The Red Bridge
While not actually red anymore, the Red Bridge is a gorgeous old historic railway bridge and well worth checking out. Built in the 1880s as part of the Brisbane to Sydney interstate rail link, this heritage listed bridge was built solely using just manpower, horse drawn drays and explosives.
The Red Bridge makes for a wonderful photograph and is perfect for combining with a walk along Quart Pot Creek if you have the time. The landscape surrounding the bridge is gorgeous and well worth at least a wander for 15-30 minutes.
Location: Heritage Park Stanthorpe – we entered by parking at the end of Pioneers Parade and following the pathway down to the bridge.
Opening Hours: 24 hours / 7 days a week
Price: Free
Visit the Stanthorpe Cheese Shop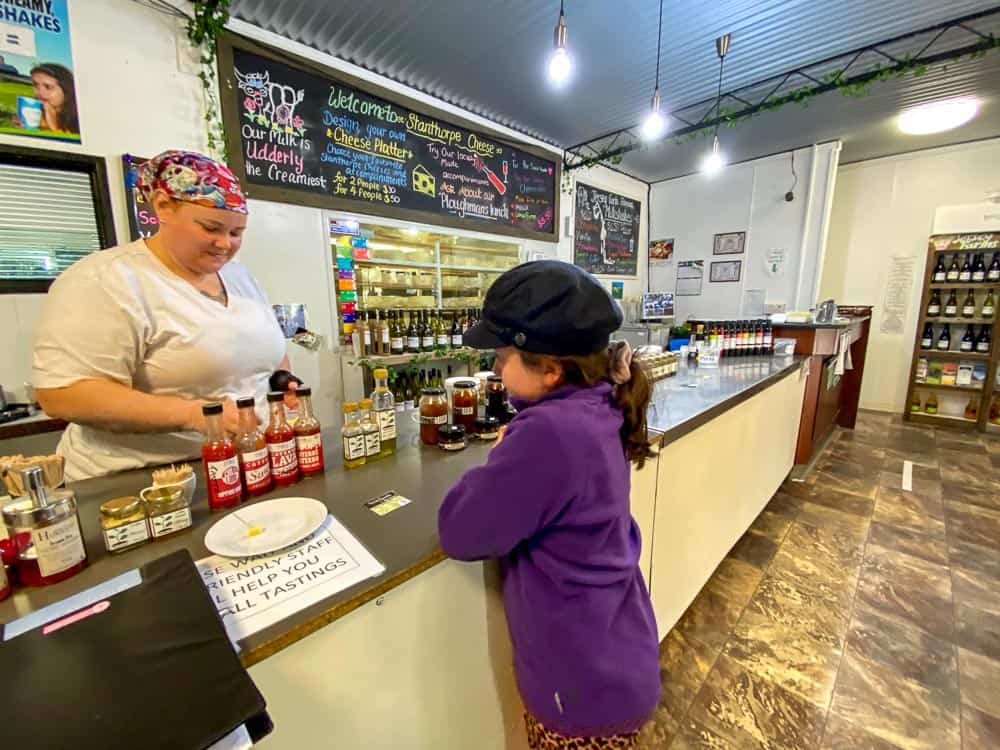 If you're a family of cheese lovers, then you must visit the Stanthorpe Cheese shop. The Stanthorpe Cheese shop is the highest and coldest dairy farm cheese shop in Queensland and makes cheeses from a single herd of purebred Jersey cows.
The Cheese Shop offers a range of cheeses for you to try before you decide what to buy and take home with you. On any given day you can expect to be able to try around 12 different cheeses as well as a range of other great local produce. There is also the Jersey Girls Cafe on site where you can try their fantastic Ploughman's lunch which comes with cheese, bread or crackers, relishes, eggs and cured meat. It is sooooo good – plan your trip around morning tea, afternoon tea or lunch so you can indulge!
Location: 4 Duncan Lane, Thulimbah
Opening Hours: Daily from 10 am to 4 pm
Price: Cheese prices vary
Visit one of the Stanthorpe Wineries
There ain't no way I'm going to Stanthorpe without visiting at least a couple of wineries!! While you might think visiting the wineries in Stanthorpe isn't very family friendly – think again! There is a range of great wineries Stanthorpe has that are perfect for bringing the kids too.
Some of the best wineries in Stanthorpe have activity corners for the kids to hang out in while the parents partake in wine tasting or even encourage families to wander through the vineyards where you can all see the grapes growing.
The wineries we visited and found super family friendly are below. Of course there are a zillion more wineries in Stanthorpe – but these a few which we can guarantee are more than happy for you to bring the kiddies with you! And we can also recommend their wine – in fact I'm enjoying a glass right now as I write this article!
Balancing Rock Wines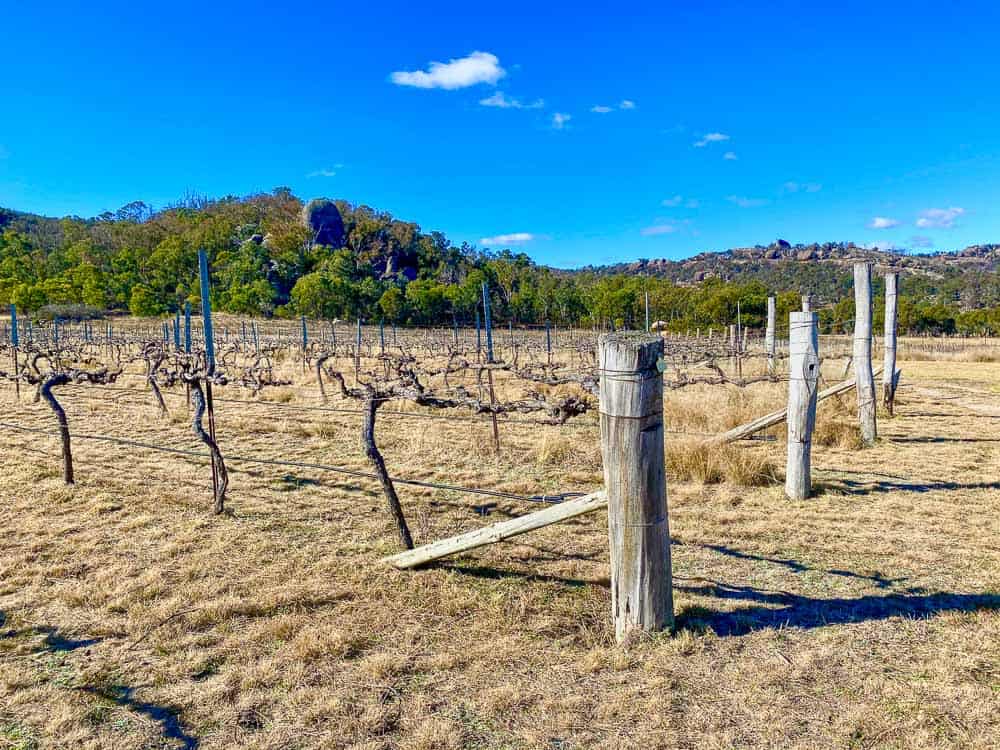 This is a super picturesque spot with the cellar door, surrounded by a range of massive granite boulders in the background as well as the vineyard and dam in the foreground. You can even see as far as the NSW countryside from here! Here you can try a range of beautiful red and white wines, while the kids enjoy their own drink or make use of the toys outside. These guys have some big plans too with accommodation to be added in the future as well as a cafe in Coorparoo where you can enjoy their wines. Don't leave without a wander through the vineyards!
Location: 221 Old Wallangarra Rd, Wyberba
Opening Hours: Friday to Monday from 10 am to 4 pm
Summit Estate Wines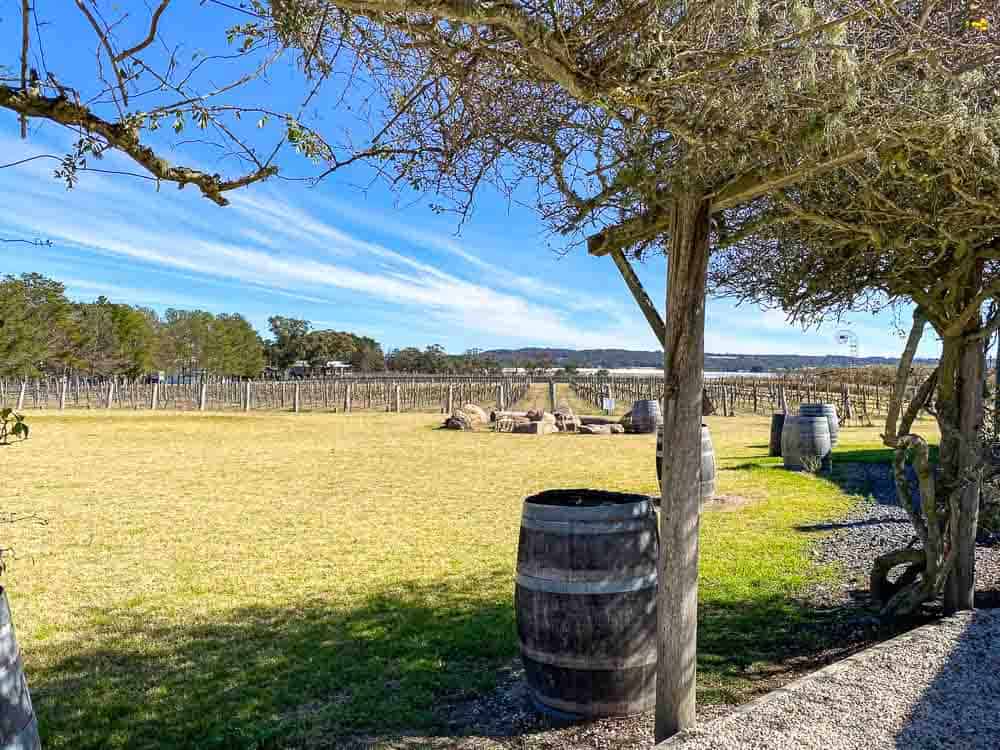 While Mum and Dad enjoy some wine tasting, the kids can hang out with their devices or toys on the bean bags or ask to borrow their cricket set. Also if you're in town during winter on a Saturday night you could always head down for their family friendly bonfire nights from 4 to 6 pm – bring a picnic and drink their beautiful wine. The good thing about Summit Estate is dogs are welcome too.
Location: 291 Granite Belt Dr, Thulimbah
Opening Hours: Friday and Saturday 10 am to 6 pm and Sunday to Monday 10 am to 2 pm.
Ridgemill Estate Wines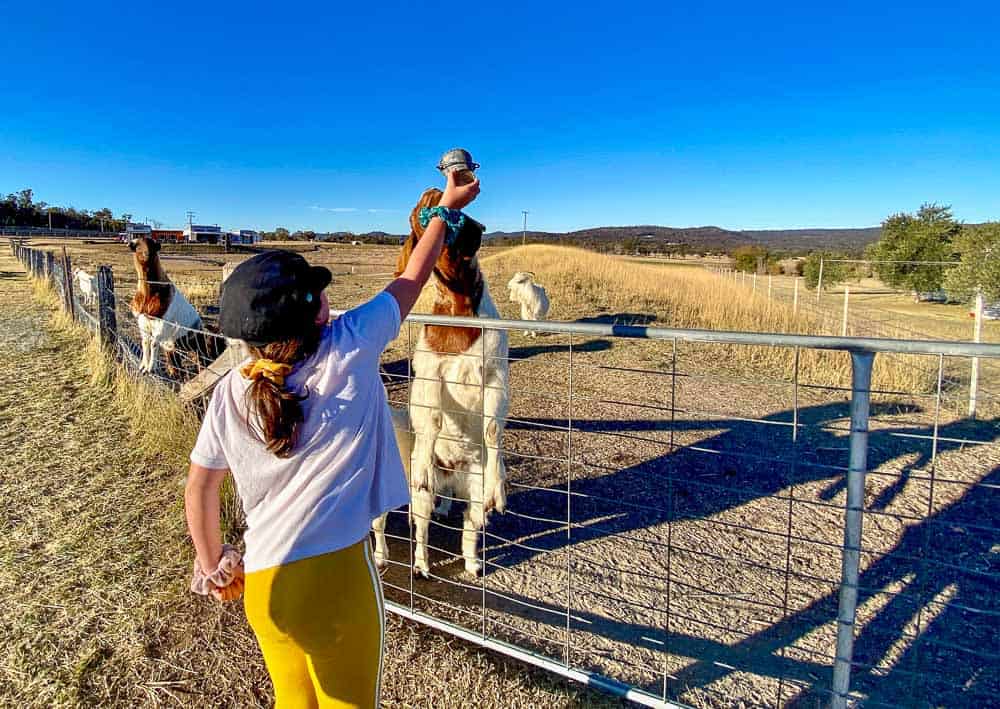 Yet another great place for families is Ridgemill Estate Wines. This is a super modern site which welcomes the kids – in fact, while mum and dad are enjoying wine tasting the kids can either have their own drink or go and feed the greedy resident goats for free! Also onsite are some beautiful cabins which accommodate families of 4 (from $185 per night) or even a 3 bedroom house for up to 6 people.
Location: 218 Donges Road Severnlea
Opening Hours: Daily from 10 am to 5 pm, except Sundays when the cellar door closes at 3 pm
Get Lost in the Granite Belt Maze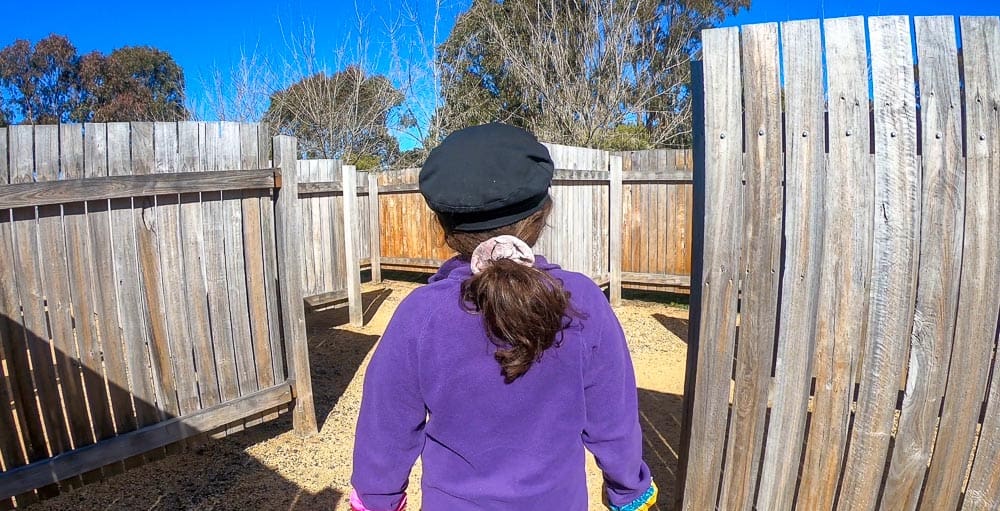 A great place the kids will no doubt love is the Granite Belt Maze. Here there are 3 different mazes of varying degree of difficulty. There is the large main maze for the entire family to enjoy as well as two smaller mazes perfect for the kids to enjoy on their own. If you're up for a double challenge, as you go through the mazes, you can look for clues to complete a few riddles the staff give you as arrive.
As well as the maze there is a 9 hole mini golf course, as well as a range of fun props for some great photo opportunities. There is also a kiosk selling some snacks and drinks.
Location: 364 Old Warwick Rd, Glen Niven
Opening Hours: Daily (except Tuesdays and Wednesdays) from 9 am to 5 pm, open daily during school holidays and closed during the month of February. Best to double check opening hours via their website.
Price: $18 per adult | $13 kids (5-16 | Family Pass $56
Pick Your Own Strawberries
If you happen to visit Stanthorpe between October and May, then head to Ashbern Farm for some strawberry picking. Whether it's strawberry picking season or not, still drop by to sample some delicious strawberry treats like strawberry ice cream.
If you want to go strawberry picking, just grab a punnet from the farm shop, go and pick as many strawberries as you like, then you'll pay by the weight of what you've picked on return.
There's also a little set of swings here which the kids will enjoy.
Location: 2 West Rd, Stanthorpe
Opening Hours: The season is October to May when it's open Wednesday to Sunday from 9 am to 4.30 pm
Price: Admission is free you just pay by the weight of what you pick
Learn about History at the Stanthorpe Heritage Museum
At the Stanthorpe Museum, there is so much for the entire family to explore including 14 different buildings, featuring over 20,000 historical artefacts, as well as a range of old machinery and vehicles.
The buildings at the museum include a School Residence from 1894 complete with old desks and, slates and inkwells, Ardmore House (a summer holiday home) from the 1920s which is filled with period collections, Heath House from the 1940s which has been completely decorated with household furniture and items from the 1930s and 1940s and Wilson's Downfall Gaol from 1876.
The artefacts on display come from many different industries and areas of life including pastoral, tin mining, Aboriginal, Red Cross, medical and social. Here you will find old farm machinery, fire engines and a WWI display.
Location: 12 High Street, Stanthorpe
Opening Hours: Wednesday to Friday from 10 am to 4 pm, Saturdays from 1 pm to 4 pm and Sunday from 9 am to 1 pm.
Price: Adult $7 | Child (5-14) $3.50 | Family Pass $20
See a Castle at Castle Glen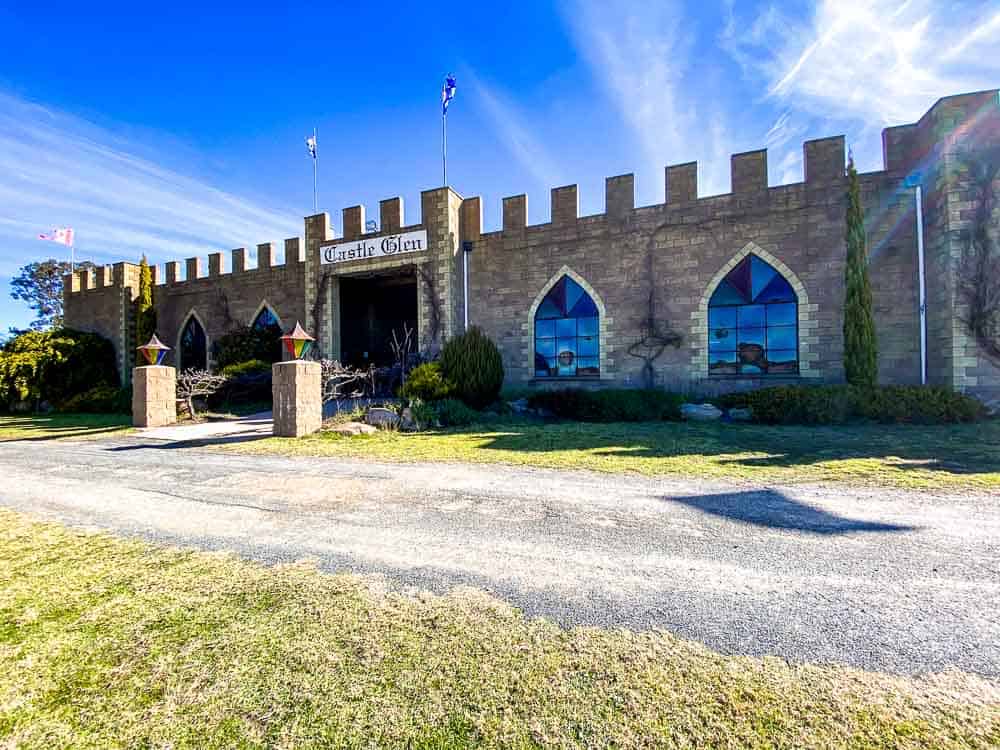 You may be forgiven for thinking that Castle Glen is an old medieval castle, but the reality is this castle was built in 1994. Castle Glen is, in fact, a winery and distillery and to be honest not all that child friendly (particularly for tiny tots) on the inside as there are far too many temptations, with hundreds of bottles within arms reach. Nevertheless, the exterior of Castle Glen is well worth checking out, no doubt the kids will enjoy seeing the large medieval style 'faux' castle.
Location: 3184 Amiens Road, Thulimbah
Opening Hours: Daily from 10 am to 4 pm
Price: Free to look
Visit Donnellys Castle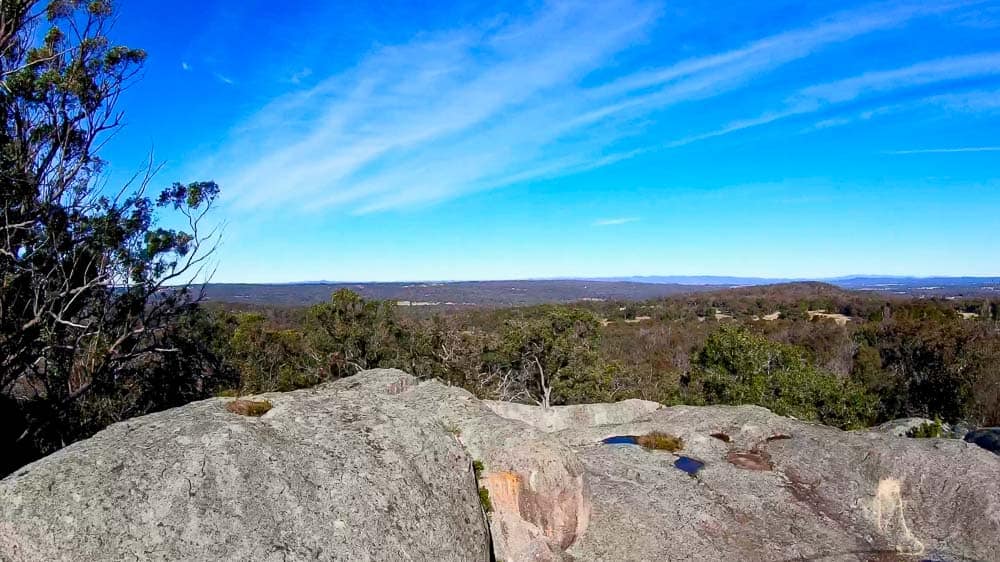 No doubt the kids will love exploring Donnellys Castle, a place which was once a hideout for bushranger "Thunderbolt" who use to roam the New England Tablelands.
While not an actual castle at all, Donnellys Castle is a granite rock formation, which you can explore by walking between and over the large boulders. There is a range of cave like entrances with narrow crevices – a natural playground for the kids! There is also a great lookout on top of one of the granite outcrops.
The picnic area has toilets and a few picnic tables, and you don't have to walk more than 100m from the picnic area to explore all the rocks and caves.
We all loved this place and there were plenty of families with little ones while we were there and it was clear that all the kids were having a great time climbing over the large boulders and going in and out of the caves. Definitely a must do for families coming to Stanthorpe.
Location: Donnellys Castle Road, Pozieres
Opening Hours: Always – best during daylight
Price: Free
Check out Stanthorpe from Mt Marlay Lookout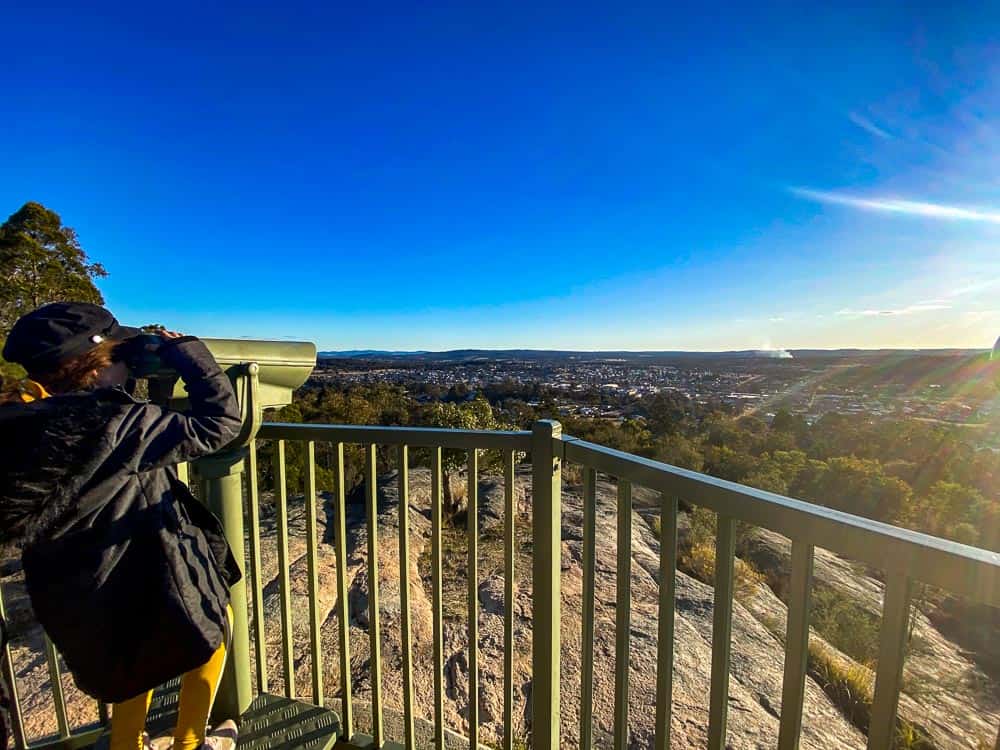 For the panoramic views of Stanthorpe, head to Mt Marlay Lookout. For an even better view, the kids will love using the free mounted binoculars there.
Once you've checked out the view at the lookout, take the short walk around the summit. The narrow walkway goes through the trees and offers even more great views across Stanthorpe. The walk is not signposted, but just follow the path from the lookout – it is just a 10 to 15 minute circuit.
Location: Lock Street Stanthorpe
Opening Hours: Always – best during daylight
Price: Free
Visit the Granite Belt Christmas Farm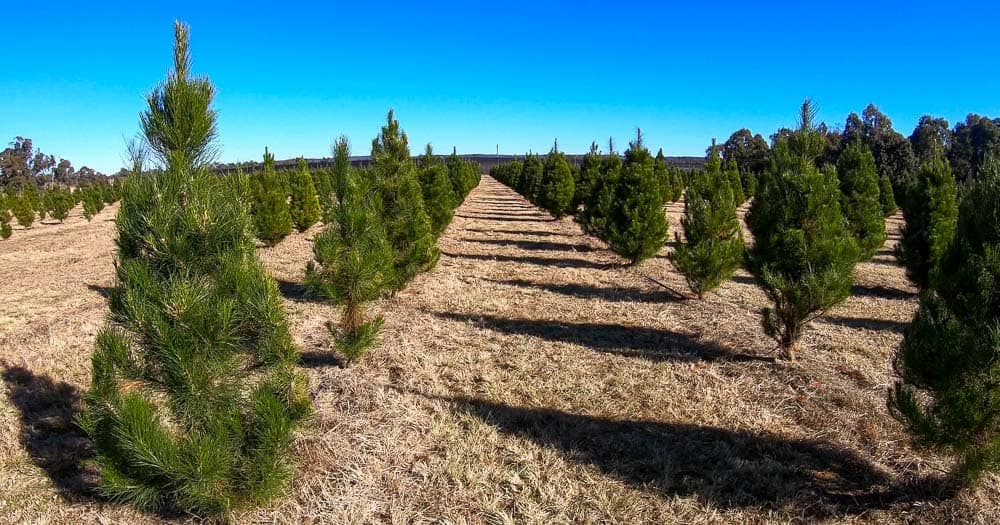 A really cool place for families to visit in Stanthorpe is the Granite Belt Christmas Farm. Here kids can get the rare opportunity to see rows and rows of real life Christmas trees being grown.
As well as the real Christmas trees, there is a range of things here for families to do, including feeding Santa's farm animals and shopping for Christmas decorations or chocolate. No doubt the highlight here for the kids is the farm animals. Here kids can feed animals including reindeers, lambs, donkeys, goats, chooks and ducks. It's just $2 for a small bag of animal feed. We had lots of laughs feeding these greedy little animals!
Now if you really want to enjoy the Christmas spirit here, you've got to come in December when they have a range of great Christmas events most weekends. This is also the time to come and buy your own Christmas tree which you can purchase from just $65. Families can wander up and down until they find the perfect tree which staff will then cut it down for you and net it so you can take home. Trees last for about 6 weeks, so plenty of time to decorate and for Santa to come.
Location: 321 Aerodrome Rd, Applethorpe
Opening Hours: Closed during February and March, otherwise open daily 9 am to 4 pm during school holidays and closed Tuesdays and Wednesdays for the remainder of the year.
Price: Free – $2 for animal feed
Visit the Truffle Discovery Centre
Visit the Truffle Discovery Centre where you can learn all about the most expensive edible fungus in the world. At the Truffle Discovery Centre, as well as getting to smell and taste a range of truffle products, you can learn all there is to know about truffles through also informative talks and interactive exhibits.
As well as tasting truffles, there is so much more to try. At the Truffle Discovery Centre, you can try a range of local produce including honey, mustard, balsamic, aioli and more.
To get the most out of your visit here, allow at least 30 minutes.
Location: 335 Church Road, The Summit
Opening Hours: Wednesdays and Weekends from 10 am to 3.30 pm
Price: Entry is free
See the Law Enforcement Dogs in Training
See if you can time your visit to the Truffle Discovery Centre to see the law enforcement dogs in training at Lawdogs Australia which is on the same property. Lawdogs Australia is Australia's first privately owned dog training kennel which is open to the public.
The whole family will love coming to see the puppies and adult dogs demonstrating different aspects of their training during this hour long live sit down show – one of the best things to see in Stanthorpe! Some of the behaviours you may see including barking on command, finding hidden scents and behaviours related to arresting suspects.
Location: 335 Church Road, The Summit
Opening Hours: Wednesdays and Saturdays at 11 am and 2 pm
Price: $25 per adult | $10 per high school student | $5 for primary student
Enjoy Yummy Local Produce at Mt Stirling Olives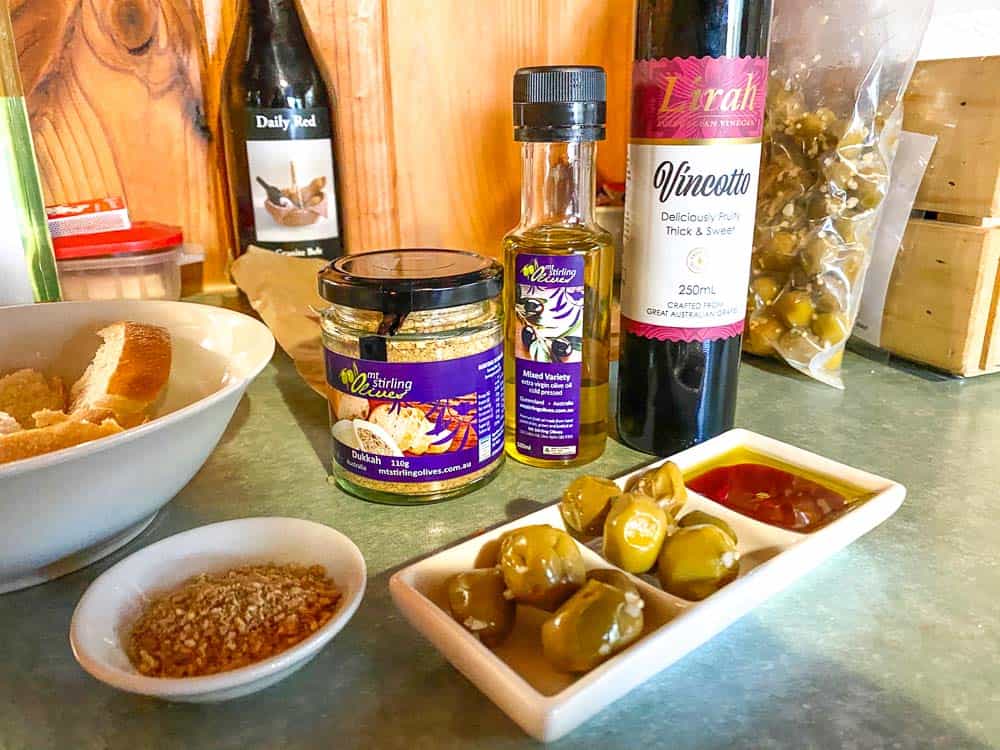 Did someone say olives!!! I visited Mt Stirling Olives for the first time a few years ago, and this was one of the places I most looked forward to going during our recent trip.
Located on a gorgeous property with around 3500 olive trees, at Mt Stirling Olives, you can purchase some of the most amazing olives, as well as olive oils, vinegar, tapenades and more! They also sell Mt Stirling Fudge which the kids will love – there are more than 25 flavours to choose from!
My hot tip? Don't make any dinner plans, and purchase a range of yummy things from here to enjoy with a bottle of local wine. Mt Stirling Olives is hands down one of my favourite places to visit in Stanthorpe, Qld.
Location: 200 Collins Road Glen Aplin
Opening Hours: Friday to Monday from 9.30 am to 4 pm
Price: Depends on what you buy
Jamworks Gourmet Foods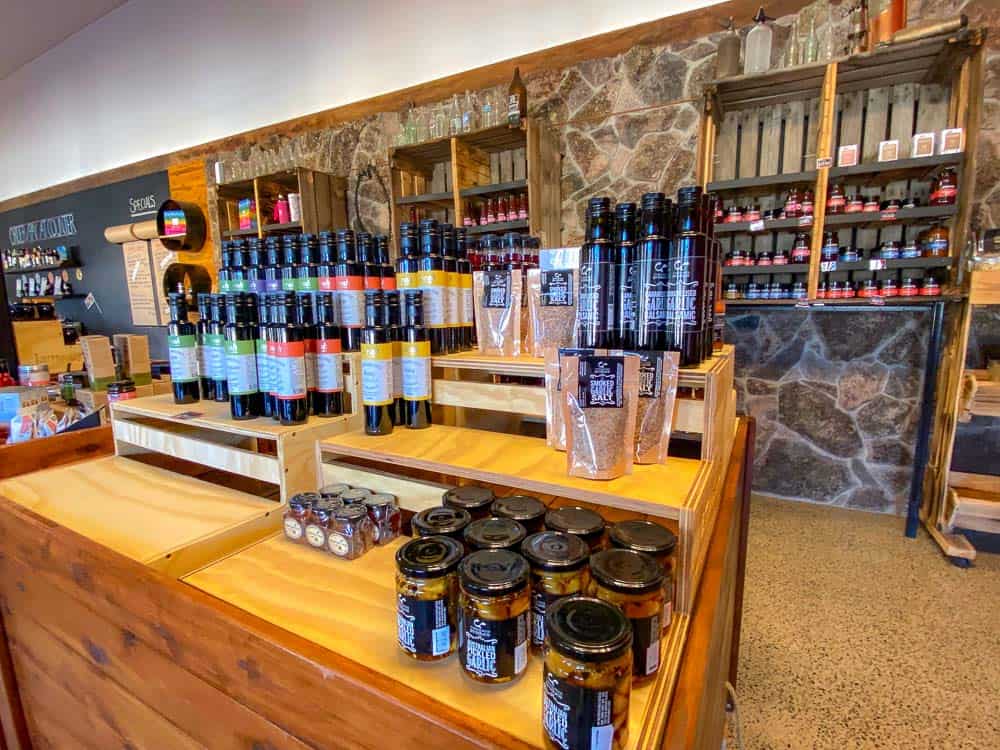 If chocolate, wine, olives and cheese wasn't enough, Stanthorpe even has a place where you can go and buy a range of yummy local jams, sauces and relishes! At Jamworks they make around 87 different products from a variety of great local produce found around the Granite Belt.
If you're hungry, it's also an excellent spot for lunch and dog friendly too!
Location: 7 Townsend Road, Glen Aplin
Opening Hours: Wednesday to Friday 10 am to 4 pm and Weekends 9 am to 4 pm.
Price: Depends on what you buy!
Stanthorpe Street Art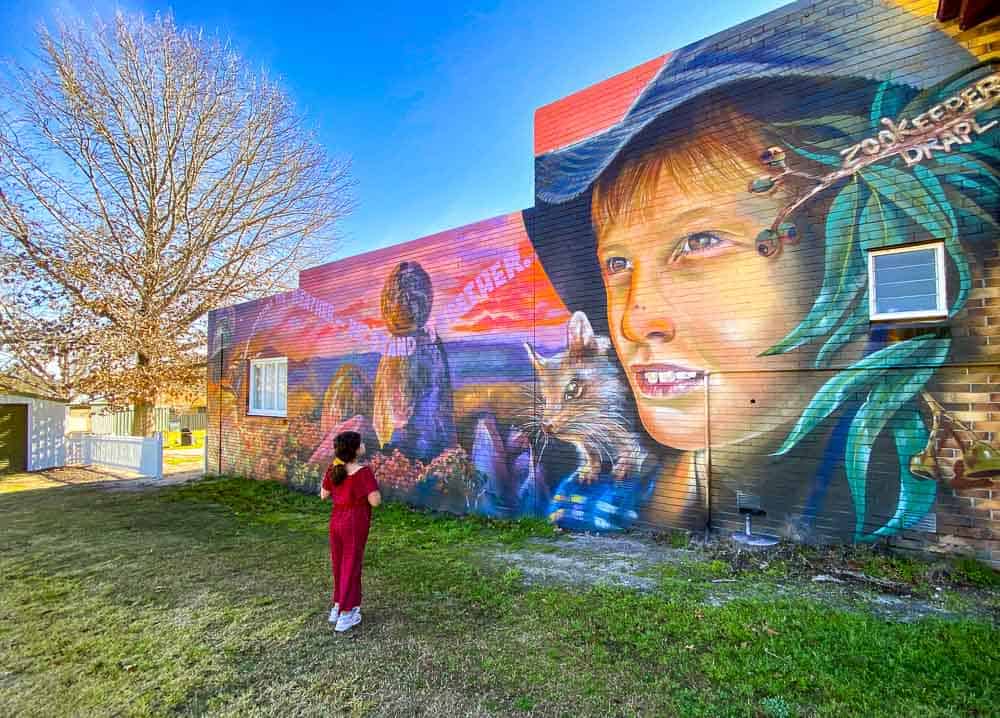 One of our favourite things to do when we travel is to go on the hunt for local street art and so we were pleased when we got an insider tip that Stanthorpe has it's own gorgeous street art. Here are some you might want to check out:
Weeroona Park, Old Ambulance Building: "Whatever the Weather, We Stand Together" is a beautiful tribute to the emergency services that worked hard to save properties during the February and September 2019 bushfires.
Weeroona Park, YMCA / Gallery Alleyway: Between the Art Gallery and the Swimming Pool is a few fun interactive type murals that the kids will enjoy getting their photo taken with.
Brass Monkey Statue: Now this is something I didn't know, but the locals refer to winter in Stanthorpe as Brass Monkey Season – which is what this little sculpture is referring to. This statue is located on the corner of Maryland and Railway Streets outside the newsagent.
Fromes Lane: Fromes Lane, near the Stanthorpe Civic Centre, has some nice street art and it also looks quite pretty all lit up at night.
South Wall of the Country Club Hotel: Here you'll find some fun murals which were painted during the 2016 Stanthorpe Apple and Grape Harvest Festival.
Farley Piazza: In the piazza, you may think you've just stepped into a piazza in Italy with the great mural here celebrating the local Italian community.
Angelo Valiante: Corner of Maryland and Railway Streets – this artwork completed by Guido van Helten is of Angelo Valiante who was one of the first Italians to settle in Stanthorpe.
Backpackers Mural: Just outside Australia Post you'll find this artwork which depicts the backpackers who come to town to help pick the crops.
Public Toilets Around Town: A popular place to find some bright and colourful murals are the public toilets around town. Check out the toilets behind Farley Street Piazza, Brock Park, the Lions Club on Wallangarra Road and Storm King Dam. So if you happen to go to the toilet while in town, maybe pay attention to the building before or after entering.
Explore the Markets In Stanthorpe
If you happen to be in town on the second Sunday of the month, be sure to head on down to the Markets in Stanthorpe. The entire family will love wandering the various stalls, in search of unique treasures. Items for sale include local handicrafts, organic products, plants, jewellery and loads more.
Location: Exhibition Centre, Stanthorpe Showgrounds – High Street Stanthorpe
Opening Hours: The second Sunday of the month from 8 am to 12 pm.
Price: Entry is free
Ballandean Pyramid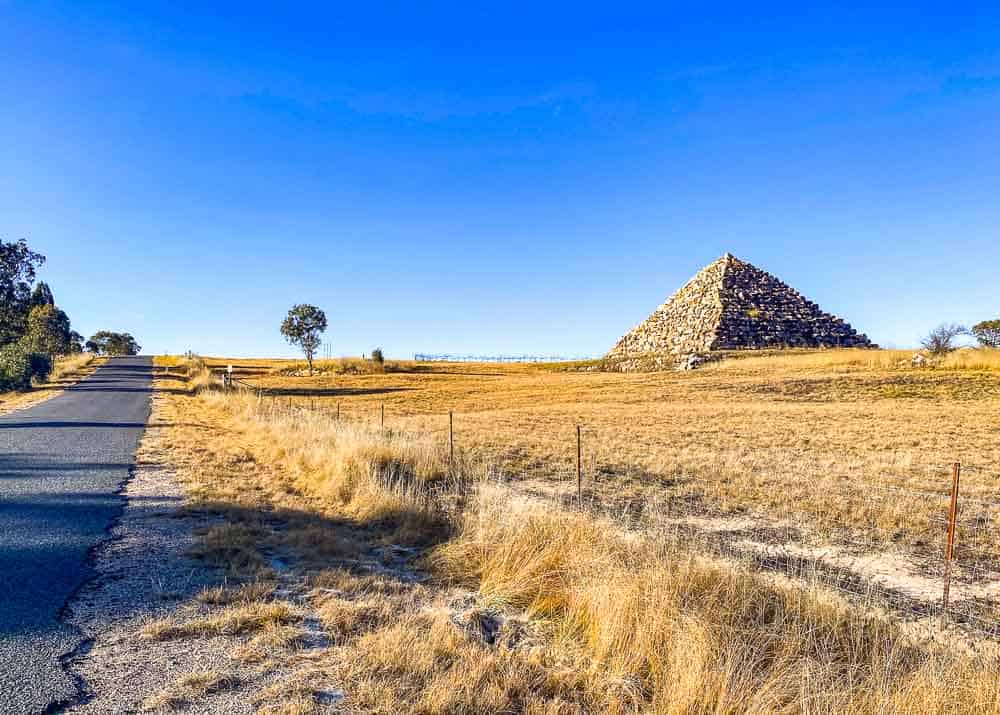 If you're heading out to Ballandean, be sure to stop for some fun family photos with the Ballandean Pyramid. This surprising site is built from blocks of local granite and stands 17.5 metres high and 30 metres square at the base. The structure took 8 months to complete and is made with 7500 tonnes of rock.
Just keep in mind that the pyramid is on private property so you can't get too close, but you can take a photograph from afar. To reach the pyramid, turn off the highway (eastward towards the Ballandean Tavern) on Eukey road, then turn immediately right onto Jacobsens Road. Follow Jacobsens Road for 1.7km until you reach the giant pyramid on the right.
Location: Jacobsens Road, Ballandean
Opening Hours: Always
Price: Free to look
Wisteria Cottage: The Heavenly Chocolate Shop
For the family of chocolate lovers, you can't skip a visit to the Wisteria Cottage Chocolate Shop! Here you'll find a range of delicious chocolates and other yummy treats. It's also the perfect place to get warmed up with a seriously rich cup of European style hot chocolate – they have over 20 different hot chocolate flavours to choose from!
There is so much chocolate to choose from here and there perfect place to indulge after a morning of bushwalking in Girraween National Park.
The kids will also love sitting at one of the tables by the chook pen so they can watch the chooks run about while they enjoy their morning tea.
Location: Pyramids Road, Stanthorpe – not far from the entrance of Girraween National Park
Opening Hours: Friday to Monday from 10 am to 4 pm
Price: Depends how much you buy!
Take a Step Back in Time at the Wallangarra Railway Station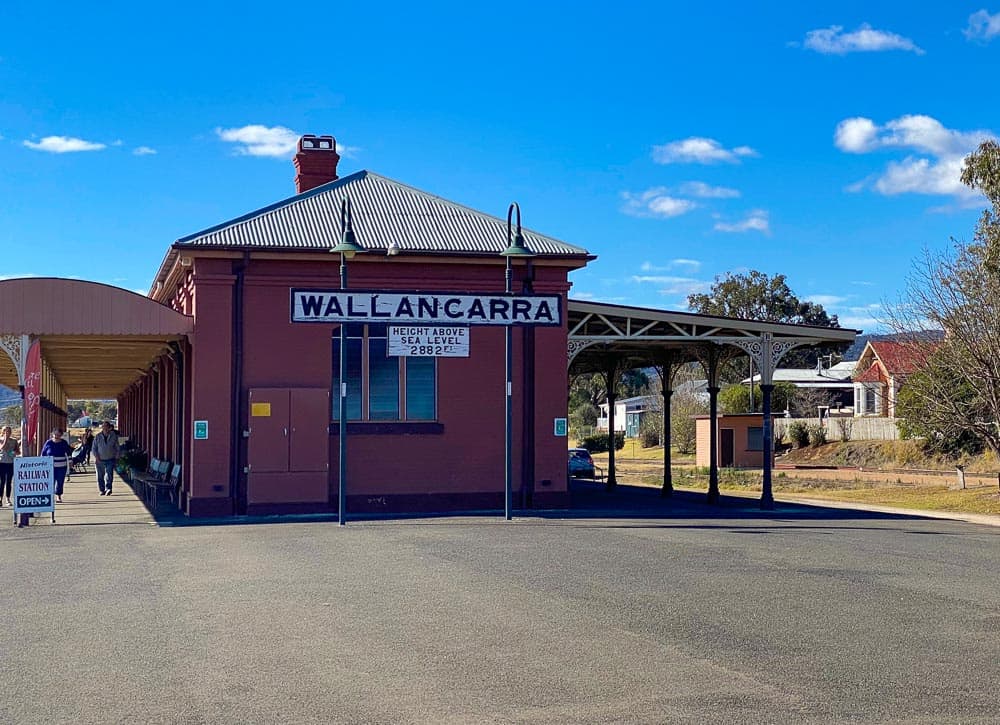 Make sure you plan a visit to Wallanagarra Railway Station around lunchtime so you can enjoy a great value lunch at the Wallangarra Railway Cafe. This cafe is located at the historical Wallangarra Railway Station which is on the Qld / NSW border.
Opening in 1887, the Wallangarra Railway Station was built to service the change in gauge from Qld's narrow gauge railway to NSW's standard gauge. Right up until 1930, this railway station was the only way people could travel from Brisbane to Sydney on the train. Eventually, with the new coastal train line, train services stopped coming through Wallangarra by 1997 with now only the odd tourist train passing through.
Today you can stroll around the gorgeous old station which has the state border running right through the middle. Be sure to notice that one side of the station has the old Qld railway platform design while the other side has the NSW design. There is also a small museum here as well.
Before you leave be sure to get a photo with one foot in NSW and one in Qld as well a photo with the awesome Queenslander sign.
Location: Rockwell Street, Wallangarra
Opening Hours: The cafe is open daily from 7 am to 5 pm while the Museum is open daily from 9 am to 3 pm.
Price: Meals start from around $14 for adults and $7 for kids – the museum is free as is all the photo opportunities.
Visit Girraween National Park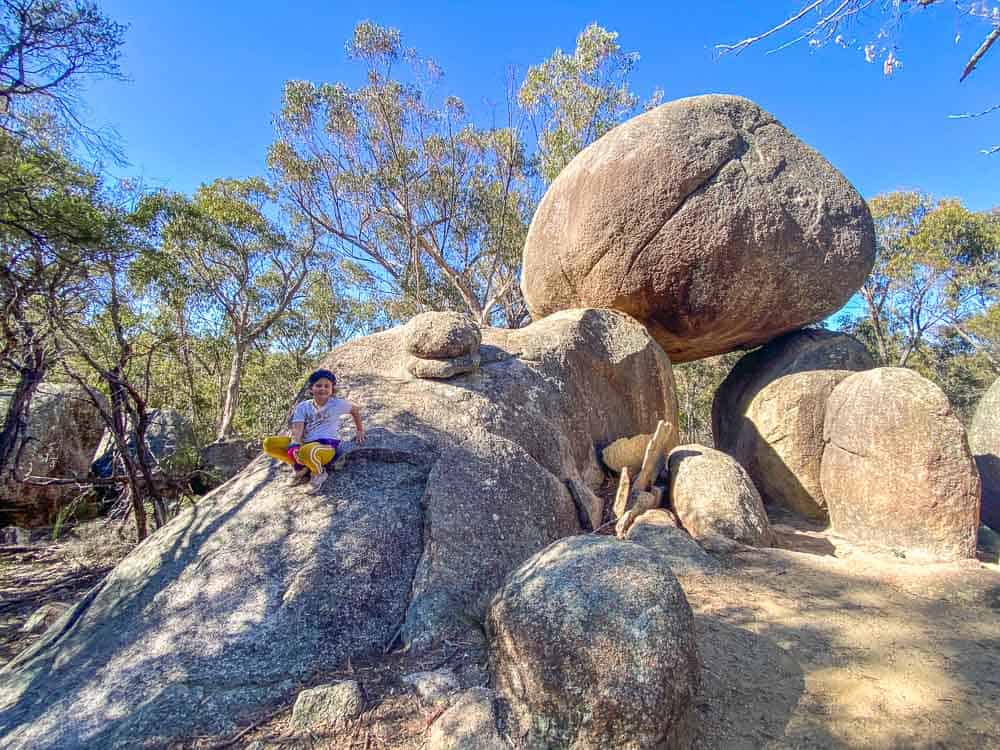 After indulging in the amazing local produce and wine, you'll no doubt welcome a walk in one of the National Parks near Stanthorpe. Girraween National Park is a great place for families and has a range of walking trails through picturesque landscapes of massive granite outcrops that protrude from the ground, flowing streams, deep plunge pools, gorgeous waterfalls, wildlife and fauna.
Some of the more popular family walks include:
Wyberba

: This is a short 580m, return walk where you'll stroll along the creek and get a view of The Pyramid.

Granite Arch

: This is a popular family walk which is just 1.6km return, taking around 30 minutes to complete. Along the walk, you'll see some cool rock formations (including the Granite Arch) and secret caves, as well as the lovely Bald Rock Creek.

Bald Rock Creek Circuit: The Bald Rock Creek which takes about 1 hour to complete or combine it with the Granite Arch Walk which is 1.5 hours to complete.
The Pyramid

: If your family is up for a longer walk, combine the Granite Arch walk with the walk to the Pyramid, which includes the area's most famous attraction – Balancing Rock. This walk is 3.6km return and you'll need to allow around 90 minutes to 2 hours to complete. Make sure you have joggers with good grip for this walk, and do expect to be on all fours for parts of the climb to the top – but the views are well worth the effort.
The start of the above walks is about 30 minutes drive from Stanthorpe.
Click here for more information
Location: Walks start from the car park at Bald Rock Creek Camping Area, Pyramids Road Ballandeen
The Best Family Accommodation – Stanthorpe
When it comes to the best family accommodation, Stanthorpe offers, think cozy little cabins or charming little cottages. You won't find big fancy hotels and resorts here, rather small country style accommodation, run by friendly locals.
In fact in many ways, the accommodation offered in Stanthorpe is part of the attraction. Most accommodation is on properties with stunning views, gorgeous walking tracks, or perhaps even a few farm animals for the kids to pet and feed. Armed with some local wine and produce – you could easily spend your family getaway relaxing the days away in your accommodation.
During our recent visit to Stanthorpe, we stayed at the Granite Belt Brewery Retreat, formerly Happy Valley for anyone who may have stayed here years ago. The Granite Belt Brewery Retreat is located just a short drive from the centre of Stanthorpe on 30 acres of natural bushland. The Granite Belt Brewery Retreat have a 1000 litre microbrewery on site as well as a bar and restaurant.
There are 20 different cozy little cedar cabins here which make the perfect base for families to explore all the wonderful attractions in Stanthorpe. In fact the Granite Belt Brewery Retreat is awesome for all sorts of travellers including couples looking for a romantic getaway or even travellers with dogs as they also have a fully fenced cabin too. Each of the cabins come with a fireplace, as well as basic cooking facilities such as a microwave, fridge and tea and coffee making facilities. A breakfast hamper is also included with the nightly rate.
Read our full review of the Granite Belt Brewery here or read our full guide on where to stay in Stanthorpe with kids here.
Stanthorpe – Our Verdict
I've visited Stanthorpe quite a few times now, but this recent trip showed me how diverse this region really is. No matter what your families interests, there are so many wonderful things to do in Stanthorpe which will appeal to both the kids and adults. There is a range of fabulous attractions for kids, some excellent locally made produce and of course some fantastic wines.
So for those parents that thought Stanthorpe was just a romantic destination for wine lovers – think again! Stanthorpe makes for a great family destination year round.
___________________________________________________________________
Hopefully you found our guide to visiting Stanthorpe with kids helpful, another great idea for a weekend away is the Bunya Mountains. You can find more great ideas for weekends away from Brisbane here or click here for all our tips on things to do in Queensland.
Click on one of the images below and save it to Pinterest to keep it handy for later!