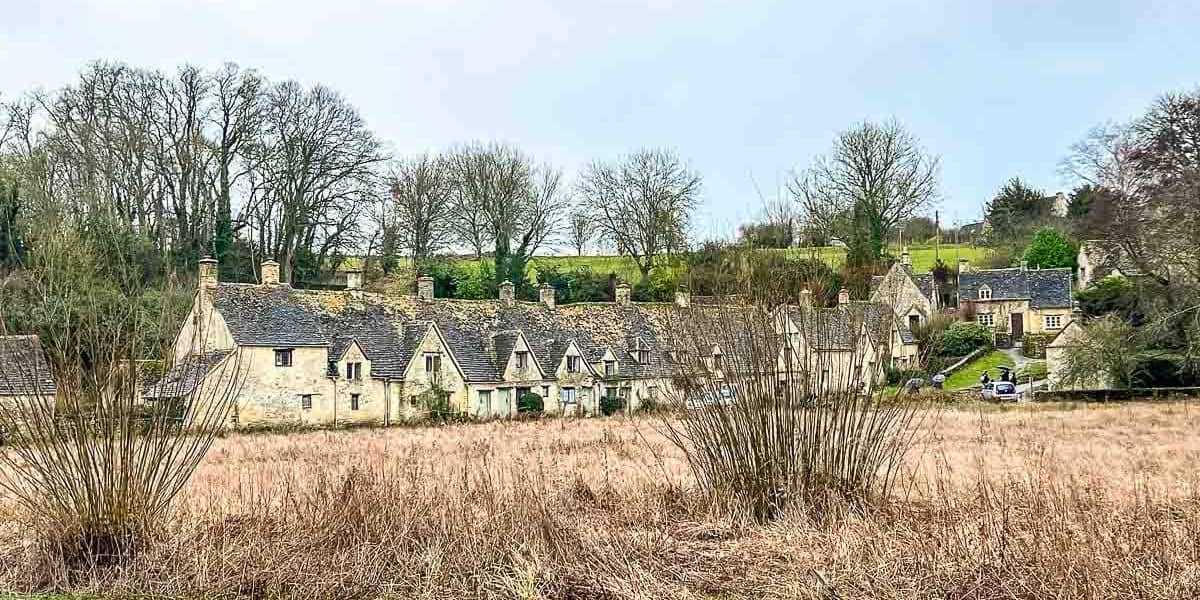 Are you visiting Bibury as part of your family trip to England? Then you'll want to read this guide on all the best things to do in Bibury with kids!
Bibury is a small village just outside Cirencester in the County of Gloucestershire. The village is considered one of the most beautiful in the Cotswolds due to its row of 14th century postcard perfect cottages, famously known as Arlington Row.
While wandering around the picturesque town situated along the banks of the River Coln, one of the Bibury attractions in itself, other things to do Bibury offers include visiting the trout farm, enjoying a tasty lunch in an old pub, walking along the river and crossing an old footbridge.
Whether you make a short stop in the Village of Bibury or spend the day, this guide will help you make the most of your trip. The guide covers what to do in Bibury with kids, as well as places to visit near Bibury – in the surrounding area.
This guide will also provide tips on how to get from London to Bibury and provide suggestions on family friendly accommodation in Bibury.
This post may contain compensated links. Please refer to my disclaimer here for more information.
Talk to other families about their tips on visiting Bibury and join our Thrifty Family Travel Facebook Group or be inspired on our Instagram Feed.
Things to do Bibury
Map
To help you plan your trip, check out the map below which shows the location of all the top Bibury things to do as well as the things to do near Bibury.
You can zoom in and out for a better view.
Best
Things to do in Bibury
with Kids
Below we list the very best things to do and what to see in Bibury for families.
Please note that all prices mentioned were correct at the time of writing and are in local currency. To check the rate in your currency, click here.
See Arlington Row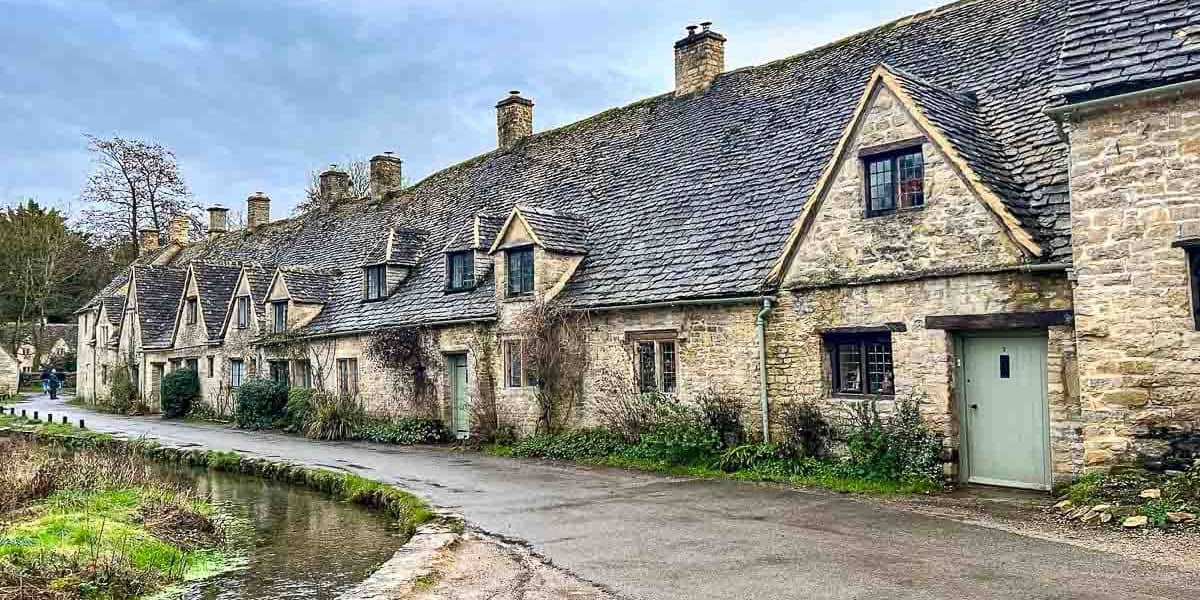 Arlington Row in Bibury is what most people imagine the quintessential English village to look like. The small, honey coloured stone cottages look like an idyllic snapshot from the past, bordering a leafy car free lane and narrow river.
The terraced cottages date back to the 14th century and were converted into the cottages we see today in the 17th century. You may recognise the picture perfect row of houses from the movie 'Stardust.'
You cannot enter the National Trust owned cottages as they are private homes but wandering up and down Arlington Row Bibury is a delight at any time of the year.
When taking photographs – please be mindful that people do live here. So take a quick photograph and move on.
Location: Arlington Row is on your left as you enter the village from Burford.
Hours: Always
Price: Free
Cross a footbridge from Bibury to Arlington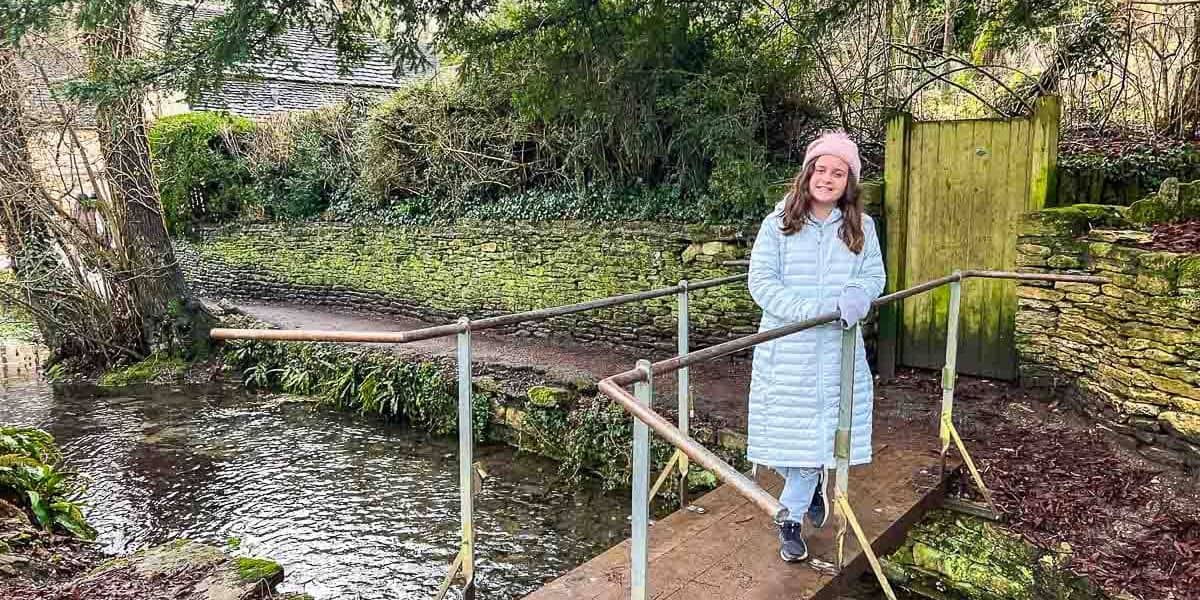 Although the village is known as Bibury, it actually consists of two mini villages; Bibury and Arlington. The two locations are divided by the River Coln which runs through the centre of the village. When you cross the footbridge, you are actually crossing from Bibury to Arlington and vice versa.
There are three small pedestrian bridges you can cross; Row Bridge near Arlington Row is perhaps the most scenic of the three bridges.
Location: One bridge is near Arlington Row, the second is opposite The Swan Hotel (one of the best pubs in Bibury) and the third is near the William Morris Tea Room.
Hours: Always
Price: Free

Bibury Trout Farm is the oldest working trout farm in England. Founded in 1902, the farm breeds Rainbow and Brown Trout for angling waters around the country.
Visitors can wander around the extensive site, watch the fish being fed or have a go at catching their own trout. All equipment is supplied for free but you must kill and pay for any fish that you catch.
There is a shop with a fresh fish counter, a deli, a play area for kids, a cafe, Crazy Golf course and a picnic and BBQ area. Onsite parking is free.
Location: On the B4425 opposite Bibury Post Office in Bibury
Hours: March – September 9 am to 5 pm (till 6 pm in July and August).
October – February 9 am – 4 pm
Price: Adults £7.50 | Child £5 (3-16) | Family (2A+3C) £30. Crazy Golf is an additional £3.50 per person.
Church of St Mary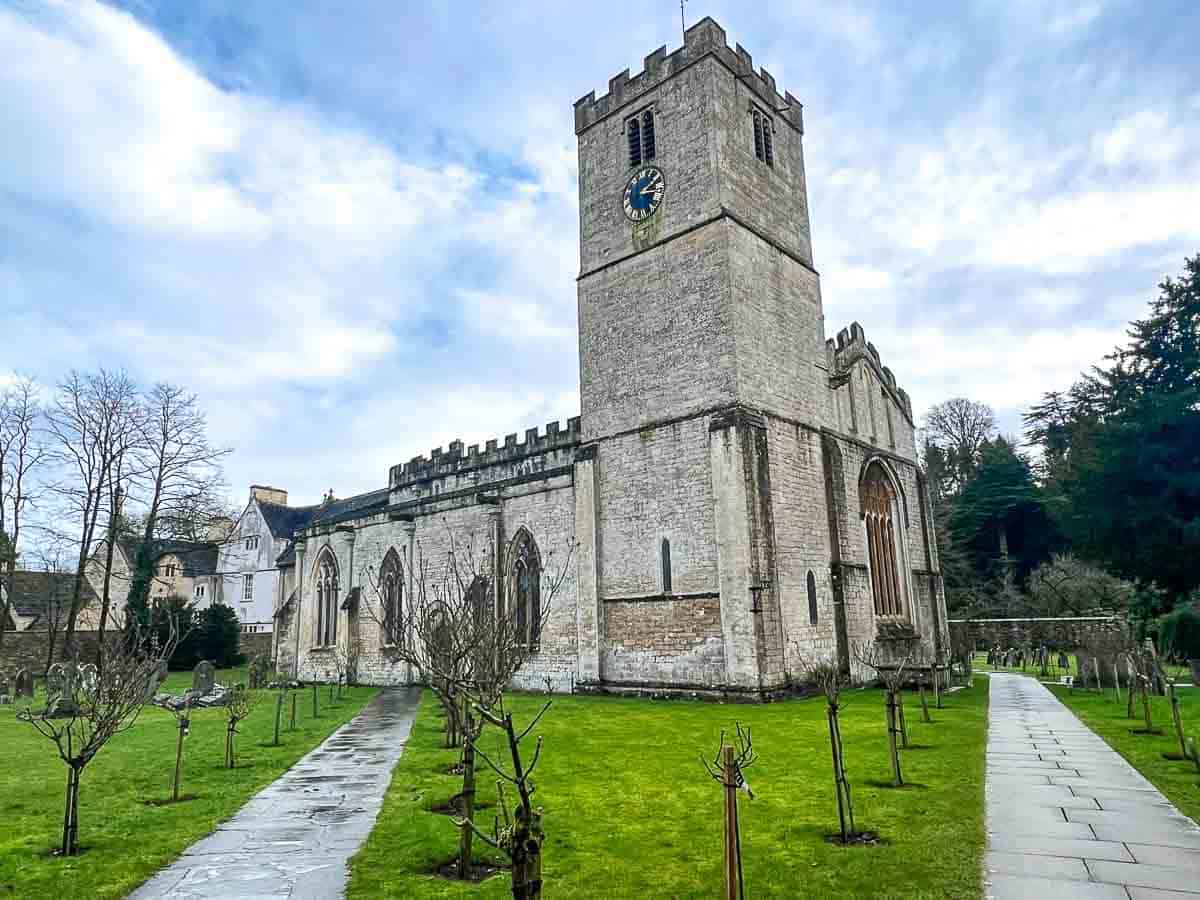 The Church of St Mary is an Anglo Saxon church dating back to the 11th century. The attractive limestone church has an unusual square shaped 13th century baptismal font, 13th century stained glass windows and an interesting mix of Saxon columns and Norman arches.
Its a stunning church and well worth a wonder around the outside.
Location: Church Road, Bibury
Hours: Dawn till dusk
Price: Free
Rack Isle Water Meadows
The National Trust owned Rack Isle Water Meadows is a boggy field adjacent to the River Coln. It gets its name from the drying racks of wool that were once placed here by the weavers in Arlington Row.
Families can walk along a stroller friendly paved path along the edge of the meadow to see Belted Galloway cattle, grass snakes, kingfishers and an array of water loving plants.
Location: Opposite Arlington Row
Hours: Always
Price: Free
Best
Things to do near Bibury
with Kids
As well as the Bibury places to visit, if you have your own vehicle, there are also several family attractions near Bibury worth visiting too.
Cogges Manor Farm
Cogges Manor Farm is a historic farm and museum located in Witney about a 30 minute drive from Bibury. The farm is set on a 13th-century manor house and is surrounded by a working farm, gardens, and woodland.
Generally, the most popular activity with the kids is meeting the farm animals. Animals that call the farm home include goats, sheep, pigs, chickens and ducks. As well as meeting the animals the kids can talk to the volunteers that care for them and learn more about the animals.
A walk through the manor house is also a must where you can learn about its history and the various families that once lived there – some 1000 years ago. It is a beautiful home with various rooms set up as they may have once been at various times
Families are also encouraged to explore the 17 acres of gardens and there is a playground for the little ones. There is also a cafe on site for lunch and snacks.
Location: Cogges Manor Farm, Church Ln, Witney
Hours: Daily from 9.30 am to 4.30 pm
Price: Adults £9 | Child £6 (3-16) | Kids under 3 free | Family Pass (2A+3C) £28
Blenheim Palace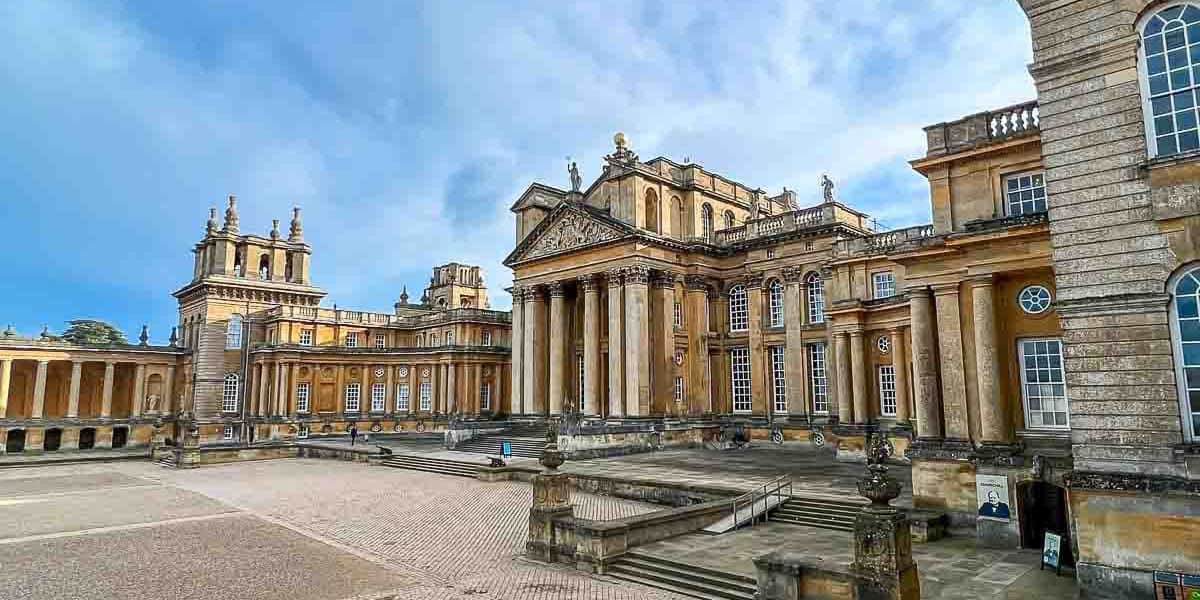 Blenheim Palace is a large country house located in Woodstock, just a 35 minute drive from town and is an excellent attraction for families with a range of activities for the kids to enjoy.
Most famously known as being the birthplace and ancestral home of Sir Winston Churchill, today Blenheim Palace is a UNESCO World Heritage Site. It was originally built in the early 18th century as a gift from Queen Anne to John Churchill, 1st Duke of Marlborough, in recognition of his military victories over the French.
The palace is set within 2,000 acres of parkland and formal gardens and is surrounded by a lake. It is considered one of the finest examples of English Baroque architecture and is known for its grand interiors and impressive art collection.
A tour of the palace is a must – kids will learn about the palace's history as well as how people once lived here. On display are photographs, letters and diary entries that provide a glimpse into a world so long ago.
Families can also take a long walk wandering through the 150 acres of formal gardens. There are some beautiful gardens to explore such as the Lavender Garden, the Secret Garden, the Water Terrace and most importantly for kids – the Walled Garden. The Pleasure Garden has a Butterfly House, maze and playground. There is a cafe here too.
Other activities you can do include hiring a rowing boat, taking a ride on the miniature train and exploring the various special exhibitions.
Location: Woodstock OX20 1PP
Hours: Hours change for different attractions and seasons – so best to check directly
Price: Adults £43 | Child £28 (3-16) | Kids under 3 free | Family Pass (2A+2C) £98
Cotswold Farm Park
Just a 30 minute drive from Bibury is Cotswold Farm Park – a working farm home to a range of animals, including cows, sheep, pigs, and chickens. It's a great place to take the kids where they can learn about farm life and the animals that live there.
The popular family attraction was founded by farmer and television presenter Adam Henson and is known for its commitment to conservation and sustainability. The farm is home to a range of rare and endangered breeds of farm animals, which families can learn about during their visit.
Specifically for the kids, they can meet the farm animals at the Animal barn and the Discovery Barn. The Discovery Barn is home to the farm's smallest animals such as baby chickens, guinea pigs, piglets and more. Grab some snacks and check out some of the rare breeds in the paddocks.
The kids will love the Adventure Barn which has a huge indoor sandpit, soft play area, ride on toys and more. There's a cafe here too so the parents can have a break as well. Other play areas include the outdoor playground, the muddy kitchen and bouncy pillows.
Location: Guiting Power, Cheltenham
Hours: Daily 9.30 am to 3 pm
Price: Adults £12.50 | Child £12 (4-15) | Child £7.5 (2-3) | Kids under 2 free
Sudeley Castle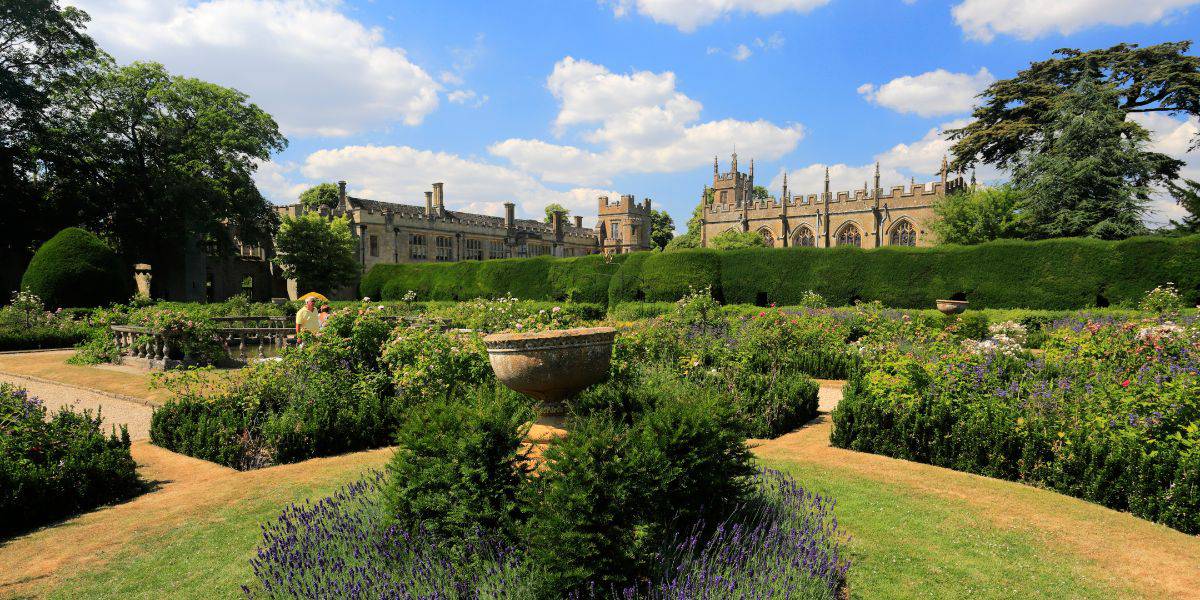 Just a 30 minute drive from Bibury is Sudeley Castle, another fabulous attraction in the Cotswold to take the kids. The castle dates back to the 10th century and offers a range of activities and attractions for kids.
The Castle has a long and varied history, having served as a royal palace, a fortification, and a private residence and linked to some of the most famous English monarchs, including Edward IV, Richard III, Henry VIII, Lady Jane Grey, Katherine Parr, Elizabeth I and Charles I.
While visiting Sudeley, a tour of the Castle is a must! You can tour the castle's west wing which is home to a number of rooms as well as special exhibitions with a range of items of historic significance on display.
Families are also encouraged to explore the castle's 10 award winning gardens which include a playground for the kids. Other interesting places to explore include St Mary's Church where Katherine Parr – the last wife of Henry VIII is buried.
Location: Sudeley Castle & Gardens GL54 5LP
Hours: Daily 11 am to 4 pm during Spring to October
Price: Adults £19.50 | Child £8.75 (3-15) | Kids under 3 are free | Family Pass (2A+2C) £48
Broadway Tower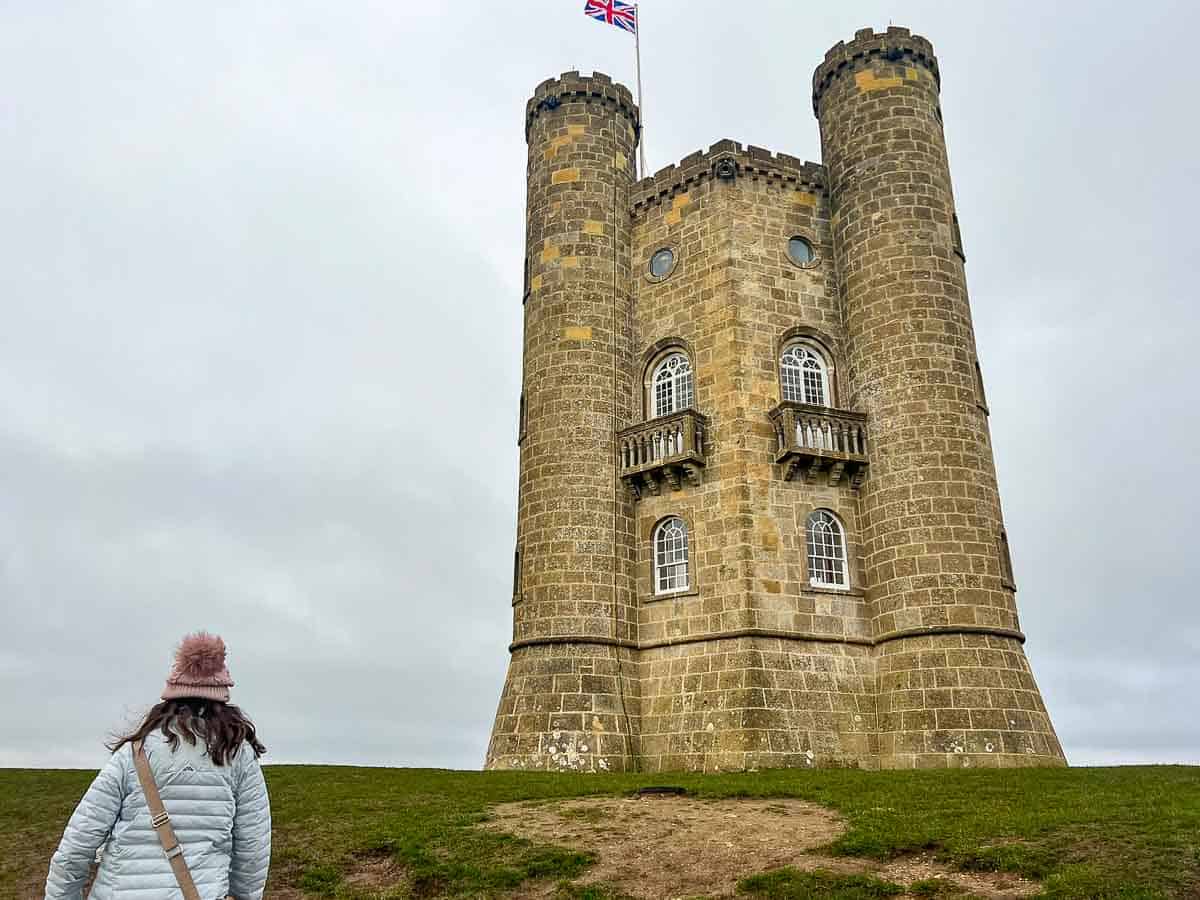 Broadway Tower is a castle-like folly built in the 18th century as a summerhouse for the Earl of Coventry. It is set within a large estate and is surrounded by beautiful gardens and parkland and is a 35 minute drive from Bibury.
Families visiting the tower will explore a range of historic rooms and exhibits with the help of a multimedia guide. Through stories, you'll learn about the daily life of the people that once lived and worked at the tower. Then from the top of the tower, you'll enjoy stunning views across the countryside.
Also on the grounds of the Broadway Tower is a bunker, fifteen feet below the ground from the Cold War. On certain days you can take a 45 minute guided tour into the bunker which has been restored to what it would have been during the 1980s. Only children 10+ are allowed into the bunker.
There is a cafe on site for lunch and snacks too.
Location: Middle Hill, Broadway WR12 7LB
Hours: Generally daily from 10 am to 5 pm – but does change during seasons
Price: Adults £5 | Child £3 (10-14) | Kids under 10 free | Family Pass (2A+2C) £14
Warwick Castle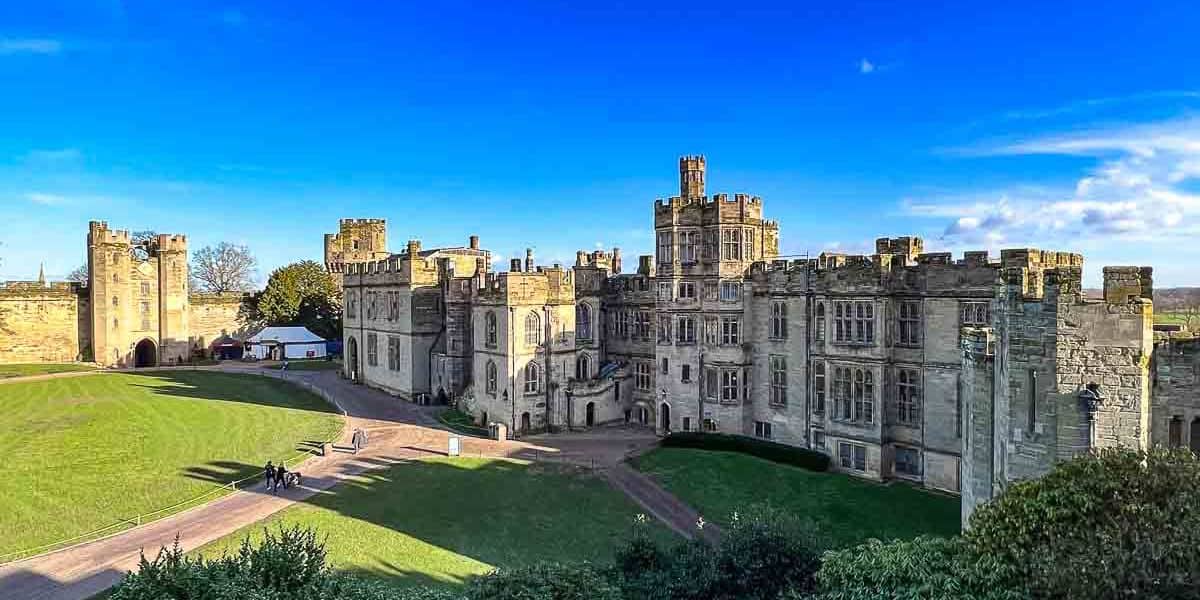 Warwick Castle is a medieval castle built in the 11th century by William the Conqueror. The castle has a long and varied history, having served as a royal palace, a fortification, and a private residence. A visit to the castle makes for a great day out with the kids and is an hour's drive from Bibury.
There is a range of activities, tours and shows to see at the castle – so I recommend as soon as you get there to make a bit of a plan, so you don't miss out on anything you want to do. Make sure you do a tour of the castle which includes interactive exhibits so you'll learn about the people who once lived there as you go. You can take a guided tour or wander through on your own.
Walking along the castle's defensive walls is also a lot of fun. The kids can use their imagination – checking for invaders, while parents can enjoy the stunning views.
Throughout the day there are frequent shows and demonstrations so the kids can learn about different medieval activities. You can see birds of prey, bowman shows, watch things being catapulted far distances and live shows where actors really bring to life what once went on in the castle.
There is also a great playground on site for the young ones, as well as a maze and cafe for lunch.
No matter how old your kids are, there really is something for everyone at Warwick Castle – it makes for a fabulous day out. As a family, this was probably our favourite castle we visited – its well set up for kids.
Location: Warwick Castle, Warwick, Warwickshire
Hours: Daily from 10 am to 4 pm
Price: £37 per person | Under 3s are free – click here to purchase tickets online
Visit Bourton on the Water
Bourton on the Water is one of the most popular villages to visit in the Cotswolds. It is a small village known for its beautiful setting, historic buildings, and picturesque river which runs through the village. Situated just a short drive from Bibury, it is the perfect place for a day trip with the family.
There is plenty to do in the gorgeous village. Popular things to do for families include visiting the Cotswold Motor Museum, exploring the Model Village, visiting the Bird Wildlife Park, getting lost at the Dragonfly Maze and simply exploring the picturesque village.
Bourton on the Water is a 20 minute drive from Bibury.
Click here for our detailed guide on things to do in Bourton on the Water
Visit Stow on the Wold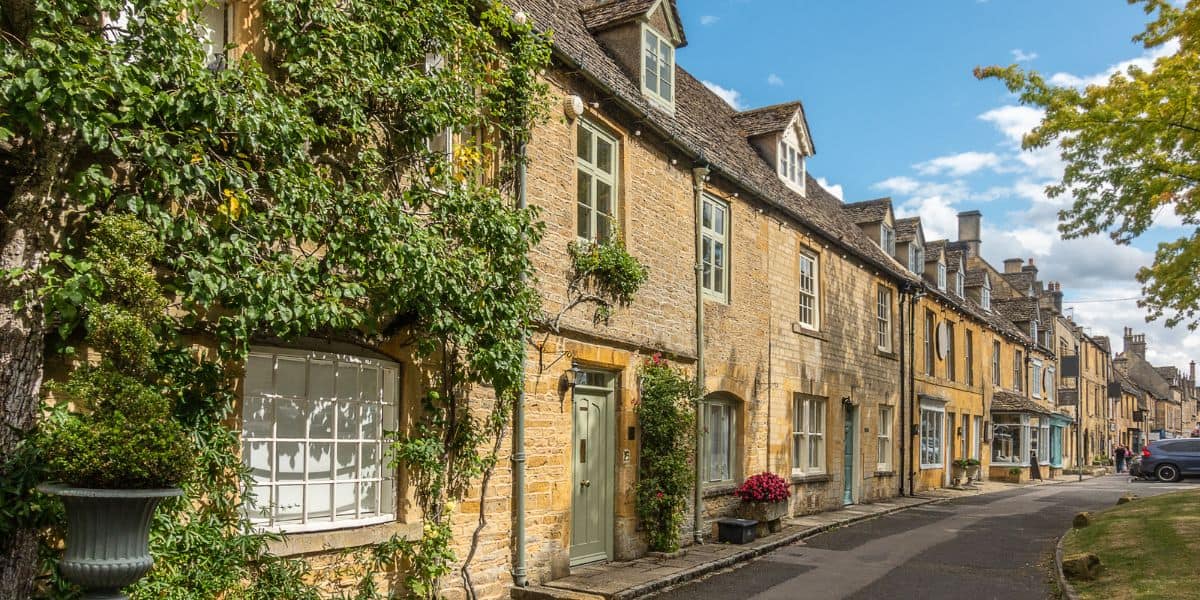 Stow on the Wold is a market town in Gloucestershire on the top of a 800 foot hill – the highest town in the Cotswolds. Once home to a booming wool industry, Stow on the Wold was famous for its huge annual fairs where up to 20,000 sheep were sold at any one time.
These days, people visit Stow on the Wold for its charming streetscape, old pubs, boutiques and its rumoured links to Lord of the Rings.
Stow on the Wold is a 25 minute drive from Bibury, so it's well worth checking out.
Click here for our detailed guide on things to do in Stow on the Wold
Visit Stratford Upon Avon
Stratford Upon Avon is worth spending a few days, but if you've only got a day – being an hour's drive from Bibury, a day trip is very doable. Of course, famous for being the birthplace of William Shakespeare, this historic market town has plenty of things to do for families.
Most people visiting Stratford Upon Avon will want to visit a number of the Shakespeare sites. Sites include Shakespeare's Birthplace (where Shakespeare was born and grew up), Anne Hathaway's Cottage (the home of Shakespeare's wife), Shakespeare New Place (Shakespeare's home until he died), Mary Arden's Farm (the childhood home of Shakespeare's mother), Shakespeare's School (where he went to school – one of our favourite attractions in Stratford Upon Avon).
A must for families is a visit to Tudor World where the kids can dress up and experience what life was like during the Tudor period. Other great family attractions in Stratford Upon Avon include a boat cruise down the River Avon, a visit to the Butterfly Farm, the MAD museum and the Magical Alley.
Click here for our detailed guide on things to do in Stratford Upon Avon
Visit Castle Combe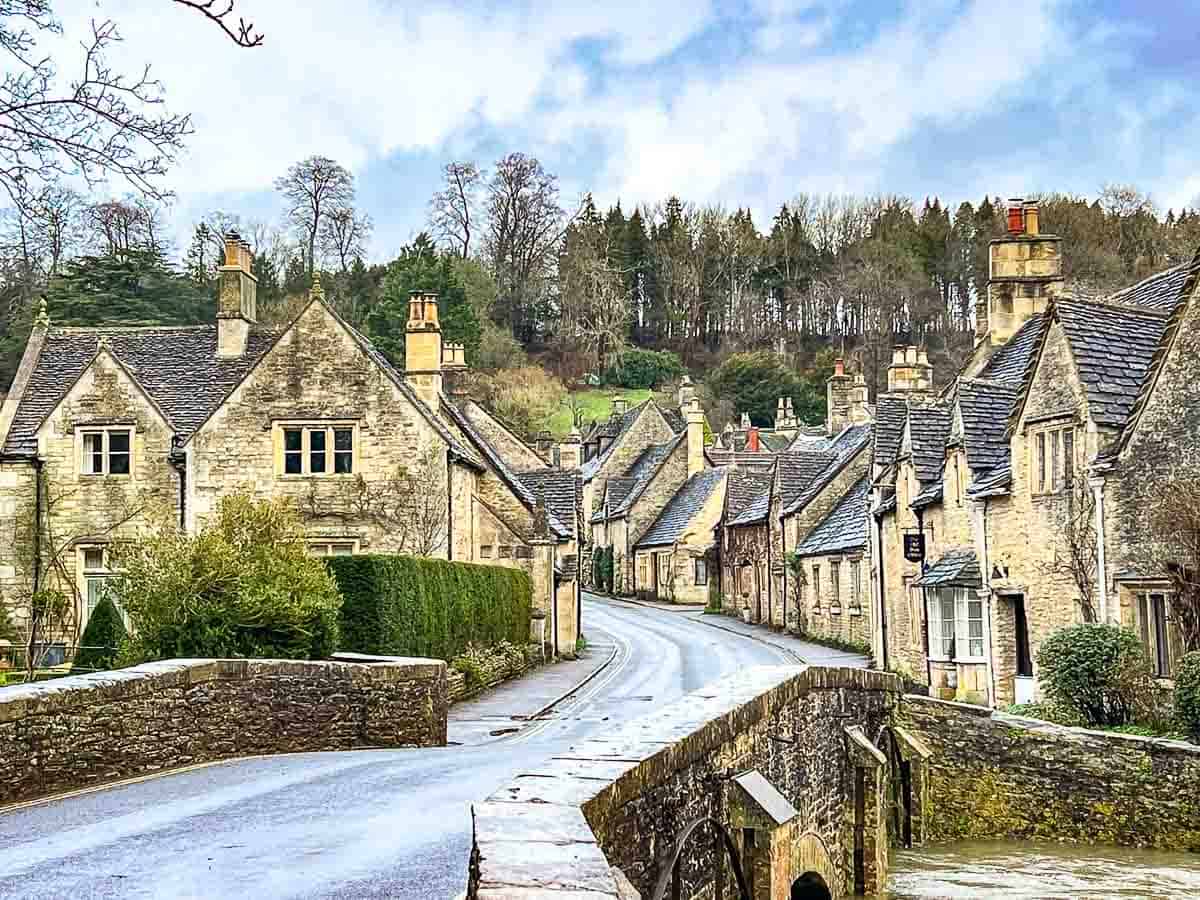 When you visit Castle Combe, you'll soon understand why this fairytale-like village is part of the Cotswold Area of Outstanding Natural Beauty. Considered one of the most picturesque villages in the Cotswolds, Castle Combe is a must for families touring the area.
The village is home to a number of historic landmarks, including the 14th-century St. Andrew's Church and the Castle Combe Manor House, which dates back to the 12th century. The village also has a number of pubs, shops, and restaurants, making it a popular place to stop for a meal or a drink.
Castle Combe is a 50 minutes drive from Bibury, so it can be a great day trip or a stopover when travelling to or from town.
Click here for our detailed guide on things to do in Castle Combe.
Visit Cirencester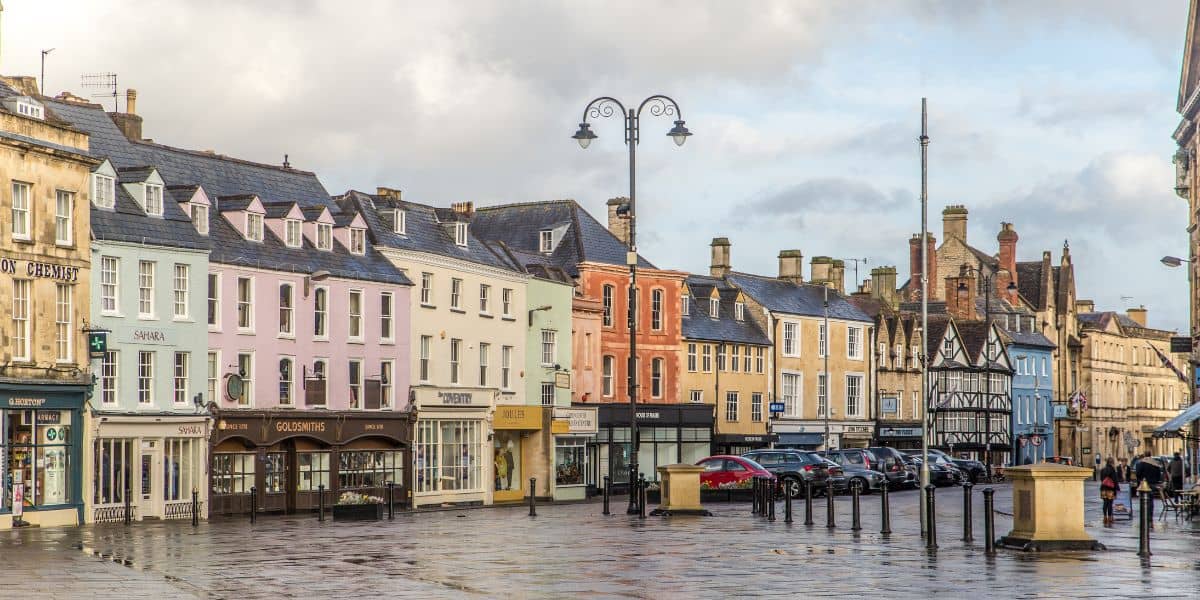 Just a 15 minute drive from Bibury is Cirencester, one of the Cotswold's largest market towns. It is a beautiful town with gorgeous stone buildings and links to both medieval times as well as the Romans.
One of the best things to do in Cirencester is to visit the Corinium Museum where the kids can learn more about the Roman ties. The museum has a collection of artifacts and exhibits related to the history of the Cotswold region, including Roman and Iron Age objects.
Other worthwhile places to visit in Cirencester include visiting Chedworth Roman Villa (one of the most complete and well preserved Roman villas in Britain), Cirencester Park (home to a playground, lake and wildlife) as well as simply strolling through the Market Place seeing the historic buildings and exploring the various stores.
Click here for our detailed guide on things to do in Cirencester.
Visit Tewkesbury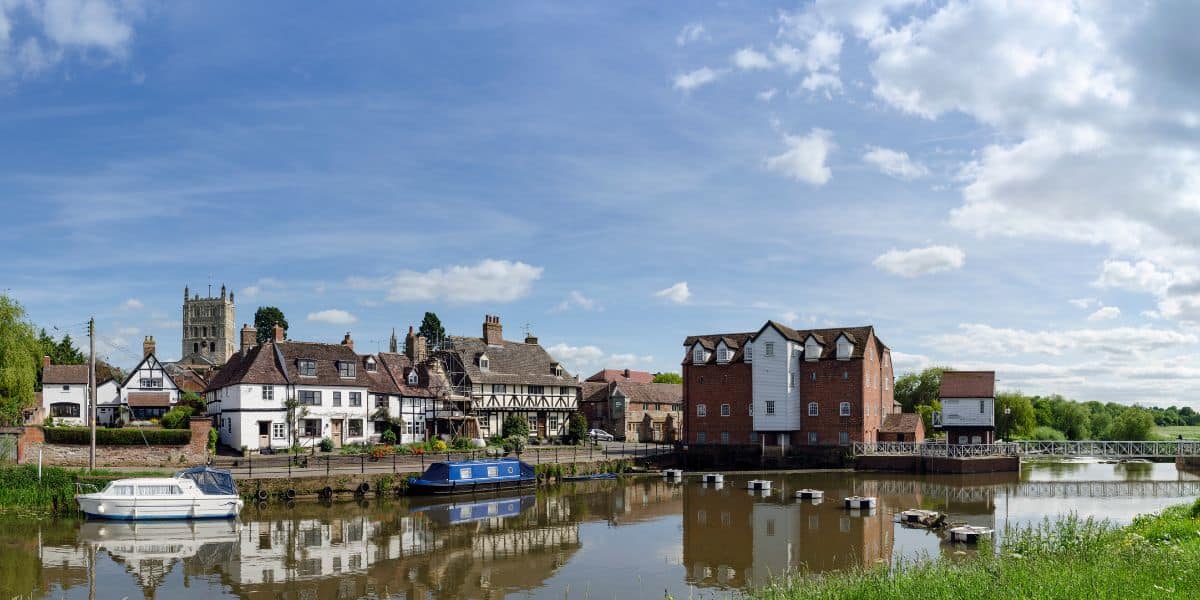 Tewkesbury is a medieval market town in the North of Gloucestershire. Famous for its medieval black and white streetscape with half timbered buildings, narrow alleyways and beautifully carved doorways, most of the town lies in a conservation area and has over 350 buildings listed as having historic interest.
Thanks to its fascinating medieval history – there are some interesting things to do Tewkesbury has for families. While getting lost exploring the alleyways is one of the Tewkesbury attractions in itself, other Tewkesbury things to do include visiting one of the several museums, visiting the Tewkesbury Abbey, taking a self guided tour to explore the town and historic buildings and shopping in the various boutiques.
Tewkesbury is a 40 minute drive from Bibury, so it makes for a great day trip.
Click here for our detailed guide on things to do in Tewkesbury
Visit Bath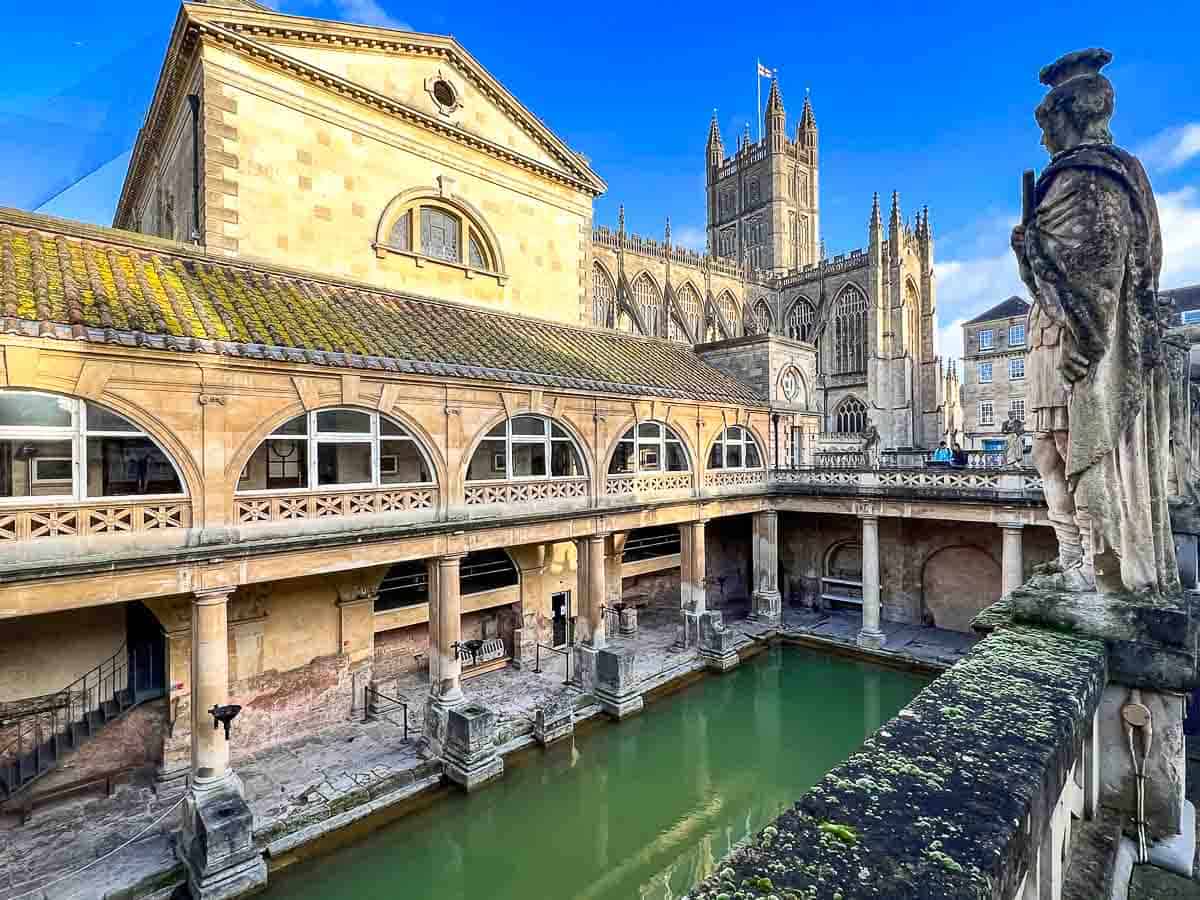 Bath is located in a valley in the Cotswolds surrounded by rolling hills and home to beautiful architecture, which includes a number of Georgian townhouses. Famous of course for its Romans Baths, other attractions include the Royal Crescent, the Bath Abbey, and the Museum of Bath Architecture.
Other places worth visiting include the Jane Austen Centre, the Holburne Museum, and the Thermae Bath Spa. Bath is also home to a number of excellent restaurants, pubs, and shops, making it a great place to visit for food and shopping.
Bath is just over an hour's drive from Bibury, so a day trip is possible – but it's recommended to spend a few days there instead.
Click here for our detailed guide on things to do in Bath (coming soon).
How to get from
London to Bibury
Self driving from London to Bibury takes around 2.5 hours to 3 hours depending on the route you choose and the traffic. If you are wondering how to get from London to Bibury on the fastest route, take the A40 from central London to the M40 motorway towards Oxford which eventually becomes the A40 again. Shortly after Burford, take the B4425 which will bring you to Bibury.
For those without a car, the best option is to take the train from London to Bibury though unfortunately, there isn't a direct train to Bibury itself. Catch a train from London Paddington Station to Cheltenham Spa (which is the nearest train station to Bibury) from where you will need to take a taxi to reach Bibury. The train takes just over an hour and the taxi will take around 20 minutes.
An alternative option is to take a slow but cheap coach from Victoria Coach Station in central London to Cirencester where you will need to transfer to another coach to reach Bibury. The entire journey will take around 3.5 hours.
Getting Around Bibury
Bibury is small so the best way to get around is by foot. You can easily walk between the main things to see in Bibury.
If your accommodation doesn't have parking, there is a free public car park opposite Bibury Trout Farm. There is a larger, fee paying car park adjacent to the trout farm or, if you are very lucky, you may find an empty space in the limited free parking along 'The Street', Bibury's main road.
Parking in Bibury is limited so arrive early to avoid the crowds and have to wait for a car parking space.
If you don't have a car and want to travel within Bibury or further afield, there is a local bus service that runs through the centre of the village plus a taxi service.
Best Places to Stay in Bibury
for Families
Looking for family friendly hotels in Bibury? Unfortunately, there isn't a lot to choose from in the village – there's not even many family friendly hotels near Bibury. And like most villages in the Cotswold, there certainly aren't any cheap hotels in Bibury
Nevertheless, if you have your heart set on staying close to the gorgeous village, below you'll find our three recommendations for the best hotels in Bibury.
The Swan Hotel is the most central accommodation Bibury has to offer. It is also one of the best for families. This charming and characterful hotel is just minutes on foot from Arlington Row and Bibury's main attractions.
The hotel has a restaurant offering kids' meals, a bar, a library, a shared lounge and private riverside gardens. It offers free WiFi, free parking and an English breakfast is included in the price.
Most of the uniquely decorated 22 bedrooms sleep up to 3 people. The spacious family room can sleep 4 in either 2 double beds or 4 single beds. It has an ensuite with a bathtub, a safe, tv and tea and coffee making facilities.
As previously mentioned, The Swan Hotel like many other Cotswolds hotels is not cheap, but If you want to stay in a character packed property in the heart of this historic village, it is the best option.
Click here for more information and to check the current price
If you cannot find places to stay in Bibury, nearby villages also offer accommodation and often at a cheaper price.
The New Inn is in Coln St Aldwyns, a 5 minute drive or 3.5 kilometres from Bibury and a 5 minute walk from the River Coln. This gorgeous village was voted '7th most desirable place to live in the U.K' by Country Life magazine.
The character packed oak beamed hotel offers free WiFi and free parking and features a restaurant, bar and gardens.
Elegant contemporary white toned family rooms sleep up to 4 in a double bed and a sofa bed. Cots are available free on request and a continental breakfast is included in the room rate.
Click here for more information and to check the current price
Dreaming of staying in a honey coloured Cotswold cottage? Then look no further than Home Farm Cottage, owned by The Boot hotel. It is situated in Barnsley, 6 minutes by car or 5 kilometres from Bibury.
The Boot Hotel has a restaurant, a bar, a concierge service, free WiFi and free parking. Neighbouring Barnsley House, part of the same group, has a restaurant, a cinema room and gorgeous gardens. Guests at the cottage can use the hotels' facilities and those at Barnsley House.
Home Farm Cottage sleeps 6 in 3 bedrooms in double or twin beds. It has 2 living rooms (one with an open fire) and a well equipped kitchen diner with a full oven, stove, fridge freezer and dining table.
Click here for more information and to check the current price
Meadow View is a gorgeous, semi detached holiday cottage that is ideal for self catering. It is located in Coln St. Aldwyn, a 5 minute drive from Bibury though it is also possible to walk the 5 kilometres to Bibury along countryside paths.
The house sleeps 4 in 2 bedrooms in 1 double and 2 single beds. There is a cosy living room with 2 sofas and a tv and a kitchen equipped with an oven, fridge, dishwasher and washing machine. The kitchen will be like a home away from home; it has everything you need. It is even equipped with a highchair and baby gates.
To the rear of the house is a large garden with seating and just across the road from the property is a fantastic playground. This affordable cottage is the best self catering cottage for families in this area.
Click here for more information and to check the current price
____________________________________________________________________________
Hopefully you found this guide to things to do in Bibury with kids helpful. Other great guides which you may also find helpful include things to do in Bath with kids (coming soon), things to do in London with kids or the best London hotels for families (coming soon).