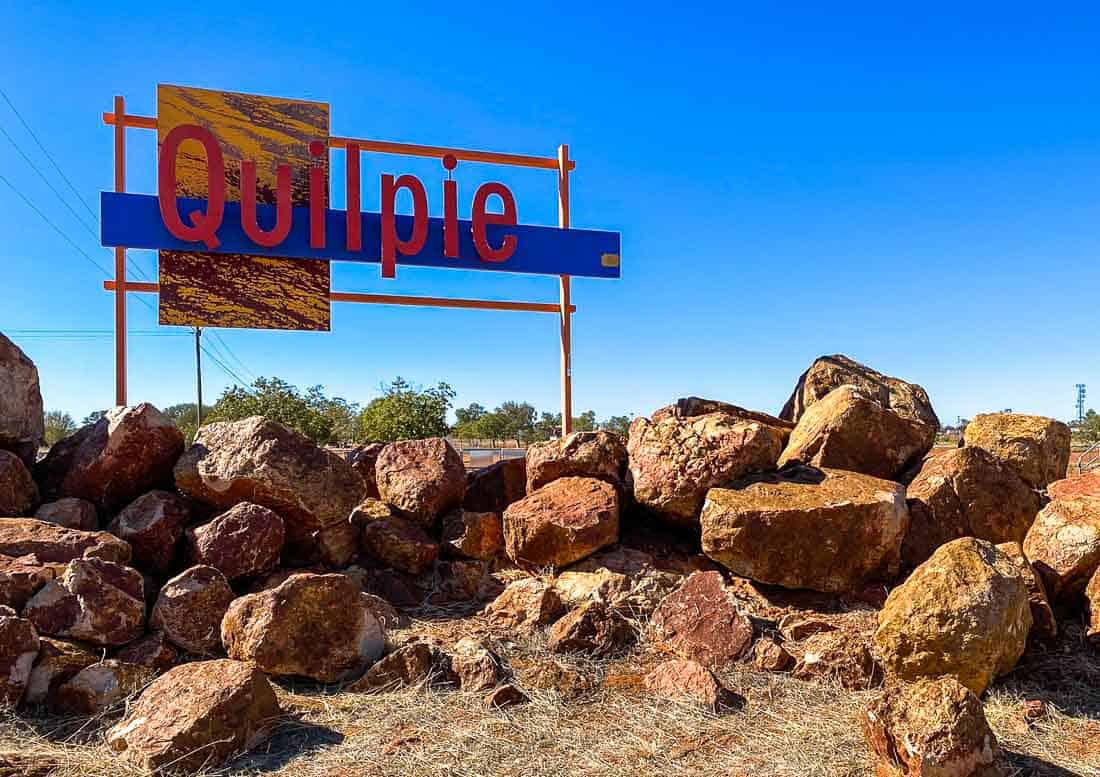 Located around 950km south west of Brisbane, Quilpie is a tiny outback Queensland town of around 600 people. It's a relatively "young" outback town, only being established in 1917 when the railway eventually made its way there in 1917 from Charleville.
Today Quilpie is an excellent stop for those making their way to Birdsville or even for those completing the Natural Science Loop. The town is home to the boulder opal so a great place to take the kids fossicking, as well as having some great little museums and some gorgeous natural landscapes to enjoy.
If you're planning a trip to Quilpie, then this guide is going to be super helpful. In this guide, I'll cover everything you need to know in terms of things to do in Quilpie including all the essential information such as location, opening hours, and some suggestions for some family friendly Quilpie accommodation.
Are you planning a trip to Outback Queensland? Have any questions? Join our Queensland Travel Planning Facebook group here now! It's the perfect place to ask any questions and to be inspired!
This post may contain compensated links. Please refer to my disclaimer here for more information.
Best Things to do in Quilpie
In this section, I include all the must do Quilpie attractions. As to which of these things you should do depends on how long you have in town and what your family's interests are. Whatever you decide to do, to help plan your trip, I've included the below map which shows where all the Quilpie tourist attractions are. Zoom in and out for a closer look.
Please note that the opening hours and prices quoted below were correct at the time of publishing.
If you want to see what our itinerary was while in Quilpie click here, where you'll see a detailed overview of how we spent 2 weeks doing a Queensland Outback trip.
You can also check out our full FB album with all our photos from Quilpie here or watch our short video here showing some of the highlights.
Fossicking for Quilpie Opals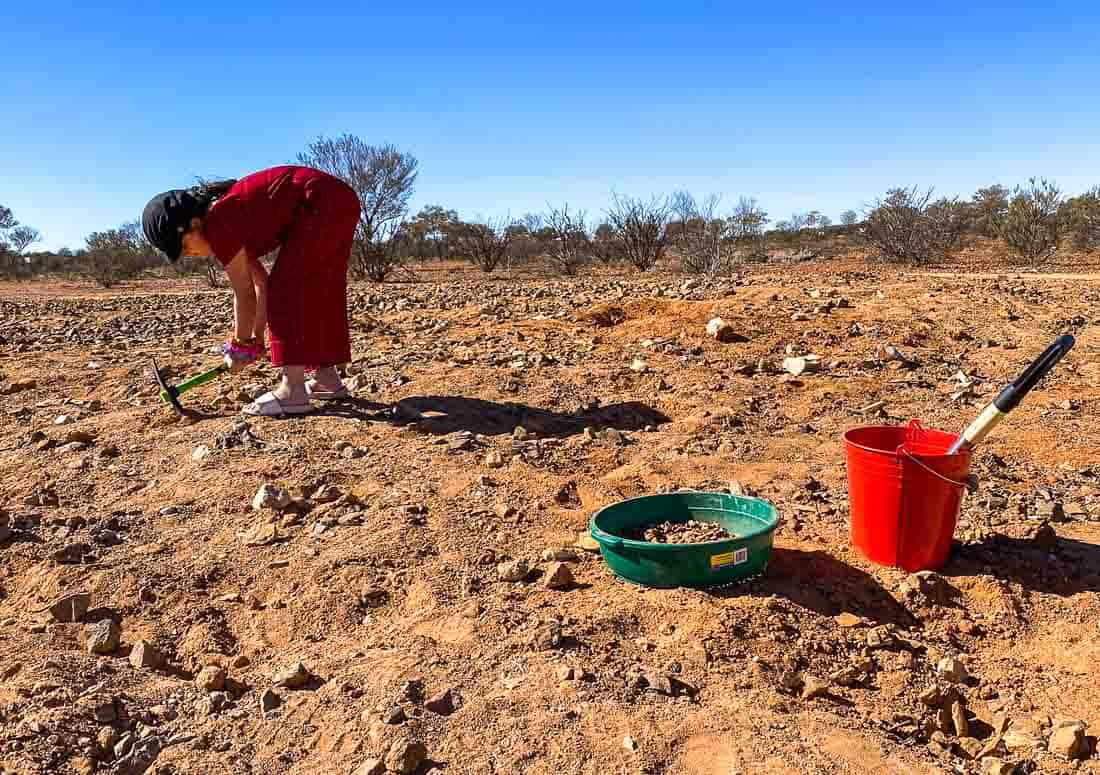 Quilpie is famous for its boulder opal and just 2kms west of Quilpie you can try your luck at fossicking for this precious gem. The good news about this fossicking area is that no permit is required. The kids will love sifting through the offcuts, hoping to strike it rich!
Be sure to stop in at the Quilpie Heritage Inn for a fossicking pack before you go. For just $15 (pay $35 upfront and get $20 back on return) you'll receive everything you need for fossicking – they only additional thing I'd recommend brining is some water.
And if you don't strike it rich, there are plenty of places around town where you can check out the gorgeous boulder opal as well as perhaps buy some souvenirs.
Location: Developmental Road, Quilpie
Opening Hours: All the time – but of course best visited during daylight.
Cost: Free
Baldy Top Lookout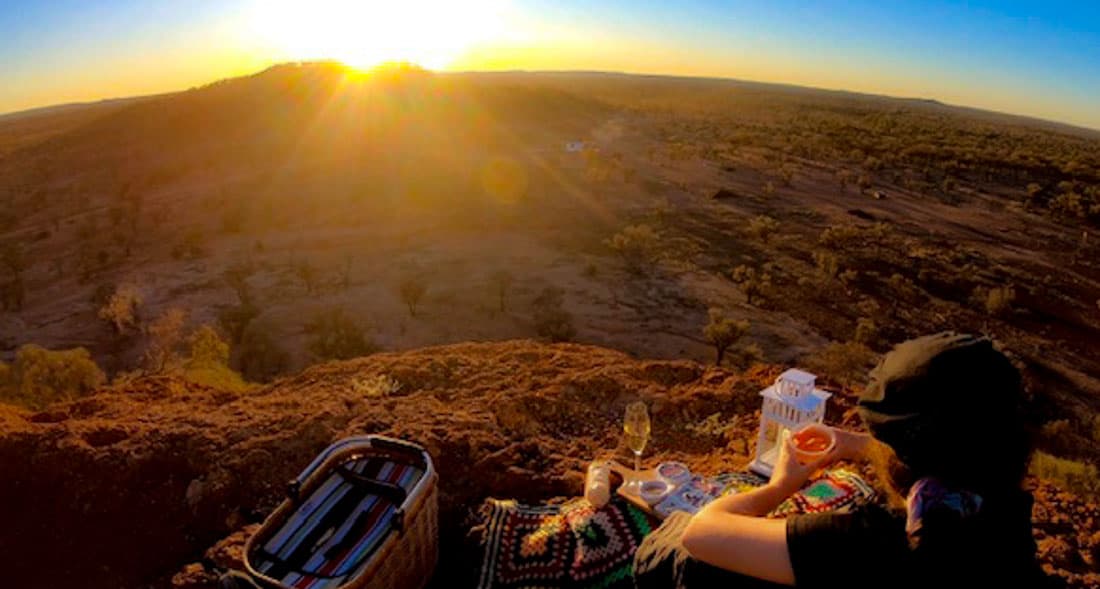 A must do while in town is going to the top of Baldy Top Lookout for a spectacular sunset. This was my absolute favourite thing we did while in Quilpie and I'd even go as far as saying my favourite thing we did on our entire road trip!
Baldy Top is located just 7kms from Quilpie and it's just a 5 minute reasonably easy walk over a few uneven rocky surfaces to the top. Once you reach the top, you'll be rewarded with 360 degree panoramic views across the town and countryside.
Part of the Grey Range, Baldy Top and Table Top ( the second hill after Baldy Top) are two of the most elevated points in all of South West Queensland. You can also go to the top of Table Top as well – we didn't get time to do that though on this trip.
Before heading out there, grab yourself some wine and even a few nibbles so you and the kids can enjoy a beautiful sunset picnic. The Quilpie Heritage Inn provides a great picnic hamper for travellers which includes everything you need – even a picnic rug! Everything you see pictured above was in our pack from the Inn as well as champagne, juice, crackers, cheese, relish, olives, sun dried tomatoes, fruit and more. The price of the hamper is $60.
Location: Quilpie Thargomindah Road
Cost: Free!
Opening Hours: Always
The Lake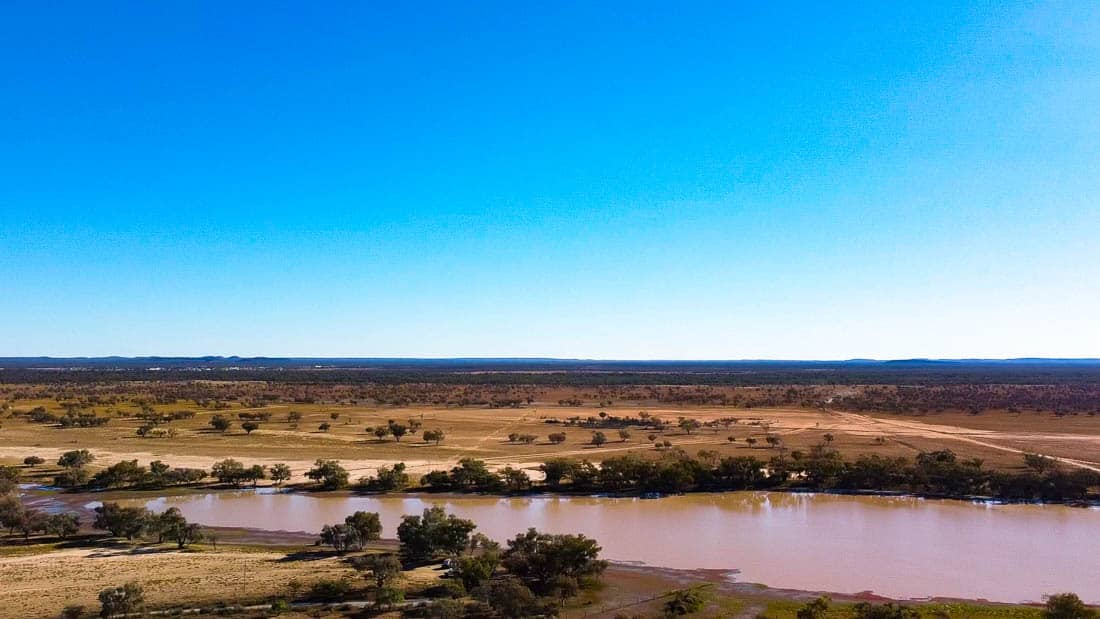 4kms east of Quilpie via the Diamantina Development Road is the Lake, or formally called Lake Houdraman. This is a stunning area located on the floodplain of the Bulloo River. It's the perfect place to come for a picnic, a swim, fish, see the native birdlife and other wildlife.
The Lake is located on private property, on a working sheep and cattle station, although day visitors are more than welcome. If you want to stay a little longer, the property here provides campsites as well as accommodation in the old Shearers Quarters – see more about staying here below.
Also come out one evening if you can. Watch the sunset, then have a few drinks and chat with the locals around the campfire at The Lakeview Pub. The pub is opened daily from 5 pm to 7 pm and is such a great way to chat with the locals. We visited the pub both nights we were in town and had so much fun.
Location: Diamantina Development Road, Quilpie
Opening Hours: The Lake can be visited during the day or the Pub is open daily from 5 pm to 7 pm
Cost: Free
Bulloo River Walk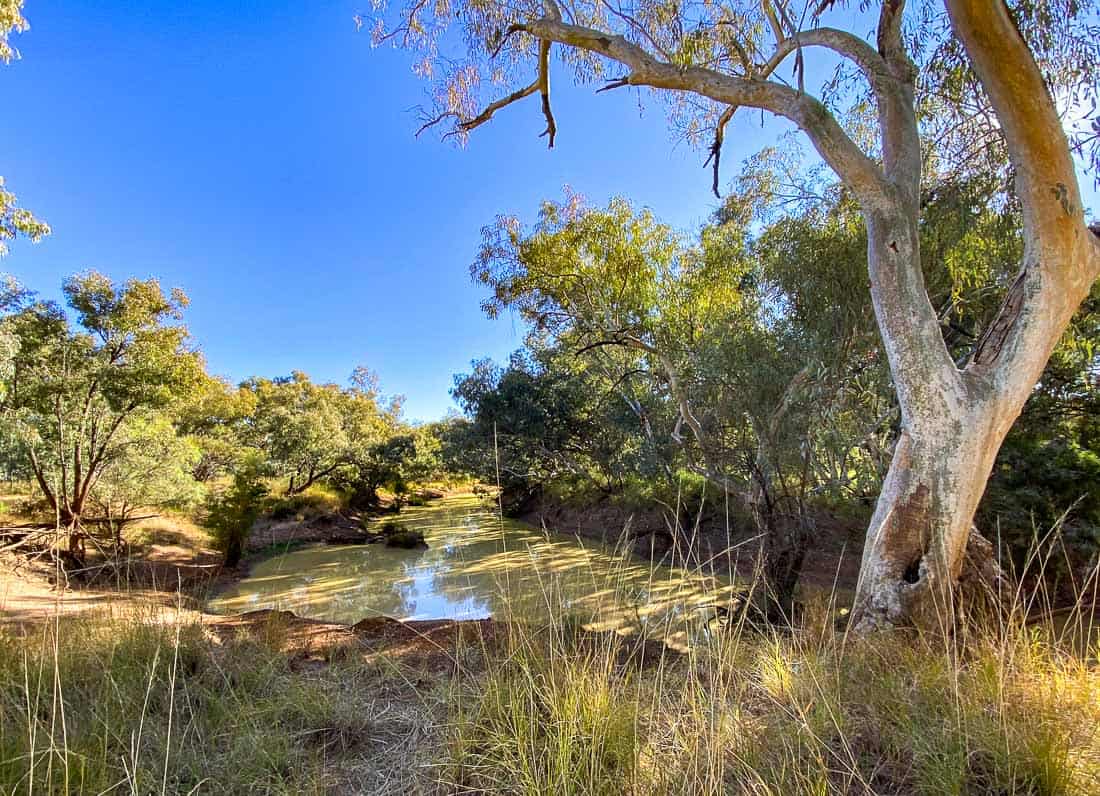 The Bulloo River Walk is a great place to take a stroll as well as the opportunity to see some of the area's native birds, flora and fauna. Along the walk, you'll find display boards helping you identify various things along the way.
It took us around 45 minutes to complete the walk, while the walk itself is relatively short – this included us stopping reading all the signs. If you have more time on your hands, the Bulloo River is also an excellent spot for fishing.
Location: Diamantina Developmental Road, Quilpie
Opening Hours: Always – but best visited during daylight hours
Cost: Free
See the Street Art Around Town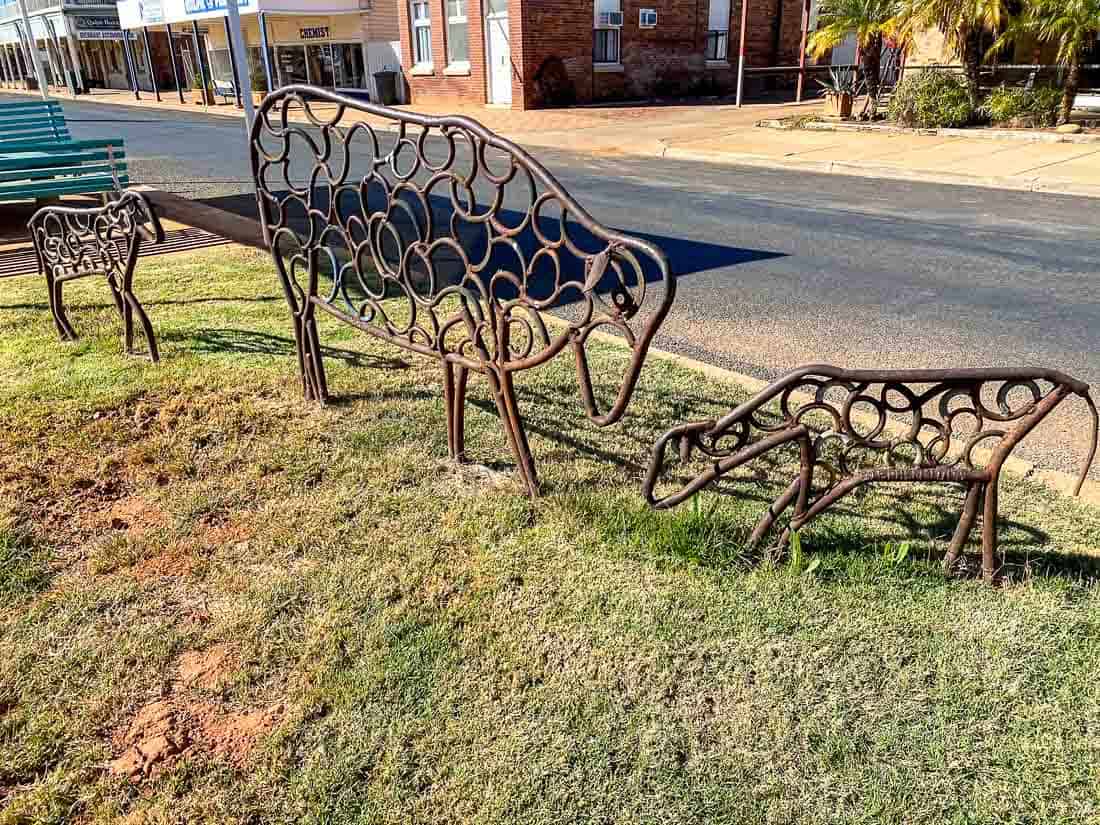 We love checking out the street art when we visit a town – and Quilpie did not disappoint! There are some great cute and quirky murals and sculptures around town. Here is a brief rundown on what you can expect to find:
Information Centre Courtyard: Check out the cute corrugated cutouts of a sheepdog and sheep as well as the super adorable family of pigs – pictured second below.
Mural Park: Next to the information centre there is a 45 metre long mural depicting Quilpie's history – also here check out the handcrafted iron picnic tables made with old wagon wheel rims and tabletops of opal and glass mosaics – pictured third below.
Brolga Street: Through the main street there is a range of street art including gum leaves and gum nut chairs at the Shire Hall and the collection of silhouettes and sculptures of brolgas, sheep (my favourite – see below – how seriously cute are they!!!), cattle and the drover on his horse in the medium strip. Also don't forget to look down as you'll never know what gems you'll find in the pavement either.
Quilpie Shire Gallery, Arts and Cultural Community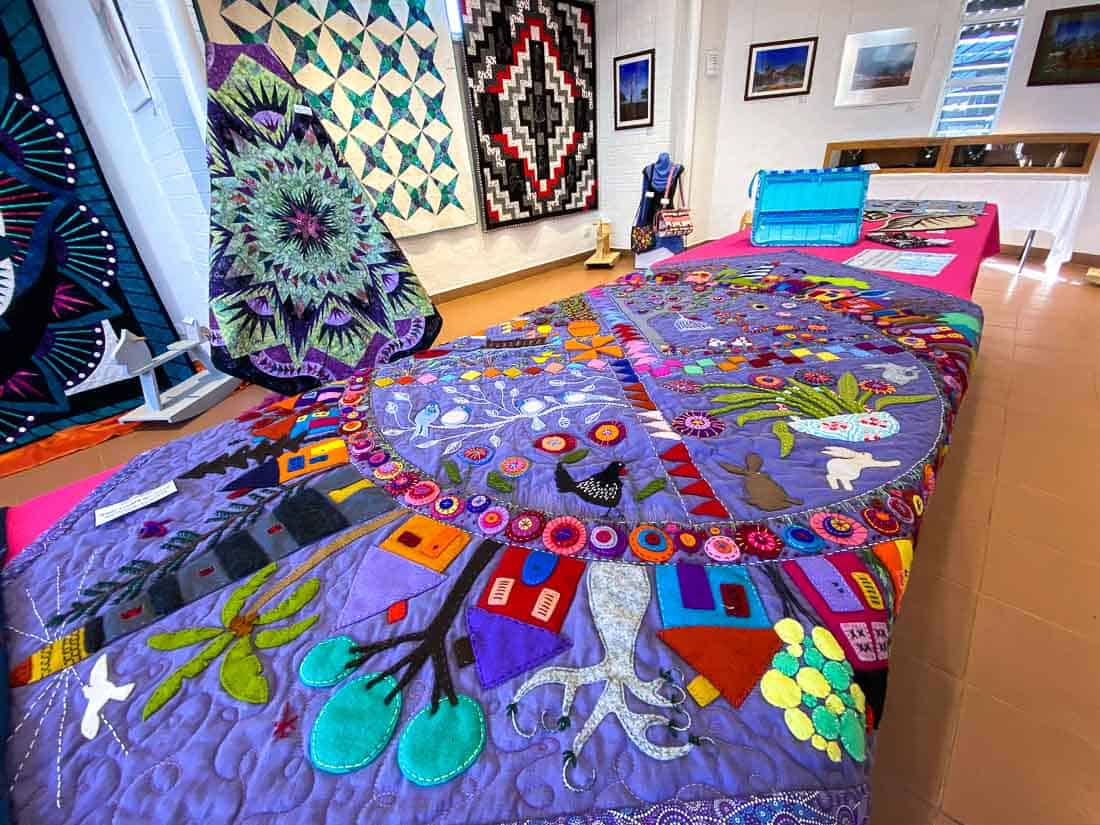 I'm not usually a fan of art galleries, but surprisingly Myla is, so she always drags me in – but I have to say I was pleasantly surprised with this little gallery. What I liked best about this gallery is that most of the items on display are from the locals around town. Myla and I had even met a few of the people who had their artwork displayed – so this made it even more interesting for us. These locals are a super talented bunch!
Location: 51 Brolga Street, Quilpie
Opening Hours: Weekdays from 8.30 am to 4.30 pm – for weekends from March to October from 9.30 am to 2 pm and closed from November to February
Price: Free
Quilpie Shire Military History Museum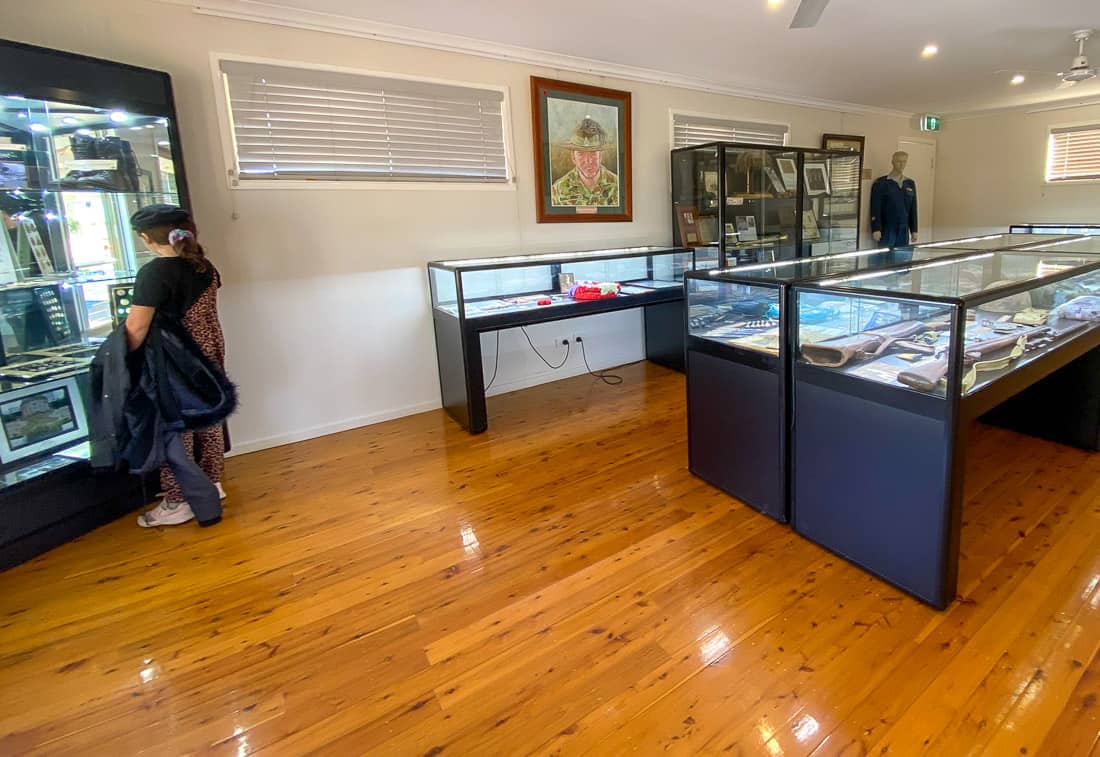 For those interested in the local military history, come to the Quilpie Shire Military History Museum. Here on display is a range of photographs, memorabilia and literature relating to Quilpie's military history.
It's only a tiny museum and won't take you long to look through – depending on how interested you are. Quite surprisingly for me – Myla was much more interested in all the items on display then I was!
Location: 51 Brolga Street, Quilpie
Opening Hours: Weekdays from 8.30 am to 4.30 pm – for weekends from March to October from 9.30 am to 2 pm and closed from November to February
Cost: Free
Quilpie Shire Railway Museum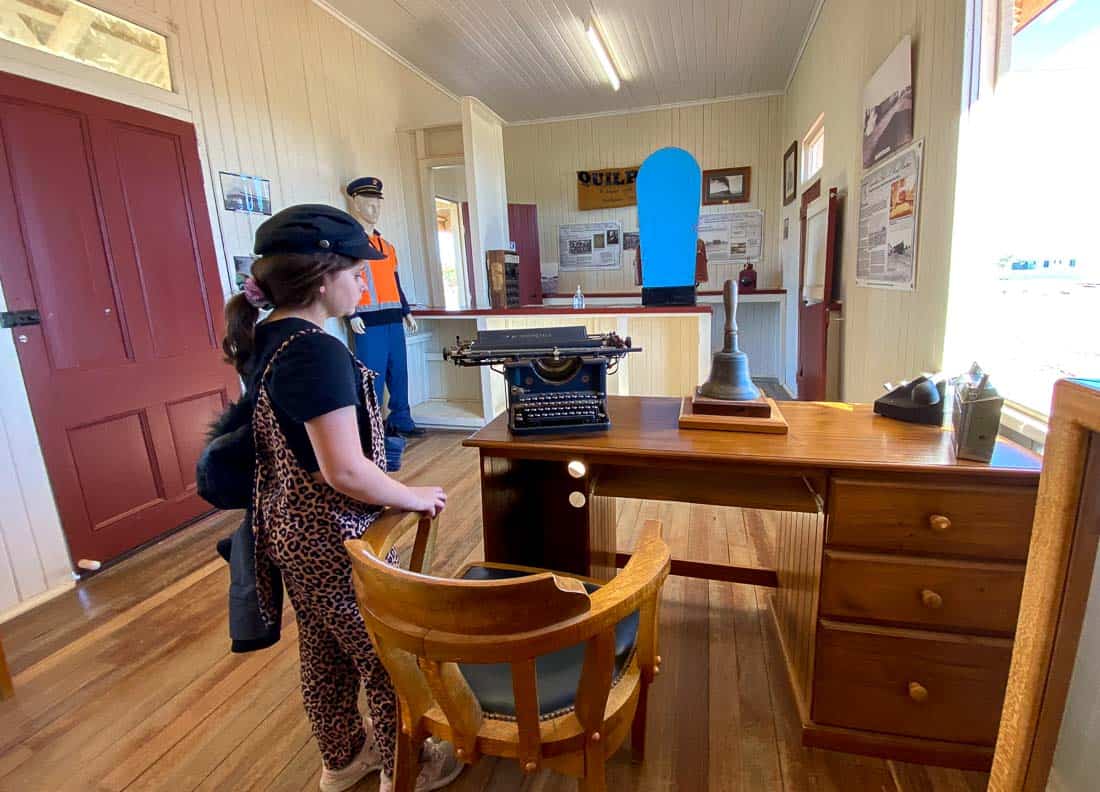 As mentioned above, the town of Quilpie was only established with the arrival of the railway line from Charleville. The Western railway line never went any further and so to this day it is still the "end of the line".
The railway line was completed in 1917. In 1935 the first passenger train from Charleville commenced and by 1951 two passengers train ran twice a week. This continued right up until 1994. No passenger trains have run since. Today the only trains to run are stock and freight trains.
You can come and learn all about the history of the rail in Quilpie at the Quilpie Shire Railway Museum as well as see some great old rail related items on display.
Location: 51 Brolga Street, Quilpie
Opening Hours: Weekdays from 8.30 am to 4.30 pm – for weekends from March to October from 9.30 am to 2 pm and closed from November to February
Cost: Free
Quilpie Shire Museum
Located at the town's Visitor Information Centre, the Shire Museum is an interactive museum which covers a range of topics including the hardships faced from the early pioneers as well as information about opal mining, cattle farming and native flora and fauna.
This museum was closed for renovations while we were in town – so I can't say much more than that about it – but it does sound like another great little museum to check out while in town.
Location: 50 Brolga Street, Quilpie
Opening Hours: Weekdays from 8.30 am to 4.30 pm – for weekends from March to October from 9.30 am to 2 pm and closed from November to February
Price: Free
End of the Line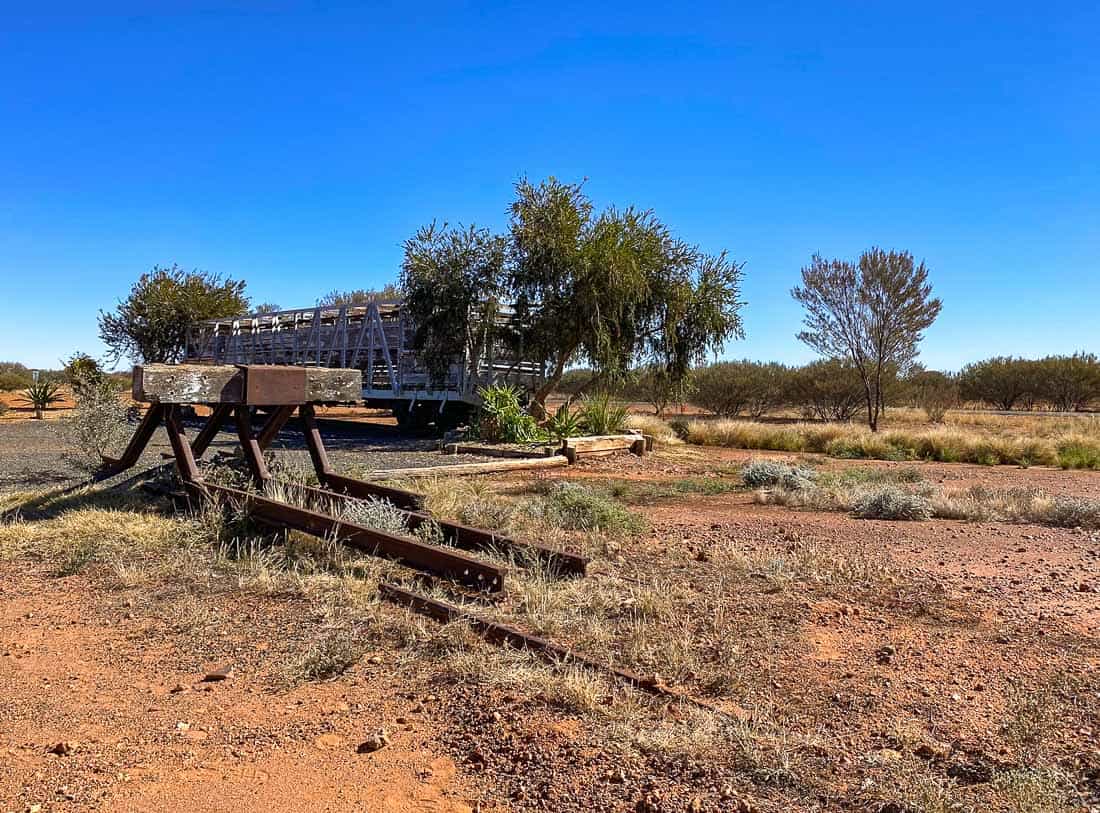 Don't leave town without getting a photo at the End of the Line. As mentioned above, the railway line reached Quilpie in 1917 and never went any further. It was supposed to go on to Eromanga but never happened due to the scarcities during the war.
As well as getting your photo taken at this historical location there are also some displays where you can read about the construction of the railway and see some old photos.
Location: Brolga Street – Opposite the Quilpie Bowls Club
Opening Hours: Always
Cost: Free
St Finbarr's Church Opal Altar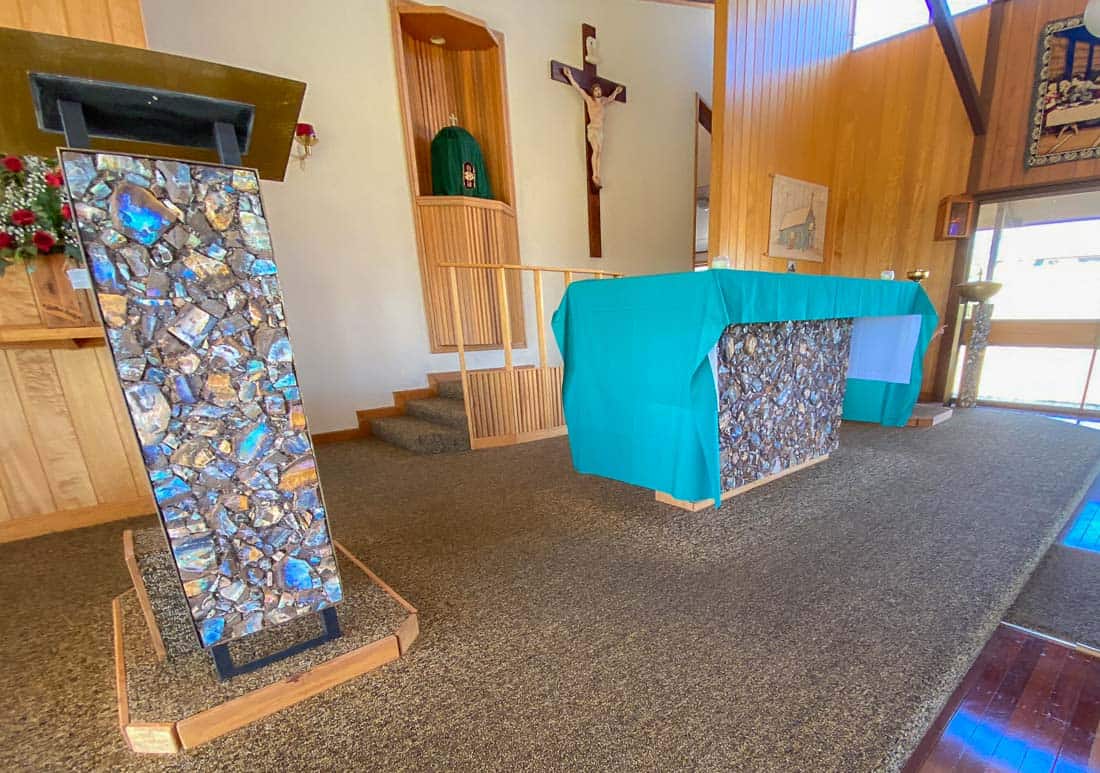 Quilpie is home to the "Jewel of the Outback" the boulder opal and the best place to see it is at St Finbarr's Church. This Roman Catholic Church is one of the main attractions in town, thanks to its Opal Altar, Font and Lectern.
Des Burton built the altar in 1976. Burton is considered the father of the boulder opal industry in Quilpie. While running a pharmacy in town, he also spent many years mining opals, eventually opening up various opal retail stores which took the Quilpie gem to the world market.
This was another stop that surprised me a little – Myla wanted to look at the opals for ages – oohing and ahhing over their gorgeous colours. I think it helped that we had been fossicking in Yowah and right there in Quilpie and so she had built up a little knowledge about the opal.
Location: Buln Buln Street
Opening Hours: Always
Cost: Free
Quilpie Memorial Swimming Pool
If you're looking for somewhere to beat the heat, then head to the Quilpie Memorial Swimming Pool. The complex has a 25m pool, a heated pool and a children's swimming pool complete with interactive play equipment. The best thing is it's all free!
We didn't visit because it was the middle of winter and freezing while we were in town – but good to know for the warmer months.
Location: Brolga Street, Quilpe
Opening Hours:
Cost: Free!!
Quilpie Powerhouse Museum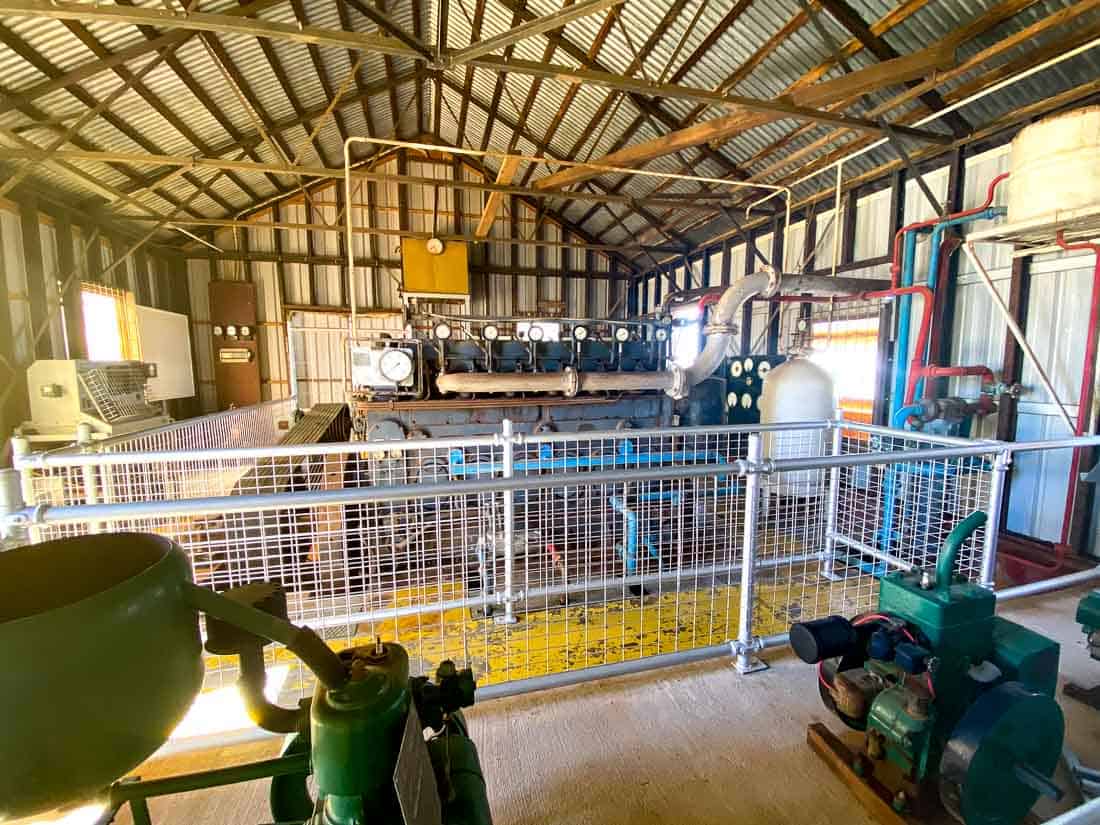 In 1952, Quilpie was the first town in Western Queensland to have a powerhouse thanks to a government scheme to provide electricity to small rural towns in outback Queensland. The powerhouse was eventually closed in 1987, but you can now learn all about it at the Quilpie Powerhouse Museum.
I'll be honest here – this was not that interesting for Myla or I – but for those with interest in electricity do check it out.
Location: Winchu Street, Quilpie
Cost: Free
Quilpie Airport Mini Museum and Wool Scour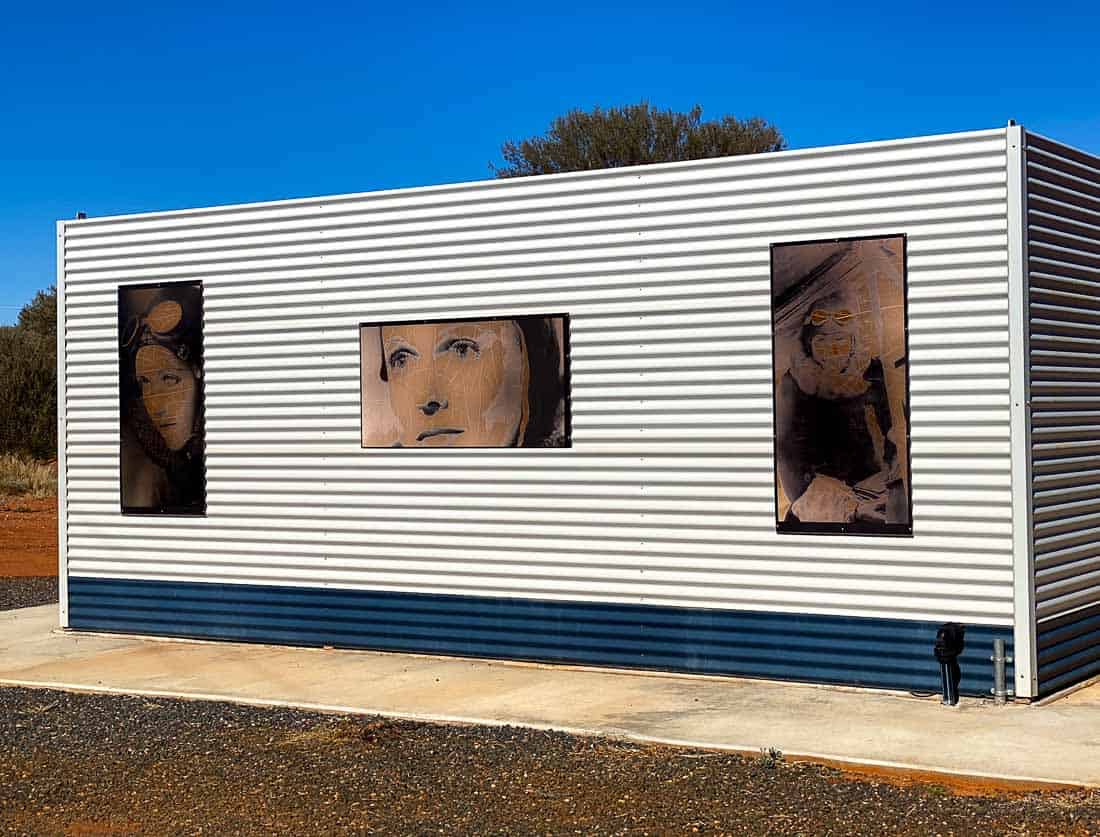 Now here is another interesting fact about Quilpie. In 1930, Amy Johnson flew from England to Australia in an attempt to break the world record of 16 days set by Bert Hinkler AND she landed in Quilpie!
Unfortunately Amy didn't break the world record, but she was the first woman to fly solo from England to Australia. You can learn more about Amy and her flight at the mini museum.
Now this may well not be of interest to all families, but Myla has a book about strong women that have shaped the world and Amy Johnson features in it – so this was an excellent stop for us. Plus we had learned a little about Amy and how she stayed at the Corones Hotel while we were in Charleville.
Before being an airport, the land here was a wool scour site. The facility provided work for shearers during the offseason. You can learn more about the Wool Scour here as well.
Location: Old Terminal at Quilpie Airport
Cost: Free
Quilpie Accommodation
There are a few options for where to stay in Quilpie, covering all sorts of travellers, including those camping, in caravans or looking for motel style accommodation. There is even a fantastic station stay too.
Below I provide some brief information about the various places to stay in town so you can decide which is best for your family trip.
The Lake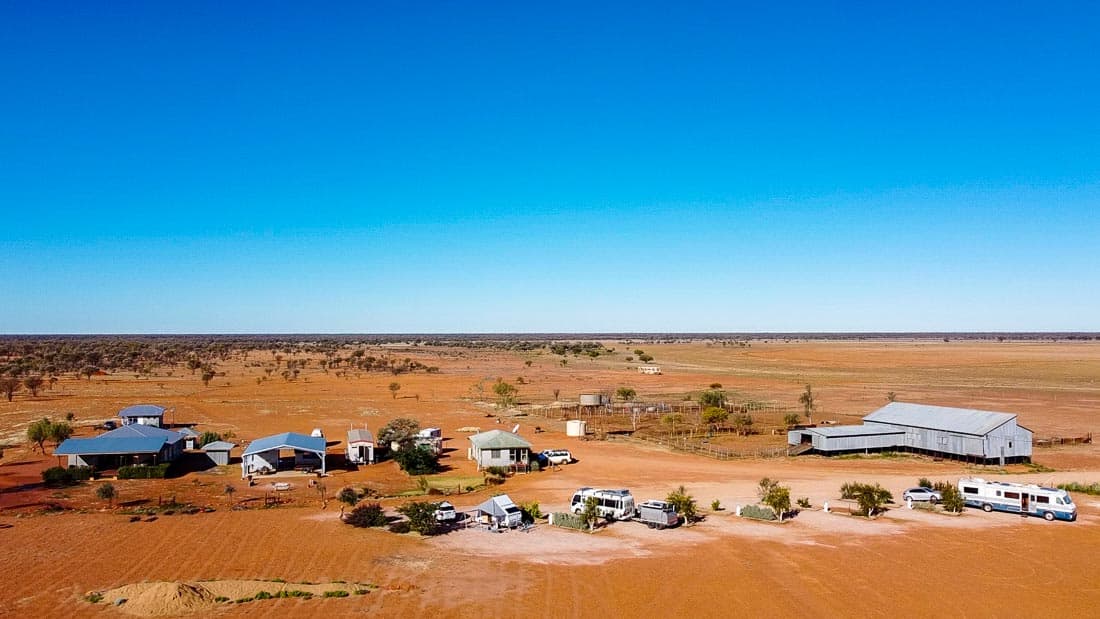 Lake Houdraman or more commonly known as simply The Lake, is a fantastic place to stay with the family while in Quilpie. The Lake offers all kinds of accommodation from self contained accommodation in their Quarters and Cottage as well as powered and unpowered sites for tents, caravans and motorhomes. This is where we stayed while in town, and we just loved it!
Unpowered campsites are along the banks of Lake Houdraman and there are 6 powered sites (as pictured above) close to the amenities. An amenity block is provided, which includes toilets and hot showers. Campsites are also pet friendly. Powered sites are $30 for two people per night and $5 per child, while unpowered sites are $10 per night.
For those that are entirely self sufficient, you can camp in pretty much complete privacy on the western side of the lake. These sites are $5 per night and don't include access to any amenities.
For the non campers, there is accommodation available in either the Quarter's bedrooms or the Cottage. The Quarter's bedrooms have the option of either a queen or two single beds and include AC and access to a shared bathroom, kitchen and dining area. These rooms are available for $75 per night.
Alternatively, families may like to stay in the two bedroom cottage, which includes a private bathroom, a small fridge and tea and coffee making facilities. The cottage is where we stayed and the cost is $100 per night.
While at the Lake there is plenty to do – see above under the things to do section. Nights are fantastic here – first, you have wonderful sunsets, then sitting around the campfire seeing all the stars is what a trip to the outback is all about.
Check out our full review of The Lake here, or watch our YouTube video showing the highlights here.
Channel Country Caravan Park, Quilpie
Channel Country Caravan Park, Quilpie is also another excellent option for families coming to town. This Quilpie Caravan Park offers a range of accommodation options including campsites and cabins. They also have some great artesian spas on site too!
The caravan park has a range of camping sites suitable for tents, caravans and even big rigs. Campsites are pet friendly and include dump points and access to the modern amenities block, camp kitchen, campfire area, laundry and free Wifi.
For families who prefer a cabin, there is a range of options from two people cabins to larger cabins able to sleep up to 7 people. All of the cabins have AC, tea and coffee making facilities, a stovetop, fridge and basic cooking utensils. They even have a 3 bedroom house on site which features a full sized kitchen and lounge room.
Quilpie Heritage Inn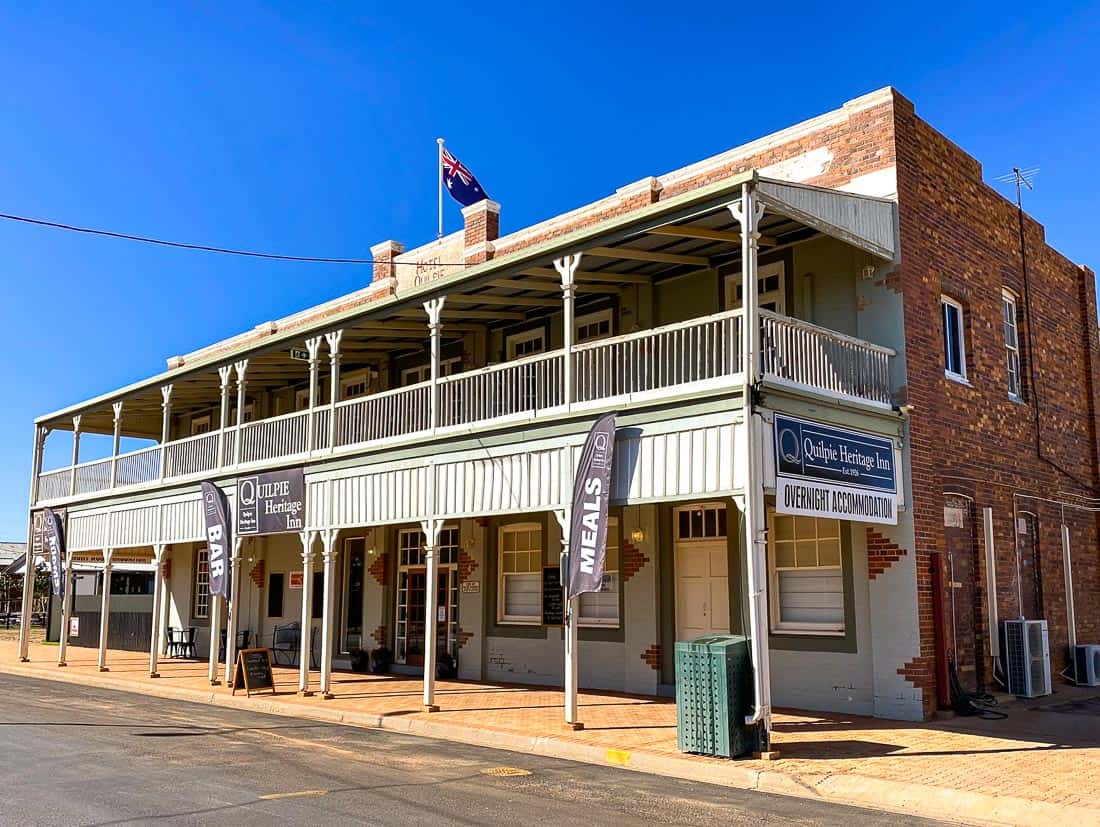 The Quilpie Heritage Inn, (previously the Brick Hotel, Quilpie) is a beautiful old hotel which has many of its former characteristics and features preserved. There are 12 rooms here – 6 with private bathrooms and the remainder having access to a shared bathroom. Each room includes tea and coffee making facilities, a fridge, TV and AC. You also get access to their stunning verandah, which is the perfect place for watching the sunset.
Rooms are probably only suited to small families or families with older children though as they only come as with double, two single beds or it is possible to have an additional bed in one of the double rooms.
The Quilpie Heritage Inn is also an excellent place for a meal – so even if you're not staying here be sure to pop in.
Quilpie Motor Inn
Another good option for families is the Quilpie Motor Inn. The motor inn offers a range of room types including singles, doubles, triples and family rooms for up to 4 people. Each room includes a TV, tea and coffee making facilities, toaster, AC and fridge. On the property, there are also BBQ facilities.
Quilpie– Our Verdict
We were really surprised by how much we loved our visit to Quilpie. One of the standard features for us was just how warm and welcoming the locals were. People would remember us when they saw us the next day and ask us how our visit was going.
There are lots of small little museums to explore, none which take too long to visit – but what really blew us away was the natural attractions. I mean sunset at the Bluff was the highlight of our entire outback Qld trip! But the river walk and the Lake were also fantastic. And I just loved sitting around the campfire at the pub at the lake chatting to all the locals and travellers – such a great way to finish each day.
If you've never thought about a visit to Quilpie, then maybe you should! This is such a gorgeous little outback town and well worth a short visit.
___________________________________________________________________
Hopefully you found this guide to Quilpie helpful and it has inspired you to take your kids for a visit. Before Quilpie we were in Eromanga – you can read our guide here and then we went on to Roma – you can read our guide here. Don't forget to check out our full South West Outback Queensland itinerary here and you can also find all our Outback Queensland content here.