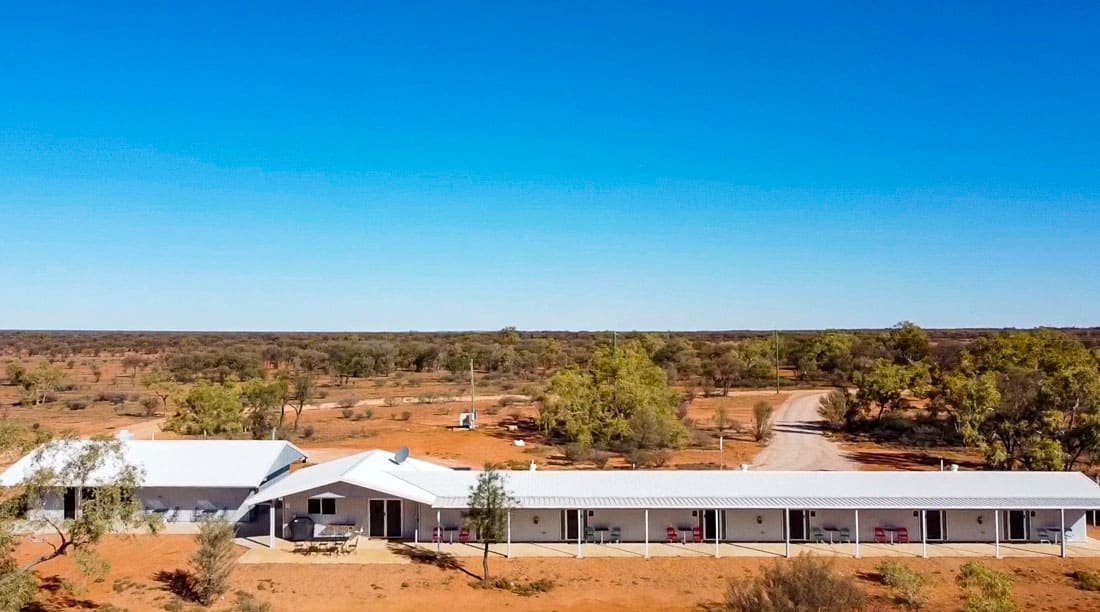 While you're visiting the Eromanga Dinosaur Museum, I can highly recommend staying at their on site accommodation – Cooper's Country Lodge. This is a gorgeous 4 star motel style accommodation surrounded by a stunning outback landscape, with vibrant red dirt as far as the eye can see. The accommodation is run by the same super friendly staff you'll find over at the museum, and it's just a short walk when you're ready to join your museum tour or any of their programs.
If you're considering a visit to Eromanga, you'll find this guide super helpful. In this guide, I share with you everything you need to know about staying at Cooper's Country Lodge so you can decide if its the right accommodation for you.
Are you planning a trip to Outback Queensland? Have any questions? Join our Queensland Travel Planning Facebook group here now! It's the perfect place to ask any questions and to be inspired!
This post may contain compensated links. Please refer to my disclaimer here for more information.
Eromanga Accommodation: Review of Cooper's Country Lodge
Keep reading below for everything you need to know about staying at Cooper's Country Lodge.
Location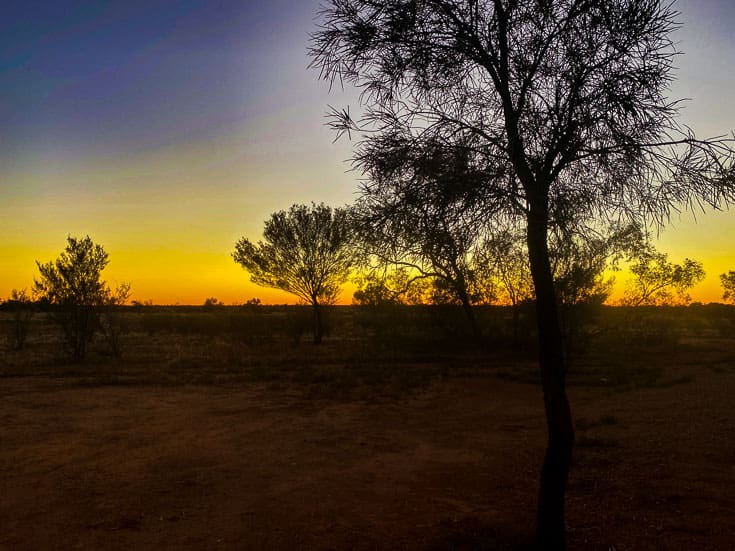 Located at 1 Dinosaur Drive, Eromanga, Cooper's Country Lodge is just a short drive from the tiny town of Eromanga. From the lodge, it's just a short 5 minute walk over to the Eromanga Dinosaur Museum.
As mentioned above, the lodge is in a typical outback setting. The land is flat and you're surrounded by the dusty vibrant red dirt that the Aussie outback is so famous for. The location is extremely quiet and peaceful – one of my favourite thing to do was simply sit in front of my room and soak in the surroundings. It is also a cracker of a spot for watching the spectacular sunsets and sunrises.
Accommodation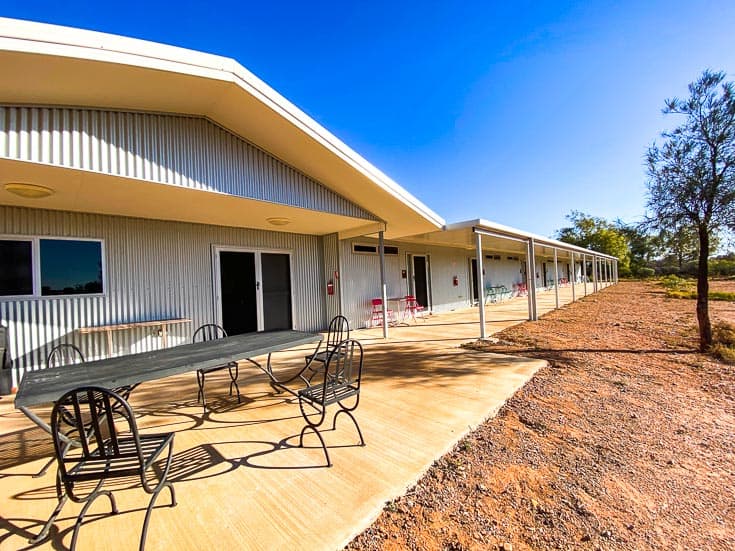 Accommodation at Cooper's Country Lodge is provided in semi self contained motel style rooms. There are 8 rooms (6 are in the building featured above and there are 2 in a building close by) in total and each room is spacious and modern.
The rooms are well decked out for a comfortable stay. Each room includes either a king bed or two singles, a private bathroom, AC, desk, TV, fridge, microwave, kettle, toaster, plates, glasses, cutlery etc – so everything you need to be able to prepare basic meals. For families, you can also arrange to have two adjoining rooms.
Outside each of the rooms are a table and two chairs.
Rooms start at $155 per night for 2 people or $215 for a family of up to 5 people.
Facilities
Cooper's Country Lodge also provides a range of facilities for guests to use to ensure their stay is comfortable which are listed below.
Outdoor Dining Area and BBQ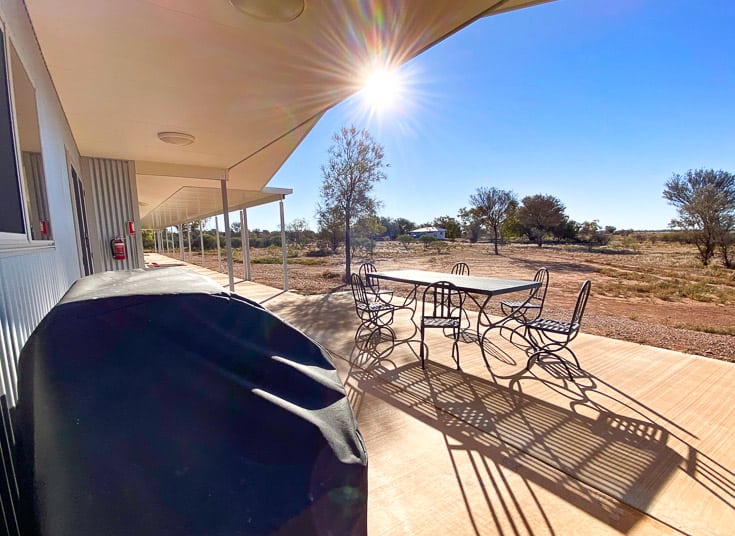 Families will love the BBQ and outdoor dining area – what a perfect way to end the day!
Communal Lounge Area and Guest Dining Room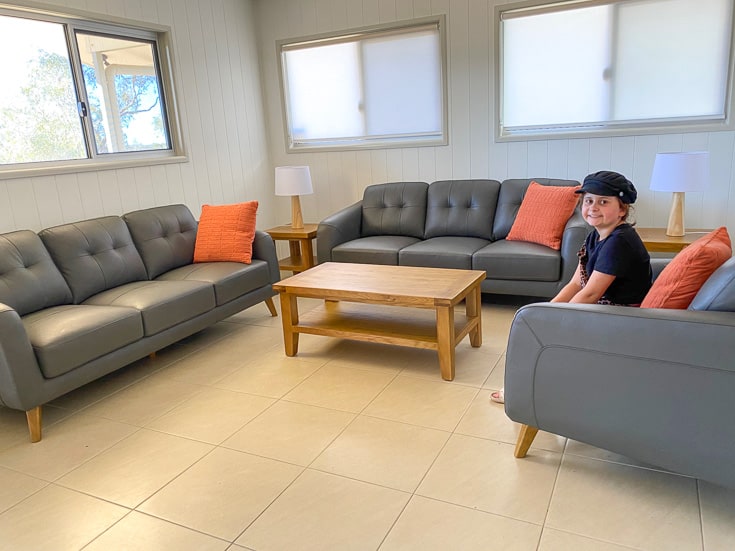 For large families or groups, you're encouraged to make use of the communal lounge and dining areas. These are great areas to come together, rather than having everyone gather in one of the rooms.
Butler's Pantry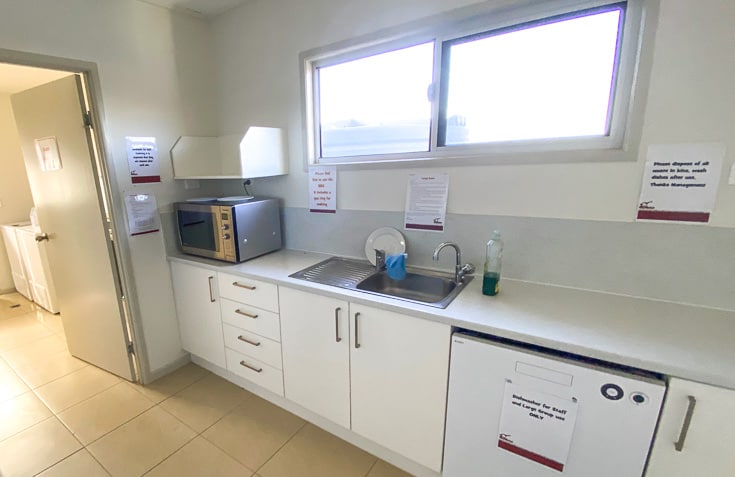 If you're looking to prepare something a little more substantial for dinner, then you'll be pleased to know that there is a butler pantry which guests are free to use. The microwave here can be used as an oven or grill.
Laundry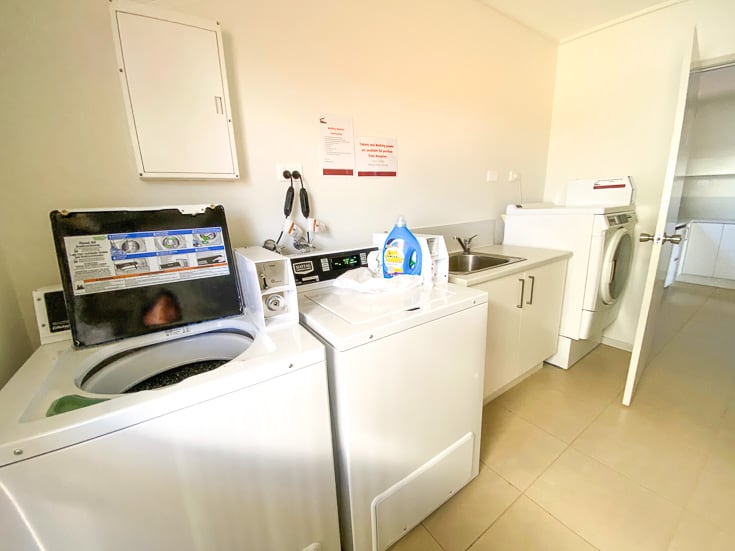 For those on the road for a while or having an extended stay in town, you'll be pleased to know that there is also a coin operated laundry for guests to use. You can obtain tokens and washing powder from the reception.
Eromanga Natural History Museum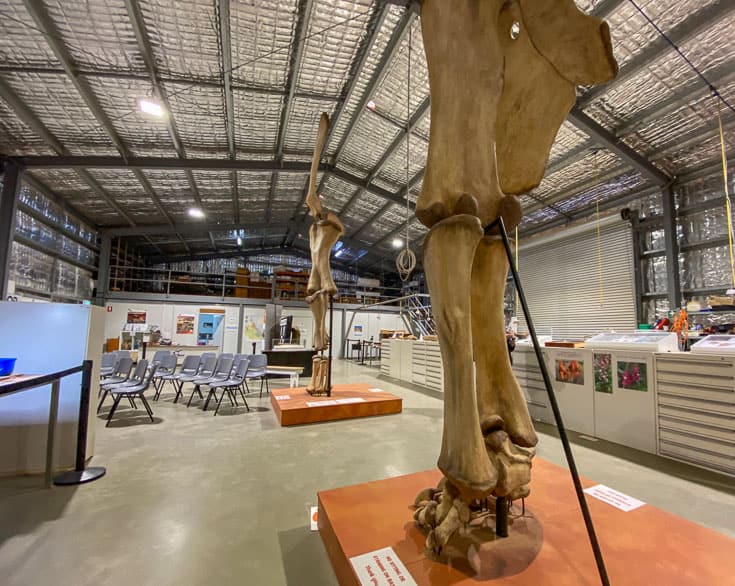 Of course the star attraction here is the Eromanga Natural History Museum. The museum offers a range of tours and programs that are suitable for the whole family to enjoy.
Cooper's Country Lodge – Our Verdict
We spent two wonderful nights at Cooper's Country Lodge. Out of all the places we stayed while doing the Natural Sciences Loop, this was one of my favourite places. I just loved the landscape surrounding the lodge – it was such so typical of the Aussie outback and I just couldn't get enough of that dry harsh landscape. I loved nothing more than sitting outside my room and just watching the vastness of it all.
The rooms here are very modern and well worth every bit of their 4 star rating – they are quite luxurious really. Of course you could no doubt get cheaper accommodation at the caravan park in town – but if you want a little bit of luxury surrounded by a typical outback landscape – you really can't go past Cooper's Country Lodge.
Find out more about Cooper's Country Lodge here and read our full guide on things to do in Eromanga here.
______________________________________________________________________________
Hopefully you found this guide on Cooper's Country Lodge helpful. Don't forget to check out our full Sout West Outback Queensland itinerary here (coming soon) and you can also find all our Outback Queensland content here.