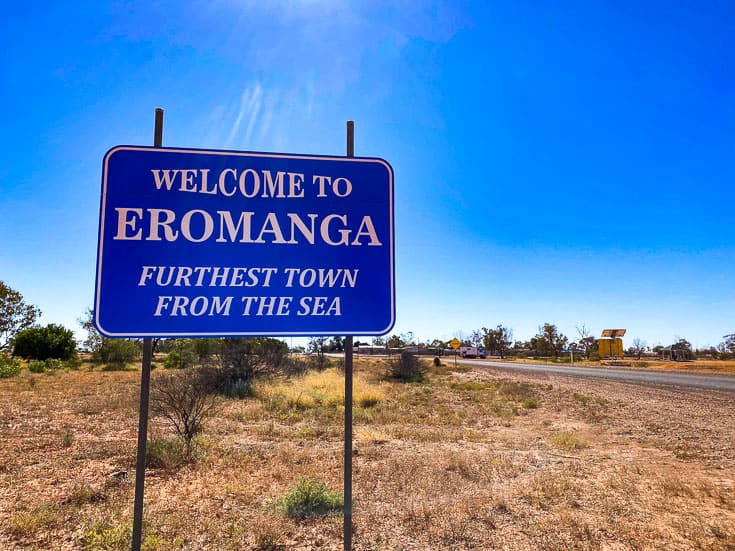 There are a few interesting things that put Eromanga on the map. Firstly, geographically Eromanga is the furthest town in Australia from the sea and secondly and perhaps more interestingly, this is where you'll find the largest dinosaur fossils in the entire country!
Although Eromanga is located around 1100km west of Brisbane and has a population of around just 45 people – yet this little town is well worth a stop on the Natural Science loop. The main attraction in town is of course the Eromanga Natural History Museum, which is all about dinosaurs, but there are a few other things worth checking out around town too.
If you're planning a trip to Eromanga, then this guide is going to be super helpful. In this guide, I'll cover everything you need to know in terms of what to do in Eromanga including all the essential information such as location, opening hours, and some suggestions for some family friendly Eromanga accommodation.
Are you planning a trip to Outback Queensland? Have any questions? Join our Queensland Travel Planning Facebook group here now! It's the perfect place to ask any questions and to be inspired!
This post may contain compensated links. Please refer to my disclaimer here for more information.
Best Things to do in Eromanga
In this section, I include all the must do Eromanga attractions. As to which of these things you should do will depend on how long you have in town and what your family's interests are. Whatever you decide to do, to help plan your trip, I've included the below map which shows where all the Eromanga tourist attractions are. Zoom in and out for a closer look.
Please note that the opening hours and prices quoted below were correct at the time of publishing.
If you want to see what our itinerary was while in Eromanga click here, where you'll see a detailed overview of how we spent 2 weeks doing a Queensland Outback trip.
You can also check out our full FB album with all our photos from Eromanga here or watch our short video here showing some of the highlights.
The Eromanga Natural History Museum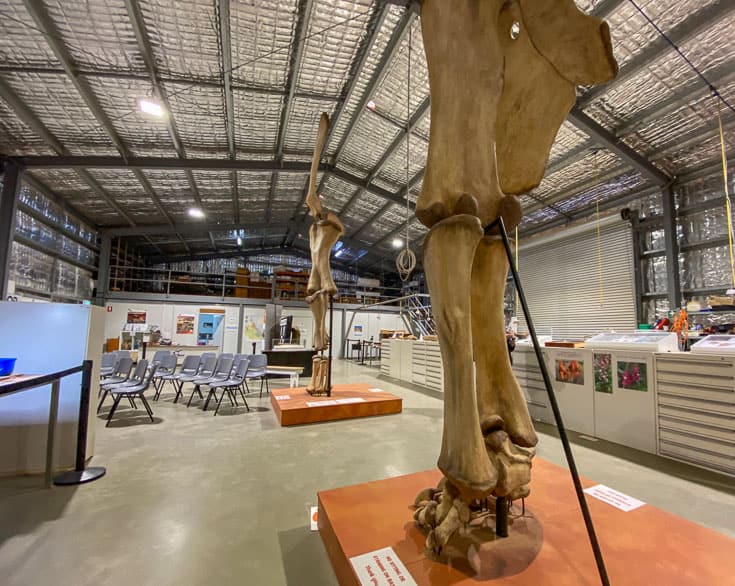 Eromanga Natural History Museum is a brilliant place to take the kids. Here you can get hands on with some of Australia's most significant dinosaur fossils, take a guided tour of the museum as well as work side by side with technicians while learning about ancient fossils.
The highlight of this Eromanga museum is the one hour Australian Dinosaur Giants Tour. This is the one you don't want to miss as during the one tour you'll get to meet "Cooper", a 95 million year old dinosaur fossil which is the largest ever found in Australia! Cooper is a Titanosaur and at 30 metres long and 6.5 metres high is one of the largest animals ever to walk the earth.
As well as dinosaurs you'll also learn all about Megafaunas – which is basically just a fancy term for really big animals! Learn about giant kangaroos, wombats, birds, snakes and lizards. The most common megafauna found in the area is the Diprotodin which is a massive marsupial like a bear.
The tour also takes you through all you need to know about discovering, digging and preparing fossils.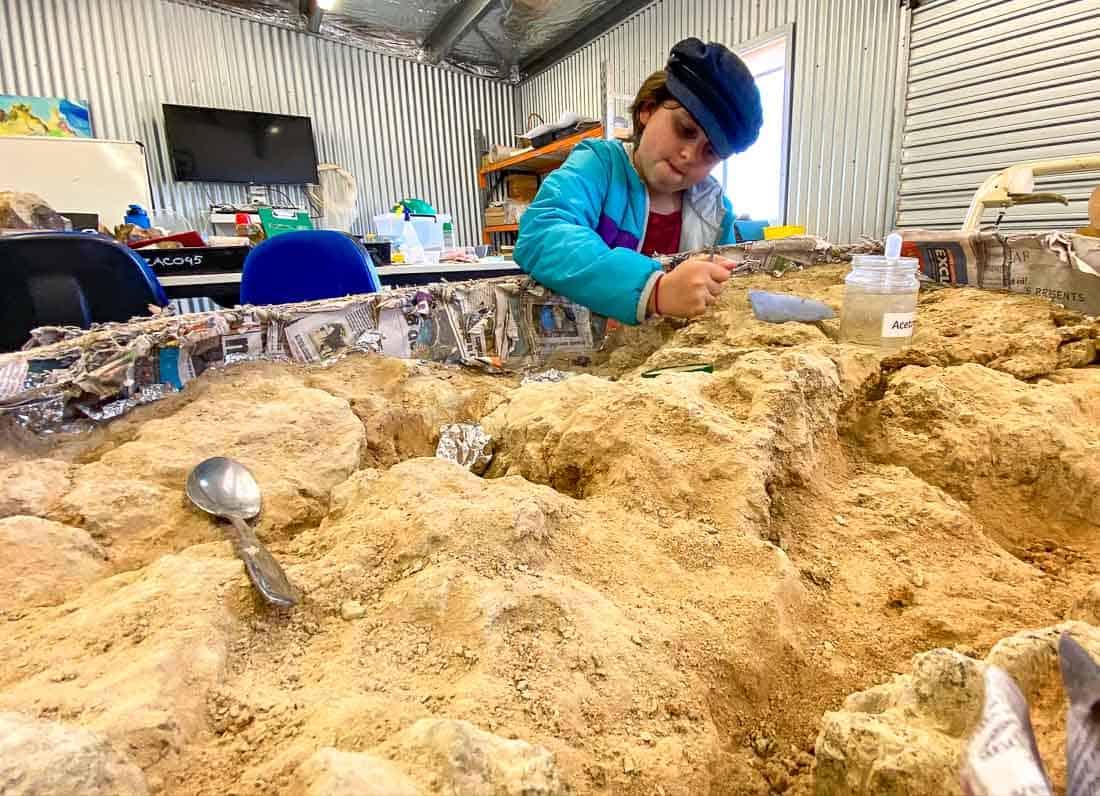 If that's not enough to satisfy your dinosaur appetite, then straight after your tour (except the 3 pm tour) join the 1.5 hour Family Prep Program. During this program, you'll get an in depth look into how to prepare fossils and even get to have a go yourself. If you're not with kids, then you're still welcome to join or you might choose to join the more in depth Fossil Prep Program instead.
Myla and I did the prep program, and it was great – I'd say Myla actually enjoyed this more than the museum (see above). Basically you're given all the special tools to carefully dig away millions of years worth of dirt from around the fossils – how cool is that! It's also an excellent opportunity to ask loads more questions from the staff that run the program. These guys are super passionate about their work and only too happy to answer all your questions.
Throughout the year there is also a range of special programs where you can join real life dinosaur dig experiences – you have to be over 18 though – but these look absolutely brilliant!
Currently a new part of the Eromanga dinosaur museum is under construction so if you happen to be out this way in 2021 you'll experience even more!
You can also stay on site at the Copper's Country Lodge – see below for more information about their accommodation and museum packages. This is where we stayed while in town and can highly recommend it!
Location: 1 Dinosaur Drive, Eromanga
Opening Hours: Daily from April to October, Weekdays November and March and closed December through to February. The guided tour starts at 9 am, 11 am, 1 pm and 3 pm.
Price: Just the guided tour is $30 per adult and kids over 12, $15 for kids 5-12 and a family pass is $80. The tour and Family Prep Program is $90 per adult $45 per child 4-11 and $190 for a family pass.
Eromanga Historical Town Walk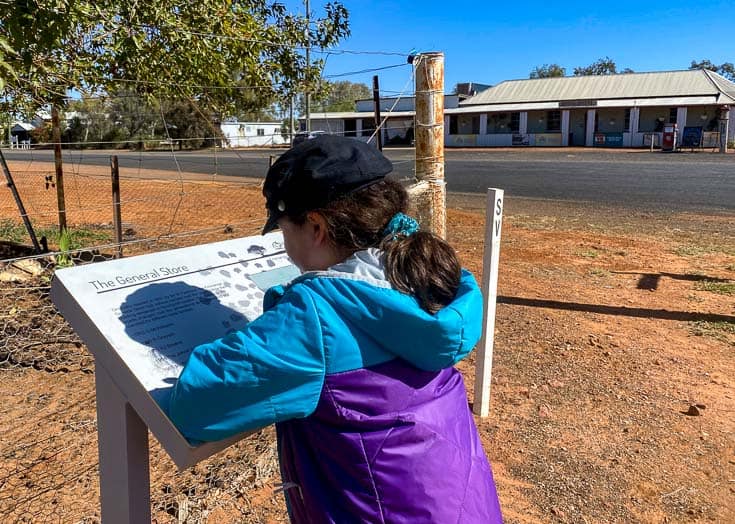 As you walk around town, keep your eyes peeled for signs dotted around the place that provide information about the historical buildings of the town and where they stood. Following this walk is also a great way to see all the attractions around town.
I've listed the attractions around town below in order of how you will see them on the walk to help you navigate your way around.
Royal Hotel – Eromanga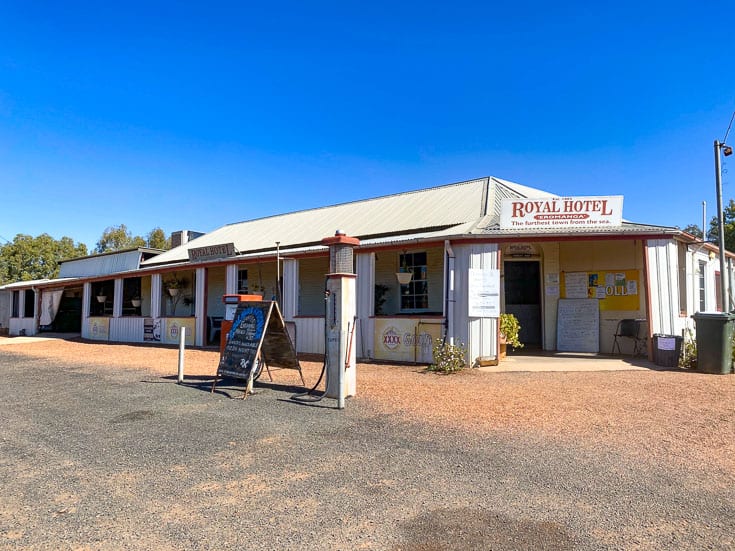 The Eromanga Royal Hotel was built in 1885 and was once a Cobb & Co Staging Post. Today it's an excellent place for a meal or even to stay while you're in town (see below).
If you happen to be in town on a Saturday night, be sure to come on down for the weekly community BBQ. Every week they raise money for different local charities and it's a great way to meet some of the locals.
Meals are available daily with lunch from 12 -2 pm and dinner 6 to 8 pm. Snacks are available between those hours.
Location: corner of Deacon and Webber Streets
Take a Happy Snap with a Dinosaur
Given this is dinosaur country – there is no surprise that in the main street of town there is a huge dinosaur riding a surfboard – well perhaps the surfboard bit is a bit of a surprise!
Anyway, you can't take the kids to Eromanga without the obligatory photo with the dinosaur!
Location: Just next door to the Royal Hotel
River Walk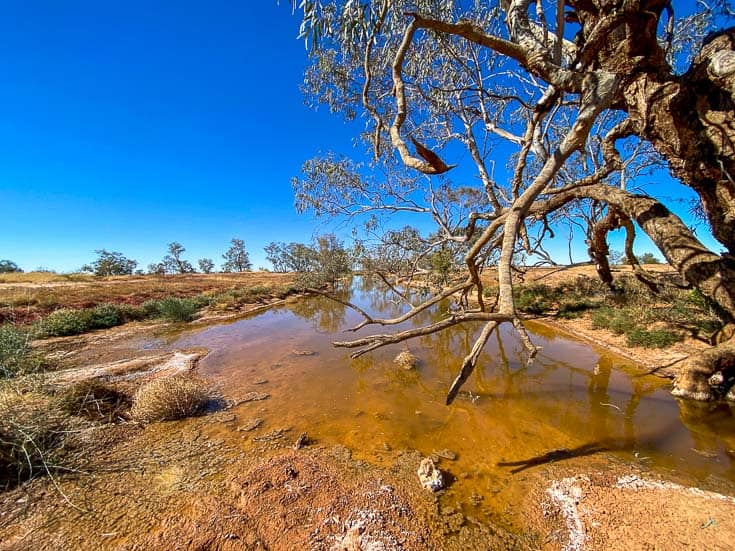 Once you've walked all the way through town (reading the display boards as you go), turn right as you walk past the IOR. From here you'll go across country a little until you reach the river. Cross the river and take a stroll alongside it until you reach Knot-a-Saurus Park (see below).
It's a very short walk but a nice area and good for spotting some birdlife.
Knot-a-Saurus Park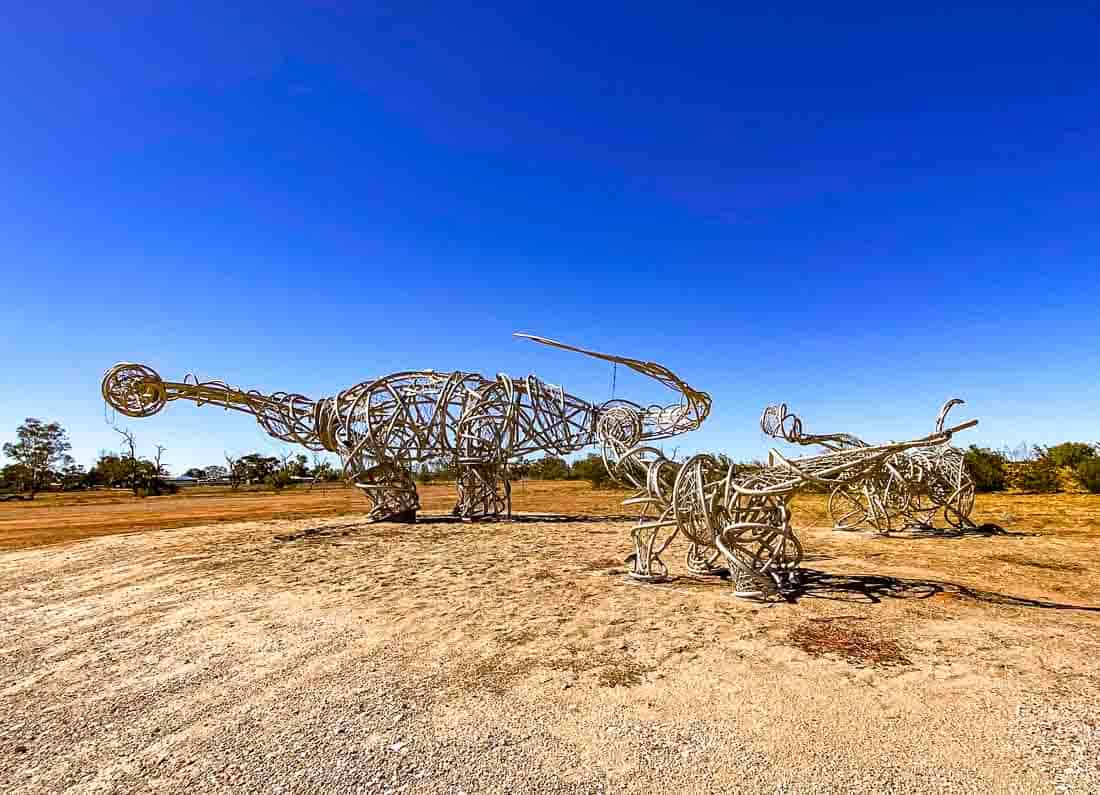 Visit Knot-a-Saurus Park to see a sculpture of a Sauropod and her two babies which are made entirely from 100 metre lengths of twisted aluminium. These sculptures were designed by Cameron Searl for the 2014 G20 Summit and were then donated to the Outback Gondwana Foundation which had them permanently moved to where they stand today.
The sculpture is said to represent a group of dinosaurs which would have once been typical for the area. These dinosaurs would have been over 40m long and in fact where the largest dinosaurs in Australia have been discovered.
Location: Opposite the Royal Hotel on the corner of Deacon and Webber Streets
Opalopolis Park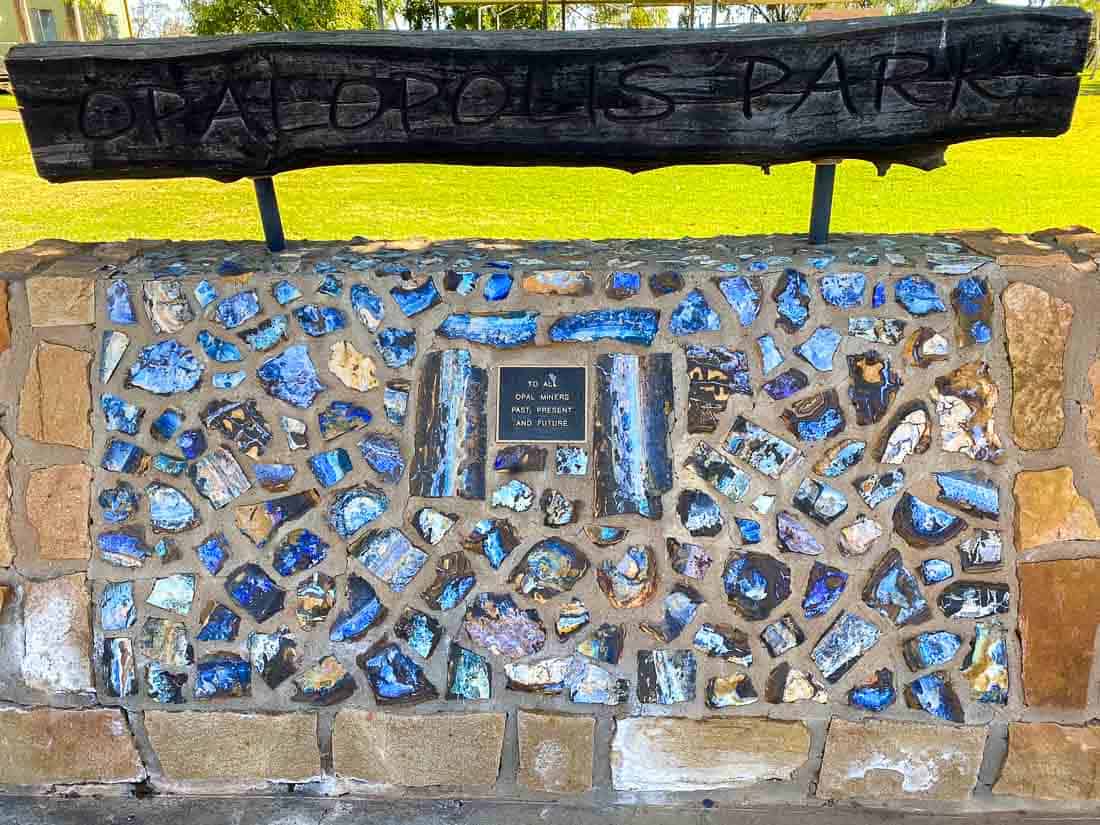 The next stop is Opalopolis Park. The park is a great place for a picnic or BBQ with coin operated BBQs available. There is also a great playground too and so the perfect place for a break for the kids.
While the kids are playing on the playground, check out the Mining Memorial there which is in memory of the Opalopolis days of Eromanga.
Location: Next door to the Living History Centre
Eromanga Living History Centre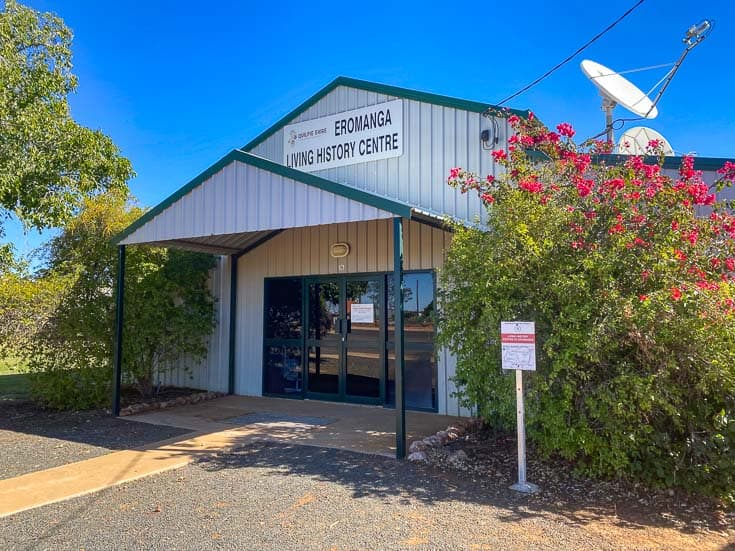 To visit the Eromanga Living History Centre you'll first need to ask for the keys from the guys at the Royal Hotel – you can then let yourself in and take a stroll around.
The museum features hundreds of old photographs and objects from the area as well as a self operating theatre which shows a 15 minute film with local residents talking about the local history. Topics covered include oil exploration, early pastoral pioneers, opal mining and of course information about the area's dinosaur discoveries.
It's a great way to learn a little more about this tiny town.
Location: Next door to the Royal Hotel
Price: Free
Opening Hours: Daily from 9 am to 5 pm
Kyabra Waterhole
The Kyabra Waterhole is around 40kms from town but a great place to check out. This tranquil waterhole is great for watching birds as well as fishing.
We had planned on stopping here when we drove from Eromanga to Quilpie – but we couldn't for the life of us find it?? So do yourself a favour and ask for some better directions from the locals at either Eromanga or Thargomindah before you leave.
Eromanga Accommodation
There's not a lot of choices when it comes to where to stay in Eromanga, but nevertheless, there are options for all sorts of travellers including those camping, in caravans or looking for motel style accommodation.
Cooper's Lodge
No doubt the main reason you're in town is to visit the Eromanga Dinosaur Museum, so no why not stay on site at Cooper's Country Lodge – this is what we did and we can highly recommend it. Cooper's Lodge is set in a stunning outback setting and provides accommodation in semi self contained luxury motel style rooms.
Studio rooms are great for couples, with each room able to accommodate two people in either a king bed or two singles. These rooms have a private bathroom, TV, AC and a basic kitchenette featuring a microwave, fridge and tea and coffee making facilities. For families, there is the option for having two connected studio rooms.
There are some excellent facilities on site as well such as BBQs, outdoor eating areas, a dining room, laundry and a great kitchen. The views at sunset and sunrise are also spectacular!
Eromanga Caravan Park and Motel
The Eromanga Motel and Caravan Park have something for everyone. Here you will find private motel style rooms which come with a queen and single bed, as well as powered and unpowered sites.
There is also a great cafe on site which serves lunch and dinner daily. Other on site facilities include a swimming pool, amenities block, laundry and pet friendly too.
Royal Hotel
As well as being an excellent pub for a meal, the Royal Hotel also offers accommodation too. Room options include either double beds or the choice of a double bed and a single. Each room comes with a private bathroom, TV, AC and a front patio.
Eromanga – Our Verdict
For families – a stop in Eromanga is a must! The dinosaur museum here is brilliant and it's growing all the time – so one visit just won't be enough! It's also absolutely brilliant how families can actually be a part of the important work these guys do by helping out preparing fossils. This isn't a gimmick – the kids will actually be taking part in important work—such a great way to get the kids to learn about dinosaurs and megafauna.
The town of Eromanga is super tiny – like a dot on the map – so it won't take long to explore it. Nevertheless, it's a lovely little town and its great to show the kids around these tiny little Queensland outback towns.
Eromanga is part of the Natural Sciences Loop and more many families, may well be the highlight of the trip.
Before Eromanga we were in Thargomindah (read our guide here) and from here we moved onto Quilpie (read our guide here).
___________________________________________________________________
Hopefully you found this guide to Thargomindah and the nearby area helpful and it has inspired you to take your kids for a visit. Don't forget to check out our full South West Outback Queensland itinerary here and you can also find all our Outback Queensland content here.