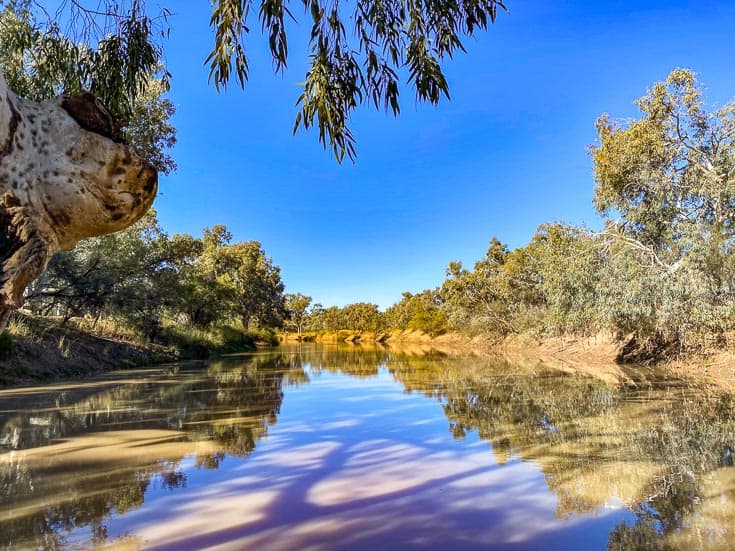 Located around 1100km west of Brisbane, Thargomindah is a town of almost 300 people. The town dates back to the 1860s, where the expedition of Burke and Wills came through as part of their trek through far south west Queensland. Thargomindah was also part of the old Cobb and Co route.
Today the small town of Thargomindah is an excellent stopover while travelling on the Adventure Way and is part of the Natural Science Loop. Some of the highlights of this small town include learning about Australia's rich history, experiencing amazing red desert landscapes and enjoying some of the most beautiful sunsets and night skies.
If you're planning a trip to Thargomindah, then this guide is going to be super helpful. In this guide, I'll cover everything you need to know in terms of what to do in Thargomindah including all the essential information such as location, opening hours, and some suggestions for some family friendly Thargomindah accommodation. I also cover some of the nearby towns such as Yowah, Noccundra and Hungerford.
Are you planning a trip to Outback Queensland? Have any questions? Join our Queensland Travel Planning Facebook group here now! It's the perfect place to ask any questions and to be inspired!
This post may contain compensated links. Please refer to my disclaimer here for more information.
Best Things to do in Thargomindah
In this section, I include all the must do Thargomindah attractions. Which of these things you should do will depend on how long you have in town and what your family's interests are. Whatever you decide to do, to help plan your trip, I've included the below map which shows where all the Thargomindah tourist attractions are. Zoom in and out for a closer look.
A few other maps that you might find handy are the town map and this map of the surrounding area which shows various stops as well as which roads are sealed and which are not.
Please note that the opening hours and prices quoted below were correct at the time of publishing.
If you want to see what our itinerary was while in Thargomindah click here, where you'll see a detailed overview of how we spent almost 2 weeks doing a Queensland Outback trip.
You can also check out our full FB album with all our photos from Thargomindah here.
Heritage Walk
An excellent way to explore all the of the town's attractions (which I list below) is to take the Thargomindah Heritage Walk. You can see a map of the Heritage Walk here.
We followed this walk during our day in Thargomindah and found it an excellent way to see all the town's attractions. It's great because you don't need your car to see the sights, and the town is very flat, so it's easy to walk.
I've tried to list the attractions below in order of how you might do the walk.
Hydro Power Plant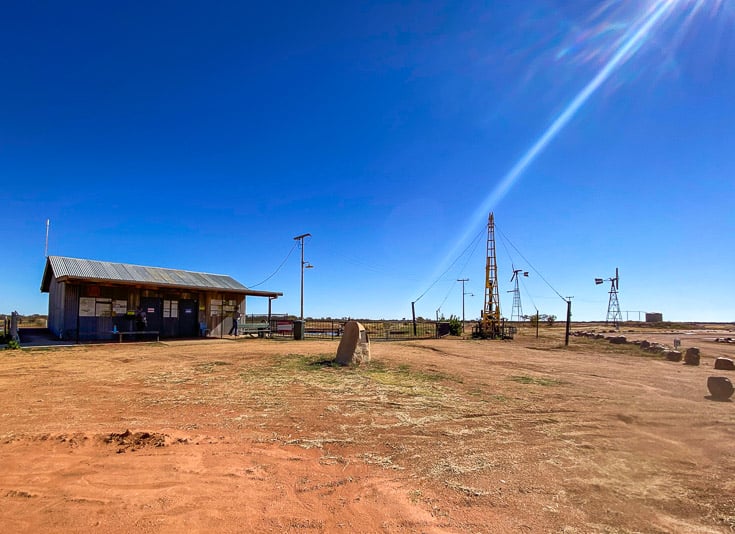 In 1898, Thargomindah became the first town in Australia, and third in the world (after London and Paris), to produce hydro-electric power for street lighting by using the water pressure from the Great Artesian Basin. A great way to learn more about this is by visiting the Hydro Power Plant, which is a replica of the original power plant shed.
Take a self guided tour of the plant after purchasing tickets from the Visitor Information Centre. You'll be given a card which activates various documentary style videos and life like holograms so you can learn more.
Allow around 30 minutes here to see all the various displays.
Location: Adventure Way, near the Airport – purchase entry tickets from the Visitor Information Centre which is at 37 Dowling Street.
Cost: Entry is $5 per person or buy entry to the Old Thargomindah Hospital and Old Jail as well for $12.50 per person.
Opening Hours: Daily from 8.30 am to 5 pm.
Conduit Art Sculpture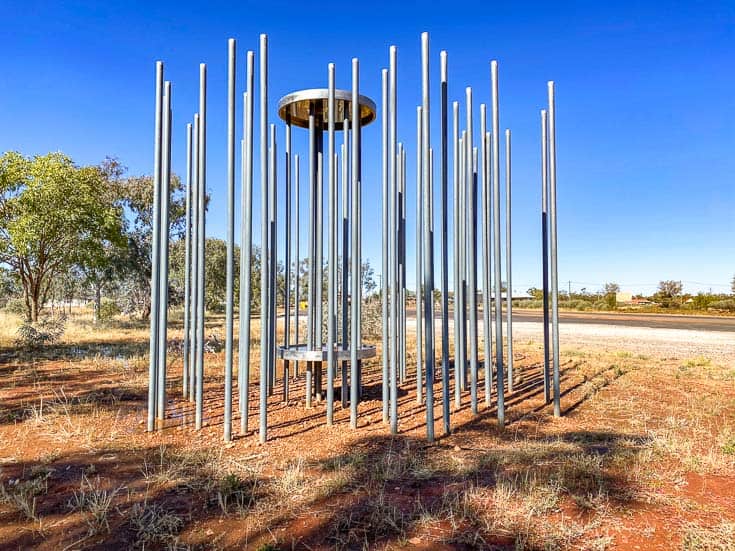 Fredrick White created the Conduit Art Sculpture as a tribute to the importance of storm rain, the Great Artesian Basin and the river and creek systems in the region. The sculpture consists of 52 galvanised poles which are representative of the 4700 bores that provide the only reliable source of water in inland Australia – 52 weeks of the year.
Location: Gilmore Street
Old Thargomindah Hospital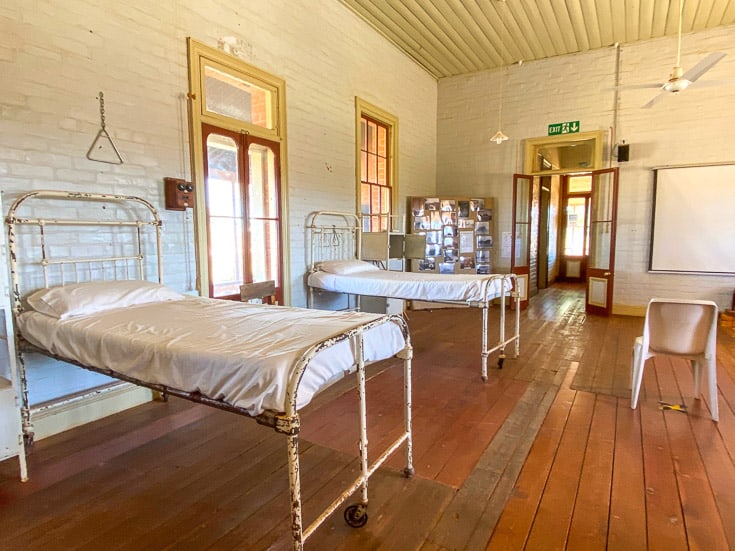 In 1888 the old Thargomindah Hospital was built from mud bricks which were made from the soil on the banks of the Bulloo River. The bricks were first moulded and then left to dry, during the time local animals may have left prints in the bricks, and some of these prints can still be seen today. Many of the town's original buildings were made this way, but today only four buildings remain of which the hospital is one of them.
The Old Hospital was in use right up until 1975 and is said to be home to a ghost, who is thought to be a former Matron, who unfortunately died in mysterious circumstances.
You can take a self guided tour of the hospital after purchasing tickets from the Visitor Information Centre. You'll be given a card which activates various documentary style videos and life like holograms so you can learn more.
The Old Hospital was my personal favourite attraction in Thargomindah. It is really well preserved, and the use of different media to tell it's stories are really well done.
You would need well over an hour here to look at all the displays and items – so it will really depend on your family's level of interest.
Location: McGregor Street – purchase entry tickets from the Visitor Information Centre, 37 Dowling Street
Cost: Entry is $5 per person or buy entry to the Hydro Power Plan and Old Jail as well for $12.50 per person.
Opening Hours: Daily from 8.30 am to 5 pm.
Cobb & Co Crossing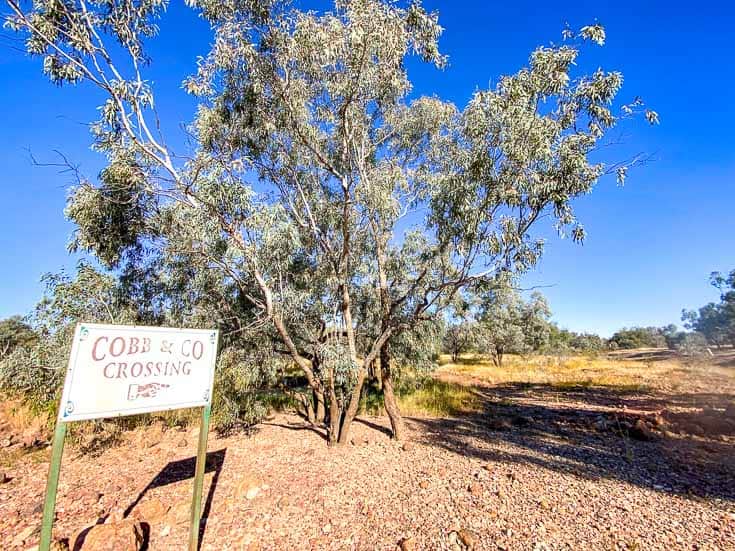 During the late 1880s, Thargomindah became the home for Cobb & Co Coaches and today you can still see the official river crossing which was the primary access to town. The stone river crossing was actually used as early as 1929 when the current bridge was built.
An interesting fact is that back in the day a trip from Thargomindah to Cunnamulla took around 5 to 6 days, whereas today it's just 2 hours by car.
Location: Across the Bulloo River, Adventure Way as you enter town from Quilpie or Eulo
Thargomindah River Walk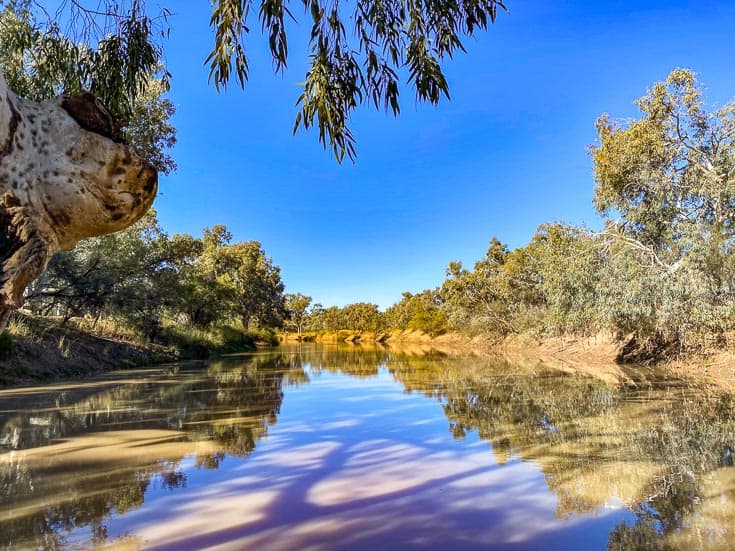 The 5.9km walkway starts at the Cobb & Co Crossing and takes you to the Pelican Point Picnic Area and finishes at the Explorers Caravan Park. Along the walk, you'll see many river red gums, along with a variety of other native trees and shrubs. It is also a good place to spot birdlife such as pelicans, the Mallee ring-neck parrot or Bourke's parrot among the trees.
At Pelican Point Picnic Area there is a range of BBQs and picnic benches and is the perfect place to watch the sunset in town. Locals and visitors enjoy coming here to fish, kayak, swim and to watch the birdlife. You can hire a kayak from Explorers Caravan Park.
Old Jail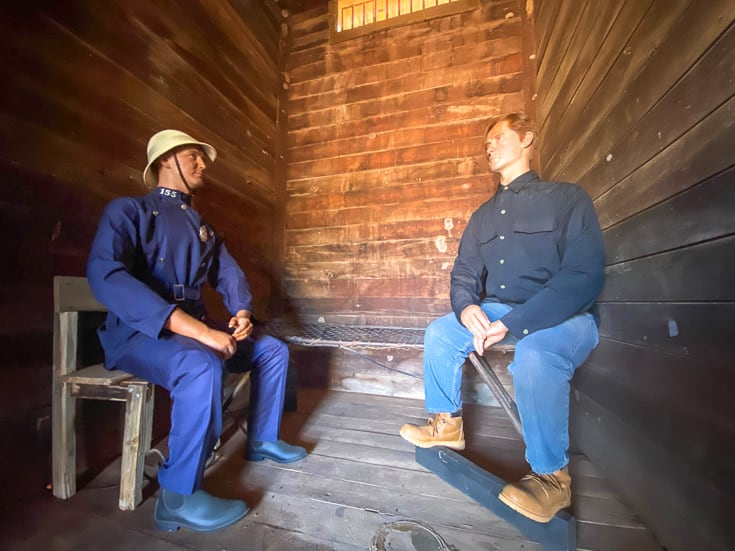 Take a tour of the old jail and find out what it was like to be locked away back in the old days in an outback jail. The old cypress pine jail has an interesting history where the inmates were regularly charged with the very common crime of cattle and sheep rustling.
At the Old Jail, you can step into small cells and hear lifelike figures talking about their charges as well as visit the Thargo Jail Kitchen and hear stories about the 1965 Bulloo Down murder.
Like the Hydro Plant and Old Hospital, you can take a self guided tour of the jail after purchasing tickets from the Visitor Information Centre. You'll be given a card which activates various documentary style videos and life like holograms so you can learn more.
The Old Jail is very small, with only two rooms to explore – so you only need around 15 minutes here. Don't get a fright from the figures – they are seriously lifelike!
Location: Dowling Street – purchase entry tickets from the Visitor Information Centre, 37 Dowling Street
Cost: Entry is $5 per person or buy entry to the Old Hospital and Old Jail as well for $12.50 per person.
Opening Hours: Daily from 8.30 am to 5 pm.
Leahy Historical House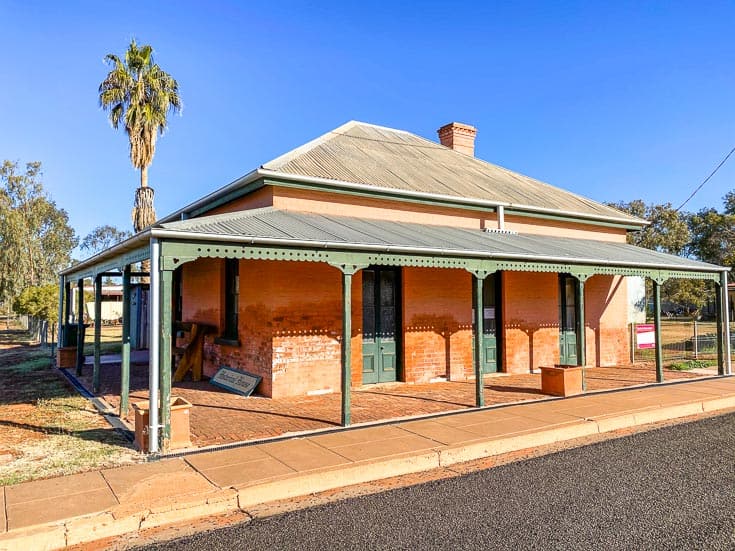 Another one of the old buildings made from mud bricks which still stands today is Leahy Historical House. This house was built in 1885 and is today used as a museum to display a range of exhibits and items detailing the area's history.
You can stroll around the small rooms of the old house and admire old items on display. You only need to allow 10 to 20 minutes to explore the building.
Location: Dowling Street
Cost: Free
Opening Hours: Daily from 8.30 am to 5 pm.
Thargomindah Post Office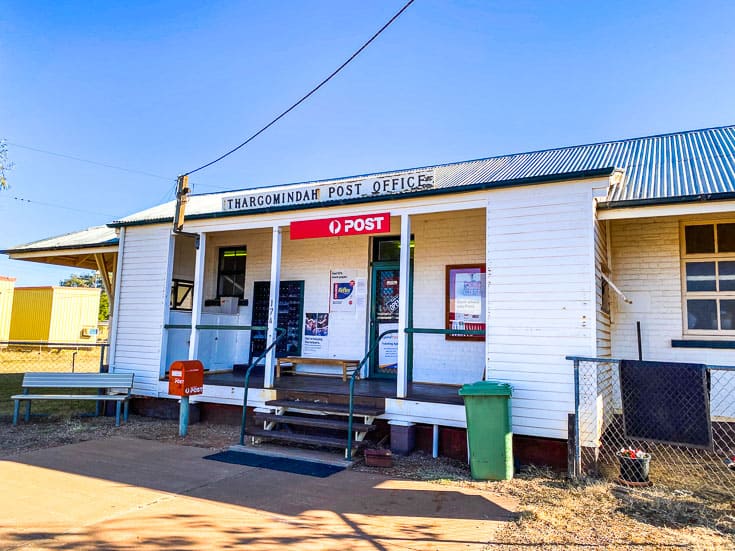 Just across the road from Leahy Historical House is the Thargomindah Post Office. The post office was opened in 1870 and is another one of the original buildings that remains standing that was built by mud bricks. However since it was made, the building has severely damaged and today only the original exterior walls remain.
Location: Dowling Street
Cost: Free
Opening Hours: Hours vary – but you only need to admire the building from the outside anyway.
Old and New Cemeteries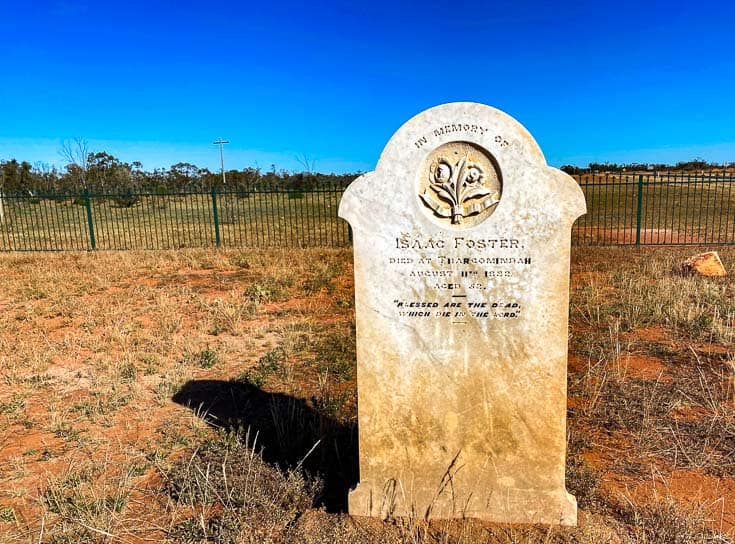 An interesting place to get a small glimpse into the lives of the people of Thargomindah is a visit to the old and new cemeteries. The old cemetery is close to town and only contains a few headstones dating back to 1882, while the newer one is on the outskirts of town and includes several graves dating back to the 1890s.
Unfortunately the road to the new cemetery was closed due to water over the road when we were in town, so we didn't get to see the new cemetery.
Location: Frew Street
Lake Bindegolly National Park
Lake Bindegolly National Park is located approximately 34km east of Thargomindah and is a great place for bird watching. The park features three lakes, being the saline Lakes Bindegolly and Toomaroo and the freshwater Lake Hutchinson. The lakes are home to a diverse range of animals including over 60 species of waterbirds.
The lakes are seasonal and so water levels will depend on rainfall in the area. After heavy rain the lakes all join creating a long stretch of water and become one of the most important wetland systems in southwest Queensland, being home to thousands of waterbirds who come to feed and breed. When the lakes are dry, the area becomes a land of vast, white saltpans, samphire flats, claypans and sand dunes.
The park is only accessible on foot, and there is a 9.2km walking track along Lake Bindegolly as well as an observation point for bird watching.
Location: Bulloo Development Road, 34 km east of Thargomindah
Things to do in Yowah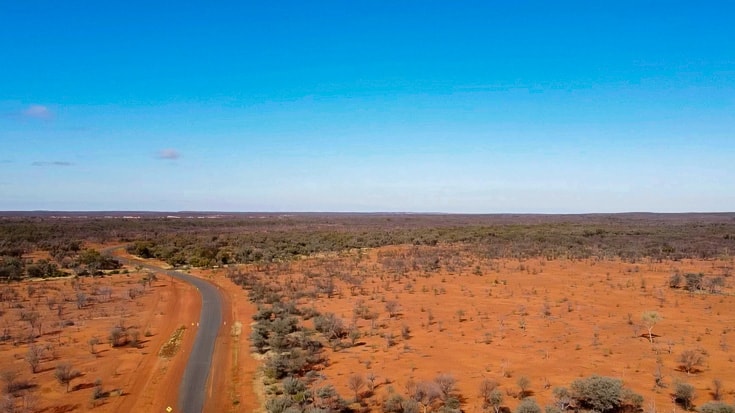 Not far from Eulo is the town of Yowah well known for its opals, with the main attraction in town being the Yowah Nut. The Yowah Nut is an opal which is formed naturally just like a nut. While on the outside it may look nothing more than a rock, once cracked open you'll find colourful gems. You'll only find this type of opal here in Yowah.
There are a few other things to do in Yowah too making it an excellent place to have a quick stop or even stay the night.
While many just do a drive through Yowah on their way from Cunnamulla to Thargomindah, we decided to spend the night in town and we are glad we did. It's a gorgeous little town with a few different quirky attributes as well as super friendly locals only too happy to show you around.
Fossick for Opals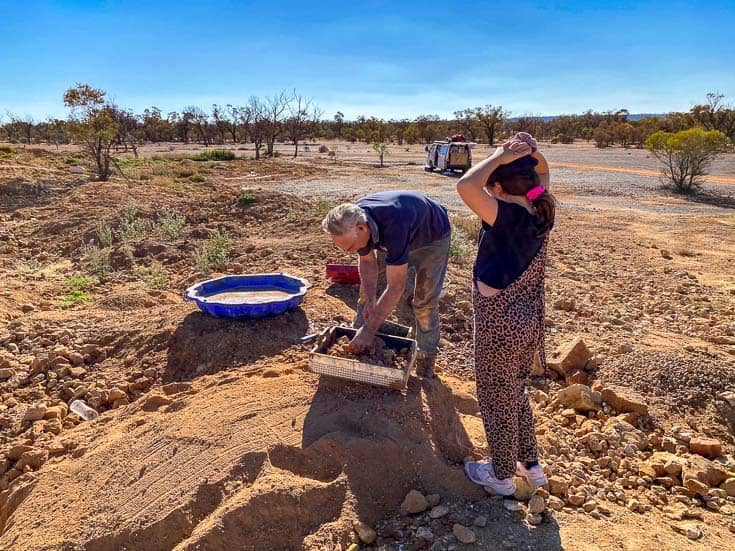 Grab a license at the Yowah General Store and try your luck at fossicking for opals. There is a place you can go fossicking just 500m from the Artesian Waters Caravan Park.
This was our very first time fossicking, so we literally just turned up with no equipment or anything. Mind you we got talking to some other experienced fossickers and apparently the only equipment some use is their bare hands. However we meet a super friendly fossicker who was only too happy to show us what he was doing and let us use some of his tools to have a go ourselves.
If you don't have any luck, you can pop into a range of local opal shops that are around town. When I say shops – I mean people's homes – but the signs out the front let you know they are selling opals.
The Bluff for Sunset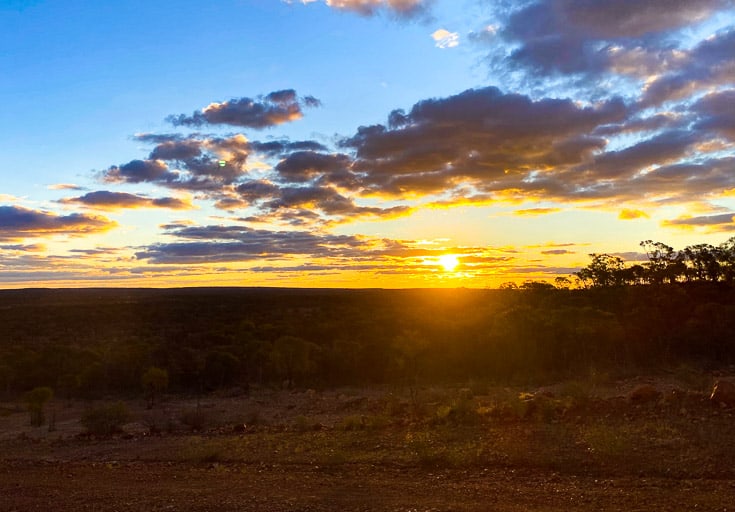 If you stay in town overnight, then a must do is going to the Bluff to watch the sunset. The 150 rise is just a few km from town and is the perfect spot to enjoy spectacular 180 degree views of the surrounding countryside.
This was one of the highlights of the trip for me – not just in Yowah but our entire time on the Natural Sciences Loop. The landscape is just stunning, and the sunset from here is simply breathtaking. If I had thought it through a little more, I would have brought some nibbles, wine and a picnic blanket so we could really make the most it.
It's easy to reach the Bluff – you just drive to the top – no walking required. Just ask a local to point you in the right direction.
Location: Bluff Road, Yowah
Artesian Bore Baths at the Caravan Park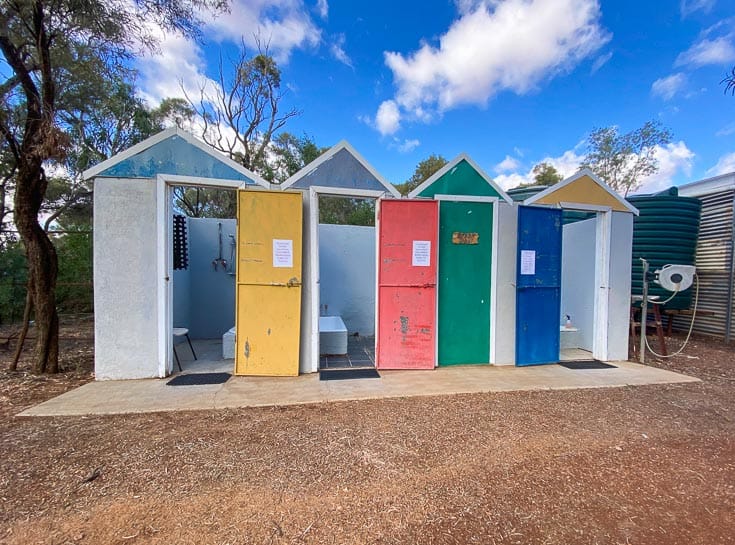 The Artesian Waters Caravan Park is home to the Artesian Bore Baths where you can stay while you're in town – but even if you're just passing through you can also enjoy a good soak in some of these baths filled with water from the Great Artesian Basin. Just pop into the general store and ask to use a bath.
We stayed here in Yowah – you can check out our full review here.
Location: 1 Blue Bonnet Blvd, Yowah
Yowah Artesian Spa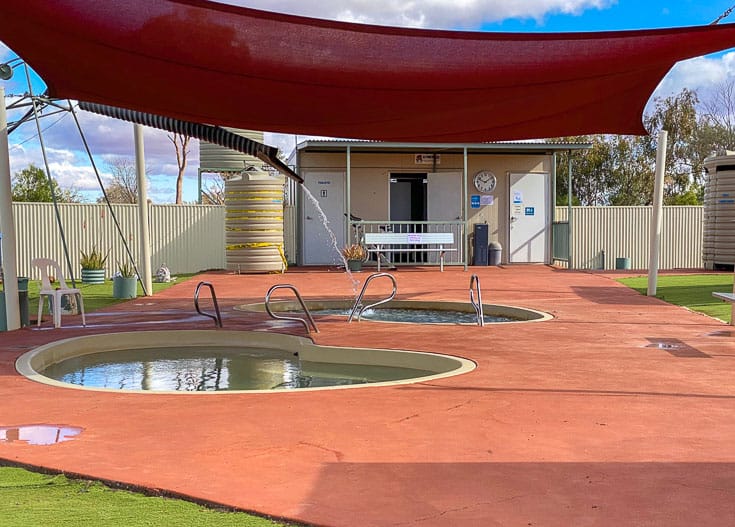 The Yowah Artesian Spa is another place to experience the naturally heated mineral water. This is an open air spa with two pools which are kept at temperatures between 34 and 41 degrees.
We were lucky enough to be the only ones there when we visited – so we had the whole place to ourselves.
Location: Harlequin Drive – just across from the caravan park
Opening Hours: Daily from 9 am to 7.30 pm
Price: $3 per session or $5 to come and go all day.
Things to do in Hungerford
If you have time for a day trip while in Thargomindah, then a visit to Hungerford is worth considering. This little town sits on the Queensland / New South Wales border which is divided by a Wild Dog and Dingo fence and gate – quite literally you need to open the gate to cross the border.
Currawinya National Park
One of the main attractions near Hungerford is the Currawinya National Park. This park consists of red sandplains and mulga scrublands as well as lakes, rivers and wetlands. The wetlands are home to a vast range of waterbirds which makes it very popular among birdwatchers.
This 151,300 hectare park features two large lakes – Lake Wyara (a saltwater lake) and Lake Numalla (a freshwater lake). These lakes are breeding sites for up to some 100,000 birds which migrate here from all over the world.
There are several walking tracks in the park and other activities you can do here include kayaking, fishing and camping. Click here to download a map.
The Wild Dog Barrier Fence
The Wild Dog Barrier Fence was originally built as a rabbit proof fence in the 1880s and it was then made higher in the 1940s to keep out dingos too. The fence eventually earned the title of being the longest fence in the world as it reached more than 8500km in length, although today the fence is just 5600km in length.
Hungerford Royal Mail Hotel
Like most little outback towns, Hungerford has its own iconic pub – the Royal Mail Hotel. The pub was built in 1873 from corrugated iron and was originally used as a Cobb & Co staging post.
Things to do in Noccundra
If you're travelling the Natural Sciences Loop, then it's worth a stopover in Noccundra when you're driving between Tharomingah and Erogmana. Noccundra is 142km west of Tharomingah and is along the banks of the Wilson River.
Noccundra Hotel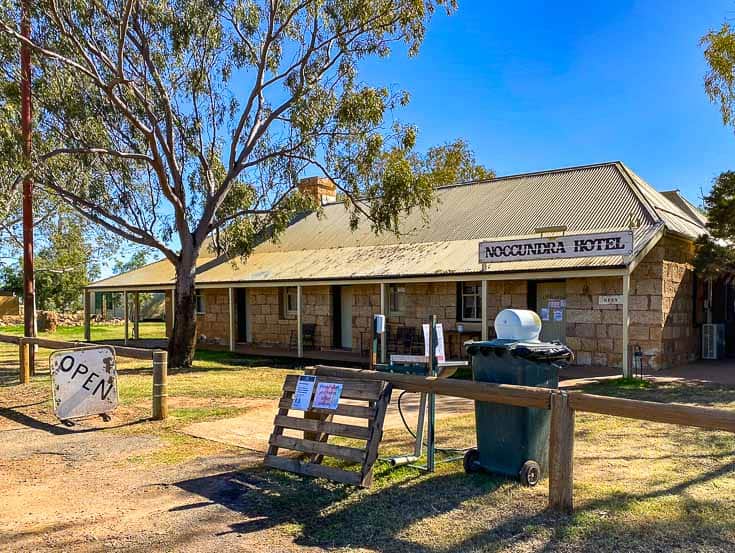 The current Noccundra Hotel was built in 1882 from sandstone and was another of the important stops along the Cobb and Co route.
Some of the interesting characteristics of the building include the Gidgee timber used in the verandah, too hard to put nails into, so the roof is wired together and the very low door frames, most likely built this way to control the temperature inside the building.
We stopped in at the Noccundra Hotel for some lunch on our way to Erogmanga.
Noccundra Waterhole and the Wilson River
The Noccundra Waterhole is part of the Wilson River and can be found just by the Noccundra Hotel. This is a popular place for locals and travellers to camp.
The Wilson River is a well-known fishing spot where Golden Perch (Yellow Belly), freshwater Catfish, and Spangled and Silver Perch can be caught. Yabbies are plentiful during the winter months of May to August.
Unfortuantely the road was closed while we were in town due to a recent downpour so we didn't get to visit.
Our 2 Day Thargomindah Itinerary
To see how we spent our 2 nights and 2 days inThargomindah, click here. This will take you to our detailed itinerary which shows you day by day how we spent 2 weeks touring outback Queensland which included the Natural Sciences Loop.
Thargomindah Accommodation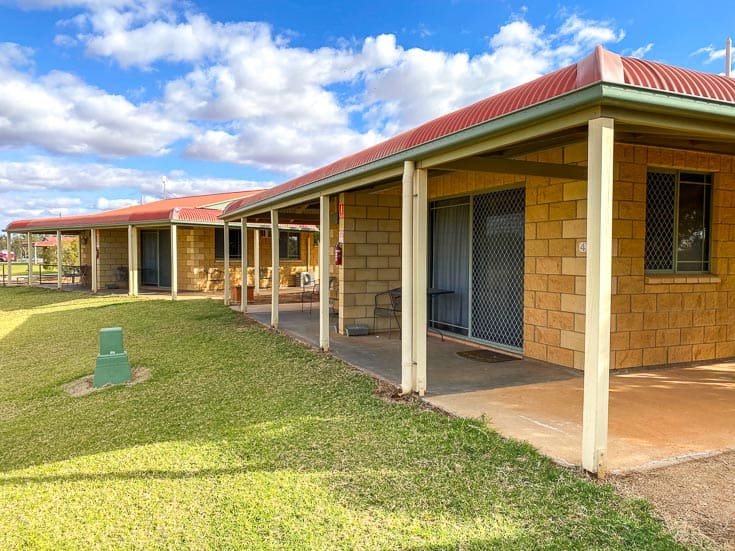 When it comes to the accommodation Thargomindah offers, all types are covered including motels, cabins and sites for camping – even an excellent station stay. Below I've listed a range of options for accommodation in Thargomindah well suited to families and other types of travellers, including Thargomindah Caravan Park options and Thargomindah motels.
Thargomindah Caravan Park Options
When it comes to caravan parks, Thargomindah has some great options well suited to campers with tents and vans as well as accommodation for those who prefer to stay in cabins. Below I've listed four different options to consider.
Explorers Caravan Park Thargomindah
The Explorers Caravan Park (pictured above) is just 100m from the centre of town and 50m from the Bullo River and provides a range of accommodation options including powered and unpowered sites as well as fully self contained cabins and budget bunkhouse style rooms.
On site facilities include a modern amenities block, well equipped camp kitchen, BBQ facilities, a laundry and the site is also pet friendly.
We stayed here while we were in town and had a great stay. See our full review here.
Napunyah Caravan Park
The Napunyah Caravan Park is situated on the banks of the Bulloo River, just 50 m from the centre of the town. The park offers both powered and unpowered sites for tents, vans and caravans. Onsite is a shower and toilet block as well as laundry facilities.
Kilcowera Station
While not a caravan park, we couldn't leave Kilcowera Station off this guide of where to stay in Thargomindah. Kilcowera Station is a large cattle property and a great place to stay for families after something a little different.
There are a range of things to do out at Kilcowera including kayaking and swimming in various lagoons, dams and waterholes and is also great for birdwatching with over 180 species found on the property. Families can also get involved in some of the station activities during their stay. There is a range of different tours available on the property too.
Accommodation options at Kilcowera Station include a comfortable room in their Shearers Quarters, or you can camp or stay in your van on the site. Facilities include showers, toilets, laundry, fireplaces, barbecues and basic camp kitchen.
Thargomindah Motels
If you prefer motel style accommodation, below, I've listed two different options that are well suited to families and other types of travellers.
Bulloo River Motel
Located in the centre of town the Bulloo River Motel provides accommodation in motel style rooms. There are 9 rooms in the motel – 6 with a queen and single bed and the remainder with 2 singles.
The motel is within walking distance to all of the town's attractions and also has a restaurant on site.
Oasis Motel Thargomindah
Just across the road from the Bulloo River Motel, the Oasis Motel is another great option for families staying in town. There is a range of different motel rooms available including doubles, twin and linked rooms available for families.
All rooms include a TV, AC, fridge, tea and coffee making facilities and some rooms also include a microwave so you can prefer your own basic meals.
The motel has a restaurant and swimming pool on site.
Thargomindah – Our Verdict
Before we started on the Natural Sciences Loop – I had never even heard of Thargomindah. But like all the little towns we visited on route we were pleasantly surprised by the little attractions in town and it's interesting history.
If you're visiting Thargomindah – I do highly recommend a detour, day trip, stopover, whatever the case may be to the town of Yowah. Initially, we had just planned a quick stop here – but in the end, decided to spend the night and was so glad we did. Such a cute little town and such friendly locals and the drive in and out was just amazing – we even saw a wild emu run across the road!
Of course if you have even more time, even better as that way you can take a few days to explore the nearby areas.
Before Thargomindah we were in Cunnamulla (read our guide here) and from here we moved onto Eromanga (read our guide here).
___________________________________________________________________
Hopefully you found this guide to Thargomindah and the nearby area helpful and it has inspired you to take your kids for a visit. Don't forget to check out our full South West Outback Queensland itinerary here and you can also find all our Outback Queensland content here.