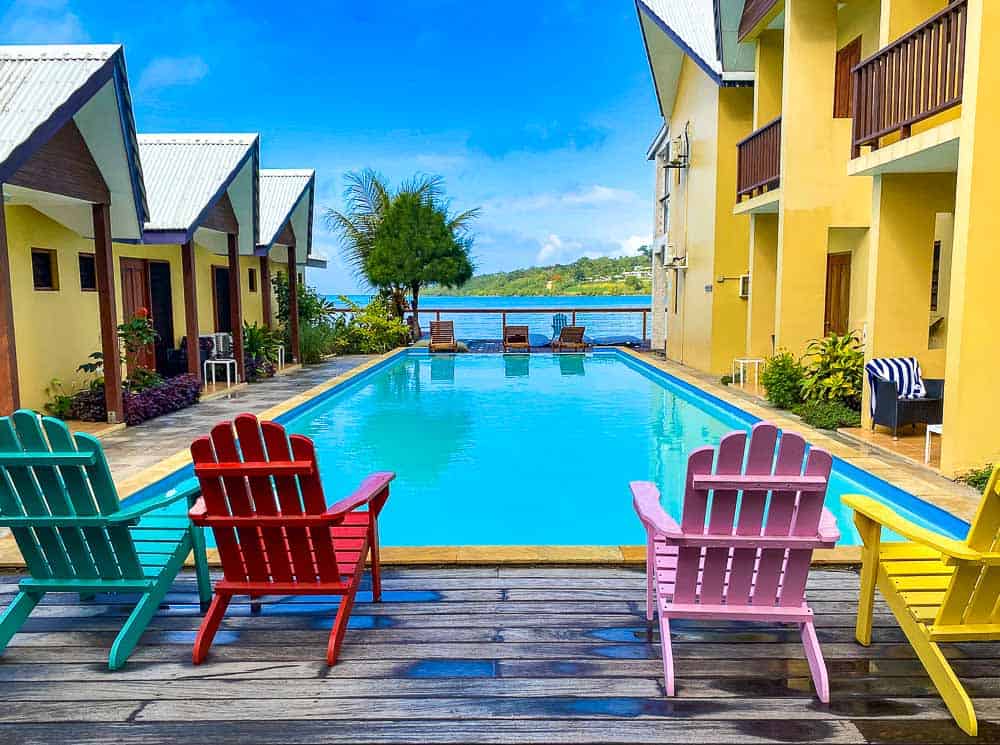 Recently we spent a few days at the Moorings Hotel, while we were exploring Port Vila and around the island of Efate. It's a great Vanuatu family hotel and is the perfect place for families looking for a good base while exploring the island. In fact, this hotel completely surprised us, and I'd happily spend a week or so relaxing at this hotel.
If you're looking for centrally located Vanuatu hotels and resorts, I've written this detailed Moorings Hotel review, so you can decide whether or not this is the ideal place to base your family for your next Vanuatu holiday with kids.
This post may contain compensated links. Please refer to my disclaimer here for more information.
Where is the Moorings Hotel – Vanuatu?
The Moorings Hotel is in Fatumaru Bay just a 5-10 minute stroll from the centre of Port Vila and also just a 10-minute drive from the international airport. The hotel is surrounded by a good selection of restaurants and bars and is the ideal spot for anyone wanting a good value hotel in Port Vila.
You get lovely views across the bay from Moorings Hotel including views of Irikii Island Resort.
Who Should Stay at Moorings Hotel – Port Vila?
First up let's talk about who should consider staying at the Moorings Hotel? I recommend the Moorings Hotel for families who:
Are looking for an inexpensive base while exploring Port Vila and Efate;

Will be spending most of their time out and about;

Want to be in the centre of town;

Prefer smaller hotels where all the staff know your name and your drink order; and
Have older children who don't necessarily need much more than a swimming pool to keep them entertained.
For us, we just wanted somewhere cheap but nice for a base while we spent a few days exploring Port Vila and Efate. If you are coming to Vanuatu and looking for a resort with awesome facilities, it might be best to stay else here like the Warwick Le Lagon or Erakor Island Resort or at least split your time between Moorings Hotel and one of these resorts.
Click here for our full guide on the best Vanuatu Resorts for Families
Facilities at Moorings Hotel
Below is a brief overview of the various facilities on offer at the Moorings Hotel.
The Beach and Harbour Views
There is a tiny beach area, as you can see in the first photo above – it's certainly nothing special, however the entire hotel fronts the harbour where you will find stunning calm turquoise coloured water, just perfect for a swim.
The Pool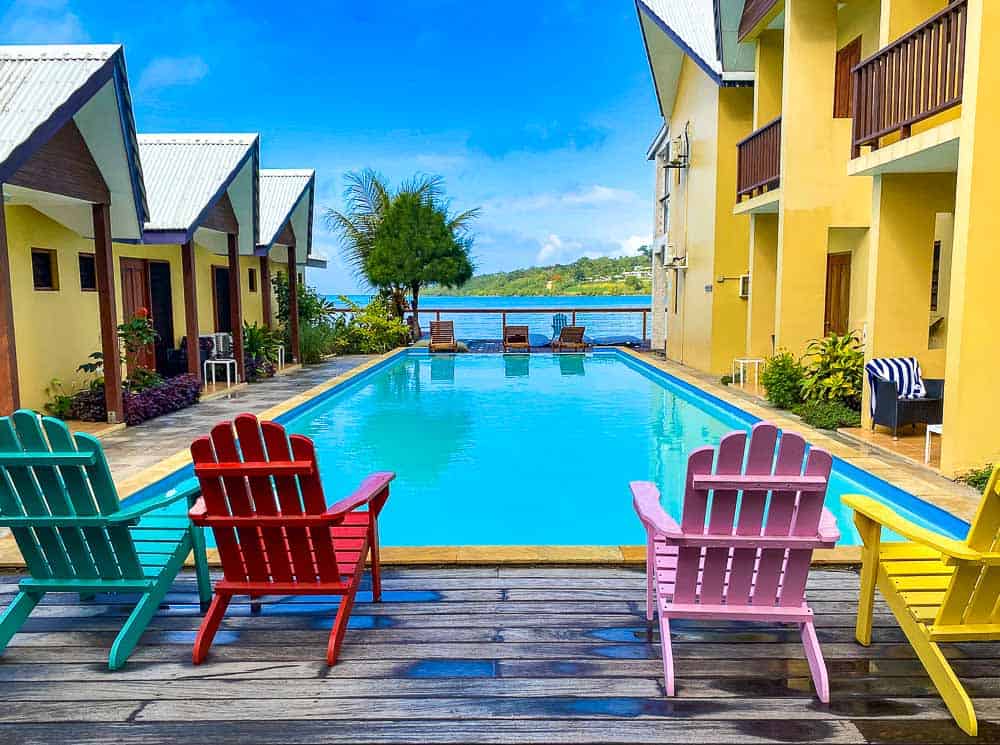 The stunning 1.2m infinity swimming pool is the centre of the hotel and is the perfect place for a swim.
Watersports
The hotel does offer kayaks and paddleboards at an additional charge. Guests can hire kayaks and paddleboards at the rate of 500vt per hour per person.
Pool & TV Area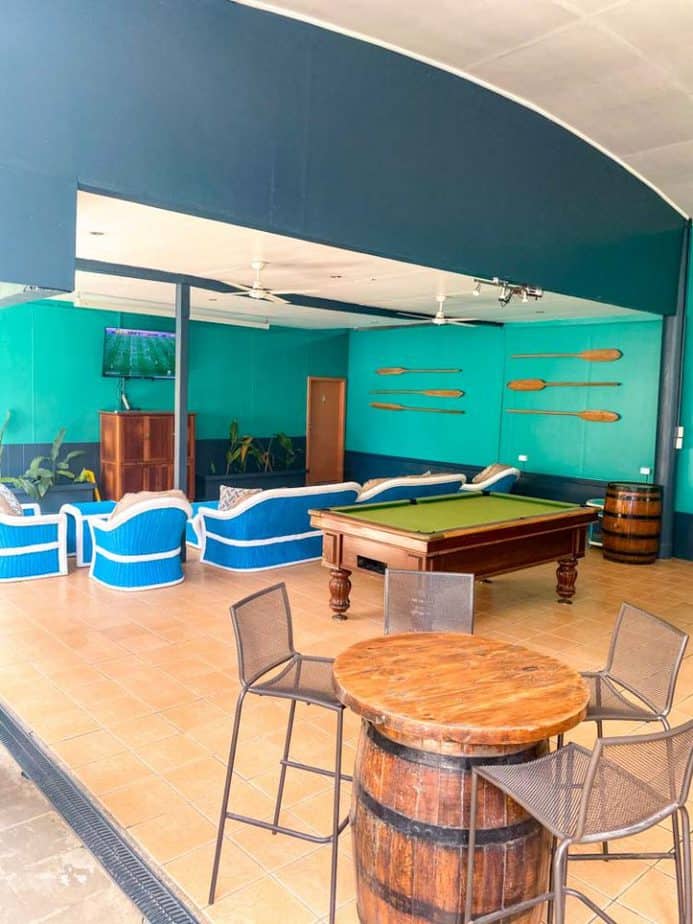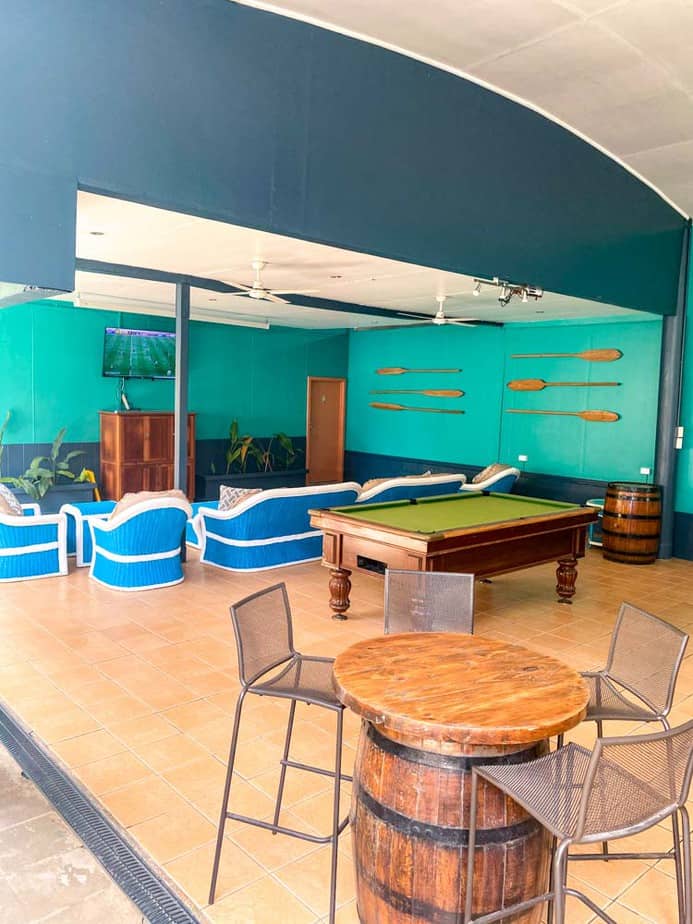 Right by the bar, there is a pool table, darts and TV. Pool is 200vt per round and darts are free.
Restaurant & Bar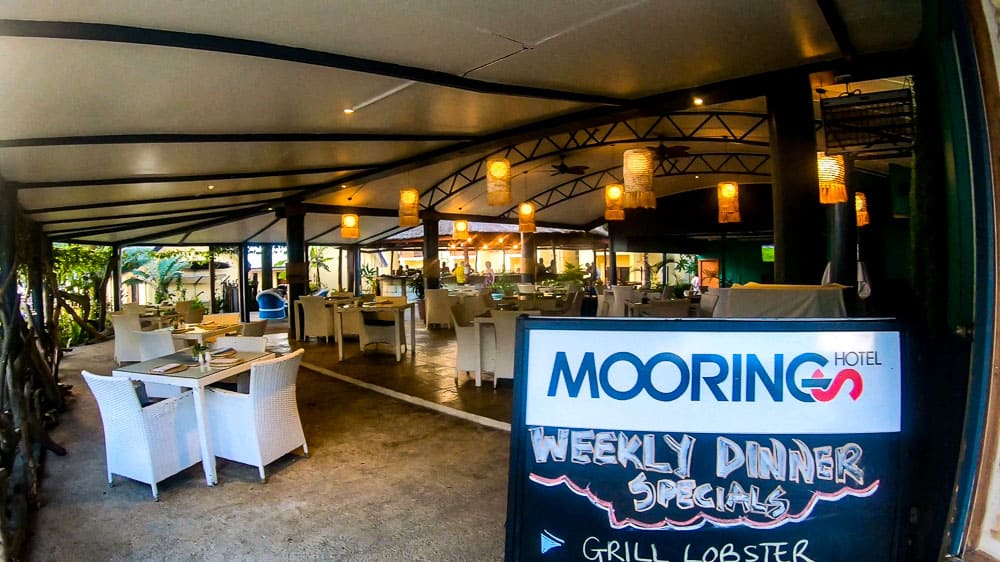 There is just one restaurant on-site, and we thought it was fantastic! Meals are well priced and are very generous serving sizes, while the staff are super friendly and the service is lightning fast. You can see the menu below and some pictures of the food we had.
The restaurant is quite well spread out with a range of areas to sit. You can sit inside by the bar, outside by the beach or even on the beach, which is super pretty at night with the fairy lights.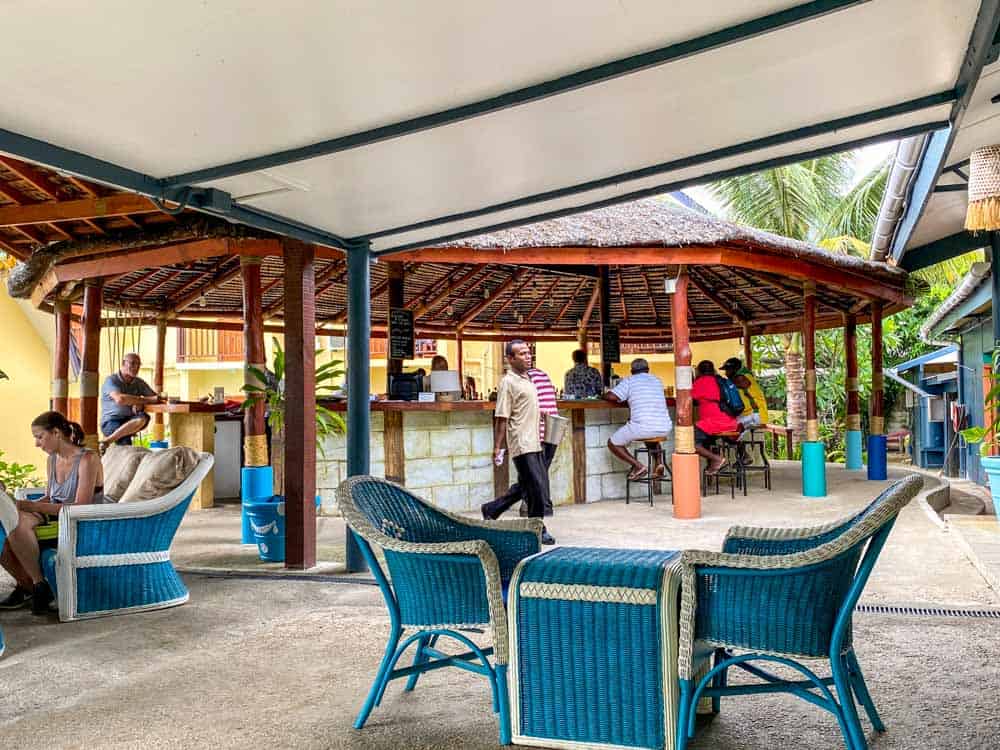 Bar area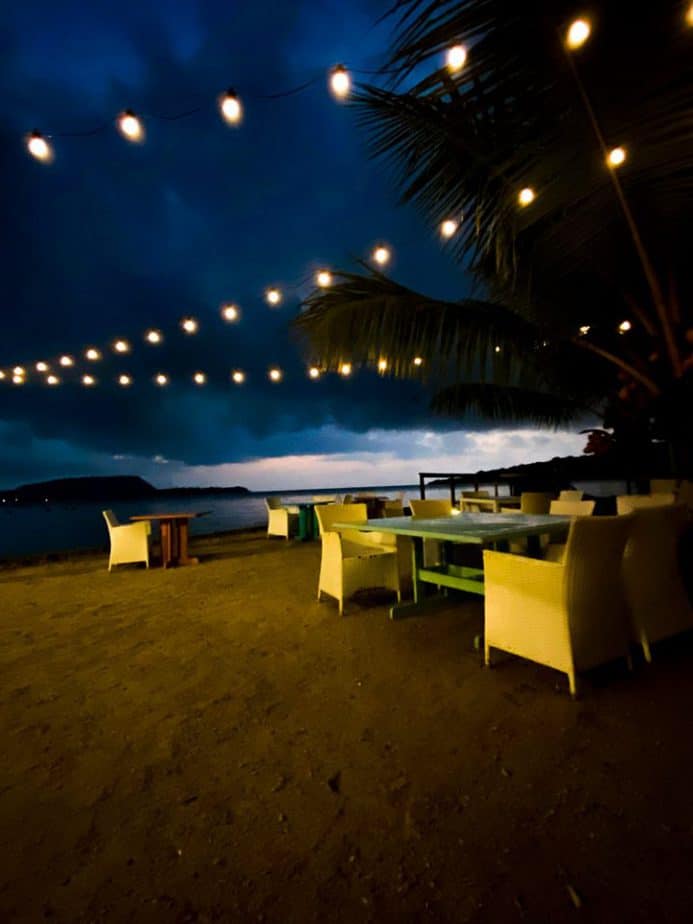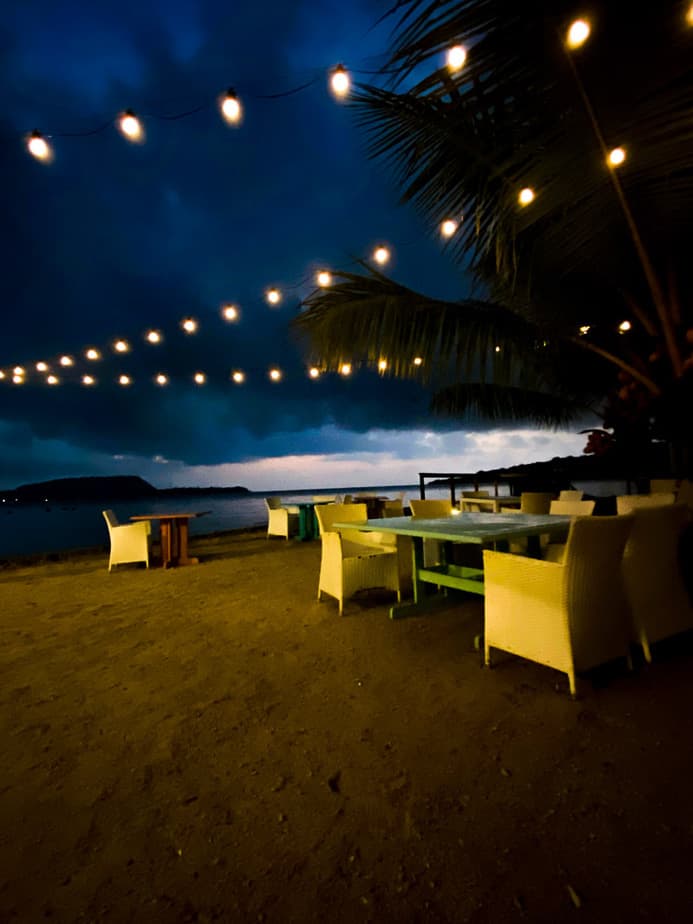 Restaurant area on the beach at night
Great size meals
Breakfast is included and is a basic selection of bread, cereal, yoghurt, fruits, pancakes and tea and coffee. You can purchase additional breakfast items – see menu below.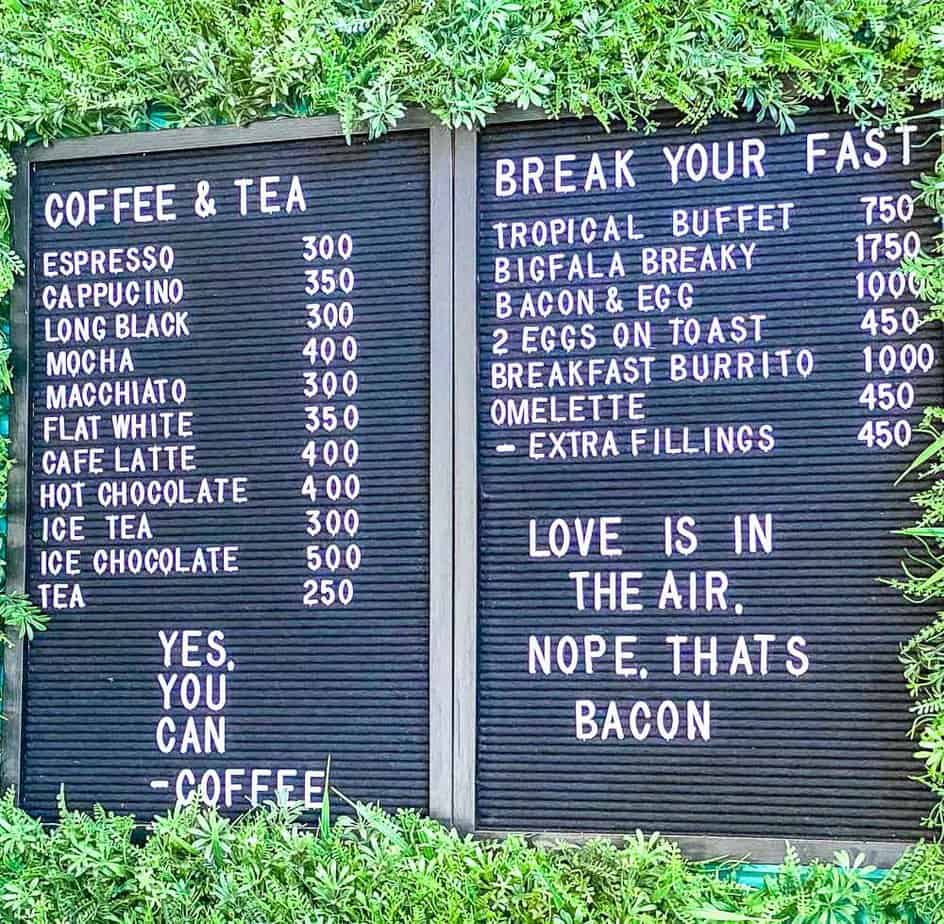 Accommodation at Moorings Hotel
Moorings Hotel is a reasonably small hotel with just 30 rooms onsite.
Family Rooms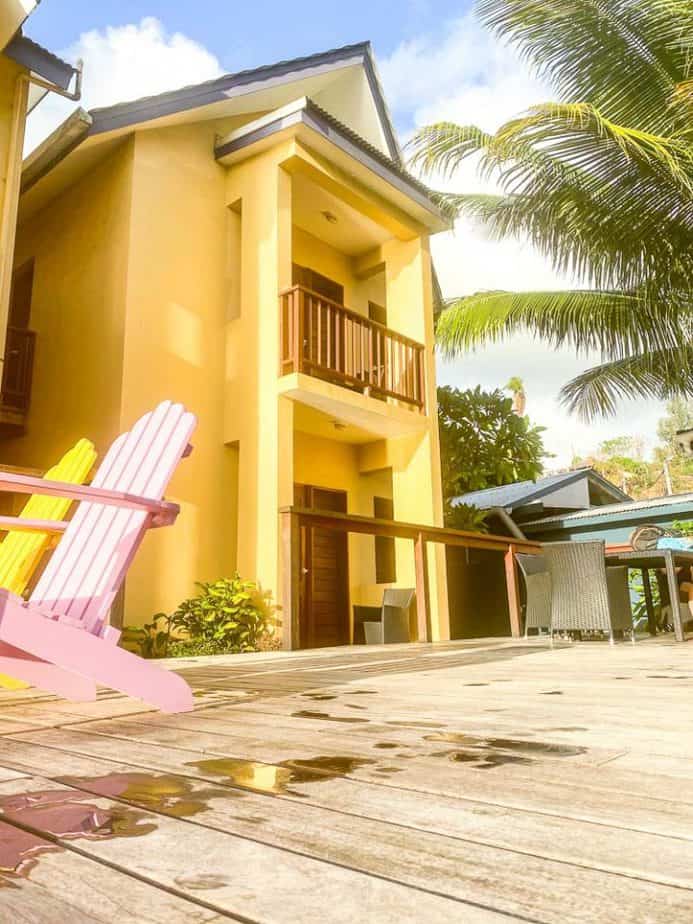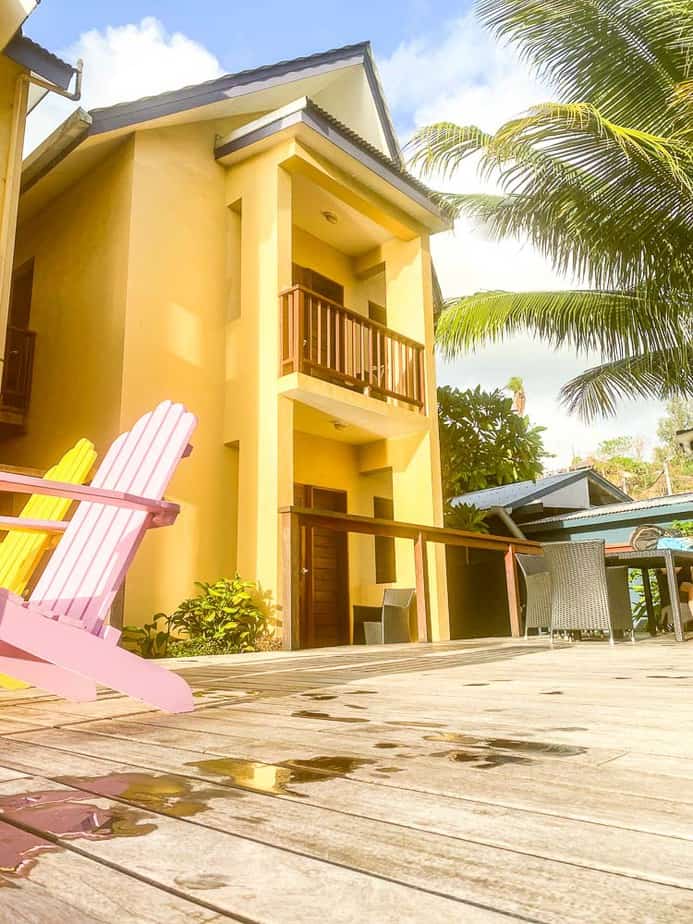 For families of up to 4 people, these rooms are perfect coming with a king-size bed and a set of bunks for the kids. There are four family rooms onsite with each room featuring AC, ceiling fan, wifi, tea and coffee making facilities, microwave and toaster.
Unfortunately family rooms do not have any views but are located just steps away from the swimming pool.
King Rooms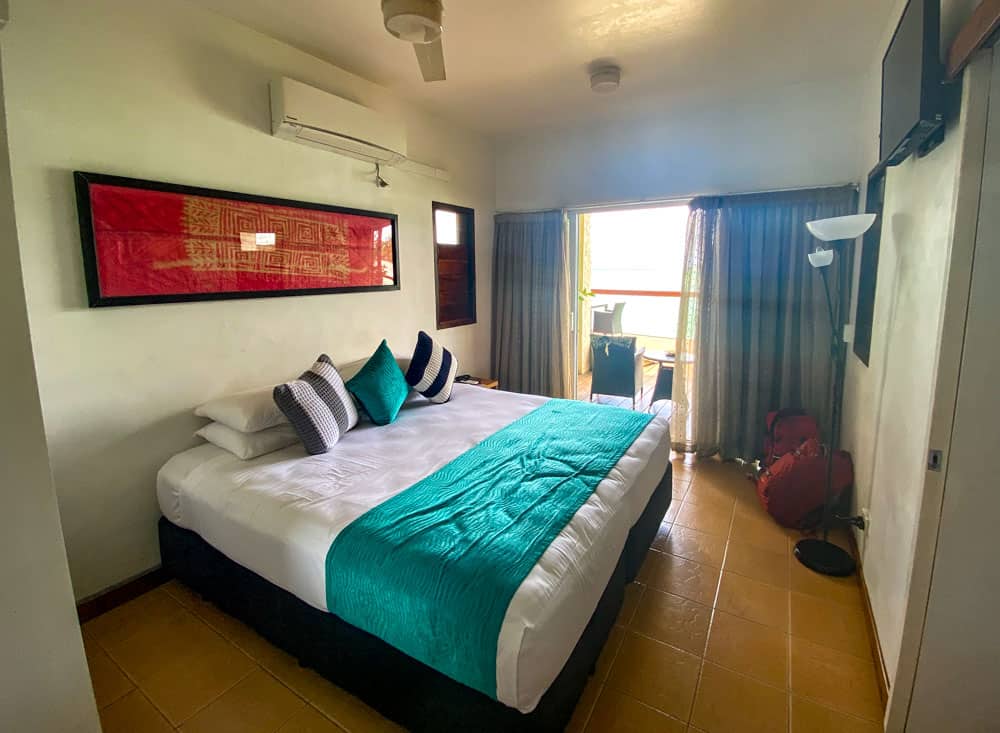 For couples, there is a range of rooms available. There are nine standard king rooms, nine poolside king rooms and nine harbourside rooms.
All rooms feature a king-size bed, AC, ceiling fan, wifi and tea and coffee making facilities. Poolside rooms have direct access to the pool and partial harbour views, while the harbourside rooms offer uninterrupted views of the harbour from the private veranda which contains outdoor furniture.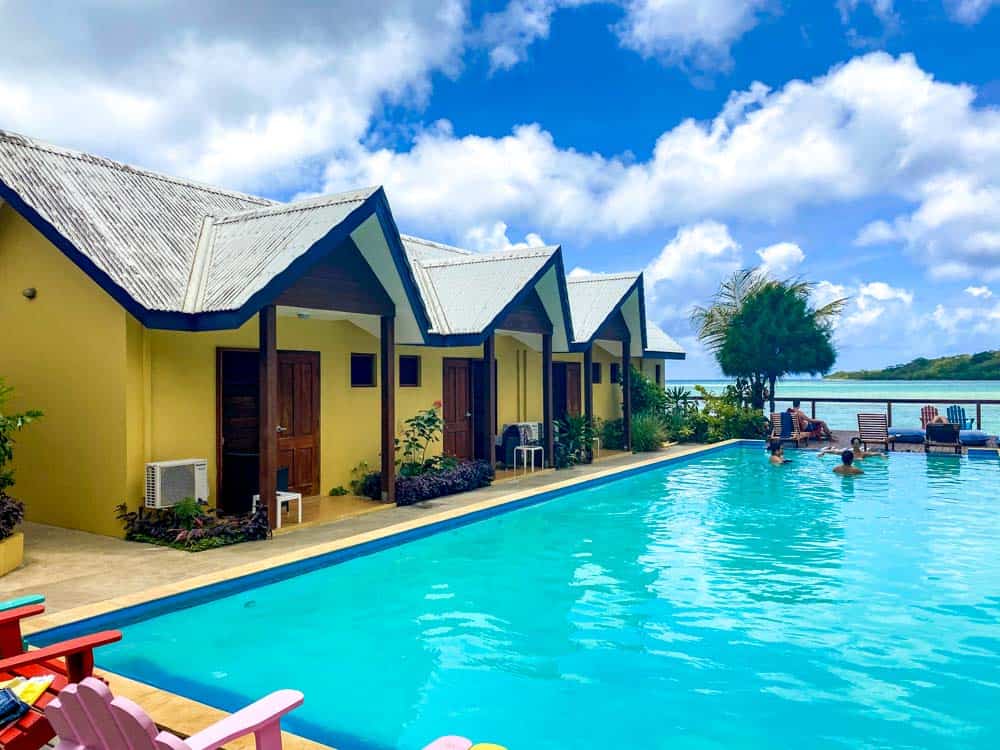 Poolside rooms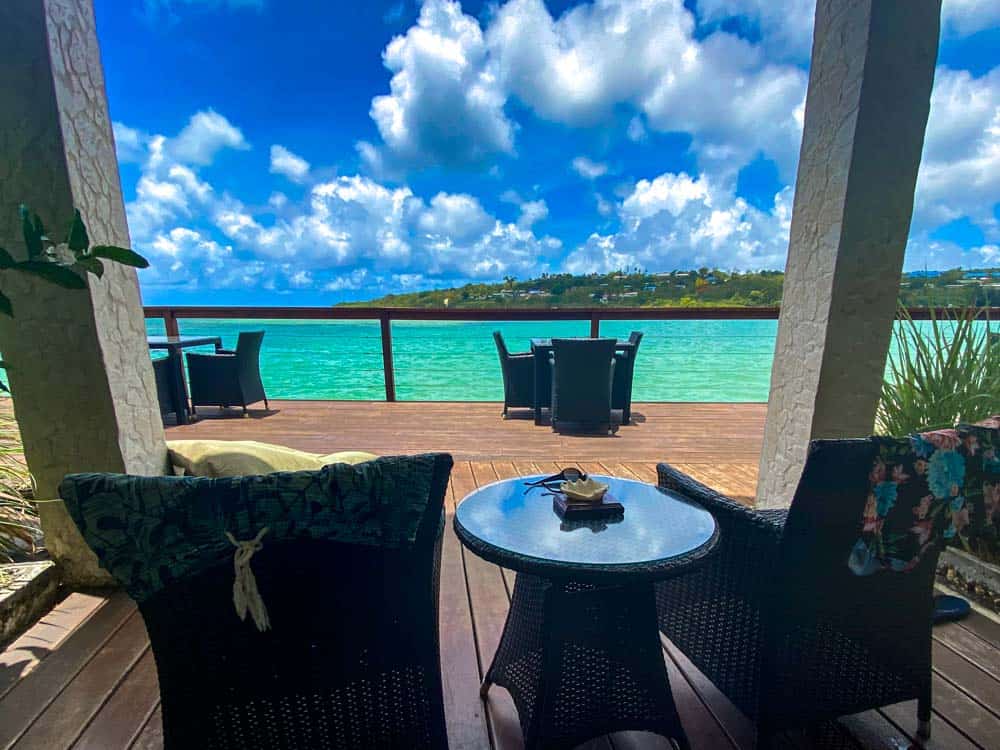 View from the Harbourside rooms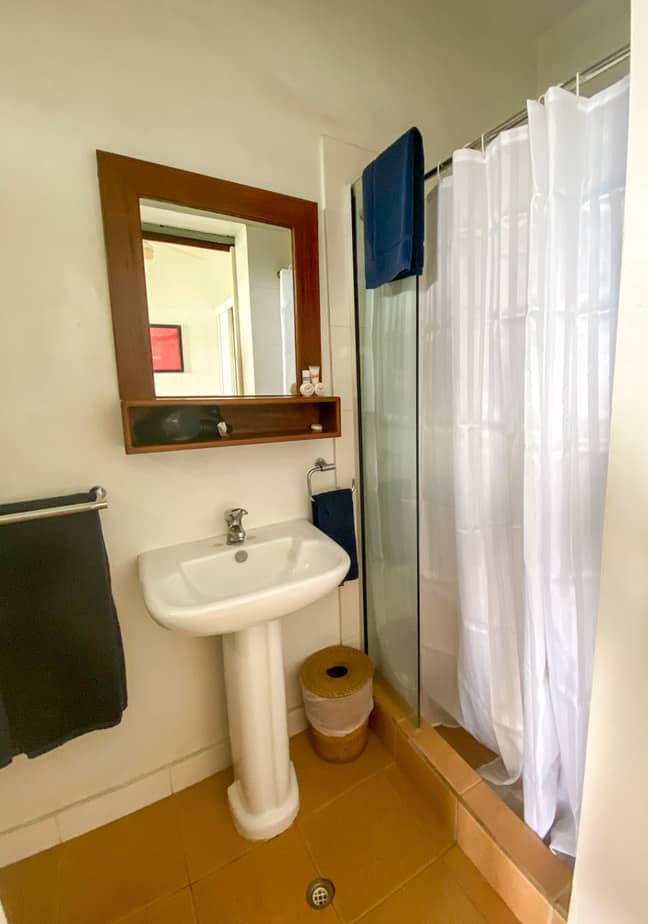 King room bathroom
Outside the Hotel
Right outside the hotel, there are plenty of places to eat and shops. It's just a 5-minute walk into the heart of Port Vila and 10 minutes by car to the airport. There is also a range of car rentals close to the hotel too.
Getting to Moorings Resort
If you're coming from the airport, its best to arrange transfers in advance. I recommend doing this yourself as the transfers arranged from the resort are very expensive. We paid just 2000 VT for our private transfers, which included a stop at the supermarket for drinks and snacks.
The other option is to walk outside the airport (it's super tiny) to the road and catch a bus to the hotel. The buses have a "B" on the number plate, and you can flag them down. As the driver pulls up, tell him where you are going and if he is headed in that direction, he will tell you to hop on. He will then take you right to the hotel. When you get off – that's when you pay the fare. It will just cost you 150 vt per adult, 100vt per highschool student and 50vt per child.
You can get a taxi too. A taxi is identified by a "T" on the number plate, and you can flag them down. The driver will take you to the hotel immediately, but it's best to ask for a price first. Expect to pay around 1200vt.
Where to Book you Stay?
I recommend booking through Booking.com for the best flexibility (you can always cancel and book elsewhere if you find a better deal). Rooms start at $143 AUD for a family of 4, which includes breakfast.
Moorings Resort – our Verdict
As I said in my intro – the Moorings Hotel really took me surprise. I wasn't expecting much – just a nice hotel for a central base while we spend our day's sightseeing. However what I found instead was a fantastic little hotel, with super friendly staff and fast service. The pool is gorgeous, and the views across the harbour are to die for. I could have easily spent a week here relaxing.
It's probably not the ideal family hotel – particularly if you have little kids who need a few different things to keep entertained. But for kids that just want a pool, or for couples with a young baby – its a great spot and I highly recommend it.