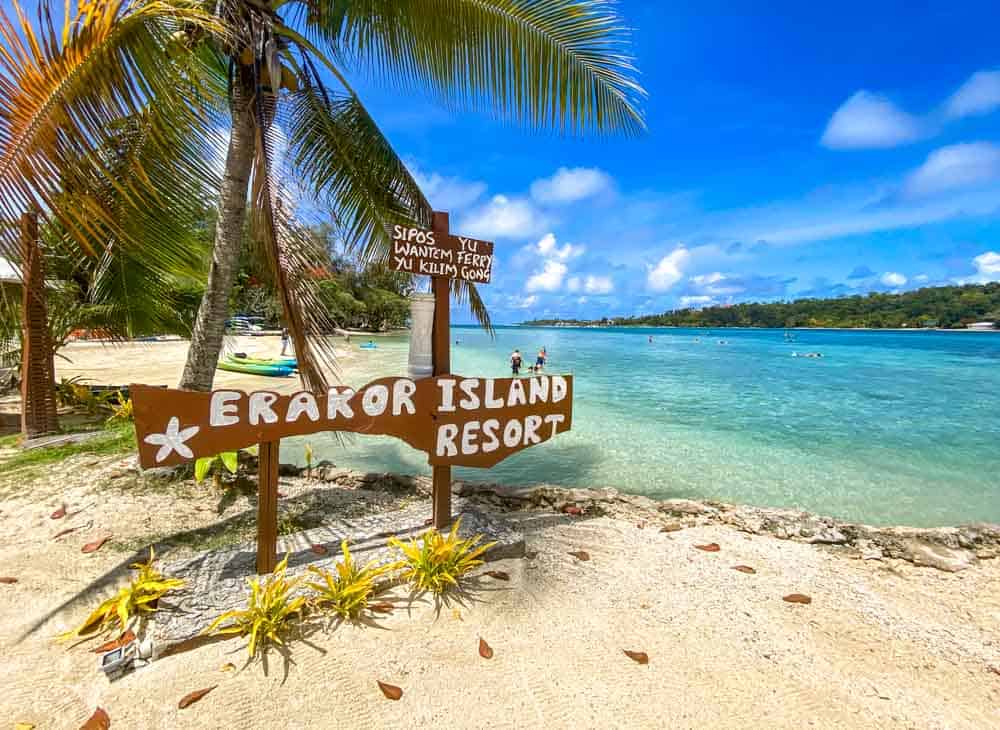 Recently we spent a few wonderful days relaxing on Vanuatu's Erakor Island Resort. We visited the island a few years ago for our Vanuatu family holidays and were super excited to come back again. It's a great Vanuatu family resort and is the perfect place for families that want to do not much more than relax, swim and eat.
If you're looking for one of the best Vanuatu family resorts, I've written this detailed Erakor Island Resort review, so you can decide if this is the perfect place for your next Vanuatu holiday with kids.
This post may contain compensated links. Please refer to my disclaimer here for more information.
Where is the Vanuatu Erakor Island Resort?
Erakor Island Resort is just 3.5 km south of the town of Port Vila. From the mainland, it's a 2 minute ferry ride to this gorgeous island getaway. Seriously you could be on this island in under 30 minutes from the moment you leave the airport – this is great for families that want an island getaway holiday but don't want to have to travel too far away to reach it.
The Erakor Island ferry operates 24 hours a day, so you can always get to and from the resort whenever you please. It doesn't run on a timetable or anything – it just leaves whenever guests are there. If the ferry isn't there when you arrive – it will only be a few minutes before it comes.
Who Should Stay at Erakor Island Resort – Vanuatu?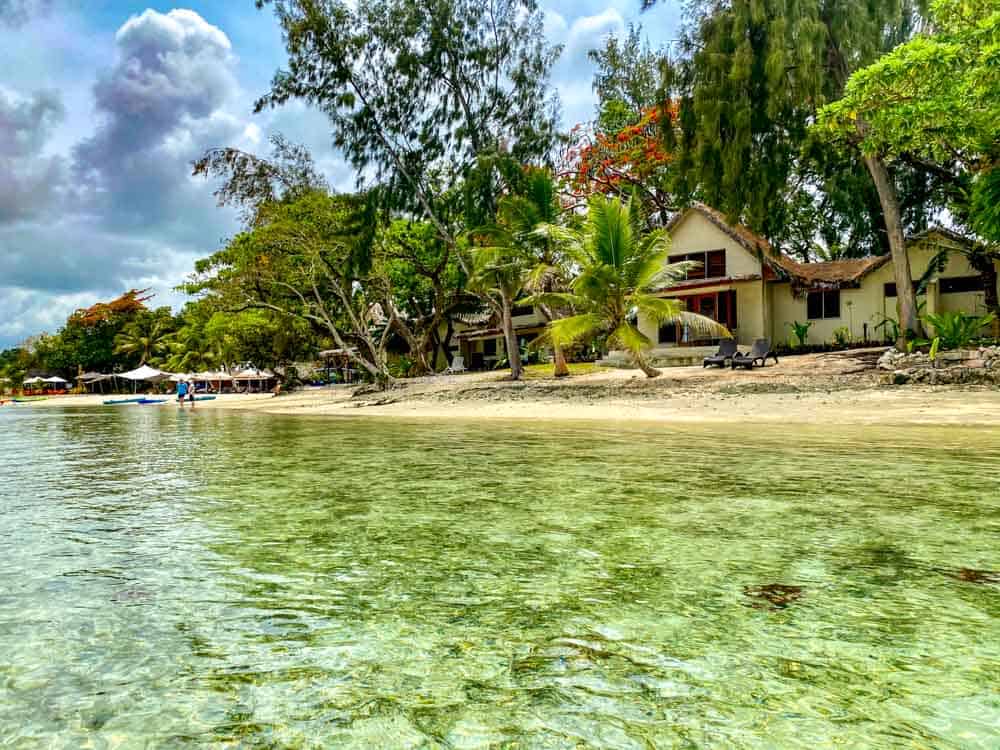 First up let's talk about who should consider staying at the Erakor Island Resort? I recommend the Erakor Island Resort for families who:
Want a peaceful place to relax – there isn't a whole lot to do here;

Love to snorkel, kayak, SUP, swim – this is the main activity on the island;

Are happy to eat at the same place over and over again – or happy to take a bus or taxi into town – there are no other places to eat on the island or even closeby by on the mainland except for Warwick Le Lagon Resort;
Don't want to spend most of their day's sightseeing, as there are much more convenient areas to do sightseeing from other than Erakor Island (like Moorings Hotel); and

Don't necessarily want to be in the centre of town as you will need to pay for a bus or taxi each time you go into Port Vila.
For us, we just wanted somewhere to relax for a few days, so were looking for a resort which had a nice beach area which was perfect for swimming, kayaking and snorkelling.
If you are coming to Vanuatu for the first time and want to do lots of sightseeing, you might be best to stay somewhere more central or at least split your time between Erakor Island Resort and another central hotel.
Click here for our full guide on the best Vanuatu Resorts for Families
Facilities at Erakor Island Resort
Below is a list of the various facilities and things to do on Erakor Island.
The Beach and Erakor Lagoon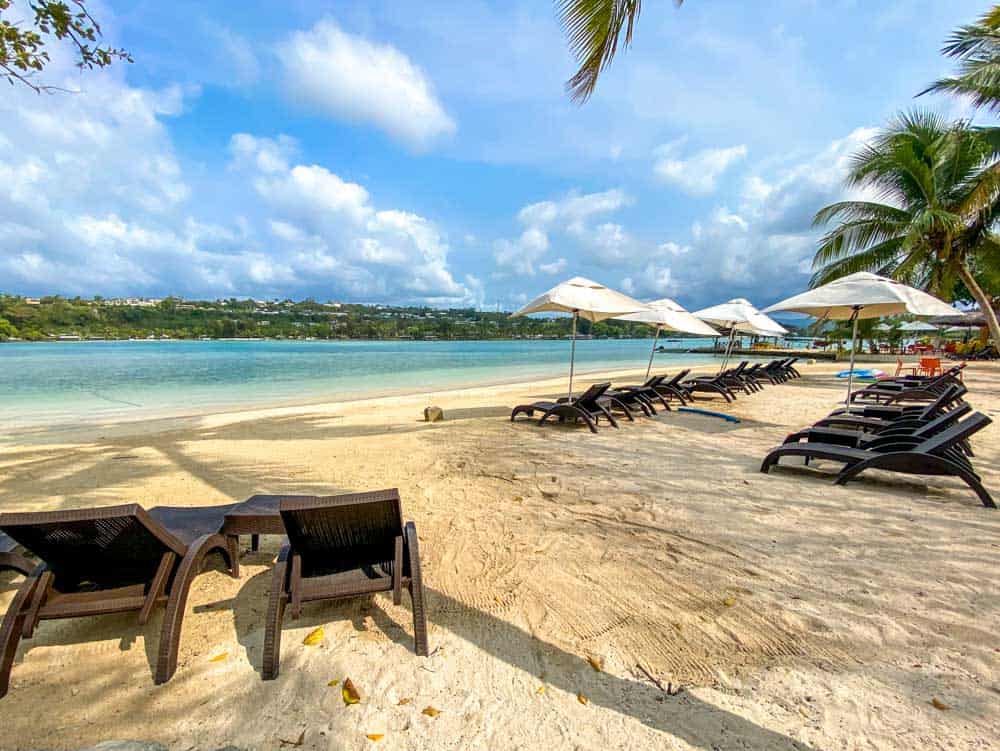 Erakor Island Resort sits on the gorgeous Erakor lagoon which has calm, crystal clear water just perfect for swimming, snorkelling, kayaking and SUPing.
It's important to note that the beach area has quite a lot of coral, so it's essential to wear reef shoes in the water. There is also a lot of starfish, sea cucumbers and coral in the water – so it's not ideal to go in the water without shoes.
At low tide, there is plenty of beach area for the kids to play on the sand and build sandcastles – however low tide is not ideal for swimming given there is so much coral. High tide is the perfect time for swimming though, but there isn't as much beach during this time.
Depending on where you stay on the island, you may well have your own beach area right out the front. I highly recommend staying on the side of the island which faces the mainland as this side mostly (some areas still don't have a beach and just coral) has it's own beach area so you can swim whenever you like without even leaving your bungalow – perfect for families with little kids. The other side also has a beach too – but it's much windier on this side of the island so it's not as nice.
The Pool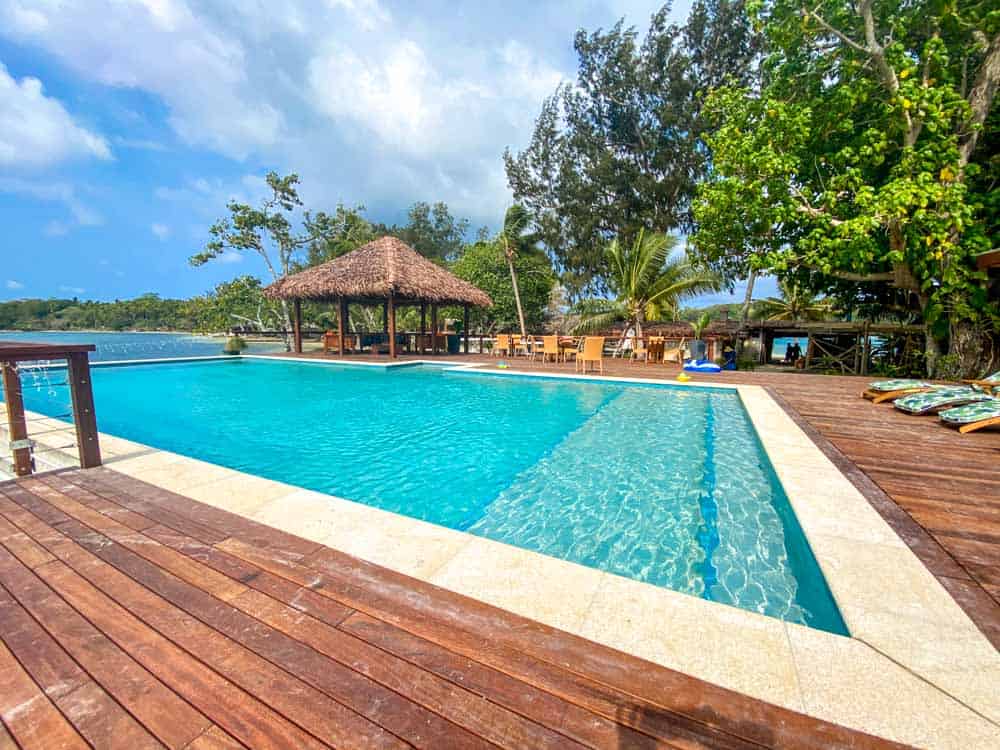 This is a new addition at Erakor Island – there wasn't a swimming pool during our last visit, but now there is a lovely brand new swimming pool.
The pool is not overly huge, but it's a great size for the small resort and given the resort is surrounded by the stunning lagoon, most people tend to be in there rather than the pool anyway.
The pool has some large shallow steps perfect for the little ones to play on and has plenty of sun loungers around.
Watersports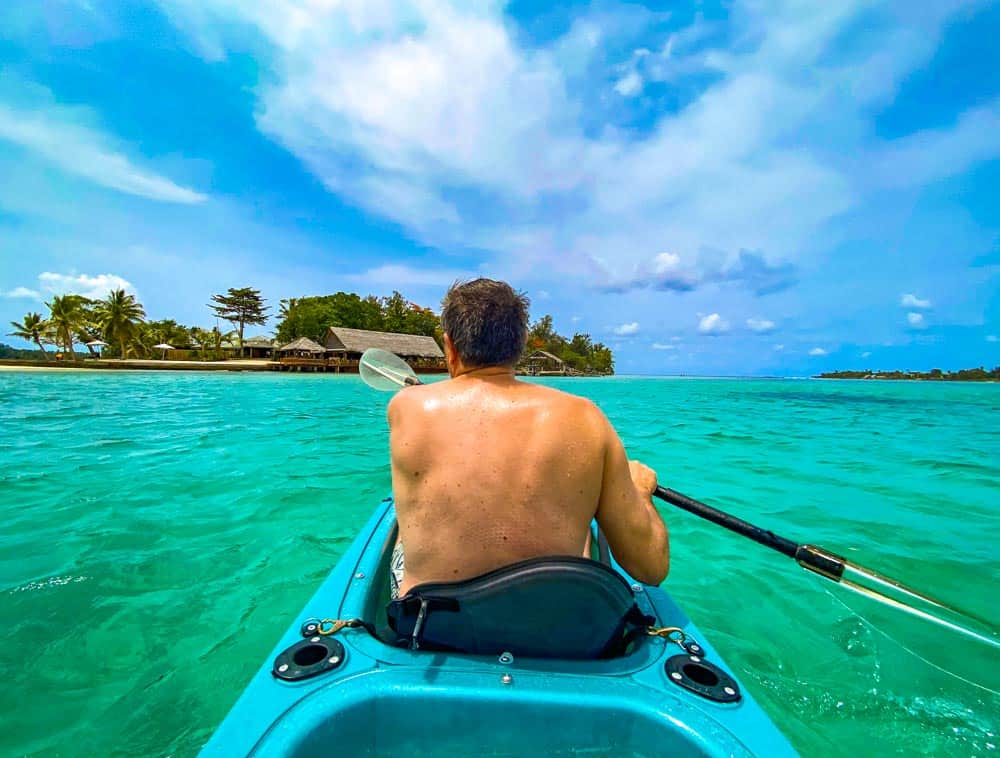 As I've mentioned already, the main activity on the island is watersports. From the main beach, there is a small hut where you can get everything you need – completely free of charge.
There are SUP, kayaks, snorkels, fins, life jackets, floaties, pool noodles and towels too. We didn't find the snorkel equipment was the best quality – so if you are picky about this, you might want to consider bringing your own.
If your bungalow is on the side of the island that faces the mainland – as we did – you can even leave your equipment out the front of your bungalow and use it whenever you like.
Playground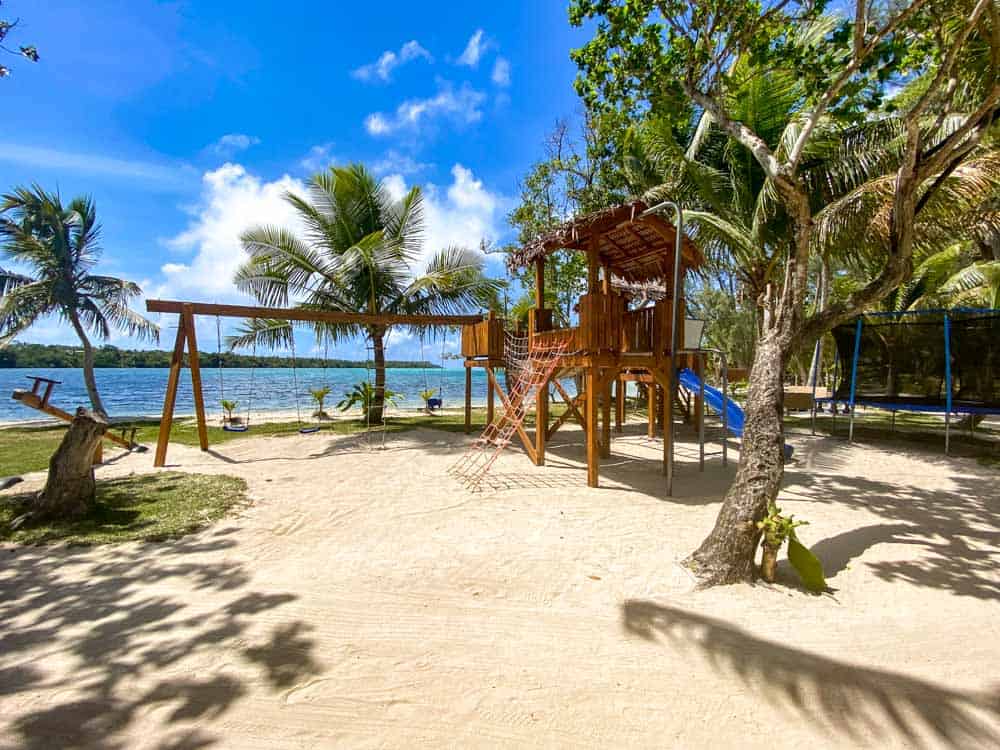 There is a great playground for the kids. It's a pretty good size and includes swings, slide and plenty of climbing equipment.
As well as the playground, there is also a mid-size fully enclosed trampoline and see-saw.
Near the playground, there is also a range of other things for the kids such as beach toys, floaties and a small pool table.
Kids Club and Babysitting
While there is no dedicated kids club area on the island, the staff occasionally arrange things for the kids to do. Each evening at 5 to 8.30 pm, there are organised activities for the kids, which provides parents with the perfect opportunity to relax over dinner and have a few drinks.
The staff can also arrange to babysit for 350vt per hour. We saw lots of tiny ones being looked after by the staff during our stay, and the kids looked well looked after. Allow 24 hours notice for babysitting.
General Activities
The staff on the island also arrange some group activities such as island walk, basket weaving, volleyball etc. We didn't join in any of these activities – but did see a blackboard sign up with a list of the activities and what time they were on.
Day Spa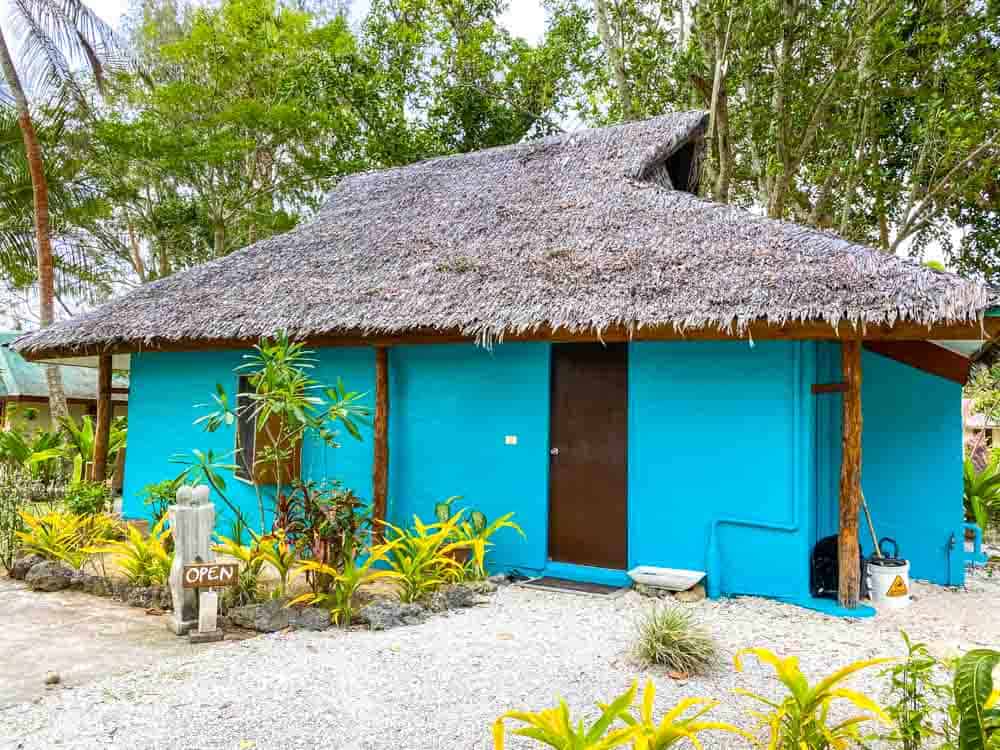 There is a day spa on the island – although I've never used it. See the menu and prices below – I suggest you click on each image to make it larger.
Dining Options at Erakor Island Resort
There is one main restaurant on the island as well as a casual cafe and pool cafe.
Aqua on Erakor Overwater Restaurant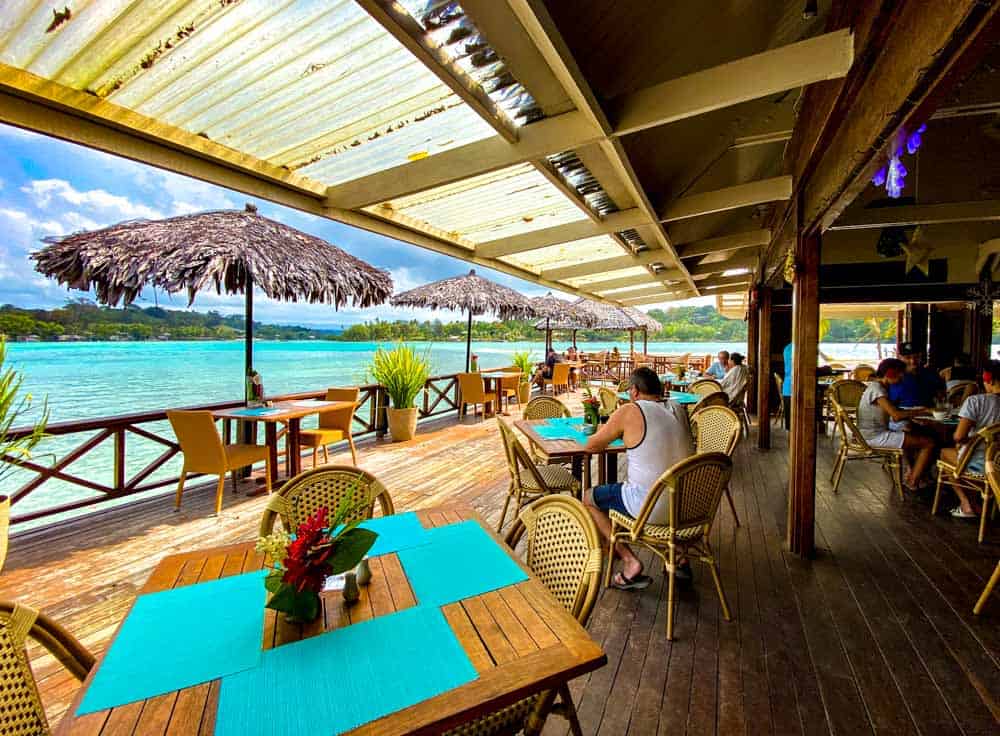 The main restaurant onsite is Aqua which is a lovely casual restaurant that sits over the Erakor lagoon.
I found the menu pretty expensive – although I guess considering the stunning location, it's probably not too bad. We only ate here one night, and the food was delicious, although the service is rather poor – we had to ask to order. There is a pretty good kids menu though which is reasonably priced.
See menu below and apologies for the poor image quality – I suggest you click on each image to make it larger.
This is also where breakfast is served each morning. Breakfast consists of a basic buffet of tea, coffee, juices, cereals, fruits, bread and pastries. In addition to this, guests choose one meal from the menu – see below (click on image to make it bigger). Breakfast is very nice and note that you can ask for additional side – for example, if you just have eggs, you can ask for bacon too – at no extra cost.
Again though – the service is really poor. Most mornings we had to find the staff to order food, plus we had to usually find our own cutlery, coffee was often empty as where many of the pastries. But when we did get our food, it was lovely.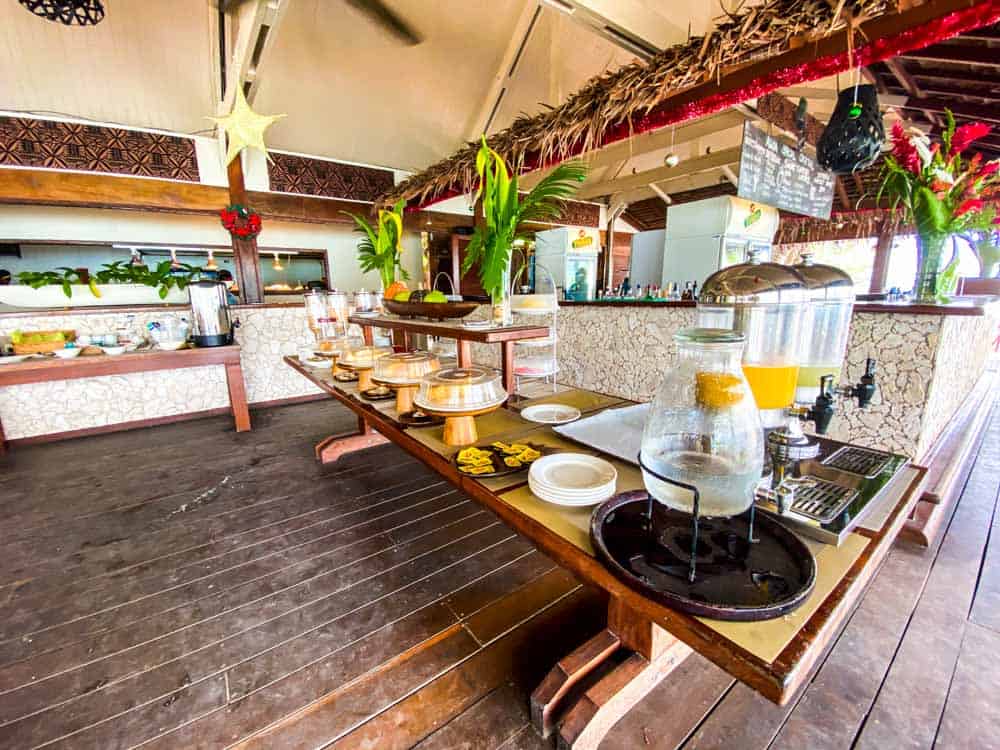 There is also a bar here which has a happy hour between 5-6 pm each evening. Happy hour is 20% off drinks.
Calypso Beach Bar & Cafe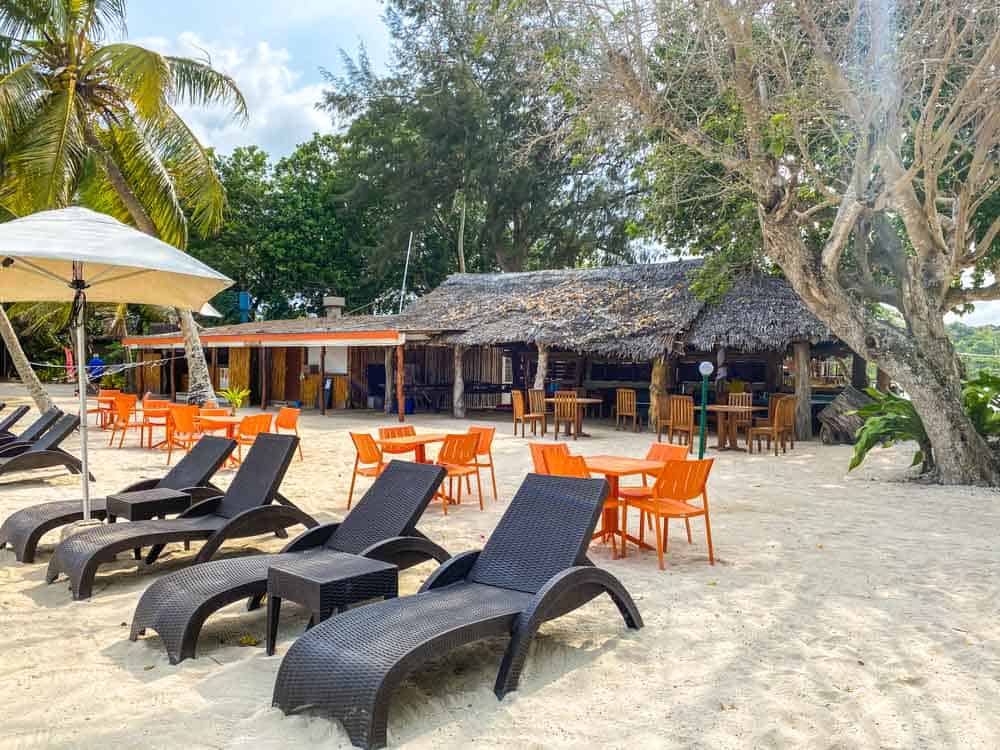 For a more casual setting, you can eat on the beach or by the pool and order of the Calypso Beach Menu – see below – click on each image to make it bigger. The servings are pretty large, and we generally ate one meal between the two of us. The food was great but once again, abysmal service.
You can also grab ice cream here for the price of 250v for one scoop or 400v for two scoops.
Palm Lounge & Pool Deck Eats
Around the reception area and pool is the Palm Lounge & Pool Deck Eats – mind you, you order the food at the Calypso Beach Bar & Cafe and we were able to have the food served to us by the beach, so not sure it really matters where you eat this food.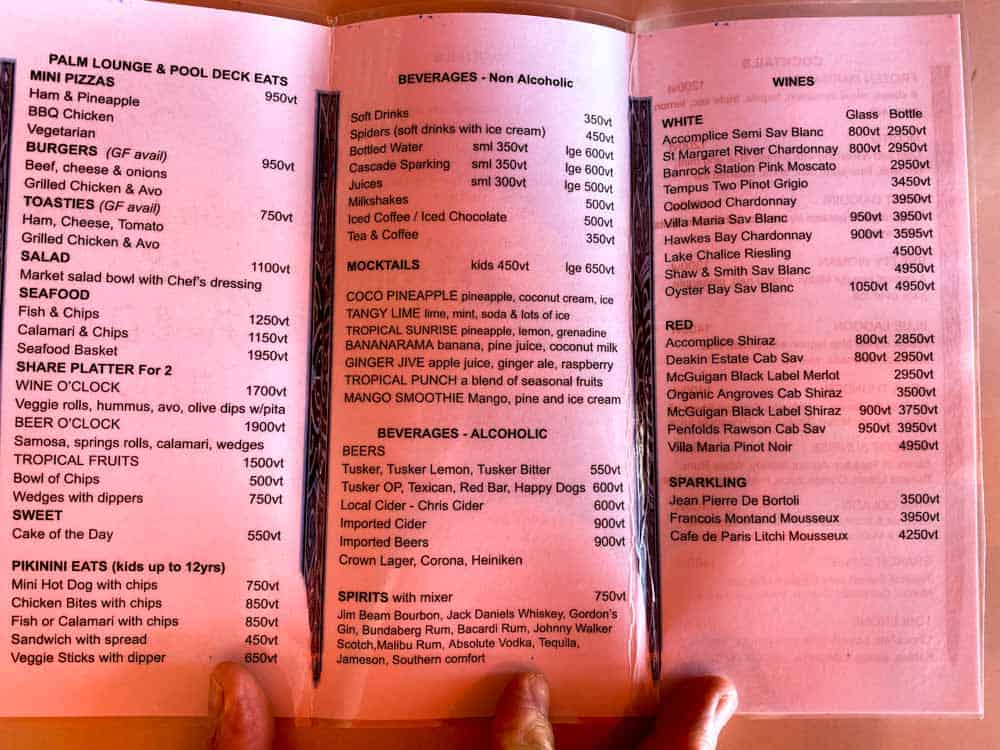 Special Dinners
To mix things up a bit, the resort also arranges a few special themed dinners throughout the week:
Melanesian Feast & Fire Show: Every Thursday night from 630pm includes a Melanesian buffet, kava tasting, traditional singing and dancing as well as fire dancing. Price is 3950 per adult and 1500 per child.
Pizza & Movie Night: Every Tuesday night – all you can eat pizza and popcorn while you watch a movie on the beach. After the kid's movie, there are kids activities too so the parents can relax and watch their movie.
Romantic Dinners: You can arrange a 4-course meal of your choice as well as a bottle of champagne for $200 AUD. These dinners are set up on the beach away from the restaurant. We splurged and had this one night as it was Christmas Day so thought why not. The food was absolutely amazing – so good!
Accommodation at Erakor Island Resort
There is a huge range of different accommodation options on Erakor Island Resort. We recently stayed at the Beachfront deluxe villas, but previously we have also stayed in the Lagoon Villas.
Lagoon Villa
These rooms are on the eastern side of the island and are great for families on a budget. All rooms have a gorgeous deck right on the edge of the lagoon.
These villas can sleep up to 4 people in 2 large beds and include wifi, tea and coffee making facilities, AC and fans.
We stayed in this style of room on our first visit, and while these rooms are just lovely – if you can I recommend paying extra to stay in one of the rooms on the other side of the island. The reason being is this side of the island is constantly windy, and so the water can be a little rough and not ideal for swimming. So while the view is still lovely, you will need to go to the main beach area for swimming – which is fine too.
Beachfront Deluxe Spa Villa
After our first visit to Erakor Island Resort – I promised if we ever returned I'd pay the extra to stay on the side of the island which faced the calm lagoon and have their own private beaches. So this is where we stayed during our recent visit.
These villas are only suitable for couples or families with one small child who can sleep in a roll away bed. These rooms have a massive king bed, wifi, AC, fans, tea and coffee making facilities, gorgeous private deck with day bed, table and chairs as well as sun lounges and a spa bath for two.
The views from these rooms are amazing – and arguably some of the best on the entire island. During low tide, you'll have your very own private beach, and from here you can access the entire lagoon and swim whenever you like.
Beachfront Family Loft Villa
For larger families wanting to stay on the calm side of the island – this is the best accommodation option for you. These villas are just next to the spa villas mentioned above and come with their very own private beach and entry into the lagoon. Parents can easily relax on the sun loungers while the kids are swimming just steps away.
These villas are able to sleep families of up to 6 people, with one king bed downstairs and the option of one king bed or 3 singles upstairs. There is also the option of additional rollaway beds.
These rooms have wifi, AC, fans, tea and coffee making facilities, a gorgeous private deck with table and chairs.
Sunset 2 Bedroom Loft Villa
For even larger families or families who prefer a little space – the sunset two bedroom loft villa is a good one to consider. This villa has 2 seperate bedrooms as well as a loft area which combined can sleep up to 7 people.
Bedroom one has a king size bed and the second room has the option of either a king or two singles. The loft area also has a king or 3 singles. This villa also has a living room with lounges, wifi, ceiling fans, tea and coffee making facilities, and a private deck looking over the lagoon.
Garden Room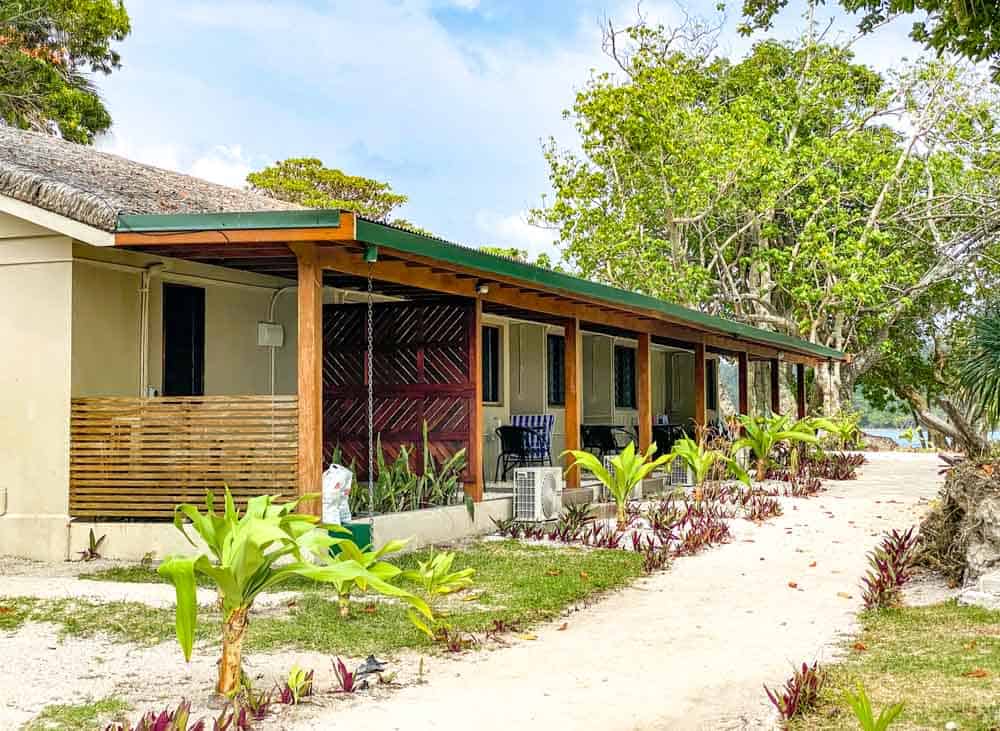 For those on a budget there are garden rooms available which are in the centre of the island, so don't have their own lagoon views – but they are still only metres away from the water.
Couples can choose the garden rooms that accommodate just 2 people or families can book the 2 bedroom garden room. The 2 bedroom garden rooms can accommodate up to 5 people – with a queen bed in 1 bedroom and the other bedroom coming with either a king, 2 singles or 1 single and bunks.
Both rooms come with wifi, ceiling fans, tea and coffee making facilities and outdoor setting. There is also a shared outdoor gazebo area with table and chairs and lovely lagoon views.
Family Homes
There are three holiday homes you can book on the island too. These homes all look fairly similar and are located next to each other with massive private gardens and a lovely beach area.
The Beach Cottage

: Absolute beachfront, 3 bedrooms – all with ensuites (bedroom 1 has a king and can also accommodate a trundle, bedroom 2 and 3 have a king or can have 2 singles), kitchen, dining area, lounge room, huge deck with outdoor setting, laundry, AC, wifi, kayaks and swing set.

Aqua Blue Beach House

: Absolute beachfront, 4 bedrooms (can accommodate up to 9 people), kitchen, dining area, lounge room, huge deck with outdoor setting and lounge, ceiling fans, wifi, kayaks and swing set.

White Sands Beach House:

Absolute beachfront, 4 bedrooms – all with ensuites, kitchen, dining area, lounge room, huge deck with outdoor setting and lounge, AC, ceiling fans, wifi, kayaks and swing set.
Honeymoon Pool Villas
For couples there are two honeymoon villas which also come with their own private plunge pool.
These villas are only suitable for couples or families with one small child who can sleep in a roll away bed. These rooms have a massive king bed, wifi, AC, fans, tea and coffee making facilities, gorgeous private deck with daybed, table and chairs as well as sun lounges, a spa bath for two and a plunge pool.
There is even a deluxe honeymoon pool villa, which comes with an infinity swimming pool, outdoor/indoor bathroom and a huge spacious room.
These villas are located right at the tip of the island, away from the rest of the accommodation. Here you will find Sunset Beach, which is lovely, although not as calm as the main beach/lagoon area.
Erakor Island Day Trip
If you're not keen on staying at the resort, you can still make an Erakor Island day trip to enjoy the island. Simply board the ferry at the mainland, and when you arrive on the island, you will be required to pay 1500 VT per adult and 1000VT per child. The entry includes a voucher of 1000 VT per adult and 500 VT per child to use towards food, drink or the day spa.
Outside the Resort
While it's only a quick ferry ride to the mainland – there really is nothing there worth mentioning. Warwick Le Lagon Resort is right by the wharf so may be worth going to if you want to try a different resort for a meal. For anything else you'll need to hail a bus or cab to get there.
Getting to Erakor Island Resort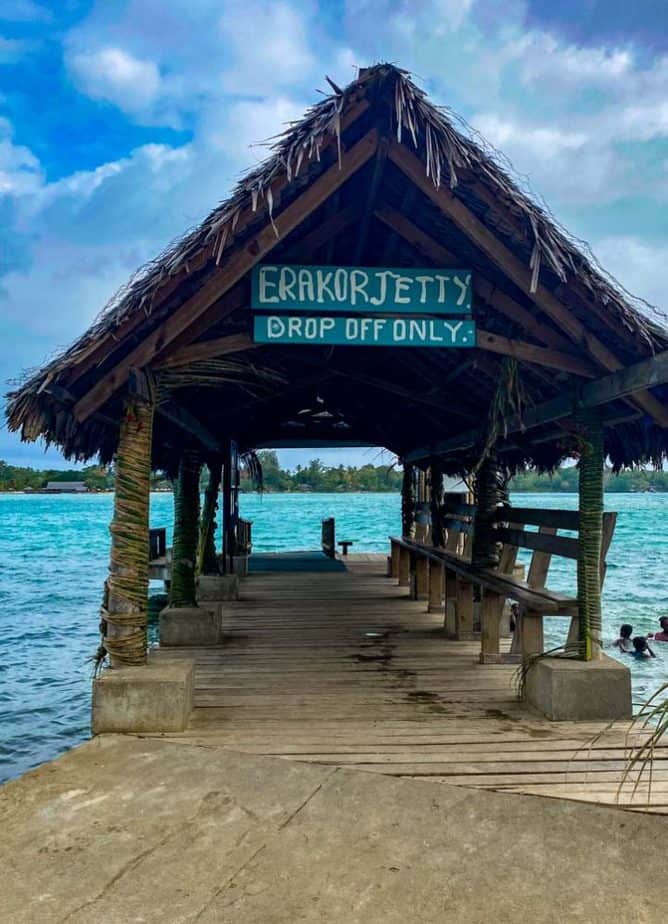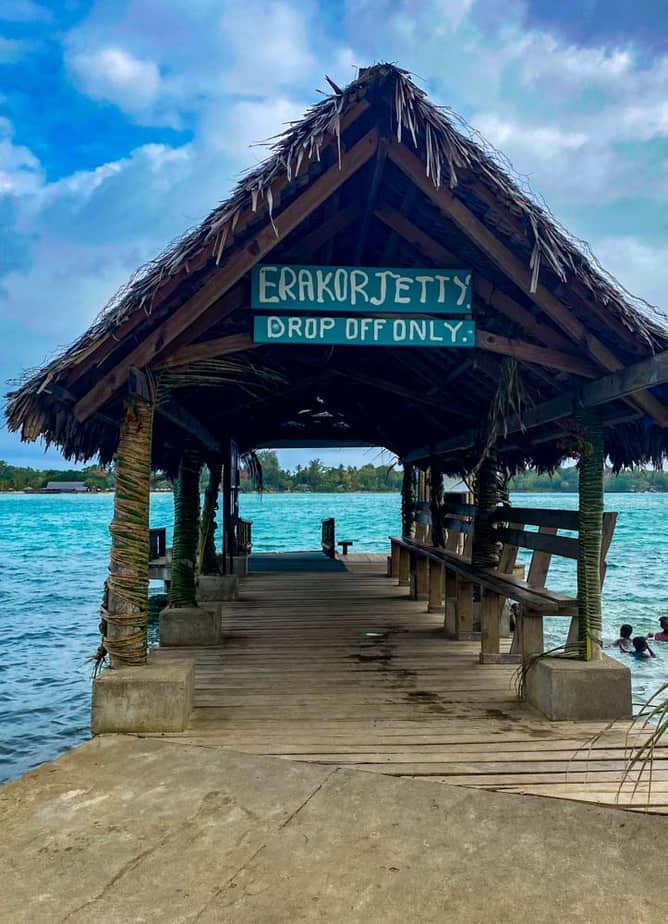 If you're coming from the airport, its best to arrange transfers in advance. I recommend doing this yourself as the transfers arranged from the resort are very expensive. We paid just 2000 VT for our own private transfers, which included a stop at the supermarket for drinks and snacks.
The other option is to walk outside the airport (it's super tiny) to the road and catch a bus into town. The buses have a "B" on the number plate, and you can flag them down. As the driver pulls up, tell him where you are going and if he is headed in that direction, he will tell you to hop on. He will then take you right to the wharf. When you get off – that's when you pay the fare. It will just cost you 150 vt per adult, 100vt per highschool student and 50vt per child.
You can get a taxi too. A taxi is identified by a "T" on the number plate, and you can flag them down. The driver will take you to the wharf immediately, but it's best to ask for a price first. Expect to pay around 1200vt.
Where to Book you Stay?
I recommend booking through Booking.com for the best flexibility (you can always cancel and book elsewhere if you find a better deal). Rooms start at $415 AUD for a family of 4, which includes breakfast in a two-bedroom garden room – so not cheap but worth it if you want to stay in absolute paradise.
I recommend staying as many days as you can afford and then spend the rest of your trip in town during the days you go out for sightseeing.
Erakor Island Resort – our Verdict
For families that want the ultimate tropical island getaway, with your own private deck looking out across the stunning Erakor lagoon – the Erakor Island Resort is the perfect choice. After my second visit, I still love it, and no doubt will visit again in the future.
We did find the service at Erakor Island pretty poor. At first, we thought it was just general island culture – but after staying at other places in Port Vila, we realised this is not the case. Still, we love Erakor Island and would recommend it as it is just a beautiful place for a family holiday.