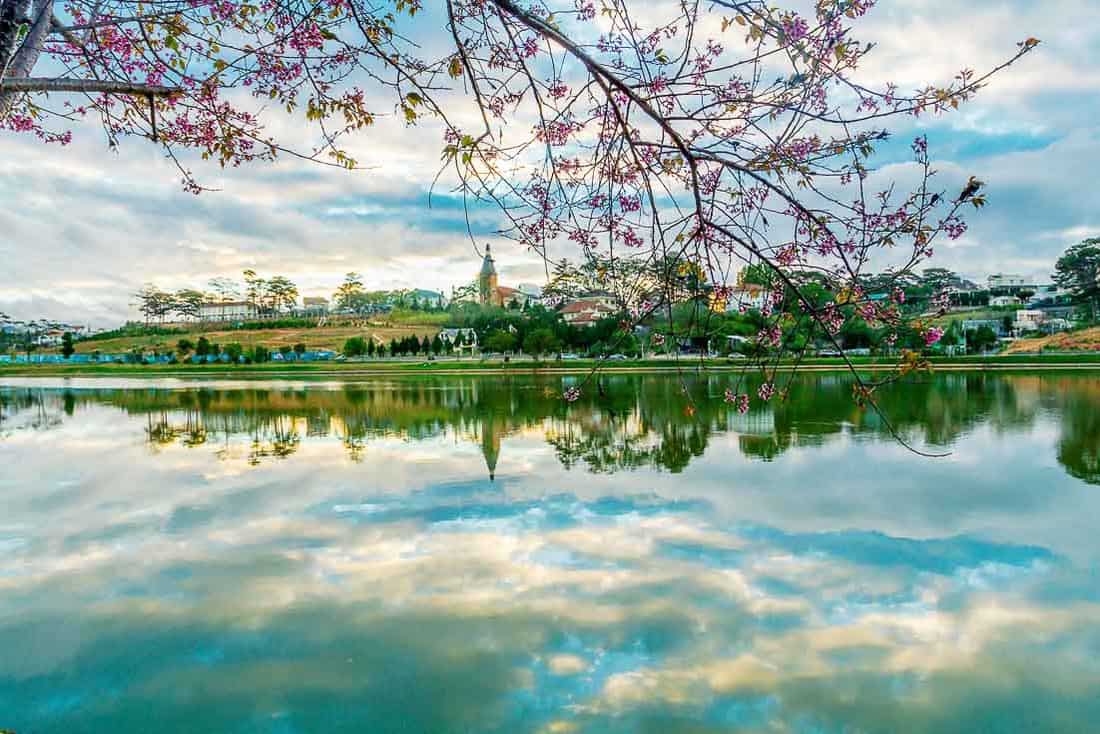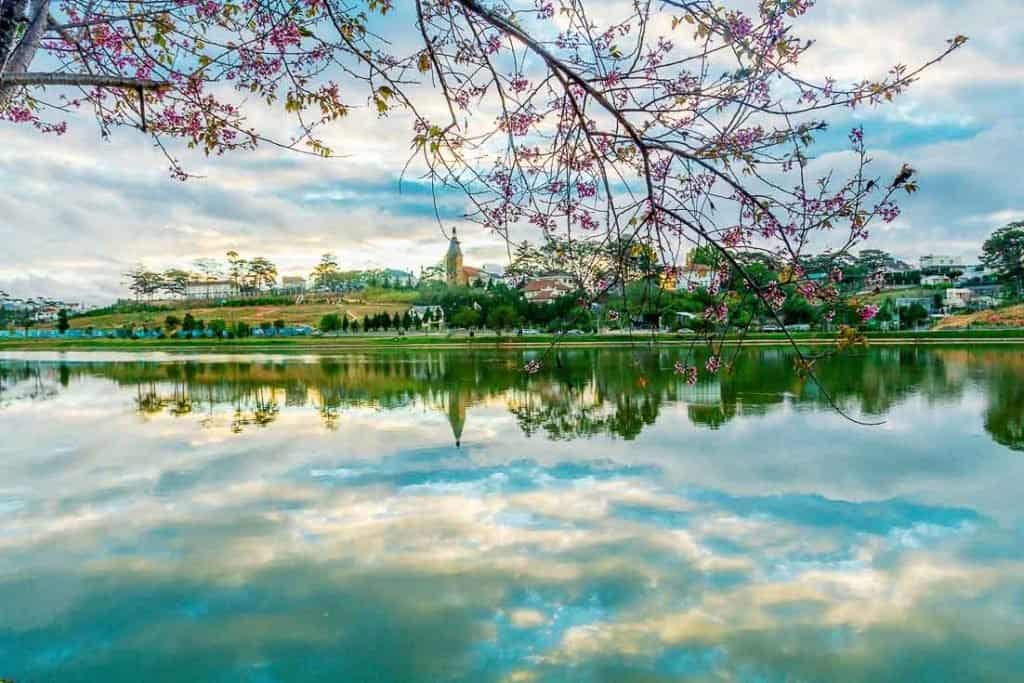 Located around 300kms north of Ho Chi Minh City, the hillside city of Dalat is a popular tourist destination in Vietnam. The scenic town of Dalat is surrounded by picturesque mountain peaks, lovely waterfalls, and beautiful French colonial-style architecture, making for a lovely place to visit for a few days.
Tourists visiting Vietnam often overlook the little town of Dalat, but it really shouldn't be as there are numerous attractions in Dalat. If you're considering visiting this scenic town, here are some tips on the best things to do in Dalat.
Thanks to Christine from Travellers With Time for this guest post on the what to do in Dalat
Best Things to do in Dalat
Planning a trip to Vietnam? Have any questions? Join our Vietnam Travel Planning Facebook group here now! It's the perfect place to ask any questions and to be inspired!
1. Visit the Beautiful Waterfalls in Dalat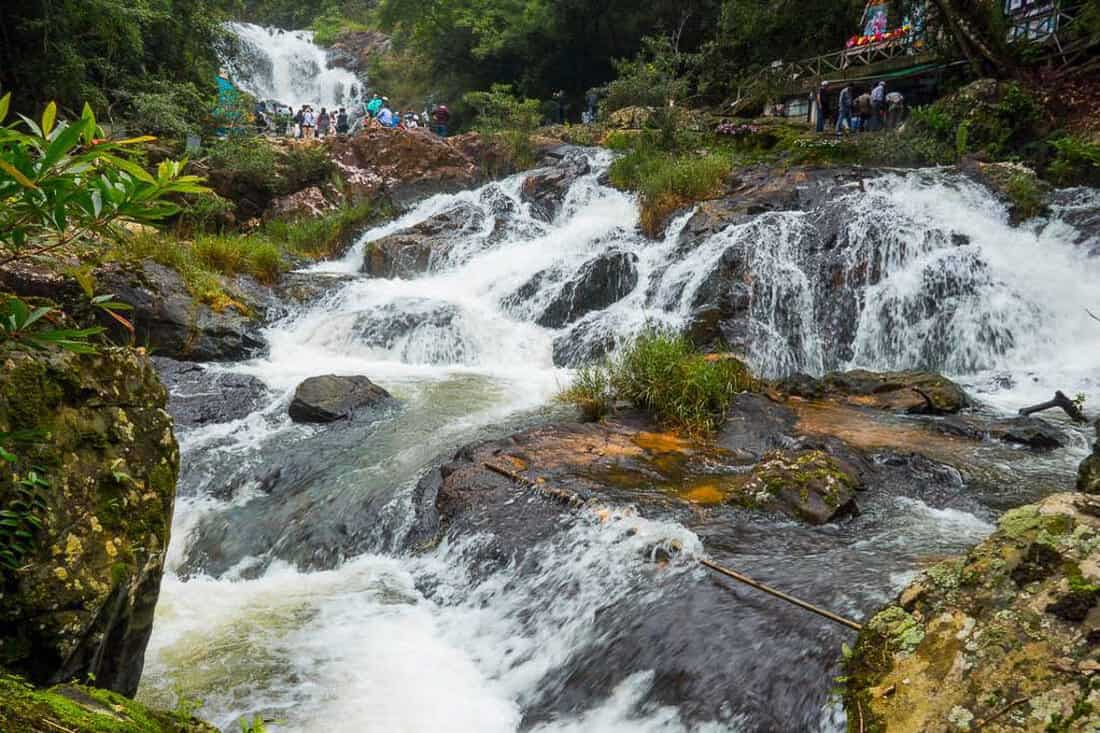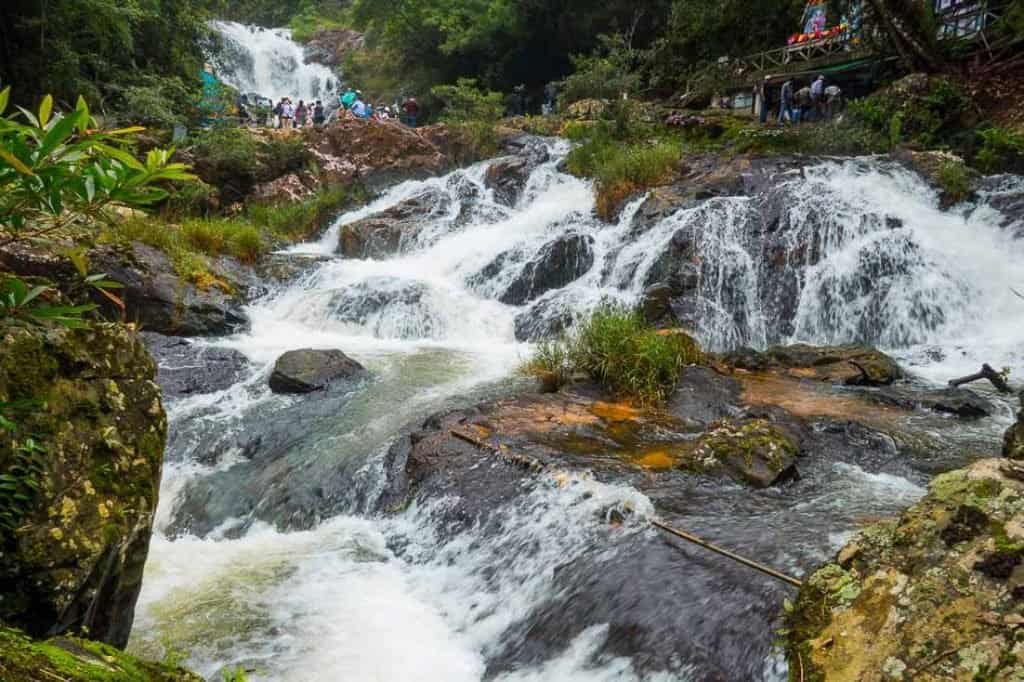 The mountainous landscape and high rainfall of Dalat combine to create a number of beautiful waterfalls in Dalat. The four best falls to visit are Datanla, Elephant Falls, Pongour Falls, and Prenn waterfall.
One of the most popular places to visit in Dalat is Datanla waterfalls, a beautiful waterfall only 6km from the city centre. Besides the 7-tiered waterfall, there is also plenty of adventure activities to keep you entertained, including canyoning, a roller coaster, a cable car and a high wire course. As the waterfall is located down at the bottom of a gully, the roller coaster is a great way to get both down and back up, as it saves you walking the hill.
It costs 30000 VDN per person to enter Datanla falls with every activity inside being paid separately.
While Datanla is only 6km from the city centre, the rest of the waterfalls are further away and you'll need to join a tour, or create your own motorbike itinerary of the Dalat waterfalls.
Click here for all our Vietnam content
2. Explore the Dalat Crazy House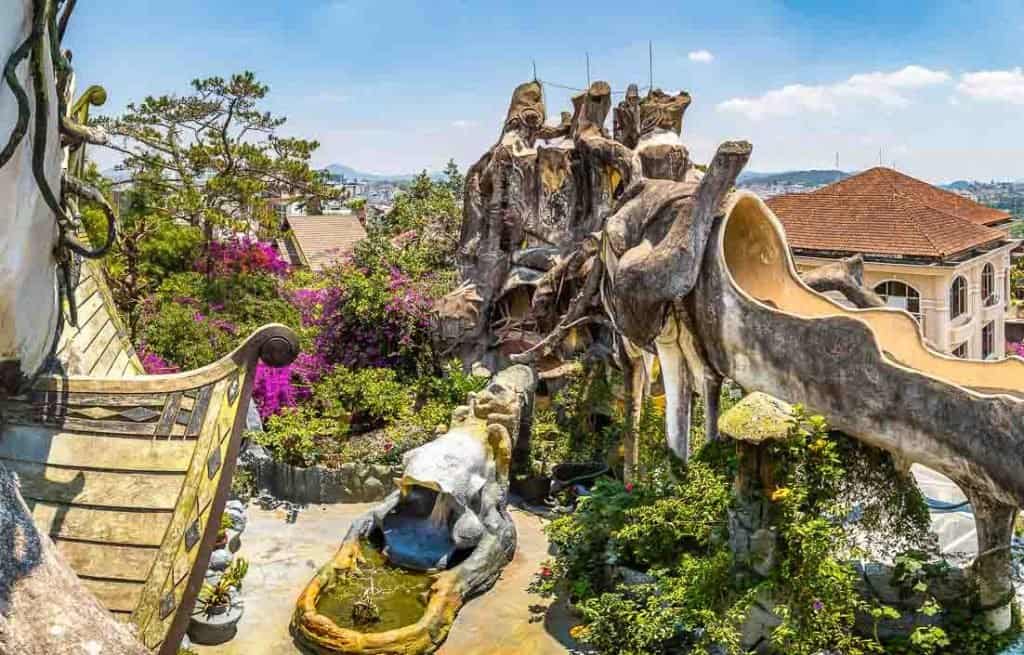 The Dalat Crazy House is one of the most iconic Dalat tourist attractions. The Dalat Crazy House was built to be structured like a tree, and all design influence comes from nature and wildlife. Here you can follow small windy staircases through themed rooms and past spectacular views of the city.
It's easy to spend a few hours getting lost down the many different corridors, climbing and descending endless staircases. It's also quite easy to get stuck on one side of a narrow passage when the Crazy House is busy, so we'd recommend going early in the morning.
Better still, the Crazy House is an active hotel, and you can stay the night in one of their uniquely designed rooms.
3. Climb Lang Biang Mountain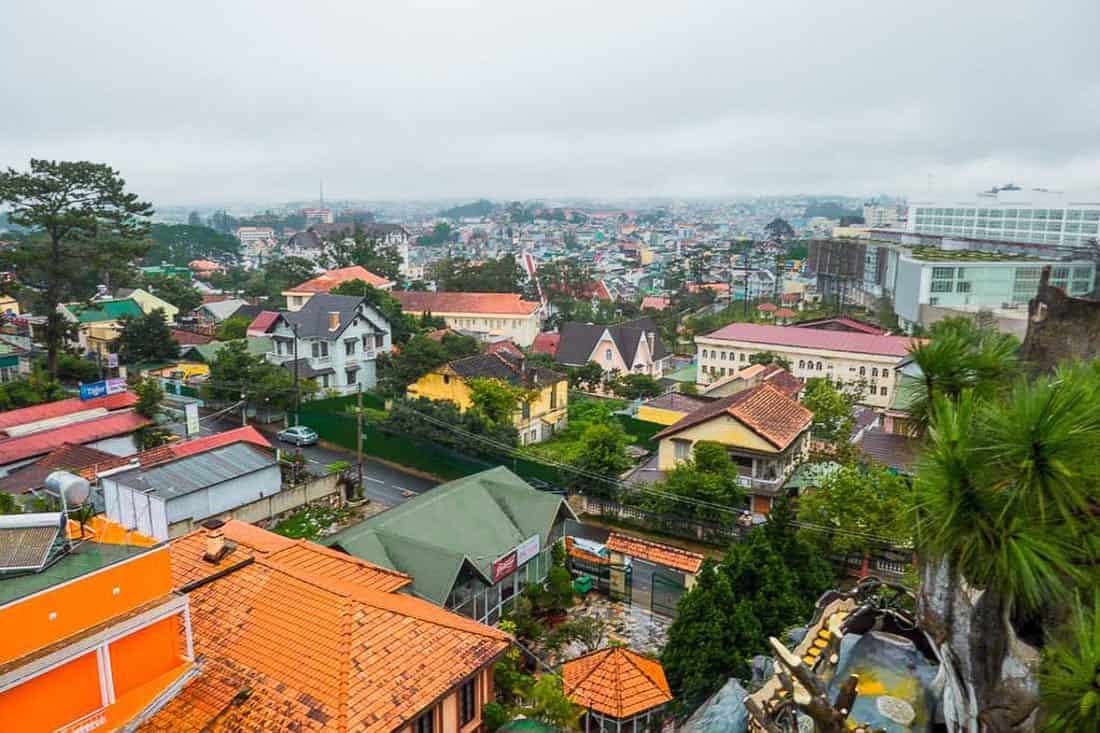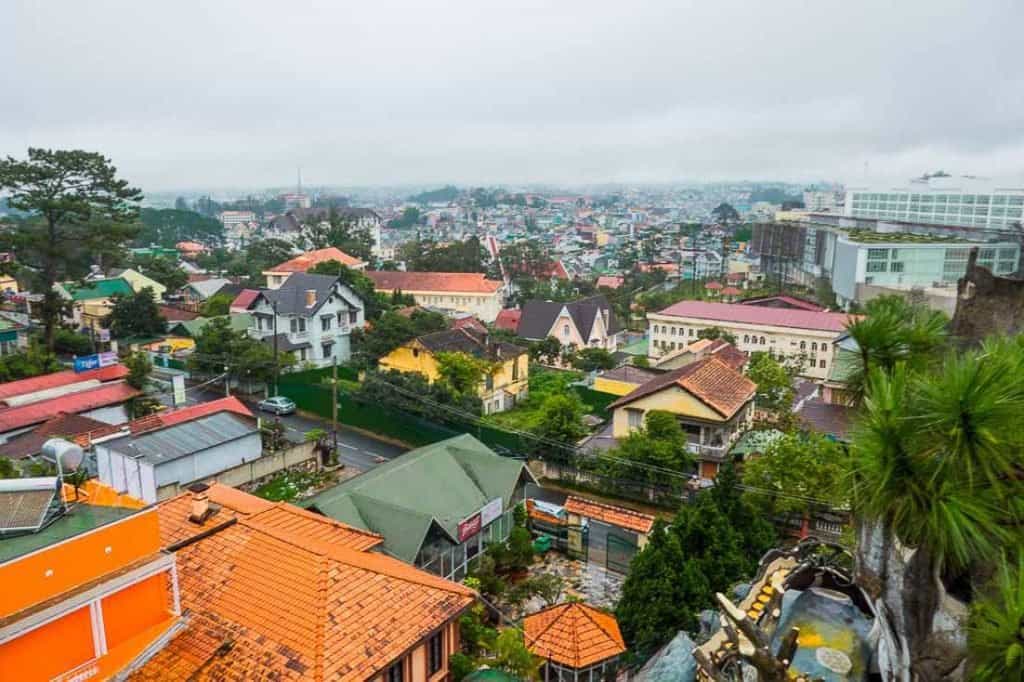 For those interested in hiking in Dalat head to Lang Biang Mountain. More than 2km high, from Its peak, Lang Biang Mountain offers amazing panoramic views over Dalat city. It is possible to trek up to the peak of Lang Biang Mountain yourself following a fairly well-established trail. It is however, a pretty long and steep hike so be prepared to sweat. Along the way you'll see plenty of wildflowers and birds. If the hike isn't for you, once at the mountain you can hire a jeep to take you to the top (300000 VDN, max 6 people) or Dalat day tours leave from the city centre to the top of Lang Biang daily.
Many of the villages at the bottom of the mountain are home to some of Vietnam's ethnic minorities, so it's a great place to go to learn about minority culture in the region.
4. Ride the Train from the Dalat Railway Station
Construction on the railway line began in 1932 and under the direction of two French Architects. The Railway station was built in the art deco style and is one of the great Dalat things to see for people interested in the French influence on Vietnam. Though the train track and station were largely damaged during the war, a 7km section between Dalat and the town of Trai Mat was opened in the 1990's. More of a tourist attraction than a transport system a ride on the Dalat Train will take you back to the early part of 20th century Vietnam.
5. Explore the Flower Market
Known as the city of flowers, Dalat has a large range of flower gardens spread throughout the city. One of the largest gardens is the Dalat Flower Garden, located near the Xuan Huong Lake, just 2 km from the city centre.
Wander through beautifully landscaped gardens containing thousands of varieties of native and exotic flowers and take a ride on a swan boat on the centre lake.
6. Visit the Dalat Market and Dalat Night Market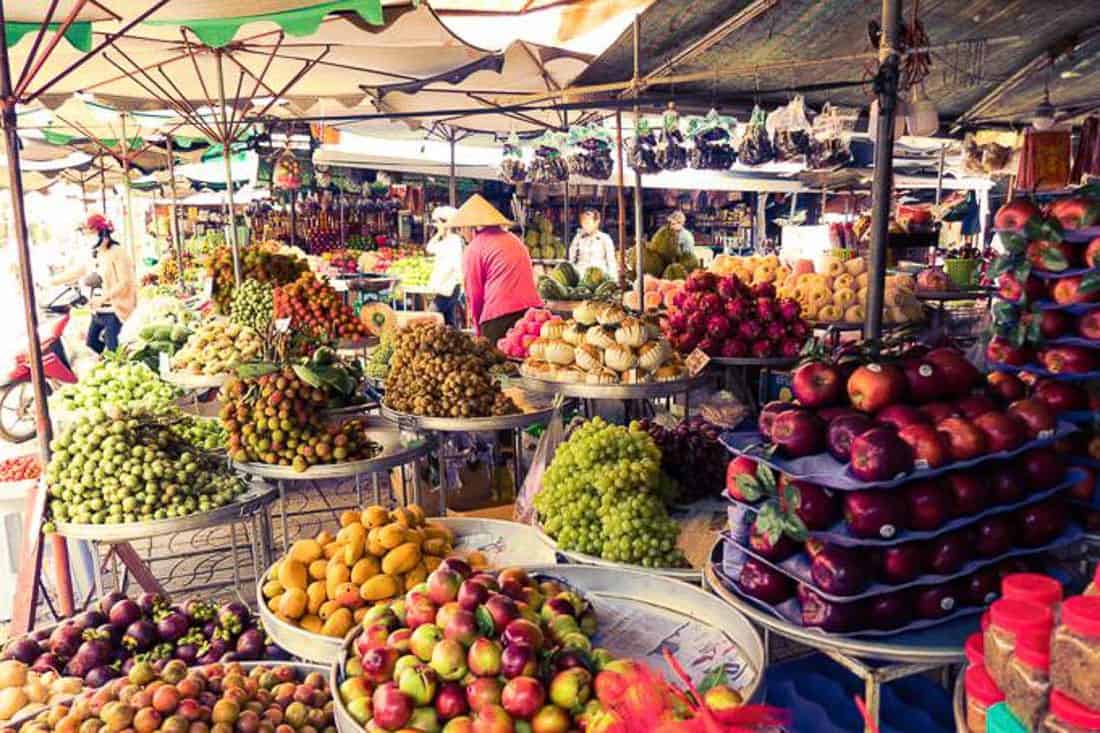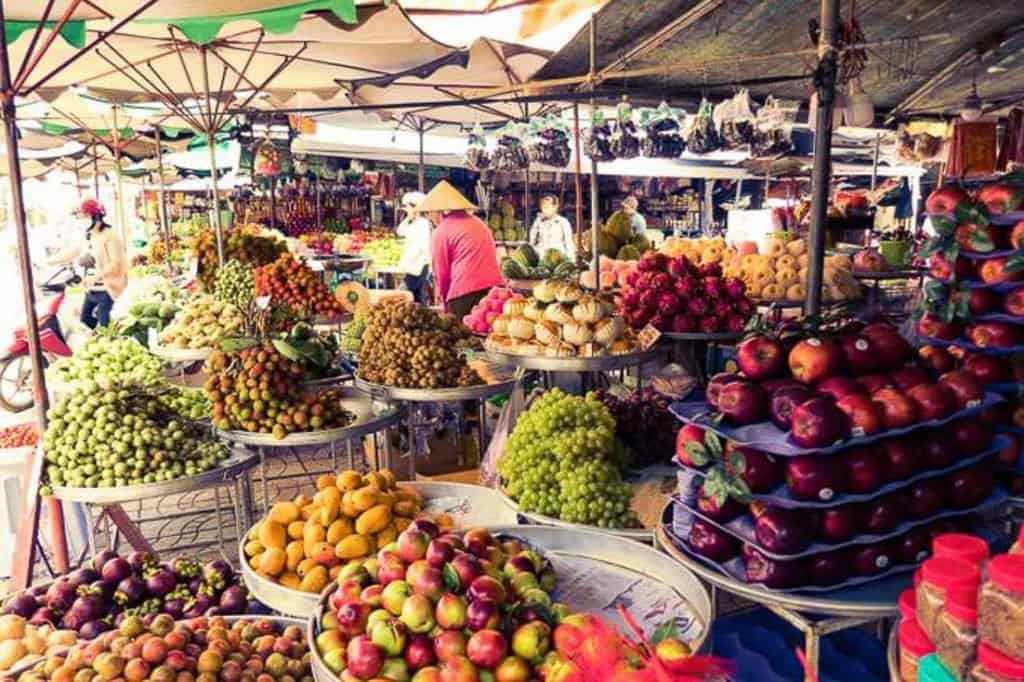 There's nothing quite like Vietnamese Markets, full of fresh produce, souvenirs and anything else you could possibly need, visiting the markets are a great way to spend a few hours. At the Dalat Market, you'll find plenty of beautiful flowers for sale and don't forget to try the fresh strawberries; they're one of Dalats biggest exports.
The Dalat Night Market is perfect for those looking for things to do in Dalat at night, and it has similar stalls and items to the day time Dalat Market, with the added benefit of an endless number of traditional Vietnamese food stalls. Fill up on delicious Bahn Mi, Pho, and traditional noodle dishes.
7. See the Beautiful Linh Phuoc Pagoda
Another one of the things to see in Dalat is the beautiful Linh Phuoc Pagoda. Only 8km from the centre of Dalat, the Linh Phuoc Pagoda is known for the beautiful glass mosaic's covering every surface. A spectacular 49-meter-long dragon headlines the entrance and one of the biggest temple bells in Vietnam can be seen inside.
Getting around Dalat
Dalat is a fairly small city, and getting around town is easy and fairly cheap, no matter which method you choose.
Mototaxi: As with the rest of Vietnam there is no shortage of Mototaxi's, they are cheap, easy, and readily available. Just make sure you agree on a price before you get on. In fact joining an Easy Rider motorbike tour around Dalat is a great way to see the sites.
Grab: Grab is the same as Uber. While it is up and running in larger cities, it is relatively new to Dalat, and so there are less Grab cars and Grab moto's on the road. To use Grab, you'll need a Vietnamese sim card. The great thing about Grab is that you always know upfront how much your fare will be.
Mai Linh Taxi: If you want to take a taxi, the Green Mai Linh Taxi's in Dalat have a great reputation and can take you to any of the Dalat, Vietnam tourist attractions in the city for a relatively low cost.
Hire a motorbike: Hiring a motorbike and exploring the region on your own is a fantastic way to experience Dalat. Motorbikes can usually be hired from your accommodation or tourist offices.
Local Bus: If you're looking to explore further outside of Dalat city, then the local bus, leaving from the inner-city bus station is a great option. With bus routes running from Dalat's city centre to nearby villages and Dalat top attractions such as Elephant and Datanla falls, it is easy to get out of the city without hiring a driver for the day.
Where to stay in Dalat
If you're looking for where to stay in Dalat here are a few suggestions:
Dalat Crazy House: As mentioned, the Dalat Crazy house is a fascinating boutique hotel in Dalat. Each room is uniquely designed with a nature theme in mind, and it's only 100 meters from the Crazy House tourism site.
The Big Home Dalat guest house: The Big Home Dalat is a Dalat family hostel which offers a shared lounge and free Wi-Fi. Run by a lovely local family, this is a great hostel in Dalat and also offers a choice of American of Vietnamese style breakfast.
The Kach San Villa Nam Kang 2: The Kach San Villa is located less than 500 meters from some of the main Dalat places to visit including the markets. With large family rooms and children's play area, this is one of the lovely hotels in Dalat and also offers free Wi-Fi and a garden area for guests.
Thanks again to Christine, the author at Travellers With Time. She and her partner Ben have spent over nine months in Cambodia and Vietnam as part of a larger South East Asia trip. They love getting off the beaten track, trying new foods and hunting down good coffee. Having spent the start of 2019 travelling New Zealand by camper van they're now in Europe, with their adopted 10 year old dog Whiskey. You can follow their adventures on Facebook.
Please note that this post contains affiliate links, which means that should make any bookings using my links, I may be paid a small commission at no extra cost to you. This allows me to provide this information free of charge – thank you for supporting our website.
Want to save this information for later?
Click on one of the images below and save it to Pinterest.