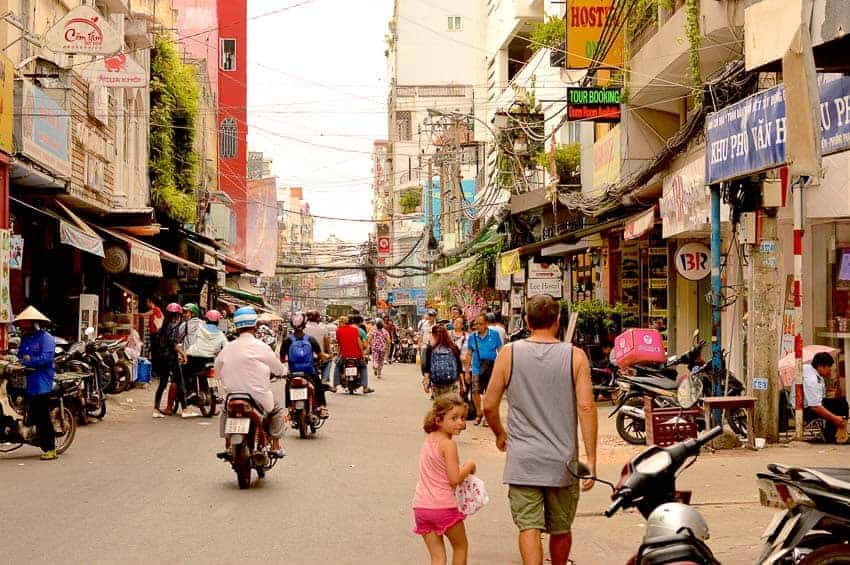 Looking for things to do in Ho Chi Minh City (or Saigon as it is also commonly called) than look no further! Being one of Vietnam's most modern and chaotic cities there is plenty to keep you occupied for a few days in this city.
Whilst Ho Chi Minh City might resemble any other modern South East Asian city – we really enjoyed it. The people in Ho Chi Minh were super friendly, with local people often stopping us in the street for a chat and bar staff also keen for a chat or to play with Myla. The locals in Ho Chi Minh City speak very good English, so it makes for an easy city to navigate.
Where we stayed
We stayed in an area of district 1 which is referred to as the "Backpacker District".  The Backpacker District is located around the intersection of Pham Ngu Lao and De Tham Streets and is very popular with budget tourists due to the proximity to the markets as well as the many bars, cafes and cheap guest houses and hotels located within the area.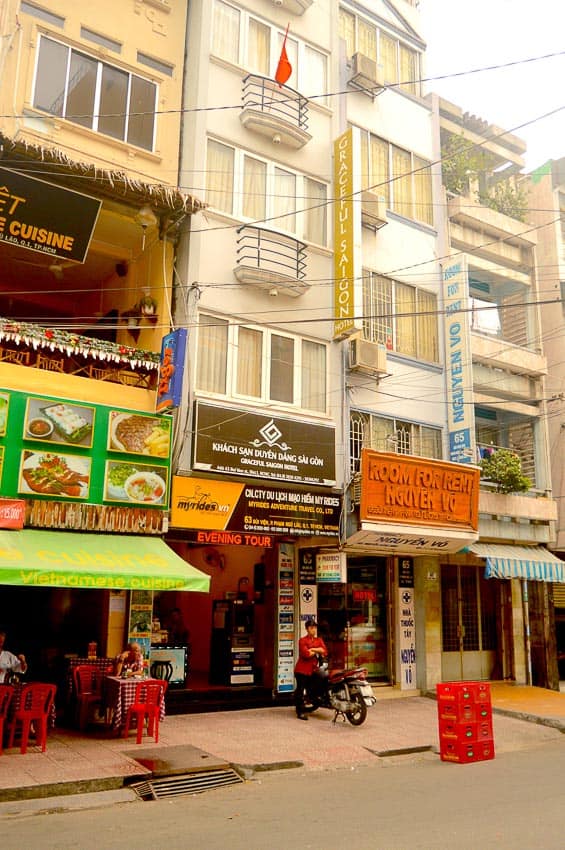 During the day, the area is rather quiet but by night, it comes alive with party goers. Some families might find the area a bit too boisterous for them – but for us, we loved being where all the people were at.
We stayed at the Graceful Saigon Hotel. A lovely hotel located right in the heart of the Backpacker District on Bui Vien Street. The hotel is a narrow building with 5 floors. There are only around 10 rooms in the whole hotel. Rooms are either located at the front of the hotel looking right into the lively Backpacker District or at the back of the hotel. If you need a quiet place to sleep at night, then make sure you request a room at the back of the hotel.
We stayed in room 101 which was on the first floor and looked right over the main street. At night the room was a bit noisy from all the action outside – but we found it perfect for watching the people go by. The noise from outside was not so loud that it prevented us from going to sleep – but it may be a problem for some people.
Room 101 is a triple room with a double bed and a single bed. The room was one of the smaller rooms we had throughout Vietnam but it met our needs. The bathroom was super tiny but functional and had hot water – YES!!!  Not always guaranteed traveling on the cheap in Vietnam.
The staff at the Graceful Saigon hotel were really friendly and helpful. If we ever needed any help with somewhere to go, directions, taxis etc they were always keen to help.  We had to go across town at one stage to pick up some ferry tickets for our trip to Phu Quoc Island and the staff at the Graceful Saigon Hotel write the address on a piece of paper in Vietnamese and even spoke to the taxi driver for us ensuring we go there ok.
The staff at the Graceful Saigon Hotel are also fantastic with kids.  They were always playing with Myla and giving her little treats like lollies. Myla loved playing with them each day.
Right outside the hotel are many bars, restaurants, cafes, shops and massage parlours – everything you need is on your door step.  There is even an ATM in the foyer of the hotel.
The Graceful Saigon hotel has no restaurant but breakfast is included and served next door each morning at  the Viet Restaurant. The food was lovely there and the service fantastic.  We had some other meals at the Viet Restaurant and the food was absolutely delicious probably the best we had in Ho Chi Minh City.
The Graceful Saigon Hotel belongs to a group of hotels. As guests of the Graceful Saigon Hotel, we were able to use the pool at the Beautiful Saigon Hotel, one of their other more up market hotels. It was only about a 5-minute walk to the Beautiful Saigon Hotel.
As guests of the Graceful Saigon Hotel, we also got 20% off spa treatments at the Beautiful Saigon Hotel's spa.  I made use of this discount and had a fabulous massage – highly recommend this massage parlour even if you are not a guest of the hotel.
At $50 AUD per night – I would highly recommend the Graceful Saigon Hotel to families looking for a good budget room in a fantastic location.
Check here for the latest prices for the Graceful Saigon Hotel on bookings.com or click to see the latest prices on Agoda.
There are so many hotels in Ho Chi Minh City – so if you want to see what else is available use the search box below.
Things to do in Ho Chi Minh City
Bar Hop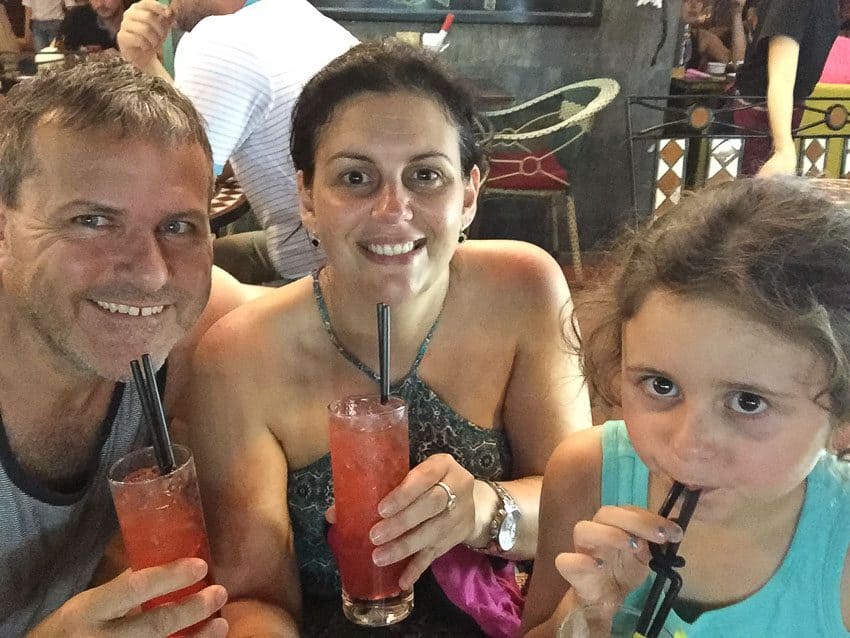 The Backpacker District comes alive with music at night. We are a music dancing loving family so we totally loved this!!.
At night, all the bars spill out onto the pavements with little table and chairs – music blares out from inside the bars – we loved just sitting on the pavements with a few drinks, watching the people go by and singing and dancing to our favourite songs.  As soon as you get tired of the music one place is playing, you just move on to the next one. It's all like one massive street party anyway.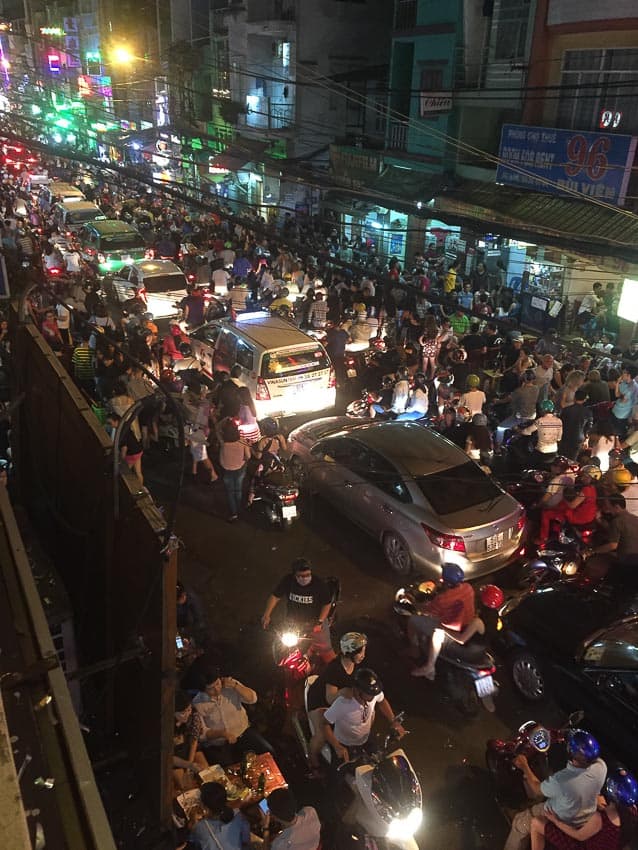 All the bar staff are so happy, they are dancing out the front, chatting to us and playing with Myla – the atmosphere is fantastic.  Whilst many might thing bars are not places for families – I totally disagree!  Provided you are not there late into the evening when things become to crazy and overtaken by drunk patrons – its a great place to spend some time together as a family.  Given we were travelling with a 5-year-old – we were back in the hotel room tucked up in bed by 10pm most nights which is before things get too rowdy in the bars and streets.
Our stay in Ho Chi Minh City coincided with New Year's Eve.  And wow –  what a massive street party they put on!! Street vendors were selling streamers in a cylinder type thing which you can pop.  We let a few off from our room window out into the crowd – it was fantastic with all the people on the street singing out to us "Happy New Year!"  The vibe was electric – we all had a blast!
War Remnants Museum
In my view the War Remnants Museum is a must see museum in Ho Chi Minh City. Whilst the pictures and stories are graphic and nothing is left to the imagination, I personally believe it is important for foreigners to see first hand the devastating effects of war on the civilians in Vietnam.  Effects are still being realised today.
It was a little difficult visiting the museum with Myla as she is very curious and wanted to see many of the exhibits. Whilst I am all for teaching children from a young age about the travesties of war, some of the exhibits were just too graphic for a 5-year-old. I myself was in tears viewing the devastating photographs and reading the horrific stories which prompted Myla to ask many questions.  So you may need to consider this if you plan on visiting the museum with small curious children.
Entry for the museum is 150,000 VD (approximately $9 AUD) per adult and I would allow around 2 hours to visit all exhibits.
Click here to read our Ultimate Guide of where to go in Vietnam
Markets
Given Andy's love of love of food and cooking, he wanted to visit as many markets as he could in Ho Chi Minh City.
Visiting the markets, particularly the local markets as opposed to the tourist markets is a great way to get  a glimpse into the lives of the local people.  Coming from Australia were everything is packaged, we loved strolling through the local markets seeing the display of fresh produce.
For photographers, the local markets also provide plenty of fantastic photo opportunities with all the bright and interesting produce on display.
So here goes a quick run down of the markets we visited in Ho Chi Minh City.
Ben Thanh Markets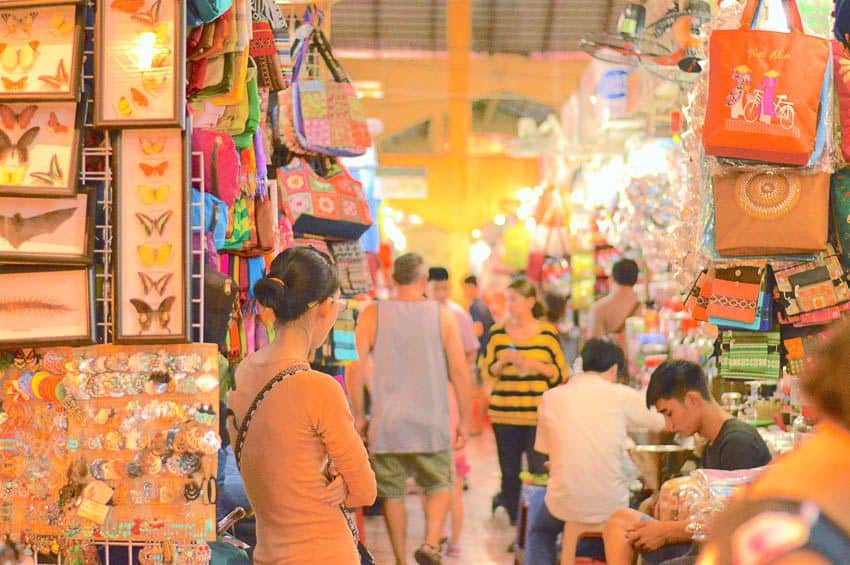 Ben Thanh Markets is the most famous tourist market in Ho Chi Minh City. It was about a 10-minute walk from our hotel.
When we visited the Ben Thanh Markets, it was packed, super hot and buzzing with activity. There are over 3000 stalls selling numerous souvenirs as well as fresh produce, drinks and meals.
We are not shoppers so we did not buy much but Myla did pick up a few bargains – she bought some "Hello Kitty" hairclips for 20,000 VD (approximately $1.20 AUD) for a set and a small jewellery box filled with various "Frozen" jewellery for 50,000 VD (approximately $3 AUD).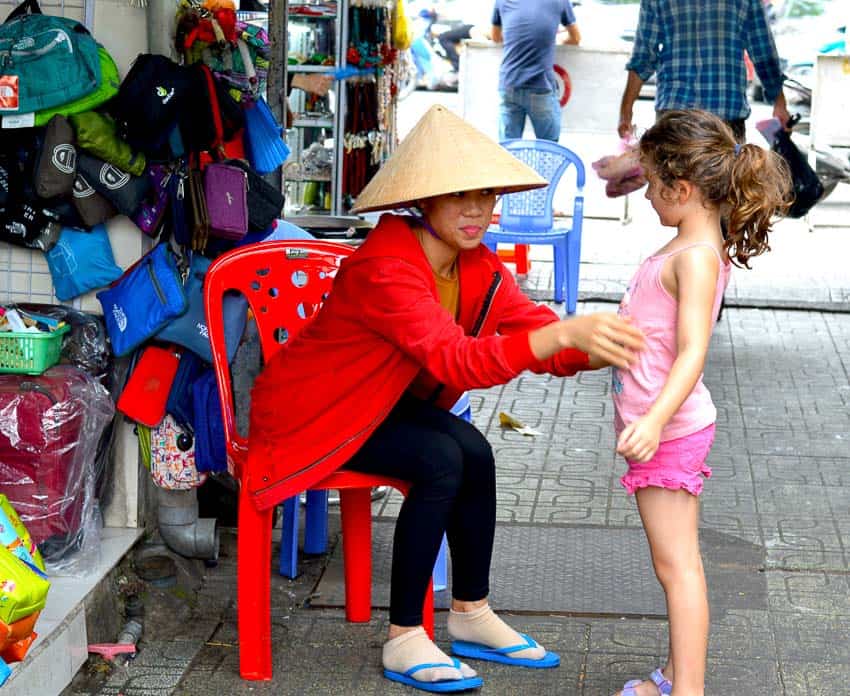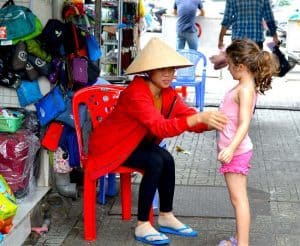 It was really hot in the markets when we visited even though it was winter – so I can only imagine what it must be like in the hotter months. Keep this in mind when visiting.
Another cool way of seeing the Ben Thanh Markets is to join a cooking class with the Vietnam Cookery Centre, where you can learn to cook some traditional Vietnamese food with the option of a guided tour of the Ben Than Markets.
Local Fresh Produce Markets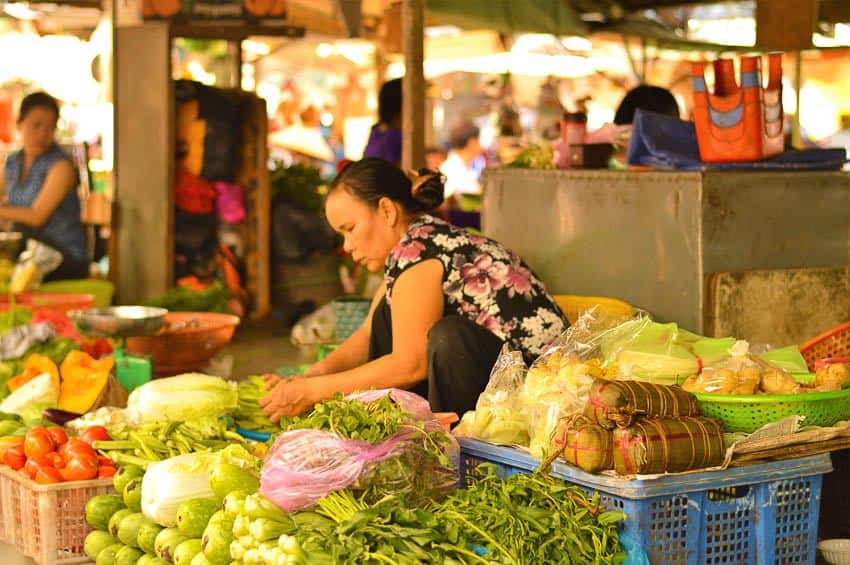 Very near to our hotel along Cong Quynh Street between Bui Vien and Pham Ngu Lao Streets there was a local fresh produce market which was fantastic!
There are no tourist souvenirs here – just fresh produce and products for the local people. It was fantastic walking through and seeing all the displays of food such as fresh herbs, dried spices, colourful fruit and vegetable and fresh meat. We highly recommend checking out this market.
Click here if you're keen to do a food tour by motorbike.
Binh Tay Markets
Andy loves cooking Asian food at home. He was super keen on purchasing some Asian cooking utensils whilst we were in Vietnam. After some google research, he decided that we needed to check out the Binh Tay Markets.
Binh Tay Markets are located in district 6 which is also the Ho Chi Minh City's largest China town. To reach the markets, we had to get a taxi which cost 65,000 VD (approximately $4 AUD).  The staff at the Graceful Saigon Hotel helped us with directions and provided the details to our taxi driver which was very helpful.
The markets had a fantastic assortment of cooking utensils and so Andy bought a few items to take home. Recommended to all those chefs out there looking for some bargains to take home.
Mainly the markets appeared to sell items in bulk – for example we could not buy one doll but had to buy 20. It appeared that the local people come to these markets to buy items to sell to the tourists at the tourist markets.
We loved wandering through these markets – but a word of warning, it was super hot. I know I said Ben Thanh Markets were hot but this was crazy hot. It really got to us after a while and forced us to leave.
Massages
Another favourite activity of ours in Ho Chi Minh City was indulging in a few massages.
A word of warning about massages in Ho Chi Minh City!! The advertised price of massages here appears very cheap – cheaper than anywhere else in Vietnam – but there is a reason for this. The advertised price of the massages is not the actual price!
So your massage might be advertised as 100,000 VD (approximately $6 AUD) – super cheap right?? But as soon you have your massage you are provided with a sheet where it asks what tip you want to pay – and the options are $5 USD or $10 USD – so around another $7.50 to $15 AUD – so no longer is your massage super cheap.
We did not come across this anywhere else in all of Vietnam!!!
I guess you could refuse to tip, but we always like to comply with the local way of doing things so we always paid a tip.
This happened at every single massage parlour we went into – so just bear this in mind when you are thinking about getting a massage.
Are you visiting Hanoi too? Click here to read our guide to Hanoi.
Other Activities
A must see in Ho Chi Minh City is a day trip to the Cu Chi tunnels. We did not visit them on this occasion as I have visited them before and Andy wanted to spend his time visiting the markets. However, I highly recommend a visit there.
The Cu Chi tunnels are a network of interconnecting tunnels around 30 kilometres from Ho Chi Minh City. These network of tunnels were used during the war and can be explored via a guided tour.
Given the Cu Chi Tunnels are located a fair way out of town, there is no really good value DIY option unless you take the bus – but then this makes it a very long day. Your best option is to check out a tour – here's a few I looked at and would have booked with if we visited them this trip:
Friends Travel Vietnam: approximately $26 AUD per adult. Tours run between 8am to 2pm.
Vietnam Awesome Travel: approximately $34 AUD per adult. Tour runs between 8am to 12.30pm.
Also check out our friends at 2foodtrippers for a detailed list of all the fantastic street food you can eat in Ho Chi Min City.
How Many Days / Nights?
We only spent 3 nights and 2 days in Ho Chi Minh City, which was plenty for what we wanted to do. Maybe if you wanted to what we did and see the Cu Chi tunnels, you can add an extra day.
Many people use Ho Chi Minh City nothing more than a stop over to move to other places in Vietnam like Can Tho or Phu Quoc – or even other countries like Cambodia.
Getting Around
It is very likely when travelling to Vietnam that you will either fly into Hanoi or Ho Chi Minh City.  These two cities are the main gateways to Vietnam.  Hanoi located in the north and Ho Chi Minh City located in the south.  Check out the cheapest route from you departure city by checking Skyscanner.
We started in Hanoi and travelled south – so we arrived in Ho Chi Minh City by flying in from Danang on Vietnam Airlines.
We  arranged private transfers to pick us up at the airport and also to take us to the airport at the end of our stay. In hindsight, there is no need to do this – simply jump in one of the many taxis at the airport or in the city itself. We used taxis a few times in Ho Chi Minh City and found them great – they are everywhere and reliable – just ensure they put the metre on when you jump in.
Prices
Following are the costs of some items we paid for whilst we were on holiday in Ho Chi Minh City.   Please take note that the Vietnamese Dong prices are exact whilst the Aussie dollars are approximate:
Cocktails – 100, 000 VD (approximately $6 AUD)
Wine – 600,000 – 900,00 per bottle in a restaurant (approximately $36 to $54 AUD)
Beer – 15,000 VD (approximately $0.90 AUD)
Hello Kit Hairclips – 20,000 VD (approximately $1.20 AUD)
Kids jewellery set – 50,000 VD (approximately $3 AUD)
Meals – 100,000 to 130,000 VD (approximately $6 to $8 AUD)
Massage – from 100,000 VD plus tips (approximately $20 AUD with tips)
10-minute taxi drive – 63, 000 VD (approximately $4 AUD)
Burger King Meal – 3 meals 360, 000 VD (approximately $22 AUD)
Disclaimer: This post contains affiliate links which means if you book using one of my links contained within this post – I will receive a small commission at no extra cost to you.  Thank you for supporting our website.
Want to keep this post handy for later? 
Click on one of the images below and pin to Pinterest.