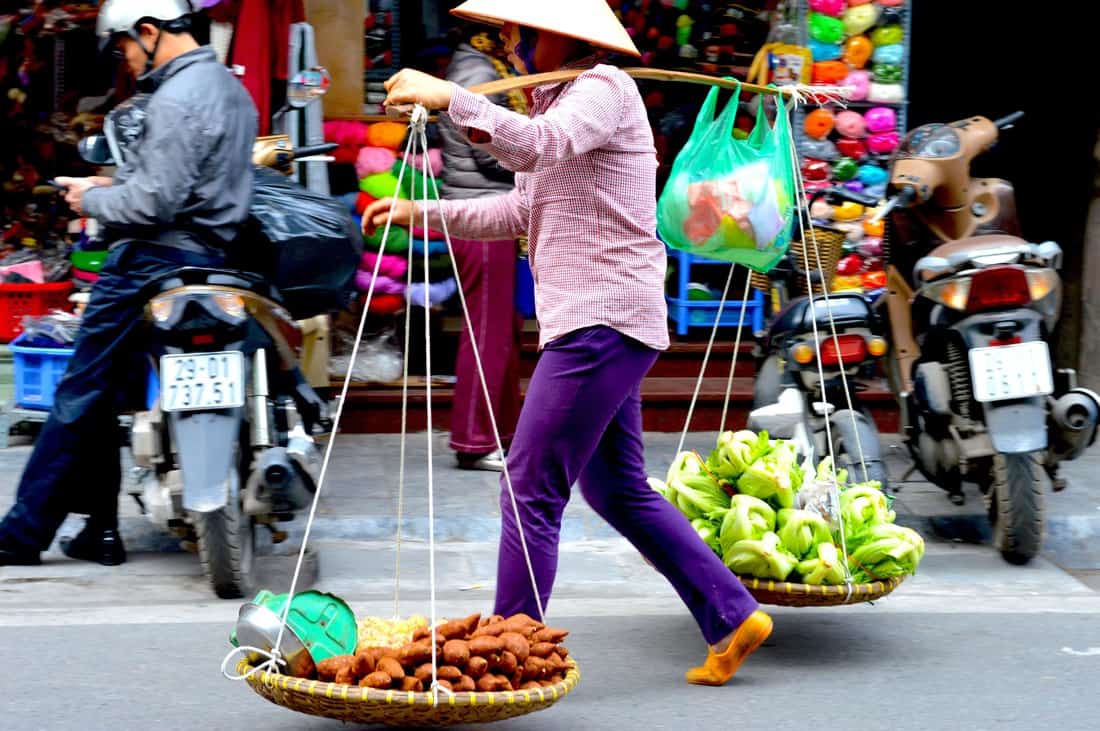 This post may contain affiliate links.
Hanoi is the capital of Vietnam and is the country's second largest city.
Most tourists (us included) head straight to the Old Quarter. The Old Quarter is at the heart of the city and is made of numerous narrow streets arranged by the products sold. The buildings are tube like in that they are tall and skinny, and are typically 3 metres wide.
The Old Quarter is full of life, as soon as you arrive your senses come alive. You are bombarded with the sounds of the traffic, motorbikes and cars continually beeping their horns. Your eyes are drawn to the fabulously bright colours of the French influenced buildings, as well as the colourful fruits and vegetables that fill the little stalls that spill onto the pavements. The Old Quarter is absolutely chaos, but somehow it just works and it is absolutely mesmerising.
Every street corner has tiny little stools where Hanoians gather to have breakfast, lunch and dinner. It is also the perfect place for tourists to sit and take in the world that is Hanoi (our favourite pastime whilst there).
The pavements of the Old Quarter are not for walking on. Pavements are filled with chairs for the tiny coffee shops and the shop owners display their wares right on the streets. This means that means pedestrians are required to walk on the narrow streets with the motorbikes and cars. Given what appears to be chaos on the roads, this can be rather scary and daunting at first. However, after a while you realise that this all just somehow works.
It appears the rule is to stick together closely and walk slowly, even when crossing the road, that way bikes can just go around you. Don't walk in front of cars, although the traffic generally does not move fast so they can always stop for you. If you try to wait for a break in the traffic you will be standing there until the end of time – Hanoi traffic never stops!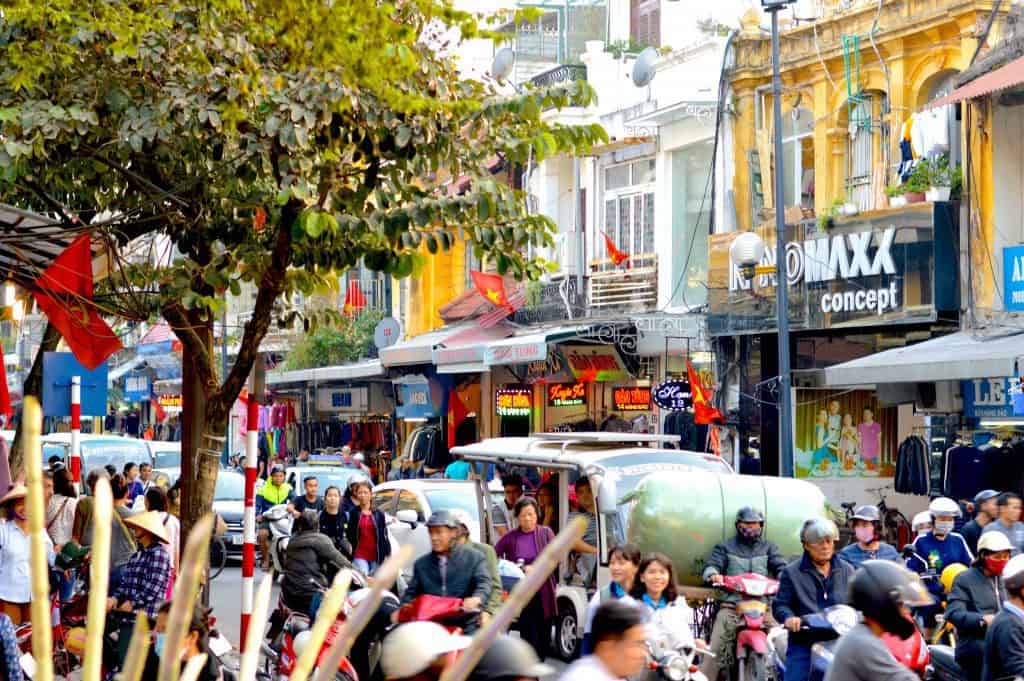 Our Hanoi Itinerary
Day 1
Exploring the Old Quarter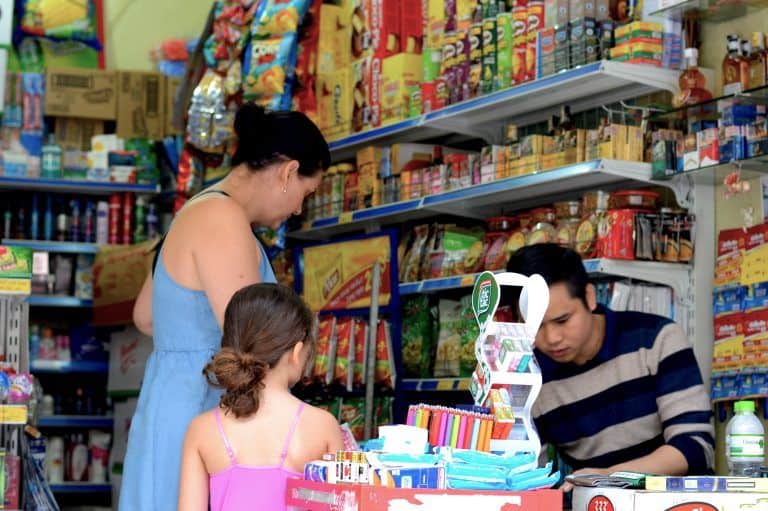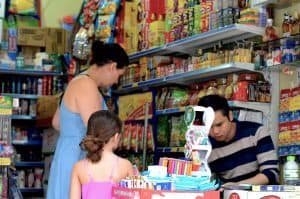 We arrived at our hotel around 3pm. As soon as we put our bags down we headed straight out to explore the streets around our hotel.
One of the first things I do when travelling is a purchase a local SIM card with data only on it. This was I can use the internet for any research required for our travels, using google maps and keeping in touch with family and friends at home. I purchased a SIM card from a small convenience store for 200,000 Dong (or about $12 AUD) for 12 GB. The shop keeper helped me set up the SIM card right there and made sure it was working for me before we left.
We spent the next few hours just wandering the streets and being in awe of what is the Old Quarter. One of the of the first things we noticed was how each street sells one product. For example, a few of the streets we came across:
Paper Street – selling gift wrap and cards
Herb/Spice Street
Toy Street
Cooking Utensils Street
Hardware Street
Christmas Street – this was my all-time favourite – this street was full of old school Christmas decorations, it made me laugh so much and I wondered what happened to this street after Christmas??
It quickly became a favourite pastime for us to name the street we were in.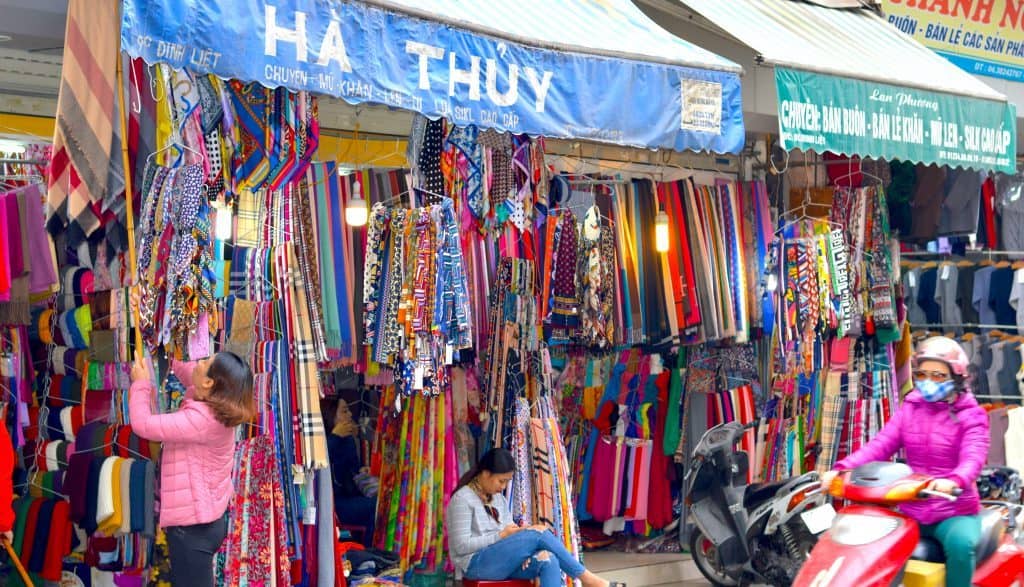 Having a cute little 5-year-old in tow, is a great marketing ploy for the local sellers. They would show Myla things, let her play with them and she would light up and so they would try to convince me to buy it. I had to have a chat with Myla early on and explain that if you show interest in a product they expect you to buy it. This happened throughout our whole trip, but Myla got good at saying no thank you.
Hanoi Street Food Tours
We decided what better way to get familiar the local food in Vietnam than to go on a street food tour! So at 5 pm we joined a street food tour with Hanoi Street Food Tours.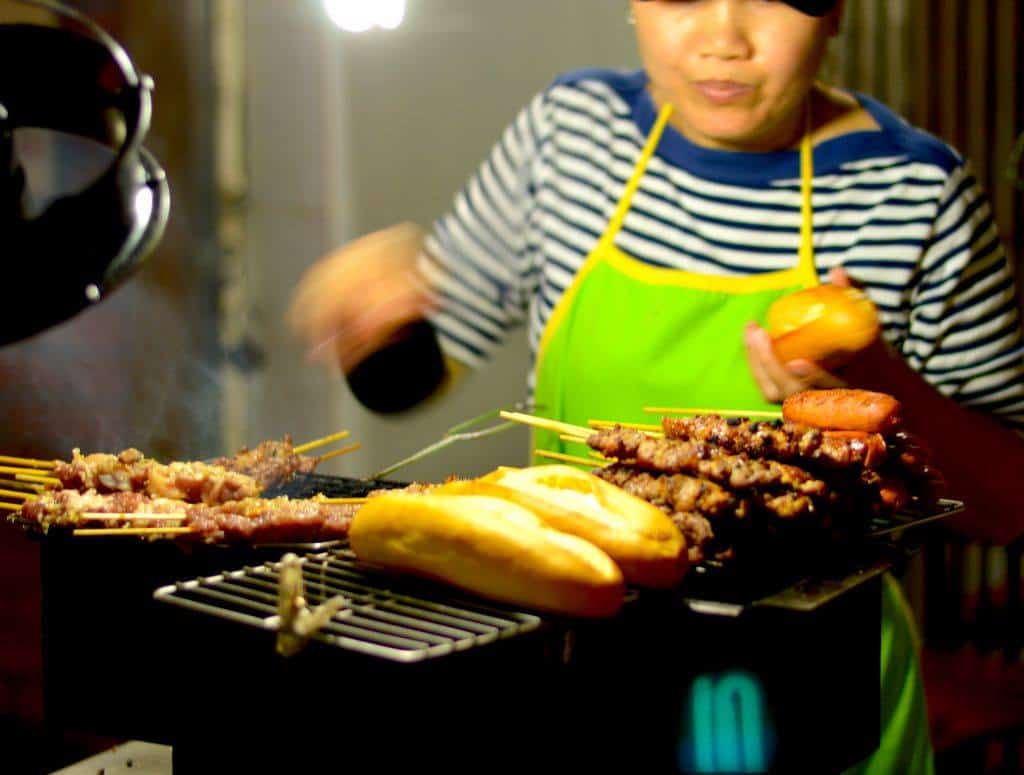 What was great about this tour, apart from the food of course, was that there was quite a bit of walking between places. This gave us an opportunity not only to see more of the Old Quarter but to help digest some of the food we ate. It was awesome strolling through hidden alleyways and fresh produce markets – I would have never have found these places on my own.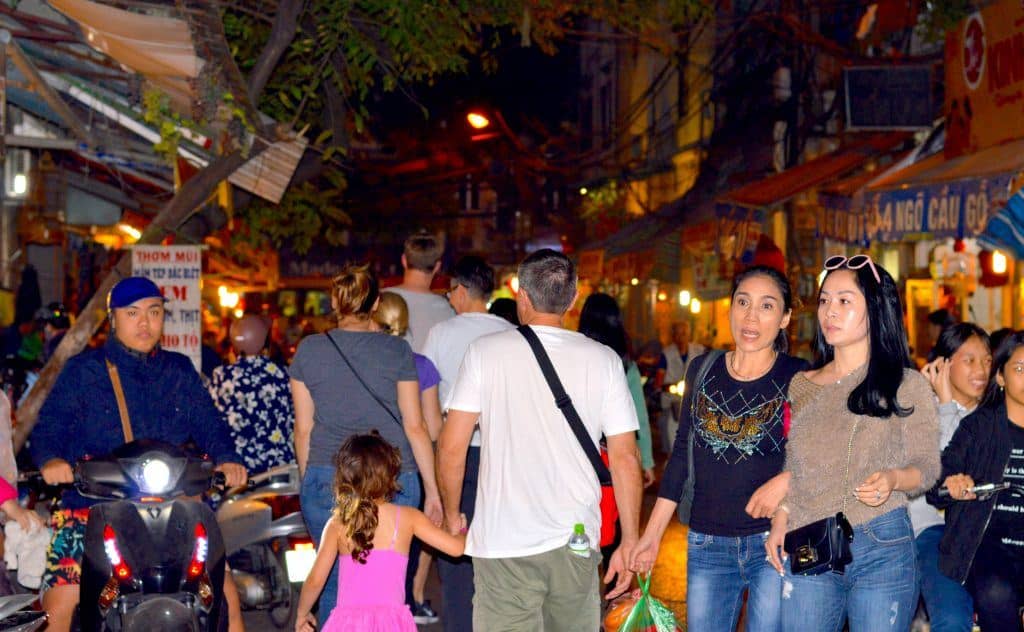 During our tour we made 8 stops and were absolutely stuffed by the end of it.
Read my post on Hanoi Street Food Tours for more information.
Day 2
Early Morning Walk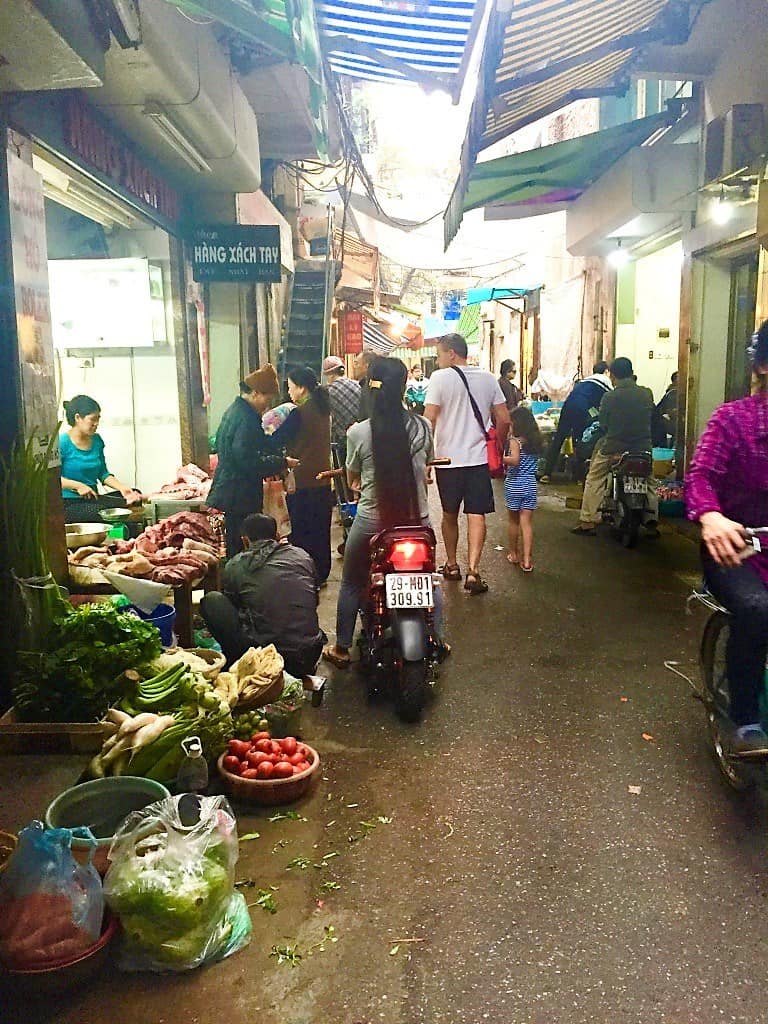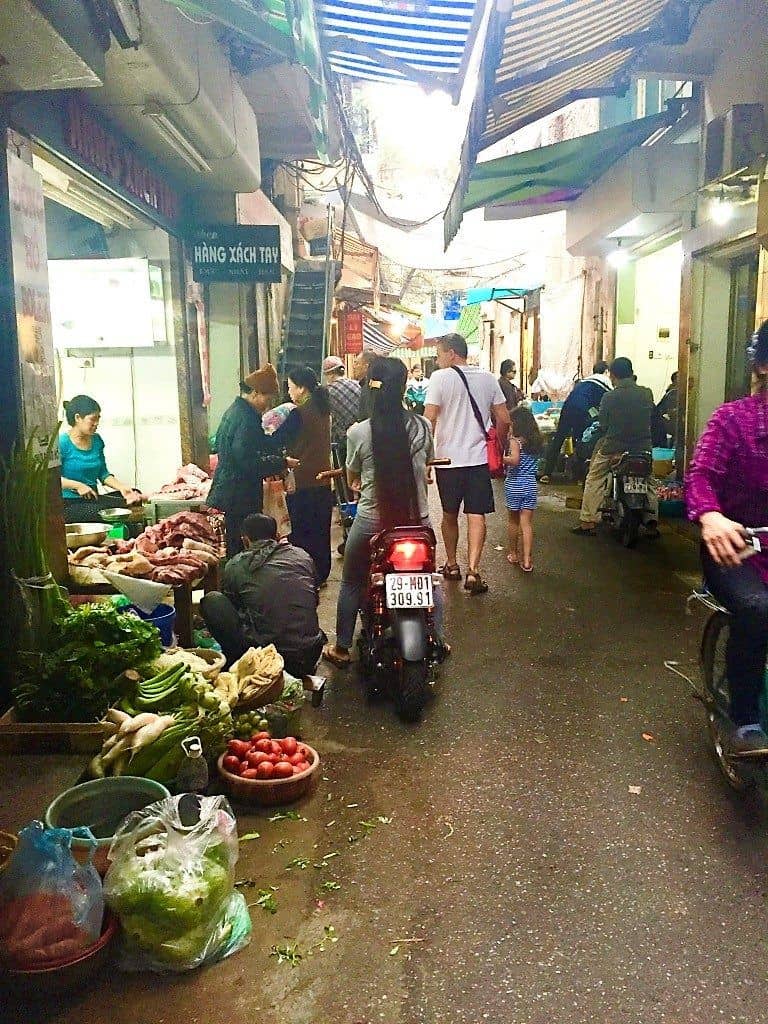 Probably due to the excitement of being in Hanoi we all woke up early and went down for breakfast at 7am. We found the reception area deserted with the owner asleep on the couch in the lobby. We guessed we were too early for breakfast!
So we decided to take a walk outside our hotel. Our hotel was located off a main street on a little alleyway. We walked down the alleyway and what a treat we were in for. The alleyway was full of the local people getting ready for their day. I guess given the houses are so tiny, they are only used for sleeping. Everyone was in the alleyway either chopping up vegetables and meat, eating their breakfast, even brushing their teeth right there in the alleyway.
We all felt very privileged to get a real insight into how the local people of Hanoi live.
HanoiKids
After breakfast we had Huy and Trang from HanoiKids show us around Hanoi.
HanoiKids Tours is rated as the number 1 tour in Hanoi. It is a free tour, with the exception of any expenses incurred during the day – i.e. transport, entrance fees, food and drinks. The concept of the tours is that they are run by local university students who are trying to improve their English, so they feel they are getting just as much out of the tour as you are by practicing their English with you.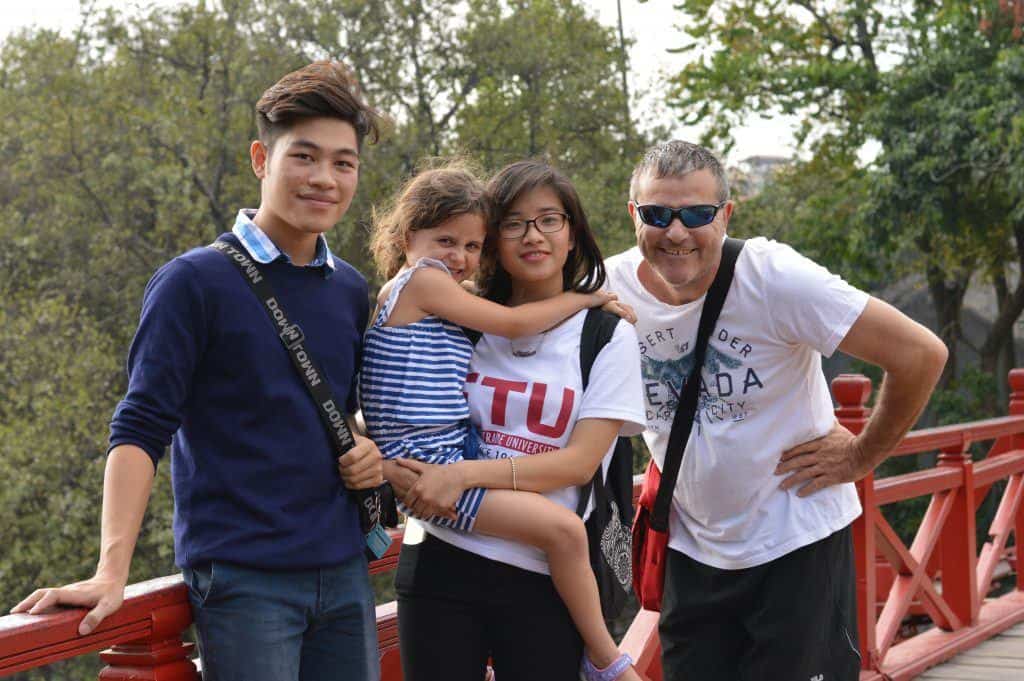 Massages
After all that walking around, ok let's face it, who needs an excuse for a massage! Andy and I treated ourselves to foot massages and Myla got her fingernails and toe nails painted. I also got a pedicure. All up for 2 foot massages, 2 pedicures and 1 manicure it cost 770,000 Dong (Approx. $46 AUD).
Beer Street
Late afternoon we decided to head to Beer Street, or Beer Corner as it is also called, for a drink and some food.
Beer Street is located on the street of Ta Hien in the Old Quarter. The street is only about 200m but at night time it is one of the most crowded streets in the Old Quarter. Every night hundreds of tourists and locals alike flock here and sit on tiny childlike chairs at outdoor make shift bars and restaurants drinking, eating and just hanging out. It's also the ideal spot to watch the life of the Old Quarter go by.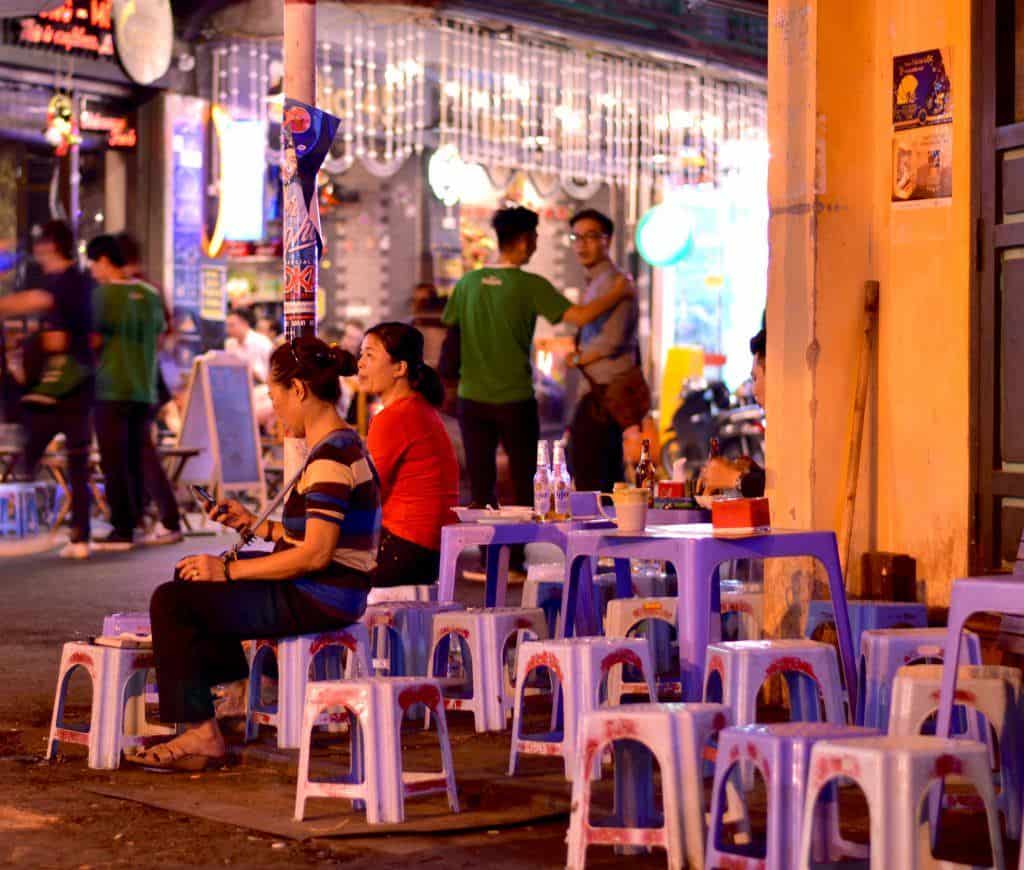 We arrived relatively early and so were in prime position to watch the area come alive as night rolled in. We loved watching the ladies come in with their baskets and set up pop up restaurants right there on the side of the road, complete with pans, crockery, chop sticks and chairs.
As the area got busier and busier the bar owners brought out more chairs until the whole street was packed with patrons sitting on these tiny plastic chairs. Despite there being almost no room left, somehow motorbikes and street vendors still managed to work their way through the street.
Travelling with a 5 year old we left relatively early and most likely before the place became too full of drunken tourists.
Despite being somewhat of a tourist trap, we absolutely loved Beer Street.
Day 3
Unfortunately the day did not start well. Something we ate in Beer Street clearly did not agree with Andy or I, and I can assure you it was not too much Beer. In addition I was starting to get a sore throat and did not feel very well at all.
Andy, eating way more food than me was much worse than me, and so having a small child to entertain I pulled the short straw to take her out for the day whilst Andy rested in bed.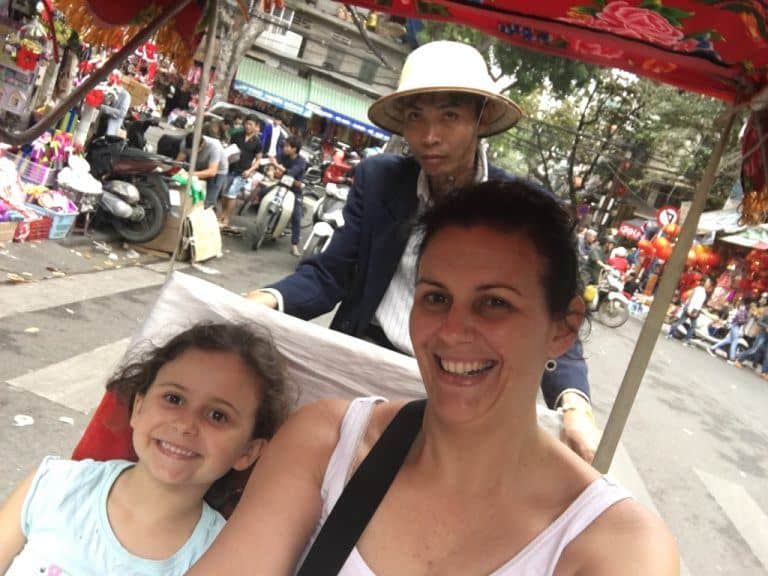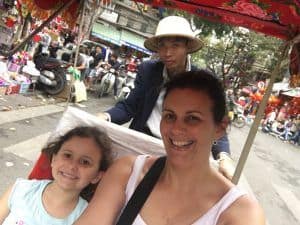 Myla and I set off on foot exploring the Old Quarter. Being the rabbit warren it is, it did not take us long to be completely and utterly lost! I had absolutely no idea where we were, but it was clear that we were no longer in the tourist area.
Soon after a cyclo came by and the driver asked if we wanted a ride. Myla had been at us to have a ride on one since we arrived so I thought this was a good way to pass time and to get our bearings again. The ride was for 1 hour and cost 170,000 Dong (approx. $10 AUD). This was a great way to see more of the Old Quarter.
In the afternoon Myla and I treated ourselves to more foot massages before returning to our hotel to find Andy still very unwell.
As I was unwell too we spent the afternoon in our room resting and actually even ordered pizza online for dinner.
Day 4
By day 4 things were not looking much better. I had become sicker, with a terrible throat infection. My throat was absolutely killing me. Andy, whilst feeling a little better was also still not well.
Given we would soon be leaving a big city I was wondering if I needed to see a doctor. I really didn't want to go to the hassle but I did not want to get any sicker. I did a fair bit of googling and discovered that you could buy antibiotics over the counter in Vietnam. So we all went to the nearest pharmacy and stocked ourselves up with antibiotics, Panadol and anti-nausea tablets.
Being our last day in Hanoi we wanted to make the most of it despite being ill so we dosed ourselves with medicine and set off.
Railway Village
I had read about a railway line which passed right through a residential area in Hanoi. I really wanted to check this out. So we made our way there by getting a taxi (you could walk but given we weren't well we got a taxi instead) to drop us off along Pho Phung Hung.
The railway line is still in operation with a train passing through twice a day. Apparently the locals know the exact time the trains will pass through and at these times, they ensure all their belongings and kids are inside their homes.
We took a short walk up the railway line, totally memorised by all that we saw. It was absolutely amazing to see houses 1 metre away from the railway line and people walking the railway line like it was a footpath, it was completely surreal.
Here some amazing pictures of the Railway Villages: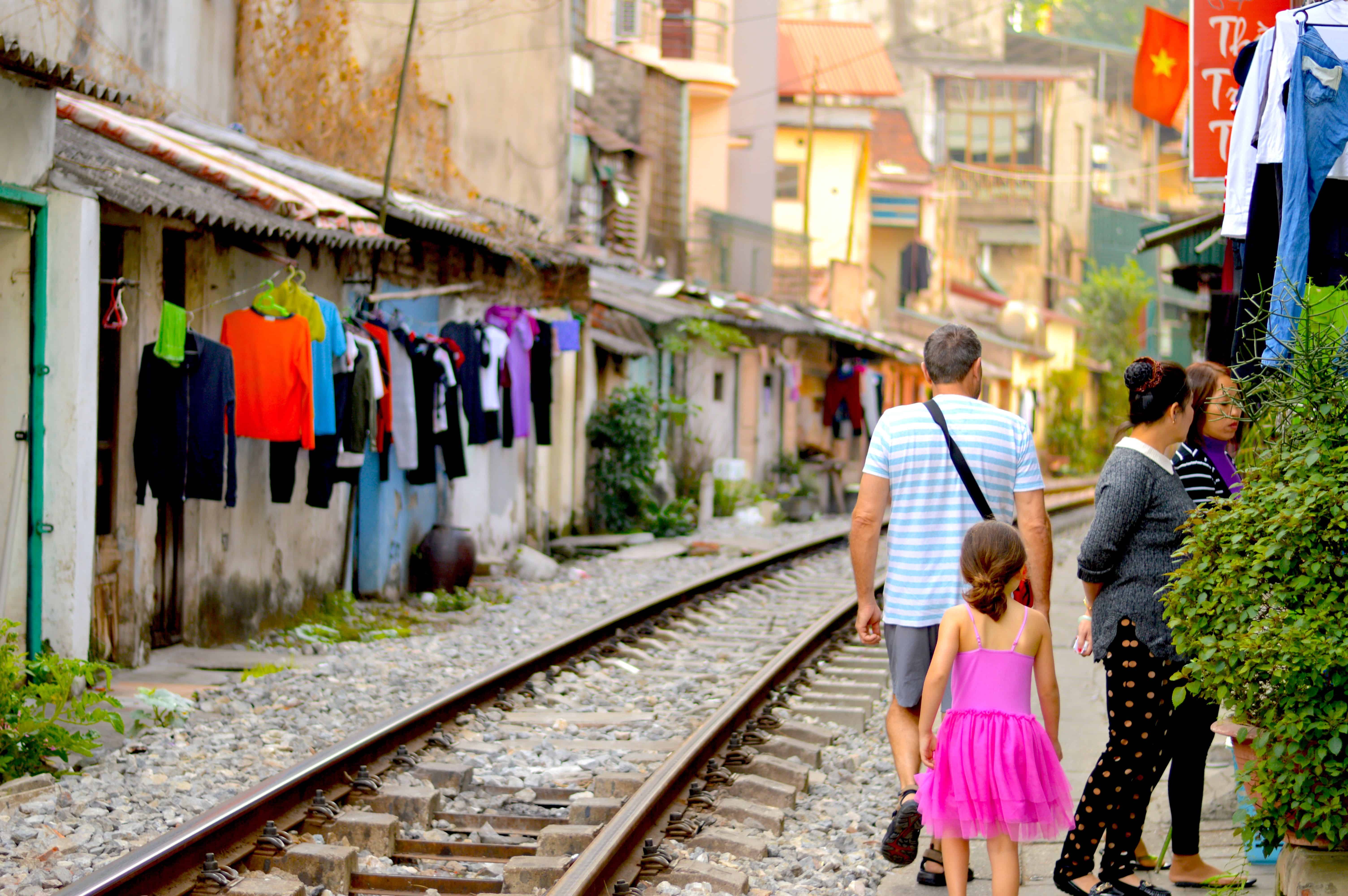 Day 5
We were up early and checked out of our hotel and headed to Halong Bay.
See our review on the Royal Palace cruise of Halong Bay.
Further Comments on Hanoi
Given I had been to Vietnam before, there were many places that are considered must see, that we did not do.
Other places you might like to see is the Ho Chi Minh Complex and the Water Puppets. I saw both when I visited before and to be honest I did not find either that interesting. But that is solely my opinion and many others would not agree with me so I have included them here for you to make up your own mind. Our friends over at The Wandering World provide a little more information on the Ho Chi Minh Complex and the Water Puppets, however they seem to have the same view as me about these attractions.
Other activities which I did previously which I loved is a cooking class and a day trip to Tam Coc. On this trip we decided to stay at Tam Coc so we did not take a day trip there, but if you do not stay in Tam Coc, I highly recommend you take a day trip there or to Trang An (both located in Ninh Binh).
Read my post on Ninh Binh for more information on Tam Coc and Trang An.
Number of days / nights needed
We spend 4 nights in Hanoi and 3.5 days. Given both Andy and I became ill during our stay in Hanoi we really needed this time to rest. However if we were both fine this may have been a little too long.
Hanoi is one of those places you can stay for a week, or see the highlights in 2 days. I have provided this information so you can work out what's best for your trip to Hanoi.
Arriving and Departing Hanoi
Hanoi was our arrival point from Australia. We had private transfers with Hanoi Private Transfers from the airport to the city. This took about 40 minutes.
Prior to having Myla I always just used local transport or taxis to make my way from the airport to the city. Once I began travelling with a small child I started to want to have no fuss when arriving to a city after a long flight and began arranging private transfers. On this occasion we used Hanoi Transfer Service but to be honest I wouldn't worry about arranging this – there are so many reliable cabs waiting at the airport just get yourself in one of these. They are cheap and despite what I hear people say, the taxis we used around Vietnam all used metres and were reliable. So just ensure when you get in they put on the metre.
Other ways to get to the city centre from the airport include the local bus.
We left Hanoi by the shuttle bus that was arranged for us by the tour operator we used for our cruise on Halong Bay.
If you are going to the airport from Hanoi there are plenty of tour operators in the Old Quarter offering cheap transfers to the airport or once again just get yourself into a taxi and ensure they use a metre. No need to arrange private transfers, even when travelling with small kids.
Accommodation
We stayed at a small hotel called Real Hanoi. It is in a fantastic location in an a laneway off Dinh Liet and only a few minutes' walk to popular streets like Ta Hien (Beer Street) and Hang Bac.

The hotel is in a very narrow and tall building. Unfortunately our room was 503, located on the 5th floor, which meant a lot of walking every time we came and left our room which I really did not like.
The room was basic with a king size bed and a single bed. The beds are hard and not very comfortable but what you would expect for basic Vietnam standards.
There is a small fridge and tv in the room with a small balcony looking out onto the alleyway.
The bathroom was what you would expect for Vietnam basic standards with either scolding hot or freezing cold water. It took us 2 nights of cold showers to realise we actually had to turn on the hot water!! The water flooded the bathroom after every shower.
Apparently internet is included, but we could not get it to work during our stay.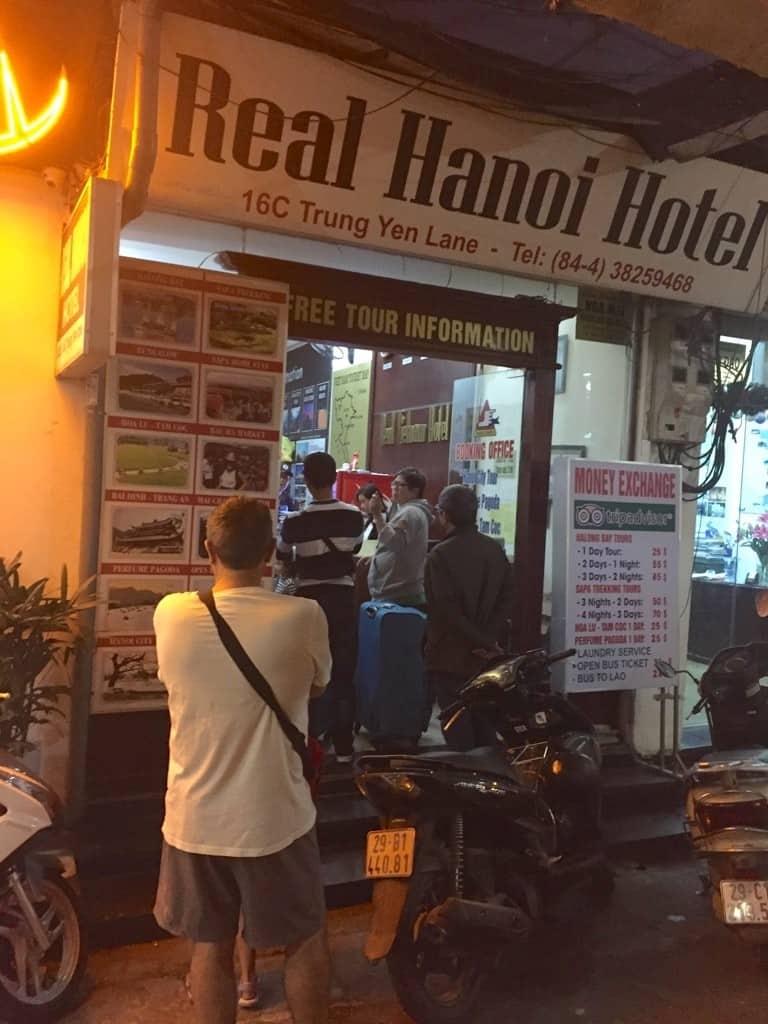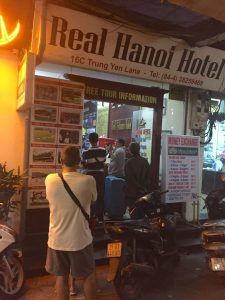 Breakfast is included and includes a typical Vietnamese baguette and either eggs cooked to our liking or jam. Water, tea or coffee is also included.
The family that run the hotel are very friendly and chatted to us whenever we came and went.
The hotel offers laundry for 30,000 VD (approx. $2 AUD) per kg and have it ready for you the same day you put it in.
We found the hotel worth the $25 AUD per night, including breakfast for 3 people. I would recommend this hotel for families, however try to request room on a lower floor. However if you prefer hotel rooms of a high standard I would book elsewhere.
We booked the hotel through Agoda and paid upon departure. Click here to make a booking for the Real Hanoi.
Prices
Below are some prices we paid for things in Hanoi, please note the Aussie dollars are approximate, whilst the dong amounts are exact:
400,000 VD (approx. $24 AUD) – full body massage 75 mins
70,000 – 100, 000 VD (approx. $4-$6 AUD) – meal for 1 person at western type restaurant
20,000 VD (approx. $1.20 AUD) – bag of prawn chips
170,000 VD (approx. $10 AUD) – 1 hour ride on cyclo
20,000 VD (approx. $1.20 AUD) – 5 min ride in taxi
15,000 VD (approx. $1 AUD) – kids balloon
20,000 VD (approx. $1.20 AUD) – souvenir magnet
20,000 VD (approx. $1.20 AUD) – child's head band
10-15,000 VD (approx. $0.60 – $1 AUD) – can of soft drink
10,000 VD (approx. $0.60 AUD) – large bottle of water
200,000 VD (approx. $12 AUD) – large pizza
If you want more information about how to get to Hanoi, what to see, getting around etc – Creative Travel Guide have a great post covering off on these topics too.