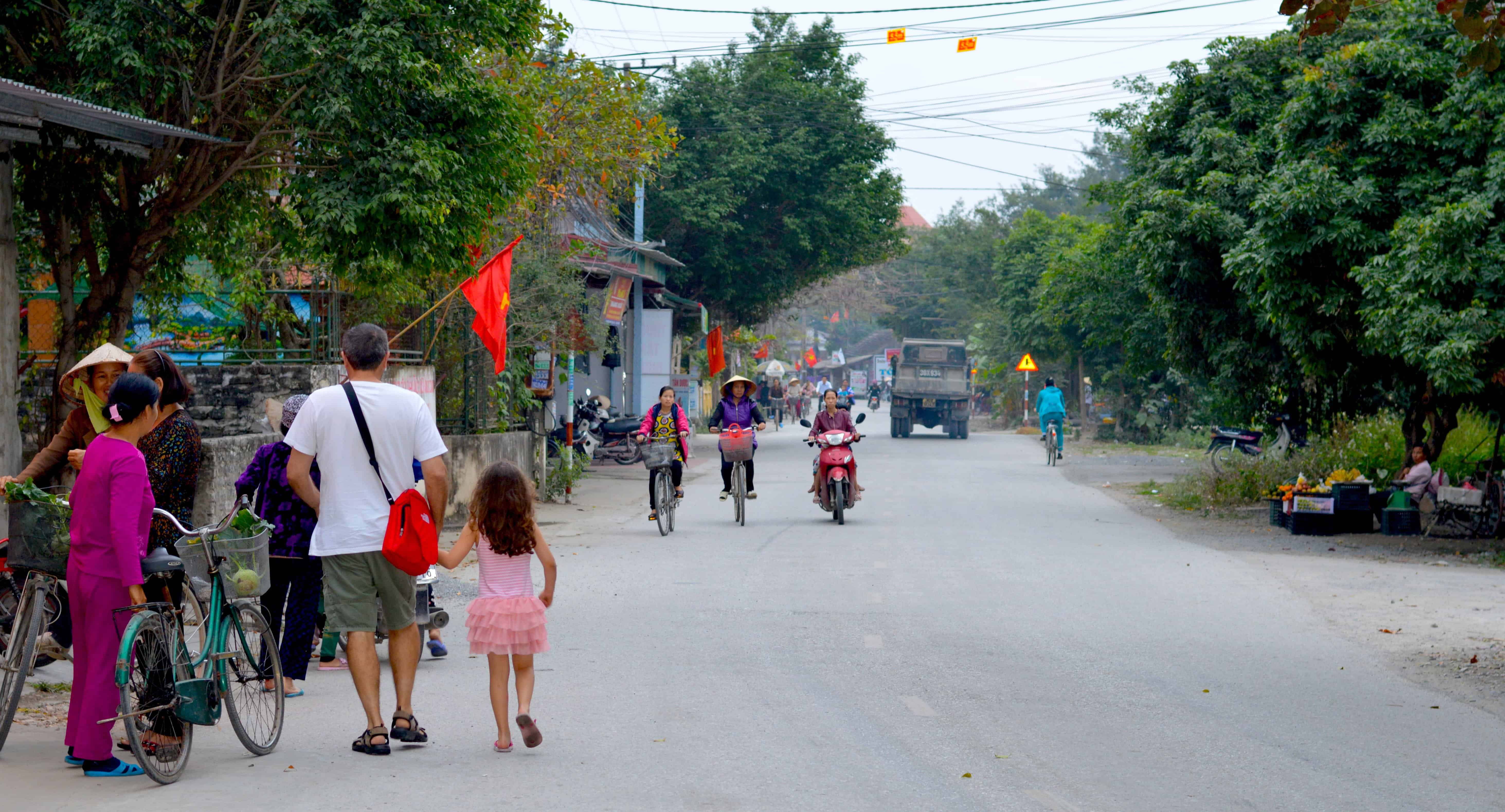 This post may contain affiliate links.
Ninh Binh is a small city in the North of Vietnam, 95 km south of Hanoi.
Whilst the city of Ninh Binh itself is nothing exciting, it is surrounded by stunning landscape of lush green paddy fields, striking limestone mountains and is a tourist hub for many sights and attractions.
Many tourists choose to visit the sights of Ninh Binh by an organized day trip from Hanoi. This is a great way to see 1 or 2 of the area's sites, but to see multiple sights you will have to stay at least overnight in the area.
Where to stay
Whilst many tourists choose to stay in the city of Ninh Binh, given we were only staying overnight, we choose to stay in the more picturesque area of Tam Coc. This is a perfect base to set yourself up in, particularly if you are short on time or the main purpose of your visit is to see the famous water ways of Tam Coc.
The main aim of our visit was to see Trang An. Both Trang An and Tam Coc are known as the inland Halong Bay due to the spectacular limestone cliffs coming out of the land surrounded by beautiful waterways. This is the main tourist attraction of the area with tourists being rowed around the water ways for a few hours to see the magnificent countryside.
During my previous trip to Vietnam 10 years ago I had taken a day trip from Hanoi to see Tam Coc. So for this trip I had decided to see Trang An instead. I had done a lot of research and many had said that Trang An was the more beautiful area, whilst others said they were similar. I have to say that now after seeing both I think they are both equally as beautiful and I would recommend you see whichever area is more convenient for your trip.
Stay at Tam Coc or Trang An?
So why did we choose to stay at Tam Coc if we were going to visit Trang An? Well there is no main tourist area in Trang An like there is in Tam Coc. Whilst there are various accommodation options in Trang An, it is spread out and the accommodation is isolated. So we decided to stay in Tam Coc where there are a variety of shops etc and to be closer to see other sights if time permitted. In hindsight it probably would have been just as easy to stay in Trang An, as we did not end up with any time to see any other sights.
If you decide to stay in Trang An, I highly recommend you stay at the Nguyen Shack – we were so close in booking this place. After staying at the Nguyen Shack in Can Tho I really wished we had stayed here. Search for pictures of the Nguyen Shack in Ninh Binh on Instagram, AMAZING!!! Check out the Nguyen Shack or make a booking here.
Our Hotel
We at stayed at the new hotel La Belle Vie in the main street of Tam Coc. The hotel is located a 5 minute walk from the ticket box for visiting the waterways of Tam Coc.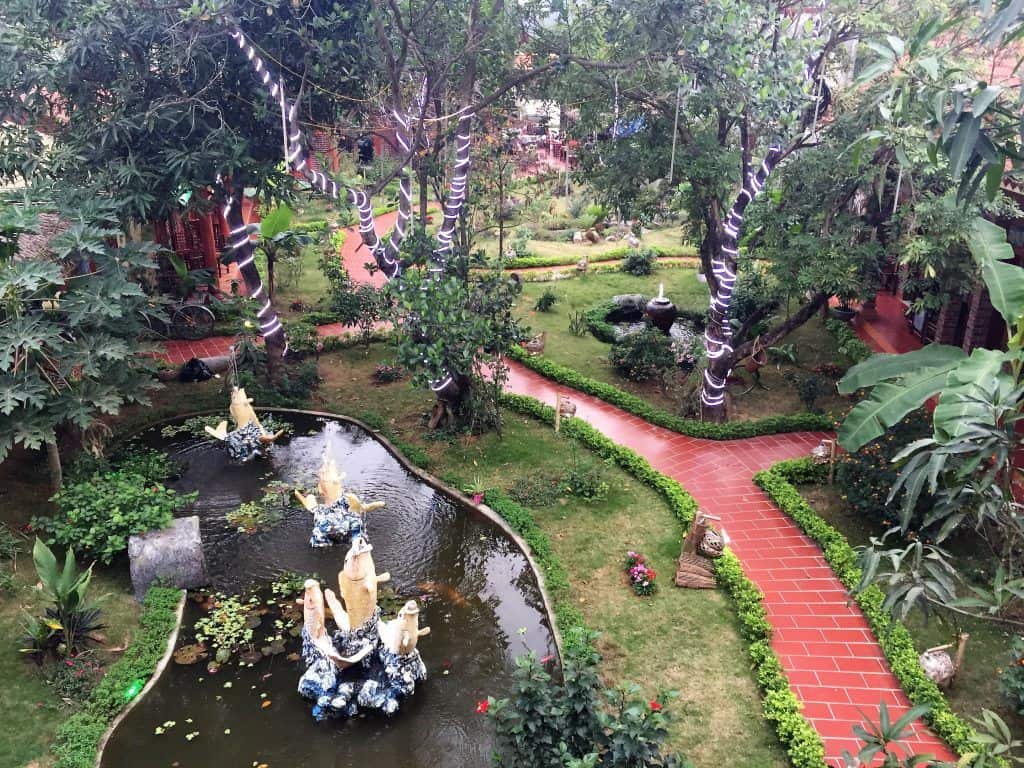 As soon as we arrived at La Belle Vie we were greeted by various very friendly staff members. We were given a map and a quick rundown of the area including times attractions were open and ticket prices.
Our room was massive! We had been upgraded to a huge family room (room 201) which included 3 double beds, a massive bathroom with a fantastic shower including hot water (not always a given when travelling on the cheap in Vietnam). The room looked out over the beautiful gardens of the hotel.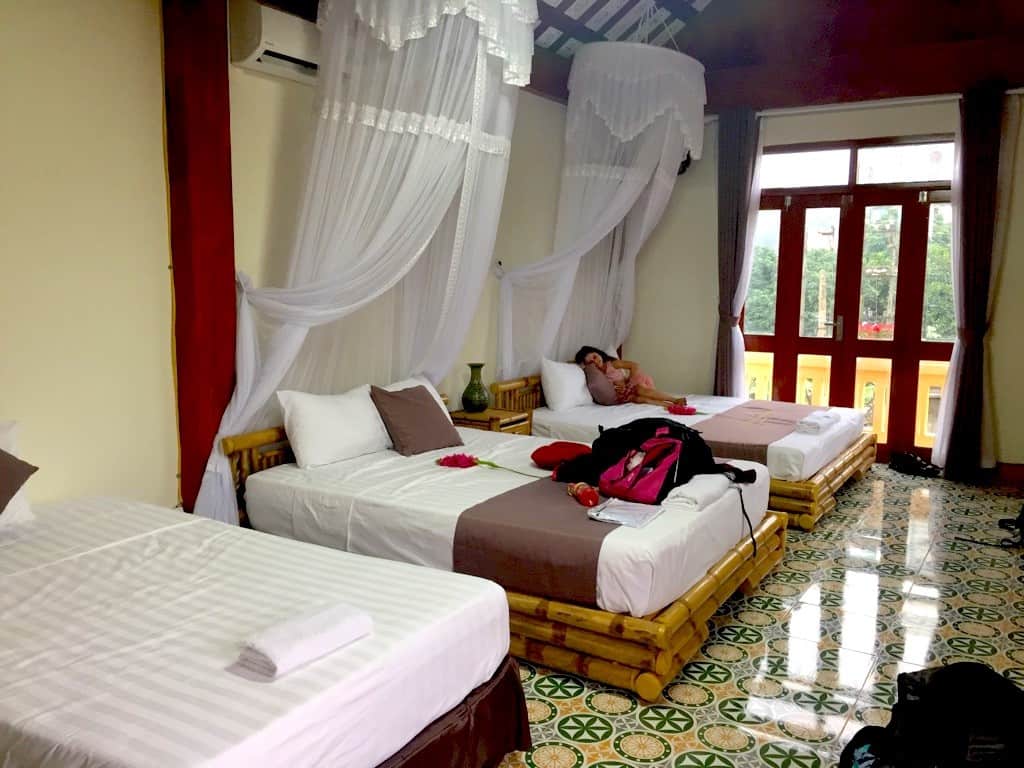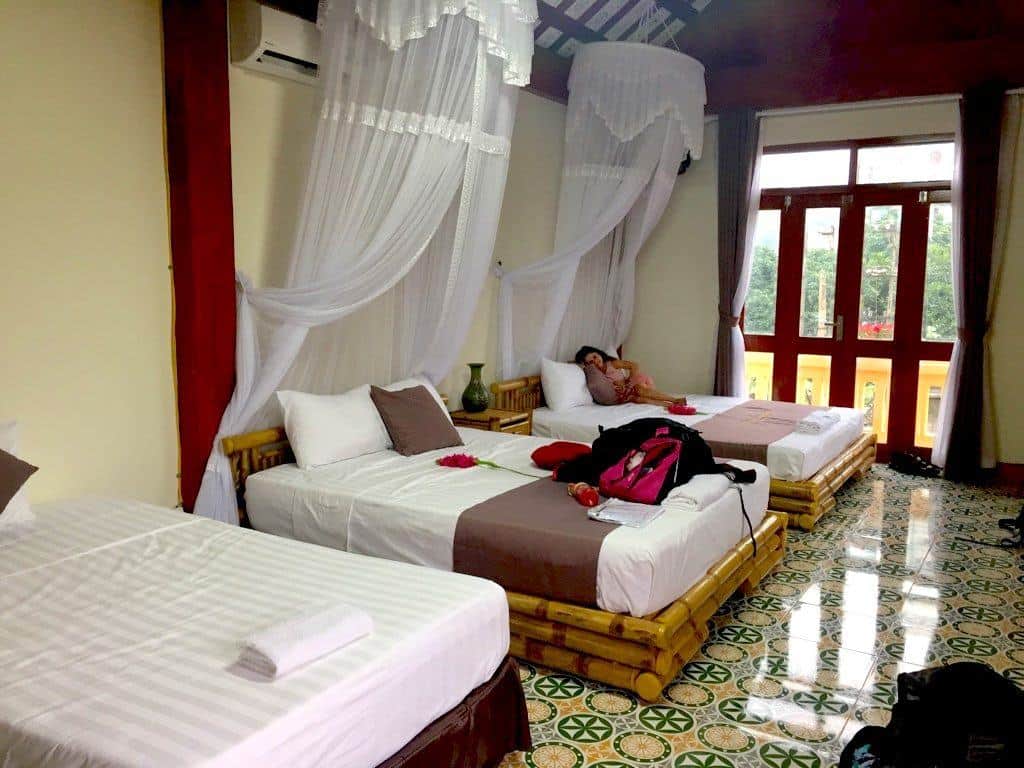 The hotel offers a laundry service and so we immediately put in some laundry. We go it back just as we left – so this was great service being less than 24 hours.
We had dinner in the hotel that night and I hate to say it – because I love this hotel, but the food was really terrible. The menu is huge and has loads of options and the food came out very quickly. I have a feeling it had been pre made and just heated as it was not very nice at all. Hopefully it will have improved if you go there, otherwise eat somewhere else, there are plenty of options just in front of the hotel.
The breakfast on the other hand was amazing! The waiter who was taking orders and bringing out the food was once again super friendly. On top of our breakfast we were given a huge fruit platter and Myla was even given a piece of cake – although odd for breakfast it was still a super nice gesture.
We were also very grateful because although check out was 10 am they allowed us to keep our room until 2pm. This allowed us to go out exploring for the day and leave all our stuff locked in the room. We also were able to come back, have a shower before heading to our next destination.
La Belle Vie would have to one of the best hotels we stayed in during our entire trip in Vietnam. The service was exceptional, every single staff member we came across was so friendly, the grounds were immaculate, the rooms were fantastic and the location was great– all for the awesome price of $40 AUD for the 3 of us including breakfast.
Check out La Belle Vie or make a booking here.
What to see & do
Day 1:
We arrived in Tam Coc around 4.30pm in the afternoon. We put our bags in our room and went straight out to explore the area.
The town of Tam Coc is pretty small. It only consists of 2 main streets really. It took us about 5 minutes to see everything. Really there is just a few hotels, shops and the rest are restaurants.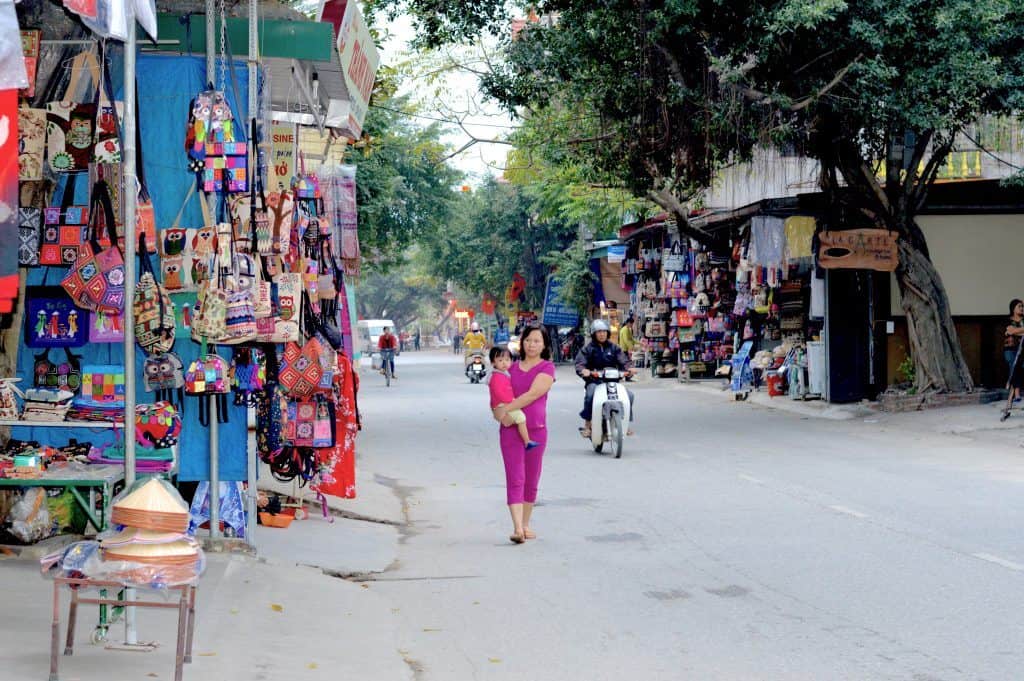 The main attraction in Tam Coc of course is the Tam Coc limestone cliffs and waterways.
We had had quite a big day of travel, so we returned to our hotel for a rest and then had dinner in the hotel.
Day 2:
We were advised to get to Trang An as early as possible as by 10 am all the tourist buses from Hanoi will have arrived and there would be hundreds, possibly thousands of tourists on thewaterways.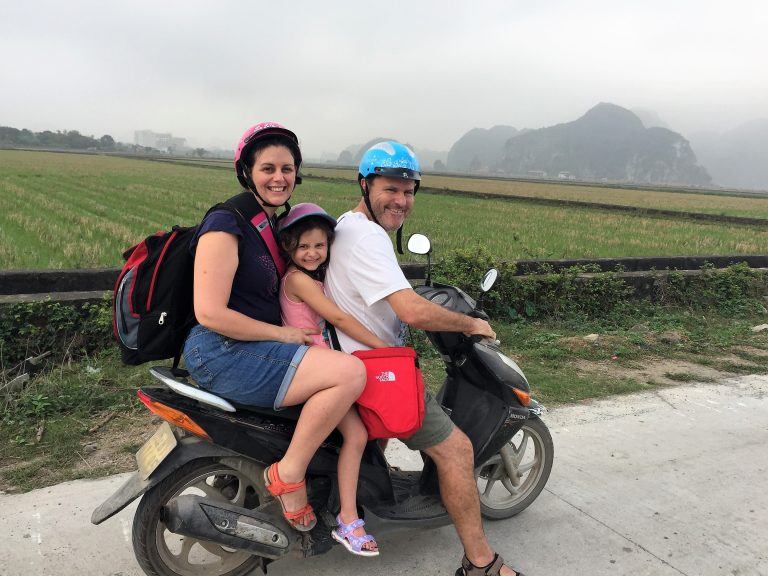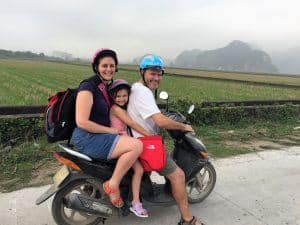 So we got up reasonably early and hired a motorbike from our hotel for 150,000 VD (approx. $9 AUD) for the day. It was another 65,000 VD (approx. $4 AUD) to fill it up with petrol.
The land is reasonably flat in Ninh Binh and there is minimal traffic so riding a motor bike or a bicycle is an ideal mode of transport to get around. We found this an ideal way of truly experiencing the local rural villages. In fact this may have been one of favourite days of our entire trip in Vietnam, exploing the villages on the motorbike. However if this is not an option for you just grab one of the taxis in the street or get the hotel to arrange a car for you.
Our Epic Adventure to Trang An
The 3 of us set off on our motorbike with a map in hand for Trang An. It was 12kms to Trang An.
After about 5 minutes on the main road we turned off into a small street which took us through the rural villages and alongside rice paddies and lakes. It was like nothing we had ever experienced before. Whilst we had driven past similar scenery before in the car, riding through the villages on a motorbike made us feel closer to these villages, like we were a part of it. It was truly amazing.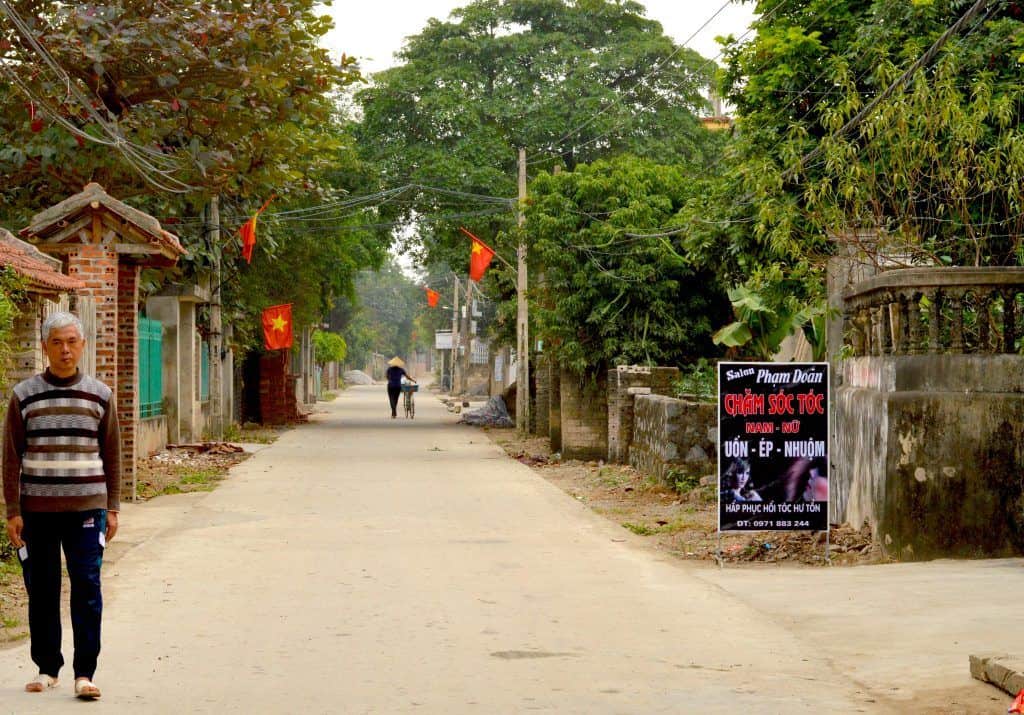 We stopped off at a very small shack to get some petrol. The petrol was pumped by an old fashion pump into our motor bike. The staff seemed pretty chuffed to see a family of westerners on a motorbike in town. One of the staff gave Myla some fruit – as usual making friends wherever she goes.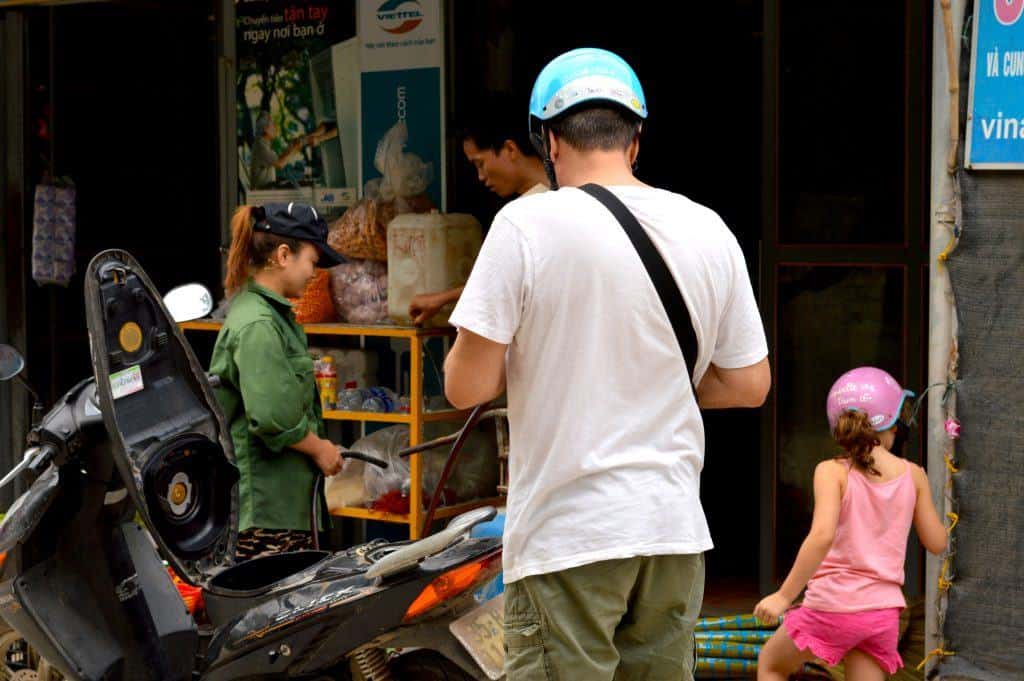 As we rode through the small lane ways we saw locals out and about, we called out "Xin Chao" (hello in Vietnamese) and waved to everyone we saw. At one point a cow turned the corner and walked towards us, not something we are used to seeing in the suburbs where we come from.
As we made our way out of the villages and into the countryside we came across a funeral procession. It blocked the entire road and we were forced to stop on the side of the road. It was a humbling experience to be able to witness such a private ceremony in Vietnam. The procession was loud, incense blowing was everywhere, people were singing and beating drums. Women were wailing loudly, and being held up by others as they were stricken with their grief for the dead. We were conscious not to intrude and kept our distance as the procession went by. We felt extremely privileged to be witnessing such a private moment.
Eventually, the procession turned into the cemetery and some of the locals involved in the procession helped guide us past.
We soon noticed something low and white across the road in the distance, something blocking the road way. As we got closer it appeared that it was moving, and making a noise. As we got closer still we soon realized it was a flock of white geese. We began to hear their noisy "honk, honk". It was something so unusual to us, that it had us all in hysterics! Myla of course thought it was amazing. As we got right up next to them, they slowly parted ways so we could move the bike through them. It was such a funny sight, seeing the geese running everywhere to get out of our way, honking as they went – we all thought it was hilarious and it certainly made our day.
Trang An
We were soon back on the main road and then arrived at Trang An. We paid our money to park our motorbike – 10,000 VD ($0.60 AUD). This was located on the opposite side of the Trang An complex and just past the parking area for the tourist buses.
We appeared to be one of the first visitors at Trang An – there were no line ups and so we walked right up and bought our tickets. Tickets were 150,000 VD (approx. $9 AUD) per adult and 80,000 VD (approx. $5 AUD) per child.
The first thing I noticed which was different to Tam Coc was how grand the Trang An complex is. The Tam Coc complex is nothing more than a bitumen carpark and tiny shed to purchase tickets – but Trang An was huge with modern looking building containing shops for souvenirs and restaurants and cafes.
Once inside the grounds we had no idea where to go, so we just headed for the water. Along the water are hundreds and hundreds of women sitting on the water edge with their tiny row boats. We could see nowhere that appeared to be the front of the line, so we just walked up to one of the ladies. They immediately pointed is us in another direction.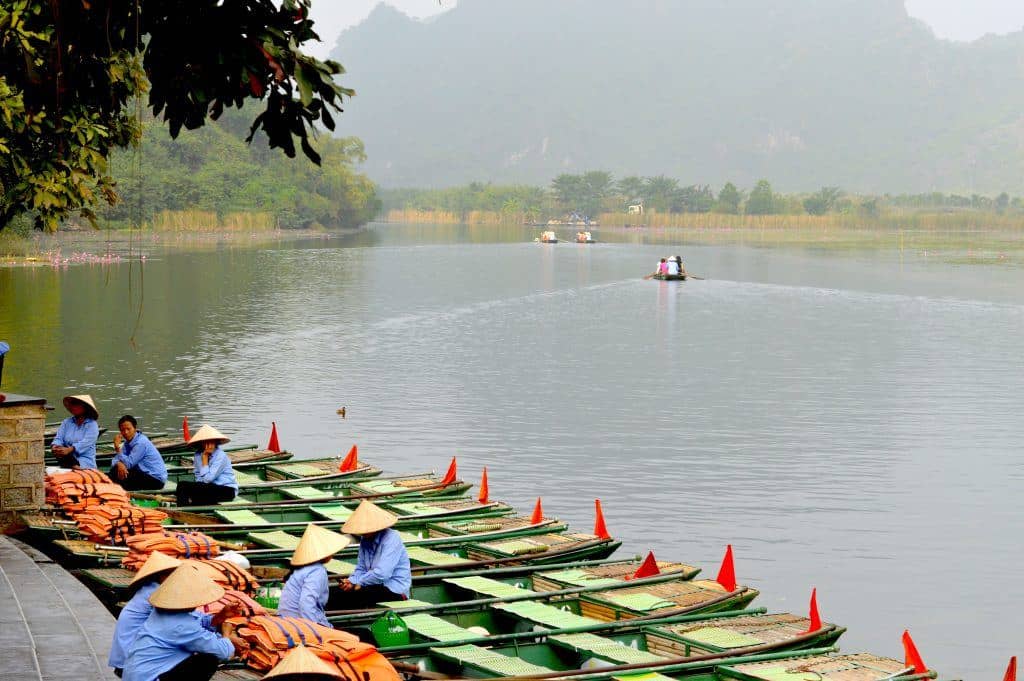 We had no idea where to go, everything was in Vietnamese and no one appeared to speak English. We walked around aimlessly for a quite a while until we eventually saw some turnstiles which appeared to be the front of the line. We entered the turnstiles and where then told we could not go until 2 more people came. So we waited for about 10 minutes and 2 Vietnamese tourist came and we were guided into the very first boat with them.
For anyone going to Trang An – the front of the line is to the far right of the complex – that is if you were on the road looking at it.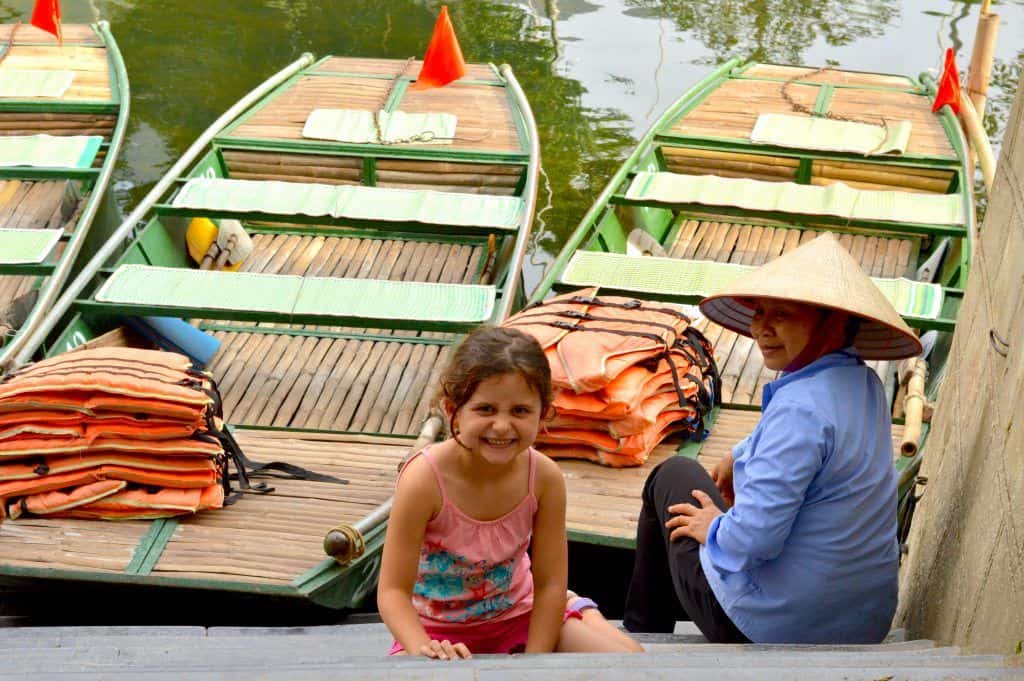 We then embarked on a slow, approximately 3hour boat ride through the various waterways of Trang An. The scenery was spectacular; it was like being in another world. We passed the beautiful limestone cliffs and even through them via a fantastic system of caves. Some caves were so low that we had to lie back in the boat. It was surreal that this was all natural, we kept saying it felt like being on a ride at a theme park.
During our journey we passed several temples isolated on tiny little islands. We were given the option of getting out and exploring them but we only chose to get out on one island at the recommendation of the Vietnamese tourists with us. To get to the temple we were required to walk about 5 minutes up extremely steep stairs. It was really hard going and after a while, I decided not to go any further. Andy and Myla however went all the way, however when they returned they said the temple was not very exciting , although they said the Vietnamese tourists seemed to like it. So if you get the option, skip the temples and just enjoy being rowed around the waterways.
Once we returned to the start we noticed the Vietnamese tourist tipped our rower 100,000 VD (approx. $6 AUD) so we did the same.
Of course Myla had befriended the Vietnamese couple and so there were hugs all round as Myla said good bye and had a few selfies with them. They even bought her an ice cream!
Hang Mua
We then began our journey back to Tam Coc on the motorbike. I had wanted to stop at Hang Mua on the way back as I heard the views of Ninh Binh were out of this world at the top. Hang Mua is located only a few kilometres from Trang An. Once we arrived at Hang Mua and we saw just how many stairs there were to get to the top, and given we only had about 90 minutes until a car was coming to pick us up to take us back to Hanoi we decided against going up.
If you have the time in Ninh Binh please go up to the top of Hang Mua and send me a picture!!! I am quite disappointed that we missed out of this. Again look this up on Instagram the view is amazing!!
Once we arrived back in Tam Coc we had time for a quick bite to eat. We had lunch at Fathers Cooking as it was well recommended on TripAdvisor. In my opinion, it was ok, but certainly nothing I would be recommending to you guys. Lunch cost us 249,000 VD (approx. $15 AUD) for 3 small meals and 3 drinks.
We returned to our room at La Belle Vie and checked out. As we were leaving the staff at the hotel gave us gifts – small little fabric pencil cases – which I thought was very sweet.
We were picked up in a private car at 2.30pm for the 2.5 hour drive to Hanoi Airport for our fight to Danang.
Other Activities in Ninh Binh
We were in Ninh Binh for less than 24 hours, so we did not see much during our stay.
If you're in Ninh Binh for a little longer here are a list of other things you might like to see:
Tam Coc – similar to Trang An
Bich Dong Pagoda – located a few kilometres north of Tam Coc, it is a cluster of cave temples. There is a lower pagoda, then 100 stairs to the middle pagoda then a short but steep climb to the upper pagoda. Each level offers stunning views of Ninh Binh.
Phat Diem Cathedral –beautiful ancient Vietnam church
Thung Nham – bird garden 50 minute drive from Tam Coc
Thai Vi Temple – small temple located about 1 km from Tam Coc
Number of days / nights needed
Depending upon what sites you wish to visit in Ninh Binh will really depend upon how long you stay here. 2 days would be ideal, but we also found our whirlwind trip of less than 24 hours fine to see what we wanted to.
You can of course also do a day trip from Hanoi which I recommend if you don't have a lot of time.
Arriving and departing the city
We arrived by private car from Halong Bay. This was arranged directly with La Belle. It cost around $100 UD for the 4.5 hour trip. I understand there is also a bus that you can catch from Halong Bay.
We also left Ninh Binh by private car, which was once again arranged by La Belle. This cost us $85 AUD And took 2.5 hours. We went straight to the airport for our flight to Danang.
There is also a train from Hanoi that stops at Ninh Binh so this is a great option for those coming and / or going to Hanoi.