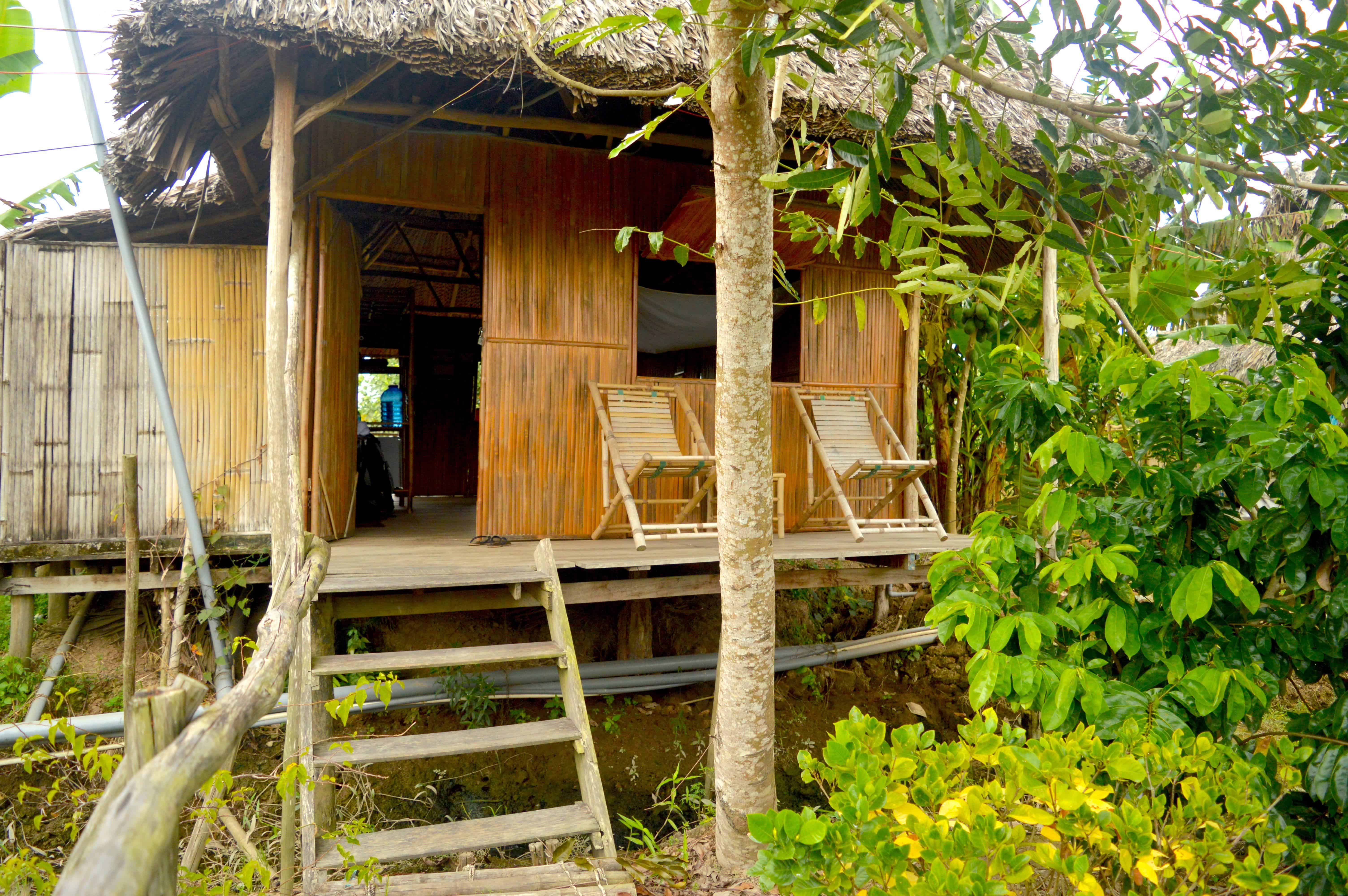 This post may contain affiliate links
For those wanting to experience an authentic family friendly home-stay in the Mekong Delta – you can't go past the Nguyen Shack.
The Nguyen Shack is located 6 kilometres from the city centre of Can Tho on the gorgeous waterways of the Mekong Delta.
When doing my research on where to stay in the Mekong Delta, I stumbled across the Nguyen Shack on TripAdvisor. On TripAdvisor it has a 4.5 star rating on TripAdvisor from 459 reviews and is listed as the number 1 place to stay in Can Tho. So I knew I was on to something.
Our Arrival
As soon as our cab pulled up outside the Nguyen Shack – we were immediately greeted like family. Kye, a lovely young male staff member came straight over to help us get out our bags. It felt like we had been away somewhere and had arrived home.
Kye led us into the open air dining area and got us a delicious welcome drink of lime juice and then took us to our shack and told us a little about the Nguyen Shack.
The Shacks
The Nguyen shack is set up with one main shack (which is nothing more than a large room made out of bamboo on stilts completely open to the elements) which houses the dining room and then various smaller individual shacks which are the guest rooms.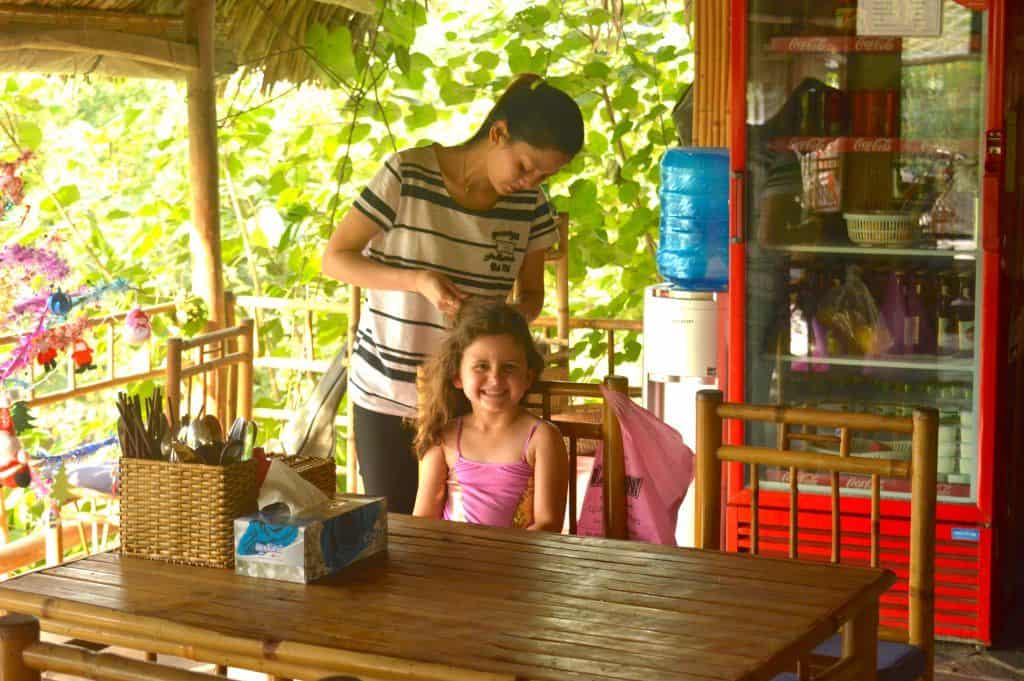 To reach the individual guest rooms, you take the large swing bridge over the water. Getting over the swing bridge the first time was quite a challenge. We were all in hysterics as the bridge moved side to side whilst we made our way across.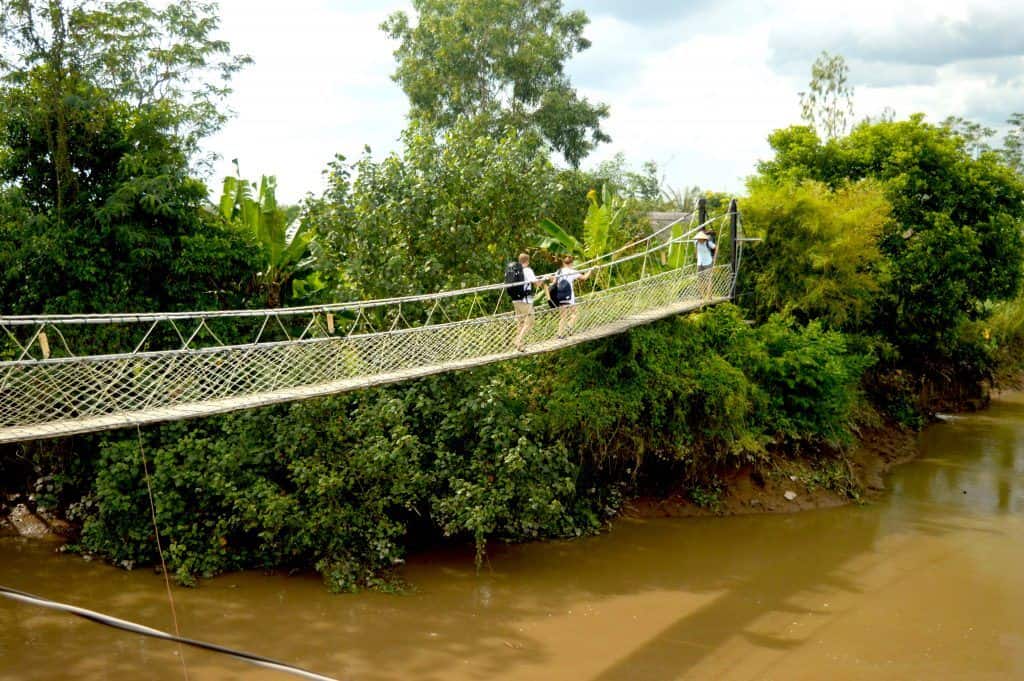 On the other side of the swing bridge there is a short walk through a dense garden of banana and papaya trees. You must also overstep a few cats and dogs who have no intention of moving out of the way of anyone whilst they take their naps in the middle of the path.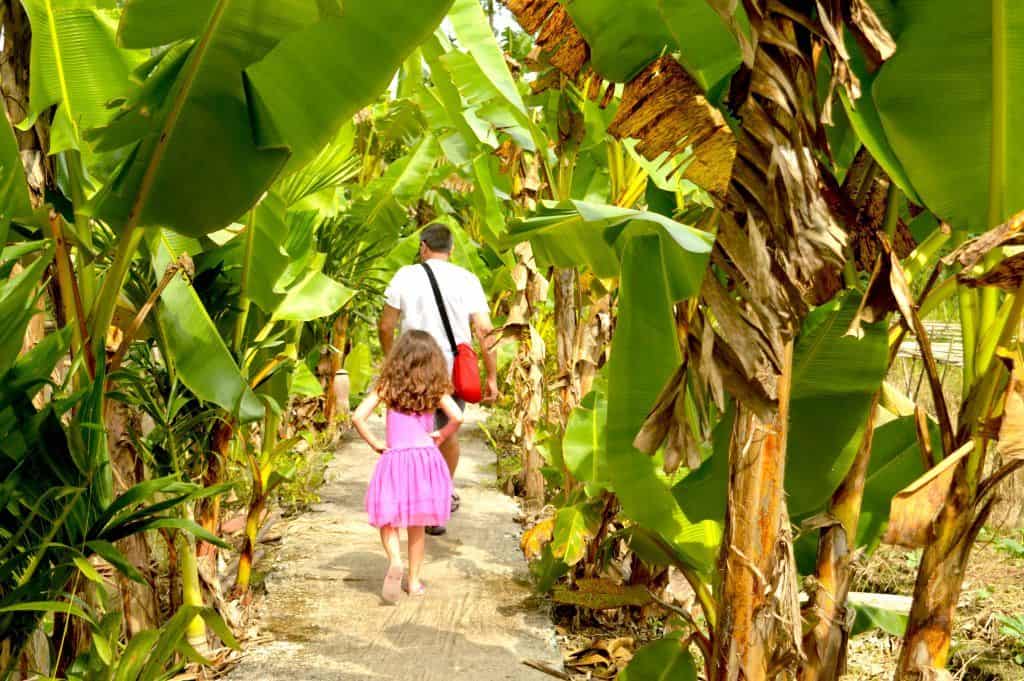 You then turn to the left and take another path where all the guest shacks are. To reach your shack you must then walk over a rustic bridge built over a small creek. The walk from the main shack to the individual shacks takes no more than a few minutes.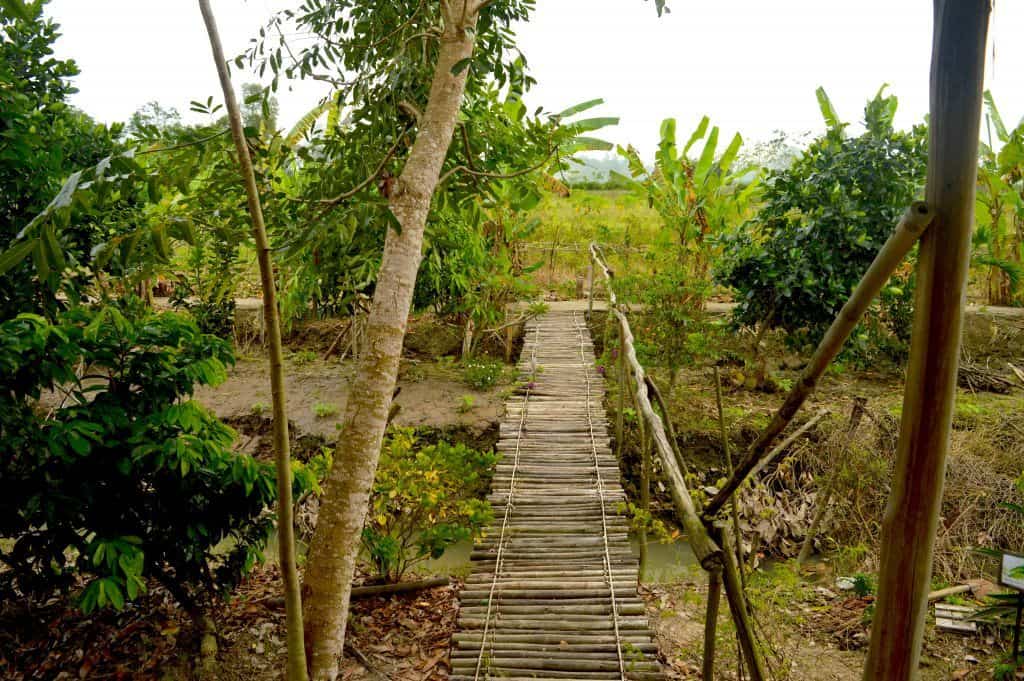 The accommodation shacks are also on stilts with balconies overlooking the Ong Tim River complete with hammocks for the ultimate relaxation. We loved spending our time out here swinging in the hammock just unwinding.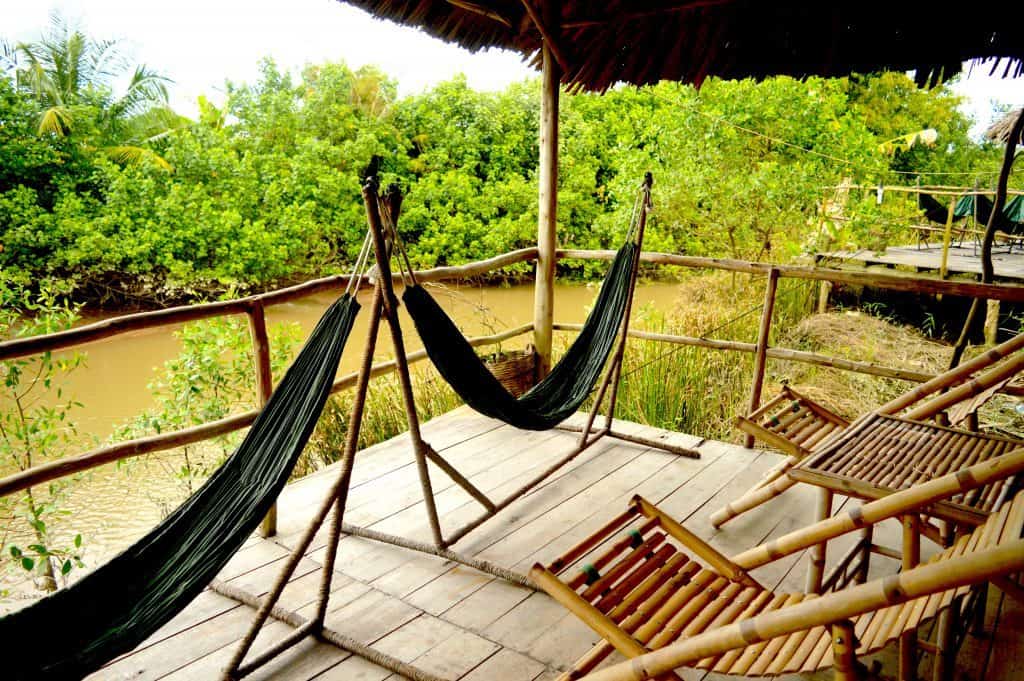 Whilst the rooms appear basic they are full of all the modern necessities like wi-fi, fridge and fans. Also provided is drinking water and a variety snacks. There was even some chop sticks on our bed as a gift which I thought was very sweet.
Andy's and Myla's favourite part of the shack was the huge outdoor bathroom completely exposed to the elements. Given it was quite hot during our stay, these two kept hoping in here having a cool off.
We stayed in room number 9 and the cost was $49 US (approx. $65 AUD) per night which included breakfast. Please note this price for 2 adults and 1 child under the age of 10 years.
Tours
The Nguyen Shack offers fantastic tours and activities, so you can experience everything the area has to offer. These include:
Can Tho Food Tour – $20 US (approx. $27 AUD) per person and run from 4.30 pm to 9.30 pm daily.
Floating Markets – $10 US (approx. $13 AUD) per person and start at 5.30 am, returning around 8 am.
Bike Village Tour – costs $8 US (approx. $10 AUD) per person and leaves each morning at 9 am returning around 12pm.
Fish Spa – put your feet into a large pond of fish and let them eat the dead skin off your feet. This is free!
Cooking Class – Learn how to cook Vietnamese food, you can choose anything on the menu. Classes run from 1-3 pm daily and cost $12 US per person.
Boat Ride – Ride on the small river of Mekong Delta to discover the natural landscape and to see the local people way of life on the river. Tours run 4 pm to 530 pm and cost $5 US per person.
During our stay at the Nguyen Shack we took the Can Tho food tour, floating markets tour and the bike village tour.
Read our post about the tours available for more information.
Number of days / nights needed
We stayed at the Nguyen Shack for 2 nights and had 1 full day and 2 half days. Whilst this was enough time to do everything we wanted to do, I would have liked to have more time to simply relax here.
We originally had booked flights to leave Can Tho much later on our last day at the Nguyen Shack. Unfortunately these flights were cancelled and so we had to travel overland to our next destination and therefore had to leave early in the day. Perhaps spending a few more hours at the Nguyen Shack as we had originally planned would have been ideal.
I'd recommend you at least spend 2 nights here, 3 if you have the time.
How we arrived and departed the city
We came to the Nguyen Shack from Ho Chi Minh City in a private car. This cost $100 US and was arranged via Hanoi Private Transfers. You can also get a bus to Can Tho from Ho Chi Minh City but by the time you pay to get to the bus station in Ho Chi Minh City, pay to get from the bus station in Can Tho to Nguyen Shack – for 3 people it works out better value to get a car the whole way. The journey took about 3 hours.
Our next destination after Can Tho was Phu Quoc. We had initially booked flights for this leg of the trip, however the flights were cancelled and we were forced to go overland to Rach Gia and catch a ferry to Phu Quoc. This worked out much cheaper – but took most of the day. Flights a pretty cheap so I would recommend this option for others doing a similar itinerary.
The staff at the Nguyen Shack arranged a car to take us to Rach Gia at the cost of $70 US (approx. $93 AUD) and the trip took 2 hours.
The ferry to Phu Quoc costs 350,000 VD (approx. $20 AUD) per person and 250,000 VD (approx. $15 AUD) per child. Ferries leave at 8am, 9am, 12,40am or 1pm and takes 2.5 hours to get to Phuc Quoc.
Prices
Below are some prices for things we purchased whilst at Nguyen Shack:
Accommodation per night for private room including breakfast for 3 people – $49 US (approx. $65 AUD)
Main meal – $3.55 – $4.45 US (approx. $5 – $6 AUD)
French Fries – $2.20 US (approx. $3 AUD)
Spring Rolls – $2.20 US (approx. $3 AUD)
Fruit Smoothie – $1.15 US (approx. $1.50 AUD)
Local Beer – $0.70 US (approx. $1 AUD)
Diet Coke – $0.70 (approx. $1 AUD)
Food Tour – $20 US (approx. $26 AUD)
Floating Market Tour – $10 US (approx. $13 AUD)
Bike Tour – $8 US (approx. $11 AUD)
Cocktails – $2.25 US (approx. $3 AUD)
Final words on the Nguyen Shack
The Nguyen Shack is super family friendly. The staff are so warm and kind to the kids, Myla absolutely adored them.
The whole place is just one huge playground for the kids with animals such as pigs, cats, dogs and fish to watch, pat and play with. Myla loved walking over the swing bridge and other little bridges to reach our shack.
This place is amazing and I cannot recommend it enough.
Want to keep this for later? Click on the image below and pin to Pinterest.