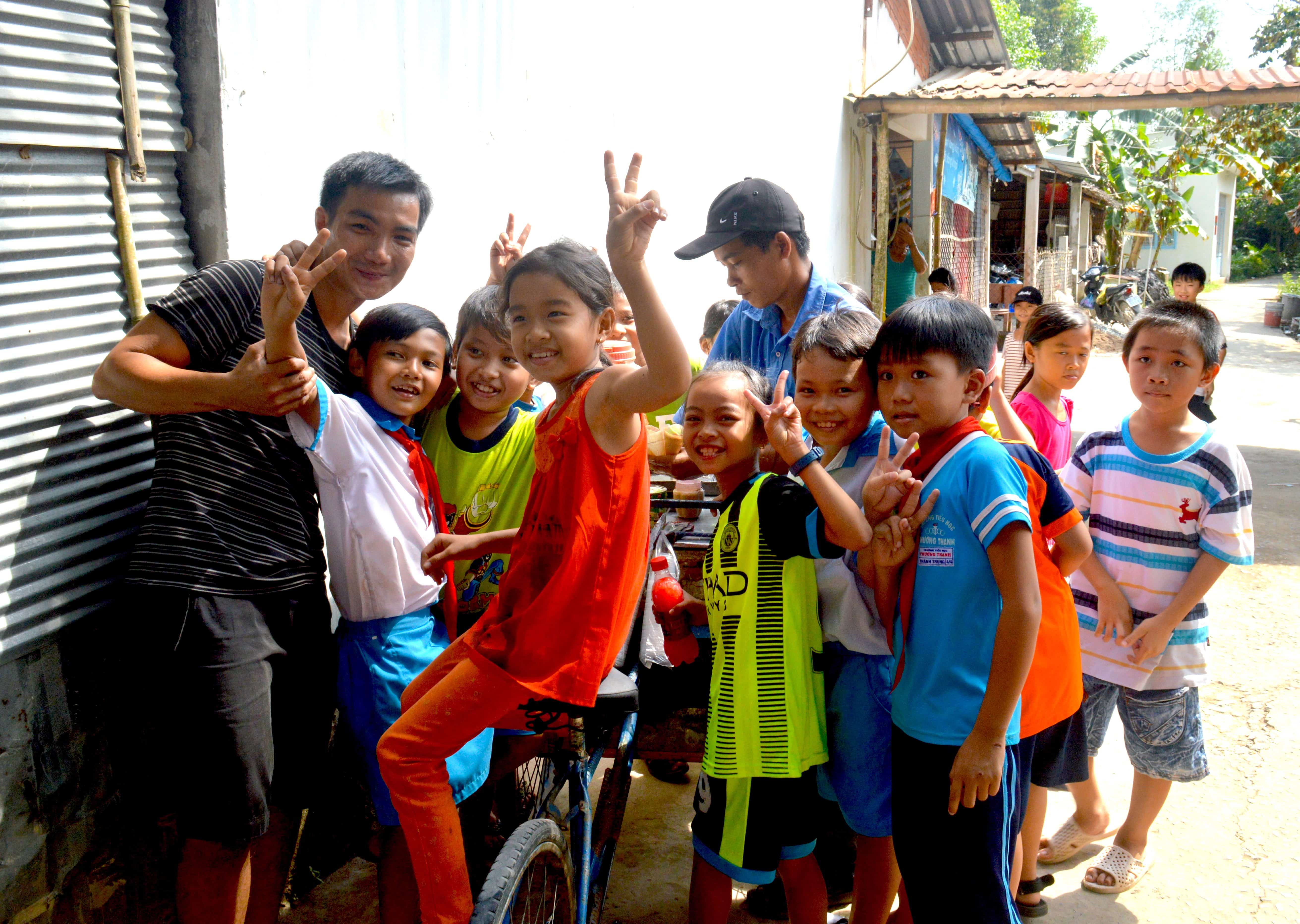 The Nguyen Shack offers fantastic tours and activities, so you can experience everything the area has to offer.  These include:
Can Tho Food Tour – $20 US (approx. $27 AUD) per person and run from 4.30 pm to 9.30 pm daily.
Floating Markets –  $10 US (approx. $13 AUD) per person and start at 5.30 am, returning around 8 am.
Bike Village Tour –  costs $8 US (approx. $10 AUD)  per person and leaves each morning at 9 am returning around 12pm.
Fish Spa – put your feet into a large pond of fish and let them eat the dead skin off your feet.  This is free!
Cooking Class – Learn how to cook Vietnamese food, you can choose anything on the menu. Classes run from 1-3 pm daily and cost $12 US per person.
Boat Ride – Ride on the small river of Mekong Delta to discover the natural landscape and to see the local people way of life on the river. Tours run 4 pm to 530 pm and cost $5 US per person.
During our stay at the Nguyen Shack we took the Can Tho food tour, floating markets tour and the bike village tour.
Can Tho Food Tour
To get to the city, you are taken by speed boat right from outside the Nguyen Shack dining room.  The boat ride to Can Tho took approximately 90 minutes and was a wonderful way to catch our first glimpses of life on the Mekong Delta.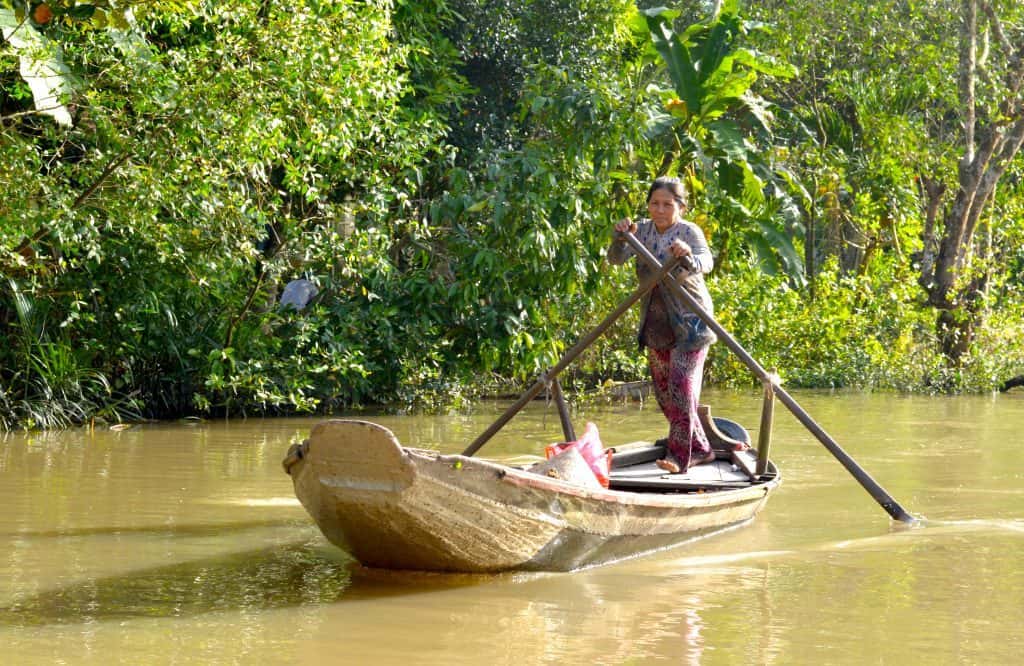 There are so many shanty type houses built over the water which appear to be falling apart.  Kye told that the land by the water is very cheap and so the very poorest of people live on the river.  They build their own homes out of whatever material they can find and must continue to rebuild their homes over time as they fall apart.
We saw women cleaning clothes or preparing vegetables in the water as well as kids swimming.
It was certainly an experience getting a glimpse into these people's private lives.
Our guide, Rose was very friendly moving around the boat during the journey getting to know the guests a little more and telling us a little about local life.
Myla took a liking to Rose and spent at least half of the boat journey siting with Rose talking and drawing in Rose's small note book.
Once the boat moored in Can Tho it was only about a 5-minute walk to our first food stop.
Now I will say up front that I am not very adventures with food, particularly meat.  Whilst I am not a vegetarian I eat very little meat and am extremely fussy with what meat I do eat.  So I had no intention of eating any of the meat served on this food tour.  I was solely relying on Andy to provide the verdict on the meat served.  However, I was still keen on doing the tour as a way of visiting various restaurants in Can Tho and getting to see the city.
Snake, Crocodile and Rice Wine
The first place we stopped at was a restaurant called Phuong Nam.  At this restaurant we were served cobra curry, crocodile with French fries and rice wine.
Andy really liked the cobra curry saying it tasted somewhat similar to pork or chicken.  He was not a fan of the crocodile though saying it did not have much flavour.
I did try the rice wine though, but did not like it. I'd describe it as tasting like potent bad wine.
For those like me who don't want to eat crocodile or cobra, you can order something else.  Myla and I had fried rice.
Beef Crockpot, Rat and Frog
Our next stop was about a 10-minute walk away and was a hole in the wall type place with long tables on the side walk with tiny childlike chairs.  This is the sort of venue I love eating at in Vietnam, being outside among the locals.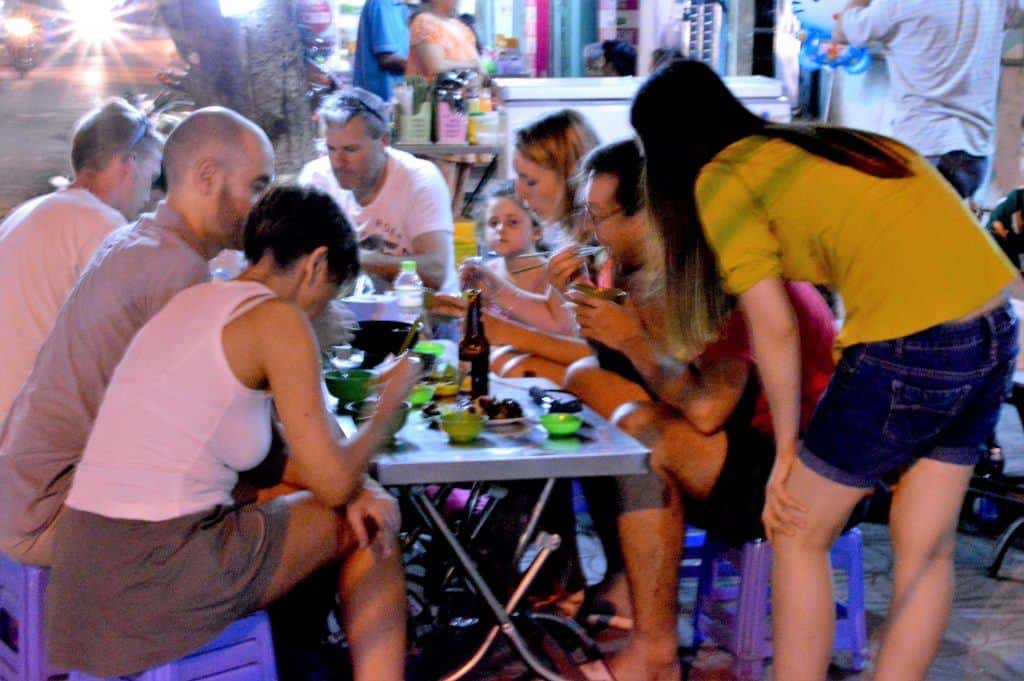 Once we were seated a cooker was placed on the table with a crock pot.  Inside was delicious looking beef casserole cooking right before us.  The waiter then cracked an egg into it and stirred it around.  Everyone said that the beef casserole was delicious.
Then for the real interesting meals of the evening – rat and frog.  The rat was served in tiny little pieces and Andy said he actually liked it, saying it tasted similar to quail.  The frog looked like tiny little chicken wings, which Andy said was ok but that it did not really have any flavour to it.
DIY Pork Rice Paper Rolls
Our next stop was at a local restaurant, where out the front a lady was cooking minced pork on a bbq and inside ladies where preparing plates of salad.
Once we were seated we were served everything you need to roll your own pork rice paper rolls.  I did eat these and they were pretty nice.  However unlike in Australia they don't wet the rice paper and so the rolls are quite crunchy which was a bit odd to us.
Dessert
Our final stop for the evening was in an area of Can Tho by the waterfront where there were heaps of street vendors lined up selling various food.
Rose bought us some sugar cane juice to try.  Neither Andy or I liked this, far too sweet for us.  Myla thought it was great at first, but even she decided it was too sweet for her and could not finish it.
We then went to a vendor who was making what is called ice cream rolls.  Basically they poor milk onto a frozen surface and make ice cream right before your eyes.  A flavour (like bananas or strawberry) is added to the milk as it is becomes ice cream.  Once its frozen they spread it out into a thin layer on the frozen surface and then scrape it off rolling the ice cream as they go.  The ice cream rolls are then served into a cup.  This would be our first of many ice cream rolls in Vietnam – we loved them!
It was then time to head back to the Nguyen Shack.  We walked about 5 minutes back to the boat and began the journey home.  The ride home was very peaceful in the pitch darkness except for the odd fire flies we saw in the trees.
We arrived back at the Nguyen Shack around 9.30 pm.
Cai Rang Markets
Floating Markets
The Nguyen Shack takes visitors to the Cai Rang floating markets, the biggest floating markets in the Mekong Delta.
We did the tour on our second day and had Kye as our guide.
Again we boarded the speedboat right in front of the dining area at the Nguyen Shack.  When we boarded the boat it was still completely dark, but as we made our way towards the markets, we were able to see the sun rise and watch the local people start their day.
It took about 40 minutes to get to the markets and once we arrived it was already all happening.
There were large boats piled high with fruits and vegetables and smaller boats pulled alongside them whilst men and women manually put their purchases into the boats.  As a way of advertising what the farmers are selling – they hang the fruit or vegetable on high on stick which is placed at the front of their boats.
My favourite boats were the small boats generally operated by women, selling coffee, baguettes and drinks.  There are even ladies cooking pho right there on their tiny boats, like little mobile cafes.   If someone wants to buy something, the sellers clip on a little anchor to the buyers boat, in order to keep the boats together.  They can then sell you whatever it is you are after without the boats floating apart mid purchase.
For the ladies selling pho, they serve their customers in bowls just like at any other café, however, they keep their boat clipped to yours and wait for you to eat so you can return the bowl and cutlery once you are finished.
Land Markets
After visiting the floating markets our boat took us to the Cai Rang land markets.  We really loved these markets, they were a real eye opener for us westerners!
We saw some really crazy stuff.  I can't list everything, but probably the craziest thing I saw was skinned and headless frogs in a large shallow bowl which were actually still jumping!!!  I didn't even know this was possible???
We also saw pig heads, pig legs, pig eyes, pig tongues, pig hearts, pig livers, pig lungs – anything that came out of a pig we saw it, hanging there or in a bowl.  Oh and skinned rats too!  Not even joking!!
Of course the markets sold all the usual things you would except from an Asian market like eggs, fruit, vegetables, clothes, homeware, fish and crabs.  Seriously every food imaginable was sold at this market.
Kye bought us sticky rice cake and a Vietnamese donut to try.  The sticky rice cake was absolutely amazing I loved it!!  It had a yummy sweet coconut flavour.  The donut wasn't too bad either.
After our stroll through the markets we returned to our boat and it was only a 30 minutes' ride back to the Nguyen Shack.  We arrived back at around 8.30 am and had breakfast straight away.
Bike Village Tour
Next up we went on the bike village tour with Peter.  The tour was led by Peter – another fantastic staff member from the Nguyen Shack.  Seriously the Nguyen Shack has the most amazing staff.  They are all so happy, friendly and all speak fantastic English!
Before the tour started we each choose a bike.  I have to say I think the Nguyen Shack needs to invest in some better bikes – these bikes looked older than me!  I know nothing about bikes so picked the first one I saw, got Andy to move the seat for me and off I went.  Little did I know that I choose a bike with a flat tyre and was about to commence a very unpleasant bike ride.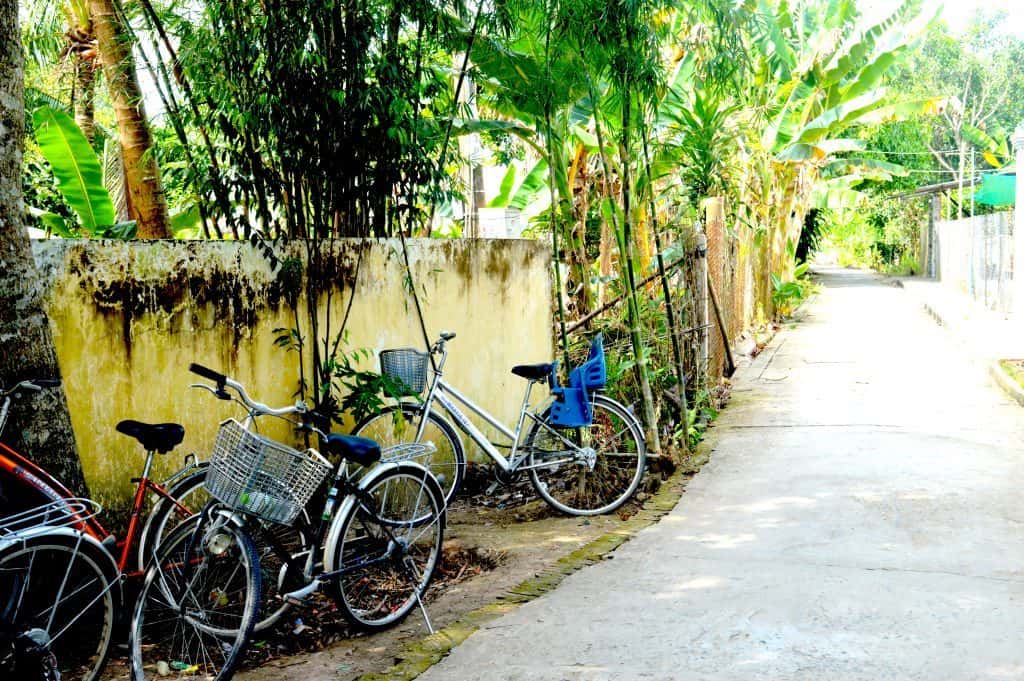 Half way through the bike ride, once I decided I could not keep on riding, Peter realised my bike had a flat tyre.  He made a phone call back to the Nguyen Shack and arranged for them to bring out an another bike.  In the meantime, he gave me his bike to ride and it was much easier to ride!
So check your bike before you head off!!
Anyway – we all followed Peter single file through the little lane ways of the villages.  Along one side of the lanes are the various waterways of the Mekong Delta and on the other side are small little village houses.  We pedaled through beautiful the lush green trees, saying "xin chao" (hello in Vietnamese) to local kids and adults as we passed by.  The kids all put their hands out for hi 5s as we rode past.  Apart from my crappy bike – it was amazing!
Pottery Factory
Our first stop was at the pottery factory and I use the term factory very loosely as the pots are made in the garden of the owner's house.
Peter went into great detail about the processes followed to make the pots by hand.
Rice Wine Factory
Again I use the term factory loosely as the wine was made in the garden of the owner's home.
Peter took us through the factory detailing how rice wine is made.  At the end we even got to try some which was 62% alcohol.  By the way its not very nice!
Pagoda
My favourite stop of the tour was at the pagoda.  This pagoda is run by female monks and other local volunteers and is also the home of 6 orphans.
Peter told us that these children were left at the pagoda by their parents when the children were only one or two days old. In Vietnam, it is not socially acceptable that unmarried women have children and so this pressure from society makes young women abandon their babies because the shame it brings on them and their families.  I was pleased to hear that the Nguyen Shack helps these orphans by paying for their school fees and food.
When we arrived most of the children were at school but we were lucky to meet little 2-year-old Di Di.  Di Di was so confident, coming out chatting with us all.  Whenever she saw someone with a camera taking pictures she got them to take a picture of her and then wanted to be shown the photo. She took Peter's phone and sat there taking selfies of herself whilst we were shown around the pagoda.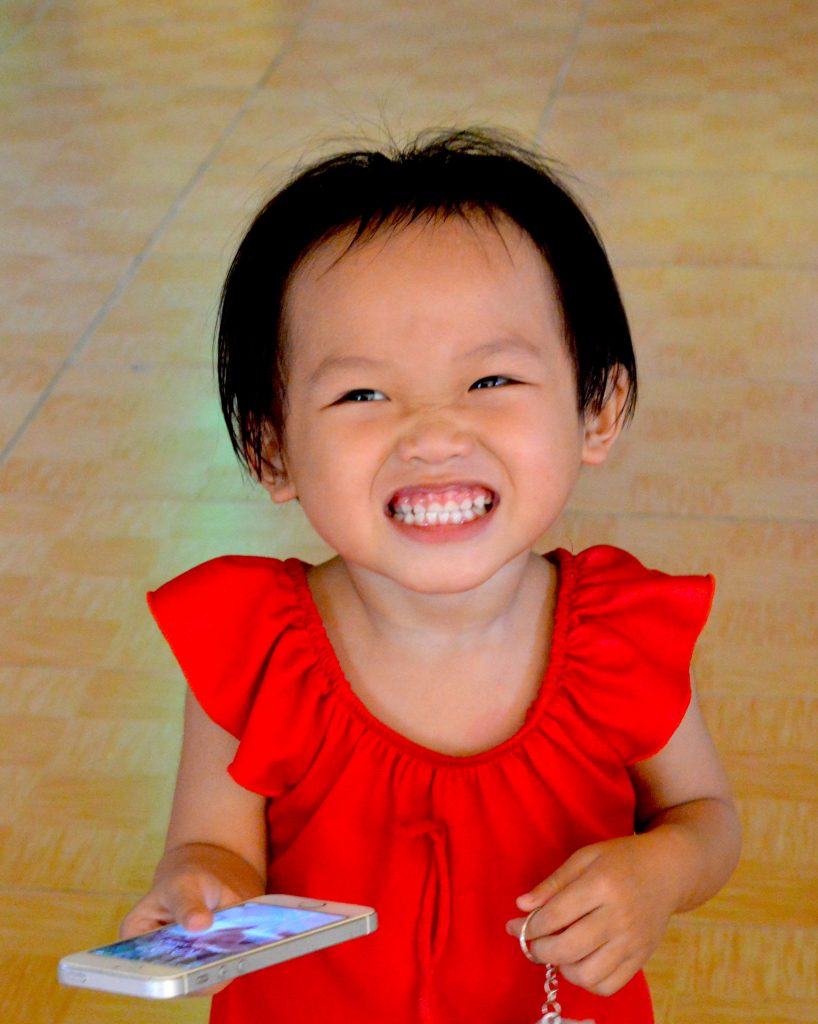 At the pagoda I was quite surprised when the volunteers made us lunch. They served us noodles with vegetables followed by fruit.
I was really touched by the work done at the pagoda looking after the orphans, so I gave them 500, 000 VD which seemed a lot in dong but really is only about $35 AUD.  I really recommend that if you are coming to the Nguyen Shack that you bring something for the kids.  I really wished I had brought some of Myla's old clothes, something a little more substantial then the little cash I had on me at the time.
Rice Distribution Centre
After the pagoda we stopped in at a large shed where we were shown how they store copious amounts of rice.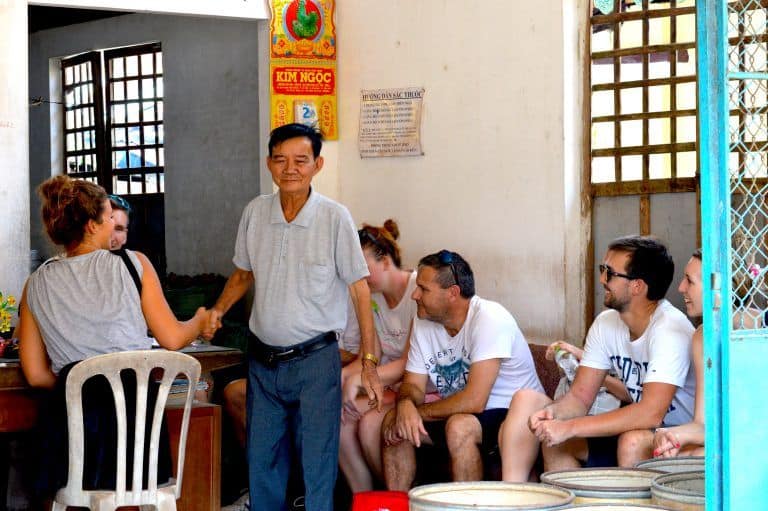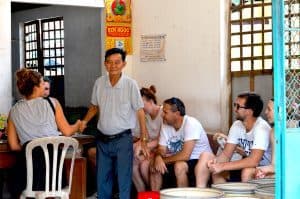 Chinese Doctor
We then visited the office of the local traditional Chinese medicine doctor.  Peter explained how the doctor can work out what is wrong with his patients by simply taking their pulse.
Primary School
Another fun stop was seeing all the local kids at the primary school.  School must have been out because they were just all hanging around, riding their bikes and playing with their friends.  They were super cute.
Not long after we arrived the local ice cream man came by.  Peter yelled "who wants ice cream" and kids came running from everywhere!  That poor man must have made 30 odd ice creams.
Blacksmith
Close to the school Peter showed us where a traditional blacksmith makes knives and other implements for farming to sell to the local people.
Final Words on Bike Tour
It was extremely hot – 3.5 hours in the heat was hard going – but the stops along the way did make it worthwhile.  Bring heaps of water and choose your bike wisely!
If you are unable to do the bike tour for any reason, you can grab a map from the Nguyen shack staff and take out the bikes free of charge.  I recommend you do this, as riding around the local villages was one of the highlights of our trip in Vietnam.
Staying at the Nguyen Shack
We had a fantastic 2 days at the Nguyen Shack – check out our post about staying at the Nguyen Shack.
Click here to book your own family adventure at the Nguyen Shack.
Thanks to the Nguyen Shack for sponsoring this post, but as always all the views contained within this post are completely my own – including the views about the crappy bikes 🙂
Disclaimer: This post contains affiliate links which means if you book using one of my links contained within this post – I will receive a small commission at no extra cost to you.