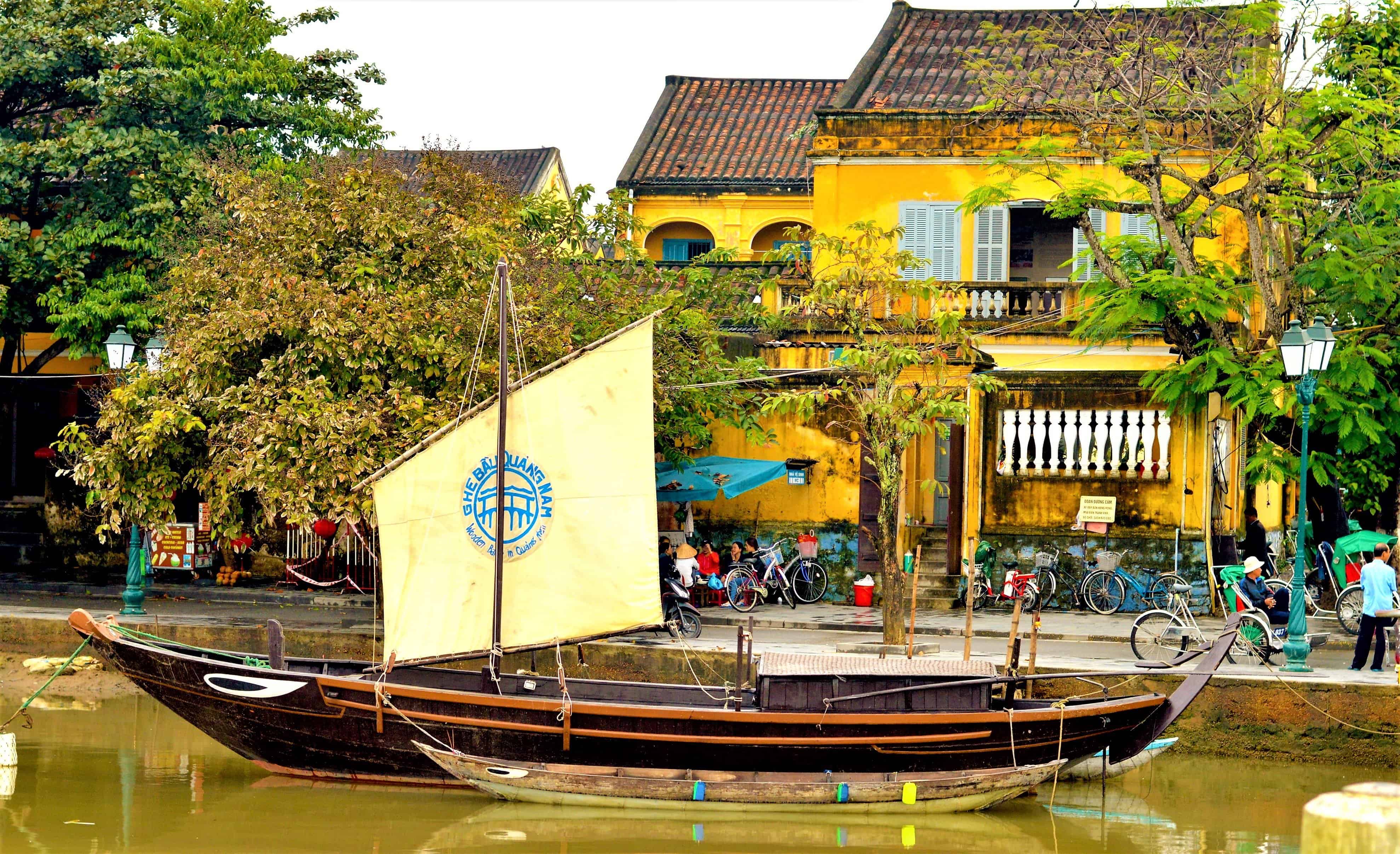 Hoi An is famous for its beautiful old buildings in its well preserved ancient town. With its rows of bright yellow stained buildings and colourful lanterns strung across the narrow alleyways, Hoi An is certainly a city full of colour. As darkness falls, the city is lit up with a sea of colour from the vibrant lanterns and candles throughout the city. Over the course of an evening the river quickly fills up with colourful lanterns as tourists purchase them from local vendors – make a wish and set these lanterns free.
The buildings are a wonderful mix of architectural styles from the Chinese, French, Japanese and Vietnamese. This is due to the city once being a famous port for Japanese and Chinese traders in the 16th and 17th centuries., Hoi An is now one of the most visited cities in all of Vietnam. Tourists come from across the globe to see this city's colourful mish mash of architecture influenced by the Chinese, Japanese, French and the Vietnamese.
Thankfully the ancient city of Hoi An is now protected by having UNESCO World Heritage Site status and so can be enjoyed by many more people for many years to come.
I thought the ancient city of Hoi An was absolutely beautiful. I could sit in its many coffee shops for hours admiring its beauty. Almost every person who ever visits Vietnam says that Hoi An was their favourite place in Vietnam. This was me too – 10 years ago I came to Hoi An and fell in love with it then. I couldn't wait to get back here and show it off to my family. But in 10 years some things changed – whilst it has not lost its beauty – it's no longer my favourite place in Vietnam. The ancient city of Hoi An is now nothing more than a shopping mecca for tourists. Sure the beautiful buildings are still there – but inside them are rows and rows of products and souvenirs just waiting to be purchased by tourists.
Where we stayed
We stayed at the An Hoi Hotel just outside the ancient town of Hoi An. This hotel is in an ideal location, being about a 3-minute walk to the bridge which leads to the ancient town. You can literally be inside the ancient town within 5 minutes of leaving the hotel.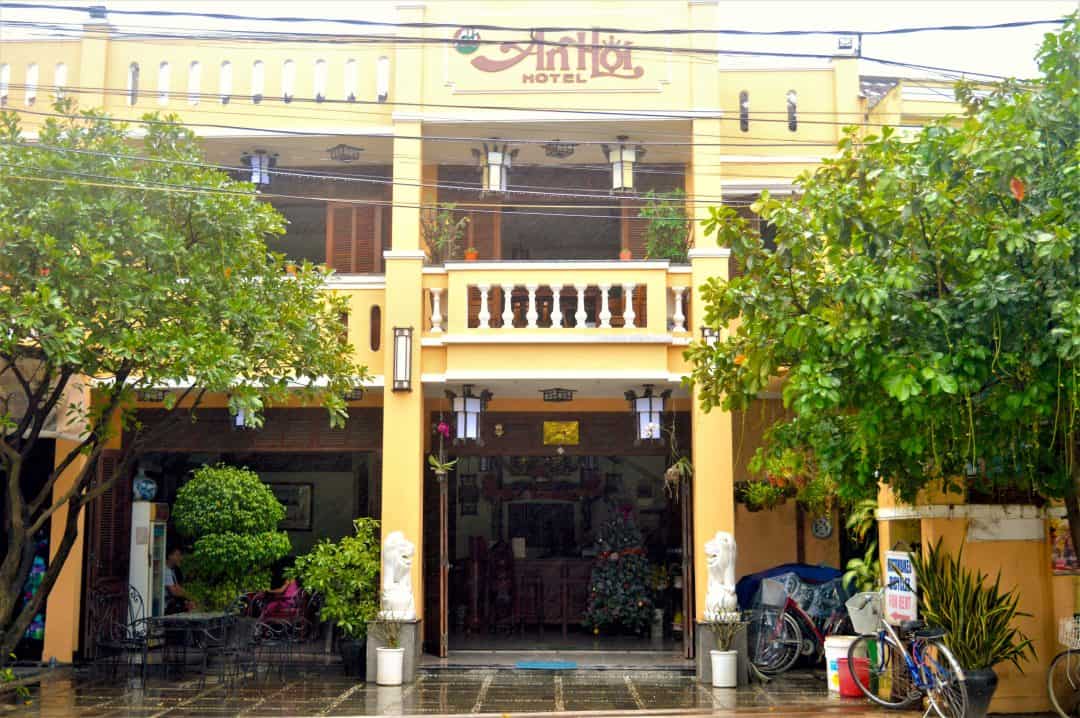 Our room at the An Hoi Hotel was room 208, located on the second floor. Our room was fantastic. The room was rather spacious. It had a fridge and a good sized bathroom.
Breakfast is served each morning on the balcony on the second floor overlooking the river. Breakfast is the only meal served at the An Hoi hotel; they do not offer food at any other time. We found the breakfast here really delicious although the service was a bit slow – the staff were always very pleasant and friendly.
The An Hoi hotel also has a good sized pool. The pool is squeezed between buildings so it doesn't have the nicest surroundings, but it does have a nice, clean small sitting area. It was rainy when we were in Hoi An and far too cold to use the pool, however this did not stop Myla who swam in the pool a few times.
We found the staff at the An Hoi Hotel very responsive and helpful, always smiling as we walked in and up for a bit of a chat.
Right outside the hotel there are plenty of restaurants, shops and massage parlours. The night markets are only just a one or two minutes' walk from the An Hoi hotel as well.
It cost us $186 AUD for 4 nights at the An Hoi hotel. You can find out the latest prices on booking.com here or click on the image to the right and find the latest prices on Expedia – do your research and book with the cheapest!!!
I would highly recommend staying at the An Hoi Hotel – you cannot beat its location, family sized rooms and price.
If you want to check out what other accommodation options are available in Hoi An then use the search box below.
Things to do
The Ancient Town of Hoi An
Tickets
To enter the ancient town of Hoi An, you must purchase a ticket. Ticket prices are 120,000 VD (approximately $7 AUD). Ticket booths are located on the outskirts of the ancient town and can easily be missed as they are not well signed posted. It is important that you purchase one of these tickets if you wish to enter some of the old buildings and museum within the ancient town.
You are actually required to purchase a ticket even if you do not plan on visiting any of the old buildings. Simply entering the ancient town requires a ticket, although this is not well enforced. I was extremely disappointed to see tourists refusing to purchase tickets and still entering the ancient town. Please be a responsible and respectful tourist when visiting Hoi An's ancient town and purchase the required ticket.
Shopping
One of the main things to do in Hoi An is shop. Whilst I am not much of a shopper, I did indulge in a little bit of shopping in Hoi An. The shops here really do have some lovely things, a little more than your usual junky tourist shops.
Of course Hoi An is famous for its tailor made clothing, shoes and other leather goods like bags and belts. When I visited Hoi An in 2007 I went nuts with getting clothes made – however I soon learned that the majority of clothes I got made were not good quality and either fell apart or were not a good fit. Having said that I got a work dress made when I was there and it was fantastic quality – I still wear this dress on a regular basis 10 years later.
Despite my own concerns with getting things made I was persuaded to have a dress made. I quickly remembered another reason not to have things made. Whilst everything is great to start with and they promise you the world, when I went back for fittings the dress was not as I ordered and they told me they could not do certain things. I had to go back multiple times. In the end I did get a nice dress for only 600,000VD – but it was hard work and I would not do this again. I find it much easier to buy something off the rack at home in Australia.
Admire the buildings & people watch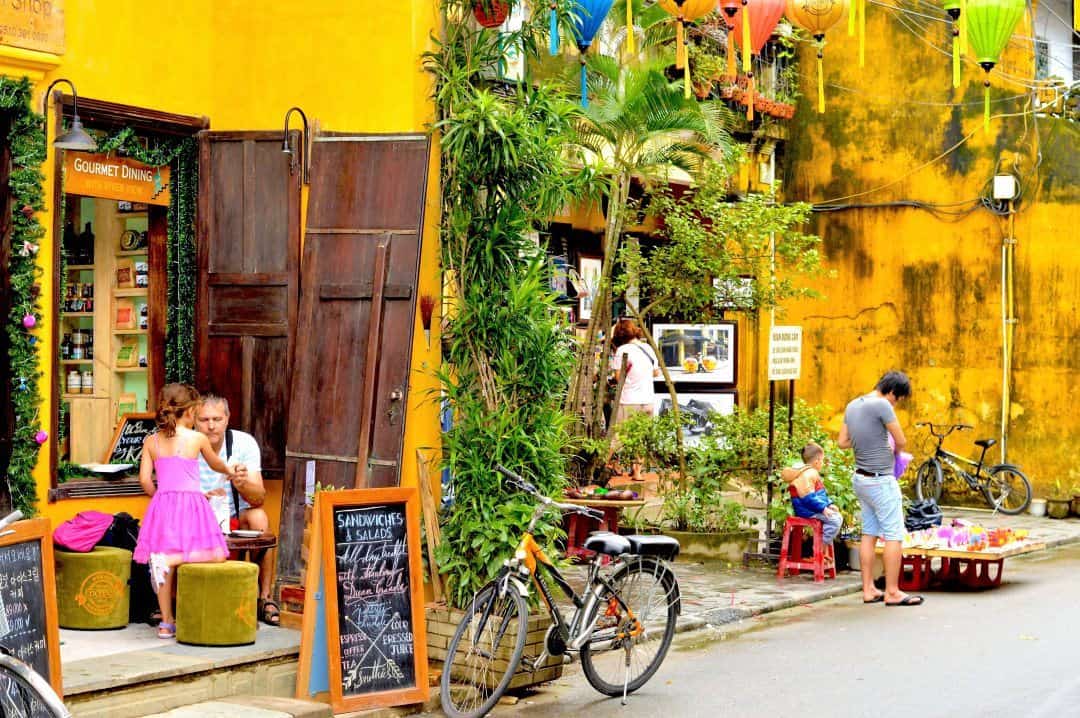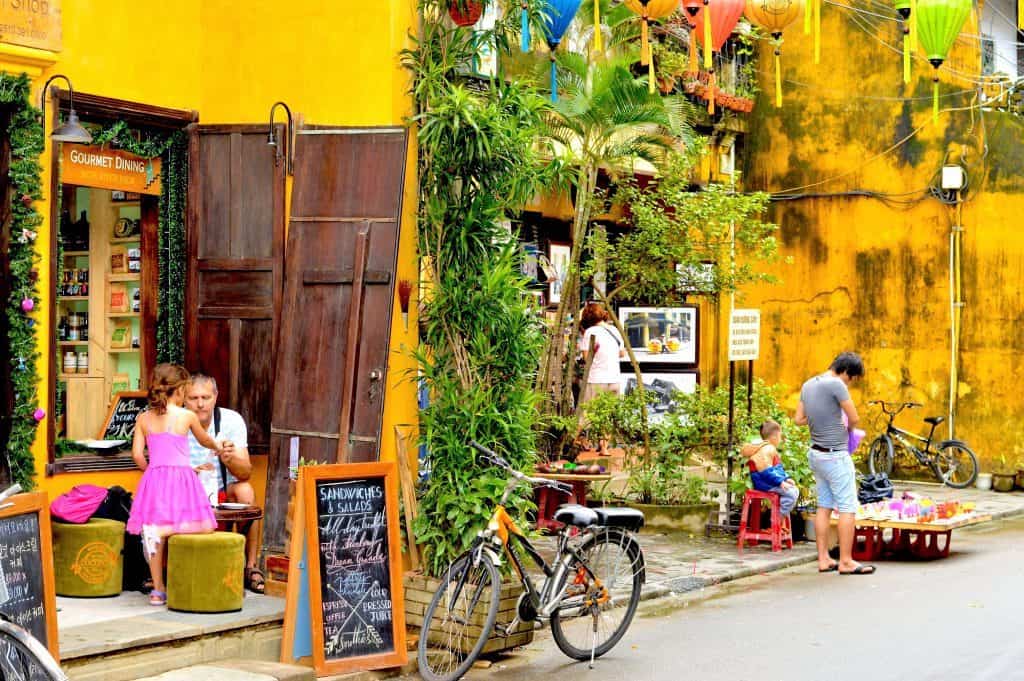 If exploring old buildings is your thing – than there is no shortage of places for you to visit in Hoi An. Your ticket to the ancient city gets you entrance into 5 out of the 22 various old buildings such as assembly halls, old houses, communal houses, museums, pagodas, temples as well as a river cruise and water puppet show.
We only used our ticket to visit the Japanese Bridge as well as general entrance into the ancient city.
Probably one of our favourite things to do in Hoi An, was simply to walk around and admire the gorgeous buildings. They really are beautiful, with their bright colours and somewhat a mish mash of different architectural designs.
The ancient town is only for pedestrians, there are no cars or motorbikes allowed in the city, although there are bicycles. The streets are narrow and you can just wander around admiring the buildings as you go.
We also loved finding little coffee shops and having cups of coffee whilst people watching – for as long as Myla would allow us anyway.
Massages
If you are like us and love getting massages – here's a tip for massages in Hoi An – go during day light – prices are much cheaper during the day then they are at night. The prices listed are the night prices but during the day you will get a discount of around 25% – 50%!! Massages are around 300,000 VD (approximately $18 AUD) for 1 hour.
Lanterns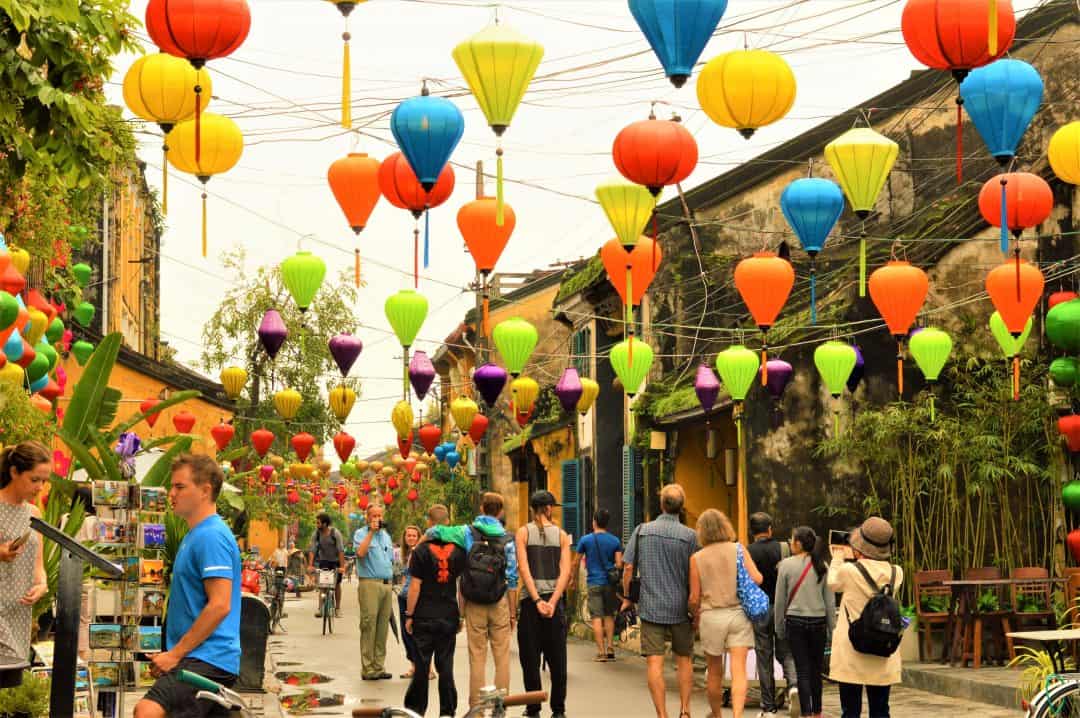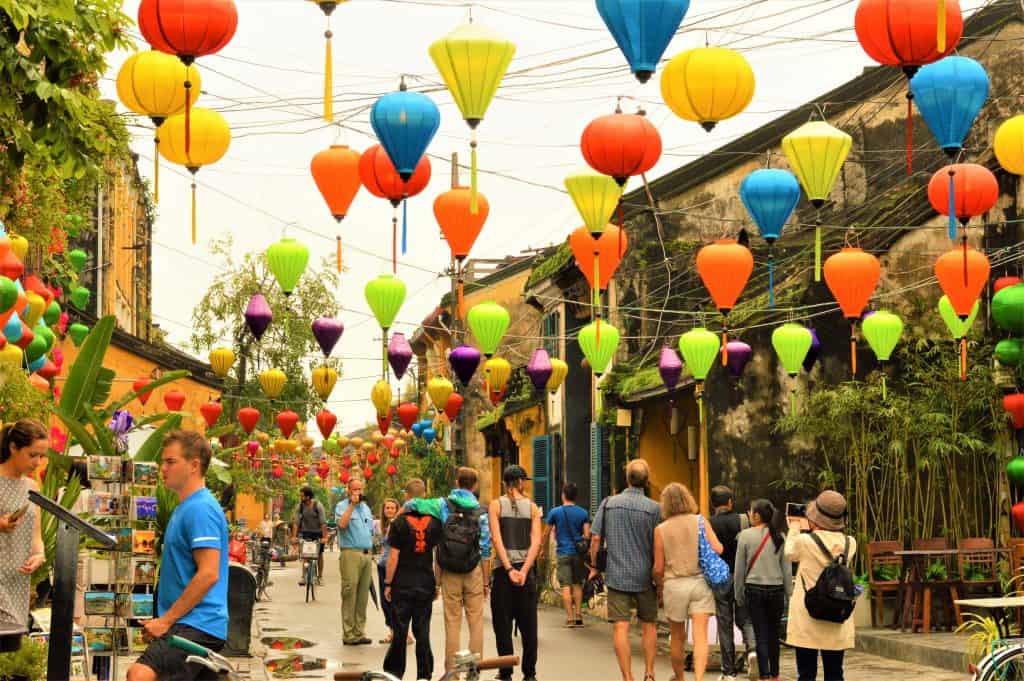 That evening, we bought one of the lanterns that are being sold around the bridge to the ancient town. It is the touristy thing to do – you buy a lantern, make a wish and place it in the water. It's quite pretty seeing all the colourful, lit lanterns in the water at night. I have no idea what the standard price is for these lanterns. We ended up paying 10,000 VD (approximately $0.60 AUD).
Click here to learn about visiting during the lantern festival.
Japanese Bridge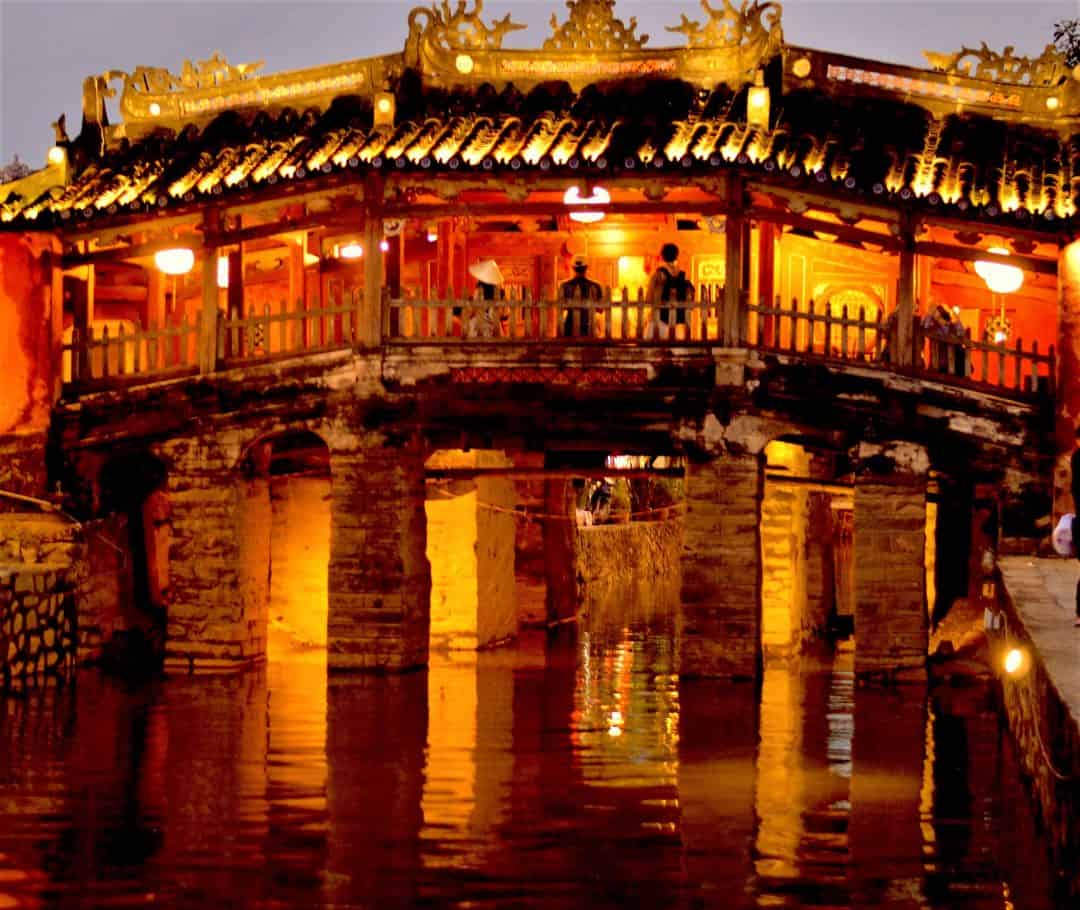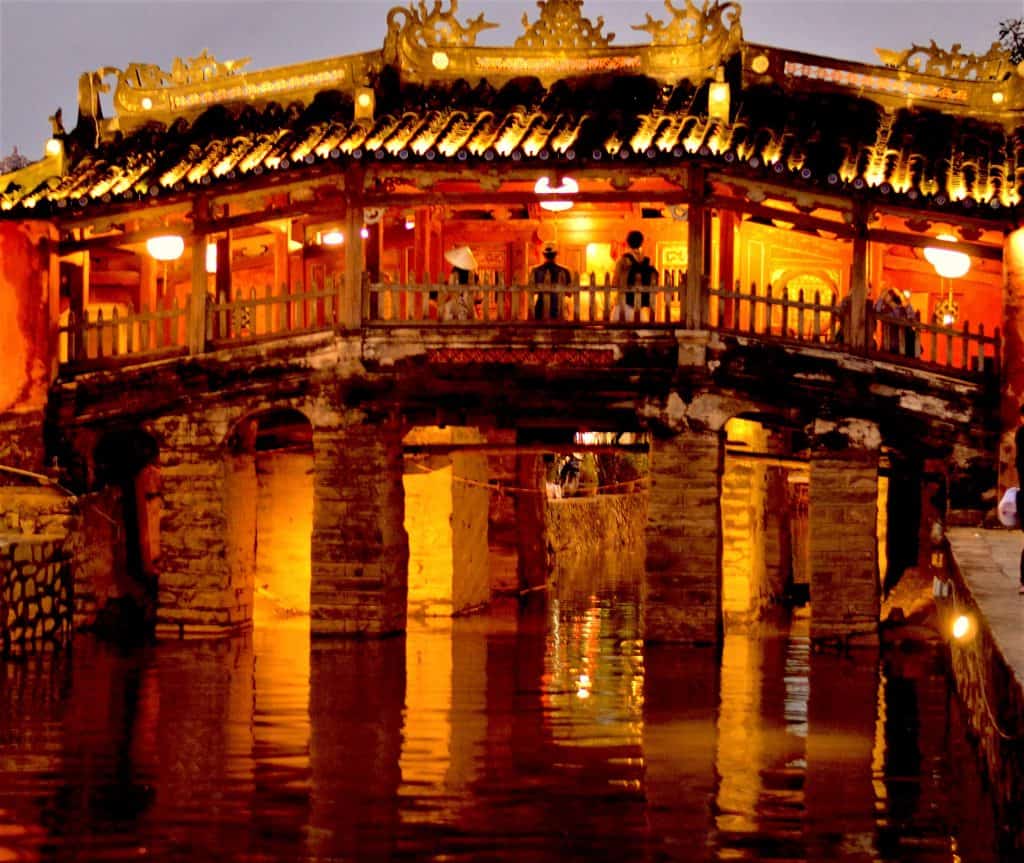 We also checked out the iconic Hoi An Japanese Bridge. In fact, we could see the bridge from our hotel – directly across the river – but it was so pretty up close at night. The Japanese bridge was built in the former Japanese quarter in the early 17th century and is now the famous symbol for the ancient city of Hoi An.
Night Markets

Lastly we visited the night markets which were outside the ancient town but right by our hotel. These markets sold the usual junky tourist trinkets but there were also lots of food vendors selling some really yummy looking food. The night markets were on every night.
An Bang Beach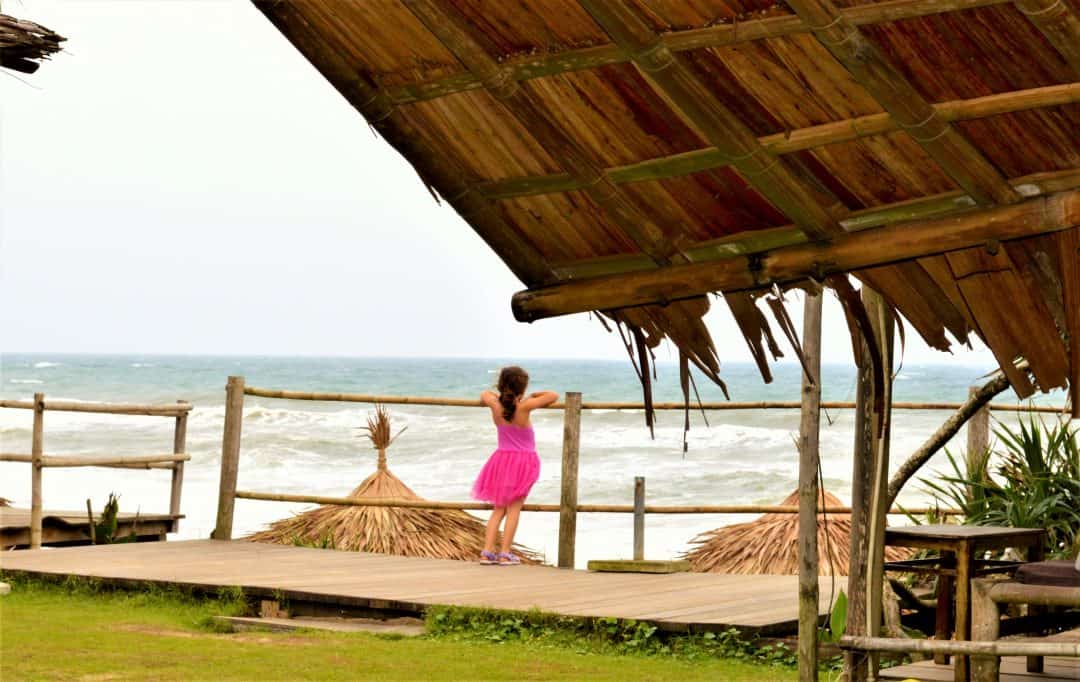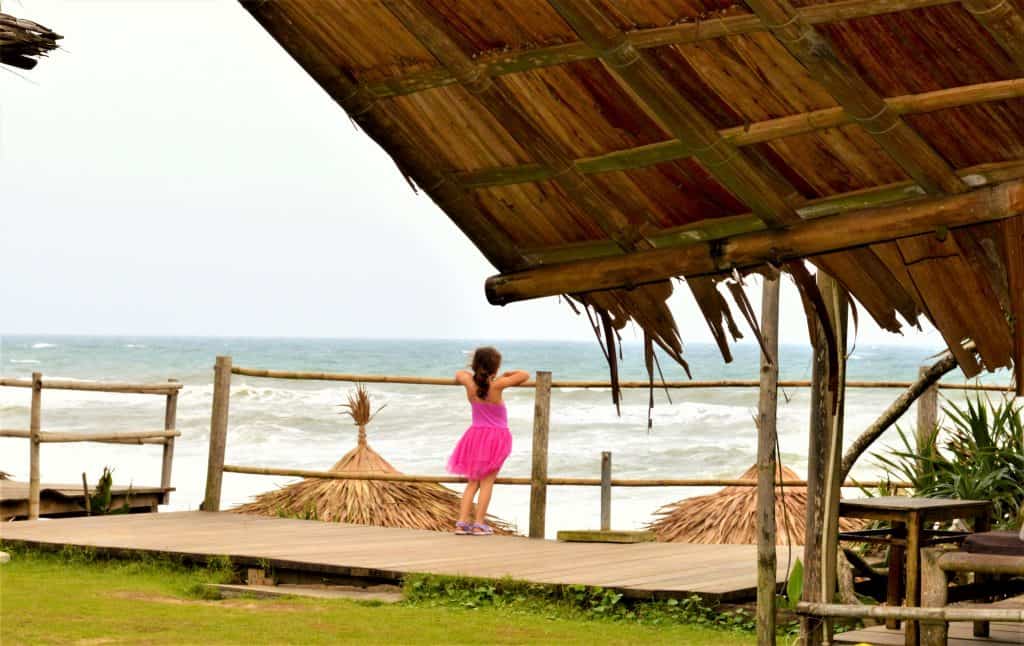 After our walk around the ancient town, we decided to hire a motorbike and go explore An Bang Beach.
We were able to hire a motorbike right from our hotel for 100,000 VD (approximately $6 AUD) per day.
Riding through the city of Hoi An was pretty full on. The city was busy and I felt quite nervous. However, once we were out of the city and in the countryside, it was quiet and really lovely driving through the countryside.
Once we arrived at the An Bang Beach we were required to pay 10,000 VD (approximately $0.60 AUD) to park our motorbike. No sooner had we walked onto the street we were hassled by ladies trying to sell trinkets. They were almost begging us. I think given the weather, it was cold and rainy, they were not selling much and so really desperate to make sales. I felt quite bad saying no – but it was not possible to purchase from every person you see, and I am quite opposed to purchasing things for the sake of it.
We checked out the beach – which was rough. I am not sure what the beach is like during good weather, but it was not appealing whilst we were there. Maybe that's just me being an Australian who is spoiled with beautiful beaches.You can find out more about Hoi An beaches here.
Along the beach, not on the actual beach, but on the grass area alongside it, is a strip of restaurants and bars. I imagine when the weather is warm, this place is pumping. It's quite cool really with little wooden shacks serving lunch and drinks. All the places have menus out the front so you can check out the costs. The prices are way more expensive than in town – but for the atmosphere, it is worth it in my view.
We had lunch at Soul Kitchen – you can find this at the very end of the strip of restaurants on the left of the beach. Meals here were around 100,000 to 150,000 VD (approximately $6-$9 AUD).
Private Day Tour
We arranged to meet up with a private tour guide – Billy Tuan – who happened to be a friend of a friend – who agreed to show us around the outskirts Hoi An.
Billy picked us up at 9 am and our first stop was just around the corner to hire a few bicycles for the day. The bicycles we hired were really good sturdy bikes. Andy's bike had a cushion thing on the back for a seat for Myla.
Now I can't remember the last time I rode a bicycle – so I am not an experienced rider. I have to say that riding that bike through the busy city of Hoi An was very scary for me! There does not appear to be any road rules in Vietnam – although I am sure there are – but everyone just appears to their own thing. I had a few close calls, but once I got out of the city the ride was beautiful. I absolutely loved riding that bicycle around the countryside – it was awesome!! So don't be afraid if you are like me and haven't ridden a bike for years!!
Here is a list of what we got up to on our excursion with Billy:
Tomb of Japanese Traders
Our first stop was the tomb of Japanese Traders. This was located in the middle of the rice paddies. It was a gorgeous ride out there – I didn't find the tomb that interesting myself – but I certainly enjoyed riding the bike out there.
Tra Que Vegetable Village
Next, we continued riding our bikes through the rice paddies and past farmers working in the fields with the help of their buffalos.
We then went on to Tra Que Vegetable Village which is just 3 kilometres outside of Hoi An – so it's quite an easy bike ride. Here we got to see how the Vietnamese grow and farm their vegetables and herbs. As you can image this was all right up Andy's alley!! For me, it was a beautiful place to see more of the Vietnamese countryside.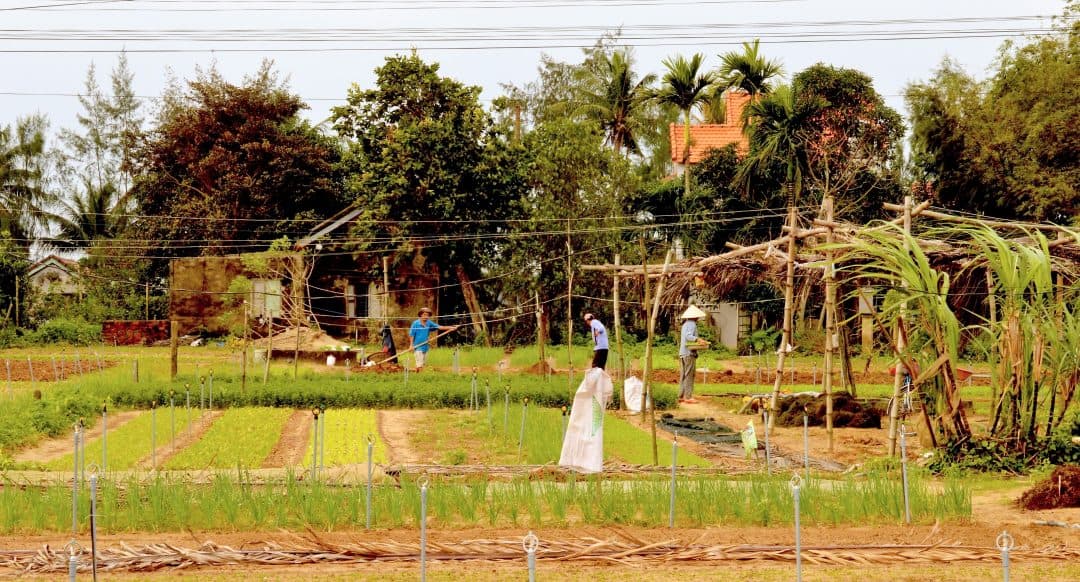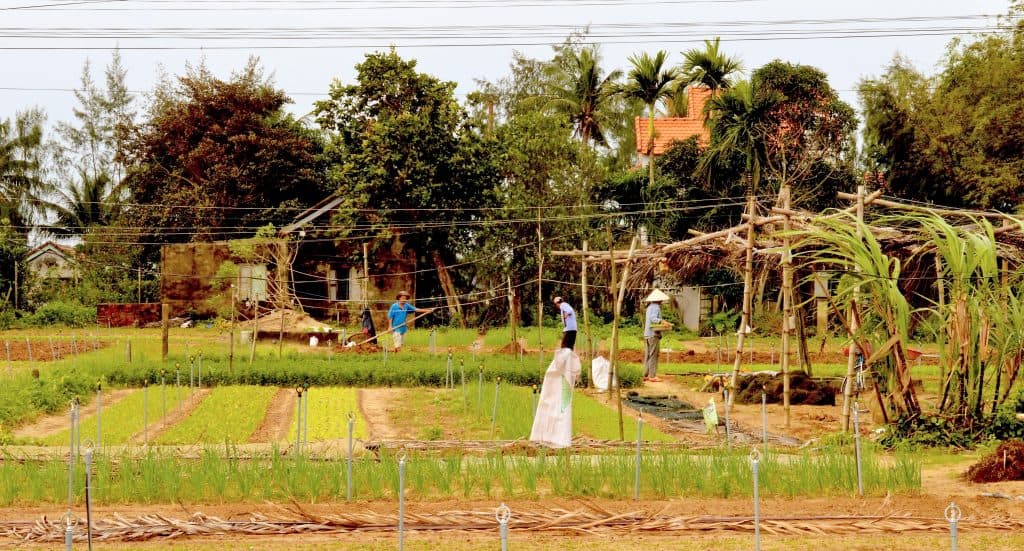 Cam Thanh Coconut Village
The Cam Thanh Coconut Village is around 5kms from Hoi An city – so the ride was probably around 30 minutes to get here. But it is a really lovely ride through the countryside past the little rural villages.
Once we arrived in Cam Thanh Village, we had one of the local women take us out on the traditional bamboo basket boats. These little round boats were amazing – I thought they would be quite unstable but they were not and they moved really fast.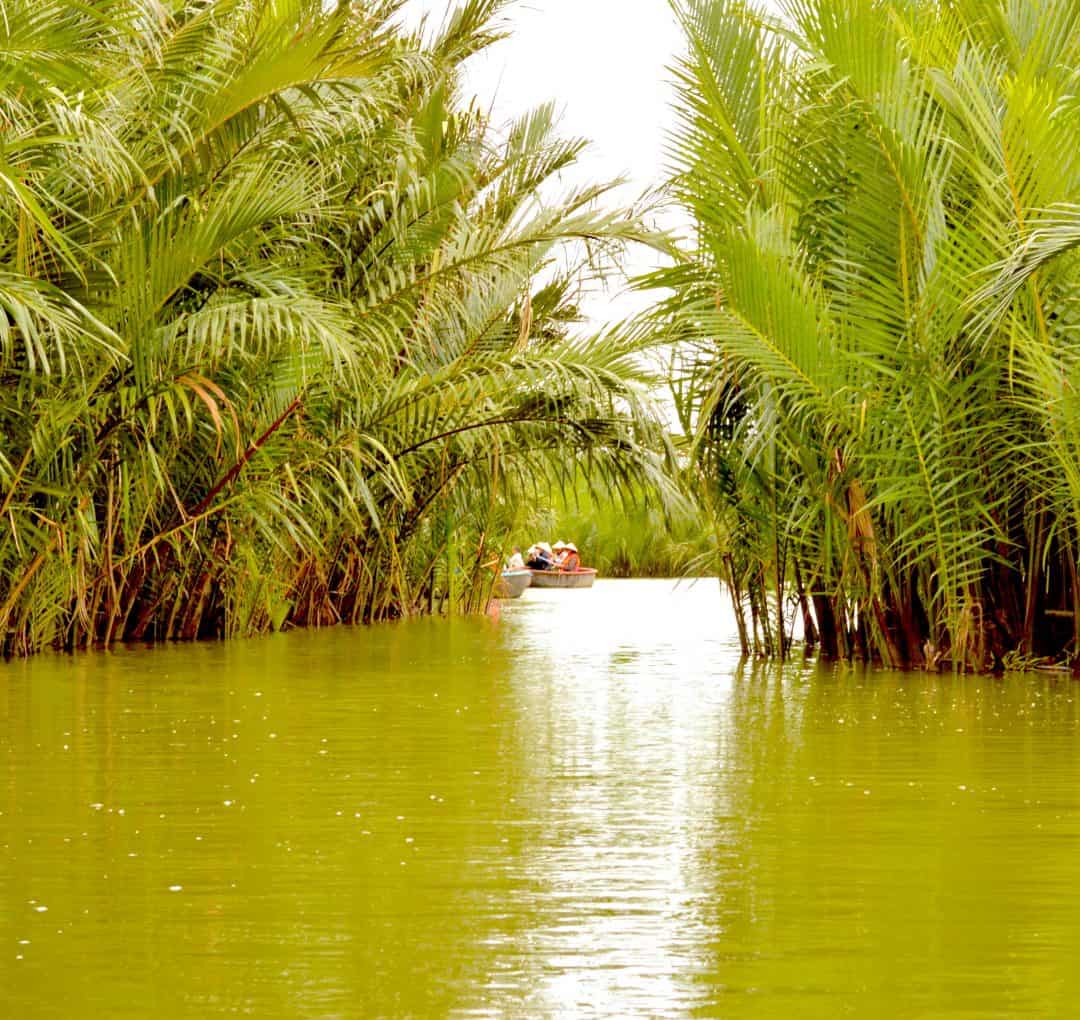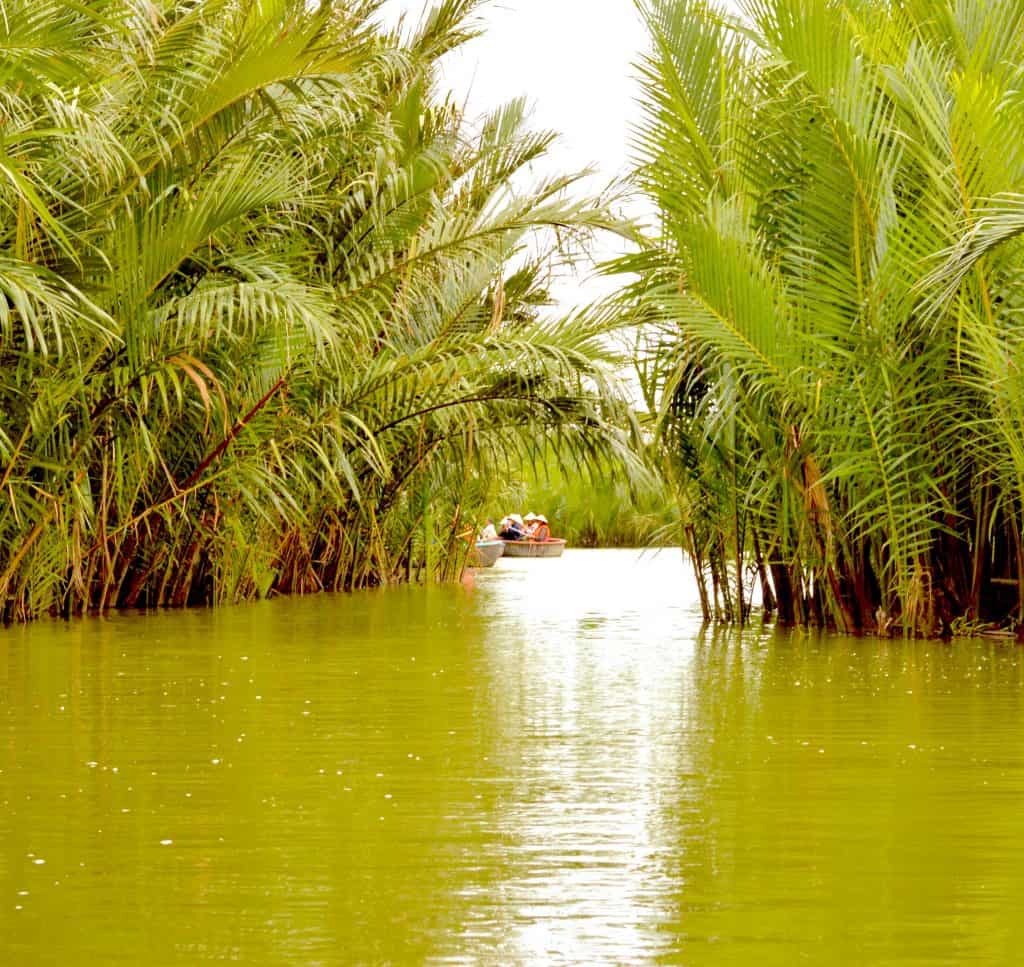 The locals are so clever they are whipping up hats and jewellery from the palm tree leaves in seconds. Our female rower, took our little bamboo basket boat deep among the palm trees, jumped out into the water, took out her pocket knife and cut off a few palm leaves. She then jumped back into the boat peeled off some leaves and then voila decked us all out in hats and jewellery – so clever and resourceful.
We even got a chance to paddle the bamboo basket boats by ourselves as did Myla.
This was our last stop with Billy and so he then took us back to our hotel where we were back in time for some lunch.
If anyone wants to get in contact with Billy for a similar tour don't hesitate to contact him via email on tuanbk11591@gmail.com. Private tours start at $35 AUD for adults and $20 AUD for kids 6 to 12 years of age. Children under 6 years of age are free.
Click here to read about the Jack Tran Tours fishing village basket boat trip.
My Son & Marble Mountains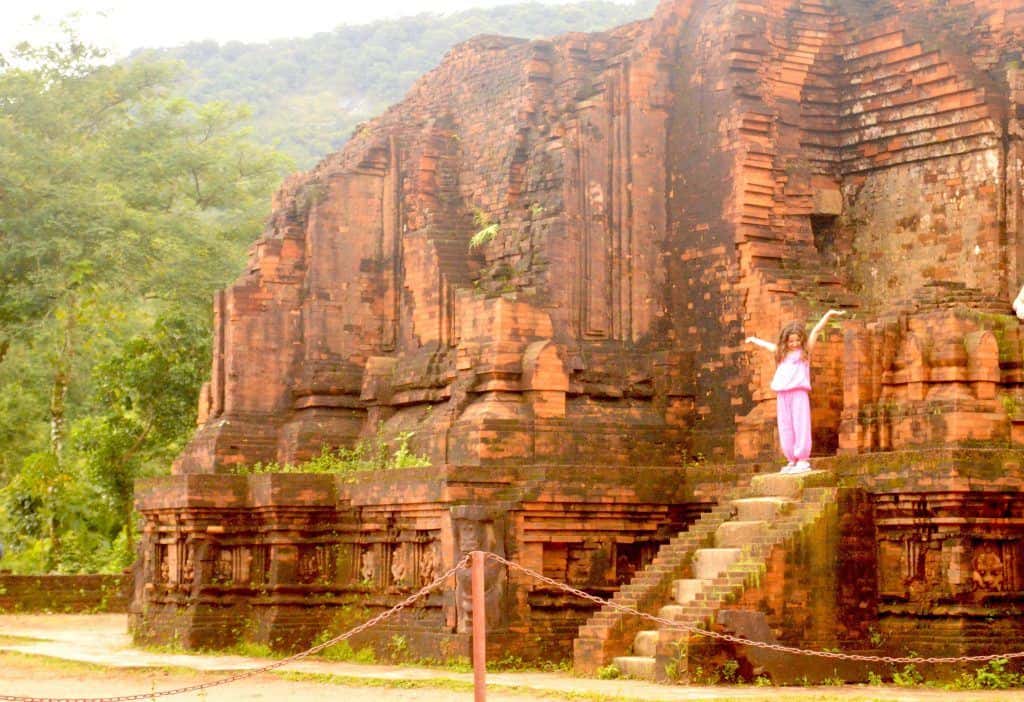 On our last day in Hoi An we had arranged a private tour with Hanoi Private Transfers to visit My Son and Danang and then later drop us off at the airport so we could get our flight to Ho Chi Minh City. For more information on this tour check out our separate post.
You can also see My Son as a day trip from Hoi An which I believe can include a return trip to Hoi An by boat which sounds quite nice.
Click here for more tips on things to do in Hoi An from Bearly Here.
Number of Days / Nights Required
We spent 4 nights and 3 day full days in Hoi An and in my view that was a day or two too long. However, I did enjoy the opportunity to have some down time.
So in my view, 2- 3 days' maximum is all you need to see Hoi An and the surrounding areas – more if you want to add more shopping time and more again if the weather is good and you want to spend a day at the beach.
Prices
Following are the costs of some items we paid for whilst we were on holiday in Hoi An. Please note that the Vietnamese Dong prices are exact whilst the aussie dollars are approximate:
Dinner in a restaurant in Hoi An including 3 meals, 1 entrée, 2 soft drinks, 2 cocktails – 522,000 VD (approximately $32 AUD)
1 hour foot massage – 395,000 VD (approximately $24 AUD) or 250,000 VD (approximately $15 AUD) if early in the day
Motorbike 100,000 VD (approximately $6 AUD) per day
Bicycle – 20,000 VD (approximately $1.20 AUD) per day
Tailor made casual summer dress – 600,000 VD (approximately $36 AUD)
Bottle of water 7,000 VD (approximately $0.50 AUD)
Lantern 10,000 VD (approximately $0.60 AUD)
Kids cheese cloth pants and top – 150,000 VD (approximately $9 AUD)
Pop up 3d greeting cards 2 for 50,000 VD (approximately $3 AUD)
Disclaimer: This post contains affiliate links which means if you book using one of my links contained within this post – I will receive a small commission at no extra cost to you. Thanks for supporting our website.