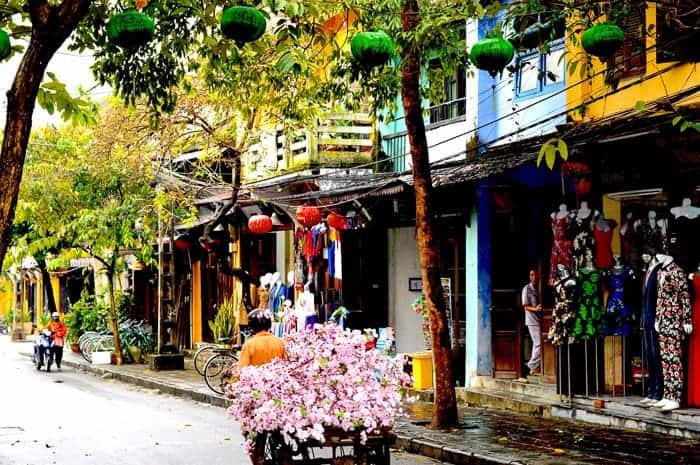 Want to know where to go in Vietnam?  What is the must see in Vietnam?  We have got you covered with this ultimate guide of where to go in Vietnam!!
Vietnam is a fantastic place for a holiday.  With chaotic cities, peaceful countryside and picture perfect beaches – there is something for everyone.
I recently spoke to various travel bloggers and asked them what their favourite place in Vietnam was and to give us a few tips on what to do and where to stay whilst there.
Hopefully, the information in this post will help you planning a trip to Vietnam in no time.
So here goes – starting in the North of Vietnam and ending in the South: Remember these destinations when you are thinking of where to go in Vietnam.
Planning a trip to Vietnam? Have any questions? Join our Vietnam Travel Planning Facebook group here now! It's the perfect place to ask any questions and to be inspired!
Ha Giang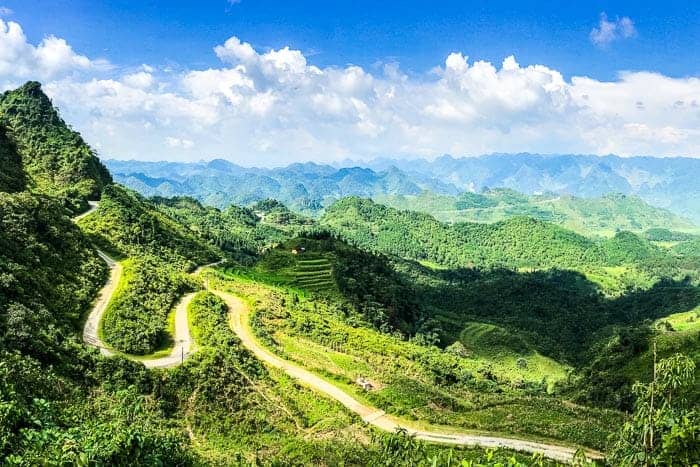 Ha Giang is the northernmost province in Vietnam, still off the beaten path but becoming more and more popular with travellers, especially with motorbike adventurers.
It's home to the UNESCO Geopark Site, the Dong Van Karst Mountains, which has some of the most beautiful landscapes I have ever seen.  As you ride through the ridiculously-winding roads, you will find ever-changing landscapes opening up in front of you. You go from beautiful bamboo-lined river valleys, to plateaus with conical outcrops, to karstic landscapes, to mountains carved with rice paddies.
Don't miss going to the Lung Cu flag tower, also known as the North Pole of Vietnam, which has excellent views across China.
Ha Giang city is only a 7-hour bus journey from Hanoi. The bus leaves from My Dinh bus station, and you can normally book your ticket through your hotel/hostel.
If you'd like to explore it by bike, you can join an escorted motorbike tour from Hanoi, or for the more intrepid traveller you can rent your own motorbike from Bong Hostel. Or you can hire a car or get a driver once you get there.
Please note that you will need a permit from the Ha Giang Immigration Office, which you can easily get on the day.
For more travel tips from Brogan Abroad, check out www.broganabroad.com or find her on Facebook.
Where to stay: Click here to find a full range of places to stay in Ha Giang
Bac Ha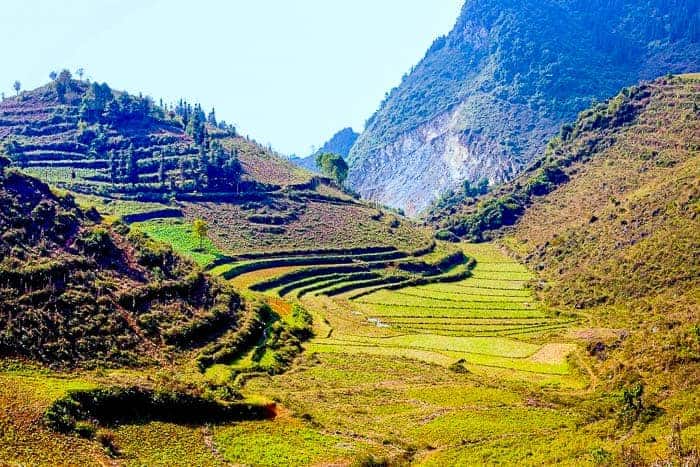 Most people know Bac Ha for its famous colorful Bac Ha Sunday market, but the town is so much more than the Bac Ha market. The people, the hills, and the hiking are not to be missed.
It is recommended to spend at least 3 days and 2 nights in Bac Ha. Plan your trip to arrive on a Friday or Saturday in order to enter the Sunday Bac Ha market before 9 am. Busloads of tourists roll up in the late morning, and the entire dynamic of the market changes. By going early, you get a few hours to yourself to see how the locals set up their stations and interact with each other.
For one of your full days, take a hike into the hills and rice patty farms with a lovely local woman named Za. Her knowledge of the area and warm demeanor make it impossible not to fall in love with Bac Ha. On your other available day, rent a scooter and make your way around the surrounding area to view the panoramic landscapes.
There is some great Bac Ha accommodation or Bac Ha Homestays. The Ngan Nga Hotel Bac Ha has large and comfortable rooms, and the breakfast is quite delicious.
For more travel tips from Travelationship, check out www.travelationship.com or Instagram.
Where to stay: Click here to find a full range of places to stay in Bac Ha
Sapa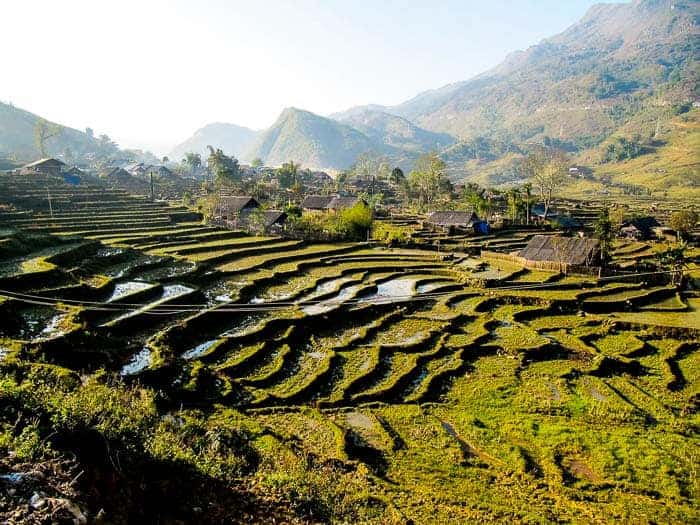 After the craziness of Hanoi, it was a relief to get out into the countryside and enjoy the things to do in Sapa. The scenery is just spectacular and meeting the Hmong hill tribe people was a pleasure.
What to do in Sapa?  Well people predominantly visit the area for one of the Sapa trekking tours, although we also went to the colourful Hac Ba markets. As it is inhabited by the hill tribes, the culture is different too much of Vietnam. I wholeheartedly recommend Sapa Sisters if you are looking for a guide, accommodation, transport etc. Everything they do is tailored to individual requirements and the benefits all go to the local community.
There are many different forms of accommodation in Sapa, to truly immerse yourself in the experience, I suggest a Sapa homestay. If you book one of the Sapa tours you will have your accommodation arranged, as we did as part of our two-day package and was very comfortable. We were provided with a delicious traditional dinner and interaction with the family before falling into bed exhausted after the early morning and day of walking.
We spent two days in Sapa, but felt we could have stayed at least one more day and spent some more time exploring the Sapa town as well as the countryside.
Sapa was the highlight of our three weeks in Vietnam.
For more travel tips from Josie Wanders, check out www.josiewanders.com or Facebook.
Where to stay:  Click here for a full range of places to stay in Sapa
Dien Bein Phu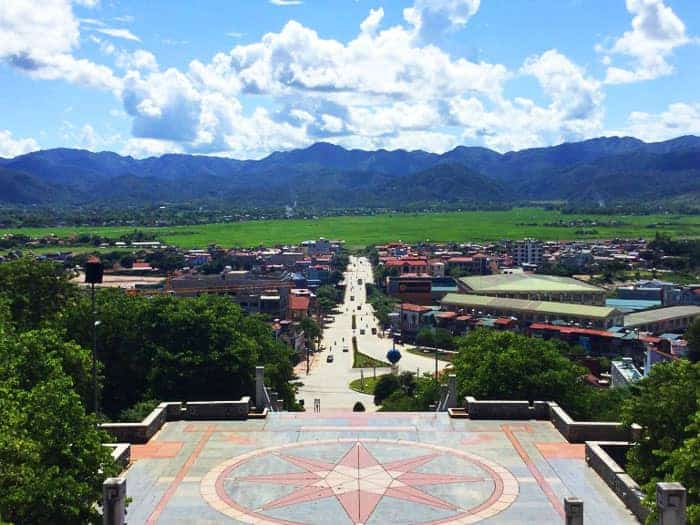 Nestled into the North-West of Vietnam, you will find Dien Bien Phu City. It's not a typical holiday destination or on the backpacker trail but I found myself in this small city as it's by the border crossing to Laos. While some travellers get off the bus at Dien Bien Phu City and hop straight on the bus to Laos, stopping in the city for 24 hours is definitely worthwhile.
In Dien Bien Phu, you'll be greeted by friendly locals who don't see many western tourists and a city rich with history.  This small border town is where the Vietnamese won their last battle against the French. As such, there are some essential places to visit while there. Firstly, a museum outlining the history of the French invasion and how the last battle took place in Dien Bien Phu. Next, the A1 hill, where the battle took place. Finally, a huge monument overlooking the city, celebrating when the Vietnamese won.
There are plenty of local places to eat and some great Ba Hoi to drink on the streets as your day comes to an end.  If you're heading to Laos, definitely stop here for a night.  Whilst Dien Bien Phu accommodation is minimum you will be sure to get a great hotel or hostel at a good price.
For travel tips from Bristolian Backpacker, check out www.bristolianbackpacker.com or Facebook.
Where to stay:  Click here for a full range of places to stay in Dien Bien Phu
Halong Bay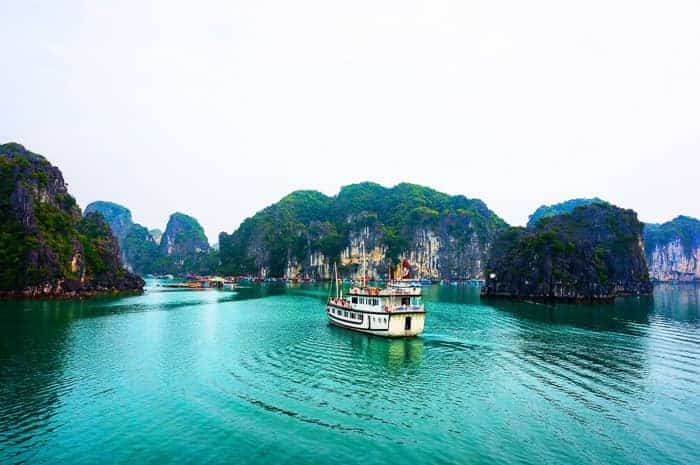 Halong Bay is a UNESCO World Heritage site since 1994, famous for its almost 2,000 limestone islands formations within an area of 1,553 kms. Located about 4 hours drive from Hanoi, Halong Bay literally means 'descending dragon bay', where legend has it that gods sent dragons, who dropped jewels and jade from their mouths into the bay, hence creating the rock islands.
I love this unique heritage site because the limestone islands in this bay have gone through 500 million years of formation in different conditions and environments, making it a magnificent place to witness and explore. It is also home to approximately 1,600 fishermen who live in floating villages, and visitors are free to experience the floating village life when you are there. Other things to do in Halong Bay include a visit to Sung Sot cave with thousands of stalactites and stalagmites along the 500-meter paved passage, kayaking in the bay between different limestone formations, squid fishing at night, and hiking of limestone islands.
The best way to visit the area is by a 2 day halong bay cruise on a classic oriental junk boat cruise, for example, Bhaya Cruise ship costs about US$169 per person for a 2D1N package with full board meals in private cabin and returns land transfer from Hanoi.
For more travel tips from Urbanite Diary, check out www.urbanitediary.com or Instagram.
Need help choosing a Halong Bay Cruise?  Click here for our top recommendations.
Cat Ba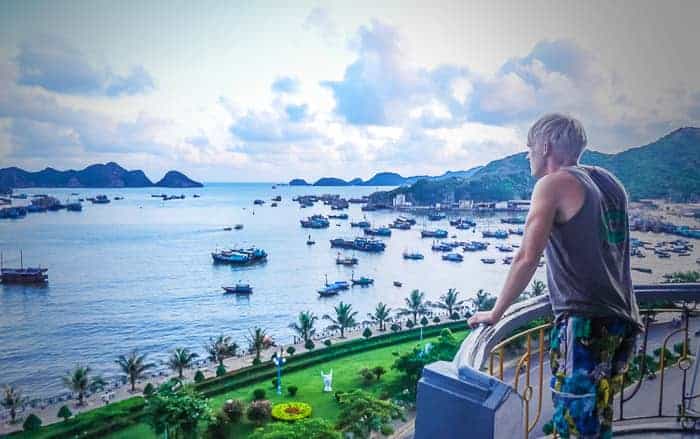 Cat Ba Town on Cat Ba Island is an alternative location to stay when visiting famous Halong Bay. Most travellers and tourists stay in sprawling Halong City on the mainland and take boat trips out to explore the bay, but stay on Cat Ba island and you'll see a side to Halong Bay that most don't encounter.
Cat Ba Town consists of a long string of hotels lining the foot of the bay's iconic limestone cliffs. Nearly all available rooms come with a beautiful bay view! Yes, the town has seen some development in recent years, but you'll soon overlook this as it's a perfect base to travel the island's almost untouched sights.
What to do in Cat Ba Island?  Well almost half the island is the Cat Ba National Park and by delving inside you'll find an idyllic sandy Cat Ba beach, quaint fishing villages, waterfalls, grottos and the 3 hectares Ech Lake. The star of the show here is Lan Ha Bay, an alternative and less crowded option to Halong Bay, with the same striking limestone cliff formations rising from the waters. Kayaking Lan Ha Bay is a must!
There is plenty of Cat Ba accommodation. We recommend staying at this family run hotel overlooking the bay. We looked at many Cat Ba hotels on arrival and found this hotel to be better than most for the flashpacker price. It's well reviewed and that is always a plus!  You could also stay in a Cat Ba homestay.
For more travel tips from Finding Beyond, check out www.findingbeyond.com or Facebook
Where to stay:  Click here for a full range of places to stay in Cat Ba
 Hanoi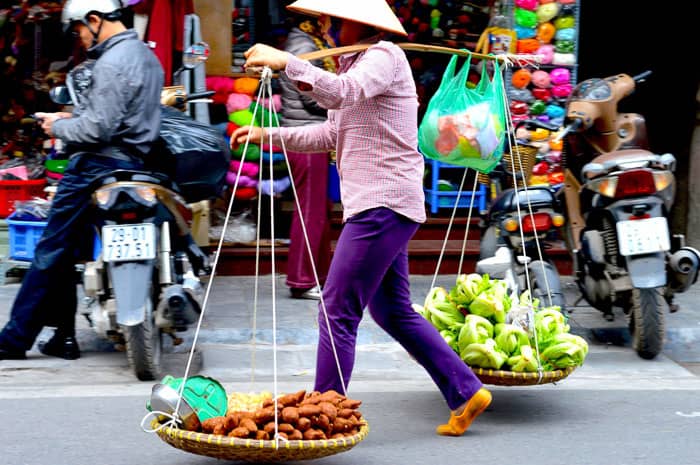 With Hanoi being the capital of Vietnam and the country's second-largest city, there is plenty of things to do in Hanoi.
Most tourists (we included) head straight to the Old Quarter.  The Old Quarter is at the heart of the city and is made of numerous narrow streets arranged by the products sold.  The buildings are tube like in that they are tall and skinny and are typically 3 metres wide.
The Old Quarter is full of life. As soon as you arrive, your senses come alive.  You are bombarded with the sounds of the traffic, motorbikes, and cars continually beeping their horns.  Your eyes are drawn to the fabulously bright colours of the French influenced buildings, as well as the colourful fruits and vegetables that fill the little stalls that spill onto the pavements.  The Old Quarter is absolute chaos, but somehow it just works and it is absolutely mesmerising.
To see the best Hanoi attractions do an Old Quarter walking tour, a food tour with Hanoi Street Food Tours, a city tour with Hanoi Kids, get lost in the Old Quarter, take a cyclo tour around town and relax with a massage.
How many days in Hanoi?  I'd recommend at least 2 days but 3 days in Hanoi would be ideal.
The best place to stay in Hanoi would be would be in the Old Quarter.  Accommodation like the Real Hanoi Hotel is a great budget Hanoi Old Quarter Hotel.  You can easily get a basic private room, with air conditioning and breakfast for around $20 AUD.
Where to stay: Click here for a full range of places to stay in Hanoi
Mai Chau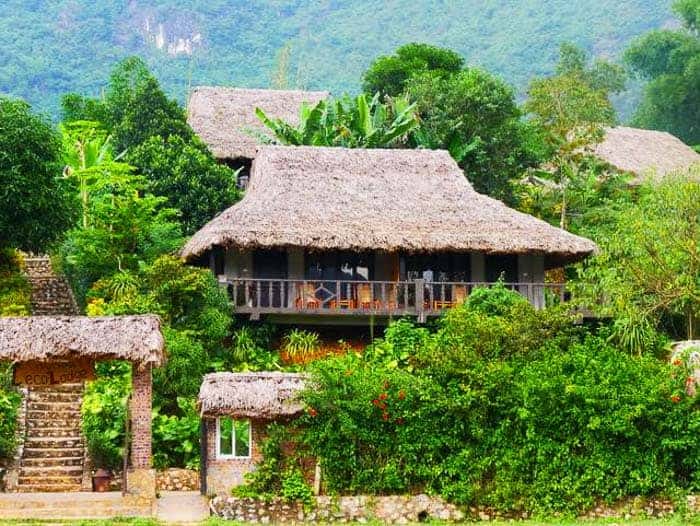 Vietnam is a country full of beautiful contrasts, and it is no more evident than in Mai Chau. After spending time in the frenetic hubs of Ho Chi Minh City and Hanoi, getting out into the mountains in the Mai Chau Valley is worthwhile. The world hasn't caught up with Mai Chau, home to the White Thai minority group, who live in their stilt houses in authentic villages.
There are not an unlimited number of things to do here. The Mai Chau village is very small. The beauty of Mai Chau is in the serenity. It's a place to relax and reflect. You can spend your days riding bikes through the villages, stopping to talk to the locals and watch their craft making. Tours around the area can also be organised.
We stayed at Mai Chau Ecolodge where sustainable tourism is a high priority. The Mai Chau lodge use local products and employ local people, integrating the community wherever they can. For complete relaxation, a week here would be bliss, but spending several days here would also be worthwhile.  Other accommodation options include a Mai Chau homestay.
For travel tips from Beer and Croissants , check out www.beerandcroissants.com or Facebook.
Where to stay: Click here for a full list of places to stay in Mai Chau
Ninh Binh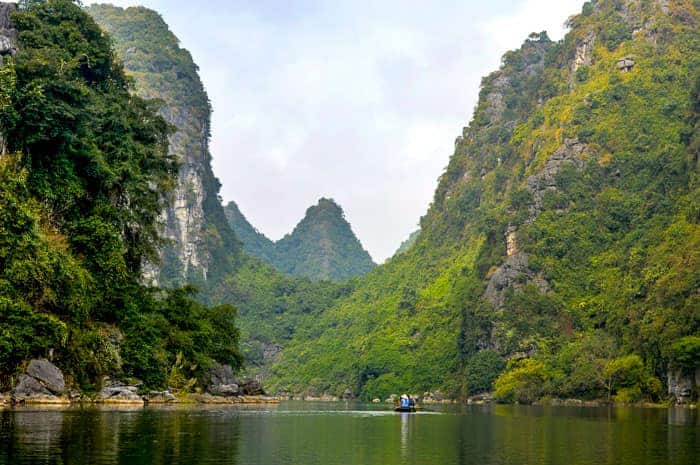 Ninh Binh is a small city in the North of Vietnam, 95 km south of Hanoi.
Whilst the city of Ninh Binh itself is nothing exciting, it is surrounded by stunning landscape of lush green paddy fields, striking limestone mountains and is a tourist hub for many sights and attractions.
Many tourists choose to visit the sights of Ninh Binh by an organized day trip from Hanoi.  This is a great way to see 1 or 2 of the area's sites, but to see multiple sights you will have to stay at least overnight in the area.
I'd personally recommend you stay outside of Ninh Binh and stay in one of the nearby picturesque towns like Trang An or Tam Coc.  When we visited we stayed at La Belle Vie Homestay in Tam Coc which was fantastic Ninh Binh homestay.  Easy walk to tourist attractions and shops.
Things to do in Ninh Binh include the famous water ways of Trang An or Tam Coc.  These areas are also often referred to as the Inland Halong Bay due to the spectacular limestone cliffs coming out of the land surrounded by beautiful waterways.
We visited Trang An and the journey there was just as awesome as the actual destination.  We hired a motorbike to get there and drove through the local rural villages, rice paddies and gorgeous limestone cliffs absolutely gorgeous!
Other things to do in Ninh Binh include:
Bich Dong Pagoda – located a few kilometres north of Tam Coc, it is a cluster of cave temples. There is a lower pagoda, then 100 stairs to the middle pagoda then a short but steep climb to the upper pagoda.  Each level offers stunning views of Ninh Binh.
Phat Diem Cathedral –beautiful ancient Vietnam church
Thung Nham – bird garden 50 minute drive from Tam Coc
Thai Vi Temple – small temple located about 1 km from Tam Coc
Where to Stay: Click here for a full list of places to stay in Ninh Binh
Phong Nha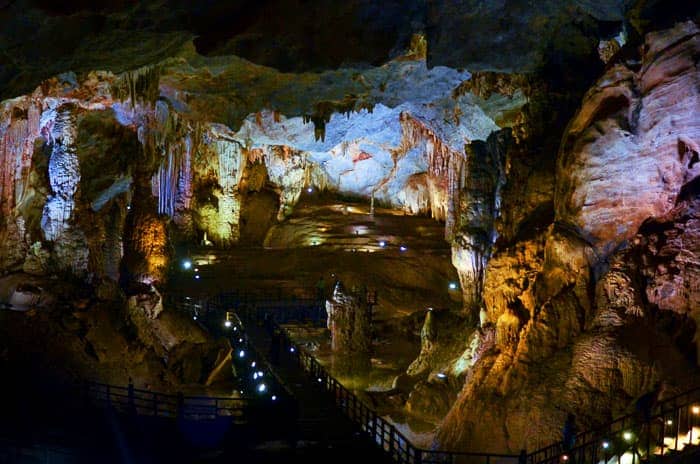 By A Girl Abroad
Located a few hours north of Hue is the Phong Nha National Park.
It's another beautiful piece of the country known for the caves that lie throughout the area, including the largest in the world – Hang Son Doong. While this cave involves booking in advance and handing over quite a significant amount of those hard – earned travel savings, there're a few others that provide plenty of entertainment for a couple of days, with a cave to suit everyone's tastes for the underground world.
The Phong Nha Cave is accessed through a short boat cruise up the Song Con River and into the mouth of the cave. With an impressive history arising throughout the Vietnam War, this one is worth checking out. If you're then after a little break on land before taking the boat back into town, head on up the 400+ steps into Tien Son Cave.
For the more adventurous travellers, there's the Dark Cave Phong Nha. Following a short ride along a zip line to the other side of the river, you're led into the cave and will soon find yourself up to the thigh in mud. Fortunately, the only way out is through a quick dip in the water before rowing yourself back across to the main building in canoes.
Then for those just after something impressive to look at, take yourself along to Paradise Cave Phong Nha. It's got the size and the beauty to make everyone develop a little love for the magic of being underground.
Two days should see you taking in the four main caves, but there's plenty more to see and do in the area, and it's beautiful enough to stay an extra couple of days.
The most convenient town to stay is Phong Nha, with the hostel Easy Tiger Phong Nha being a favourite among the backpackers, and the Phong Nha Farmstay providing something for those with a bigger budget.
Where to stay:  Hotels in Phong Nha
Hue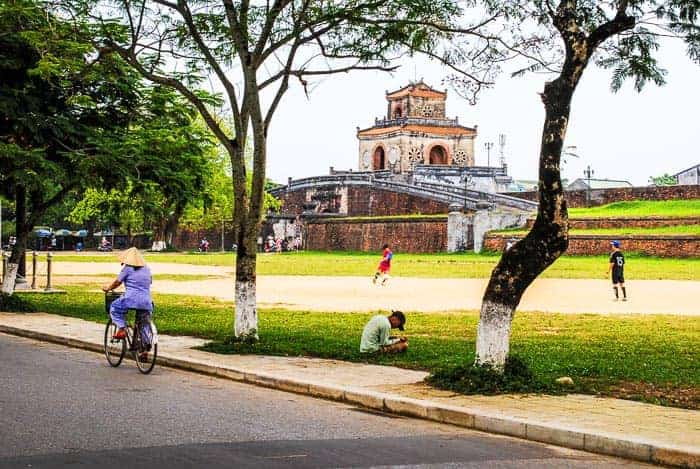 By The Travel Natural
I adored Hue, World Heritage Site and spiritual core of Vietnam. Hue is authentic Vietnam, from the grandness of the ancient Citadel at the heart of the city to the everyday hustle and bustle of Dong Ba market.
There is so many things to do in Hue that you will need at least two days. The first day to explore the historic Citadel, surrounding pagodas and crumbling royal tombs. Unwind at the end of the day by spending the cool evening wandering the Dong Ba market, which sells food, clothes and everything between.
Spend the second day touring the DMZ battle zones, Military Museum and Vinh Moc tunnels remaining from the Vietnam war. A heart wrenching but an essential experience to have in Vietnam.
Stay central at the Jade Hotel ($20p/n for a private room), eat the best Vietnamese fusion in town at Serene Cuisine and drink syrupy iced Vietnamese coffee at Nina's café.
Where to stay:  Click here for a full list of places to stay in Hue
Da Nang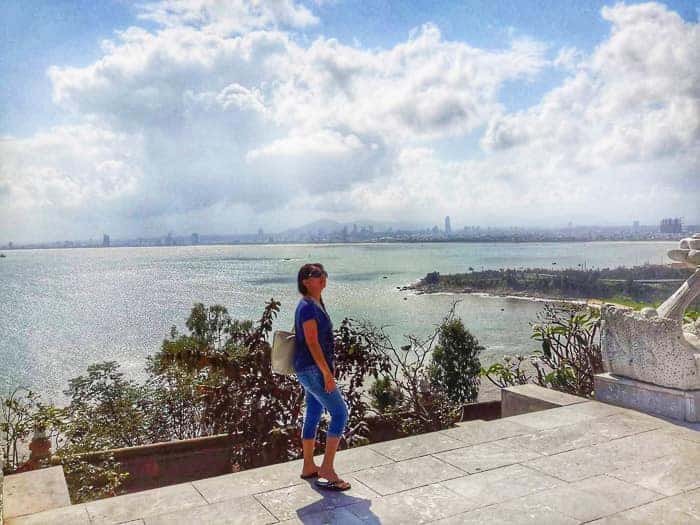 By Together in Thailand
We only allocated 2 days here, however, we would recommend at least double that to have time for some of the amazing Da Nang attractions, like the Marble Mountains. Our plan, like most visitors, was to fly in and use it as a base for making the 30-kilometer visit to Hoi An.
There are plenty of great Da Nang Hotels to choose from, but we recommend The Grand Mango Hotel as it provided an amazing view of Danang Beach and the East Vietnam Sea. It was also a quick walk across the street, so that gave us a good half day of lounging and sunbathing (there are some great beach bars here).
There are plenty of things to do in Da Nang but the highlight of our visit was the Lady Buddha Statue which was a short drive from our hotel. Located on the hill overlooking the city and the sea, this spot offers phenomenal views!
Eating at one of the many seafood restaurants near the beach is also a must. You have your choice of fresh fish and crab that are in buckets of water in front of the restaurant, waiting for you to order.
For more travel tips from Together in Thailand, you can check out www.togetherinthailand.com.
Where to stay:  Click here for a full list of places to stay in Danang
Hoi An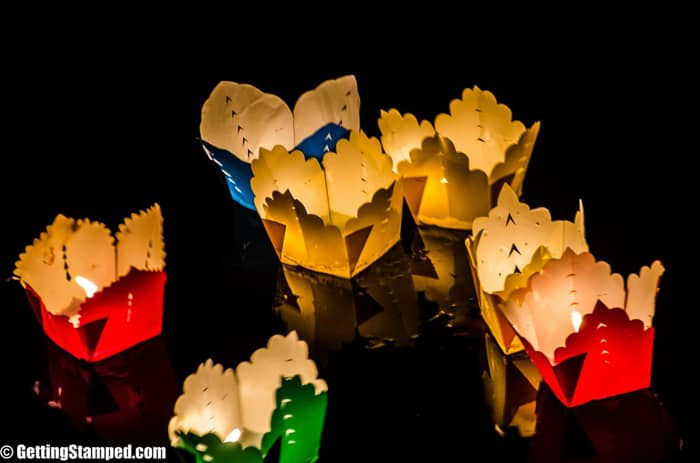 I spent a month exploring all the best Vietnam destinations but I fell in love with Hoi An. There are tons of things to do in Hoi An but my favourite is eating! The best food in Vietnam is in Hoi An, no joke for less than $5 a day you can eat like a king and drink a ton of ten cent beers.
Yes, you saw that right, ten cent beers. There are tons of cooking schools but my favourite restaurant Cafe 43 has cooking lessons for $5 a person and then you pay for the menu item you'd like to cook, and it's a private one on one cooking class. I would recommend at least 3 days in Hoi An, and try and time it during a Hoi An lantern festival which is every full moon. The town is lit up with gorgeous lanterns, don't forget your camera. There is plenty of great hotels in Hoi An but I stayed at Hoi An Prince hotel for $17 with free breakfast and bike rentals only $1 a day, it is outside the city but the price can't be beaten.
For more travel tips from Getting Stamped, you can check out www.gettingstamped.com or find them on Instagram.
Where to stay:  Click here for a full list of places to stay in Hoi An
Dalat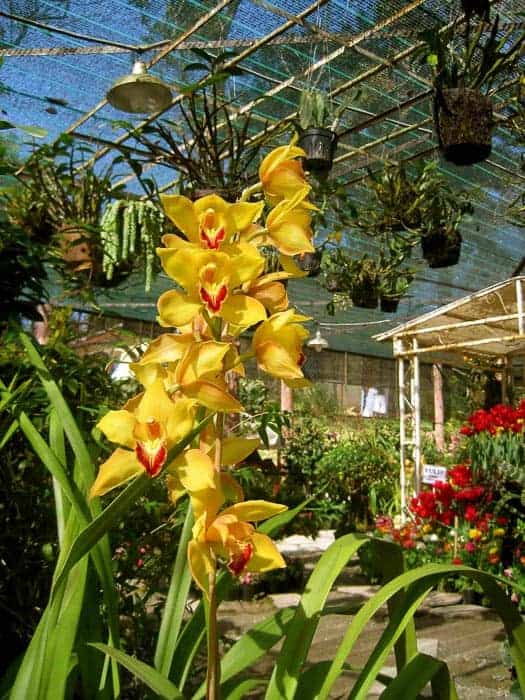 By The Lite Backpacker
For a slightly different version of Vietnam, head up into the cool mountains to the town village of Dalat. Getting there is an easy bus ride from either Ho Chi Minh or Da Nang. Pick a central hotel that is close to the centre of town and that offers the use of bicycles – the town isn't big, so a great way to get around is by bike. The streets are lined with beautiful French colony style buildings that were barely touched during the various conflicts over the last 100 years – it was an escape from the humidity for the French.
Dalat's flower park is home to Vietnam's biggest flower show (usually in December) and has an amazing collection or orchids – even if flowers aren't your thing, it is well worth checking out. This area's wealth comes from exporting strawberries and flowers to the rest of the country… no rice paddies around here.
Make sure you visit the Crazy house… it is just like it sounds. It was built by a famous Vietnamese architect who was clearly strongly influenced by Gaudi. There are also some great day trips you can do from the city to places like Elephant Falls and the Happy Buddha.
A few days here and you will have seen it all, but you will also be relaxed and a lot cooler than you were when you left the coast.
For more travel tips from The Lite Backpacker, you can find them on Facebook.
Where to stay:  Click here for a full list of places to stay in Dalat.
Click here to read about the three must see waterfalls in Dalat
Mui Ne 
Mui Ne is nestled on the banks of South China Sea in South Vietnam. With close proximity to Saigon, it is a popular destination for locals as well as tourists. Mui Ne is popular destination for kite surfing but the beach there is quite disappointing. As a tourist in Mui Ne, I realized a couple of days were sufficient to enjoy the laid back beach town vibe before I moved on to other parts of this beautiful country.
I would highly recommend Mui Ne to travelers only for the vast sand dunes and the lovely fairy stream. I have never seen so much sand in my life (And Yes I have visited deserts in India). The yellow and red sand dunes are quite stunning. My recommendation is to opt for the sunrise tour (instead of sunset) as it gets pretty hot and busy in later part of the day. Wake up at 4 am to catch the sun rise over vast empty dunes is quite a sight. Definitely worth waking up early for! They also have crazy ATV rides on the dunes which are an exhilarating experience, to say the least.
For more travel tips from Wander with Jo, you can check out www.wanderwithjo.com or find her on Instagram.
Where to stay: Click here for a full list of places to stay in Mui Ne
Ho Chi Minh City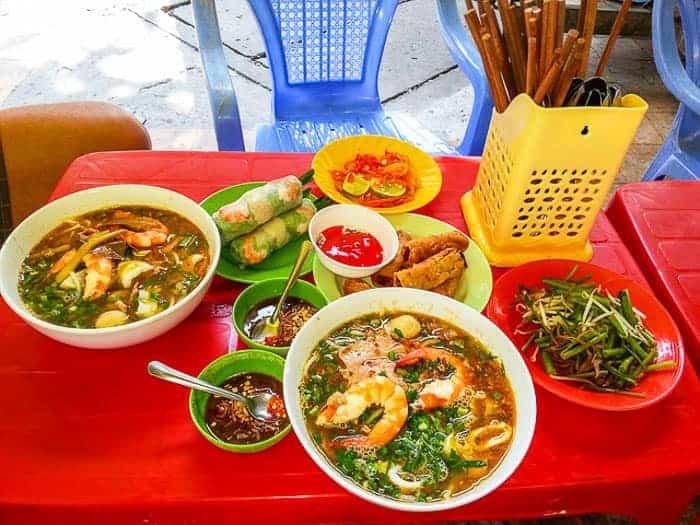 HCMC, or Saigon, as the locals still call it, is one of South East Asia's most bustling cities and a perfect spot for street food aficionados and history buffs. You could easily spend a week here just sampling all the different foods, both local and international. Whilst street food stalls can be found at just about every corner, Ben Thanh Market is a good place to sample lots of different dishes in one place. Another popular spot is the Lunch Lady, who offers a different soup every day.
Must see places to visit in Ho Chi Minh City include a visit to the War Remnants Museum and the nearby Chu Chi Tunnels. In the evening, find a place that sells Bia Hoi – freshly brewed beer, usually served on ice – and sit outside watching the street life. Bui Vien street in District 1 may be "backpacker central", but it's still a great place for people watching whilst sipping on your bia hoi.
Where to stay: Pink Tulip Hotel is on a quiet side street and conveniently located between Ben Thanh Market and Bui Vien street in District 1, so food and entertainment are always close by.
For more travel tips from Traveling German, you can check out www.travelinggerman.com or find her on Twitter.
Where to stay: Click here for a full list of places to stay in Ho Chi Minh City
Vinh Long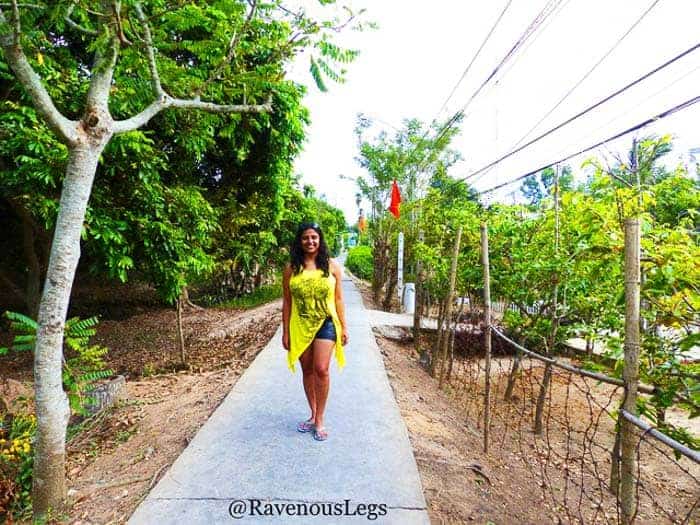 Vietnam has diverse terrains and landscapes from north to south. Mekong River Delta in the south was my first pick to explore after I landed at Ho Chi Minh City. There are 3 provinces frequented by tourists on the Mekong Delta. I chose to explore Vinh Long. Vinh Long is approachable by bus from Ho Chi Minh City. I took a ferry to reach An Binh, a river island, on Tien river, in Vinh Long province.
An Binh is a beautiful green island, inhabited by the ethnic Viet. Living on this island made me travel back in time. Life slowed down here and I felt a calming effect in the cool air. I stayed at a homestay with a loving Vietnamese family. They served excellent homemade Vietnamese food and talked with a pretty smile.
One can walk or ride a bicycle around the island and observe the simple country-style lifestyle of the people living in this part of Vietnam which is completely different from other parts.
Places to stay: There are beautiful homestays and guest houses on the An Binh island
Things to do: Visit Chinese temple, walk/cycle around the island, take a boat ride to floating market of Cai Be.
For more travel tips from Ravenous Legs, you can check out www.ravenouslegs.com or find her on Facebook.
Where to stay: Click here for a full list of places to stay in Vinh Long.
Can Tho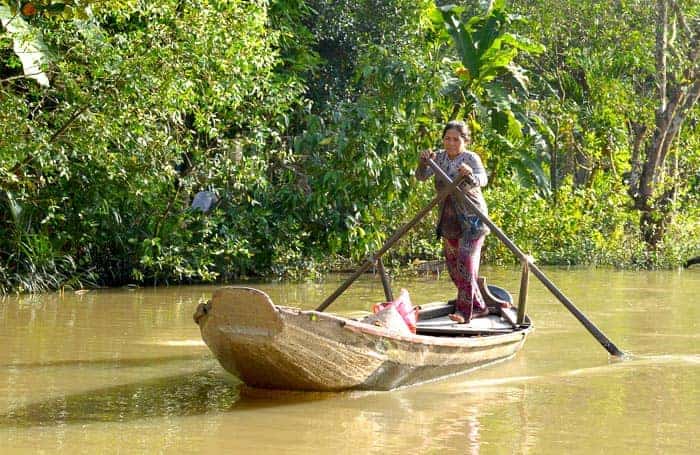 A great area to experience the Mekong Delta from in Vietnam is Can Tho.
Can Tho is in fact the 4th largest city in Vietnam which means there are plenty of places to stay within the city, however I highly recommend you stay outside the city and stay at one of the homestays along the water ways of the Mekong Delta.
We stayed at the Nguyen Shack which was fantastic.  The Nguyen Shack offers rustic bungalows with balconies looking out over the river.
Another great reason to stay at the Nguyen Shack is that they offer a variety of tours leaving right from the homestay.  Tours include the floating markets, the river ways of the Mekong Delta, food tour in Can Tho and a bicycle tour around the local villages.
Where to Stay: Click here for a full list of places to stay in Can Tho
Phu Quoc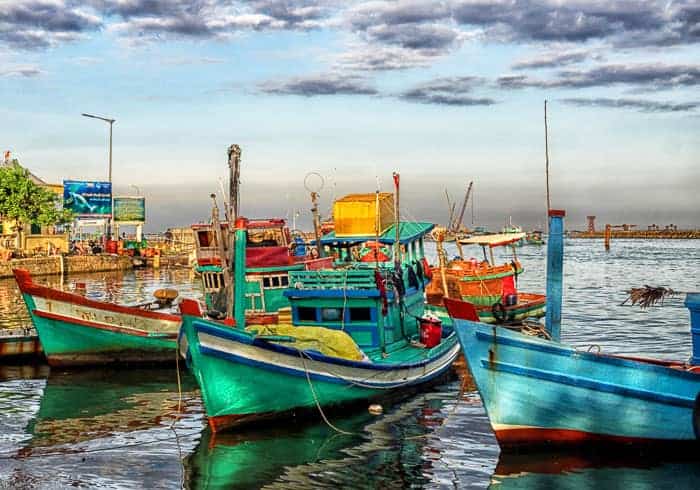 By Robyn Around the World
Away from the hustle and bustle of the rest of Vietnam is their largest island off the Southwest coast, Phu Quoc. I've been living here for two months and love the slow island life, but yet it still has all the amenities of the big city. There's so much to do here from exploring the day and night markets to checking out the temples.
With over ten beaches to choose from, you'll be sure to find a place to relax. Be sure to eat all the local food. Try Nuoc Mia which is fresh pressed sugar cane juice and very healthy for you despite it coming from the same plant that makes processed sugar. And it wouldn't be a trip to Vietnam without eating a Bahn Mi. There's a cart on almost every corner. The locals are very friendly, and most can speak English or at least can communicate through sign language and a smile. This island would be a great way to wrap up your tour of Vietnam.
Spend around 4-5 days here and be sure to check out the night market, Phu Quoc bee farm, fish sauce factory, the pearl farm, Vinpearl Land, snorkeling at Turtle Island and Sao Beach.
If you want the city life, stay in Duong Dong near the harbor, with great restaurants and the night market or for a fun beach vibe with many cafes and boutiques stay at one of the many resorts in Ong Lang like Mango Bay Beach Resort or Bauhinia Resort.
For travel tips from Robyn Around the World, you can find her on Instagram.
Where to stay:  Click here for a full list of places to stay in Phu Quoc
Disclaimer: This post contains affiliate links which means if you book using one of my links contained within this post – I will receive a small commission at no extra cost to you.  Thanks for supporting our website.
Want to add a place to this list? Contact me!
Like this post?  Pin it to Pinterest for later!