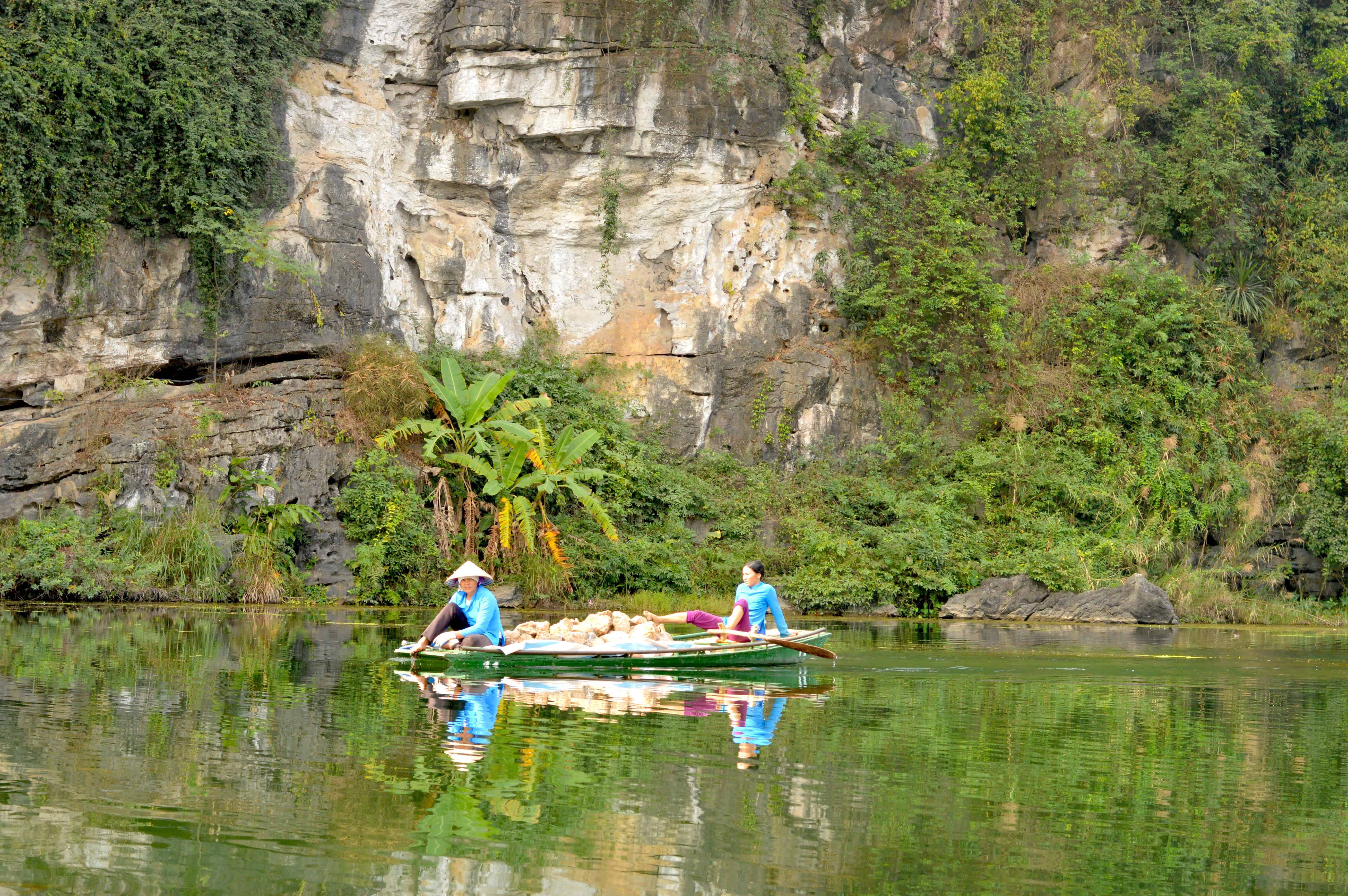 Vietnam is a fantastic place for a holiday. With chaotic cities, peaceful countrysides and picture perfect beaches – there is something for everyone.
I recently spoke to various travel bloggers and asked them what there favourite place in Vietnam was and to give us a few tips on what to do and where to stay whilst there.
Hopefully the information in this post will help you start planning that perfect itinerary to Vietnam.
So here goes – starting int he North of Vietnam and ending in the South:
Sapa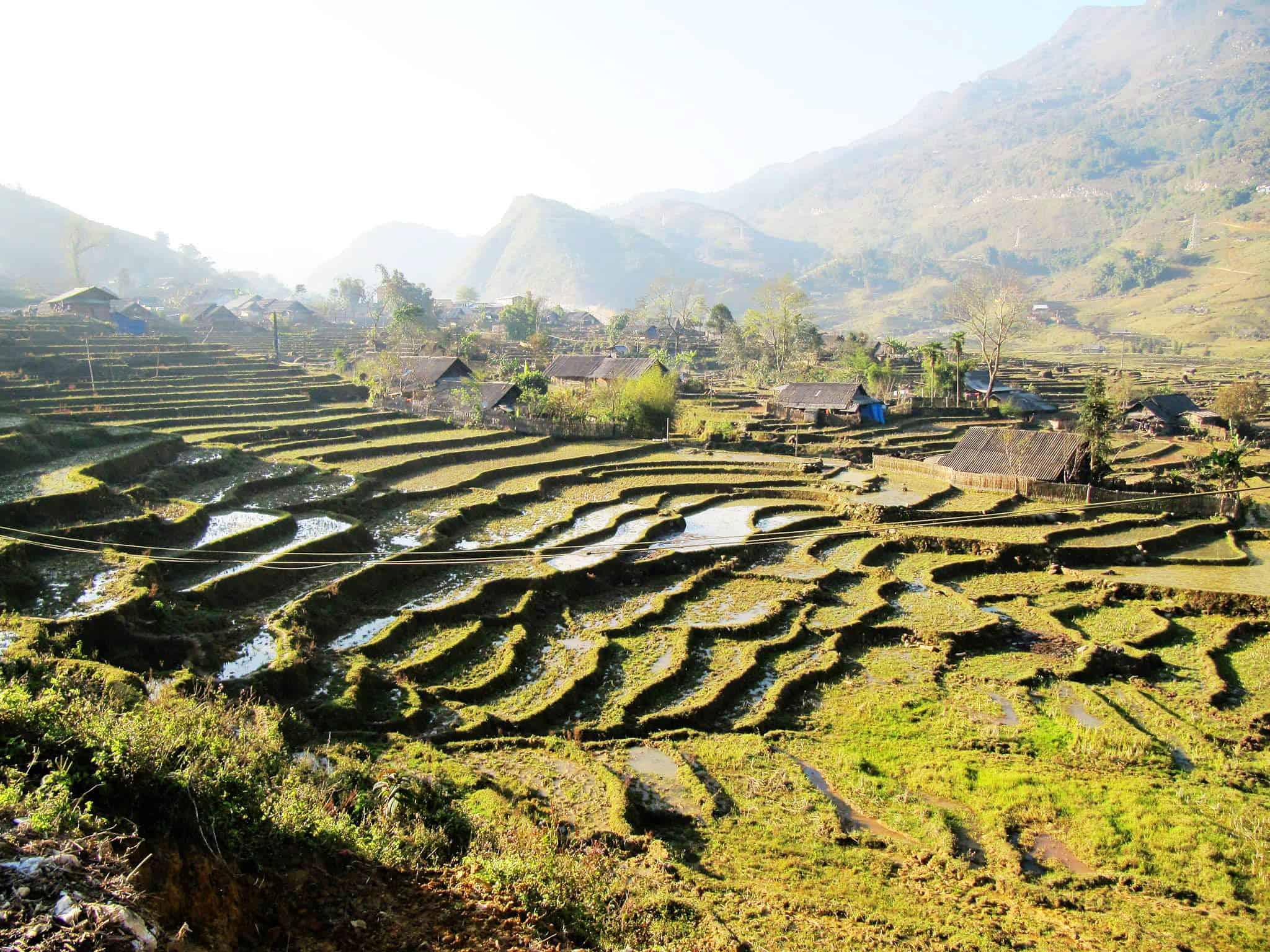 After the craziness of Hanoi, it was a relief to get out into the countryside and enjoy Sapa. The scenery is just spectacular and meeting the Hmong hill tribe people was a pleasure.
Sapa is predominantly an area for trekking, although we also went to the colourful Hac Ba markets. As it is inhabited by the hill tribes, the culture is different to much of Vietnam. I wholeheartedly recommend Sapa Sisters if you are looking for a guide, accommodation, transport etc. Everything they do is tailored to individual requirements and the benefits all go to the local community.
There are many different forms of accommodation available but to truly immerse yourself in the experience I suggest a home stay. For us, it was arranged as part of our two-day package and was very comfortable. We were provided with a delicious traditional dinner and interaction with the family before falling into bed exhausted after the early morning and day of walking.
We spent two days and one night in the region, but felt we could have stayed at least one more day and spent some more time exploring the town of Sapa as well as the countryside.
Sapa was the highlight of our three weeks in Vietnam.
For more travel tips from Josie Wanders, you can check out www.josiewanders.com or find her on Facebook.
Where to stay: Hotels in Sapa
Dien Bein Phu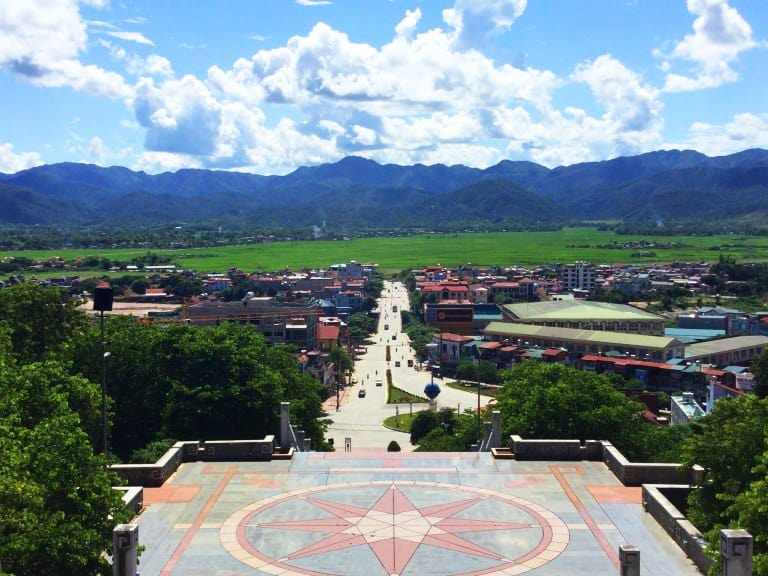 Nestled into the North-West of Vietnam you will find Dien Bien Phu. It's not a typical holiday destination or on the backpacker trail but I found myself in this small city as it's by the border crossing to Laos. While some travellers get off the bus at Dien Bien Phu and hop straight on the bus to Laos, stopping in the city for 24 hours is definitely worthwhile.
In Dien Bien Phu, you'll be greeted by friendly locals who don't see many western tourists and a city rich with history. This small border town is where the Vietnamese won their last battle against the French. As such, there are some essential places to visit while there. Firstly, a museum outlining the history of the French invasion and how the last battle took place in Dien Bien Phu. Next, the A1 hill, where the battle took place. Finally, a huge monument overlooking the city, celebrating when the Vietnamese won.
There's plenty of local places to eat and some great Ba Hoi to drink on the streets as your day comes to an end. If you're heading to Laos, definitely stop here for a night.
For travel tips from A Girl Abroad, you can check out www.bristolianbackpacker.com or find her on Facebook
Where to stay: Hotels in Dien Bien Phu
Halong Bay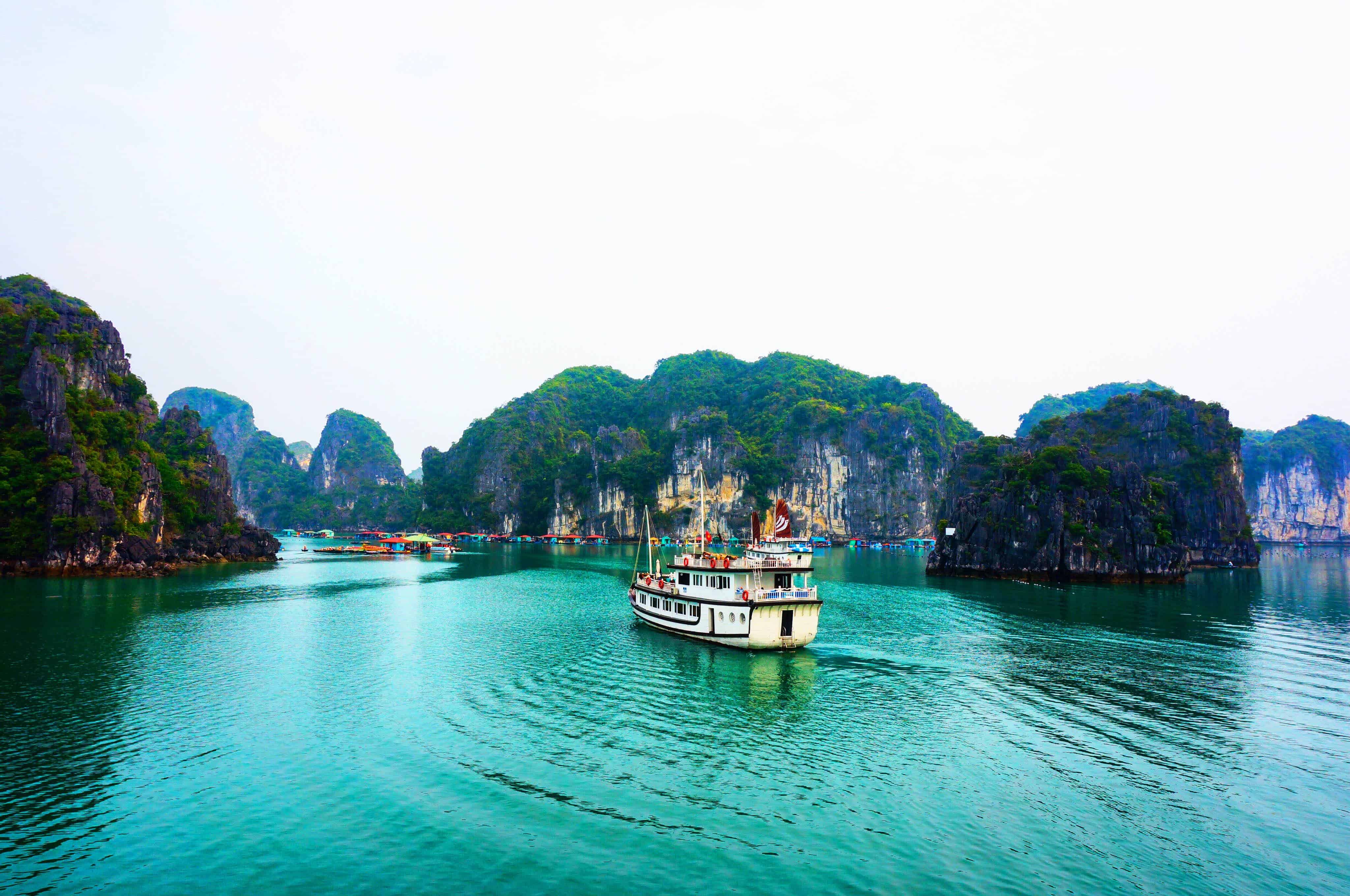 Halong Bay is a UNESCO World Heritage site since 1994, famous for its almost 2,000 limestone islands formations within an area of 1,553km². Located about 4 hours drive from Hanoi, Halong Bay literally means 'descending dragon bay', where legend has it that gods sent dragons, who dropped jewels and jade from their mouths into the bay, hence creating the rock islands.
I love this unique heritage site because the limestone islands in this bay have gone through 500 million years of formation in different conditions and environments, making it a magnificent place to witness and explore. It is also home to approximately 1,600 fishermen who live in floating villages, and visitors are free to experience the floating village life when you are there. Other things to do include a visit to Sung Sot cave with thousands of stalactites and stalagmites along the 500-meter paved passage, kayaking in the bay between different limestones formations, squid fishing at night, and hiking of limestone islands. Recommended length of stay is at least 2 days 1 night on a classic oriental junk boat cruise, for example, Bhaya Cruise ship costs about US$169 per person for a 2D1N package with full board meals in private cabin and returns land transfer from Hanoi.
For more travel tips from Urbanite Diary, you can check out www.urbanitediary.com or find them on Instagram.
Where to stay: Halong Bay cruises
Cat Ba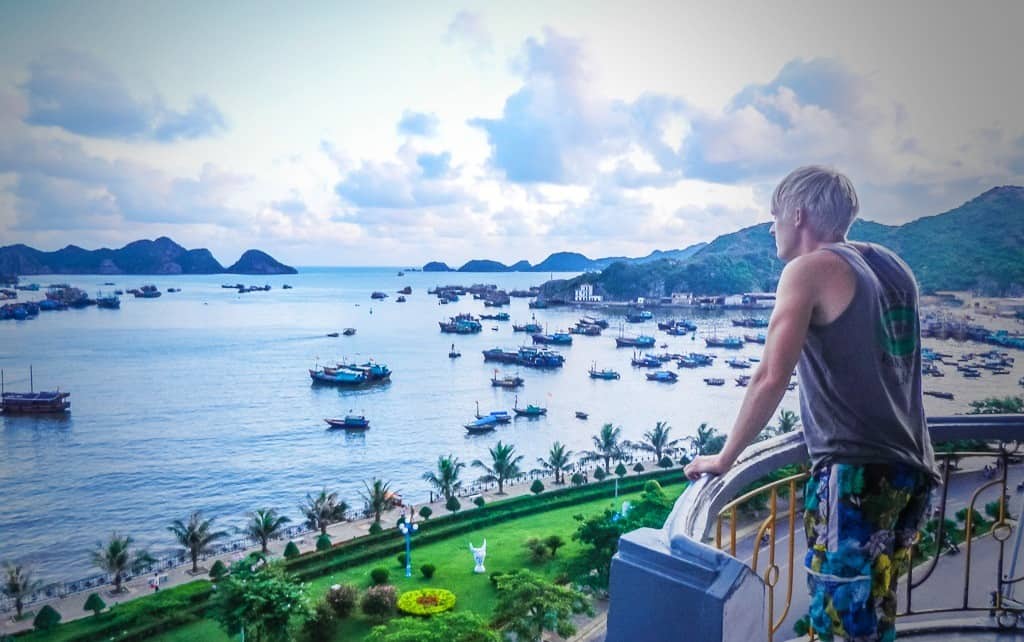 Cat Ba Town on Cat Ba Island is an alternative location to stay when visiting famous Halong Bay. Most travellers and tourists stay in sprawling Halong City on the mainland and take boat trips out to explore the bay, but stay on Cat Ba island and you'll see a side to Halong Bay that most don't encounter.
Cat Ba Town consists of a long string of hotels lining the foot of the bay's iconic limestone cliffs. Nearly all available rooms come with a beautiful bay view! Yes, the town has seen some development in recent years, but you'll soon overlook this as it's a perfect base to travel the island's almost untouched sights.
Almost half the island is National Park and by delving inside you'll find idyllic sandy beaches, quaint fishing villages, waterfalls, grottos and the 3 hectares Ech Lake. The star of the show here is Lan Ha Bay, an alternative and less crowded option to Halong Bay, with the same striking limestone cliff formations rising from the waters. Kayaking Lan Ha Bay is a must!
We recommend staying at this family run hotel overlooking the bay. We looked at many hotels on arrival and found this hotel to be better than most for the flashpacker price. It's well reviewed which is always a plus!
For more travel tips from Finding Beyond, you can check out www.findingbeyond.com or find them on Facebook
Where to stay: Hotels in Cat Ba
Hanoi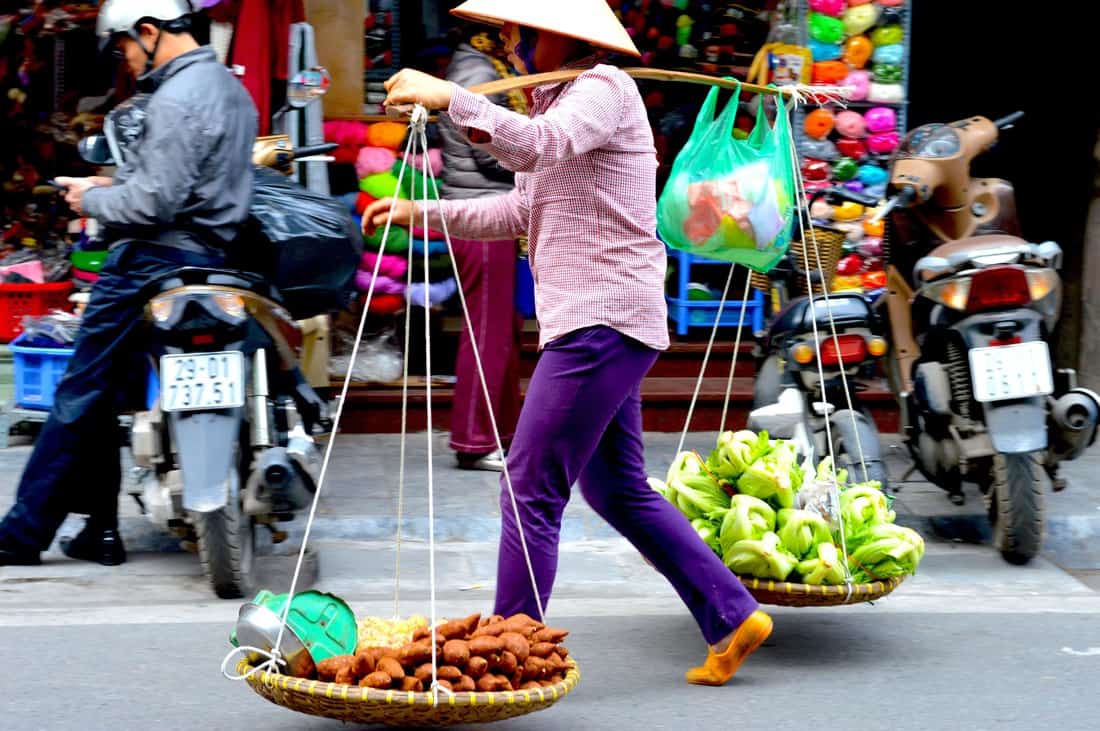 Hanoi is the capital of Vietnam and is the country's second largest city.
Most tourists (us included) head straight to the Old Quarter. The Old Quarter is at the heart of the city and is made of numerous narrow streets arranged by the products sold. The buildings are tube like in that they are tall and skinny, and are typically 3 metres wide.
The Old Quarter is full of life, as soon as you arrive your senses come alive. You are bombarded with the sounds of the traffic, motorbikes and cars continually beeping their horns. Your eyes are drawn to the fabulously bright colours of the French influenced buildings, as well as the colourful fruits and vegetables that fill the little stalls that spill onto the pavements. The Old Quarter is absolutely chaos, but somehow it just works and it is absolutely mesmerising.
Whilst your in Hanoi take a food tour with Hanoi Street Food Tours, a city tour with Hanoi Kids, get lost in the Old Quarter, take a cyclo tour around town and relax with a massage.
You can get some great budget accommodation in Hanoi. You can easily get a basic private room, with air conditioning and breakfast for around $20 AUD.
For more information about Hanoi – check out 4 day itinerary of Hanoi.
Where to stay: Hotels in Hanoi
Mai Chau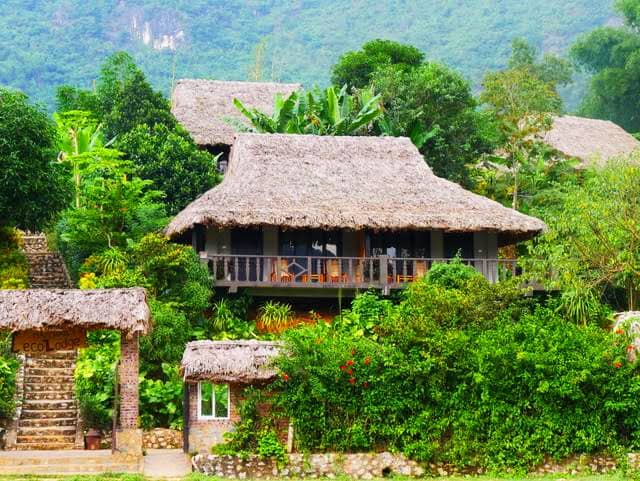 By Kerri of Beer and Croissants
Vietnam is a country full of beautiful contrasts, and it is no more evident than in Mai Chau. After spending time in the frenetic hubs of Ho Chi Minh City and Hanoi, getting out into the mountains in Mai Chau is worthwhile. The world hasn't caught up with Mai Chau, home to the White Thai minority group, who live in their stilt houses in authentic villages.
There is not an unlimited number of things to do here. The town of Mai Chau is very small. The beauty of Mai Chau is in the serenity. It's a place to relax and reflect. You can spend your days riding bikes through the villages, stopping to talk to the locals and watch their craft making. Tours around the area can also be organised.
We stayed at Mai Chau Ecolodge where sustainable tourism is a high priority. They use local products and employ local people, integrating the community wherever they can. For complete relaxation, a week here would be bliss, but spending several days here would also be worthwhile.
For travel tips from Kerri, you can check out www.beerandcroissants.com or find her on Facebook.
Where to stay: Hotels in Mai Chau
Phong Nha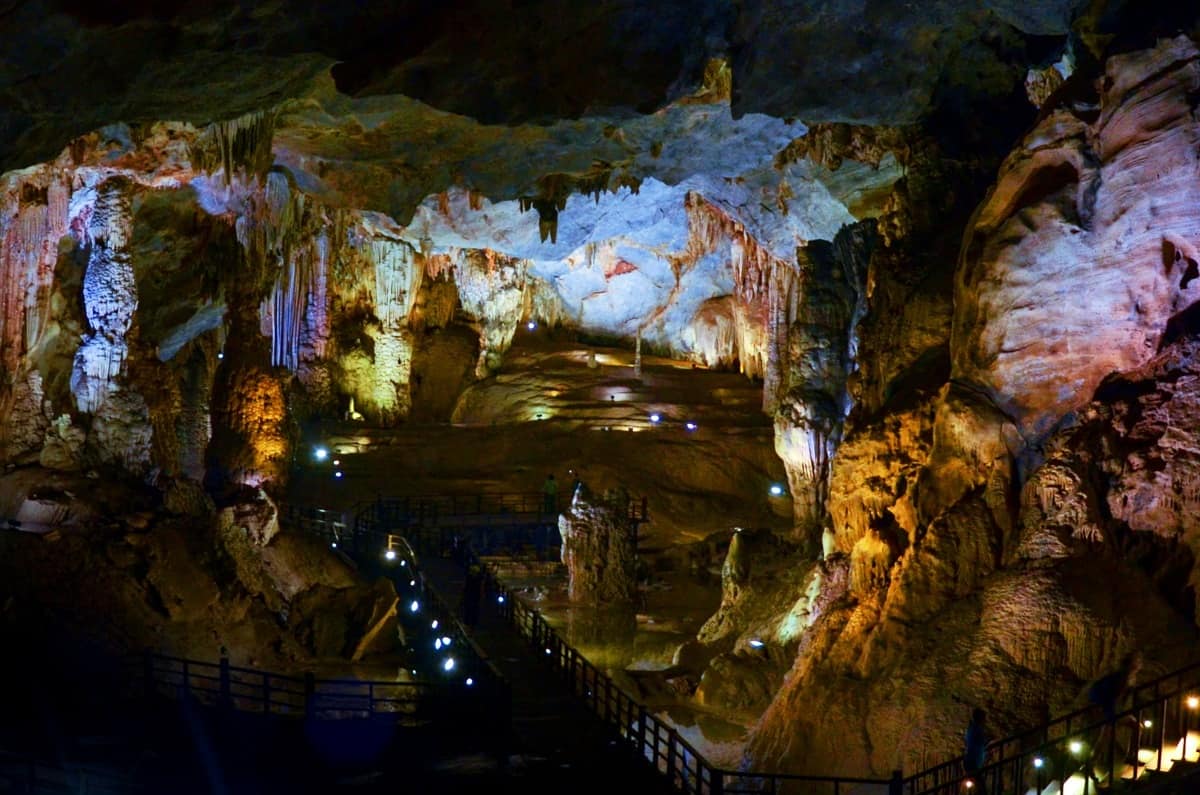 By A Girl Abroad
Located a few hours north of Hue is the Phong Nha National Park.
It's another beautiful piece of the country known for the caves that lie throughout the area, including the largest in the world – Hang Son Doong. While this cave involves booking in advance and handing over quite a significant amount of those hard – earned travel savings, there're a few others that provide plenty of entertainment for a couple of days, with a cave to suit everyone's tastes for the underground world.
The Phong Nha Cave is accessed through a short boat cruise up the Song Con River and into the mouth of the cave. With an impressive history arising throughout the Vietnam War, this one is worth checking out. If you're then after a little break on land before taking the boat back into town, head on up the 400+ steps into Tien Son Cave.
For the more adventurous travellers, there's the Dark Cave. Following a short ride along a zip line to the other side of the river, you're led into the cave and will soon find yourself up to the thigh in mud. Fortunately, the only way out is through a quick dip in the water before rowing yourself back across to the main building in canoes.
Then for those just after something impressive to look at, take yourself along to Paradise Cave. It's got the size and the beauty to make everyone develop a little love for the magic of being underground.
Two days should see you taking in the four main caves, but there's plenty more to see and do in the area, and it's beautiful enough to stay an extra couple of days.
The most convenient town to stay is Phong Nha, with the Easy Tiger Hostel being a favourite among the backpackers, and the Phong Nha Farmstay providing something for those with a bigger budget.
For more travel tips from A Girl Abroad, you can check out www.agirlabroad.com or find her on Facebook.
Where to stay: Hotels in Phong Nha
Hue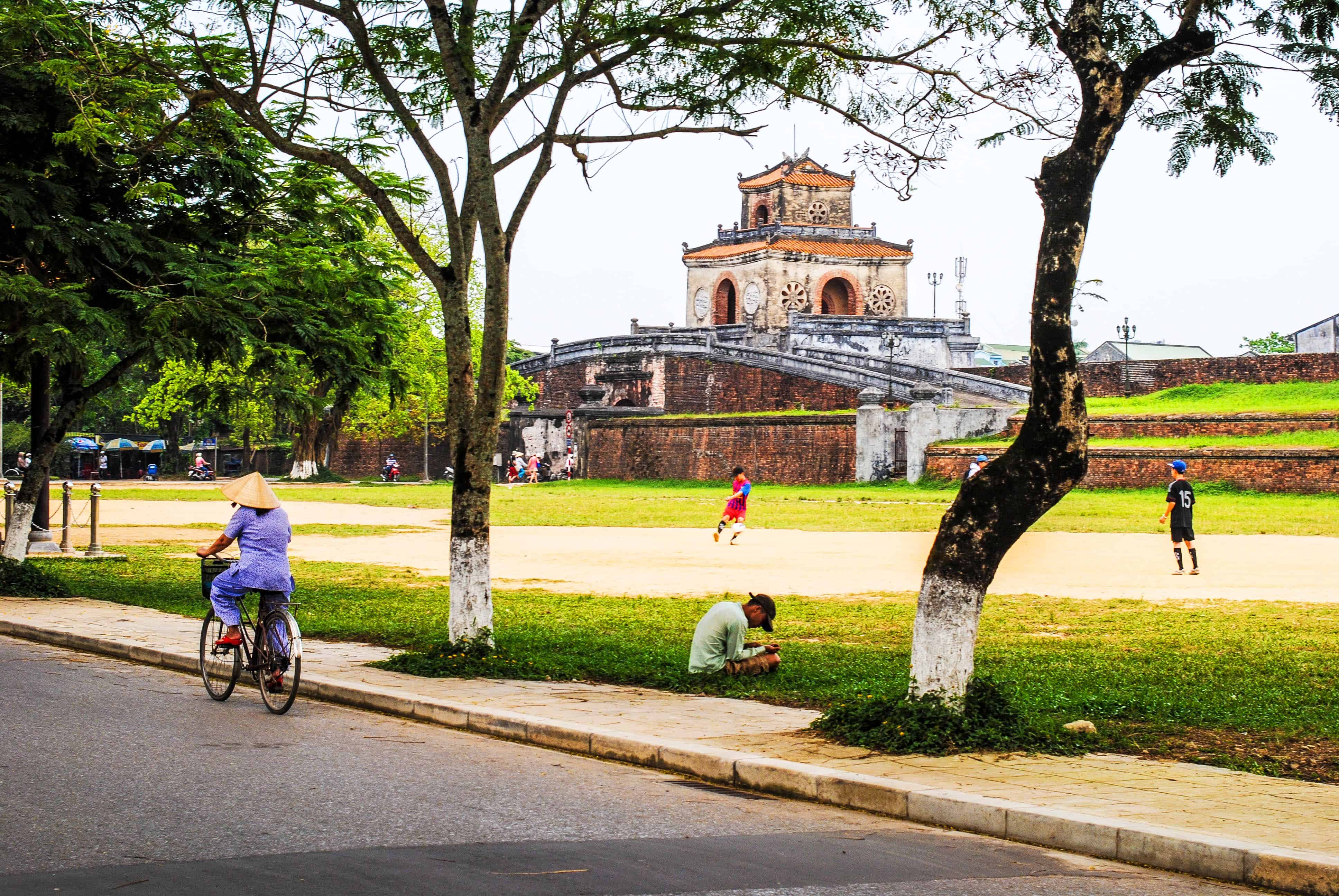 By The Travel Natural
I adored Hue, World Heritage Site and spiritual core of Vietnam. Hue is authentic Vietnam, from the grandness of the ancient Citadel at the heart of the city to the everyday hustle and bustle of Dong Ba market.
Hue deserves at least two days. The first day to explore the historic Citadel, surrounding pagodas and crumbling royal tombs. Unwind at the end of the day by spending the cool evening wandering the Dong Ba market, which sells food, clothes and everything between.
Spend the second day touring the DMZ battle zones, Military Museum and Vinh Moc tunnels remaining from the Vietnam war. A heart wrenching but an essential experience to have in Vietnam.
Stay central at the Jade Hotel ($20p/n for a private room), eat the best Vietnamese fusion in town at Serene Cuisine and drink syrupy iced Vietnamese coffee at Nina's café.
Where to stay: Hotels in Hue
Da Nang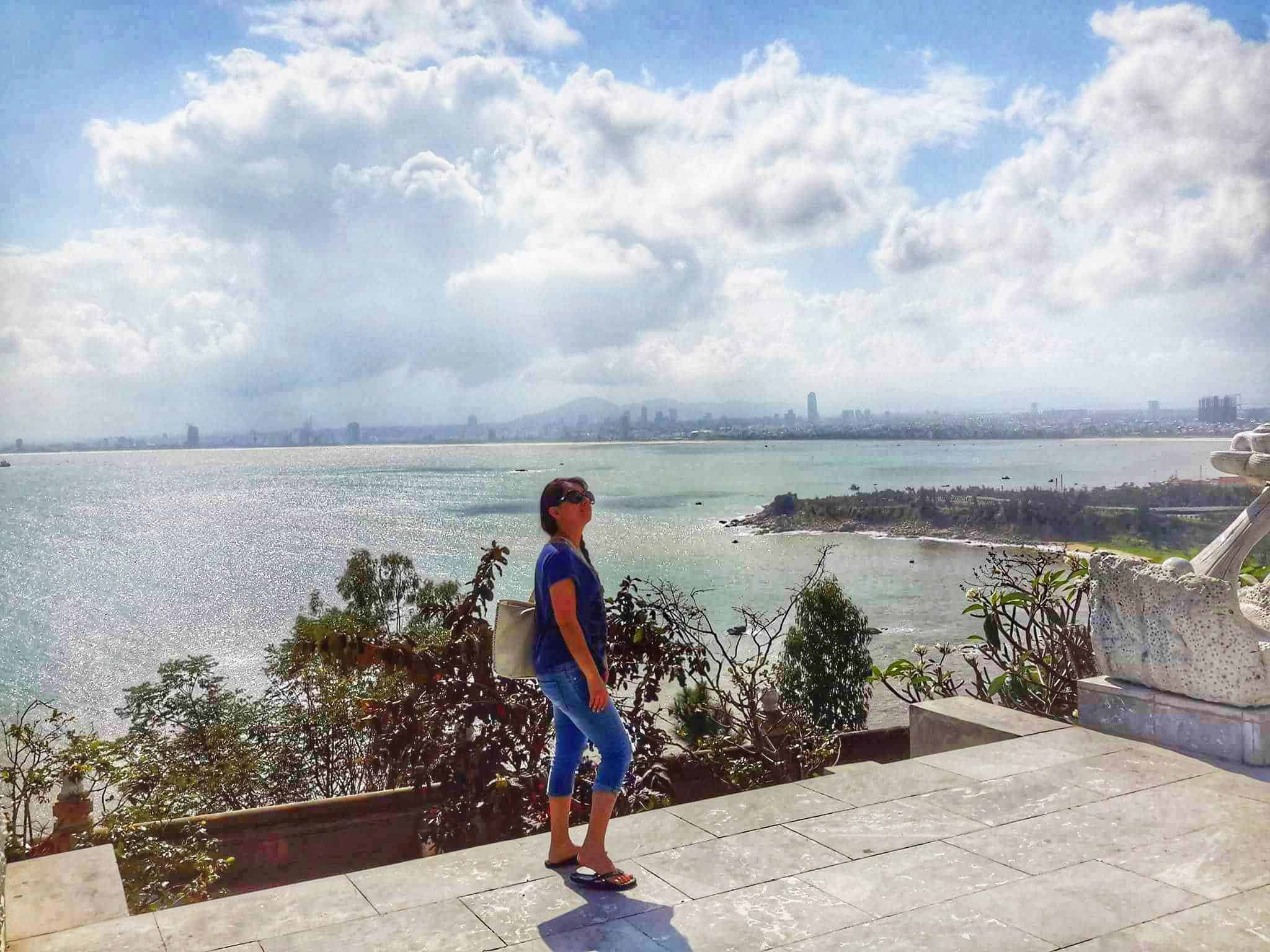 By Together in Thailand
We only allocated 2 days here, however, we would recommend at least double that to have time for some of the amazing attractions, like the Marble Mountains. Our plan, like most visitors, was to fly in and use it as a base for making the 30-kilometer visit to Hoi An.
Luckily, we had picked a great hotel and location to stay that gave us a taste for this underrated city. The Grand Mango Hotel was not only a clean and comfortable place to stay but provided an amazing view of Dana Beach and the East Vietnam Sea. It was also a quick walk across the street so that gave us a good half day of lounging and sunbathing (there are some great beach bars here).
The highlight of our visit was the Lady Buddha Statue which was a short drive from our hotel. Located on the hill overlooking the city and the sea, this spot offers phenomenal views!
Eating at one of the many seafood restaurants near the beach is also a must. You have your choice of fresh fish and crab that are in buckets of water in front of the restaurant, waiting for your to order.
Where to stay: Hotels in Danang
Hoi An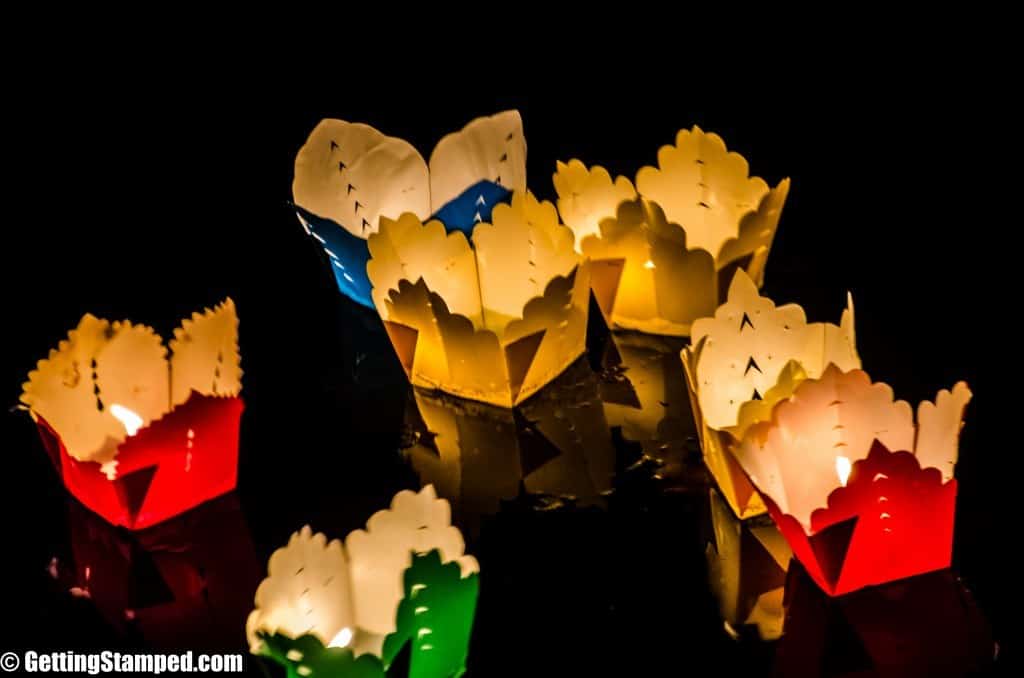 I spent a month exploring all the best Vietnam destinations but I fell in love with Hoi An. There are tons of things to do in Hoi An but my favourite is eating! The best food in Vietnam is in Hoi An, no joke for less than $5 a day you can eat like a king and drink a ton of ten cent beers.
Yes, you saw that right, ten cent beers. There are tons of cooking schools but my favourite restaurant Cafe 43 has cooking lessons for $5 a person and then you pay for the menu item you'd like to cook, and it's a private one on one cooking class. I would recommend at least 3 days in Hoi An, and try and time it during a Hoi An lantern festival which is every full moon. The town is light up with gorgeous lanterns, don't forget your camera. I stayed at Hoi An Prince hotel for $17 with free breakfast and bike rentals only $1 a day, it is outside the city but the price can't be beaten.
For more travel tips from Getting Stamped, you can check out www.gettingstamped.com or find them on Instagram.
Where to stay: Hotels in Hoi An
Dalat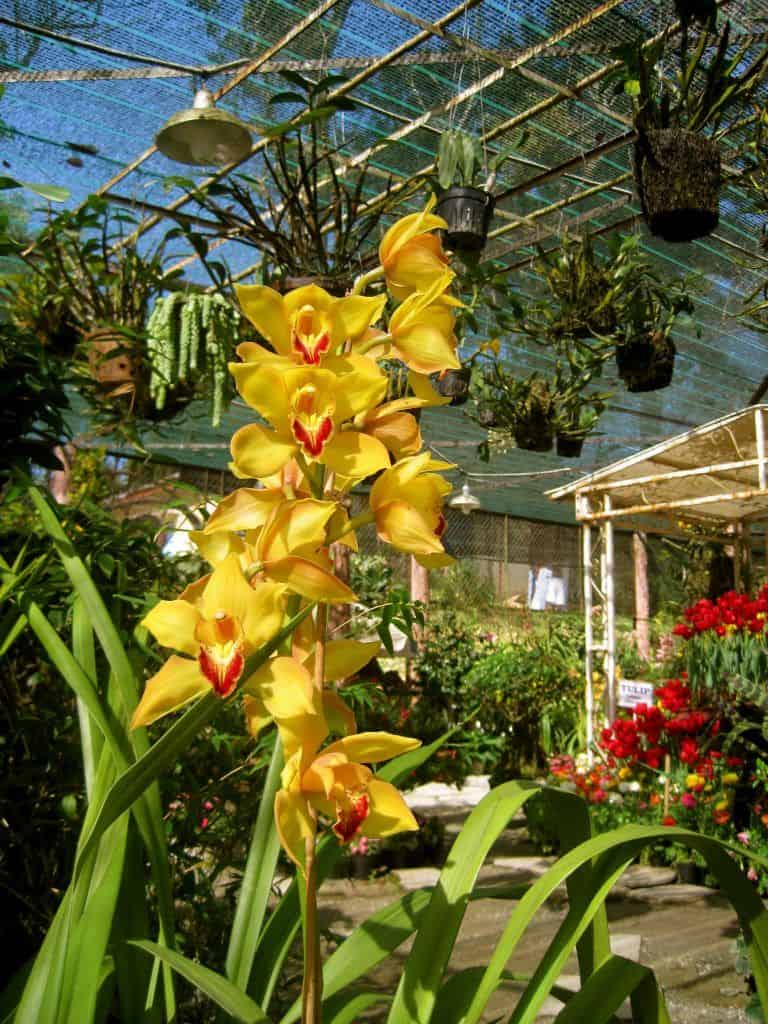 By The Lite Backpacker
For a slightly different version of Vietnam head up into the cool mountains to the town village of Dalat. Getting there is an easy bus ride from either Ho Chi Minh or Da Nang. Pick a central hotel that is close to the centre of town and that offers the use of bicycles – the town isn't big, so a great way to get around is by bike. The streets are lined with beautiful French colony style buildings that were barely touched during the various conflicts over the last 100 years – it was an escape from the humidity for the French.
Dalat's flower park is home to Vietnam's biggest flower show (usually in December) and has an amazing collection or orchids – even if flowers aren't your thing it is well worth checking out. This area's wealth comes from exporting strawberries and flowers to the rest of the country… no rice paddies around here.
Make sure you visit the Crazy house… it is just like it sounds. Built by a famous Vietnamese architect who was clearly strongly influenced by Gaudi. There are also some great day trips you can do from the city to places like Elephant Falls and the Happy Buddha.
A few days here and you will have seen it all, but you will also be relaxed and a lot cooler than you were when you left the coast.
Where to stay: Hotels in Dalat.
Phu Quoc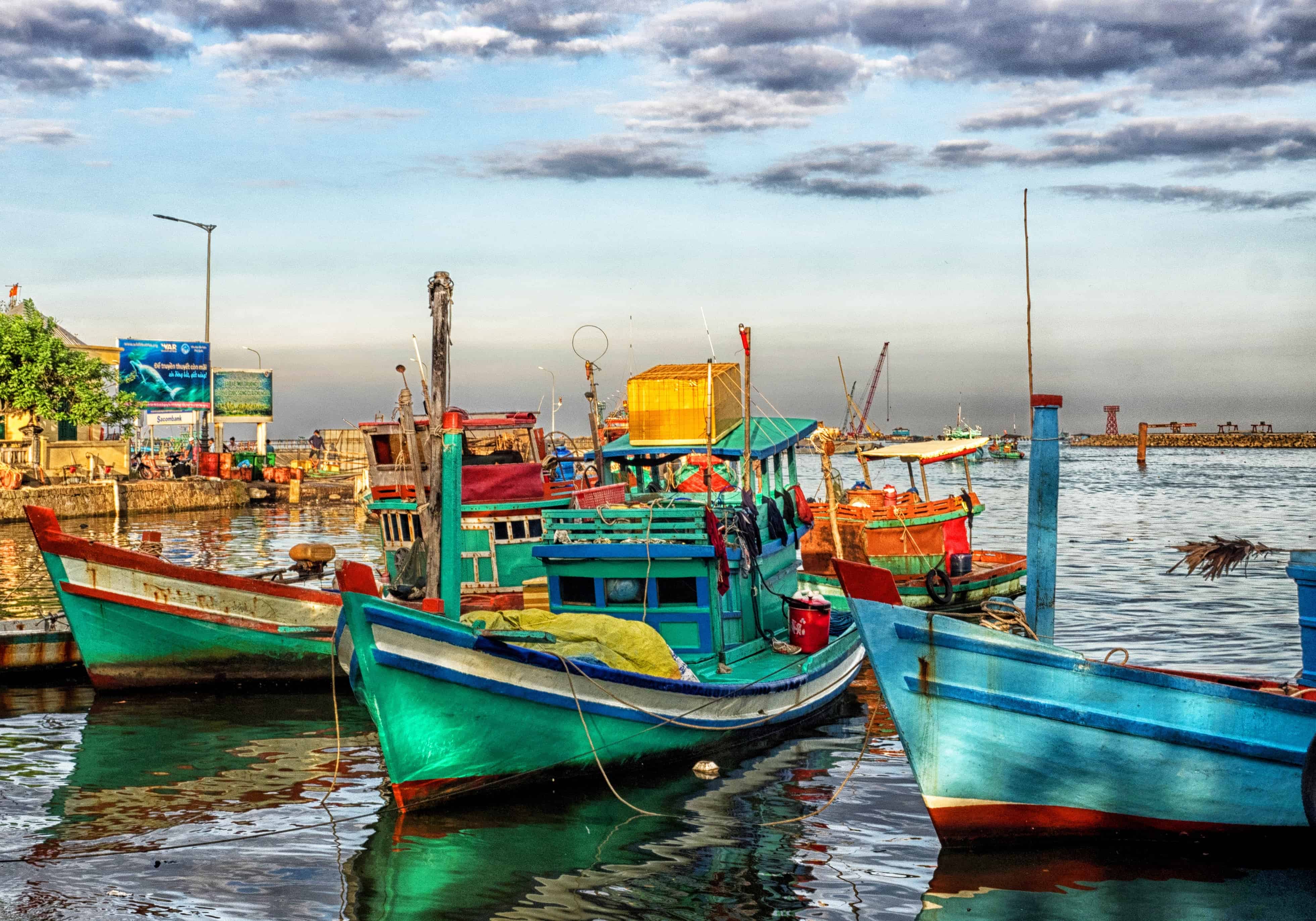 By Robyn from Robyn Around the World
Away from the hustle and bustle of the rest of Vietnam is their largest island off the Southwest coast, Phu Quoc. I've been living here for two months and love the slow island life, but yet it still has all the amenities of the big city. There's so much to do here from exploring the day and night markets to checking out the temples.
With over ten beaches to choose from you'll be sure to find a place to relax. Be sure to eat all the local food. Try Nuoc Mia which is fresh pressed sugar cane juice and very healthy for you despite it coming from the same plant that makes processed sugar. And it wouldn't be a trip to Vietnam without eating a Bahn Mi. There's a cart on almost every corner. The locals are very friendly, and most can speak English or at least can communicate through sign language and a smile. This island would be a great way to wrap up your tour of Vietnam.
Spend around 4-5 days here and be sure to check out the night market, Phu Quoc bee farm, fish sauce factory, the pearl farm, Vinpearl Land, snorkeling at Turtle Island and Sao Beach.
If you are the city life stay in Duong Dong near the harbor, with great restaurants and the night market or for a fun beach vibe with many cafes and boutiques stay at one of the many resorts in Ong Lang like Mango Bay Beach Resort or Bauhinia Resort.
Where to stay: Hotels in Phu Quoc
For more information about what to do and where to go in Vietnam – check out our detailed 3 week itinerary where we visited some of the places above and more!