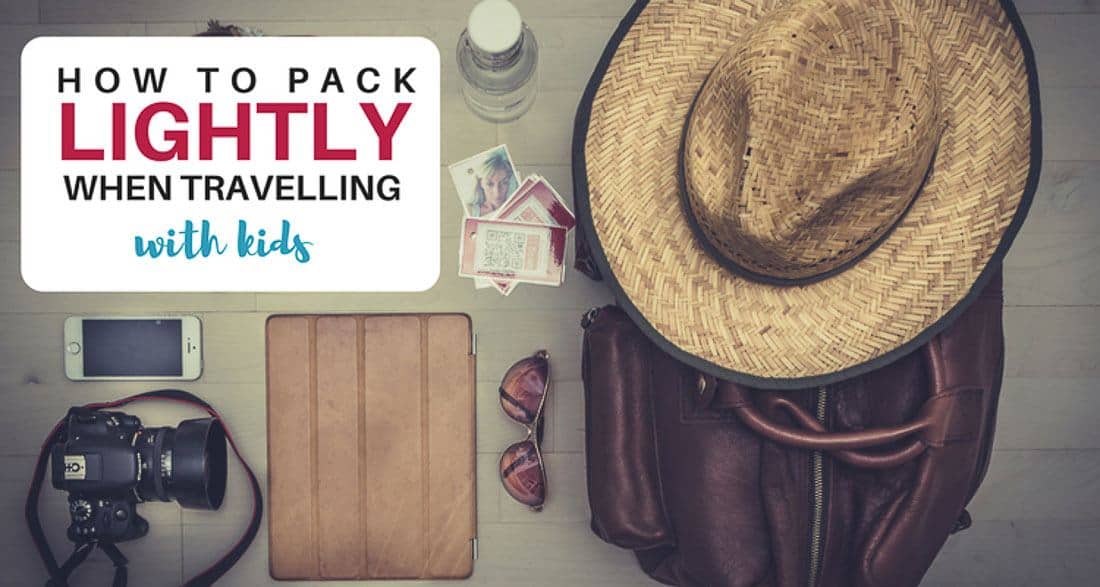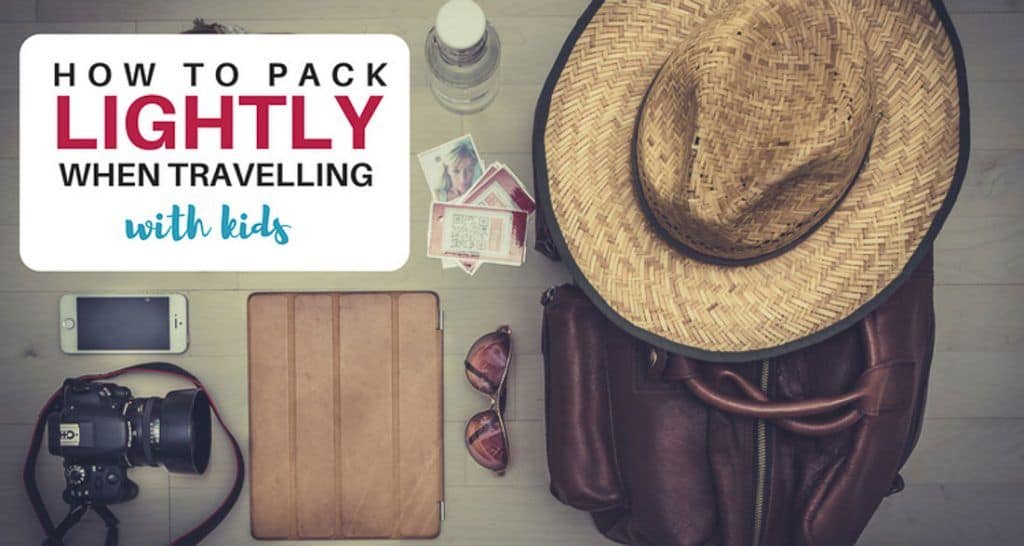 When we travel we like to travel as light as possible.  There is nothing worse than having several bags to slow you down when you are travelling around, particularly when you are travelling with children and trying to keep your eye on them as well.
By packing less items, you will have less things to unpack when you reach your destination and of course re pack when its time to leave.
The down side of packing light means that you will need to make use of laundry facilities during your travels and you most likely will have to re wear an item of clothing that given the choice you would prefer not too.  But hey no one said travelling was glamorous!
Now I know there are plenty of families out there that travel way lighter than us, but for now this works for us.
This packing checklist is suitable for a warm climate, like Australia, the pacific, south east Asia or any other country with a similar climate.  This packing list will suit travel anywhere from 1 week to a few months.  Yes that's right you DO NOT need anymore clothes whether you are going for 1 week or 1 month.
You can either download and print off the packing checklist; or keep reading below for an explanation as to why we recommend the items we do, so you can decide if they are necessary or not for you.
Documents
Keep all of the below documents in your hand luggage.  Do not check any of these items with your check in luggage in case your luggage goes missing.
Passports
Visas if necessary
Drivers License
Credit Card/s
ATM Card/s
Travel Insurance documents
Flight Documents
Hotel Documents
Transfer / Tours / Activities Documents
Travel Itinerary
Foreign Currency
Wallet / Purse
Pens – you will need these to fill out the various documents at the airport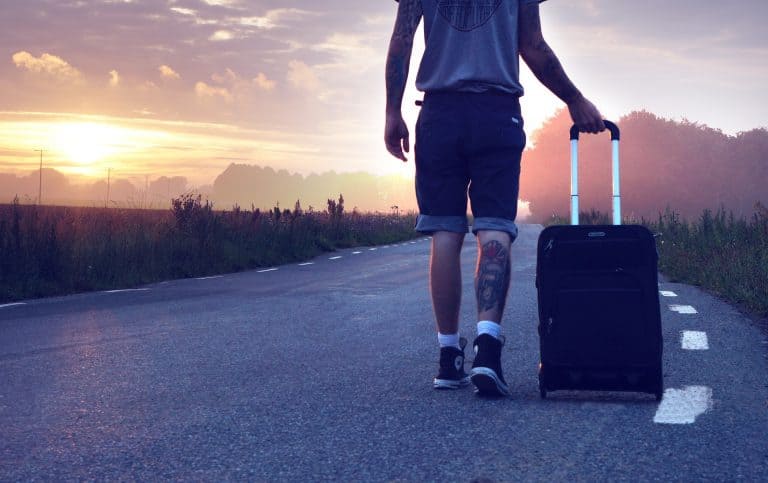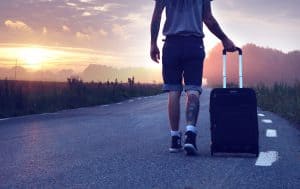 Backpack/Bags/Storage
 Main backpack: we prefer to use a backpack on wheels (similar to the ones pictured below) – so you can wheel it when necessary or carry it on your back if you need to.  We use a back pack which opens up into two separate compartments which makes it easy for locating items.  We only take 1 backpack between the three of us, but depending upon how many members there are in your family you may need to take two bags.
Carry-on Bag: we usually have at least two carry on bags.  Myla has a small bag that she can carry on her back (like the one pictured below) and this contains all of her toys (see below), water and snacks for the flight.  We keep this bag at her feet during the flight so she has easy access to whatever she needs.  Andy and I normally share a back pack that also doubles as a day back (like the one pictured below) for when we do day trips at our destination.  We also take a large laptop bag which includes our laptops (as we work remotely whilst travelling) and all of our electronics – I always take the electronics on as hand luggage and never check it in.
Camera Bag:  Depending upon what sort of camera and equipment you take with you on your travels you may need an additional bag to carry your camera in.
Toiletry Bag/s:  We normally take 1 large toiletry bag that contains all the essentials that the family uses everyday whilst travelling eg hair brushes, toothbrushes and toothpaste.  We then have a smaller bag that contains those occasionally used toiletry items like sunscreen, insect repellent etc.
Document Wallet: We don't use anything fancy for this – I just use a clear plastic pocket and put it inside my day bag or you can one like those pictured below. Keep all the documents listed above under "documents" in here.
Day Bag:  I always leave my usual hand bag at home and use a smaller day bag (like those pictured below) which I can put over my shoulder and across my body.  Make sure it is big enough to put in your wallet, paperwork, camera, a bottle of water – everything you need for a day.
Optional 
Packing Cubes:  I have not used these before but have just purchased some (like the ones pictured below) for our next trip.  Many travellers swear by them – I will let you know my thoughts after our next trip.
Clothes 
Clothing is a such a personal choice, for example I mainly prefer to wear dresses, where as others prefer shorts and tops.  Some men prefer to wear polo tops where as Andy likes to weat t-shirts.  Below is what we take on our trips and I recommend you use it as a guide.
The hardest thing I find about packing clothes, is not so much what to take, but what I don't take.  I usually pull out all the things I would like to take and then start eliminating items of clothing from there.  Stick to the list!!!  You will thank me when you a re travelling around.  I have never once regretted putting back those 2 extra dresses.  Seriously be ruthless – stick to the list!!
Also the list below, includes what you wear on the flight – it is not additional!
Just remember this packing list is suited to a warm casual climate, like a beach destination .  If you plan on  participating in special activities like long hikes, attending formal events or visiting a cold climate you will need to adjust your items accordingly.
I have divided the clothing list into clothes for an female adult, male adult, male child and female child.  Whilst many items are the same, there are some differences.  I find children tend to get a little more dirtier so I prefer to add in a few extra items, but not many.
Male Adult 
2 x t shirts
2 x tank tops
2 x polo shirts
3 x shorts
2 x board shorts/swimmers
7 x underwear
1 rain jacket with built in jumper/sweater (like the ones pictured below)
1 x night wear
Female Adult 
2 x t shirts
2 x singlet tops
1 x shorts
3 x dresses
1 x leggings
2 x swimmers
3 x bras (1 black, 1 white / nude & 1 strapless)
7 x underwear
1 rain jacket with built in jumper /sweater (like the one pictured below)
1 x night wear
Female Child 
2 x t shirts
2 x singlet tops
2 x shorts
3 x dresses
1 x leggings
2 x swimmers
7 x underwear
1 rain jacket with built in jumper / sweater (like the one pictured below)
1 x PJs
Male Child 
4 x t shirts
2 x tank tops
4 x shorts
2 x board shorts / swimmers
7 x underwear
1 rain jacket with built in jumper /sweater (like the ones pictured below)
1 x PJs
Shoes 
All purpose walking shoes – I recommend investing in some good quality all purpose walking shoes.  I like Merrell shoes, I had my last pair for 10 years and recently got a new pair.   I don't recommend spending this sort of money for the kids given they out grow their shoes every year, but I still recommend spending money for a good quality pair of shoes that they can wear day in day out.  Pick a pair of shoes you are happy to wear every single dale of your trip.
Thongs/flip flops – this is optional.  Andy just takes the one pair of shoes but I always take a pair of thongs for Myla and I.  I just like to have something handy I can throw on at the end of the day or to wear on days that we don't do a lot of walking.
Electronics 
What you take in the way of electronics is going to depend on what you like to do when you travel.  So I will show you what we take and then you can decide what is necessary for you.
Travel power adaptors – with USB sockets – make sure you take the right adaptor for your destination.  You can buy universal ones these days which I highly recommend.  Make sure it has multiple USB outlets.  I use to take a power board with multiple points on it – but these days most things you need to charge have a USB point – so provided you have a travel adaptor or power point with 2-4 USB outlets you will be set.
Portable UBS charger – This is will come in handy when you are travelling all day, or on flights etc when you don't have a power point handy.  Just make sure this is one of the first things you charge every night so it always has plenty of juice!
IPhone & charger – your phone will come in handy during the day to look stuff up – like maps, popular tourist destinations or even local phrases.  We always purchase a local SIM when we arrive at our destination and keep it topped up with data.
Headphones  – we use special volume control ones for Myla that go right over her ears – I find this easier for kids rather than the little ones that go inside your ears.
Camera & charger – we have a Nikon 3200 DSLR as well as the Olympus Tough waterproof camera.
Optional: 
Selfie stick – ok these are not vain sticks like some people might lead you to believe.  These are great inventions to get pictures of the whole family during your travels.  I have put this under the optional section but seriously it is not an option!!  I recommend investing in a good one that has a long stick on it as well as one that doubles as tripod so you get loads of background in your photographs.  The one we use has a remote control to take the picture and it clicks on the stick when not in use.
Other camera equipment – depending upon what sort of photographer you are you may have other camera equipment to bring along as well.
Ipad & charger – we always a take an ipad mainly for Myla.  We fill it with kids tv shows, educational activities and games for her.  It is a life saver when you are in transit and a good for any down time during the trip.  The ipad is also good for booking hotels and transport during your trip – although you could also do this on your phone too.
Laptop & charger – given both Andy and I are still required to work whilst we travel we each take a laptop.  I have an Air Mac which is no bigger than an Ipad – I highly recommend it for travelling lightly.
Toiletries 
Sunscreen
Insect Repellent
Hair brush – take one that the whole family can use
Hair Ties, pins and clips
Toilet paper – you never know when you need it, particularly when travelling around Asia
Medication – make sure you take enough of any regular medication you take to last your entire trip – you may not be able to get scripts filled easily
Shampoo
Conditioner
Body Wash
Moisturizer
Toothbrush and toothpaste
Deodorant
Hand sanitizer
Wet wipes
Razors and shaving cream
Optional 
Make Up – just take the essentials – whatever you can't live without. I take foundation, powder, blush and mascara – and most of the time I never wear it anyway.
Kids Toys 
We use to pack heaps of different toys for Myla but we have since realized she barely plays with anything.  If you take an ipad filled with kids activities and movies this will keep them occupied during any down time anyway.  Below are the only other things we take for Myla.
2 x Books to read
1 x Colouring in books & a handful of pencils
1 x doll
Other 
Hat for each member of the family
Sunglasses for each member of the family
Pram – for the smaller children – we stopped taking one once Myla was 5 years old
Drink bottles – we prefer to bring our own non spill drink bottles (I have had a brand new iphone ruined from a disposable drink bottle leaking all throughout my bag!!) and fill them up as we go.  We use the Contigo brand and can't recommend them enough.
Optional 
Neck Pillow – I like to take a neck pillow for Myla and I when we travel.  Andy does not use anything.
Car Seat – if you are going to be driving with young children you may want to bring your own car seat – we however don't want to deal with carting it around so on any trips where we have hired a car we have also hired a car seat.
Plastic containers – for smaller a children you may like to bring a few small containers from home so that you can put snacks in for day trips.  We use yum boxes as they do not leak and great sized compartments inside.
Baby Items
Myla was 18 months old when we first travelled with her, so I am no expert on what to pack when travelling with a small baby but here is a quick guide.
Nappies – just pack enough to get you through the first days and then buy whilst you are over there.
Baby formula
Dummies
Plastic bowls/cutlery/cup/bottles
Bibs
Baby sling – when Myla was smaller we took one similar to that pictured below – I found it useful on the plane when sleeping also and walking around airports.
Baby food
Sterilizing/cleaning equipment
Breast pump
Travel high chair – when Myla was smaller we used to use one similar to that pictured below.
Blankets/sleeping bags/sleep sack
Bonjela, baby Panadol, nappy cream, vicks chest rub
Car seat – I have come across this cool invention below – we never took a car seat with us though
Pram/stroller – we use to always take a small light weight stroller with us right up until Myla was 4 years old.  Make sure it can lay back for when the child is asleep.
You can download the printable version of the packing checklist  here, so you can tick the items off as you pack.
Please be aware that this post does contain affiliate links which means that you make any purchases from the above links I will receive a small commission at no extra cost to you.  Thanks so much for supporting our website.