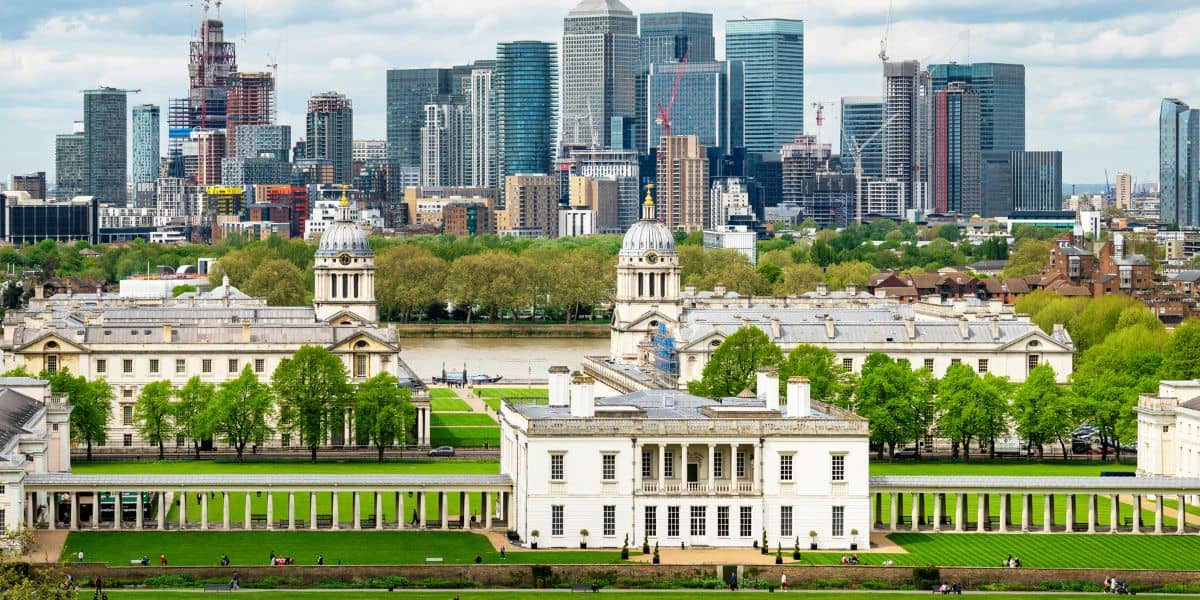 If you're taking the kids to London, spending a day in Greenwich is well recommended. There are plenty of things to do at Greenwich – famous of course, for being the reference line for Greenwich Mean Time, but in addition, it's well known for its naval and military connections.
To help you make the most out of your day trip, this guide covers all the very best things to do in Greenwich with kids, including Greenwich attractions, activities, places to visit as well as everything you need to know about ticket prices, where to save money booking online and opening times.
This things to do Greenwich guide will also cover a few different ways to get there from Central London.
So let's jump straight into it and show you exactly what to do in Greenwich with the kids.
This post may contain compensated links. Please refer to my disclaimer here for more information.
Talk to other families about their tips on visiting London and join our Thrifty Family Travel Facebook Group or be inspired on our Instagram Feed.
Things to do at Greenwich
with Kids Map
To help you plan your day trip, check out the map below, which shows the location of all the top things to do in Greenwich for kids.
You can zoom in and out for a better view.

Best Things to do in Greenwich with Kids
Below we list the very best places to visit and kids' activities in Greenwich that the entire family will enjoy.
Please note that all prices mentioned were correct at the time of writing and are in local currency. To check the rate in your currency, click here.
The Royal Greenwich Observatory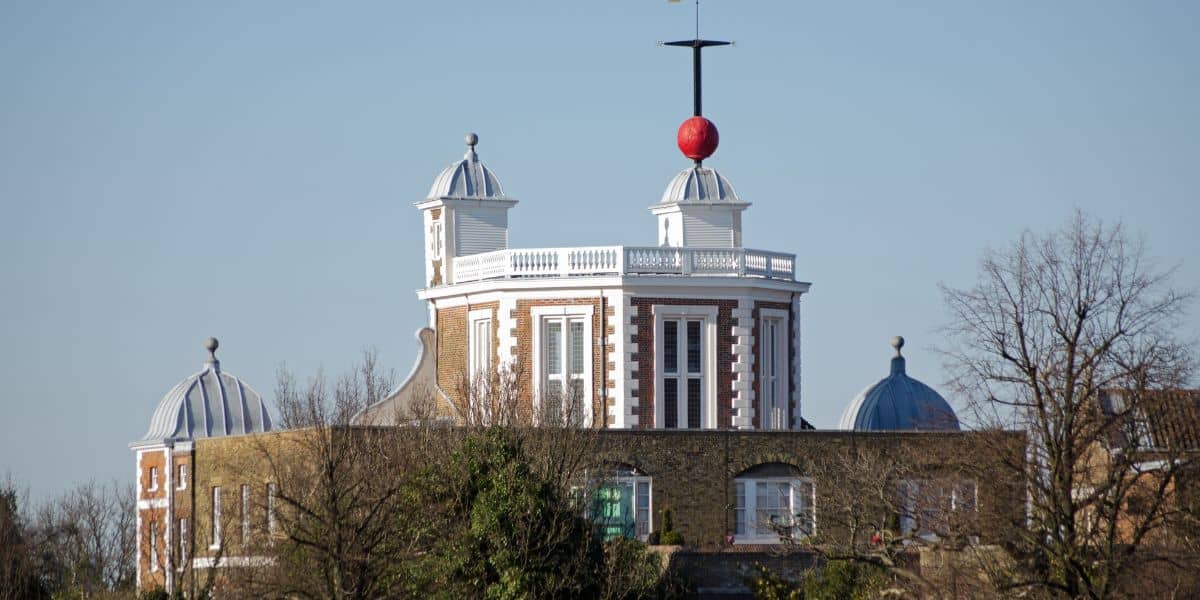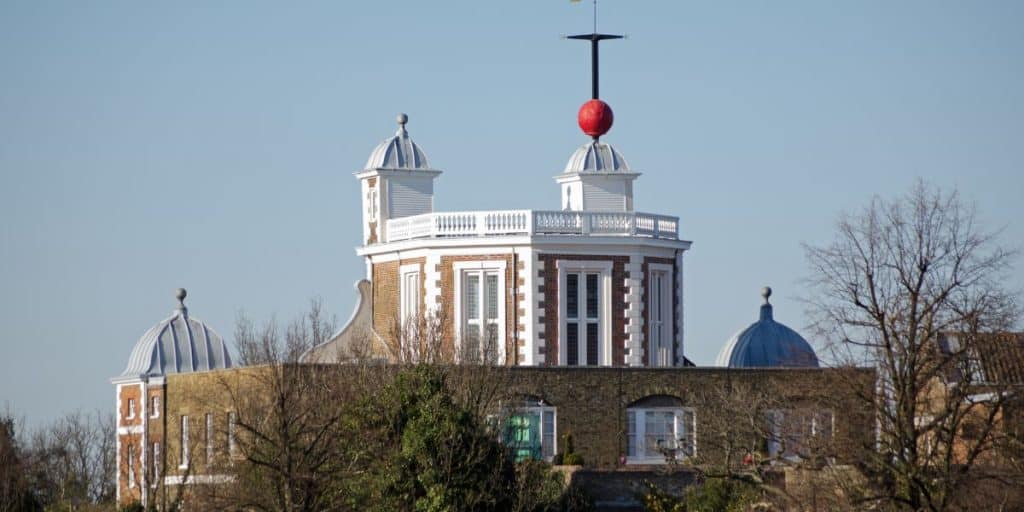 Ascending to the top of the hill in Greenwich Park to arrive at the Royal Observatory is the perfect way to begin a day out in Greenwich.
From the observatory, you'll be met with one of the best views in London, overlooking Greenwich, the River Thames, and the incredible city skyline beyond. Look out for iconic London landmarks, including The London Eye, St Paul's Cathedral, The Shard, and The Gherkin! While the observatory is ticketed, the beautiful views are one of the best free things to do in Greenwich.
The observatory was constructed in 1675 to assist with practical astronomy, including navigation and timekeeping, and made incredibly influential discoveries within the field.
Flamsteed House is well worth visiting while at the Observatory for budding astronomers. The historic building still houses the astronomical instruments and clocks the Royal Astronomers used to make groundbreaking discoveries.
Allow 2 hours to explore the observatory, which is also home to the Prime Meridian and the Peter Harrison Planetarium – two brilliant Greenwich activities kids will love. Read more about them below!
You can buy tickets for the observatory or combine it with other iconic Greenwich attractions, such as the celebrated Cutty Sark sailing ship.
Location: Blackheath Avenue, London
Hours: Daily from 10 am to 5 pm
Price: Royal Observatory: Adults £16 | Kids (4 to 15) £8 | Kids under 4 are free | – Click here to book. Royal Museums Greenwich Day Pass: Adults £25 | Kids (4 to 15) £13 | Kids under 4 are free | – Click here to book tickets online.
Stand on the Meridian Line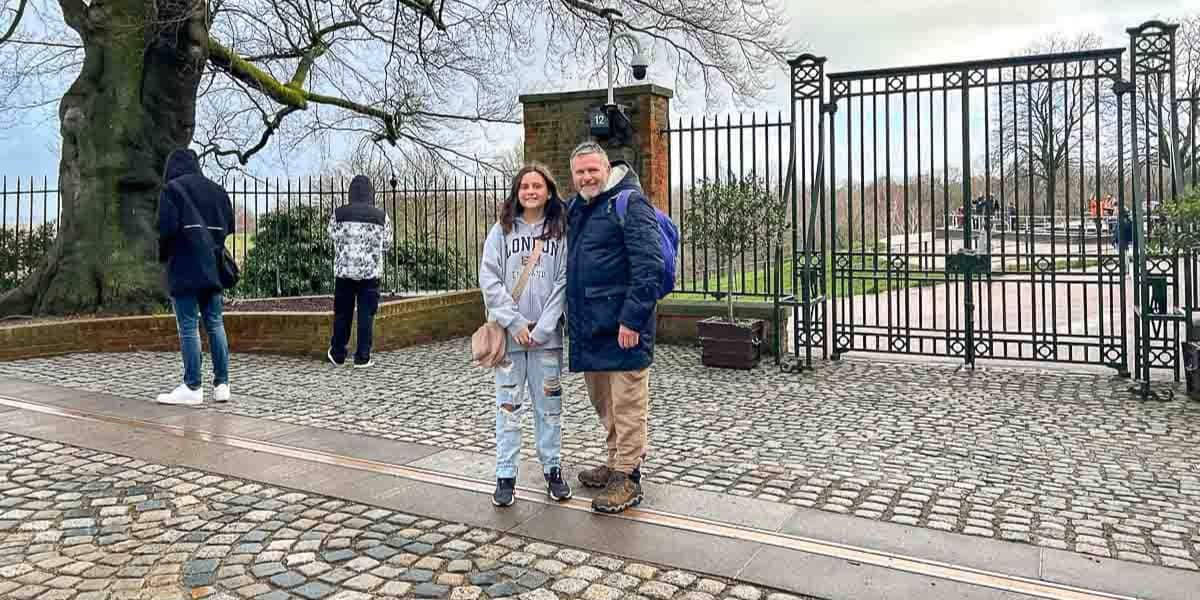 There are several iconic things to see at Greenwich Observatory, and standing on the Prime Meridian line is definitely one of them.
The Prime Merdian is an imaginary line from the North to the South Pole, dividing the Eastern and Western hemispheres.
At Greenwich Observatory, astronomers established what we now call the 'Prime Meridian' as the baseline for calculating time – you may also know this concept as longitude. This line is used as the reference point for Greenwich meantime.
To this day, we still use the 0° longitude of Greenwich to calculate every timezone in the world!
So during your time in Greenwich, you can't miss out on standing at the spot where longitude (and time) begins.
Although millions of tourists come to stand on the Prime Meridian every year, the line is actually in the wrong place!
Modern scientists found that the correct Prime Meridian line is about 100 metres to the East! Although that just goes to show how intelligent the historical astronomers were, with their limited equipment, to be so close to a precise point of longitude that we still use to inform our understanding of time and navigation.
Location: Blackheath Avenue, London
Hours: Daily from 10 am to 5 pm
Price: Included in Royal Observatory ticket price – Click here to book tickets online.
Peter Harrison Planetarium
For a more immersive experience of time and space, don't miss watching a show at the Peter Harrison Planetarium.
With films showing everything from expeditions to Mars to space adventurers with Ted, the Bear for under-7s, watching a fascinating planetarium show is undoubtedly one of the best Greenwich tourist attractions for families.
The planetarium is also based on the Greenwich Observatory complex but is ticketed separately.
Location: Blackheath Avenue, London
Hours: Daily from 10 am to 5 pm
Price: Adults £10 | Kids £5
Old Royal Naval College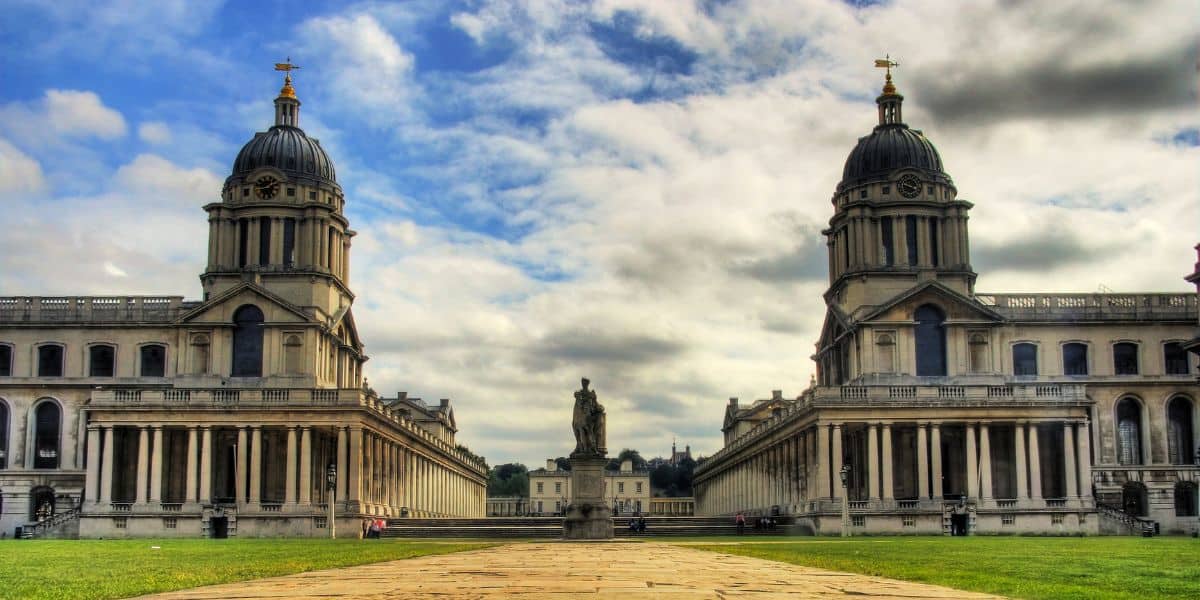 London kids' things to do don't come much better than this if they're arty or seafaring sorts. The Old Royal Naval College was built at the same site where the famous Tudor King Henry VIII was born, although the original palace was demolished in 1660. Now a UNESCO World Heritage site – there is over 500 years of history to discover here.
Begin your visit to the Old Royal Naval College with a stroll around its distinctive baroque buildings, designed at the turn of the 17th century by architect Sir Christopher Wren.
The historic site was initially constructed to be a Royal Hospital for Seaman and was a home for retired sailors of the Royal Navy.
However, the college began training naval officers in 1873 and trained over 30000 male and female officers during the Second World War. The Naval College left the site in 1998, and much of the area is now open to the public.
The kids will enjoy exploring the artefacts in the Visitor Centre which includes a replica of Henry VIII's Tudor Palace as well as a life size reconstruction of a Greenwich pensioner's room from the 1750s.
You don't need to be a history lover to appreciate the Old Royal Naval College – it's one of the best things to see in Greenwich for movie lovers, too!
Famous movies such as Pirates of the Caribbean and The Kings Speech were filmed within the grounds, alongside key scenes from the blockbuster Thor: The Dark World. Go behind the scenes with a guided film and TV locations walking tour. Check here to see prices and availability.
One of the most impressive buildings within the complex is the 18th-century Painted Hall, a magnificent baroque dining hall with elaborate painted ceilings and walls. There is also an active chapel on site, open to the public as a place of prayer and meditation.
When you arrive at the visitor centre, ask for a free family booklet if you're visiting with children aged 5-12. The interactive pack brings the Painted Hall to life with interactive activities, including puzzles and games.
Be sure to book early if you wish to visit the Naval College – we went late in the day and all tickets for the day had already been sold.
Location: King William Walk, London
Hours: Daily from 10 am to 5 pm
Price: Adults £13.50 | Kids (0 to 16) are free – Click here to book tickets online.
Cutty Sark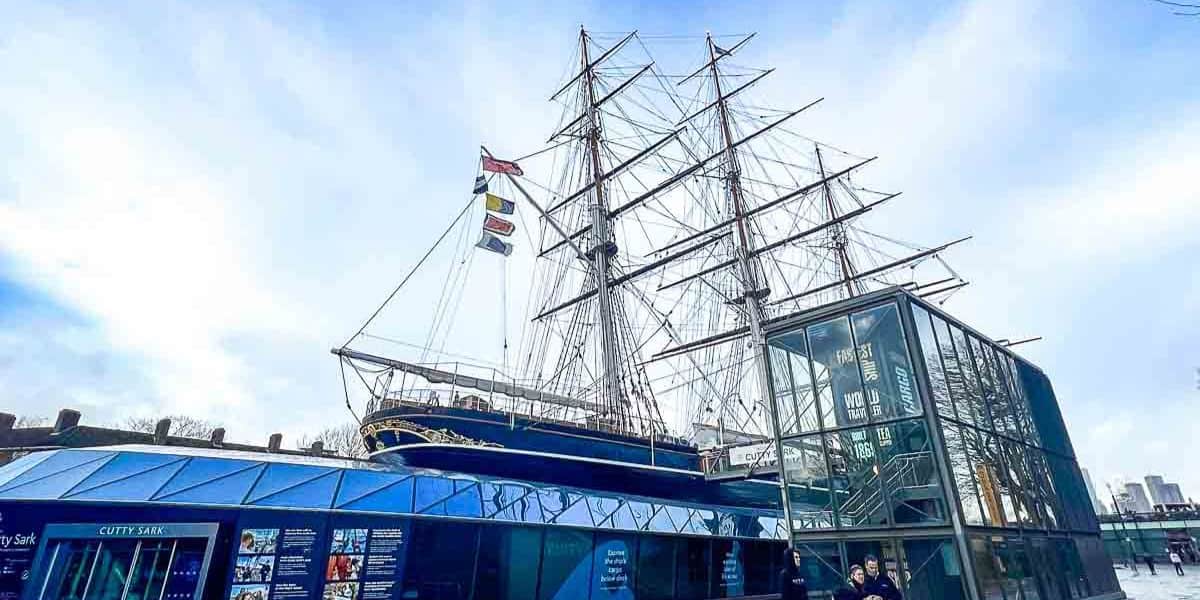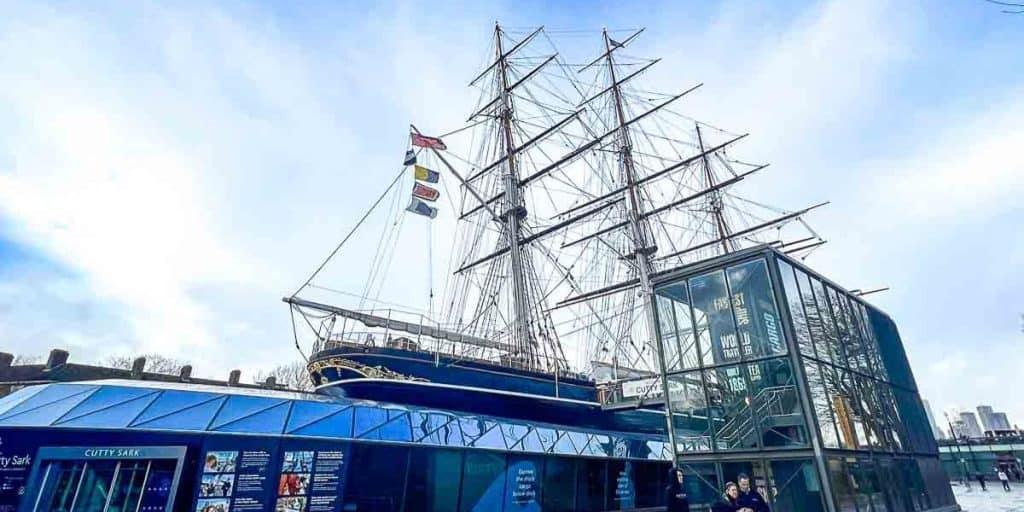 Visitors of all ages can become a captain of a historic maritime mission at this award-winning museum. The Cutty Sark is a tea clipper dating back to 1869 and is a must-do for anyone interested in nautical history.
In the 19th century, Cutty Sark was a leading contender in the competition to get the first crop of fresh tea from China to the UK. Since 1954, she's settled in Greenwich and is the world's only surviving tea clipper.
What makes Cutty Sark one of the best kids' activities Greenwich offers is that you can go inside the ship! Begin by exploring the main deck, where the kids can take the helm and steer the ship's wheel before heading under the hull to see what the boat looks like from below.
The ship is a truly family-friendly attraction designed to keep younger visitors engaged throughout the experience. They'll meet colourful characters, interact with the props on board, and play interactive games – all bringing to life what it would have been like to live out on the sea. But without the scurvy!
Location: King William Walk, London
Hours: Daily from 10 am to 5 pm
Price: Adults £16 | Kids (4 to 15) £8 | Kids under 4 are free | – Click here to book tickets online.
Greenwich Foot Tunnel
Since 1902, the Greenwich Foot Tunnel has connected working Londoners to the London dockyards and Canary Wharf. In fact, 4000 people still use this tunnel daily, and it's an essential connection between Southeast London and the financial district for commuters.
Although it only takes a few minutes to walk through, the tunnel is an impressive 370 metres long (1215 feet). You have to descend 100 steps to enter the tunnel, although there's an elevator on either side if you prefer.
Even if the kids aren't interested in marvelling at the Victorian cast-iron engineering, a walk through the Greenwich Foot Tunnel is undoubtedly one of the more unique things to visit in Greenwich – and gives the family a cool opportunity to say you've walked under the River Thames!
Location: King William Walk, London
Open 24 hours daily
Price: FREE
Queens House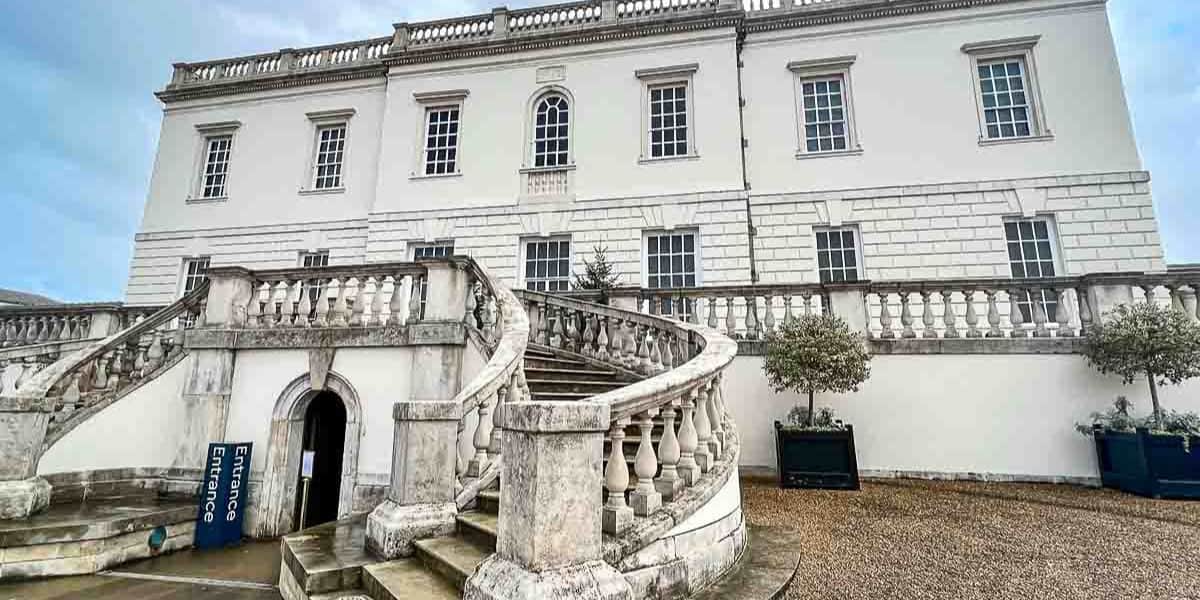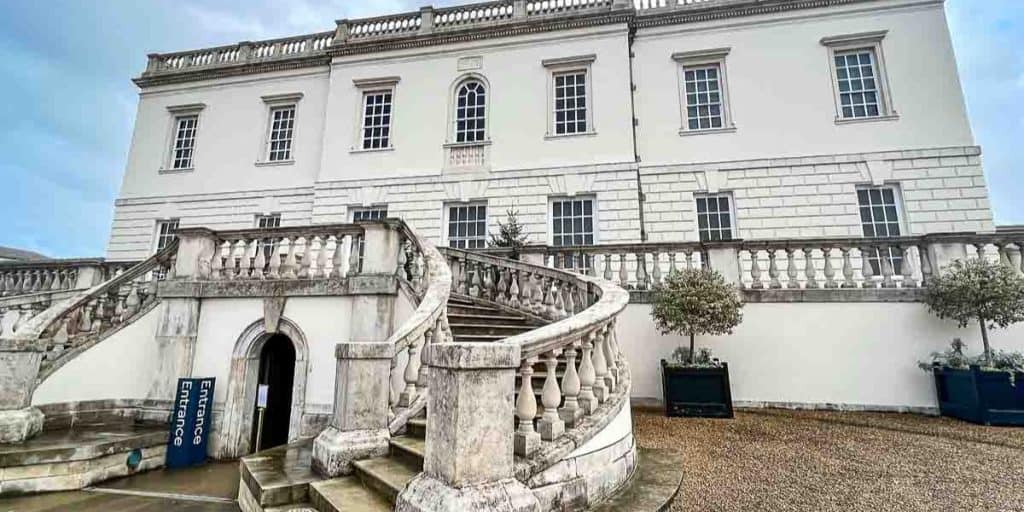 The Queen's House is a former Royal residence famous for being England's first classical building. The building was commissioned in 1616 by King James I as a gift to his wife but wasn't completed until after she died in 1636. The king's son, Charles, followed the family tradition and gave it to his wife instead.
Now a museum, visitors at the Queen's House can wander around the royal residence. You could easily spend an hour marvelling at the gorgeous artwork displayed.
If you're wondering what indoor kids activities Greenwich offers, why not join in with one of the Queen's House self-led activities? Pick up a 'Create' family trail from the entrance, and use it to guide you and your children around the magnificent artworks on display.
Location: Romney Road, London
Hours: Daily from 10 am to 5 pm
Price: Free: pre-booking tickets is advised
Greenwich Market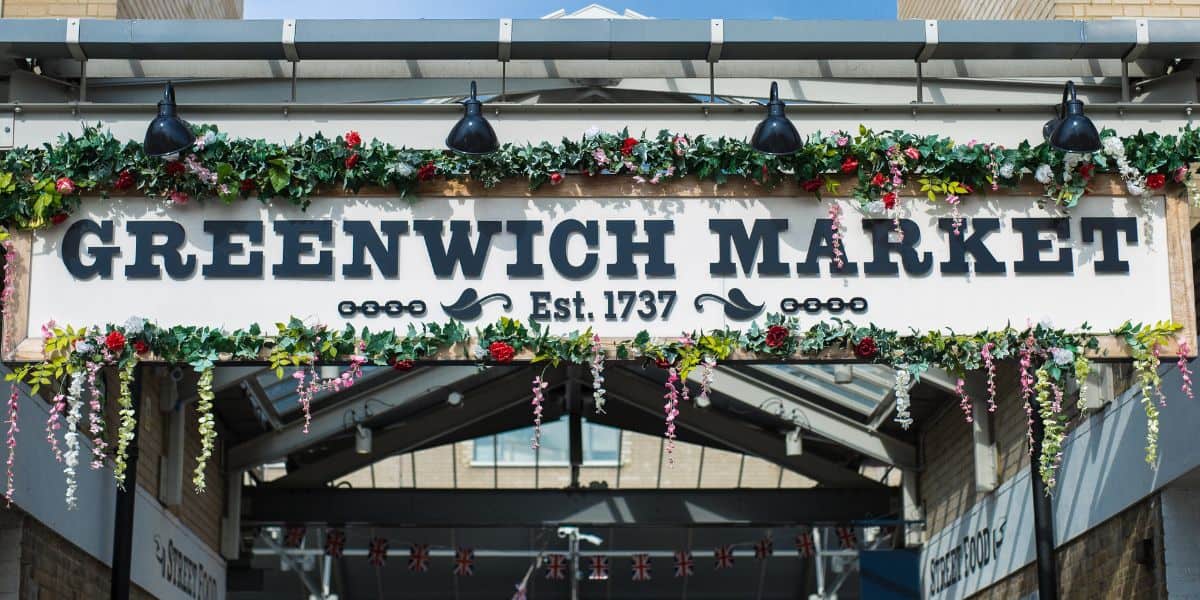 If you're looking for things to do in London with kids in the rain, Greenwich has much to offer – including its covered market. It's open daily and offers a great mix of stalls selling antiques, handmade goods, food and more.
In the Winter, it's a great place to take the kids to warm up with hot chocolate (or mulled wine for the grown-ups).
Some unique stores sell various antiques and curious knick-knacks in the buildings adjacent to the market. You'll find everything from period furniture to decorative clocks at the aptly named Junk Shop, and Casbah Records is a popular local haunt for finding original vinyl records.
Location: London, SE10 9HZ
Hours: Daily from 10 am to 5.30 pm
Price: Free
National Maritime Museum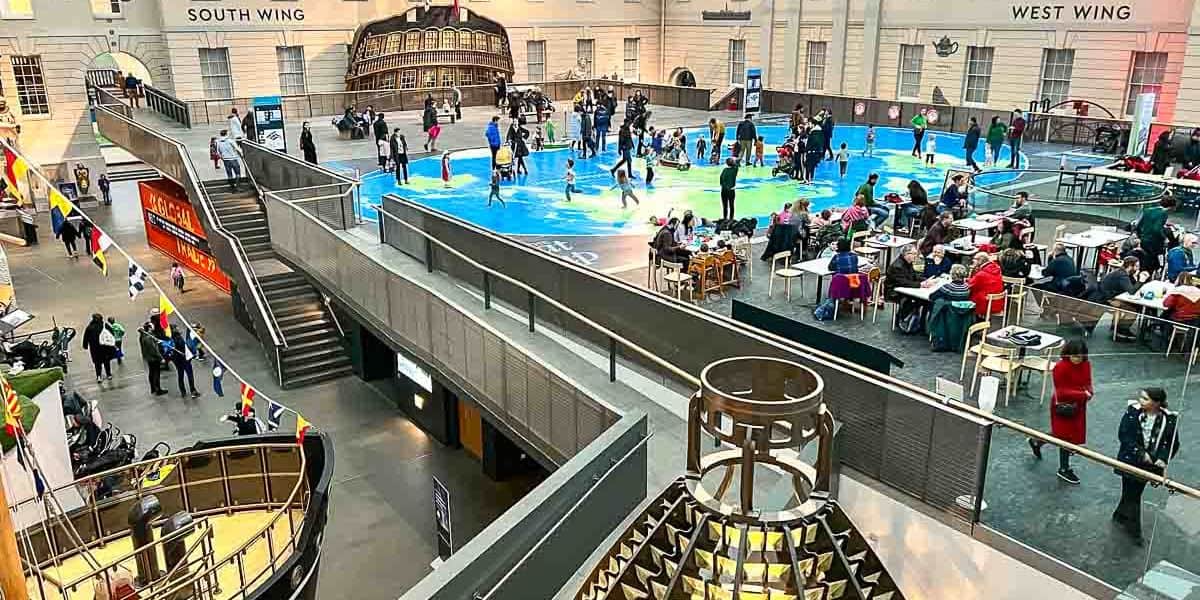 The National Maritime Museum also belongs to the Royal Museums Greenwich network and is among the best free things to do in London with kids, even when it's raining.
This is one of the largest maritime museums in the world, so there's a lot to explore here! Aside from vast displays of naval artifacts, including model ships, maps and paintings, and many fantastic interactive exhibits to bring maritime exploration to life for children.
For young kids, visit the AHOY! Children's gallery where your little pirates will enjoy immersive play on an interactive boatyard. On Play Tuesdays, families with children under-5 are taken on an interactive journey with playful activities.
For those aged 6-12, they'll love firing a cannon at the approaching pirates and loading cargo in the port within the All Hands gallery.
Once a month, the museum holds special sessions for children with disabilities and special educational needs. You can explore the collection with a sensory play session led by SEND specialist and a flexible approach to meet every family's needs.
No matter what day you visit, there are plenty of interactive and immersive galleries catered explicitly towards families. You and your crew will sail through displays about polar exploration, historic voyaging missions, Pacific encounters, and journeying across the Great Map.
Allow at least 2 hours for exploring the National Maritime Museum.
Location: Romney Road, London
Hours: Daily from 10 am to 5 pm
Price: Free
The Fan Museum
The award-winning Fan Museum is the only organisation dedicated to the fan's history, culture, and craft! So if you're looking for unique things to do with kids in Greenwich, then The Fan Museum is a FANtastic option.
This small museum is in a restored Grade II listed Georgian townhouse. This 18th-century building is the perfect place for displaying its vast collection of fans. The fans have been gathered worldwide, and the 7000 objects on display date back as far as 1000 years ago.
Highlights are a rare Elizabethan period fan, Japanese Court fans, and even a stunning Faberge fan which features gold work and enamelling. Throughout the museum, you'll also see period costumes, fan-making tools, and rare books.
Before leaving, enjoy a proper British high tea in the delightful cafe in the luxurious Orangery room if you're looking to have a memorable meal during your day out in Greenwich.
Location: Crooms Hill, London
Hours: 11 – 17 Wednesday to Saturday (last admissions 1630)
Price: Adults £5 | Kids (5 to 15) £3 I Kids under 6 are free
Greenwich Park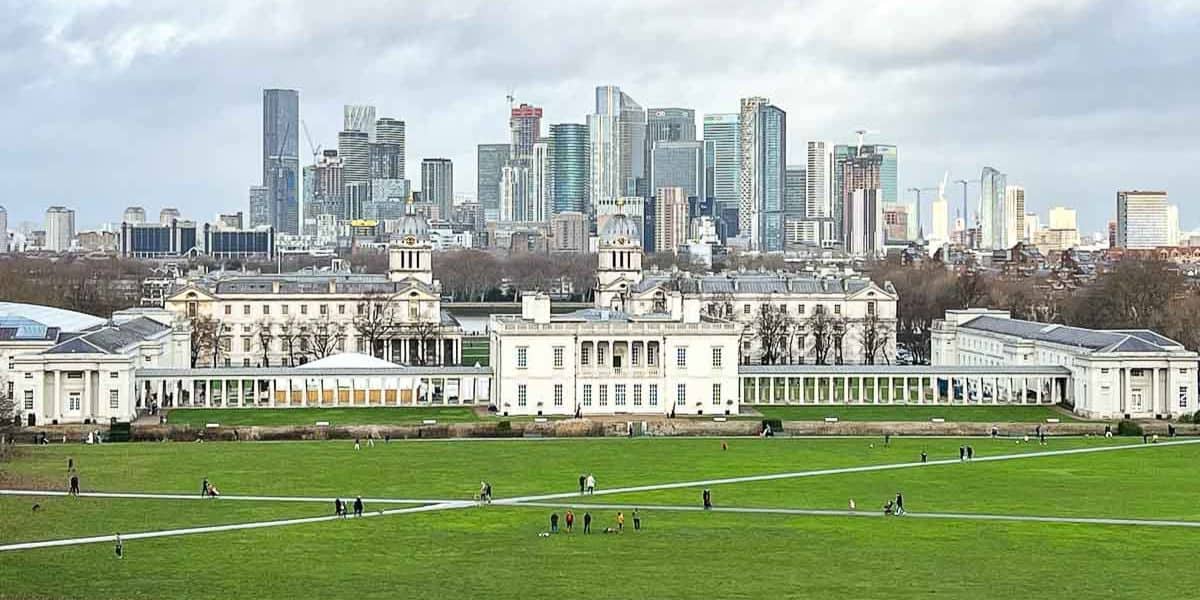 Greenwich Park is a beautiful open space in southeast London. Kids will love looking out for fallow and red deer in the Wilderness Deer Park, visiting the children's park or strolling through the vibrant gardens.
It is the oldest enclosed royal park in London and covers an area of 183 acres. The impressive park is home to many of the best activities to do in Greenwich, and you can visit the Royal Observatory, National Maritime Museum and Queens House while exploring the grounds.
The area is abundant in local wildlife, with many squirrels, bats, and colourful parakeets making their home here.
On weekends and sunny days, the park is covered with picnic blankets and sunbathers, with locals and tourists enjoying the gorgeous views. Best of all, this magnificent park is one of the best free things to do in Greenwich.
Location: London, SE10 8QY
Hours: Varies but generally 6 am to 6 pm, although the park is open much later during the warmer months.
Price: Free
The Wernher Collection at Ranger's House
Over 700 artworks are displayed within The Wernher Collection at Ranger's House. There's a vast array of inspiring artwork on display within the world-class exhibit. You can see everything from medieval sculptures to French tapestries and Renaissance paintings.
The Wernher Collection is one of the world's most significant private collections of artwork and was initially amassed by Sir Julius Wernher. Wernher was a 19th-century businessman who made his fortune as a diamond magnate.
Ranger's House is an elegant red brick Georgian villa commissioned in the 1720s by the naval officer Francis Hosier. If you recognise the mansion, it's probably because the building appeared as the exterior for the Bridgerton residence in the hit Netflix TV series.
There are a few children-friendly activities, such as puzzles and drawing, to keep things engaging for kids.
Location: Chesterfield Walk, London
Hours: Wednesdays to Sundays 11 am to 4 pm
Price: Adults £11.20 | Kids (5 to 17) £6.60 | Family Pass (2A+3C) £29 I Family Pass (1A+3C) £17.80 I Kids under 5 are free
The O2 Arena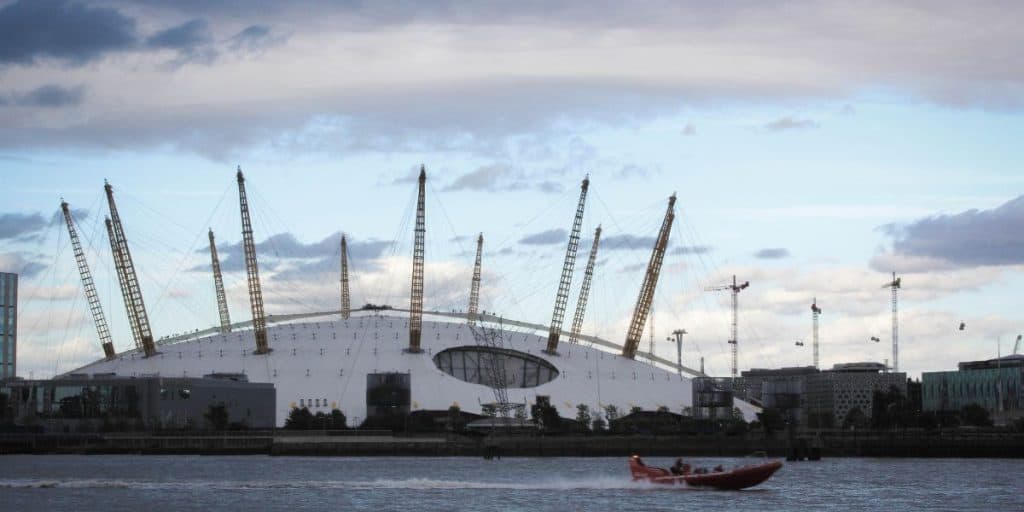 The O2 Arena is one of the UK's most well-known entertainment hubs and one of the busiest music arenas in the world, so it's no surprise that many of the biggest global stars perform here.
The expansive domed structure includes an indoor arena, music club, cinema, exhibition spaces, and many bars and restaurants.
For adventurous families, climbing onto the roof of the O2 Arena is undoubtedly one of the most fun things to do in Greenwich. Equipped with high-quality gear and an expert climbing guide, you'll ascend to the roof of the world-famous arena.
After crossing a suspended walkway from the roof, you'll have expansive views over Greenwich, Tower Bridge, Big Ben, The Shard and beyond on a clear day.
Please note that the iconic 'Up on the O2' experience has a minimum age of 8 years old and minimum height of 1.2m. Click here to check prices and availability.
Location: Peninsula Square, London
Hours: Daily 10 am – 11 pm
Price: Free – prices for specific events and activities vary
NOW Gallery
If historic art doesn't interest the kids, visiting NOW Gallery might be more up their alley. With interactive installations and multimedia displays, NOW gives visitors a hands-on and modern way to experience art and design.
The contemporary gallery showcases an exciting mix of artwork, fashion, design, and photography from established and emerging talent. Their main ethos is to keep art free, accessible, experimental, and diverse, and kids will love wandering around the unique installations.
The small venue doesn't take long to walk through. However, this local gem is next to the O2 Arena and the North Greenwich tube station, so it's a perfect stop for art lovers in the area.
Location: Soames Walk, London
Hours: Tuesdays to Fridays 10 am to 7 pm l Saturdays 10 am to 5 pm l Sundays 11 am to 4 pm
Price: Free
IFS Cloud Cable Car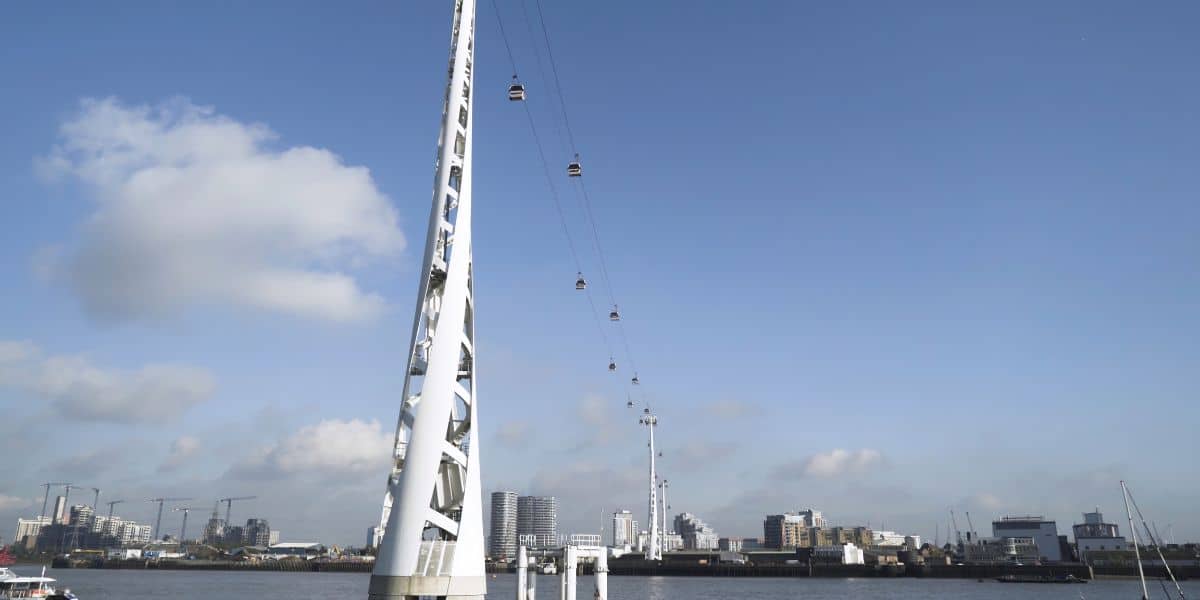 The IFS Cloud Cable Car crosses the River Thames between Greenwich Peninsula and the Royal Docks. You can board it just five minute's walk from the O2 and North Greenwich Underground station. It's one of the coolest things to do in London with kids at night or day.
A ride involves being suspended 90 metres above the water, and the one-kilometre trip takes ten minutes each way. During this short time, you can see views of St Paul's Cathedral, The Gherkin, the Thames Barrier, Greenwich, and the Queen Elizabeth Olympic Park used for the games in 2012.
Location: Edmund Halley Way, London
Hours: Monday to Thursday 7 am to 9 pm | Friday 7 am to 11 pm | Saturday 8 am to 11 pm | Sunday 9 am to 9 pm
Price: Adults £5 each way | Kids (5 to 15) £2.50, Kids under 5 are free
How to get to Greenwich
Below we cover the best ways to get to Greenwich from Central London.
Train to Greenwich
Greenwich is not based on a tube line. However, you can take the Docklands Light Railway (DLR) or a train into the town centre.
If you're visiting from central London, the easiest option is to take the DLR from Bank Station (next to Liverpool Street Tube Station) directly to Cutty Sark Station in Greenwich. You'll exit the station right in front of the famous Cutty Sark ship.
It is also possible to take a train to Greenwich Train Station, which has connections from London Bridge or Cannon Street.
If you're visiting North Greenwich for the O2 arena, take the Jubilee line from many major stations in central London to North Greenwich Station.
Cruise to Greenwich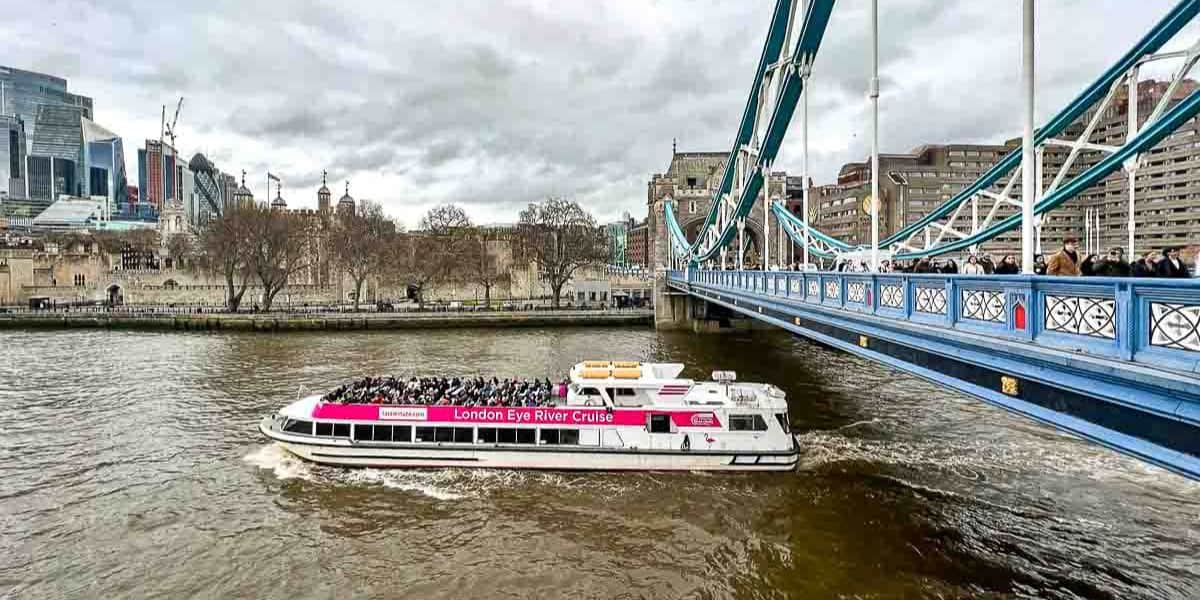 The most fun way to get to Greenwich is definitely to take a cruise. One way cruises regularly depart from Westminster and give families the wonderful experience of sailing down the River Thames, alongside being a convenient transport option.
River cruises give tourists an unbeatable view of historical sights such as the Houses of Parliament, Tower Bridge, and Big Ben as you sail past along the water. Audio commentary from your local expert will ensure you don't miss any iconic landmarks along the way.
Click here to check prices and availability.
Alternatively, embark from Tower Pier, next to the famous Tower Bridge, before beginning a picturesque cruise down the Thames River to Greenwich. For a first-rate view of London's historical attractions, a river cruise easily makes our list of the top 10 things to do in Greenwich for families.
Click here to check prices and availability.
For a more budget-friendly option, take an Uber Boat to Greenwich. This option doesn't come with commentary, but it's an excellent budget-friendly option at just £8.70 with an oyster card. This is how we got to Greenwich and it was such a beautiful way to travel.
____________________________________________________________________________
Hopefully you found this guide to a Greenwich day trip with kids helpful. Other great guides you may find valuable include things to do in London with kids, getting to London from Heathrow and the best London hotels for families.