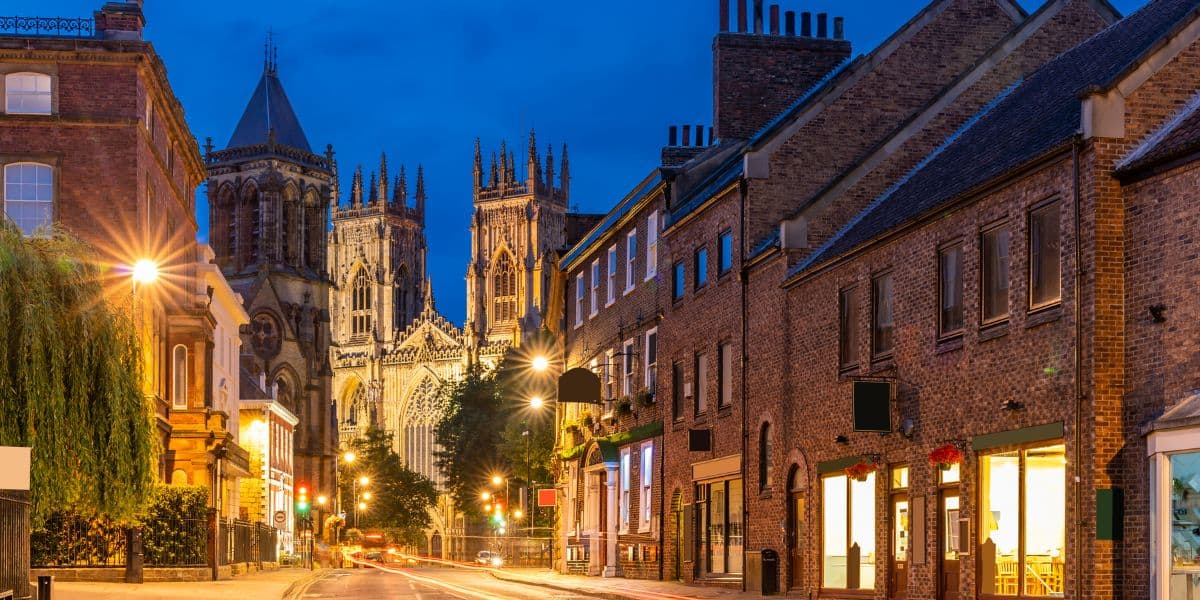 Are you visiting York as part of your family trip to England? Then you'll want to read this guide on all the best things to do in York with kids!
If you're taking the kids to London, it's well recommended to head north and spend a few days somewhere completely different, like York! There are plenty of things to do in York for families, such as visiting the iconic York Minster, the famous Jorvik Viking Centre and the ever popular National Railway Museum.
To help you make the most of your trip, this guide covers all the very best York attractions for families, including everything you need to know about ticket prices, where to save money booking online and opening times.
This guide covers tips on how to get to York from London and suggestions on the best York family hotels.
So let's jump straight into it and check out all the fabulous family attractions in York.
This post may contain compensated links. Please refer to my disclaimer here for more information.
Talk to other families about their tips on visiting York and join our Thrifty Family Travel Facebook Group or be inspired on our Instagram.
Things to do in York for Families
Kids Map
To help you plan your trip, check out the map below, which shows the location of all the top family things to do in York.
You can zoom in and out for a better view.
Best Things to do in York with Kids
Below we list the very best places to visit and family activities in York.
Please note that all prices mentioned were correct at the time of writing and are in local currency. To check the rate in your currency, click here.
Walk City Walls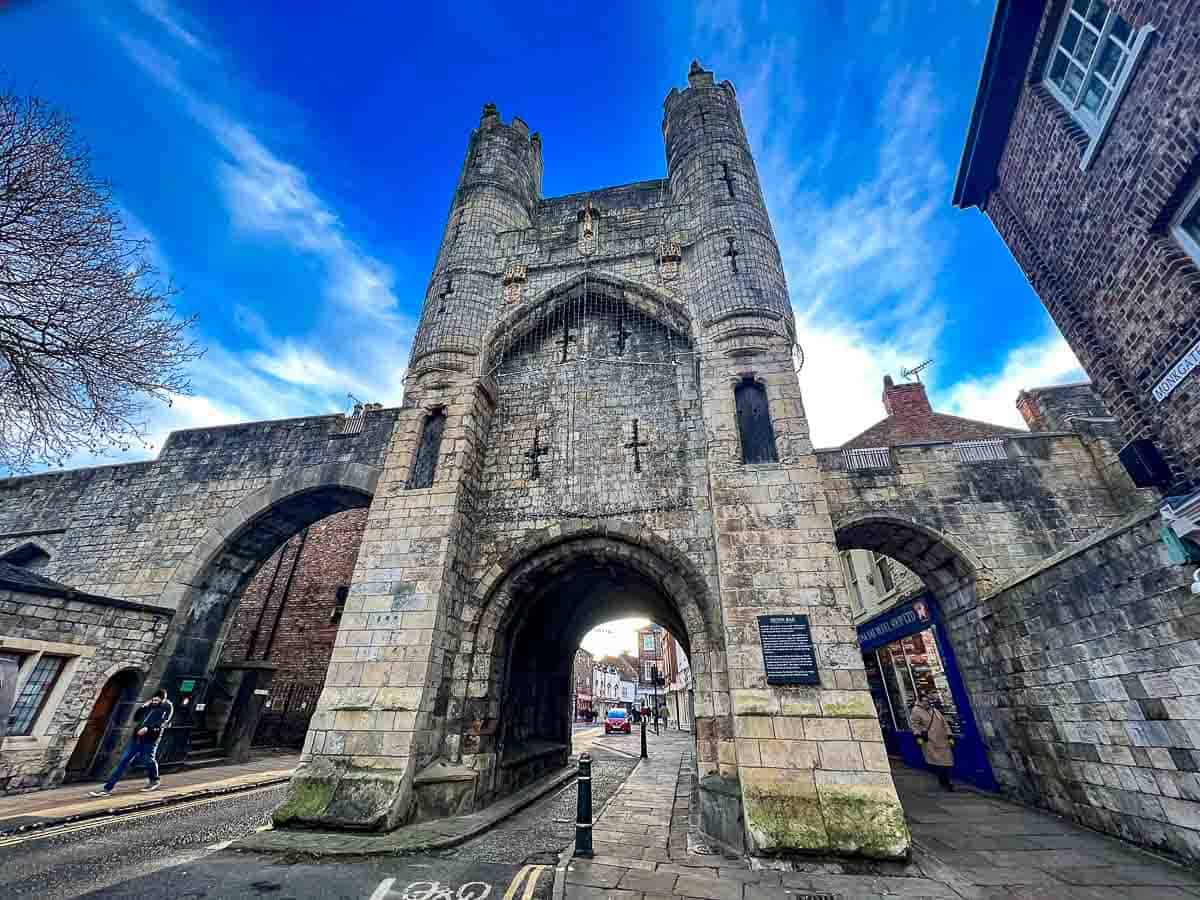 York's 2 km long mediaeval city walls are the longest city walls in England and take around 2 hours to complete on foot. If you don't want to walk the entire route, the most scenic section is between Monk Bar and Bootham Bar.
The walls are accessed or exited at any of the four mediaeval gateways to the city, called 'bars'. Monk Bar is the most interesting for kids as it still has its portcullis, arrow slits and murder holes.
York city walls provide fantastic views of York Minster and the city and are a tranquil escape from the bustle of the city centre.
However, most of the walls are unfenced, and there are several steps along the route, so you will need to keep young children close. Plus, there are steep, narrow steps to enter and exit the walls, so prams need to be folded.
However, don't let the steps deter you from walking the walls; it is one of the best free things to do with kids in York.
Location: York City Centre. Enter from Monk Bar, Bootham Bar, Walmgate Bar or Micklegate Bar.
Hours: Dawn till dusk. The walls are closed in heavy rain or icy conditions.
Price: Free
Walk The Shambles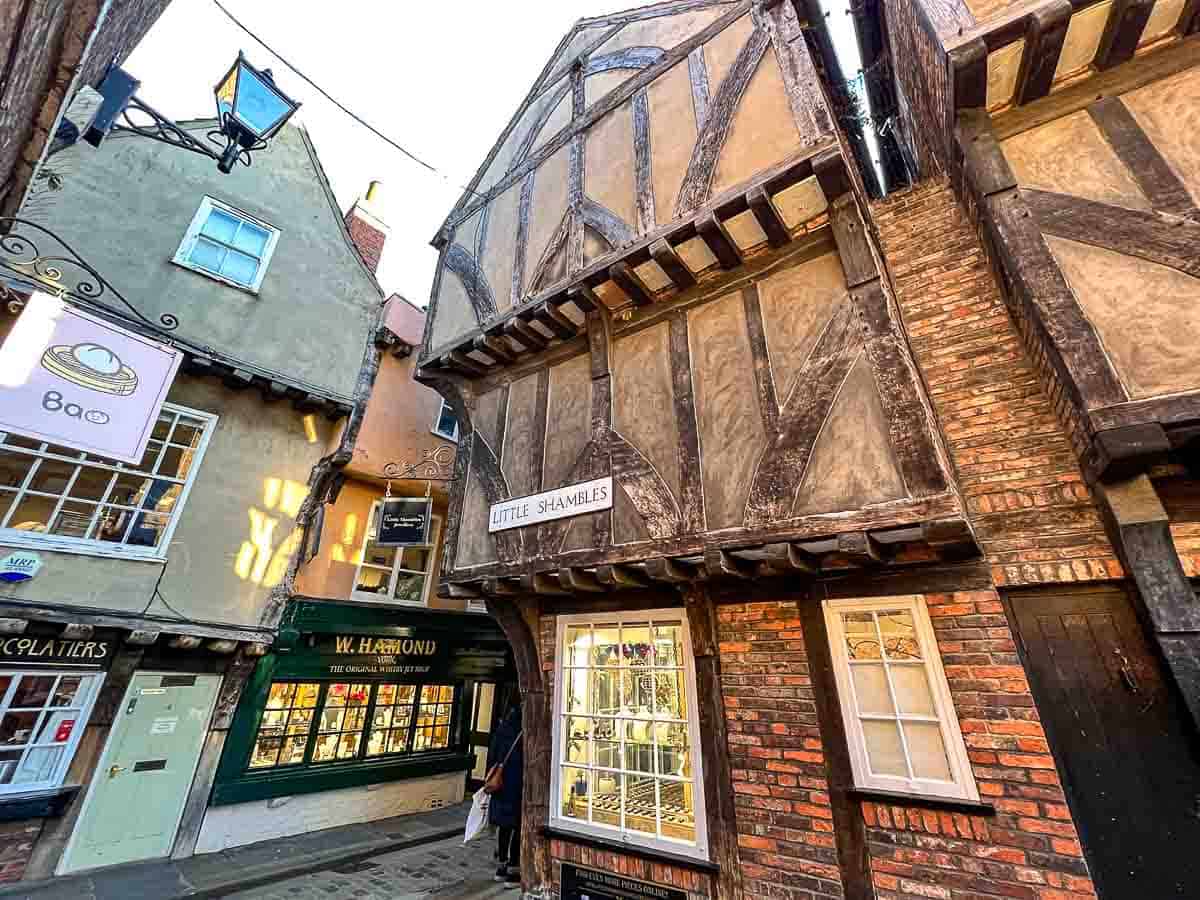 The Shambles is a narrow cobbled shopping street with overhanging, lopsided buildings dating back to the mediaeval era. At that time, the street was home to York's butcher shops and if you look closely at the shop fronts, you can still see the metal hooks once used for hanging meat.
The Shambles has been voted 'Best Street in Britain" and is said to be the inspiration for Diagon Alley in the Harry Potter movies – as a result, this unique street is a very popular York attraction.
Visit early or late in the day to avoid crowds but don't miss out; The Shambles is one of the unmissable things to do in York with the kids.
Make time to pop into the neighbouring Shambles Market. In addition to over 70 independent stalls, the open air market is a great place to pick up delicious street food.
Location: York city centre between Kings Square and Pavement.
Yorkshire Museum
One of the educational things to do with kids in York is to visit the Yorkshire Museum. Sitting in attractive Museum Gardens, the museum charts Yorkshire's geological development and history. It has the best Roman artefacts in York and kids will love the fascinating Jurassic World section displaying locally discovered dinosaur skeletons.
Families can download child-friendly trails before their visit and look for 'hands on' labels encouraging children to touch and explore certain artefacts.
Leave some time in your visit to explore the surrounding Museum Gardens, home to Yorkshire's oldest observatory, the 15th century Hospitium and the oldest Roman remains in York, the Multiangular Tower. It is also a good spot in the city centre for a picnic or for the younger kids to run around.
Location: Museum Gardens, Museum Street
Hours: Wednesday to Sunday, 10 am to 4 pm | The Museum Gardens are open daily.
Price: Adult £8.75 | Children under 16 £4.40 | Under 5's free. The Museum Gardens are free.
Clifford's Tower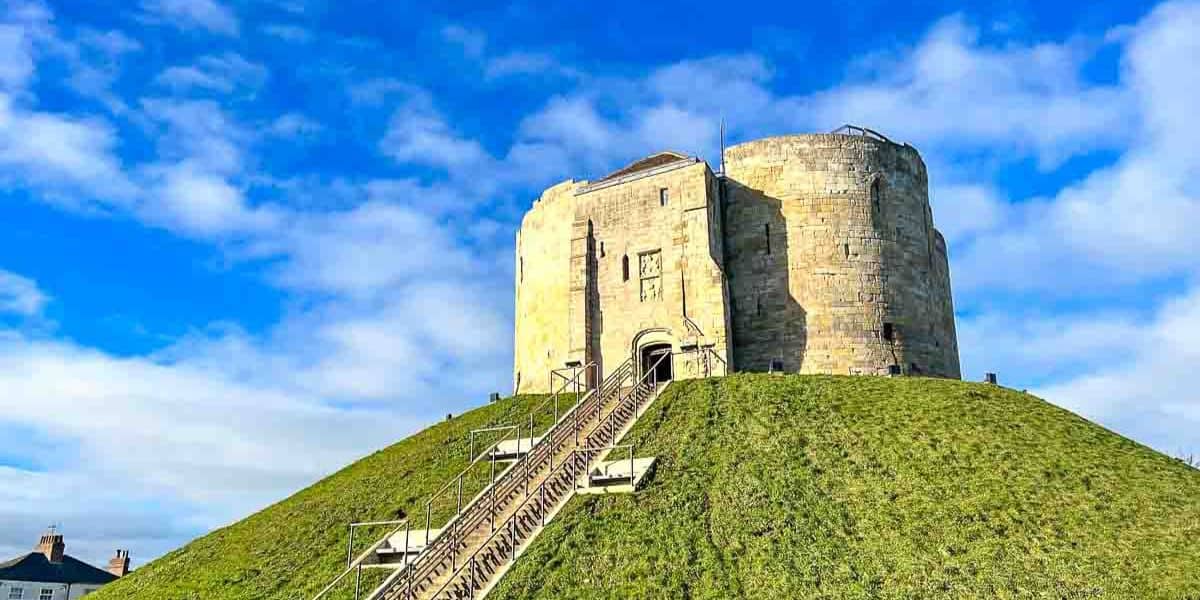 If you are wondering what to do in York for families that will appeal to all ages, visit Clifford's Tower, one of York's most iconic buildings.
The circular tower is built on an artificial hill in the middle of the city centre and is the remains of a Norman keep. In 2021, the tower underwent a transformative restoration project and visitors can explore more of the building than ever before.
Interactive exhibits and immersive soundscapes linked by glass walkways show what life was like in the Norman era. The highlight of Clifford's Tower is the rooftop viewing platform which has fantastic 360 degree views of York city centre.
There are steep steps to enter Clifford's Tower (and more steps inside), so prams will need to be folded before entry or left at the bottom.
Location: Tower Street, opposite York Castle Museum
Hours: Everyday 10 am to 4 pm
Price: £8.10 Adults | £5.40 kids (5 – 17) | £21 Family (2A+2C)
Bedern Hall
This Medieval hall was once the dining hall of the Vicars Choral of York Minster. The area around the hall has changed much over the centuries – from medieval splendour through Victorian slums to its final role before restoration as William Wright's pork pie factory!
Today the Hall shares with visitors an eclectic mix of stories from its 700 years of history with visitors. Learn about the Vicars' lifestyle and the things they left behind, discover the story of the restoration of the Hall, find out what a Cordwainer did and more.
Bedern Hall is also home to a peaceful courtyard cafe, where you can enjoy coffee, cake, a glass of wine, and a savoury snack.
Location: Bartle Garth, St Andrewgate, York
Hours: Wednesday to Friday from 10.30 am to 3.30 pm
Price: £3.50 Adults |£1.50 Kids (5-15) | Under 5s are free
JORVIK Viking Centre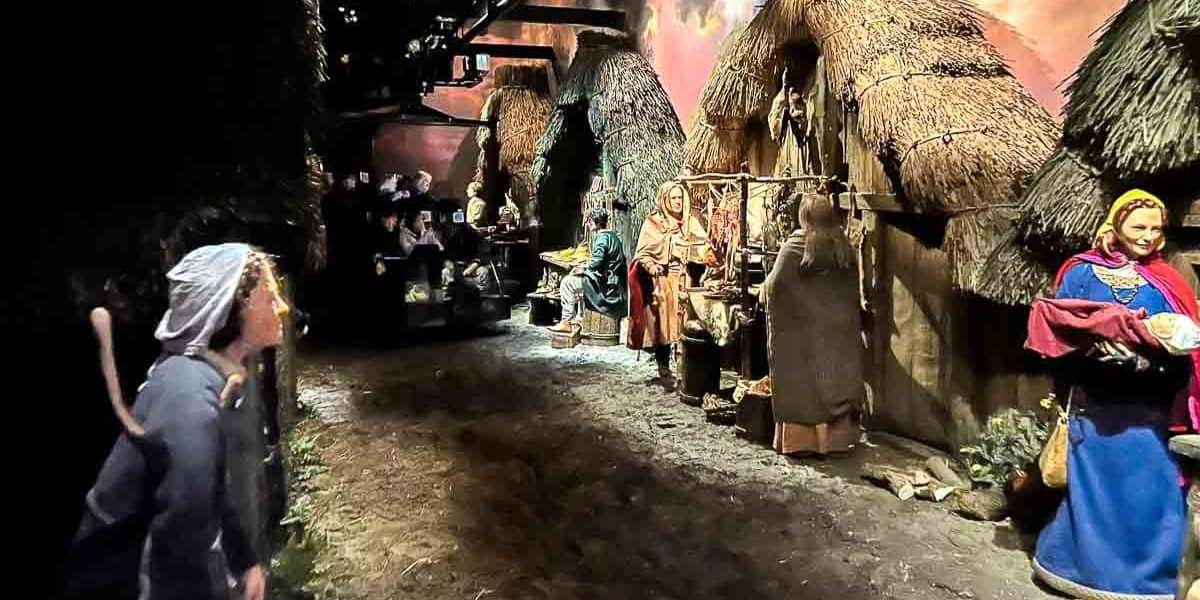 The Jorvik Viking Centre is one of the most popular things to do in York with kids. The interactive centre displays Viking artefacts found during a dig on the site in the 1980s (including a fossilised poo)!
Visitors descend to the museum's lower levels to view the artefacts and remains of Viking streets and houses under a glass floor.
However, the museum's highlight is a historical 'cab' ride around a recreated Viking village with sounds and smells; kids will love it.
Jorvik is known for its long queues, so pre-book in advance to avoid lengthy waits.
Allow 90 minutes for your visit.
Location: Coppergate Shopping Centre
Hours: Daily from 10 am to 5 pm. Seasonal opening hours apply, so check in advance.
Price: £15 Adults | £10.50 kids (5 – 16) | £43 Family (2A+2C)
JORVIK DIG
DIG is one of the best younger kids' activities in York and is aimed at ages 5 to 12.
The tour starts with a family friendly talk about archaeology and the chance to handle genuine artefacts found in York. Then kids are let loose with their own trowel in the four specially constructed excavation pits to dig for replica Viking, Roman and mediaeval artefacts.
It's a fun, educational activity that will burn excess energy. The tour lasts for one hour.
Location: St. Saviour's Church, St. Saviourgate
Hours: Every day 10 am to 5 pm – although hours vary in winter, so check before visiting.
Price: £9 Adults | £8.25 kids (3-16) | £28.50 Family (2A+2C)
York Minster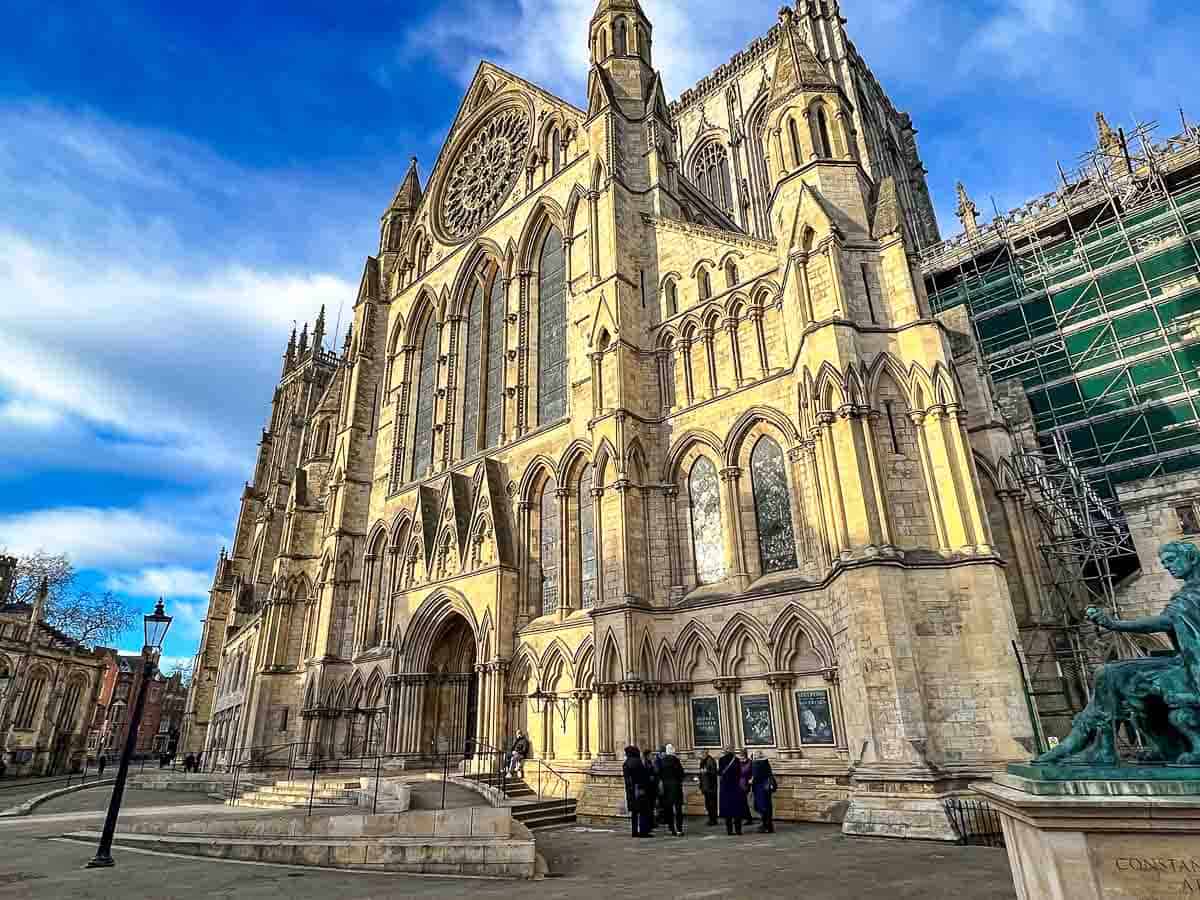 If you are wondering what to do in York with kids, York Minster may not immediately spring to mind as a child friendly attraction. However, the largest Gothic cathedral in northern Europe (which also boasts the largest expanse of stained glass anywhere in the world) is surprisingly family friendly.
There are tours specifically for families every Saturday morning; at other times, kids can borrow free Explorer Backpacks. These backpacks contain age appropriate trails around the Minster and useful items such as a mirror for viewing the ceilings and a magnifying glass.
If the Yorkshire weather allows, children over 8 (accompanied by an adult) can climb the 275 steps of the Ministers Central Tower for an incredible bird's eye view of York. Allow 90 minutes for your visit (tours last around 45 minutes).
Location: Deangate, York
Hours: Monday – Saturday, 9.30 am to 4 pm | Sunday, 12.45 pm to 3.15 pm
Price: £16 Adults | Free for children under 16 with a paying adult
Minster and Tower Tickets £22 Adult | £6 Kids (over 8 yrs only)
York Army Museum
The York Army Museum is home to some of the most important regimental collections in the UK. It tells the stories of the British Army soldiers from 1685 to the present day and is the home to the collections of the Prince of Wales's Own Regiment of Yorkshire and the Royal Dragoon Guards.
Location: 3A Tower Street, York
Hours: Wednesday to Friday from 10 am to 5 pm
Price: £5 Adults |£12 Family
Take a Walking tour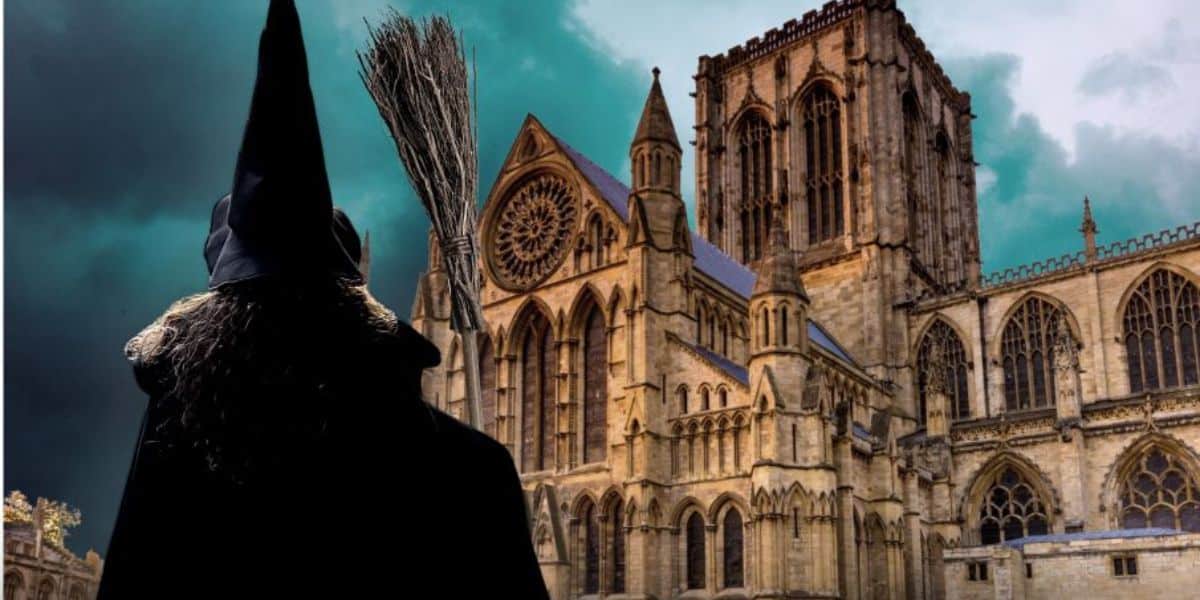 York is a compact city with several pedestrianised city centre streets. It is easy to explore with kids on foot and several family friendly walking tours are available.
Harry Potter fans will love the 2 hour interactive Harry Potter Walking Tour, which visits York's major sites and Harry Potter themed attractions whilst completing Harry Potter trivia quizzes along the way.
If your family loves history, take the 90 minute City Highlights Tour, which focuses on the city's rich cultural history. If the mediaeval era is your passion, book the specialised Medieval Walking Tour. Each tour visits York's top historical sites and introduces visitors to the city's quirky snickets or snickleways (narrow alleys crisscrossing the city centre).
Alternatively, explore York at a quieter time of the day with a 1 hour early evening walking tour. This is the best time of the day to catch the 'Golden Hour' when York's stone buildings (particularly the Minster) glow with the setting sun.
Location: York city centre; check individual tours for starting points.
Hours: Every day, times vary
Price: Tours start from £10 per person
Ghost Tour
York is allegedly one of the most haunted places in Britain. You will hear locals tell stories of a Roman Legion marching through the Treasurer's House or a black robed Abbot wandering through the ruins of St Mary's Abbey.
Learn about York's haunted tales by joining a ghost tour (which is also a great way to get your bearings in this walkable city). The Witches Walking Tour is a 90 minute witchcraft themed tour around the streets of York with the added option of making your own magical potion. Most ghost tours in York run in the evening, but this tour starts at a family friendly 3 pm.
Location: The starting point is Whip Ma Whop Ma Gate Street, adjacent to The Shambles.
Hours: Every day at 3 pm (with an additional tour at 4.30 pm on weekends)
Price: £12 Adults | £8 kids
York Chocolate Story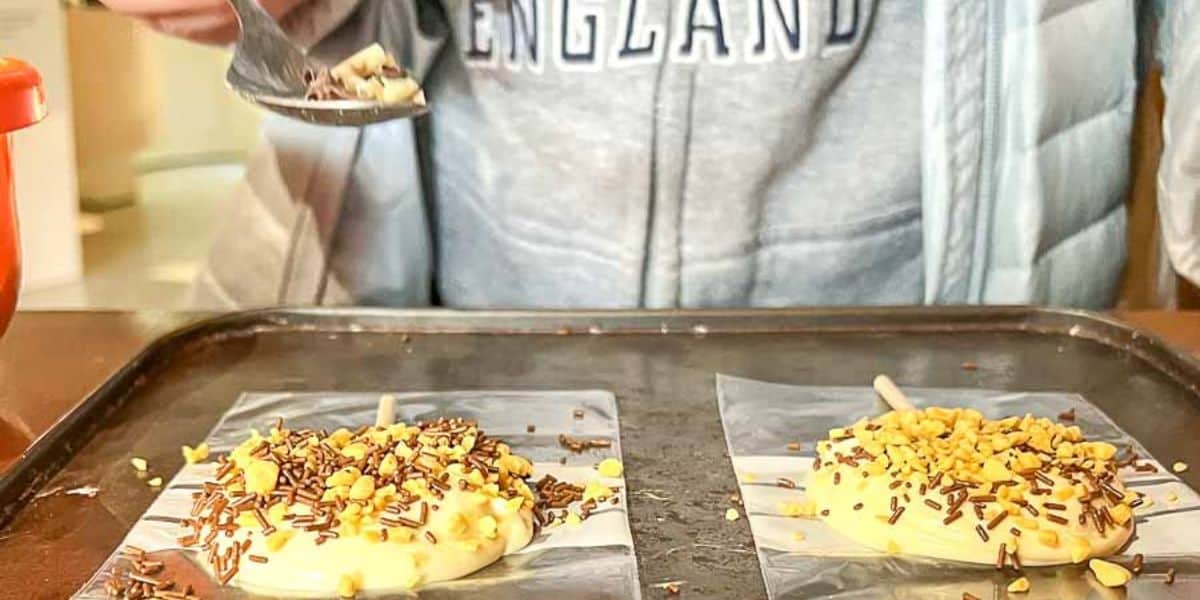 If you are looking for activities for kids in York that they will remember long after their visit, book a chocolate themed activity. York has a long history of chocolate production and on a good day, you can smell melting chocolate in the air from the one factory still making chocolate today.
All the family will enjoy a trip to York Chocolate Story. The guided exhibition explains how chocolate was discovered, brought to England and the history of chocolate production in York. Free chocolate handouts will help to keep kids attention!
At the end of the exhibit, all visitors (including adults) get to make and decorate their own chocolate lollipop to take away and watch a truffle making demonstration.
Allow 90 minutes for your visit and book online to avoid queues.
Location: Kings Square, York
Hours: Every day from 10 am
Prices: £15.95 Adults | £13.50 kids (4 -15) | Under 3's free | £55 Family (2A+2C)
Chocolate Making Workshop
If you want the chocolate making experience without the museum, another of the fun things for kids to do in York is joining a workshop at York Cocoa House.
Kids (and adults) can make and decorate their own chocolate bar at a 1 hour workshop or join a Guided Tour and Tasting to learn how York Cocoa House makes their delicious chocolate and how to develop your chocolate palette.
The knowledgeable owners have been running chocolate workshops in their cafe for years and you won't be able to leave without buying something tasty to take away.
Location:10 Castlegate, York
Hours: Everyday 9 am to 5.30 pm; workshop times vary, so check before you visit
Price: Chocolate Bar Workshop £22.50 per person, Tour and Tasting £9.50 Adults | £5.50 Kids (4-15)
York Castle Museum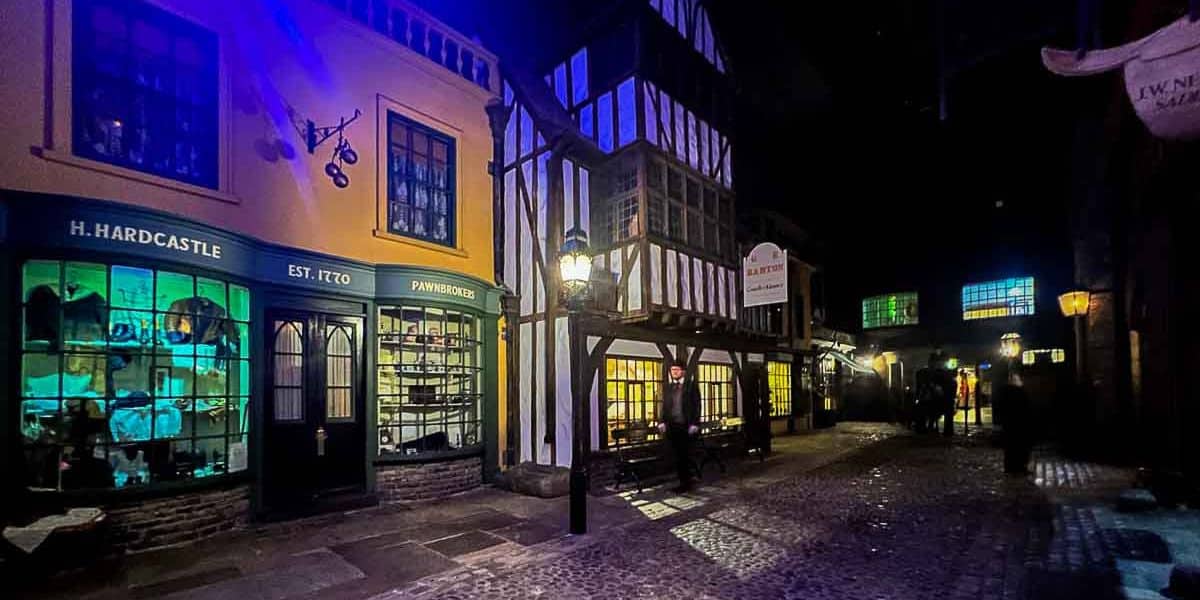 One of the best places to visit in York with kids is York Castle Museum, a grand building once the courthouse and jail for Victorian York.
The museum has an eclectic collection on the history of York, toys through the ages and exhibits on the World Wars. You can also visit the eerie Victorian jail cells and learn about the inmates who resided there from hologram actors.
The museum's highlight is Kirkgate, a fully recreated Victorian cobbled street complete with shops, a pub and a school. Visitors can enter the buildings where costumed actors will talk about their lives in Victorian York.
People often revisit York Castle Museum as it is one of the best family days out York has to offer.
Allow at least 2 to 3 hours for your visit. Tickets are cheaper when booked online in advance.
Location: Eye of York, opposite Clifford's Tower
Hours: Monday 11 am to 5 pm | Tuesday – Sunday 10 am – 5 pm
Price: £14 Adults | £7 kids (5-16) | Under 5's free
National Railway Museum
The National Railway Museum (or NRM) is a must do York attraction for all ages and is one of the best free things to do with kids in York. This enormous museum is packed with gleaming train engines, carriages and rail memorabilia.
You can see inside the Royal Train, sit in a Shinkansen carriage (the only one outside of Japan) and see a cross section of the Channel Tunnel and kids will enjoy the outdoor balcony where you can wave at trains entering York rail station.
There is an outdoor playground, a miniature steam railway you can ride and regular entertaining science shows, especially for kids. Barbie being shot out of a cannon is a show highlight!
The NRM is undoubtedly one of the best family days out in York.
*Note – Station Hall, one of the museum's two galleries, is currently closed for refurbishment.*
Location: Leeman Road (at the back of York rail station)
Hours: Wednesday – Sunday 10 am to 5 pm
Price: Free
York Dungeon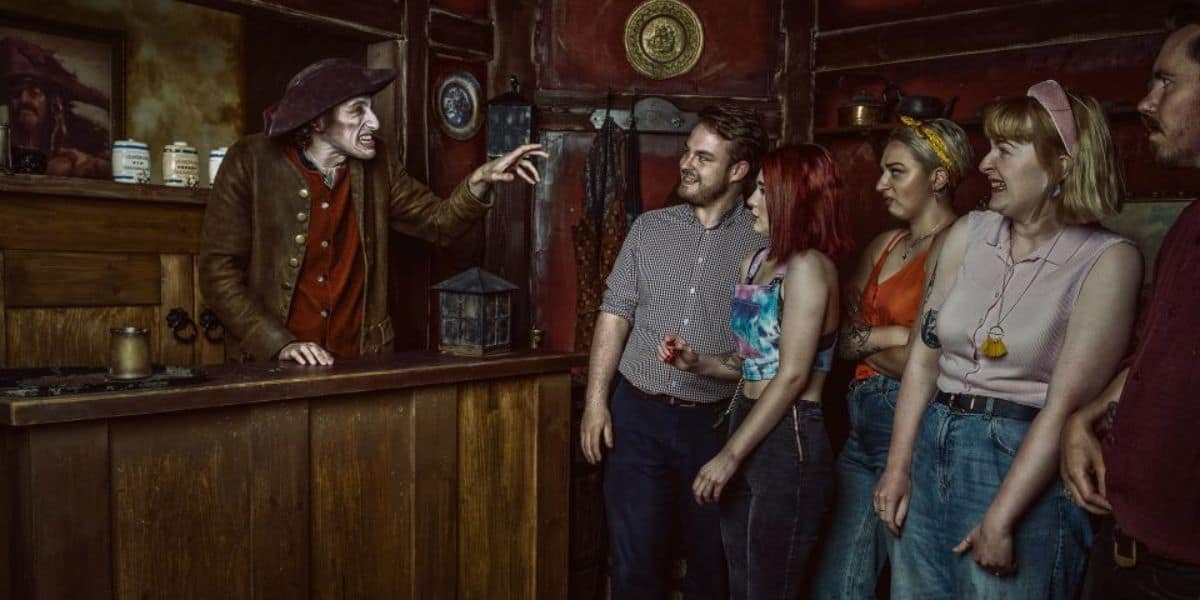 York Dungeon depicts tales from York's gruesome past with 10 live 'shows' led by entertaining costumed actors. Expect gory tales, loud noises, sudden frights and audience participation in immersive 360 degree sets.
The experience is fun, but due to its adult content and dark, confined spaces, it is unsuitable for children under 8 (or nervous adults). Under 4's are not allowed inside.
Location:12 Clifford Street, York
Hours: Weekdays 11 am to 4 pm | Saturday 10 am to 5 pm | Sunday 10 am to 4 pm
Price: £21 Adults | £16 Kids (8-15) Tickets must be booked online; click here for the best prices.
York Mansion House
Home to the Lord Mayors of York during their term in office – the York Mansion House is a beautiful historical building dating back to the 1730s. Built for entertaining royalty, with a rich civic and personal history, this is the oldest purpose built home for a Lord Mayor in the country.
Visitors to York Mansion House can explore various rooms, including magnificent staircases, staterooms and the famous historic kitchen – now a fully functional recreated 18th century kitchen. Also, don't miss the Cabinet of Curiosities – a collection of things found hidden in the walls and floors during restoration – including a mummified cat!
As you explore, your audio guide and various interactive exhibits will help bring centuries of social and societal life alive.
Location: St Helens Square, York
Hours: Wednesday to Sunday from 10.30 am to 5 pm
Price: £6.50 Adults |£3.50 Kids (5+) | Under 5s are free | £17 Family (2A+3C)
City Walls Experience at Micklegate Bar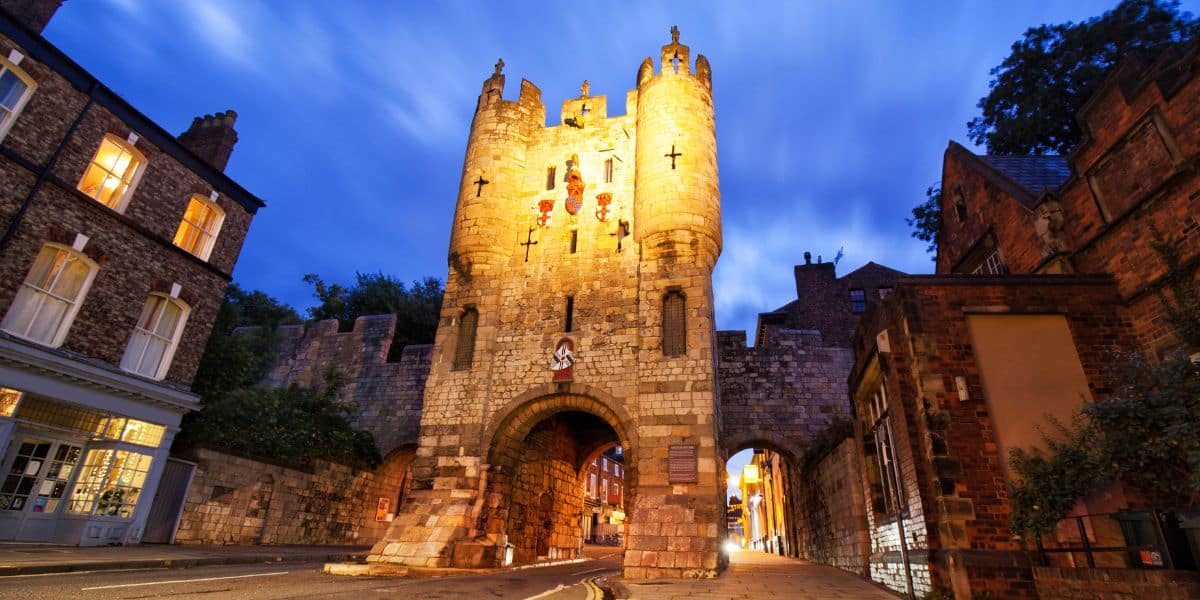 The City Walls Experience at Micklegate Bar is one of the things for kids in York who love their history.
Families can explore three floors of exhibits inside the Bar which explain how the first city walls were built in Roman times and how the walls have evolved.
The museum also offers twice daily walking tours from the Bar around the walls to nearby Baile Hill.
Location:Micklegate Bar, Micklegate
Hours: Every day from February to October. Tours run from April to October at 10.30 am and 2 pm.
Price: Museum and Tour £6 Adults | £5 Kids | £20 Family (2A+2C)
York Art Gallery
The York Art Gallery houses an impressive collection of paintings, ceramics, and sculptures. Visiting the gallery gives kids a fascinating and enjoyable experience that provides a unique insight into the world of art and design.
Parts of the gallery include interactive exhibits and activities designed to be fun and educational, including games, quizzes, and creative activities that allow them to explore and engage with the artworks.
In addition to the gallery's permanent collection, there are special events and workshops throughout the year, providing hands-on experiences for the kids, such as pottery-making or painting workshops.
Before visiting the gallery, jump online to see what's on and download some activities to help ensure the kids get the most out of their visit.
Location: Exhibition Square, York
Hours: Wednesday to Sunday from 10 am to 4 pm
Price: Free – some exhibitions may have an entry fee
St Mary's Abbey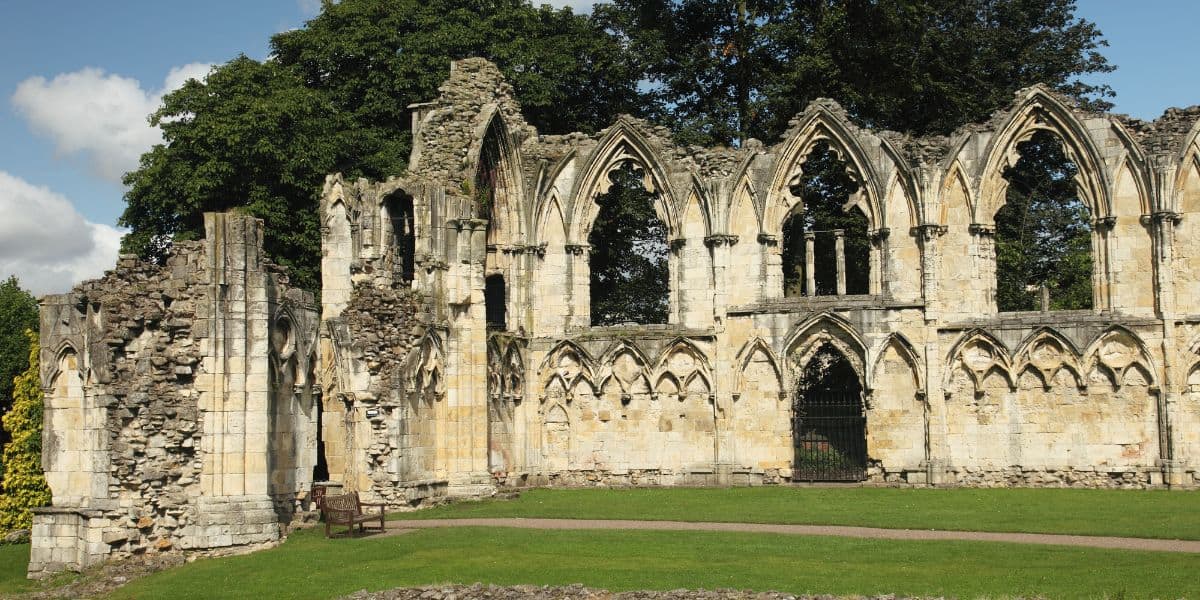 The 11th century ruins of the Benedictine St Mary's Abbey are adjacent to the Yorkshire Museum. Kids can explore the atmospheric nave and cloister ruins plus the Abbey walls, which are the most complete Abbey walls in England.
Behind the ruins, a small footpath leads to York Art Gallery, which passes through the quirky Edible Wood. However, don't be tempted to eat any of the produce, as most of it is poisonous!
Location: Museum Gardens, Museum Street
Hours: Every day from dawn till dusk
Price: Free
Barley Hall
Barley Hall is a beautifully preserved medieval townhouse from the 14th century, providing a unique opportunity to explore what life was like for wealthy merchants and their families during this period.
The house has been restored to its former splendour with high ceilings, beautifully exposed beams and possibly the only horn window in England. It has been furnished to replicate the household of the Snawsell family during the reign of Richard III.
Visitors of Barley Hall can wander around the rooms, including the Great Hall, the kitchen, and the bedrooms, while imagining what life was like for a wealthy family in medieval York. A range of exhibits is also on display, including costumes from movie adaptions of various Shakespeare stories.
Allow around one hour to visit Barley Hall – a cafe is also on site.
Location: Coffee Yard, Off Stonegate, York
Hours: Daily from 10 am to 4 pm
Price: £7.50 Adults | £4.50 Kids | Under 5s are free | £21 Family (2A+2C)
Merchant Adventurers Hall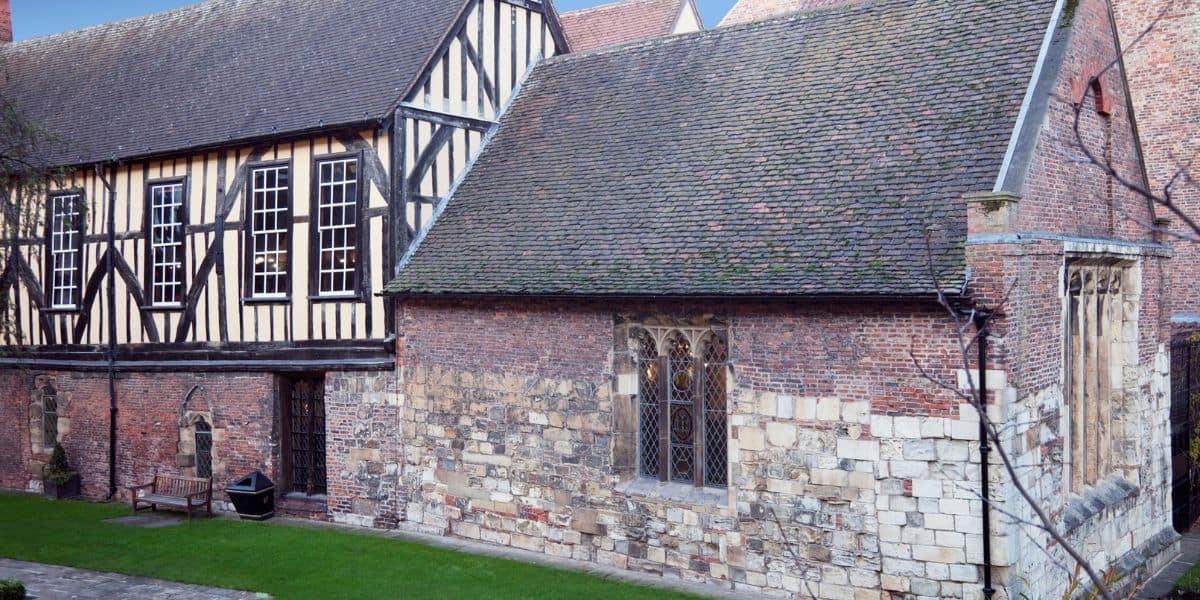 Considered one of the finest medieval guild halls in the world, the Merchant Adventurers Hall is a stunning timber framed building dating back to the 14th century. It has been the home to the powerful Merchant Adventurers Company, a group of wealthy merchants who have played (and continue to do so) a significant role in York's economic and political development since 1357.
The Merchant Adventurers' Hall is one of the oldest – and largest – buildings of its type in England. It's also a great example of seeing the three functions of a medieval guild at work – business and social events in the great hall, charitable work in the undercroft hospital, and religious life in the chapel.
The great hall has remained virtually unaltered since it was first built, apart from a few additions here and there. Scattered throughout the Hall are a wealth of historical objects from the Merchant adventurers' collections – be sure to look for black marks on the timber uprights caused by candles used for lighting during the Middle Ages.
In the undercroft is the hospital, where the poor were cared for until about 1900. Then at the far end of the undercroft is the chapel, rebuilt in 1411 in brick and stone. The current furnishings of the chapel date from 1661.
An audio guide is included with your entry fee to ensure you get the most out of your visit to the Merchant Adventurers' Hall.
Allow 45 minutes for your visit.
Location: Fossgate York
Hours: Sunday to Friday, 10 am to 4.30 pm | Saturday, 10 am to 1.30 pm
Price: £6.50 Adults | Under 16s are free
The Bar Convent Living Heritage Centre
Step into a world of secrets and spies at England's oldest living convent. The Bar Convent is a historic building that dates back to the 18th century and is one of the oldest buildings in York. It is a fascinating place to visit, with its beautiful architecture, stunning artwork, and historical artifacts.
The exhibition within The Bar Convent tells the story of the convent's history, the women who lived there, and their role in shaping the local community. If you visit during the school holidays, there are various special activities for families, such as crafting sessions, baking workshops, and storytelling events.
You can also visit the 18th century "Hidden Chapel" – an example of how devout Catholics continued to worship secretly while their religion was illegal and punishable by death. See how it was disguised from the outside world and its numerous doorways for a quick escape.
Location: 17 Blossom Street, York
Hours: Monday to Saturday from 10 am to 5 pm
Price: £6 Adults |£4 Kids (16+) | £2 Kids (6-15) | Under 6s are free | £12 Family (2A+2C)
River Cruise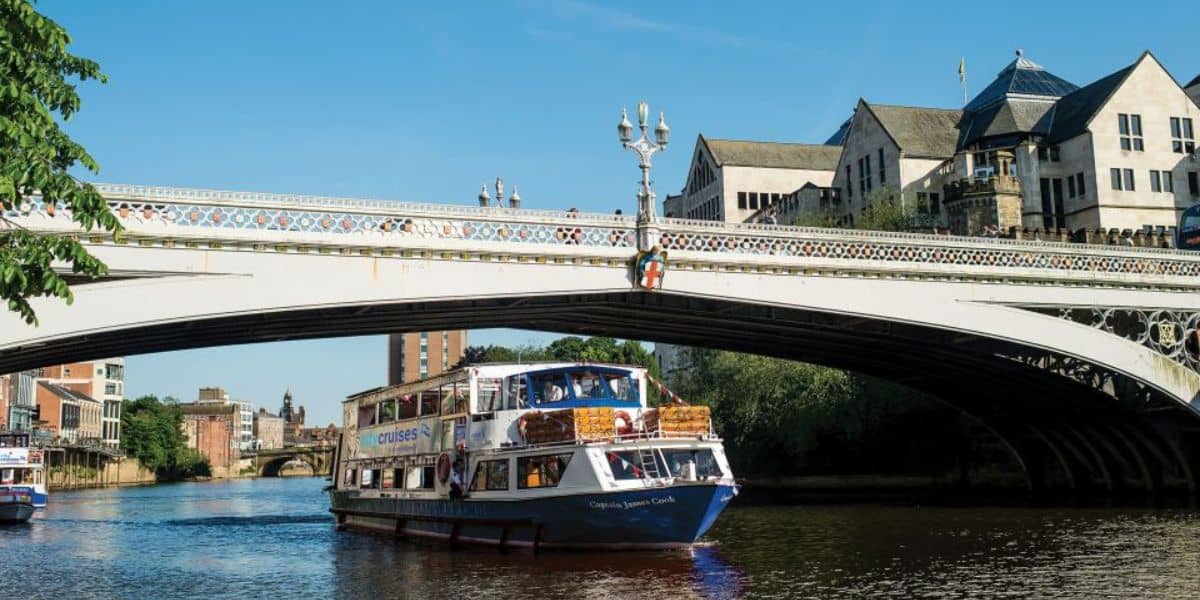 The River Ouse flows through the City of York and its leafy pedestrianised footpaths are popular with locals. The river allows visitors to see York from a different perspective by enjoying a 'cruise on the Ouse.'
A City Cruise Tour lasts 45 minutes and travels a short but scenic route up and down the Ouse accompanied by live commentary. It is a great way to see the city from a different angle; it is one of the more relaxing things to do with the kids in York! The same company also offers a 70 minute Floodlit Evening Cruise from April to October.
A fun alternative is to book a Self Steer Boat Rental, known to Yorkies as 'the Little Red Boats.' Up to 8 people can hire a boat for 1 hour and self drive the boats within designated areas of the Ouse. It is a fantastic family activity on a summer's day.
Location: Kings Staith, Tower Gardens, York
Hours: City Cruise every day at 10.30 am, 12 pm, 1.30 pm and 3 pm. Evening Cruise April – October at 9.15 pm, Self Steer everyday 10 am to 3 pm,
Price: City Cruise £12.50 Adult | £8.50 kids | Under 4's free, Evening Cruise £15 Adult | £13 kids, Self Steer £45 per boat
The Hole in Wand
When the kids need a break from educational and historical things, take them to the Hole in Wand for a bit of putt putt golf.
This mini golf course has nine magical holes to be completed to find the missing Gargoyle Grobblenook. Along the way, the kids will be thrilled to see bubbling cauldrons, magical portals and more.
At the end of the course, every player will receive a magic potion drink. The Wizard Tavern on site is also a good place for drinks and food.
Location: 14-16 Coppergate, York
Hours: Daily from 9.30 am to 7 pm
Price: £6.99
Best Day Trips from York
York is surrounded by some of the best scenery in England – North Yorkshire is dubbed 'God's own county' for a good reason! So allocate time in your trip to York to get out of the city and explore some of North Yorkshire's historical sites, magnificent scenery and dramatic coastline.
Yorkshire Dales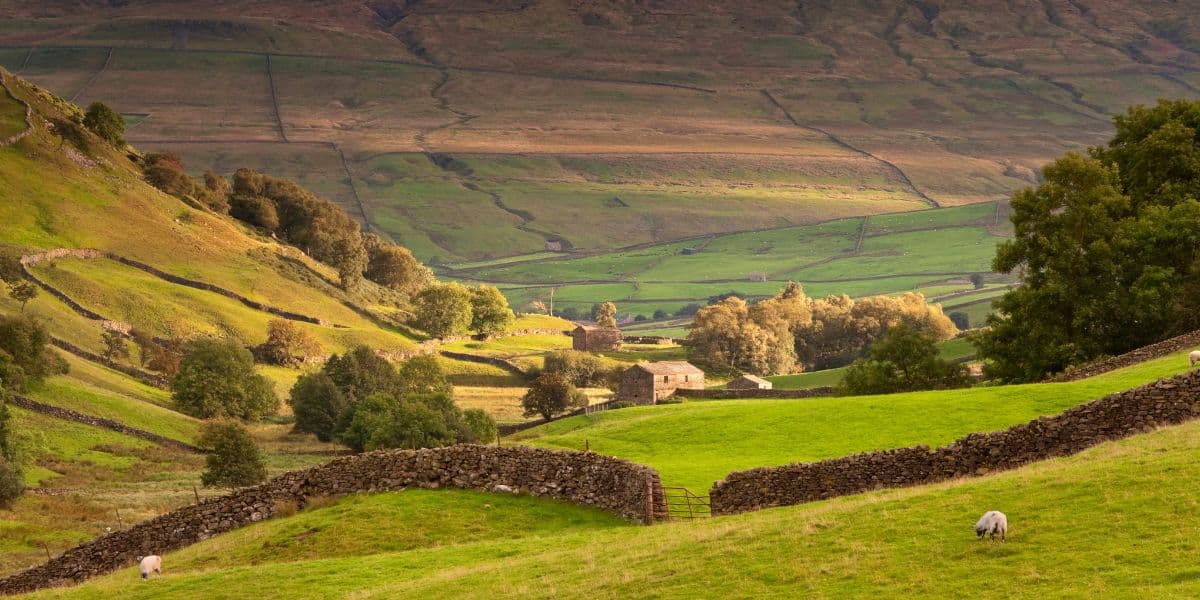 The Yorkshire Dales is a one hour drive from the City of York. If you are looking for things to do near York with kids, the Dales is packed with adventurous activity options. The region (most of which is a National Park) is known for its green rolling hills, stone walls, river valleys, caves and cascading waterfalls.
Visit iconic Aysgarth Falls or Hardraw Force, England's highest single drop waterfall, or explore Yorkshire underground at White Scar Cave near Ingleton. Hike one of Yorkshire's Three Peaks or learn about the past at Skipton Castle, Bolton Castle or Bolton Abbey.
Don't miss dramatic Malham Cove in the heart of the Dales, a 250 foot high natural stone amphitheatre featured in the Harry Potter movies.
You can catch a winding public bus from York to the Yorkshire Dales or take a series of regional trains via Leeds, but to fully explore this beautiful region, you will need a car.
However, if you prefer for someone else to take care of the driving, then consider one of these tours:
The 8 hour fully guided Yorkshire Dales Tour packs in waterfalls, castles, market towns and villages and travels along some of the most scenic routes in the Dales. It includes stops at Aysgarth Falls, Hawes (home of the famous Wensleydale Cheese) and Masham.
Price: £52 Adults | £45 kids (5 -17) – click here to book
Fans of the 'All Creatures Great and Small' books and tv programme will love the 8 hour themed small group tour, which includes a stop at the James Herriot Museum (the original home and surgery of the famous vet). It also visits Hardraw, The Drovers Arms (known from the tv show) and Darrowby. The tour is extremely popular, so book online in advance.
Price: £80 Adults | £65 Kids (5-15) – click here to book
Whitby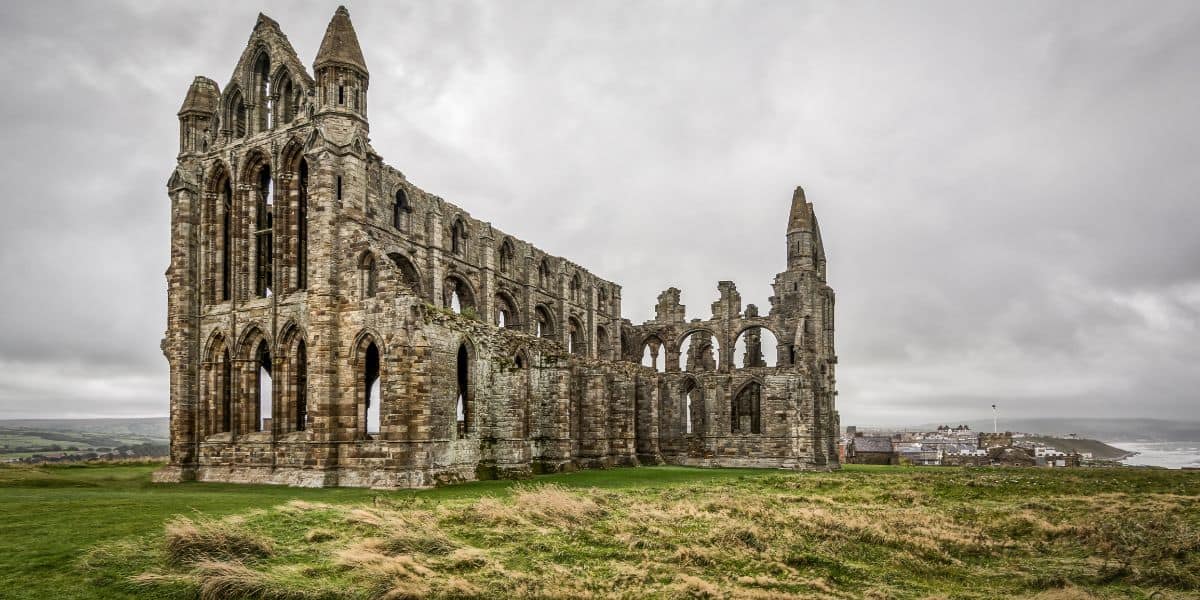 Whitby is the most famous town on the North Yorkshire coast and has a fantastic sandy beach, clifftop Abbey ruins, cobbled streets and stunning coastal walks, with the bonus of the best fish and chips in Yorkshire. Whitby is one of the best full days out with kids York offers.
To get to Whitby, you must first cross the windswept Yorkshire Moors. Several locations are worth a stop.
Hiking families will love the Hole of Horcum or the heather covered moorlands around Levisham. Harry Potter fans must visit Goathland Station, which doubled as Hogsmeade Station in the Harry Potter movies.
It is possible to catch a public bus from York to Whitby, which crosses over the Moors. This 840 Coastliner route takes around 2 hours and has been voted the 'Most Scenic Bus Ride in Britain.'
Alternatively, if you are looking for things to do near York for kids who love trains, you can catch the 840 Coastliner to Pickering, where you can pick up the historic North York Moors Steam railway to Goathland. Families can buy a 'hop on hop off' one day ticket for the train, which is a great way to explore the villages and sights of the Moors.
However, if you prefer for someone else to take care of all the travel arrangements, then consider one of these tours:
The 8 hour Moors and Whitby Tour visits charming Hutton le Hole village before spending two hours in Whitby. Visitors can then choose a discounted ride on the North York Moors Railway back to Pickering or explore Goathland before returning to York.
Price: £52 Adult | £39 Kids (4-15) – click here to book
Alternatively, take a different route to Whitby on this 8 hour tour which stops at the White Horse of Kilburn and the gorgeous market town of Helmsley before spending three hours in Whitby.
The tour returns to York via Goathland and the Hole of Horcum. You will spend a lot of time travelling on this tour but will see a lot along the way.
Price: £52 Adult | £39 Kids (4-15) – click here to book
Castle Howard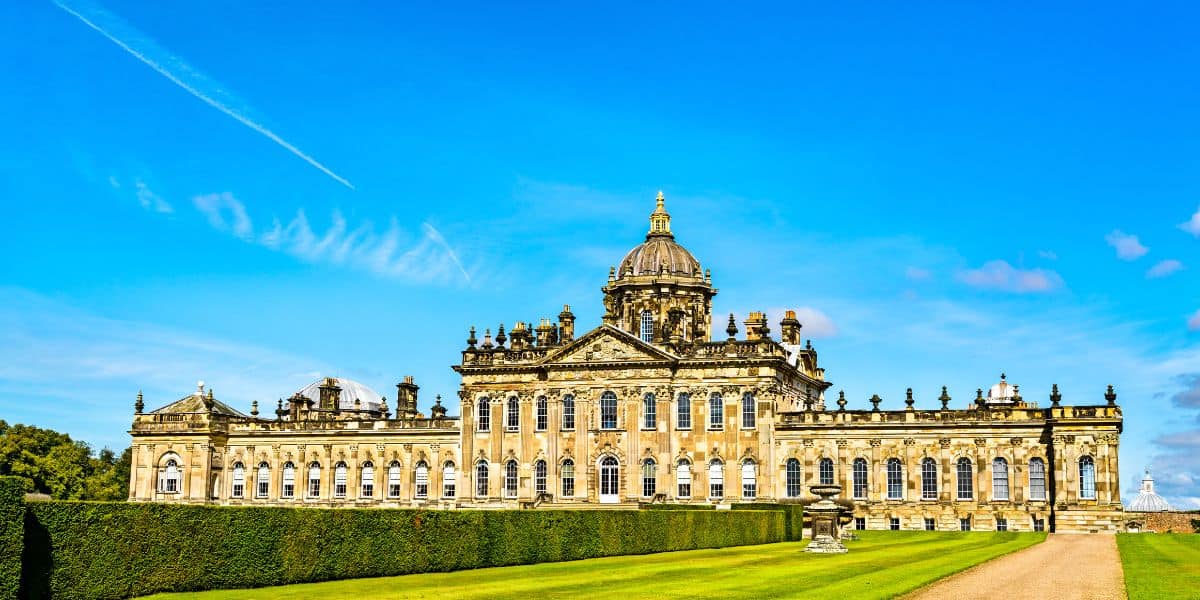 Historic Castle Howard is a twenty minute drive from York, or you can catch the Castleline Bus from York city centre. The estate has been featured in 'Brideshead Revisited' and 'Bridgerton'.
The privately owned 18th century stately home is one of Britain's best Baroque style houses. Families can explore the fully furnished rooms of the house or the follies, fountains and woodland paths in the 1000 acre grounds.
The estate is also home to one of the best outdoor adventure playgrounds in Yorkshire, Skelf Island, packed with slides, treetop nets, wooden walkways and climbing equipment. It is one of the best things to do with kids near York and entrance is included in a general gardens ticket.
Location: Castle Howard Estate near Coneysthorpe
Hours: House is open from April to January. Gardens are open daily; seasonal opening hours apply, so check before your visit.
Price: Prices are seasonal. Off peak gardens only tickets £9 Adults | £4.50 Kids (5-16) – click here to book
York City Pass
If you plan to visit many York attractions, consider buying the York City Pass.
The pass is valid for 1, 2 or 3 days and covers entry to 20 York attractions. Some of the major sites included in the pass are:
York Army Museum

York Dungeon

York Minster

Yorkshire Air Museum

Yorkshire Museum

York Castle Museum

Barley Hall

Clifford's Tower

Castle Howard

DIG

Jorvik Viking Centre

Merchant Adventurers' Hall

Roman Bath Museum
The York City Pass also includes entry to historic houses such as Fairfax House and the Lord Mayor's Mansion House. You also get a City Sightseeing 24 hour ticket AND a City Cruise on the River Ouse. And if that wasn't enough, you also get a free pizza or pasta dish at ASK Italian restaurant.
The Pass is excellent value for money if you stay in York for several days and plan to visit lots of York attractions.
If you only stay for one day, compare the card's price with the individual attraction prices you wish to visit and decide if it's worthwhile.
Price: 1 day pass £55 Adult | £32 Kids (under 15), 2 day pass £70 Adults | £40 Kids, 3 day pass £85 Adults | £50 Kids – buy your York City Pass here
How to get to York from London
The best way to get to York from London is by train. The train is comfortable, scenic and takes around 2 hours.
Trains depart from London Kings Cross and travel the East Coast Mainline to York rail station, from where it is a 10 minute walk to York city centre. LNER, Grand Central and the new Lumo companies run trains on this route.
Prices vary according to the day and time of travel, but the cheapest tickets are usually found midweek after 9.30 am.
If you are travelling with kids, consider purchasing a Family and Friends Railcard, which can be downloaded to your phone. The card costs around £30 for one year and gives a 40% discount to adults and 60% to children over 5 years. Children under 5 travel for free but are not guaranteed a seat. The card often pays for itself with just one journey.
Alternatively, you can drive to York but the 354 km journey will take around 4-5.5 hours.
You can also catch a National Express or Megabus coach from London to York. The tickets are cheap, but the journey will take around 7 hours.
Getting Around York
As previously mentioned, York is a compact city, so all the major attractions can be visited on foot and with pedestrianised city centre streets, sightseeing with kids is quick and easy.
There is a good network of local bus routes to and from the city centre. York rail station is a 10 minute walk from the city centre and has regional connections to nearby cities, towns and villages.
If you stay outside York, you can use any of the six Park and Ride buses to travel into the city centre. Parking is free in the out of town Park and Ride car parks; you just pay for the bus.
Buses generally run every 10 minutes from 7 am to 7 pm and every 30 minutes from 7 pm to 10 pm. Bus fares are £3.50 return for adults and up to 3 children under 16 can travel for free with a paying adult.
Hop on Hop off Bus
Another way to explore the city centre is a Hop On Hop Off Bus.
City Sightseeing operates a 13 stop bus route with tickets lasting for 24 hours. However, the ticket can be split over two days which is useful for weary families.
The route covers all the major attractions in York. However, as York buses can not drive through the mediaeval gateways or pedestrianised areas, the bus cannot get close to some of the major sites, so some walking is required.
Location: Departure point is outside York Art Gallery, but you can pick up the bus at any city centre stop.
Hours: Every day, 9 am to 5.30 pm
Price: £16 Adults | £9 Kid (5-15) – click here to book
Best York Family Hotels
Looking for the best York family hotels? Below, we've covered our top three picks for the best family hotels York offers that won't completely blow the budget.
We've chosen these hotels as they offer great value for money and are in excellent locations for sightseeing around York.
Click here for our more detailed guide on family friendly hotels York offers.
Victoria Cloisters Apartments is centrally located on a quiet side road, a one minute walk from the River Ouse and 6 minutes on foot from Jorvik Viking Centre.
The ground floor apartment sleeps up to four in 1 bedroom with an extra large double bed plus a sofa bed in the open plan living/kitchen area. There is a tv, a dining table and a kitchen equipped with an oven, washing machine and microwave.
Free WiFi and parking is available (subject to availability). If you need more space, two-bedroom apartments are available in the same block for an extra cost.
It is a 13 minute walk to York Minster and 7 minutes to The Shambles. A supermarket and several cafes are just around the corner from the apartment.
York rail station is 13 minutes on foot, but you can get a bus from the station, which will drop you within a one minute walk of Victoria Cloisters Apartments.
Click here for more information and to check the current price
York City Centre Apartments is on a quiet side street just off busy Gillygate, known for its artisan cafes and independent shops. It is a five minute walk to York Minster, York Art Gallery and the city walls.
This ground floor apartment has two bedrooms and can sleep up to four people in 1 double and two single beds. There is a spacious kitchen/lounge with a dining table, a microwave, oven, dishwasher and a washing machine, plus a sofa and tv. The apartment is simply decorated but is comfortable and filled with light.
Guests have free Wifi and free roadside parking (subject to space).
There is a supermarket a one minute walk from the apartment, plus several pubs and restaurants within a five minute walk. The Shambles is 10 minutes on foot.
York Rail station is a 20 minute walk away, but you can catch one of four public buses from the train station, which will drop you on Gillygate.
Click here for more information and to check the current price
George Hudson Court Apartments is on a quiet side road outside the city walls off Monkgate, one of York's main thoroughfares. Monk Bar, the largest of the city's gateways, and the city walls are within a two minute walk.
There are two one bedroom apartments here, one on the first floor and one on the ground floor.
The apartments each have one bedroom with a double bed and a sofa bed in the open plan living area and can sleep up to four. They feature a sofa, flat screen tv and a kitchen with an oven, microwave and a fridge. There is also a useful washing machine and dryer.
Each wooden floor apartment is nicely decorated with thoughtful touches such as York themed wall art. Free Wifi and free on site parking is available.
It is a 20 minute walk to York rail station, but you can catch a bus from the station to nearby Monkgate. Both York Minster and The Shambles are 8 minutes away on foot.
Click here for more information and to check the current price.
____________________________________________________________________________
Hopefully, you found this guide to things to do in York helpful. Other great guides you may also find helpful include things to do in London with kids, getting to London from Heathrow (coming soon) and the best London hotels for families (coming soon).