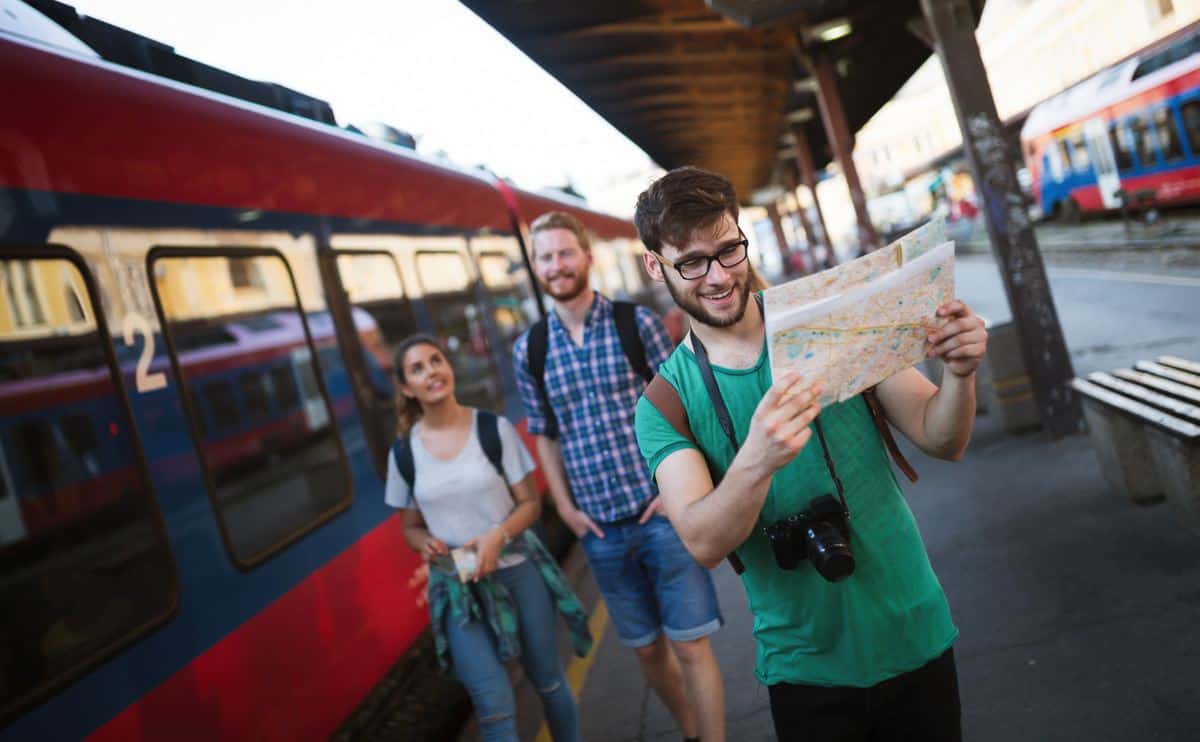 Deciding what is the best way to travel around Europe can be one of the hardest decisions when putting together your Europe itinerary.  For our recent one month Europe itinerary, whilst many people recommended we hire a car, we just couldn't get the numbers to add up for us, plus we didn't want to be stuck with trying to park a car in a major European city.  Given we were also doing a winter Europe trip, we didn't want to be worried about road closures due to snow.  So we decided early on that for us, the best way to travel Europe was by train.
I have got sooooo much content coming from our one month in Europe trip, but in this post I am going to start from the very beginning and explain why we thought that for us traveling through Europe was best done by train and give provide you with some general information about the Eurail pass we used to do it.
Click here to see the full details of our 1 month Europe itinerary.
How to Travel Europe: Benefits of Europe Train Travel
Whilst I know there are many advantages to various transport modes (hire car/motor home, bus or plane) here are the reasons we ultimately decided that the best way to travel through Europe for us was by train:
For our trip through Europe we had a set itinerary and booking train tickets well in advance was much cheaper than the cost of car hire (plus fuel, parking etc);
As opposed to flying, Europe train travel is so convenient, you simply turn up before the train leaves and jump on. No getting there crazy early and going through security etc.  So even though it may appear that flying is quicker, in some cases it's not;
European rail travel is super comfortable. Unlike flying or even being in a car for that matter, there is plenty of room on a train and you can easily get up to go to the toilet or go to the bar for a drink or something to eat;
Traveling by train through Europe means everyone can relax, there is no driver that needs to focus on driving or passenger focusing on navigating. The whole family can sit back and relax, play a game, read a book or catch up on some Netflix or even take a nap; and
Whilst the idea of having a car is practical when visiting regional towns, in the big cities (in fact even small cities) the local transport is so amazing there is no need for a car, plus you have the hassle of finding somewhere to park, not to mention the expense.
Can you tell that I just love to travel Europe by train?  But sure it may not be for everyone, and if you're in a group (like a family with teenage children) and want the ultimate in flexibility it can work out expensive if you don't book your train tickets well in advance.  But if you are like us and have a set itinerary (we traveled to Berlin, Prague, Vienna, Munich, Lucerne, Wengen, Montreux and Paris), then travelling by train across Europe is the way to go.
Train Tickets Europe: Pay As you Go or Eurail Pass
Once you decide on using the train around Europe, you then need to consider whether you will just pay for your Europe rail tickets as you go (point to point tickets) or to use a European train pass.
Paying for your train tickets as you go is self-explanatory.  You can either purchase tickets in advance online or at various stations or otherwise just at the station before you jump on board.  The more advance you purchase your tickets the cheaper they tend to be.  Purchasing your tickets at the station just before you jump onboard is not recommended.  The prices are hugely inflated, and you always risk not being able to get a seat onboard.
We decided to go with a Europe rail pass – the Eurail Pass.  There really is only the one European rail card that you can use across multiple countries and that is the Eurail pass (more on this pass below).  If you are just travelling within the one country, that country may have its own pass.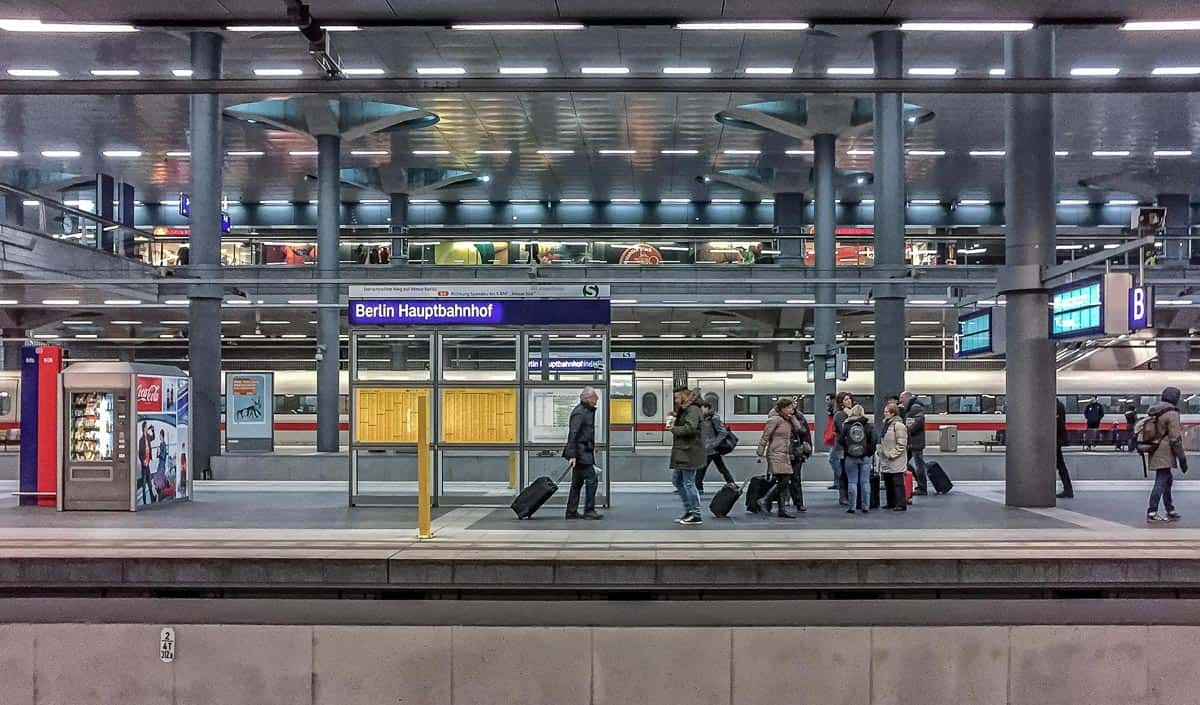 What is a Eurail Pass?
So what is a Eurail Pass?  The Eurail Pass, (often referred to as a Europass) is quite simply, an all in one train ticket that gives you flexibility to most long-distance trains (not local trains) across Europe.  You can basically go wherever you want, whenever you want.  No need to make plans in advance.  So if you're the type of traveller that wants to go with the flow, then this is ideal for you, as you aren't stuck paying the inflated last minute train tickets.
Even for advanced planners like us with a set Europe itinerary, we found it great not having to worry about booking our tickets in advance to ensure our plans were firm.
In most cases you don't need to book a seat, you can literally just get on board any long-distance train (not local trains) you like.  There are a few trains that you do need to book, and you may just want to book a seat anyway to ensure there is room for you, but this is really only necessary during peak times.
Eurail Options
The hardest part with a Eurail Pass is deciding which is the best rail pass for Europe for you.  In order to decide you'll need to ask yourself the following three questions: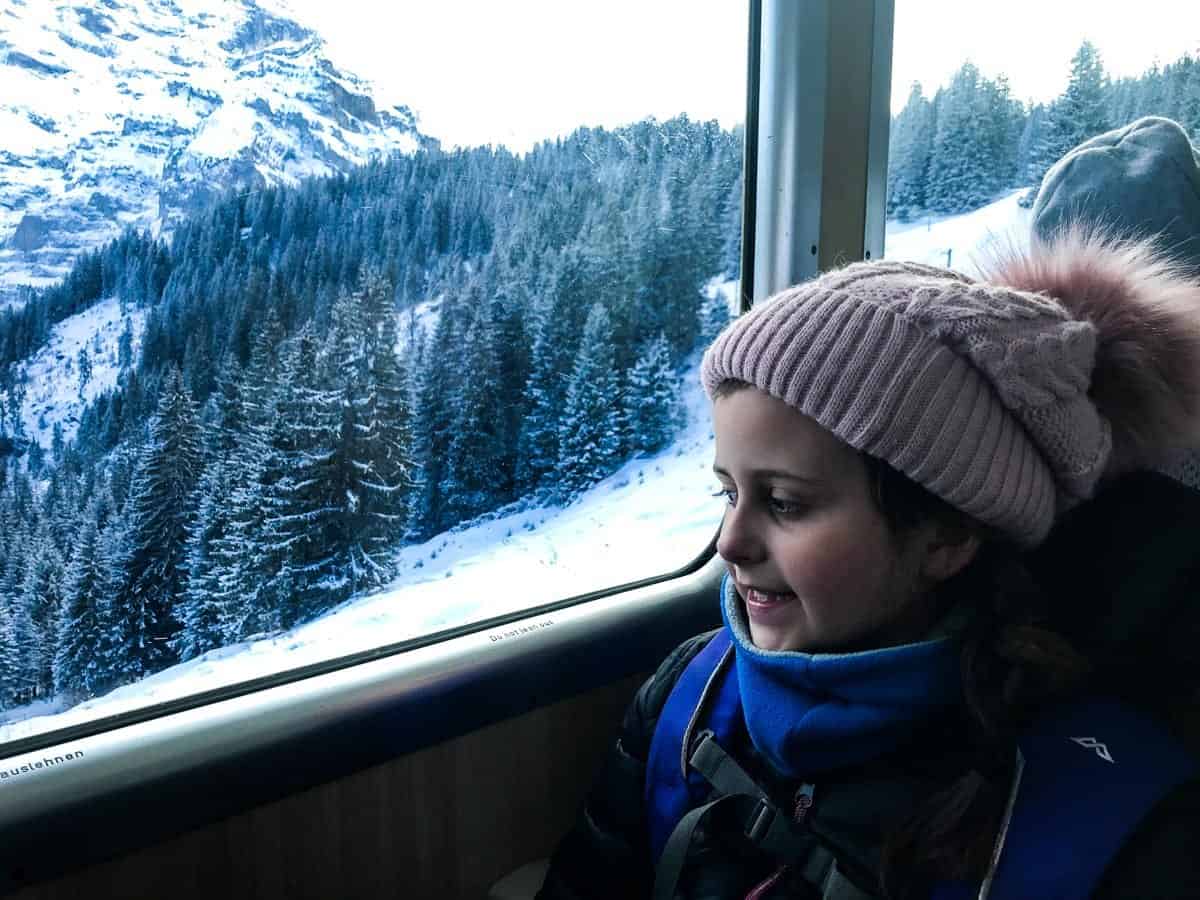 Will you be visiting just one country or multiple countries?
Will you want to use your pass most days during your trip or only on a certain number of days?
Do you want to travel second class or first class?
If you are just visiting one country, then you have the option of a cheaper Eurail One Country Pass. Whereas if you're visiting multiple countries, you'll need a Eurail Global Pass (all 31 countries – see below) or a Eurail Select Pass (a certain number of countries between 2-4 bordering countries).
These are the countries where you can use a Eurail Pass: Austria, Belgium, Bosnia Herzegovina, Bulgaria, Croatia, Czech Republic, Denmark, Finland, France, Germany, Great Britain (England, Wales, and Scotland), Greece, Hungary, Ireland, Italy, Lithuania, Luxembourg, Macedonia, Montenegro, the Netherlands, Norway, Poland, Portugal, Romania, Serbia, Slovak Republic, Slovenia, Spain, Sweden, Switzerland and Turkey (as well as Liechtenstein and Monaco).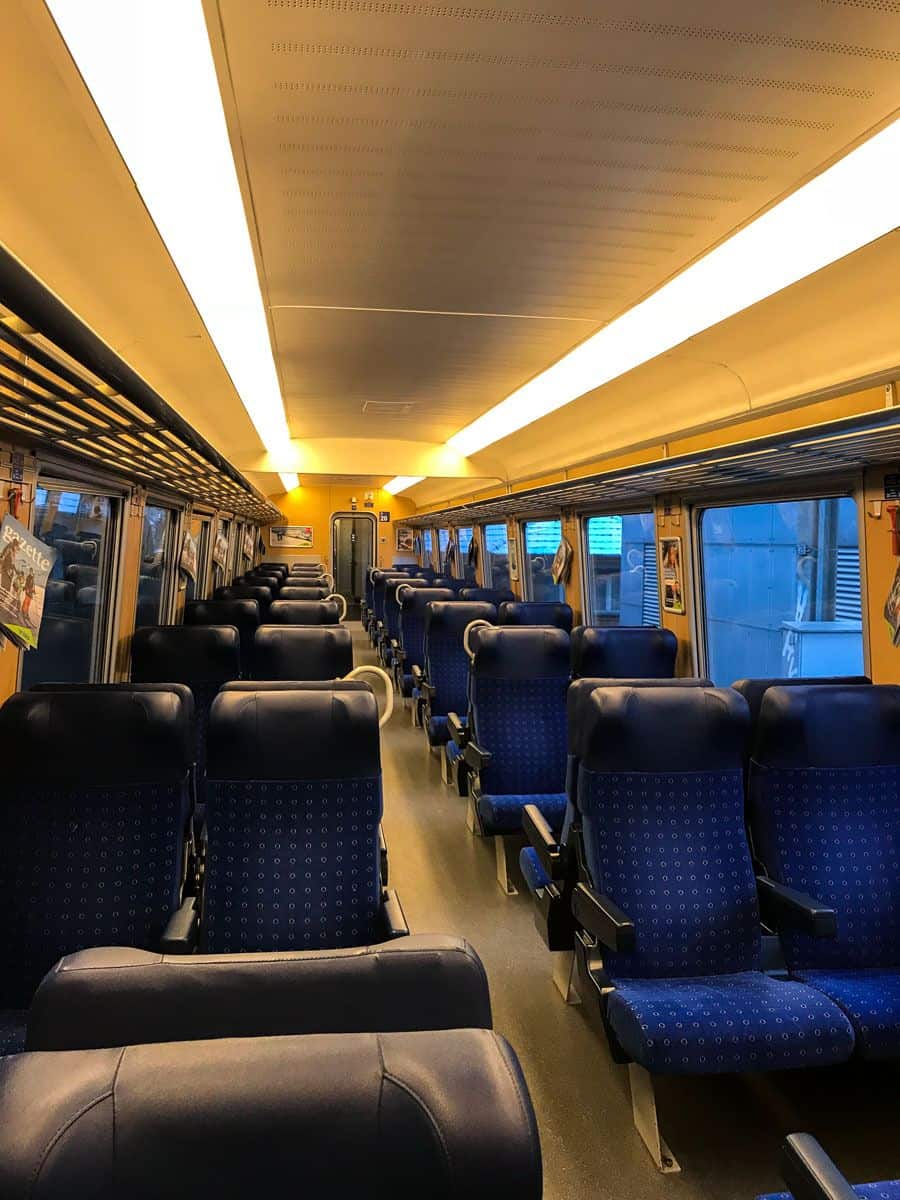 If you don't tend on travelling much during your trip, say only 5 times within the month then you can choose a pass that allows you to travel just on 5 specific days.  These passes are called a flexible pass and are the cheapest way to travel around Europe in terms of the Eurail passes.  However if you will be travelling most days then you may want to consider a continuous month pass, which allows you to travel every single day within the month.  Basically you have unlimited travel.
Second class or first class?  Seriously guys there is not a lot of difference.  Second class is lovely and comfortable.  I made an effort to check out both classes on numerous trains in Europe, and I could barely see a difference.  Sure in some first class trains there was heaps of space, but others looked hardly any different to second class.
Other Eurail Benefits 
For some countries there may be additional benefits too, such as free travel on local trains, discounts on city passes, free travel on long distance buses, discounts on ferries and more.  I recommend you check the benefits for each country before you arrive so you don't miss out on any additional benefits you're entitled too.  Click here for more information.
However it's worth noting that if you have a flexible pass, using a free benefit will count as one travel day.  Discounts however don't.  So for example you don't want to catch a local train and use your pass as that will cost you a day on your flexible pass.  However getting a discount on a city pass is fine.
How to use Eurail Pass? 
You must purchase your Eurail Pass before you arrive in Europe, you cannot buy this pass once you have arrived.  Unless you are European and in that case it's called a Interail Pass and not a Eurail Pass – either way, you can still use this information to help plan your Eurail or interail itinerary.
Despite the online world we live in, a paper ticket is mailed to you – yep through snail mail!  But don't worry I got mine super quick after ordering it.  But give yourself plenty of time before your departure date.
As you can see in the picture (this is my pass which looks pretty scruffy after 1 month in Europe) you need to complete the details of each train journey you take.  It says do this before you board the train, but I did mine as soon as I jumped on board.  By doing this you validate your ticket for the journey.  Then you simply show it to the conductor when they come around.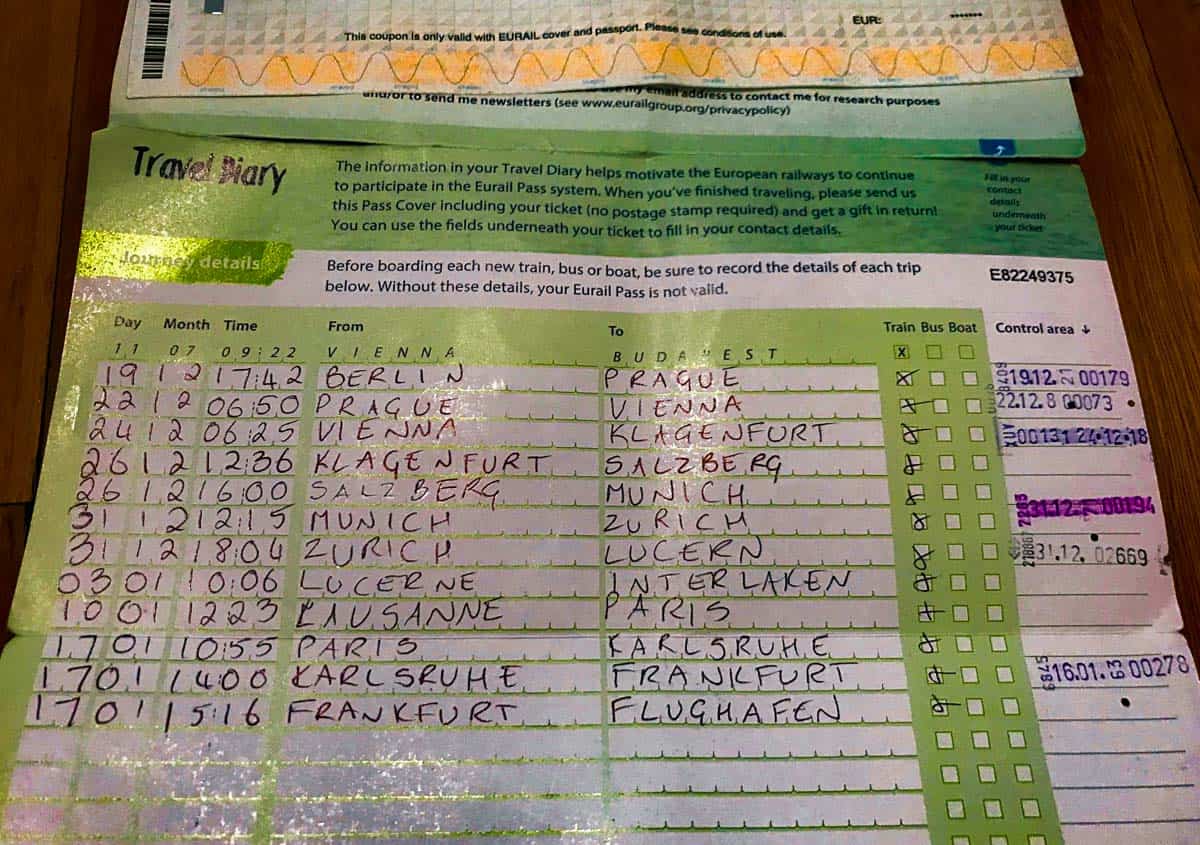 There are some trains that require you to book a reservation.  So for these trains you will also need to do this in advance.  There aren't many trains that require a reservation.  For me I just found the trains in France required a reservation – be warned it costs to make a reservation and so this can work out to be a surprised added expense.  Click here to see what trains require a reservation.  If you need to make a reservation book it directly through the trains website or at the station, third party booking services are even more expensive.  Also note that you just need to book a seat and not a ticket, as your Eurail Pass is your ticket.
Is a Eurail Pass Worth it?
Before we get into this question, I should let you know these few points that are particularly worth knowing for families:
Children under 4 travel free and don't need a Eurail Pass; and
Children from 4 – 11 travel free but still require their own Eurail Pass. A maximum of 2 children can travel for free per adult.
Having kids under 11 travel for free is a great bonus as for many point to point tickets you will need to pay for them.
As to what is the cheapest option, booking point to point tickets or using a Eurail Pass?  Well the answer is that it depends?  The only real way of knowing is listing out all the train trips you intend to take and find out the cost of each journey and compare this to the cost of a Eurail Pass.  However it is super important to note, that if you plan on buying the same tickets last minute, they are going to probably be more than double in price.
I am serious!  I learned the hard way.  We had a Global Rail Pass for 1 month, but we were in Europe for a month and a few days.  So the first train journey we took was not included on the pass.  But I had previously looked the tickets up and they were around $50 each at that time.  Given this train trip was straight after our international flight, I thought it best not to book in advance.  So we purchased our tickets at the station and I was completely shocked when they ended up costing around $150 each!  I blew the budget on day one!  And I had to pay for Myla!  She would have been free on the Eurail.
So I'm guessing you are wondering how much is a Eurail Pass, so you can do your comparisons.  The problem is that there are so many different variables that it's really impossible to list all the different passes and all their different prices.   I'd recommend you jump online and have a look at the cost of the pass that's going to suit you.   Click here for the price of the various passes.
But so you have a rough idea, a 3 day flexible pass starts at 217 Euro (or around $346 AUD).  So for example for this pass to be worthwhile, you're going to want to travel over 3 different days on routes that would cost no more than 217 Euro combined.  If you're a family of 2 adults and 3 kids under 11, you could potentially save quite a lot depending upon where you are going.  Then again you might not.  Like I said it depends.
Once you find the pass that suits your travel plans.  Get out a pen, paper and calculator and start researching those train tickets, making an allowance for increased ticket prices.  Then decide for yourself if the Eurail Passes are worth it or not.  You can find the cost of train tickets just by going to the train carrier's website and pretend like you're going to book a ticket.
Eurail Passes: Our Verdict
I really enjoyed using the Eurail Pass, it was super easy just turning up at a station and jumping onboard a train.  We had no concern for train times, whether we would miss our booked train etc, it was super convenient.
However even if I was to go back to Europe tomorrow, I'd still do the comparison to decide whether it was worth while as this depends on not only how much you travel but also where you travel too.  Some train routes are just more expensive than others.  If the Eurail Pass worked out a little more expensive I'd still buy it as it's totally worth the convenience.
Thanks so much to Eurail for providing us with 1 month Global Passes.  As always, all opinions expressed in this blog are my own and have not been influenced in anyway.
Please note that this post contains affiliate links, which means that should make any bookings using my links, I may be paid a small commission at no extra cost to you.  This allows me to provide this information free of charge – thank you for supporting our website.
Want to save this information for later? 
Click on one of the images below and save it to Pinterest.