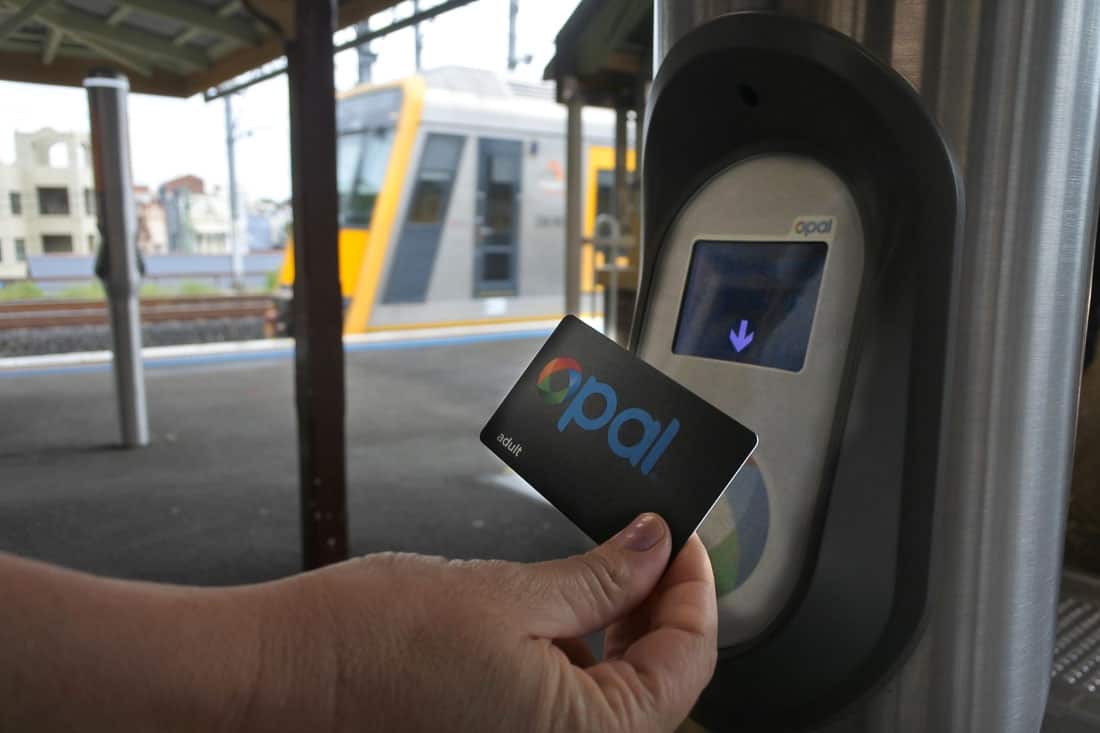 Sydney is a fabulous place to take the kids, whether for a weekend or a week.  There is so much to do and overall, getting around Sydney is relatively easy.  
To help you plan how best to get around all the tourist attractions in Sydney, we've put together this Sydney getting around guide.  We detail all the ways of getting around in Sydney, including tips on how to get to and from the Sydney airport.
Talk to other families about their tips on visiting Sydney and join our Thrifty Family Travel Facebook Group or get inspired by our Instagram.
This post may contain compensated links.  Please refer to my disclaimer here for more information.
Getting Around Sydney
Let's jump straight into it and help you decide the best way to travel around Sydney with the kids.
Walking in Sydney
The great news is the best way to get around Sydney is often by walking.  You can easily walk around to most of the tourist attractions within the Sydney city centre.  From one end of Sydney to the other, it should take you no more than 30 to 40 minutes.
Of course, when travelling with young children, sometimes walking 40 minutes is just not feasible.  Or if you're limited on time, you may need to find a quicker mode of transport.
Public Transport in Sydney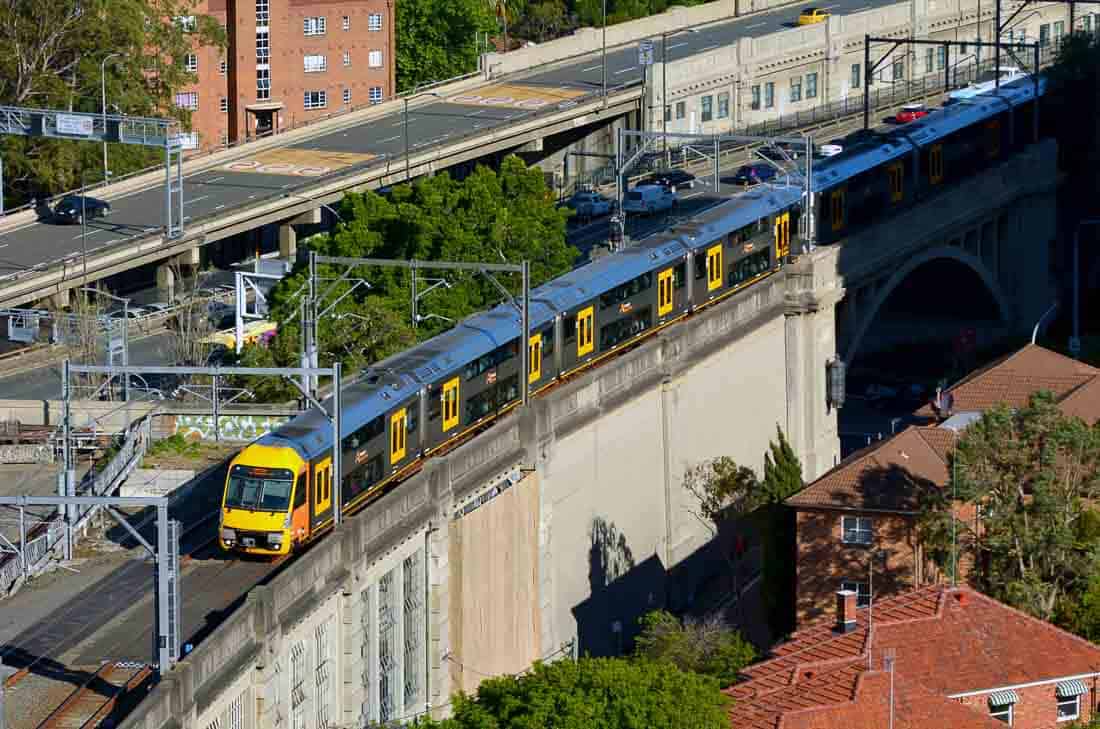 You'll likely want to take public transport at least a few times during your time in Sydney.  In Sydney, public transportation include buses, ferries, trains and light rail.  
Train
In the CBD, the train network is called the City Circle, which as the name suggests, runs a loop around the city.  The stops include Central, Museum, St James, Town Hall, Wynard, Circular Quay and Martin Place.  
Light Rail
In addition to the City Circle, there are other trains, called light rail, that take you around the city centre.  There are three main lines – Central Station to Dulwich Hill (L1) (best for Chinatown, Darling Harbour, and Pyrmont), Circular Quay to Randwick (L2) and Circular Quay to Kingsford (L3).
Ferry
For those travelling along the water's edge, the ferry routes Sydney offers provide a convenient method of transport and make for a pleasant experience.
The ferry is usually the best transport for those wanting to get between Circular Quay and Darling Harbour, Luna Park, Manly and Taronga Zoo.
Bus
If you want to take public transport anywhere else that the trains, ferries or light rail don't go, you'll need to take the bus.  The network of bus transport Sydney has is comprehensive, making it easy to get anywhere you need to go across the city.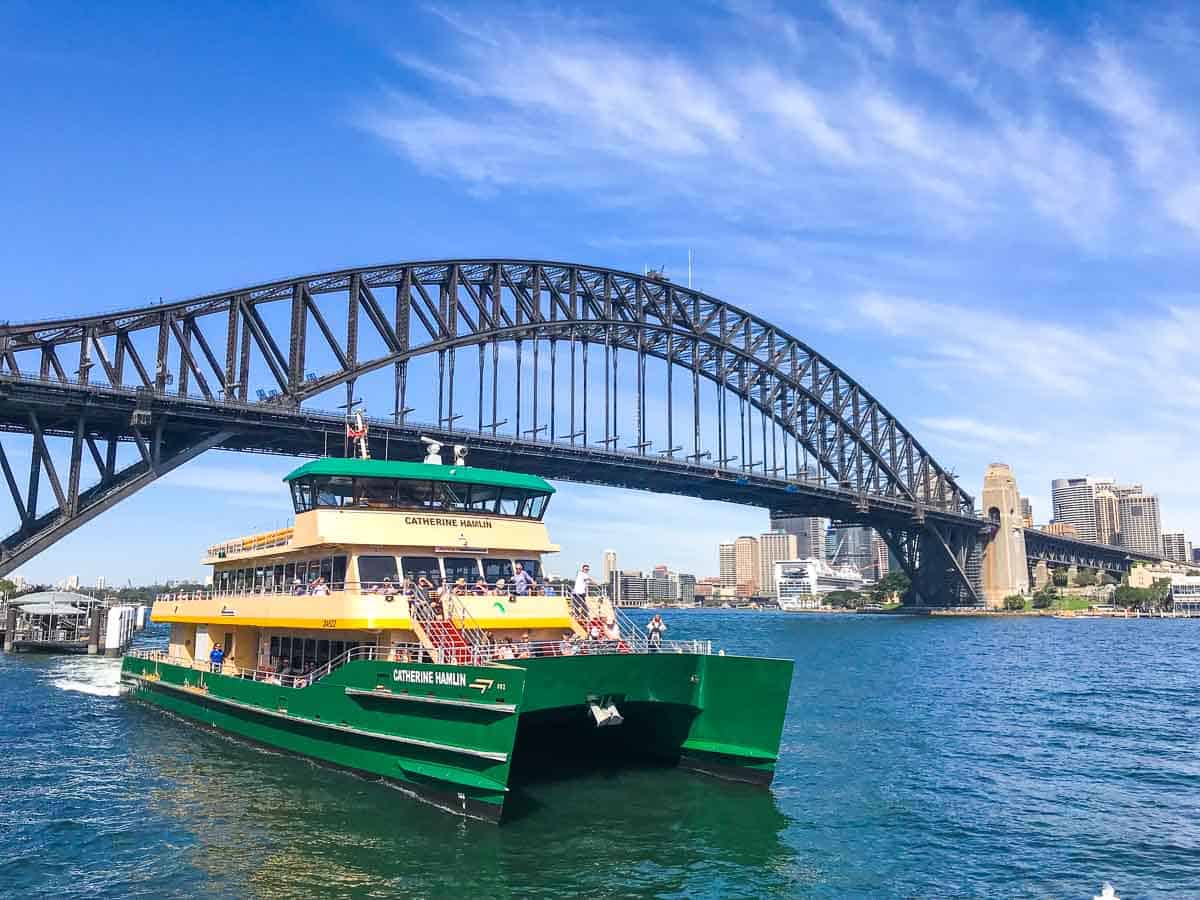 How much?
Each trip around the city with Sydney public transport will cost you between $3-$7.  The good news is that once you spend $16.80 in a day, your remaining trips are free.  
Getting around Sydney by public transport on weekends and public holidays is even better, as after you've spent $8.40, your remaining trips are free!  
Just note that the Airport train isn't included in the public transport in Sydney travel caps.
You'll also get a $2 discount for transfers (catching another mode of public transport Sydney offers within 60 minutes). 
Children pay half the price of an adult fare and their travel caps are also half that of the caps mentioned above. Children under 3 travel for free.
It's worth noting that getting around Sydney on public transport is much cheaper with buses and trains than by ferry.
How to pay?
Local transport in Sydney uses an Opal card, which you preload with cash.  Opal cards can be purchased at a range of newsagents, post offices, convenience stores and supermarkets, as well as when you arrive at the domestic and international airport terminal stations.  
You can also top up at these places or at top up machines which are generally located at train stations.
Opal cards are free, but you will need to buy one with at least $10 loaded onto it for adults and $5 for kids.
A great alternative to an Opal card when getting around in Sydney by public transport is simply to use a contactless-enabled credit or debit card or a linked device.  
The only thing to consider though is that every family member will need to use a separate card.  Also, you will be charged the adult fare rate, so you're better off getting an Opal card, at least for the kids.
How to plan?
The best way to plan how to get around Sydney by public transport is with Google Maps or the NSW Trip Planner.  While Google Maps is fine, I prefer to use the NSW Trip Planner initially as it will show you the cost of your trip and that way, you can decide if it's just as cheap to take a rideshare.
If you decide to go ahead with public transport, I then prefer to use Google Maps, as it makes it very easy to determine not only the best method of public transport for your journey but also exactly where you need to be and at what time you need to be there.  
Rideshare and Taxis
While you may think public transportation in Sydney would be the cheapest option for a family, quite often, rideshare is more affordable or if not cheaper, just a few dollars more.  Considering the convenience of rideshare, it is generally my preferred method of getting around Sydney without a car when travelling as a family.
I recommend that for each journey you plan on taking across the city, make a quick comparison between Uber and the NSW Trip Planner apps and compare the difference in prices.  
Taxis are another option, but I find rideshare apps super convenient and much cheaper these days.
Hop on Hop Off Buses
Another convenient way of getting around Sydney is on the Hop on Hop off buses.  
I'm not usually a huge fan of these buses, as the routes are fairly limited, buses are few and far between and passes are not cheap.  However, they certainly take the stress away from planning how to get between attractions.  You also get commentary along the way.
Keep in mind that the buses only operate in Sydney from Thursday to Monday.
Click here to book your Hop on Hop off bus tickets.
Renting a Car
For those families wishing to visit attractions outside of the city centre, you may consider hiring a car and driving in Sydney.  I wouldn't recommend hiring a car for the entire trip though, only for those days you need a car to travel outside the city centre.
Parking in the city centre is not only expensive but also very limited.  By the time you paid for car rental, petrol and parking, you could have saved some cash by using rideshare to get around the city.
The other thing to consider for those renting a car is tolls.  There are several toll roads in and around Sydney. Of course, you can use Google to map out a route that doesn't include tolls, but this may add quite a bit of time to your trip.
Getting from
Sydney Airport to the City
Centre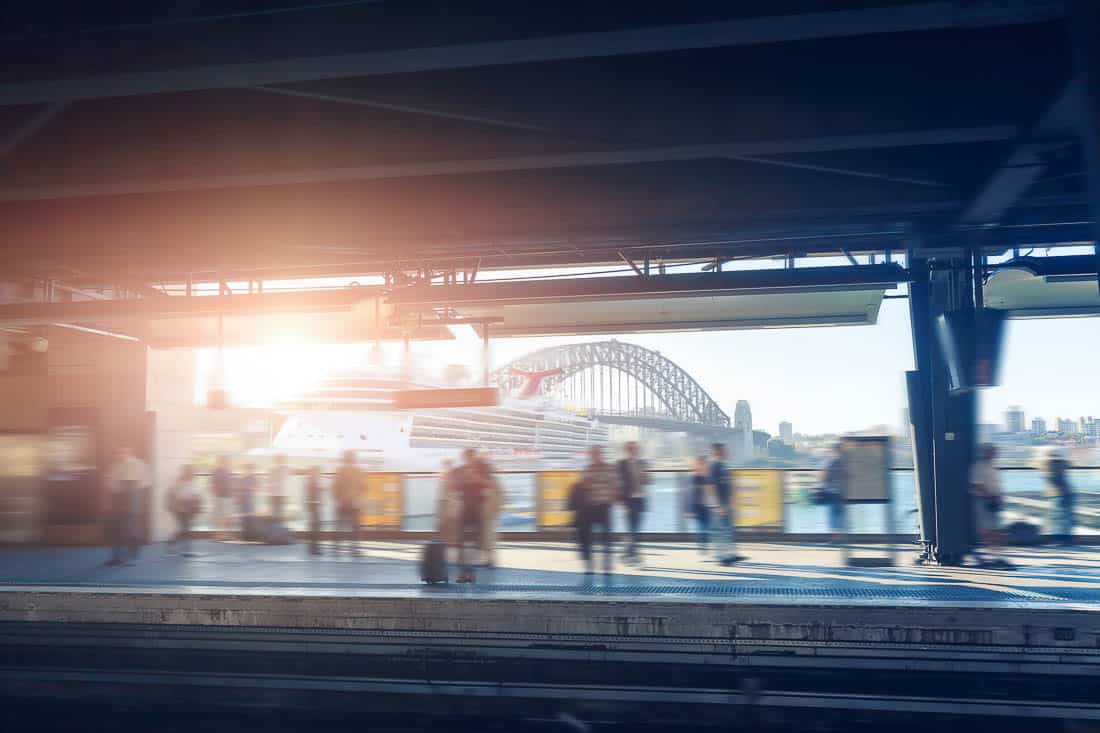 The distance from Sydney Airport to the city centre is just 10 to 15 km, depending on the location of your hotel.  By car, the journey from Sydney Airport to Downtown can take as little as 20 minutes in light traffic or as long as 45 minutes in peak hour.
To help you decide the best way to travel from Sydney Airport to Sydney City, we've provided all the different transport options below.
Click here for our more detailed guide on getting from the Sydney Airport to the City Centre.
Rideshare or Taxi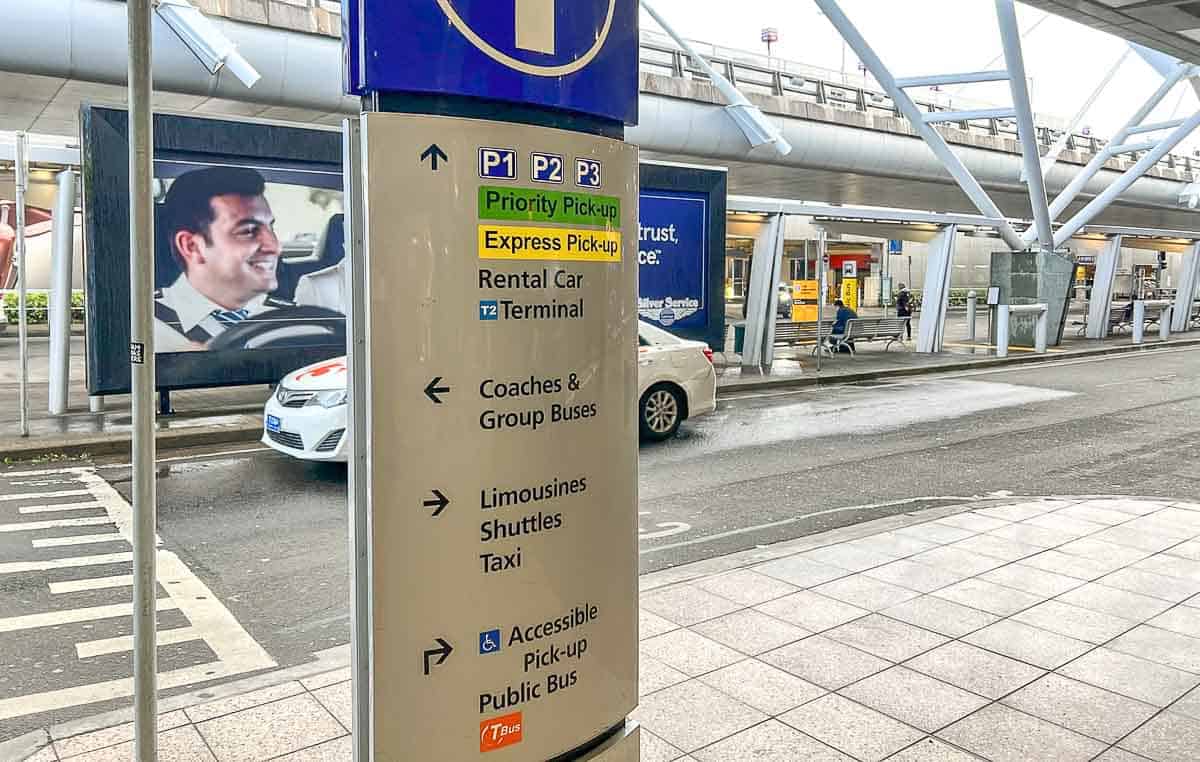 Often the best way to get from the airport to your hotel is to use a rideshare app such as Uber.  You can expect to pay around $35 to $60 with Uber depending on the location of your hotel, time of day and traffic.
For those taking an Uber, you will need to meet your driver at the Priority Pick Up Point.  The Priority Pick Up Points are just a short walk from the International or Domestic Terminals.  Just look for the signs as you exit from the baggage claim area.
If you prefer you can also take a taxi from outside the arrival hall of each terminal.  However, expect to pay much more for a taxi at around $50 to $90, depending on the location of your hotel, time of day and traffic.
The benefit of taking an Uber or a taxi is you'll be taken straight to your hotel, and there is no messing about with getting luggage and kids on and off public transport.
Public Transport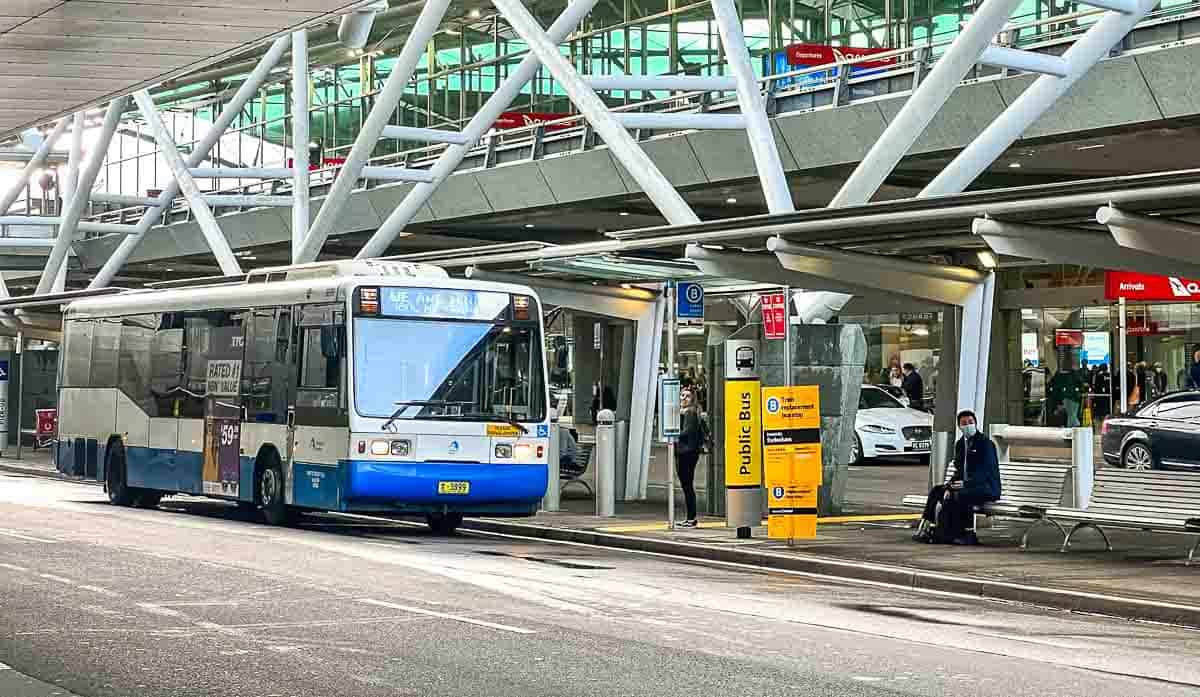 With a couple of kids and all your luggage, it's really not worth getting public transport to or from the airport to Sydney.  When you buy train tickets for everyone, there won't be much difference in the cost of an Uber.  The bus is cheap but long with around an hour of travel time.
If you wish to take the train, it takes around 20 to 30 minutes, and trains come very frequently every 15 minutes or so between 4.30 am and 1 am.
The Airport train is not cheap though, costing $19.53 per adult and $15.97 per child during peak hours and $18.39 per adult and $15.41 per child in non peak times.  
Buses are cheap at $2.65 per adult and $1.32 per child, but it does take almost an hour to get into the city.  They do run fairly regularly though, from outside the arrivals level of both the international and domestic terminals.  
If you decide to take the train or bus from the airport to the city, you can pay with your credit card by tapping on and off (you'll need a separate card per person) or with an Opal Card, which is Sydney's public transport card.  Opal Cards are available at Newslink or WH Smith bookshops at the International or domestic terminals and the airport train station.
To plan your trip by bus or train, use the NSW Trip Planner.
Private Shuttles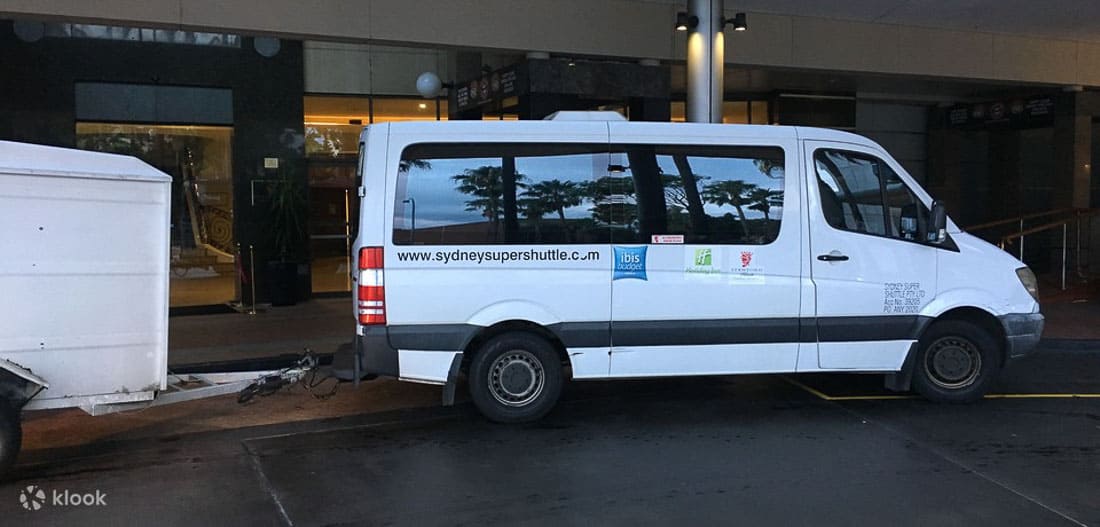 If you'd like to have someone prearranged to either take you to the airport or to be there waiting for you when you land, you can book a private shuttle.  This is often a good idea for families of more than 4 people or those that require car seats.
You can prebook a shared shuttle with ConXion at the rate of $29 per person or with Sydney Super Shuttle at the rate of $10 per person.  Both shuttles will take you directly to your Sydney hotel.
If you have pre-booked one of these shuttles, follow the signs to the Redy2go desk after you pick up your baggage, which is in the arrival halls of both terminal 1 and terminal 2.
Rent a Car
If you plan on renting a car while in Sydney, then another option would be to pick up your rental car at the Airport and drive to the hotel.  
There are several car rental companies at the Airport.  If you're arriving at the domestic terminal, car rental companies are at terminals 2 and 3 – follow the signs from the arrival level.  For those arriving at the International Airport, head to terminal 1, where you'll find the car rental desks.
____________________________________________________________
Hopefully you've found this guide on getting around Sydney helpful.  We have other guides to help plan your trip to Sydney, including things to do in Sydney and where to stay in Sydney with kids.