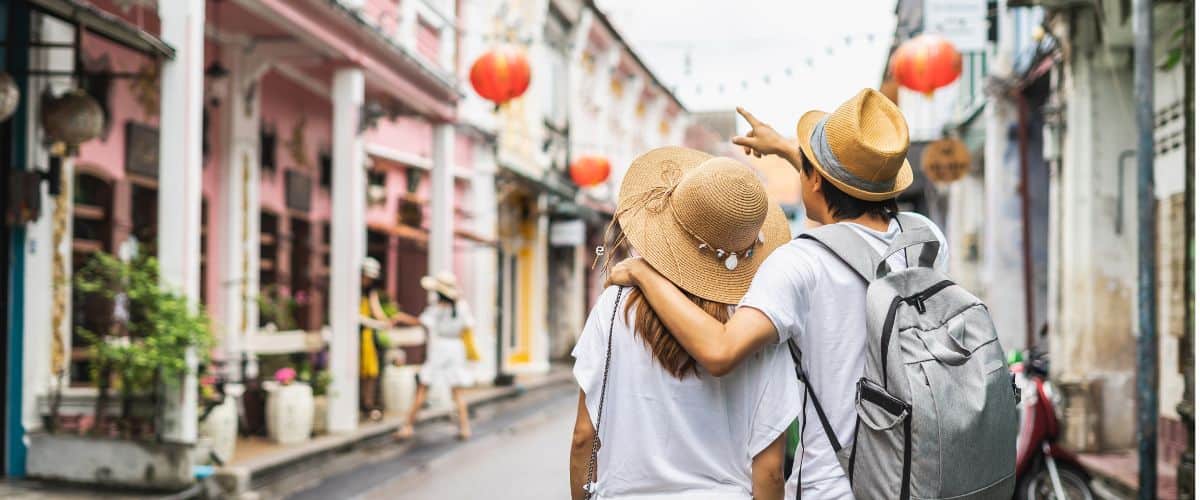 Phuket is a fabulous place to take the kids for a family holiday. There are amazing resorts with fantastic facilities, and if you can pull yourself away, there are some great family attractions to explore too.
But how to get around Phuket? Well, luckily it's fairly easy getting around Phuket Island, even with a couple of kids in tow. It's also fairly cheap, and there are a few options too.
To help you plan how to get around in Phuket with the kids, we've put together this Phuket getting around guide. We detail all the popular ways of getting around in Phuket, including tips for transfers from Phuket airport.
Talk to other families about their tips on visiting Phuket and join our Thrifty Family Travel Facebook Group or get inspired by our Instagram.
This post may contain compensated links. Please refer to my disclaimer here for more information.
How to Get Around Phuket
Let's jump straight into it and help you decide the best way to get around Phuket with the kids.
Tuk Tuk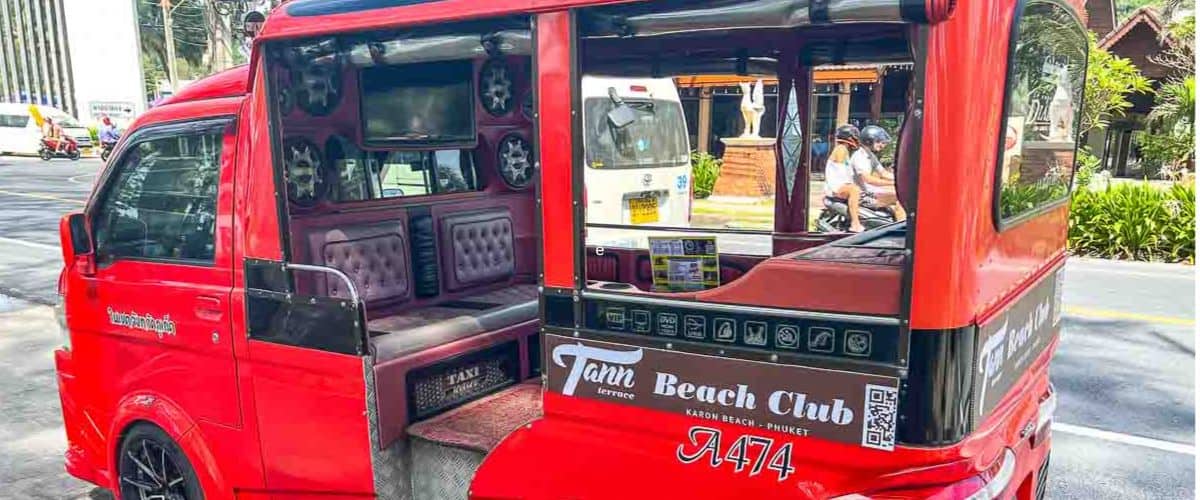 One of the most common methods of transport around Phuket is via tuk tuk. A tuk tuk is a small pick truck that can hold around 2 to 3 people at a time. A tuk tuk is easy to recognise as they generally are painted bright red and are continually zipping up and down the streets.
To ride a tuk tuk, just find one empty and tell the driver where you want to go and ask for a price – you may need to haggle. You probably won't even need to look for one, as while walking, you'll often hear, "you want tuk tuk?"
Despite tuk tuks being a fun and popular way for tourists – they are probably one of the more expensive modes of transport for travelling around Phuket. Expect a short tuk tuk ride to cost around THB 100 to 200 ($4 to $8 AUD) and longer distances from 500 to 600 baht ($21 to $25 AUD). The price will depend on the distance, the time of day, and the current demand.
Keep in mind that travelling around Phuket by tuk tuks tends to be often more expensive than a taxi. Also, they're not that comfortable or air conditioned. Plus, you'll be fairly cramped.
However, if it's a short distance, it's quiet and you find an empty one, you may be able to negotiate a good price. They are pretty convenient as they tend to be everywhere!
Grab / Taxi
Tourists often ask, "is there Uber in Phuket"? And while there isn't, Grab in Phuket is pretty much the same thing and a fairly reliable way to travel around Phuket.
Like any rideshare, you'll need to download the App to your smartphone to use Grab. When booking your ride, you'll have the choice of either a metered taxi, or you can choose a limousine which will tell you the price upfront – just confirm this in advance with your driver.
In addition to booking a taxi via the Grab app, you can hail them too. Before getting in, always ensure that the taxi either has a metre or agree on the fare in advance.
Note that Grab taxis cannot pick you up from the Airport terminal.
Songthaews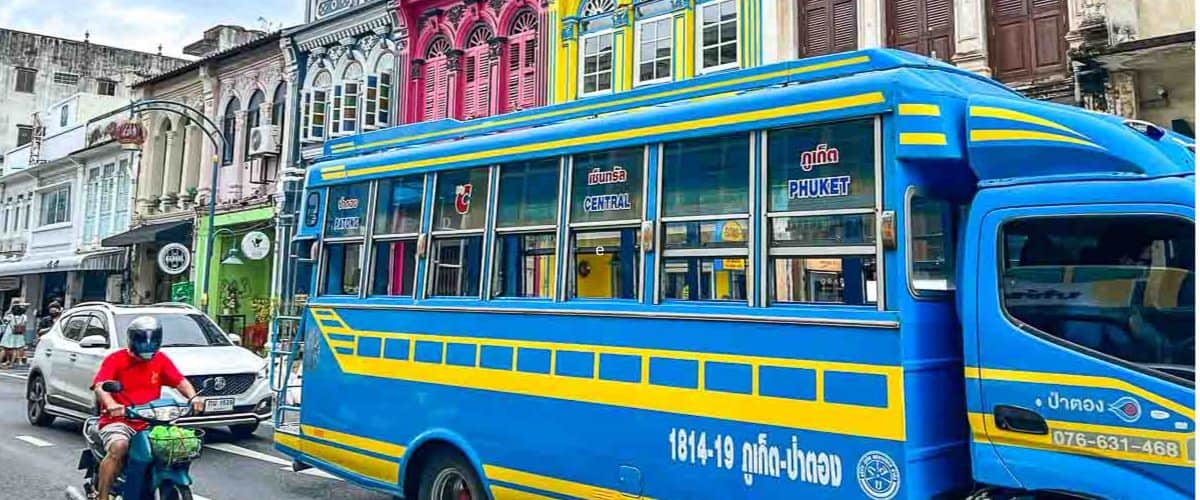 If you're after the cheapest way to get around Phuket, consider songthaews. Songthaews are basically part of the Phuket public transport system as they are small passenger trucks that can hold up to around 20 people. They are easy to recognise as they are bright blue.
While some songthaews have no fixed route, others do – which can be a bit confusing for tourists. Generally, if it has a fixed route, it will be marked on the side of the vehicle.
You'll often find songthaews waiting around bus stops or other popular spots. You can also flag one down in the street.
Before boarding a songthaew, tell the driver where you want to go and ask for the price – you can haggle too. Ensure you get a cheaper rate per person if there is a group of you. Expect short rides to be around THB20 ($0.85 AUD) or THB200+ ($8.25 AUD) for longer distances.
When you want to get off the songthaew, press the buzzer, which should be attached to a cable on the roof.
Songthaews can be a good way to get around Phuket cheaply, as they tend to travel past the most popular beach resort areas. However, the one bus will go to one beach – with the bus leaving from Phuket Town. So if you're in Patong and want to go to another beach – you'll need to head back to town first.
However, if you're in Patong and just want to go further up the road in Patong – they are a cheap and easy way to travel.
Keep in mind they're not air conditioned, you may be jammed in with other people, there's no set timetable, and they will take longer, given they frequently stop.
Renting a Car with Driver
For a day of exploring, renting a car with a driver is the best way to travel around Phuket. This means you've got the flexibility to go wherever you like around the island, within your own timeframe and with the benefit of an experienced local driver.
You can easily find cars with drivers on the street – but you will need to be prepared to haggle over the price. If you're like me and not overly keen on haggling over price, the next best thing is to book one through a site like Klook.
Klook offers cars of all sizes, and you can book anywhere from a few hours to even a few days. For a family of four, expect to pay around $93 AUD for a car and driver for the day (8 hours). While you could probably get a slightly cheaper rate in the street – this will require some haggling.
During my recent trip to Phuket, I rented a car with a driver twice via Klook and found it really easy to do. Both times the car and driver were waiting for me at the agreed arrival time and took me to all the places I wanted to go during the day with ease.
Click here to arrange your car with a driver on Klook.
Renting a Car
If you're up for driving around Phuket, you can always hire a car or motorbike (although, of course, a motorbike is not convenient when travelling with kids). The good thing about having your own mode of transport is you can explore the island at your own leisure.
There are many car rentals around the island, and in most cases, even your resort should be able to hook you up with a car. This is great if you just want to hire a car for the day for a bit of island exploring.
Whatever you do, make sure you hire your car from a reputable company. Cheaper is certainly not better in Phuket!
A way to ensure you're hiring from a reputable company is by booking online with Klook. Klook has a range of vehicles for hire, from small cars to larger seven seater SUVs.
You require an international driver's license to drive in Phuket, so organise this in advance.
You can expect to pay about the same price for a car rental as you would for a car and a driver. So often, a car with a driver is just as easy.
Click here to rent your car from Klook.
Getting to and From the Phuket Airport
Phuket Airport is located at the island's north end, with the more popular family resort areas running down the island's west side.
The distance from Phuket Airport to Patong Beach is around 35 km, depending on the location of your hotel. By car, the journey from Phuket Airport to Patong takes about 1 hour, depending on traffic.
If you plan on staying at one of the resorts down at Karon or Kata Beach, the journey will take slightly over an hour. While there are also some lovely family resort areas closer to the airport too.
Below are a couple of ways to reach these resort areas.
Private Vehicle and Driver
For families, probably the most convenient airport transfer in Phuket is with a private vehicle and driver.
You'll need to arrange these private airport transfers Phuket offers in advance, but it's a stress free option, as you'll have your driver waiting for you in arrivals with a sign and your name on it.
It's also super cheap – you can book a private airport transfer – Phuket Airport to Patong Beach- for as little as $36 AUD for a family.
Another advantage of pre arranging a private Phuket airport transfer to Patong – or whatever beach resort you've chosen, is you can request car seats or baby seats if required.
This is what we tend to do when going to Phuket – although the last trip had so many people with signs and names on it that it took me a little while to find my name – but I did eventually.
Click here to arrange your private vehicle and driver from Klook.
Phuket Airport Taxi
Similar to a private vehicle and driver is a metred Phuket airport taxi – except you don't need to arrange anything in advance, but you won't have anyone waiting for you.
It is relatively easy to find the metred taxis at the airport – simply walk outside the terminal and turn right. Taxis are easy to recognise as they are red and yellow.
A cab fare from Phuket airport to Patong is around 750 baht / $31 AUD. The price is not set though as Phuket airport taxis are metred – so be sure to check with your driver that the metre goes on once you get in the taxi.
So a metred taxi is a little cheaper than a private transfer – but the little bit extra it's often just as easy to pre arrange your transport and know it will be waiting for you when you arrive.
Airport Limousine
While the name may have you thinking of a long fancy car – an Airport Limousine is just another private vehicle that will drive you from the airport to your resort.
What I like about the Airport Limousine is that the price is fixed, so there is no need to haggle over price or ensure the driver puts on the metre.
To get an Airport Limousine, look for their counter in the arrival terminal – outside the baggage claim area. Here you'll see a sign with the fixed price – the fare to Patong is 800 baht / $33 AUD.
As well as a standard vehicle, Airport Limousine has vans for larger families. So for larger families that haven't pre arranged their transfers, this is a great option. It's also a great option for anyone who doesn't want any surprises with the price of their taxi.
Airport Bus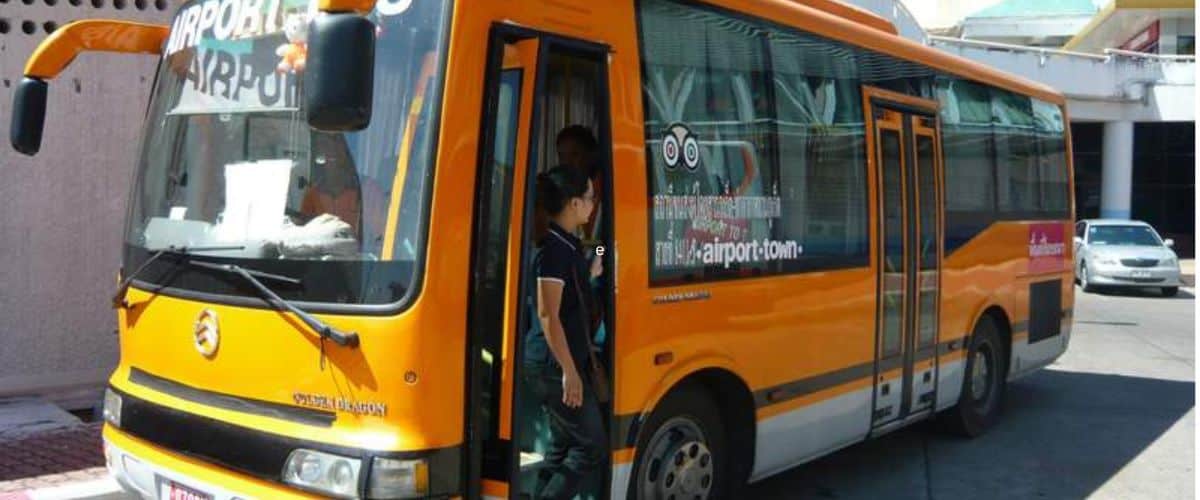 If you're looking for the cheapest way of getting from the airport to Phuket, then there is an airport bus that you can take. However, the bus is slow (taking at least 90 minutes) and only takes you to Phuket Town, so from there, you'll need another mode of transport to your resort.
As you're travelling with kids, likely have a bunch of luggage, and with affordable direct transport options, a bus is really not recommended.
However, if you wish to take the bus, follow the signs for "Airport Bus" after leaving the arrivals building. The bus fare is 85 TBH / $3.50 AUD per person and can be paid as you board. Alternatively, you can buy your tickets in advance from Klook.
________________________________________________________
Hopefully you've found this guide on getting around Phuket helpful. We have other guides to help plan your trip to Phuket, including things to do in Phuket and where to stay in Phuket with kids.