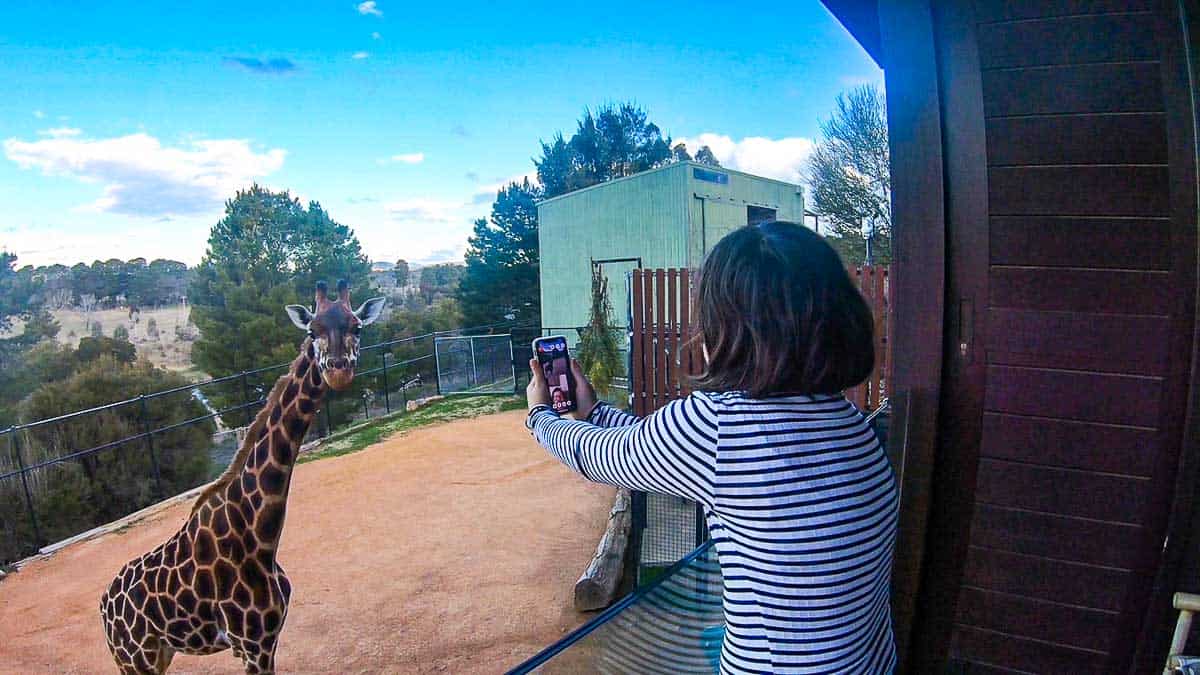 Imagine spending the night in absolute luxury, with meerkats, tigers or giraffes right outside your window? No, I'm not talking about going on an African safari – this is something you can do right here – in Australia!
Just a few kilometres from the Canberra CBD is the Jamala Wildlife Lodge – an all inclusive, luxury hotel located in the middle of the National Zoo and Aquarium. The Jamala Lodge has strategically built treehouses and bungalows around the enclosures of certain animals, so your family can safely spend the night sleeping with some of the world's most loved exotic animals right outside their room.
I heard of Jamala Wildlife Lodge sometime ago; it piqued my interest, as I knew it was something my family would just love. We're huge animal lovers, so getting to be neighbours for the night to some exotic animals would be an amazing experience for us. So you can imagine how excited we were when the opportunity arose to stay at Jamala for the night.
Now let's just say from the outset – there is nothing "thrifty" or "budget" about a night at the Jamala Wildlife Lodge. But if you've been following me long enough, you'll know that I often say "spend your money wisely and never compromise on experience". I'd personally spend thousands of dollars on an amazing experience any day, rather than a new TV or car – making amazing lifelong memories with my family is what I'm all about. And I can confidently say that our night at Jamala was an incredible experience that we will be talking about for many years to come.
This post may contain compensated links. Please refer to my disclaimer here for more information.
About Jamala Wildlife Lodge – Canberra
Before I tell you all about our time at the Lodge, I thought it was worthwhile to provide some background information about it. As we're all animal lovers in our family, we always do our research before visiting any attraction involving animals to ensure it is a reputable organisation. We're more than happy to support places that either rescue their animals or assists in the conservation of animals through breeding programs. We also want to ensure that the animal enclosures closely replicate the environment the animals would live in the wild.
So before visiting Jamala, I did some research and discovered that the National Zoo and Aquarium, where the lodge is located, is privately owned and was initially set up in 1998 to provide a home to rescued circus animals. Over time the zoo has significantly grown and today helps with various breeding and conservation programs worldwide. Some of the programs they are proud to support and raise much needed funds for include Free the Bears Fund, Wildlife TRAFFIC, Snow Leopard Trust and Cheetah Conservation.
The idea of having people stay at Jamala arose out of the desire to raise even more funds to support the various causes. It also aids in getting visitors to understand the importance of supporting various animal causes both within Australia and worldwide. So as well as guests having the opportunity to have a unique and memorable experience with such beautiful animals, they're actually helping save and protect animals from around the world.
Jamala Wildlife Lodge Review
Now I know you're all just dying to know about our time at the Lodge, so in this Jamala Wildlife Lodge review, I'm going to provide you with all the details. I'll cover exactly where the Lodge is, what you can expect during a night stay here and details of the different accommodation options.
Where is Jamala Wildlife Lodge
?
The Jamala Wildlife Lodge is just 8.1km from the centre of Canberra or 14.5km from the airport. There is no public transport or shuttles that operate between the airport and Jamala or the city centre and Jamala, so you'll need a vehicle to get here. Although as it's not far from town, it only cost us $30 to get from the Canberra airport to Jamala Wildlife Lodge and then $20 from Jamala back into the city centre.
What to Expect at
Australia's Jamala Wildlife Lodge
?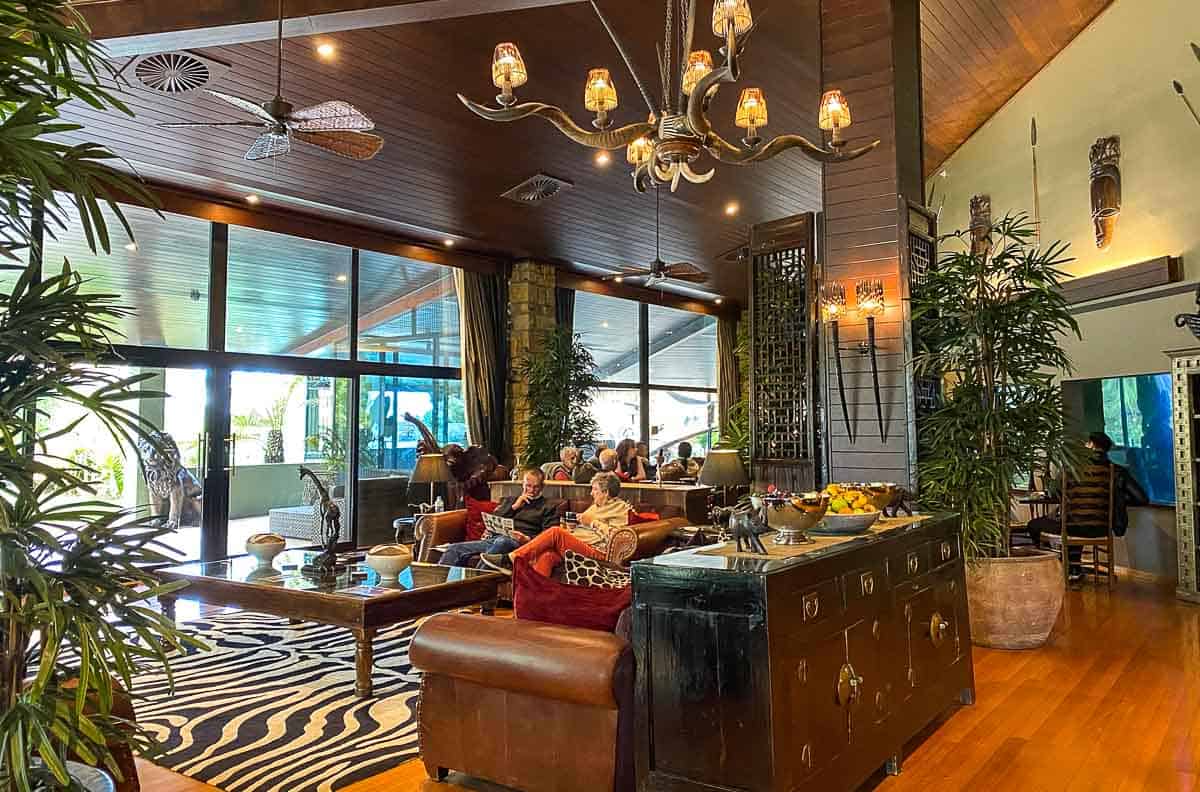 Unlike most hotels where you check in and are left to your devices until check out, the Jamala Wildlife Lodge is an all inclusive experience, with all your food, drinks and activities planned out for you. You will never be left twiddling your thumbs and the kids will certainly not be complaining that they are bored – because there is always something to do.
While you're welcome to stay at the Lodge for as many nights as you like, most families spend just one night. So in this section, I will take you through our one night itinerary, although it's important to note that the itinerary is subject to change – and your itinerary may not be the same as ours.
Check In and Afternoon Tea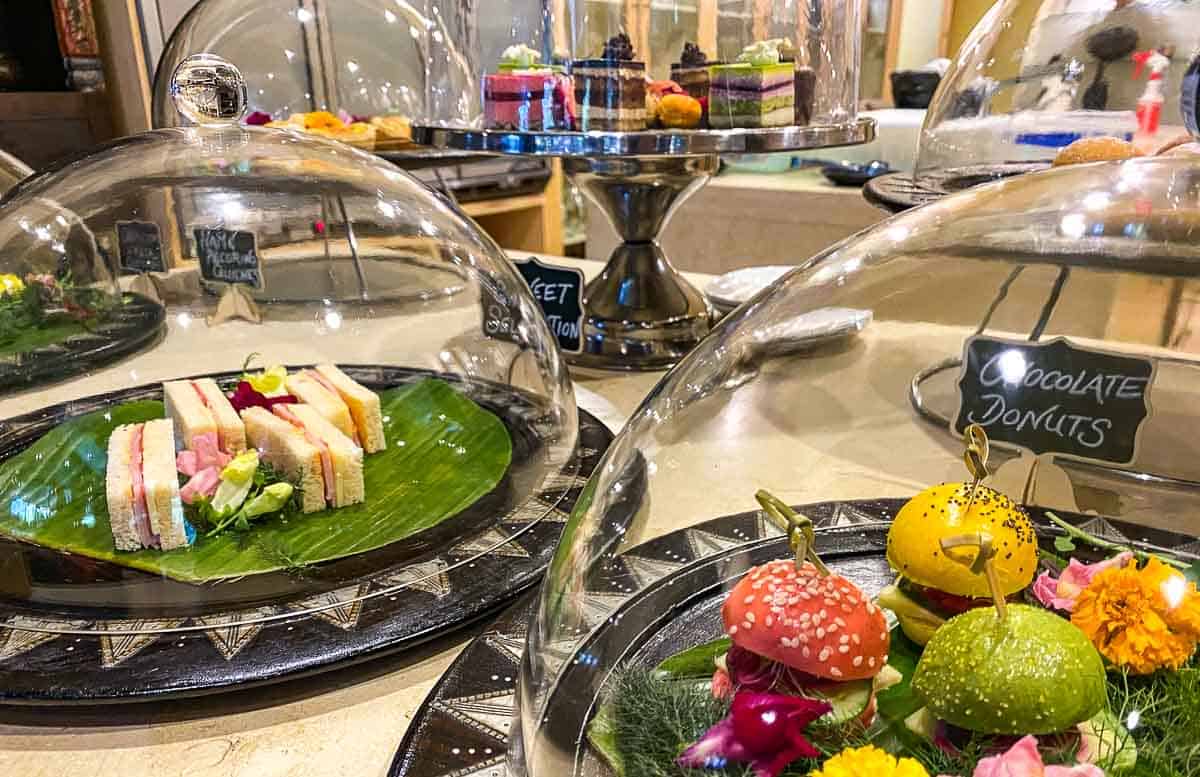 We arrived around 1 pm at the Jamala Lodge, which is the official check in time. We were warmly welcomed by the reception staff and then taken through to the gorgeous uShaka Lodge. The uShaka Lodge use to be the owner's residence which has now been converted into guest accommodation. On arrival, we were taken through to the huge lounge area, which looks out over the colobus monkey's enclosure.
When you check in, you're given your dinner menus (click on the images below to enlarge the menus) which you can leisurely take your time choosing while enjoying a delicious afternoon tea. Our afternoon tea consisted of beef and vegetation sliders, tiny quiches, sandwiches, doughnuts and a range of yummy slices and cakes. Tea and coffee is also served, as well as soft drink, juice and water. We were welcome to have as much or as little as we liked – so go easy on lunch and ensure you have a healthy appetite for the afternoon tea.
Guided Tour of the Zoo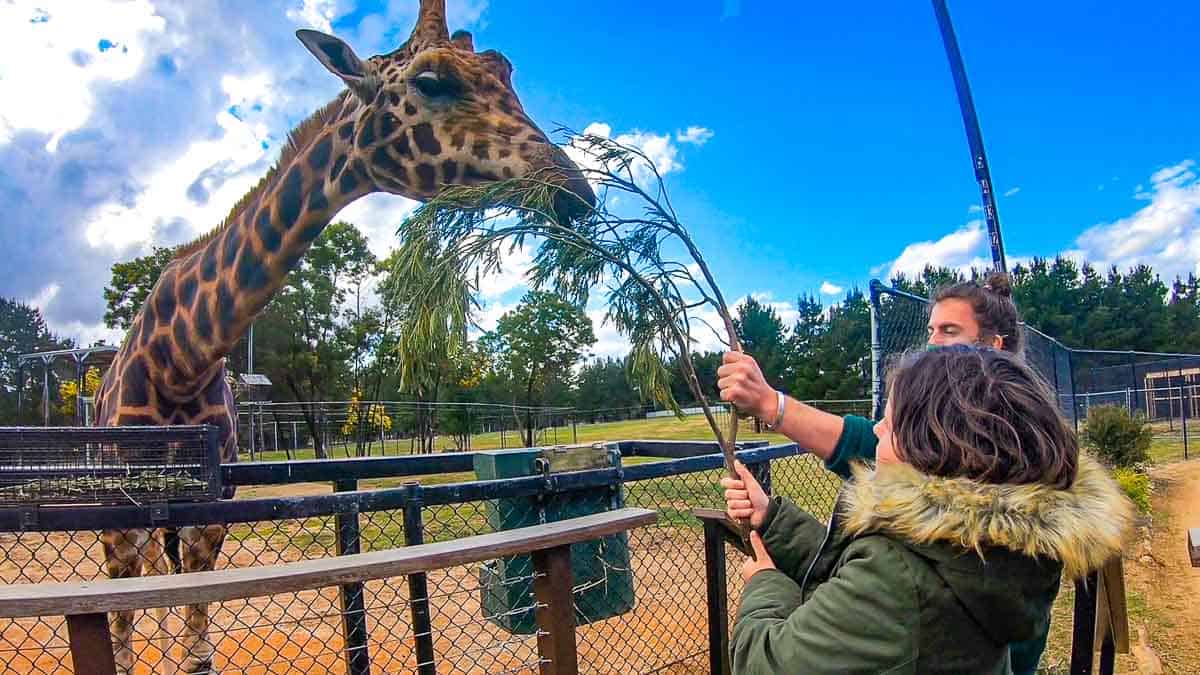 There is either a morning guided tour or afternoon guided tour – we were in the afternoon guided tour group, which started at 2 pm – right after the afternoon tea. Our guide Jake was very knowledgeable about all the animals and encouraged us to ask lots of questions – which we did!
Jake had a bucket full of different food items, which he gave us to feed various animals throughout the walk. We feed carrots to the deer and llamas, lettuce to an antelope and branches to giraffes. We even got to pat a rhino! I always thought rhinos were such aggressive animals, but Jake said they were basically big labradors puppies that loved a good cuddle.
The guided tour of the zoo was one of our favourite parts of the stay.
Animal Encounters
During your time at the zoo, if you have time and want a more personal experience with some of the animals, you can book an animal encounter at an additional cost. Also, some encounters are only on certain days, so if you have a specific animal in mind that you'd like to have a special encounter with, book your stay at Jamala accordingly.
Some of the animal encounters on offer include:
Owl Encounter: Daily at 2:45 | Maximum 2 people | Price: $55 per person or $90 for 2.

White Rhino Encounter: Mondays, Wednesdays and Fridays through to Sunday at 3 pm | Maximum 6 people | Price: $55 per person or $90 for 2.

Meerkat Encounter: Daily, times vary each day | Maximum 2 people | Price: $125 per person.

Tree Kangaroo Encounter: Daily at 10 am | Maximum 2 people | Price: $55 per person or $90 for 2.

Sun Bear Encounter: Tuesday, Thursday and Saturday at 1.30 pm | Maximum 2 people | Price: $55 per person on weekdays or $70 per person on weekends.

White Lion Encounter: Mondays, Wednesdays, Fridays and Sundays at 3:40 pm | Maximum 4 people | Price: $70 per person

Tiger Encounter: Mondays, Wednesdays, Fridays through to Sundays at 3:15 pm | Maximum 4 people | Price: $55 per person on weekdays or $70 per person on weekends.

Giraffe Encounter: Daily except for Tuesday and Thursday at 1.30 pm | Maximum 4 People | Price: $55 per person on weekdays or $70 per person on weekends.

Cheetah Walk: Daily at 2.15 pm for 50 – 60 minutes | Maximum 4 People | Price: $240 per person on weekdays or $265 on weekends.

Cheetah Encounter: Daily from 11:15 am for 10 minutes | Maximum 2 people | Price: $175 per person on weekdays and $195 per person on weekends.
Room Access
After our guided zoo tour, we were dropped off at our Giraffe Treehouse, where we were spending the night. These treehouses are literally in the middle of the zoo. There are six individual treehouses that are in between two different animal enclosures. The front enclosure has deer and alpacas, while the back enclosure is for the giraffes. To get to the front door of the treehouse, you wander through the deer and alpaca enclosure – only those staying here can do this; other zoo guests do not have access.
The giraffe enclosure is in two parts. There is the larger enclosure where zoo visitors can observe the giraffes and then there is a smaller enclosure situated behind the treehouses. There was only one giraffe, Skye, in the enclosure while we were there and she had access to both. This meant she was free to roam between the two enclosures as she pleased. This does mean she wasn't outside our balcony at all times; rather she would come past whenever she wanted to. We spent most of the afternoon sitting on our balcony, absolutely mesmerised whenever Skye walked past.
The rooms are amazing! But more on that below. We arrived at our room around 4 pm and had until 6.15 pm to relax in our room, watch Skye and get ready for dinner.
Jamala Wildlife Lodge Restaurant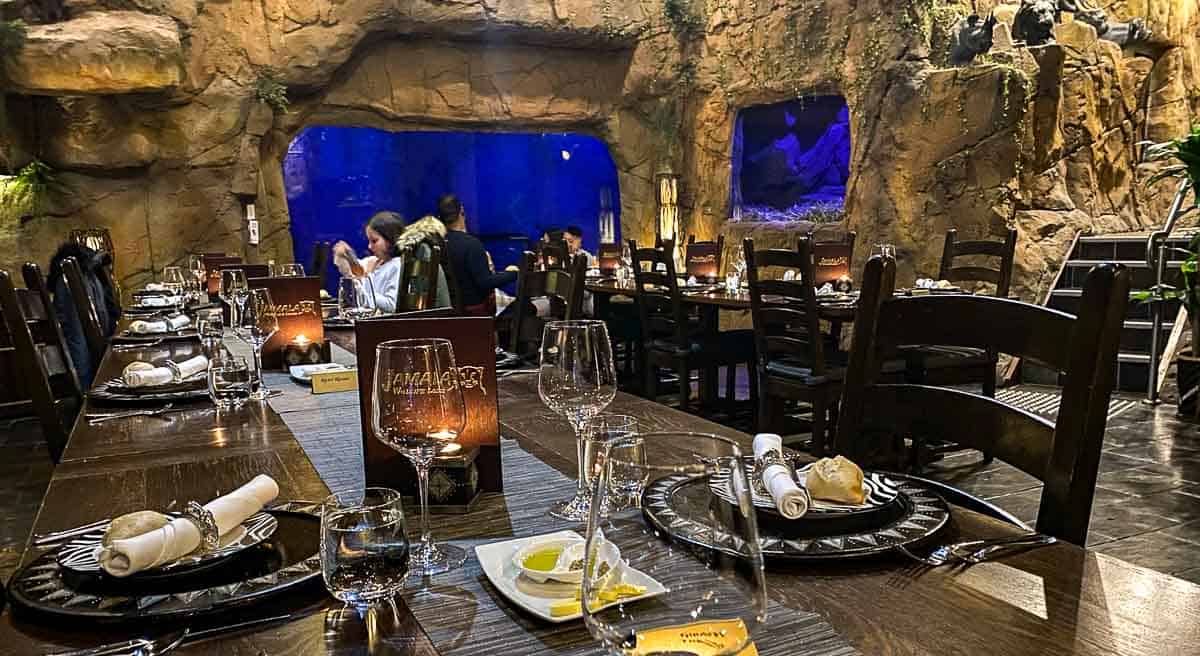 At 6.15 pm, we were picked up by a minivan and taken to dinner. It's not far to walk, but you're not allowed to walk alone through the zoo after dark.
Before dinner, drinks are served on the balcony of the uShaka Lodge. They have pretty much everything on offer, including wine, champagne, beer, cider, soft drinks and juices. Dinner is then served in the Rainforest Cave, which looks into the lion's den and the hyena's den. Like the giraffes, the lions and hyenas are free to come and go into the dens they like. During our meal, the lions were there the entire time but just sleeping. The hyenas popped in once or twice but never stayed around long. But gosh, every now and then, the lions gave out an almighty roar! These animals are loud!
Dinner was three courses, with kids given the option of having a kids meal – which is what Myla opted for. The kid's meals are brought out at the same time as the entrees. After the kids have their meals, they are given the option of doing a private guided tour of the aquarium, which is just outside the Rainforest Cave. Myla was the only child that night and she wasn't comfortable going on the tour by herself, even though I did encourage her to go. This is such a great idea though, not only to keep the little ones entertained during dinner but also to give parents a little quiet time alone. The kids are also given a small activity pack to keep them entertained during dinner.
The service throughout dinner was impeccable. I don't think my glass was ever empty, with the staff constantly offering me refills.
Once dinner is finished, you're welcome to leave whenever you like, with the minivan there to take you back to your room. Myla and I were the first to leave because it does start to get a little late for the kids. However, you're also welcome to stay on and enjoy a few more drinks – you are certainly not rushed out the door.
On return to our treehouse, our beds had been turned down and chocolates left for us – which got Myla pretty excited!
Breakfast
Breakfast is served back at the Rainforest Cave between 8.30 am and 9.30 am. You can come anytime during the period as meals are prepared as you order them. The menu rivals any that you'd find in the top cafes around town and you're probably going to struggle narrowing it down to just one menu item! Which is fine because you're welcome to order a few things if you really can't decide. Myla and I shared a plate of pastries in addition to our delicious main meals.
Visit the Zoo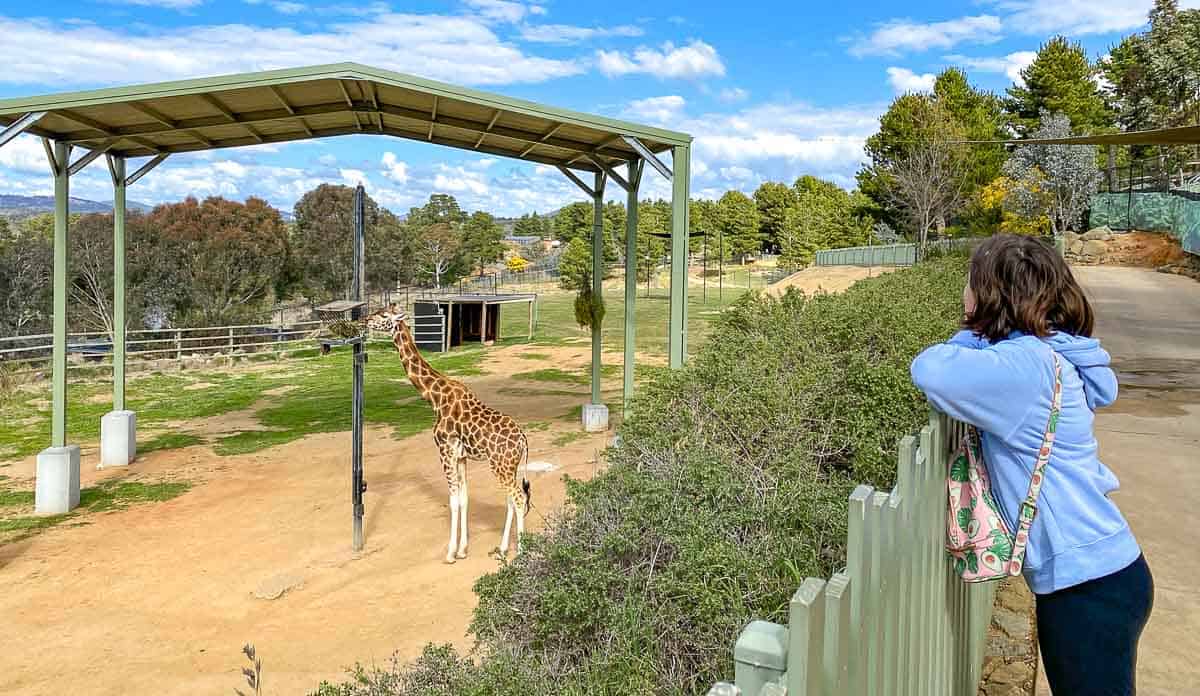 During any of your free time, you're welcome to visit the zoo at your leisure. At check in you're given a booklet which has a self guided tour of the zoo and includes information about the animals you'll see along the way. But, of course, you don't need to follow the self guided tour and you're free to wander around the zoo however you like.
One of our favourite times for exploring the zoo was on our way down to breakfast. During this time, the zoo is closed for other visitors, so it is super quiet and the animals seem to be quite alert, so it is the ideal time to watch them.
One place that's well worth mentioning for families with little ones is the Adventure Playground. This area was 55 different activities for the kids, including cubby houses, rock climbing, slides, swings, net climbers, and more!
You're also free to spend time in the zoo after check out, which is at 11 am.
Jamala Wildlife Lodge Accommodation
Options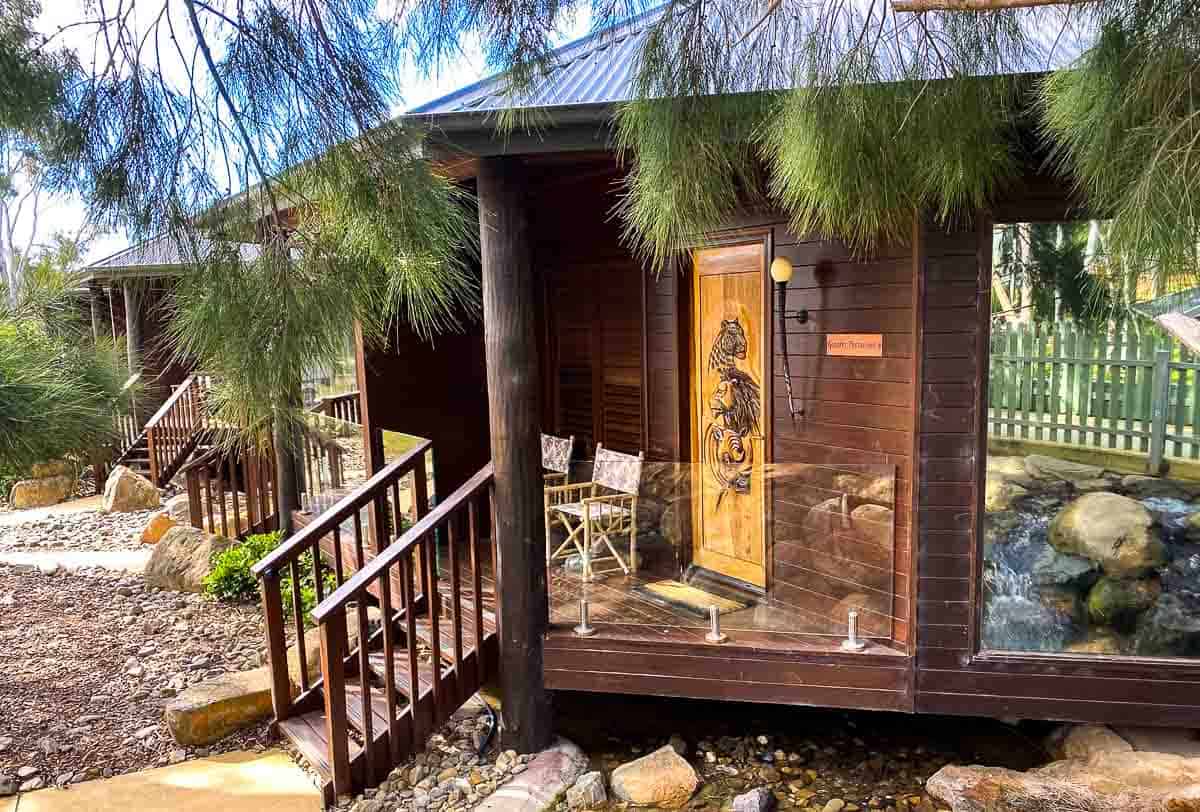 So let's talk about the differentJamala Wildlife Lodge accommodation options. We stayed in the Giraffe Treehouses, but there is also a range of other rooms and bungalows you can spend the night – all with special access to different animals.
No matter which accommodation type you stay in, all rooms come with beautiful African furniture and artefacts, luxurious king beds, air conditioning, wifi, music system, mini bar, Foxtel and tea and coffee making facilities.
When deciding which accommodation to book, one thing worth mentioning is that while some of the photos you may have seen have the animals right outside the rooms, there is no guarantee that the animals will position themselves like that during your visit. They are animals after all!
Also, keep in mind that animals can be quite noisy – even during the middle of the night – so if you or the kids are a light sleeper, then consider which animal you're best suited to sleeping near.
Giraffe Treehouses
When we visited Jamala, we stayed in one of the six Giraffe Treehouses. The rooms here are huge and luxurious!
The entrance to the room has a small balcony that looks over the animal enclosure where the deer and alpacas are. Then as you walk in the door, you'll find a gorgeous kingsize bed with an entrance to the huge modern bathroom. In the bathroom, there are bathrobes, a lovely deep tub and a massive separate shower.
Back into the main area of the treehouse, past the kingsize bed, is a great size living area with a double pull out couch (so perfect for a young family with a couple of kids). The living area then leads out to the balcony, which overlooks part of the giraffe enclosure. This is no doubt where you'll be spending most of your time, sitting back and watching the beautiful giraffe as she wanders past.
Jungle Bungalows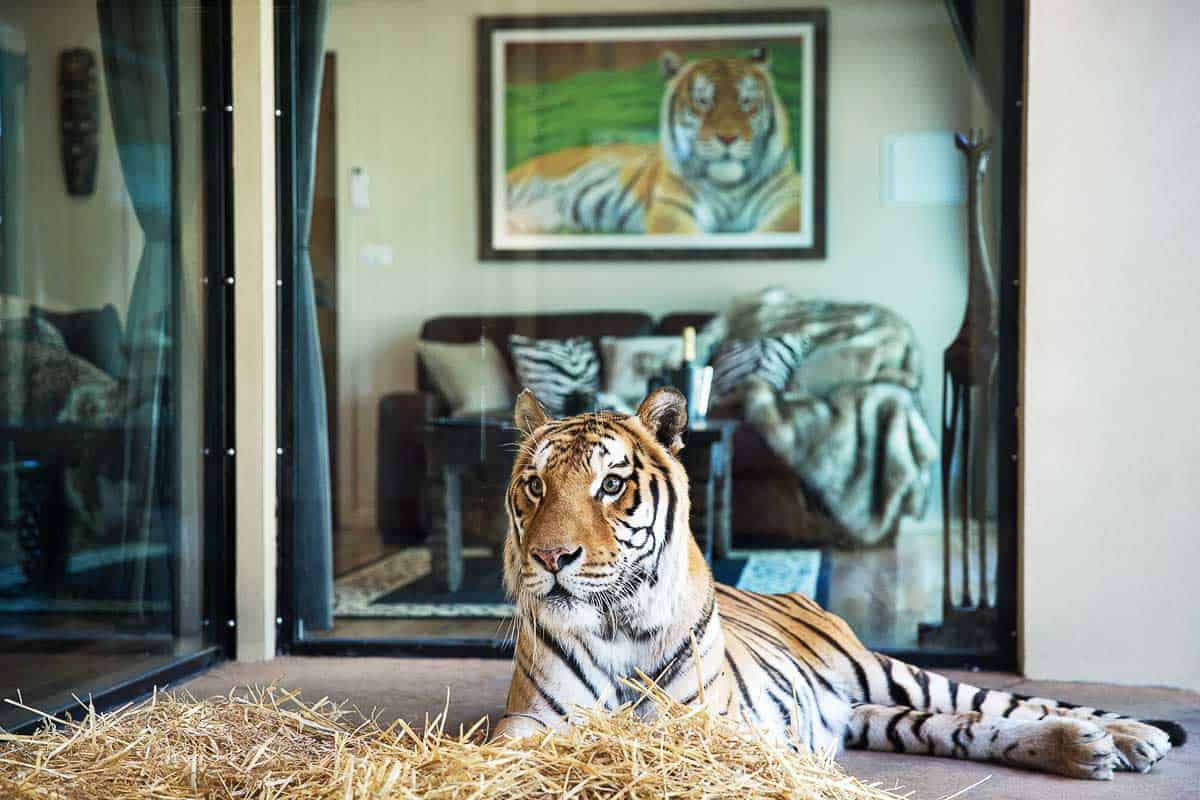 Image Credit: Thanks to Visit Canberra
For those families who love tigers and bears, then the Jungle Bungalows would be the ideal place to stay. There are five Jungle Bungalows, which all adjoin to an enclosure within the zoo. Throughout the bungalows are huge large glass windows, which look straight into the animal's enclosures. So while you're hanging out in your lounge room, resting in bed or even taking a bath, if the animals are in the bungalow den area, you're going to have the most amazing view of these magnificent creatures.
Each of the Jungle Bungalows suites come with one king bed and one double pull out sofa and can accommodate up to three adults or a family or two adults and two children. At least one of the guests staying in the suite must be 21 years of age or older. Unfortunately, no children can stay in the lion bungalow, children must be at least 6 to stay in the sun bear bungalow and children must be at least 14 to stay in the tiger or cheetah bungalows.
It's also important to note that when booking the Jungle Bungalows, you're asked to provide three preferences for which animal you'd like outside your room. So there is no guarantee you'll get your first choice.
uShaka Lodge
Lastly, there is the uShaka Lodge, which is the owners' former residence. uShaka has seven individual suites, each of which leads out to various shared living areas. The rooms come in all different sizes, with the ability to accommodate between two to six guests.
The uShaka also has some fabulous entertaining areas – both inside and out. For example, the living area, where all guests check in, has a huge aquarium that extends from one end of the room to the other and a colobus monkey enclosure on the other side. UShaka also has a private pool and spa area.
Here is a brief overview of the different rooms types available at the uShaka Lodge:
Capuchin Room: Has a large viewing window where you can watch the Capuchin Monkeys.

Shark Grand Suite: A private floor where you'll get to feed the sharks.

Meerkat Room: Has a view of the adorable meerkats.

Meerkat Suite: Ideal for large families which looks into the play area for the meerkats.

Wild Encounter Room: This room has a split-level design with a spacious lounge and can accommodate up to four people. Plus, you get to meet a cheetah in the zoo!

Reef Room: An ocean aquarium on one side and hyena enclosure on the other!
Jamala Lodge, Canberra – Our Verdict
Wow, wow, wow! Our stay at Jamala Wildlife Lodge was absolutely brilliant from the moment we arrived to the moment we left. This really is a luxurious 5 star experience with the service being impeccable and the accommodation provided absolutely first class.
The private guided tour was excellent, with our guide Jakes explaining how many of the animals came to call the zoo home and insightful information about the different animal breeds. We also got to have some great encounters with many of the zoo animals. Plus, having the lion's ad hyenas occasionally watch over us at mealtimes was pretty cool. Those lions sure do have a loud roar on them!
I'm always cautious when visiting any attractions with animals. I've certainly been known in the past to leave attractions where I thought the animals were not being looked after as well as they could be. So I was absolutely thrilled to see the huge, spacious animal enclosures and the number of animals in each enclosure mimicking the number of animals that live together in the wild. And while it would have been nice to have seen the giraffe outside our balcony whenever we wanted, it was actually pleasing to know the giraffe came to us whenever she pleased, rather than the other way round.
A stay at Jamala will certainly set you back a pretty penny – this is not a cheap experience. However, this is most definitely a once in a lifetime experience – I mean, it's not every day that you get to sleep inside a zoo, let alone with beautiful exotic animals right outside your window. This is certainly one incredible experience you're family will never forget.
Click here to book your Jamala Lodge experience now.
______________________________________________________________________
Hopefully you found our review on the Jamala Wildlife Lodge helpful. We were guests of Jamala Lodge Wildlife and agreed to provide this review after our stay. However, as always, all views expressed in this review are 100% our own and have not been influenced in any way. We also recommend checking out our YouTube video here showing all the highlights from our stay at the Lodge.
If you're staying in Canberra after your amazing Jamala experience – then you'll want to check out our guide on things to do in Canberra with kids. We also have a guide on other accommodation options in Canberra.