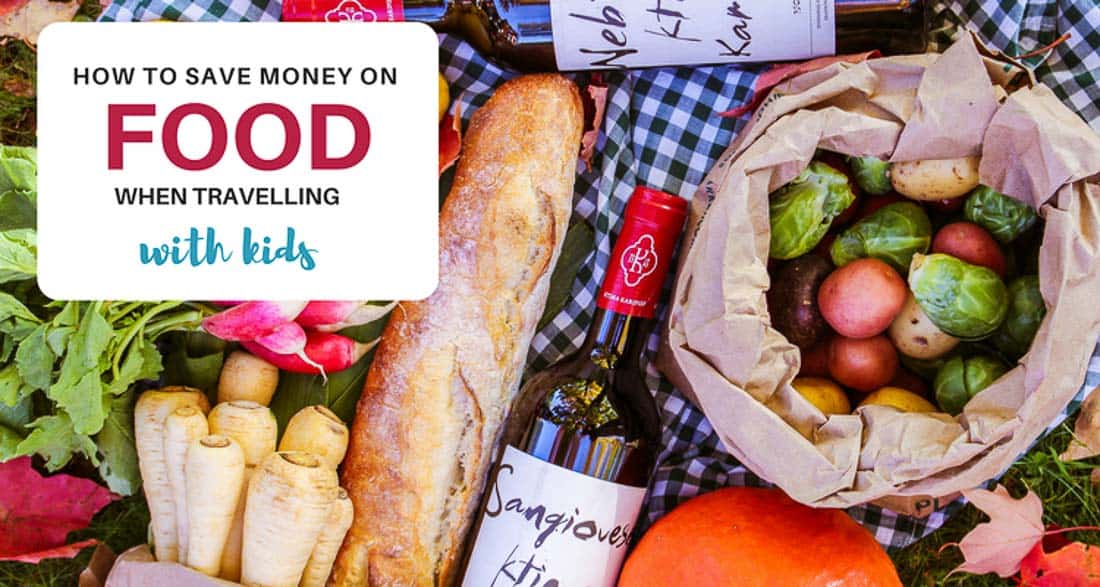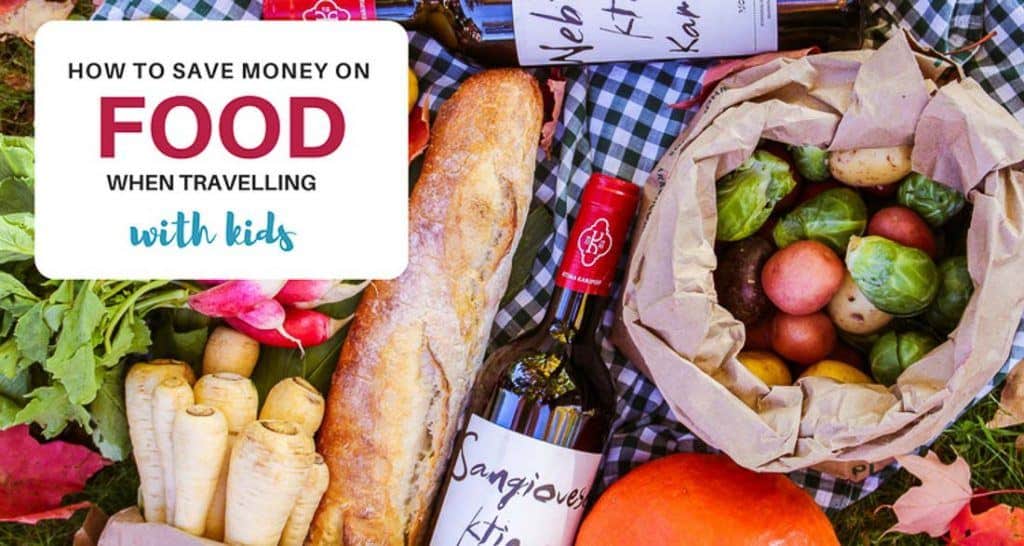 This page may contain affiliate links.
If you wanting to save money on your family holiday, food is another area where there are big savings to be had.  When travelling with kids, your food expense can soon add up.   All it takes is a little forward planning and consideration to the type of accommodation you will be staying in whilst travelling.  Follow the below tips and you are guaranteed to save money on food when you take your next trip!
 1 – Take snacks to the airport and on the plane 
We all know how expensive food is at the airport!!  Unfortunately part of travelling overseas is waiting hours in airports.  So you can save money on food before you even get to your destination by bringing some snacks to the airport for your little ones too much on.
Even on flights where the airlines provide food, I always take snacks for my daughter.  If your children are anything like mine, they are always hungry!  To prevent hungry grumpy children, I like to be able to feed my child when she is hungry rather than wait for the air hostesses to bring out the food.
The day we leave home, I make a lunchbox up for my child and include all the usual snacks I would if we were going out for the day at home.  Don't be confused with not being able to take food into another country with being able to take food on the plane.  You can take food on the plane, you will just have to throw out anything left either on the plane or as soon as you arrive at your destination's airport.  On your return flight home, do the same thing and bring a snack box too.
The only thing you can't bring on the plane is water.  What I usually do is bring my child's empty drink bottle and buy water after we clear customs and fill up her drink bottle then.  Again this ensures she has water as soon as we are on the plane and I don't need to bother the air hostesses until she runs out.
By bringing your own food you may well prevent the need to buy a meal on the low-budget airlines for your child and save even more money.  Some children are fussy anyway and won't eat whats on offer by the airline anyway.
I use these yum boxes for my daughter, it is great for packing various snacks.  You can buy these lunch boxes from Amazon by clicking on the image here.  
For drink bottles, I like to use any of the bottles from Contigo range as they don't spill.  I bought these after we went to Hawaii and by the time we arrived my daughters drink bottle had completely emptied out in my hand bag destroying my brand new iPhone!!  You can buy these drink bottles from Amazon by clicking on the image here
Click on the images to find out where you can get these from and the latest prices in your country.
2 – Do a supermarket shop 
When we arrive at our destination, we do a supermarket shop.  We usually do this shop on the day we arrive or the next day if we arrive at our destination at night.  What we buy depends upon our destination, type of accommodation we are staying in and how long we are there.  It also depends if any meals are included with our accommodation – like breakfast.
When we go to Asian countries eating out is much cheaper when travelling on Australian dollars so we tend to eat out a little more than if we were travelling through Europe for example, or even travelling at home in Australia.  So in Asian countries we would only buy drinks, snacks and fruit.  Whereas on our recent trip to New Zealand we stayed in self-contained accommodation and given eating out is quite expensive we bought food to prepare all our own meals.
Before you do your shop, check to see if the supermarket has a loyalty card.  Usually you can get on one of the cards at the customer service desk and join their program immediately.  These loyalty cards usually allow you to save a small percentage off your shopping bill straight away.  This is particularly true for any American destinations.
 3 – Take snacks during the day 
When you go out during the day sightseeing or travelling, make up a lunch box for at least the kids.  Kids graze all day, if you had to buy food for them whenever they said they were hungry it would cost you a fortune.  Also food may not be available wherever you are whilst you are out and about, so having food with you will prevent hungry kids having tantrums.  I usually pack prepacked foods and fruit.
I always bring a few different sized plastic containers from home for keeping snacks in during the day.  By bringing different sizes you can pack them inside each other, taking up less space in your luggage.
Depending on the cost of food in the country we are visiting we will also pack lunch for ourselves.  We actually loved this whilst travelling around New Zealand as we had picnics in gorgeous spots everyday – much nicer than sitting indoors in a café to eat.  In New Zealand we also took a thermos and filled it with hot tea which was just divine to have as we travelled around; although we did have a hire care in New Zealand so much easier to cart everything with us.
Make sure you fill up your water bottles everyday too – buying water throughout the day is an unnecessary cost in my opinion.
4 – Always have breakfast in your room 
We always have our breakfast at our accommodation.  It's so cheap to buy some tea, coffee, cereal, loaf of bread, milk and feed everyone for a few dollars rather than buy meals for everyone.  This is a quick and easy way to save money on food during your trip.  If your accommodation includes breakfast of course we eat the breakfast provided.
If breakfast is not provided in our accommodation we always pack a few plates, bowls and cutlery in our luggage to allow us to each in our room.  This does not take up much room in your luggage and can save you heaps!  Seriously we travel very light as a family so don't be concerned that all this extra stuff is going to take up stacks of room in your luggage.
In the past even at places which include breakfast, we have feed our daughter in our room before we venture down to breakfast.  The reason for this is if we are staying at a resort, we might want to have a lazy morning and stroll on down to a late breakfast.  This doesn't work all the time with kids, they want breakfast straight away.  So we would feed our child in the room whilst we lie around and then she would eat again at the breakfast buffet.
5 – Where you have self-contained room cook meals in your room 
As stated above, if you can stay in self-contained accommodation cook your own dinner and save heaps.  I'm not suggesting you do this every night, some nights you might wish to splash out and have a meal out, but if for at least some of the time you cook your own meals you will cut your food cost significantly.
Generally this is an easier option for families with smaller children anyway.  After a big day of travelling it is much easier to cook in your room rather than all venture out looking for food with tired, cranky kids in tow.
 6 – Take plastic containers, breadboard, knife, plates cups, drink bottles, esky, ice bricks, thermos 
As I have said throughout this post we take some kitchen items from home with us to cut down on the need to eat out all the time when we travel.  What we bring really depends on where we are going and whether our accommodation will be self contained or not.  Obviously if your staying in self contained accommodation you don't need to bring much as every you need will be provided.
When we travelled around New Zealand we brought plastic containers, breadboard, plates, bowls, cups even a soft cooler bag and ice bricks.  Before we moved onto the next destination we packed up the food we had left and put the cold items in the cooler bag.  We even had a thermos which we filled each morning so we could have tea and coffee whilst we were driving between cities.  The cooler bag was similar to the one pictured below which can be folded up.  When packing I just placed it at the bottom of my luggage – takes up hardly any space.
Do you have any tips on how you save money on food when you travel?  Contact me Facebook, Instagram or Pinterest and tell me!
Want to save this page for later?  Click on the below image and pin it to Pinterest.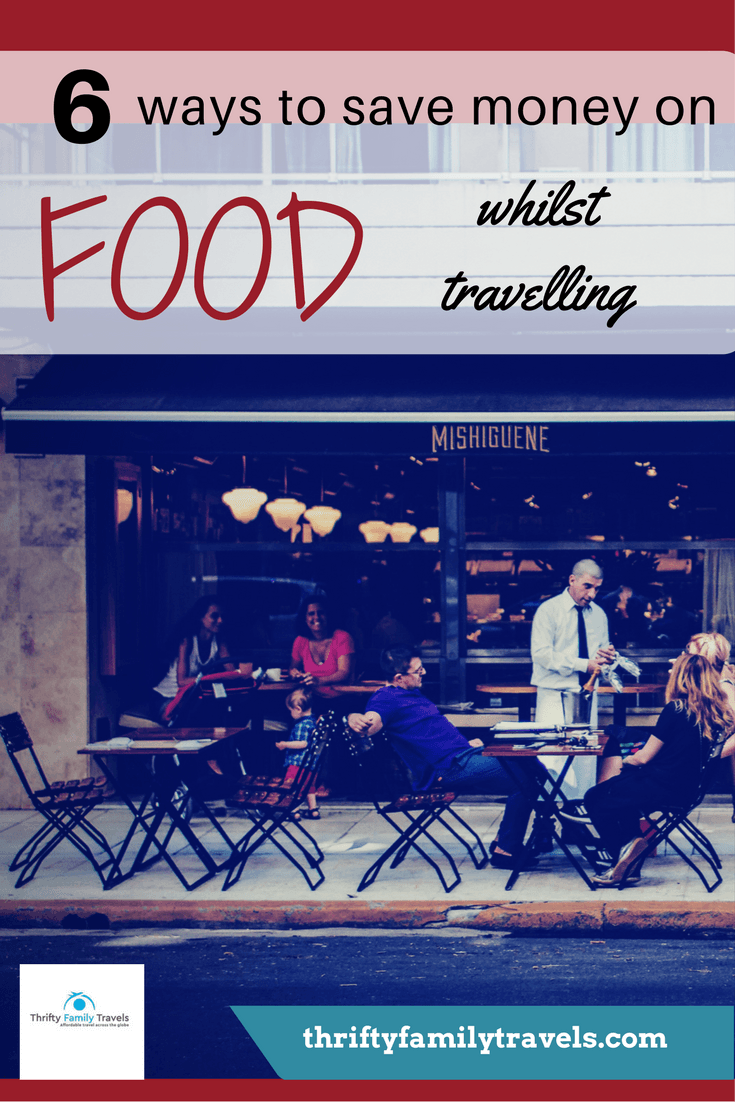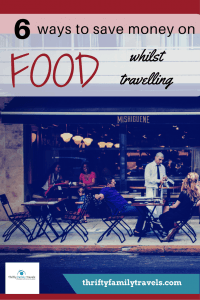 Disclaimer: Thrifty Family travels is a participant in the Amazon Services LLC Associates Program, an affiliate advertising program designed to provide a means for sites to earn advertising fees by advertising and linking to amazon.com. Thank you for supporting my site and allowing me to bring you the latest information in budget family travel at absolutely no cost to you.