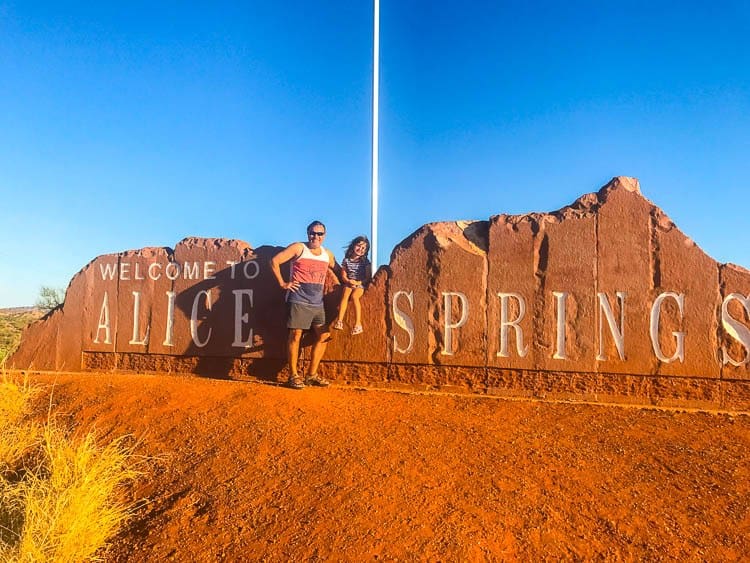 Alice Springs is a remote town in Australia's Northern Territory, located half way between Adelaide and Darwin in the heart of the red centre.
The area of Alice Springs is an interesting place to explore with its harsh yet spectacular landscapes rich in ancient Aboriginal culture.
Whilst most people, including me, stop in Alice Springs on the way to Uluru, Alice Springs is worth a week or two to explore its gorgeous surroundings both within its city and the surrounding areas.
It took us 3 days to travel from Darwin to Alice Springs and we were super excited to arrive in town. After 3 days on the road we were keen to get out and explore all the things to do in Alice Springs.
Things to do in Alice Springs
The Alice Springs Telegraph Station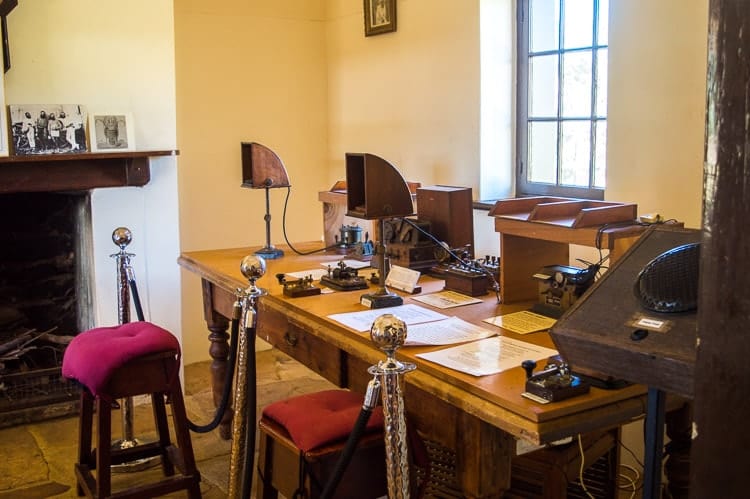 One of the top things to do in Alice Springs is a visit to the Alice Springs Telegraph Station. As well as getting to visit Alice Spring's oldest building, the tour guides will provide you will some interesting historical information about how Alice Springs became to be as well as the story of how Australia became connected to the rest of the world through telegraph communication in 1872.
Visitors can explore the historic museum on their own in their own time, however it is highly recommended that you join one of the several daily tours for some great historical information. Tours leave the front gate at 9.30 am, 11.30 am , 1.30 pm and 3.30 pm.
Inside the various buildings you will find numerous display boards, relics and rooms set up in a bygone era.
Make sure before you enter the museum, to grab the kids a quiz sheet from the kiosk. There are 2 different quiz sheets depending upon the kids ages. The quiz asks various questions about Australia's history with the answers being found around the museum. All the kids get a small prize provided they attempt every answer.
I would allow at least 2 hours to get the most out of this attraction. The tour go for 30 minutes and you will need at least 1 or 2 hours to explore the buildings afterwards. We did not allow ourselves enough time which I really regretted.
The Telegraph Station is set among some lovely parklands where you can join various walking or mountain bike trails which you can visit other Alice Springs tourist attractions from.
The Alice Springs Telegraph Station is open daily and entry costs $13.75 per adult and $8.50 per child.
Alice Springs School of the Air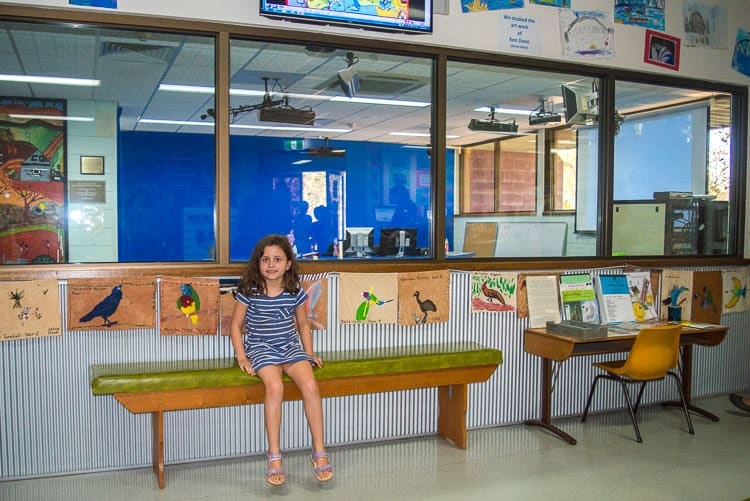 If you are travelling with children, particularly school aged children, then a visit to the Alice Springs School of the Air is one of the best things to do at Alice Springs.
The Alice Springs School of the Air was established in 1951 to provide an education to children living in remote central Australia.
Through film, guided presentation and viewing of real time (or recorded) classes, visitors get a feel for what remote education is like.
We really loved visiting the school of the air. There is a viewing room which allows you to look into the room where the teachers are teaching children via the internet. Its amazing to see all the technology and innovative techniques that goes into providing the children an education.
The School of the Air is open daily, although hours can vary so double check here before you arrive. Entry costs $11 per adult and $8.50 per child. Family passes are available.
The School of the Air is located a few kilometres out of town. It is a bit of walk, it took us about 30 minutes from the town centre or its about $15 in a taxi. You can also catch a public bus.
Royal Flying Doctor Service (RFDS)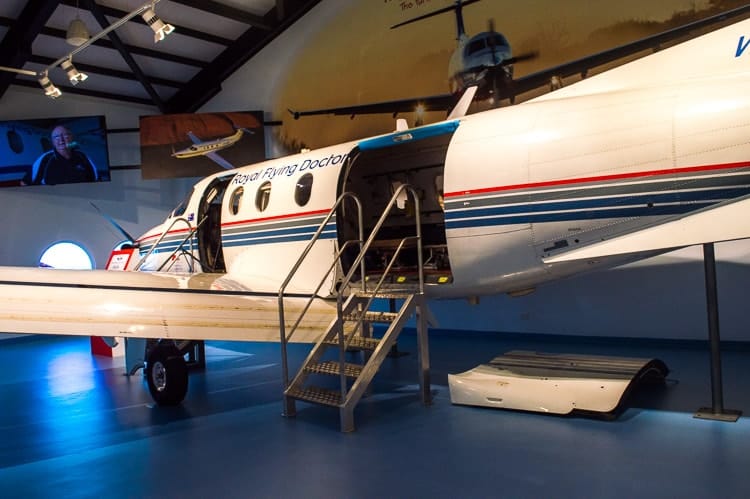 This is a great attraction which allows visitors to see the original RFDS working base which commenced in 1939.
Through film, display boards, interactive technology and even a replica RFDS, visitors will get an opportunity to see how people living in the remote Australian outback receive medical treatment.
Outside the tourist facility there is a great café and art gallery where you can enjoy some lunch.
Open daily, entry costs $16 per adults and $9 per child. Family passes are available.
Click here if want to know the top things to do in Canberra
Alice Springs Reptile Centre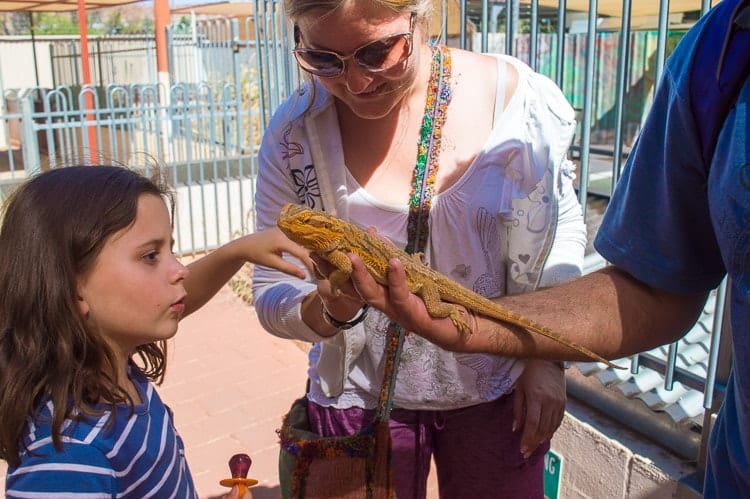 Located just outside the city's CBD is this fantastic little reptile centre, yet another one of the great Alice Springs attractions. We absolutely loved visiting the reptile centre and highly recommend a visit.
The centre features over 100 reptiles of 60 different including saltwater crocodiles, snakes, lizards and other reptiles, as well as some of the more "unusual" reptiles of the Australian outback such as massive goannas, spiked Thorny Devils and the Frill-necked Lizard.
During the day, there are demonstrations where the guides teach visitors about avoiding snake bites and first aid in the unlikely chance you are bitten. There is also plenty of opportunities to hold a variety of reptiles such as lizards and even giant pythons. These demonstrations are on at 11 am, 1 pm and 330 pm daily.
The centre is open daily and entry is $17 per adult and $9 per child. Allow 2 hours to see all the displays and enjoy the demonstrations. This is one of the best things to see in Alice Springs with the kids.
Anzac Hill
One of Alice Spring activities which is free, is a visit to the top of Anzac Hill. The top of the hill is the ideal spot for an overview of the town of Alice Springs and the beautiful surrounding ranges.
On top of Anzac Hill is a memorial dedicated to all those who have served in the defence of their country during all wars in which Australia has participated.
Anzac Hill is easy to walk to from the town centre and it is a short easy walk to reach the top.
Alice Springs Desert Park
Attractions in Alice Springs like the Alice Springs Desert Park are a great way for visitors to see the hundreds of plants and animals that can be found across the Central Australian deserts.
The park is set out over 50 hectares in a desert environment and divided up into several main "habitat" areas which are home to over 200 desert animals and 400 plants.
Visitors to the park can hear various presentations on different aspects of Aboriginal culture throughout the day, such as the preparation of traditional Aboriginal bush tucker.
You can also see free-flying birds at the Nature Theatre presentation and an excellent display of trained birds. At night you join the unique experience of searching for locally extinct and endangered species in a predator proof enclosure on a Nocturnal Tour.
Allow around half a day to see everything on offer at the Alice Springs Desert Park. Tickets are $32 per adult and $16 per child with family passes available.
Kangaroo Sanctuary
You may have seen this on Kangaroo Dundee (BBC UK / Nat Geo documentary) where Brolga and his kangaroo family live, making the Kangaroo Sanctuary a popular choice for things to do around Alice Springs.
On the guided sunset tour, visitors can walk through this 188-acre wildlife reserve which is the home for rescued and orphaned baby kangaroos and adult kangaroos. You must pre-book if you wish to visit with each tour limited to only 30 people.
Tickets for the sunset tour cost $85 per adult and $45 per child.
West McDonnell Ranges
The MacDonnell Ranges are a fantastic place to explore with its natural beauty with rocky escarpments, gorges and swimming holes.
Whilst the East MacDonnell Ranges are better accessed by those who have time to explore off the beaten track, the West MacDonnell ranges are easily accessible via the West MacDonnell National Park making it one of the best day trips from Alice Springs. If you have a car you can do this yourself or alternatively, you can join one of the Alice Springs day tours.
Although you can explore some parts of the West MacDonnell Ranges in a day trip from Alice Springs, it is recommended that you take 2 days to explore the area and spend the night at the Glen Helen Homestead Lodge which is located at the far west end of the ranges. Accommodation is available in the motel, cabins or campground. Check prices and availability here.
Below are some of the more popular sights to visit in the West McDonnell Ranges:
Larapinta Trail
Voted by National Geographic as one of the top 20 trekking experiences to be had on the planet, the Larapinta trail offers 7 day, overnight and short walking opportunities.
The trail commences at the Alice Springs Telegraph Station and ends 231 kilometres west at Mt Sonder in the stunning West MacDonnell Ranges. There are 12 individual sections along the trail so you can complete as few or as many as you like. All sections can be reached by four-wheel drive so you can join or leave as you like.
The main attractions along the trail include Simpsons Gap, and the waterholes at Ellery Creek Big Hole, Ormiston Gorge and Glen Helen.
If you do some of the longer trails you can camp under the stars at one of the many campsites along the trail. Most camp sites have picnic tables and tent sites. All Trailheads have a water supply and some have free gas bbqs.
Simpsons Gap
Simpsons Gap is one of the most prominent gaps in the West MacDonnell Ranges. Located 18 kilometres from Alice Springs, it features the towering cliffs of Simpsons Range, a permanent waterhole, and opportunities to spot resident wildlife.
There are many short walks suitable for all fitness levels to views of the range. Simpsons Gap is located on the Larapinta Trail and from Simpsons Gap you can walk Sections 1 or 2.
Simpsons Gap is open daily and entry is free.
Standley Chasm
Standley Chasm is located 50 kilometres from Alice Springs and is a striking geological formation as it cuts through the quartzite to form a natural alleyway, crowded on either side by craggy slopes that rise 80 metres above the floor.
Visitors can explore the area by taking the 1.2 kilometre walk from the car park following the creek where spring fed pools attract various birds and other wildlife.
It is recommended that you visit Standley Chasm within an hour either side of noon when the quartzite walls glow from reflected sunlight.
Ellery Creek Big Hole
A large waterhole surrounded by high red cliffs, a sandy creek and fringed by gums make this an awesome stop in the West McDonnell Ranges.
Visitors can take a dip in the waterhole, or take the 3 kilometres walk to explore the area.
Ormiston Gorge
Located some 135 kilometres from Alice Springs, Ormiston Gorge is a great day trip with its towering red walls. It is also a great place for a swim.
For the more energetic visitors there is a 3-4 hour walk via the Ormiston Pound Walk which commences from the information shelter. There is also a 5 minute walk and a 20 minute walk.
Uluru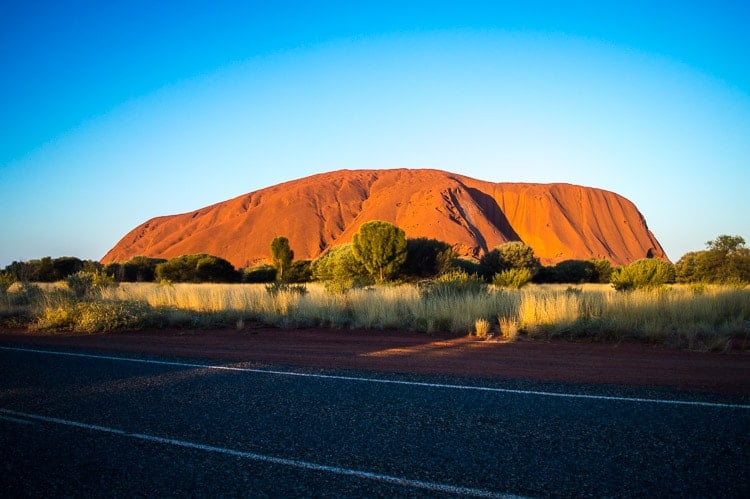 Whilst it is possible to do one of the several Uluru tours from Alice Springs in a day, given it takes 6.5 hours each way, I highly recommend that unless you absolutely do not have the time that you spend at least 1 night near Uluru.
I recommend you drive yourself or take a transfer (or click here for discount rates online) from Alice Springs to Ayers Rock (its previous name before it became better known by its aboriginal name of Uluru), as early as you can. Spend the afternoon exploring the base of Uluru and then in the evening check out Uluru as the sunsets.
Spend the night at the Ayers Rock Campground and bright and early the next day, get up and watch the sunrise over Uluru and Kata Tjuta. Once the sun rises, go exploring around Kata Tjuta.
There are of course plenty of great multiple day Alice Springs to Uluru Tours which you may like to consider if you don't have your own transport.
Click here for a guide to visiting Uluru and get some fun Uluru facts for kids here.
Kata Tjuta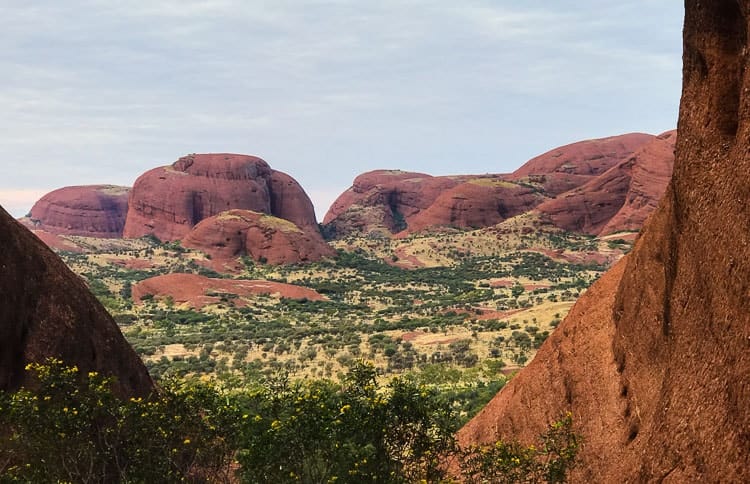 Kata Tjuta is located not far from Uluru, so again whilst there are many tours that visit the area in a day trip from Alice Springs, it is not recommended.
I recommend you do the 7 kilometre circuit walk around Kata Tjuta, whilst it is challenging at times, Myla did it fairly easily and the views are amazing.
Stay tuned for my blog post about Kata Tjuta.
Kings Canyon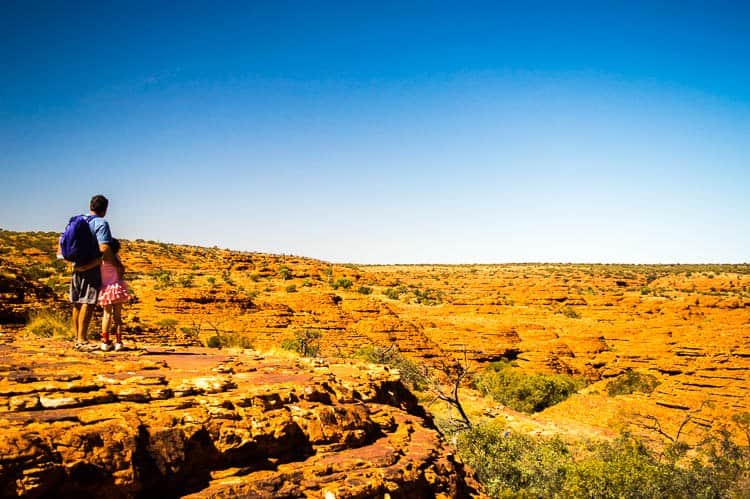 Perhaps one of my all-time favourite places in the red centre was the spectacular Kings Canyon. Everyone talks about Uluru, but seriously this place is where its at!!! So please don't just leave Uluru to Alice Springs – make the trip to Kings Canyon first. You can arrange transfers from Uluru here.
Like Uluru and Kata Tjuta it is not recommended you visit Kings Canyon in a day trip from Alice Springs. Kings Canyon is located around 6 hours from Alice Springs, or 4 hours from Uluru. It is recommended that after you visit Uluru you head on over the Kings Canyon.
To really experience the Canyon you must do the 6 kilometre walk – this walk does take around 4 to 5 hours so don't start it too late in the day. Apart from the initial climb up the rim – which is absolute torture, the rest of the walk is fairly flat and easy. Again Myla did this walk with ease. I found it way easier than the walk around Kata Tjuta.
If you need a place to stay check out Kings Creek Station it is located about 30 minutes from Kings Canyon. Check pricing and availability here.
Click here if you only have a day to experience Kings Canyon from Alice Springs.
Stay tuned for my blog post about Kings Canyon.
When to Visit Alice Springs?
In winter the Alice Springs temperature is freezing and in summer its ridiculous! This is the Australian Outback after all and the weather is harsh.
The ideal time to visit Alice Springs is when the seasons are changing from Summer to Autumn (March) and Winter to Spring (August to September). During these months, Alice Springs temperature is pleasant during the day and a little cooler at night. Expect day temperatures in the mid 20's whilst nights can get down to around 10.
If you go during these times you will have no problem doing the various walks around the parks. Many of these walks are closed during the summer months to protect visitors from the heat.
Getting Around Alice Springs
Within the Alice Springs town centre you can easily walk around to visit all the Alice Springs points of interest. For Alice Springs sights on the city's outskirts if you don't have your own transport, I'd recommend getting a taxi or taking public transport. You can of course join one of the Alice Springs tours to take you around the city sights, but it really is easy and much cheaper to do this yourself.
If you wish to visit the West MacDonnell Ranges I would recommend hiring a car or joining a tour.
Best Budget Alice Springs Accommodation
Alice Springs is pretty much a tourist town and this means that when considering where to stay in Alice Springs, you need to factor in that accommodation is very expensive. We stayed at 2 pretty good budget hotels in Alice Springs during the 3 nights we stayed there – 2 nights before our trip out to Uluru and 1 after.
Haven Resort Backpackers
For our first 2 nights, we stayed in a family room at the Haven Resort Backpackers. This room was massive! The room contained 2 sets of bunk beds, 1 with a double on the bottom and single bed on top – which meant that the room could sleep up to 5 people. For around $100 AUD (we booked through booking.com) for the night including breakfast this is a bargain for Alice Springs accommodation.
A few more things I liked about the Haven before I tell you what I didn't:
The rooms come with a TV, fridge and tea and coffee facilities.
Each night the reception had happy hour beers and ciders for $4.50 AUD – bargain!!
There was a laundry where you could do your own washing.
The resort had a pool.
Now a few not so good things:
The backpackers was just outside the city centre, so it meant there was a 10 minute walk to reach any of the Alice Springs restaurants and shops. Not so far for adults, but a bit far for tired children at the end of a busy day, plus you have to cross the highway.
The place was not the cleanest, the room was fine, but in the common areas I thought it could have been a bit cleaner.
But look if you are a big group of 5, you can't go wrong with this place. However, if you are a family of 3 to 4, you can get similar priced rooms at other places in town.
Check out the latest prices and availability for the Haven Backpackers here.
Diplomat Motel Alice Springs
I decided for our last night in Alice Springs to stay in a more centrally located hotel. The Diplomat Motel is fantastically located a few 100 metres from the Todd Street Mall where all the places to eat in Alice Springs are located as well as shops and bars and a supermarket is a few 100 metres in the other direction.
Our room contained a double bed and a single and was nice and spacious. It was a reasonably modern room with a balcony, TV, fridge and tea and coffee making facilities. The bathroom was huge! There was also a pool in the complex.
We paid $105 AUD through booking.com to stay the night here, which was basically the same price as the Haven Resort. Whilst the Haven Resort included breakfast and the Diplomat didn't, for the fantastic location and nicer / cleaner room I would definitely recommend the Diplomat.
Click here to check the latest prices and availability for the Diplomat Motel Alice Springs.
The Verdict
I had no idea what to expect with regards to Alice Springs. I guess I expected a tiny town in the desert. Whilst it technically is in the desert with amazing red sand everywhere, it is still a very green little town. In fact when we were walking around I was in awe of how green and lush some people's lawns were compared to my brown lawn in Brisbane!
The town of Alice Springs itself, is super tiny. It's permanently a ghost town – there is hardly anyone walking around and even less so at night time.
For me I think you can see Alice Springs the city within 1 to 2 days, but the beauty of Alice Springs is in its surrounding areas. You could easily spend a few weeks exploring this beautiful part of Australia.
Hopefully you found some helpful tips in this post for what to do in Alice Springs.
Are you heading to Darwin? Check out our post on all the best things to do in Darwin and where to stay.
The above post contains affiliate links, which means if you make a booking via these links I will receive a small commission at no extra cost to you. Thanks very much for supporting our website so I can provide this information free of charge.