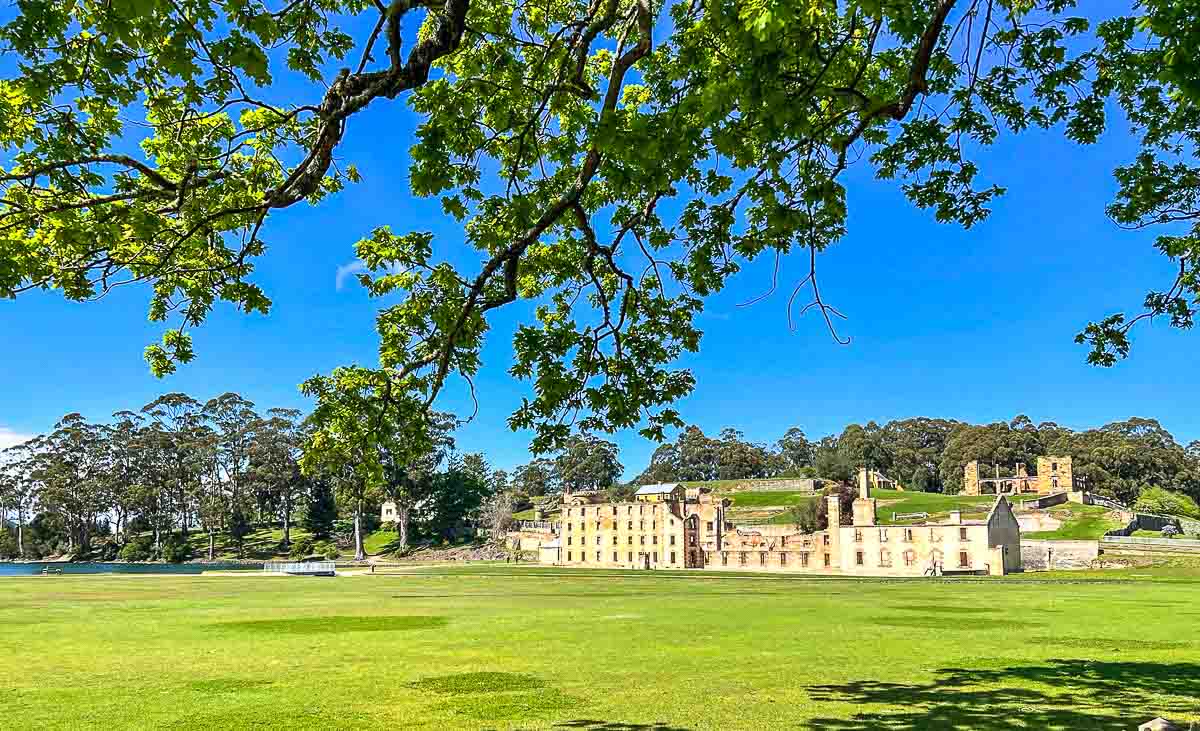 For families with a strong interest in history – particularly Australian history – a visit to Port Arthur Historic Site is a must. As well as its dark past, its location on the Tasman Peninsula is stunning, and there are some fantastic things to do in Port Arthur as well as the surrounding area.
Many families short on time will join one of the Hobart to Port Arthur tours, which includes a visit to the Port Arthur Historic Site (and I highly recommend you do this if that's all you've got time for). However, with so many Tasman Peninsula things to do, I suggest you spend at least a few days exploring the area.
So this guide is for families who want to explore and visit Port Arthur at their leisure. It's for those that want to make the most of the drive down from Hobart and enjoy the sightseeing along the way.
This guide will cover all the Port Arthur things to do as well as other Tasman Peninsula attractions and includes tips on how to get from Hobart to Port Arthur as well suggestions for family friendly places to stay in Port Arthur.
So let's get started and look at all the top things to do around Port Arthur.
Talk to other families about their tips on visiting Port Arthur and join our Facebook Group or be inspired by our Instagram.
This post may contain compensated links. Please refer to my disclaimer here for more information.
About Port Arthur Historic Site
Considered to be an inescapable prison, the Port Arthur Historic Site was one of Australia's first penal colonies. The location was chosen due to its remoteness and being surrounded by cliffs and harsh oceans. The only exit by land was the heavily guarded Dogline, a 30m wide strip of land at Eaglehawk Neck.
Between 1830 and 1877, more than 12,000 convicts served time at Port Arthur. While the prison was home to hardened criminals, even repeat, petty criminals could be sent there.
Port Arthur inmates suffered terribly through torture, long periods of isolation and harsh labour. In fact, that was one of the main priorities of Port Arthur – to capitalise on the free labour available.
On the other hand, those in charge at Port Arthur lived a life of luxury. They had comfortable dwellings and ate and drank until their hearts were content.
During its peak in 1840, more than 2000 people lived in the settlement – including convicts, soldiers and workers. It was a major industrial settlement where various goods and materials were made, including furniture, clothing and even ships.
Convicts stopped being transported to Port Arthur in 1853, so as the convict numbers decreased, the settlement was used to home the elderly and those physically or mentally ill.
The prison was eventually closed in 1877, but unfortunately, this was not the end of the site's dark history. In 1996 a single gunman senselessly murdered 35 people and injured another 19 at the site. It was Australia's worst massacre and another tragic chapter to Port Arthur.
Today Port Arthur is a UNESCO world heritage site and a popular tourist attraction. While many buildings have been long dismantled, sold or destroyed by bushfires, across the site's 40 hectares, more than 30 historic buildings remain.
Further information on what to do and see at the historic Port Arthur site is below.
Best
Things to do in Port Arthur
with Kids
This section provides a comprehensive guide to the Tasman Peninsula and Port Arthur attractions. It includes detailed information to make planning your itinerary easier, such as the location of all the things to do near Port Arthur (map also provided below), opening hours and ticket prices.
All pricing for the Port Arthur activities is in AUD. Check the rate in your local currency here.
Port Arthur Historic Site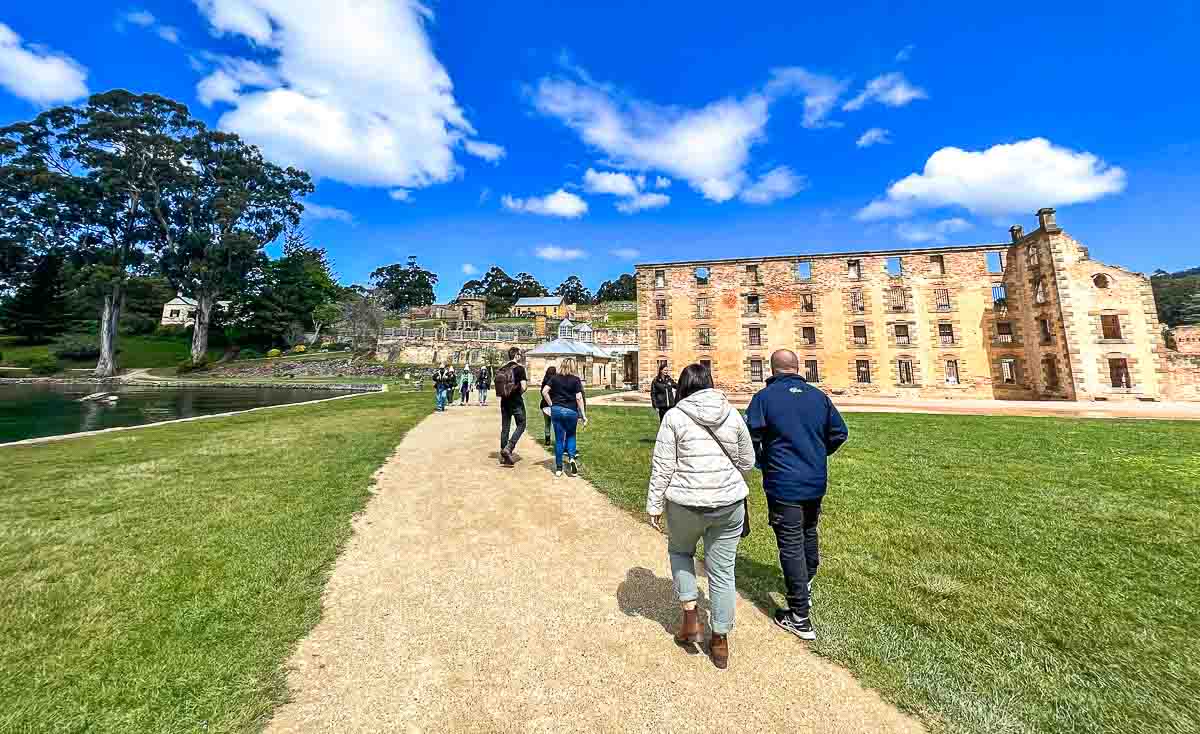 Generally, people come to Port Arthur to visit the Port Arthur Historic Site – a fascinating place. There is so much to see and do here that your Port Arthur tickets are valid for two consecutive days.
Your ticket includes a 40 minute introductory tour, and I'd recommend taking this as soon as you can on arrival, as it will give you a good overview of the site. If you have time to spare between arriving and your tour – check out the gallery downstairs from the visitor centre, as it also provides a brief overview.
You can then explore the 30+ historic buildings and Heritage Gardens at your leisure. Some of the best buildings to explore are the penitentiary, the separate prison, the church and the Governor's house. Some of the houses are furnished with items typical of the era, and there are many storyboards over the property where you can learn more about the prisoners and other people who once lived there.
For families with young children, make sure you ask for the free "Hidden Stories" activity book when you arrive. This is a great way to keep the kids engaged as they complete puzzles and search for answers throughout their visit. There is also plenty of space for the kids to run around freely if they need to let off some steam.
For families with particularly young children, I'd recommend bringing a pram, as there is a lot of walking to do and this may prevent too many complaints from those with little legs.
I'd recommend doing the included 20 minute harbour cruise later in the afternoon when everyone needs a break. The boat is very comfortable and a great place to relax while cruising around the bay, where you'll see the Isle of the Dead – the site's cemetery and Point Puer, where more than 3000 boys were imprisoned in Britain's first purpose-built prison for children.
There is also a range of optional tours you can take. These are an excellent way to extend your knowledge about the site and hear the stories of the people who lived, worked or served time there. However, these are probably better suited to families with older children interested in listening to the guide.
Below is brief information about each of the optional tours.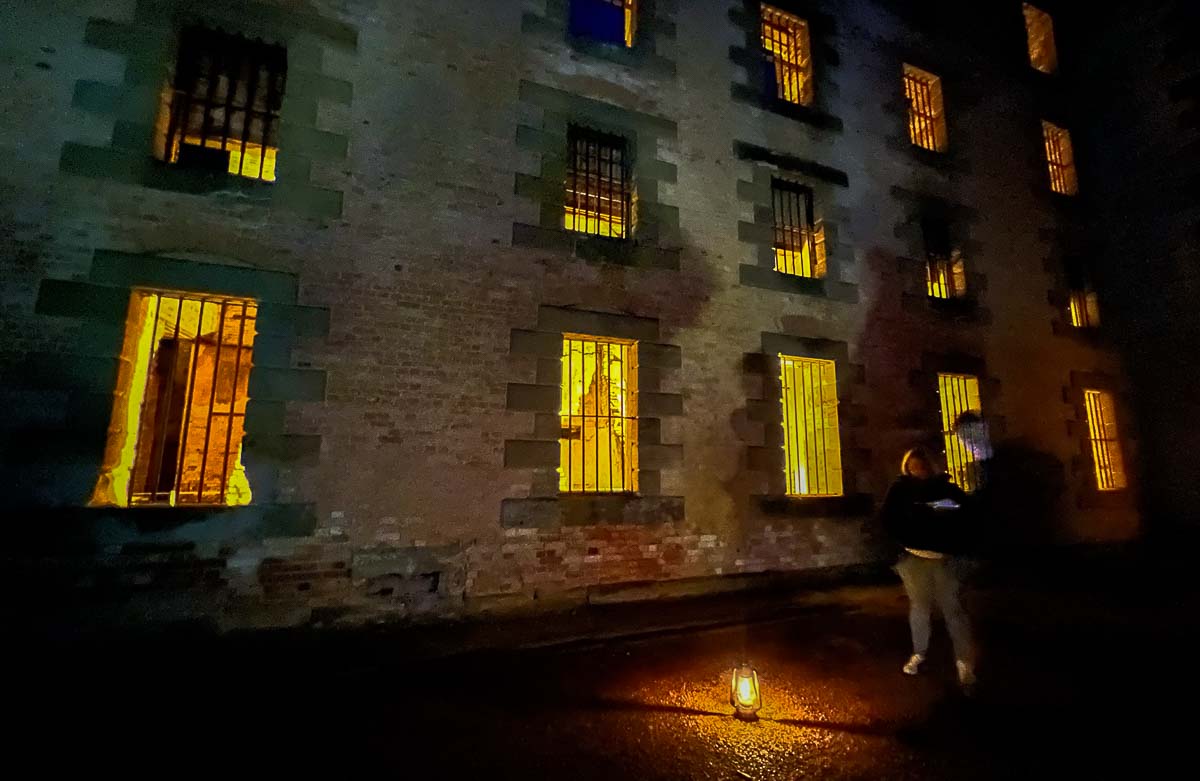 Commandants Tour: This 90 minute tour covers the site's most significant buildings, including the Penitentiary, the Separate Prison, and the Convict Church. Throughout the tour, you'll hear stories about the people who lived, worked, and served their time at Port Arthur. We did this tour during our visit and found it very informative – a great introduction to the site.
Price: $30 per Adult | $15 per child | $90 per family
Tour Time: 12.30 pm daily
Escape from Port Arthur Tour: On this 1 hour tour, your guide will share stories about the brave convicts who attempted to escape.
Price: $20 per Adult | $10 per child | $60 per family
Tour Time: 11 am daily
Isle of the Dead Cemetry Tour: This 1 hour tour takes you to Port Arthur's island cemetery, where you'll hear stories of some of the 1000 plus people that rest here.
Price: $30 per Adult | $15 per child
Tour Time: Departs with the Harbour Cruise at 12.20 pm, 1 pm and 3 pm daily
Port Arthur Ghost Tour: With just a lantern to light the way, your guide will take you through some of the buildings where people regularly report unusual occurrences.
I did this tour and found it rather scary but very interesting. They say that pretty much every night, at least one of the people on tour has an unusual encounter – and someone did on my tour. So I certainly wouldn't recommend it for little ones or anyone prone to nightmares. I had to drive home alone, and let's just say I was a little freaked out!
Price: $35 per Adult | $18 per child
Tour Time: 7 pm, 8 pm, 8.30 pm and 9 pm Wednesday to Saturday
The historic site also has a great cafe perfect for breakfast, lunch or snacks throughout the day. It serves everything from basic sandwiches and lollies to hearty meals.
In terms of how long you should allow for visiting Port Arthur – it really depends on how long you think your kids will remain interested. Even for me – who was thoroughly interested – one full day was more than enough. For families with younger kids, a few hours may well be plenty. Perhaps ensure you have a fully charged iPad with things to keep them interested so that you can enjoy your time.
Location: 6973 Arthur Highway, Port Arthur
Opening Hours: Daily from 9 am to 5 pm
Price: $47 per adult | $22 per child – purchase your tickets online here.
Coal Mines Historic Site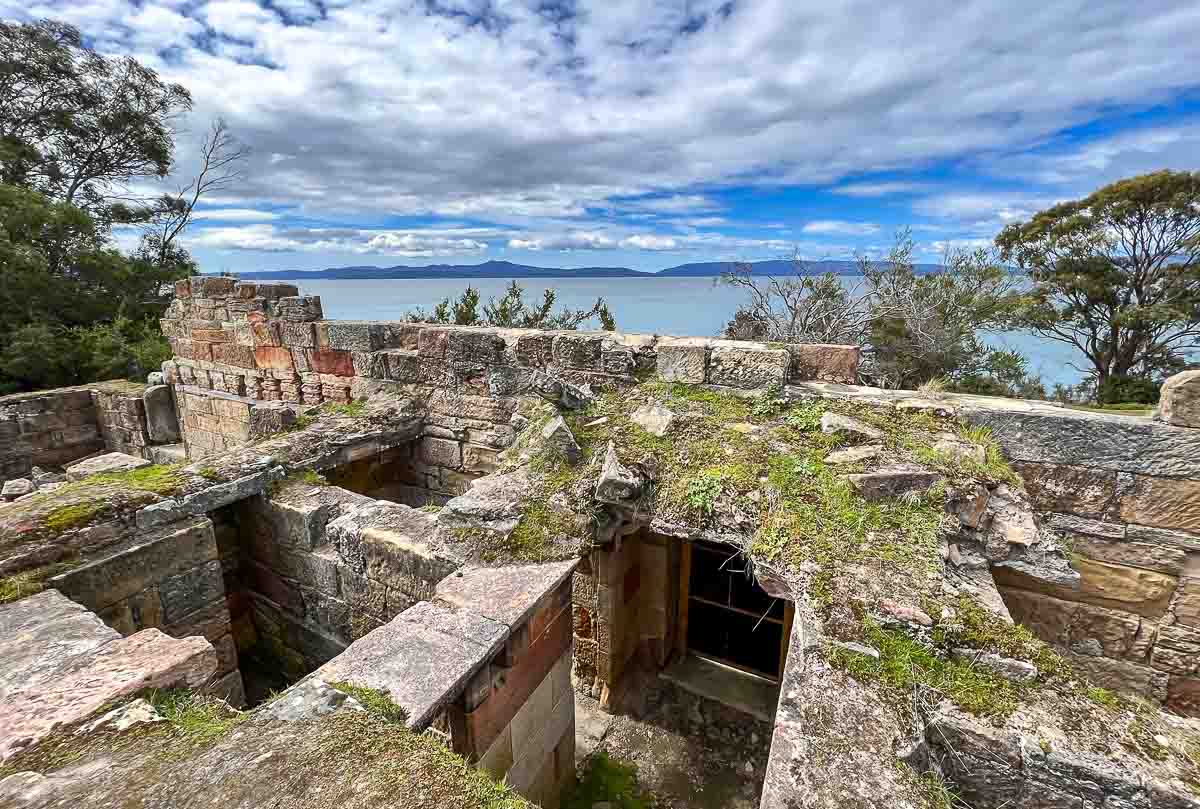 The Coals Mines Historic Site is another historic convict attraction on the Peninsula. This was Tasmania's first coal mine and is now another one of the Port Arthur tourist attractions and a UNESCO World Heritage Site. A visit here is also one of the free things to do in Port Arthur.
The excavation of the mine commenced in 1833, and during its peak in 1845, the barracks housed over 600 prisoners as well as soldiers, civil officers and their wives and children. The site also included punishment cells, a chapel, a bakehouse and a store, as well as quarters for non convicts such as the Commanding Officer, a doctor and soldiers.
The very worst convicts worked in the coal mine until 1848. Then, it ceased operation due to "moral and financial grounds".
Today you can wander the various walking tracks which loop the site, taking you through the ruins of the remaining buildings. You'll see the remains of houses, barracks and solitary confinement cells, which are terribly small and dark. You can walk into the confinement cells – but I was too afraid after being on the ghost tour the night before!
There is quite a lot to see here, and you could spend hours if you wish to explore it all. I only visited the main settlement area, just a short walk from the car park and spent about 45 minutes exploring the area.
While wandering around, keep your eyes peeled for wildlife. During my visit, I saw rabbits and a possum – but many other animals live in the area, including echidnas, wallabies, wombats and more.
To round out your visit to Port Arthur, a visit to the Coal Mines Historic Site is well worth it. It is quite amazing how intact some of the old ruins are.
Location: Coal Mines Road, Saltwater River
Opening Hours: Daily from 6 am to 8 pm
Price: Free
The Dogline and Officers Quarters Museum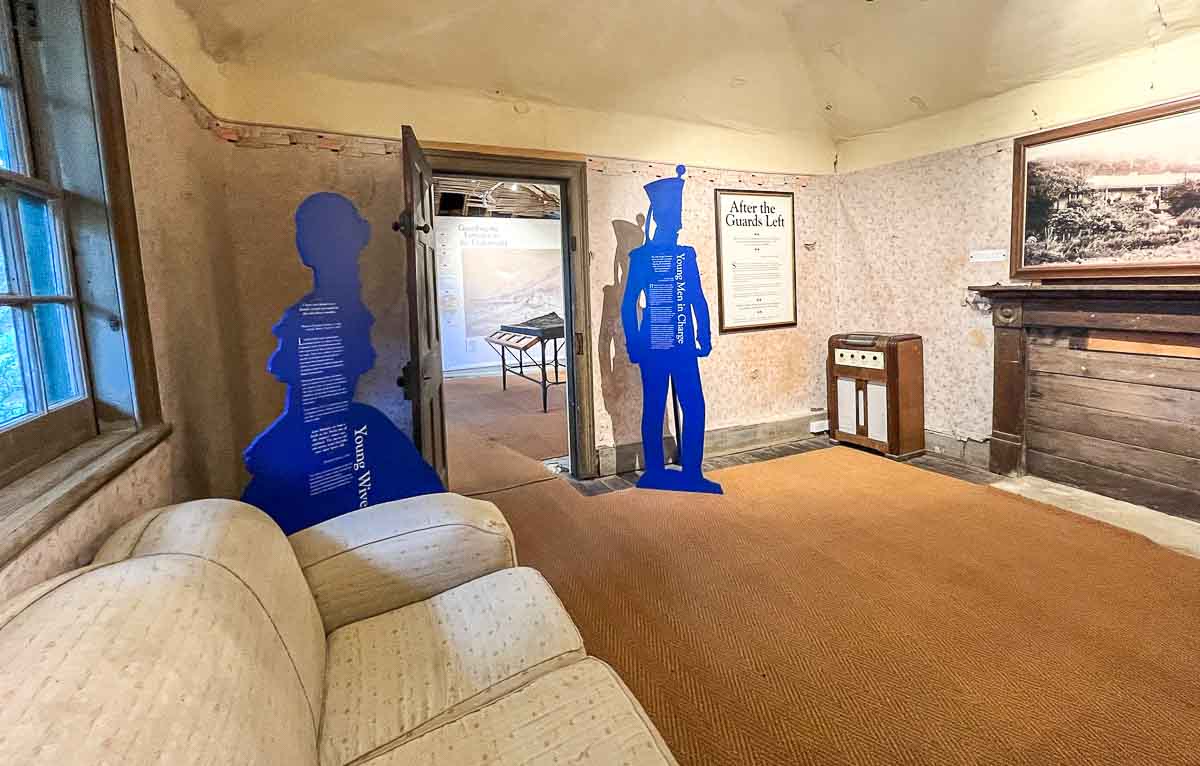 You may recall in the introduction how the only way you could flea Port Arthur by land was via the fiercely guarded narrow 30 metre wide piece of land known as Eaglehawk Neck – or back in the day, the "Dogline".
When the prison was operational, a group of vicious dogs were chained together, which prevented the convicts from escaping. There were even dogs kept in the water on platforms to detect any convicts that may try to escape via the treacherous seas.
Today you can safely stroll around the "Dogline" and see the bronze sculpture commemorating the historical site.
You can also visit the old Officer's Quarters, the only remaining structure at the military station, considered Australia's oldest wooden military building. Convicts originally built the structure to house the officer in charge and sergeant, but it later became the home of only the officer and his family and then eventually a holiday home for military officers.
Today the Officer's Quarters is a museum where you'll find a range of information about the Dogline, the people who worked there, prisoners who attempted to escape and more.
A stop here is one of the many interesting things to do on the way to Port Arthur. It only takes a few minutes to see the Dogline, and the museum is only small – so around 30 minutes or so is enough time to check it out.
Location: Arthur Highway, Eaglehawk Neck
Opening Hours: You can visit the Dogline anytime, but the Officers Quarters Museum is open daily from 9 am to 5 pm
Price: Free
Wildlife Cruise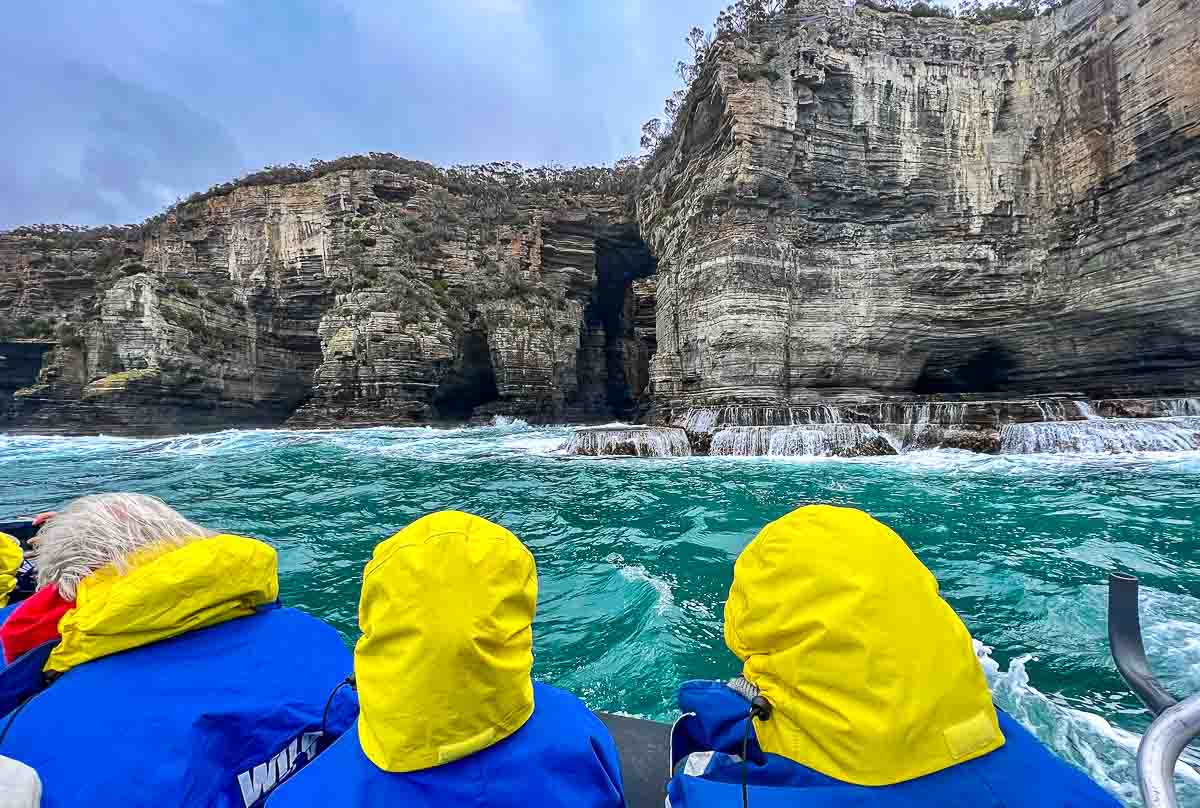 Next to the historic site – a wildlife cruise is a must when considering what to do in Port Arthur with the kids. There are two companies operating cruises in the area – Pennicott Wilderness Journeys (3 hour cruises) and Wild Ocean Tasmania (2 hour cruises).
These cruises take you between Port Arthur and Eaglehawk Neck so you can enjoy the fabulous views of the rugged coastline, including waterfalls and spectacular rock formations, and even go inside sea caves.
Along the way, your guide keeps their eyes peeled for wildlife in the area. With any luck, you'll see dolphins, seals and a wide variety of sea birds – even whales depending on the time of year you visit.
During our visit to the Tasman Peninsula, we did the Wild Ocean Tasmania Cruise, which was absolutely epic! Our guide Damo, also the company owner, is absolutely brilliant. Super friendly and so knowledgeable.
Honestly, the rock formations you see along the cruise are just spectacular. We saw Tasman Arch, Devil's Kitchen, Patersons Arch, Monument Rock, the Candlestick, Waterfall Bay and more. We also saw loads of seals, a couple of dolphins, an eagle, albatross and heaps of other sea birds.
A word of warning though – dress warm! It was mid October when we went, and I still had five layers on top as well as a beanie, scarf and gloves. So do come prepared.
Pennicott Wilderness Journeys Cruises
Location: Departs from 6961 Arthur Highway, Port Arthur
Opening Hours: Daily from 10 am and 2 pm
Price: $155 per adult | $95 per child (3-16) | $490 per family (2A+3C) – click here to book
Wild Ocean Tasmania Cruises
Location: Departs from the Pier next to the Blowhole, Eaglehawk Neck
Opening Hours: Daily from 9 am and 2.30 pm
Price: $355 per adult | $85 per child (3-16) | Children 2 and under are free – click here to book
Tasmanian Devil Unzoo
Another one of the fun things to do Port Arthur offers families is the Tasmania Devil Unzoo. This is the very best place to see the Tasmanian Devil, as they tend to be hard to spot in the wild.
The attraction is called "Unzoo" as it's not a place where animals are in cages on display for visitors. Instead, the animals live in specially created habitats with concealed barriers where visitors can watch from afar. A super fun part of the Unzoo is how you can enter the habitats from below and pop your head up in a bubble to get up super close to the Tasmanian Devils.
In addition to the Tasmanian Devils, Unzoo is home to a range of Australian animals, including kangaroos, wallabies, possums, birds and more. The attraction also has no boundary fences to encourage wild animals to come and go as they please.
At the Unzoo, you can watch wildlife presentations, join guided walks and watch animals being fed. Be sure to check the time of the various activities in advance so you can plan your day accordingly and not miss out on any of your must dos.
Unzoo also has a small coffee shop and playground.
It's recommended to allow at least 2 hours to explore the Tasmanian Devil Unzoo.
Location: 5990 Arthur Highway, Taranna
Opening Hours: Daily from 9 am to 5 pm
Price: $44 per adult | $24 per child (4-16) | $110 per family (2A+4C) – click here to buy your tickets online
Remarkable Cave and Maingon Bay Lookout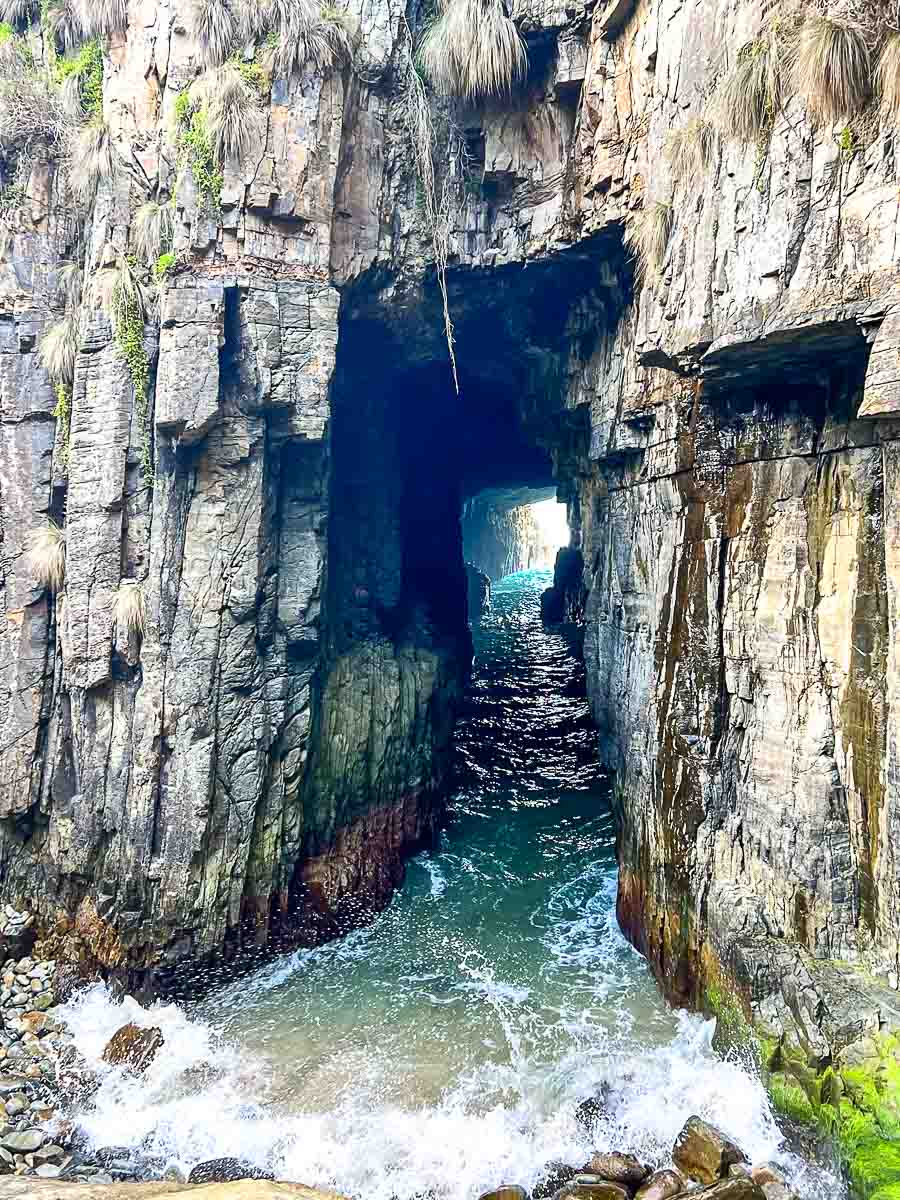 Along the coast, south of the Port Arthur Historic Site, you'll find Remarkable Cave. The sea has created this stunning cave by naturally eroding the rock over thousands of years – you really have to see it to appreciate its beauty. A Port Arthur must see!
Located at the bottom of a cliff face, you do need to walk down (and back up again) quite a few stairs! However, the walk only takes about 2-3 minutes, and if necessary, you can take a few rest stops along the way. I have read other reports about these super long steep stairs – but it's really not an issue.
While you're there, another one of the things to see in Port Arthur is the Maingon Bay Lookout. – its just a short walk from the car park at Remarkable Cave. This is a fabulous spot to view the cliffs along the Tasman Peninsula, including the towering dolerite columns of Cape Raoul in the distance.
Location: Safety Cove Road, Port Arthur
Opening Hours: Always but recommended to see during daylight only.
Price: Free
Hiking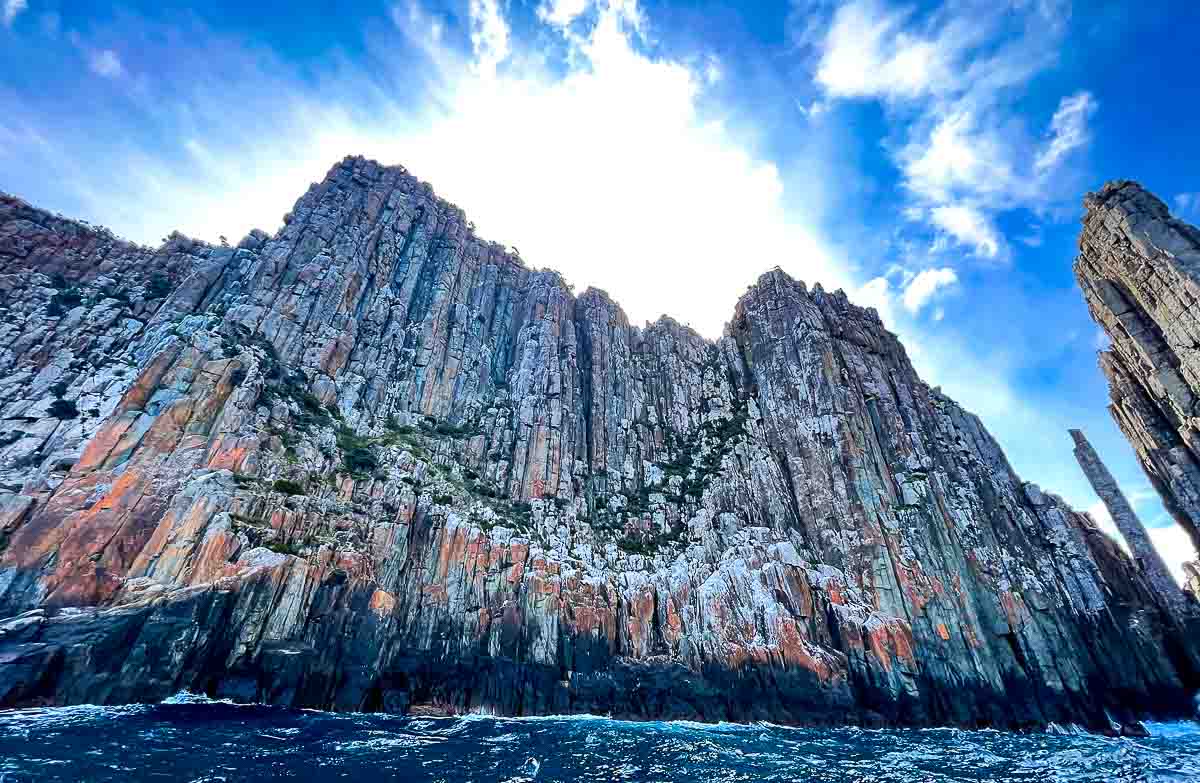 One of the popular things to do at Port Arthur for those with time on their hands is hiking. There are some fantastic hikes and short walks on the Tasman Peninsula – with towering sea cliffs, wild rock formations, fierce oceans, and stunning beaches – the landscape is simply spectacular and an absolute hiker's paradise.
While there are numerous hikes and short walks along the Tasman Peninsula, below we've briefly listed a few family friendly (depending on your kids) hikes for you to consider.
Cape Hauy

: Starts at Fortescue Bay and takes you through heathland and past spectacular sea cliffs with views of the Totem Pole, Cape Pillar and Maria Island. 4 hours return / 9.3 km.

Cape Raoul:

Starts from Stormlea Road, where you'll walk along towering cliffs with views of other capes and towards Hobart and Bruny Island. 5 hours return / 14km.

Bivouac Bay

: Starts at Fortescue Bay and passes through a penguin rookery. 4 hours return / 10 km.

Devils Kitchen to Waterfall Bay

: Starts from the Devils Kitchen car park – this is an easy walk through the coastal forest to a waterfall with towering cliff views along the way. 1.5 hours return / 3.4 km.
Any tracks in any of the Tasmanian national parks require a park pass. Daily passes are $41.20 per vehicle or a holiday pass (lasting for two months) is $82.40 per vehicle. You can purchase your passes online here.
Lavender Farm
If you're visiting the Tasman Peninsula during November, December or January – you're in for a real treat as the lavender is in full bloom at the Lavender Farm. Across 7 hectares of land are over 16,000 lavender plants – it's a purple paradise!
The kids will enjoy running through the various alleyways of purple lavender as well as the lavender infused ice cream at the cafe on site. The cafe is the perfect spot to break up your day of sightseeing. Here you can enjoy lavender graced drinks, cakes and more.
There is also a gift shop with a range of lavender themed products for sale.
Location: 6555 Arthur Highway, Port Arthur
Opening Hours: Daily from 10 am to 4 pm
Price: Free
Tessellated Pavement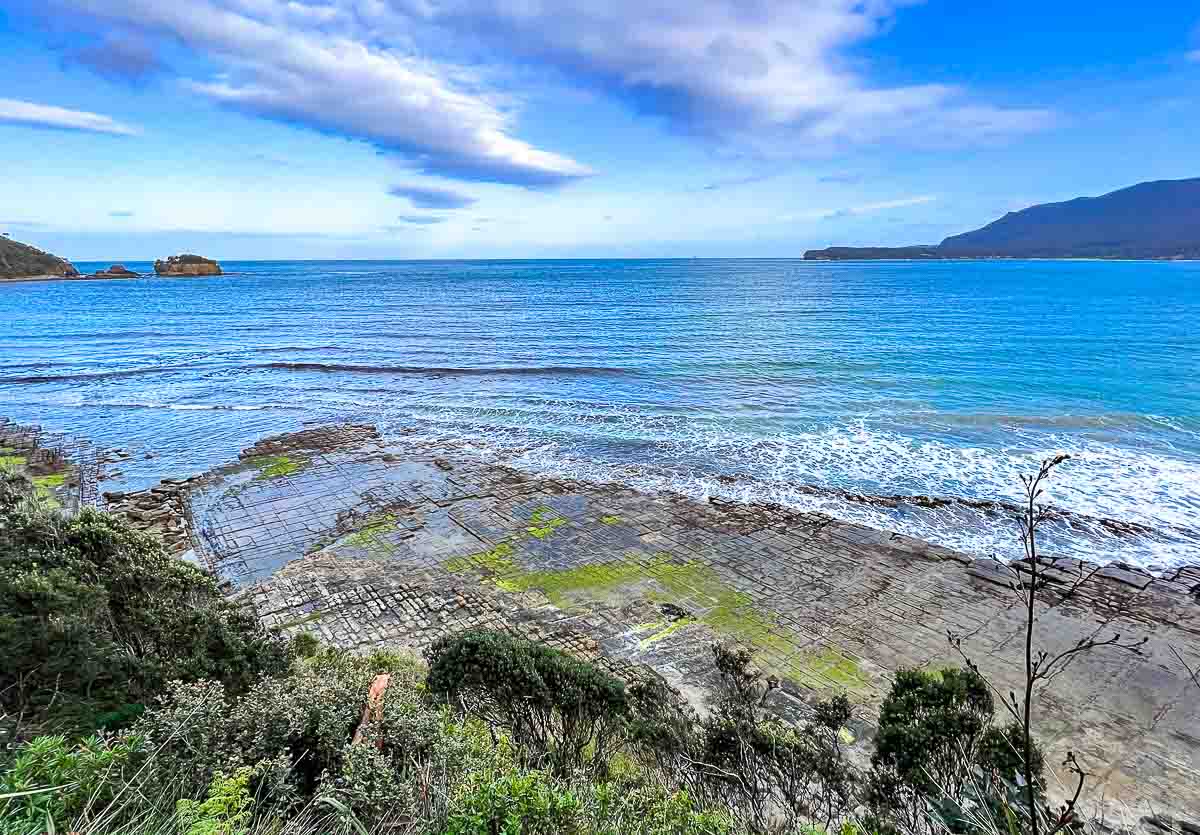 Along the scenic Pirate's Bay Drive, you'll come across Tessellated Pavement – one of the popular Tasman Peninsula tourist attractions. It's just a short 5 minute walk down to the beach, where you can get a good view of the unique rock shelf.
There are signs here to explain how the rock formation was formed, but in a nutshell, a combination of the earth's movement and constant erosion by the sea created the stunning mosaic life rock surface.
If you can time it right – the best time to view Tessellated Pavement is during low tide. This way, you can take the kids to explore all the little nooks and crannies between the rocks and discover the crabs and other wildlife that live there.
Location: 380 Pirates Bay Drive, Eaglehawk Neck
Opening Hours: Always
Price: Free
Pirates Bay / Tasman Bay National Lookout
Pirates Bay Lookout provides a fabulous view across the bay as well as across Eaglehawk Neck. You'll see Cape Raoul, the Candlestick, and perhaps even spot surfers below.
Not only do you get a great view – but there is also a good little coffee van here – Cubed Espresso – where you can get your caffeine fix on your way down to Port Arthur.
When you leave for Port Arthur, consider taking Pirates Bay Drive – a slightly longer but more scenic route rather than the direct option.
Location: 135 Pirates Bay Drive, Eaglehawk Neck
Opening Hours: Always
Price: Free
Tasman Blowhole and Fossil Bay Lookout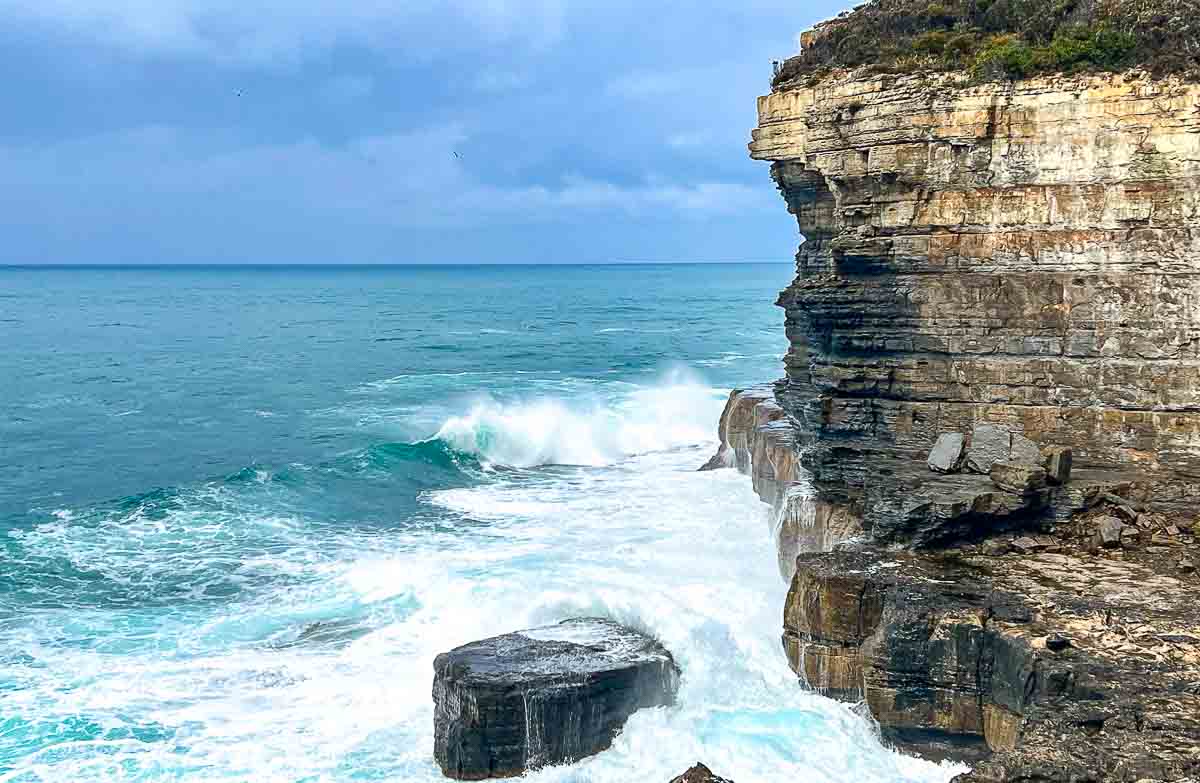 While called a blowhole – don't expect to see water spewing out the top, although it may be possible when the ocean is particularly fierce. But on a normal day, this is simply another beautiful rock formation created by the very talented mother nature!
Tasman Blowhole is just a few minutes walk from the car park – but I recommend you walk around a bit further to the Fossil Bay Lookout, where you'll enjoy some spectacular sites.
And if the kids are hungry – check out the Doo-lishus food truck – they sell the best fish and chips (I can personally vouch for this!) as well as freshly made ice cream.
Location: 336 Blowhole Road, Eaglehawk Neck
Opening Hours: Always
Price: Free
Tasman Arch and Devil's Kitchen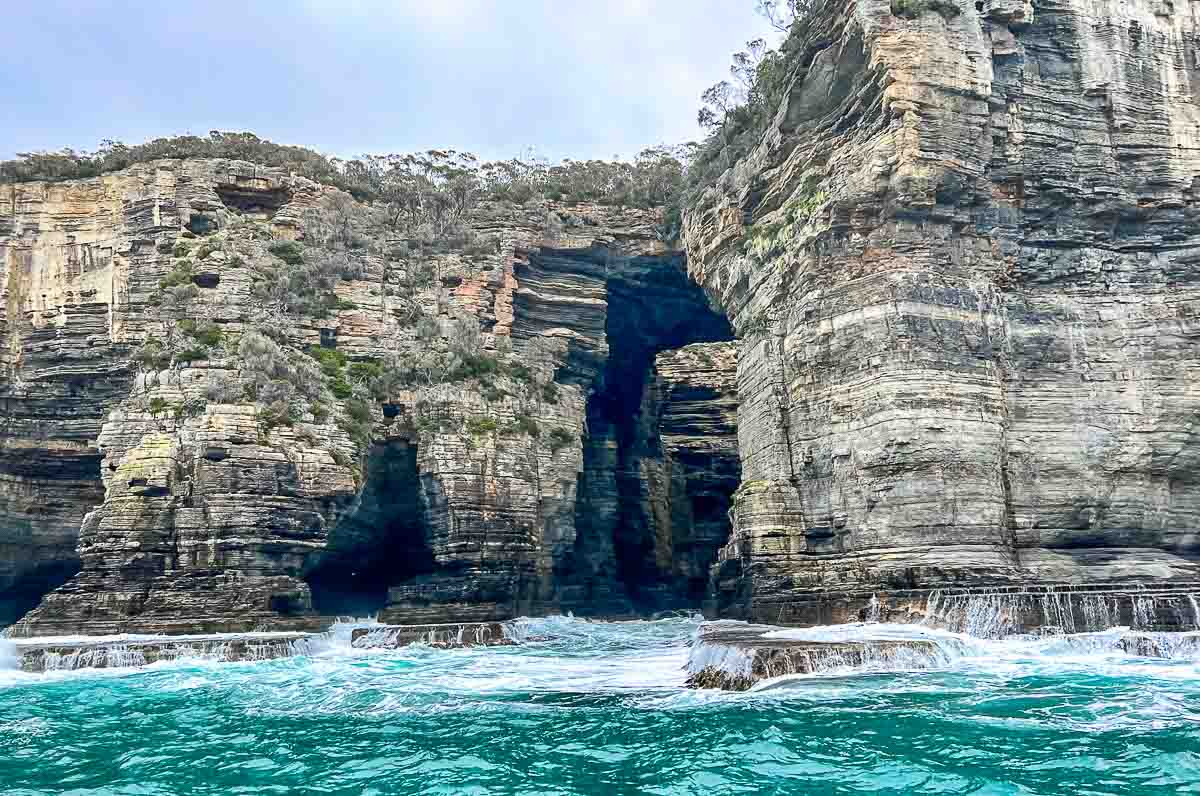 A short drive south of the Tasman Blowhole, you'll find another one of the popular attractions in Tasman Peninsula – the Tasman Arch. This natural bridge has been built into the seaside cliffs by mother nature over thousands and thousands of years.
You can actually walk across the arch, but the best views of the arch are from the car park or the ocean on a cruise. And the good news is – no walking is required to see the Tasman Arch – you can easily view it right from the car park.
While you're at Tasman Arch – another one of the things to do on the Tasman Peninsula is to see the Devil's Kitchen. It's just a short 10 minute walk from Tasman Arch and is yet another amazing rock formation in the area.
Devil's Kitchen is a deep trench that has been cut into the cliffs by the Tasman Sea. This is what it's thought the Tasman Arch will look like once it eventually collapses into the sea after much more erosion.
If you're not keen on the 10 minute walk – Devil's Kitchen has its own car park too.
Location: 16/20 Tasman Arch Road, Eaglehawk Neck
Opening Hours: Always
Price: Free
McHenry Distillery
For the grown ups that enjoy their whiskey, stop by McHenry Distillery, Australia's southernmost whiskey distillery. They also make a range of gin and vodka; in fact, they offer workshops where you can make your own gin if you're keen.
Location: 229 Radnor Road, Port Arthur
Opening Hours: Daily 11 am to 4 pm
Price: Free to drop by
Tasman Chocolate Foundry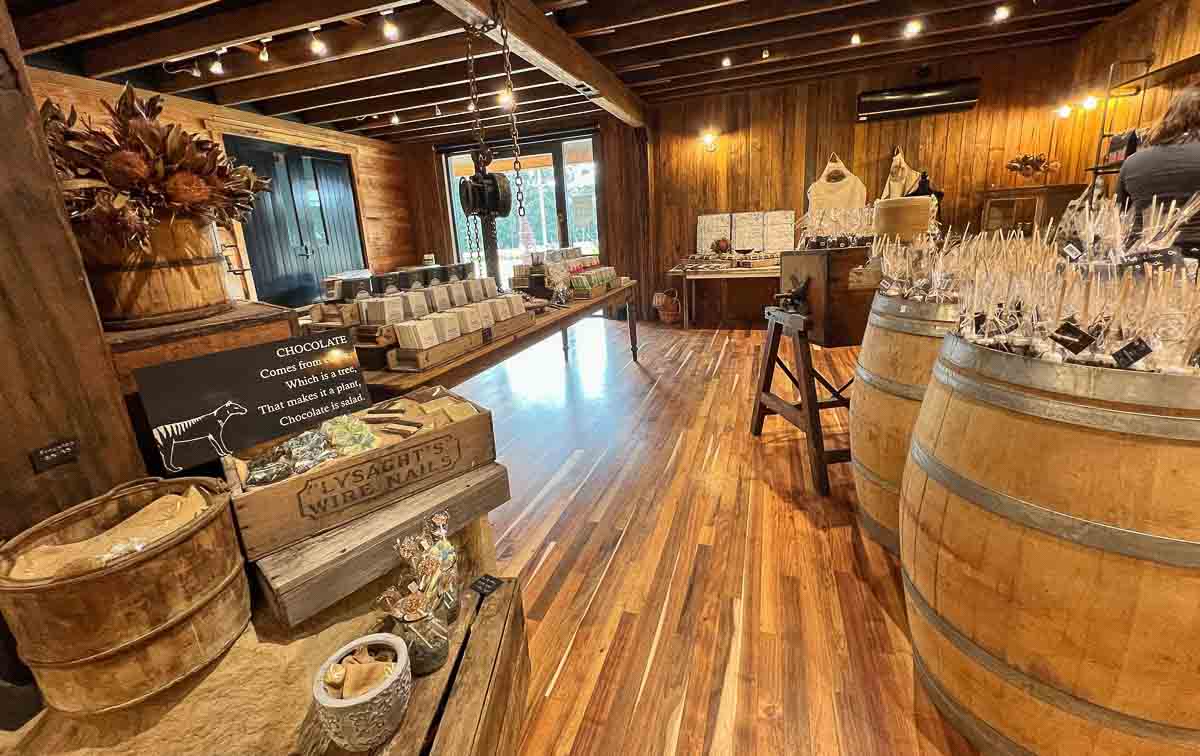 The perfect stop for children who've been well behaved is the Tasman Chocolate Foundry. Here you'll find a great range of handmade chocolate products using the finest Belgian chocolate.
Not only will you find melt in your mouth chocolate – but they also sell delicious ice cream.
Location: 3 South Street, Taranna
Opening Hours: Daily 10 am to 4 pm
Price: Free to drop by
Best
Places to Stay in Port Arthur
with Kids
Below we've covered our top recommendations for where to stay in Port Arthur with kids. Each of these places to stay near Port Arthur are in a good location for sightseeing and offers great value for money.
The NRMA Port Arthur Holiday Park is an excellent spot for families visiting the area. Situated right across from the stunning Stewarts Bay State Reserve, from here it's just a 5 minute drive from Port Arthur Historic Site.
The holiday park offers camping and cabins. The cabins are a great choice for families on holidays, as they are fully self contained. Cabins accommodate up to 4 people with a double bed and bunk beds.
While the cabins are nothing flash, they do come with a small kitchenette with a kettle, toaster, and microwave so that you can prepare basic meals for the family.
There are gorgeous waterfront cabins for larger families that can sleep up to 6 people. These cabins have a fully self contained kitchen and spacious balcony with great views across the bay.
For the kids, the park also features a playground, go karts for hire and a BMX track. While parents will appreciate having the laundry, on site kiosk selling basic grocery items, pizza oven and camp kitchen.
Click here for more information and to check the current price.
If you don't have your own transport, Port Arthur Villas could be the place to stay as it's just a 5 minute walk from the Port Arthur Historic Site. This is the ideal place to stay if you took the bus in from town yet want to stay overnight.
The accommodation on offer here is spacious for families, with the villas featuring two bedrooms and able to accommodate up to 8 people. The villas are fully self contained, too with a fully equipped kitchen, living area and dining area.
The property also has beautiful gardens for the kids to run around as well as a playground. Other facilities include a laundry and BBQ area.
Click here for more information and to check the current price.
Looking over the Port Arthur Historic Site, the Port Arthur Motor Inn is another great option for those without a vehicle. Not only can you easily walk to the site from here, but you'll also enjoy fabulous views while at your accommodation.
Family rooms at the Port Arthur Motor Inn can accommodate up to 5 people, coming with a double bed and three single beds. The beds are split too – so the kids can sleep in one room, while the parents can sleep in the other. Rooms feature tea and coffee making facilities.
For meals, you'll be pleased to know there is a restaurant on site, as well as a bar and lounge area. Meals are well priced and even feature a kid's menu with all meals $10.
Click here for more information and to check the current price.
For families wanting their own slice of paradise while staying in Port Arthur, look no further than Ruby's Cottage. This gorgeous little cottage is located on an operational farm, a short 10 minute drive from the Port Arthur Historic Site.
The cottage contained two bedrooms, each featuring a double bed – so it can sleep families of up to 4. It has a small kitchenette with a microwave, air fryer, electric fry pan, kettle and toaster. Even better, it comes with all the supplies you need to feed the family a decent breakfast.
The location of the cottage is just stunning. You can enjoy views across the water, and the kids will no doubt enjoy watching the farm animals. You'll also find toys and puzzles inside the cottage to help keep the kids entertained.
This is where we stayed while in Port Arthur, and it really is a great place for families to stay. The kids will just love watching all the cute farm animals when they come to say hello.
Click here for more information and to check the current price.
How to get from Hobart to Port Arthur?
If you've got the time and budget, the best Hobart to Port Arthur transport is to hire a car. The Hobart to Port Arthur drive takes about 90 minutes, and there are plenty of great stops you can make along the way.
If you're not keen on the drive to Port Arthur from Hobart, and you have the time to spend at least two days exploring, then the next best option is to take the Hobart to Port Arthur bus. These buses depart daily at 7.45 am, arriving in Port Arthur at 9.45 am. They then depart Port Arthur at 4.45 pm, arriving in Hobart at 6.45 pm.
A same day return ticket is $60 per person or $35 for a one way bus ticket.
The best option for those who are super short on time is to book a Port Arthur tour. There are so many Port Arthur day trips to choose from (see our best Port Arthur tours guide here) – some simply take you to the Historic Site, while others also include wildlife cruises or stop at other attractions along the way.
Just remember there is so much to see at the Historic Site that you really need a full day to see it all – so a tour with additional stops is going to eat into your time to explore the Historic Site itself.
Plus, tours from Hobart to Port Arthur are not cheap, particularly if you have a large family. So do consider this cost against the cost of hiring a car for the day.
Click here for our more detailed guide on getting to Port Arthur from Hobart.
What to Bring to Port Arthur?
Along the Tasman Peninsula be prepared for high winds, rain and cold weather. For this reason, you should layer up and bring a rain jacket. Comfortable shoes are also a must as you will be doing a lot of walking while sightseeing.
For warmer weather, visit in Summer (December to February); however, expect larger crowds during this time. Expect fewer crowds from June to September – also these are the coldest months of the year.
We visited mid October, and it was still quite cold. So ensure you layer up – one minute it was warm enough for wearing a t shirt, and the next minute, it was cold and needing a thick jacket.
____________________________________________________________
Hopefully you've found this guide on things to do in Port Arthur helpful. We have other guides to help plan your trip to Port Arthur, including getting to Port Arthur from Hobart and the best Port Arthur day trips (coming soon).