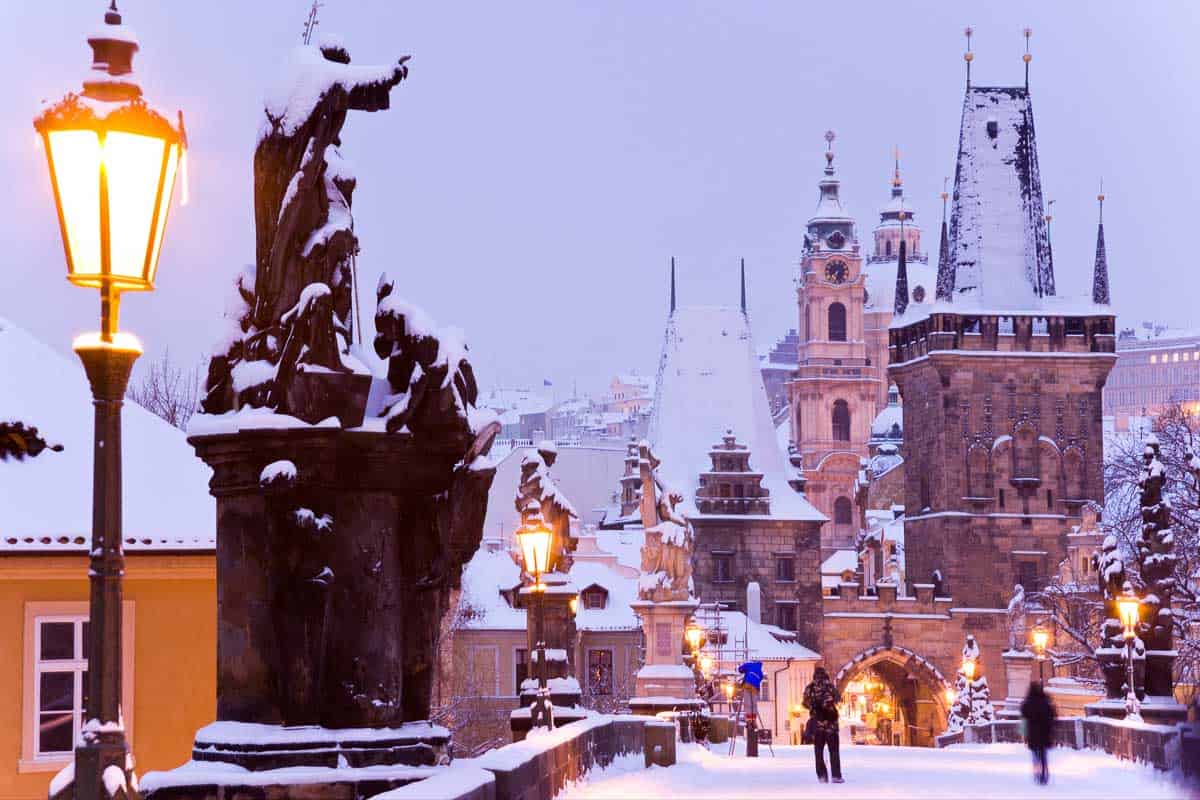 During our recent month trip in Europe we spent 2 days in Prague. Whilst it wasn't very long, it certainly gave us enough time to check out some of the best things to do in Prague with kids.
If you're going to visit Prague with kids and planning your 2-day Prague itinerary, then you're going to find this post helpful. In this post I detail all the best things to do in Prague with children of varying ages, from tiny toddlers to teenagers. We look at some of the best Prague attractions and how you might like to spend your time if you're planning 2 days in Prague as well as some suggestions if you have a little more time.
As well as looking at what to do in Prague with kids, this post covers off on how to get around in Prague and some tips on where to stay in Prague for families.
Click here if you want to see our exact Prague 2 day itinerary.
The Best Things to do in Prague with Kids
Throughout this section I have provided a comprehensive guide to some of the top things to do in Prague with kids. I tried to provide as much information as possible to make your planning easier, including locations, opening hours and ticket prices.
You will note that for many of the Prague tourist attractions I often recommend you purchase your tickets in advance from Klook or Get Your Guide. Yes, I will receive a small commission if you do purchase from these sites – but as you will see in most cases you will save yourself a bit of cash in doing so. Other times the price may be the same, but you will save time by not having to line up at the attraction for tickets. I use these sites myself to book tickets for our travels around the world.
Please note that all prices mentioned were correct at the time of writing and may fluctuate depending upon changes to currency conversion and rate increases.
To check the rate in your local currency, click here.
The Old Town Hall Tower and the Astronomical Clock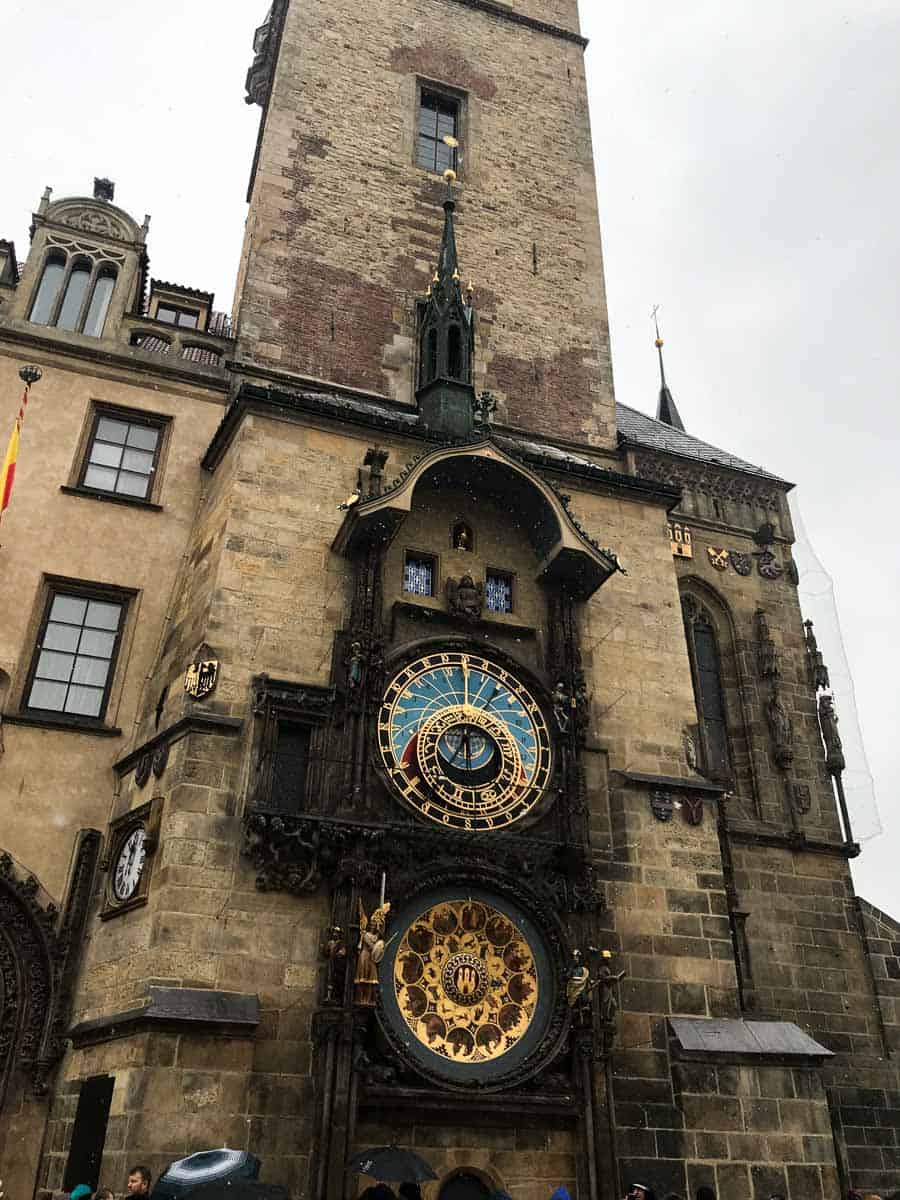 Located in the Old Town Square, one of the most popular places to visit in Prague is the Old Town Hall Tower with the Astronomical Clock. Built in 1338, the oldest part of the complex is the Gothic tower and unique Astronomical Clock. If you're doing a Prague walking tour – many of them start from here.
A must do in Prague is to go and see the 12 apostles appear in the two windows of the clock. This happens every hour between 9 am to 11 pm. Don't worry if you forget as you will no doubt be reminded when you past the clock and see crowds of tourists looking up! But to be honest – I didn't find it that exciting, but nevertheless one of those Prague activities that you should do before leaving.
After you have seen the 12 apostles do their thing, I highly recommend that your Prague to do list includes going inside the Old Town Hall and exploring the corridors of the town hall, in particular it's underground. Used for various purposes over the centuries, like most town halls it was once upon a time a prison. What is super interesting about these underground rooms, is that they were once at ground level, however due to the rising levels of the river, over time the local people built the city up, leaving behind an intriguing underground world.
Myla loved exploring the underground rooms of the Old Town Hall – so well worth a visit if you're looking for things to do in Prague for families.
Location: Staroměstskénám. 1/3, 110 00 StaréMěsto.
Opening Hours: Daily with exact hours differing depending upon the season.
Price: 250 CZK per adult and 150 CZK per child. Family passes are available for 500 CZK.
During our visit we took a guided tour which was well worth it as we learnt so much about the Old Town Hall, as well as getting to see the Astronomical Clock from the inside. Tours in English are run daily and depart at 10am, 12pm, 2 pm and 4pm. You can arrange tours directly with the Prague City Tourism located within the Old Town Hall – or alternatively click here to book online in advance.
The Church of Our Lady Before Tyn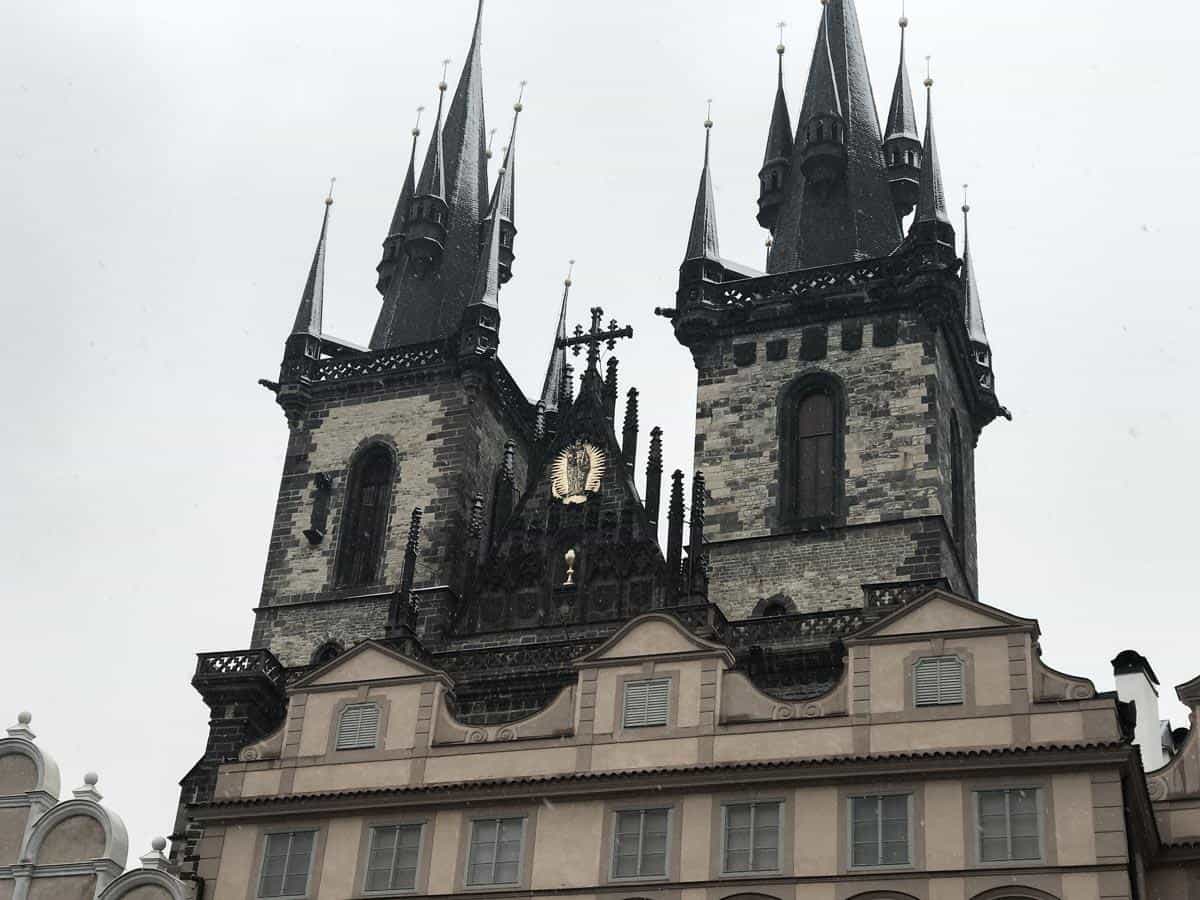 Not too far from the Old Town Hall you will find the stunning Church of Our Lady Before Tyn. Built in the mid-14th century to the early 16th century, this Gothic style church is one of the most impressive buildings to see in Prague. Though highly Gothic in appearance the inside is reworked in baroque style and the cathedral serves as a gallery in Gothic, renaissance and early baroque works.
I'm not usually one to get all excited about architecture, but I just loved the old Gothic style of buildings in Prague and this church is one of the many beautiful places in Prague to go visit. Mind you can admire its beauty from almost anywhere within the Old Town Square.
It can be a little tricky to find the entry, but just know its behind all those shop fronts you see at the bottom of the church.
Location: Staroměstské náměstí 604
Opening Hours: March to December and closed on Mondays. Opening times vary so please check them here.
Price: Free but a voluntary 25 CZK
Heading to Berlin? Click here to read our full guide on visiting Berlin with Kids.
Go Shopping on Celetna Street
Whilst I'm not a huge one for shopping whilst one holidays, if you are then you'll want to head down to Celenta Street. This pedestrian street follows a 14th century trading route as well as a royal route for when official processions took place. Even if you're not into shopping, you'll love strolling down the street admiring the many historical and architecturally important buildings. Visit the Mint palace, the Knights Templar, the Estates Theatre, the House of the Black Madonna and so much more.
Just a word of warning – there is a massive chocolate shop along here that quickly caught Myla's eye – I can't recall the name of it now – but we struggled to get her out of there!
Visit the Jewish Quarter
One of the most interesting Prague points of interest, is the Jewish Quarter. The Jewish quarter tells of a dark history in Prague where during the 13th Century Jewish people were ordered to vacate their home and settle in one area. Over time Jews were unable to live anywhere else within Prague and with others coming from different countries the area became very crowded. Many of the historical buildings even survived the Nazi occupation and today they form the best-preserved complex of historical Jewish monuments in Europe.
Within the Jewish Quarter there a various place to visit including the Maisel Synagogue, Pinkas Synagogue, Old Jewish Cemetery, Klausen Synagogue, Ceremonial Hall, Spanish Synagogue and the Robert Guttmann Gallery.
Now you might not think this is a place to take young children, but we took Myla and just explained what we were seeing in an age appropriate way. I don't think it's necessary to provide too much detail, just whatever you think your own child can handle.
The various Prague sites are open from 9 am daily (except closed on Saturday) with various closing times depending on the time of the year. Tickets 350 CZK for adults, 250 CZK for children 6-15 years of age, and children under 6 years are free. Tickets are valid for 7 days and provide entry to all of the different sites.
Given we only had a 2 day trip to Prague, we didn't have much time to explore the Jewish Quarter so only got to visit the Pinkas Synagogue and the Old Jewish Cemetery.
Here is a brief overview of each of the sites:
Jewish Cemetery
Located at Široká 3, the Jewish Cemetery was founded in the first half of the 15th century and with gravestones recorded in a time line of burials until 1787. This Cemetery is one of the largest of its kind in Europe and is a very important historical monument in Prague. Here renowned personalities of the Jewish community were buried here.
An interesting fact about the Jewish Cemetery is that due to space being scare, bodies were layered on top of each other, with some graves said to be 10 people deep.
Pinkas Synagogue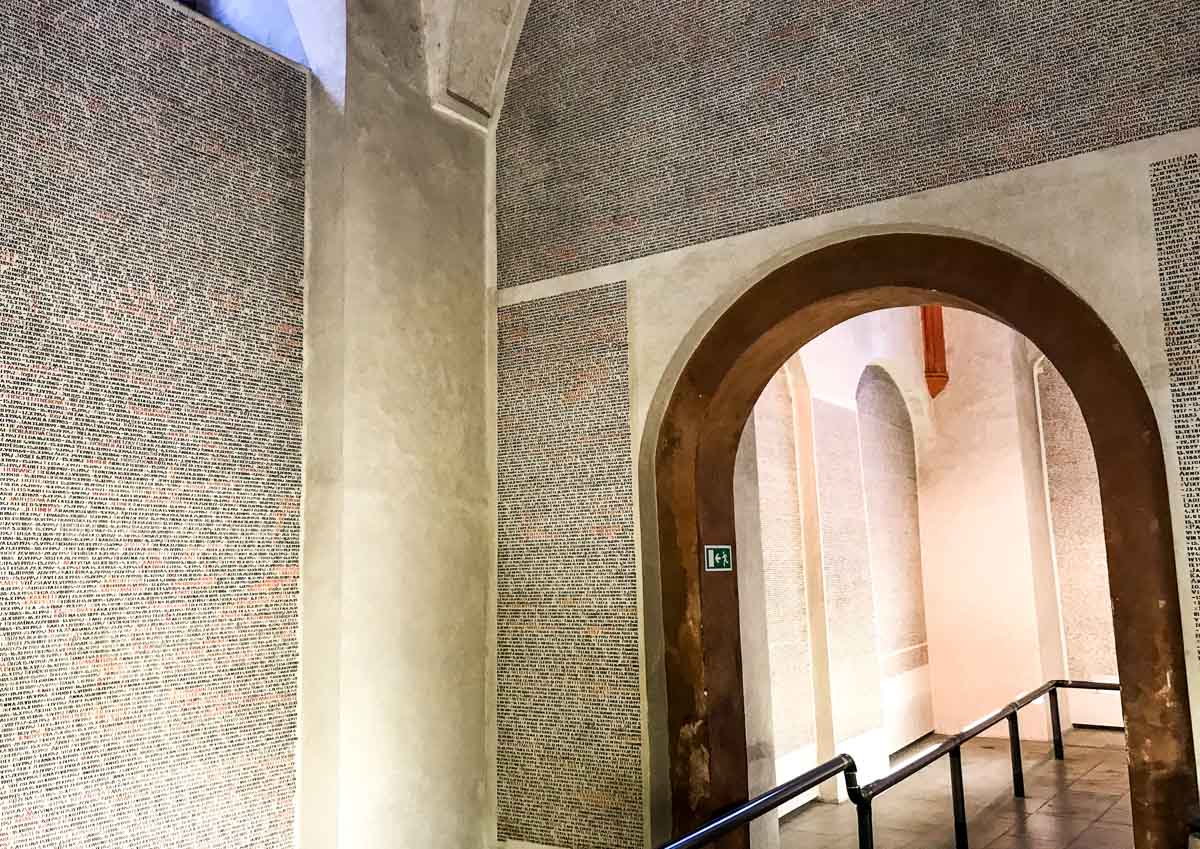 Located on Široká 3 this Synagogue was built in 1535 by the Horowitz family and is the second oldest preserved synagogue in Prague.
This synagogue is now a memorial to Czech and Moravian Jews who were victims of the Nazi Persecution. There is now 80,000 names hand written on the walls to remember the Jews and Czech who perished under Nazi ruling.
Also on display at the synagogue is a collection of drawings and paintings done by the children who lived in various camps during the second world war. It's extremely sad seeing these drawings and having a small insight into what these children's lives were like.
I personally found both the names and children's pictures particularly confronting and a sickening reminder of the atrocities which occurred during the holocaust.
Maisel Synagogue
At this synagogue you'll find touch screens which you can use to look through old Hebrew manuscripts, view historical maps of Jewish settlements and search the museum's database for information about prominent Jewish figures.
Klausen Synagogue
The Klausen Synagogue is the biggest in the Prague Jewish Town. Among the various exhibits at this synagogue, here you will find various exhibits about daily Jewish life including typical Jewish household and kitchen items as well as information about the customs associated with birth, circumcision, bar mitzvah, marriage and divorce.
Ceremonial Hall
This building was once used for the ritual washing of the dead and was home to the burial society's club, an important religious and social institution of the Jewish people. Now you will find on display hre information about the history of the Prague Burial Society, including information about the customs and ceremonies associated with death and burial.
Spanish Synagogue
Named the Spanish Synagogue due to its Moorish interior design, this synagogue is the newest synagogue in the Prague Jewish Town.
On display at this synagogue is information about the history of the Jews from the 1780s to the period after the Second World War. It's focus is on the gradual advancement toward equality and emancipation for Jews in Austria-Hungary as well as highlighting the careers of some of the most important Jewish entrepreneurs, scientists, writers, musicians and artists.
Also on display is a range of valuable silver artefacts including shields, pointers, finials, crowns, charity boxes, pitcher and basin sets for hand washing, Shabbat spice boxes, Kiddush cups, Hanukkah and Shabbat candles, and charity collection trays.
Robert Guttmann Gallery
This is a modern art gallery which showcases various temporary exhibits that focus on Jewish life.
Jewish Quarter Walking Tours
If we had more time, I would have loved to have done a guided tour of the Jewish Quarters to have learnt more about the buildings and what life was like for the Jewish people. There are various tours available such as:
For a more in depth tour, join this 2.5 hour tour which take you to the Old Jewish Cemetery and the Spanish Synagogue whilst your guide will share with you stories of the Jewish people. The cost is (including entrance fees) is 1025 CZK for adults and 762 CZK for children aged 4-15 and 631 CZK for children under 3. Click here for more information or to purchase your tickets online
See the Dancing House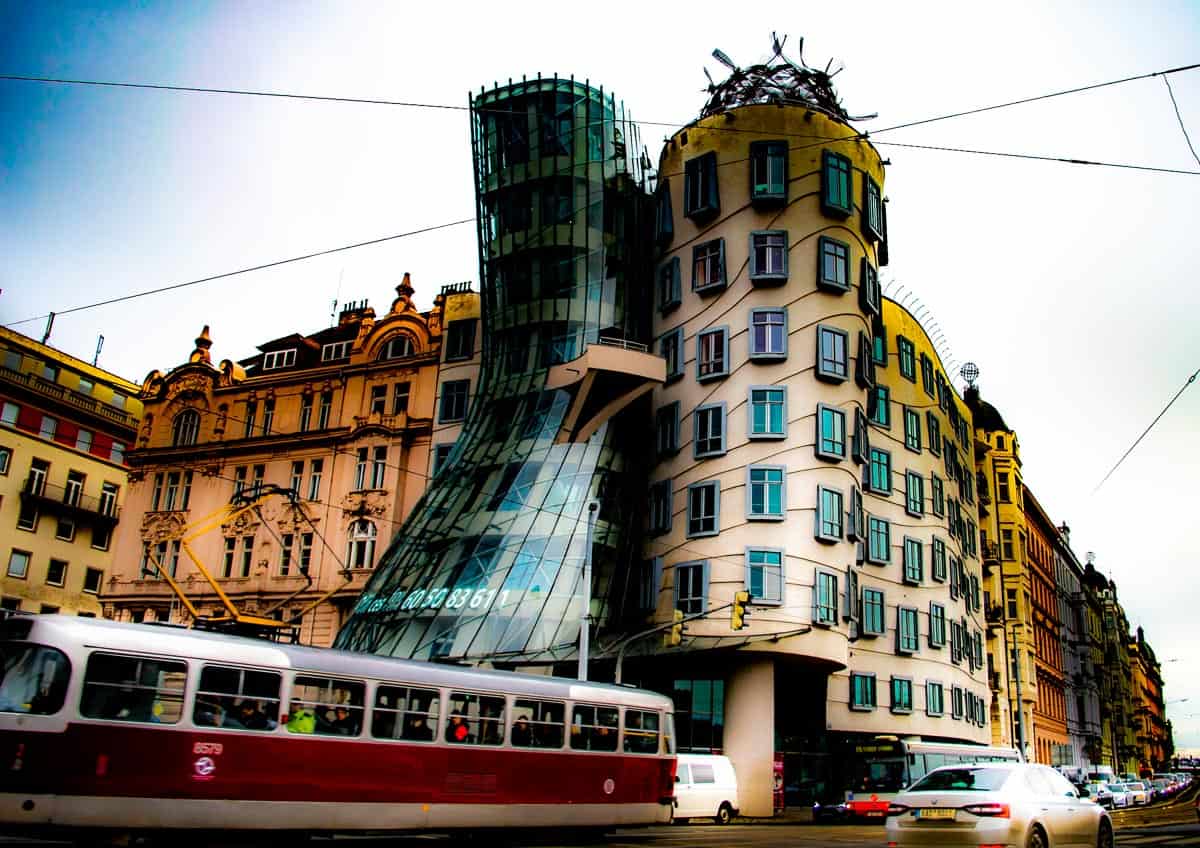 Another Prague must see during your 2 days in Prague itinerary is the Dancing House. This building depicts a man and a woman dancing together and was controversial when it was built in the mid 90's but has since gone onto win various awards and attention due of its unique shape.
Inside it is mainly offices topped with a French restaurant that takes in beautiful views of Prague. The building is not open to the public but you can visit the lobby and the restaurant "La Perle de Prague" on the 7th floor.
No need to spend more than 5 or 10 minutes here.
If you love the Dancing House, there are a few funky statues in Prague you might like to check out too.
Location: Rasinovo Nabrezi and Resslova street, alongside the Vltava River.
Opening Hours: 24 hours – please note the building is not open to the public.
Price: Free
Heading to Vienna? Click here to read our guide on visiting Vienna with kids.
Museum of Communism in the Czech Republic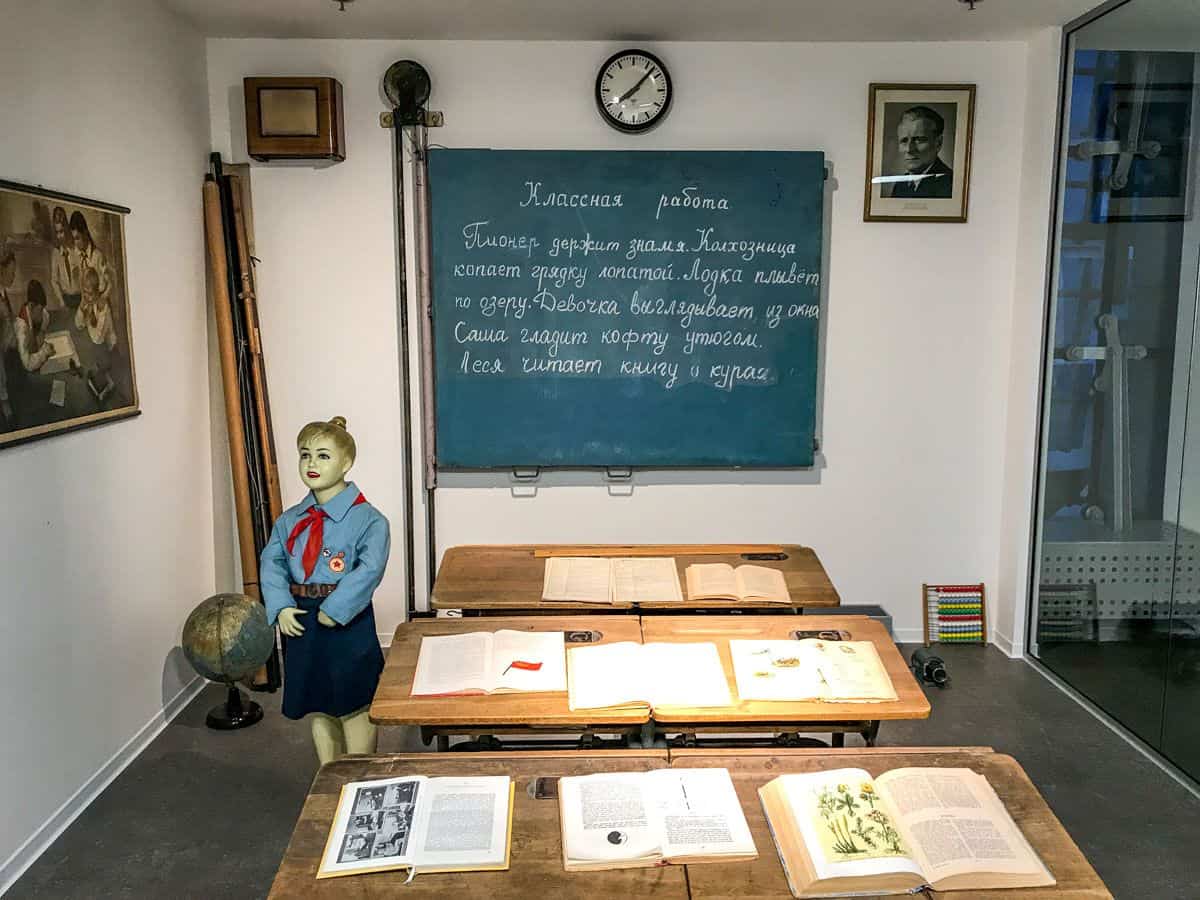 For those with older children, this museum is a fantastic educational experience providing great insight into the conditions that the Czechoslovakian people lived in during the communist years between 1948 and 1989. There are many artifacts that provide a detailed look into politics, education, media portrayal, the protests and labour camps.
Both Andy and I found this museum fantastic, however it was not that interesting for Myla. Luckily we had her iPad and headphones on hand and found a quiet spot for her to sit as we were walking through.
Location: V Celnici 4, 110 00 Praha 1- Staré Město
Opening Hours: Daily 9 am to 8 pm
Price: 290 CZK for adults, Students (high school and university are 250 CZK and children under 10 are free. A family ticket is 600 CZK (max. two adults and two children aged 10–17 (190 CZK for an extra child).
Cross the Charles Bridge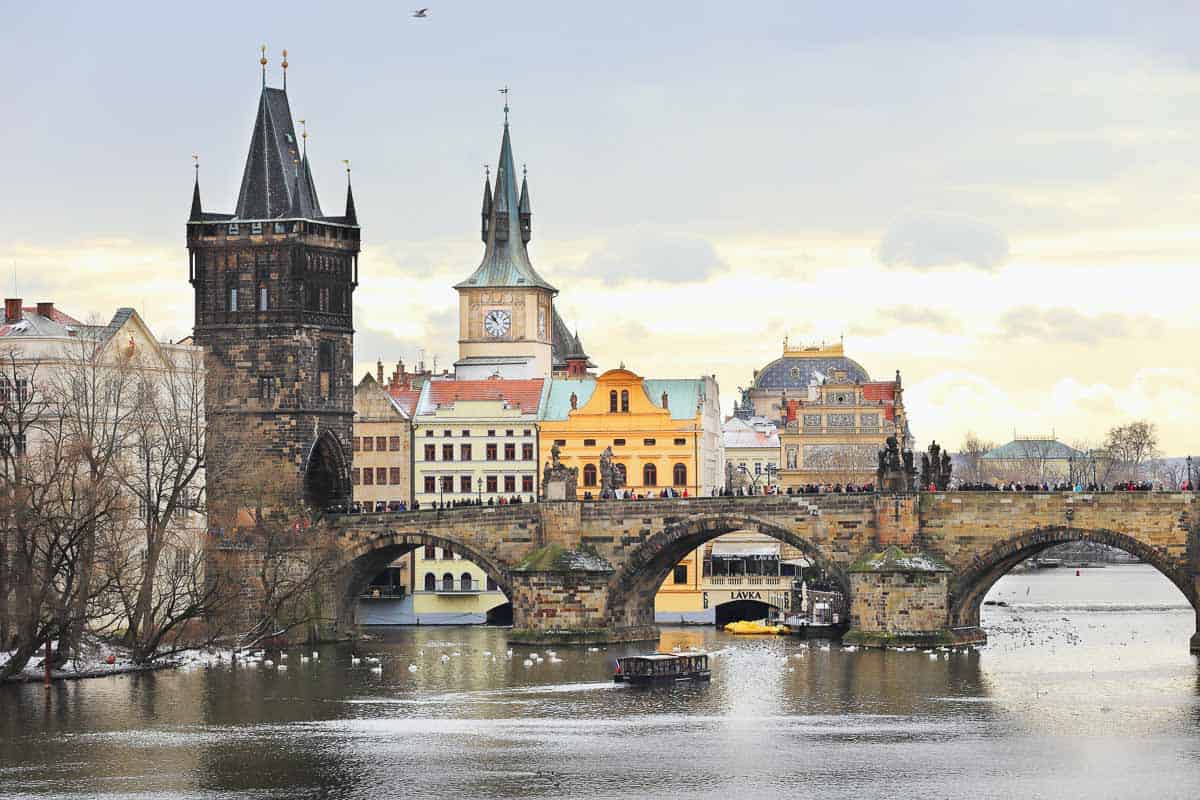 Nothing quite says Prague, like the Charles Bridge does.
The Charles Bridge is Prague's oldest bridge which was completed in 1402 and said to be one of the most beautiful bridges in Europe. It is a gorgeous bridge built of sandstone blocks, flanked at each end by fortified towers and has 30 saints carved into it.
This bridge is a pedestrian bridge and being one of the most popular Prague top attractions, there is never a shortage of people strolling across it. We visited Prague during December, and it was just magical walking across the bridge as the snow fell all around us, it was like being in a fairy-tale.
For the best view of the Charles Bridge walk across the Manes Bridge which is an easy walk from the Old Town Square.
Location: Karlův most, 110 00 Praha 1
Opening Hours: 24 Hours
Price: Free
See the John Lennon Wall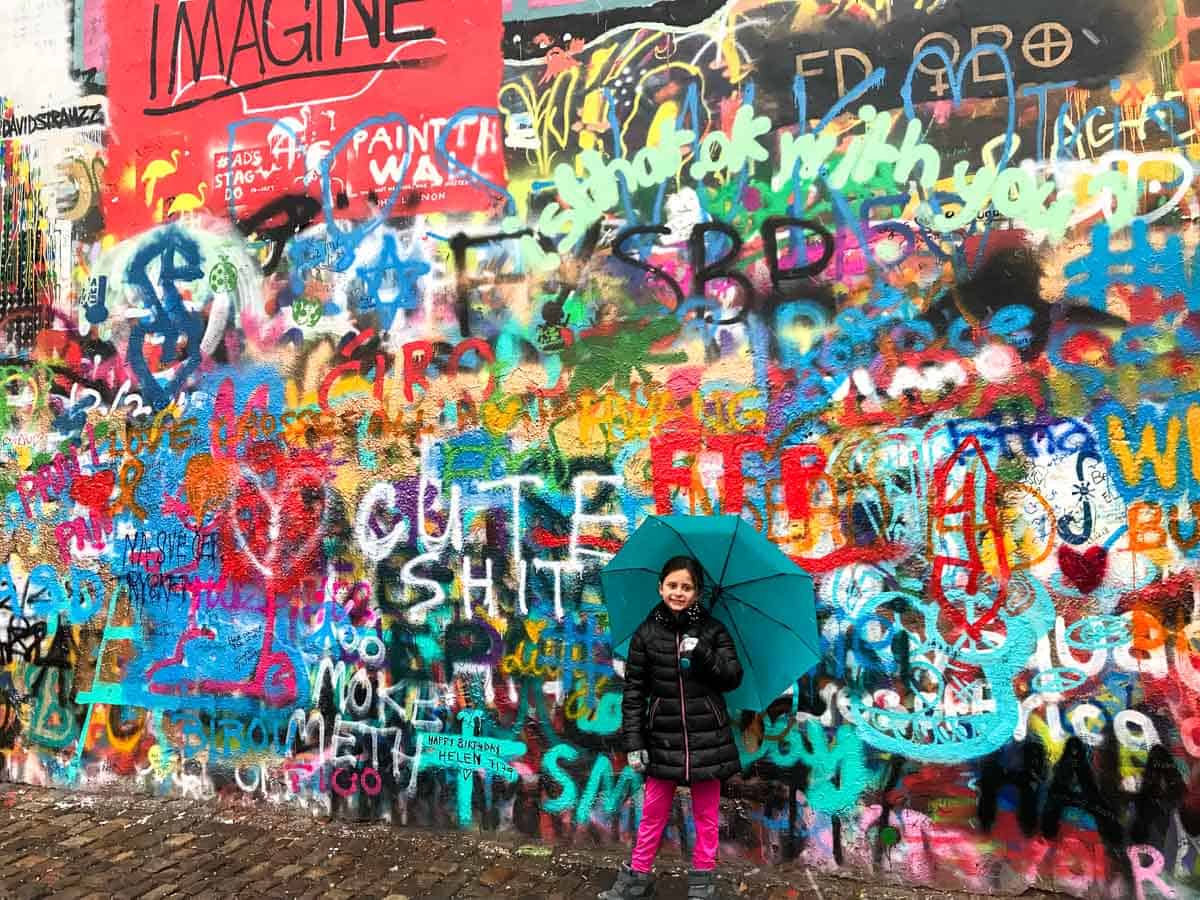 Once you walk across the Manes Bridge to get a good view of the Charles Bridge, navigate your way through the narrow streets to the John Lennon Wall.
The John Lennon Wall is a colourful spectacle in the streets of Prague with an equally colourful history due to its use as a post for political protests. It became the John Lennon Wall when the famous artist was murdered in 1980 and a mural of his face and an old gravestone was painted on the wall.
Four decades on the famous picture has long gone and it was rebuilt after floods knocked it down, but this wall remains a colourful site to see.
Location: Velkopřevorské náměstí 100 00 Praha 1
Opening Hours: 24 hours
Price: Free
Prague Castle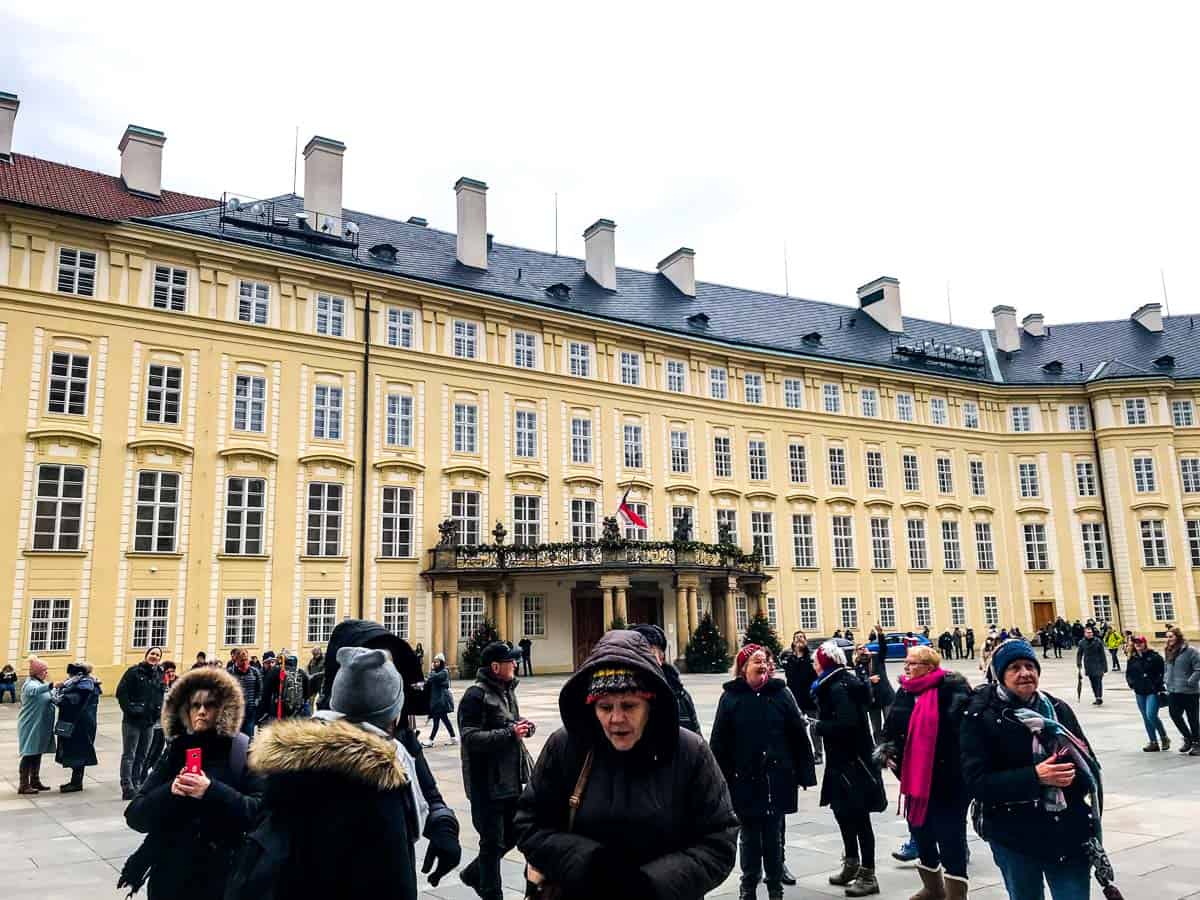 Another one of the most popular Prague tourist places and a must for your 2 days Prague itinerary is a visit to the Prague Castle. The Prague Castle is just one of the many castles in the Czech Republic worth visiting.
The Prague Castle is one of the best Czech castles and dates back to 9th century, where the castle was a seat of power for kings of Bohemia, Holy Roman emperors and presidents of Czechoslovakia. At 70,000 sqm, this UNESCO World Heritage site is so much more than just a castle, rather the complex is made up of numerous different buildings that together make an entire village. So big in fact, that this is said to be the largest ancient castle complex in the world.
Depending upon your level of interest, you could easily spend an entire day or two here. However, if you are short on time and wondering what to do in Prague in 2 days – then I recommend allowing just half a day to explore as we did. Just get here early as the place becomes super busy as the day goes on.
There is no actual admission fee to enter the complex. So great if you're looking for free things to do in Prague. However I recommend you purchase one of the various tickets on offer, as the real beauty really is inside some of these magnificent buildings.
There are various ticket options providing entry into different buildings. The good news is that the tickets are valid for two days. We purchased the Circuit B Ticket, but I would have gone with Circuit A if we had more than half a day to visit the complex. We also purchased the audio guide which is 350 CZK per device however we didn't end up using it much and just read the information available as we went around the complex.
One of our favourite places to explore was Golden Lane. This is where the village people once built their tiny homes into castle walls which were built to protect the castle from enemies. The small homes were painted gorgeous bright colours and tourists can now wonder through and see how people once lived there.
Location: 119 08 Prague 1,
Opening Hours: Daily from 6 am, with the buildings open from 9 am. You can roam the complex until 10pm, where as the building close at 4 pm during the winter months and 5 pm during the summer months
Price: There is a range of ticket options see the full range of ticket options here.
If you prefer, you can join a guided tour which will help you get a better insight into this massive complex. Here are a few options to consider:
2.5 Hour Guided Tour of Prague Complex: Enjoy a full guided tour of the Prague Castle complex. Visit St. Vitus Cathedral, Old Royal Palace, St. George's Basilica, and Golden Lane. The tour costs 920 CZK for adults and 657 CZK for children. Click here for more information or to purchase tickets.
3 Hour Guided Tour of Old Town & Prague Castle: If you're short on time a combined guided tour of the Old Town and the Prague Castle is a great way to explore the major Prague attractions. See the Old Town Square Charles Bridge and the Prague Castle. The tour costs 657 CZK for adults and 394 CZK for children. Click here for more information or to purchase tickets.
Petřín Hill
We didn't make it to Petrin Hill during our short time in Prague, but if you're looking for fun things to do in Prague with the kids, then take them to Petrin Hill. Petrin is a spacious park with lots of beautiful tree and various entertainment for families. As well as simply exploring the gardens, at Petrin Hill there are a variety of different attractions to check out such as:
Petrin Tower: The tower was built as a replica of the Eiffel tower in 1891. It is a 299 step climb to the top of the tower to take in some magnificent views of Prague.Entry is 150 CZK for adults, 80 CZK for a child and 350 CZK for a family. It costs 30 CZK to use the elevator. The tower is open daily from 10 am.
Mirror Maze: Kids will enjoy getting lost in this mirror maze, located right next to the tower. Entrance fee is CZK 90 and opening hours are the same as the Petřín Lookout Tower. If you plan on visiting both the tower and the maze be sure to by the combo ticket to save money.
The Hungry Wall: in the gardens was built by the poor people of Prague under the rule of King Charles IV so they could provide for their families.
The Czech Ethnographic Museum: Just below the Petrin Hill, this museum documents the time and rich heritage before the communist rule so it would be interesting to compare to the Museum of Communism. The museum is open Tuesday to Sunday 10 am to 6 pm. Admission is adult 70 CZK, child 40 CZK, family 110 CZK.
The Strahov Monastery: This monastery is over 900 years old and is the perfect spot for the whole family to get something to eat and for the parents to enjoy a local beer. There are three dining halls located here, but Klášterní Pivovar Strahov has the best reputation for having good food at reasonable prices. The monastery is also home to a library containing the Czech Republic's oldest books. The monastery is open daily from 9 am to 5 pm, with a lunch break from 12 pm to 1 pm and entry is 120 CZK.
Prague Zoo
If you're planning a Prague family holiday, then make sure you put the Prague Zoo on your list. Prague Zoo is said to be one of the best zoos in the world with 670 different animal species including elephants, hippos, gorillas, giraffes, seals, penguins and stacks more. There are also animal feedings with commentary, special zoo keeper programs and experiential programs that are wonderful for children as well as a playground.
Location: U Trojského zámku 3/120, 171 00 Praha 7
Opening Hours: Daily from 9 am (closing times vary depending on time of year, click here for more information).
Price: 200 CZK per adult, 150 CZK per child and family passes are 600 CZK ( 2 adults and 2 children plus 100 CZK for each additional child).
A popular way of getting to the zoo is via boat. Along the way see the Dancing House, Žofín, Prague Castle, the National Theatre, Charles Bridge, and more. This will save you time getting to these attractions on another day. Combined boat ride and entry to the zoo is 945 CZK per adult, 837 CZK per child (3-11) and under 3s are free. Click here for more information or to book tickets.
Water World at Aquapalace Prague
Whether you're travelling to Prague with toddler or teenagers, children or all ages will love spending a few hours at the Aquapalace. Aquapalace is the biggest water park in the Czech Republic and Central Europe. Here you will find a range of water activities including 12 different water slides, a wave pool and wild river.
There is a free shuttle bus, from Opatov (metro station on 'C' line), for ticket holders who can show their ticket.
Location: Prazska 138, Čestlice
Opening Hours: Mon-Fri 10am-10pm, Sat-Sun 9am-10pm
Price: Prices vary according to age and how long you intend to stay for. Prices start at 519 CZK per adult and 349 CZK per child for 3 hours. Children under 100 cm are free. Full details of entry prices can be found here.
Prague Christmas Market Options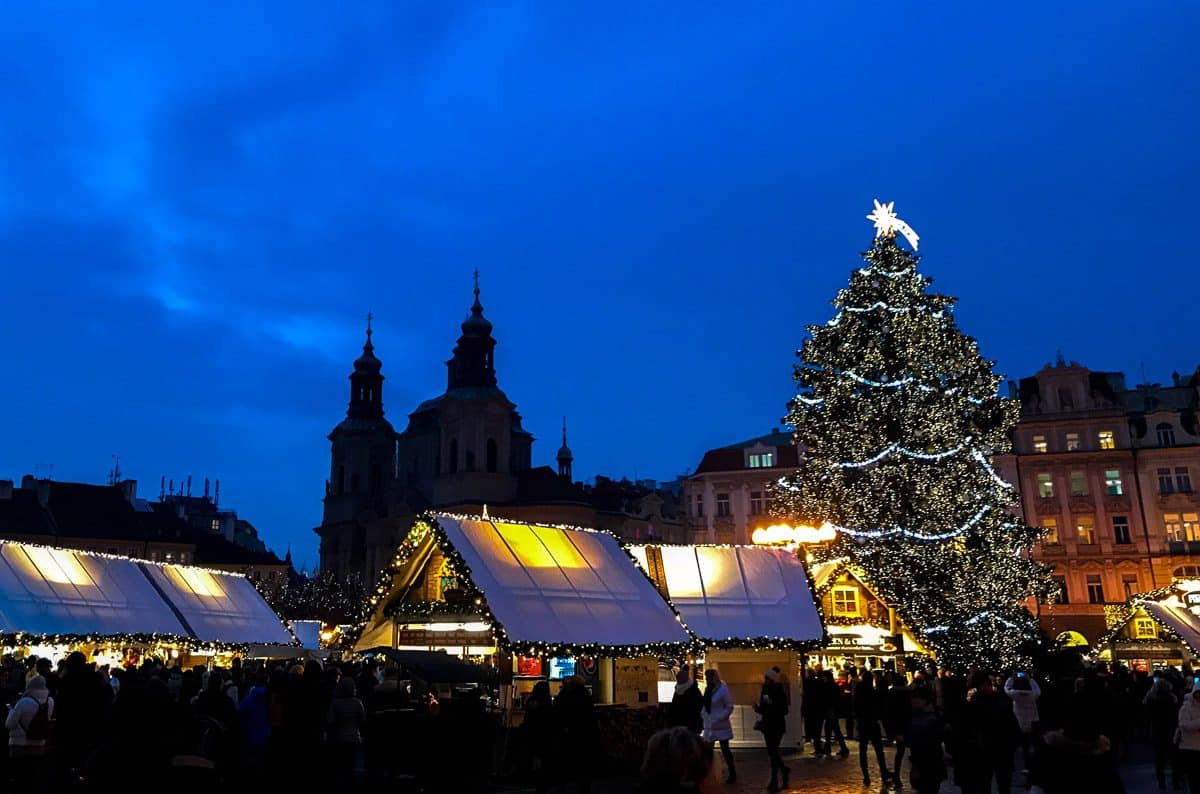 If you're around at Christmas in Prague, then you will no doubt be wondering which is the best Prague Christmas market to visit. There are a few different Christmas markets all which are held in reasonably close vicinity of each other. They each have a lovely collection of authentic Christmas decorations, presents and food (click here for more tips on what to eat in Prague). Here are a few to consider visiting:
Old Town Square is in Staromestske namesti and is open 10 am to 10 pm, food stands open longer 10 am to midnight from 1st December to the end of the first week of January. The atmosphere of these markets is delightful with the markets set in a square surrounded by architectural history. The Christmas tree is outstanding feature with an amazing display of lights which come to life at around 5 pm. There is an open air stage where Christmas concerts and short plays are performed.
Wenceslas Square is in Vaclavske namesti and is open 10 am to 10 pm, food stands open longer 10 am to midnight from 1st December to the end of the first week of January.
Republic Square is in Namesti Republiky and is open 10 am to 7 pm for the whole of December. A Christmas market within walking distance from the Old Town Square which is characterised by little wooden houses that contain all the decorative needs of Christmas.
Prague Tours
If you're the sort of person that prefers someone to take care of everything for you, and not have to worry about navigating your way around, you may prefer one of these Prague tours.
Prague City Tour Options
There are quite a few Prague City Tour options which cover the major attractions, here are a few to consider:
Guided Tour of the Old Town – 2 hours
For those short on time, then this 2 hour guided tour of the Old Town by Prague Tourism may be just what you're after. This tour takes you through the Old Town Square, Theatre of the Estates (Mozart), Powder Tower Municipal House, Ungelt, Pařížská Street, Josefov (former Jewish Quarter) and Charles Bridge. The tour commences at 11 am and meets at the guide office in Old Town Hall. Click here for more information.
Best of Prague by Foot, Bus and Boat
If you have a little more time, you can join a tour around Prague by foot, bus and boat. This 3.5 hour best of Prague tour will take you by all the monuments of the Old Town, New Town and the Lesser Town, a 75 minute stroll around the Prague Castle and an hour cruise down the Vltava River where you will see the Charles Bridge. This is the perfect way to see all the top sites of Prague in half a day. These tours depart from Na Příkopě 23, 110 00 Prague 1 (between Municipal House and the bottom of Wenceslas Square) at 10 am and 2 pm daily and costs 2492 CZK per adult and 725 CZK per child. Click here for more information or to make a booking.
If you like the idea of the above tour but prefer something a little more in depth, than this 6 hour tour may be for you. This tour will take you by all the above sites as well as Kampa Island, National Museum, Dancing House and includes lunch. This tour departs from VaclavskeNamesti 27, Prague 1 at 10.20 am daily and costs 1325 CZK per adult and 662 CZK per child. Click here for more information or to make a booking.
Vltava River Cruises
A great way to get a view of some of Prague's landmarks is by taking a cruise down the Vltava River. There are various cruises available such as:
1 hour cruise: Includes English commentary as you pass by Charles Bridge, Prague Castle, Kampa Island and other highlights of Prague . Drinks and snacks available on deck and there is an inside area for your comfort on hot and cold days. Cruises depart at 12 pm, 3 pm and 4 pm daily and leave from Pier 17, Dvořákovo nábřeží (embankment) between Čech and Štefánik bridges (across from the Convent of St. Agnes). Cruises are 305 CZK per adult and 158 CZK per child with children under 2 free. Click here for more information or to make a booking.
2 hour cruise: Relax as you pass by Charles Bridge, Prague Castle, Kampa Island, Vyšehrad Rock Castle and other highlights of Prague including the Smichov water lock . Drinks and snacks available on deck and there is an inside area for your comfort on hot and cold days. Cruises depart at 3 pm daily and leave from Pier 5, under the Cechuv Bridge. Cruises are 526 CZK per adult and 315 CZK per child with children under 3 free. Click here for more information or to make a booking.
Old Town, Medieval Underground & Dungeon Tour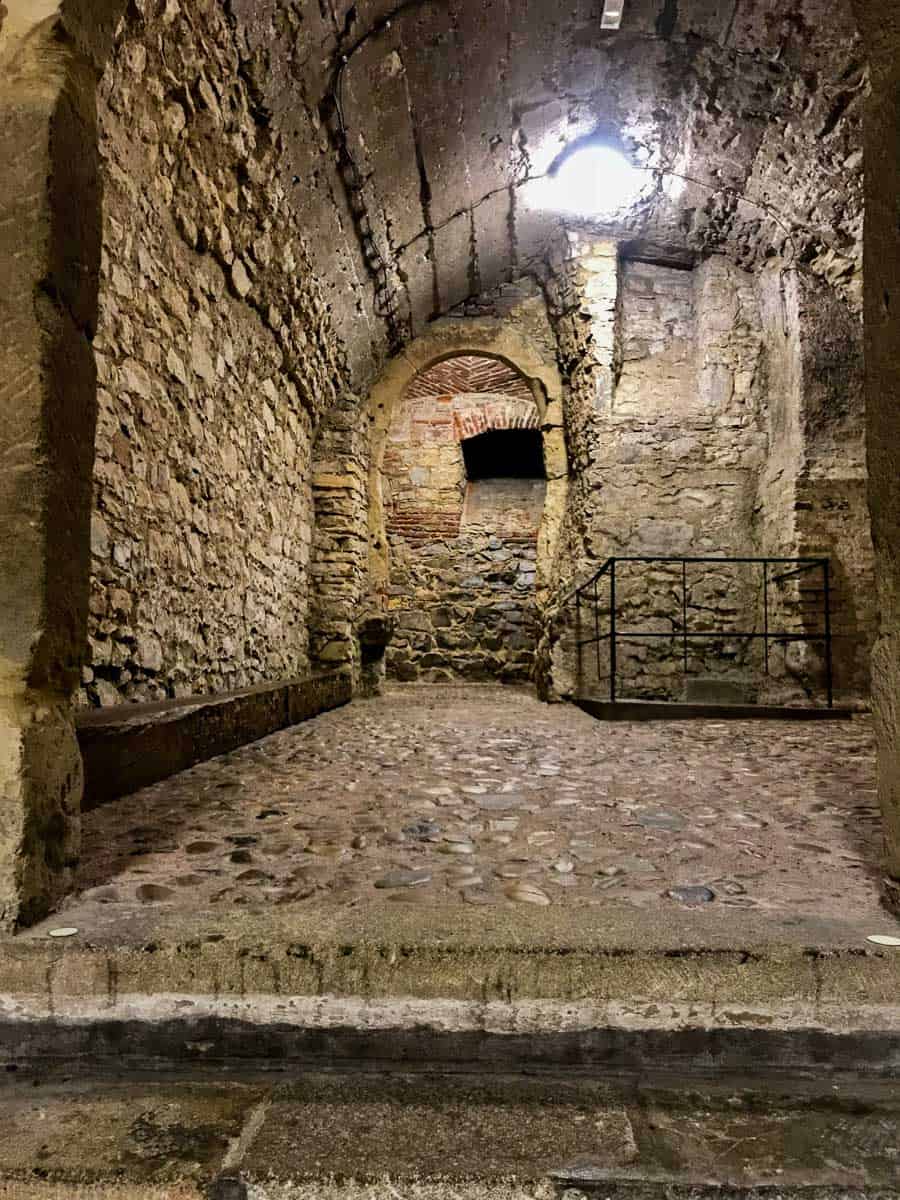 After taking the short tour of the underground rooms in the Old Town Hall, I'd love to had time to do this tour. This looks like a fascinating tour, as most of the underground has not changed since the 12th century. On this tour you will hear stories of what like was life was underground while you explore.
The tour begins from Male Namesti 459/11, Praha 1, 110 00 and start at 11am, 1pm and 5pm each day. Click here for more information or to make a booking.
Day Trip to Kutna Hora
If you have enough time, you might want to take one of the Prague day trips to nearby areas. For example the UNESCO World Heritage Site of Kutna Hora is easily reached from Prague. This medieval town is full of remarkable late Gothic and Baroque architecture. During this 7 hour tour you will visit the macabre Bone Chapel of the Sedlec Ossuary, St Barbara's Church, the Italian Court, Bohemia's oldest Cistercian Monastery and learn about the Hussite Wars and Kutná Hora's rise to prominence from silver mining.
Tours depart Tuesdays, Thursdays, Saturdays and Sundays at 11 am. The cost is 736 CZK per person and transportation is by public transport. Click here for more information or to make a booking.
Alternatively take a similar trip which leaves each day at 10 am. However this trip is by air-conditioned mini bus and includes a three course lunch. The cost for this tour is 1288 CZK per person. Click here for more information or to make a booking.
Day Trip to Cesky Krumlov
Another one of the great places to visit near Prague is Cesky Krumlov. This full day trip takes you through the Czech countryside into the picturesque towns of Cesky Krumlov and Ceske Budejovice. On tour you will visit the Cesky Krumlov Castle and the famous Black Tower of Ceske Budejovice. You will also enjoy lunch at a lovely historic restaurant, which is included. Please note that the castle is closed from November 1 to March 31.
Tours depart Thursdays through to Sundays, Thursdays, Saturdays and Sundays at 9 am and cost 1796 CZK per adult and 1566 CZK per child, with under 3s being free. Click here for more information or to make a booking.
Passes
Purchasing a city pass is often a great way to save money if you intend on visiting multiple attractions during your time in Prague. Some passes even include transportation.
As to which pass is the right choice for you, really depends on which attractions you intend to visit. I recommend you compare the pass price to the individual attraction prices and make the decision from there.
Prague City Card
This pass provides public transport across the city of Prague along with entry to over 100 attractions and up to 50% discounts on tours, cruises, concerts, and restaurants. You can choose between a 2, 3 and 4 day pass.
Let's look at some of the savings you could make with a 2 day pass:
| | | |
| --- | --- | --- |
| Attraction | Price without card | Saving with card |
| River cruise | 340 | 340 |
| 2 hour Prague bus tour | 400 | 400 |
| Prague Castle – Circuit B | 250 | 250 |
| Old Town Hall and Tower | 250 | 250 |
| Jewish Quarter | 350 | 350 |
| Prague Zoo | 200 | 200 |
| Total | 1790 | 1790 |
Given a 2 day pass is 1524 CZK per adult you can see from above that you could easily save at least 266 CZK. The above table doesn't even include the public transport saving, so as you can see there really are some great savings to be had with this card.
Before purchasing though, compare the cost of what you plan to visit whilst in Prague to check if buying the card is worth your while. Click here for more information about the Prague City Card or to purchase.
Where to Stay in Prague
In terms of the best area to stay in Prague, for first timers (like ourselves) I would recommend staying in the Old Town, close to the Old Town Square. This will ensure you are within walking distance to all the best Prague places to visit as well being close to places to eat.
Prague has pretty good quality accommodation for families at a great price, as well as being in a great location. Below I have listed 3 different hotels that I recommend based on their ability to adequately accommodate a family of 2 adults and 2 children, having private bathroom facilities as well as being in a central location. For cheaper accommodation you will need to move further out from the city and / or consider getting a room with shared bathroom facilities.
Residence Karlova
The Residence Karlova is located just a short 2-minute walk from the old town square and within easy walking distance to all the main attractions in Prague.
Families are best accommodated in the 2-bedroom apartments which have a 2 single beds in 1 room and 1 double bed in the other. There is also a sofa bed in the living area. The apartments have a fully equipped kitchen, dining, lounge area and Wi-Fi.
60% of people on TripAdvisor rate this hotel as above average.
Click here to check the prices and / or to make a booking for Absolute Lake View Motel.
Hotel U Tri Bubnu
This is the hotel that we stayed at during our few days in Prague. Hotel U Tri Bubnu is located just outside the Old Town Square and an easy walk to all the main attractions in Prague.
Family rooms include 2 double beds and a sofa bed or 1 double bed and 2 single beds. Rooms also include Wi-Fi, sitting area and mini bar.
68% of people on TripAdvisor rate this hotel as above average.
Click here to check the prices and / or to make a booking for Hotel U Tri Bubnu.
Ritchie's Hostel
Ritchie's Hostel is located just a 3-minute walk from the Old Town Square and an easy walk to all the main attractions in Prague. The Staromestska tram and metro station are both 300 m from Ritchie's Hostel & Hotel.
Facilities include a free luggage room, free Wi-Fi and on-site bar.
Family rooms include 5 single beds, private bathroom and street views.
55% of people on TripAdvisor rate this hotel as above average.
Click here to check the prices and / or to make a booking for Ritchie's Hostel & Hotel.
Getting to Prague
You will most likely arrive in Prague via train or plane.
Vaclav Havel Airport
The cheapest way to get from the airport is via the Airport Express Bus (also referred to as the AE bus). The AE bus leaves every 30 minutes between the hours or 6.30 am to 11 pm, from various stops in front of terminals 1 and 2. You can purchase tickets direct from the bus driver, or from the Public Transport Information Centre in the airport. Tickets are 5 € per person or around 128 CZK.
The bus arrives at the Prague Main Bus Station at Wilsonova Street in the city. From here you can walk to your hotel or take a subway or tram. Depending upon how many members there are in your family, it may be just as easy to take an Uber direct to your hotel which will cost around 400 CZK.
Train
The main train station in Prague is located about 1.5 kms from the Old Town. Depending upon where you are staying, you may be able to walk from here to your hotel, alternatively you can take a tram or Uber. If you are considering taking public transport from the train station to your hotel, see the following section about getting around in Prague.
We arrived in Prague via train, as we had Eurail Global Passes. Learn more about the different Eurail options here.
Click here to read our review on travelling Europe with Eurail Passes.
Getting Around Prague
Many of the Prague attractions are clustered together so you can easily walk between them. However from time to time you might also like to take the public transport.
The public transport system in Prague is pretty simple to use. A single ticket allows you to travel anywhere on the metro, bus and trams for either 90 minutes or 30 minutes (depending upon what ticket you purchase) with up to 3 transfers. Children 9 and under travel free of charge.
A 30 minute ticket is 24 CZK for adults and 12 CZK for kids or the 90 minute ticket is 32 CZK for adults and 16 CZK for kids. There are day passed available too – but I don't think they are necessary for Prague given you can walk to most places.
Another option is to use the Hop On Hop Off bus, which not only will take you around to all the major attractions but also provide some commentary too. However it's certainly a much more expensive option than using public transport. Click here for more information about the hop on hop off buses.
Prague: Our Verdict
Prague is probably one of the most beautiful cities we have ever visited. I could have easily just spent my days strolling through the city and admiring the gorgeous buildings. In terms of things to do with the kids, there probably isn't as much as some of the other European cities, but nevertheless we still had a fantastic time and hope to return again in the future.
Thanks to Prague Tourism for providing us with a guided tour of the Old Town and the Old Town Hall. All opinions expressed in this post remain my own.
Please note that this post contains affiliate links, which means that if you make any bookings using the links I may receive a small commission at no extra charge to you. This helps me provide this helpful information to you at no charge.
Want to keep this handy?
Click on the image below and pin it to Pinterest.