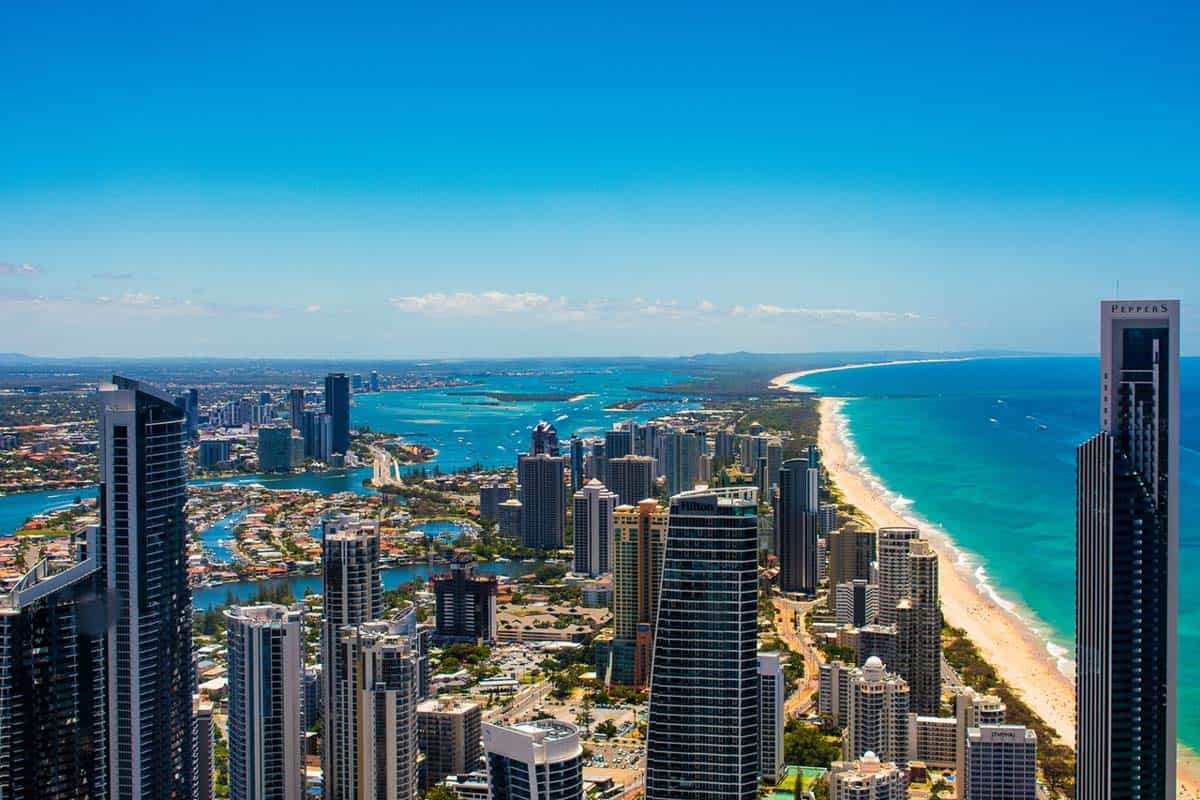 "Beautiful one day, perfect the next". That's how the Queensland tourism slogan goes and I for one couldn't agree more. Despite travelling the world I love nothing more than taking the family to one of the many stunning Queensland holiday destinations. Whether you want to lie around on a pristine Queensland beach or get out an explore the numerous Queensland attractions, there are so many great things to do in Queensland that you'll no doubt struggle to land on a single destination.
In this give guide, with the help of some travel blogger friend, I'm going to briefly introduce you to some of the best places to visit for your Queensland holidays. This is by no means meant to be a comprehensive guide on all the wonderful places to visit in Queensland, simply a quick overview of the some of the more popular Queensland destinations.
This post may contain compensated links. Please refer to my disclaimer here for more information.
Planning a trip to Queensland? Have any questions? Join our Queensland Travel Planning Facebook group here now! It's the perfect place to ask any questions and to be inspired!
Click here for a full list of our articles on Queensland.
How Best to Get Around Queensland
With almost 7,000 km of coastline, Queensland is a large area, making up almost 22% of the Australian continent. In fact Queensland is the second largest state in Australia.
When you visit Queensland, unless you are visiting a single location, most places are best explored via car. With many of the best places to visit in Queensland being along the coastline, Queensland makes the ideal place for a family road trip, with many people starting at either the northern end in Cairns or the Brisbane end in the south and drive between the two cities making stops at the various Queensland tourist attractions along the way. An ideal road trip would be at least 2 weeks longs, but you could do it in as little as a week or as long as two months!
The other option is to fly between the major airports on the route, hire a car at each and explore the surrounding areas. The main Queensland airports starting from the south would be: Gold Coast, Brisbane, Townsville and Cairns. There are a few smaller airports in between as well.
Queensland Weather
Queensland typically has four seasons being Summer (December to February), Autumn (March to May), Winter (June to August) and Spring (September to November). However, as Queensland covers such a vast area, you can imagine the weather at the top end of Queensland does not mirror the weather at the southern end.
Tropical North Queensland is hot and humid year-round with temperatures averaging around 31°C. Rainy season is from November to April; with near-daily rainfall.
With the Airlie Beach/Whitsunday region and surrounds, the wet season generally matches that of the North. However, the added concern here are jelly fish. Stinger season runs approximately between October and March every year and during this time a stinger suit must be worn when swimming in the Whitsundays and surrounds.
South East Queensland (from the Sunshine Coast to the south) receives less rain than the north and is therefore more suited to year-round travel. As stingers don't come this far south, there is no concern when getting in the water. Weather during the Summer months is hot and humid with temperatures reaching the mid 30's °C. During the cooler months, the humidity is less intense, and temperatures sit around the low 20's °C during the day, dropping below 10°C at night.
15 of the Best Queensland Holiday Destinations
There are so many fantastic places to go in Queensland that it is impossible to list them all, so here are a few of the more Queensland places to visit.
Gold Coast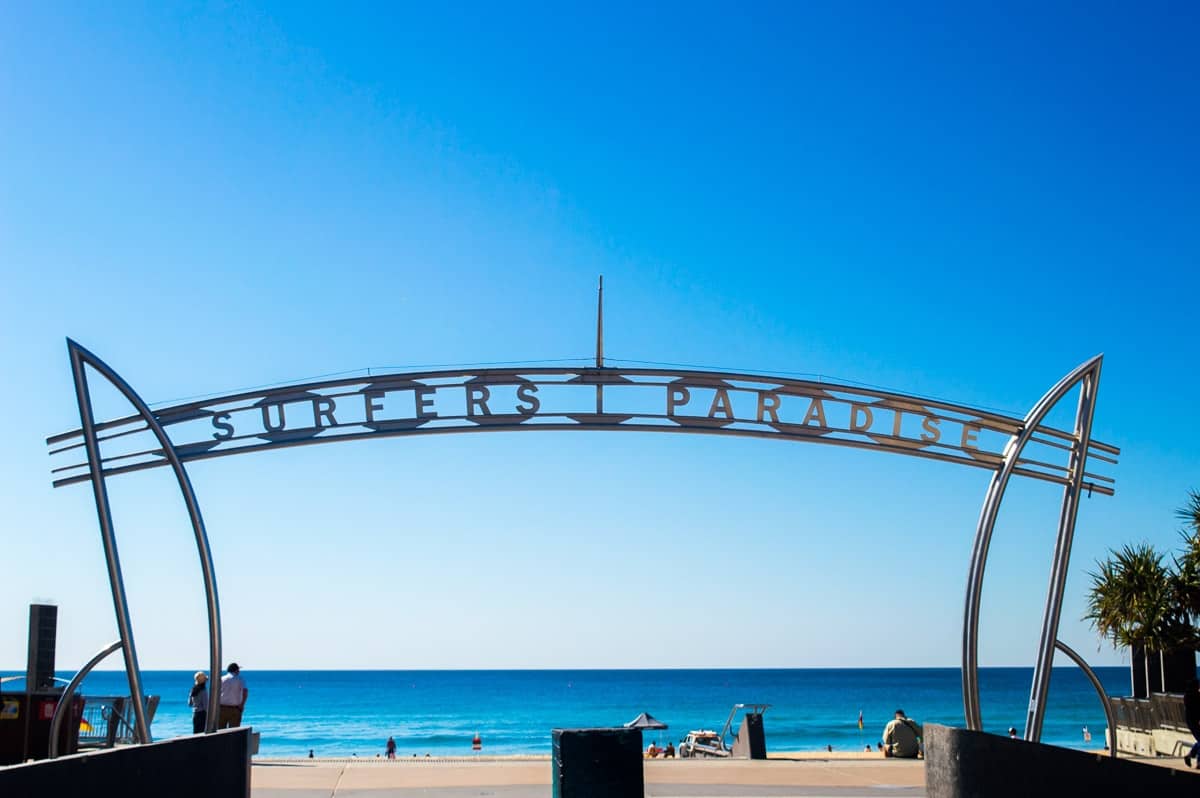 The Gold Coast is a massive place, stretching 66 kms from the northern end of the Spit to the southern beach of Rainbow Bay just north of the New South Wales border. There are 17 different beaches that make up the area with some of the more popular Gold Coast tourist destinations being Surfers Paradise, Broadbeach, Burleigh and Currumbin. The entire region is made up of long sandy beautiful beaches, inland canals / waterways, surfing spots, theme parks, hiking trails and national parks. Not to mention shopping centres, boutique shops, cafes, restaurants, and sporting events.
Some of the best Queensland attractions for families, would have to be the Gold Coast theme parks. Here you will find Dreamworld (including White Water World), Paradise Country, Sea World, Warner Brothers Movie World and Wet n Wild Water World. If you would like to visit all of them, buy a joint pass which will save you money.
For those who prefer the Queensland natural attractions, you can spend some time at one of the national parks, such as Springbrook National Park or Lamington Park where you will find walking trails among lush rainforest, where you will find waterfalls, native animals and breathtaking views.
There is also some fantastic accommodation across the Gold Coast for people with all sorts of budgets. Accommodation option includes self contained apartments, resorts, motel rooms and caravan parks.
Click here for our full guide on visiting the Gold Coast
Mount Barney National Park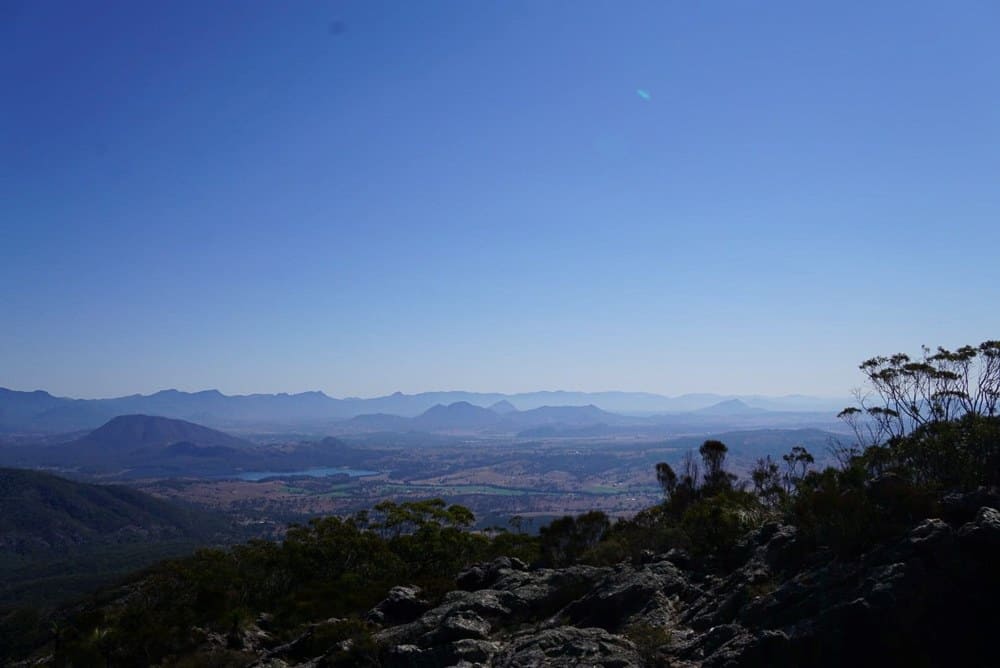 Thanks to Sam from Millennial Procrastination
Take a hike and seek one of the most spectacular and undisturbed 360 views of the Scenic Rim region. Mount Barney is little known by tourists but is loved by locals. At 1354 metres high, this is one of the highest mountains near the Queensland and New South Wales border. This mountain is not for the faint hearted, however you will see many kids and elderly try and take on this challenge. It does require scrambling and a lot of energy to complete the mountain.
If this isn't your style you can take a wander around the beautiful Mount Barney National Park trails, go rock climbing or parasailing.
Mount Barney Lodge is the perfect place to stay if you are looking for stunning scenic views and plenty of activities for the kids. You can camp, go glamping, stay in a cabin or in a Queenslander homestead.
The best way to get into the National Park is to drive in. Unfortunately, there are no buses or shuttle services to the area.
It is optimal to visit Mount Barney National Park during Autumn, Winter or Spring. Avoid going during summer time as it is an absolute scorcher! Be wary that Mount Barney can be very cold too during the winter months, so pack lots of warm clothes.
Brisbane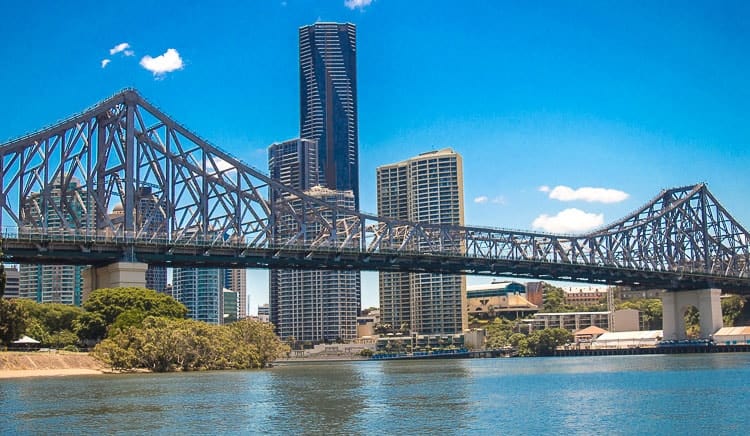 Thanks to Oksana and Max from Drink Tea & Travel
A trip to Queensland would be incomplete without a trip to the state capital, Brisbane. There's more than meets the eye in this riverside city. For starters, it's one of the few cities in Australia with great weather, making it one of the best places in Queensland to visit at anytime of the year. But the best thing about Brisbane is its location – it is surrounded by activities and attractions, and not to mention, two of the most stunning coastlines in Australia, the Sunshine and Gold Coast.
You can easily see the best 'Brissie' has to offer in a few days. Staying in the city centre will make it easier to explore but can be pricey. So, we recommend staying in local suburbs like West End or South Bank. Both are located within easy walking distance to the centre and close to a wide variety of Brisbane's amazing bars and restaurants. Check out Best Western Aston Metropole, an eco-friendly accommodation that won't break the bank!
For those looking for adventure, head to RiverLife on Kangaroo Point. There you can go rock climbing, abseiling or kayaking. And when you want to take a rest from the bustling city, a Brisbane River Cruise is perfect.
The city is relatively small and getting around is easy, especially with the free City Hopper Ferry and the free City Loop and Spring Hill Loop bus services. But if you want to explore the surrounding areas (and you definitely should) then rent a car or take a few of the organised day tours.
Lamington National Park, Springbrook National Park, Stradbroke Island, and Moreton Island are just a few of the most popular day trip destinations from Brisbane. It's certainly the best base for any family wishing to explore the wonders of Queensland!
Click here for our full guide on visiting Brisbane
North Stradbroke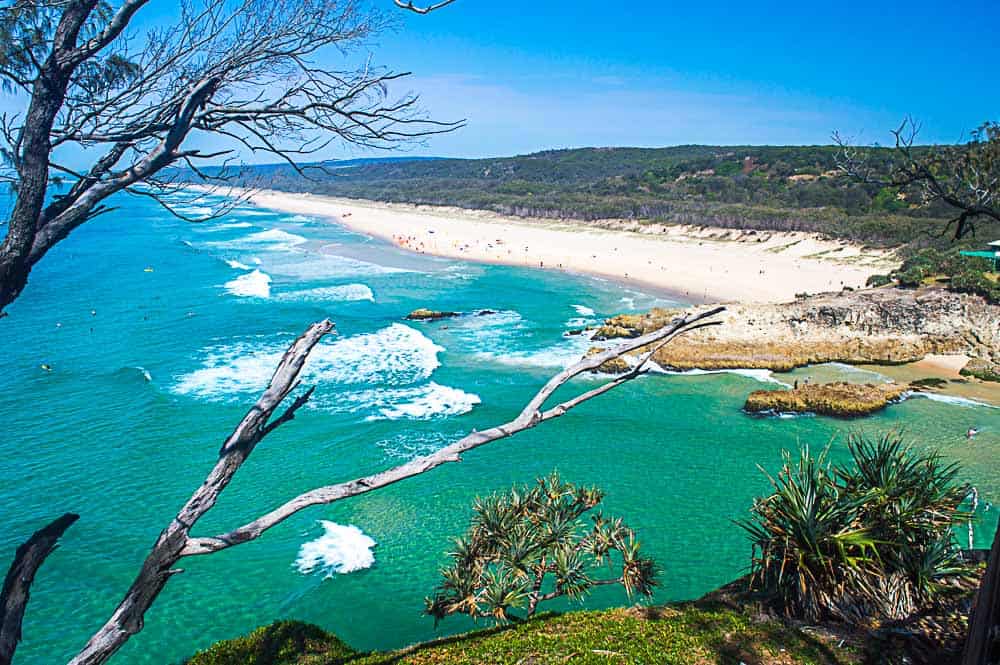 Whilst many of the beautiful islands are in the north of Queensland there are a few right off the coast from Brisbane, North Stradbroke Island being one of them – or Straddie as us locals like to call it.
You'll find some of the best beaches in Queensland here, so it's no surprise that my favourite thing to do on North Stradbroke Island is to swim in the crystal-clear waters. Whether you like a bit of surf or calm waters, there is the ideal beach here for you.
For fantastic views, I highly recommend doing the 1.5 km North Gorge walk. This walk has spectacular views from the headland across the Pacific Ocean. From the designated walk ways, you can easily spot dolphins, turtles and manta rays as well as whales during the months of June to November. Along the path you most likely will see kangaroos grazing as well as well as a variety of bird life.
Other popular activities on Straddie are surfing, kayaking, stand up paddleboarding, fishing and 4WDing.
North Stradbroke Island can easily be reached by either the passenger ferry or the vehicle barge. The island is perfect for a day trip, a long weekend or 2 weeks. Camping is a popular choice for accommodation, but there are various hotels and holiday rentals as well.
Click here for our full guide on visiting Brisbane
Moreton Island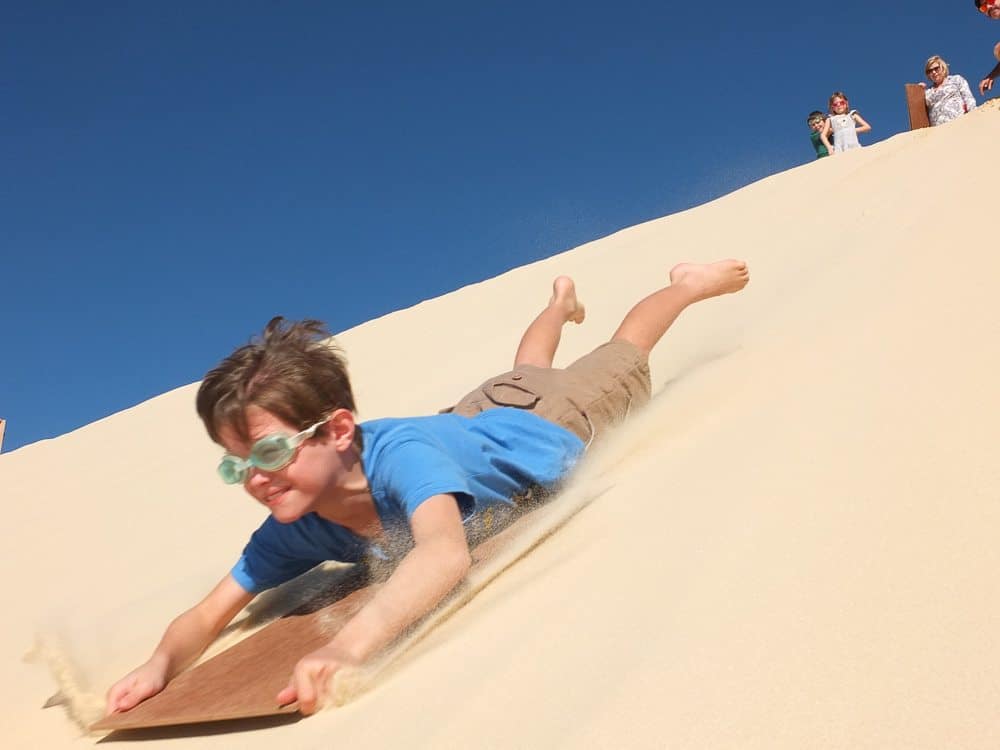 Thanks to Karen from Smart Steps to Australia
Moreton Island is only a short hop across Moreton Bay from Brisbane and there are a range of day trips, weekend breaks and holiday options for families. Fraser Island further up the coast gets all the attention, but Moreton is a lot of fun too and it is definitely worth a visit.
Moreton Island is a 37 km long sand island and it can be reached by catching a ferry. If you're going to Tangalooma Island Resort (the main family resort on the island), you can travel as a foot passenger from Holt Street Wharf in Pinkenba, but there are barge options (Amity Trader and Micat) if you want to take your 4WD to give you more freedom.
Tangalooma offers a range of activities including sand boarding, snorkelling, quad biking and whale watching (June – October). A highlight of any stay is the nightly dolphin feeding where you wade into the water with a fish and hand feed a wild dolphin.
You can book accommodation at Tangalooma Island Resort directly on their website, through booking sites or via Air BnB. There are other locations you can stay on the island but the convenience of Tangalooma for families is that everything you need is right there, including a restaurant, cafes and an outdoor heated pool.
Temperatures are tropical so it gets hot and sometimes wet in the summer, but it is still lovely and temperate in the winter. Pack beach wear, but if you do go in winter bring some warm things for early mornings as it can get chilly. It's also worth bringing an umbrella and rain coat too, just in case.
While day trips are available to the island, it's worth staying a few days so you can slip into island life and try out all the activities on offer.
Caloundra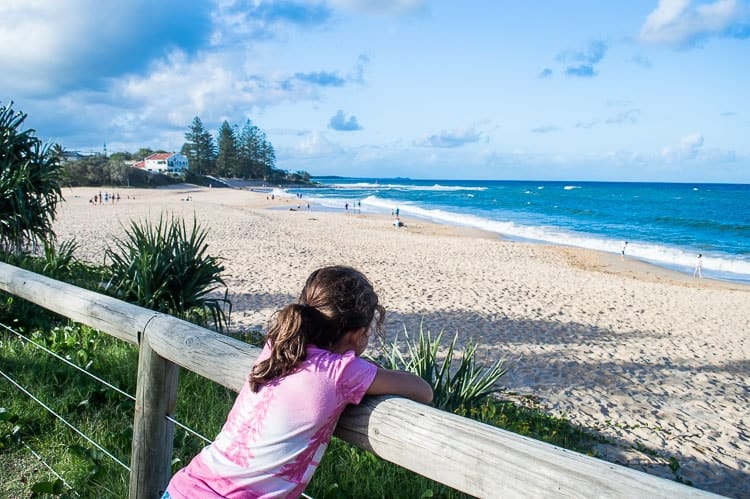 Your Queensland bucket list isn't complete without the Sunshine Coast and one of favourite Sunny Coast destinations is Caloundra! No matter how many times you visit you're sure to find new and exciting things to do. Whether you're visiting the Pumicestone Passage for views of the Glass House Mountains or going for a lazy walk along Caloundra's stunning coastal paths; there's something for everyone.
There are several beautiful beaches located right in Caloundra including; Golden Beach, Bulcock Beach, Kings Beach, Shelly Beach, Moffat Beach, Dicky Beach and Currimundi Lake and Beach. My family's favourite is Bulcock Beach; however I also love Currimundi too.
However, Caloundra isn't just for those looking for a beach getaway, there's many more things to keep you busy! You could live a bit more on the wild side with a Caloundra Jet Ski or Jet Boat experience or take things a bit more tranquil and join a canoe / kayak tour. You can also easily reach the world famous Australia Zoo from Caloundra. Whilst you're there don't forget to check out the Caloundra Markets on every Sunday! Also, one of my personal favourites, check out some of the colourful Caloundra Murals.
There is also some fantastic accommodation across Caloundra for people with all sorts of budgets. Accommodation option includes self contained apartments, resorts, motel rooms and caravan parks.
Caloundra is one of my favourite destinations in Queensland, with its incredible beach life and atmosphere, it really is a must for your Queensland bucket list.
Click here for our full guide on visiting Caloundra
Noosa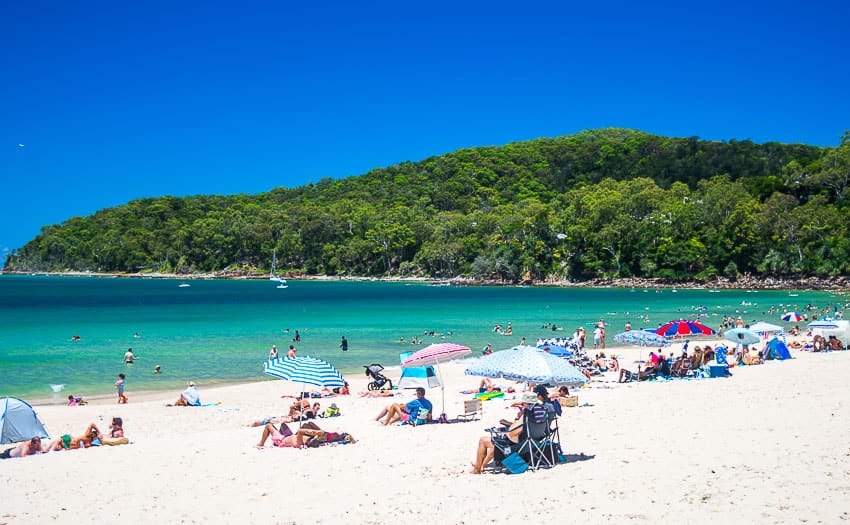 Thanks to Jan from Retiring Not Shy!
The name Noosa is often used in very broad terms to cover the wider area known as the Noosa Shire. But for today I want to share with you the very beautiful seaside Noosa which includes Hastings St and Noosaville. If you are visiting Noosa, you will definitely want to stay in one of these areas with easy access to the many attractions.
Noosa's attractions are many – the beach which runs along the front of Hastings Street is well known for its beauty and our gentle climate means it can be appreciated all year round. Hastings Street is the hub of Noosa tourism with stylish restaurants, upmarket accommodations and shops lining the street, and plenty of parking available close by. It is also the beginning of a beautiful walk through the Noosa National Park.
Further up river is Gympie Terrace. On the riverside you will find many purveyors of boats, kayaks, cruises etc. and it is well worth getting out on the river. On the other side of the Terrace you will be able to choose from more restaurants and cafes than you could fit in during your stay. Noosa loves food and does it exceptionally well.
The Terrace is also lined with a huge selection of accommodation, from apartments to motels. There is also camping available in this area at Noosa Sea Scouts. We recommend the Noosa Sun Motel for accommodation on Gympie Terrace, and one street back from the river Noosa Entrance for serviced apartments.
Also, on the riverside are several BBQs as well as a great adventure playground. Bring your food down and enjoy this beautiful area whilst your children play close by; they may enjoy a paddle in the river.
No matter the time of year, Noosa is beautiful. For a more peaceful visit perhaps avoid January; you will be well serviced by buses and ferries traveling up and down the riverside. The area is also flat so great for walking or biking between locations.
Click here for our full guide on visiting Noosa
Cherbourg
Thanks to Emily from Wander-Lush
It might not be the first place that springs to mind when looking for things to do in Queensland. But Cherbourg, an Aboriginal Shire 250 km northwest of Brisbane, makes for a great road trip stopover.
Nestled within (but autonomous from) Southeast Queensland's South Burnett Shire, the tiny town is located about an hour's drive west of Gympie. Cherbourg's main draw is The Ration Shed Museum. Part of a community run Historical Precinct, it was founded in 2004 by two sisters with the aim of preserving the area's history for younger generations.
A permanent exhibition reveals a timeline of Cherbourg's past, starting from its founding as an Aboriginal Reserve back in 1901. At times confronting, the story of Cherbourg is a fascinating and important one. (The Ration Shed hosts many school groups so the exhibitions are suitable for kids.) Check online before you visit to see if any special education programs, travelling exhibits or art programs are on. The venue itself is an attraction: old boys' and girls' dormitories and even the superintendent's house have been reclaimed by Cherbourg and transformed into community spaces.
One of the highlights is the on-site pottery studio. Barambah Pottery, once a Queensland icon, was crafted in Cherbourg up until the late 1980s when the studio prematurely shut. A new project to revive a ceramics industry in Cherbourg has led to a permanent workshop being built inside the Ration Shed complex. You can find artists from the local community working there most days. Inside the museum is a small gift shop, where you can buy truly exquisite painted ceramics that blend contemporary and traditional motifs.
The Ration Shed Museum is open to drop-in visitors from 9 am until 4 pm Monday through Thursday and until 1 pm on Fridays. Weekend visits are by appointment only. Although there's not much else to do in Cherbourg, its proximity to Kingaroy and Gympie (where there are ample accommodation options) makes it an ideal place to stop off on a road trip. The museum is open year-round.
Bundaberg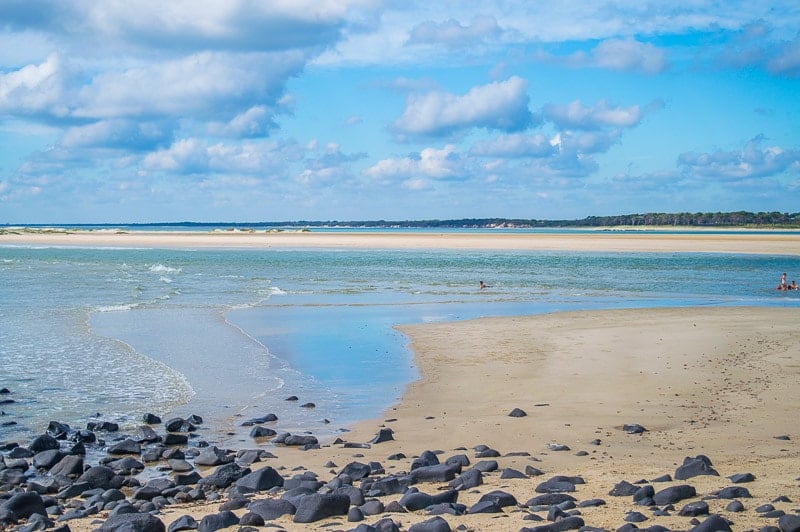 Whilst Bundaberg is not usually on most people's to do list when visiting Queensland – if you like quiet little beach towns with amazingly friendly people than it should be!
Bundaberg is located 4.5 hours drive north of Brisbane and is famous for a few things – Bundaberg Rum, the Mon Repos turtles and being the start of the southern end of the Great Barrier Reef.
Visit Bundaberg during the turtle season which is from November to March if you can, as you will have the opportunity to witness Loggerhead turtles come to the beach and lay their eggs as well as see the baby turtles hatch and scamper down to the ocean. The area of Mon Repos is in fact the largest Loggerhead turtle conservation rookery in the southern hemisphere!
I also recommend you take a trip out see the Great Barrier Reef. The best way is to take a day trip to Lady Musgrave Island. Here, as well as getting up close and personal with the reef, you will get the opportunity to see fish, turtles, dolphins and manta rays.
Bundaberg also has some stunning beaches, the most popular being Bargara Beach and the stunning Elliot Heads (pictured above). Bargara has plenty of accommodation and cafes, so is the ideal spot to base yourself. Elliott Heads is a little isolated though with no accommodation or shops, so best for a day trip.
Click here for our full guide on visiting Bundaberg
Tin Can Bay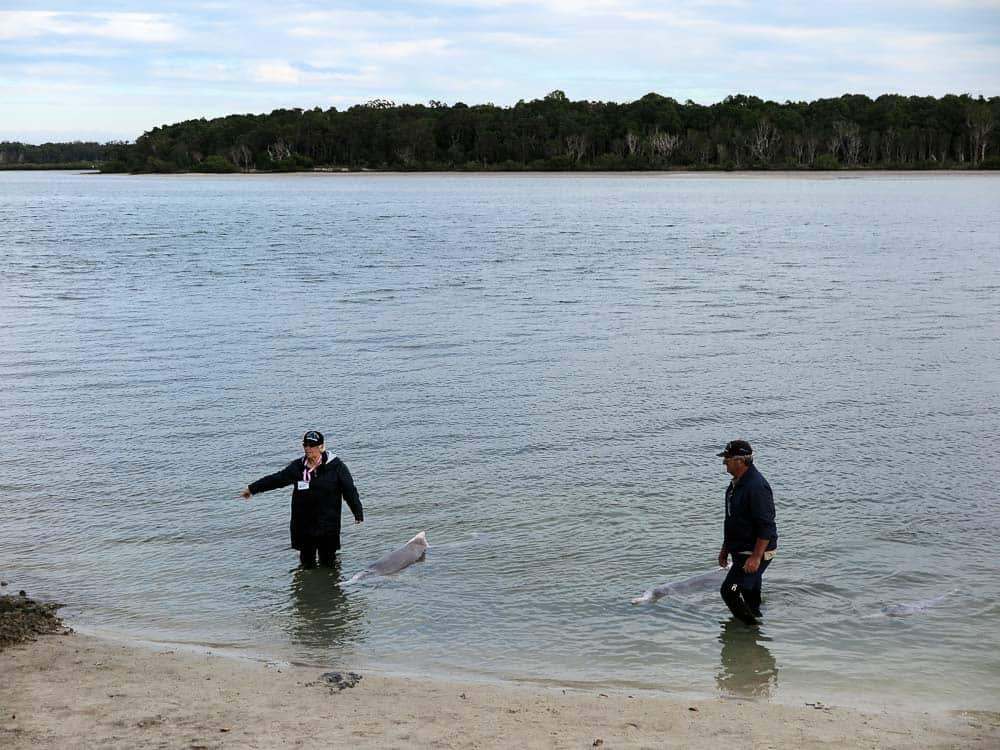 Thanks to Sinead from Map Made Memories
Tin Can Bay is a pretty coastal town on Queensland's Sunshine Coast around two and a half hours drive north of Brisbane.
Tin Can Bay is a compact, walkable town, though a car would be useful to explore nearby sights such as Rainbow Beach. Wander the small town, join a fishing trip or enjoy a walk along the pretty foreshore path (at dusk the bird calls can be deafening)! Tin Can Bay is a birdwatcher's paradise – over 140 species of bird can be seen here.
Many people come to Tin Can Bay for the opportunity to see the wild Australia humpback dolphins that swim to the shore each day for a limited morning feed at the local Barnacles Dolphin Centre. Wild dolphins have been visiting Tin Can Bay since the 1950s after an injured dolphin was nursed back to health by local people. Today's dolphins can be traced back to that original dolphin! These rare dolphins arrive in varying numbers almost daily (though visits are not guaranteed)! Interaction with the dolphins is strictly controlled and there are penalty fines for touching or non-supervised feeding of the dolphins. Knowledgeable volunteers share their personal experience of the dolphins and were very patient in answering all our children's questions!
We stayed in our rented motorhome in Tin Can Bay Tourist Park opposite the foreshore and within walking distance of Barnacles. It was spacious and quiet with excellent washing and cooking facilities. Tin Can Bay is an ideal location to visit at any time of year though shoulder seasons would be less busy.
Fraser Island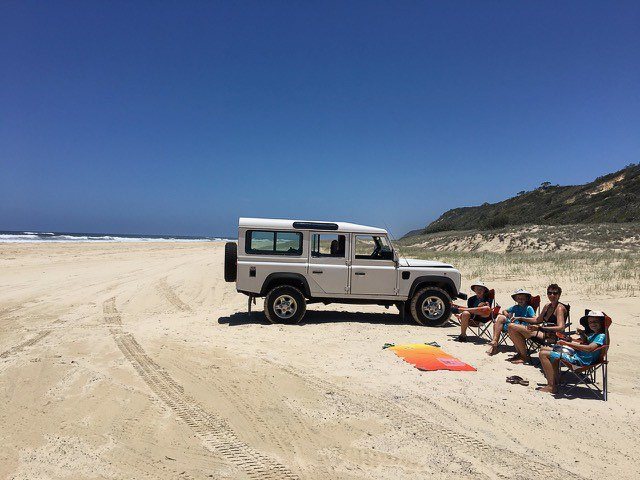 Thanks to Nicky from Go Live Young
Fraser Island, off the Queensland coast, is the world's largest sand island, stretching for more than 120 kilometres. Listed as a UNESCO World Heritage Site in 1992 for its natural beauty, this giant sand island can be explored by 4WD, either independently or as part of a tour. The island consists of long sandy beaches, coloured sand cliffs, huge sand dunes, freshwater dune lakes and ancient rainforest.
We opted to explore the island independently, hiring a 4WD vehicle from the mainland, complete with camping gear, for a two night/three-day trip. This gives you complete freedom to roam the island and escape the crowds, giving you complete flexibility when travelling as a family. Other options include organised tours on 4WD buses and tag-along tours, popular with backpackers, where groups of travellers' pile into a 4WD convoy and follow a lead vehicle with a guide.
There is so much to explore on this enormous sand island, but the highlights are the freshwater Lake McKenzie surrounded by perfect white sand, the glorious Champagne Pools, natural rock sea water pools, the Maheno Wreck on Seventy Five Mile Beach, Eli Creek, which is perfect for playing in and floating down, and Lake Wabby with its huge sand dune. There are no roads on the island, just sand tracks and miles of beach along the east coast of the island. Our boys particularly loved playing in the Champagne Pools and Eli Creek. Indeed, we ended up at Eli Creek for hours one afternoon, playing with lots of other children.
There are a number of accommodation options on the island, but we chose the campsite at Dundubara. This is a fenced campsite, towards the north of the island. This fenced site had been recommended to us due to the threat of dingoes with children.
Hamilton Island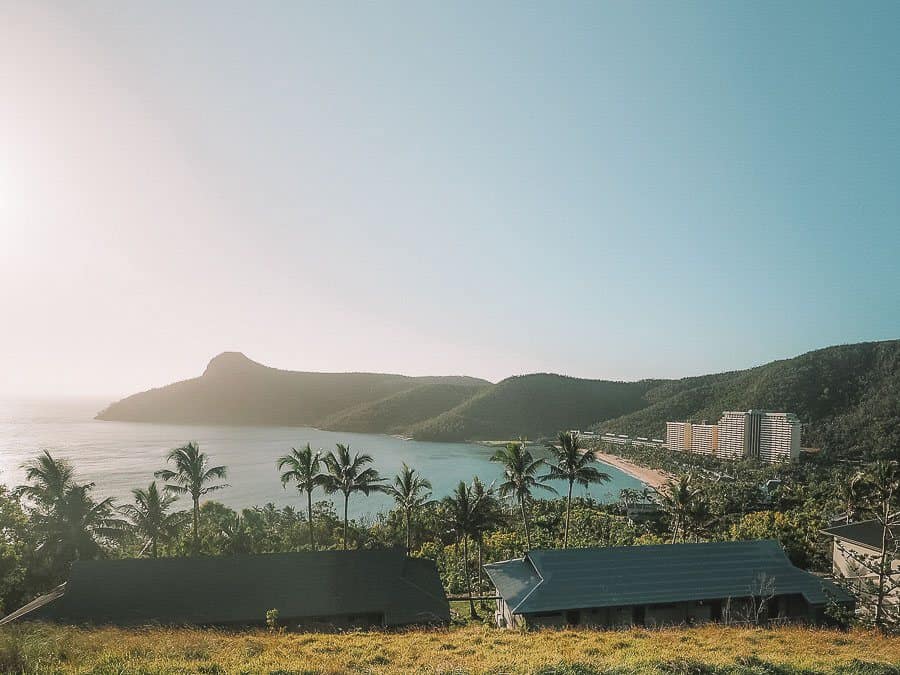 Thanks to Amanda from Fly Stay Luxe
Hamilton Island has always been a popular holiday destination amongst Australian families. I have fond childhood memories of staying at Hamilton Island, snorkelling and windsurfing in the turquoise blue waters, while mum and dad read their novel by the pool with a cocktail in hand.
Located in the heart of the Whitsundays, Hamilton Island is the perfect place for families to stay and experience the Great Barrier Reef and Whitehaven Beach, both of which are only a short boat ride away. The island offers many activities for parents and children of all ages. From hiking to golfing, to scenic helicopter rides over the reef, snorkelling and motorised water sports, these are but a few that are available. Boat trips to the Great Barrier Reef and Whitehaven Beach depart from the island daily.
The island offers a variety of a world-class accommodation options. From the fully self-contained Palm Bungalows, to the family-friendly Reef View Hotel or, if you have cash to splash, check out the upmarket Qualia Resort.
Hamilton Island also offers some great dining options. From cafes and takeaway shops, to fine-dining restaurants with spectacular views. Sunset tipples at the iconic One Tree Hill are not to be missed. Every evening the islands residents and visitors gather here to watch the sun melt into the horizon. There is also a supermarket available on the island to stock up supplies, which is great if you're travelling on a budget.
The best time to visit Hamilton Island is early Spring (September to October), however if you wish to save money on accommodation, its best to avoid Australian School Holidays. Autumn is also a lovely time to visit – the weather is still beautiful between April to June in North Queensland. The best way to get there is by commercial flight. Both Jetstar and Virgin Australia operate regular flights to Hamilton Island from Brisbane, Sydney and Melbourne.
Cairns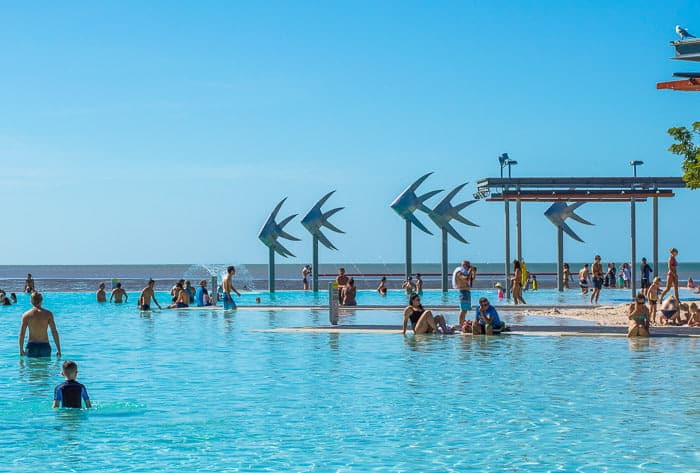 Thanks to Raksha from Solo Passport
Cairns is the tourist home for one of the natural wonders of the world – The Great Barrier Reef. The city of Cairns lies in the tropical far north of Queensland. It is a gateway to the various islands on the reefs that are few kilometres away from the mainland of Australia. It is one of the cities in Australia that is best enjoyed outdoors. The best time to visit Cairns is between June and October. Having said that, Cairns has a tropical weather of 25-31°C throughout the year.
There are frequent flights that connect Australia's capital cities with Cairns. Tigerair and Jetstar are the economical flight providers. And the airport has car rentals, where a car can be hired to travel within the city. The airport is about 15 to 20 minutes' drive from the city centre.
There is also some fantastic accommodation across Cairns for people with all sorts of budgets. Accommodation option includes self contained apartments, resorts, motel rooms and caravan parks.
There are plenty of things to do in Cairns. One of the must do things is definitely snorkelling or scuba diving in the Great Barrier Reef. The reef has abundant marine life and the experience of seeing the reef up close is an experience to die for.
As well as the reef, there are plenty of other places around Cairns to explore, such as the Cairns Aquarium, as well as being the perfect place to base yourself for day trips to Kuranda and the Daintree.
Click here for our full guide on visiting Cairns
Port Douglas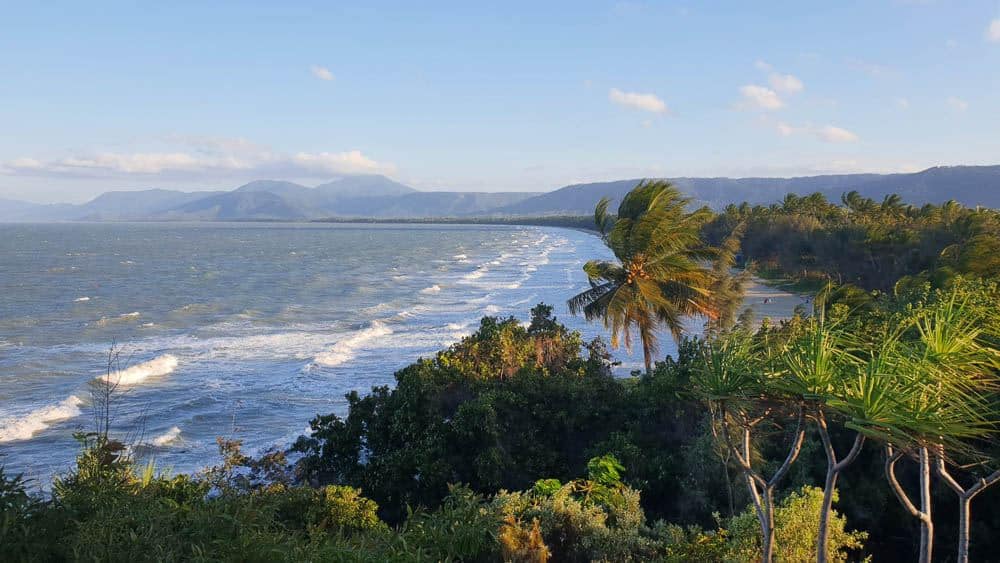 Thanks to Keri from Our Globetrotters
Situated in the Tropical North, Port Douglas is known as the gateway between the Forest and the Reef – meaning the Great Barrier Reef off shore to the east, and to the north, the ancient Daintree Rainforest – both UNESCO listed World Heritage sites.
For this reason, Port Douglas makes a brilliant place to base yourself when travelling to the far north of the state. The day trip possibilities are endless, and the township itself is touristy, yes, but beautiful and inviting. There's plentiful accommodation to suit all budgets, an amazing food scene and boutique shopping galore! The town itself can be easily walked around on foot, but for day trips on land, you will want to either hire a car or arrange tours with transfers.
The big obvious attraction is getting up close to the Great Barrier Reef. There are several tour options that run, from large groups through to small private charters, depending on your budget and water experience. For those with no water experience at all, you may want to start with Wavedancer which takes you to Low Isles for some snorkelling and beach fun.
For easy day trips on land, we love Mossman Gorge. It's at the very southern end of the Daintree National Park so river crossing is not necessary and it's only a 20-minute drive from Port Douglas to enjoy the wonders of the mighty forest, or even take a dip in one of the swimming holes. We also love Kuranda, the village in the mountains. Take the Skyrail (cable car) or the Kuranda Scenic Railway, passing by the magnificent Barron Falls, and enjoy the many wildlife parks on offer here in the picturesque mountains.
There are plenty of attractions close to town to keep your family busy. You could sink your feet into the irresistibly soft sands of Four Mile Beach; hop on the Bally Hooley for a short train ride to St Crispins; feed kangaroos or even have your photo taken with some feathered and furry critters at Wildlife Habitat. On the weekend enjoy the Port Douglas Market, stroll around the Crystalbrook Superyacht Marina and watch the sun set under the iconic palm trees of Rex Smeal Park.
Port Douglas is perfect in the dry winter months from May to November when there is little, if any, rain and temperatures are mild. It's not out of the question to visit in the wet season though when the forests can be at their liveliest, just expect there may be closures due to inclement weather.
Daintree Rainforest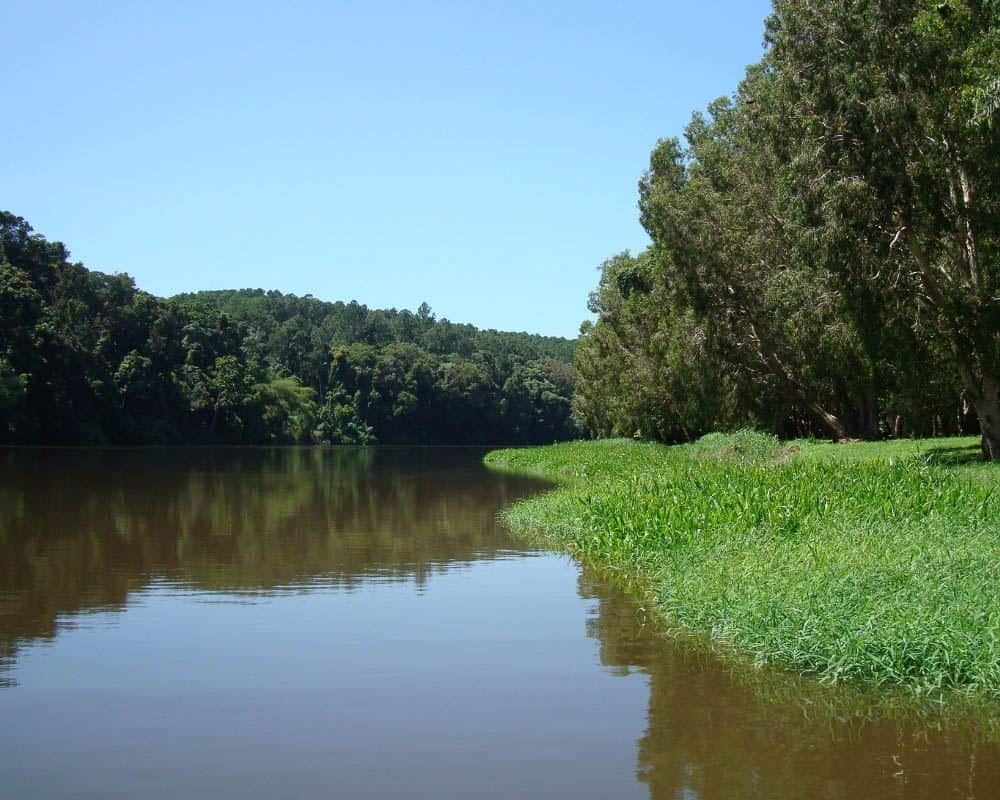 Thanks to Kylie from Our World of Adventure
When David Attenborough calls somewhere the "most extraordinary place on earth" – you need to make sure it's on your travel bucket list! The World Heritage Daintree Rainforest is the oldest rainforest on the planet and has the greatest diversity of plants and animals found anywhere in Australia. In fact, there are several endemic plants and animals found here which exist nowhere else on earth.
The rainforest is a two hour drive north of Cairns and an hour north of Port Douglas. If you have a 4WD, you can travel up and explore at your own pace. Otherwise daily tours depart from Cairns and Port Douglas.
There's plenty of ways to explore the forest…
Daintree Discovery Centre

– Here you'll learn all there is to know about this beautiful ancient forest. There's a series of viewing platforms and aerial walkways which allow you to explore from the forest floor up to the canopy.
Jungle Surfing Canopy Tour – This guided zip wire experience takes you through the heart of the rainforest on platforms between 7 and 16 meters high! Great fun for all the family.
Daintree River Cruise – A great way to experience the forest and its wildlife at close range, especially the saltwater crocs!
Authentic Kuku Yalanji Aboriginal Tour – These award-winning tours include historical and cultural insights in the how the Kuku Yalanji people have lived in the forest for over 9000 years.
Be sure to visit Cape Tribulation too. It's the only place on earth where two world heritage sites – the Daintree Rainforest and the Great Barrier Reef – meet.
Daintree can be enjoyed year-round however during the heavy rains of the wet season, the access road from Cairns can be flooded and therefore closed. It's always best to check the route before leaving to travel.
Click here for our full guide on visiting the Daintree
_________________________________________________________________________________
Click here for more tips on where to holiday in Queensland