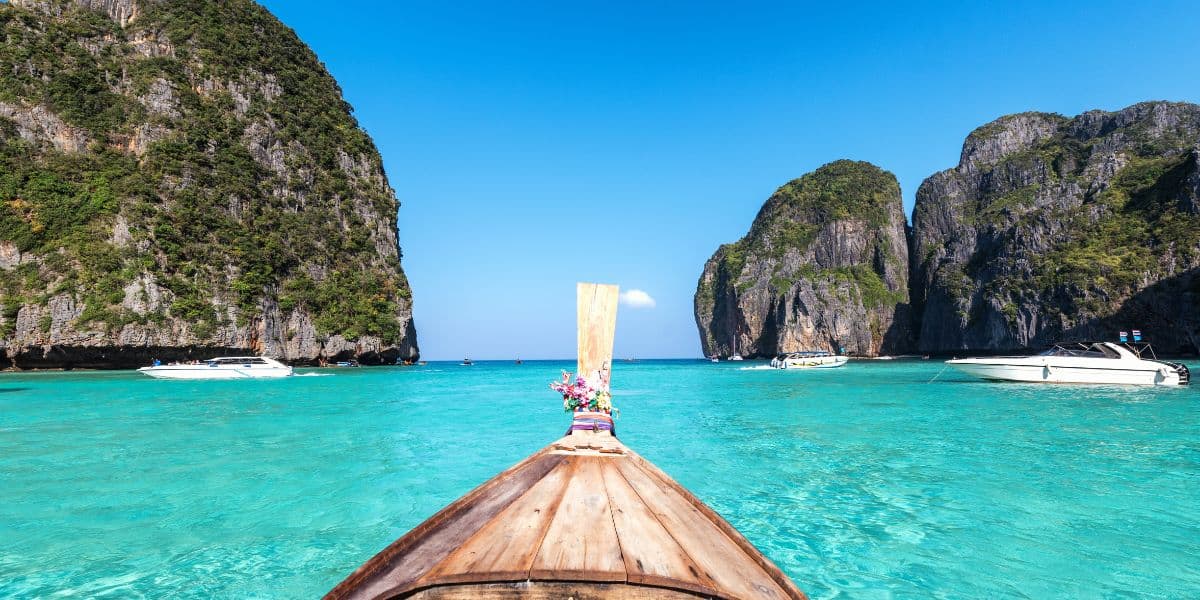 While in Phuket, I recommend joining at least one Phuket day trip. Some of the best day trips from Phuket include exploring stunning tropical islands, snorkelling in crystal clear warm waters and swimming from some of the most spectacular beaches you've ever seen!
Phuket boat tours or a Phuket island tour are among the most popular tours. Families often take a Phi Phi Island day trip from Phuket or even a Phuket Similan Islands day trip – or one of the many other Phuket boat trips, which usually include snorkelling and a delicious lunch.
This guide covers some of the more popular tours to help you find the best Phuket day trips. The guide provides all the information you need, including trip length; activities included and price, so you can decide which are the best day trips in Phuket for your family holiday.
So let's get into it and find the best day tours in Phuket for your upcoming trip.
Talk to other families about their tips on visiting Phuket and join our Thrifty Family Travel Facebook Group or be inspired by our Instagram.
This post may contain compensated links. Please refer to my disclaimer here for more information.
Best Day Trips from Phuket
Map
Before we get into the details of these best day trips Phuket offers, the map below shows the location of each destination covered in this guide.
Zoom in and out for a better view.
Best Phuket Day Trips
Below we cover some of the best day tours Phuket offers.
Under each destination, we cover why it's one of the best Phuket day tours and links to recommended tours.
All prices are in AUD. Click here to convert the rate to your local currency.
Phi Phi Islands / Maya Beach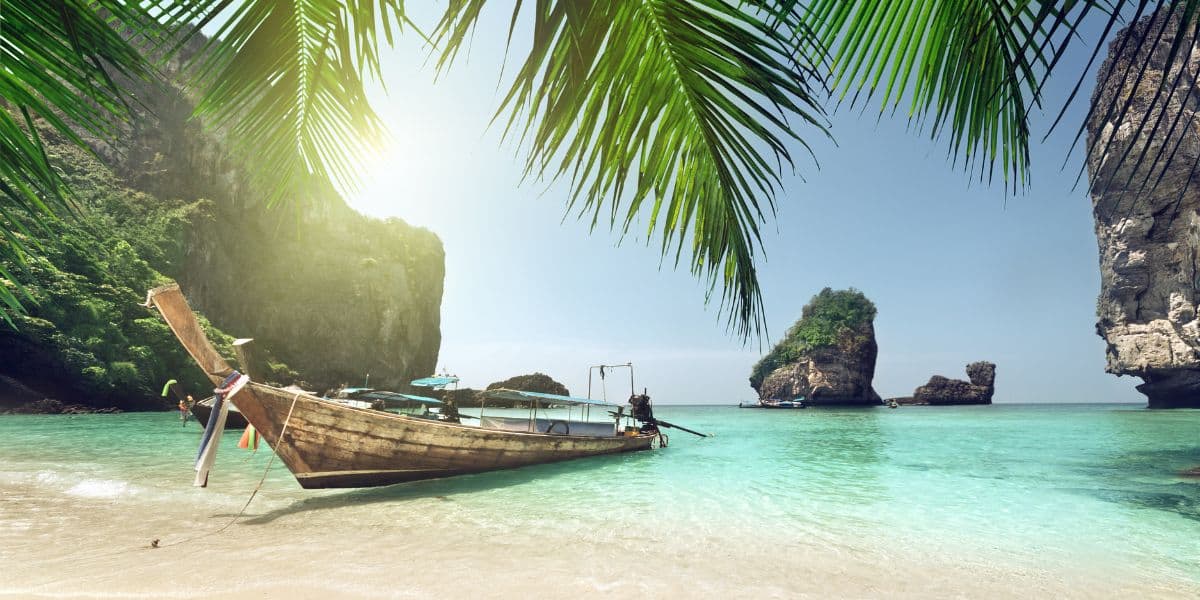 For many, a tour to Maya Beach and the Phi Phi Islands is the best day trip from Phuket. Kids and adults alike can enjoy swimming in the crystal clear waters of the Andaman sea, and you can even encounter native marine life by donning a snorkel.
Maya Bay is home to the breathtaking lagoon that starred in The Beach, a Leonardo di Caprio movie released in 2000. It offers plenty of swoon-worthy photo and filming opportunities, so if you have kids or teens who are into that, don't forget the camera or GoPro.
This part of Phuket is characterised by soaring, green-clad limestone cliffs, clear turquoise waters, bone-white sands and coral reefs. Things to do during a from-Phuket day tour include snorkelling, swimming, picnicking on the beach and of course, capturing it all on camera.
With plenty of space for the kids to splash and run around, this part of Thailand is a paradise for families. But, of course, you'll need to book a boat tour to reach these incredible islands and beautiful beaches, so read on to find our favourites listed below.
Speedboat tour to Phi Phi, Pileh Lagoon and Khai or Bamboo Island
Hop onto a speedboat to travel to Phi Phi and Pileh Lagoon, plus Bamboo or Khai Island. The vessel will ensure you arrive in the National park safely and without delay, giving you more time to enjoy these extremely picturesque locations.
This speedboat tour includes lunch, refreshments and snacks so you won't go hungry or thirsty. A snorkelling mask and a life jacket are supplied for safety, and your guide speaks English. Hotel transfers to and from the boat are provided with this one day trip from Phuket too.
Price:
Khai Island option: $94.15 per adult | $68.49 per child (4 – 11)
Bamboo Island option: $102.75 per adult | $77.05 per child (4 – 11)
Click here to book your tour online
Premium day trip to Phi Phi, Maya Bay and Bamboo Island with lunch
This nine hour tour also whisks you off to the sites by speedboat but is limited to a maximum of 28 passengers for a more personal experience. The Phuket to Phi Phi day trip also takes in Pileh Lagoon, Monkey Beach and the Viking Cave.
Apart from the limited group size, this trip's highlight is lunch on Phi Phi Don. This is served at a smart beach restaurant, so you can soak up the stunning views while refuelling.
National park fees are included here, as are hotel transfers, snorkelling equipment, a lifejacket, fresh fruit, soft drinks and even seasickness meds if you need them!
Price: $164.82 per adult | $98.00 per child (under 12) | – Click here to book your tours online
Snorkelling day trip to Phi Phi and more by VIP boat, catamaran or speedboat
Book this Phuket day trip to Phi Phi and you can choose how you'd like to arrive! The options are a catamaran, speedboat or even a VIP boat.
You can also pick your preferred destination. All trips go to Phi Phi and Maya, but then you can opt to visit Bamboo or Khai Island or Monkey Beach.
Kids won't be able to resist the cute creatures at the latter, and all the family can pop on a snorkel to spot underwater life within the calm, warm waters.
Do note that you must add the National Park fee when booking this tour unless you're a Thai national. You can also remove the hotel transfers if you wish – we've included these in the rates below.
Price:
Monkey Beach by speedboat: $66.55 per adult + $17.15 National Park entry | $54.99 per child (4 – 10) + $8.55 National Park entry
Khai Island by catamaran: $72.40 per adult + $17.15 National Park entry | $58.65 per child (4 – 10) + $8.55 National Park entry
Bamboo Island option: $85.59 per adult + $17.15 National Park entry | $66.35 per child (4 – 10) + $8.55 National Park entry
Click here to book your tours online
James Bond Island / Phang Nga Bay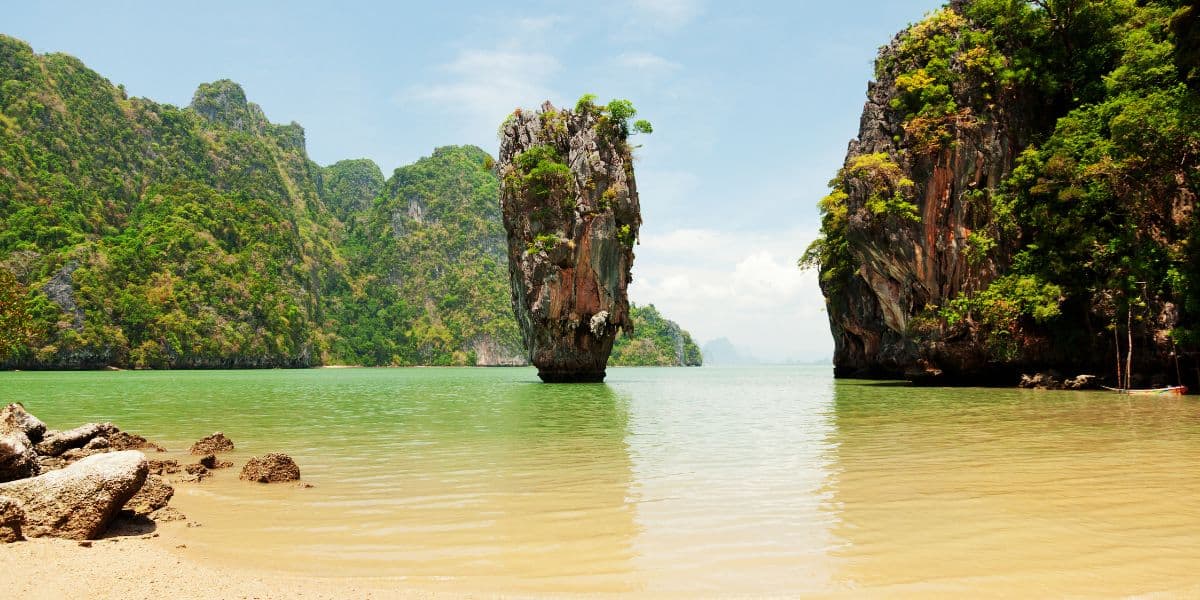 Phang Nga Bay hit the silver screen when playing a starring role in The Man with the Golden Gun, a 1974 James Bond film with Roger Moore. As well as 'James Bond Island', the bay is famous for its towering limestone stacks jutting out of the water. There are also caves in the area to explore.
Like Phi Phi and Maya Beach, you can take a Phuket day cruise to Phang Nga Bay. In fact, you don't have to limit the adventure to daytime, as there are evening trips you can take too. Imagine the kids' faces when they're allowed to stay up late, cruising the Thai waters by luxury boat!
Sights to spot during your day include Ice Cream cave, which boasts a stalactite shaped like an ice cream in a cone. Children will also love seeing the friendly creatures of Monkey Cave and paddling in the shallow waters by Talu Cave.
Some tours taking place by night are more family-friendly, while others are aimed at adults who deserve a night off, though children are also welcome to come along for a beach club experience at sea.
As with day trips from Phuket to Phi Phi, you'll need to access this part of the Andaman by boat.
Here are four of the best organised, fully insured boat trips to book.
Full day longtail boat trip to James Bond Island
Hop aboard a traditional Thai longboat for a real sense of place. It's a ten hour tour, so during the from-Phuket one day trip, there's plenty of time to visit Monkey Cave, Panyee Island and Talu Cave, as well as the immortalised James Bond Island.
You can meet the local primates at Monkey Cave and see beautiful carvings and statues. Meanwhile, a stop at Panyee Island lets you see how Thais live in an entire village built on stilts. You can also swim, paddle or even canoe in the Talu Cave area.
Price: $86.69 per adult | $78.99 per child (0 – 11) – Click here to book your tours online
Speedboat trip to James Bond, Naka and Hong Islands
When you book this trip, a smooth speedboat ride will transport you to a clutch of Andaman's most enchanting islands. The experience begins with a transfer from your hotel to Yamu Pier, where you'll board a boat bound for Phang Nga Bay.
There are lots for kids and adults to see and do on one of the best island day trips from Phuket. See Panak Island, swim at a serene and idyllic lagoon and even take a kayak tour around Hong Island. During the day, you can also discover ancient artworks and a mangrove forest.
Price: $72.75 per adult | $64.19 per child (4 – 11) | children under 4 are free | – Click here to book your tours online
Big Boat Koh Hong by Starlight tour
If you can't pick between seeing Phang Nga Bay by night or day, you don't have to. Instead, book this 'Koh Hong by Starlight' tour aboard a big boat, and you can see the famous scenery before and after dark.
This is the pick of the day trips from Phuket to James Bond island for those who want to experience it all, as it includes kayaking under professional guidance, native bird-spotting and Thai-style buffet meals. You can even set off a floating lantern during darkness if you want to.
Price: $151 per adult | $78 per child (6 – 12) | children under 6 are free | – Click here to book your tours online
James Bond Island deluxe sunset cruise
Whether the adults go it alone or the kids stay up late to join in, an evening cruise makes a refreshing change from the usual day trips from Phuket to the islands. If you're ready to party, this is the one for you, complete with day beds, a DJ, a dance floor and a bar.
Highlights include skimming across the Andaman by kayak, relaxing on board the ultra comfortable vessel, an international buffet lunch and a delicious sunset dinner with spectacular views. You can also laze in a water hammock on Yai Island.
Price: $209.36 per adult | $178.18 per child (4 – 10) | children under 4 are free | – Click here to book your tours online
Similan Islands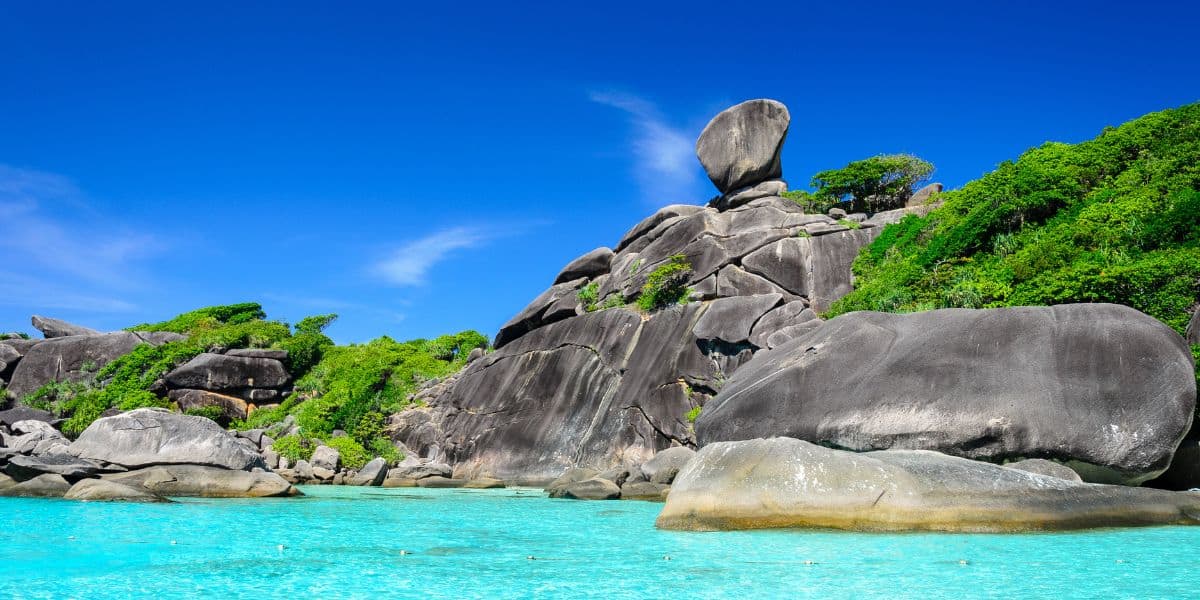 The Similan Islands offer something a little different. Abundant in wildlife – including sea turtles – they're more laid-back than other destinations in the area. If it's not your first visit to Phuket, then the best day trips might take you somewhere new, making this an ideal option. This is also the perfect place for wildlife lovers.
Located in the Andaman Sea, the Similan archipelago comprises nine pristine islands with white sandy beaches, stunning land and seascapes and a fascinating array of underwater life.
Take a trip here and you'll visit some interestingly-named spots too, including Honeymoon Bay for loved-up adults and Donald Duck Bay which will surely delight young kids! A trip to the Similan Islands is a must for children who like to explore the coastline, splash about in calm waters, or discover marine life.
Again you can't organise a Phuket to Similan Islands day trip off your own steam, so pre-book an organised tour to ensure you're in safe hands. The following two are the best options for families.
Early Bird Similan Islands day trip
A speedboat tour will whisk you to the Similan Islands for an eight to nine hour adventure.
This Phuket to Similan Island day trip involves an early start, so you can get there with plenty of time to enjoy all there is to see – and the peace.
During the day, you'll visit Princess Bay, Donald Duck Bay, Honeymoon Bay and Sail Rock. Two prolonged snorkelling stops are also included, allowing you to try and spy a sea turtle.
Note that a short hike to Sail Rock is required, and this tour is unsuitable for kids under 2.
Price: $173.72 per adult | $109.13 per child (4 – 12) | children aged 2 – 3 are free | – Click here to book your tours online
Snorkelling Similan Islands day tour
This tour is a little longer, giving you even more time to observe what's going on underwater. It's the pick of the Phuket day cruises for anyone who wants to see a sea turtle. Species in the National Park include Leatherback, Hawksbill, Green and Olive Ridley sea turtles.
A tasty Thai-style buffet lunch will be served at Ba Ngu Island, and you'll also visit the glorious beach on Miang Island.
All safety and snorkelling equipment is supplied, as is breakfast, snacks, fruit and soft drinks.
Note that this trip isn't suitable for kids aged 3 or under.
Price: $136.62 per adult | $106.91 per child (4 – 11) – Click here to book your tours online
Racha and Coral Islands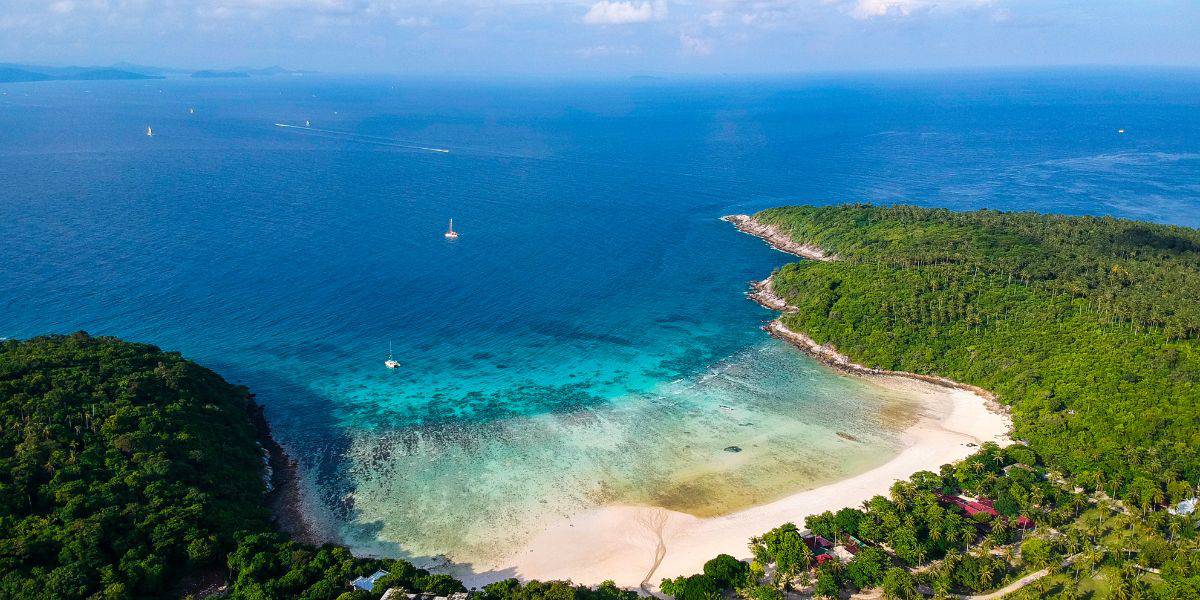 Exploring Racha and Coral Islands is one for water babies and beach bums – though you can have as relaxing or active a time as you like.
Coral Island – or as it's known in Thai Ko He or Koh Hae – is only a few kilometres from Phuket, but spending time here feels like a whole world away.
There are two main beaches here. Banana Beach offers the closest snorkelling to the shore, while Long Beach boasts a magnificent coral reef. Amenities like sun loungers and eateries are available on Coral Island.
Ko Racha Yai, Raya Yai or Racha Island also lies off the southeast coast of Phuket. Primarily the island is known for a luxury five star resort, The Racha, and the diving and snorkelling opportunities offered. You can also relax on the pristine sands of Patok Bay here.
Choosing between the two islands isn't really the issue here. Either way, a day trip will get you to some superb snorkelling and diving spots and beautiful sandy beaches, making this the ideal day trip with older, active kids.
Here are three of the best Phuket island trips to Coral and Racha Islands.
Racha Island tour with snorkelling (and optional scuba diving)
If you'd like to scuba dive on your 1 day trip from Phuket, then this is one of the finest Phuket diving day trips you'll find. This is because the underwater life around Racha Island is incredibly colourful and diverse.
When selecting the diving experience, the day will begin with 15 minutes' of instruction at Patok Bay or Ter Bay.
Later in the day, you'll enjoy lunch at a resort with a pool that you can swim in, plus a visit to a Coral Island beach.
This trip is only suited to kids who are 10 years or older.
Price: $68.65 per adult | $58.21 per child (10 – 11 only) – Click here to book your tours online
Racha, Coral and Maithon Island speedboat tour
Discover three Thai island destinations in one trip with this speedboat day tour from Phuket. You'll visit Coral, Racha and Maithon Islands and can sample snorkelling off the shore and unwinding on the pretty beaches.
The tour includes round-trip transfers, lunch, refreshments and the use of a lifejacket and snorkelling mask.
Kids joining the trip must be aged 2 or over.
Price: $47.55 per adult | $38.05 per child (2 – 11 only) – Click here to book your tours online
Sunset tour from Phuket to Coral Island
Rather than squeezing in a half day trip from Phuket, why not book a relaxing evening cruise to see Coral Island? Then, you can travel by catamaran in the afternoon, giving you time on the beach during the day and the chance to snorkel or catch fish.
All soft drinks and food are provided, and you can purchase alcoholic drinks from the bar on board.
This tour is suitable for children and lasts for six-and-a-half hours.
Price: $47.05 per adult | $34.19 per child (4 – 12) | children aged under 4 are free | Click here to book your tours online
White Water Rafting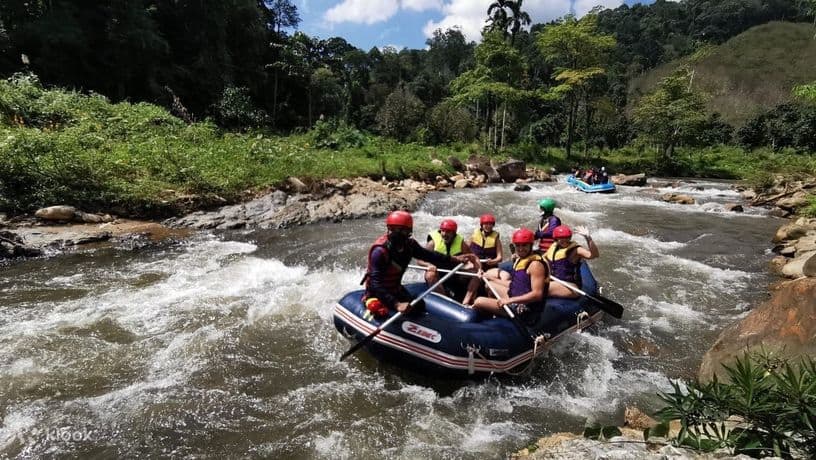 A white water rafting experience is one of the most exciting things to do in Thailand and makes a more active alternative to the standard kind of Phuket islands day trip.
If you fancy the thrill of riding over open water in a purpose-built raft, then this is one of the top places in the world to try it. It can also be among the cheapest.
This isn't something you can do without an organised trip – you need all the right equipment, plus of course, expert guidance. The great news, though, is that you can combine your white water adventure with another adrenaline activity, such as ziplining or touring by All Terrain Vehicle (ATV).
There's also the option of including a jungle trek, waterfalls or caves on this kind of Phuket one day tour package.
Here are two top recommended white water rafting tours in Thailand.
As long as your kids are four, five or older, they can, and will love, taking part!
White water rafting plus jungle and waterfall trek
This is surely one of the most exciting Phuket day excursions around! It includes a hike through the jungle, a waterfall, a ride in an ATV and even the chance to try making a traditional Thai dessert.
Your exciting day out includes rafting on the Song Phraek river, taking a dip beneath Ton Pariwat Waterfall, discovering flora and fauna of Phang Nga Province and a Thai lunch with soft drinks and fruit.
This experience isn't suited to kids aged 5 or under. cant find this option to check prices
Price: $181 per adult | $138 per child (6 – 12 only) | Click here to book your tours online
Rafting, zipline and ATV adventure tour from Phuket
This tour is far more exhilarating than any of those Phuket day trips to islands you may experience. As well as white water rafting, you'll enjoy a thrilling zipline ride with fabulous views and a trip in an ATV.
You can also see a giant Buddha at Wat Suwan Kuha temple and ride along the river at speed for around five to seven kilometres.
A Thai lunch with fruit and soft drinks is also included as part of the day.
Kids taking part should be 4 or over, and weigh at least 45kg.
Price: $71.35 per adult | $61.85 per child (4 – 10) | Click here to book your tours online
ATV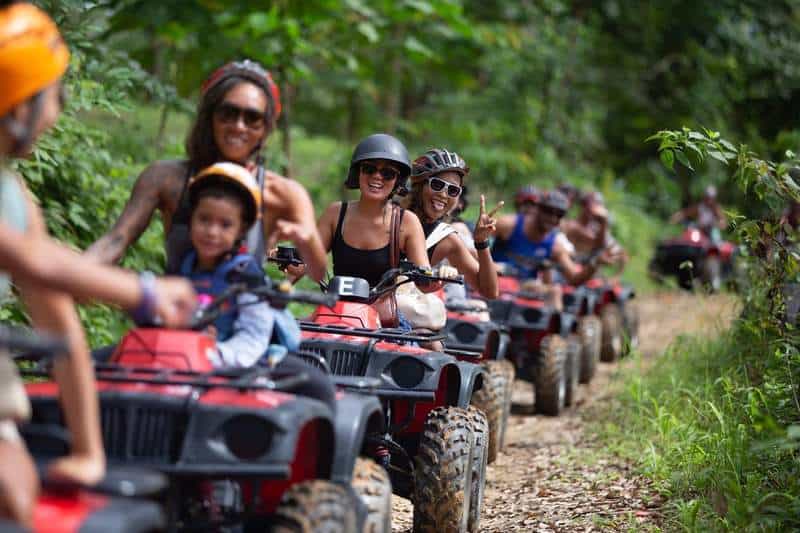 Instead of a Phuket one day tour package by boat or bus, why not take to your very own ATV? These individual All Terrain Vehicles are really easy to learn to ride, and you can book experiences lasting an hour or longer.
As long as they're accompanied and supervised by a parent or guardian, kids aged eight or over can participate in this fun activity – and of course, they'll love hurtling through the jungle and along bumpy tracks with a secret beach or the famous Big Buddha in their sights.
Again this is one to book as an organised activity. For safety reasons, you'll need to follow the instructor's directions carefully and wear the helmet and gloves supplied. Once you're all set, get ready for an hour or two of exhilarating riding.
Here are three of the best Phuket sightseeing day trips for exploring the island via ATV. Some include other exciting options, such as a zipline ride too.
Mangrove jungle and hidden beach ATV tour
This one or two hour tour begins with a safety briefing before setting off to discover Phuket. Once you've got into the swing of the ATV controls, you'll set off to explore the rainforest, mangrove jungle, local villages, and palm plantations of the island.
An advantage over the average Phuket island day tour is that it only lasts an hour or two, freeing up the rest of your day for other sightseeing or activities.
If you want an added adrenaline rush, though, add the Flying Fox to your cart when booking: this is available as an add-on with the one hour ATV tour.
If you want to see the lesser known side of Phuket, then this tour is perfect for you.
Price:
1 hour ATV tour: $102.45 per adult | $84.64 per child (8 – 15 only)
2 hour ATV tour or 1 hour plus Flying Fox: $129.18 per adult | $102.45 per child (8 – 15 only)
Click here to book your tours online
Phuket ATV riding experience
As with all three tours, you don't need prior ATV riding experience to take this Phuket island tour. Under professional guidance, you'll quickly get the hang of steering over bumpy terrain to see the less touristy side of the destination.
You can book a one or two hour tour, leaving you plenty of time for a half day Phuket city tour or other activity during the rest of the day.
Adding the Flying Fox is also an option if you fancy even more of a thrill!
Price:
1 hour ATV tour: $74.69 per adult driver | $58.85 per adult passenger |$61.45 per child driver (8 – 15 only) | $49.25 per child passenger (8 – 15 only)
2 hour ATV tour or 1 hour plus Flying Fox: $110.65 per adult driver | $89.89 per adult passenger |$87.75 per child driver (8 – 15 only) | $69.35 per child passenger (8 – 15 only)
Click here to book your tours online
ATV adventure safari with optional zipline
Whizz past rubber plantations, over hills and through the jungle on an ATV with this tour. You can also visit the Big Buddha statue during your one or two hour experience – and there's the option to add a zipline ride too.
Like the other ATV experiences, you can book onto this one as a driver or a passenger.
The cost also includes hotel transfers and bottled water; they'll even provide you with a raincoat during wet weather.
Price:
1 hour ATV tour: $77.05 per driver | $64.19 per passenger
2 hour ATV tour: $95.25 per driver | $76.09 per passenger
ATV tour plus Flying Fox: $123.05 per driver | $111.55 per passenger
Click here to book your tickets online
Island / City Tour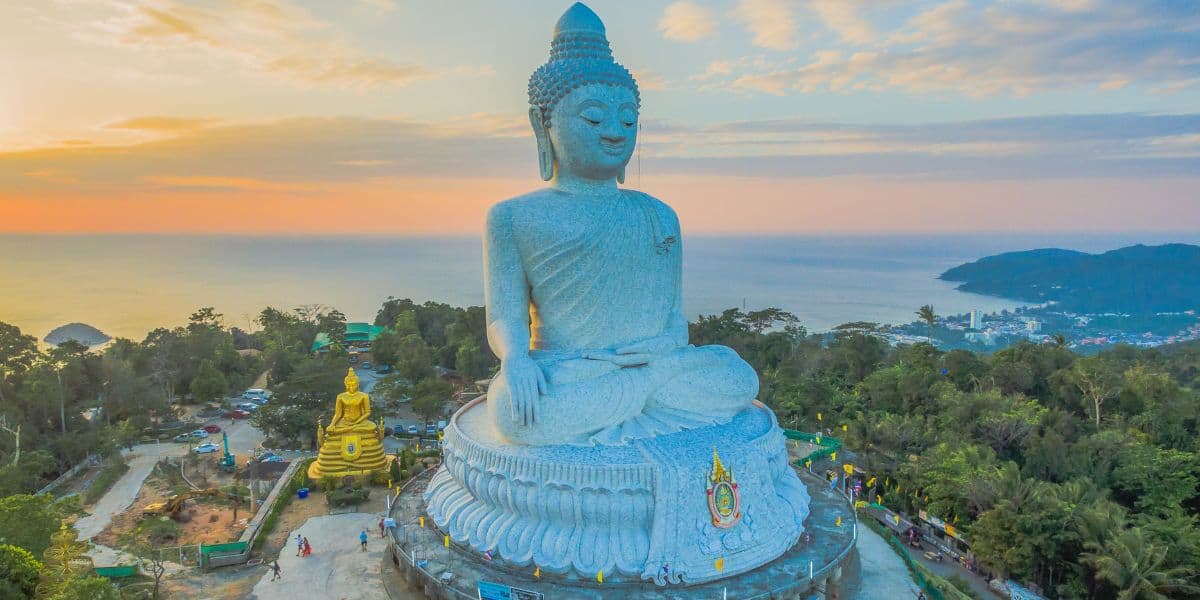 If you have the time for a Phuket full day city tour – or can even spare five or six hours for a Phuket half day tour instead – then this is a recommended way to see the sights of the island. Tours will take you to sites such as Big Buddha, the Old Town, Chalong temple and even the Thai island's most Instagrammable spots!
The longer Phuket full day tour will also take you to other lovely spots, so the kids can splash around in the sea at Ao Sane Beach, see colourful homes on Soi Romanee in Phuket Old Town, take selfies at Rock Swing and enjoy a yummy lunch at Nui Beach. So there's plenty to keep the kids occupied.
If you want, the whole family can hike up to Cape Krating for panoramic views of the island's stunning coastline. The shorter tours, meanwhile, are five or six hours long and include sites like a cashew nut factory as well as the Old Town, beaches, temples, statues and viewpoints.
Here are three top Phuket island day tours to consider when planning your trip.
Phuket half day highlights tour
At five hours' duration, this is the pick of the Phuket half day tours for those short on time. You'll discover Phuket Old Town, the Big Buddha and Chalong temple, and also get the chance to enjoy breathtaking views from the viewpoints visited.
As so many colourful and beautiful sites are included, ensure everyone brings their camera along. That way, they can post on social media to make their friends envious! Perfect for keeping picky teens happy.
The tour includes hotel pick-up and drop-off.
Price: $62.36 per adult | $35.64 per child (3 – 11) | children aged under 3 are free | Click here to book your tours online
Old Town, Big Buddha and temple tour
If you have an extra hour to spare, this Phuket day tour package gives you a little longer to explore in depth. As well as the temple, the huge buddha statue and the Old Town, you'll visit three utterly Instagrammable spots for magnificent views over the Andaman Coast.
This tour also takes in a Thai cashew processing plant for an insider's perspective on food production. Ideal for kids who are learning all about where their food comes from.
Again hotel transfers are included in the cost, which is per person rather than charged differently for kids and adults.
Price: $43.92 per person | Click here to book your tours online
Phuket highlights and hidden gems tour
If you have ten hours at your disposal, this Phuket 1 day tour package will let you into a few little secrets and take you to the main tourist sites. You can take a dip, even don a snorkel at pretty Ao Sane Beach, and add an optional hike to the stunning Cape Krating viewpoint if you'd like to.
This tour is packed with Instagrammable moments, from the colourful buildings of Phuket Old Town to the mosaics decorating the temple. Kids will also love using the Rock Swing and taking a lunch break at Nui Beach.
The day's last stop is at Promthep Cape, another elevated point offering unparalleled views.
Price: $67.16 per adult | $6.044 per child (0 – 11) | Click here to book your tours online
Khao Lak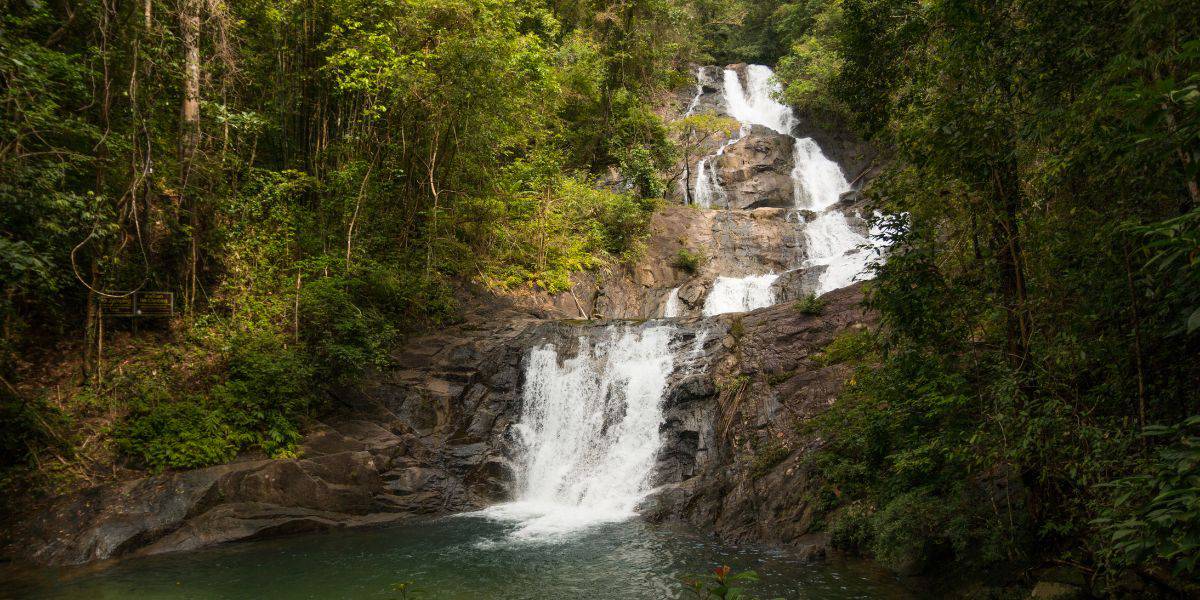 Khao Lak National Park is about 80 kilometres (or 50 miles) north of Phuket. It's a large site packed with natural attractions such as waterfalls and various species of flora and fauna. These include Sunda flying lemurs and many birds, amphibians and reptile species.
The park also has some beaches close to the visitor centre, plus some extended hiking trails. However, accessing the latter requires a local guide, so they're not really ideal for families.
Otherwise, the park is perfect for kids, with lots of space to run around, a seaview restaurant at the visitor centre, and plenty of absorbing wildlife to spot.
Visitors to Khao Lak have two options. You can book a from-Phuket 1 day trip to explore the park under expert guidance or make your own way there.
If you have a hire car, expect the drive each way to take about two-and-a-half hours. There is parking at the visitor centre, and accommodation too should you want to stay overnight.
A day trip is a great option if you don't fancy navigating the Thai highways. While local buses are available, the journey can take up to four-and-a-half hours each way. Depending on the route, you might need to change buses and either way, you'd have to reach the park by a 30 minute walk after alighting.
The park is open daily from 8 am to 4.30 pm and the entry price is THB 100 per adult, THB 50 per child (3 – 14), with children under 3 free.
For those who want to see Khao Lak National Park via an organised tour, read on for the pick of the Phuket day trip packages to the park.
Khao Lak National Park day tour
This organised day trip includes various activities to keep kids and adults busy. After heading north from Phuket, you'll stop at Sarasin Bridge and the Andaman Viewpoint before taking to the river on a raft made from bamboo!
After cruising down the river's calm waters, stops are made at the Sea Turtle Conservation Centre and the International Tsunami Museum. This brings to life the devastating effects this area experienced in 2004.
The lovely, multi-level Lampi Waterfall is your last stop before boarding the coach back to Phuket.
Drinks, hotel transfers and all fees are covered by the cost of this Phuket one day tour to Khao Lak.
Price: $90 per person | Click here to book your tours online
Khai Nok, Khai Nai and Khai Nu
If you feel like getting off the beaten track or have been to Phuket before, you may seek something different. When you've made the Phuket day trips to Phi Phi – or simply don't want to – a cruise to the idyllic islands of Khai Nok, Khai Nai and Khai Nui is a great alternative.
At Khai Nok, Khai Nai and Khai Nui, it's all about kicking back and enjoying paradise. On Khai Nai specifically, kids and adults who love felines will also be thrilled to meet the local cat population.
You'll need to reach the islands by taking a boat trip over the Andaman Sea, so it's not something you can arrange yourself. However, this is also perfect when you want to find a Phuket snorkelling day trip, as the equipment is provided and there's clear water plus lots of colourful underwater life.
Khai Nok, Khai Nai and Khai Nui boat tour
If natural, coastal beauty is your thing, you'll love this cruise from Patong. For beach lovers, Phuket day excursions don't get any better than this. You can lie back and soak up the sun, pop on a snorkel to explore the underwater world or feed the cats of Khai Nai.
You'll be supplied with fruit and other snacks as you cruise towards this trio of beautiful islands. In addition, there are great photo opportunities all day long – both from the boat and once you've disembarked on the islands.
The price includes transfers to and from your hotel.
Price: $44.54 per person | Click here to book your tours online
Surin Islands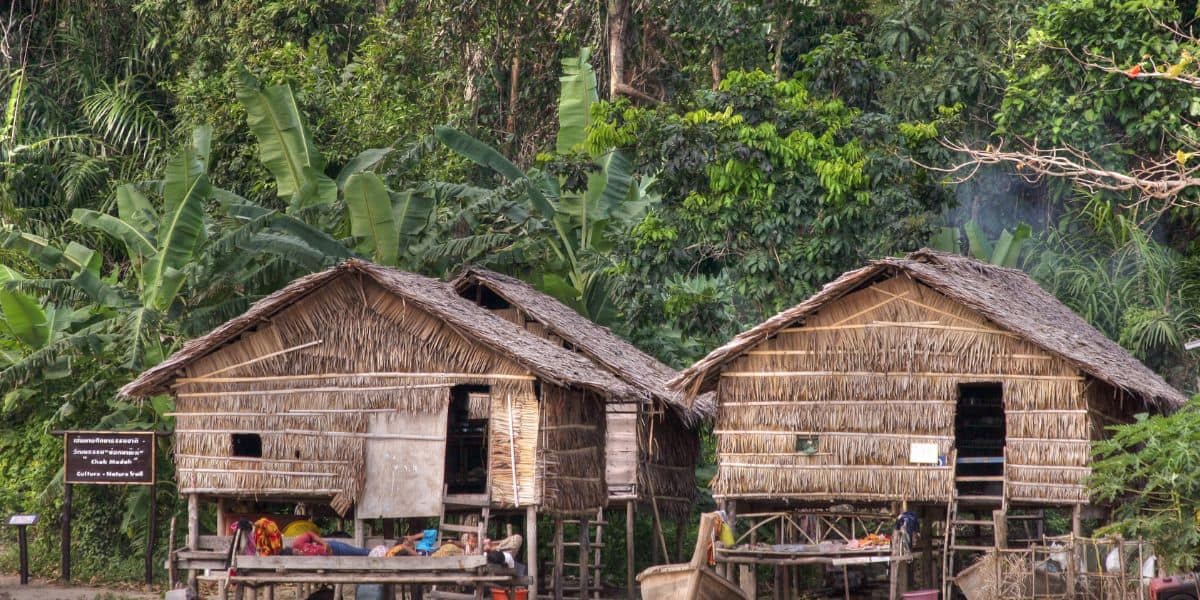 The Surin Islands archipelago comprises five Thai islands located around 60 kilometres (or 37 miles) from the mainland. They are in the Phang Nga Province and Mu Ko Surin National Park. Most visitors come here to snorkel or dive; the underwater life here is among the finest on the planet.
Snorkelling or diving day trips from Phuket to the Surin Islands are thus popular. You can see all manner of marine life here, from sea turtles and tropical fish to whale sharks and manta rays.
Around 100 bird species also inhabit the area. For kids and adults who love nature, this area is unmissable!
If underwater wildlife appeals to you, you can reach the Surin Islands by boat from Phuket. These also tend to include a visit to the charming thatched Sea Gypsy Moken Village.
Snorkelling trip to the Surin Islands
Hop onto a luxury speedboat to take your trip to the stunning Surin Islands. This Phuket island hopping day trip includes three snorkelling stops plus a visit to the Sea Gypsy Moken Village to witness a fascinating and unique way of life.
The day commences with a light breakfast as your tour guide briefs you.
Once the trip begins, your first stop will be at Pineapple Gulf or The Nemo. Next, you can also take a dip and enjoy the views at Twin Beach.
After the village visit and a Thai style buffet lunch, you'll go to Mae Yai Gulf and the Tao Gulf for more underwater exploration before heading back to Phuket.
Price: $152.66 per adult | $108.91 per child (4 – 11) | children aged under 4 are free | Click here to book your tours online
Hopefully you have found this article on Best Day Trips from Phuket helpful. We have other guides to help plan your trip to Phuket, including Best Things to do in Phuket with Kids and Phuket Kids Club Hotels.