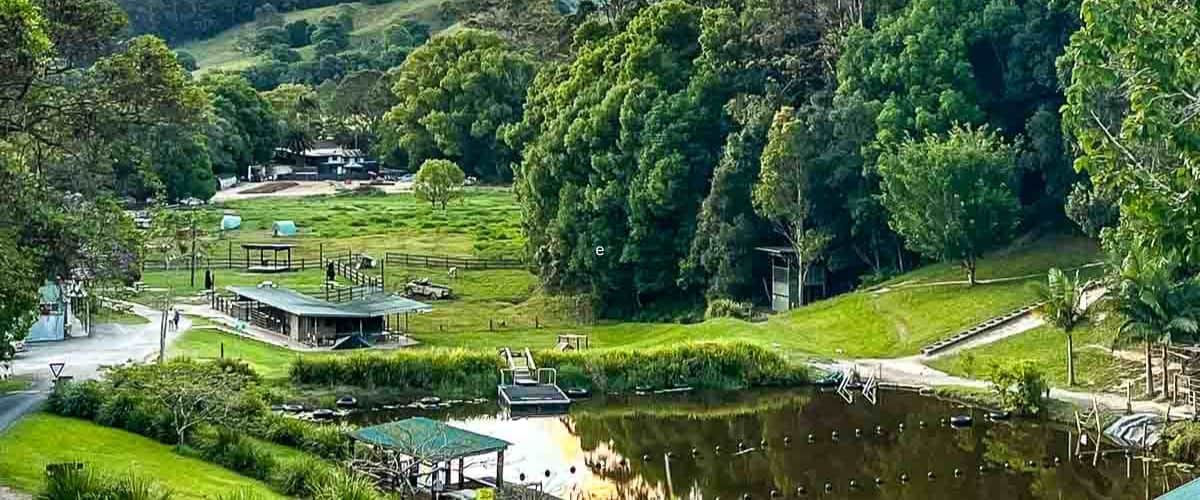 I seriously can't believe it's taken me so long to stay at Hosanna Farmstay! I've been hearing great reports about this place for years and after my recent stay, I'm pleased to say it did not disappoint.
Hosanna is a stunning property hidden away in the Tweed Valley, about a 2.5 hour drive from the Brisbane CBD or just over an hour from Surfers Paradise. The property is expansive and offers families loads to do including water activities, farm activities and even live music nights around the campfire.
I've written this guide to help you make the most of your Hosanna Farm getaway. This Hosanna Farmstay review covers all the accommodation options, activities available (including prices), facilities on site as well as food options available.
Hosanna really is the ultimate place for a family escape. Leave the iPads and laptops at home, and experience some great activities with the kids. I can guarantee you – this is one place the whole family will be raving about for years to come.
PS! It's dog friendly too – so there's no need to leave the furry kids at home!
Talk to other families about their tips on visiting the Tweed and join our Thrifty Family Travel Facebook Group or be inspired by our Instagram.
This post may contain compensated links. Please refer to my disclaimer here for more information.
Hosanna Accommodation Options
There is a range of accommodation options at Hosanna Farmstay, from basic cabins to a massive homestead that can sleep up to 20 people, as well as a range of camping options.
Below is a brief overview of the different accommodation options available.
Cabins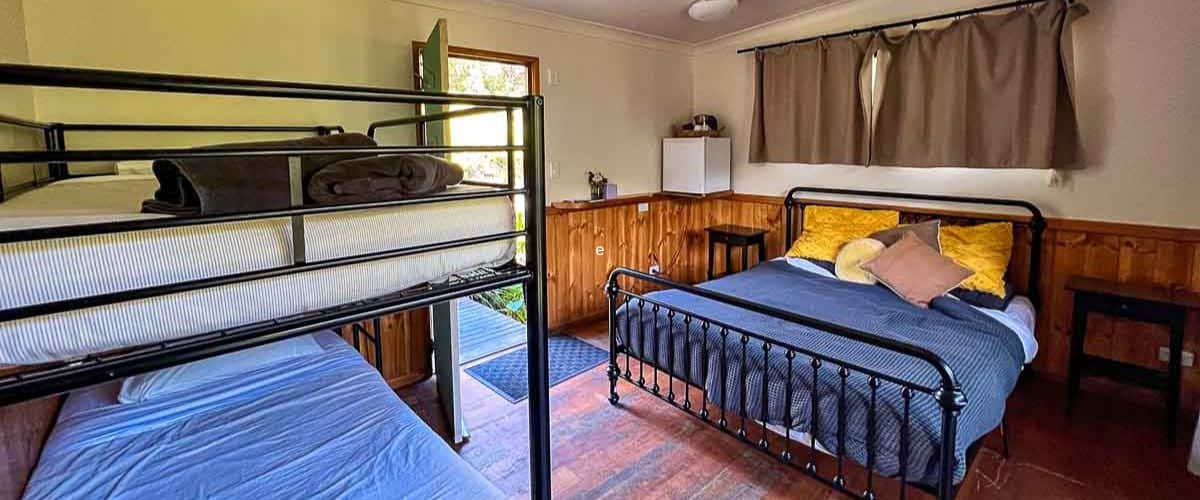 The cabins at Hosanna Farmstay are perfect for families after the basics. These are simple studio rooms with a queen bed and a set of bunk beds.
The cabins come with a private bathroom, a small fridge, tea and coffee making facilities, and all your linen. They also feature a ceiling fan (no AC) and heating.
The gorgeous balconies that look over the dam are where these cabins really shine. This is the perfect spot to relax.
Cabins start at $135 per night for a family of 4, with a 2 night minimum.
Homestead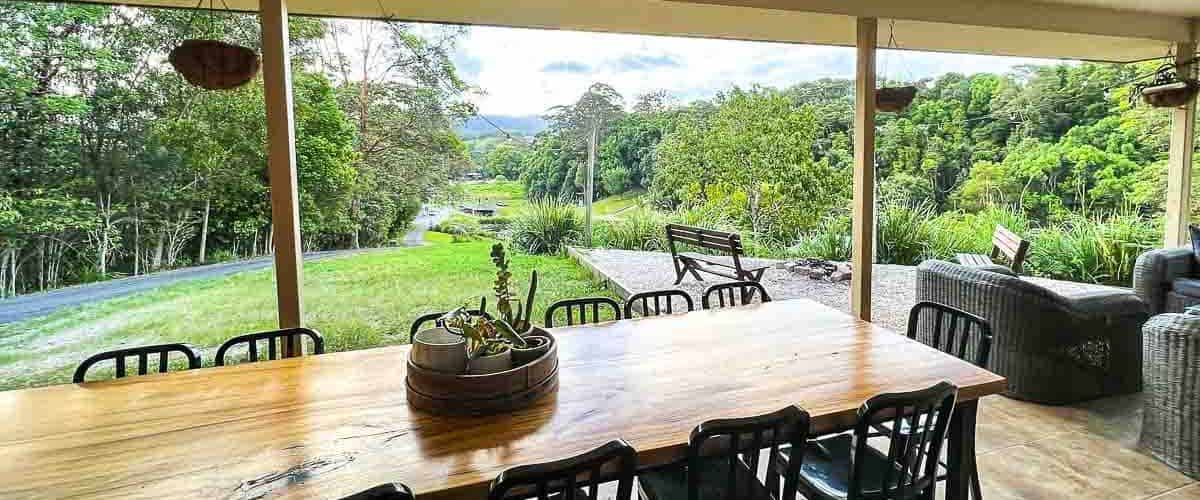 Now, if you can get a couple of families together – I recommend booking the Homestead. There is just one Homestead on the property – so you'll need to get in fast – but this place is huge, with the ability to sleep up to 20 people!
Three families would be perfect for the Homestead as it has three bedrooms featuring queen beds and one bedroom with 4 bunk beds – so perfect for 8 kids. The kid's room also comes with a lounge, TV and some games – so this is the ultimate kid's retreat at the end of a busy day.
The Homestead has two bathrooms and a fully equipped kitchen. It also has a dining room, lounge area and multiple sitting areas, as well as a gorgeous outdoor area that overlooks the entire property, complete with a BBQ and fire pit.
The Homestead starts at $1090 per night with a 2 night minimum. Considering it can sleep up to 20 people – this is not a bad price at all.
Glamping Huts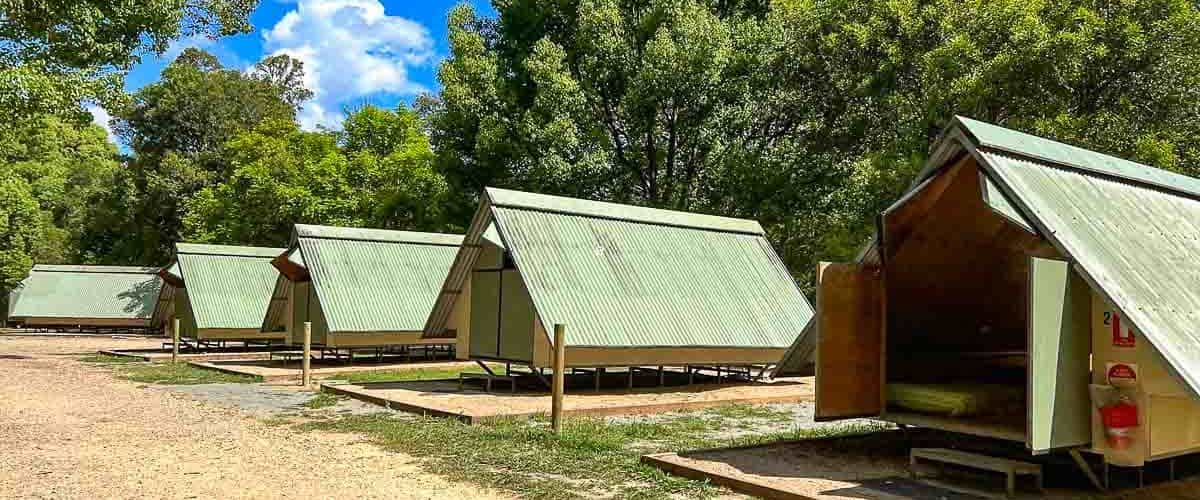 If you want to give camping a go without setting up a tent – the next best thing is to stay in one of the glamping huts. The glamping huts are little A-frame structures with four mattresses inside, complete with all required linen.
Inside you'll also find a fan and heating but no AC. They also have lighting, power outlets and your own fire pit.
Glamping huts start at $115 per night for a family of 4, with a 2 night minimum.
Camping Options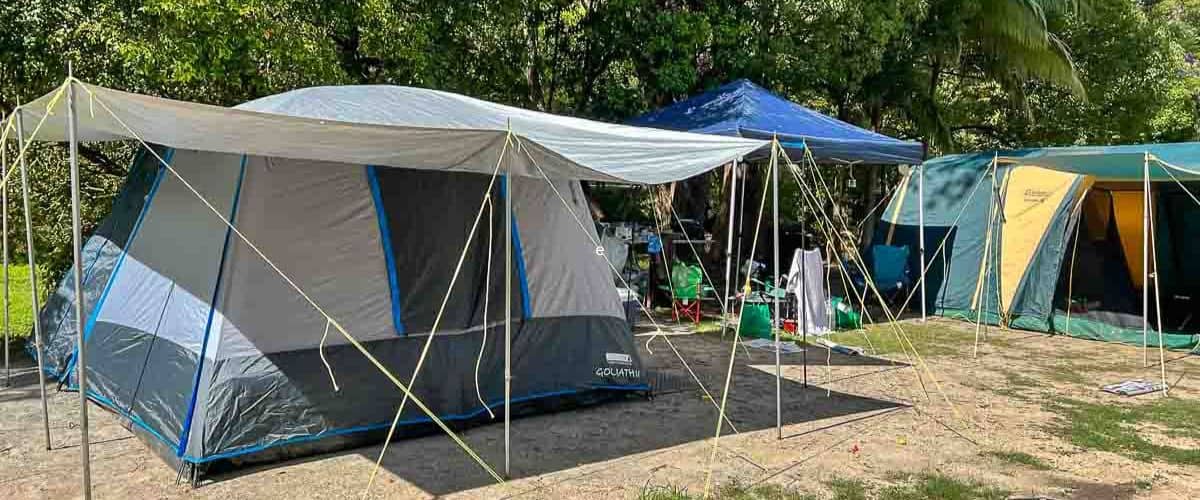 There are plenty of camping spots for families bringing their own gear to Hosanna. Both powered and unpowered sites are available, with each site being a designated site of around 10 m x 10 m.
In addition to electricity, powered sites also include water connections.
Powered sites start at $74 per night for a family of 4, while unpowered sites start at $62 per night for a family of 4.
Things to do at Hosanna Farmstay
There is certainly no shortage of things to do for both the kids and adults at Hosanna Farmstay. Here's a brief overview of all that's on offer.
The Adventure Passport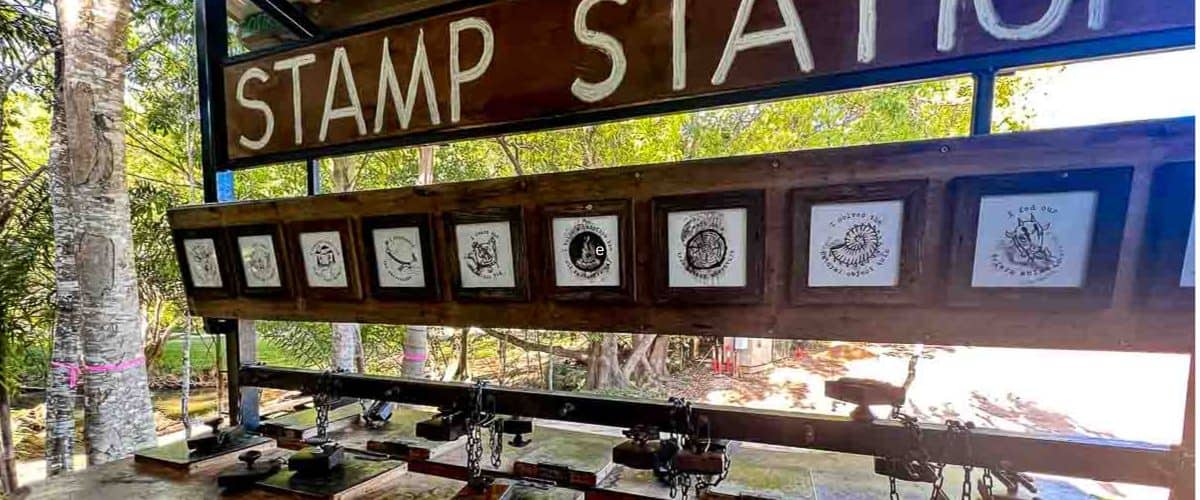 Hosanna Farmstay's Adventure Passport is the ultimate way to explore all the fun activities at the property.
Kids can work together or with their parents to complete the challenges such as building a mud pie, feeding a cow, telling a story by the campfire, conquering the waterslide and many more.
Once each challenge is completed, they can head to the stamp station and stamp the corresponding challenge. It's a great way to get the kids outside their comfort zone and off their devices!
Price: $5.00 per Passport
Animal Feeding
Each day you can help feed the animals, including baby chickens, ducks or even a goat! The feedings take place at the same time every day, with opportunities to watch the animals throughout the day.
Times: Daily from 9 am and 5 pm – plus midday feedings during peak periods.
Price: Free
Water Activities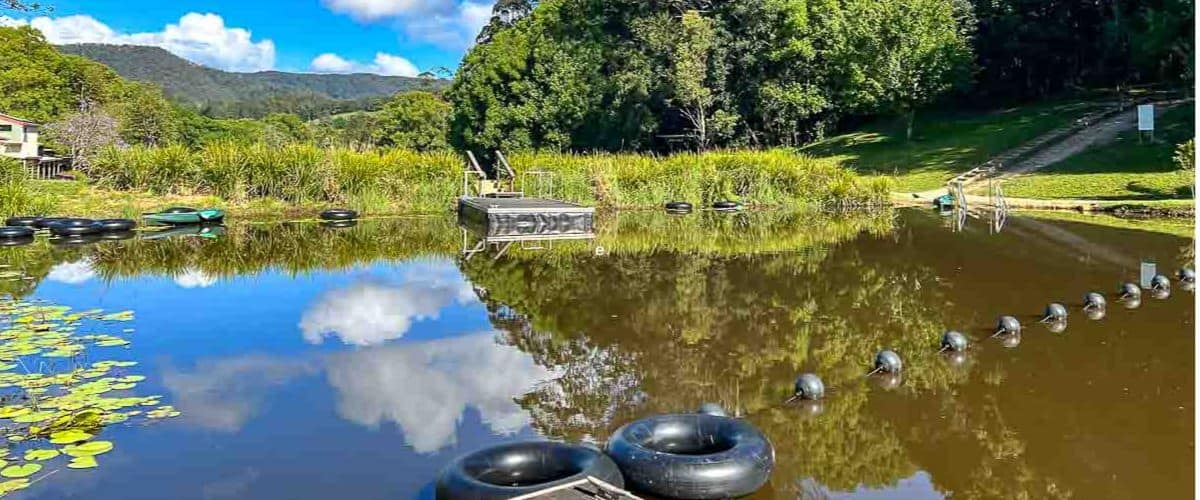 The dam is the most popular place for the family to hang out at Hosanna.
There are several different water activities, including kayaking (life jackets included) and for the more adventurous kids, there is a custom built waterslide that slides straight into the dam!
Or, if you prefer a more relaxed time in the water, you can float around on one of the inflatable tubes.
There is also a creek around the property, which kids can explore.
Price: The kayaks require a gold coin deposit.
Mud Kitchens
The mud kitchens strategically placed along the creek are a favourite with the younger kids. These kitchens provide hours of fun for the little ones. Just don't forget to pack their old clothes for this activity!
Smashing Pumpkins and Feeding Pigs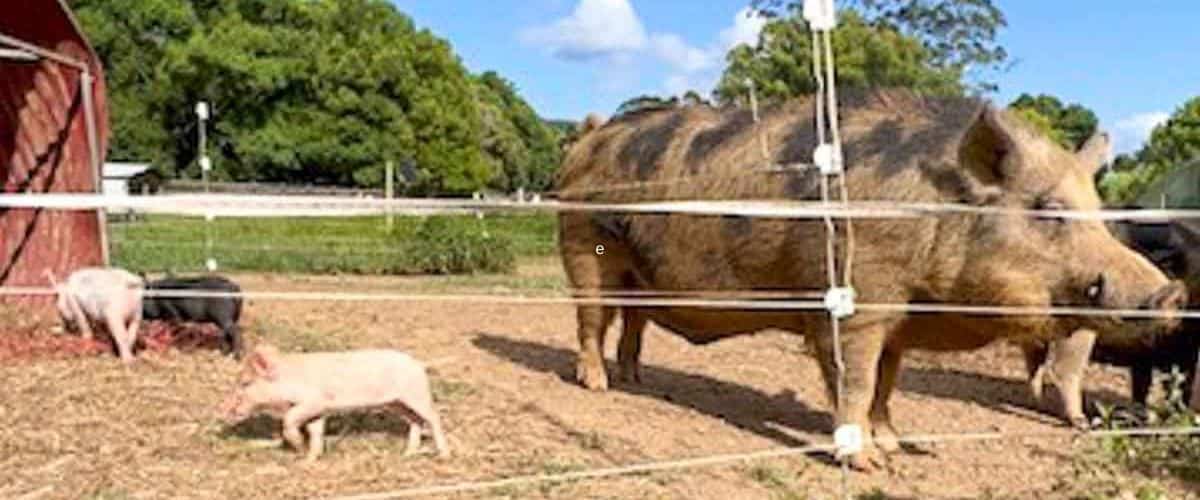 Each morning Hosanna has pig feeding sessions where you can smash the pumpkins yourself to feed the resident pigs Hercules, Kevvie Bacon, Tiny Pig and Pocahonta – they are so ridiculously cute!
Meeting the Hosanna pigs was one of my favourite things – I could watch these cuties all day!
Price: $5.00 per person
Time: 9.30 am daily
Bee Experiences
Love honey? This is the experience for you. Get a closer look at Hosanna's honey and native bees in this educational tour, and you can even try a sample of their honey straight from the comb.
Price: $5.00 per person
Time: $5 per person
Farm Tours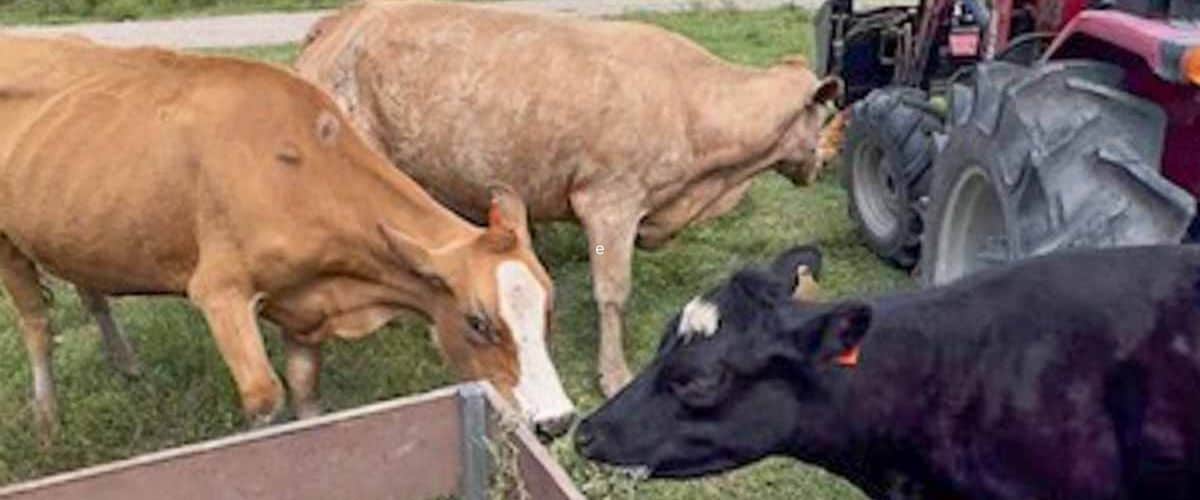 Another one of the highlights of our stay at Hosanna was the farm tour which takes you around the property on a hay bale ride behind the tractor.
The tour gives you an up close and personal look at a day in the life of the farm and the chance to become an honorary farmer for the day. You can collect the chicken eggs, visit the beef cattle and learn about Hosanna's shift towards more sustainable and regenerative farming practices.
This is a very popular option, so please ensure you book ahead.
Price: $10.00 per person
Time: Weekends – 9.30 am, 10.30 am and 11.30 am | 10.30 am Wednesdays, Thursdays and Fridays
Make a Campfire
The ultimate camping experience would have to be sitting around a campfire toasting your marshmallows with the perfect stick the kids found earlier in the day.
Take this to the next level by starting your campfire from scratch using flint and steel. And complete it with one of Hosanna's ready made damper kits. Yum!
You'll even earn yourself a stamp in your Adventure Passport by doing so!
Walking Tracks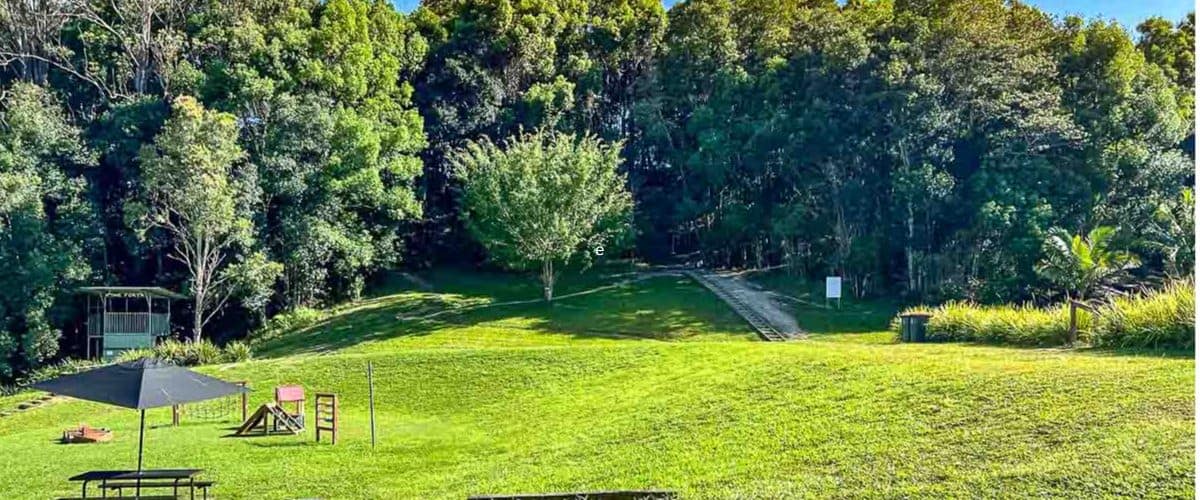 Get off the beaten track with Hosanna's walking trails. You can explore the nearby forest at your own pace and get closer to completing your Adventure Passport.
A popular time to head up to the lookout is right at sunset to photograph the amazing view.
Live Music
Can it get any better than Live music with great local artists?
Bring your own camp chair and picnic rug, and set yourself up for a relaxed Saturday evening or Sunday lunch acoustic session.
There is a big grassed area that's perfect for the kids to burn some energy whilst you kick back and enjoy the atmosphere.
Pick up some food from the BBQ shack to top off this experience and BYO your own alcohol.
Price: Free – food and drinks extra
Time: 5 pm to 8 pm Saturdays | 11 am to 2 pm Sundays
Cow Milking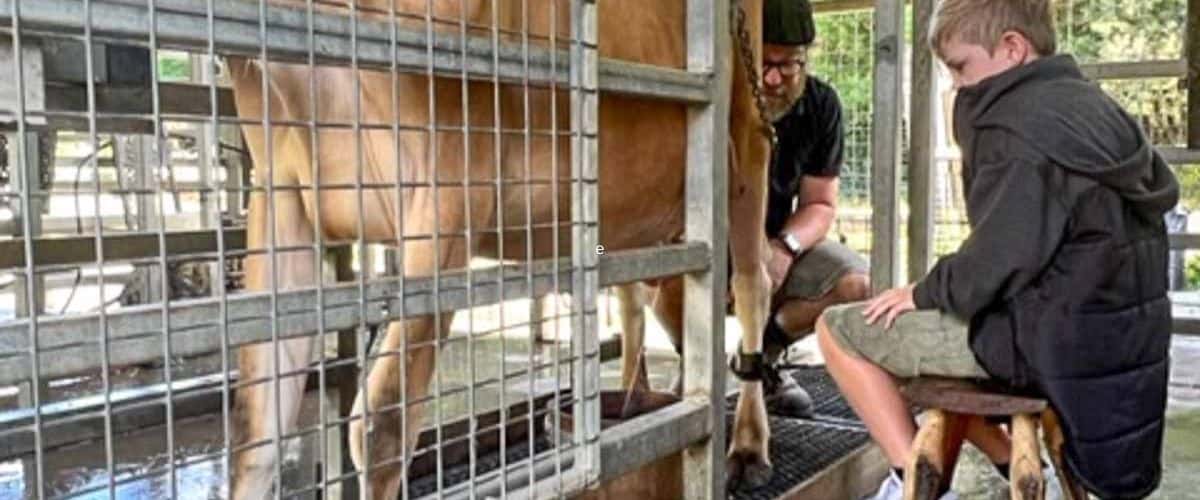 It's not a Farmstay without milking a cow or two!
Learn how to milk Hosanna's Jersey Cows by hand, and hear all about how milk is produced and why it is so important to support local dairy farmers when buying our milk for home.
Of course, you get to sample the fresh milk straight from the cow at the end of the session.
Price: $5.00 per person
Time: 8 am daily
Hosanna Facilities
As well as plenty to do at Hosanna – there are some great facilities on site to make your stay more comfortable – particularly for those camping.
Hosanna Coffee Shop & BBQ Shack
From your morning coffee to an easy lunch or dinner to save you from washing up – the Hosanna Coffee Shop & BBQ Shack have you covered.
For breakfast, there is a range of rolls (from $12), toasties (from $14) and smoothies (from $10) available, while for lunch, you can grab some tasty burgers, nachos and tacos (from $18).
There is a great range of options for the kids too, including sausage on bread for just $3!
The Coffee Shop is open Monday to Friday from 9 am to 2 pm. On the weekends you can get coffee from 7 am, breaky from 8 am to 10 am and lunch from 12 pm to 2 pm. Dinner is also available on Saturday nights from 4.30 pm to 7.30 pm.
The BBQ shack is also open on weekends.
Hosanna Store
The Hosanna General Store stocks all the camping essentials, which come in handy if there is something you forgot to pack!
They also sell some treats for all the family – like old school lolly jars where the kids can even buy one lolly if that's all they've left of their pocket money!
They proudly support some of the local small businesses as well.
Camp Kitchen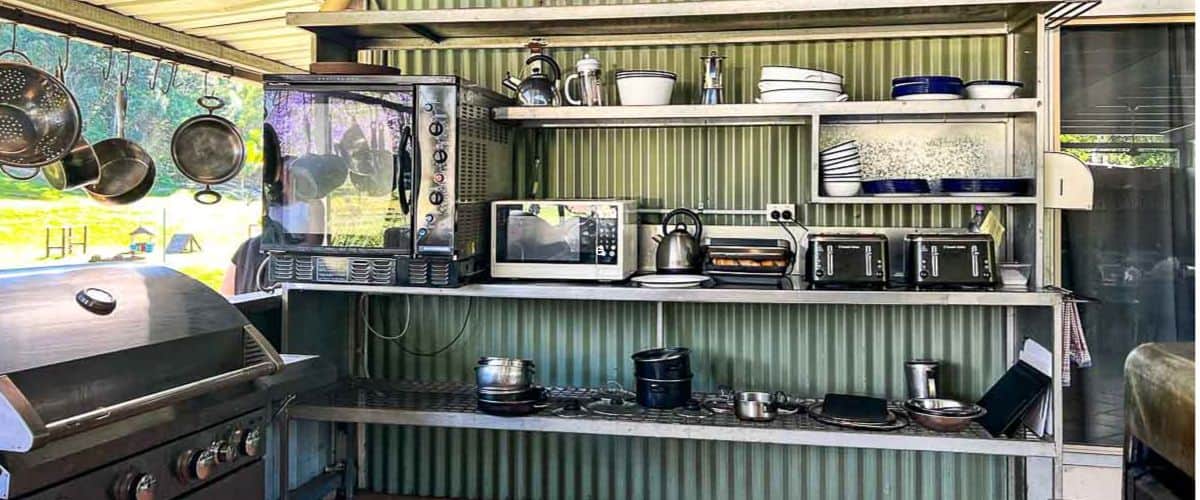 Hosanna Farmstay has a camp kitchen available for use. The kitchen includes microwaves, oven, BBQ – all your pots and pans etc.
It's seriously one of the best camp kitchens I've ever seen! It also comes with plates, bowls, cutlery, etc., so you could just bring your food and you'd be all set!
Day Visits
If you are in the area, it is well and truly worth a day visit to Hosanna Farmstay!
A day pass gives you access to all the free activities the property offers. Feed the animals, have a swim or book in for the Saturday evening acoustic session.
Opening Hours: 9 am – 5 pm
Price: $7.00 per person (2 years & under are free)
Hosanna Farmstay – Our Verdict
As I said in the introduction – I seriously can't believe it has taken me so long to stay here. This place is seriously amazing!
There is just so much to do here and it's perfect for families with kids of all ages. If you have tiny tots – it's awesome – if you have young kids or even young teens – it's perfect. Kids of all ages will absolutely have a ball here.
But parents aren't forgotten either! You can get barista coffee each morning and enjoy some BYO wine while listening to some live music – you can even let someone else take care of the cooking if you like.
But if you do have to cook – the camp kitchen here is among the best I've ever seen!
One problem though – the secret is well and truly out and you will need to book well in advance to stay here – particularly if you want a cabin on a weekend.
So what are you waiting for – jump online and book your stay at Hosanna Farmstay – I can assure you, you won't regret it!
____________________________________________________________
Hopefully you've found this review on Hosanna Farmstay helpful and you're ready to book your trip! We have other guides to help plan your trip to The Tweed Region including things to do in the Tweed with kids (coming soon) and our review of the North Star Holiday Park. You might also enjoy our guide on the Gold Coast with Kids.