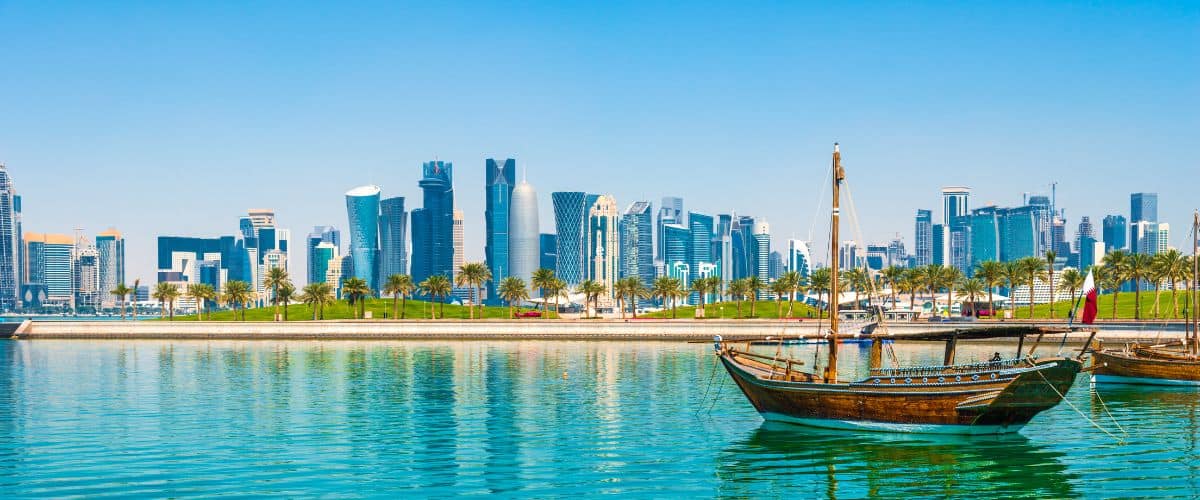 Not sure what to do in Doha on your upcoming family trip? Then you've come to the right place, as this guide covers all the best things to do in Doha with kids.
For many families travelling long haul, a layover in Doha (the capital city of Qatar) is often required. But instead of spending your time in the airport – why not spend a few days here?
There are some fascinating places to visit in Doha, as well as excellent attractions. One day you could be cruising through the desert past some epic dunes and the next day, visiting one of the many family friendly attractions in Doha, like a theme park – they have quite a few!
Other Doha things to do include swimming at pristine beaches, visiting impressive mosques, browsing through the old market, shopping at first class malls, learning about local culture at one of several museums in town, and much more!
In addition to covering all the awesome things to do Doha offers families, this guide will also provide tips on getting from Doha airport to the Doha city centre, getting around the city and where to stay in Doha with kids.
So let's get started and look at all the top things to do in Doha with kids.
Talk to other families about their tips on visiting Doha and join our Thrifty Family Travel Facebook Group or be inspired by our Instagram.
This post may contain compensated links. Please refer to my disclaimer here for more information.
Best Things to do in Doha with Kids
Map
To help plan your trip and decide which places in Doha to visit and things to do in Doha for kids, I've provided the map below, which shows the location of the attractions covered in this guide.
Zoom in and out for a better view of all these fun things to do in Doha.
What to do in Doha
with Kids
This section provides a comprehensive guide to the best kids' activities in Doha. In addition, it includes detailed information to make planning your itinerary easier, such as the attraction's location, opening hours and ticket prices.
All the pricing for these Doha activities is in QR. Check the rate in your local currency here.
Souq Waqif Market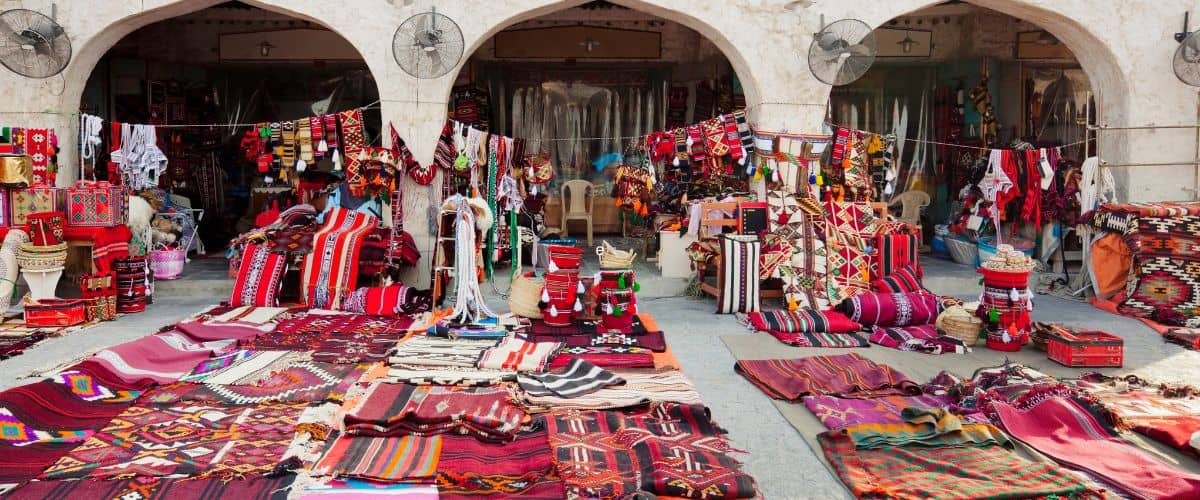 Exploring the atmospheric labyrinth of the Souq Waqif is one of the best free things to do in Doha.
At the ancient marketplace, you can see camels and Arabian horses for sale or shop for textiles, perfume, jewellery or glass souvenirs made in workshops surrounding the market. Kids can get a temporary henna tattoo or watch an artist at work in the Art Centre.
Don't miss the colourful and aromatic spice souq and pick up some street food from the central courtyard.
Location: Between Al Asmakh and Al Ahmed street, Al Jasra.
Hours: Shops generally open daily from 10 am – midday and 4 pm – 10 pm | Restaurants and cafes are open all day.
Price: Entry to the market is free
Falcon Souq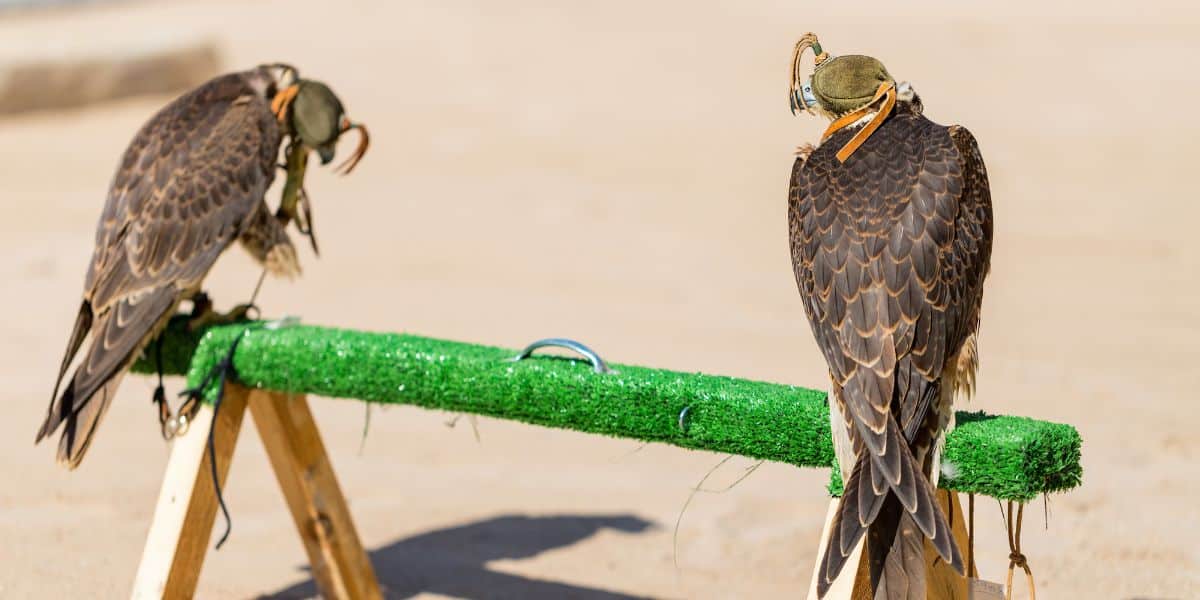 Falcons are an important part of Qatari culture, dating back to historical times when these birds were trained to hunt down birds for food. The birds remain an important part of the Middle East today, which can be seen in the Falcon Souq.
The Falcon Souq has its distinct entrance and vibe within the Souq Waqif. There are birds and falconry equipment for sale, as well as birds on display and available for photographs.
Falcons are revered in the Middle East, so this area gets very busy on weekends.
Location: Al Souq Street
Hours: Weekdays 9 am to 1 pm and 4 pm to 8 pm but only evening on Fridays.
Price: Entry to the market is free
Katara Cultural Village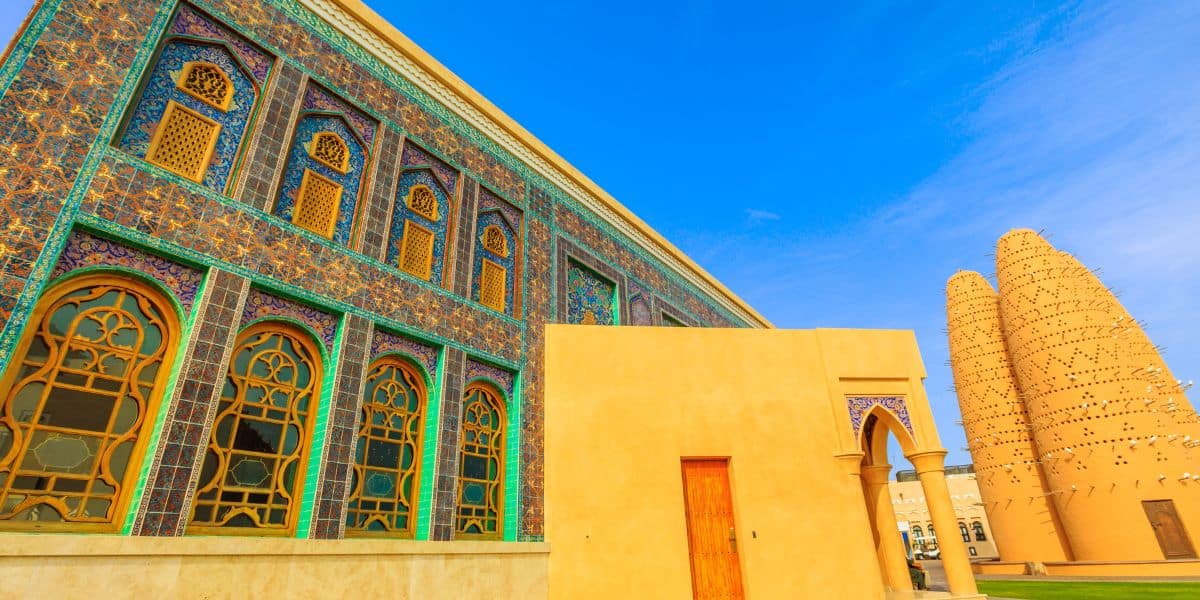 One of the top 10 things to do in Doha is the enormous Katara Cultural Village complex showcasing Qatar's art and culture.
Visit The Golden Mosque (named for the gold tiles covering the building), admire the intricate mosaics at Katara Mosque (also known as The Blue Mosque) or catch a performance at the Opera House or the open air Greek amphitheatre.
Kids will enjoy Al Thuraya Planetarium or a paddle and play at Katara's gorgeous private sandy beach. Visit Katara Art Centre, go shopping or pick up traditional food on 21 High Street.
The village hosts a regular program of exhibitions and activities, such as having a go at Arabic calligraphy or meeting a falcon.
Location: Katara Street, off Lusail Street
Hours: Every day (except Friday) from 9 am to 4.30 pm
Price: Free – though individual activities and exhibitions charge an entrance fee.
Katara Beach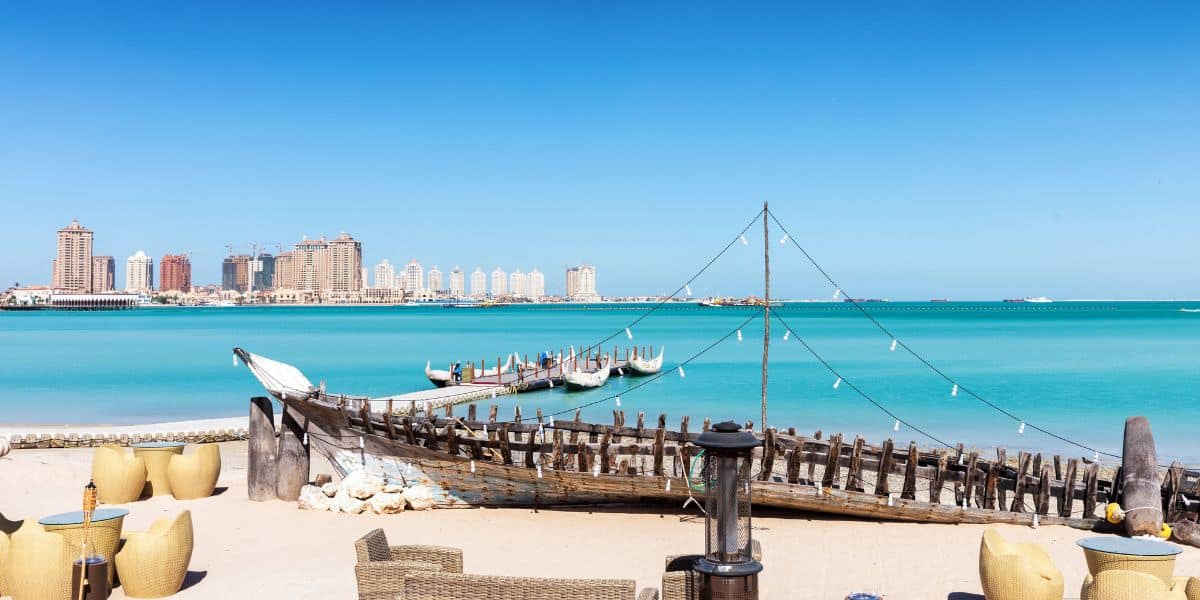 Considered one of the most beautiful beaches in Doha, Katara beach stretches some 1.5km in front of the Katara Cultural Village.
At Karara Beach, you can swim, kayak, water ski, take a speed boat ride or enjoy a leisurely dhow cruise.
There is also a kid's playground and plenty of places to grab a bite.
You can also rent chairs and umbrellas for QR 5 each.
It's important to note that there are several entrances to the beach and families should use the family entrance, which is opposite the Over the Counter Cafe – men on their own are not allowed to visit this section of the beach.
You should also note that you must wear t-shirts and shorts to swim here – the usual swimming attire is not appropriate.
Location: In front of Katara Cultural Village
Opening Hours: Daily from 10 am to 11 pm – although no swimming or water sports after sunset
Price: Adults QR10 | Kids free
Museum of Islamic Art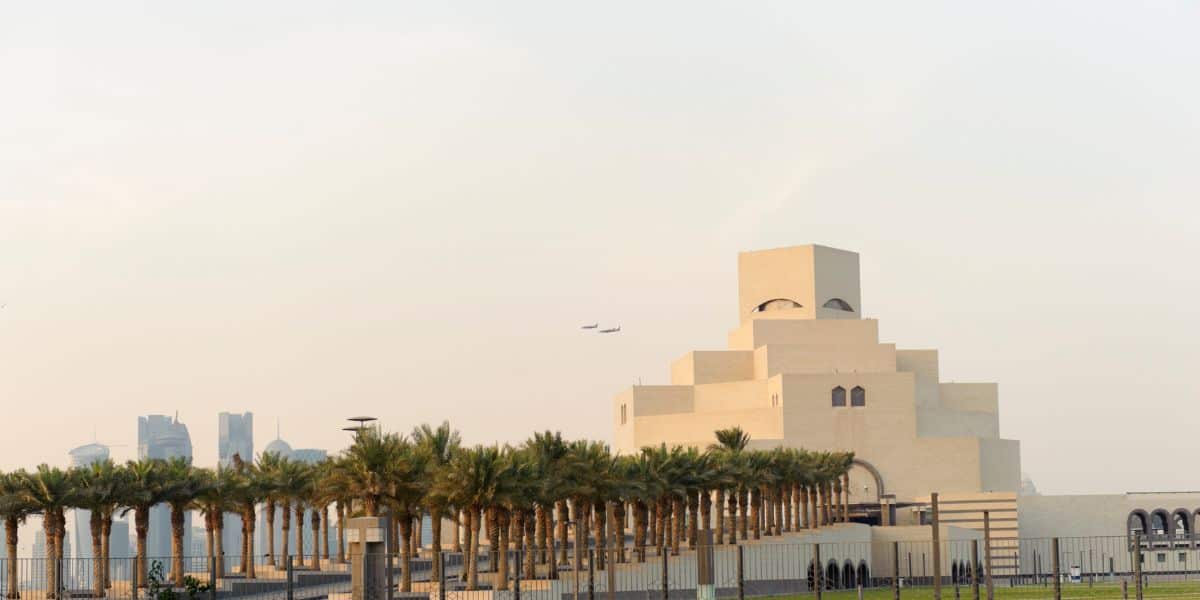 The MIA sits on a purpose built island adjoining the Corniche. It has four floors of permanent and temporary exhibitions showcasing Islamic art, with some pieces dating back over 1,000 years. Inside you'll find everything from pottery and jewellery and even weapons.
The building itself is seriously impressive – designed by IM Pei – the architect behind The Louvre. The top windows are curved like eyes, and you'll also get some stunning views across Doha from outside too.
There are occasional workshops and activities for children and a gift shop, cafe and restaurant on site.
To help get the most out of your visit, consider purchasing the audio tour.
Location: Off Al Corniche Street
Opening Hours: Daily from 10 am to 8 pm
Price: Adults 100 QR | Kids under 16 are free
MIA Park
After you've visited the Museum of Islamic Art, take the kids to the MIA Park so they can run about.
MIA Park surrounds the Museum of Islamic Art and offers bike rentals, open spaces for a picnic and a children's playground with three zones for different ages.
Location: Off Al Corniche Street
Opening Hours: 24 hours
Price: Free
The Pearl Island
Pearl Island (also known as the Arabian Riviera) is a four square kilometre artificial island built to resemble a string of pearls.
The Island is divided into ten parts, although for some of the best kids activities Doha has to offer, check out the colourful Qanat Quarter, Porto Arabia and Medina Centrale.
Kids will love the gardens, in-ground fountains and play areas in Medina Centrale, but its biggest attraction is Megapolis. This huge entertainment centre has activities such as escape rooms, bowling, Virtual Reality and racing simulators, plus a wide range of cafes and restaurants.
One of the cool things to do in Doha is to explore Qanat (which was inspired by Venice), which has bridges and canals to wander. Don't miss its 30 step vertical piano, which plays a note every time you go up or down a step.
Porto Arabia has a Mediterranean flavour and is known for its high end dining, but it is also a good place to try street food from all over the world. Kids will love Porto Arabia's playground and Kiddy Zone, an interactive toy store and play space.
National Museum of Qatar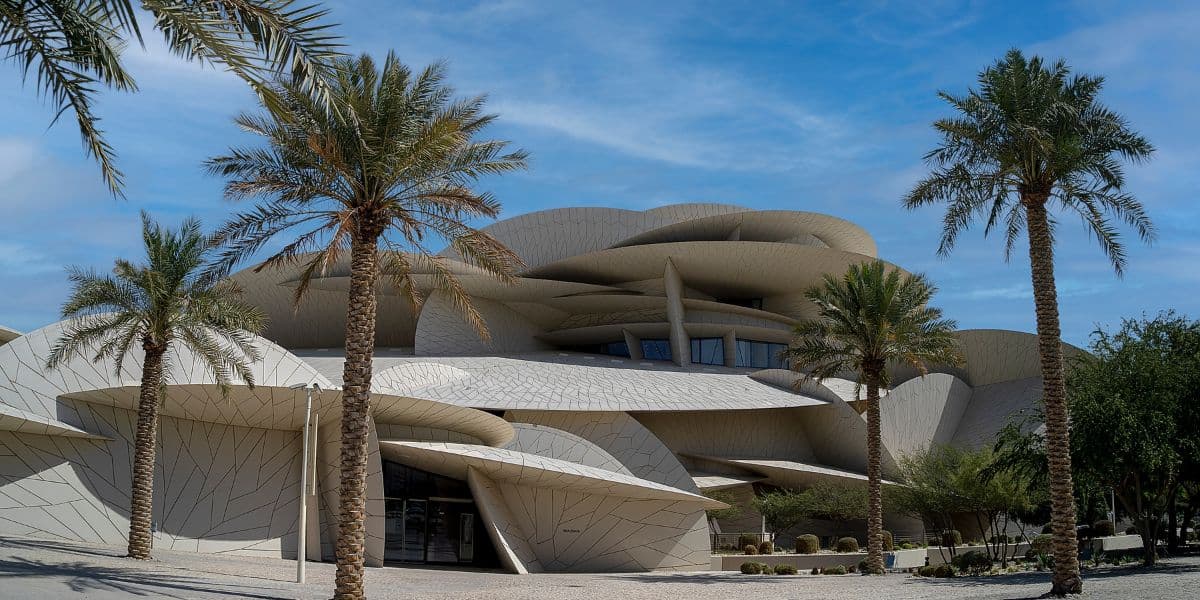 The National Museum of Qatar is a stunning building designed to look like a desert rose crystal and is one of the 10 best things to do in Doha. Inside the building, you'll find a 11 gallery museum with an immersive audio visual experience covering the history of Qatar.
Don't miss the spectacular Baroda Carpet, where 1.5 million pearls and precious stones are woven into silk and deer hide.
There is a cafe, shop and restaurant on site, and in the winter months, there is a weekend market in the museum's central courtyard.
The park surrounding the museum has a playground, a lagoon and lots of space for the younger kids to run around.
Location: Museum Park Street
Hours: Daily from 9 am to 7 pm
Price: Adult 50 QR | Kids under 16 are free
Hotel Park
For families in the West Bay area, a visit to Hotel Park is well worth considering.
This large park offers green spaces for a picnic or a runaround, child friendly play areas, bike rentals and a range of dining options.
When the kids need a bit of a cool off, there is a dancing water foundation they can run through or splash about in the shallow wading pool.
There is a Kids Stage hosting a regular program of family friendly shows. So if you are looking for things to do in Doha at night, this is a good place to watch the world go by.
Location: Al Corniche Street (West Bay end)
Opening Hours: 24 hours
Price: Free
Doha Quest
If you are wondering what to do in Doha with kids, Doha Quest is a must visit. Kids will live their best life at this enormous indoor theme park which has over 30 exhilarating rides and attractions. It has the world's tallest indoor drop tower and the world's tallest indoor roller coaster.
The park has a story theme concept divided into Past, Present and Future. There are rides for all ages as well as 4D simulator 'rides' and virtual reality experiences.
Tickets must be booked online in advance for a specified day. Your entrance ticket includes one full day's access to all rides and attractions.
The facilities and late opening hours make Quest one of the best places to visit in Doha at night.
Location: Al Khaleej Street
Opening Hours: Saturday to Thursday, 10 am – 10 pm | Fridays 2 pm to 10 pm
Price: 13+ 169 QR | Kids (4-12) 113 QR
Museum of Illusion
This quirky museum is one of the best indoor activities in Doha and is packed with interactive, mind bending and amazing illusions.
Don't forget your camera, as you will want to take lots of Insta worthy pictures here! It is one of the most fun activities in Doha that the entire family will enjoy.
Location: Omar Al Mukhtar Street,
Opening Hours: Daily from 9 am to 10 pm
Price: Adults 80 QR | Kids (3-15) 60 QR | Family (2A+2K) 220 QR
Sand Dune Safari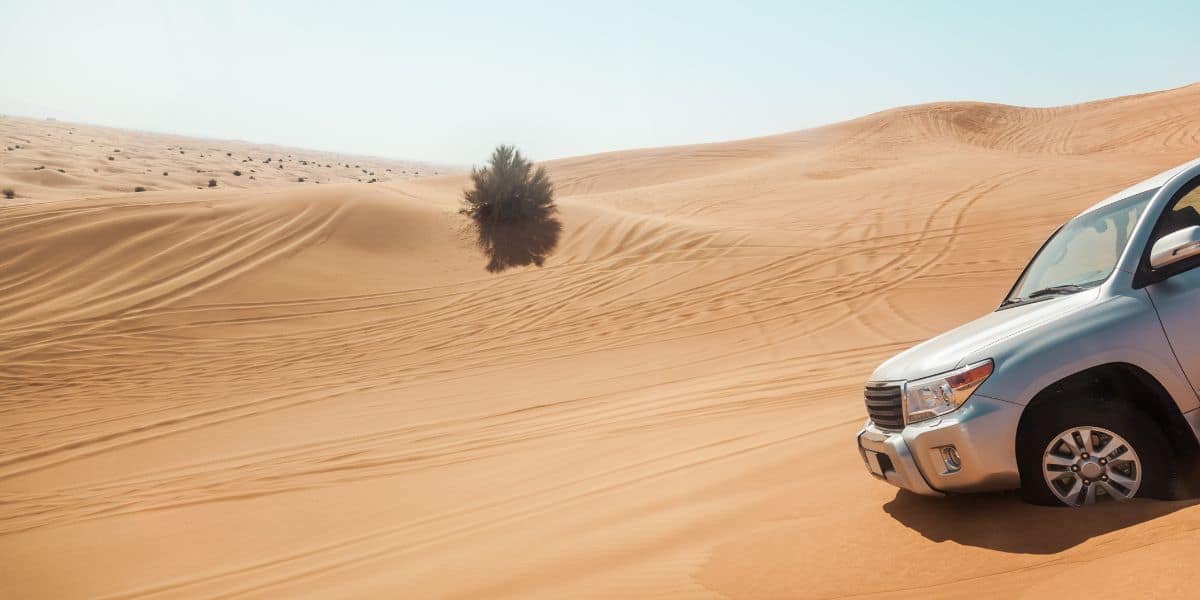 A sand dune safari is undoubtedly one of the Doha top things to do, which the entire family will love! You will see a different side of the city and have lots of fun at the same time. Most dune safaris last for half a day and can be combined with additional activities.
Most tours tend to include at a minimum, a ride through the desert, a camel ride and sandboarding. But you can also combine your safari with a city tour, boat ride, or something else.
Prices range from 295 QR per person.
Click here to check out a range of different sand dune safari options.
Banana Island
Looking for a range of fun activities to do in Doha? Then take a trip to Banana Island, a private resort that welcomes day visitors.
The island is not only a relaxation haven with a gorgeous sandy beach and lagoon pool but also offers activities such as golf, tennis, bowling, watersports and a shallow pool for kids.
Entry to the island includes 300 QR to spend at the restaurant and 50 QR to spend on recreational activities. This credit is for adults only.
Location: Catch a 20 minute ferry from Al Shyoukh Terminal to Banana Island
Hours: Daily from 9 am to 5 pm for day visitors
Price: Adult QR 550 | Kids (5-11) QR 275 | Kids (2-4) QR 50 | Under 2s are free
Al Zubarah Fort
If you are looking for historical things to see and do in Doha, then consider a visit to Al Zubarah Fort. Once a thriving trade centre and pearl fishing port, this is now a UNESCO World Heritage Site and Qatar's largest archaeological site.
Visitors to the site can see the remains of houses, a market, mosques and fortified buildings. In addition, it is a fascinating place to visit to learn about Qatar's pearl diving past.
Al Zubarah is around 100 kilometres northwest of Doha, so you will need to hire a car or take a two hour bus journey to visit the site. Alternatively, you can join a guided tour – click here to see tour options.
Location: Off Al Shareesh Road in the Madinat Ash Shamal District
Hours: Saturday to Thursday from 9 am – 5 pm | Fridays from 12.30 pm to 5 pm
Price: Adult 35 QR | Children under 16 free
Sheikh Faisal Bin Qassim Al Thani Museum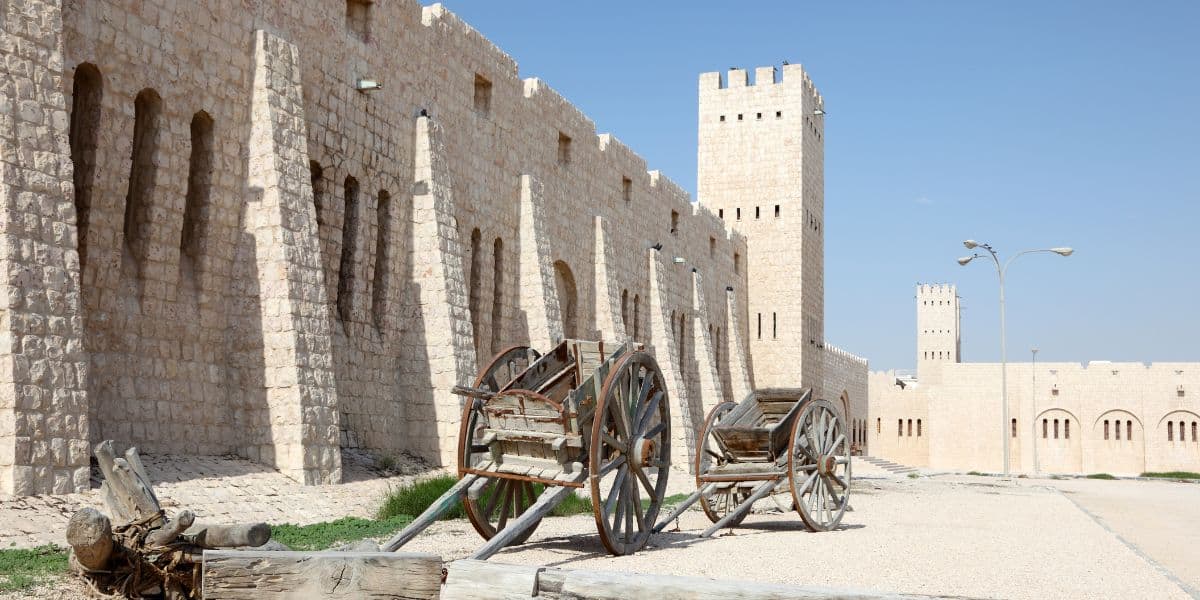 Sheikh Faisal Bin Qassim Al Thani Museum displays the personal collection of the Sheikh and holds over 30,000 artefacts from the Jurassic era to the present day.
The eclectic collection includes 600 vintage cars, musical instruments, traditional clothes, three recreated homes from Qatar and Syria, and 800 handwoven carpets.
There is something for everyone in the museum and families can easily spend a whole day here.
Location: Dukhan Road, Al Shahaniya (22 kilometres west of Doha)
Hours: Sundays 9 am to 4 pm | Monday to Thursday 9 am to 4.30 pm | Fridays 2 pm to 7 pm | Saturdays 10 am to 6 pm
Price: Adults 50 QR | Kids (13-18) 30 QR | Under 12s free
Aspire Park and Aspire Tower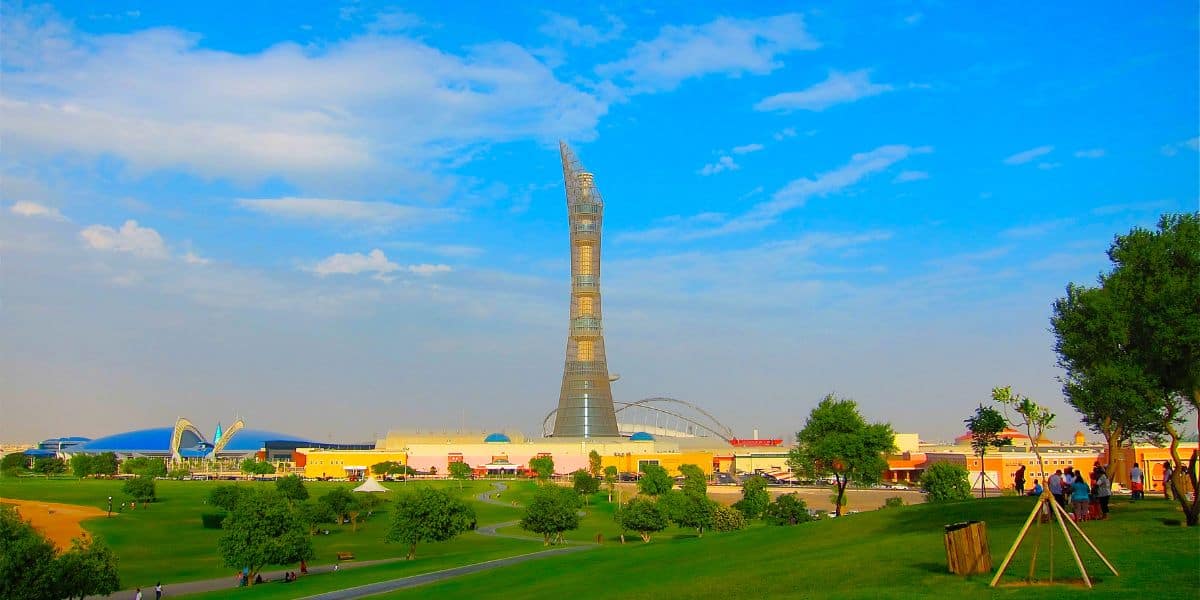 The city's biggest park is Aspire Park (part of Doha's Aspire Zone). It features children's playgrounds, fountains, jogging tracks, football pitches and the only lake in Qatar.
Inside the park is Aspire Tower (also known as Torch Tower) which is a 300 metre high hotel. Take the elevator up to the Three Sixty Restaurant on the 47th floor for incredible views of Doha.
On the edge of the park is Kidzania. Billed as a 'child sized city,' this enormous indoor activity park features over 60 interactive and hands-on experiences, such as learning to be a firefighter, performing on a stage or becoming a chef. It is action packed and educational and is one of the best things to do in Doha with children.
Location: Aspire Zone – 20 minutes outside of West Bay
Hours: Aspire Park is open 24 hours. Kidzania: Monday to Thursday 12 pm to 10 pm | Friday 1 pm to 10 pm | Saturdays 10 am to 10 pm | Closed Sundays
Price: Aspire Park is free. Kidzania: Adults QR 95 | Kids (4-16) QR 160 | Kids (2-3) QR 95
Imam Muhammad Ibn Abd Al Wahhab Mosque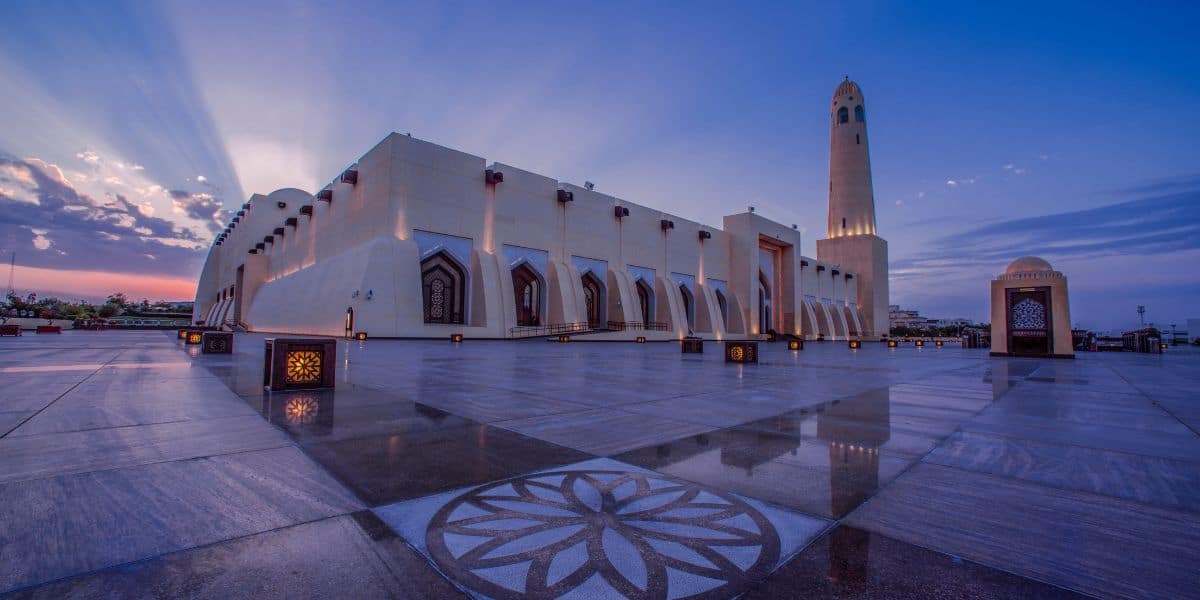 For families wanting to visit at least one mosque during their visit to Doha – make it the Imam Muhammad Ibn Abd Al Wahhab Mosque. This national mosque (and Qatar's largest mosque) can hold over 30,000 people.
The mosque is worth visiting for its stunning modern but traditional architecture, which includes 93 domes.
Be sure to dress appropriately if you want to go inside. Women are provided with abayas at the women's entrance and men should also ensure they have their knees and shoulders covered.
Note that children under seven are not allowed into the mosque.
Location: On the junction of Khalifa Street and Al Istiqlal Street
Hours: Daily for visiting except during prayer times
Price: Free
Baladna Park
Baladna Park is an activity packed park that is one of the best things to do for kids in Doha of all ages.
Here you can challenge yourself to the high ropes course, climbing walls or zip lines, enjoy the bumper boats or the bungee trampolines, go pedal racing or have fun in the adventure playground.
There is also a petting zoo and an interactive greenhouse where kids can plant seeds.
Location: North Road, Exit 44 Umm Al Hawaya
Hours: Monday to Thursday 10 am to 7 pm | Fridays 12.30 pm to 10 pm | Saturdays 10 am to 10 pm
Price: Adults 35 QAR | Kids (0-13) 55 QR
Doha Corniche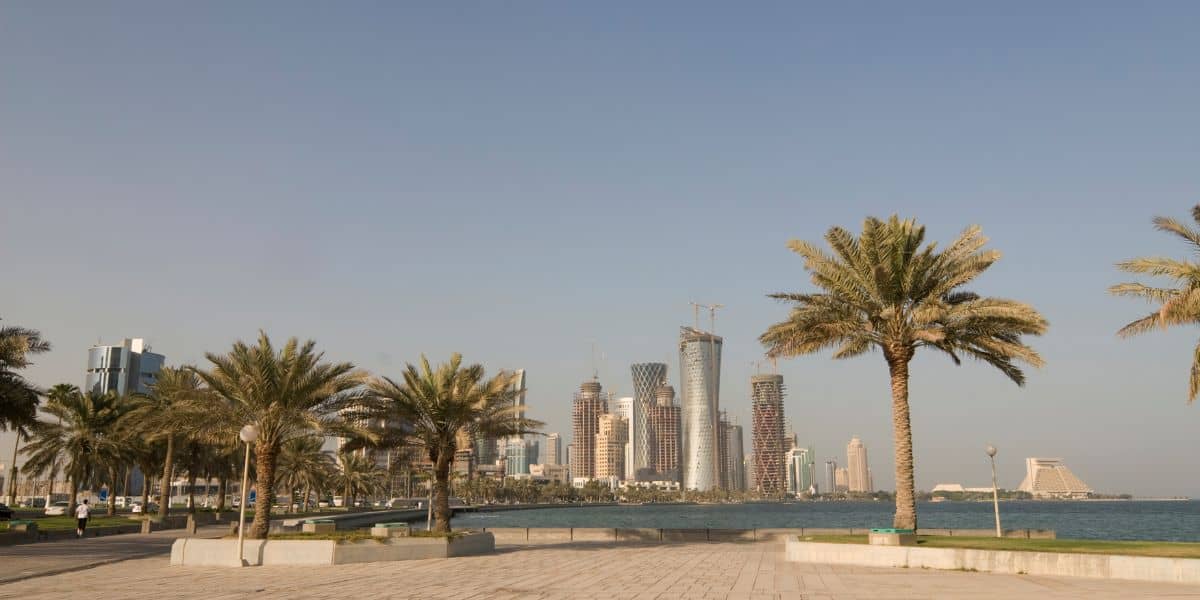 The Corniche is a 7 kilometre long waterfront promenade alongside Doha Bay and is home to several of the attractions already mentioned in this guide. No doubt you will walk along the Corniche to reach various destinations.
In addition, pretty Al Dafna park has a playground worth visiting and you can take a family photo at the giant Pearl Monument at the entrance to Dhow Harbour.
The Corniche is a great place for wandering, but as there is little shade, this is perhaps one of the Doha things to do at night.
Location: Al Corniche Street, running from Al Dafna to Doha Port
Hours: Always
Price: Free
Desert Falls Water and Adventure Park
Desert Falls Water and Adventure Park is one of the Middle East's largest and most fun theme parks!
The park consists of 28 rides and slides plus 18 other attractions, such as go karting and laser tag. Plus, there is a lazy river, a rapid ride, wavy slides, tube slides, a surf simulator, and a range of kids' pools.
Indoor and outdoor dining is available too.
Desert Falls Water and Adventure Park has to be one of the top 5 things to do in Doha on a hot day!
Location: Hilton Salwa Beach Resort on Salwa Road, Exit 86, Abu Samra
Hours: Daily from 10 am to 6 pm,
Price: Adults 295 QR | Kids under 1.2 metres 250 QR
City Centre Shopping Mall
In addition to high end shops, well known high street brands and wide ranging dining options, the City Centre Shopping Mall also has kids attractions such as the Inflata Park, a massive indoor inflatable obstacle course.
The mall is a great place to escape the daytime heat.
Location: Conference Centre 22744
Opening Hours: Daily from 10.00 am to midnight
Price: Free
CanDo Doha
One of the more unusual things to visit in Doha, the innovative CanDo blends digital games with physical activity and has been designed to get kids moving and use their discovery skills.
Suitable for kids over five, children complete a range of physical activities to charge a 'CanDo battery', which they then redeem for various rides, attractions and 4d simulators. Kids can also earn battery power by solving puzzles and mind games. The more kids exercise and engage, the more rides they can go on.
CanDo charges per hour rather than per activity and any unused power is saved for your next visit.
With late opening hours, visiting CanDo is perfect if you're after things to see in Doha at night with the kids.
Location: Gate Mall, West Bay
Hours: Saturday to Thursday 10 am to 10 pm | Fridays 1 pm to 11 pm
Price: QR 95 for one hour | QR 150 for two hours | QR 200 for three hours | QR 400 for the day.
Jungle Zone
Looking to escape the heat and run off some steam? Head to Jungle Zone, an indoor theme park catering specifically for children (toddler age through to teens).
It has roller coaster rides, bumper cars, basketball hoops, bumper boats and a large video game section.
There is a toddler soft play area for families with younger kids and a kid's arts and craft corner too.
Location: At the Hyatt Plaza shopping mall, Al Waab Street
Hours: Saturday to Thursday 12 pm – 10 pm | Fridays 1 pm – 11 pm
Price: Pay per activity
Al Khor Park
Al Khor Park is a large, landscaped park home to the oldest zoo in Qatar. The zoo is home to over 300 animals, including pandas, rhinos, big cats, tropical birds and reptiles.
In addition to the zoo, there is a museum, waterfall, restaurant, golfing section and children's games area.
Location: Al Shamal Road, Al Khor
Hours: Daily from 8 am to 10 pm | Zoo – daily from 9 am to 5 pm
Price: The park is free. Zoo: Adults QR 15 | Kids QR 10 | Kids under 10 free
Villaggio Mall
Villaggio Mall is a high end shopping mall loosely based on Venice where shoppers can enjoy a gondola ride on an indoor canal.
There is an IMAX cinema and Doha's largest family entertainment centre, Gondolania Theme Park. Gondolania includes laser quests, roller coasters, a bowling alley, funfair rides and even an Olympic sized ice rink.
If you are looking for things to do at night in Doha with the kids, head to Gondolania.
Location: Al Waab Street
Hours: Daily from 9 am to midnight
Price: Free to enter the mall, but each attraction has its own fee.
Angry Birds World
This interactive theme park has rides and attractions based on, you guessed it, Angry Birds.
Indoor and outdoor attractions include roller coasters, slingshots, trampolines, high ropes as well as Angry Birds live shows and meet and greets.
Location: Al Daayen Street
Hours: Saturday to Thursday 10 am to Midnight | Fridays 1 pm to midnight
Price: An unlimited play pass is QR 300 per person or QR 500 with fast track. Alternatively, you can buy cards with QR 150 credit for adults, QR 250 for kids, QR 550 for families and top up as you go.
Barzan towers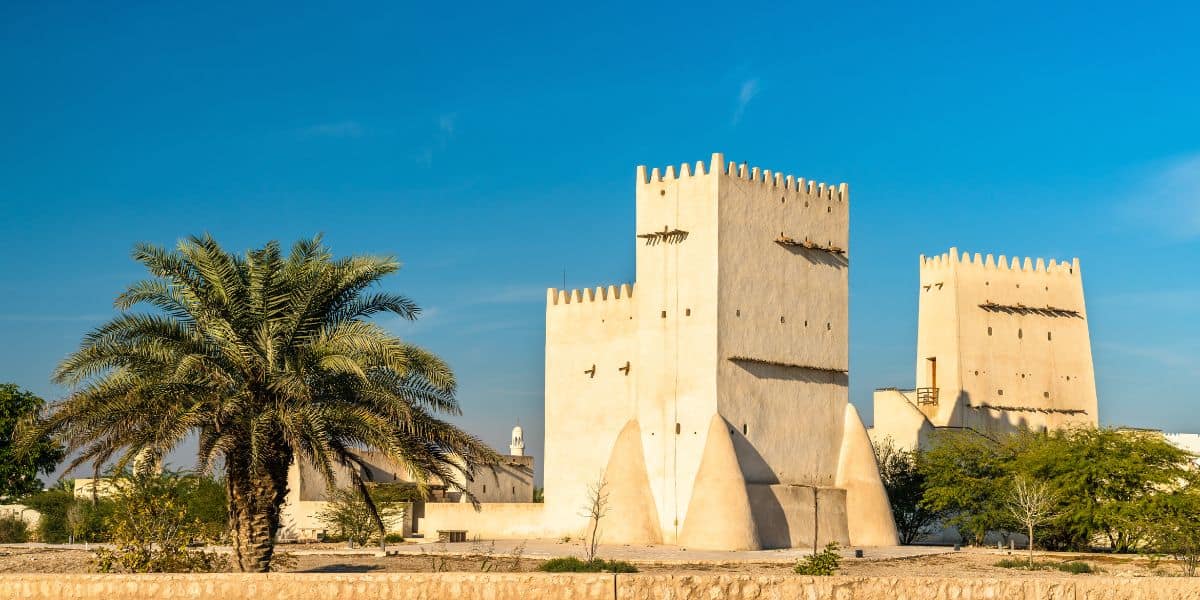 Barzan Towers are 19th century watchtowers originally built using coral and limestone. They served as a lookout for ships and local pearl divers back in the early 1900s.
Today you can go inside Barzan Towers and enjoy the views. A mosque and religious school are next to the historic towers, all set in a park full of indigenous plants.
Location: Umm Salal Mohammed, 15 kilometres north of Doha
Opening Hours: Sunday, Tuesday, Thursday 9 am to 5 pm | Fridays 12.30 pm to 5 pm
Price: Free
Aqua Park
On a hot day, a Doha water park makes the top ten things to do in Doha list! Aqua Park is no exception.
This enormous water park features 15 aquatic attractions, including a 2,000 gallon tipping bucket, 4 storey high water slides, a 200m long lazy river and a full sized wave pool.
Location: Salwa International Road
Hours: Friday and Saturday 10 am to 10 pm | Mondays 10 am to 8 pm | Tuesdays 1 pm to 10 pm | closed Wednesdays and Sundays
Price: Adults QR 180 | Child QR 120 | Family Pass QR 600
Al Koot Fort
Also known as Doha Fort, Al Koot is a military fort that was built in 1927. Today it houses a museum packed with traditional Qatari handicrafts, woodwork, artwork and historical photos.
Located in the heart of Doha – this is one of the easiest Forts to visit if the kids want to see one while in town.
Location: Ukaz Street
Hours: Weekends from 8 am to 12 am
Price: Free
Msheireb Museums
The Msheireb Museums consist of four heritage houses (each one built in a traditional Qatari style) that have been transformed into museums.
The most suitable museum for kids is Radwani House which offers an audio visual tour through fully furnished rooms to show how Qatari's lived in the past.
Mohammed Bin Jassim House charts the history of architecture in Qatar, Bin Jelmood House focuses on the sobering topic of slavery and human exploitation, whilst Company House explains the development of the oil industry.
Location: Off Al Asmakh Street (near Souq Waqif)
Opening Hours: Monday to Thursday and Saturday 9 am to 5 pm | Fridays 3 pm to 9 pm | Closed Sundays
Price: Free
Doha Fire Station Art Gallery
'The Fire Station' is a contemporary art gallery showcasing and supporting local artists. Once a Fire Station, the gallery now has a revolving program of exhibitions and workshops, and the building itself is a good example of early modern Doha architecture.
There is a cafe and a small cinema on site.
Location: At the junction of Al Istiqlal Street and Al Bidda Street (near Al Bidda Park on the Corniche
Hours: Saturday to Thursday 9 am to 7 pm | Fridays 1.30 pm to 7 pm
Price: Free
Dhow Cruise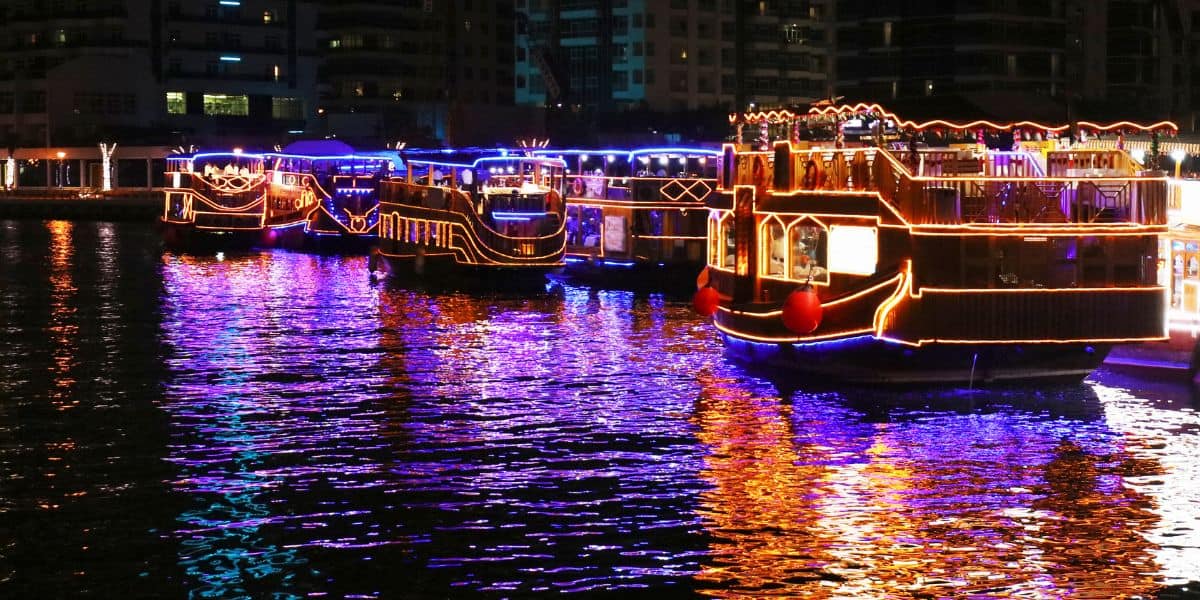 One of the top 10 things to do in Doha is a ride on a traditional wooden dhow boat that was once used for pearl fishing.
A dhow ride enables you to escape the city's heat for a little while and enjoy a fantastic view (and a different perspective ) of the Doha skyline.
There is a range of options when it comes to a dhow cruise, such as a short sunset cruise or a dinner cruise. You can check out the full range here.
Location: Cruises start and end from the Corniche, but tours run pickups and drop off at various points around the city
Hours: Daily
Price: Check here for up to date prices
Where to Stay in Doha with Kids
Looking for the best hotel in Doha for families? Below, we've covered our top three picks for the best hotels Doha offers families that won't completely blow the budget.
We've chosen these hotels as they offer great value for money and are in excellent locations for sightseeing around Doha.
Click here for our more detailed guide on the best Doha hotels for families.
Al Najada offers modern and stylish apartments with good facilities and fantastic city views. But most importantly, you're just steps away from the traditional Souq Waqif marketplace, where you're surrounded by vendors selling their goods and plenty of local places to eat.
The hotel features a gym and restaurant. Plus, if you are searching for hotels in Doha with indoor pool access for a winter trip, the Al Najada is a good option, as its gorgeous rooftop pool is heated throughout the winter.
The colourful apartments are spacious and the 2 bed apartment is ideal for parents who like their own space. Each apartment has a sofa, flat screen TV with cable, plus a seating area.
Light floods into the rooms through floor to ceiling glass windows that at night provide a breathtaking view of the Doha skyline.
Families can keep costs down by self catering in the well equipped kitchen with a fridge and a full oven.
Al Najada Apartments is an excellent choice for families looking for an alternative to an airport hotel in Doha, as it is just 7 kilometres from the airport but still in the city centre. Plus, you're just 900m from the Msherieb metro station, which provides easy access to and from the airport.
Click here for more information and to check the current price
Located on Doha's famous Pearl Island, this Hilton 5 star hotel is one of the best beach hotels Doha has to offer families.
It features a restaurant, a gym (with a sauna) and an extensive sun terrace. In addition, guests can enjoy room service, free WiFi, parking, a bar and a communal lounge.
Kids will love the outdoor swimming pool and enjoy making friends at the kids club. This is one of the rare beach hotels in Doha with its own private beach area.
The air conditioned rooms are as luxurious as you would expect from a Hilton. They feature extra large double beds, a comfortable seating area with a flat screen TV and a safe. In addition, some rooms have a balcony offering sea or pool views.
Each room has a kitchen with a stove, microwave and dishwasher. Selected rooms have a full oven and a breakfast bar. The studio rooms sleep up to 5 people, whereas the enormous 2 bed suites can sleep up to 9.
Click here for more information and to check the current price
Located in the heart of West Bay, the Aleph Doha Residences offers families child friendly accommodation with luxury facilities. From here, you're conveniently located to visit all of the main Doha tourist attractions with easy access to Pearl Island as well as the city centre.
The hotel is part of the Hilton chain and features a restaurant, a bar, an indoor swimming pool, a sauna, a spa and a Turkish bath. There is free parking and WiFi.
Families can book 1 room or a suite that sleeps up to 4 people in 2 separate bedrooms. The spacious air conditioned suites are equipped with a large living and dining area with a full dining table, sofas, and a flat screen TV.
The well equipped kitchen is like a home away from home, with a full oven, coffee machine, dishwasher and washing machine. Kids will love the funky wall art and the incredible city views from the rooms.
For larger families, there are 3 bed suites that can sleep up to 9 people.
Click here for more information and to check the current price
How to get from
Doha Airport to Doha City Centre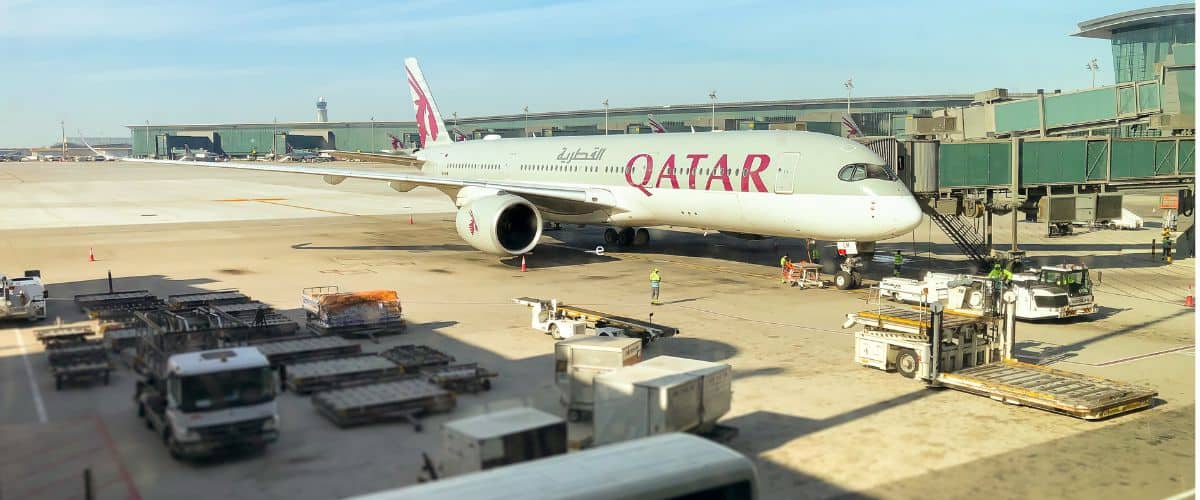 For families arriving in Doha, often the best way to get from the airport to the city centre is via taxi or Uber. A taxi will cost you around 50-60 QR and take around 15 to 40 minutes – depending on where your hotel is and the time of day. And Uber will be a similar price.
You can also take public transport with the metro (train) running quite frequently. The buses run regularly too – but less often than the trains. Public transport will cost around 2-3 QR per person, but you will need a travel card for both the metro and the bus.
Travel cards can be purchased at the metro station or near where you catch the bus.
If you plan on using the trains, download the Qatar Rail App to help plan your trips. While for the buses, download the Karwa Journey Planner App.
If you require further information about getting to and from the airport, click here for our detailed guide.
Getting Around Doha
It is possible to walk between many tourist attractions within the city centre. However, to reach West Bay or Pearl Island areas, you will need to rely on transportation.
The good news is Doha has an excellent bus and train network. However, you will need to purchase travel cards to ride public transport. These cards can be purchased at vending machines at the stations.
Doha is also well serviced by taxis and rideshare apps such as Uber and Careem. This is often a convenient way of travelling when dealing with tired children.
Click here for our more detailed information about getting around Doha.
____________________________________________________________
Hopefully you've found this guide on things to do in Doha helpful. We have other guides to help plan your trip to Doha, including where to stay in Doha and things to do in Doha Airport during a layover (coming soon).