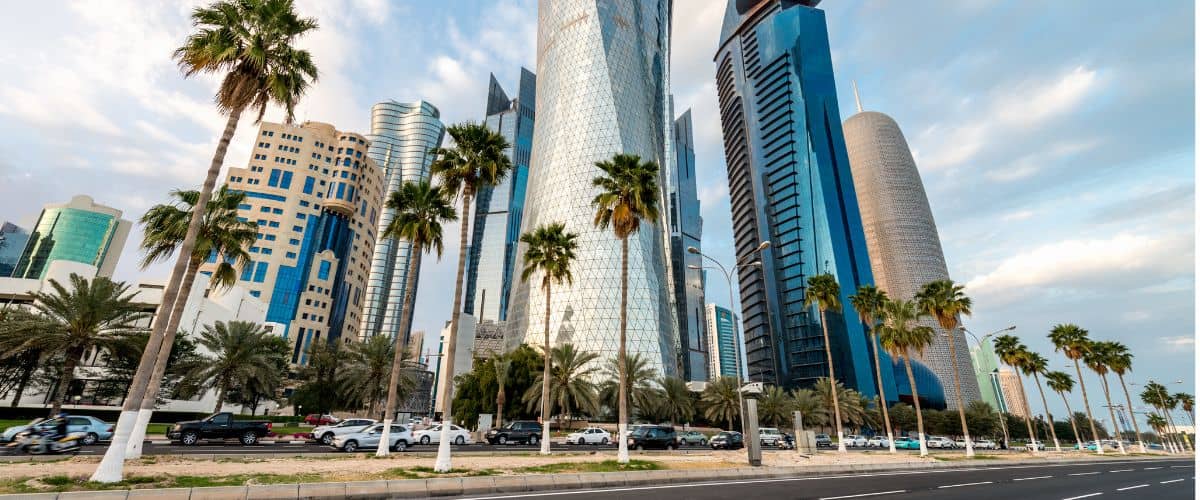 Doha is a fabulous place to take the kids for a family holiday. There are some great hotels with excellent child friendly facilities as well as some really interesting things to do – particularly for families who've never been to the Middle East.
It's also fairly easy getting around Doha, with excellent public transport in place, as well as taxis and rideshare options.
To help you plan how to get around in Doha with the kids, we've put together this Doha getting around guide. We detail all the popular ways of getting around in Doha, including tips for transfers from Doha airport.
Talk to other families about their tips on visiting Doha and join our Thrifty Family Travel Facebook Group or get inspired by our Instagram.
This post may contain compensated links. Please refer to my disclaimer here for more information.
Getting Around Doha
Let's jump straight into it and help you decide the best way to get around Doha with the kids.
Metro / Train
One of the best ways to get around to all the tourist attractions in Doha is via the metro. The metro system in Doha has three lines – gold, green and red, which cover 37 stations.
The red line runs between Al Wakra in the south to Lusail in the north and covers some of the more popular tourist areas such as the airport, West Bay, Katara and Legtaifiya (from here, you can take a bus to reach the Pearl).
The gold line runs between Ras Bu Aboud to Al Aziziyah and covers popular areas such as Qatar National Museum, Souq Waqif and Al Aziziyah (for Villaggio Mall).
The green line runs from Al Mansoura to Al Riffa Mall.
You can change between the lines at the Al Bidda metro station for the red and green lines and Msheireb for all lines.
Hours of operation
Trains run fairly regularly between 6 am to 11 pm Saturday to Wednesday, 6 am to midnight Thursdays and 2 pm to midnight Fridays.
Plan your trip
The best way to plan your trip is by downloading the Karwa Journey Planner App to your phone.
When exiting the train, look out for the Way Out Guides, which will help you decide which is the best exit for you to take, depending on where you're headed.
Metro / Train Cost
Everyone over the age of 5 will need a travel card to ride the train. You can either purchase a Limited Use, Standard or Goldclub travel card.
A Limited Use Card is good for a single journey, or you can buy a day pass. If you use this card, your journey will be 3 QR. However, if you plan on using the train later in the day, the all day fare is 9 QAR.
If you plan on using the train throughout your time in Doha, you're likely better off purchasing a Standard travel card. These cost 10 QR, and you'll need to add money for your fares.
A single journey with a Standard travel card costs 2 QR or a maximum daily cost of 6 QR. The daily travel cap with cards that is no further charge after three journeys in a single day – must have a minimum of 8 QR to access the daily cap. Cards are valid for trains and trams.
Limited Use Cards and Standard travel cards can be purchased at vending machines at metro stations.
Goldclub travel cards can only be purchased at Goldclub offices and cost 100 QR each and then 10 QR for a single journey with a daily cap of 30 QR.
Before purchasing a train ticket, consider how often you will likely use the train in Doha. If you plan on using them every day – then a Standard travel card is likely to be of benefit – but if you're only planning on travelling by train a few times, then you'll probably save money with the Limited use card, considering there is an upfront fee of 10 QR with the Standard travel card.
The Standard and Gold Club cards can be topped up via the vending machines at the metro stations.
Metro Link / Free Buses
If you're travelling within a 5 km radius of a metro station, you may want to take advantage of the Metro Link.
The Metro Link is a free bus service operating in popular tourist areas such as around Legtaifiya (near The Pearl), DECC (in West Bay), Msheireb (close to Souq Waqif) and National Museum (near Doha Port / Harbour).
These free buses run every 12 minutes from Saturday to Thursday, 6 am to 11 pm (until midnight on Thursdays and Fridays from 9 am to midnight).
The best way to plan your trip is by downloading the Karwa Journey Planner App to your phone.
Buses
Buses are also a handy way to get around Doha – particularly in areas not serviced by the Metro.
Hours of operation
Buses run regularly throughout the day from around 4 am to 11 pm.
Plan your trip
To plan your route, it's recommended you download the Karwa Journey Planner App.
Bus Fares
To take the bus, you will need to purchase a Karwa Smartcard, which you can buy at vending machines from airport vending machines, Doha Bus Stations, the Pearl Qatar, and dozens of merchant outlets. Note that these vending machines only take cash, so ensure you have some local currency on hand.
There are three types of cards you can buy, and which one is best will depend on your plans during your stay in Doha.
A Classic Card costs 30 QAR and is rechargeable, making it the best option if you plan on using the bus regularly during your stay. This card comes with 20 QAR credit – so in effect costs you 10 QAR.
A Limited Card costs 10 QAR and can be used for two journeys within a 24 hour period.
An Unlimited Card costs 20 QAR and gives you unlimited journeys within a 24 hour period.
Bus fares vary from 2.50 QR and up from there.
Taxi / Karwa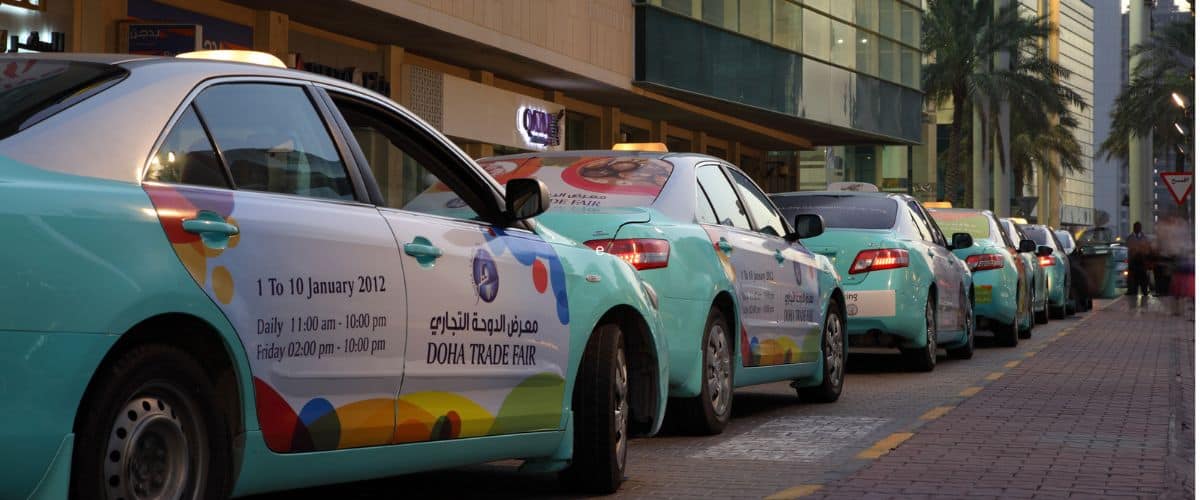 Karwa taxis are another easy way to get around Doha. Government owned, these taxis are safe as well as being easy to recognise with their lovely blue aqua colour. Don't confuse these taxis with other taxis that are also aqua but have different coloured roofs – these are different taxis.
Doha taxi fares are metered with a minimum fee of 10 QR, followed by 1.6 QR per km during the day or 1.9 QR per kilometre for trips at night.
You can find taxis at roadside taxi ranks and almost every hotel and shopping mall. You can also book your ride via the Karwa taxi app.
Uber and Careem
Uber operates within Doha as well as another rideshare app called Careem.
To use either of these rideshares, download their Apps to your phone and follow the instructions to make a booking.
Car Rental
Despite all the excellent public transport, locals mainly get around by car. So it's also not uncommon for tourists to hire cars to get around Doha as well.
However, if you spend most of your time in tourist areas, as you can see above, you really don't need a car and you can easily get around by metro or bus.
If you wish to rent a car though, you will find plenty of car rental companies around town. If you plan on picking up your car from the airport, you'll find Al Muftah, Budget, Europcar, Hertz, Inter Rent, Prestige Cars Doha and Sixt all on the airport premises.
___________________________________________________________
Hopefully you've found this guide on getting around Doha helpful. We have other guides to help plan your trip to Doha, including how to get from the airport to the city centre, things to do in Doha with kids and where to stay in Doha with kids.