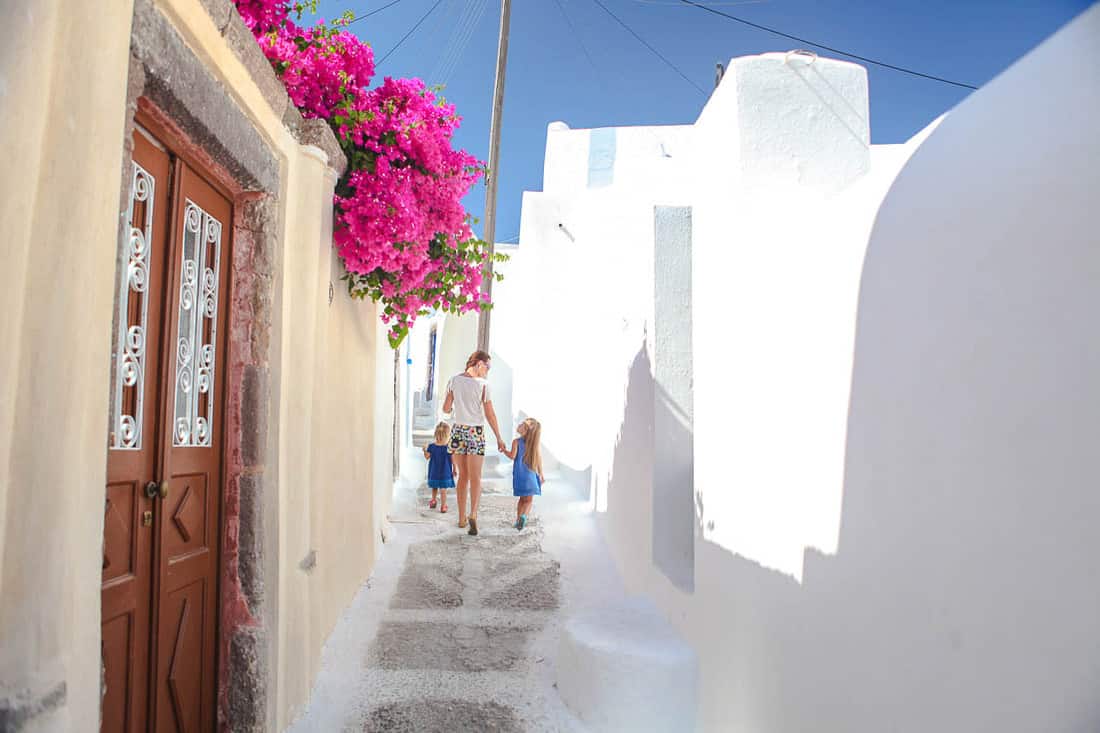 We all know Greece is a romantic destination, but there is also plenty of great things to do in Greece with kids. During your family holidays in Greece, there are many fun and educational activities to do as well as some gorgeous beaches and islands to explore. If you're in the early stages of planning your family holidays to Greece and in need of some inspiration as to where to take the kids in Greece, then you will love this post.
In this post, we look at some of the best things to do on Greece holidays for families in three of the most popular Greece destinations – Athens, Santorini and Mykonos. Across these three destinations, families will experience one of the oldest, most historic cities in the world as well as the opportunity to visit some of the most beautiful island destinations in the world.
Thanks to Pam from Travel Hacking Mom for this guest post on the best things to do in Greece with Kids.
This post may contain compensated links. Please refer to my disclaimer here for more information.
10 Fun Things to do in Greece with Kids
This post on things to do in Greece for kids has been divided into things to do in Athens, Santorini and Mykonos
Best Things to do in Athens with Kids
Below are some of the very best things to do in Athens with kids during your Greece family holidays.
1. Climb the Acropolis and See the Parthenon in Athens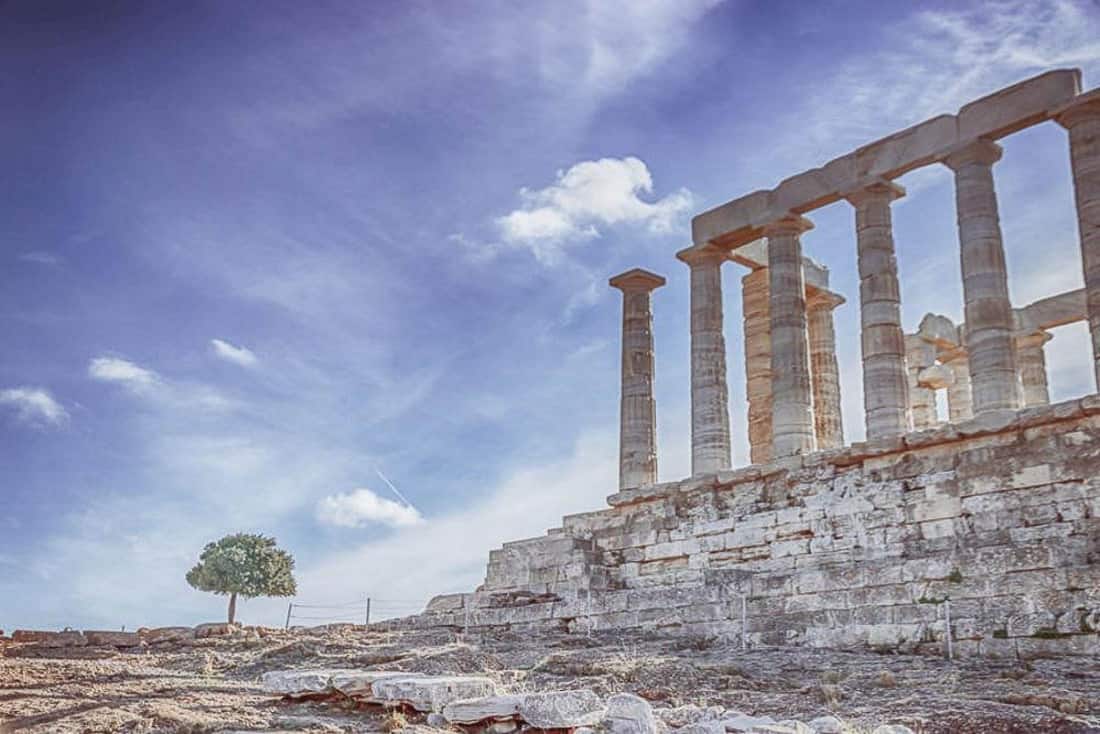 You can't go on a Greece family vacation and not see the Acropolis and Parthenon. Talk about seeing the beginning of civilization! The Acropolis is the hill itself and one can see it all over the city. It just says you are in Greece and is a pretty spectacular sight! The Parthenon is a temple dedicated to Athen's patron goddess, Athena, and is the main site on the Acropolis.
You can take a taxi to the area but another perfect way to see it while you're in Greece with children (if they are older) is to climb up to it. The perfect way is start in the Plaka neighborhood and enjoy the stunning scenery on the way up.
It's best to go early when it opens at 8:00 am or later in the day after the cruise traffic dies down about 4:00 pm. From April 1 to October 31, the cost of tickets is 20 Euros. The rest of the year it is 10 Euros. Children under 18 years of age with identification are free. Purchase tickets online in advance from Klook and skip the line.
Be sure and take lots of family pictures with the city of Athens in the background. It is spectacular and great place to learn some facts about Greece.
2. Watch the Changing of the Guard at Syntagma Square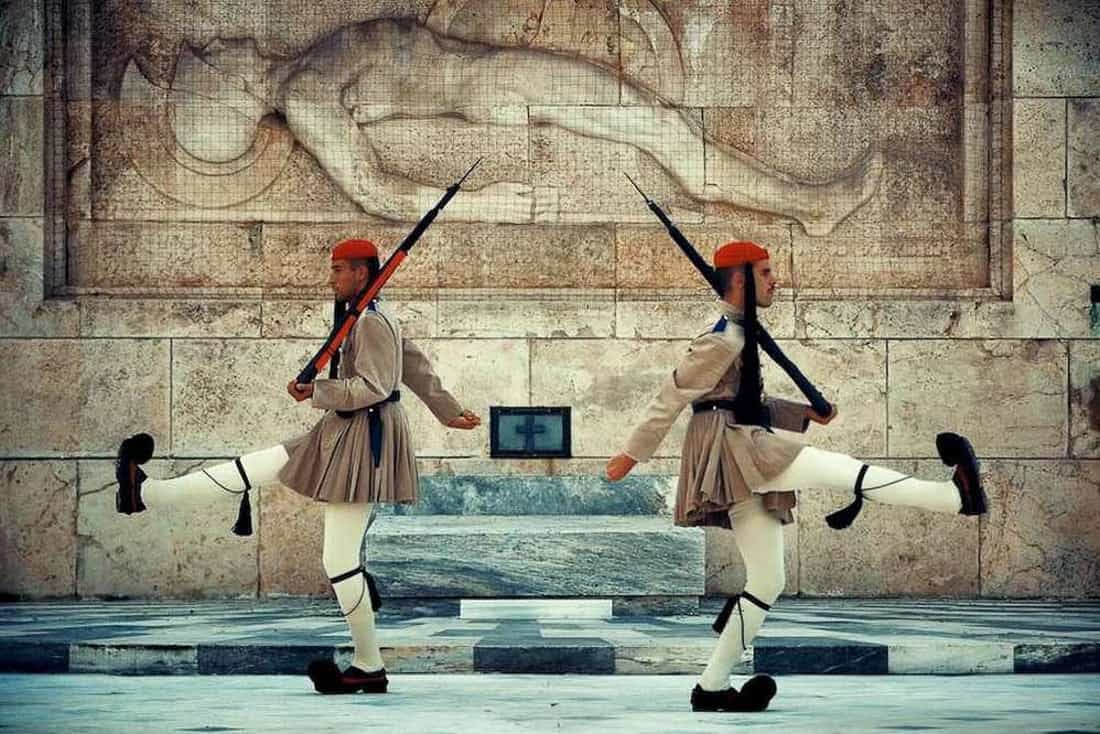 Nothing beats watching the changing of the guard in any city for children. Add the spectacular costumes of the guards at Syntagma Square and you have a winning combination! Even better, this is a free activity in Greece for families!
The changing of the guard takes place every hour on the hour. If you are lucky enough to be there on a Sunday, a parade is included. What child (or adult) doesn't love a parade? Make sure to include this activity on your family vacation in Greece.
3. Panathenaic Stadium

The best place to go in Greece for families who love the Olympic is the Panathenaic Stadium. Sitting on the marble seats, you can practically hear the roar of the crowds. Cheer your children on as they run around the track and take pictures of them on the winner's blocks. All you need is laurel wreaths for their heads to complete the experience!
The cost of this experience is 5 Euros for adults, 2 Euros for children.
Best Things to do in Santorini with Kids
Santorini is one of the best Greek Islands to visit and below are some of the very best things to do in Santorini with kids during your Greece holiday with kids.
4. Exploring Oia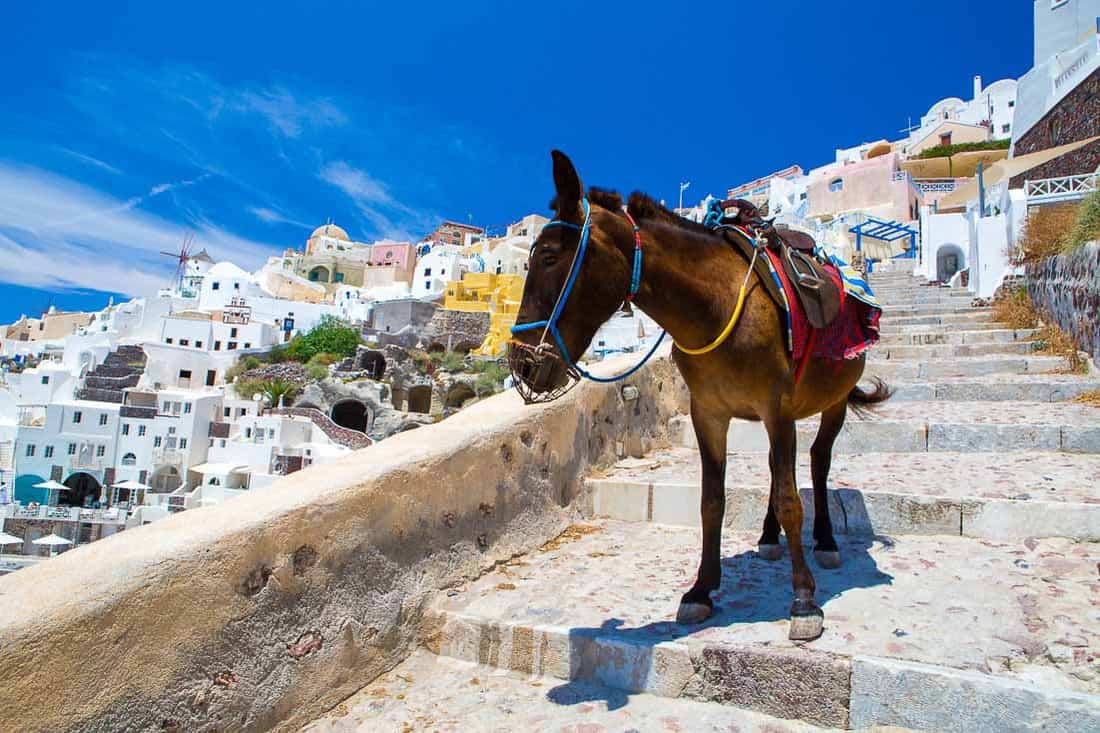 One of the best Greek island for families is Santorini and when visiting Santorini, Oia is the place to be! Nothing compares to the views you get all over this city. If you stay in one of the cave houses of Oia, you will see an amazing view every time you walk out your front door.
Because Oia is built on a hill, you will need to be prepared for lots of steep hikes, but so worth it for the photographic moment and one of the top things you can do on your Greece holidays for kids! While you're there check out Ammoudi Bay and have a swim.
Unfortunately, there are not a lot of taxi's in Santorini so be prepared to wait. Alternatively, you can walk up the 278 steps to the top. Talk about a workout!
5. Catamaran/Snorkel trip in Oia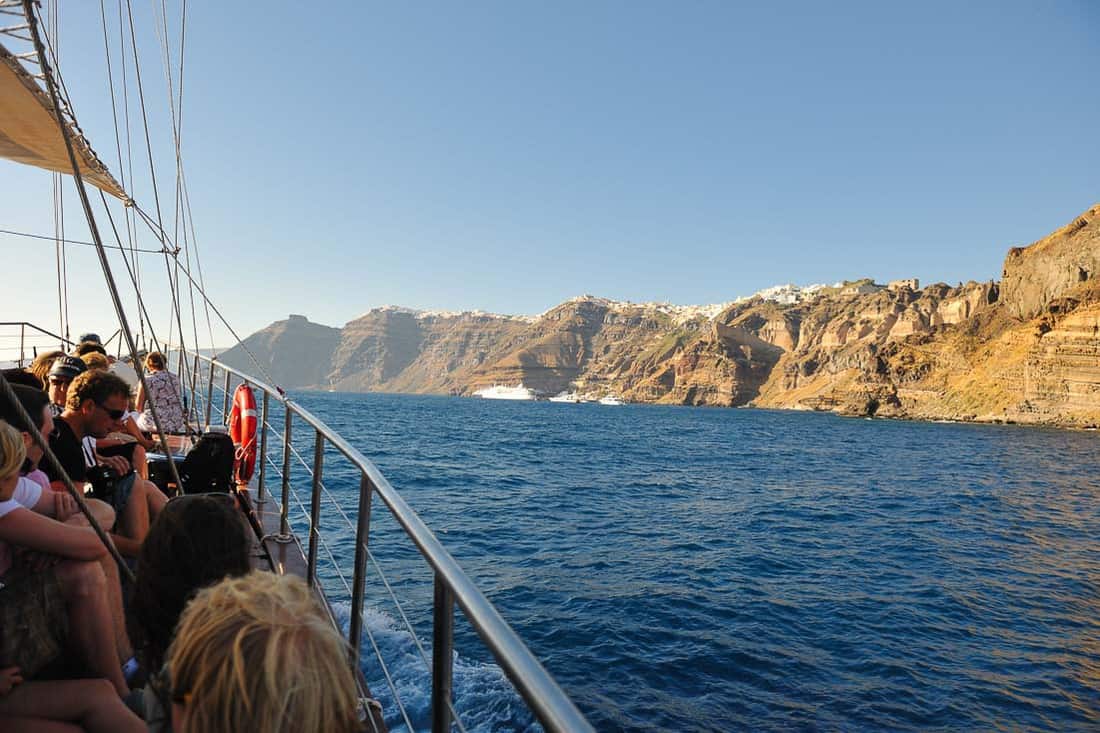 All of the best family holidays in Greece include a Greek island snorkel trip and this is a very popular thing to do in Santorini. Sailing the blue Aegean Sea and seeing the caldera (the volcanic remains of an eruption) make for a great experience. You can swim in the incredibly warm hot springs around the island, snorkel a little and enjoy sunbathing.
The lunch they serve is amazing! Grilled chicken, shrimp and the best Greek salads with fresh feta. The feta in Greece is so, so good. Most people say this is the best thing they did on their family trip to Greece. It is something you don't want to miss on your Greek Island family holiday in Santorini. You can book day trips through GetYourGuide or Klook.
6. Wander around Oia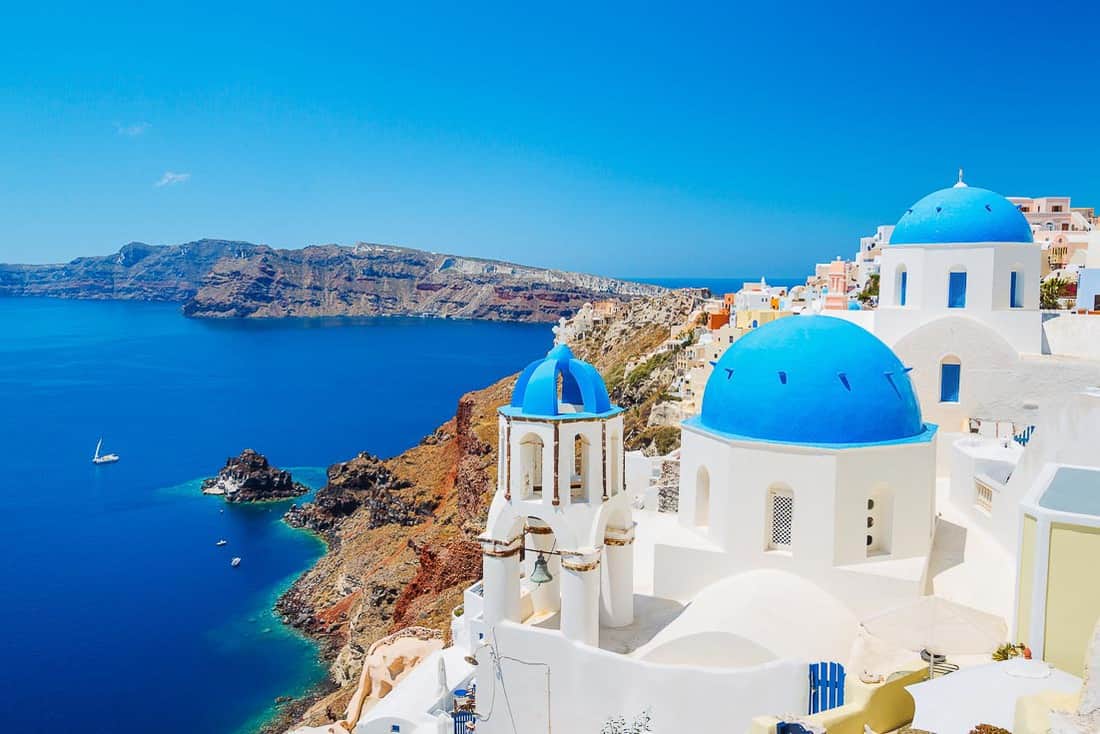 Wandering around Oia on your Greek family holidays is a delight! Cobbled streets, white buildings, and the cutest shops to explore. Stop by a local restaurant and introduce your children to some Greek food.
Oia is often warm and if you stay in an Airbnb you may not have a pool. Luckily, you can go to the Lioyerma Lounge Cafe Pool Bar and swim for free if you buy a little food. This can be a lifesaver on a hot day!
Expect to be amazed by the beauty of Oia as you wander through the streets and cute shops. There are plenty of gelato shops along the way to bribe children so you have time to explore all the cute shops!
7. Watch the Sunset in Oia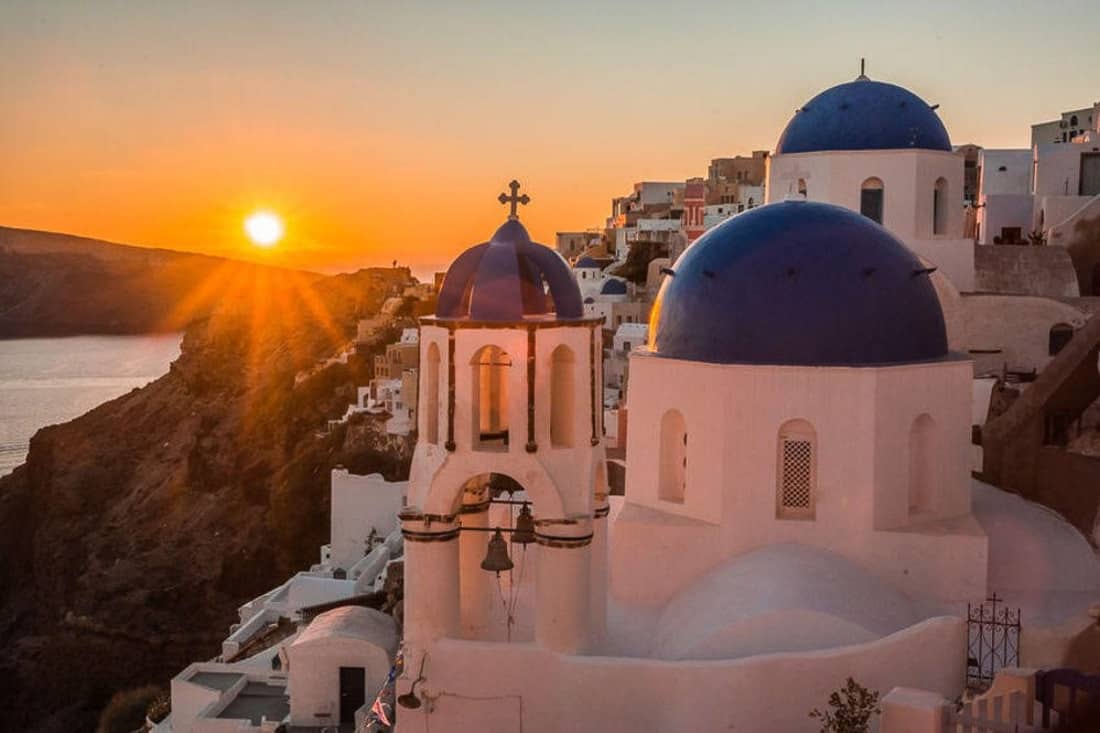 One of the most interesting things in Greece is watching the sunset. Actually, watching the crowds head to watch the sunset every day is the most fascinating part of it!
While wandering around Oia, you will suddenly see everyone heading west. It's time to watch the sunset and life seems to stop and the stores get emptier when it's sunset time.
Pictures of the sunset are spectacular but pictures of the crowds watching the sunset are pretty interesting too! It has to be a national pastime and definitely one of the things to do on Greek Island holidays for families!
Things to do in Mykonos with Kids
Below are some of the very best things to do in Mykonos with kids during your holidays to Greece with children.
8. See the Windmills in Mykonos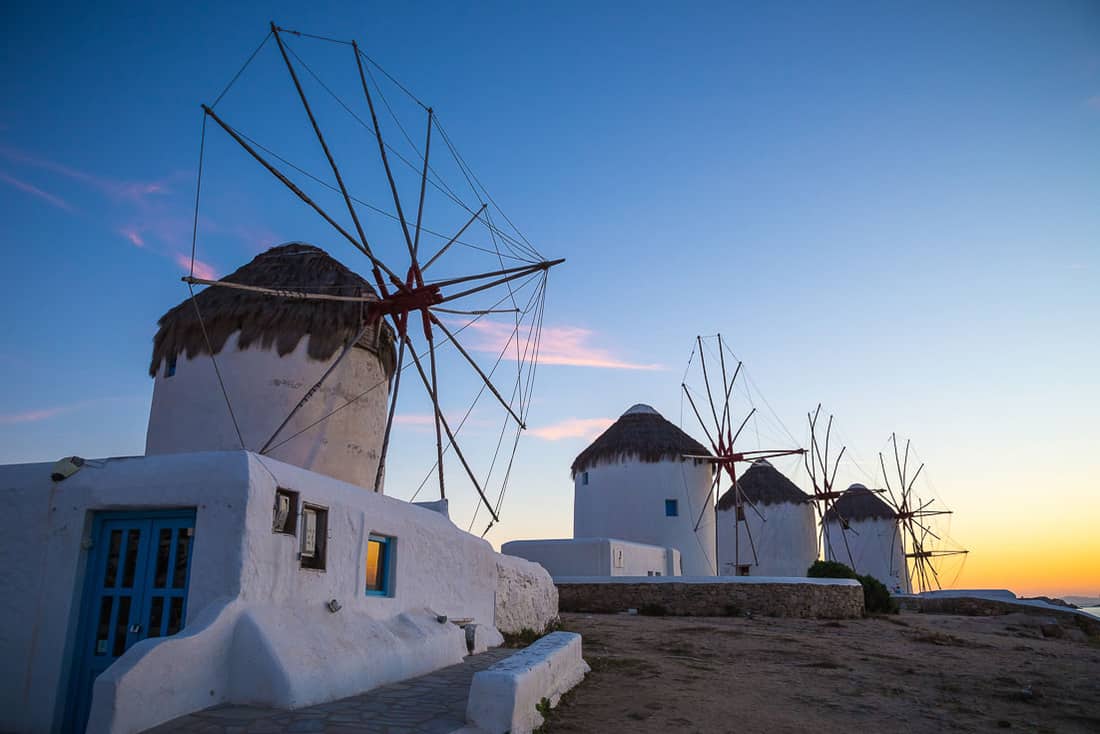 Most of the iconic pictures of Mykonos include the windmills. Used in the past to mill wheat and built by the Venetians, they are seen from many parts of the island. Some of the most beautiful are right in Mykonos Town. Be sure and visit them and wander the streets of Mykonos town during the day.
9. Enjoy a Movie and Dinner Out (Under the Stars)
Cine Manto is the oldest outdoor cinema in the world and is open from the end of May to the end of September. They show two shows a night. One starts at 9:00 and one at 11:00 and they offer a lot of children appropriate films. At 9 Euros for adults and 7 Euros for children, it is a very affordable option for activities to do in Mykonos. You can even grab dinner from the restaurant on location.
10. Mykonos Beaches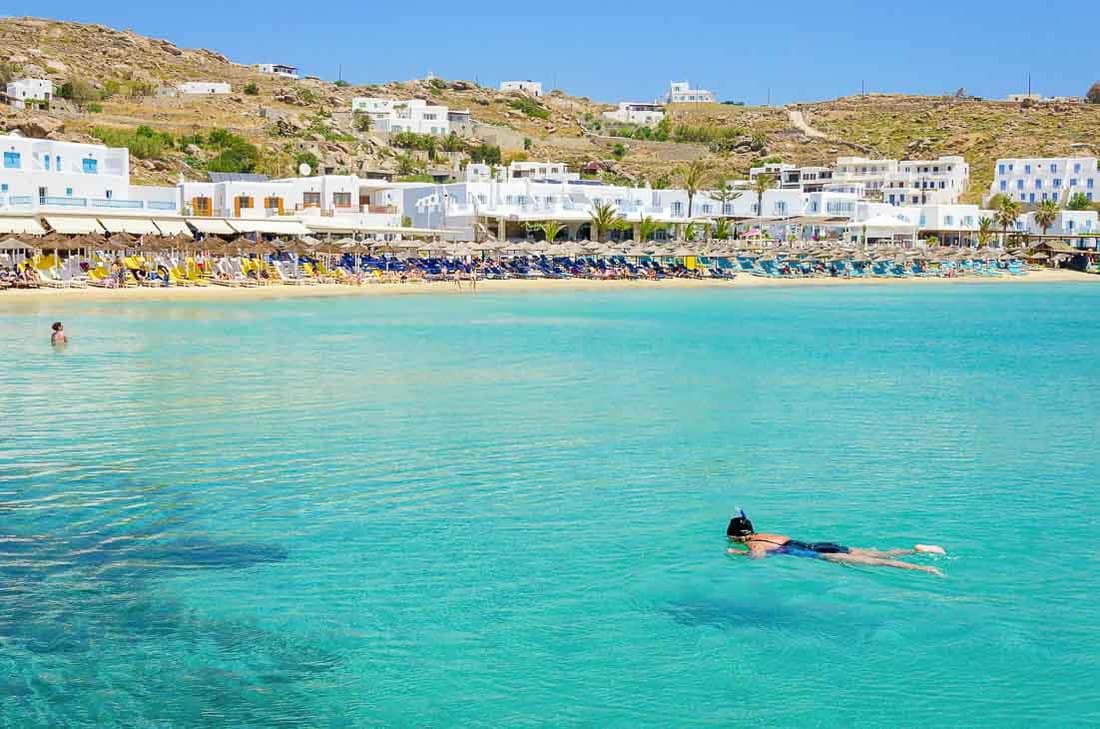 No trip to Greece with family would be complete without a trip to the beach and Mykonos has several family friendly beaches. Ornos Beach is a very calm beach with crystal clear waters. You can rent a sunbed for 30 Euros and there are several restaurants there. It is one of the closest beaches from the city center.
Agrari Beach is very family friendly with a little playground the kids can play at and calm waters. It is very secluded and a little outside of the city center so you'll need to have your own rental car to get here with children.
Platis Gialos Beach (pictured above) is also a great family beach. It is wide and has that beautiful white sand that Greece is famous for. There are several options for food, sunbeds, meals and minimarts.
Getting Around in Greece
There are flights from all over the world into Athens International Airport – check Skyscanner for the cheapest flights. Travel from Athens to Santorini is easiest to do by airplane. It is a short one-hour flight and costs about $100 per person. From Santorini to Mykonos, it is fun to take the ferry. You can get your tickets at ferryhopper for about 67 Euros a person.
In Athens, there are lots of taxis and Ubers available so that is the easiest way to get around unless you want to rent a car at the airport.
As mentioned above, there are not a lot of taxis in Santorini. There are only 25 or so. You can call +30 22860 22555 to arrange a taxi. Renting a car at the airport is also an option. Buses are also available to get to different parts of the island.
In Mykonos, the best way to get around is the bus system. If you take the ferry from Santorini to Mykonos, you will find many taxis when you disembark but, in reality, there are not a huge abundance of them available at other times. Rental cars are also a good option, but many have manual transmission. No cars are permitted in Mykonos Town, only foot traffic.
Where to Stay in Greece
Athens is a huge city and so there are many hotels available. Airbnbs for family travel is often preferred because of the higher occupancy and there are many options in Athens.
Santorini has some boutique hotels but few branded hotels. You can stay in a luxurious hotel or a more modest hotel. With a family, Airbnb's are nice, especially if you can grab one of the many cave homes that are available. If you want the view you see in most pictures of Santorini, stay in Oia.
Mykonos Town is known as a party place so you might want to stay outside of Mykonos Town. Ornos is a lovely area, as is Platis Gialos. One popular hotel near Ornos Beach is the Mykonos Essence Hotel. It is a short walk to the beach, has a swimming pool and a nice breakfast buffet.
---
There you have it! Ten fun things to do with your kids in Greece. Enjoy the history, the white sand and blue water, and some the most stunning views in the world!
---
Pam is the mother of five and grandmother of 20! She and her daughter Alex, a mother of 3 boys, make up the duo known as Travel Hacking Mom, a blog dedicated to the goal of teaching beginners how to travel hack. Travel hacking is traveling for free (or close to it) by using miles and points collected through credit card signup bonuses. They have traveled internationally in lay down business seats many times and only pay taxes and fees. They stay for free in hotels around the world too. Their goal is to instruct others how to do the same! You can follow Travel Hacking Mom on Instagram, Facebook, and Pinterest.
Want to save this information for later?
Click on one of the images below and save it to Pinterest.