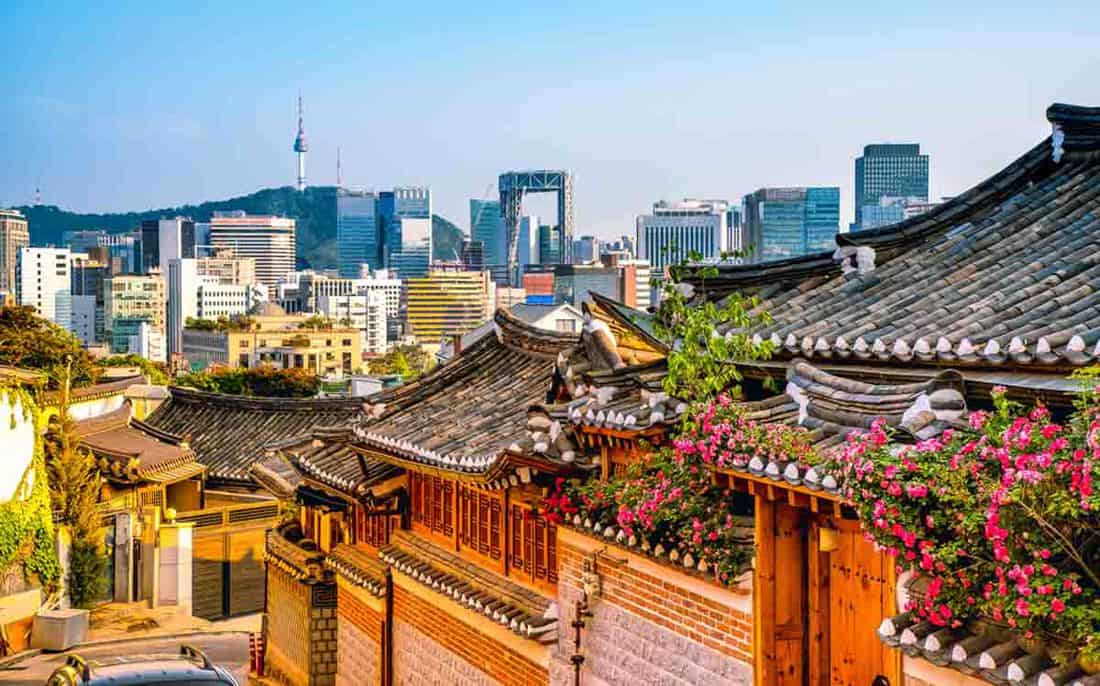 There are so many wonderful places to visit and things to do in South Korea with kids, that we thought it was about time we visited. We're going in June this year and thought what better way to kick off our planning then to ask fellow travel bloggers for their advice on the best things to do in Korea with kids. Not surprisingly most of their suggestions were around things to do in Seoul with kids, but there are a few other suggestions as well in places including Busan and Jeju Island.
Since 1948, Korea has been divided into two states – North Korea and South Korea. While tourists cannot easily visit North Korea due to it being one of the most secretive countries in the world, South Korea is most welcoming to tourists. For this reason, this guide only covers the best things to do in South Korea.
If you're also planning a family trip to Korea and after tips on the must do in South Korea, this is a great article to read.
This post may contain compensated links. Please refer to my disclaimer here for more information.
Best Things to do in Korea with Kids
Geographically South Korea is a reasonably small country, which offers travellers a range of diverse experiences. Kids and adults alike will enjoy experiencing beautiful landscapes, 5000 years of interesting culture and history as well as plenty of super modern and high tech family fun attractions.
Below we've listed some of the top things to do in South Korea during a family trip.
Gyeongbokgung Palace
Contributed by Erica from Travels with Erica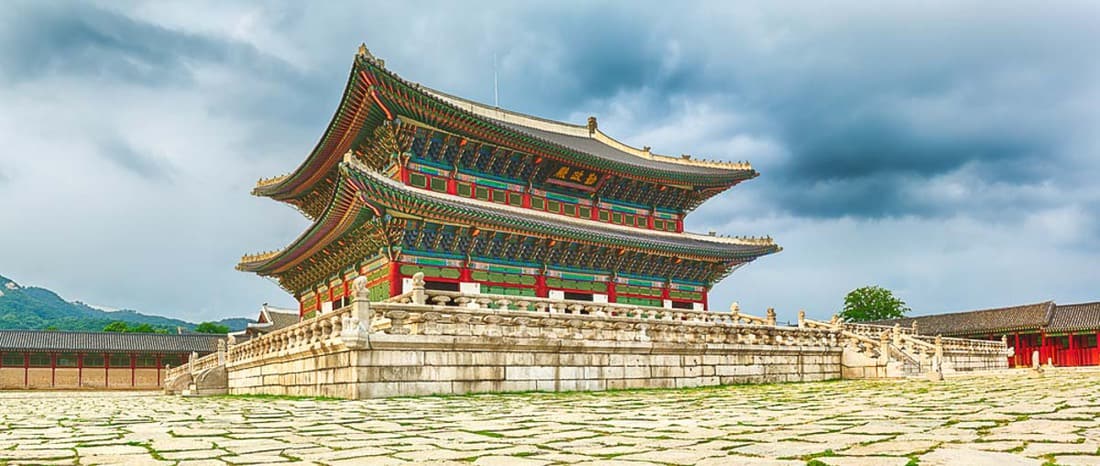 When it comes to Seoul, Korea tourist attractions, the Gyeongbokgung Palace should be at the top of your list! It is one of 5 grand palaces in Seoul and is the perfect place to learn about South Korean history.
If you're interested in seeing all 5 grand palaces, you should purchase the integrated ticket. For just 10,000 won ($12.60 AUD) you can visit all of the Seoul palaces. The ticket is valid for 3 months, so you don't need to rush from one palace to the next.
Every day (excluding Tuesday) at 10 am and 2 pm there is a changing of the guard ceremony at Gyeongbokgung Palace. It is a 10-minute ceremony that follows the same ceremony guards performed when the palace was in use. It is narrated in English and Korean, so you'll know exactly what is happening and the significance of it.
There is also a free guided tour that takes place throughout the day. It is in English and explains the history of the palace and includes some pretty funny antidotes. I highly recommend taking the tour if you're able to catch it.
Gyeongbokgung Station is connected to the palace, so it is incredibly easy to get to Gyeongbokgung Palace no matter where you're staying in Seoul. There is no excuse not to visit; this is one of the most famous landmarks in Korea!
Location: 161 Sajik-ro, Sejongno, Jongno-gu, Seoul, South Korea
Opening Hours: Wednesday to Monday from 9 am to 6 pm
Price: 3,000 won ($3.80 AUD) per adult, 1500 won ($1.90 AUD) for children 7+, with children under 7 being free
Children's Grand Park
Contributed by Sharon from Simpler and Smarter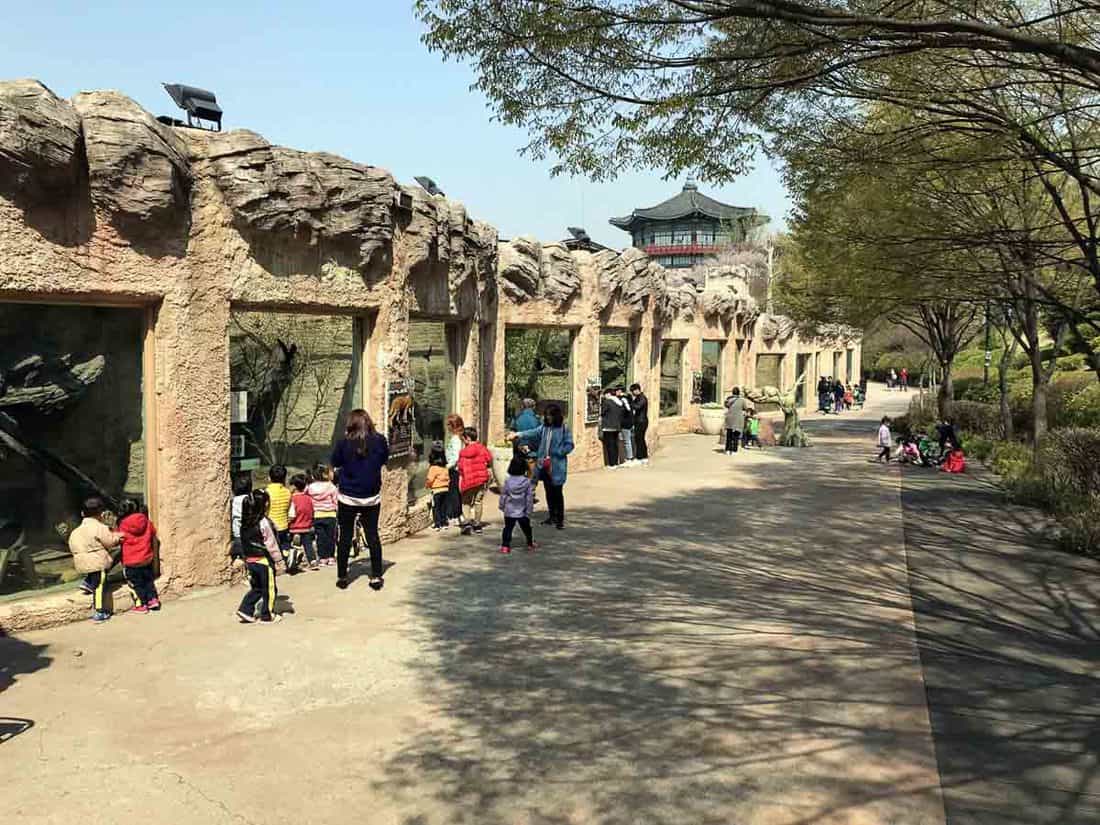 If you are looking for the ultimate kids activities in Seoul, you have to go to Seoul Children's Grand Park!
This huge park is located to the east of central Seoul and is the perfect place to spend a couple of hours or even an entire day having lots of fun with your kids.
Easily reached by public transport with its own train station, this park is free and is home to a wide range of free and paid attractions with a kid focus. A good place to start is the Seoul Children's Museum with many activities for kids.
Once you are finished with that, there are the botanical gardens. There are many things to look at and exhibits to walk through as you make your way to one of the best parts of the garden – the zoo. Also free, this zoo is on the small side, but the animals look well cared for. There are quite a few enclosures, and you can see elephants, lions, zebras, Australian animals, deer, birds, monkeys and more. You can also see seals swimming underwater. My favourite part was definitely seeing a polar bear. There is also a petting zoo where you can touch and feed horses and goats.
As a bonus, there is also an amusement park area. If you visit during cherry blossom season (like we did), there are also many cherry blossoms here.
A visit to the Children's Grand Park is without a doubt, one of the fun things to do in Korea with kids.
Location: 216 Neungdong-ro, Neung-dong, Gwangjin-gu, Seoul, South Korea
Opening Hours: Ranges depending on the attraction but most things open daily 10 am to 5 pm
Price: Free, but some attractions cost extra
Banpo Bridge Rainbow Foundation
Contributed by Shelley from Travel-Stained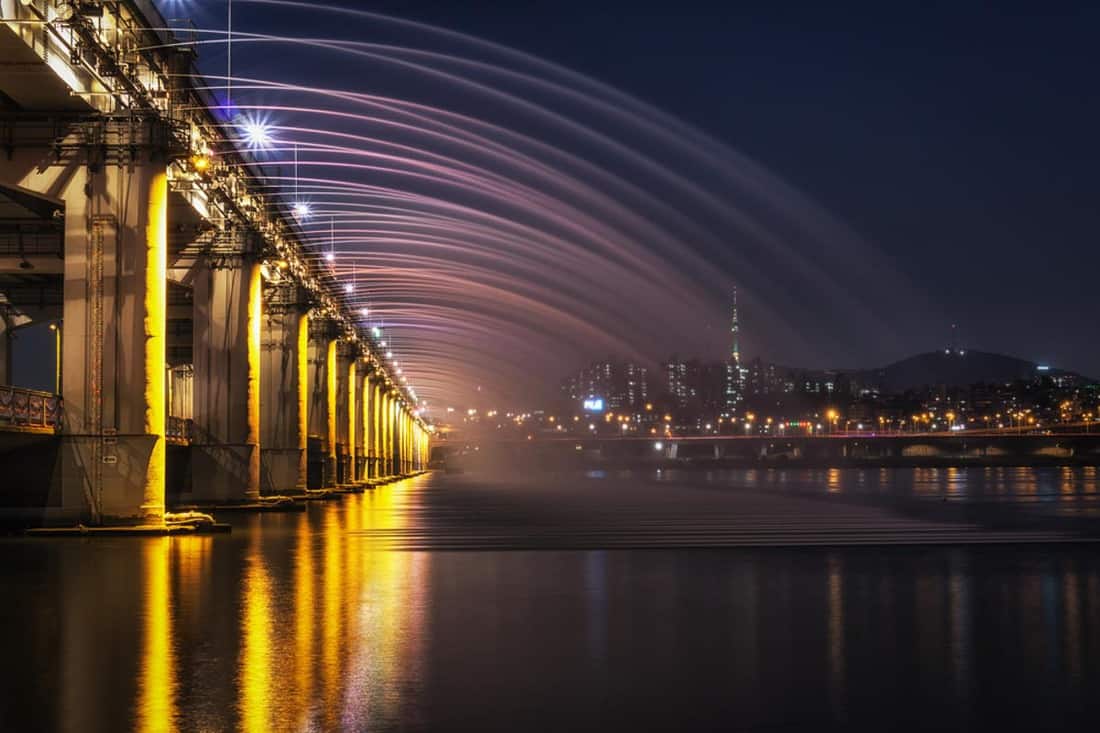 A visit to the Banpo Bridge Rainbow Fountain is undoubtedly one of the best free, Seoul attractions for kids. Running for a total length of 570 metres on both sides of the Banpo Bridge, this is the longest bridge fountain in the entire world.
During each show, an incredible 60 tons of water is suctioned up from the Han River below and sprayed out through 380 nozzles, every single minute. There's a showing at noon, but it's best to visit at night when you can admire the dancing water, backed by 200 brilliant LED lights that move in time to the music. Shows last for 20 minutes, and happen every half hour, starting at 7:30 or 8 pm, depending on the season and day of the week.
If you're looking for more family-friendly things to see in Korea, Seoul, don't limit yourself to just seeing the Banpo Bridge Rainbow Fountain on your visit. The gorgeous Some Sevit Floating Islands and Bamdokkaebi Night Market are located right next to Banpo Bridge. At Some Sevit, you can play in an indoor kids cafe with an infinity ball pool, or take a 6 seater party boat called Tubester, that floats out onto the Han River. At the Bamdokkaebi Night Market, you can shop for unique souvenirs at the artist's flea market, or eat at the food truck festival (only on weekend evenings).
The best way to get to the Banpo Bridge Rainbow Fountain is by hopping on Seoul subway lines 3, 7 or 9 and getting off at Express Bus Terminal Station.
Location: Banpo 2(i)-dong, Seocho-gu, Seoul, South Korea
Opening Hours: Every day from April to October, with 4 to 6 showings per day.
Price: Free
COEX Aquarium
Contributed by Marie from Be Marie Korea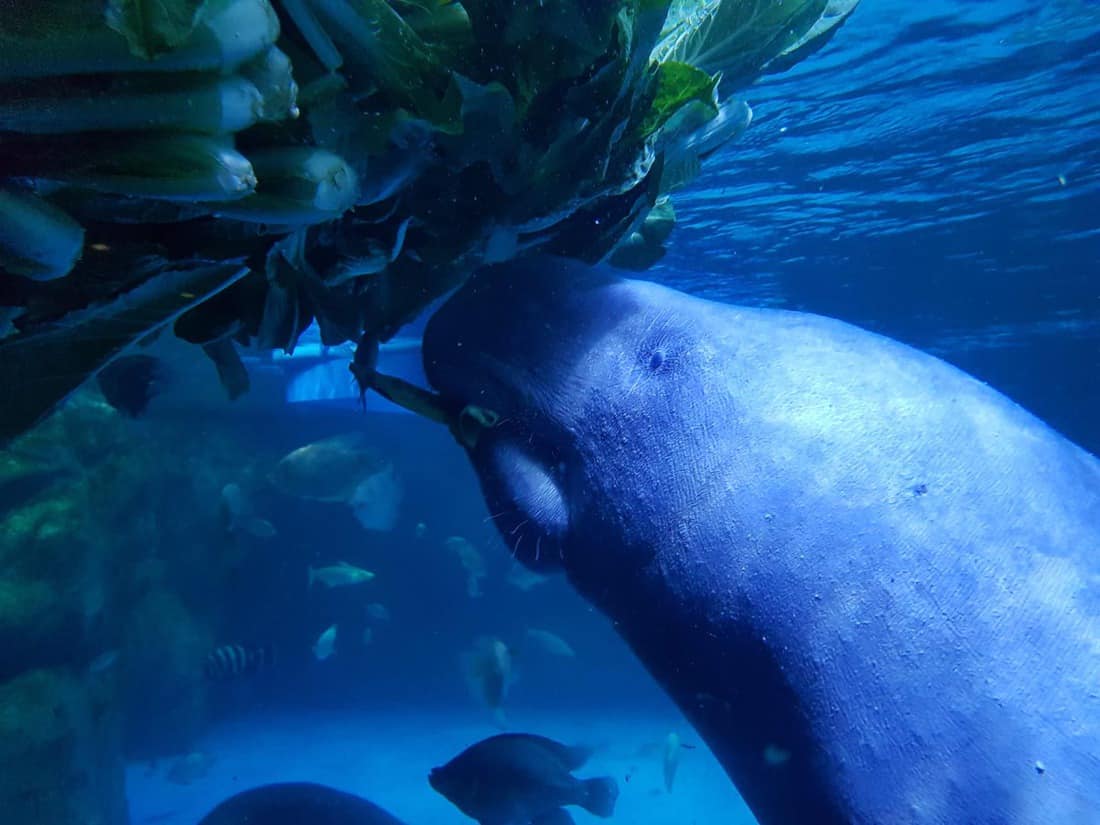 Seoul has three main aquariums, the 63 Aquarium, COEX Aquarium and Lotte World Aquarium, all located south of the Han River. The biggest aquarium is the COEX Aquarium, which is located in the COEX shopping mall.
The COEX Aquarium is one of the top tourist attractions in Korea for kids, especially on cold or rainy days. The aquarium is divided into 14 different sections, including the Andean mountains and the Amazonian rain forest. When visiting, make sure to check the performance and feeding times to really get the most out of your visit.
The aquarium can get quite crowded on weekends so try to avoid visiting during those days.
COEX Aquarium is in the COEX Shopping Mall which lies on subway line 9. Get off at Bongeunsa station and from there is it just a 5 minute walk away.
If you're after more things to see in Seoul, Korea near the Coex Aquarium, then visit the Bongeunsa Temple, which lies just across the street from COEX or visiting SM Town.
Location: 513 Yeongdong-daero, Samseong 1(il)-dong, Gangnam-gu, South Korea
Opening Hours: Daily from 10 am to 9 pm
Price: Adults are 28, 000 won ($35 AUD) and kids 24,000 won ($30 AUD) – or purchase discounted tickets through Klook where adults are 21,800 won ($27.40 AUD) and kids 19,600 won ($24.65 AUD). Click here to purchase discounted tickets.
Lotte World Tower
Contributed by Cal from Once in a Lifetime Journey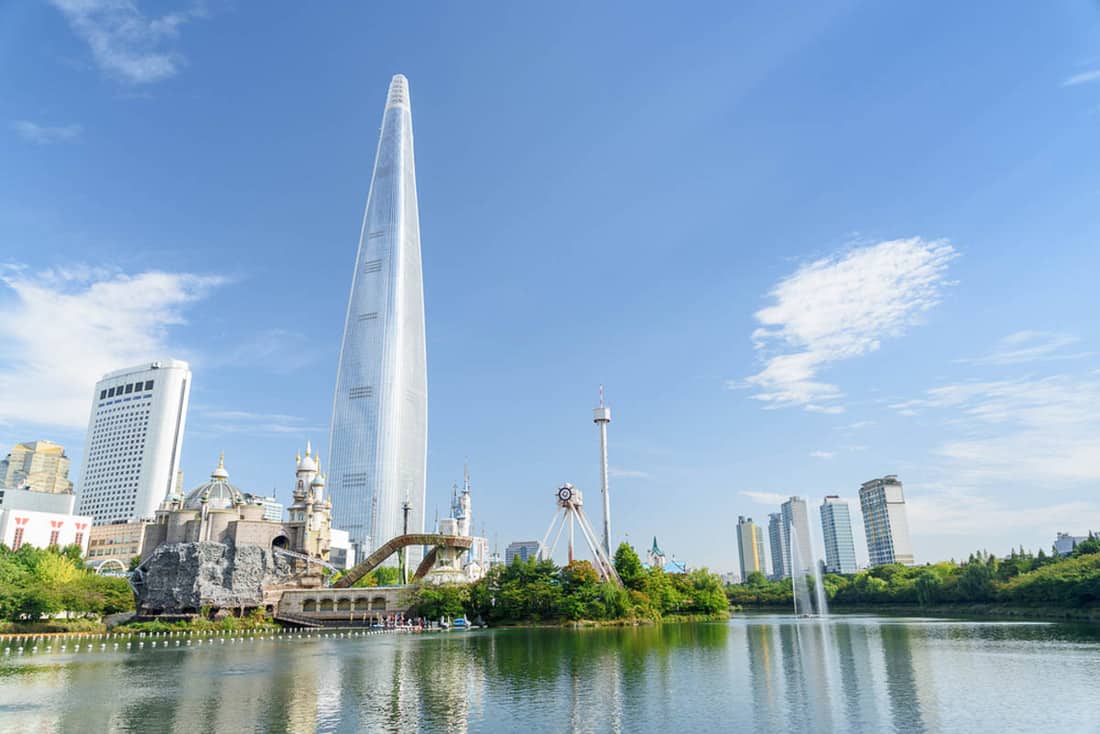 Visiting Jamsil is one of the best things to do in Seoul Korea for families or couples. The area has Lotte Department store, Lotte World Mall, Avanuel Mall, Lotte Aquarium and Lotte World – Seoul's own version of Disney World.
A brilliant activity for kids in Seoul (and for the parents) is to go up the world's 5th tallest building to Seoul Sky. You hop in the fastest elevator in the world which plays a 360 degree LED video with audio. The trip up to the 121st floor takes only 1 minute. That's 10m/sec!
You are then welcomed to one of the most epic views which will make your spine-tingle. Stand on the glass floors and look down if you dare. While I was stunned by my fear of heights, the toddlers were prancing around on the glass floors like it was a game.
There is a great light show on the building every night, so it would be a nice addition to your trip to get down before it starts. Also, look at the fine dust score before going, as you want it to be as clear as possible.
I would suggest going on a weekday while the sun is still up to avoid crowds. It's super easy to get to on the subway by going to Jamsil Station on lines 2/8 and then taking exit 2. The entrance is in B1. You can also get there by bus, taxi or your own car.
Location: Jamsil 6(yuk)-dong, Songpa-gu, Seoul South Korea
Opening Hours: 10 am to 10 pm Sunday to Thursday and 10 am to 11 pm on Friday and Saturday
Price: Adults ₩27,000 ($34 AUD) and children (3-12) ₩24,000 ($30.15 AUD). You can also get a fast pass if the queues are ridiculously long for ₩50,000 ($63 AUD) per person. For discounted tickets purchase via Klook were tickets are just ₩24,000 ($30.15 AUD) per person. Click here to book discounted tickets.
Nami Island
Contributed by JB from Will Fly for Food
There are many kid-friendly day trips you can make from Seoul. One of the most popular and fun is Nami Island. Aside from being achingly beautiful with its many picturesque tree-lined walking paths, it's a unique and curious place that's unlike anything we've ever visited.
Nami Island is officially known as Naminara Republic. It's actually a tiny micronation with its own passport, flag, currency, and national anthem. It sounds serious, but it's all in good fun. To get to the island, you'll need an "entry visa" which you can easily purchase at the dock before riding a ferry or taking a zipline into the island.
Located about two hours northeast of Seoul, the easiest way to get to Nami Island is by group tour, but you can go there on your own using public transportation as well. You can go by subway, but the fastest is to go by ITX high-speed train. You can catch the ITX from either Cheongnyangni or Yongsan Station to Gapyeong Station. Depending on which station you start from, the fare costs KRW 4,800/5,900 for adults and KRW 2,400/2,900 for kids each way. You can book tickets in advance online from the KORAIL website.
From Gapyeong Station, you can take a quick 5-minute bus ride to Gapyeong Wharf, but if you're travelling as a family, then the easier and more economical option may be to take a taxi. The fare should be around KRW 5,000 each way.
From Gapyeong Wharf, you can either take the ferry or ride the zipline into Nami Island. Round trip ferry tickets cost KRW 13,000 for adults and KRW 7,000 for kids. The zipline costs KRW 44,000 per person ($55 AUD). Both options include entrance to Nami Island.
The last ferry back to Gapyeong Wharf departs Nami Island at 9:40 pm, but be sure you leave early enough to catch your train from Gapyeong Station back to Seoul.
Free City Tour
Contributed by Elisa from World in Paris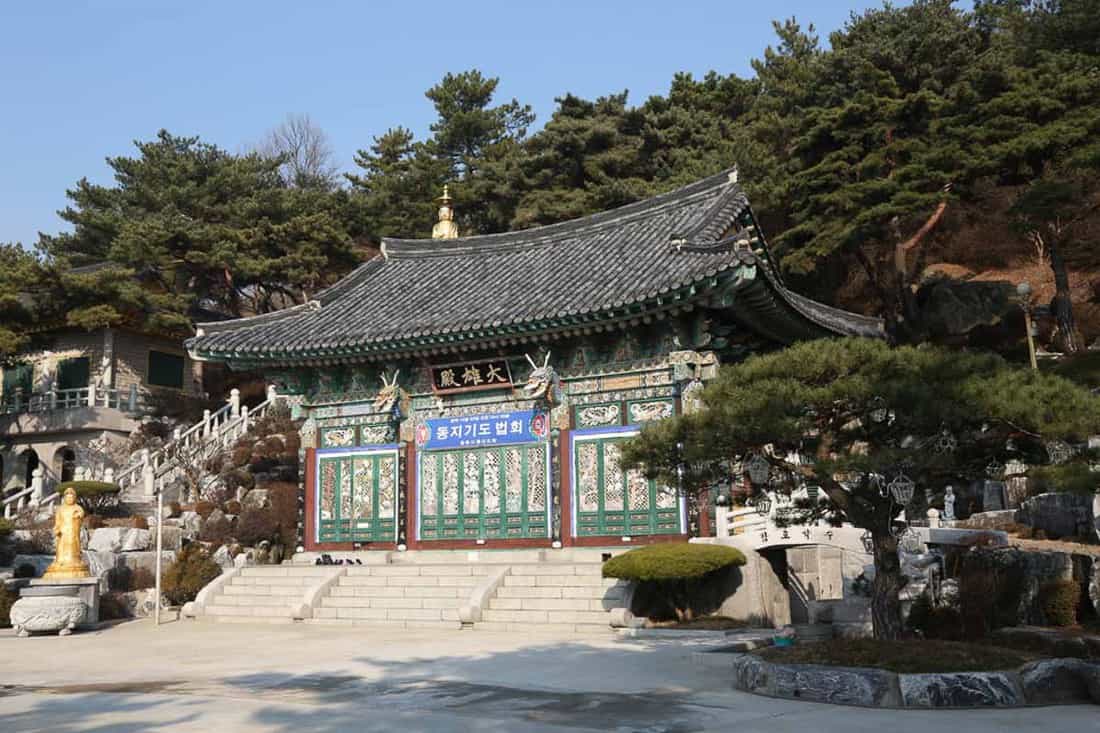 If your South Korea trip includes a long layover in Incheon International Airport, don't miss the opportunity to join one of the airport's free transit tours.
These free transit tours can be a great introduction to the South Korean capital, plus they are a good opportunity to get out to breathe some fresh air and stretch your legs between two flights.
All the tours last from one hour to 5 hours in total, transportation time back and forth included. If you are travelling with kids, the shortest tours are perfect for them.
There's a good variety of tours – culture, adventure or food – so we are sure you will find something your kids like. All the tours are in English and led by passionate local guides.
During our layover in Incheon Aiport, we visited the Jeondeungsa Temple & Deokjinjin two interesting historical sites that fit perfectly (no rush) in the two-hour tour. The tour also allowed us to take a nap (on the bus) in a secured environment as all the hand-luggage is stored beneath.
Location: Transit Tour Information Desks are in Terminal 1 – first floor, Gate B and in Terminal 2 – first floor, Gate 3. Both Information Desks can be found after the Immigration control.
Opening Hours: Tour times vary
Price: Free
Everland
Contributed by Megan from Bobo & Chichi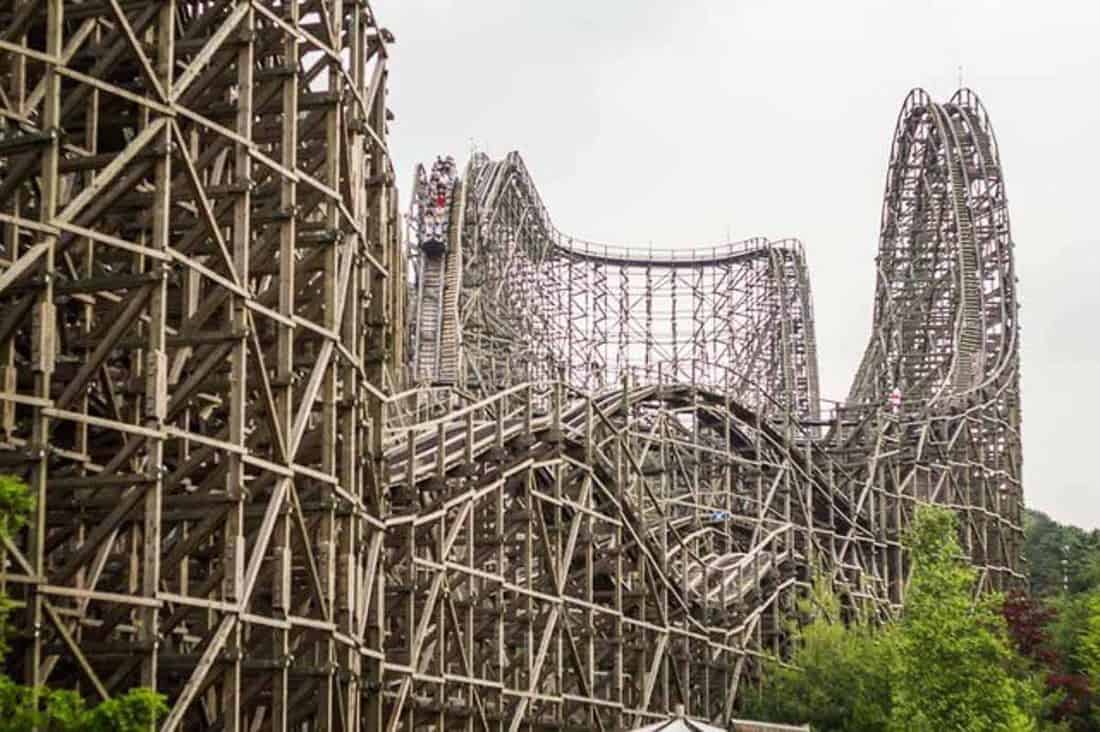 One of the top things to do in Korea with kids is to take a day trip to the Everland Theme Park in Yongin, outside Seoul. With direct buses on the hour in Gangnam that depart daily, this is an easy trip to Korea's answer to Disneyland.
The theme park is pretty large with five different areas of the park including Global Fair, where you enter/exit the park, Zootopia, which is where the zoo and safari rides are, European Adventure, which is where you can find Holland Village, Magic Land where you can find Aesop's Village, and American Adventure with rock and roll inspired rides and attractions.
There's also a water park called Caribbean Bay that's a great idea for families in the warmer months!
At Everland, there are attractions for kids of all ages as well as the parents. From the adrenaline rushing ride on the T Express rollercoaster and delicious imported beers in Holland Village to rides for the young ones, a zoo, and great rides that are great for a walking break.
What's even more fun is that Everland has fun seasonal activities and themes throughout the year! The Rose Gardens in summer are impressive as well as the Lighting Festival in the winter.
Location: 199 Everland-ro, Pogog-eup, Cheoin-gu, Yongin-si, Gyeonggi-do, South Korea
Opening Hours: Daily from 10 am to 9 pm and until 10 pm on Saturdays
Price: One day tickets are 56,000 won ($70 AUD) per adult and 44,000 won ($55.25 AUD) per child. I recommend you purchase through Klook where tickets are just 37,000 won ($46.50 AUD) per person. Click here to purchase your discounted tickets.
E-World
Contributed Becky from Becksplore-travel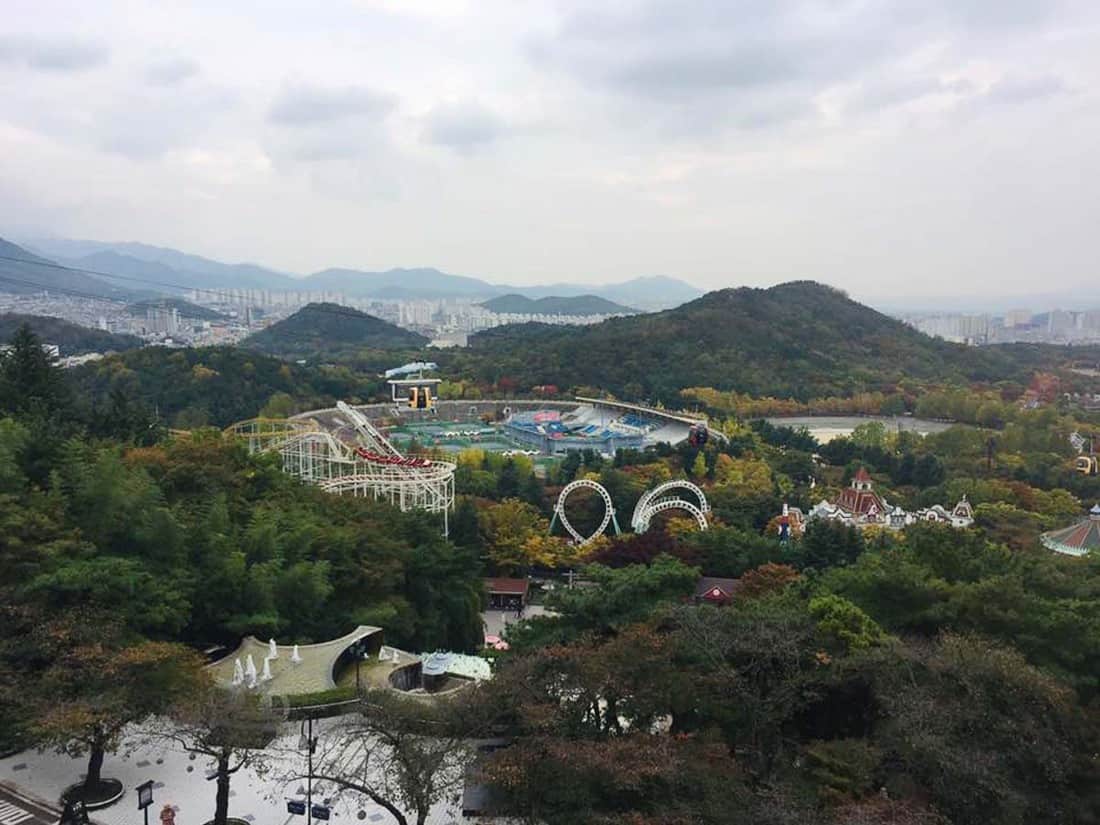 Located in the city of Daegu, around 70 minutes North of Busan, E-World is one of the fun places to go in Korea with the family. The attractions are divided into four different categories: Fantasy World, Magic World, Adventure World and Dynamic World. There are a bunch of attractions within the theme park, so it is a good destination for a day trip. You can also pay extra to go on the Sky tower on which you can enjoy nice views of Daegu.
To get to E-world you can take the green Metro line 2 to the station Duryu, from where it will only be around a five minute walk to reach the entrance.
Location: 200 Duryugongwon-ro, Duryu-dong, Dalseo-gu, Daegu, South Korea
Opening Hours: Daily from 10 am to 10 pm
Price: You can either just pay for the entrance and then pay for the attractions within additionally or just get a full pass, which lets you enter all the attractions within the theme park. The price for the full pass is 43000 Won ($54 AUD) for adults, 37000 Won ($46.50 AUD) for teenagers and 32000 Won ($40.20 AUD) for children.
Gamcheon Cultural Village
Contributed by Wendy from The Nomadic Vegan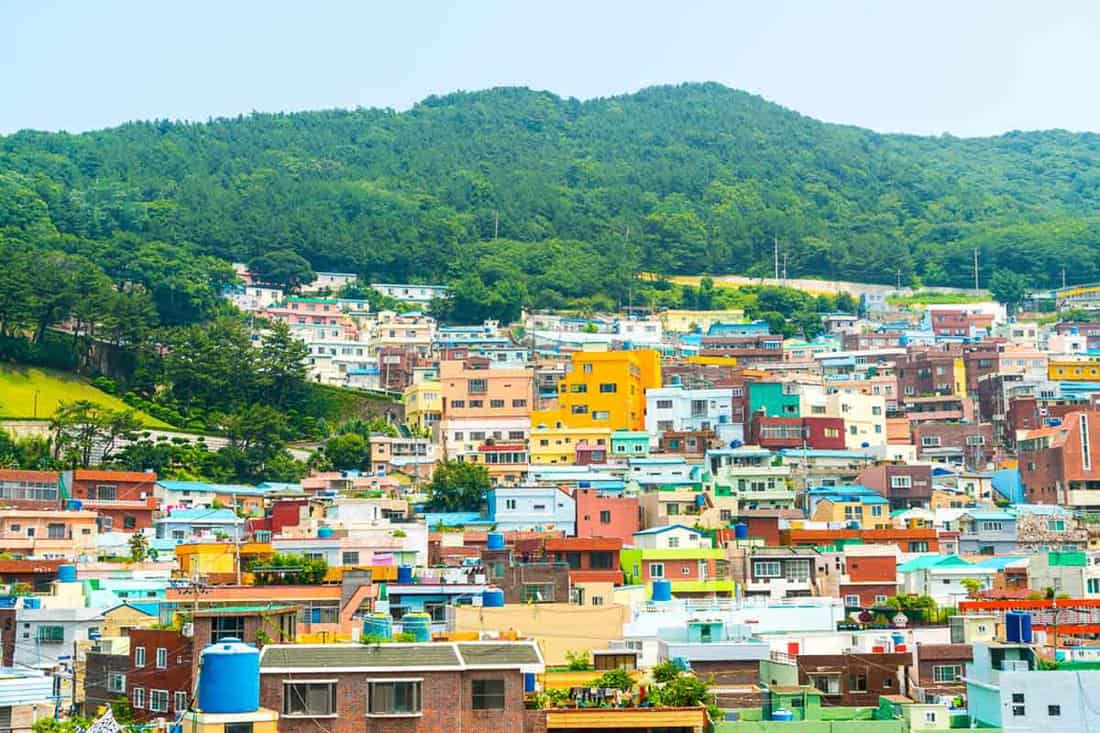 One of the best things to do in Busan, Korea, is to visit the Gamcheon Culture Village. The Gamcheon Culture Village was once a neglected shantytown that has now been transformed by the power of art. Tourists now flock here to see the many murals and other artworks throughout the neighbourhood. There is no entry fee, and you can walk through the village at any time. However, I do recommend picking up the map sold at the tourist information centre for 2,000 won ($2.50 AUD).
Not only do the proceeds support projects for the local community, but the map will also make your visit a lot more fun. You can visit the various stamp stations marked on the map to collect the stamps and receive a prize at the end. We saw a lot more art this way that we would have missed without the map.
The tourist information centre opens at 9 am, and I recommend arriving around then to avoid the crowds. If you arrive later in the day, you'll have to queue for photos at the famous spots, such as the Little Prince statue at the top of the village. By the way, there's a much better Little Prince statue inside the "Happy Power Station" that no one seems to know about!
Don't expect to see gigantic murals like the ones in São Paulo or other street art meccas of the world. Most of the pieces of art here are on a relatively small scale. What I found pleasantly surprising, though, was how varied the artwork was. In addition to painted murals, there are also sculptures and even some kinetic art installations with moving pieces, which kids are sure to love.
To get to Gamcheon, take metro line 1 to Toseong station and leave through exit 6. From there you can take bus 1-1, bus 2 or bus 2-2, all of which are small minibusses.
Location: 200 Gamnae 1(il)-ro, Gamcheon 2(i)-dong, Saha-gu, Busan, South Korea
Opening Hours: Daily from 9 am to 6 pm
Price: Free
Jeju Island
Contributed by Rai from A Rai of Light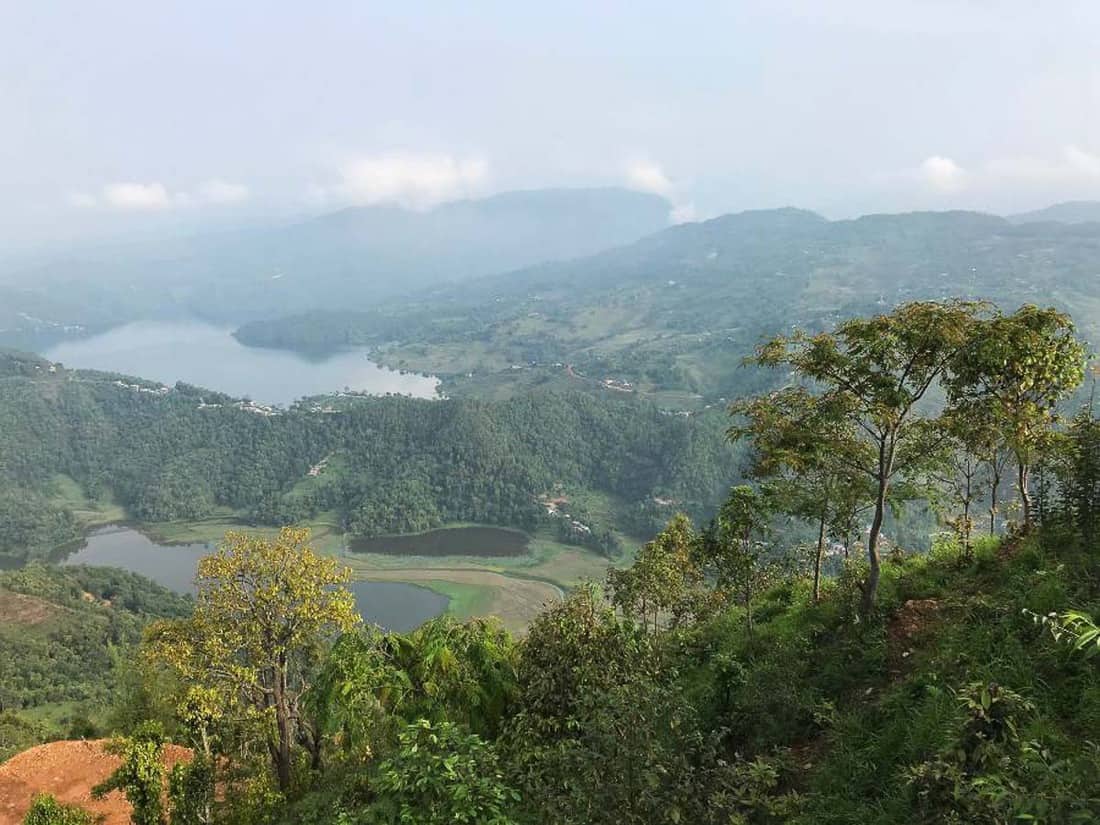 Jeju island, part of a chain of atolls along the southern coast is a highlight of any visit to South Korea. It's easy to see why this island is enduringly popular with both local and international tourists alike. Often referred to as Jejudo, it is well known for its white sand beaches, natural wonders, and volcanic landscape of craters and cave like lava tubes. It is also one of the cheapest islands to visit.
The main sights around Jeju Island are accessible by a day trip from anywhere on the island. The Jeju Olle Trail covers the whole of the island in a series of short, accessible hikes and is a popular activity for the entire family. Other good activities include a visit to the Jeju Folk Village and Waterworld. Travel to the region's more remote areas and you will feel that little has changed in decades.
To get here, it is possible to fly directly to the Jeju international Island airport. Alternatively, you can take the ferry from Seoul to one of Jeju Island's 3 ferry terminals.
———————————————————–
And there you have it, some of the best places of interest in South Korea. That's certainly given us plenty of ideas for our upcoming trip to South Korea. What are your tips for the best things to do in South Korea with kids?
Want to keep this handy?
Click on one of the images below and pin it to Pinterest.