Hideaway Island is a popular spot for a day trip for families visiting Port Vila. Well known for having the world's only underwater post office as well as great snorkelling it is also worth considering spending a few days here rather than just a day.
Hideaway Island Resort – Vanuatu is the ideal place for families looking for a place to get away from it all. On the island families can spend their days swimming, snorkelling or relaxing by the pool.
If you're looking for one of the best Vanuatu family resorts, I've written this detailed Hideaway Island Resort review, so you can consider whether this is the perfect place for your next Vanuatu holiday with kids.
This post may contain compensated links. Please refer to my disclaimer here for more information.
Where is the Hideaway Island Resort Vanuatu?
Hideaway Island is in Mele Bay, which is just 9 km from the centre of Port Vila or a short 15 to 20 minute drive. From the mainland, it's a 4 minute ferry ride to this gorgeous island getaway. Seriously you could be on this island in under 30 minutes from the moment you leave the airport – this is great for families that want an island getaway holiday but don't want to have to travel too far away to reach it.
The ferry operates 24 hours a day, so you can always get to and from the resort whenever you please. It doesn't run on a timetable or anything – it just leaves whenever guests are there.
Who Should Stay at Hideaway Island Vanuatu?
First up let's talk about who should consider staying at the Hideaway Island Resort? I personally recommend the Hideaway Island Resort for families who:
Want a peaceful place to relax – there isn't a whole lot to do here;

Love to swim, snorkel, scuba, paddleboard or kayak – these are the main activities on the island;

Are happy to eat at the same place over and over again – or happy to take a bus or taxi into town – there are no other places to eat on the island or closeby by on the mainland expect for The Beach Bar which is on the mainland;

Don't want to spend most of their days sightseeing, as there are much more convenient areas to do sightseeing from other than Hideaway Island Resort (like

Moorings Hotel

); and

Don't necessarily want to be in the centre of town as you will need to pay for a bus or taxi each time you decide to go into Port Vila.
If you are coming to Vanuatu for the first time and want to do lots of sightseeing, you might be best to stay somewhere more central or at least split your time between Hideaway Island Resort and another central hotel.
If you are looking for a more centrally located island resort – the Erakor Island Resort is well worth considering.
Click here for our full guide on the best Vanuatu Resorts for Families
Facilities at Hideaway Island Resort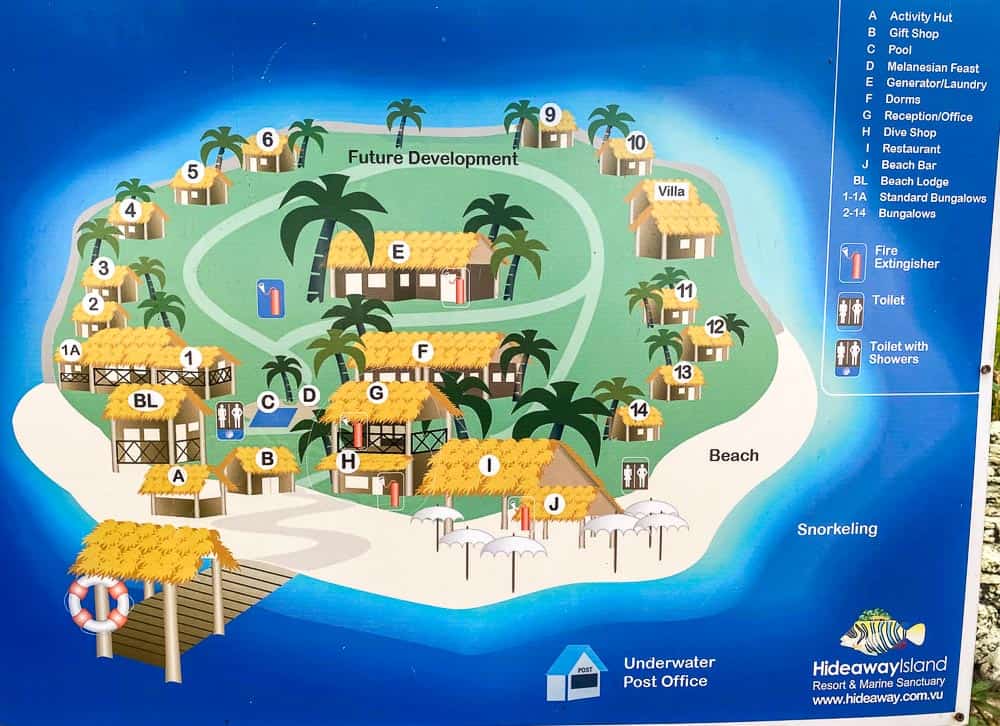 Below is a brief overview of the various facilities on offer at the resort.
Beach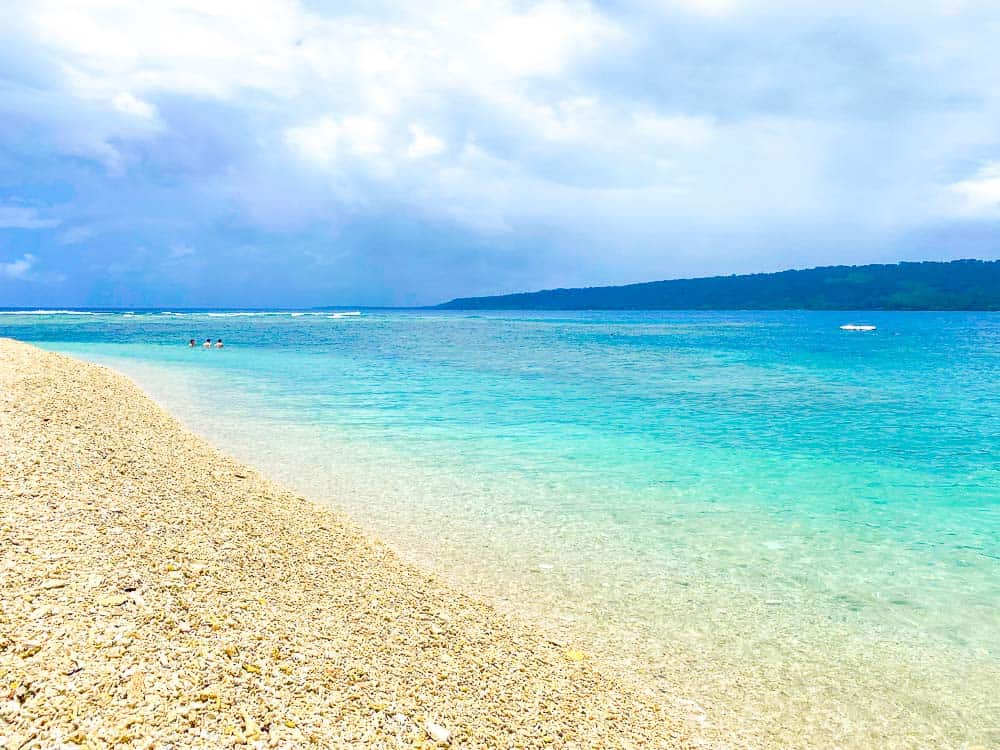 Hideaway Island Resort is on the gorgeous Mele Bay which has reasonably calm, crystal turquoise water just perfect for swimming, snorkelling and kayaking.
However the beach here is not sand, its completely coral – so its essential to wear reef shoes both on the beach and while in the water. There is a specially built stairway that leads into the water.
The bay is full of marine life, and coral so is excellent for snorkelling and scuba diving. Also just 35 metres off the beach is where you will find the world's only underwater post office. For 400vt you can mail a postcard to your friends or family anywhere in the world.
The Pool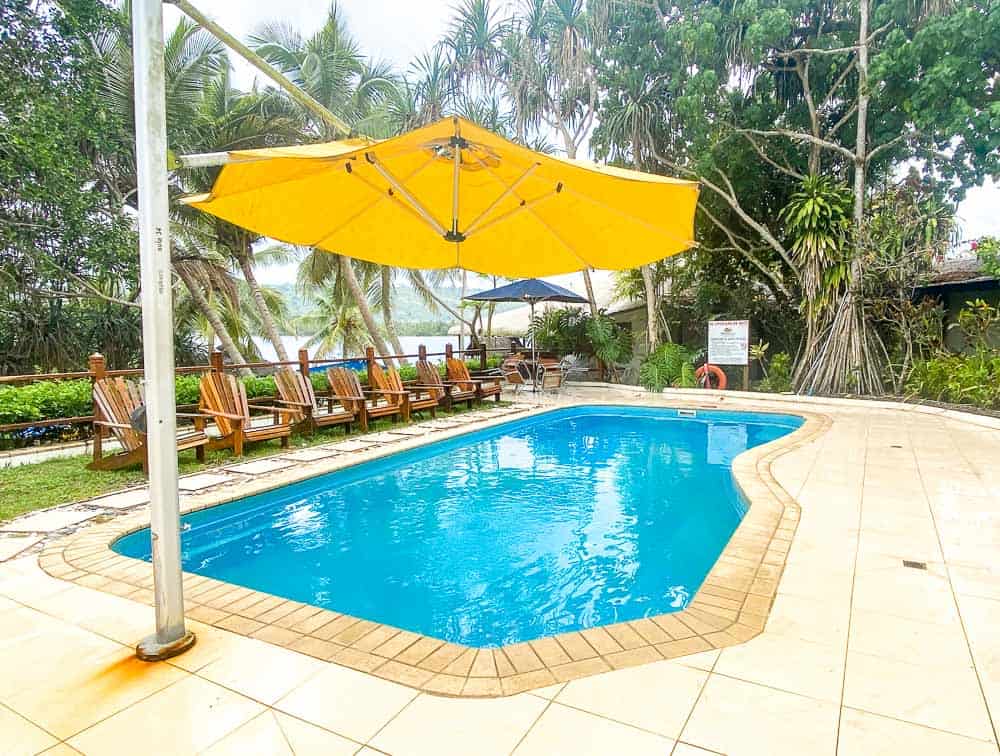 If you need a break from swimming in the bay, there is a small size swimming pool to relax in.
The pool is not overly huge, but it's a great size for the small resort and given the resort is surrounded by the stunning bay, most people tend to be in there rather than the pool anyway.
Watersports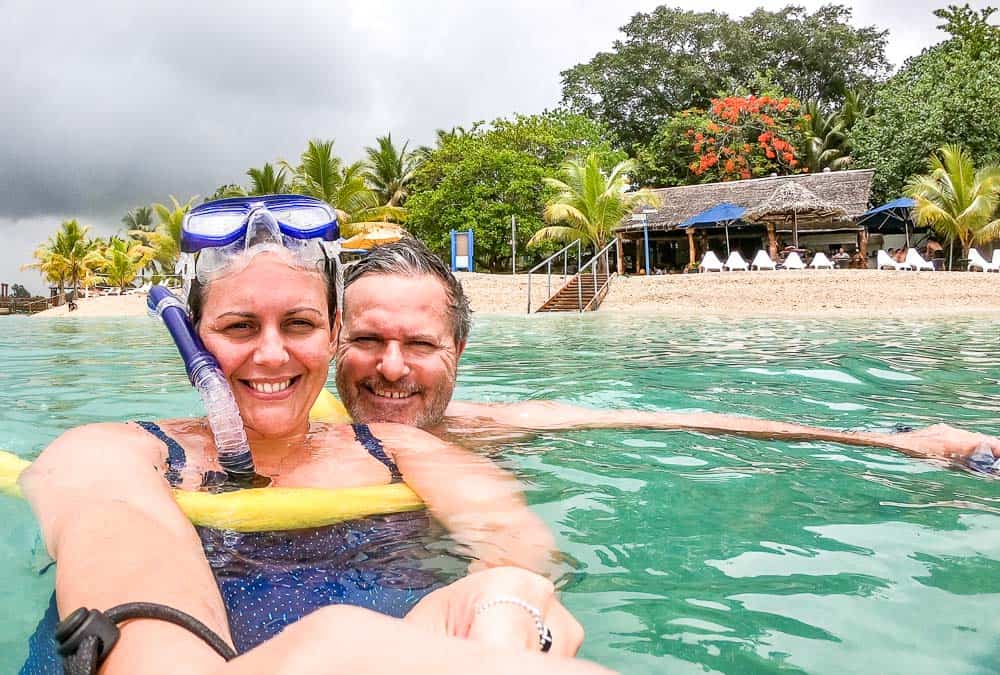 As I've mentioned already, the main activity on the island is watersports. From the main beach you can snorkel, kayak, paddleboard and scuba.
For guest staying on the island, the use of kayaks, paddleboards, snorkel equipment etc is free of charge. For day-trippers, this equipment can be hired. Snorkel gear is 1000vt per person, 200 vt for a pool noodle, 500vt for a life jacket and 800vt for a kayak for 30 minutes. So if you are coming for the day, bring your own equipment to save money.
There is also a guided snorkel tour you can do. For day-trippers, this is available at the rate of 800 vatu per adult or 600 vatu per child 5-12 years. Plus every day at 12 pm, the dive barge will take you out to the outer reef for snorkelling. The boat remains at the site while you snorkel.
If you're keen on scuba diving, you can learn to dive here as Hideaway is a PADI five star training facility.
Glass Bottom Boat
For those not to keen on snorkelling or diving, each day there is a glass-bottom boat tour which is completely free of charge for house guests.
For day-trippers, the boat trip is 800vt per adult and 600vt per child.
Movie Night
Every Wednesday and Sunday night, watch a movie on the beach while eating popcorn.
Dining Options at Erakor Island Resort
There is one restaurant on the island as well as the option to join in the weekly Melainseian feast.
On the Beach Bar and Restaurant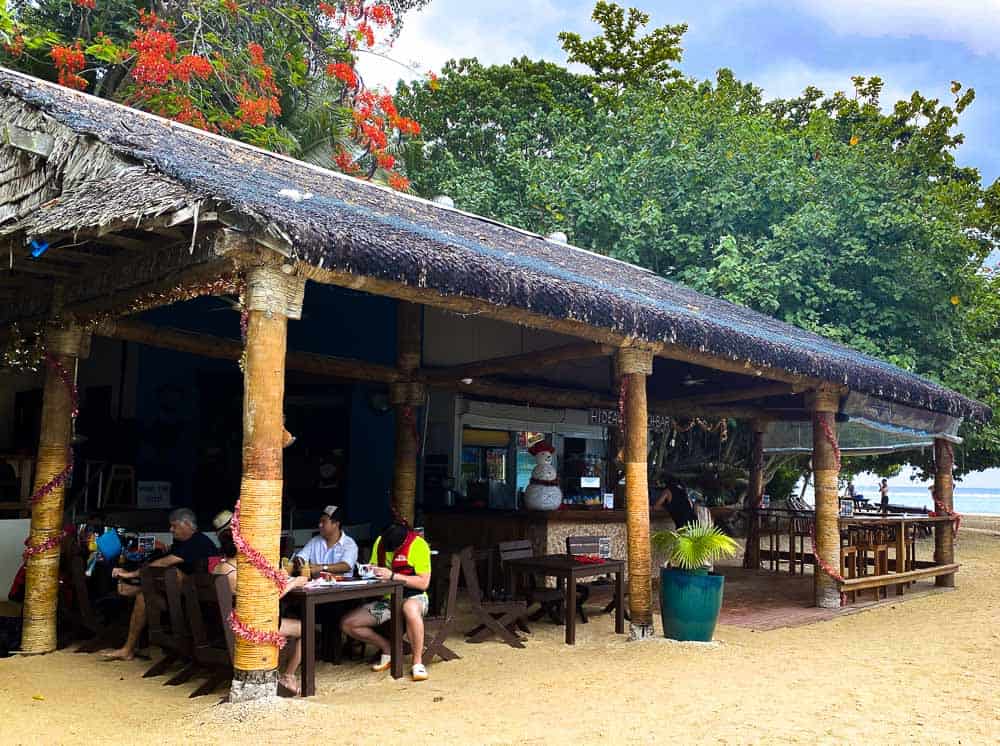 Hideaways On the Beach Bar and Restaurant overlooks the beautiful Mele Bay.
The restaurant has a great range of meals and also a good kids menu too. Click here for the lunch menu or here for the dinner menu. The drinks menu is here.
This is also where breakfast is served each morning. Breakfast consists of a basic continental breakfast.
There is also a bar here which has a happy hour between 4.30-6 pm each evening.
Melanesian Feast
Every Thursday night come for a Melanesian feast. The feast includes kava on arrival followed by a range of fresh local dishes as well as some western cuisine.
Throughout the night there is traditional song and dance as well around the campfire.
The price is 2650 vatu per adult and 1650 vatu per child (5-12).
Hideaway Island Vanuatu Accommodation
There is a good range of different accommodation options on Hideaway Island Resort for families and other types of budget travellers.
1 Bedroom Oceanfront Bungalow
For families of 4, the 1 bedroom oceanfront bungalow is the best accommodation choice on the island. These bungalows look out across the water and have beautiful sunset views.
The bungalows have one bedroom with a double bed and in the main living area another 2 single beds. The living area also has a lounge area and there is a patio with outdoor setting. Bungalows come with tea and coffee making facilities, ceiling fans and a small fridge.
1 Bedroom Oceanfront Villa
There are only two of these spacious deluxe oceanfront villas which are perfect for two, but there is the option of a cot so also suitable for a young family.
The oceanfront villas are fully decked out with large balconies, lounge area, dining area, a kitchenette, air conditioning and cable TV.
1 Bedroom Villa with Pool
Why not go all out and book into the stunning one-bedroom villa for two which comes with its own private swimming pool. For families with children over 12, you can also book the Tree Villa, which can be connected to this villa for the ultimate in island family accommodation.
This villa features a combined dining, living and kitchen area, has air conditioning and an ensuite with a spa bath with ocean views. There are also stairs that lead down to a private beach area.
1 Bedroom Semi-Attached Bungalow
As mention above, if your a family and want to book the villa with a pool, it's recommended that you also book the semi-attached bungalow. Although coming with a set of bunks and a queen-size bed, these bungalows are suitable for a family on there own.
These bungalows come with a covered balcony with outdoor setting, lounge, bar fridge, ceiling fans and tea and coffee making facilities.
Quad Bed Dormitory
If you're just after the cheapest accommodation on the island, then consider a quad dormitory room. These budget rooms feature two bunk beds, so perfect for a family of 4.
The quad rooms also feature verandahs with outdoor setting, shared bathrooms, ceiling fans and a shared lounge area.
Twin Share Rooms
Another good budget option for couples is the twin share rooms. These rooms are located on the beach and are suitable for just two people. Rooms come with fans, mini-fridge and have shared bathrooms and a shared verandah area.
Hideaway Island Vanuatu Day Trip
If you're not keen on staying at the resort, you can still make a Hideaway Island day trip to enjoy the island. Simply board the ferry at the mainland, and when you arrive on the island, you will be required to pay 1250 VT per adult and 600 VT per child (5-12).
A day trip is perfect for families. You can spend the day snorkelling, swimming, post a postcard at the underwater post office, have lunch and join in a range of other water sports.
Click here for more great things to do in Vanuatu with kids.
Outside the Resort
Just on the mainland, after you hop off the ferry is the popular Beach Bar. Come for lunch or dinner and make sure you pop over on Friday nights for the free fire dancing show.
Getting to Hideaway Island Resort
If you're coming from the airport, its best to arrange transfers in advance. I recommend doing this yourself as the transfers arranged from the resort are very expensive.
The other option is to walk outside the airport (it's super tiny) to the road and catch a bus to the resort. The buses have a "B" on the number plate, and you can flag them down. As the driver pulls up, tell him where you are going and if he is headed in that direction, he will tell you to hop on. He will then take you right to the resort. When you get off – that's when you pay the fare. It will just cost you 300 vt per adult, 150 vt per highschool student and 100 vt per child.
You can get a taxi too. A taxi is identified by a "T" on the number plate, and you can flag them down. The driver will take you to the resort immediately, but it's best to ask for a price first. Expect to pay around 1500 to 2500 vatu.
Where to Book you Stay?
I recommend booking through Booking.com for the best flexibility (you can always cancel and book elsewhere if you find a better deal). Rooms start at $230 AUD for a family of 4, which includes breakfast in a standard bungalow – so not cheap but worth it if you want to stay in absolute paradise.
I recommend staying as many days as you can afford and then spend the rest of your trip in town during the days you go out for sightseeing.
Hideaway Island Resort – our Verdict
Hideaway Island is a wonderful place to come for those families that love the water. Here you can spend your days snorkelling, lying in the sun and relaxing. For families that want to spend their time in Vanuatu sightseeing, you'd be best to stay in a more central Vanuatu resort or better still split your time between both and get the best of both worlds.
Click here to check out our YouTube video on Hideaway Island Resort.