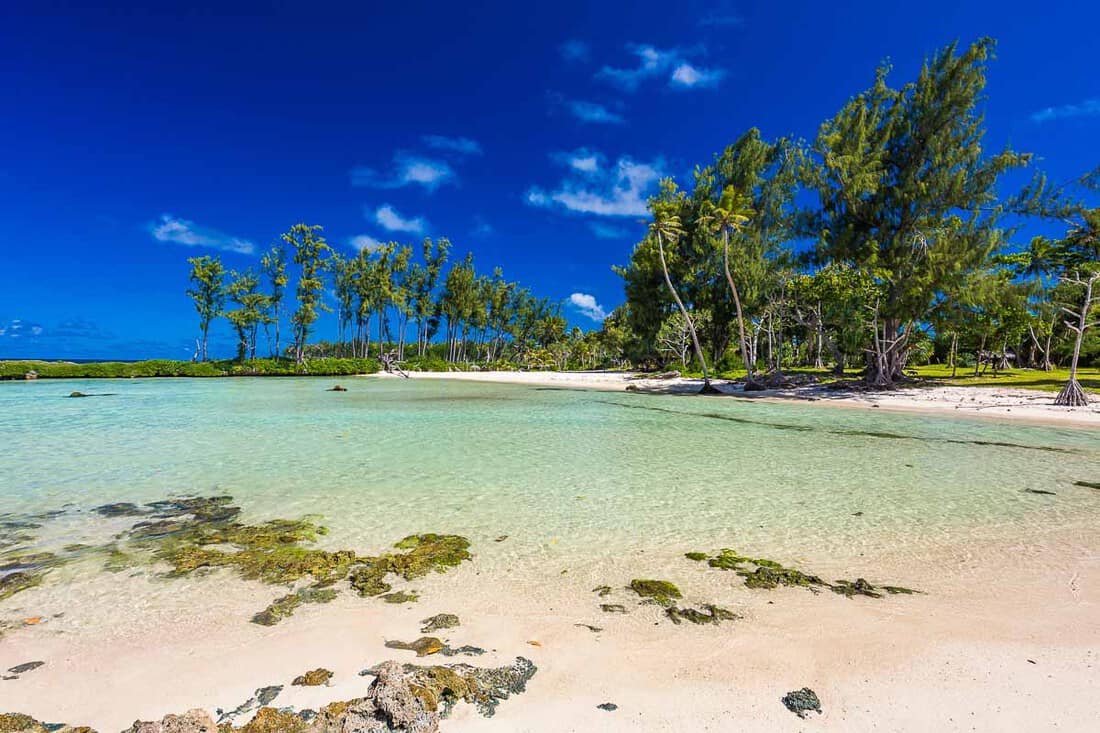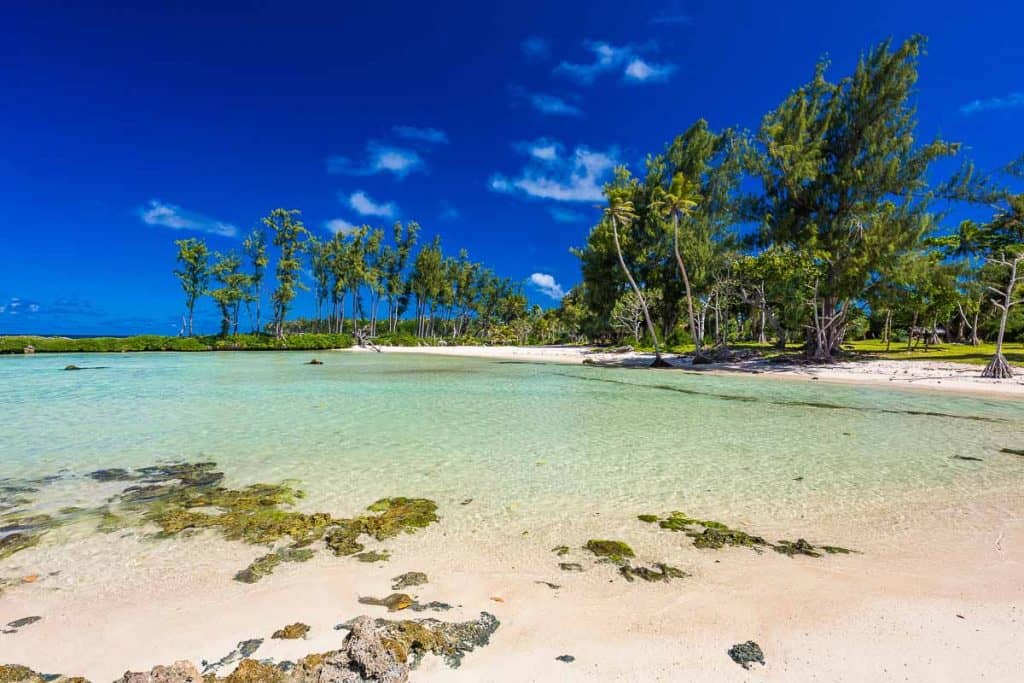 Located in the South Pacific Ocean, Vanuatu is a stunning country made up of around 80 islands and has plenty to offer those looking for a holiday in paradise. There are so many wonderful things to do in Vanuatu with kids such as swimming in warm crystal-clear lagoons, seeing colourful fish and other marine life from pristine white sandy beaches as well as learning about the Melanesian culture.
If you're planning your Vanuatu holidays and wondering what to do in Vanuatu, this article is a great starting point. With the help of a few other travel bloggers, I've put this guide together which includes some of the best things to do in Vanuatu.
With over 80 different islands in Vanuatu, it is impossible to cover them all, so this guide will cover Vanuatu activities on the more popular islands that people tend to visit during their Vanuatu family holiday. The islands covered in this guide include Efate, Tanna and Espiritu Santo Islands.
So let's get into it and look at some of the best activities in Vanuatu for your upcoming holiday in Vanuatu.
This post may contain compensated links. Please refer to my disclaimer here for more information.
Click here for our guide on the best Vanuatu Resorts for Families
Best Things to do in Vanuatu with Kids
As mentioned, this guide only covers some of the best Vanuatu attractions and activities across the islands of Efate, Tanna and Espiritu and Santo Islands. As such I've split the Vanuatu tourist attractions into three sections – one for each of the islands.
Efate
Efate is the main island of Vanuatu and is also where you will find Port Vila, the capital of the country. No doubt if you are coming to Vanuatu you will at least have to stop over in Efate to reach the other islands.
Efate is a beautiful island with stunning pristine beaches, beautiful warm lagoons for swimming and snorkelling, blue holes and cascading waterfalls.
Below we have listed some of the best things to do in Port Vila as well as the rest of Efate Island
1. Mama's Markets
Recommended by Sandy from Weekend Getaways Australia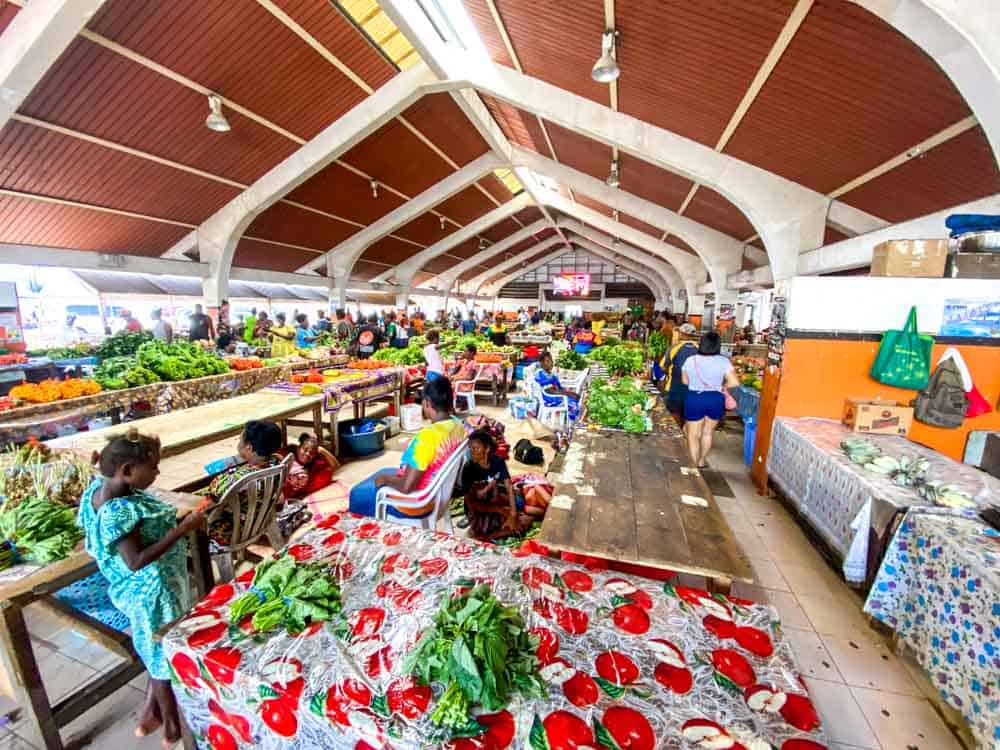 If you can be pulled away from your lovely resort and looking for some Port Vila things to do – head on down to the local Port Vila Market.
Located on the waterfront right in the centre of town these markets are affectionately known as the 'Mama markets' as they are largely run by the local women, many of whom have their children with them throughout the day and sometimes overnight. It is not unusual to see a sleeping baby or toddler under a table or strapped to their mother!
At these markets, you will find local handicrafts as well as an abundance of fresh, local produce such as fruit, vegetables, fish and meat. There is also usually a stunning array of flowers such as Bird-of-Paradise, exotic gingers and Heliconias and at prices so cheap it pays to brighten up your hotel room or holiday house even for a short time. The time of year, of course, will determine what produce is available and at what prices, but generally everything is very reasonable.
I love the atmosphere at these markets and often visit daily when we are in town. The laughter of the local woman and the smiles and squeals from their beautiful children make you feel welcome and part of their happy community.
If you are visiting with children of your own they will take great delight in playing with them.
Location: Waterfront – Port Vila
Opening Hours: Monday through to Friday and half Saturday.
Price: There is no entry fee.
2. Port Vila Handicraft Market
If you're more interested in shopping in Vanuatu for souvenirs, head on down to the Port Vila Handicraft Market, where you will find a range of tourist-focused items such as paintings, carvings, t-shirts and clothing.
Location: Wharf Road – Port Vila Seafront
Opening Hours: Monday to Saturday from 8 am to 5 pm. Open on Sundays when it's a cruise day (if you can avoid cruise days).
Price: There is no entry fee.
3. Eton Blue Lagoon
Recommended by Georgie from Journey with Georgie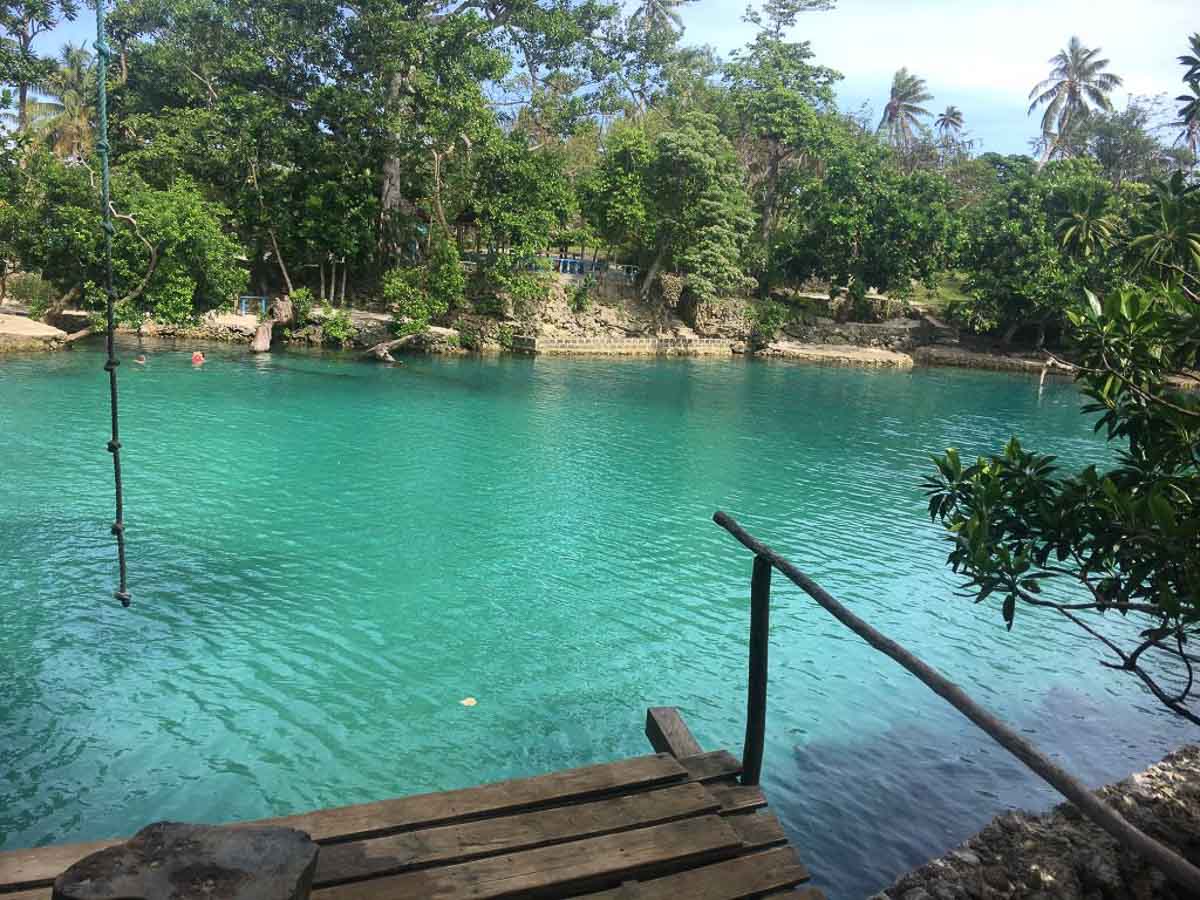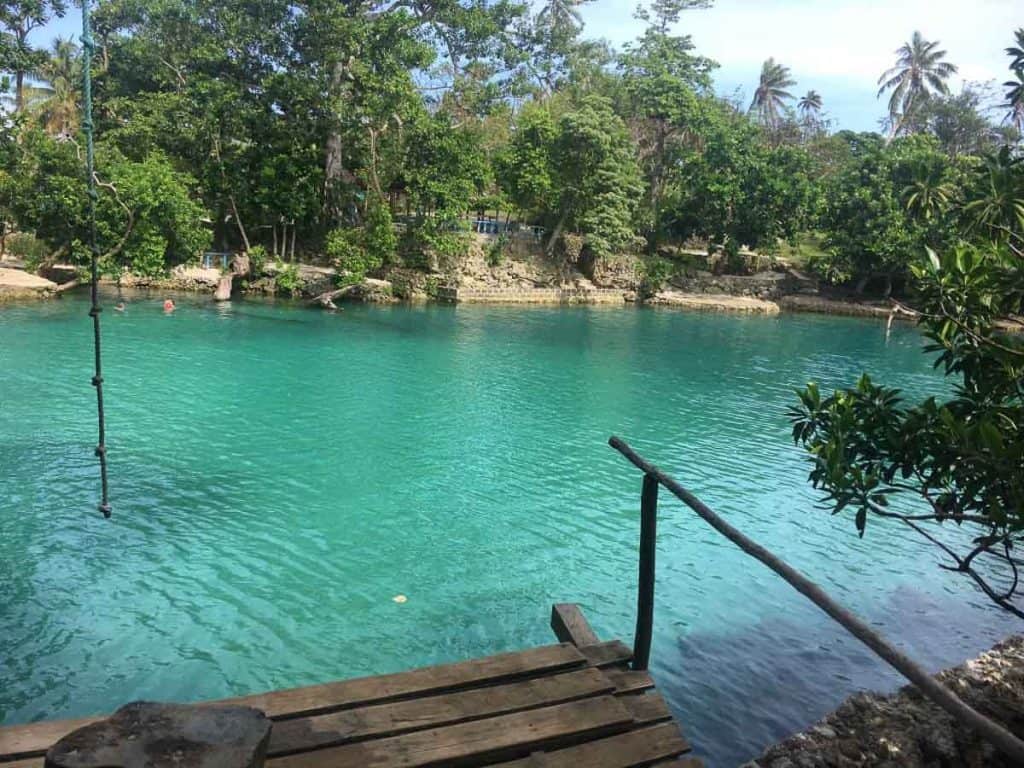 Everyone knows about Iceland's famous Blue Lagoon, but Efate Island has its own offering. Just about an hour from the capital of Port Vila, you'll find the Blue Lagoon – a gorgeous hidden gem that's the perfect place to spend an afternoon cooling off and a must when it comes to Vanuatu things to do.
One of the best things about the Blue Lagoon is how hidden away it feels. While it is one of the more popular things to do on Efate, it's not too crowded – so you really feel like you've found your own little slice of paradise.
There's a large pool of water which is dazzlingly blue (hence the name!), nestled in between trees. To either side, there's a grassy area, with some picnic tables where you can stop and enjoy a lunch in view of the lagoon.
My favourite part of the Blue Lagoon was the rope swing – nothing makes you feel like you're enjoying a fabulous summer holiday like swinging from a rope swing and plunging into the refreshing water below.
If travelling with little ones or weak swimmers, I recommend bringing floaties or a life jacket as some parts of the lagoon are really deep. The deepest part of all is over six metres!
The Blue Lagoon is just over an hour from Port Vila, depending on traffic. While you can hire a car to drive around Efate, the conditions of the road can be very poor. Therefore, I recommend getting a taxi (about 2000 vatu or $18 USD) or visiting as part of one of the Vanuatu day tours (I went with Atmosphere Tours on their Round Island Trip).
Most people would say that a swim in the Blue Lagoon is among the top 10 things to do in Vanuatu.
Location: Efate Ring Road, near Eton Beach, around 1 hour from Port Vila
Opening Hours: Daily 7 am to 5 pm
Price: 500 vatu per adults (approximately $6.30 AUD) and 300 vatu per child (approximately $3.80 AUD).
4. Eton Beach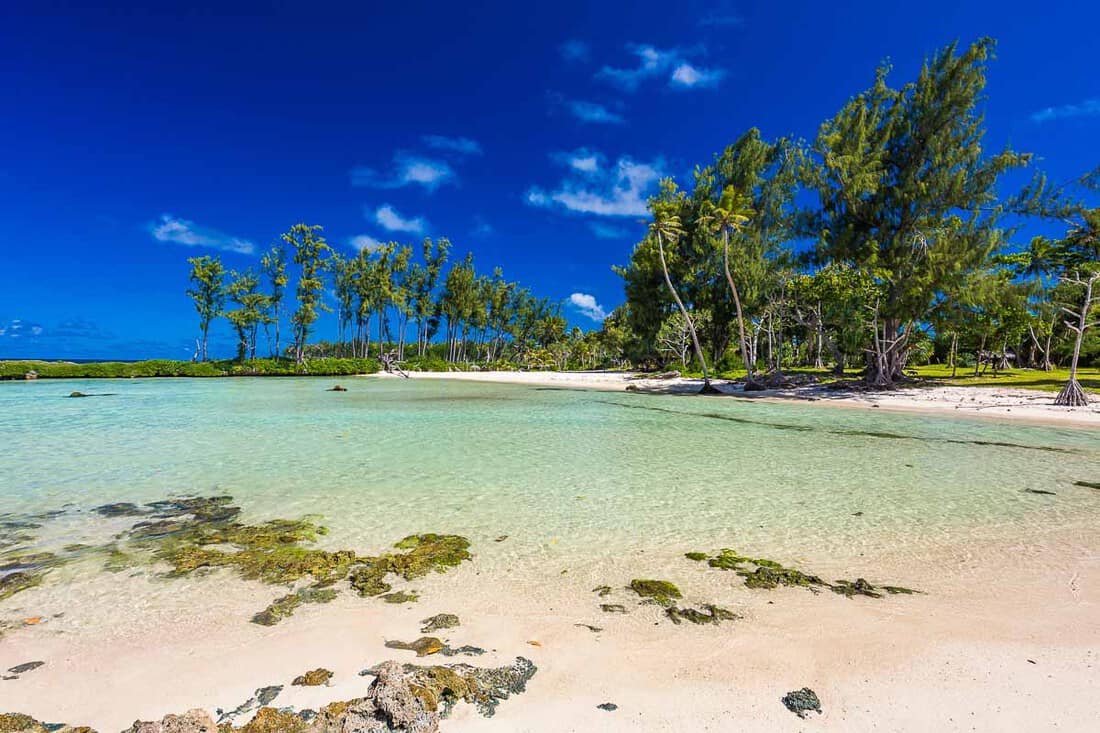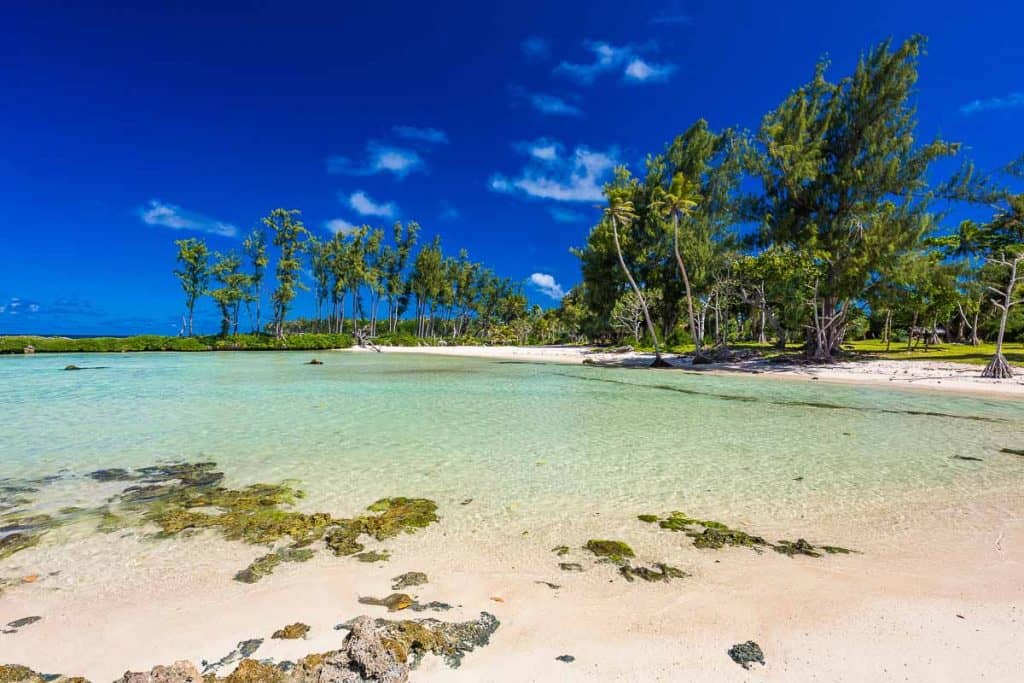 Located on the east coast of Efate, not too far from the Blue Lagoon is Eton Beach. Here you will find a lovely white sand beach, crystal-clear water and rock pools for exploring. At Eton Beach you can swim, snorkel and relax.
Location: Efate Ring Road
Price: 300 vatu per adults (approximately $3.80 AUD) and 150 vatu per child (approximately $1.90 AUD).
5. Mele Cascades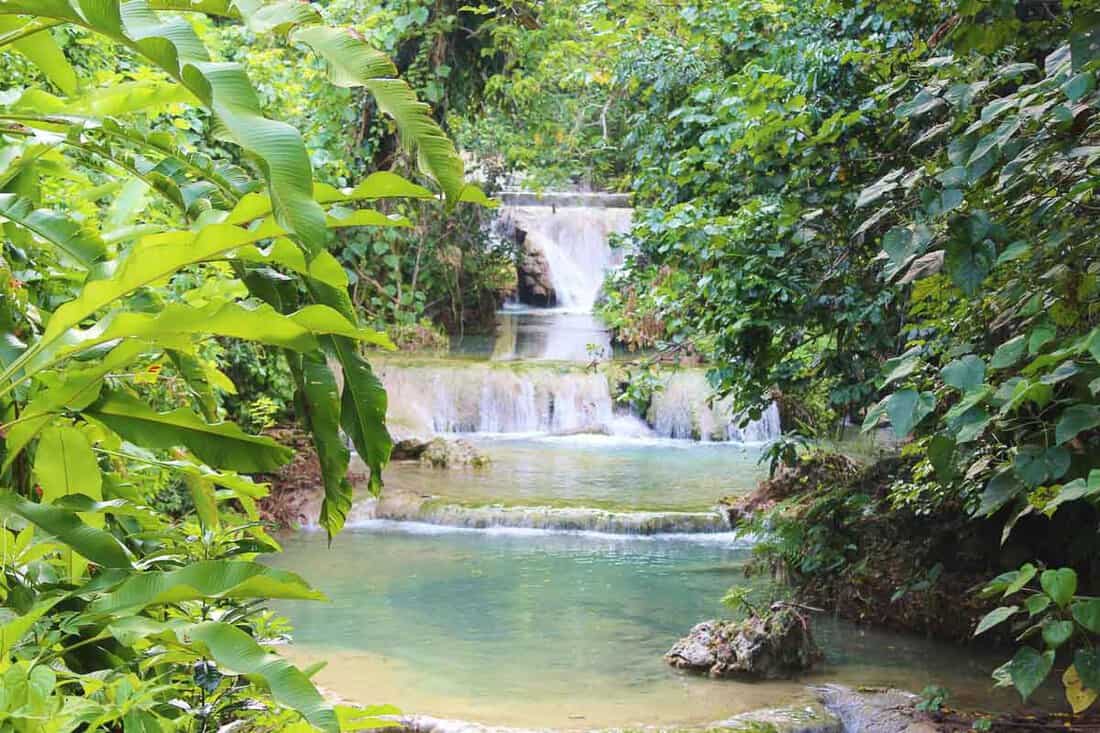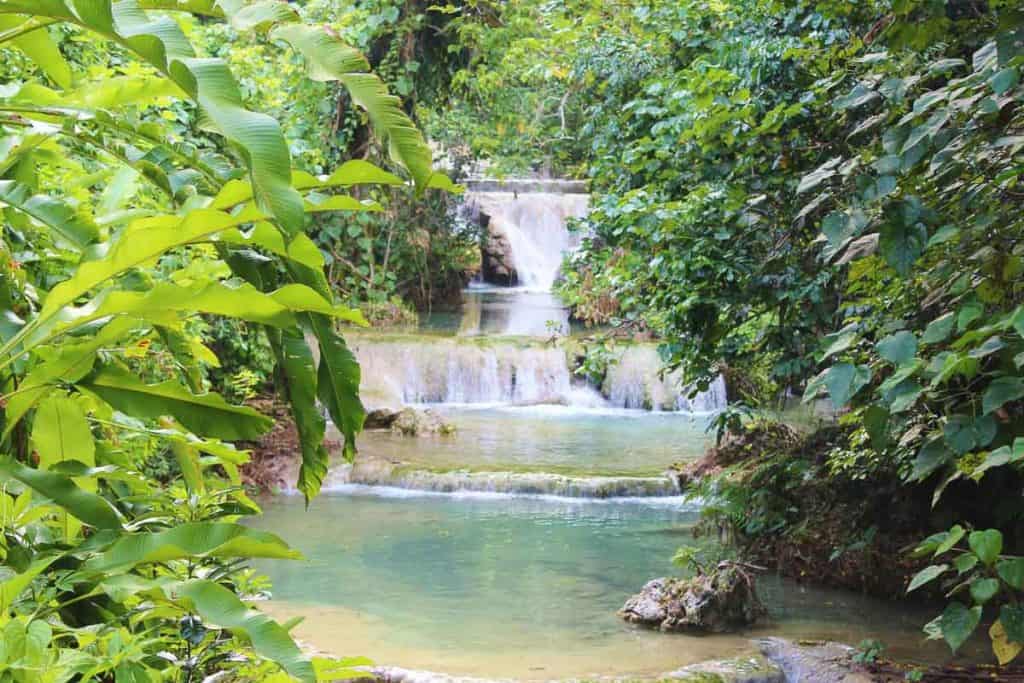 Next to the Blue Lagoon, the Mele Cascades is probably one of the most popular Vanuatu tourist attractions. These stunning waterfalls are just beautiful and while not an easy walk to the top of the waterfalls, it is well worth the effort.
Basically you walk around 20 minutes along the river which has a series of terraces and cascades with stunning crystal clear pools, and once you reach the top, you are rewarded with the gorgeous 35-metre waterfall. At the top (or even along the way) you can take a dip and cool off under the waterfall.
Be sure to wear shoes that can get wet and bring a waterproof camera – you will want to photograph these falls!
While you're in the area consider visiting Tanna Coffee Factory and / or Hideaway Island which are both close by.
Location: Mele Road – around 10kms from Port Vila.
Opening Hours: Daily 7 am to 5 pm
Price: 2000 vatu each (approximately $25.20 AUD)
6. Visit the Secret Gardens
Recommended by Mar from Once in a Life Time Journey

Secret Garden is a sort of open air museum and exhibition centre where you can read more about Vanuatu's cultural heritage through the posters and signs spread across the greenery of the gardens, perhaps the most interesting to tourists are the ones talking about cannibalism. There are also photo ops with traditional grass skirts and lots of valuable facts about Yasur Volcano in nearby Tana Island.
The space also offers accommodation and has a restaurant, for a snack or lunch after the visit, both opened recently. As part of the visit, you can also learn more about a few endemic animals such as the powerful coconut crabs (which are so strong they can open a coconut) and the bright green iguanas.
On Tuesday and Thursday, you can attend a local feast which includes kava tasting and dancing and is a pretty authentic affair, even if filled with tourists. Food is cooked in the underground oven for hours and there is dancing at the end. You need to book well ahead as these are the cruise ship days and the show gets filled up quickly.
The garden is right by the side of the road so you can jump on one of the buses that drive around the island and which pass by regularly and just say you want to stop at the garden, the driver will know.
If you're looking for where to go in Vanuatu to learn more about the local culture and traditions, the Secret Gardens is a great spot.
Location: Close to Mele Bay Beach between the Mele Cascades and Hideaway Island
Price: Entrance is free although the feast is 3500 vatu per adult (approximately $44.00 AUD) and 1750 vatu per child (approximately $22 AUD).
7. Hideaway Island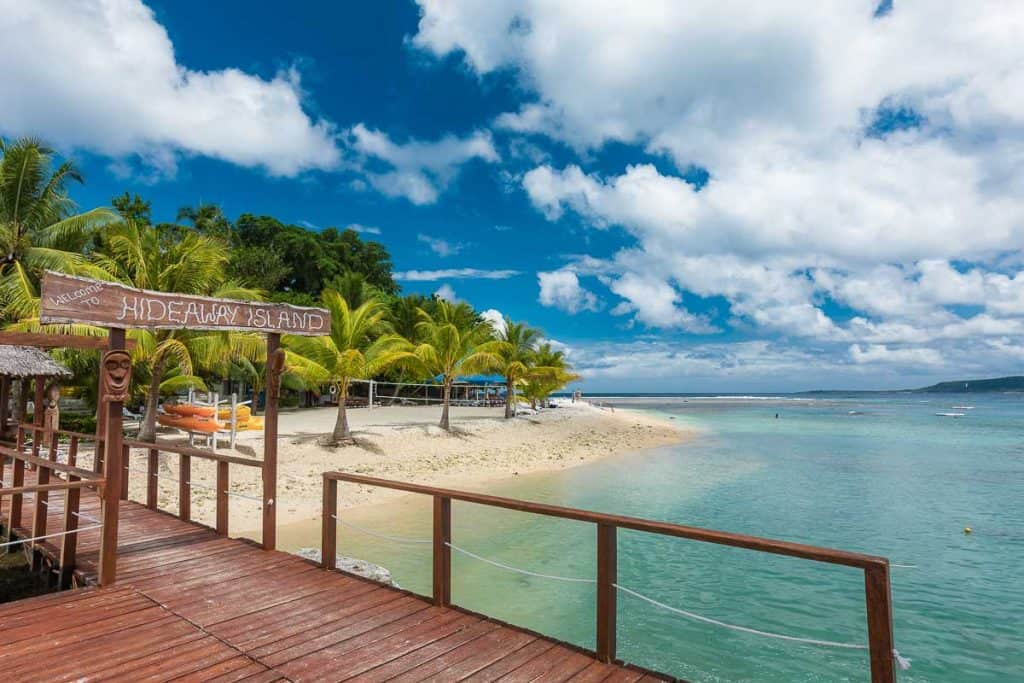 Hideaway Island is a great place to visit for a few hours. Located in Mele Bay just a short trip from Port Vila, this gorgeous island is perfect for snorkelling as well as other water activities such as kayaking, paddleboarding, glass-bottom boat rides and diving. The kids can feed the fish too and they even have the world's only underwater post office – for real!
Be sure to bring your reef shoes as the island is made up entirely of coral so not the easiest to walk on.
To get to Hideaway Island just take a bus or taxi from Port Villa. Combine your visit here with a trip to the Mele Cascades.
A day trip or even half a day to Hideaway Island is well worth it as it is easily one of the best places to visit in Vanuatu if you're staying on Efate. If a day trip is not enough, you can stay on the island too.
Read our full review about Hideaway Island here.
Location: Mele Bay
Opening Hours: 24 Hours
Price: 1250 vatu per adult ( approximately $15.75 AUD) and 600 vatu per child (approximately $7.60 AUD). Children under 5 are free.
8. Lelepa Island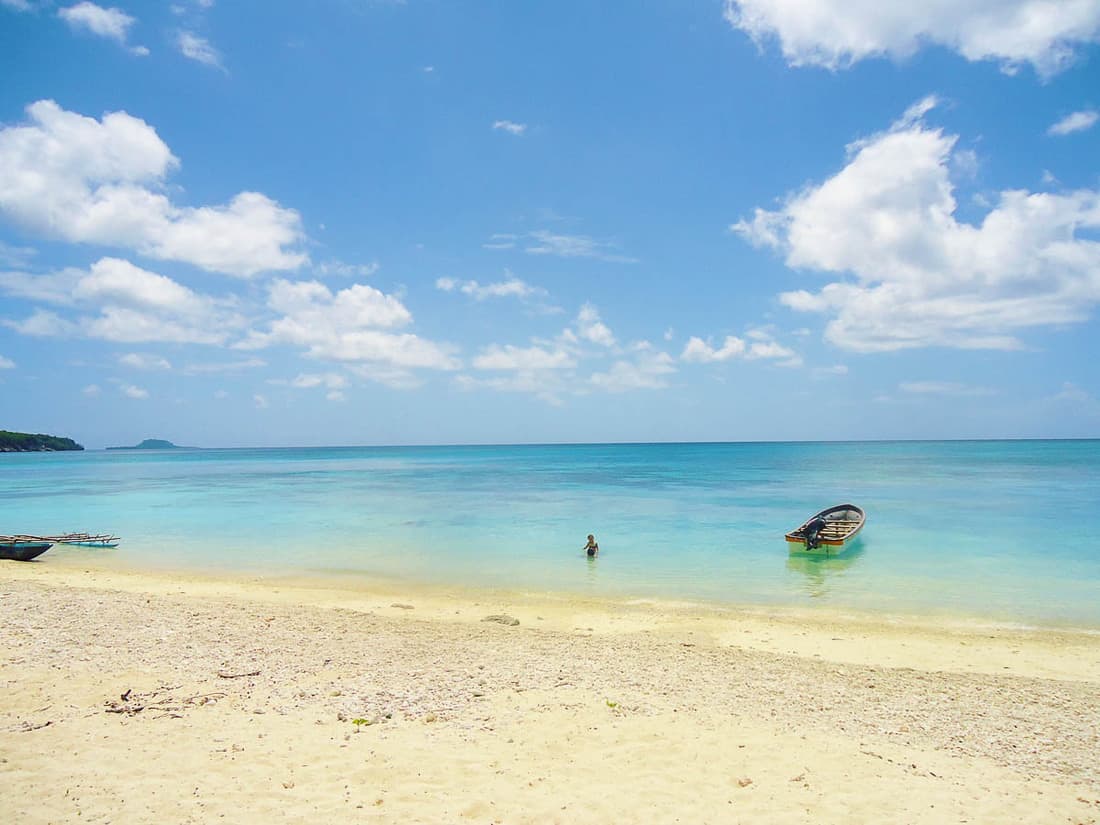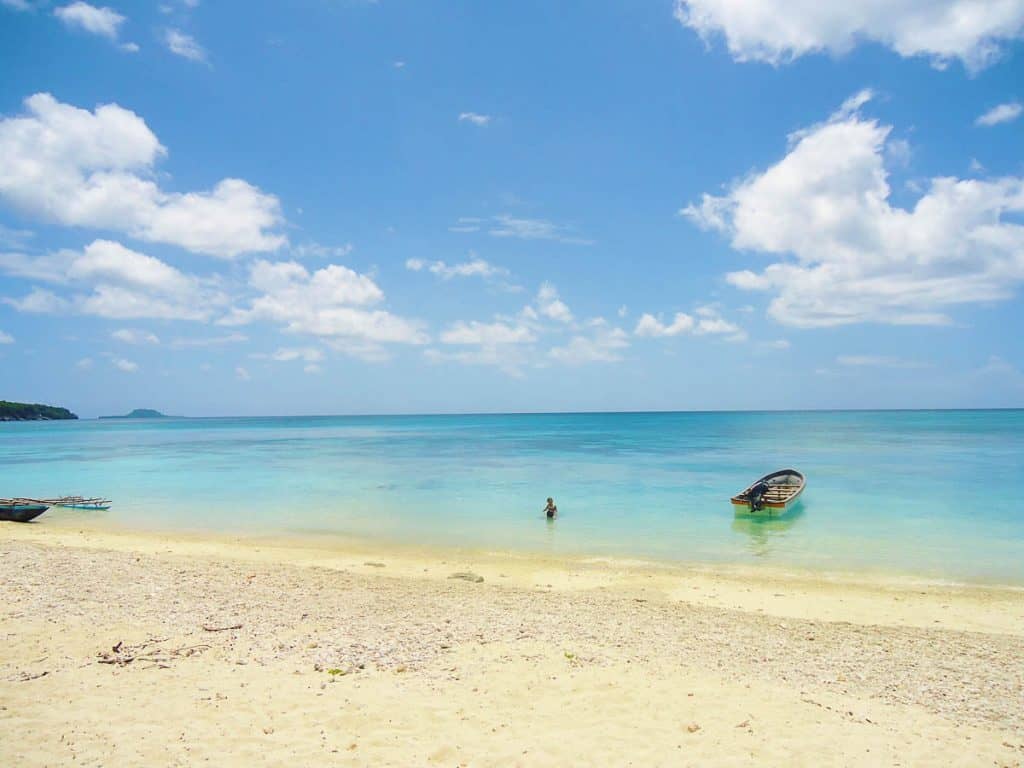 If you're looking for some fun family Vanuatu day trips – I can highly recommend going to Lelepa Island. My main reason for wanting to visit Lelepa Island is I'm a huge Survivor fan and this is where one of the American Survivor series was filmed. But even if you're just a fan of beautiful islands, clear water and some of the best snorkelling in Vanuatu you will love this day trip.
The tours are run by the locals on Lelepa so you can expect an authentic experience. Your guide will explain to the history of the island and all about local village life. At the end of the day we also visited a local village where we had the opportunity to chat with some locals and even play with the kids.
A day trip is not cheap, but if you're just staying on Efate and want the opportunity to experience another stunning Vanuatu Island, a day trip to Lelepa Island is well worth it.
9. Ekasup Cultural Village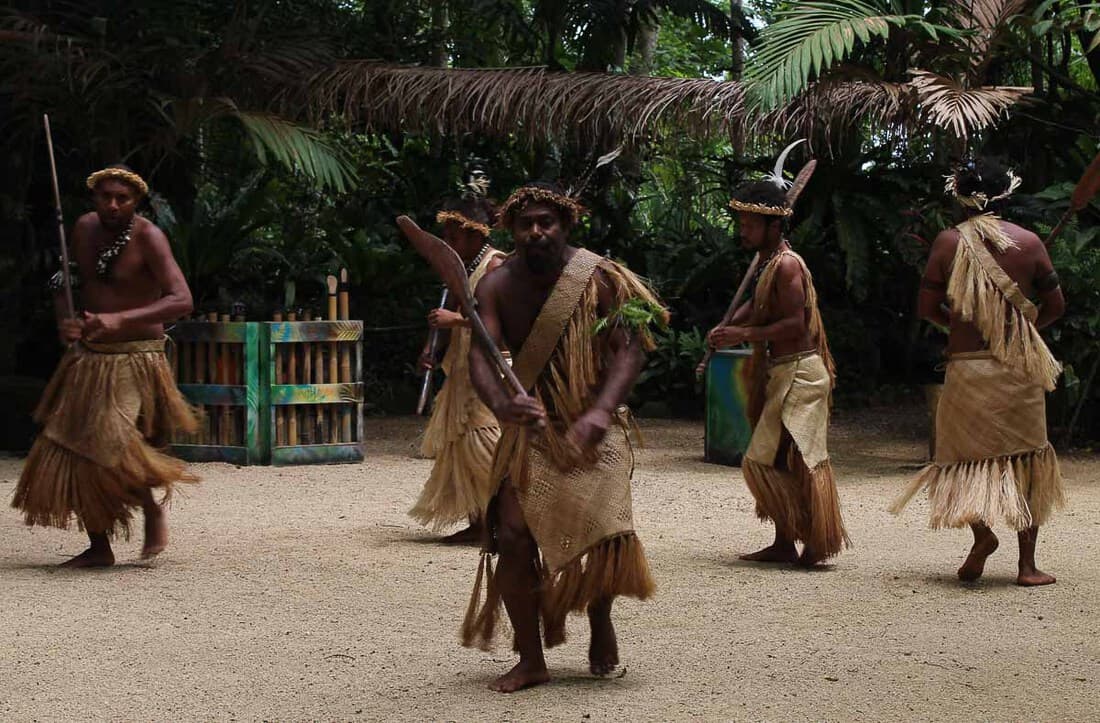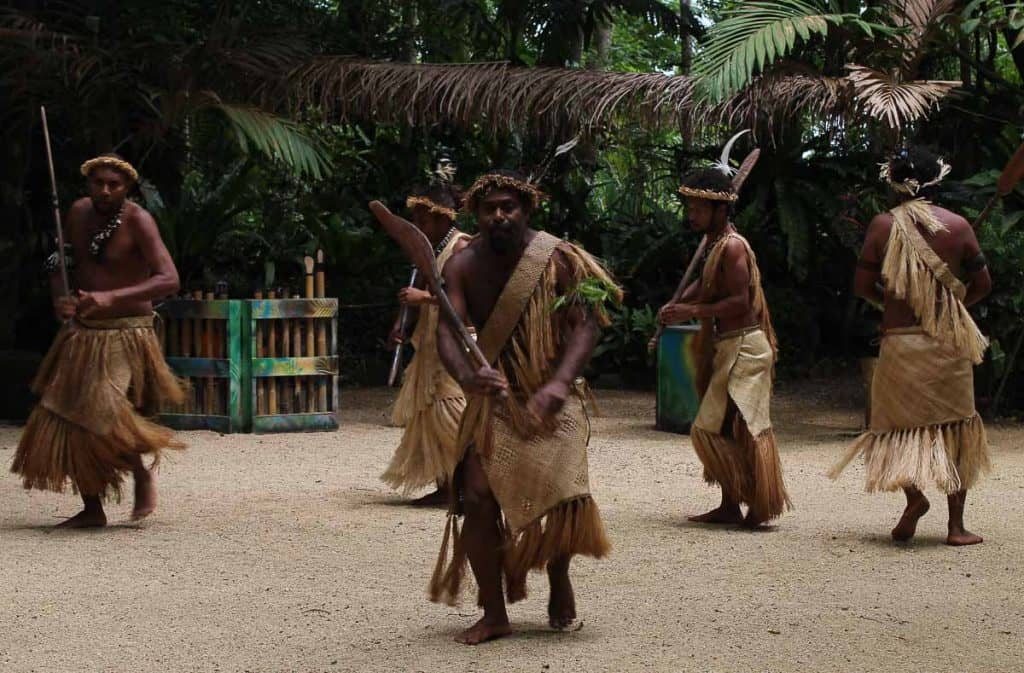 Learning about the local culture is one of the fun things to do in Vanuatu – Port Vila. One of the best ways to learn about the culture is to visit a cultural centre such as the Ekasup Cultural Village.
As soon as we arrived here, we were immersed in the local culture. Taking a walk through the jungle with a guide, we were confronted with the chief and his warriors who chanted at us with their spears, bows and arrows. Eventually, they realised we came in peace and took us into their village to teach us more about the traditional way of life in Vanuatu.
At Ekasup Cultural Village, you will learn about how food is cooked and preserved, how plants are used in medicine, how to make baskets and mats as well as see a traditional dance.
Location: Erakor Road, Ekasup Village, Port Vila
Opening Hours: Daily from 9 am to 11 am and 2 pm to 4 pm
10. Take a Buggy Tour
When it comes to some fun things to do in Vanuatu – taking a buggy tour has got to be one of the best!
There is a range of different tour options you can join which visit different places across the island. You can take your buggy to little villages, across off the beaten paths in the jungle and across the beach.
If you're staying in Port Vila, most tour groups will come pick you up from your accommodation and drop you off again afterwards.
11. Erakor Island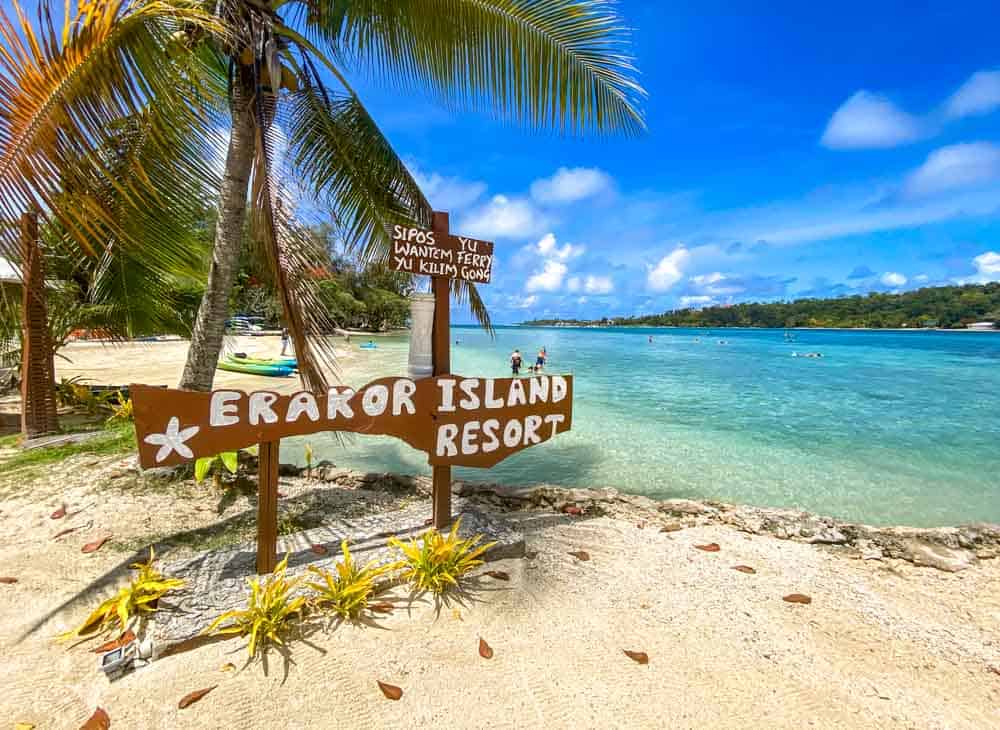 Erakor Island is a great place to visit for a few hours or even the entire day. Located just 3.5km south of Port Vila, this gorgeous island is perfect for snorkelling as well as other water activities such as kayaking, paddle boarding and swimming. Be sure to bring your reef shoes as there is lots of coral both on the beach and in the water.
To get to Erakor Island just take a bus or taxi from Port Villa.
If a day trip is not enough, you can stay on the island too. Read our full review about Erakor Island here.
Location: Erakor Lagoon
Opening Hours: 24 Hours
Price: 1500 vatu per adult and 1000 vatu per child. The entry includes a voucher of 1000 VT per adult and 500 VT per child to use towards food, drink or the day spa.
Tanna Island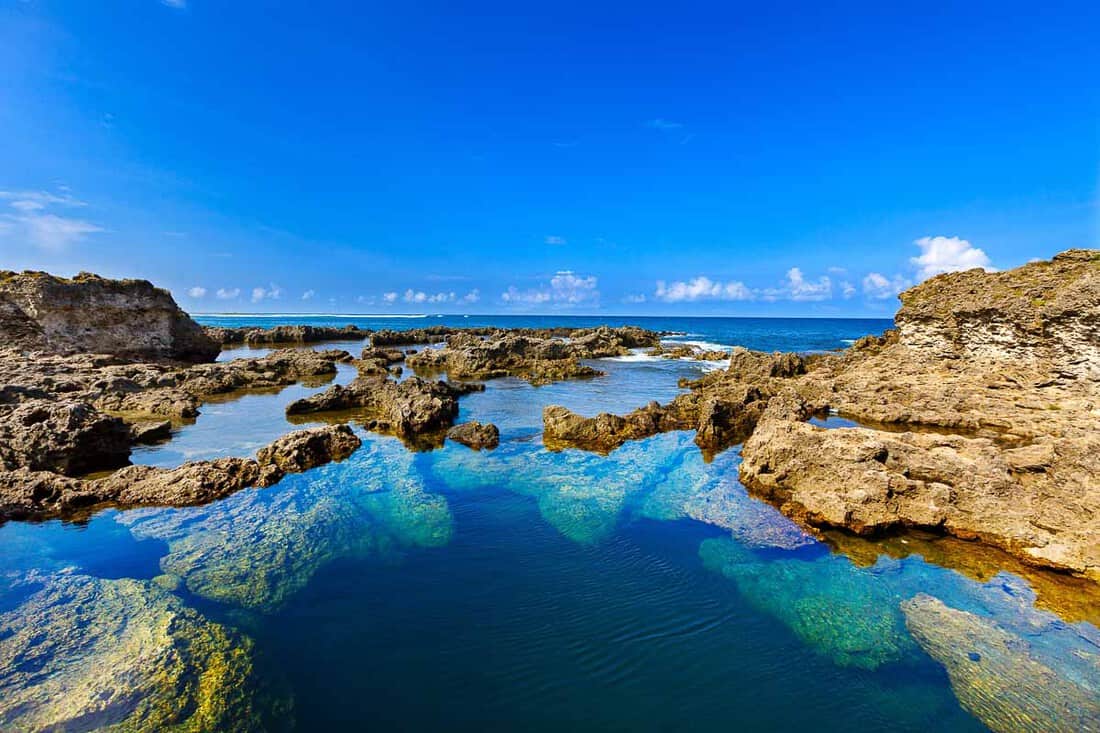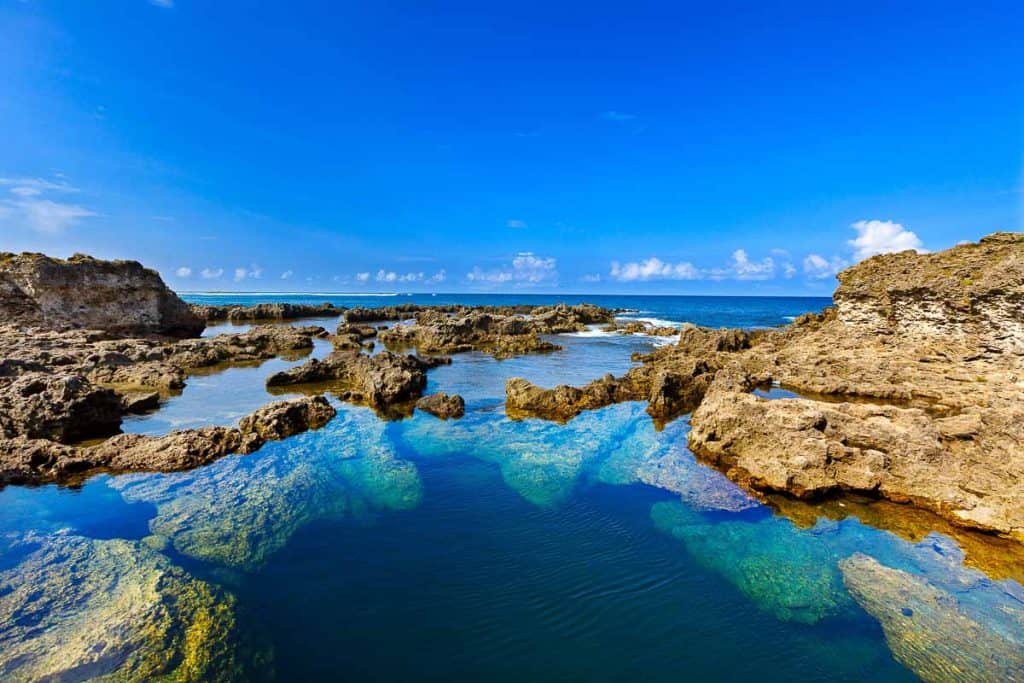 Some say Tanna Island is one of the most beautiful islands in Vanuatu, with deserted pristine beaches, friendly isolated villages as well as hot springs, rainforests and waterfalls. Although Tanna Island is most well-known due to Yasur Volcano – regarded as one of the most accessible active volcanos in the world.
With Tanna Island being only a short 40 minute flight from Port Vila, many tourists come here for a day trip to visit Yasur. However for those with a little more time, Tanna Island is well worth visiting for a few days. Accommodation is more low key than Efate with rustic beachside bungalows and small scale resorts. Don't expect the same level of amenities as you do on Efate.
11. See the Yasur Volcano
Recommended by Andrew from RoadGoat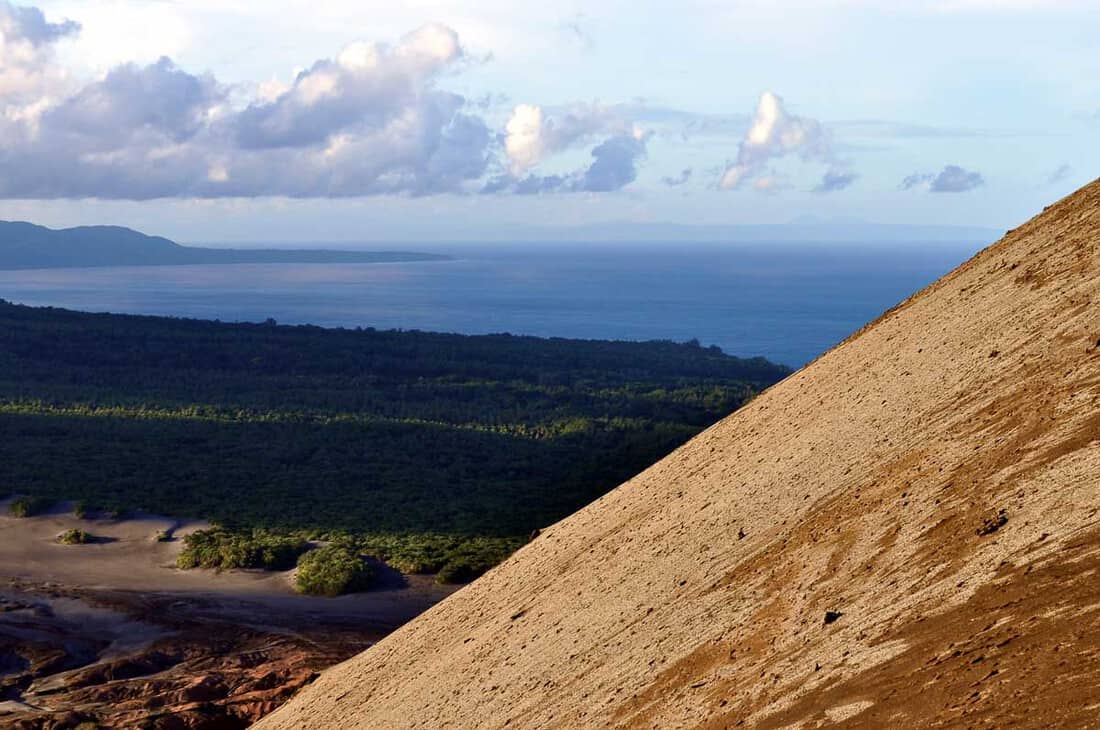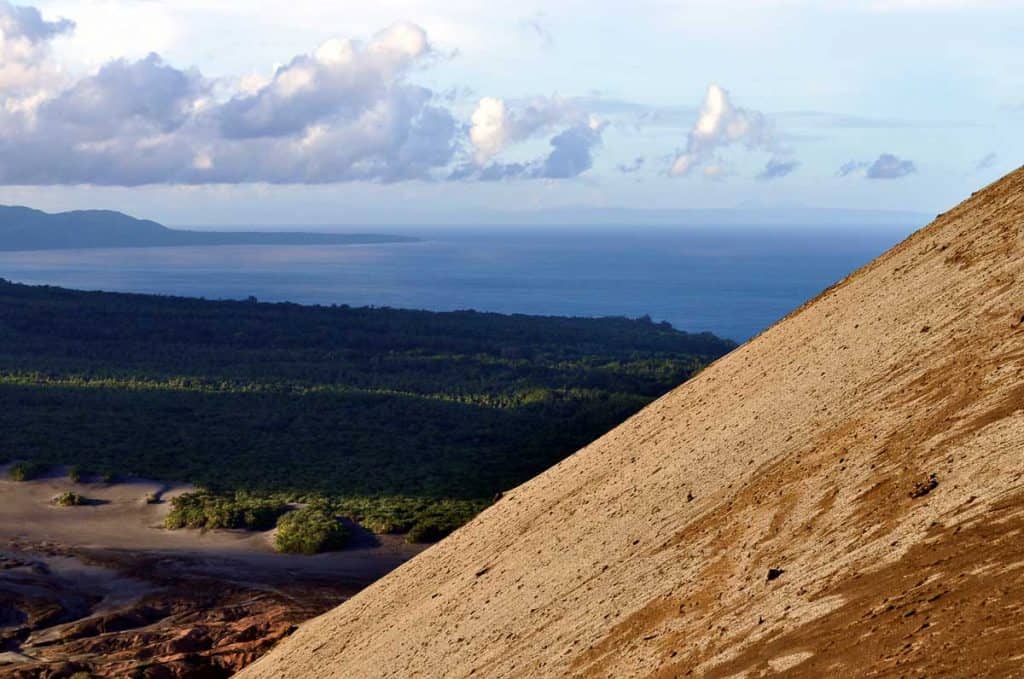 Mt. Yasur on the Tanna Island of Vanuatu is one of the most fascinating attractions in the region. Located on the South East region near the Sulpher Bay, the pyclastic cone boasts active, natural volcano mountain that is a true emblem of Vanuatu's natural beauty. It's volcanic eruptions, which occurs several times in an hour, is apparently what attracted Captain James Cook on the historic first European journey to Tanna Island in 1774. Visiting Vanuatu's revered Mt. Yasur is truly an experience of a lifetime and without a doubt, one of the top things to do in Vanuatu.
Many travel agencies provide three day overnight tour packages for around $500-$700, which is the best way to experience the volcanic region with guidance and safety. We recommend the family-friendly White Grass Ocean Resort, which includes the island's top restaurants as well as family amenities such as its renowned spa.
Other than visiting the volcano itself, the Mt. Yasur region is also famous for aquatic activities such as snorkelling, sea kayaking, and whale watching. The natural reefs of the volcanic island are formed from centuries of tectonic movements and welcomes some of the most exotic sea life on the planet. Grab your goggles on a guided tour and snorkel around the reefs with your loved ones to take in the island's beauty.
12. Visit Yakel Custom Village
Visit Yakel Custom Village, where you can learn about the "Kastom" traditional way of life for the Tannese people. The local people are only too happy to meet you and walk you through their village showing you how they live.
You can also take a walk through the gardens of the village to the waterfall.
To reach the village, you will need to make arrangements through a local tour operator as the village only welcomes guests at certain times and is only accessible by 4WD.
Location: Yakel Village – only accessible by 4WD
Opening Hours: By appointment only
13. Underwater Blue Cave
The Underwater Blue Cave is a hidden cave only accessible by swimming through a passageway. Once you reach inside you are rewarded with a beautiful blue pool with stunning light coming through an opening in the top of the cave.
So hidden is this cave, that most likely when you visit you and your family will be the only ones there.
To reach the Underwater Blue Cave you will need to make arrangements with a local tour operator who will take you there by 4WD or by boat. If you're a bit unsure about diving down and swimming through the entrance, you can go when it's low tide.
Espiritu Santo Island
Espiritu Santo is the largest island in Vanuatu and is accessible by a short 1 hour flight from Port Vila. The island is known for its stunning powdery white beaches, sensational diving as well as it's beautiful blue holes.
Most travellers coming to Espiritu Santo stay in the main town of Luganville which is where you will find the majority of hotels and resorts. For those looking for more rustic accommodation, there are plenty of village-style bungalows and beachside accommodation on nearby islands.
14. Visit Champagne Beach
Recommended by Eloise from My Favourite Escapes


Since CNN ranked it in the top 10 of the world's best beaches a few years ago, Champagne Beach has become the most reputed beach in Vanuatu. Indeed, the crystal-clear waters and the pure white sand make it look postcard perfect. Champagne Beach is located on the east coast of Espiritu Santo island, in the north of the archipelago. It's hard to miss for those visiting Vanuatu's largest island.
Boats from Australia sometimes stop there when cruising the South Pacific.
Luckily, there was no cruise boat visiting, and we got there early enough to only share the area with a few cows and a turtle. Although the beach is surrounded by lush nature, there are facilities in place that could make us imagine a lively mix of tourists and locals gathered around when a boat has arrived. With toilets nearby, protected calm waters and beautiful sand to lay with, it's ideal for families. There's also a small reef for those who like snorkelling.
Champagne Beach earned its name from the underground source that creates bubbles as it goes into the ocean. The phenomenon is best seen at low tide. It's not as bubbly as champagne, but it's unusual and a fun story to tell.
You can stay nearby at Lonnoc Beach, where you'll also find restaurants, or come as a day trip from Luganville. It takes one hour to drive there from Luganville, where there's an international airport. You can hire a car or a taxi to get there, or accommodations in Luganville also offer tours. The main road on the east coast is in good condition, only the end of the trip as you approach the beach is on a dirt road.
Location: 1 hour from Luganville
Price: As at 2018 – 2000 vatu per vehicle (approximately $25.20 AUD)
15. SS Coolidge Wreck
The SS President Coolidge was a luxury cruise ship which was converted into a troop carrier in WWII. In 1942 while transporting troops to the military base on Santo, it sunk just offshore. Now it has become one of the top places to go scuba diving in Santo.
The wreck is enormous at 200 metres long and 25 metres wide, so you can imagine there is a lot to see. Divers can swim through the dark hull, visit the infirmary, engine room and storage compartments where tanks, jeeps, and ammunition are rusting away.
The ship is located just off the beach, so no need to take a boat out to it, making it very accessible. However you will of course need to organise your dive with a local operator.
Location: West of Million Dollar Point – just outside of Luganville
Price: From around 7000 vatu (around $88.20 AUD) including all your equipment.
16. Snorkel Million Dollar Point
Here hundreds of tons of US military equipment was dumped under the sea – hence the name Million Dollar Point. Today it is a diver's and snorkelers dream with the equipment all covered in coral and with plenty of marine life around.
It's super easy for families to snorkel here as you can go straight from the beach and no guide is required.
Location: Million Dollar Point
Price: 500 vatu per person (around $6.30 AUD)
17. Millennium Cave
For the more adventurous family, you should definitely consider hiking to Millennium Cave. This is definitely one for families with older active kids as it is a full-day adventure of trekking through the jungle, villages and cave, as well as climbing over rocks through the canyon.
To do the trek to Millennium Cave, you will need to join a tour group. Along the trek, your guide will teach you about the jungle and the local villages you visit as well as give you the opportunity to try a range of fruits too.
Price: 9500 vatu per person (around $120 AUD)
Location: The Millennium Cave is located 45 minutes' drive from Luganville Town.
18. Blue Holes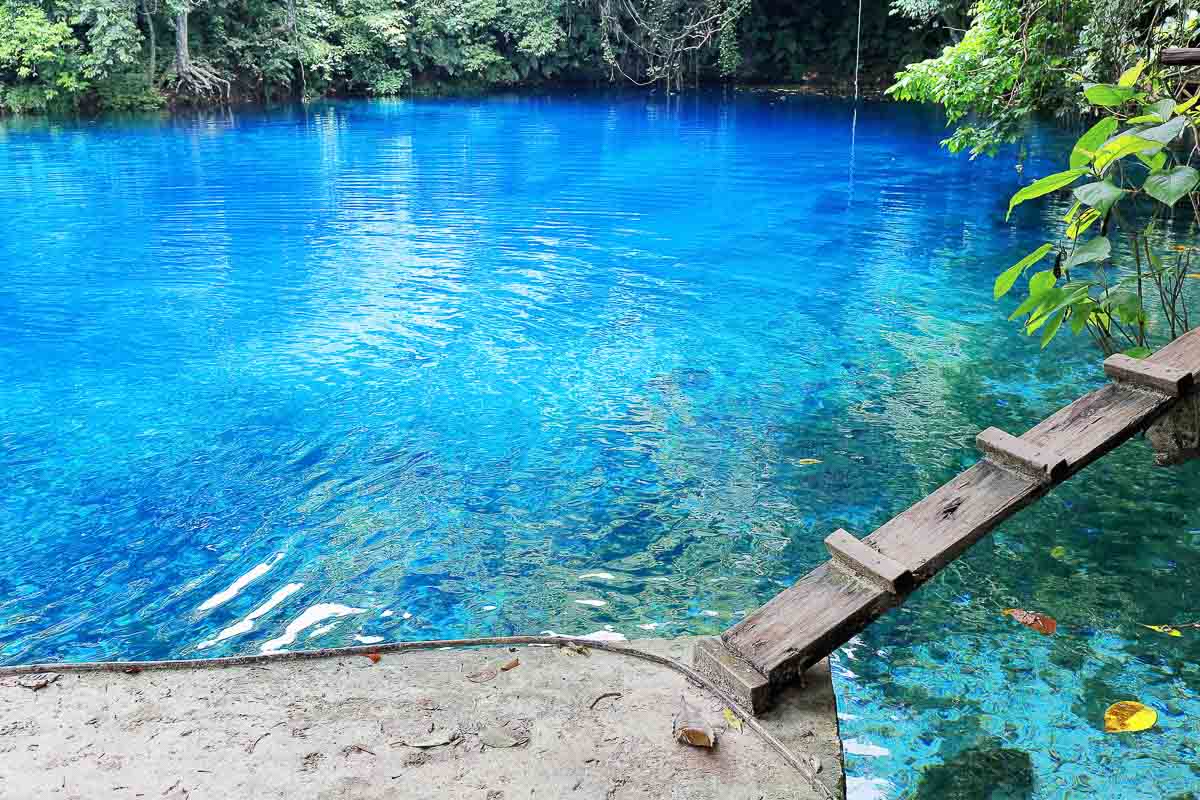 Santo has a few different stunning blue holes that you can explore with the three most popular being the Matevulu Blue Hole, Nanda Blue Hole (also called Jackie's Blue Hole) and Riri Blue Hole.
At these blue holes you can swim, swing off ropes and from Riri you can even take a traditional canoe ride up the Riri River.
Price: 1000 vatu per person (around $12.60 AUD) for Nanda and 500 vatu per person (around $6.30) for Matevulu abd Riri.
Location: The blue holes mentioned above are located inland along the east coast of the island.
19. Port Olry
Port Orly is a picturesque fishing village with a white powdery beach and crystal-clear water. Families can easily spend a few hours here, swimming, snorkelling, kayaking, and relaxing on the beach.
For seafood lovers, you can feast on delicious fresh seafood or grab yourself a few drinks to unwind.
Location: Northeast Coast of Santo
What to Take to Vanuatu
Here's a quick list of things we recommend you take with you to Vanuatu:
Walking Shoes
It's essential that you have a good comfortable pair of walking shoes. What shoes you bring depends on your personal preference, but currently, I'm wearing Teva sandals,Myla has Merrel sandals, and Andy has Teva sandals as well. For short walks, a good pair of thongs is fine too. Andy and I have good quality supportive thongs – currently, I wear Viconic thongs, and Andy has Teva thongs. Myla doesn't wear thongs she prefers to wear her Merrells all the time.
Water Shoes
Given most of the beaches have lots of coral, a pair of water shoes are an absolute must! Plus they are also great for swimming in waterfalls too. Wearing water shoes will not only protect your feet from cuts or stings but also provide some grip when climbing over rocks in the rock pools. Currently, we all just have cheap water shoes from the department store, but we noticed after this trip from wearing them regularly that the quality was not great and the fabric becomes loose and flimsy while in the water. So currently I'm researching some better quality shoes. I'm considering something like these ones.
Snorkelling Gear
If your resort doesn't provide snorkelling gear free, this can soon add up, so you may want to consider bringing your own snorkelling gear.
Water Bottle
It's hot in Vanuatu year-round, so you're going to want to drink lots of water. The good news about Vanuatu is you can fill your own bottles straight from the tap. We always take our own water bottles whenever we travel, and I personally prefer ones that have a clip so I can attach it to my bag for easy access. We all have these from Contigo which are non-spill and can attach them to your bag. I had my last one for four years, so they last the distance!
Waterproof Camera
No doubt you'll be spending a lot of time in and underwater so you might want to take a waterproof camera to capture some great pictures. These days even the iPhones are somewhat waterproof, so you might just want to get a waterproof phone pouch for your phone. We have a GoPro Hero which is just brilliant for taking video and stills, but there are heaps of other cheaper waterproof camera options too.
Dry Bag
If you are heading to the beach or even just going out on the kayak for a few hours, a dry bag might be a good idea as well. We have a set of them from Kathmandu, so we just choose the right size depending on what things we have with us that we want to keep dry.
Rain Jacket
For a day trip, a lightweight rain jacket can come in handy, particularly if you are travelling to during the wet season. We all have lightweight rain jackets from Kathmandu. Andy and I have the Trailhead Rain Jackets (here's the ladies one) and Myla has the Pocket-it Kids one.
Day Pack
If you plan on a doing a day trip or two, a good quality day pack is a must as you're going to need something to keep all the things you need to carry around. We just use Myla's backpack (the one she uses for carry on to store all her clothes) as our daypack during our trips. She has one from Kathmandu- they no longer sell it – but you can see my guide here on best backpacks for kids. I quite like the look of this kids backpack from Osprey – its fairly similar to the one Myla has.
Power Bank and Charger
These days we use our phones as cameras and to navigate our way around, so a power bank is essential. You don't want to be stuck not able to take pictures, or worse lost somewhere and unable to work out which way to go.
I have quite a bit of stuff to keep powered up throughout the day between my iPhone, GoPro and laptop, so I have a good quality large power bank – but just choose one which has enough power to keep whatever electronics you have with you during the day.
Also ensure you have a good quality USB cable – I can't tell you the number of times we've been stuck on trips, and we think devices are charging, but they aren't because of poor quality cables – so annoying!!!
_____________________________________________________________________________________________
Hopefully you found this guide on things to do in Vanuatu with kids helpful. if you love to holiday in the South Pacific we also have a guide on where to stay in Fiji with kids here.
Affiliate advertising is used throughout this site. These affiliate ads allow me to earn a small commission on any bookings you may make, but they do not incur any extra cost to you.
Do you want to keep this handy for later?
Click on one of the images below to and save it to Pinterest.